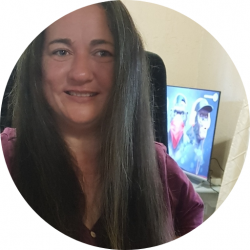 Latest posts by Caroline Lambert
(see all)
Finding the latest trending modern curtains that suit your home and personality can be challenging, especially with many options available between fabrics and colors. You want something equally bold but fabulous, astonishing but sleek, raving but sane.
If you're anything like me, matching curtains to my personality, mood, and home is like trying to fit a square into a triangle. Choosing suitable curtains is a huge part of designing your interior, from eccentric personalities to people who love simplicity. Besides, who doesn't want a jaw-dropping home with trending features?
From the latest designer names to the store near your home, you'll find something to add glamor in a modern setting. Would you believe that gray is the in-thing right now? And no, I'm not talking about Christian Gray ladies. However, various shades of gray are the pinnacle of trending modern homes.
Let's explore the myriad of options available in 2022, no matter what your personality yells.
Top Styles to Modernize Your Home
Contemporary designs are always the fad because they're what makes your home design pop or plunge. Window treatments are a huge part of how your room speaks to you, your family, and visitors. It doesn't help to have a carpet with beach views and curtains with jungle vibes.
These are the top 12 designs to bring your home into the 21st Century.
Zero Baroque Lambrequin Designs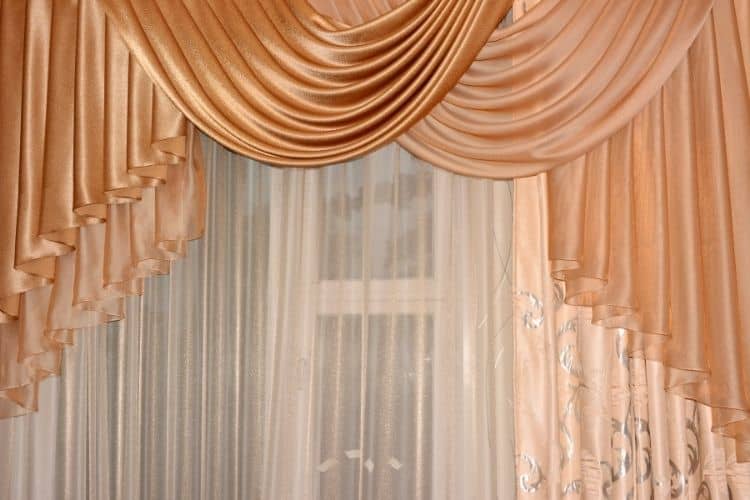 Drapes and lambrequins have long been a part of styling formal and elegant spaces, but the decorative accent that extends further down the sides of your windows is not a part of contemporary designs. Baroque designs are highly decorative, often involving patterns hard to match in your furniture and rugs.
A bare heading or a valance is more in-style if you want a contemporary home. Some modern choices exist, but lambrequins tend to overcomplicate the design. Even though baroque lambrequins bring nobility to a space, they don't belong in contemporary designs. Simplistic lambrequins are preferred, especially in the living room.
Draw Me a Treatment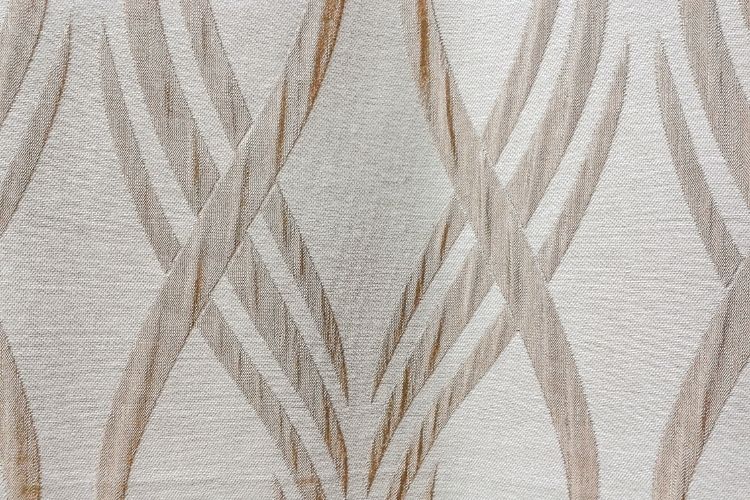 Curtains with drawn patterns are also in the mod. Geometric patterns are easy to match, and so are vertical lines. British television personality Laurence Llewelyn-Browen brought a self-styling design to attention in early 2022, which is now an option for bedrooms if you want an airy, tranquil mood.
Llewelyn-Browen designed a room with a Blush Pink color combined with silver geometric patterns.
Take this idea to the walls and rods, and you have any soft pink or blue color with silver curtains, preferably with a geometric pattern. It's simple, modern, and it raises the mood of the room, especially a bedroom.
As the light enters the room, the attention will be shifted from the shades on the walls to focus on the dashing silver colors you use to accent the room. To bounce the silver color around the room, you can add a small wall accent adjacent to the curtains. This life tree from Etsy is an incredible choice.
Two-Tone Finishes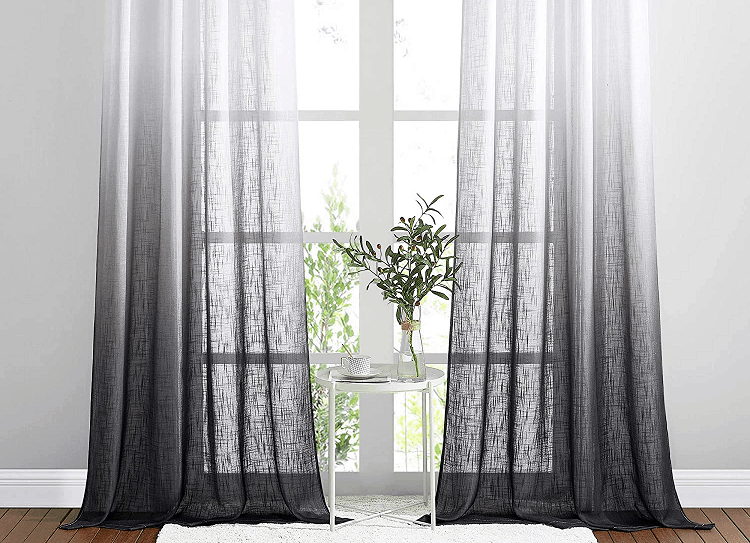 Two or three-tone finishes can be another contemporary simplicity that gives you just what you need. There are two options, namely using block curtains or two different colors entirely. This design is versatile because it allows you to play around with your furniture and wall decor.
To use two or three separate colors, sort the drops from darkest to lightest. For example, place a brown drop on the left, a beige one in the middle, and a white one to the right.
Repeat the pattern reflectively on the right-hand side of your rod. Solid colors are best to use in this type of design. Don't complicate the matches too much.
Block curtain designs are often premade, or you can custom order the colors you desire in your chosen room. The gradience depends on the room, but if you love sheer curtains, you'll love these Nicetown Black Ombre Sheer Linen Curtains from Amazon. Black and white are trending colors in curtains and window treatments.
If you're looking for something along the line of burlap or earthy colors, you can opt for the Curtainworks Kendall Color Block Grommet Curtain Panel, also available on Amazon.
Earthy colors are still contemporary designs if you match them correctly. They go well against a solid or two-tone wall, and it helps to invert the colors.
For example, if the bottom half of a curtain is darker than the top half, use lighter-colored furniture on the floor and darker accents above the block. Colors play a huge role in modern designs. Matching them can be pretty tricky to ensure they look like a trend.
Embrace Monochrome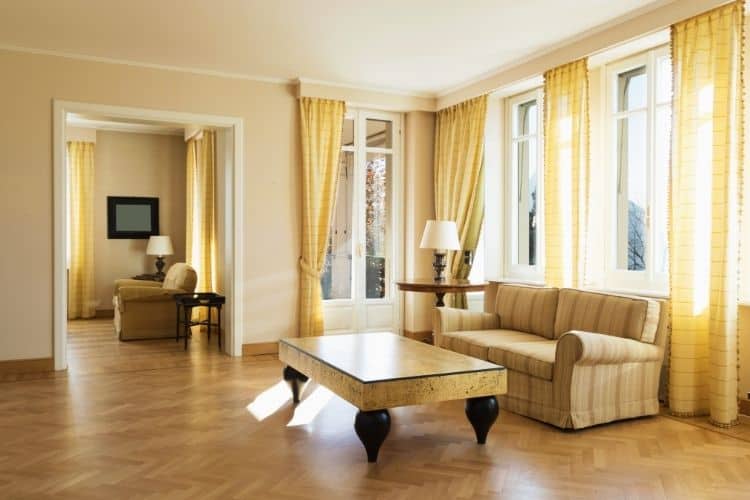 Monochrome colors, or solid colors, remain a fashionable statement in modern times. Take yellow curtains as one example. Yellow has always been a color of joy, freedom, and explicit radiance.
It brings smiles to the living room and adds incredible morning wakes if your windows face East to catch the beautiful sunrise.
Various shades of blue create phenomenal treatments in all the rooms in your home. Blue curtains are also taking the interior world by storm, and there are so many shades from which to choose.
Just don't make everything blue, or people will wonder if you're subliminally trying to say something.
Every color has a mood and represents certain qualities in your home. Blue comprises one of the most versatile qualities for mood and design. It promotes a sense of calm, imagination, and inspiration. Darker shades of blue represent intelligence and depth, both of which are modern qualities we cherish in our open spaces.
Solid colors are also easily matched by furniture with asymmetrical patterns or designs. Placing royal blue cushions on a bright red couch with navy blue curtains allows the room to yell contemporary. A rule with solid colors is that you don't have too many similar matches. Who said a room must be one color?
Going Green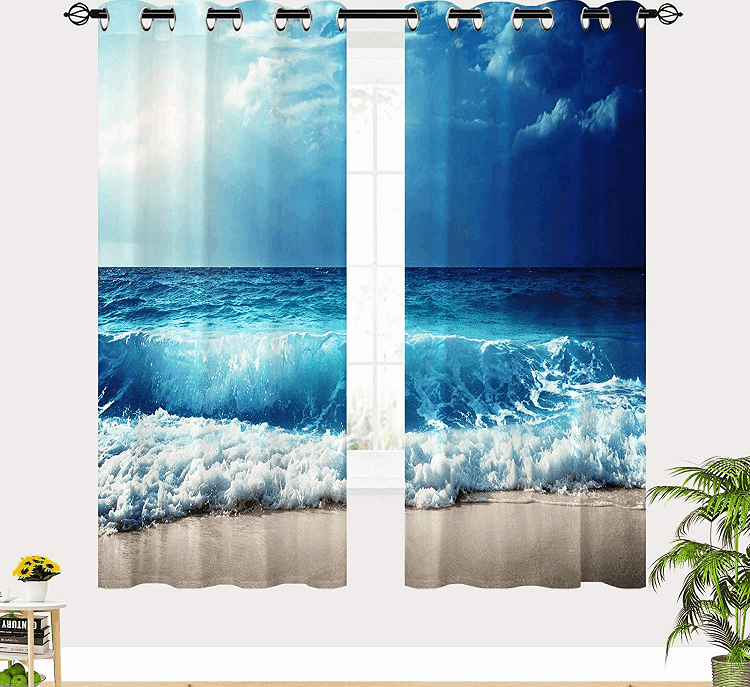 Modern homes are going green in so many ways, but this isn't about environmentalism. It's about adding an up-and-coming trend to the living room or bathroom.
Nature scenes on curtains are unconventional outside of the bathroom, but what defines contemporary design? Strange ideas are what modernists explore.
Take the Anhope Beach Blackout Curtains from Amazon. They seem wildly irregular in the living room, but add them to a Japanese floor and furniture design, and you've got something unconventional enough to strike modernity. Soft earthy colors in furniture with a dark accent of blue can also do the trick.
The Ambesonne Nature Curtains on Amazon can blend well with a Goldfish Orange couch, Chartreuse Green cushions, and darker laminated flooring if you want the feel of a forest in your living room. Nature or scenic curtains have vast potential.
Pattern the Drapes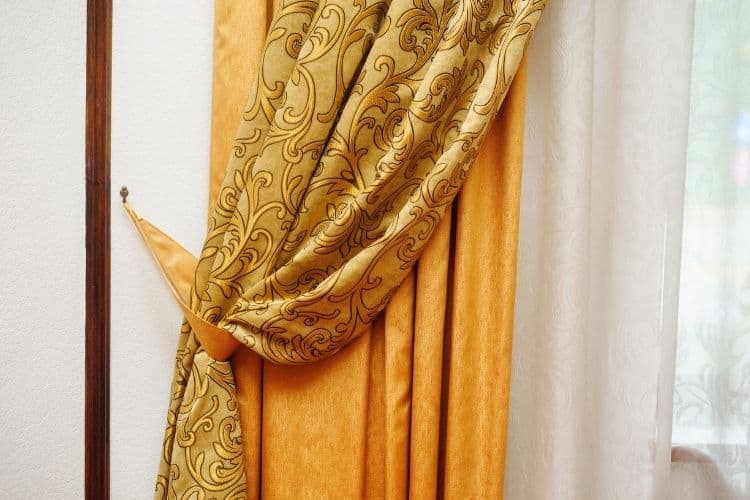 You can also combine monochrome-colored furniture with silk or velvet curtains that display a beautiful Eastern or geometric pattern. In this case, you'd use a lambrequin or valance to bounce the simplicity of the furniture against the magnificent textures on your drapes.
Quadrille Fabrics offers a variety of patterns from Kashmir to Persepolis if you're custom-designing your curtains. Combined with Chapas Textiles, you can create a fashion statement worthy of New York penthouses.
For example, combining cotton curtains with a pattern called Multi-Celeste Blue Ishafan with a tufted and weaved white sofa from Chapas can create a winning design.
If you're using lambrequins against designer patterns, always go with monochrome accents. You can use two different monochromes, but don't use Baroque lambrequins over Kashmir Exotique patterns.
Rustic Pleasures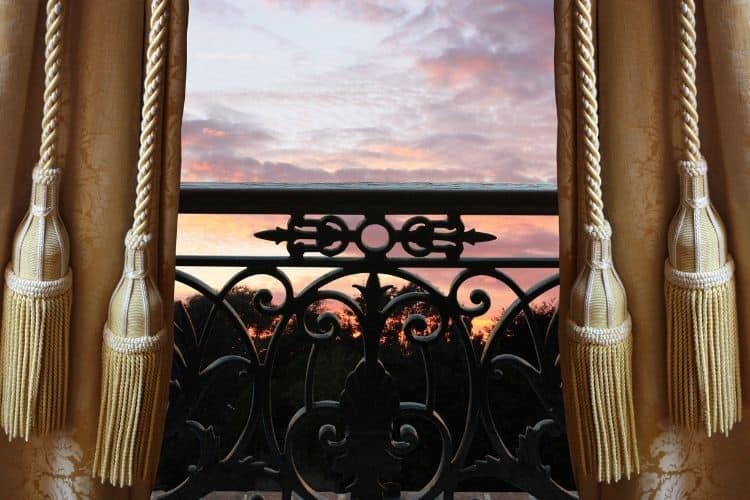 Rustic and cottage-styled homes are still in the now, but be careful of not going too rustic. Designer Bobby Berk opposes the extent of turning everything rustic in a room. Overkill is always a threat when you're aiming for modernization. Rustic and farmhouse styles are still trendy, but balance is the key.
Contemporary ways to add a hint of rustic pleasure to your home is to consider burlap or bamboo window treatments.
Bamboo comes in curtains, panels, and blinds, and your contemporary goals will depend on which design you choose. Moreover, modern bamboo curtains are often blended with cotton finishes to give you a sophisticated look.
Burlap curtains are made from the organic sacks from which their name is derived. Due to their high-intensity rustic vibe, burlap curtains are only used as the sole rustic accent in modern spaces. Designer Bob Vila recommends using a roll-down valance in the kitchen, made from burlap in customized designs.
A kitchen is an excellent place for burlap options, especially if you accent the window treatment with popping red or orange colors on the table. Darker shades of blue can also complement burlap designs.
Blending and Fading
Admittedly, you shouldn't be matching everything in a room if you want a contemporary design, but there's one exception, which is that you can fade the curtains into the background.
This option would possibly require new paint or wallpaper. These apps can help you match colors precisely for your walls and curtains before purchasing anything:
All three apps are available on Android and iPhone.
Fading is a modern way of matching your walls and curtains to make the room monochrome. For this level of fading, consider using accent colors to break the monochrome throughout the room. You can either fade the walls and curtains alone or kick it up a notch if you're brave enough to fade your couch as well.
Opulent Layering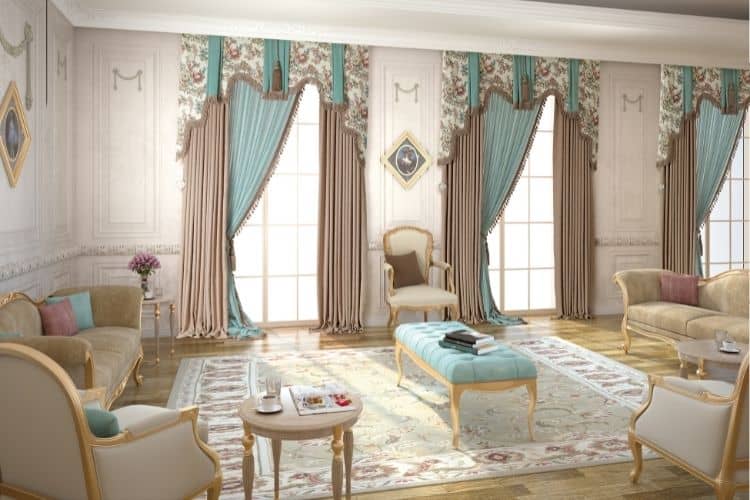 Creating opulence in your bedroom or living room can bring pizazz to class and back around to contemporary bliss. You also get to experiment with various shades of the same color, or you can contrast colors that make each other stand out, adding volume to the space.
Using a pinch pleat monochrome curtain in either beige or white as a backdrop would work well if you add a heavy, velvety brown drop to only one side of your second rod.
You'll need two rods for this trending idea. The back rod would have two to four drops, while the front one would only have one to two. It should take up half the window.
Use tiebacks to hold the front curtain in place while you fix the curtain to the center of the rod to give it that opulent display.
It should take up half the second rod while securely attached with a tieback, which can be decorative or match the backdrop curtains.
Stick to monochrome colors, but allow the darker shades to fade into the lighter shades on the back rod. You can design an opulent window treatment like the guys at Curatins Designs if you're bold enough.
Marc Pridmore is another designer who experiments with various opulent designs in modern colors.
Forget About Symmetry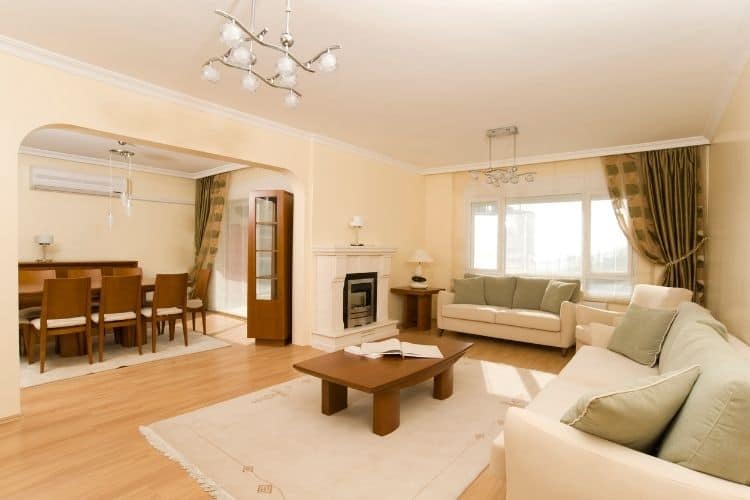 Have you ever walked into someone's home and wondered why their paintings hung askew? Well, it's because symmetry is no longer in fashion.
If opulence teaches you anything, it's that different ways of hanging window treatments can create a magnificent design. You don't always need a huge budget if you want to test the unconventional route.
Choosing two to three contrasting colors of sheer curtains can also work on a traditional curtain rod. Criss-crossing the colors and using decorative pins to keep them in place is a simple way of taking the 'norm' out of your window treatments. Any colors will work as you weave the sheer curtains over each other while on the rod.
Create a pattern by bringing the second curtain over the first and fixing it to the wall with a tieback. Roll the third drop over the second one, and use a decorative pin to keep it in place.
Continue bringing each sheer drop over the previous one until you have a pattern that looks like the wind blew them over each other.
Layered Treatment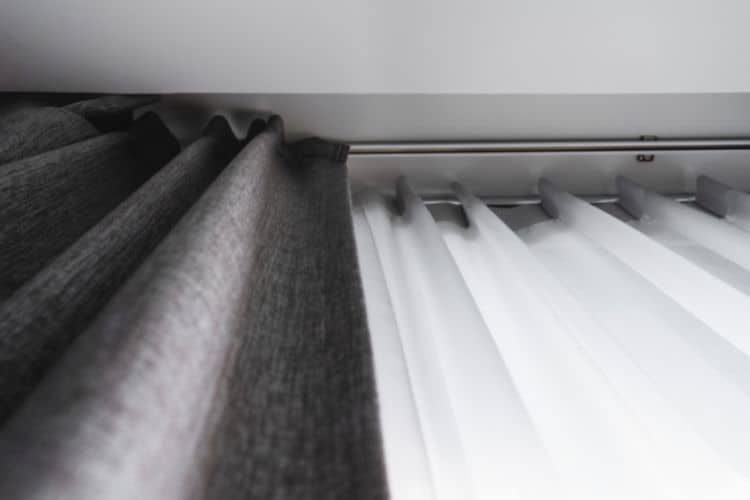 Layered window treatments became an art form, according to Stricklands. From combining blinds and shutters, you can also modernize your home by layering opulent drapes over Japanese screens or Roman shades. You want something simple to open and close easily while having decorative drapes tied to the sides.
The color choices for this type of curtain trend would be soft and gentle colors for the curtains and shades. White shades are a great choice as you can layer any soft color over them, depending on your accents in the room. Baby blue, soft pink, or beige work well.
Minimalism at its Finest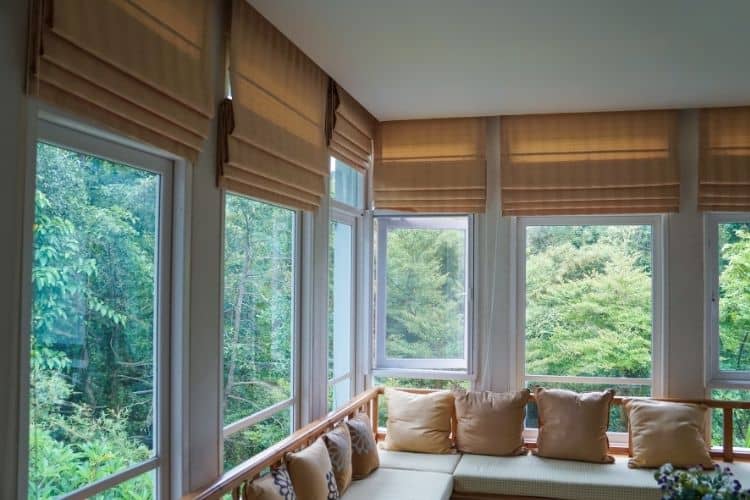 Some people are brave enough to have no window treatments, but most of us would like something. Minimalism is another trending topic in modern design. Why not combine the two if you like living minimally with open spaces and flowing rooms?
Roman shades are also great if you're a busy body. Moreover, you can have them designed in any pattern or color you need. The most practical is white, but you can add patterns to the design. Wayfair has a beautiful selection of Roman shades. Sometimes, less is more.
Japanese curtains are another choice for minimalism and open spaces with plenty of light. Also known as Noren, these curtains were initially used as fabric room dividers. It's made of various types of cloth and comes in plenty of patterns and colors. It's like a cloth sliding door in front of your windows.
Bonus: The Colors of Now!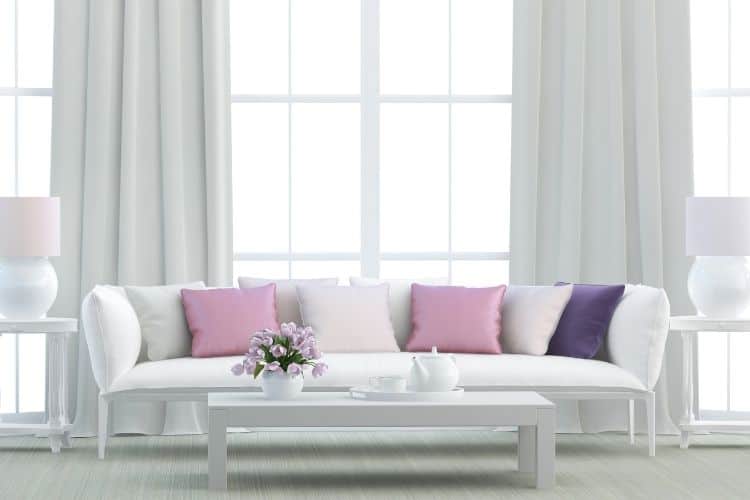 White curtains are a classic that never loses their modern touch, and they match with virtually anything. Whether you're looking for sheer curtains or silky touches, white is a winner.
Black is also a modern splash of gothic combined with focused intent in a space. However, some colors are leading the contemporary race in 2022.
Sherwin Williams brought a new color into the light of 2022 trends called Urbane Bronze (SW 7048). The color is deep and serene at the same time, providing a sense of peace and focus.
If you love meditating as much as I do, you'll find this color can absorb your distractions to optimize your focus. It's almost a blend of blue and gray.
Interesting fact: Color-matching specialists Pantone declared that illuminating yellow and ultimate gray are the color combination of the year!
Between Williams' Urbane Bronze and the popular ultimate gray, the year's color leans toward gray with a splash of yellow. It's such a sophisticated color combination with so much potential, and it matches well with just about anything!
Tips for Trending Modern Curtain Choices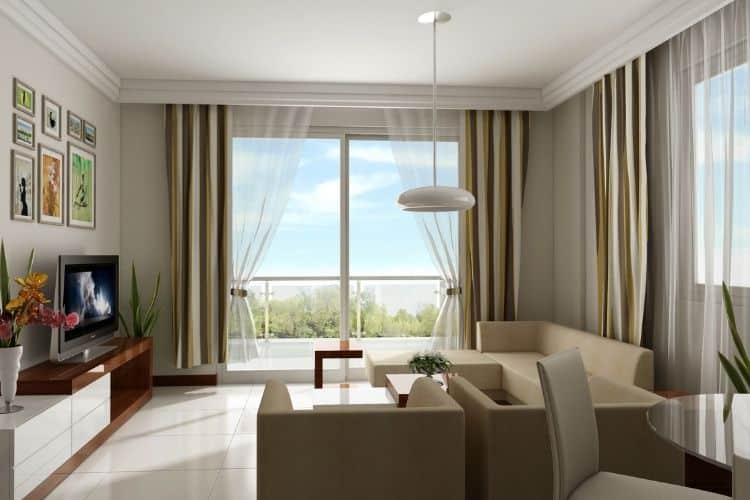 Before diving into the magical world of designing your home with trending modern curtain ideas, you must choose which room you'll be experimenting with. Other than the room you'll turn into a trendsetting phenomenon; there are some choices to consider before diving into the heading to the stores.
Choice 1: Color My Room
From bold red curtains that tune the room's colors into an earthy aura, color choices are often based on your preferences combined with the furnishings, paint, and fabric already in the room. Additionally, you may be into feng shui designs, which will determine where a particular color needs to be placed in a room.
Feng shui is a contemporary method of choosing colors and layouts, and many designers are turning to the trend that started with ancient battleplans. Some colors are more modern than others, though. The trending colors in 2021 include:
earthy tones
sage green
blue/gray
gray
dusty rose
rustic brown
red
eggplant
gold
silver
soft pink/blue
orange
Choice 2: Fabric Elements
Modern designs are anything but linear, so fabric choices will vary, depending on what speaks to your soul as you walk into a room. The one great thing about modern designs is that trending ideas are outside the box, so don't worry about your favorite fabric choice. No preference is too bizarre. These are some modern fabric options to consider:
silk
polyester
lace
velvet
cotton
linen
acrylic
rayon
voile
brocade
gauze
muslin
eyelet cotton
jacquard
bamboo
ticking
sateen
chiffon
tweed
burlap
chenille
denim (for the brave at heart)
Expert tip: Jacquard is a beautiful fabric that comes with damask patterns if you want your home to be a modern blend of Far Eastern culture to complement your elegant backdrop if you have monochrome vintage furniture. Damask patterns are quickly becoming a trend again.
This elegant drop from Inspire Homeware seems brave, but it complements the simplistic background of a modern, white room.
Bonus tip: Linen or synthetic curtains are still widely used in traditional decor and modern flare due to their versatility in colors, patterns, and designs.
Choice 3: Window Treatments
What do you think it would look like if you hung a designer, modern curtain on a stick you found in the yard? 'Tragedy' is the only word that suits this scenario. Well, that's unless you're going for a complete rustic style, which once again, trends are set by someone trying something new.
Keep in mind that you can also accent one type of window treatment with another one. Change your rods, use tiebacks to create opulence, or stick to regular eyelets if you're looking at simpler designs. Planning your accents, accessories, and rods is also essential before choosing the actual curtain.
Choice 4: Custom Design or Store-Bought Curtains?
Will you be designing your curtains with the help of a contemporary specialist? Some names to consider would be:
If you can feel your inner designer burning to create magic in your home, consider store-bought curtains from:
Choice 5: Setting the Right Mood
Every room in your home represents a small part of your life. Your bedroom should be a place of rest and rejuvenation, and your kitchen should be a lively, welcoming space. Consider the mood you want to set in each room. Don't overcomplicate your designs if you want a minimalist office space.
Don't choose blackout curtains for the living room if you want to feel the freedom of natural light during the day. Consider which curtains will suit best to each room. Blackout curtains are also popular as they dampen much of the sharp sunlight. You even get sound-dampening curtains.
Curtains can also trap heat better if you consider thermal fabrics in bedrooms and open spaces where the cold nip bites you. The mood isn't just about color, but it's about choosing the right curtains to fit into the qualities you want in each room.
These five choices help you determine what modern trend you'd like to set in your home. Remember that unconventional is the way to go. The designs mentioned will inspire your out-of-the-box thinking.
Frequently Asked Questions
Question: What are Common Types of Curtains Currently in Style?
Answer: The range of modern curtains you can choose includes Roman shades, Japanese curtains, French designs, Scandinavian drapes, burlap fabric, simple colors combined with pattern accents, and Austrian curtains.
Question: Are Tiebacks Part of the Modern Movement?
Answer: Tiebacks should be reserved for opulent or layering designs. It's not modern to put tiebacks on a nature curtain or a monochrome drop. The exception will be if the monochrome drop fades into another color.
Question: What is the Modern Length of Curtain Drops?
Answer: Curtains that run flush with the floor are said to be the most contemporary style in 2021. Interior designer Kati Curtis recommends that you stay away from 84-inch curtains unless you have low ceilings. Custom drops that touch the floor are the way to go. You also don't want curtains pooling on the floor.
Question: How High Should I Hang My Rod or Rail for the Modern Convention?
Answer: Architectural Digest recommends that curtains rods and rails are hung four to six inches above a window for optimal effect. This gives you enough space to layer and use drapes. Some people use a trick to hang curtains even higher to give the illusion that the ceiling is higher.
Question: Will Curtains Go Out of Style in the World of Blinds and Shades?
Answer: Curtains will never go out of style. Some people like the more straightforward look and use of blinds, and they don't have the color-matching challenges some curtains have.
Blinds are also easily available online for added convenience. The measurements aren't as complex as curtains, especially if you're aiming for a trending design.
In Conclusion
Whether you're as particular as me or not, modernizing your home with trending curtains is fortunately not rocket science, but it's a little tricky because of individual moods and qualities. Consider how every person loves different colors. Many people want modern homes, but their preferences are vastly irregular.
The beauty is that contemporary, trending, and modern designs are based on out-of-the-box thinking. Sure, there are color-popping trends like illuminating yellow and ultimate gray, which is what I've leaned into, but there's nothing wrong with navy blue and its contrasting accents in the room.
For you to choose the right curtains is about more than color and length. It's about exploring the designs mentioned so you can determine which one attracts your soul, mood, and mind.
Simpler designs with eye-catching colors are certainly one of the most significant choices, especially if you want to match your rooms to your curtains.
However, it doesn't matter which style you choose in 2022. All that matters is for you to select a trending style that won't go out of fashion any time soon, and that would be any of the 13 designs mentioned.
For more reading on contemporary designs, see: