Latest posts by Erin Jamieson
(see all)
Target has become a go-to store for everything from electronics to home goods and even groceries. But the popular chain is knowingly guiding Americans to affordable blinds. The question is: is it in your best interest to buy blinds from Target for your next home improvement project?
Blinds are one of the most affordable and practical ways to update your home in 2022. From adding privacy to adding finishing touches to a room, and, of course, controlling sunlight, it seems like you can't go wrong. 
The problem? While it's great to have a wide selection of stores to shop at, the choices can be overwhelming. And Target is one of the stores that have seen an increased interest in window coverings and related products– even though they're not a specialty home improvement store.
From 2016 to 2020, home improvement consisted of a 20.8 percent revenue share for Target, making it the second most profitable category for the store. That's likely only increased– as these measures were taken before the bulk of the pandemic impact could be measured.
It's easy to guess why Target stores are becoming more popular: convenient, modern, and budget-friendly. 2022 likely will be another great year for the store. 
This guide will tell you what you need to know to find the best Target blinds that they have to offer. I'll also give you a few of my favorite blinds, no matter what your needs are. 
What is the cheapest window covering?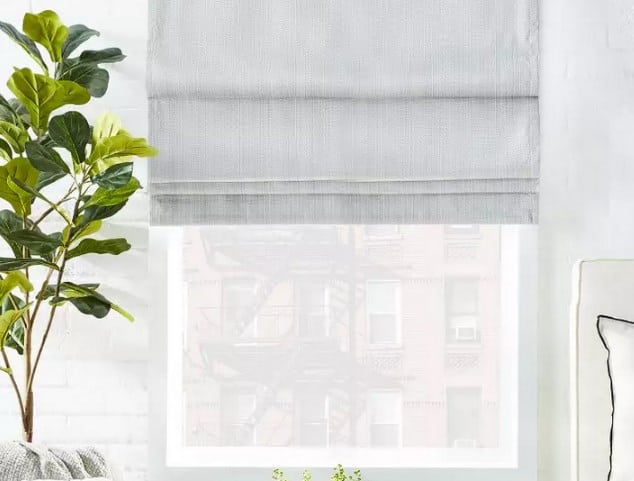 I understand being on a tight budget– and one reason many may flock to Target is thinking they may spend less. But before you decide on Target, or even on blinds, you should consider all of your options. Shades can be cost-effective, and curtains are available in both expensive and budget-friendly options. However, generally, you're correct in assuming that blinds average out to be the most affordable window covering. 
How much should blinds cost per window?
First, it's helpful to understand average costs. Do keep in mind that averages are imperfect measures, and sometimes do include outliers (especially expensive or cheap blinds). That said, blinds cost an average of $709 for blinds and labor included– labor accounts for an average of as little as $10 up to $50 per window. Another helpful metric is an average of $200 to $330 per room. 
If we take installment out of the picture (many blinds, including horizontal blinds, can be installed on your own), those costs will go way down. The cost of blinds depends on the materials– with wood being among the most expensive, and materials like vinyl the most affordable. Vinyl blinds are priced under $15, often under $10. The average budget-friendly blinds run around $10 each. Faux wood average closer to $20 to $30, and genuine wood blinds average around $50, no installation included. 
Where can I get the best deal on blinds?
The truth is you can find great deals on blinds in several different places. Home improvement stores, such as Lowe's, Home Depot, and Menard's often have sales and other promotions. Target, Walmart, and Amazon all offer blinds at a reasonable to the low base price. 
How much does Target delivery cost
Any orders under $35 are priced at a flat $5.99 fee for shipping to your home– but RedCard owners are eligible for free standard delivery. If you upgrade to Express delivery, the costs are priced by weight, as provided in the table below. 
| | |
| --- | --- |
| Weight | Express Shipping |
| 0 – 4 lbs. | $10 |
| 4 – 9 lbs. | $20 |
| 9 – 33 lbs. | $30 |
| 33 – 59 lbs. | $50 |
| 59 – 99 lbs. | $80 |
| 99+ lbs. | $120 |
Oversized items exceeding 99 lbs are subject to additional delivery fees, as noted below.
| | | | |
| --- | --- | --- | --- |
| Weight | To-the-Door Delivery | Inside-the-Door Delivery | Room-of-Choice Delivery |
| 0 – 225 lbs. | Free | $15 | $40 |
| 225.01 – 400 lbs. | Free | $25 | $50 |
| 400.01 – 1000 lbs. | Free | $40 | $100 |
| 1000+ lbs. | Free | $150 | $200 |
Click Here For All Target Delivery Policies.
How do you pick blinds?
To select the best blinds, you need to understand the color, materials, and sizes that make sense for you and you're home. By having these criteria in mind, you can quickly narrow down your choices and determine the price you want to pay. 
Should blinds be lighter or darker than walls?
For blind color, there is no one rule. Most opt for a blind color that is either one shade lighter or darker than their walls. White blinds, however, are commonly used in almost any room. Darker blinds tend to make a room feel and look smaller and cozier, while lighter blinds make it feel brighter and larger. 
How do you figure out what size blinds you need?
Start by measuring the width of the inside of your window. You'll need to round to the nearest ¼ or preferably ⅛ inch. The height must be measured inside, from the top of the opening to the top of the window sill. 
What are the most durable types of blinds?
Faux wood blinds and aluminum blinds are excellent choices for heavy use, though some aluminum blinds can be cheaply made. The best of these two are moisture-resistant, often fade-resistant, and should last years. Wood blinds can warp in humid conditions, but some are given a special coating or treatment to reduce this. 
Vinyl and plastic blinds are low-cost, but easier to break. PVC is the most common form of plastic blinds. While cost-effective, they have some potential safety concerns— and they won't hold up quite as well. Bamboo is a unique, durable alternative to wood. However, for Target, you may need to adjust your criteria a little. 
How do I pick Target blinds?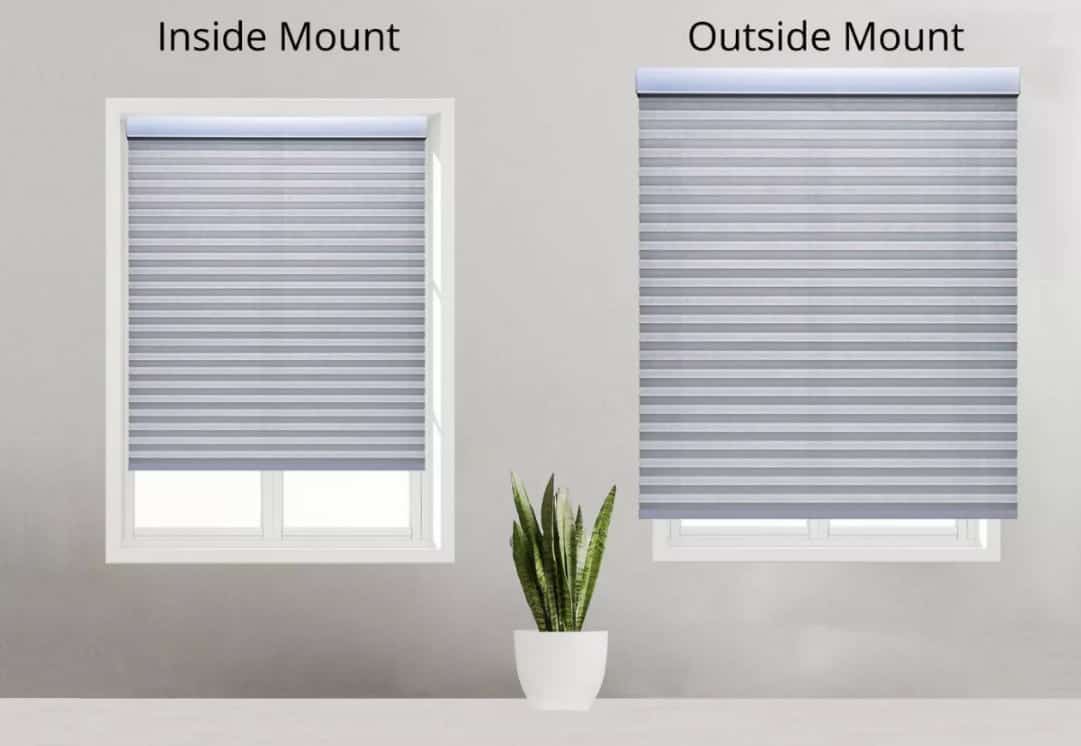 With this in mind, the good news is that Target has a nice variety of different blind styles at a variety of prices. Before you wander into your local Target or shop online, here's what you need to know. 
How much do Target blinds cost?
Including roller shades, Target blinds and shades start at around $20 and go up to $170. This is a higher price than many might assume. Target does have some fairly advanced and higher quality options, but you'll find plenty at average prices.
What type of blinds and shades does Target sell?
Target's online collection consists of 69 options for blinds and shades– a collection which I expect could expand in the future. Blackout, light-filtering, and room-darkening options are available. For materials, you'll find bamboo, cotton, linen, polyester, suede, PVC, and vinyl, as well as faux silk.
My recommendation? Blind options are a little limited, so you may consider expanding to shades. You'll find just one option for bamboo — my favorite. Most are polyester, which is suited for blackout materials, or PVC. Faux silk is made out of a blend of materials, such as polyester, cotton, and rayon. None of these are usually my top picks, but they're fairly durable and suited for everyday use. 
Does Target offer custom window blinds?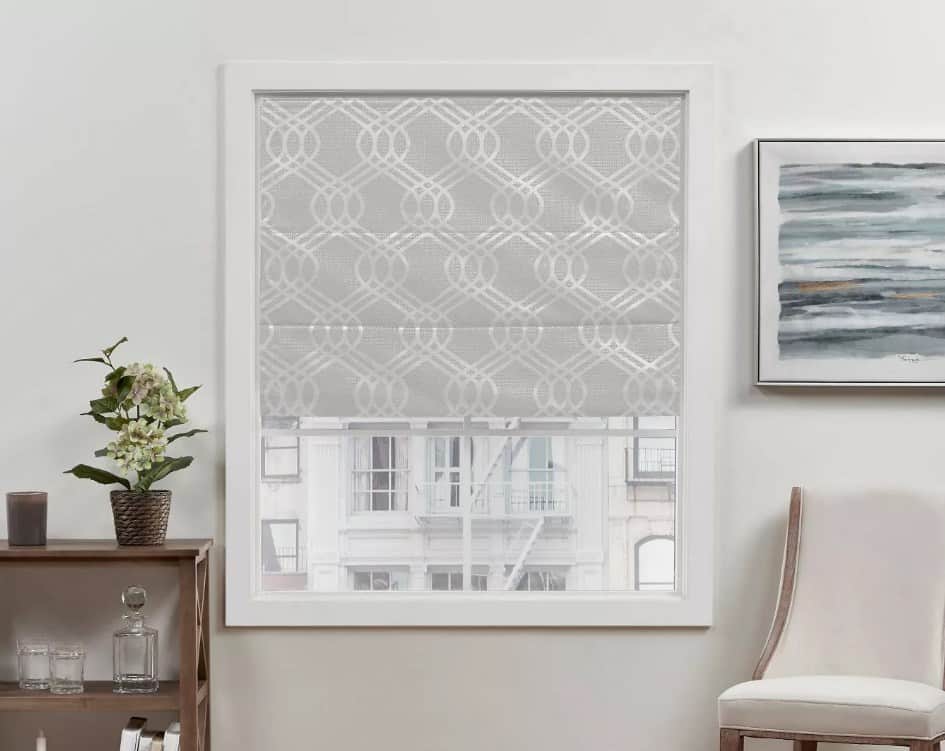 If you're shopping with Target, expect that you may need to trim things down to the side. It may not be the best option if you have irregular window sizes or shapes. For those instances, I would recommend shopping with a home specialty store. 
Does Target sell blinds in stores? 
Target offers regular delivery and contactless curbside services. However, for the selection of blinds you want, I recommend shopping online initially. This is even true for curtains- which, while in-store, will be more limited than what's carried online. 
What other criteria should I consider?
Consider why and how you're using your Target blinds. Target leans towards modern designs, with middle-range options in terms of price and quality. There is no one best style or type of blinds, but I always recommend comparison shopping. 
Target Blinds: My Picks
Here are my picks for some great Target blinds in 2022. I've included room darkening, light filtering, and blackout options so you have blinds for any room or purpose. I've taken into consideration different budgets, and the quality of materials or features you're getting for that price point. All blinds are classic or modern in style and tend to lean versatile and understated. 
Target Blackout Blinds & Shades
Blackout blinds aren't quite as effective as some blackout curtains, but they're designed to help you sleep better by blocking out most outside light. They can also keep your room more comfortable and a little quieter.
Some prefer blackout blinds to curtains because they are more adjustable, less bulky, and can provide a peaceful sleep environment– while allowing just a little light to peek in for a morning wake-up. 
Often, shades are used over blinds for a more complete blackout effect– so I've included a few shade options as well. All of these are made out of polyester.
Linen Avenue Cordless Day/ Night Cellular Shade and Blinds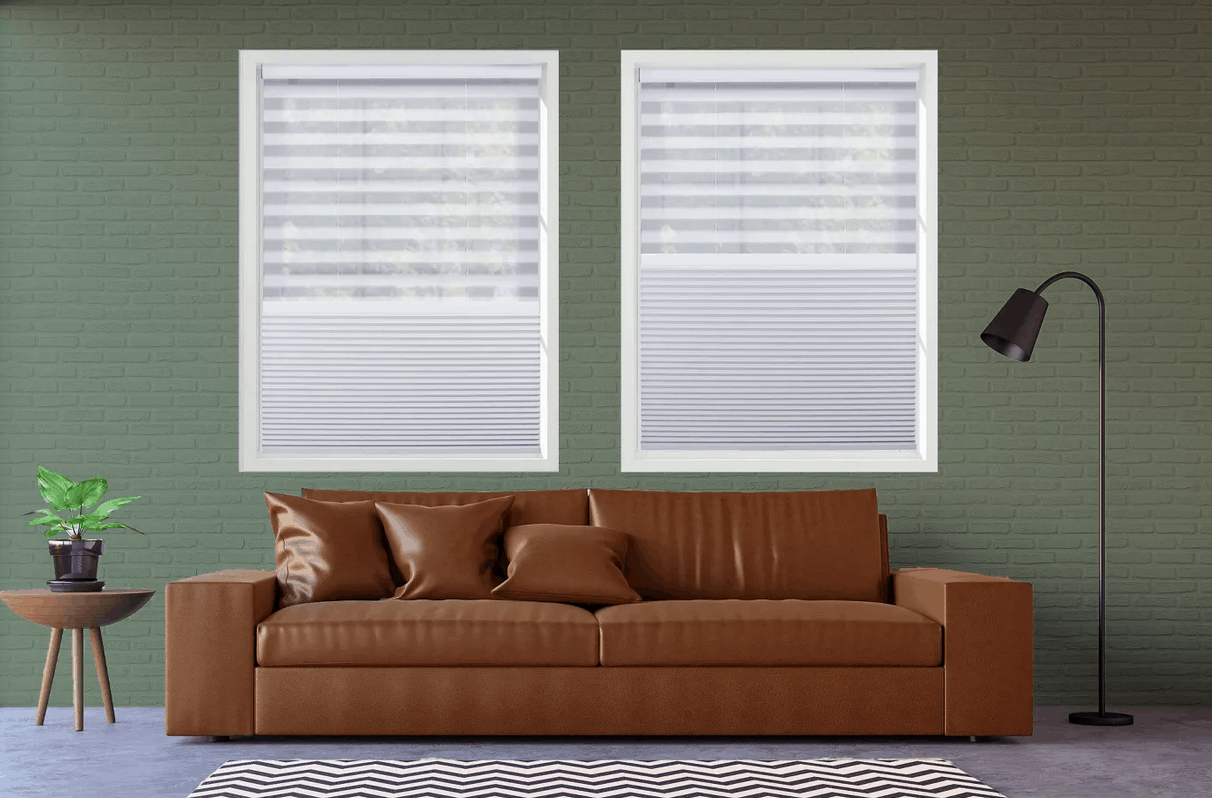 This innovative two-in-one is a perfect option for a bedroom. Priced at $88.50, these unique window coverings block out all light with bottom blackout fabric. Meanwhile, the upper fabric is pleated and sheer. The result? Better sleep at night, and a gentle morning wake-up, with privacy where you need it. Finished with a semi-flush mounting type and available in white; Buy Here. 
Acadia Total Blackout Roman Shades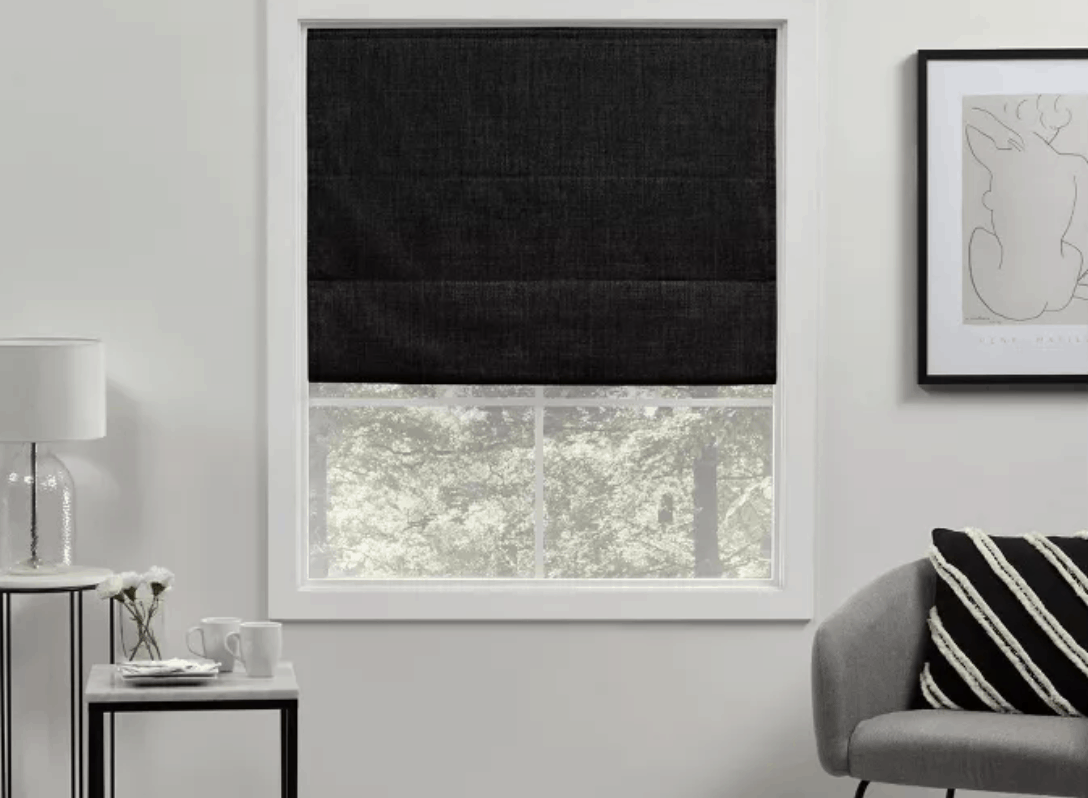 These highly rated blackout shades may become your go-to for bedrooms and noisy streets. Sleek and simple to use, choose from black, chambray, chocolate, red, and even blue denim. Woven polyester is meant to mimic a linen look, complete with a modern, cordless design. Foam backing adds insulation and privacy to the blackout fabric. Priced from $47.99 to $70 depending on color; Buy Here. 
Marseilles Damask Blackout Roman Shades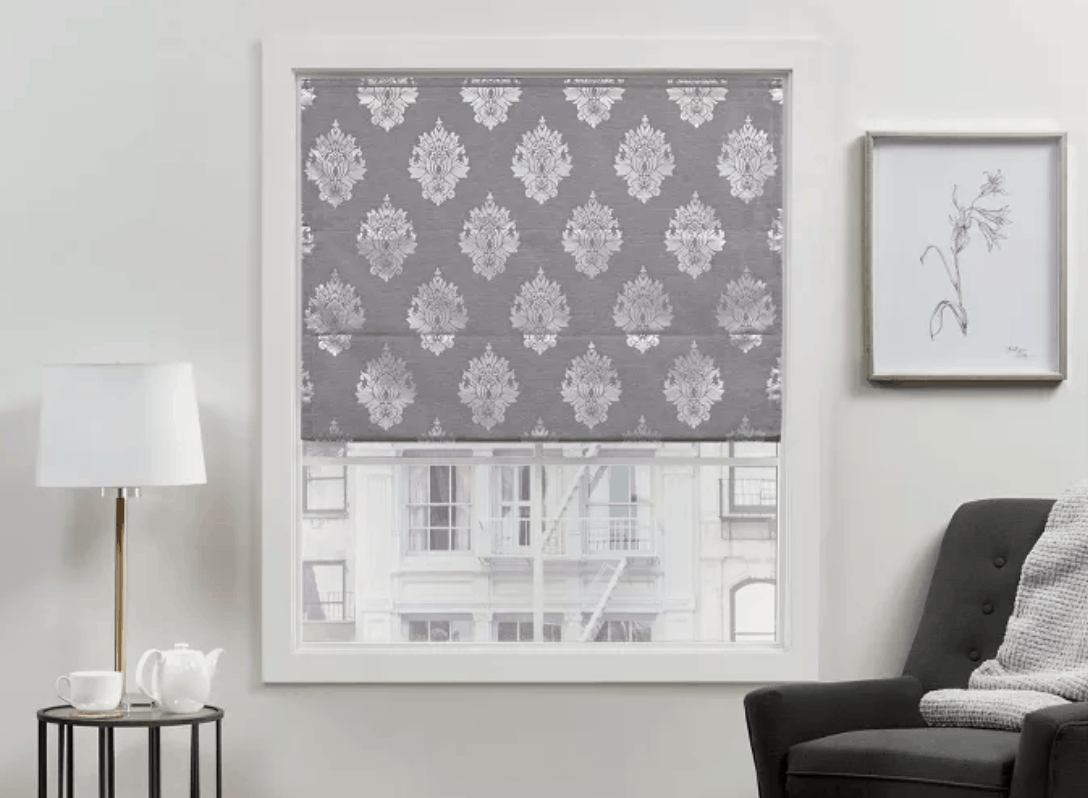 These exclusive blackout shades feature a unique pattern that adds a touch of elegance. Woven polyester creates linen fabric texture, complete with a traditional Marseilles Damask pattern. Meant to maximize privacy and foam backing and a thoughtful design, these shades are available in gray, natural, silver, and white. Priced from $31.99 to $69.99; Buy Here. 
Target Light Filtering Blinds 
Light filtering blinds are used in main living spaces. Protecting against harsh sunlight, they gently filter light for a welcoming glow. Sometimes, light filtering blinds are used with curtains to add privacy when you want it. They're also sometimes used to simply add finishing touches to windows.
Your best bet in this category is likely PVC or faux wood if you aren't worried about safety concerns. PVC is stronger than vinyl and many of their other options, except one option for bamboo blinds. You'll get more options if you expand your search to shades. 
Cordless Roll Up Bamboo Light Filtering Blinds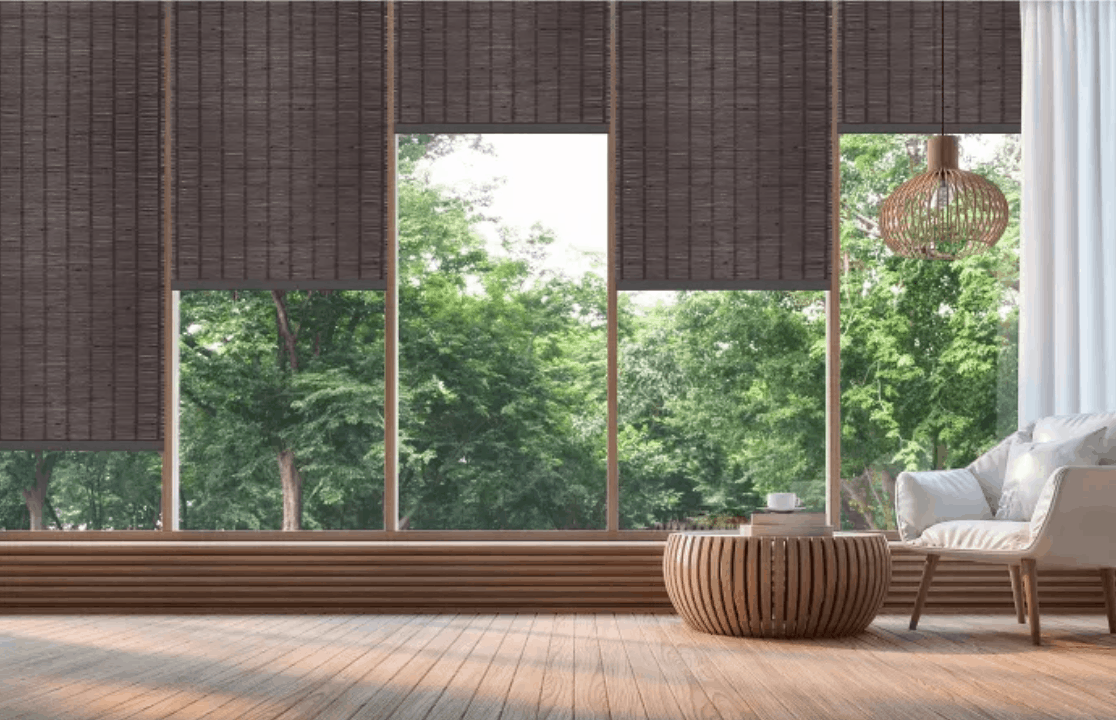 These bamboo blinds are easily my top pick for Target's light filtering collection. Stylish, sleek, and more durable, the woven bamboo softly filters light. The cordless construction is modern and kid and pet friendly. Priced at $45.49; Buy Here. 
Achim Home Furnishings Morningstar Mini Blinds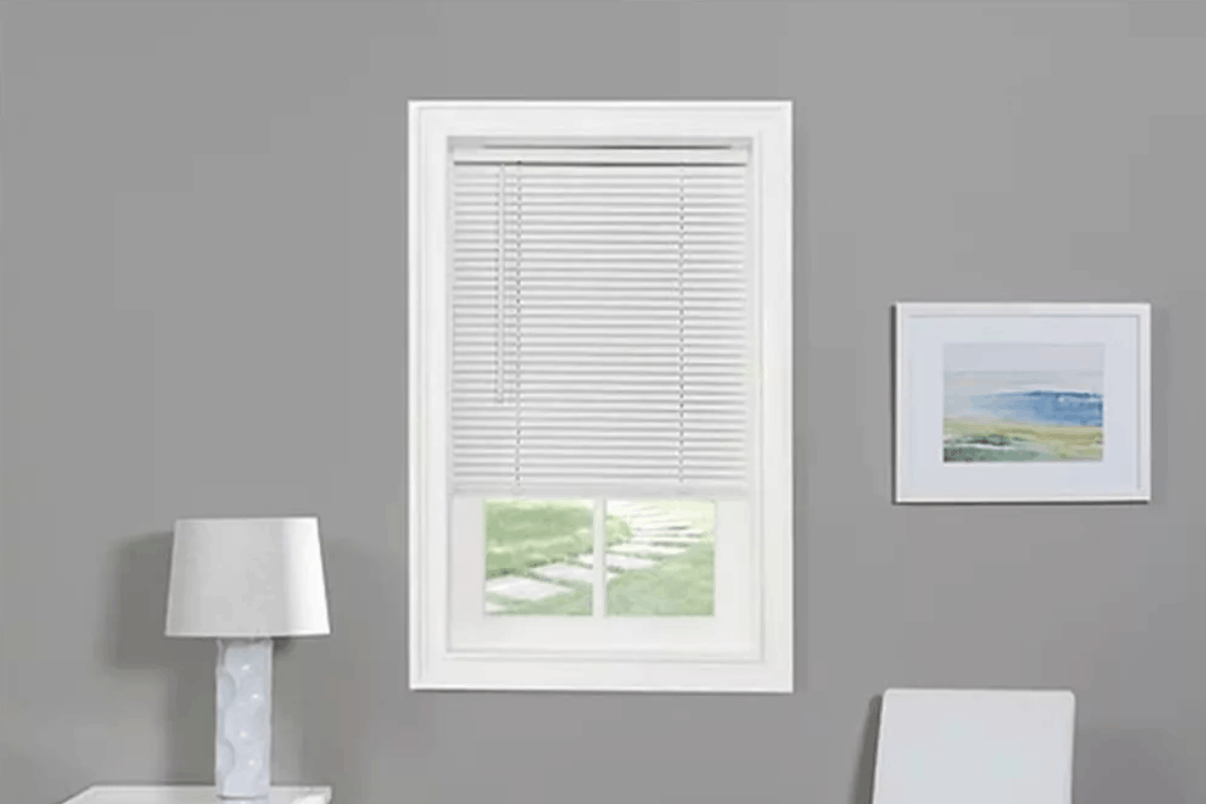 Mini Blinds are a stylish alternative to regular blinds and feature a 1" slate. Made out of PVC, these blinds feature an easy lift and push-down operation, useful for just about any room. The modern rounded headrail adds a sleek appeal. The design is meant to improve climate control, available in a classic white hue. Now on sale for just $21.99; Buy Here. 
Linen Avenue Faux Wood Blinds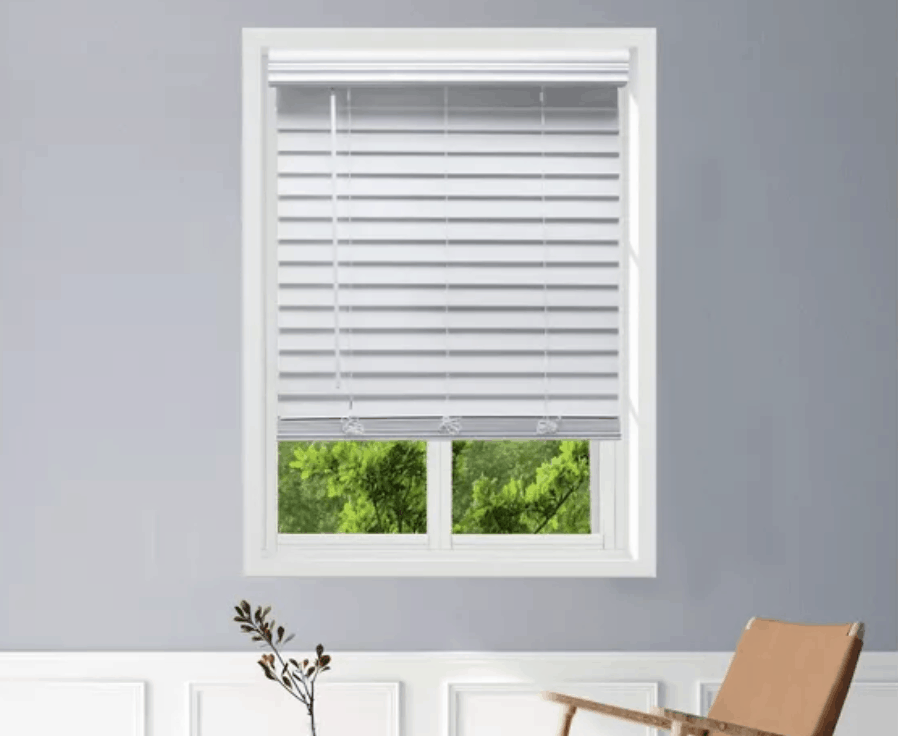 These faux wood blinds provide a little bit of the traditional look of wood blinds– but at a lower cost and great durability. These 5-star blinds are priced at $45. 39, available in classic white, and is a modern design that can be used for any living space. You won't need to worry about warping or fading; Buy Here. 
Target Room Darkening Blinds & Shades
Room darkening blinds are perfect for media rooms, main living spaces, and home offices. More effective at reducing glare than light filtering blinds, these blinds make it easier to see screens of any kind. They also offer a nice balance of privacy and protection– without shutting out as much light as blackout blinds. Unfortunately, there is just one set of blinds to choose from in this category– hence my addition of some shades as an alternative solution. 
Cordless "EZ Clip" Temporary Shades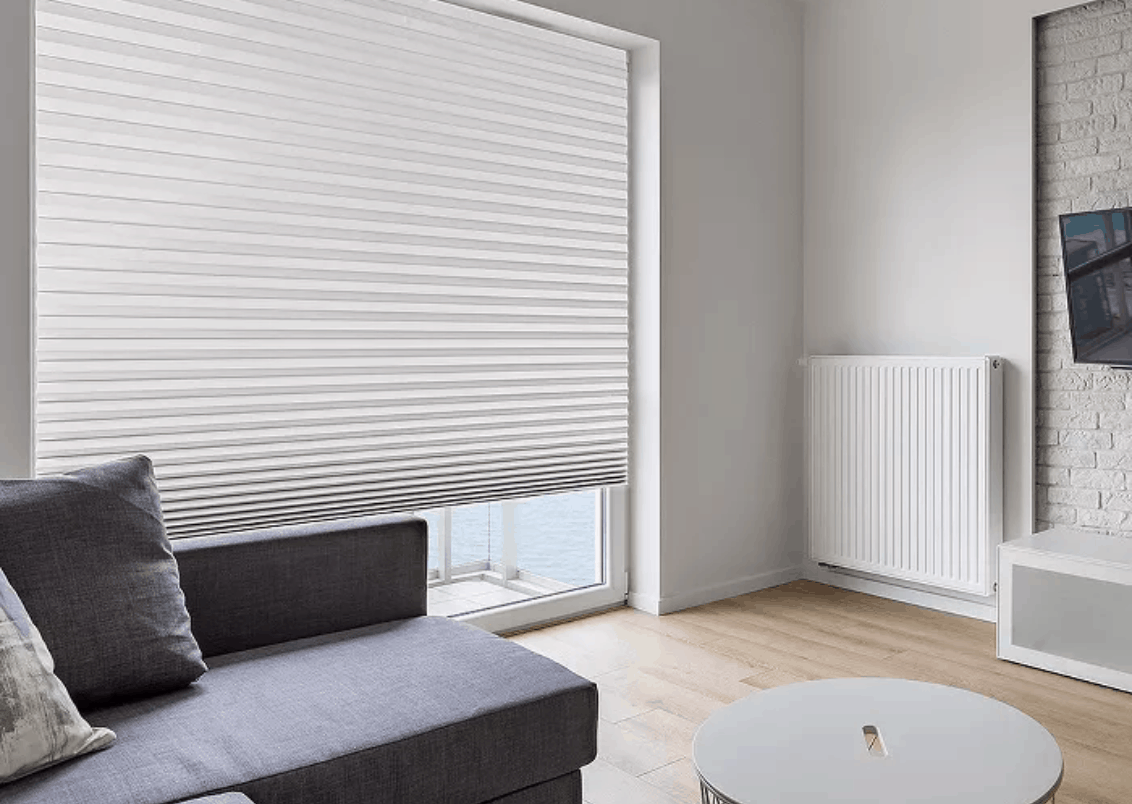 Need a budget-friendly window covering option? These offer room darkening protection, in a pack of 6 for just $54.99. Meant as a temporary solution, these are actually amongst Target's highest rated options (though the reviews are fairly limited). The peel and stick are designed for nearly instant installation and can be used for places where you don't want or can't place holes. Made out of vinyl, these are meant to be used while you're shopping for other blinds, or if you're staying somewhere for an interim. Buy Here. 
Aberdeen Printed Faux Silk Cordless Roman Shades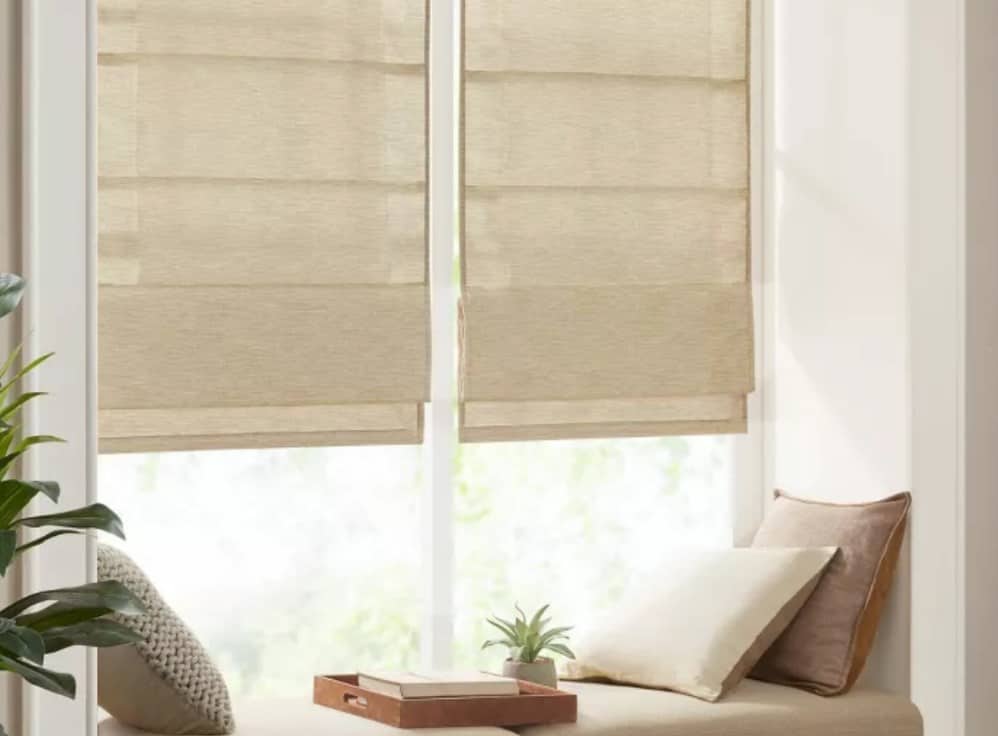 Love the idea of silk but not maintaining it? Faux silk is often used for window coverings for light filtering and room darkening. You'll get a luxurious accent, but easier care. These polyester shades provide comfortable room darkening and are resistant to mildew and moisture. Available in gray, taupe, and ivory, and priced from $59.99 to $79.99. 
Linen Avenue 5 Percent Solar Shades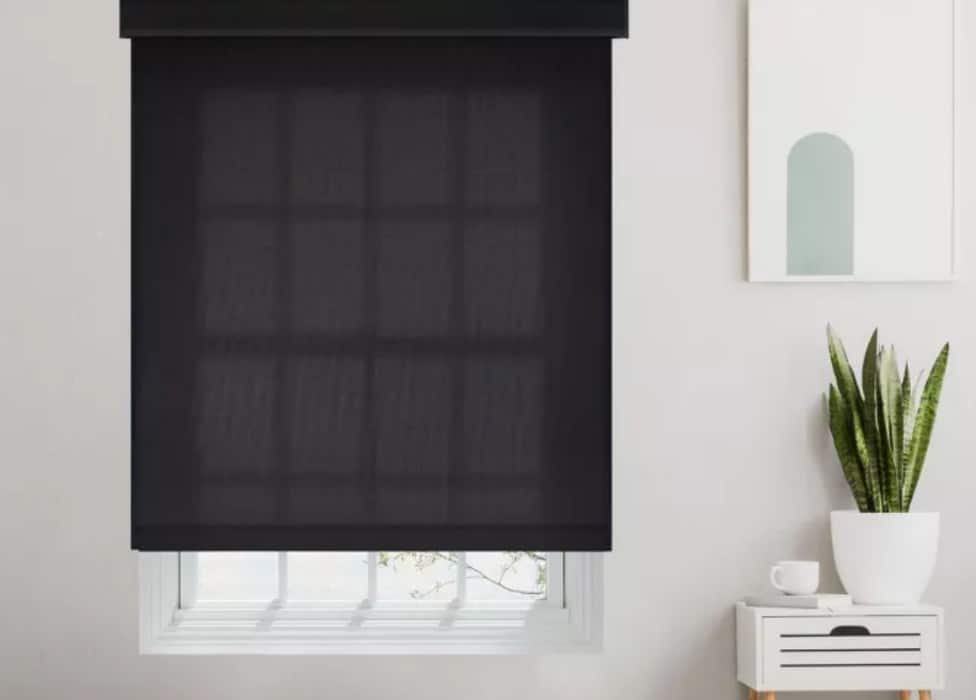 These light filtering shades come with a bonus. Made out of PVC, these cordless shades add a little more protection from the sun than typical room darkening options. The cordless, modern design is versatile and seamless for any room, no matter who's in your household. Available in white, gray, and black and priced $87.89; Buy Here. 
Frequently Asked Questions
Question: How do you do curbside pickup at Target?
Answer: Target's curbside or drive-up services are a great way to shop online and avoid shipping fees or time. After placing your order online or via their app, opt for "Drive-Up." You should receive a notification within 2 hours. Through the app, you can specify your car type and make. Park in a designated Drive Up spot and someone will bring your order to your car. 
Question: Does Target have good customer service?
Answer: As with most major stores, you may have a different experience depending on where you go. But outliers aside, Target has about average customer service. You won't be working as much with specialists, but many stores are well run and have a reasonable response time.
Final Thoughts 
Target has a modest selection of blinds, with a few bright spots. I especially love the innovative design of pairing sheer blinds with blackout shades. You'll have more options for shades, but as a whole, I see Target as carrying a few gems– and not as affordable prices as I'd hoped, even for vinyl and PVC options. 
Looking for a steal and more options? Check out Cheap Blinds and Shades from Blind.com Here.