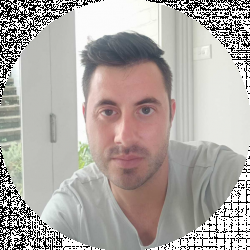 Latest posts by David Borgogni
(see all)
Most home decoration experts agree that flooding a room with natural light is a good thing, but sometimes too much of a good thing can be bad. Learning how to find the best blinds will enable you to control how much natural light you want to let in a room.
Combining several types of window treatments is also an option you have at your disposal, so you don't necessarily have to choose between curtains and blinds, but use them together instead.
However, you might feel overwhelmed by the range of styles, materials, and sizes if you decide to install blinds on windows in your home.
That's why in this guide, we're going to arm you with all the information you need to figure out how to find the best blinds for the windows you'd like to dress.
Choosing the Right Window Treatment
A window treatment is any modification or a cover that improves its visual properties and allows the homeowner to control how much light is coming into the room.
Consequently, window shutters, shades, and blinds are referred to as hard treatments, while curtains and drapes are known as soft window treatments. Adjustable horizontal slats used to control the inflow of air and light into a room are one of the most distinctive characteristics of blinds.
On the other hand, these hard window treatments keep the rain or snow from reaching the room's interior if the window is open, while some models can even have anti-dust properties.
Unlike window shutters, blinds are usually mounted on the interior side of the window and inside the window frame. However, this is not always possible as some window frames are too shallow to hold headrails.
If the window frame isn't deep enough, you'll have to opt for the outside mount that involves placing the blind on the window trim or a few inches above it.
The Difference Between Shades and Blinds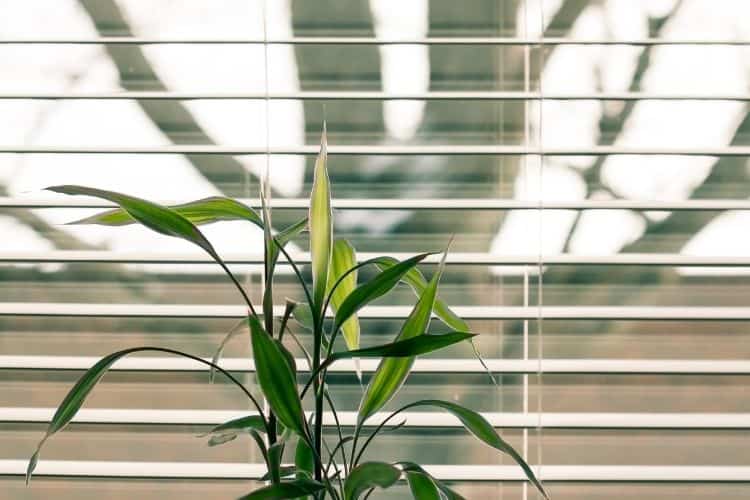 These two terms are often used interchangeably, even though they denote different types of window dressings. The key difference between blinds and shades is the material they're made from since shades are made of different types of fabrics.
They're also designed differently, the shades can only be rolled up or down, and they don't contain slats. Instead, a shade is usually a uniform piece of fabric that resembles a curtain, although much smaller as its purpose is to cover just the windowpane.
Some shades can be made of woven wood that is still much softer than the materials used to manufacture blinds. As a hard window treatment, blinds are always made of solid materials such as:
Hence, the durability and all other properties of the window blinds model depend on the material. Real wood blinds are probably the most popular option, while models made of PVC or vinyl are the most affordable.
Shades aren't as durable as blinds simply because the materials they're made of tend to wear out after a few years.
The Most Common Types of Blinds
Examining the position of slats is the easiest way to determine which type of blinds you're looking at. The size of a particular model might also help you figure out if a particular model falls in one or the other blinds category. Let's take a look at the most common types of blinds.
Venetian blinds

– Arguably one of the oldest types of blinds, Venetian blinds have been a popular window treatment option since the early 18th century. These blinds are composed of a series of horizontally oriented slats held together by a strip of fabric or a cord. They feature a tilt mechanism at the top equipped with a control rod that allows you to rotate the slats.

Vertical blinds –

As their name indicates, vertical blinds are composed of vertically oriented slats connected by a headrail track. They also feature a rotating chain that lets you adjust the positions of slats or move them to the side to reveal the window.

Panel track blinds –

Although similar to vertical blinds, as both types use the headrail track and a rotation chain, the panel track blinds enable you to control each slat separately or move them left or right or separate them in the middle. In addition, slats are made of fabric, which makes panel track blinds similar to shades.

Mini and micro blinds –

The design of the mini and micro blinds is identical to the design of Venetian blinds, and the only thing that differentiates them are the thickness of slates. Mini blinds are equipped with 1-inch thick slates, while micro blinds feature slates that have ½-inch thickness.

Smart blinds –

Motorized smart blinds eliminate the need to make slat adjustments manually because they're compatible with smart devices. This means that you can control them through an app and issue voice commands to Apple's

Siri

or Amazon's

Alexa

whenever you want to open or close smart blinds.

Thermal blinds –

Built from materials with excellent insulation properties, thermal blinds offer an easy way to control the room temperature during cold and hot seasons. Also, you can choose between blackout thermal and solar reflective models that help you deal with heat loss or block sunlight from entering a room.
The Most Important Factors to Consider While Choosing Blinds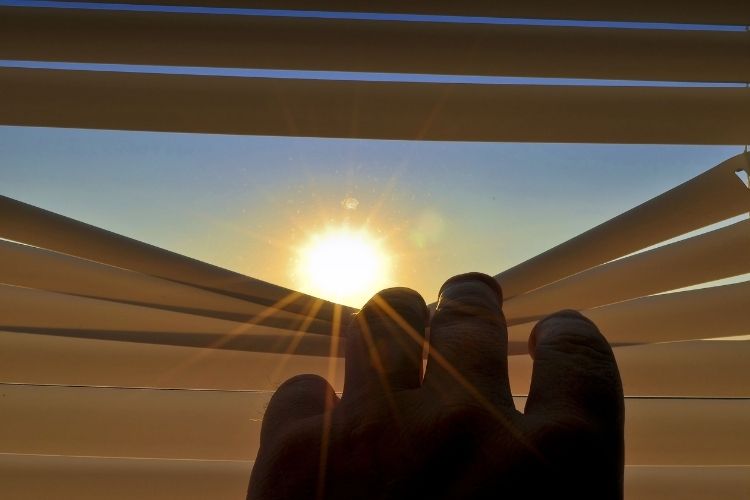 Despite offering numerous advantages, blinds are not an ideal solution for all spaces. These window treatments are commonly a better fit for rooms that receive a lot of sunlight during the day.
Besides, different spaces require different types of window treatments, so you should choose the type of blinds best suited for the specific purpose you have in mind.
For instance, you might want to install Venetian blinds on a street-facing window even if it isn't exposed to direct sunlight to protect your privacy. In this case, the model's light control capabilities aren't as important as its ability to blind the observer's view.
Let's go through some more aspects you should consider while deciding which blinds you should get.
The Window Type and Dimensions
There are over thirty types of home windows that have different shapes, sizes, and opening styles. The single and dual-hung windows are among the most common window types, but inswing or pivot windows are also frequently used in residential and commercial buildings.
Whether a particular blinds model will fit on a window depends on the window type and its size. Consequently, you need to measure the depth of the window frame and its width at the top, center, and bottom.
You'll also have to measure the window's height center, left and right, to get the exact dimensions for the matching blinds. It is worth noting that finding blinds for circular or octagonal windows might be difficult.
Material
Blinds are usually made of metal, plastic, and faux or real wood. The majority of metal blinds are made of lightweight aluminum alloy that doesn't rust or warp easily. Unlike more visually pleasing wood blinds, metal blinds are not affected by water exposure.
Faux wood or PVC blinds solve many of the issues associated with wood blinds as they will not warp in humid conditions. Plastic or vinyl blinds have a lot in common with PVC blinds as they fit a broad range of contexts and remain in good condition for a long time.
The choice of the blinds material is more than just aesthetic because the material properties determine the suitability of the blinds model for a specific space.
Installation Method
The size of the window frame determines the installation method you have to use. Most models are installed using the inside mount method that involves placing the headrail inside the window frame. Utilizing this installation method isn't possible if the window frame doesn't offer a few inches of space.
The outside mount blinds installation method includes placing the headrail directly onto the window trim or a few inches above it. The blinds that use this installation method are designed to be larger than the window opening, which in turn boosts their light-blocking capabilities.
The outside mounting method can be a good option if you want to conceal poorly installed windows or simply make windows in your home look taller than they are.
The Purpose for Which Space is Used
Each room in a home is used for different purposes, which means that it requires different amounts of natural light. So, wood Venetian blinds can be an excellent choice for a living room because of their stylish look, but they are a poor fit for humid spaces.
The same can be said for panel track blinds equipped with slats made of fabric that don't perform well when exposed to water directly. So, if you're looking for blinds you can install in a bathroom, you should opt for a model made of aluminum, PVC, or faux wood.
Homeowners searching for blinds they can install in the kid's room should consider choosing a cordless model that eliminates the chances of cord-related injuries.
Sun Blocking Abilities
How much light the blinds are going to let through depends on the model, so if you need blinds for your living room, you should search for a model that has UV blocking abilities.
All types of blinds are efficient at preventing the light from flooding a room and allow you to control the amount of light you're letting through. So, wood, metal, or vinyl blinds are a great choice for all spaces that receive high amounts of natural light during the day.
However, their insulation and retention capabilities vary, so wood or aluminum are efficient at keeping the heat out. In contrast, the insulation capabilities of vinyl and PVC models depend on the thickness of slats.
Colors
The available color options vary from model to model so that you may have a wide selection of colors or just a handful of options at your disposal, depending on the brand and a particular model.
Metal Venetian blinds models are usually available in multiple colors, while the color selection for faux wood or PVC models is usually limited. Wood blinds are offered in different shades of dark and light brown as well as natural wood colors.
Like all other types of blinds, wood blinds can be stained or painted over, enabling you to adjust their color to the room's style and keep them in good condition for a long time. It is worth noting that blinds usually don't have geometric or any other types of patterns.
Replacement and upkeep
Changing blinds too often can be a time-consuming task because, unlike soft window treatments, blinds are fixed either to the window or to the wall. Although the installation process isn't overly complicated, it can still be overwhelming for someone who's never gone through it before.
That's why most homeowners choose to cover the costs of hiring a professional to install blinds on multiple windows. The blinds installation can cost between $ 400 and $ 1000, although in some cases, it can balloon up to $ 5,000.
Keeping the metal, faux wood, or PVC blinds clean is easy because it doesn't involve cleaning solutions. Wood blinds have higher maintenance requirements because the ladders (strings that keep the slats together) and slats need different cleaning detergents.
Applying a wood conditioner to the slats can help prevent color fading.
Cost and warranty
How much money you'll have to spend to cover a single-window with blinds depends on the type and the model you choose. Affordable blinds can cost less than $ 40, while the price of high-end models can be several hundred dollars.
You should also add the installation costs to the equation while estimating how much you'll have to spend to get hard treatment for multiple windows in your home. In most cases, you won't spend more than $ 700 to install blinds on 8 windows.
Brands like Bali Blinds , Graber Blinds , or Levolor offer limited lifetime warranties, while most manufacturers offer warranties covering a five-year period.
The Advantages of Installing Blinds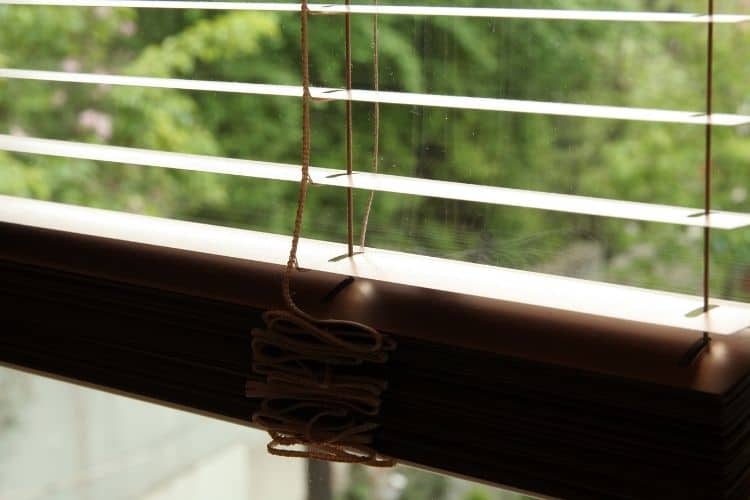 Excellent privacy protection
Regardless of the type, blinds protect your privacy by blocking the view through the window. In addition, blinds are available in various sizes, so you can use them to cover a standard size window, a patio door, or a wall window.
Good sun protection and insulation properties
Controlling the amount of light that enters a room with blinds is easy since you have to turn the control rod to choose how much you want to tilt the slats.
In addition, most models are made of materials that preserve the room temperature and prevent cold or warm air from coming through the window glass.
Great durability
With proper care, blinds can last for more than ten years, although their durability depends on the model. Wood blinds might start to warp and lose color over time, as well as the models made of metal, vinyl, or PVC.
However, you can repaint the slats regardless of the material they're made of and restore the original vibrancy of their color.
Easy cleaning
Cleaning blinds doesn't require a lot of time or effort, with the exception of wood blinds. Blinds attract a lot of dust, but a microfiber hand duster enables you to clean the slats in just a few moments.
You should check the maintenance requirements of the blinds you choose to find out the best cleaning practices.
Versatile selection
With so many options to choose from, finding the blinds that fit the window you want to dress perfectly shouldn't take a lot of time. Depending on your needs, you can select the type of blinds that allows you to control the light in a room effortlessly or pick a model that resists moisture.
The disadvantages of installing blinds
Installation costs can be expensive.
Even though blinds are becoming more affordable, the installation costs can still be high, especially if you want to install blinds on multiple windows. The average cost of blinds installation of faux wood blinds on 8 windows is around $ 700, while the installation costs for wood or metal blinds can be much higher.
Prolonged water exposure can cause warping.
The material from which blinds are made affects their ability to withstand water exposure. As a result, wood blinds start to warp if installed in humid spaces where they can come in direct contact with water.
Top 4 Window Blinds Buggestions
Everything from the size and shape of the window to the style of furniture in a room can affect your decision on which blinds to choose. Rather than searching for the best blinds money can buy, you should look for a model that best fits the context in which it will be installed.
For instance, the visual appearance of a window blinds model is more important if you want to install it in the living room. At the same time, sun-blocking capabilities are more significant for blinds that should be mounted on the bedroom windows.
We selected a few suggestions that may give you an idea of ​​which blinds might be a good fit for your home.
Bali Blinds Vinyl Cordless Blinds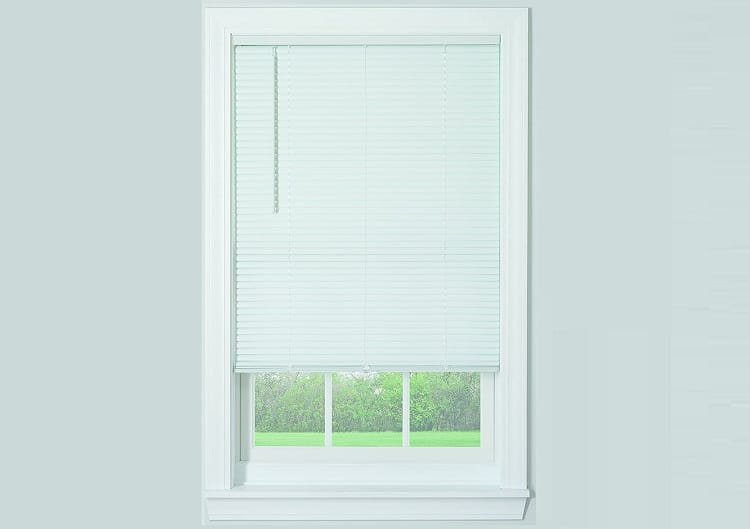 Affordable price and durable material make the Bali Blinds Vinyl Cordless Blinds a great fit for all types of spaces. These blinds are not affected by humidity or direct exposure to water, while the color of the slats remains vibrant for a long time.
The cordless lift system makes these blinds perfectly safe for installation in kid's rooms because it eliminates the chances of cord-related accidents.
This Bali Blind's model is available in two different sizes, and you can install them on 29 x 64-inch and 36 x 64-inch windows, but it is available in just one color.
US Window and Floor Faux Wood Blinds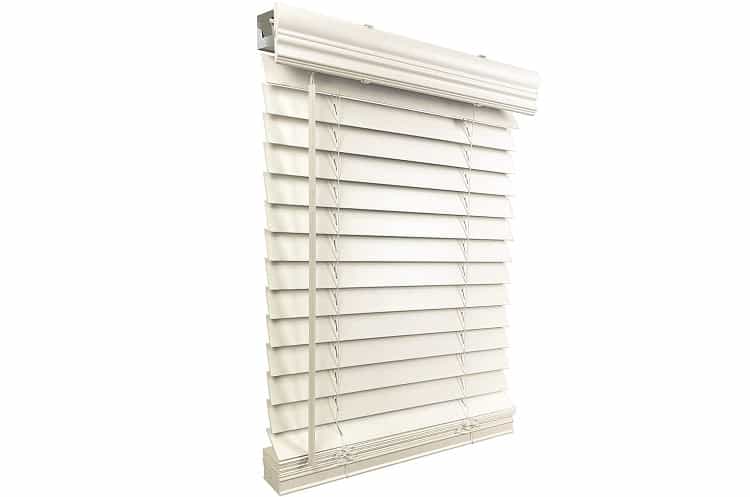 Telling the difference between the non-leaded PVC slats on the US Window and Floor Faux Wood Blinds and actual wood slats is more difficult than it seems. These blinds keep the visual properties of stylish wood blinds while reducing upkeep requirements and resisting water well.
This model is designed for window frames with dimensions of 35,125 x 36-inches, and it has a steel headrail designed for the inside mount.
Although the tilt cords are not exposed, they still present a potential hazard for children, which is why this model is better suited for kitchens and bathrooms.
Simple Stuff Deluxe Venetian Blinds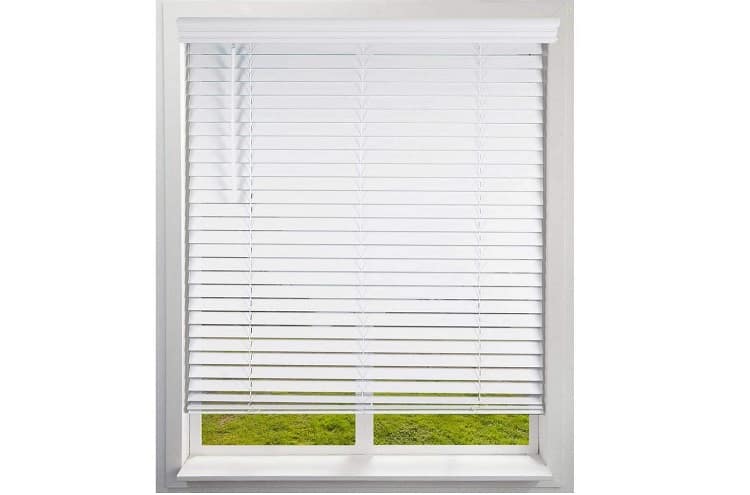 The SmartPrivacy slat design the Simple Staff Deluxe Venetian blinds use guarantees maximum privacy protection. Besides, the cordless lift technology lets move the slats up or down with ease, while the control rod allows you to choose how much light you want to let in the room.
These PVC Venetian blinds don't warp easily, and they can withstand years of direct sun exposure without showing signs of color fading. You can match these blinds with different home decoration styles, and you can install them in all rooms in your home.
Levolor White Aluminum Mini Blinds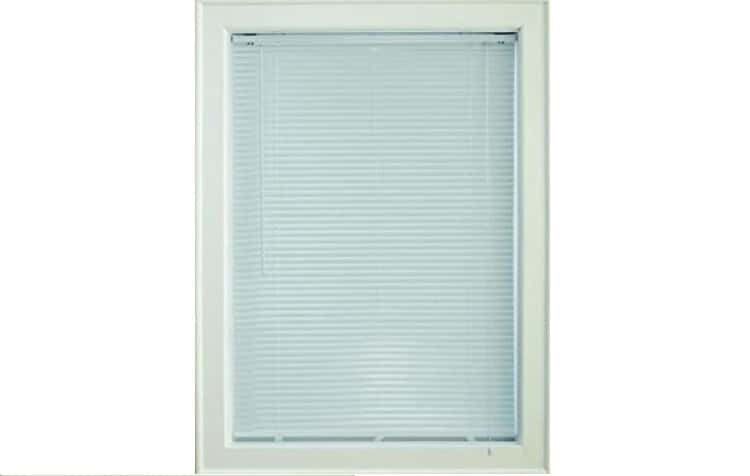 Opting for metal blinds like the Levolor White Aluminum Mini blinds will get you durable sun and privacy protection for the room in which you install them. The 1-inch slats aren't prone to corrosion, although they might start to warp over time if you don't take proper care of them.
Like all metal blinds, these mini blinds have minimal maintenance requirements, and it takes just a few moments to get the dust off them.
Levolor's blinds perform equally well in dry, humid, or high-traffic spaces, so you can expect to use them for years regardless of the room conditions, but keep in mind that they come with a free-hanging cord.
Frequently Asked Questions About Window Blinds
Question: How long does it take to install blinds?
Answer: The duration of the blinds installation process depends on the number of windows you want to cover. It usually takes half an hour to install the blinds on the first window and another ten minutes for each additional window.
Question: Where should I buy blinds?
Answer: The Home Depot , Lowe's , or IKEA are among your best options if you're searching for affordable blinds, while shops like SelectBlinds or JustBlinds should be your go-to options if you need custom-made blinds. If you would like to purchase blinds online, you should check out Blinds.com .
Question: Can I combine blinds with other types of window treatments?
Answer: Yes, you can. Combining Venetian blinds with a sheer curtain can be a great choice as it will extend the spectrum of light control options you have at your disposal.
Question: Are motorized blinds worth investing in?
Answer: The advantages of installing motorized blinds justify their cost, although they're not significantly more expensive than manually operated blinds. Besides safety, motorized blinds can also help you maintain room temperature while you're away from home.
Final thoughts: Are Blinds a Great Option for Every Window in Your Home?
Hard window treatments like blinds are designed to keep spaces protected from direct sunlight and block the view inside the room. They are arguably the most durable window treatment you can get, as they don't rust, warp or fade quickly.
Models similar to the Simple Staff Deluxe Venetian blinds are among the most popular blinds solutions you can get. They don't look particularly stylish, but they enable you to control the amount of light coming into the room with ease.
On the other hand, window treatments similar to the Bali Blinds Vinyl Cordless Blinds are an affordable solution that can be a great fit for different types of spaces. Wood blinds are the most expensive and the most elegant option on the market, but their upkeep can be time-consuming.
Hopefully, this article has provided you with all the information you needed to find the best blinds for your home. Leave a comment and let us know.
Continue reading and check out how to find the best: