Latest posts by Erin Jamieson
(see all)
With over 11,500 stores around the world and an estimated 256 million customers, consumers flock to Walmart for everything from school supplies to home goods. And in 2022, Americans are looking for some of the best deals by having a try at Walmart's collection.
The pandemic hit many stores hard, American stores closed an estimated 35,000 storefronts (Bloomberg News) and more are still grappling with the fallout. But Walmart's investment in e-commerce for all things, from groceries to home goods, paid off: sales rose by 74 percent.
And while it's true that groceries account for over half of their sales, it's also true that Walmart is a go-to for clothing, supplies, and now, home improvement projects. While there was a spike in interest in home improvement projects, it also has come at a time when many Americans are struggling financially.
It only makes sense that some Americans may take their projects– including new blinds— to a retail giant with a reputation for budget-friendly prices.
But are Walmart stores as budget-friendly as Americans think? And are they worth your time?
I'll tell you everything you need to know about the best Walmart blinds, and how to find these styles for your home.
How do I Choose the Right Blinds?
Before you step foot in Walmart– or more likely, shop online– you should have an idea of what kind of blind you need for your home. You'll need to consider the style and size that suit your needs. Once you have those specifications, you can get an idea also of what you'd expect to spend– and find the best blinds for you, rather than settling.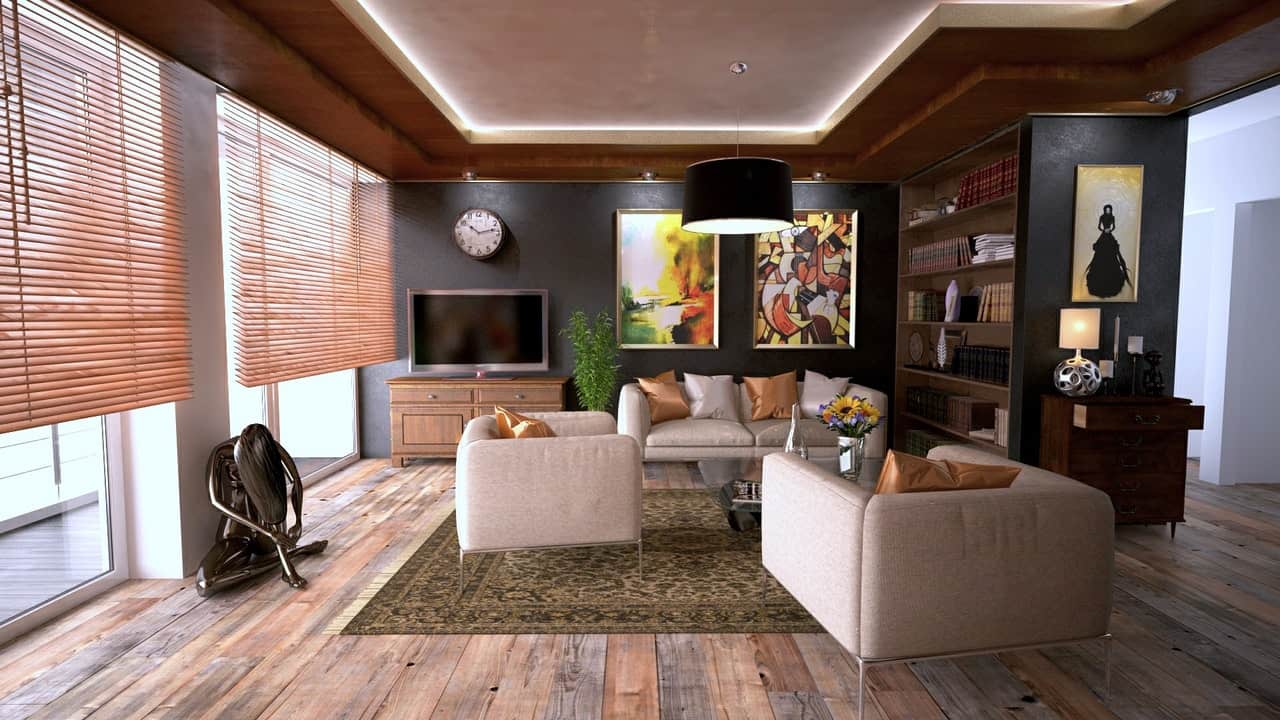 What Blinds are Popular Now?
I don't recommend buying blinds simply because they're popular, but if your goal is making your home trendy or updated, it's still nice to keep an eye on home decor trends. Faux wood blinds, genuine wood blinds, vertical blinds, and mini blinds are some of the top trends.
A less common but emerging trend is bamboo blinds. Of course, low-cost and durable options like aluminum, PVC, and vinyl may not be trendy per se, but are still widely available and sold.
How do I Choose a Blind Size?
Standard blind sizes range from 24 by 72 to 72 by 72. You can sometimes trim blinds yourselves, or, of course, have a professional do it for you. Blinds mounted inside are popular for a clean, modern look, while blinds mounted on the outside make your window appear larger — both wider and longer.
How you measure blinds depends on if you're buying vertically or horizontally, and if you're opting for an outside or inside mourning. For most people. An inside mounted blind will make the most sense.
For inside-mounted blinds, measure the interior of the window flame. Markdown the width by going across the top, the middle, and the bottom. Take the narrowest measurement as your average width. For height, measure to the left, right, and middle. Your longest length should be the length you use.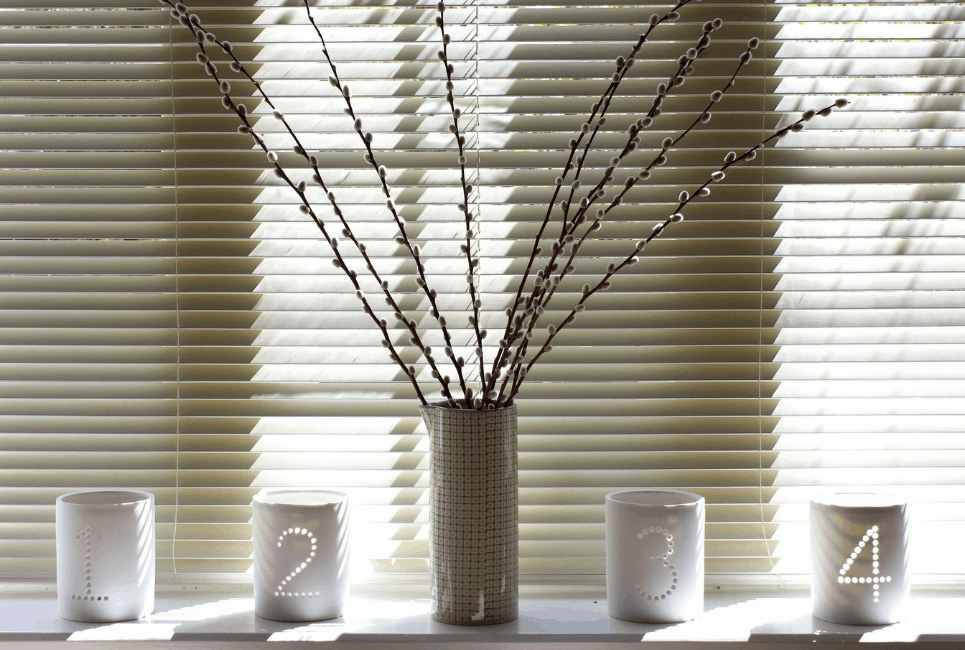 Are Vertical or Horizontal Blinds Better?
Horizontal blinds are more common still, and that's unlikely to change. Horizontal blinds are classic and available in a wider variety. They also provide more privacy and are a practical choice for standard window sizes. However, vertical blinds are attractive and are used to cover especially wide windows, as well as sliding or French doors.
Continue reading our full guide on how to find the best Walmart vertical blinds.
Is Walmart a Good Place to Buy Blinds?
Walmart may not be a specialty store, but they do carry a wide selection of blinds. The website is easy to use and shops to find what you're looking for. If you're interested in modern, everyday blinds, it may be a reasonable choice to look at to at least gather ideas. Here's what Walmart has to offer. Many of their bestselling stores tout over 100, sometimes as many as over 3,000 reviews, and carry average ratings of 4 stars and up.
That isn't to say Walmart blinds are made out of the most durable and expensive materials, but the truth is that Walmart offers blinds at lower prices and in more options than a competitor like Target blinds. And Walmart makes it easier to shop than if you're looking for blinds on Amazon. At the end of the day, Walmart doesn't supply a customized or luxurious blind shopping experience– but you do get competitive price points and options for every room of the home.
What Types of Blinds Does Walmart Offer?
You'll find some of the trendiest blind styles. That includes mini blinds, faux wood blinds, and vertical blinds. Materials include aluminum, vinyl, PVC, polyester, hardwood, and bamboo in addition to faux wood. They do also offer a nice range of shades. For blinds, don't expect anything revolutionary. They're classic or modern, but aren't standout styles, and care about what you'd expect, feature-wise, for the price point.
How Much do Walmart Blinds Cost?
Blinds start at as little as under $5 for vinyl blinds, up to just under $48. The vast majority of Walmart blinds are priced below $25, showing that their reputation as a budget-friendly brand is spot on.
Does Walmart cut Blinds to Size?
Though if you search you'll find a link to "Custom Blinds." Walmart ships out standard sizes. If you want a custom size, I recommend working with a specialist at a home improvement store.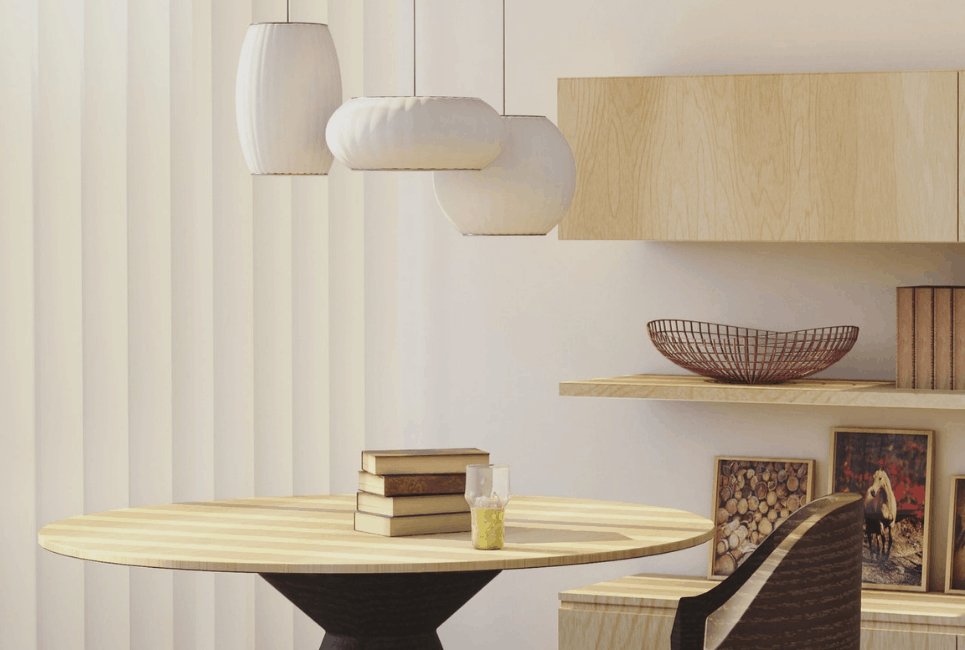 Can Blinds be Returned to Walmart?
Most items you purchase from Walmart are covered by their 90-day return policy. This applies to both in-store and online orders. Online orders may be returned by the first printing of a return label. They will also offer returns for open packages, or even missing packages. Exceptions to the policy apply to food, paper products, cleaning supplies, pharmaceutical products, beauty products, and apparel, as of 2022.
In other words, as long as you shop savvy, and you're looking for budget blinds, Walmart is a reasonable place to shop.
Walmart Blinds: My Picks
As you can imagine, Walmart has a hearty selection of blinds to choose from. To narrow down my options, I've selected trends from some of the more durable materials, all the while keeping in mind different trends and different needs. For each section, I'll explain the pros and cons of that blind type and provide picks that are highly rated by customers and are offered at a fair price.
Walmart Aluminum Blinds
Aluminum blinds are lightweight and affordable. They can be almost as affordable as PVC blinds, without some of the safety concerns related to PVC blinds. They're resistant to moisture, often made out of recycled materials, and modern but classic. The downsides are that cheaper aluminum blinds can be temperamental. They tend to have thinner vanes, and regardless of quality, aluminum blinds do collect dust. Walmart doesn't have a ton of options for aluminum blinds, but here are my picks for aluminum, mini blinds.
GMA Group 1 Inch Aluminum Mini Blinds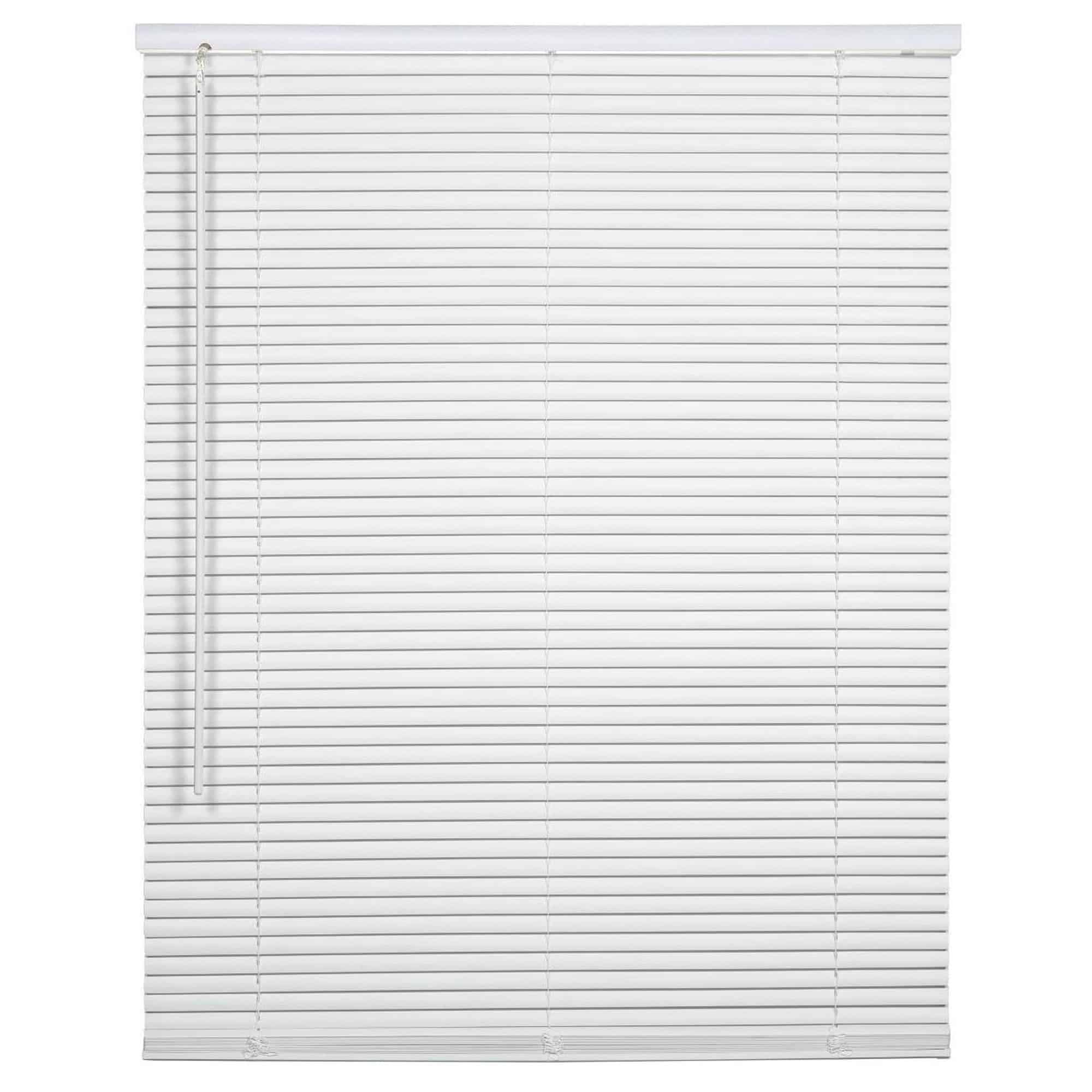 Need simple blinds under $20? These aluminum blinds won't warp, crack, fade or split and are resistant to moisture. They also come with noise reduction and are versatile for both homes and offices. The style is clean, modern, and simple and comes with a complementary valance and a color-coordinated head rail, lift cord, and bottom rail. Sizes start at 18 by 36 inches and go up to 72 by 72 inches. Priced from $18; Buy Here.
GMA Group 1 Inch Brushed Aluminum Mini Blinds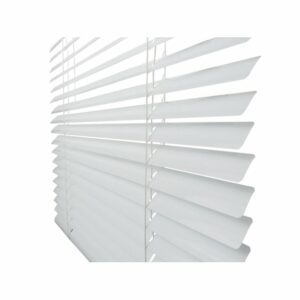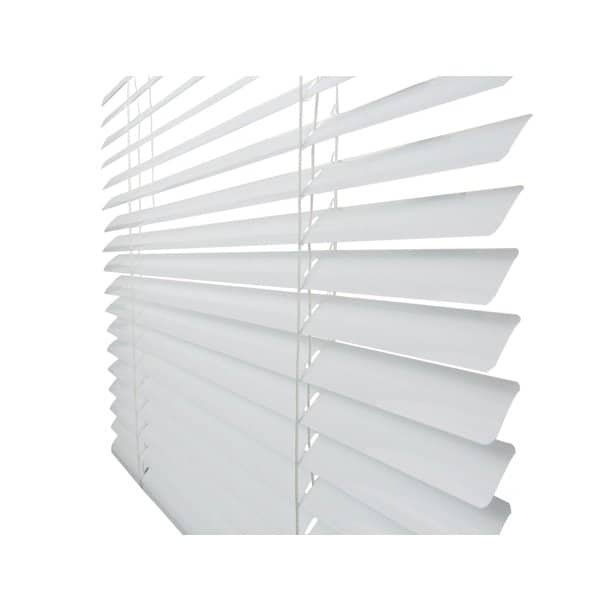 White blinds may be classic, but the brushed metallic hue of these mini blinds makes for a more modern accent. Available in 20 standard sizes, these aluminum blinds are fade, crack, and warp-resistant, along with noise reduction. The 1-inch blinds offer privacy, complete with a streamlined modern look. Priced from $18.99; Buy Here.
GMA Group 1 Inch Mini Aluminum Blinds in Charcoal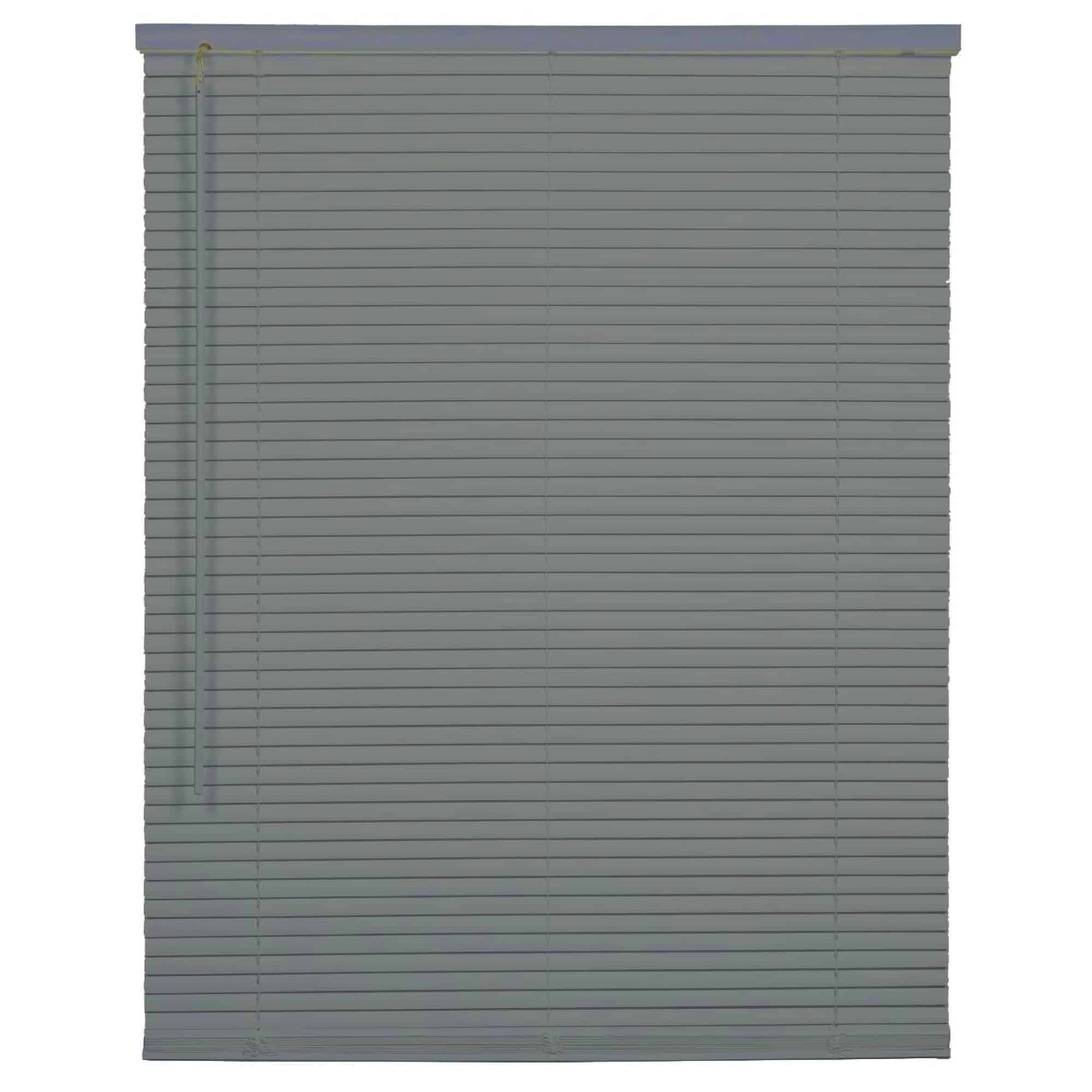 Not into the metallic hue and want something a little more unique than white? These charcoal aluminum blinds might be right for you. Experience the same benefits– fade resistance, moisture resistance, and durability– with a stylish charcoal hue. These blinds are cordless with a wand tilt operation. Priced from $18 and available in a wide range of sizes, starting at 18 by 36 inches; Buy Here.
ODL White Cordless Add On Enclosed Aluminum Blinds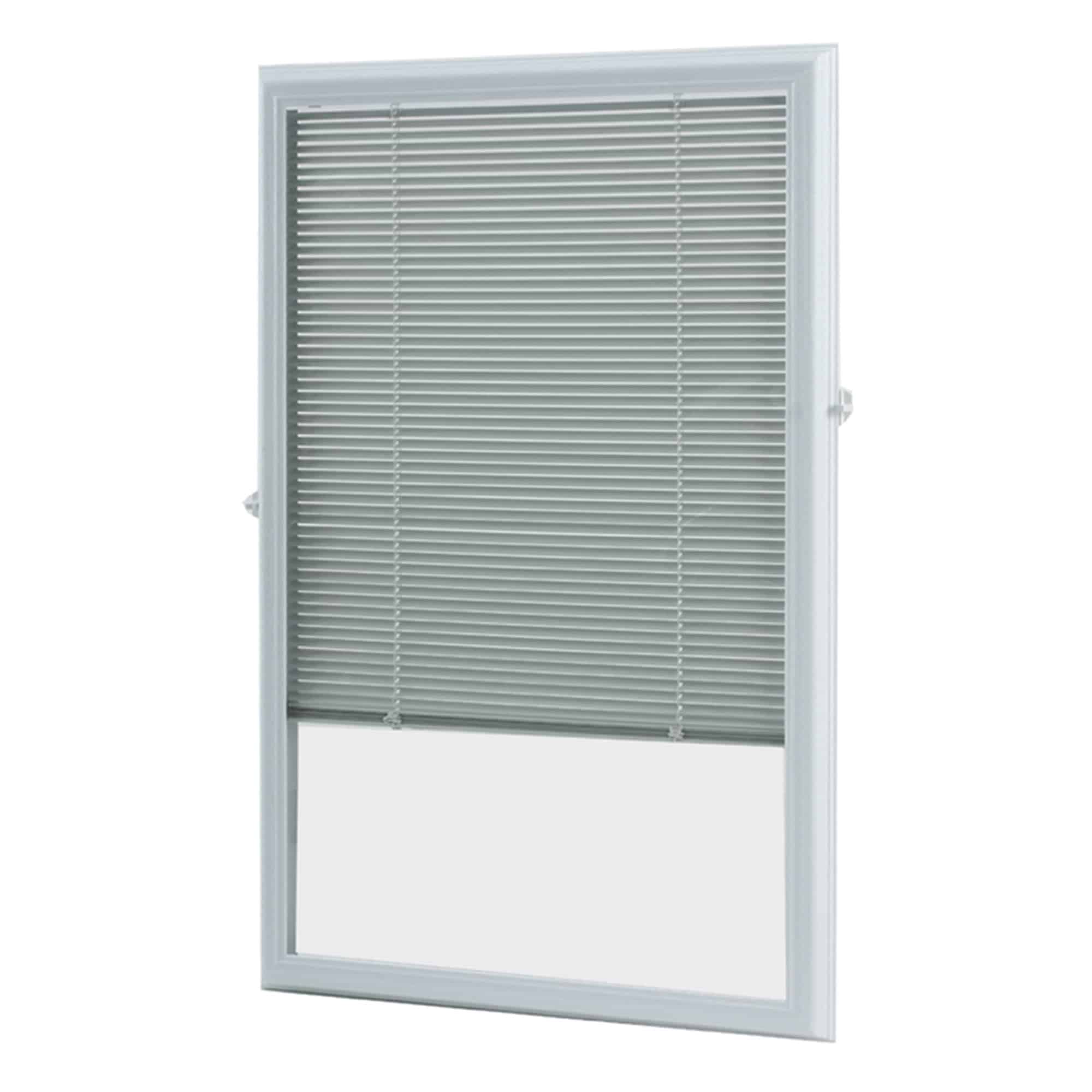 This is a unique option for durable blinds. These 4.9-star aluminum blinds are meant as an add-on treatment for raised frame door glasses of a wide range of sizes. The design is cordless and can be used for patio doors and more. The style is modern, contemporary, and easy to install. Highly praised, useful and stylish, priced at $121.59; Buy Here.
Walmart Bamboo Blinds & Roller Shades
Bamboo blinds and roller shades are a lovely, unique addition to rooms. Unlike wood blinds, they won't warp or deteriorate in moisture heavy conditions. Available in traditional blinds and roller shades, bamboo is not as cheap as "cheap" blinds, but also not as expensive as more luxurious blinds.
Bamboo is effective at resisting sunlight fading and adds an earthy aura to your home. They can wear and break over time, though they also can be fixed fairly easily.  Shop All Bamboo Blinds and Shades Here.
TJ Global Bamboo Roll Up Window Blinds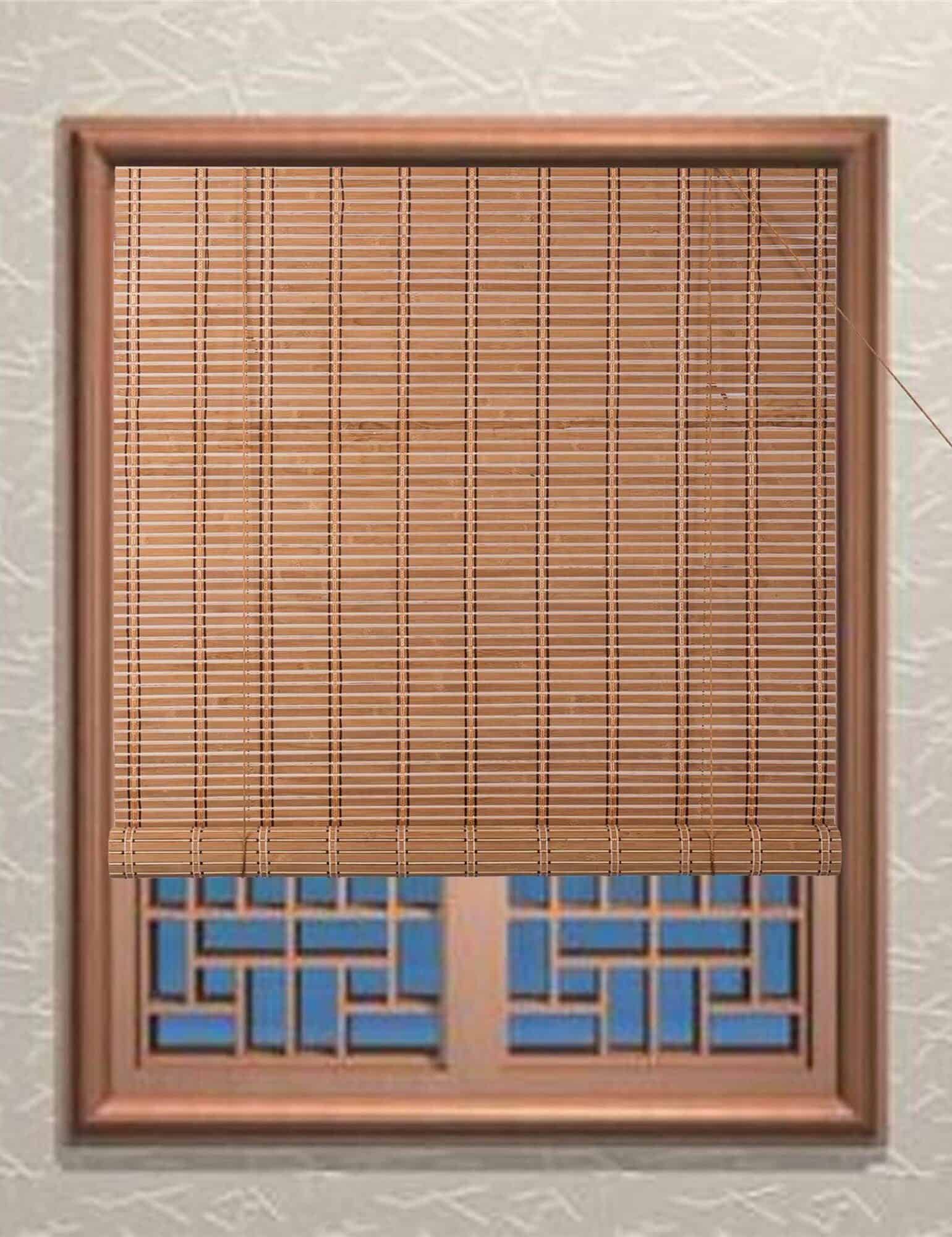 Not only are these bamboo roller sun-blinds stylish, but they've also earned an average of 4.6 out of 5 stars from satisfied customers. Useful for controlling light, they can even be used outside on a patio or porch to block wind and keep you comfortable. The natural bamboo insulates, is resistant to moisture, and is crafted with a classic design at a reasonable price. Available in 6 standard sizes, starting at 24 by 72 inches and priced from $33.99; Buy Here.
Natural Bamboo Roll Window Shades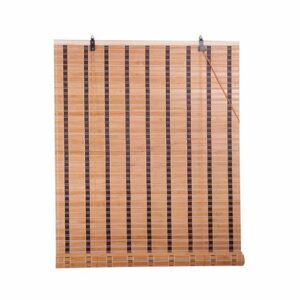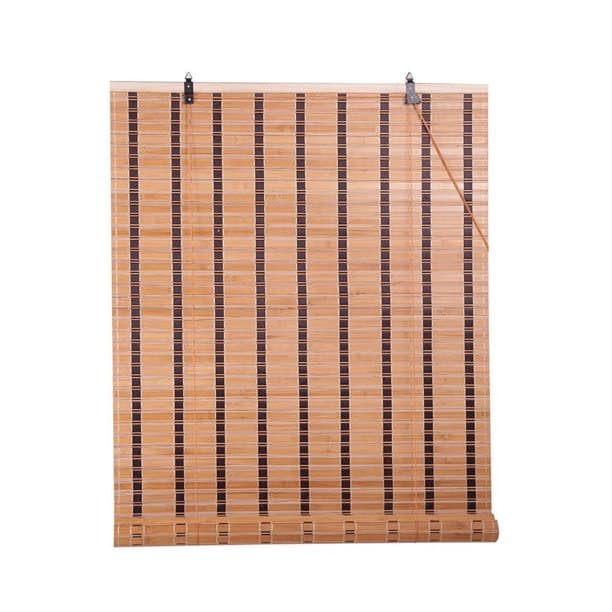 These natural bamboo window coverings feature a smooth roll-up operation for daily use. Effective for light and sun control, you can expect an easy installation process, with the ability to mount both indoor and outdoors. It would look at home in a sunny kitchen and on outdoor porches. Available in three standard sizes: 24 by 72 inches; 30 by 72 inches, and 32 by 72 inches. Priced from $30.89; Buy Here.
Radiance Imperial Matchstick Bamboo Window Coverings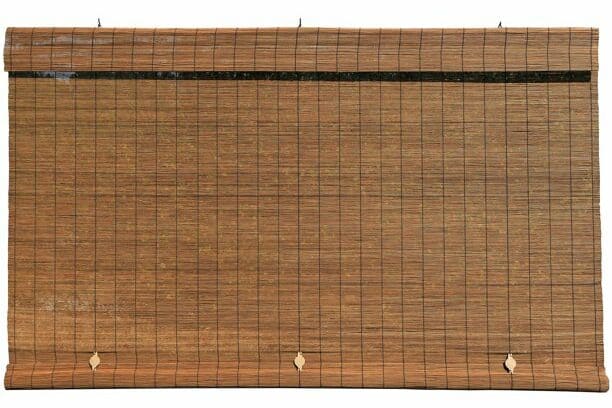 Matchstick shades and blinds are becoming increasingly popular, even if they're still not as widely used as other window coverings. Offering a traditional charm, these bamboo matchstick roller shades protect against UV rays, are moisture resistant, and durable enough for outdoor patios. The cordless design stays modern and easy to use– and even provides a bit of insulation. Available in 5 standard sizes, starting at 36 by 72 inches, with a pleasing fruitwood finish. Priced from $39.73; Buy Here.
Walmart Faux Wood Blinds
Faux wood is made out of a blend of materials, normally PVC, vinyl, and other composites. The plus side is that they're affordable and they hold up well. Faux wood acts as an insulator, keeping your home more comfortable. They also won't warp and are excellent for privacy.
The downside is that while they mimic real wood, you can tell the difference up close. Faux wood blinds vary in terms of materials used, but come of these materials are made with chemicals such as formaldehyde, which can be a concern for those who are sensitive to chemicals, and there are some unresolved concerns about the toxicity of faux wood, PVC, and related blind types– though they are widely used. Shop All Walmart Faux Wood Blinds Here.
Richfield Studios Cordless White Faux Wood Blinds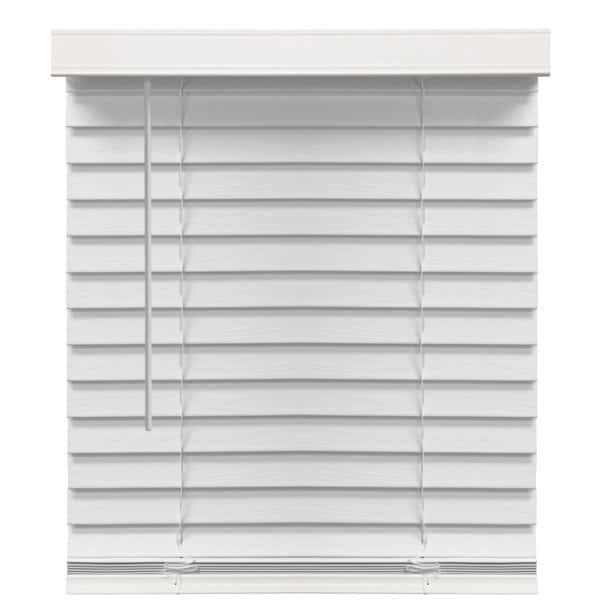 These faux wood blinds come highly rated, carrying an average of 4.8 out of 5 stars based upon over 780 customer reviews. There's a lot to admire about these white faux wood blinds. Cordless for safe operation, you can easily adjust by lifting or lowering the bottom rail.
They offer gentle room darkening to protect from the sun's glare and come with a wraparound valance for a stylish finish. Available in over 330 sizes and priced from $24.99 (some sizes are currently out of stock); Buy Here.
Better Homes & Gardens Faux Wood Blinds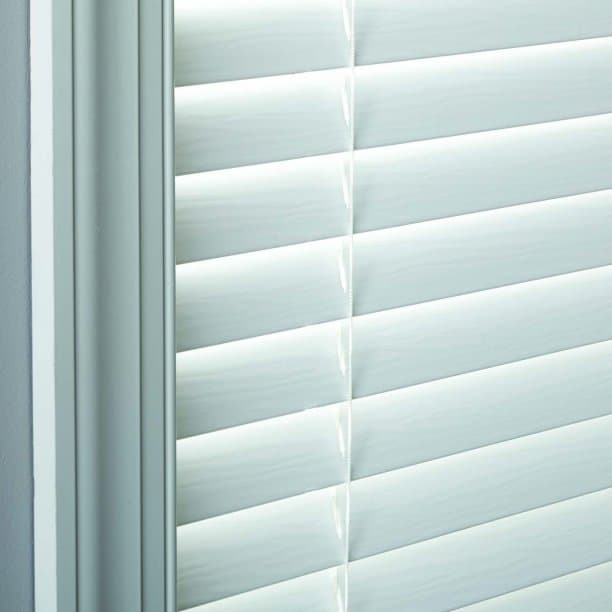 Looking for one of the most popular blinds Walmart offers? These stylish faux wood blinds, available in white and antique white, boast over 3,200 reviews and carry a respectable 4.6 out of 5-star rating. Available in 26 sizes, starting at 23 by 28 inches, the blinds feature a real-wood grain finish. But it isn't just about style.
These blinds are cordless for a clean and easy look with a complementary tilt wand to easily control light. They're also moisture resistant, fade resistant, warp-resistant, and antimicrobial. Priced from $16.48; Buy Here.
Nulite Prestige 2.5 Inch Faux Wood Blinds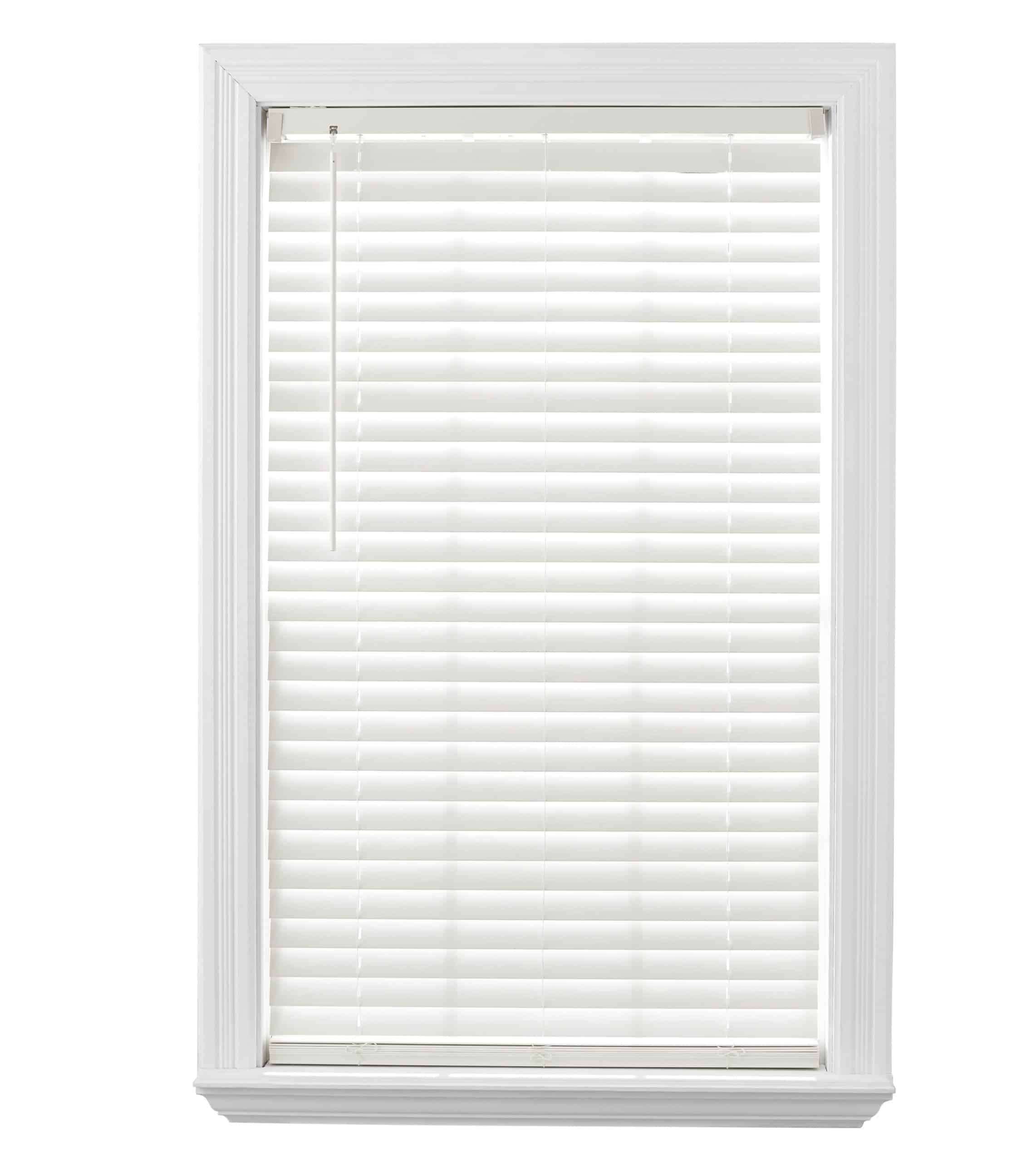 While not as popular, these faux wood blinds carry a 5-star average and come in some great hues. Choose from not only white but also real-grain textures and hues (some you may have to wait for). Mounted inside a window frame, they're clean, modern, and durable. Available in 40 sizes, starting with 18 by 24 inches and priced from $25.52; Buy Here.
Cordless Faux Wood Mahogany Blinds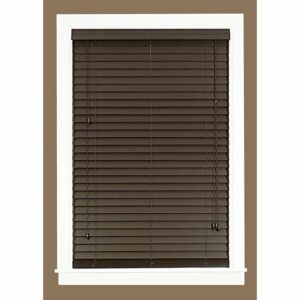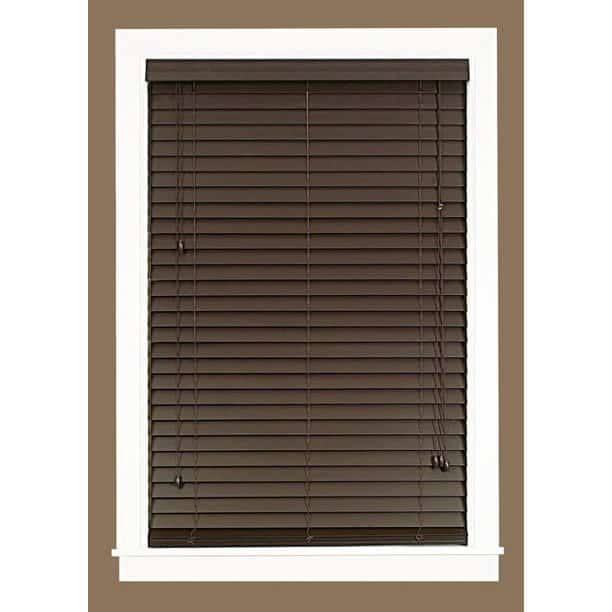 Looking for a deeper hue? These faux wood blinds come in 25 sizes (starting with 23 by 64 inches) and are made with embossed vinyl. The textured blinds feature wide flats that are resistant to cracking and fading and are finished with matching 3-inch valance. Priced from $37.79; Buy Here.
Frequently Asked Questions
Question: Does Walmart Deliver to your Home?
Answer: Most products can be delivered through one of three options. Pickup is also free curbside at a location of your choice, Delivery fees to doors range from $7.92 to $9.95 for most products. All of these are subject to a $35 minimum order. Members of Walmart Plus have free delivery shipped the same day (you'll receive the following day). This membership carries a $98 fee per year or $12.99 per month.
Question: How do I Contact Walmart Customer Service?
Answer: Walmart customer service offers a toll-free number, 1-800-925-6278 (1-800-WALMART). You can also email customer service. For online orders and questions about your order missing or being inaccurate, I recommend starting with contacting Walmart.com.
Question: How do I File a Complaint with Walmart?
Answer: While usually, the best route is to start by contacting customer service via their normal hotline or via their online contact options, you can also opt to file a complaint. This would be for more serious issues with your order, and if you've exhausted your options. Contact Corporate Office Headquarters through the same hotline or, for a more targeted approach, email store feedback. You can directly contact returns as well.
Final Thoughts
All in all, I've been pleasantly surprised by Walmart. While they don't offer much in the way of custom, unique, or exceptional quality blinds, they do meet expectations. The blinds are affordable, many are highly rated, and they're practical as well. If you just need some blinds to get you through, Walmart isn't a bad option. Shop All Walmart Blinds and Shades Here.
Looking for vertical blinds? You can also shop Home Depot Vertical Blinds or Menard's Vertical Blinds.