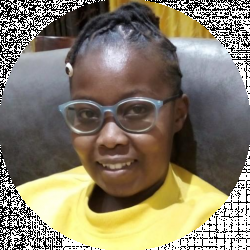 Latest posts by Jeanne Murugami
(see all)
So, you've chosen paper blinds as your preferred window treatment but need to be sure which blinds are best for you, right? You're in luck because we've done a thorough review on paper blinds to give you this factual guide. 
Your window treatment is a valuable investment because if it doesn't work as intended, you'll have wasted resources and still not have a practical solution for your problem. Hopefully, this paper blinds ideas guide, with its insights on paper blinds design, material, and functionality, will help you decide on this all-important purchase.
What to Look for in Functional Paper Blinds
Paper blinds (or temporary blinds) are the simplest window treatments available. You can use them for:
Dimming out the sun's hard glare to leave you soft, unobtrusive lighting 

Blacking out light and noise to work, sleep or provide a comfortable environment for a child or an ailing person. They're ideal for hospitals, hotels, and boardrooms.

To provide insulation by cooling hot temperatures and providing warmth during chilly weather like winter (helps save on energy bills).

To ensure your privacy from prying eyes and also guarantee your security.
Other reasons that could lead you to use paper blinds are; moving into a new place, rental, road trips, and camping. They're also handy if you're remodeling or can't make up your mind on permanent window treatment solutions for your permanent abode. Whatever the case, here are some of the elements to look out for in a paper blind.
Operation
Paper blinds consist of individual slats that you adjust by raising or lowering. They can also tilt from side to side using a cord that's on one side of the blinds. The cord is useful as it allows you to control the amount of light entering the room. 
While the expected operation is manual by hand, you can also operate your paper blinds remotely. These automatic systems are sophisticated and a fantastic addition to your interiors. They work through a hidden motor added to the top of the blinds or shades.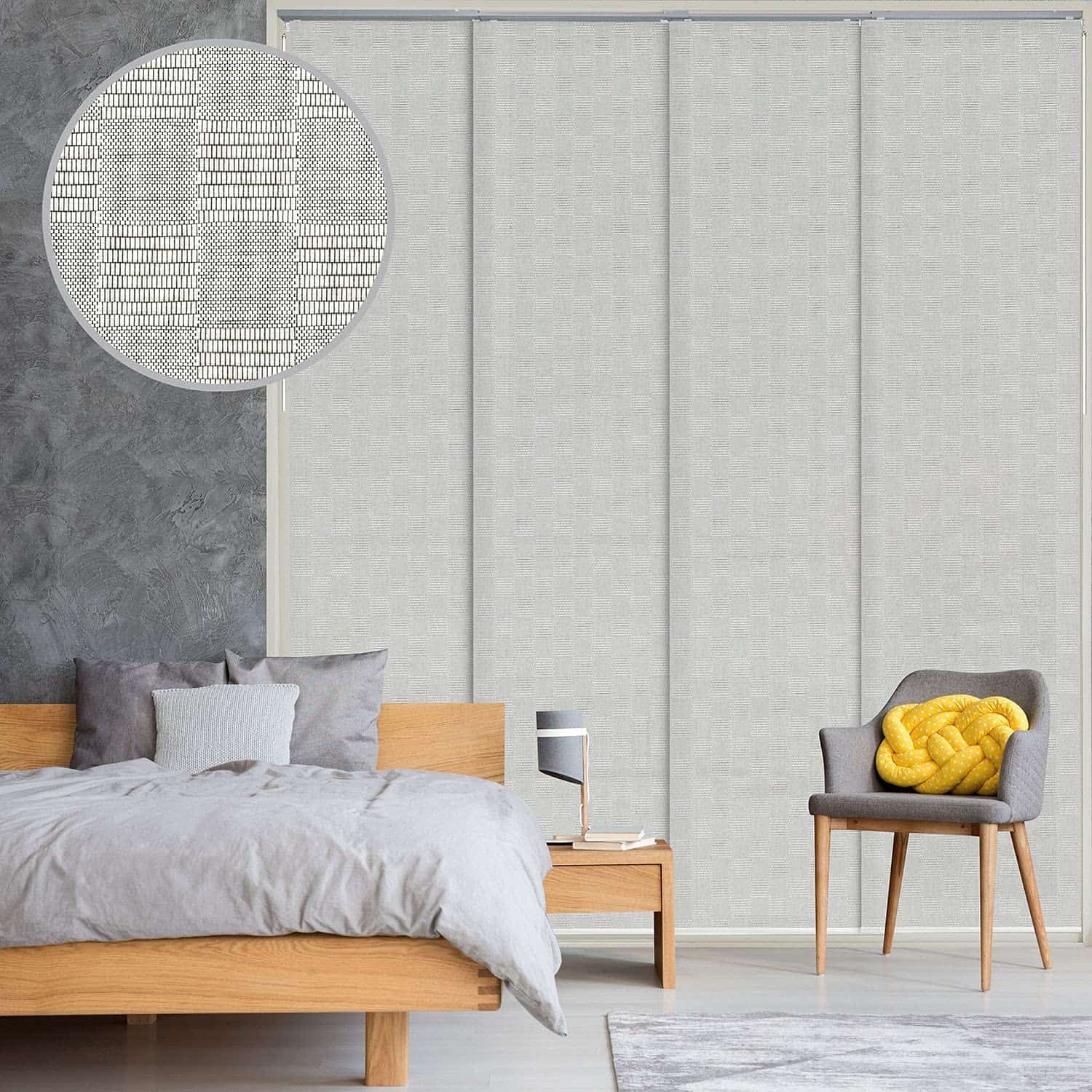 Design and Aesthetics
Most paper blinds come in a pleated design with an accordion-like pattern for easy manipulation (up or down). They have a similar look to Venetian blinds, though much softer to give a classical touch to any window.
Paper blinds also come in various colors, textures, and patterns. Despite being a temporary solution, they look sleek and elegant, and you have a wide choice of what suits your interior style.  
Measurements and Installation
Once you know which paper blinds you need, work out your window measurements (L x W). Installation is easy since you can opt for ready-made trim to customize for your windows' dimensions. The other alternative is made to measure, which you preorder and come ready to fit into your window based on the actual measurements. 
Easy to Maintain
Once you've installed your paper curtains, there's little to no maintenance work you need to do. Keeping them clean is not a regular task since you can schedule thorough cleaning four or six times a year or depending on your usage. The overall process only requires taking them off, cleaning the window, placing them back, dusting them, and all are clean.
Temporary, Affordable, and Hassle-Free Window Treatments: 7 Hot Paper Blinds to Pick 
With that clarity on crucial elements to look for in paper blinds, here are our recommendations for the best ones on Amazon. We've featured the top products for the various rooms i.e.remodeling living room, patio, and bedrooms.
Original Light Filtering Pleated Paper Shade: Best for a Living Room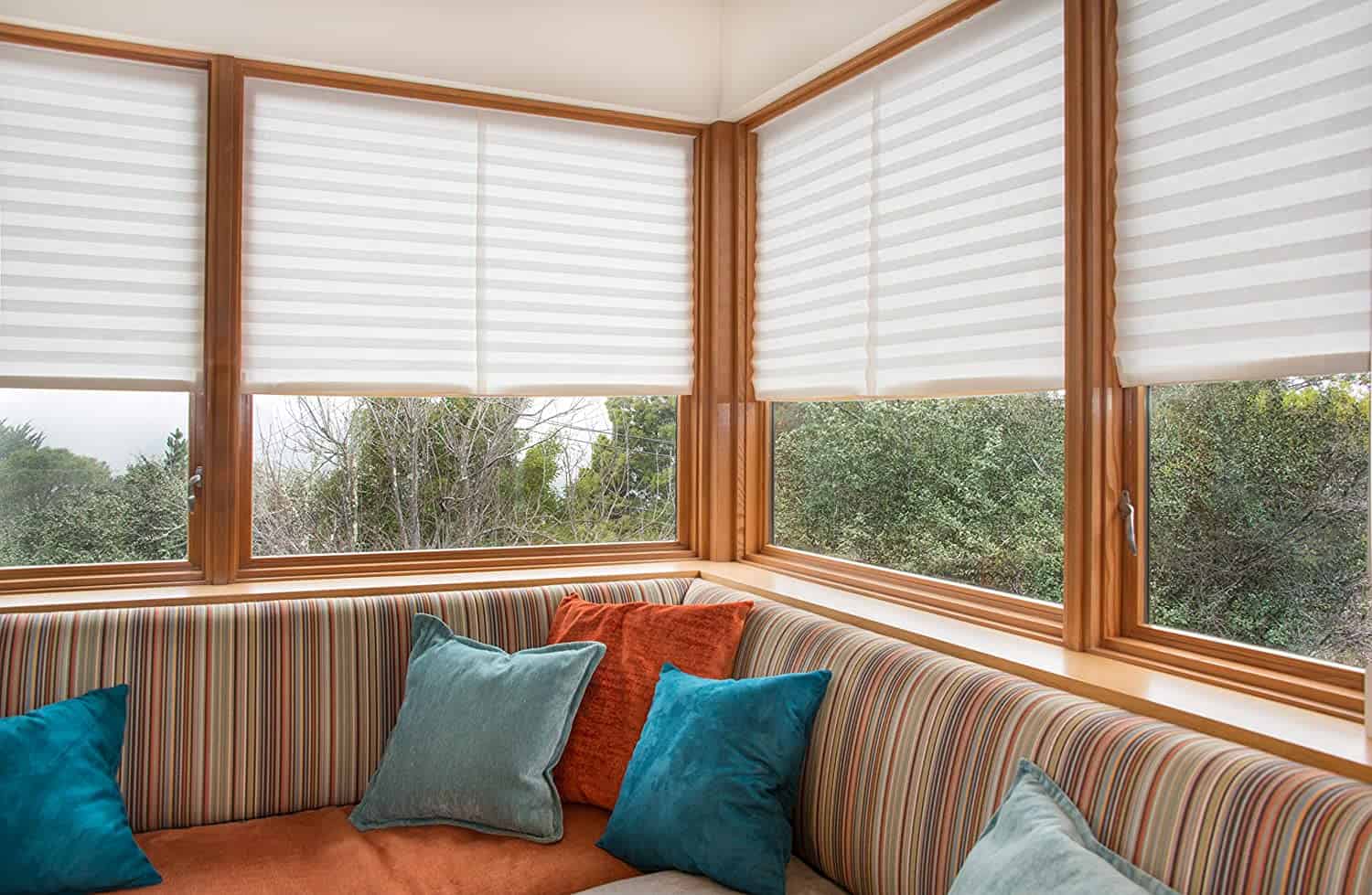 We've found a perfect solution for you in these light filtering paper blinds. They're ideal for any living space, especially one with kids since they're cordless. They come in white paper that's durable and won't change color or crack from the sun's rays. 
Besides filtering light and blocking sunlight and UV rays, you'll find them helpful in securing your privacy. You can use them as stand-alone or layer your current window treatments. They're also a perfect match for any style of interior, and installation is hassle-free. They come with clips that you put on the bottom of the shade to pull up and down the shade without touching the paper. 
Pros
Durable

Affordable and delivers value

Easy to install
Cons
Use extra adhesive to ensure they hold tight
Blackout Pleated Paper Shades: Best for Small Bedroom Windows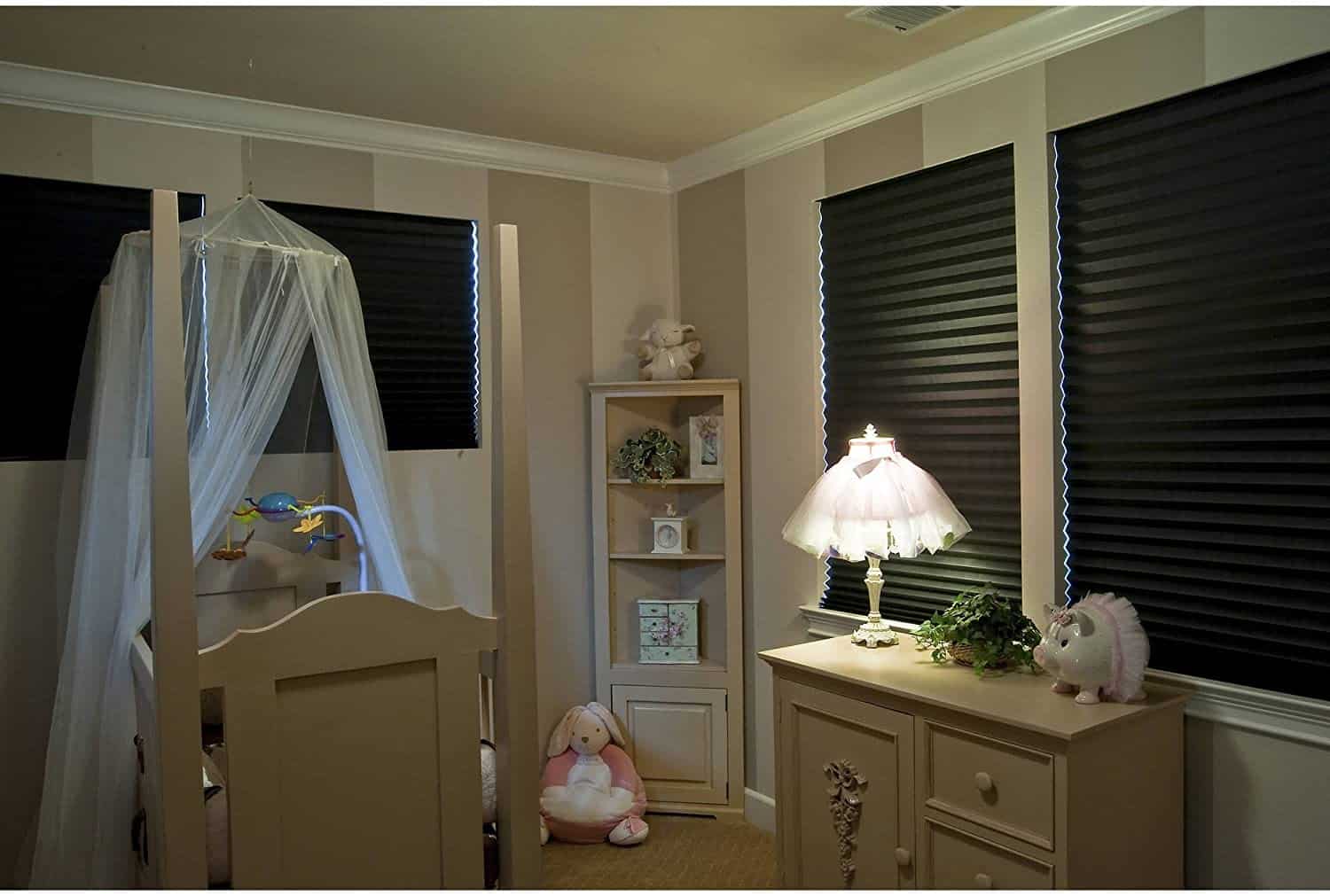 If you prefer eco-friendly furnishings, these blackout paper blinds are an excellent find. They consist of recycled paper, are cordless, have a pleated design, and a black shade without any pungent chemical coating. 
These paper blinds are quick and easy to install. They can be cut, then adhered onto a window with the adhesive backing, or just screwed into place on an older home's windows that already have screws in them. The pull string is centrally located for ease of opening and closing at any point along the side pane using only one hand.
Pros
Easy to use and install

Sleek design and style

Value for money
Cons
Highly flammable, keep away from open flames
Light Filtering Temporary Pleated Paper Shades: Best for Temporary Construction Work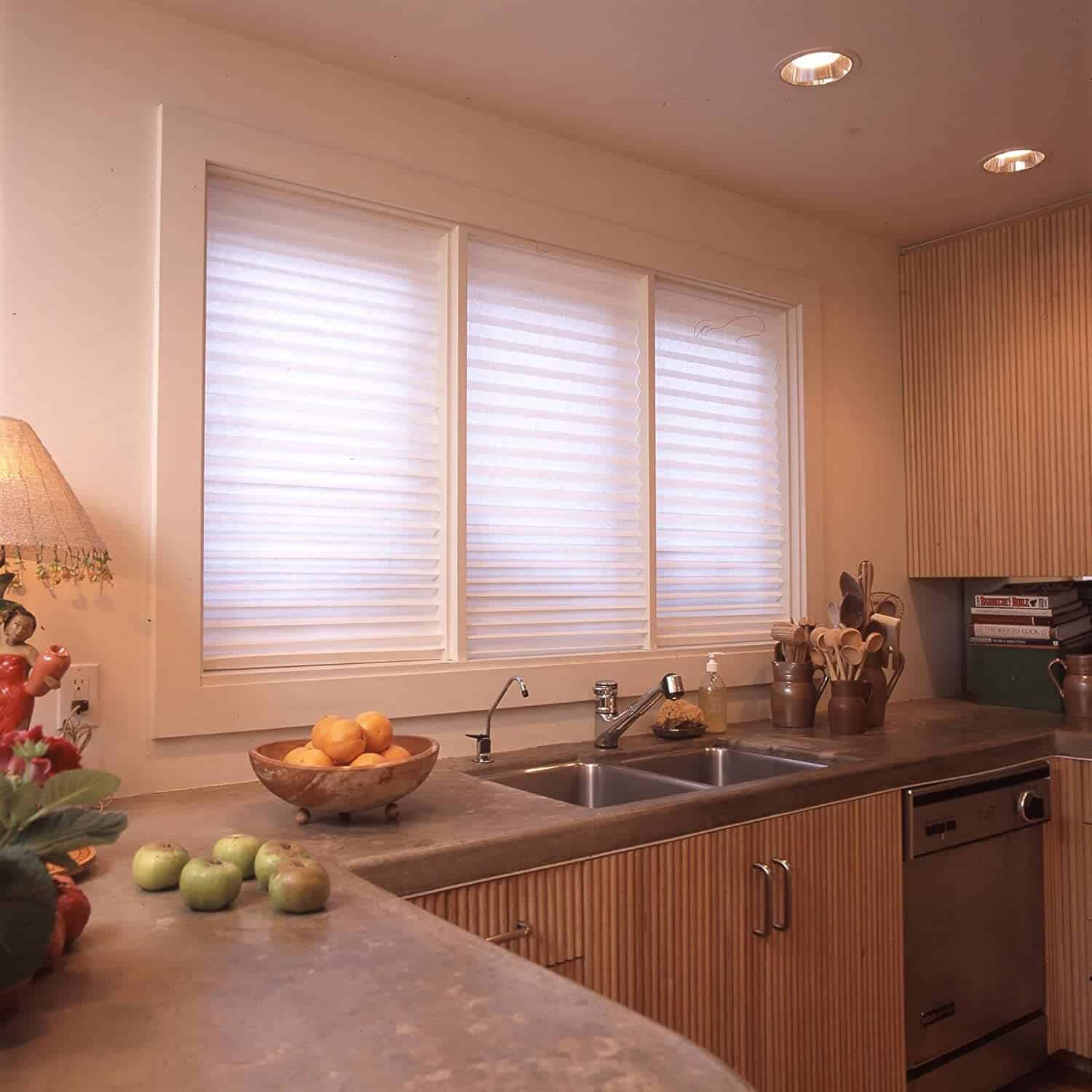 The blackout eco-friendly paper blinds have a light filtering paper blinds version. These white paper blinds consist of 100% recycled paper and effectively filter out light from any space and secure your privacy.  
Their color also makes them perfect for your space since they'll blend with it. What's more, they're cordless with hassle-free installation but do ensure you peel off the adhesive properly, so they stick on for long.    
Pros
Value for money

Aesthetically appealing

Easy to install 
Cons
Flammable and only ideal for temporary use
Adjustable Sliding Panel Track Blind: Best for Patios, Balconies, Partitions, Sliding Glass Doors, and Large Windows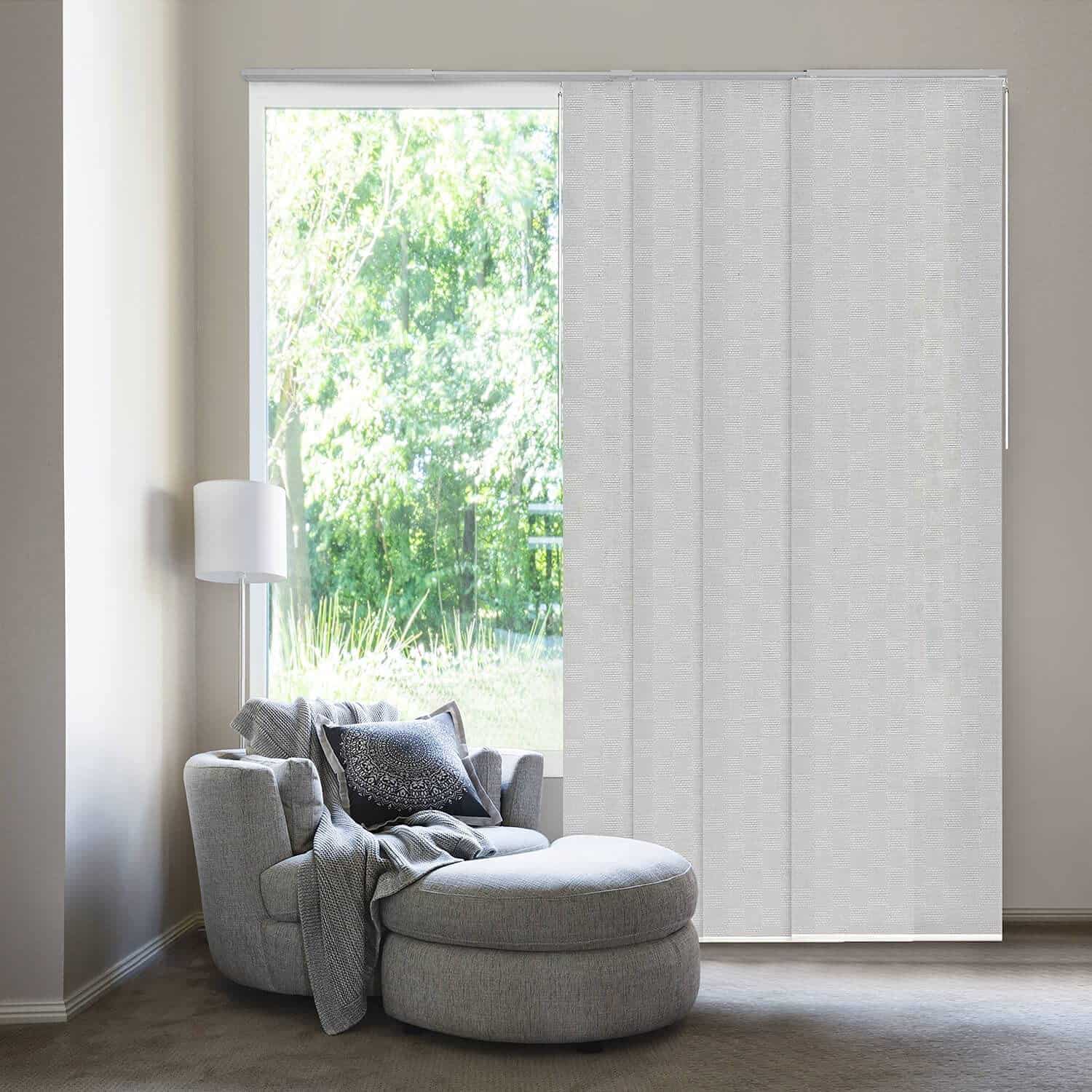 You'll be happy to discover our fourth recommendation is an adjustable paper blind suitable for various windows. It's a blend of paper 84% and polyester 16% with a woven look and rook color to the front and rear. 
The textured fabric allows light to filter through and guarantees your privacy gently. It's easy to clean with a duster or vacuum to rid it of dirt and dust completely. Regarding installation, mount the panel track to the wall or ceiling. You can also rely on two control stack options that easily slide to the right or left with a solid metal wand.
Pros
Innovative adjustable sliding panels 

Multiple applications

Functional and durable materials
Cons
Scanty assembly and installation instructions
6-Pack Blackout Pleated Paper Shades: Best Economic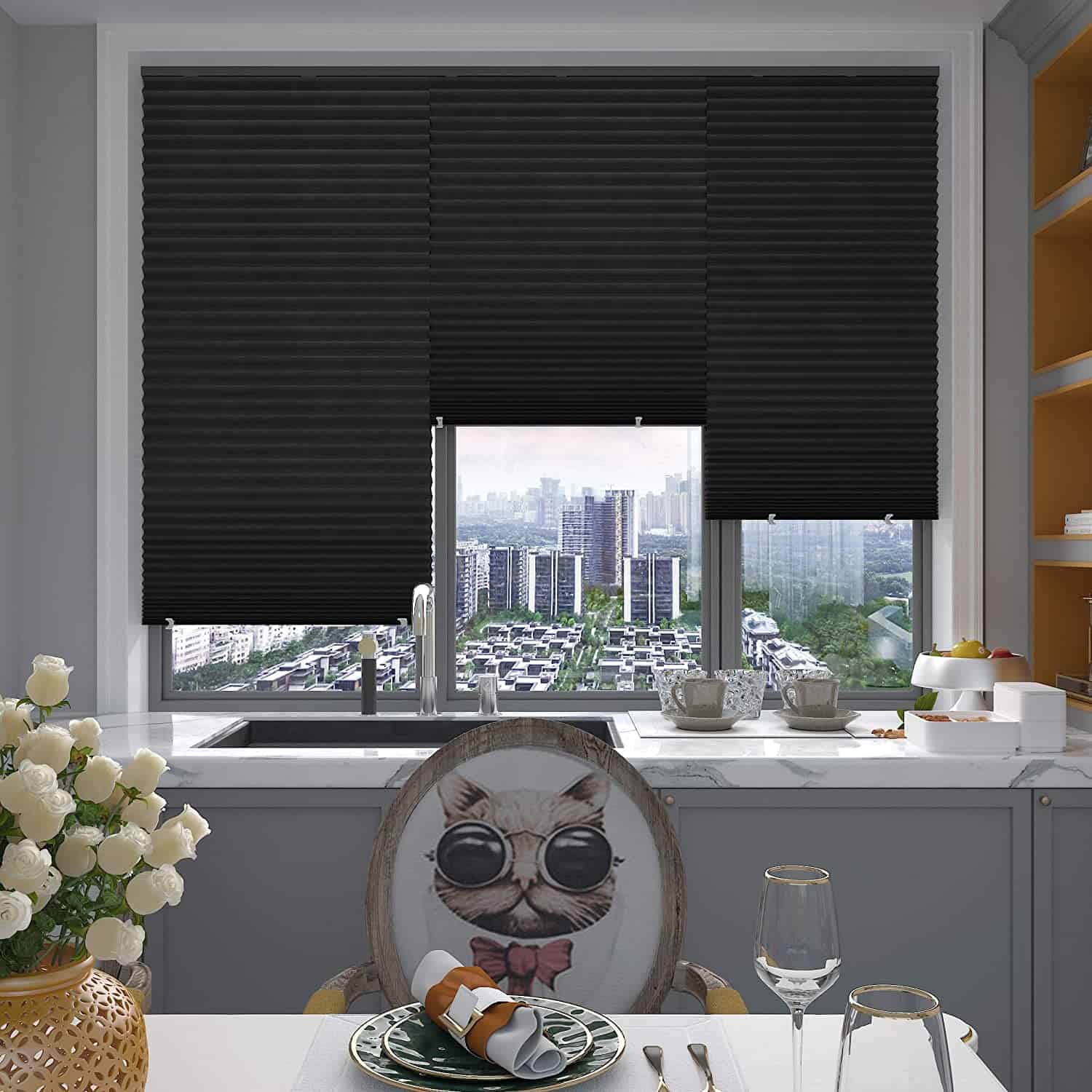 We had to look twice because these paper blinds have an engulfing feel-good vibe about them. You'll be delighted by their catchy stylish look that consists of smooth, durable kraft paper. They're an affordable way to dress your windows and give your spaces a quick makeover. 
You can use them to secure your privacy, filter, or block sunlight and UV rays on functionality. You can also use them as a stand-alone or along with other window treatments. The inside cords make it easy to maneuver and position, while the fact that it doesn't have any cord pulls makes it safe for kids and pets.
Pros
Easy to install, plus the adhesive catches fast

Value for money

Effective thermal insulation solution

Good quality
Cons
The clips are tedious, not the best solution to hold up these paper blinds
Temporary Window Blinds: Best for RVs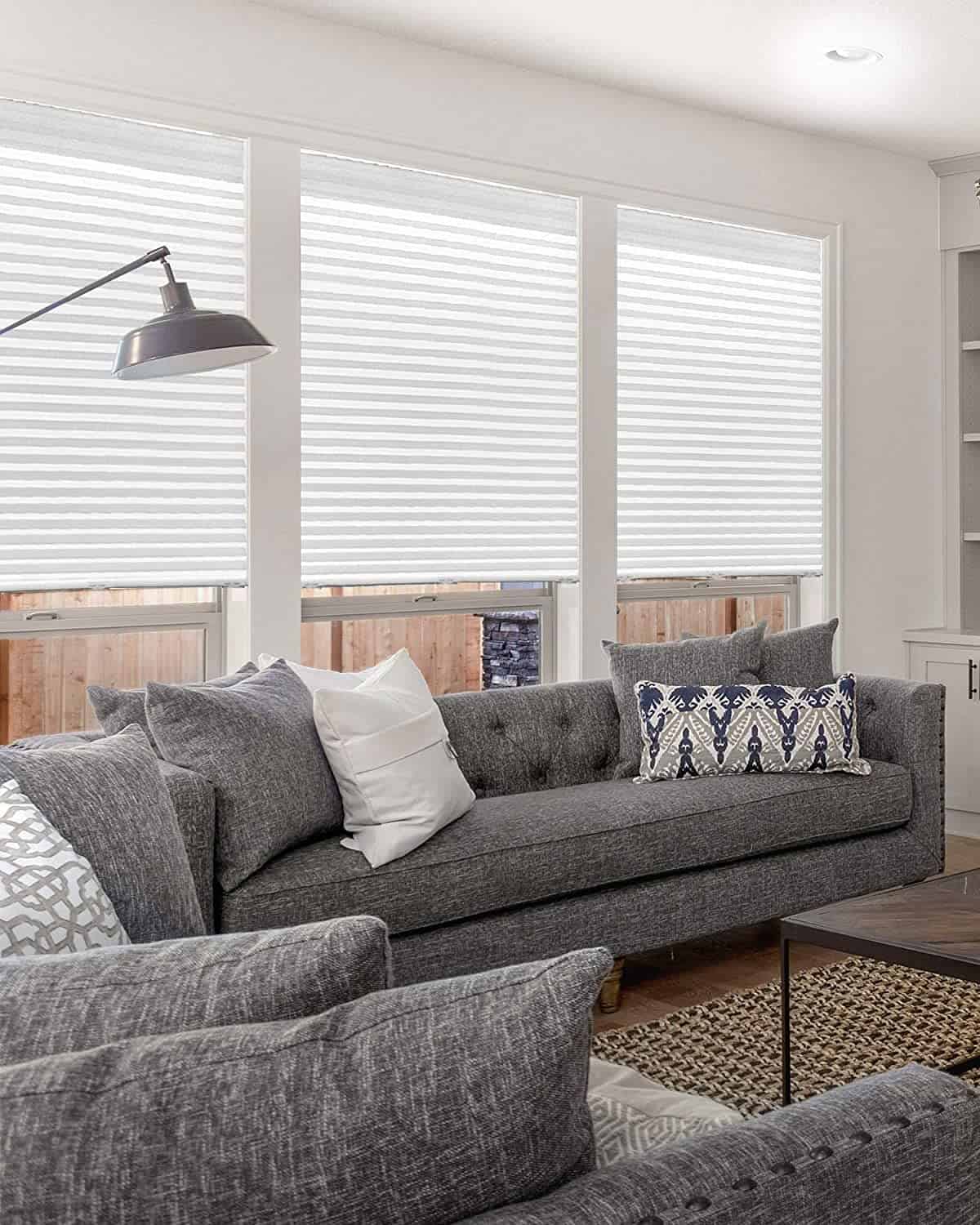 Don't give up just yet because we've found the perfect paper blinds for your RVs and Campers. They're also ideal for windows, patios, and just In case you're struggling to find the ideal solution for a skylight, they'll have you sorted within no time.
You can raise, lower, or adjust them to your desired level and sit back to revel in the classical touch they add to your space. They're also an easy, quick solution that's easy to install. Simply trim to desired dimensions, peel off the adhesive and stick to the window frame or pane. 
Pros
Neutral color suitable for any space

Easy to install

Reasonable pricing
Cons
Don't count on them for long-term use.
Estilo Paper Blinds: Most Durable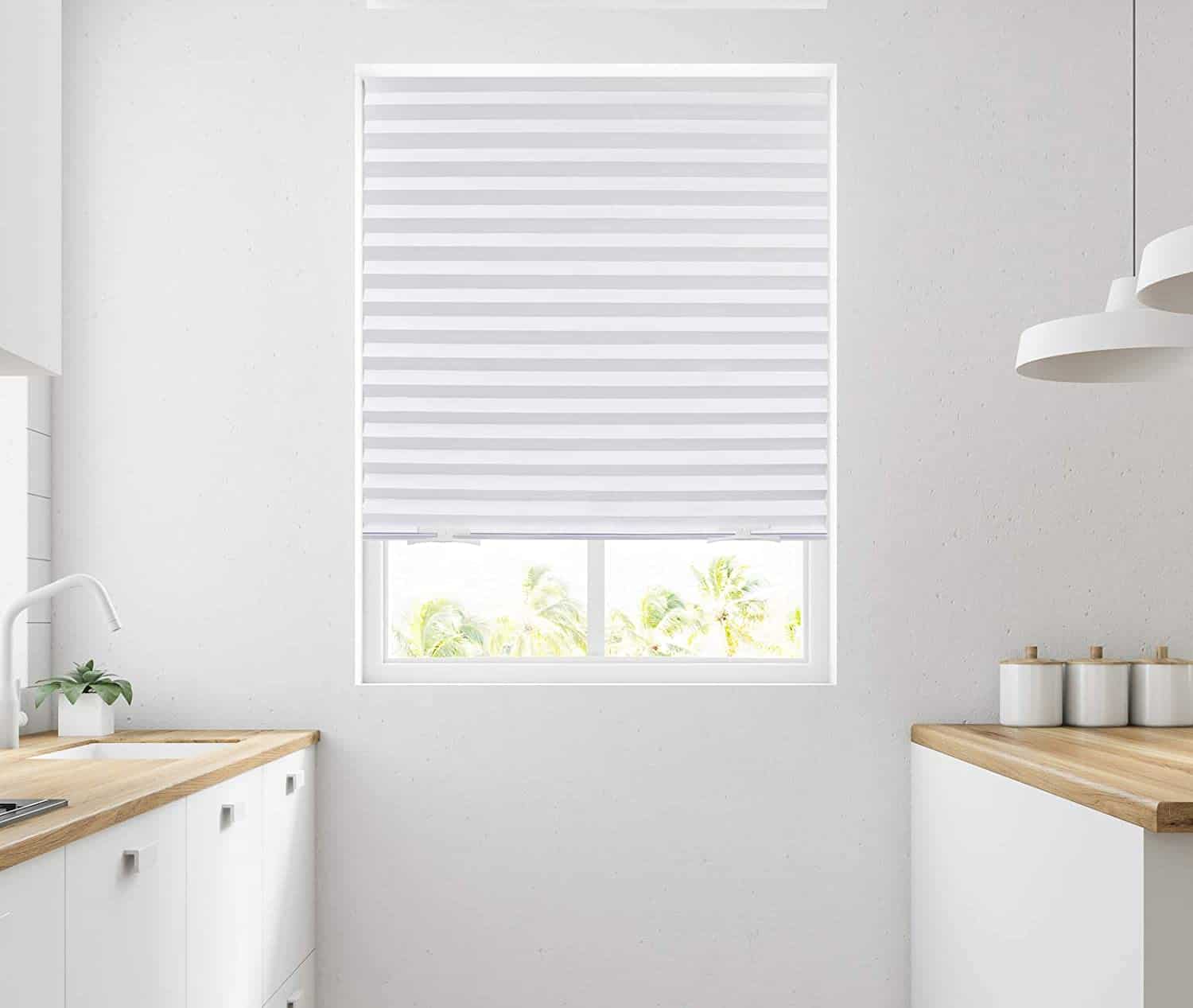 You can adjust these white paper blinds made with durable paper to any length and width( up to 69 inches in length and 36 inches in width). These pleated blinds are perfect for light filtering, UV protection, and securing privacy.  
They're pre-folded and have an accordion crease in them to make it easy for you to raise or lower them to your preferred level. They're easy to put up since all you need to do is fold them together on creases and place plastic clips on the edge. They also come with a 3mm adhesive to ensure a firm stick.
Pros
Reasonably priced and value for money

Easy to install with strong adhesives to catch properly

Pretty thick
Cons
They're only ideal for short-term use since heat and humidity weakens them. 
Types of Paper Blinds 
Sheers
Sheer blinds have adjustable slats to increase or decrease the amount of light coming into a space. They're pretty soft and light, but you shouldn't doubt their proven capability to provide the level of functionality you'd expect from any other blinds.
Blackout
Blackout paper blinds are the best if you want to work, watch a movie, or sleep without any light interference. They offer privacy, thermal insulation, soundproofing, and more. Their dark shade makes them an excellent decor accessory that also enhances the mood in any space. You can use them in the bedroom, home office, and living room.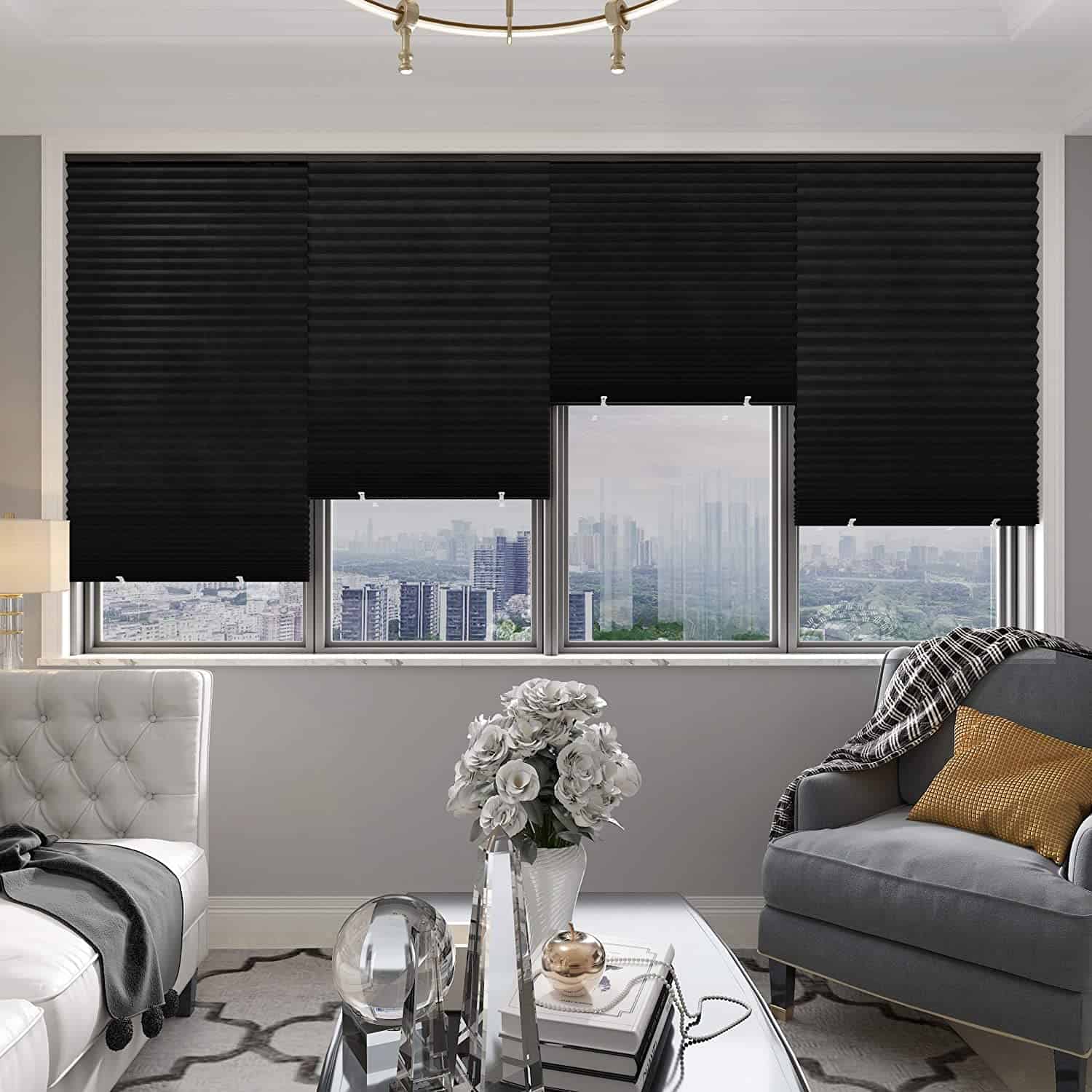 Cordless 
Since they're cordless, these types of paper blinds rely on your hand or remote for adjustment. Think they're difficult to operate? Not at all. Elimination of the cord makes them pretty easy to operate. They're safe in an environment with kids and pets, which augurs well for your peace of mind.
Thermal
Some paper blinds may come with thermal insulation. This thermal material is sewn in the back of the outer material or has a foam-like material inside the blinds. The extra layer insulates your windows, ensuring they're cool during hot weather and warm when chilly. 
Raised, Lowered
Top-down, bottom-up shades are helpful in spacious rooms with many windows since you can adjust them to create appealing and varied patterns. On top of that, they give you more lighting and privacy options since you can adjust them as you please. 
Tips on Cleaning Pleated Paper Blinds 
Even if paper blinds should never get wet, this doesn't mean you should let dirt and dust pile on until they wear off. Here are some tips on how to always keep them clean.
To clean your paper blinds, you should first take the hose of a vacuum cleaner and brush it across each pleat in horizontal strokes. This will prevent dust from getting sucked up into the blind or wrinkling through the motions. If there is stubborn dirt that doesn't come off with this method, try using a lint roller to gently swipe across any particularly dusty areas until they are free of debris.
Now in case, there are stubborn stains, here's what you need to do.
Blot the stains with a mild detergent and a slightly damp cloth, rub gently to avoid tearing the material. Frequent or rough rubbing will wear it thin, reducing its life span. Once the stain is gone, blot dry with another clean cloth.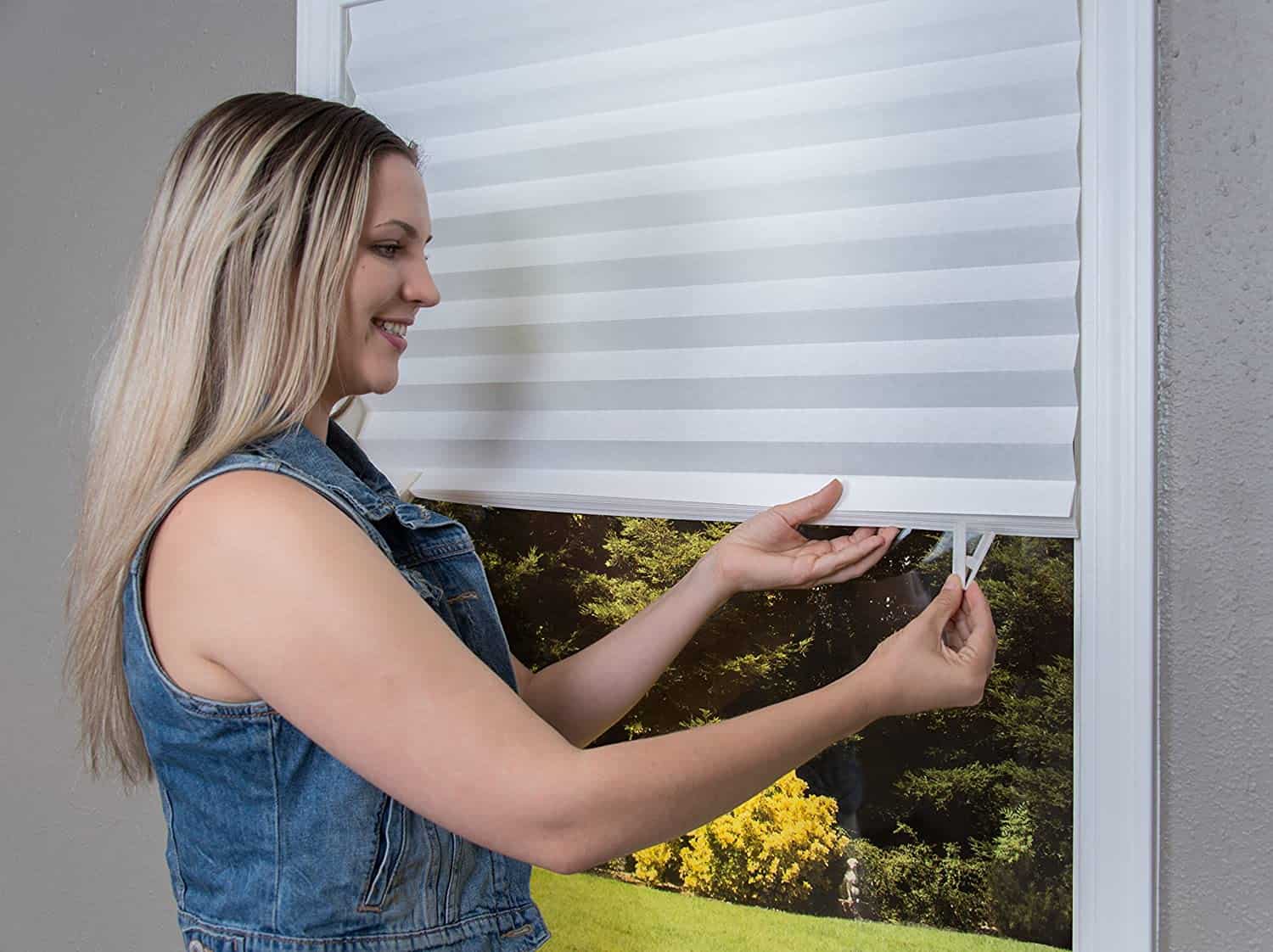 However, cleaning should always be the last resort. Once the blinds dry, don't fold them. Instead, leave them raised for a few hours to re-train the pleats. If there's a permanent stain, you can paint over it, no need to discard paper blinds in good condition.
Some modern painting techniques allow for exciting colors and patterns. Painting on old blinds is a popular trend these days as environmentally friendly practices take center stage. If you can't do it yourself, consider hiring an expert.
If the unthinkable happens and your paper blinds develop a tear, you can repair them. Take some fabric glue (clear, fast-drying) and apply it to the torn section with a soft bristles paintbrush. Apply the glue on one edge of the tear and blend it across the tear. Use the glue sparingly because you don't want it to seep through and leave unsightly stains or stick to the support mechanism. 
FAQs
Question: Are Paper Blinds Good?
Answer: Paper Blinds are the perfect window treatment solution for a temporary situation in your living conditions. For instance, if you can't figure out what to do with your windows, use paper blinds in the interim.  They're also ideal for rentals, public accommodation establishments like schools, hospitals, and hotels. You'll like them even more because they're hassle-free to install and come in modern designs to suit any interior.
Question: What Are Paper Blinds Made Of?
Answer: Paper blinds consist of various pieces of long horizontal or vertical slats made of durable paper. The slats are all held together by cords that run through them. While cordless blinds are held together by these cords inside them, they don't have any cord and pulley system dangling outside. 
Question: How Long Do Paper Blinds Last?
Answer: If well maintained without much movement (on the lifting properties), you can expect to use them for four to six years. They're not long-term and purposely built as a temporary solution. Hence, when choosing them look out for durability (material doesn't discolor or crack easily), functionality and adhesion. It's also an added advantage if they're easy to clean.
Question: How Do You Hang Temporary Paper Blinds?
Answer: They're pretty easy to install because you don't need tools or certain expertise to fix them. When you order, they'll come with two options, either made to measure or ready-made.  Made to measure, peel back the tape,  line it up along your window, and stick to the window frame or glass.
Keep the blindfolded up for ready-made, trim the blind to the size you want using an appropriate knife, and make some passes to cut through all the pleats. If your windows are large, you can overlap the blinds or apply a slight trim where necessary.
Question: Are Paper Blinds Safe?
Answer: The heat from the sun doesn't seem to have any effect on them. Some people even have them in their RVs for durations of one year or more without incident. However, just like any other window treatment, you must keep them away from open flames because the paper is flammable.
Conclusions
Are you now convinced that temporary paper blinds are ideal for your needs? Paper blinds are the best temporary solution for any living space. They're mostly durable and can hold you up for a while.
Remember, most paper blinds come in a pleated design, white, black, or grey shades, and are either ready-made or made to measure. You should also be sure of your needs while selecting them. Do you need them to secure your privacy, softly filter light, protect you from heat or cold, or blackout the light? 
That's a lot to consider, but if you're curious to know what we'd recommend from the list, it would have to be the Adjustable Sliding Panel Track Blind for indoor use. We like it because it's functional on a window or door, it's adjustable, gives you the functionality, and also enhances your decor. Despite being a temporary solution, it's made of durable material that can see you through for some time.