Latest posts by Erin Jamieson
(see all)
Stylish and versatile, one of the most popular types of window coverings is tab top curtains. From farmhouse to casual, 2021 may guide you to renovate your home with tap top curtains, with prices and styles for everyone. 
Tab top curtains, of course, are by no means new. But this year continues the trend of Americans getting more creative with their home improvement projects. In many cases, that means taking classic window coverings like tab top curtains and adding stylish twists. 
Consistently ranked as one of the most popular curtain types, tab top curtains are now being used for open concept rooms, including door curtains for closets, or even as room dividers for a more carefree, boho feel.
While 2020, with a so-called pandemic boom— may prove to be a higher spending year for home renovations than 2021, one thing hasn't changed. Tab top curtains guide us to the same trend I've seen not only in home decor but also fashion– the trend towards more creative and expressive styles.
So why do tab top curtains appeal to modern, traditional, and even bobo styles? And why are they still so popular in 2021? In this guide, I'll tell you what you need to know to buy the best tab top curtains for you– and how to use them. 
What is a tab top curtain?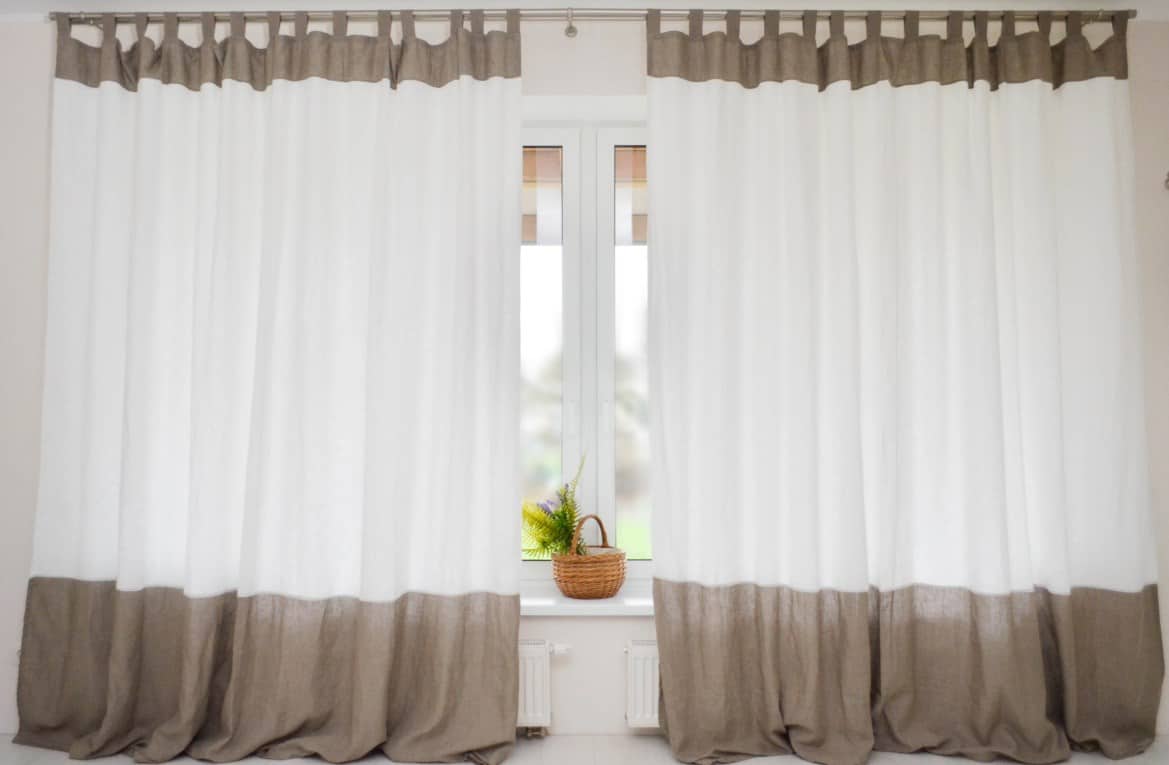 Tab top curtains are a popular choice for any room. The tops of these curtains feature exposed fabric loops, which hug the top rail. This exposed look has been used in modern rooms and boho rooms, though many feel it adds a vintage charm. In many ways, I'd classify tab top curtains simply as timeless, and versatile enough to pull off the style of your choice. 
How do you put tabs on top of curtains?
You can convert some curtains into tab top curtains, or, if you're talented, make them from scratch. After precisely measuring the fabric length and cutting out tabs, you'll need to stitch them to create a clean edge that won't unravel. Tabs are initially pinned, then sewn. It's a tricky process if you've never done it before, but also can be done in as little as a few steps. I recommend starting with low-cost fabric and practicing to see if you can pull it off. Click Here for the DIY Guide. 
What are hidden tab top curtains?
The modern take on tab top curtains? Hidden tab tops. Also known as back tab curtains, the exposed fabric loops are simply in the back, rather than the front of the curtains. This provides for a more streamlined look, often described as contemporary and elegant. 
How do you hang tab top curtains?
Hanging tab top curtains is fairly simple. If your curtains are made out of materials that wrinkle, such as linen, you may want to iron them first– just do so with caution and according to instructions. After ensuring that the curtains are the proper length, carefully hang the rod brackets as instructed. Typically, they will screw into your wall. Place the rod through every tab, starting from left to right. Finish by hanging the rod on the brackets and space the curtains as desired. 
Are tab top curtains good?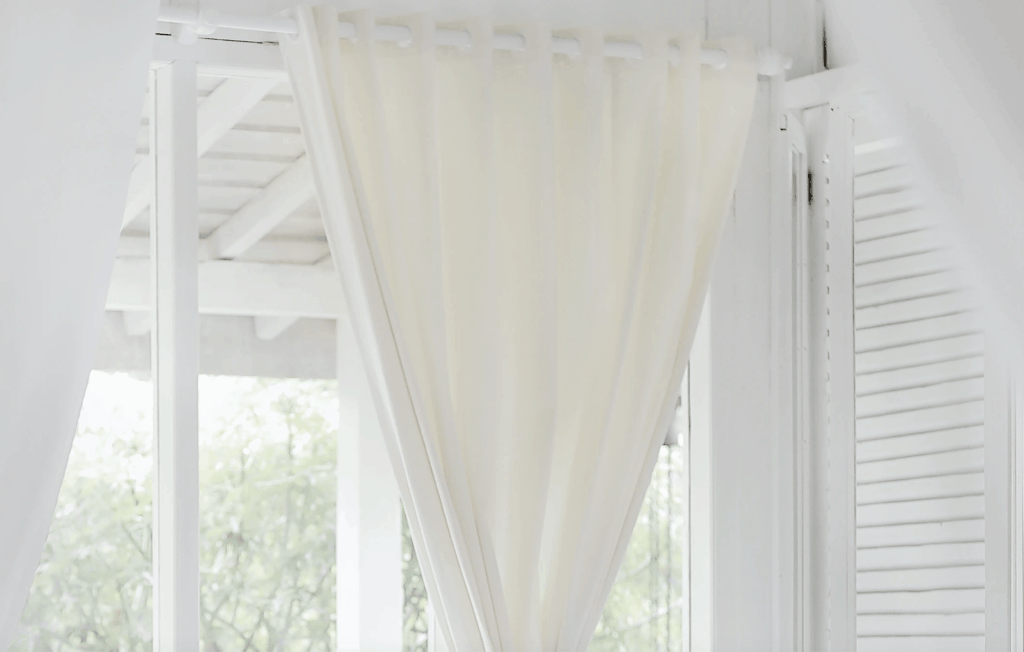 Tab top curtains are an excellent choice for many homes because they're unlikely to go out of style and are versatile. Available in classic, contemporary, and even boho styles, tab top curtains are a pleasing addition to living spaces. But they do come with some downsides, too. 
Do tab top curtains slide easily?
The main downside is that tab top curtains don't slide as easily as curtains with rings. Rings naturally slide across the metal or plastic rod, while tabs can be stuck and require a little force. There are ways, however, to prevent this from happening as much. 
How do you make tab curtains slide easier?
Tab top curtains or back tab curtains often become more difficult to use over time. An easy solution to this is applying a general cleaning polish. Just make sure that you aren't applying the polish directly to any fabric that may become damaged. 
How do I stop my tab top curtains from sticking?
While polish may do the trick, another trick to keep your tab top curtains from sticking is dry silicone spray. This is a great preventive measure and allows the tabs to slide easily for everyday use. You may have to reapply this occasionally. 
How do you select the best tab top curtains?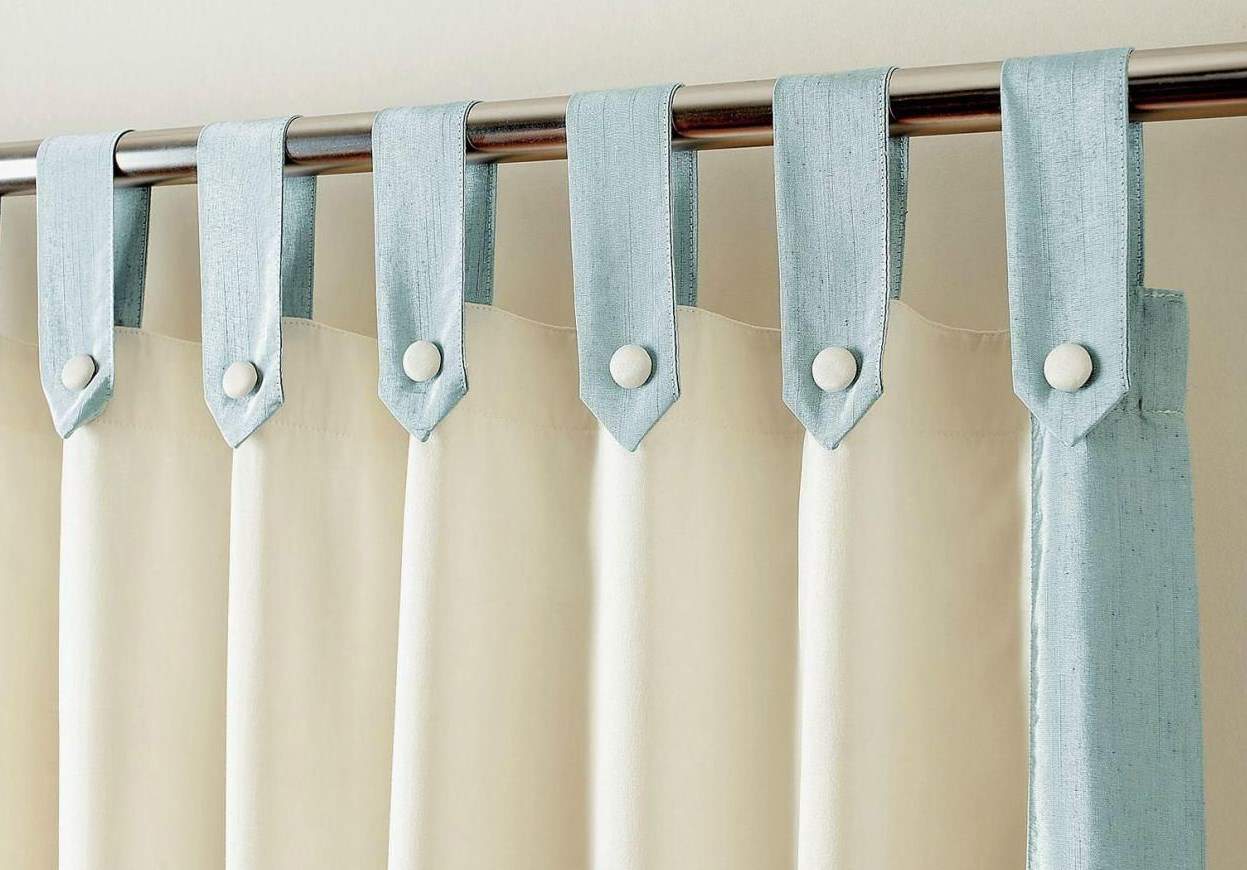 Just like any curtains, you need to consider the measurement, make and style before you buy tab top curtains. Here are the questions I ask myself– and the criteria I use before making any recommendations. 
What is the best type of fabric for tab top curtains?
There is no one best fabric for tab top curtains– a lot of it depends on the purpose of your curtains. Blackout tab top curtains are sometimes used in bedrooms for better sleep and ultimate privacy, and here, you won't have as much choice. Blackout curtains are typically made of polyester, nylon, or cotton. A heavy microfiber is also an excellent option. Read Here About Blackout Material Safety Information. 
Linen is excellent for durability, beauty, and style, but it can be privacy, wrinkle, and collect dust. Cotton and cotton blends are also an excellent choice, and a little lower cost– just don't use them in kitchens or bathrooms, where they can attract mildew. Polyester blends (see link below) have mixed reviews in some ways, but are favored for their easy-care, low cost, and general durability. 
Silk is another great option– it's a beautiful fabric and luxurious, mostly reserved for light filtering curtains. They are sometimes lined and also offer a little bit of insulation. 
Since tab top curtains can be a little sticky, I wouldn't highly recommend something like lace, which can be a bit more fragile. Velvet curtains are a bit heavy for tab top curtains. 
How long should tabs be on tab top curtains?
Tab top curtains have a tab at the end of either end of the curtain, and then a tab in the middle for every five to eight inches. The easiest way to figure this out is to take the total width of the curtains and divide by the number of tabs you'd like to get a sense of what that would look like. 
How far apart are back tabs on curtains?
The same rule applies to back tab curtains. That said, further apart– around eight inches– tend to be more popular. Tabs that are further apart provide a more streamlined look, and learn more modern than close tabs. At the end of the day, it's a matter of personal preference. 
How do you measure fabric for tab top curtains?
To measure for tab top curtains, start with the length, then the width, and consider what kind of rod you'd like. To measure the width, start at the top of the rod down to the desired curtain length. Most curtains should be floor length so that they rest just where they meet the floor. To make sure your curtains are full, they should be approximately 1.5 of the width of the windows you're covering. Many pay close attention to the style of the rod as well, since it's exposed– though this is less important for back tab curtains. 
How wide should curtain tabs be?
Aim for curtain tabs with a width of 1.5 to 2 inches on average. You can go a little outside of this range, but this is a good rule of thumb. 
Tab Top Curtains: My Picks
Here are my picks for tab top curtains. My goal is to provide ideas so you can brainstorm styles and fabrics that work for your home. I've factored in price, style, and quality construction about how much you're paying. Today, my picks come from  WayFair, which offers a Windsor selection than most places for tab top curtains. I also mention honorable mentions for other great places to buy tab top curtains. My picks are divided into room darkening, blackout, and sheer curtains, but you can Shop All WayFair Tab Top Curtains Here. 
Blackout Tab Top Curtains
Blackout tab top curtains are perfect for sprucing up a bedroom and adding privacy. Blackout curtains are meant to block out almost all incoming light, and also offer more insulation. Some are also designed to block out noise. These are best used in a bedroom on a noisy street and are going to have a heavier look than other curtains. I recommend trying room darkening curtains, then graduating to blackout curtains if you need more privacy.
Scott Living Aubry Shimmering Floral Max Blackout Thermal Tab Top Curtains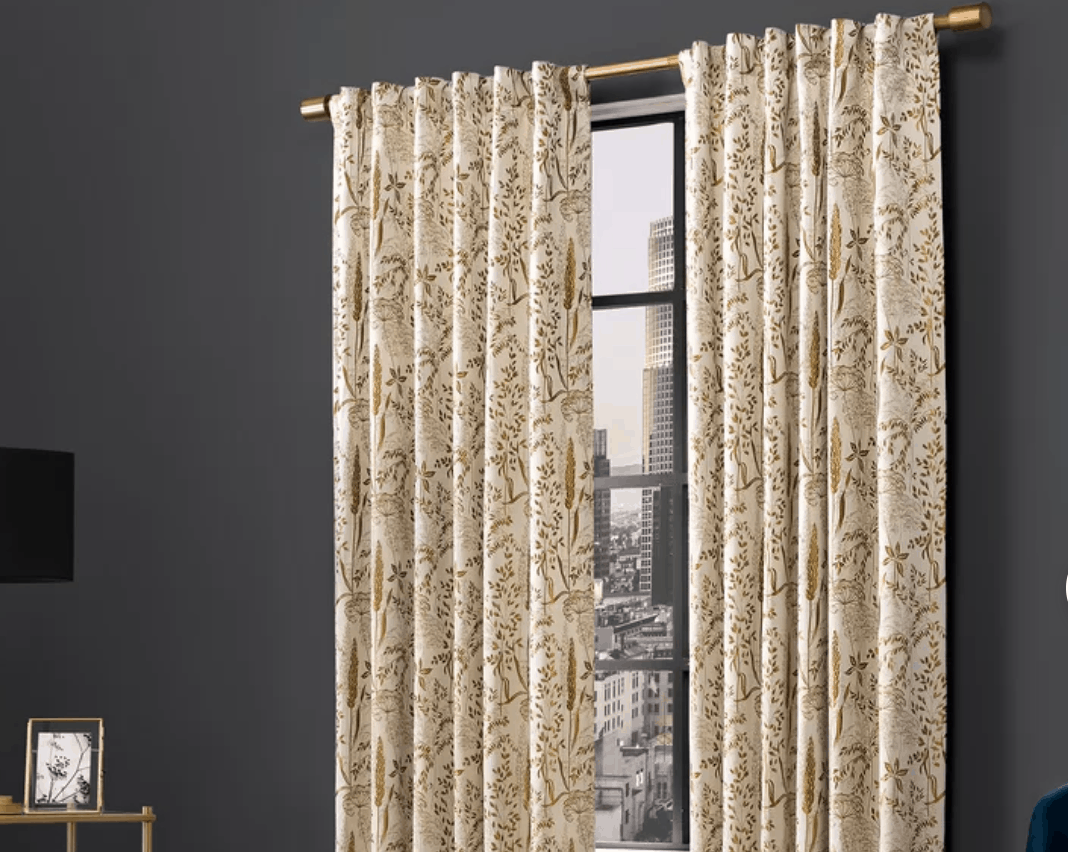 Sold by single curtain panels, these max blackout curtains provide great features with a unique floral print. These curtains reduce noise, block out 99 percent of incoming light, and are insulated to help you save energy. The modern jacquard design features touches of shimmer for a modern, fashionable look. Available in gold or gray, on sale for $31.99 per panel; Buy Here.
Kyle's Solid Color Max Blackout Thermal Tape Top Curtains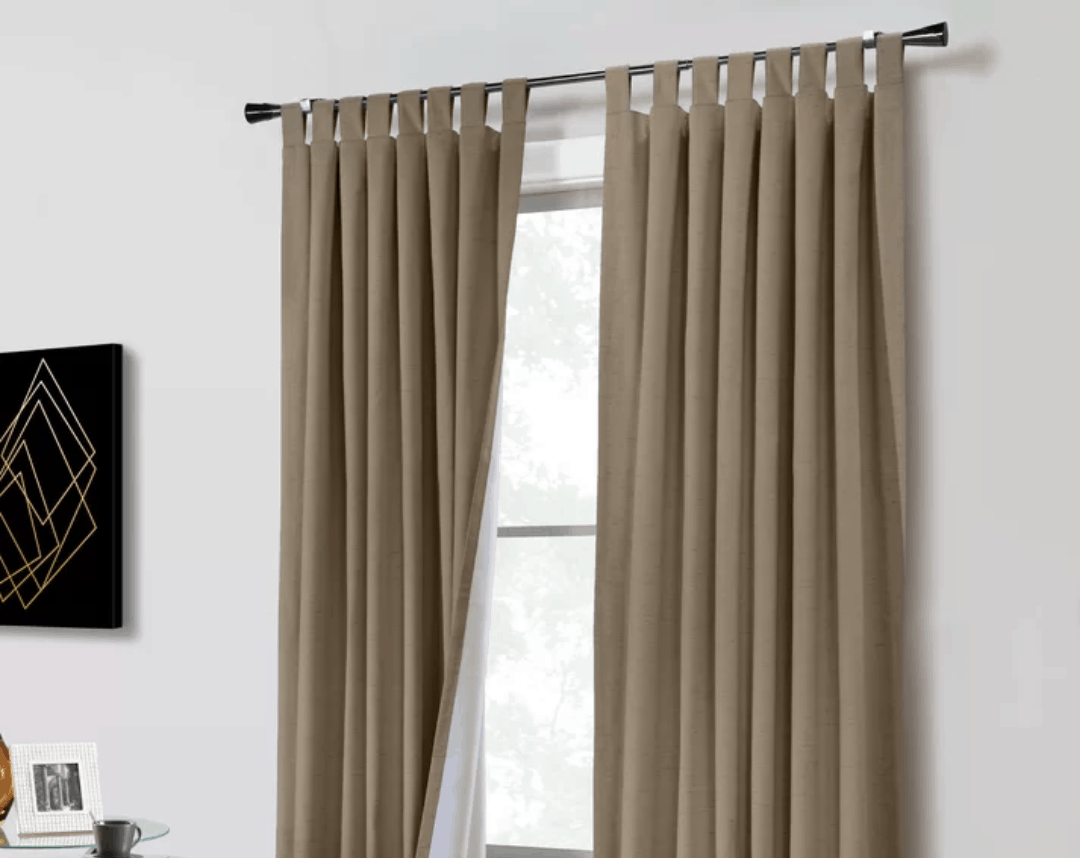 These nearly 5-star tab top curtains feature all the privacy you want, with a versatile style. While some colors are currently out of stock, the classic solid color design is hard to go wrong with. You'll benefit from max blackout privacy with insulation and noise reduction for the busiest of locations. Priced at $105.99 for a set of two curtains; Buy Here. 
Nicole Miller Woven Geometric Blackout Tab Top Curtains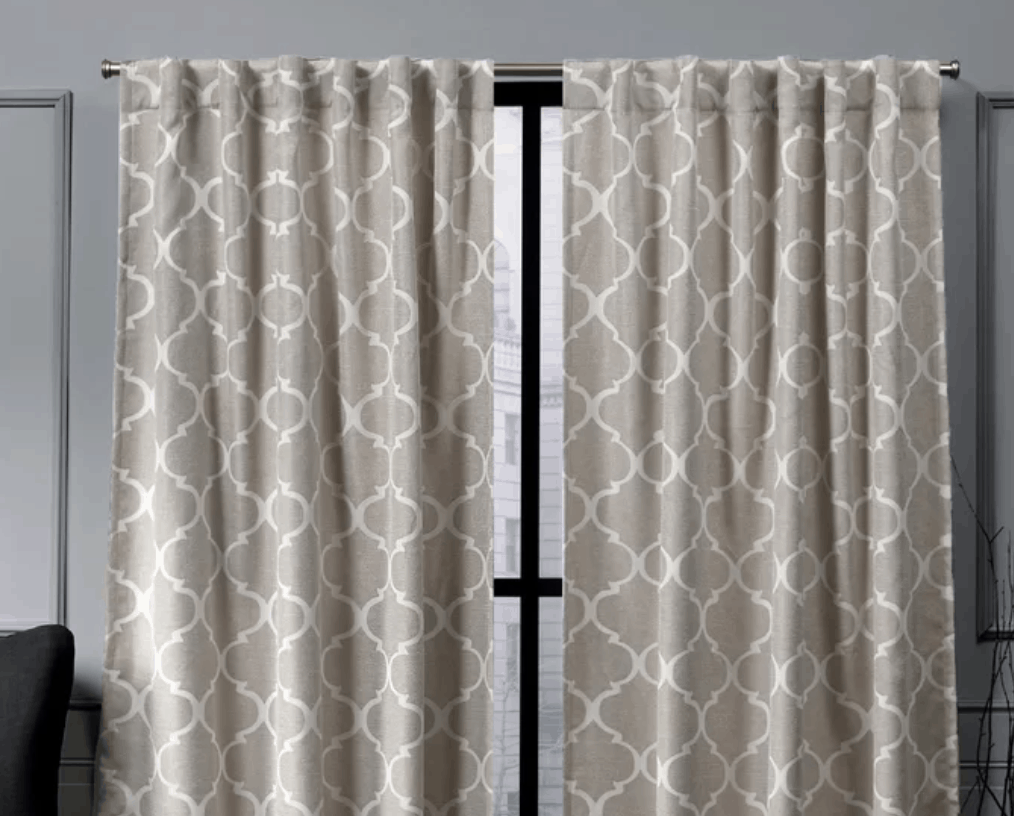 Who says blackout curtains have to be plain? These retro-inspired blackout curtains feature a subtle tab top, with a bolder geometric print. The regular blackout construction still blocks out most light, with thermal technology to keep rooms comfortable. Normally available in ash gray, dove gray, and chambray blue, linen is currently in stock. On sale for $39.49 for a set of two; Buy Here. 
Twillery Company Bromsgrove Bandtab Solid Blackout Tab Top Curtain Panels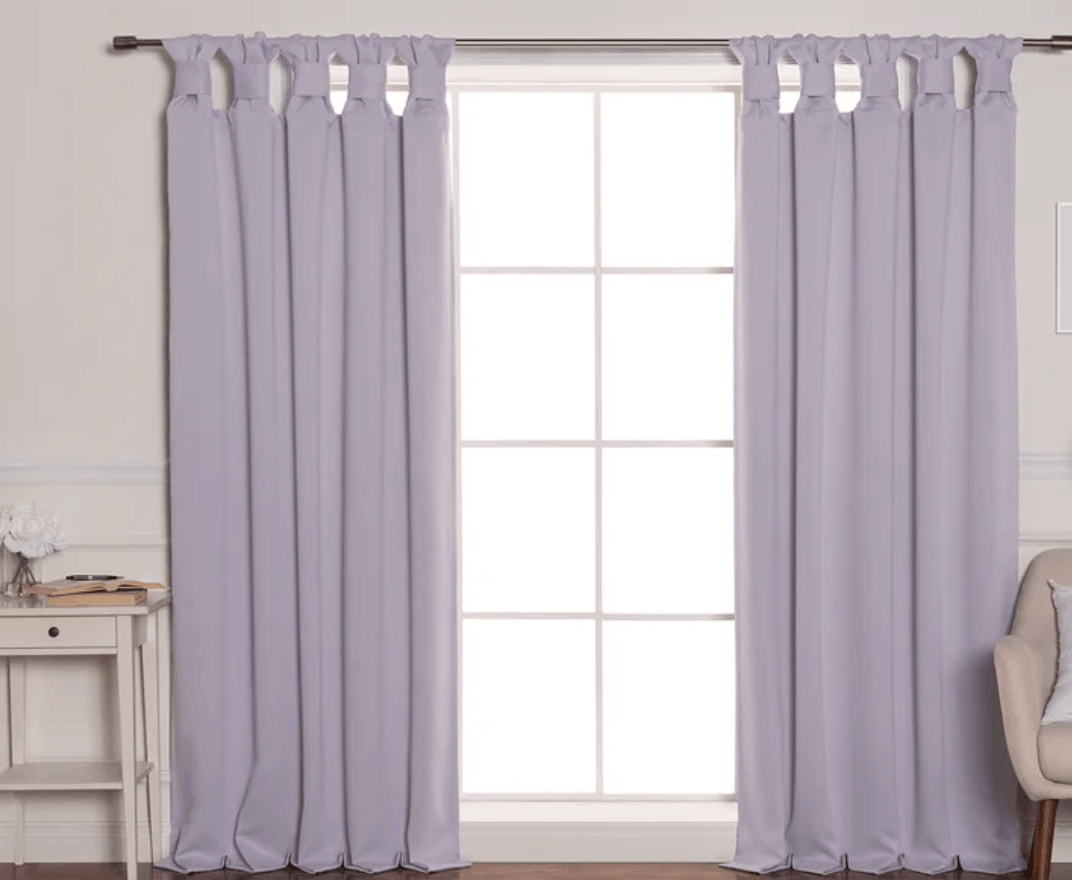 These blackout tab top curtains come in 11 pleasing hues for a seamless, contemporary look. The knotted tab style is a little more unique, complete with noise reduction and blackout light control. They're thermal, used to keep rooms comfortable. They're also machine washable for easy care. A set of two panels is priced at $78.99. Available in gray, beige, dark gray, dusty pink, lilac, mint, new pink, sky blue, sunlight, vapor, and white; Buy Here. 
Room Darkening Tab Top Curtains
Room darkening tab top curtains block anywhere from a little over half to up to 90 percent of light. Use these curtains for study rooms and home offices– or anywhere else where you need to reduce glare. Room darkening curtains can also be a fantastic option for bedroom curtains if you don't need full blackout privacy and protection. 
August Grove Laurencho French Linen Solid Room Darkening Tab Top Curtains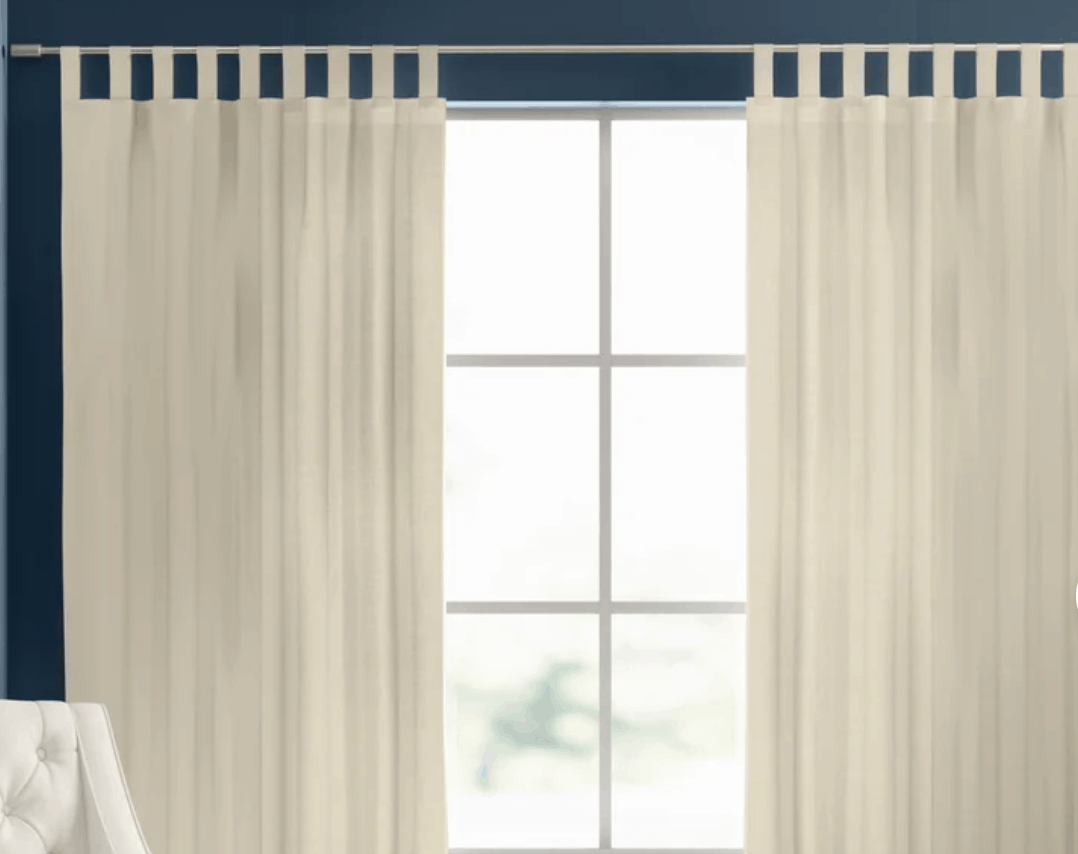 Sold by single panels, these classic tab top curtains are a refreshing touch to living spaces or studies. The refined, simple style adds a touch of modern French country charm, made with linen gauze. Available in linen, light gray, white, dark gray, or pink and priced at $63.99; Buy Here.
Plow & Hearth Thermalogic Check Cotton Blend Plaid Tab Top Curtains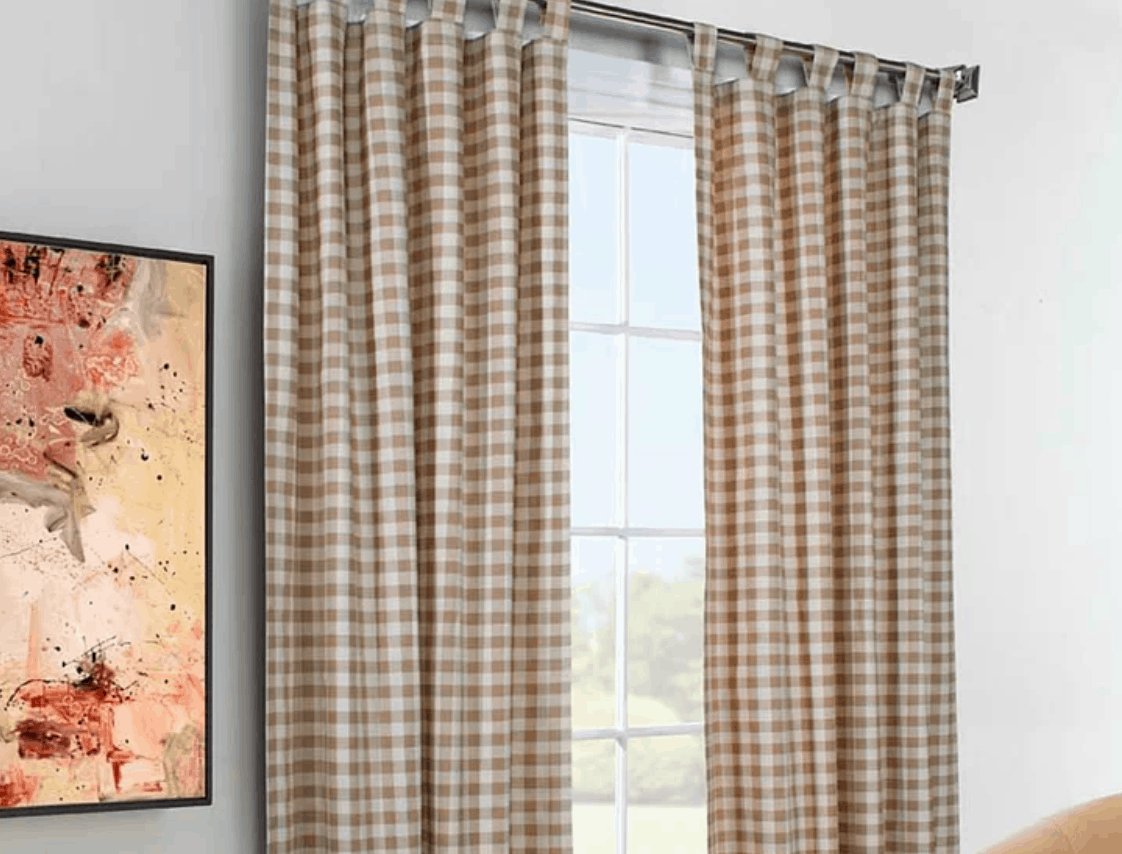 Checkered and plaid curtains are popular for the country and western-style homes. These cheery plaid curtains are made with a durable cotton blend that features easy care with machine washing. These room darkening, tab top curtains feature light blocking and noise reduction. Available in green, cranberry, wheat, black, and blue; priced at $54.95 for s set of 2; Buy Here.
Mila Cotton Argyle Room Darkening Rod Pocket Tab Top Curtains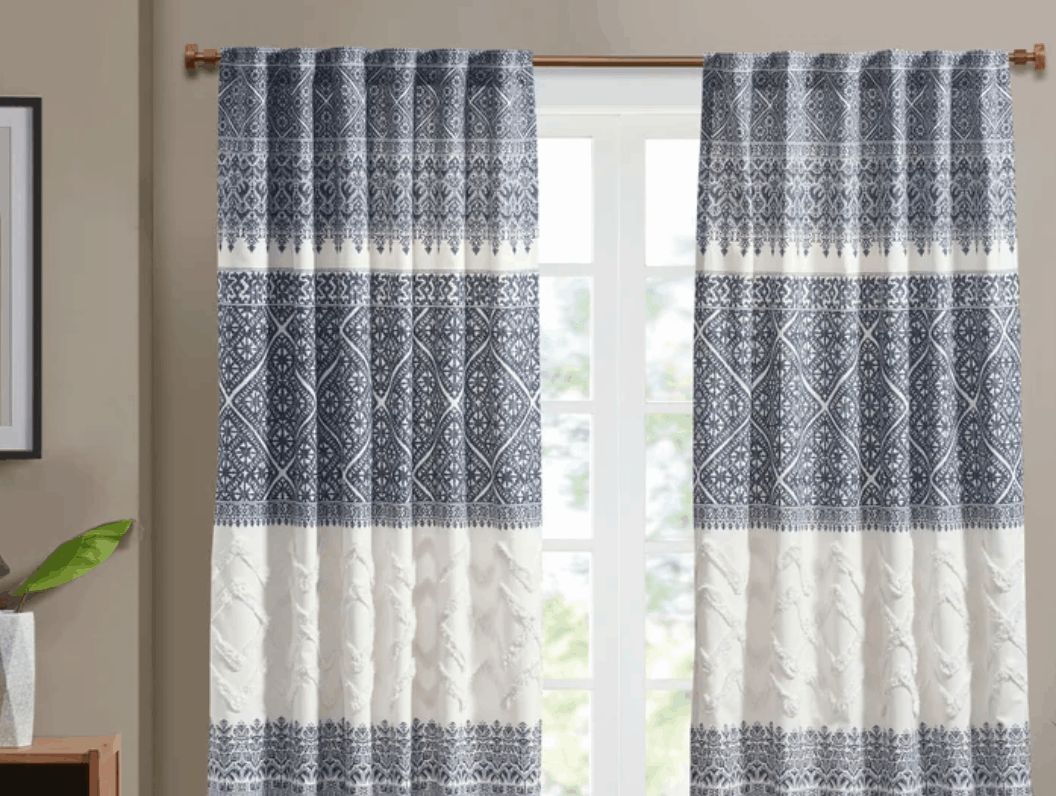 Combine a rod pocket and tab top style with these stylish cotton, room darkening curtain panels. Machine washable, these 100 percent cotton curtains feature a print inspired by global styles, completed with tufted chenille detailing. The result is a textured, artisan look, available in navy or taupe. Priced at $72.99 per panel; Buy Here. 
Exclusive Home Solid Room Darkening Tab Top Curtain Panels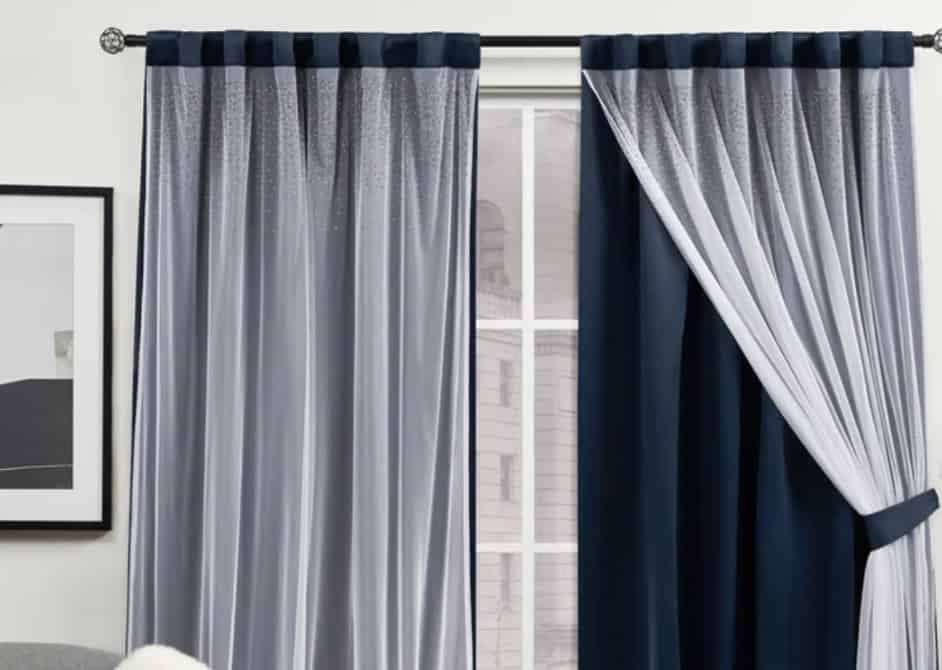 Have a robust budget? These premium room darkening tab top curtain panels are stylish and unlikely to go out of style anytime soon. The sheer overlay adds a touch of elegance and versatility, and you still get great protection from the sun's glare. These curtains are made out of polyester, which I don't love as much as some materials, but make them easy to clean and care for. Priced at $102.99 for a set and available in blue, gray, and white; Buy Here. 
Light Filtering Tab Top Curtains
Want some privacy but don't want to darken a room? These tab top curtains are a breath of fresh air, with lightweight fabric but still some protection from the sun's glare. Sometimes these are also paired with blinds. Many in the Pottery Barn collection are bestsellers, with modern, classic styles that are versatile but also aesthetically pleasing. 
Liebert Solid Semi-Sheer Tab Top Curtains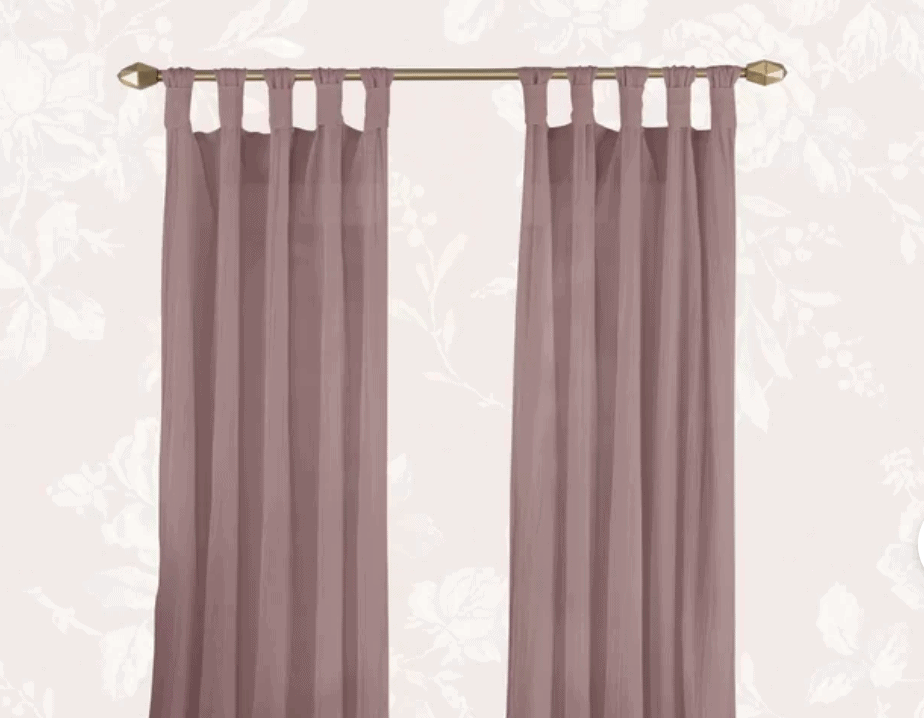 From the Kelly Clarkson, Home Collection comes these stylish and affordable tab top curtains. These light filtering curtains are now on sale for under $15 and come in stylish solid colors, including dark rose, black, blue, gray, green, pink, natural, and white (some colors are out of stock). The polyester blend is easy to care for and offers a subtle crinkled texture for a contemporary touch; Buy Here. 
Okeelanta Washed Casual Solid Semi-Sheer Tab Top Curtains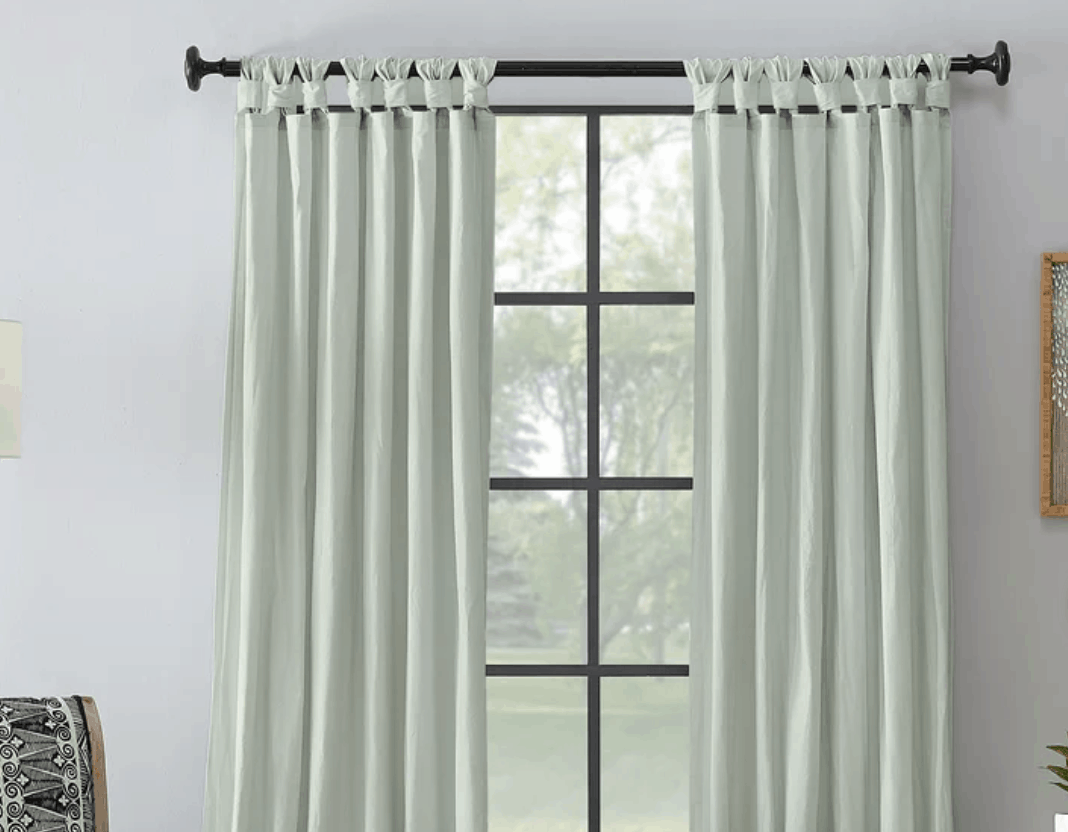 These casual curtains are contemporary and offer a versatile, pleasing design. The tab top construction comes with easy installation, offering a little protection but a bright addition to any room. Priced at $41.99 and available in oatmeal, rose quartz, seafoam, silver-gray, white-gray, ivory; Buy Here. 
Greyleigh Chenoweth Exclusive Semi-Sheer Tab Top Curtains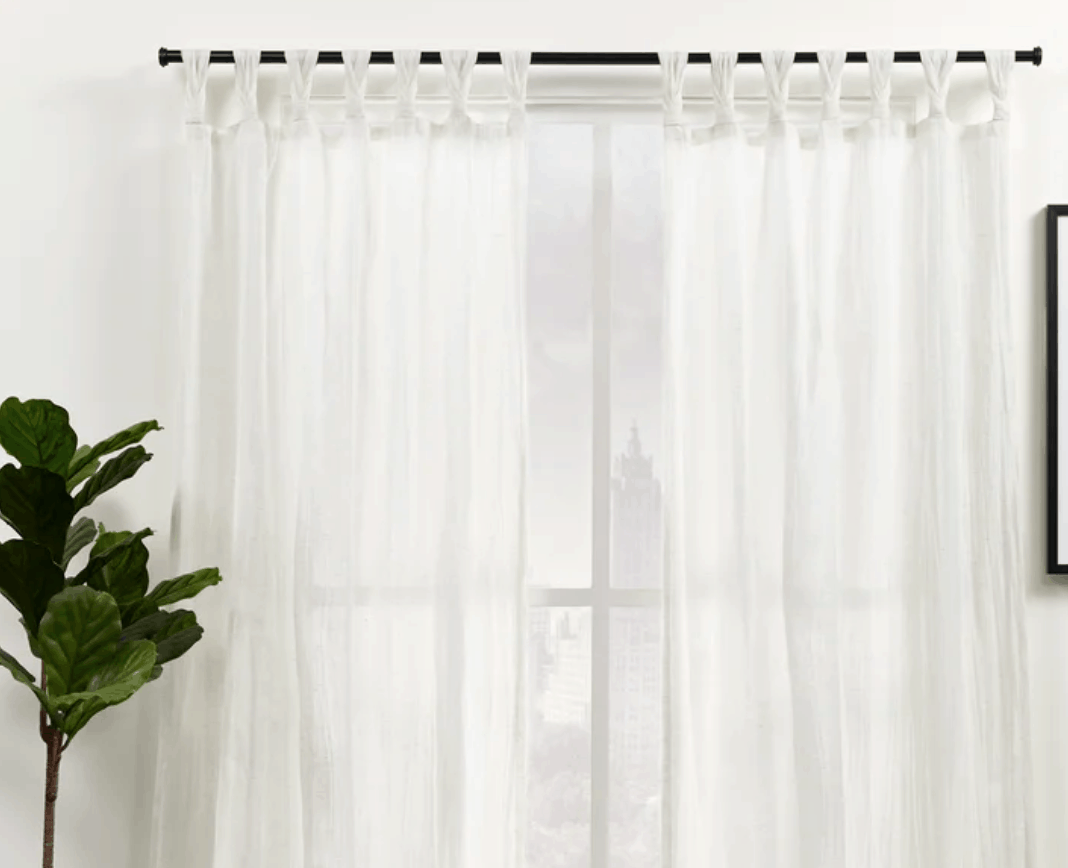 These breezy, sophisticated light filtering curtains are made from a durable linen and polyester blend. The fashionable style is meant to gently diffuse light and is lightweight and easy to hang. You can machine wash in the cold. Available in white and priced at $84.99 for a set; Buy Here.
Sheer Tab Top Curtains
Sheer tab top curtains are elegant and timeless. Used as room dividers, for decorative purposes and just a little separation between indoors and outdoors, these curtains are light and graceful. The classic tab top design adds an almost timeless touch, while the diaphanous fabric makes these carefree. Use these in rooms where you want a lot of suns to come in, or simply as a way to add finishing touches to your decor. 
Bickford Silk Floral Sheer Tab Top Curtain Panels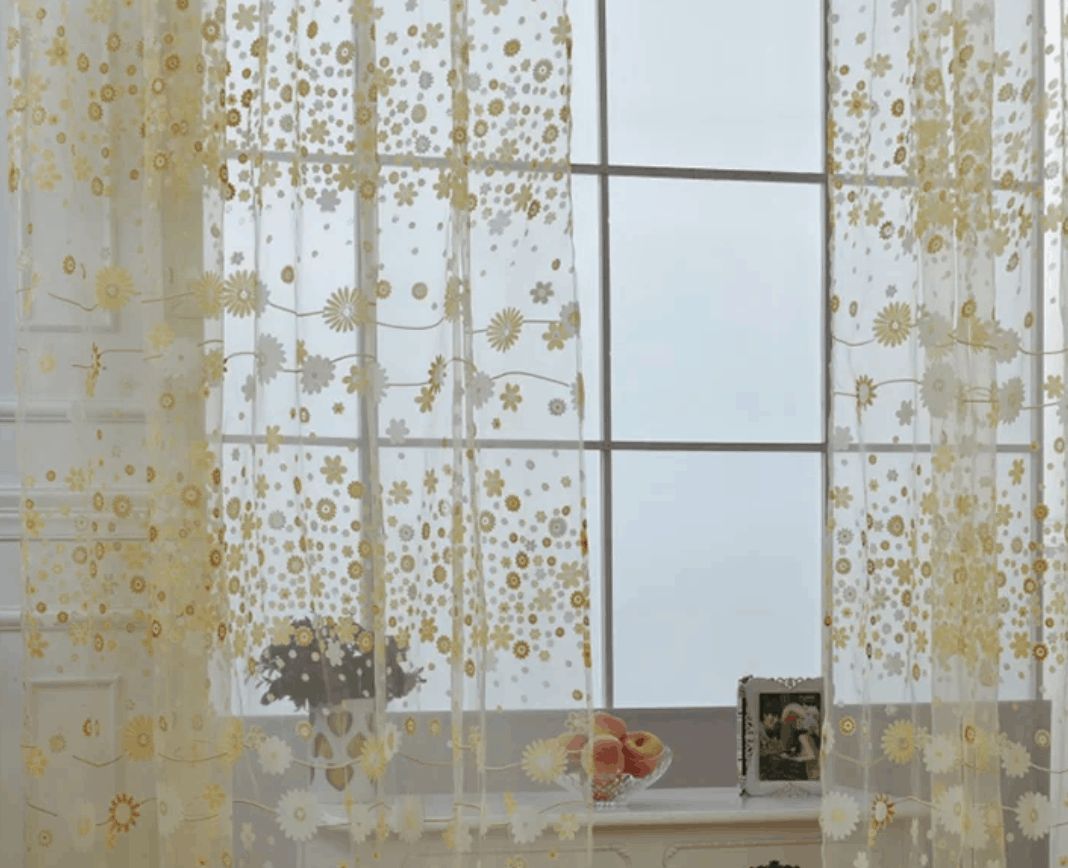 If you're looking to make a statement with your sheer tab top curtains, consider these silk panels. The silk curtains feature a butterfly print and add a modern appeal with delicate details. Useful for bathrooms, bedrooms, and other living spaces, you can opt for longer or shorter lengths. Priced $25.99 per panel; Buy Here. 
Amalgamated Textiles Home Sheer Tab Top Curtains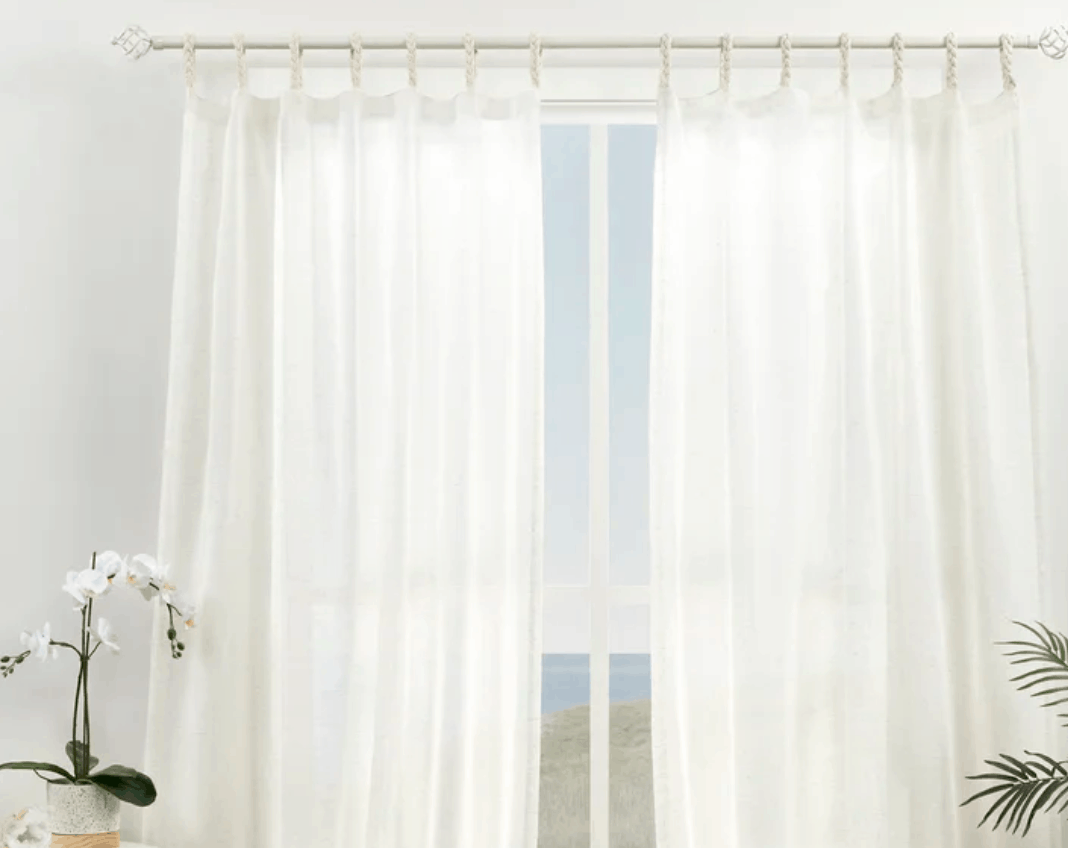 Casual and elegant, these sheer tab top curtains feature a linen blend with a luxurious feel. At the same time, they're light and airy, filter light, and add a beautiful accent to any room. The braid rope tub adds a unique touch, available in a classic white hue. Priced at $91.99 per curtain panel; Buy Here. 
Frequently Asked Questions
Question: How do you find the top of a curtain?
Answer: The top of a curtain is usually hung on a rod. The top of the curtain may include tabs or be tables, but it's important to measure from the very top, where the curtain will hang, to your floor to ensure that you're buying the right length for your room. 
Question: How do you make knotted tab curtains?
Answer: Knotted or twisted tab curtains are a stylish way to play on the traditional top tab curtain style. While you may be able to find curtains in this style, many take it one as a DIY project. These are used for aesthetic purposes, though some may feel the knotted or twisted style adds security to everyday use. Click Here to learn more about making twisted tab curtains. 
Question: What is a concealed tab curtain?
Answer: Concealed tab curtains are popular for a streamlined look. These curtains also fit comfortably for modern and minimalist styles. A concealed tab curtain simply means that the tabs are designed with a hidden slot so that you can't see your curtain rod. Many also prefer this style if they have plain or unattractive curtain rods. 
Final Thoughts & Other Places to Buy
Tab top curtains can be a little tricky, but with a little polish and getting used to them, you may find the style quite appealing. From patterned to simple, tab top curtains can be bought in many styles– but the top design adds a sense of timeless elegance.
If you're looking for a cheaper collection of tab top curtains, check out Target's Tab Top Collection Here.
For playful tab top curtains and kitchen valances at a great price, shop Kohl's Tab Top Curtain Collection Here.