Latest posts by Erin Jamieson
(see all)
From bright, fresh colors to potted plants, Americans are sprucing up their office spaces–including home offices– for a more cheerful environment in 2022. Guiding a balance of cheer and privacy are vertical blinds, from budget-friendly stores like Walmart.
Whether you're in the office now, working from home, or just need a way to elevate your room, small tweaks like window covering can transform the ambiance. And whole colorful curtains make for an expressive addition, they aren't always practical for a working space.
Vertical blinds are trending in 2022 as an alternative to classic horizontal blinds. The modern look provides a unique play between privacy and light– and often suits minimalist designs. The trend really kicked off as one of the top ways to elevate your office in the Summer and is projected to continue into 2022.
And while 2020 was a record-breaking year for home improvement spending, many are still suffering from the pandemic's effect on the economy. Walmart offers a wide assortment of vertical blinds at bargain prices.
But are vertical blinds for you? And how do you make sure you're buying the best options? In this guide to the best Walmart vertical blinds, I'll tell you what you need to find the best vertical blinds from Walmart so you don't waste your money.
Are Vertical Blinds Good?
Vertical blinds are not quite as common as horizontal blinds– but that's part of their appeal. Vertical blinds offer a unique, fresh take on window coverings, with the flexibility that blinds offer. But whether or not vertical blinds are right for your office space, bedroom, or living room depends on why you're buying blinds.
Are Vertical Blinds More Expensive?
There's a misnomer that vertical blinds are more expensive than horizontal blinds. Verticals themselves will cost you a little less than horizontal blinds. However, many vertical blinds operate on a track system. If you buy vertical blinds on a track system, they certainly are more expensive. These cost $100 to $300 or so.
Like all blinds, the average cost of vertical blinds depends on the material. With a cheaper material like vinyl, you can expect to pay $20 to $40 per window. Aluminum blinds average $35 to $70 per window, and fabric blinds average $40 to $100 per window.
How Long Should Vertical Blinds Last?
Vertical blinds typically last as long as horizontal blinds if used properly. You can expect to replace your blinds every 6-8 years on average. Low-quality blinds you may need to replace in 4 years, while high-quality blinds can last over 10 years.
Are Vertical Blinds Good for Privacy?
Vertical blinds, even blackout blinds, are not the most effective for privacy. They offer privacy but not as much as horizontal blinds– a little light will slip through. Vertical blinds are tilted up so that people cannot see in. They may be able to see shadows, but they shouldn't be able to see anything detailed. Vertical blinds cannot be completely closed like horizontal blinds, but they do offer a respectable degree of privacy for offices or living spaces.
Do Vertical Blinds Block Out Light?
The most effective vertical blinds for blocking out light are blackout blinds. They can block a good degree of light, but since vertical blinds don't close completely, some light will filter in.
What are the Advantages of Vertical Blinds?
Vertical blinds are prized for their ability to balance light and privacy. Vertical blinds are not outdated, and in fact, can be a stylish way to switch up a living space. While they don't offer as much privacy as horizontal blinds, vertical blinds are also more practical for covering sliding glass doors and wide windows.
Will Vertical Blinds Keep the Cold Out?
All blinds can help reduce draft, but I wouldn't rely on them to keep the cold out. Adding vertical blinds to a window is a way to save a little energy– especially blinds with special insulation. Still, especially since vertical blinds can't completely close, expect some air to escape.
How do I Select the Best Walmart Vertical Blinds?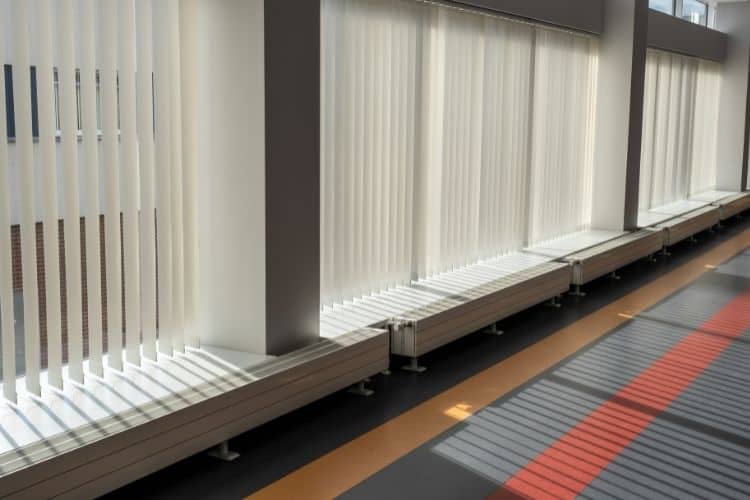 If you've decided on vertical blinds and are on a budget, you might be considering Walmart. The good news is that Walmart has a generous collection. You'll find cheap options– but you need to ask yourself some questions before you buy. Even if you're not shopping for the most durable blinds and just looking for some to get you through 5 years, here's what I ask to make sure I don't waste my money.
What Material is Used for  Walmart Vertical Blinds?
PVC, Vinyl and Faux Wood
The two most common materials for blinds sold by Walmart are PVC and vinyl. Both are low-cost materials. PVC is the third most common form of plastic in the world, but it does have concerns.
PVC, while cost-effective, has been known to contain toxic by-products for humans and the environment. It's also a potential concern if you have young children. Vinyl blinds also have some toxic byproducts. Both materials are known to be durable at a low cost: they are waterproof, not prone to mildew, and flame resistant.
Walmart also sells faux wood vertical blinds. Faux wood blinds and bamboo blinds have become increasingly popular. You'll find far more options for horizontal vs vertical blinds in this category, but it's still a category to consider.
You'll first need to determine if the style is right for you- some don't find it pleasing vs wood. But unlike wood blinds, faux wood blinds won't warp and are resistant to moisture.  Still, they too are often made with a form of PVC.
The jury is out as to if PVC will continue to be used in the future– and long-term impacts one way or another. You can read more about PVC and human health here. Ultimately, it's up to you– these materials offer great value for their durability, but they also have some concerns.
Walmart does carry non-leaded vinyl blinds with fewer toxicity concerns as well.
Polyester
Polyester blinds have many of the same benefits as PVC blinds, and they vary in quality. While some polyester blinds have the same concerns as PVC blinds, others are certified to be made without toxic chemicals. Luckily. Walmart carries some of these low-cost options.
Aluminum
Aluminum is my favorite alternative to PVC, and Walmart carries many aluminum blinds. These blinds are lightweight and cost-effective. The main safety concern is if a small kid manages to get a hold of them and gets cut– but this is not usual. Aluminum blinds are effective at protecting against UV rays and can make a room feel more comfortable. They are also resistant to moisture. Cheap aluminum blinds won't last as long as substantial ones, but all in all, they're an effective solution for many homes.
Fabric & Woven Paper Vertical Blinds
Fabric is one of the more expensive options for Walmart vertical blinds. These stately blinds add ambiance to a room and are more effective for insulating a room. They provide a pleasing, contemporary look and last 7 to 8 years on average. The biggest cons include the higher cost and the upkeep. Fabric blinds are a little trickier to clean by hand– though some may allow you to clean them in other ways.
Paper blinds are not as durable, but they are often paired with other blends. They're non-toxic and contemporary. They may last less long, but don't have some of the concerns as other cheap blinds.
Are Walmart Vertical Blinds Standard Sizes?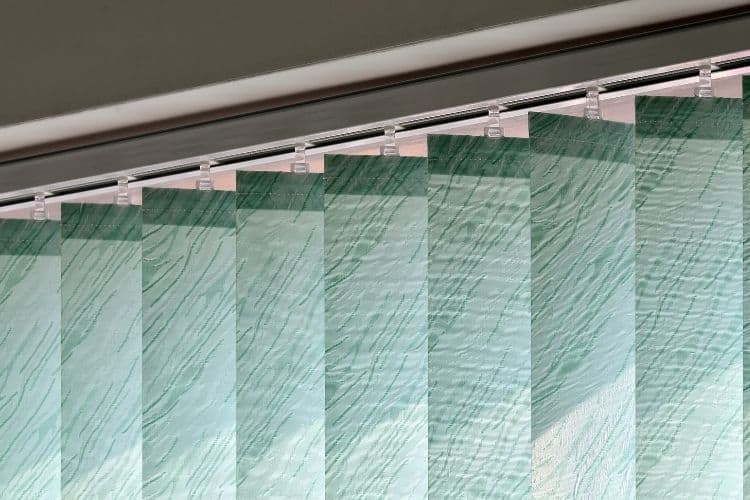 Walmart carries mostly standard sizes for vertical blinds– as is true for many stores.  You can find 24 inches by 72 inches up to 72 inches, depending on the blinds. If you have a window size out of this range, you may need to custom order.
If this is the case, I recommend shopping for blinds at Target, Home Depot or blinds at Lowe's. You can sometimes trim blinds yourself, but this is a delicate process, and I advise caution if you've never trimmed blinds before.
How Far Should Vertical Blinds be Off the Floor?
Of course, my final tip before you start shopping is to make sure you're buying the right size. For vertical blinds, add two inches above the top, or the molding.
Walmart Vertical Blinds: My Picks
Here are my favorite Walmart vertical blinds. These include light filtering, room darkening, and blackout blinds. I've taken into consideration the price for the materials used, customer ratings, and overall value. While I prefer fabric and aluminum blinds, there aren't many options for vertical blinds that offer a good value.
I'll include fabric and paper blend blinds, but also some higher quality polyester options. Most of these blinds will last an average or below average life– so keep that in mind while budgeting.
Walmart Light Filtering Vertical Blinds
Light filtering vertical blinds provide a little privacy but allow quite a bit of abundant sunlight. These blinds may help make a room feel finished. They can soften the sun's harsh light so you can comfortably enjoy the day without squinting. They're also used to reduce your reliance on artificial lighting during the daytime. I recommend these for common living and entertaining spaces.
Chicology Contemporary Cordless Semi-Sheer Blinds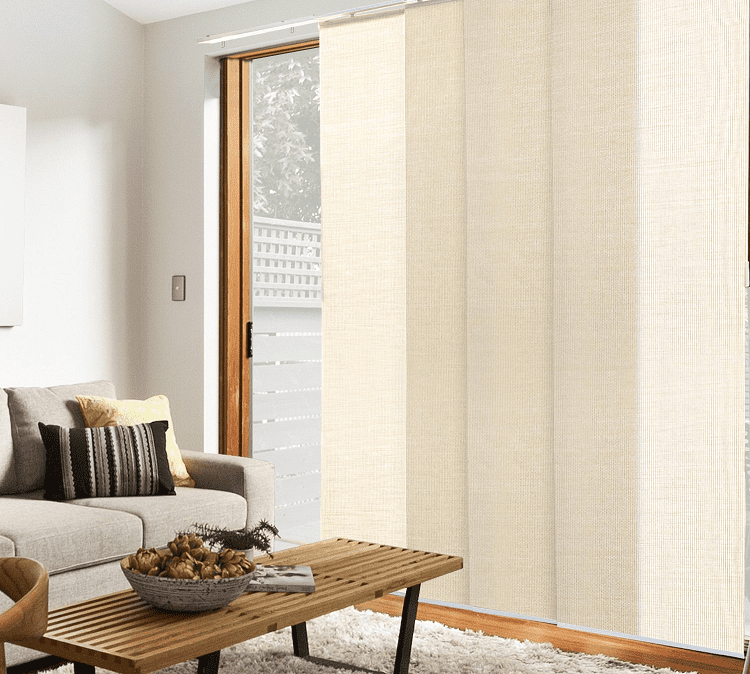 These vertical blinds are available in pleasing beige, brown, gray, or white fabric. The vertical blinds come with a four-track panel system, complete with two wands and a bottom rail for a clean, contemporary look. The woven texture is inviting and works perfectly for sliding doors, as a room divider, closet doors, or large windows. Light, airy, and a fuss-free option for light filtering in the main room. Buy Here.
Pros
easy track system
clean, modern style
wand and bottom rail system
 Cons
not suited for small spaces
not much privacy
limited color selection
GoGear Design Adjustable Vertical Blinds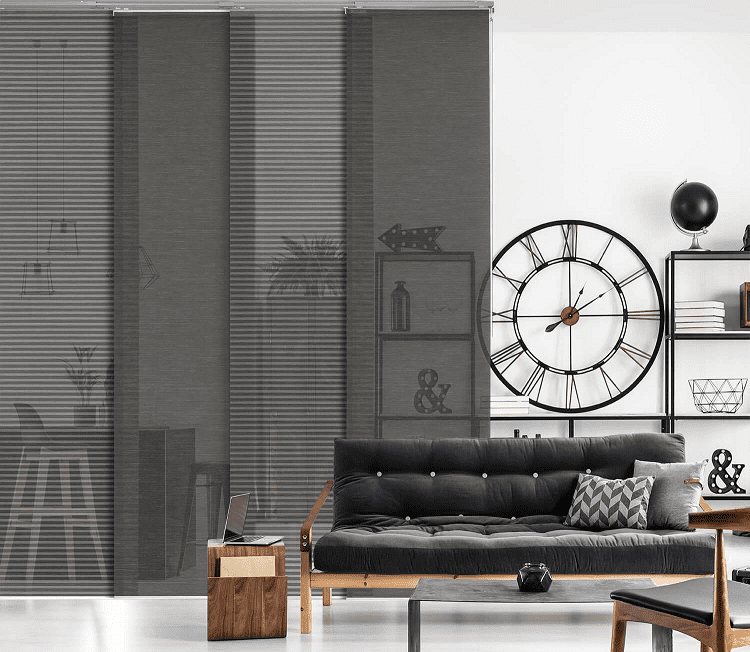 These pleasing blinds come in navy to light blue, gray, and deep gray. Graduated colors and a stylish design make these a great option for updating large living spaces. These vertical blinds are made with natural woven paper fabric and mounted on a panel track with 4 adjustable tracks. Ideal for French doors, patio doors, balconies, large windows, and as a room divider; Buy Here.
Pros
classic, graduated colors
adjustable track for versatality
doubles as a room divider
Cons
paper fabric may not last as long
limited colors (only blue and gray)
GoGear Design Sliding Vertical Blinds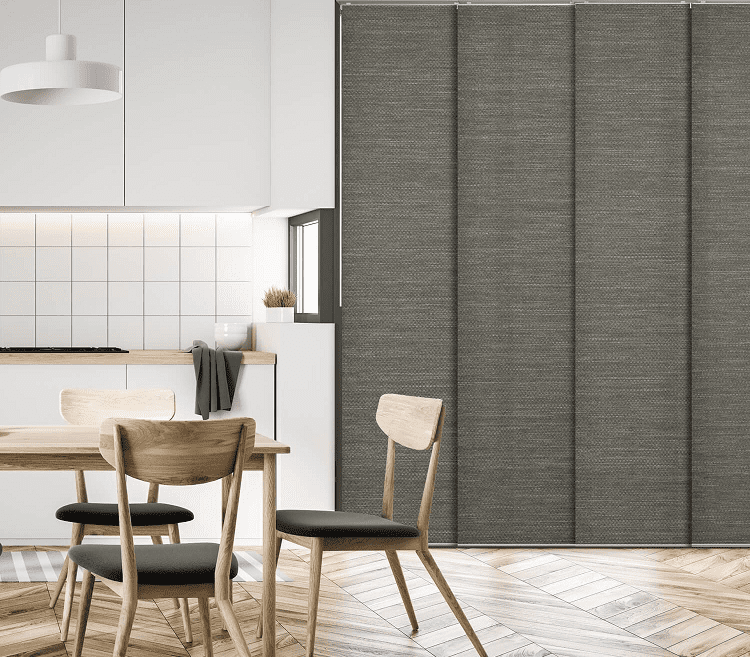 The same designer offers another fantastic option for light-filtering vertical blinds. Made out of a blend of paper fabric and polyester, these vertical blinds are set on the same 4 adjustable tracks, with a lighter look and woven detailing. Available in charcoal or pecan; Buy Here.
Pros
natural tone fits seamlessly into any room
adjustable track system
polyester is more durable than pure woven paper
Cons
only available in two colors
no wand included
GoGear Design Classic Cordless Vertical Blinds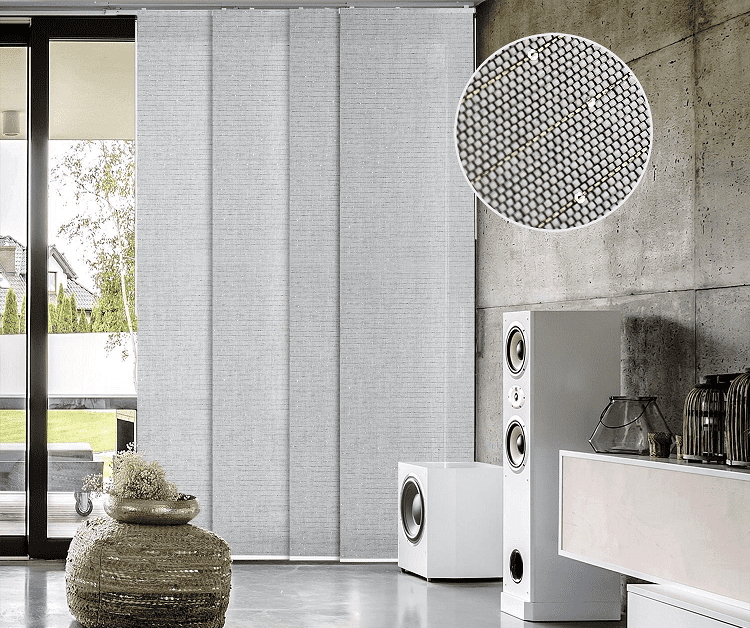 These classic vertical blinds feature unique designs and the same four-track system for flexibility and adjustment. The light filtering blinds are made out of a blend of paper fabric and polyester, with a woven look inspired by nature. This highly rated brand offers these blinds in white marble, almond, and diamond silver. Perfect for sliding doors and french doors, as well as room dividers. Buy Here.
Pros
highly rated by customers
unique, stylish design
woven polyester for improved durability
 Cons
no darker color tones (only white, neutral and silver)
limited privacy
Walmart Room Darkening/ UV Protection Vertical Blinds
Room darkening vertical blinds provide a bit more privacy and are useful for reducing glare. Use these for media rooms and home offices. You'll still experience sunlight, especially with the vertical design, but much reduced, making for a productive but cheerful place to work and view computers, tablets, and TV screens.
Solid Vertical Privacy Blinds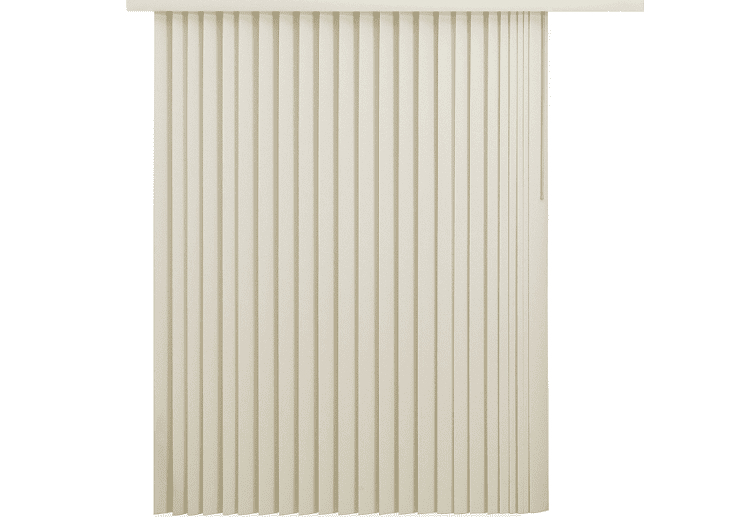 These vinyl blinds are cost-effective and get the job done. Ribbed alabaster detailing provides a classic contemporary look. These blinds feature fuss-free installation for patio and French doors, with a durable aluminum track that's anti-static.
The blinds are made out of non-leaded vinyl and come equipped with a child-proof wand for easy opening and closing, no cords required. They can also be trimmed to size. Buy Here.
Pros
easy installation
durable aluminum track system
child-proof and lead-free
 Cons
less UV protection than some of other options
only one color
Vertical Pleated Blinds Fabric Shade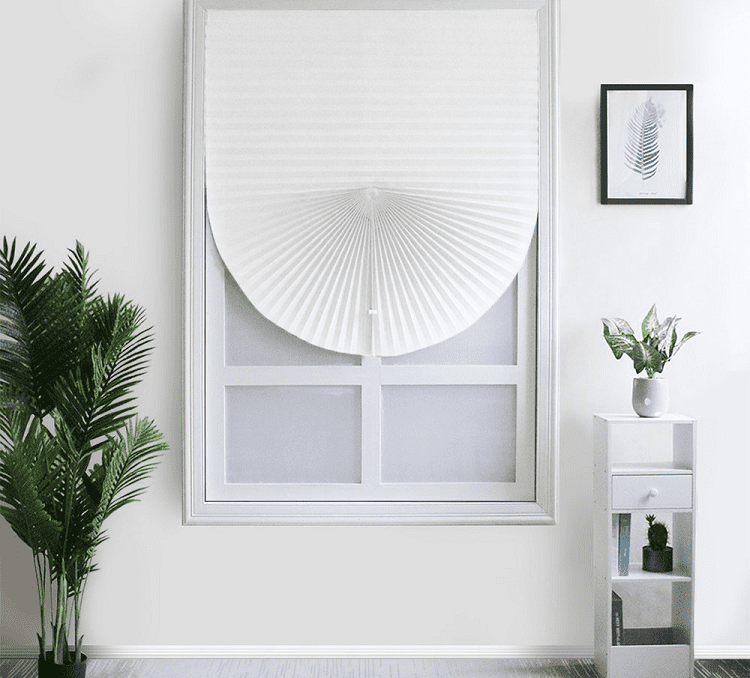 Get two in one. This clever window covering pairs a shade and vertical blinds for a unique, decorative design that reduces the sun's glare. Since it's not on a track system, you'll be paying under $10, instead of the average $100.
The vertical blinds come with clips that are made with 100 percent woven fabric. One thing I don't love is that the color of the clips is randomized– and you may find it better to find your own method of hanging up. Shades come in white, gray, black, and red. Buy Here.
Pros
UV resistant, with glare reduction
very affordable
practical for any room
Cons
no track system– clips are less reliable
clips color is randomized
Walmart Blackout Vertical Blinds & Shades
Blackout blinds and drapes are not as effective as blackout curtains, but they provide the most privacy of all options for vertical blinds. Even horizontal blackout blinds do not completely block out light.
All of these blinds are made out of blackout materials– which usually include polyester. This is not my top recommendation– due to some potential safety issues, but mostly because I think that blackout curtains are going to give you more of that desired effect. Since there aren't very many options, I'm directing you to blackout shades as well.
Blackout blinds or shades could be paired with room darkening curtains or semi-sheer curtains for a balance of light and privacy.
Privacy Protection Blackout Shades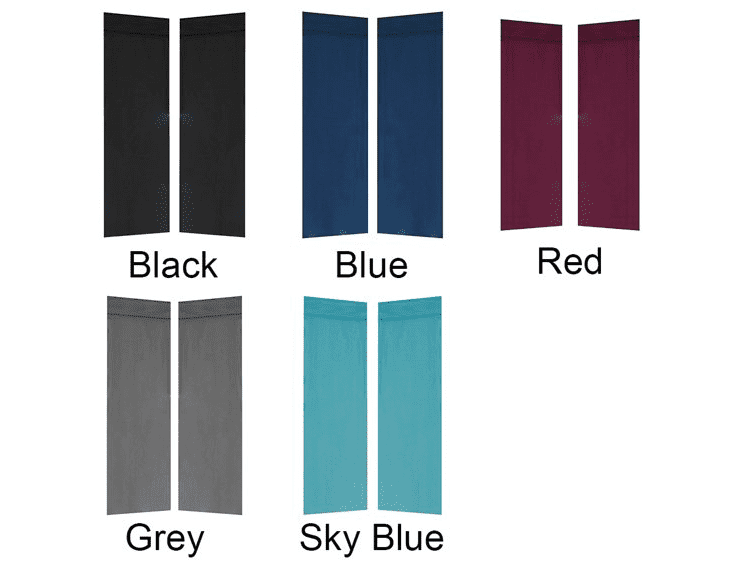 These shades are a practical alternative to vertical blinds in a bedroom. Available in black, sky blue, blue, and gray, they're also priced under $50. As is usual for blackout window coverings, they're made out of polyester and can be used indoors or outdoors.
They come with a magic sticker attachment, but you can also drill your own hole if you find this flimsy. Durable and with a double bonus of a little extra installation; Buy Here.
Pros
can be used inside and outside
added insulation
easy-to-wash polyester
Cons
magic sticker attachment may be flimsy
color selection is limiting
Chicology Sliding Blackout Blinds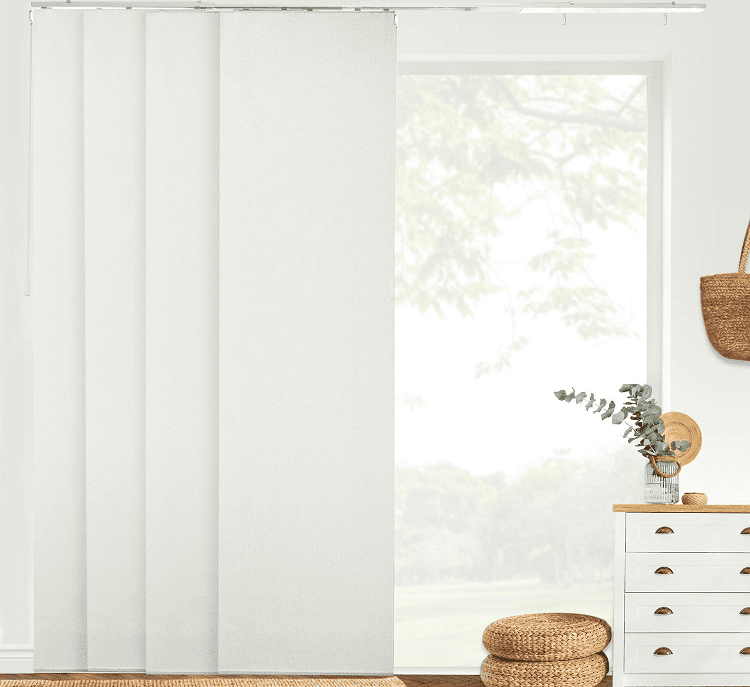 The blackout blinds come on an adjustable track system that is made out of textured fabric. They can easily be cut to size and fit on a contemporary, slim rail, with easy operation for daily use in and out of sliding glass doors and patios. They also come equipped with wands and are entirely cordless. Available in ivory, silver, and white. Buy Here.
Pros
understated slim rail
cordless, wand operation
contemporary style
Cons
textured fabric mat not last as long
limited colors
Frequently Asked Questions
Question: What Blinds are Most Popular?
Answer: The most popular blinds in 2022 include faux wood blinds, aluminum mini blinds, bamboo roller shades, honeycomb cellular shades, and blinds with solar protection. While horizontal blinds and shades are most common, vertical blinds remain popular.
Question: What is the Primary Reason That we Use Vertical Shades?
Answer: Vertical shades and blinds are popular for sliding glass doors and wide windows, but another reason they're used is to add the illusion of height. Vertical window coverings are stylish and allow more light in than horizontal blinds, providing privacy but also more cheer to a room.
Question: Which is Better: Vertical or Venetian Blinds?
Answer: Venetian blinds is another name for a style of horizontal blinds. Venetian blinds tend to be a little stronger and last longer, but they may not fit your wide window as well. If you buy in a sturdy fabric, vertical blinds can last as long as.
Final Thoughts
Walmart offers cost-effective but also some middle-grade vertical blinds. From PVC to vinyl to fabric and aluminum, you can find vertical blinds of all kinds in standard sizes. Keep in mind how you'll use them to make the decision possible on what kind of blinds make sense.
If you do need to custom order, consider Lowe's blinds or Home Depot blinds. You can browse online and work with someone in person, in-store, to get you the fit you need. Walmart does offer some custom blinds, but I tend to prefer the in-person experience through a traditional home improvement store.