Latest posts by Erin Jamieson
(see all)
When it comes to window coverings, 2022 is full of trends, from boho curtains to blackout modern shades. But when it comes to blinds, vertical blinds are making a comeback, with stores like Home Depot offering the best selections yet.
While horizontal blinds have always been go-to, right now vertical blinds are also getting a spotlight from what's been dubbed 'The Ultimate Smart Vertical Blind."
Of course, smart technology is not new to home decor. And there are no signs of it slowing down, either. In fact, smart home accessories and tech are expected to exceed $350 million by 2023. Some of that smart technology is simply about making living more streamlined. But it's also about reducing energy bills.
But even if you aren't into smart technology, it may be one of the reasons why 2022 has seen more options for vertical blinds, including from big-name retailers like Home Depot. Vertical blinds may just be the alternative you've been looking for– but are they right for you?
This guide will cover everything you need to know about buying vertical blinds from Home Depot. I'll cover the pros and cons of vertical blinds and give you my picks for the best Vertical Blinds you can buy from Home Depot today.
Are Vertical Blinds Still in Style by 2022?
2020 saw a rise in the popularity of vertical blinds, and the trend continues into 2022. But vertical blinds never have truly gone out of style.
While you'll find a smaller selection to choose from vs horizontal blinds, the truth is that vertical blinds have remained in style. That's true whether you're installing them for a modern or more traditional home.
Why Are Vertical Blinds so Popular?
It's not so much that vertical blinds are extraordinarily popular so much as they have lasting power for staying in style. That's large because vertical blinds, in one world, are versatile. Vertical blinds have a simple, classic design that can work with almost any room. And, of course, vertical blinds offer a balance of light filtering and privacy, depending on how they're used and what kind you buy.
Are Vertical Blinds the Best Choice?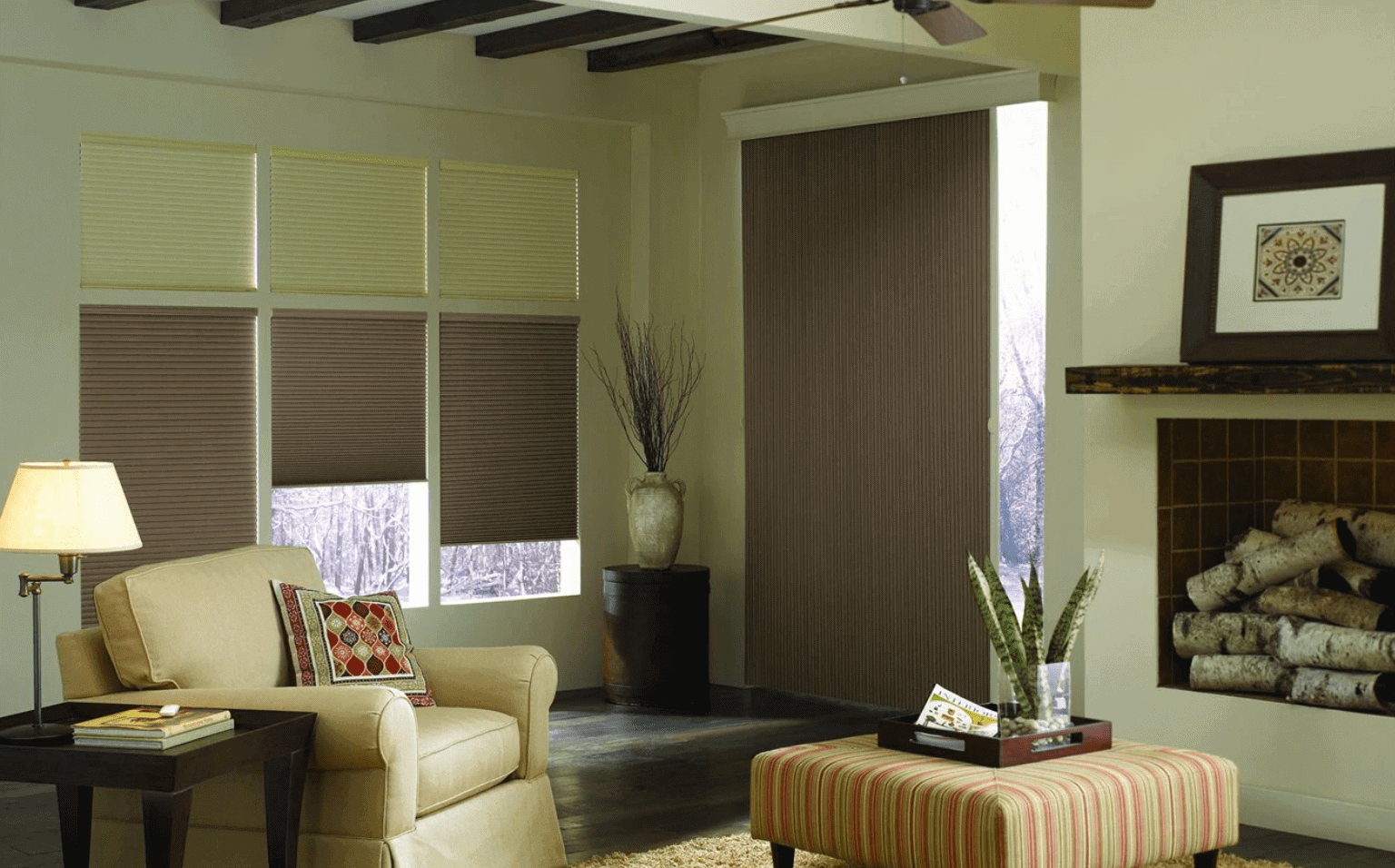 Trends are not everything, and horizontal blinds, as well as curtains, are all viable options. So here are some pros and cons you need to consider before buying vertical blinds from Home Depot or anywhere else.
Are Vertical Blinds Easy to Install?
Vertical blinds are especially easy to install– in fact, you can do them yourself even if you don't have experience. Most vertical blinds can be installed with a screwdriver, a cordless power screwdriver, or a drill with a ¼ inch Hex head bit.
While you can get them professionally installed as well, there are do-it-yourself installation steps from Home Depot. The ease of installation is another reason why vertical blinds are appealing, and, for many, it may be a way to save money compared to some other window covering options.
How Long Do Vertical Blinds Last?
You can expect an average life span of 7 to 8 years for vertical blinds, and longer if well kept. It's important to note that this is the same life expectancy of horizontal blinds.
In fact, vertical blinds may have an edge on durability. This is because vertical blinds are typically situated on a sliding track system, constructed from heavy-duty materials.
Can You See Through Vertical Blinds?
What may seem like a downside is that you can typically see-through vertical blinds, and often more so than horizontal blinds. However, this is not a simple yes/ no question. Rather, vertical blinds function differently from day to night– not to mention that blackout vertical blinds are still highly effective.
In some ways, vertical blinds are more versatile than horizontal blinds when it comes to both life filtering and privacy. During daylight hours, you can easily see through the blinds– but it's far harder to see in. During the night, it is possible to see in– but you have to be looking in at an angle, and usually up close.
The biggest factor? The type of vertical blinds. Vertical blinds, as I mentioned, also come in blackout versions, as well as light filtering. You'll be able to enjoy privacy or more light, depending on the style.
Do Vertical Blinds Fade or Yellow?
Vertical blinds are no different from horizontal blinds in that whether they fade or yellow depends a good deal on the materials used or the colors selected. Some cheaper white blinds, horizontal or vertical, can yellow with sun exposure, but this is rather unusual and does not happen quickly.
On the other hand the lighter the blind color, the least likely it is to fade– while darker colors are the most vulnerable to fading.
What Looks Better: Vertical or Horizontal Blinds?
What style suits you is a matter of preference, but also practicality. Horizontal blinds are usually favored for greater privacy and are thus popular for bathrooms, bedrooms, and home offices or businesses. Horizontal blinds also look spectacular on tall and more narrow windows.
In contrast, vertical blinds are ideal for wide windows, French doors, and sliding glass doors. They also filter in more light on average.
Which Material is Best for Vertical Blinds?
What material is right for you depends on your purpose. Bamboo and wood blinds will add a traditional feel and are well-loved, but they work far better inside blinds and won't do well in wet or humid conditions. Faux wood is actually a great alternative if you want the classic look for an option less prone to dents, warping, and other issues.
The most common material for vertical blinds is metal, often aluminum. This is one of my favorite materials, as aluminum stays cool, is durable, and is easy to maintain. The biggest downside is that it can be a bit noisy.
Panel track blinds, another type of vertical blind, are sometimes made out of fabric. Meanwhile, you can of course find plastic vertical blinds as well.
Plastic is the most affordable and can easily be replaced– but it's more likely to become damaged, and you'll probably need to replace plastic blinds far sooner than you would a more durable material.
Vertical Blinds from Home Depot: My Picks
Now I'll give you picks for the best vertical blinds you can buy from Home Depot. Since everyone has unique needs and reasons why they're buying vertical blinds, I've made sure to include a variety of styles, including blackout blinds, light filtering blinds, and room darkening blinds. While some collections are notably modest, there are still at least a few solid options from each category, no matter what your needs are.
But first, a note about shades vs blinds: in a few categories, Home Depot doesn't carry much in the way of vertical blinds. For this reason, I did include an option or two for shades. Shades, like blinds, can be opened or closed to adjust light and privacy. Blinds are always made with horizontal or vertical slats; shades are made of one of the multiple pieces of fabric.
Blackout/ UV Filtering Vertical Blinds & Systems
Blinds in this category are focused on either blocking out all sunlight or reducing sun glare.
Blackout blinds are made with substantial, usually foam back fabric. Many are roller blind style, with fabric along the side channels meant to block out incoming light. They're effective in blocking out light and providing additional privacy, and quite hard to impossible to see into, even for vertical blinds.
UV Filtering blinds are grouped with blackout purely because Home Depot has a very limited selection of either. UV Filtering blinds, known as solar blinds, do not completely block out all light.
In fact, they are typically rather sheer. Instead, these blinds reduce sun glare, block UV rays, and prevent fading. For this reason, they're actually also a popular option for places like museums.
Perceptions Vertical Blackout Blinds Headrail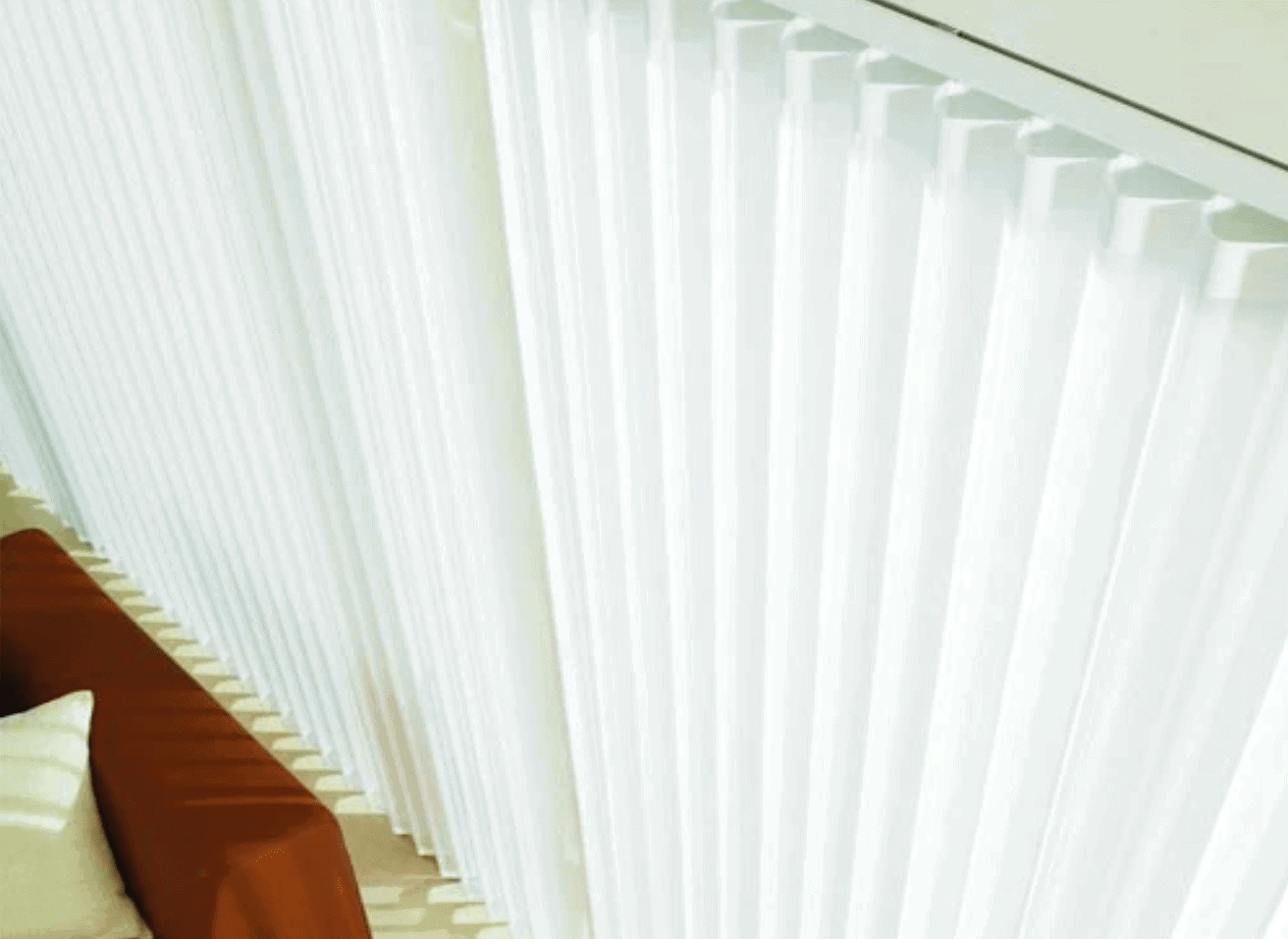 While Home Depot doesn't directly carry vertical blackout blinds at this time, they do offer this study headrail track to get you started. Sleek, modern, and practical, it can be customized to fit blackout blinds especially, but can also be used for UV vertical blinds.
It can be custom fit and comes with a fit guarantee. Start here if you're not sure where to start for installing vertical blinds. It's an initial investment, but a good option for securing blackout blinds. Buy Here.
Blackout Vertical Shades
Since Home Depot doesn't carry much in the way of vertical blackout blinds, you might consider these vertical shades as an alternative.
Modern and sophisticated, these vertical shades are convenient and efficient. 100 percent light blocking, they're also great insulators for patio or sliding glass doors. For total privacy and to eliminate shadows, buy-in deep hue. Buy Here.
Light-Filtering Vertical Blinds
Light-filtering vertical blinds allow in natural light during the day. The filtering term means you won't, of course, experience full sunlight – but even when closed, these blinds allow plentiful sunlight to stream in.
These vertical blinds are best suited for living areas where you require less privacy and want the room to feel both sunny and inviting. Sometimes termed as "translucent dimming," these blinds can be seen through, but not distinctly.
Someone may be able to see shadows or movement, but when closed, unless someone is very close to your house and looking at a certain angle, you'll still have privacy. Nonetheless, I don't recommend light-filtering vertical blinds in bathrooms or any especially private room.
White Light Filtering Vertical Blinds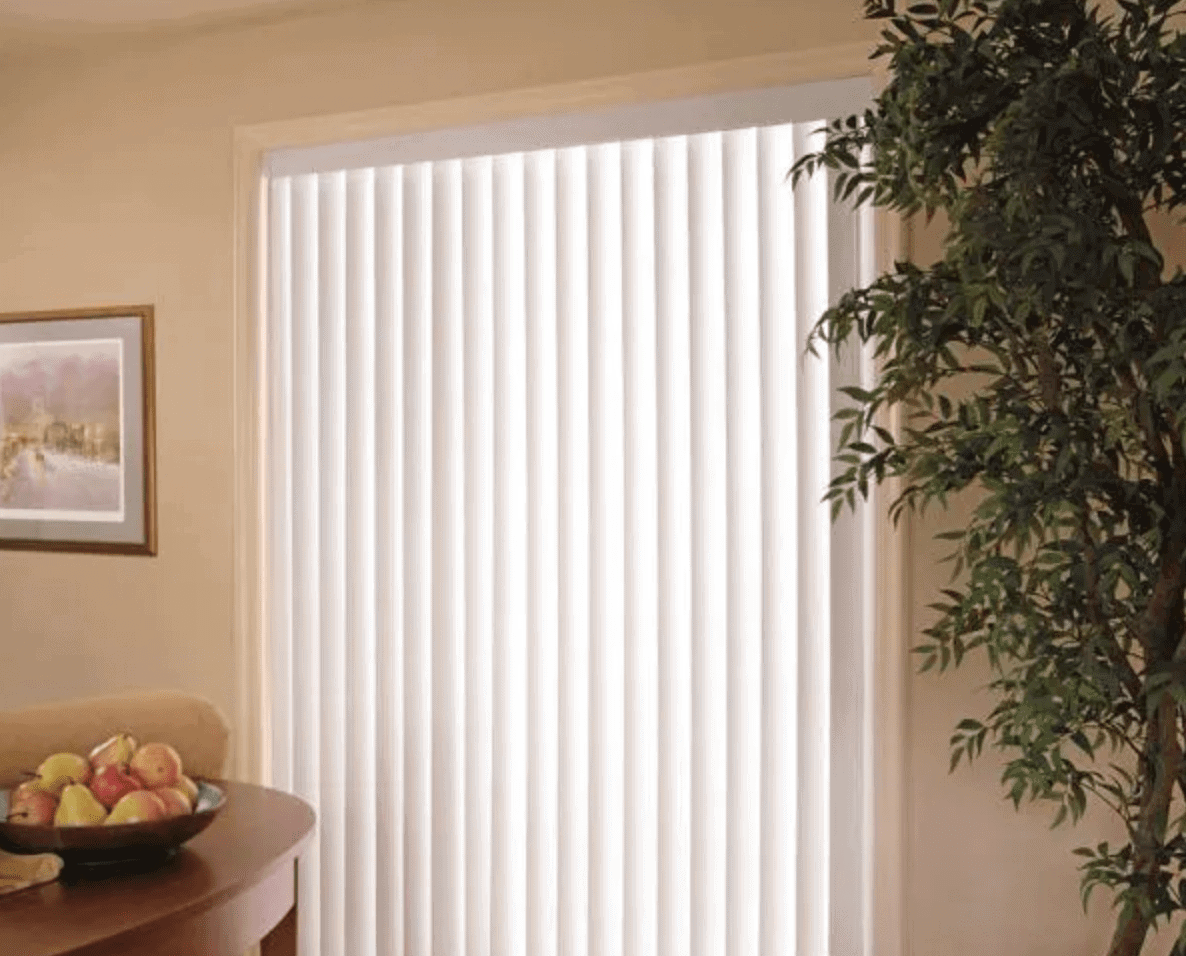 White blinds are versatile, classic, and will never go out of style. These top-selling Home Depot vertical blinds pair with an easy-to-use wand tip mechanism and make your room feel more expansive when opened. Pet Safe, easy to clean, and affordable, this is a good go-to for large windows and sliding glass doors. Buy Here.
Levolor PVC Vertical Valance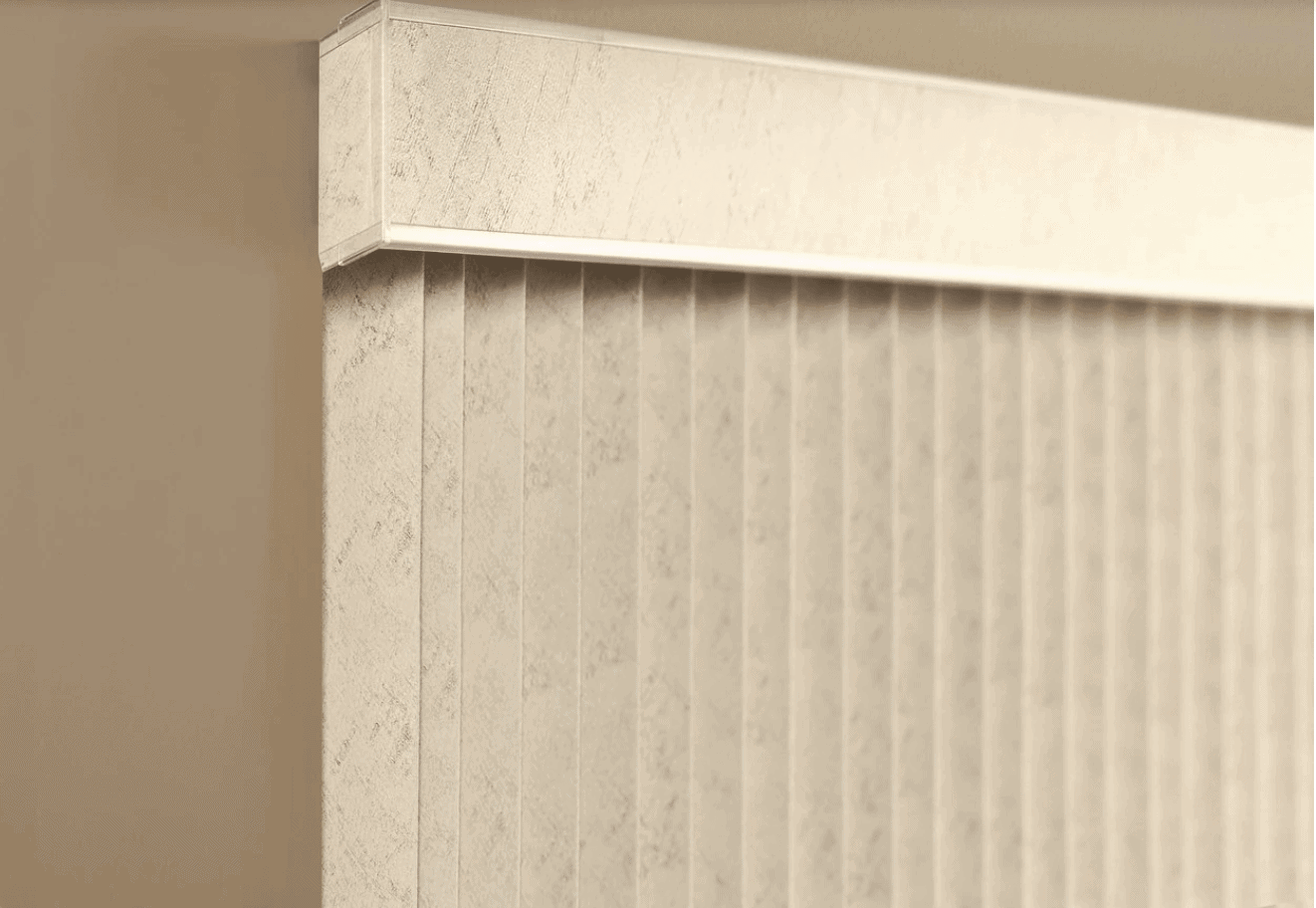 Looking for an easier solution? This affordable valance is easy to install and a great alternative. The light filtering is subtle and perfect for well-used rooms. You'll have your choice to custom order the best measurements and colors for your home. Buy Here.
Essential Vertical Blind Louvers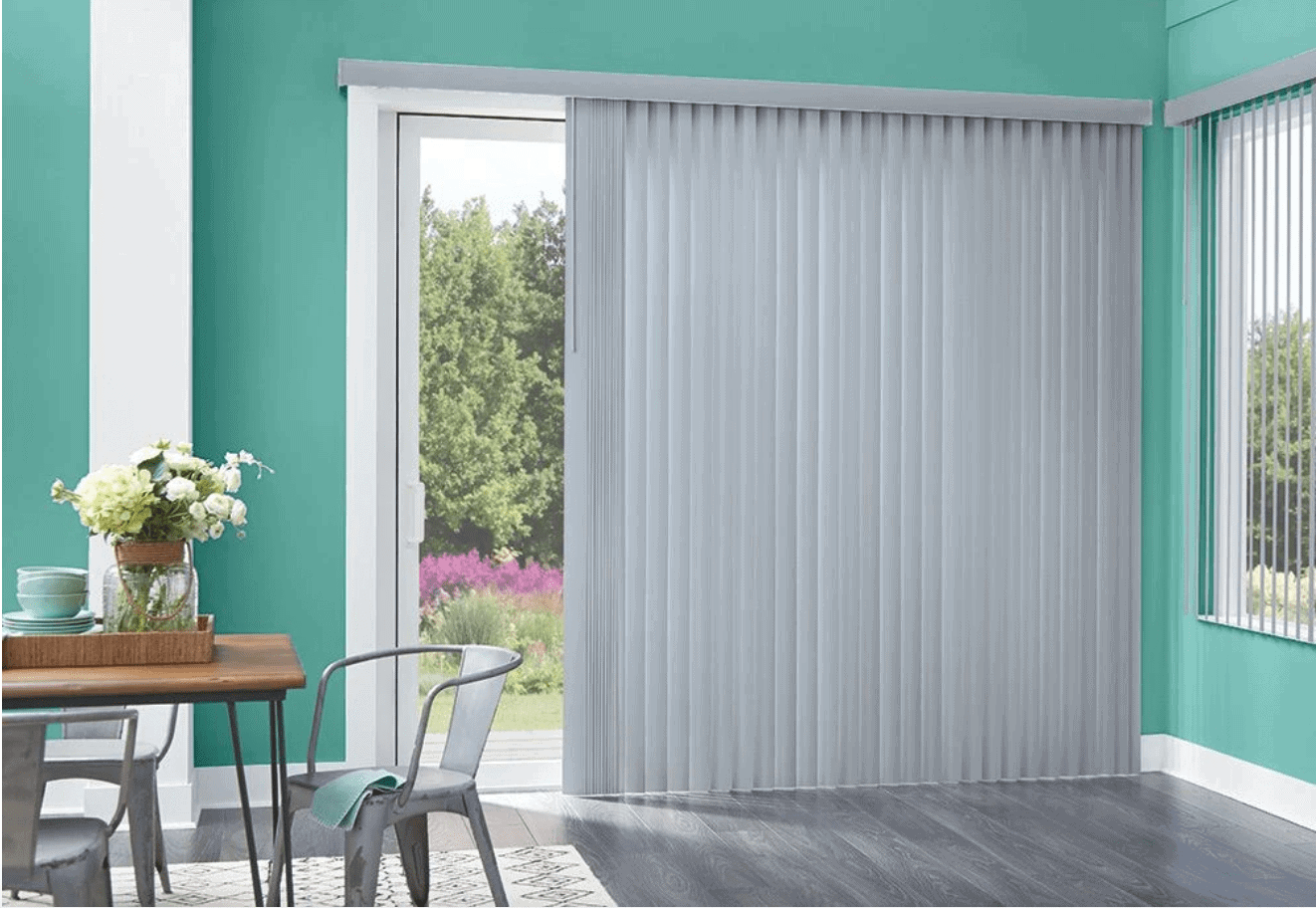 Angled to admit light and air and keep out everything else, these airy, affordable vertical blinds are a great choice for someone new to vertical blinds.
Custom order to your specifications. Colors include crown white and crown alabaster, Cham's white, Maui silk white, Mau shell, tan, toasty grey, gray, and cocoa. Buy Here.
Room Darkening Vertical Blinds
Room darkening vertical blinds are essentially the opposite of light filtering blinds in their function. While both seek to add privacy, room-darkening is meant to softly darken a room– without completely blocking out light.
Another way to look at room darkening vertical blinds is as a middle ground between blackout and light-filtering blinds. Perhaps, for this reason, this style of vertical blinds is the most popular.
You'll also have the most options for room darkening blinds from Home Depot– with over 400 to choose from! Compare that to a handful of other options for the other categories, and there's little doubt that these versatile vertical blinds are the most in-demand.
Bali Curved Vinyl Vertical Blinds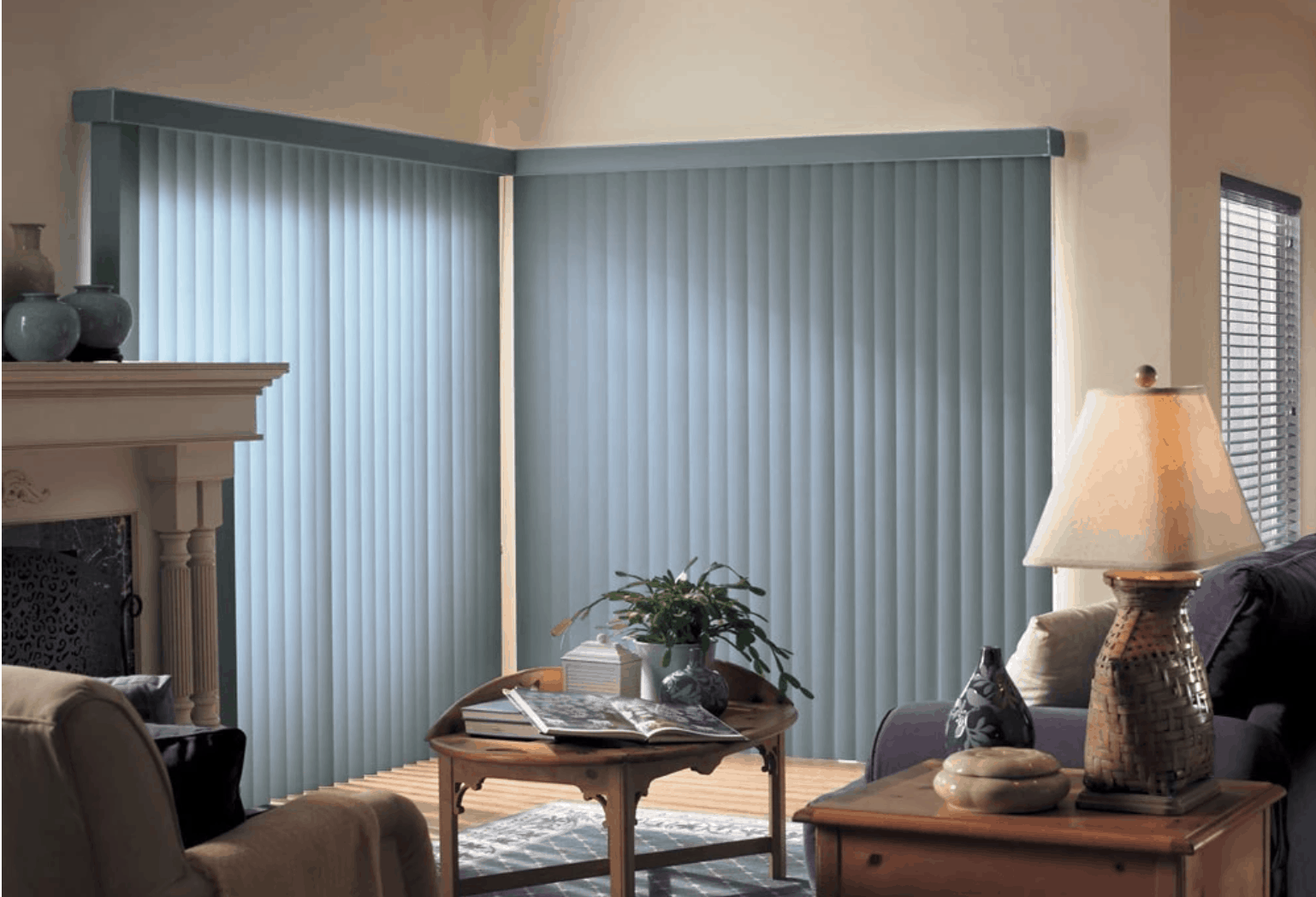 These top-selling vertical blinds offer room darkening with a modern appeal. Equipped with a standard headrail, these blinds function on a dual-track system and work with rounded corner valances for a unique touch.
Custom order smooth or textured and to the size of your choice. Colors include whites, off whites, neutrals, grays, browns, and even metallics. Buy Here.
Bali S-Shaped Vertical Blinds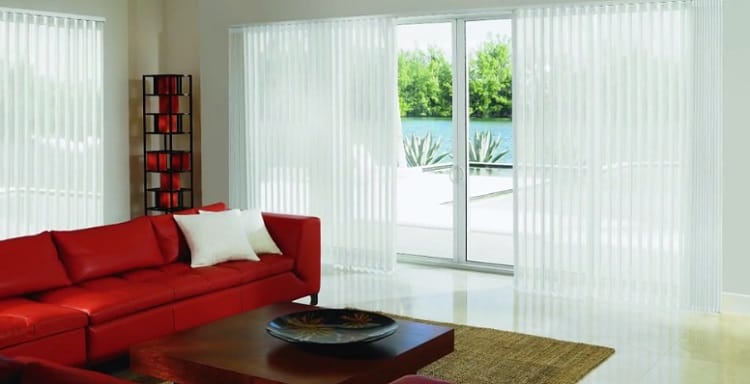 Have you always loved the classic look of drapes but prefer the greater light control that comes with blinds? These classic s-shaped vertical blinds may be the right choice for you.
The natural curve makes for a fuss-free, elegant look. They come on a sturdy DuraLite headrail and are available in a variety of quiet, neutral, and metallic colors. Buy Here.
Northern Heights Wood Vertical Blinds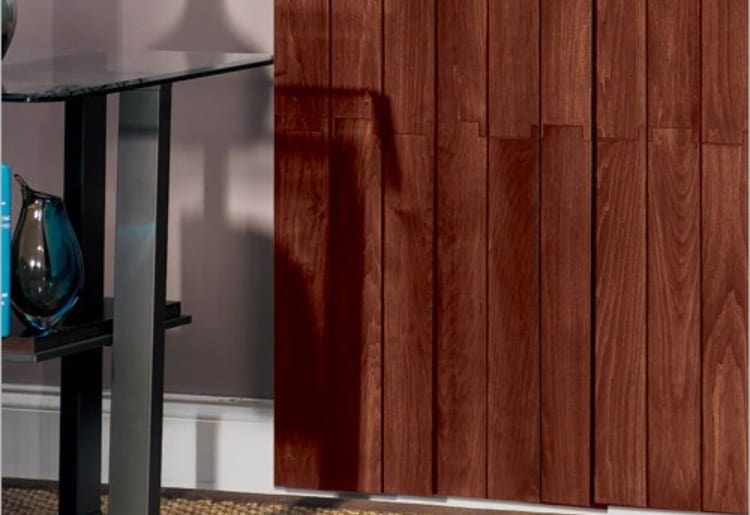 Wood blinds aren't going to be the best option for everyone, but if you look at a natural and eco-friendly choice and are willing to do due diligence to maintain them, these are a respectable option. Natural wood is selected only from regions focused on reforestation.
You can select from a variety of stains, from classic to rustic to modern, and even painted whites or neutrals. It also comes equipped with a matching valance. Buy Here.
Everglide Angle Top Vertical Blinds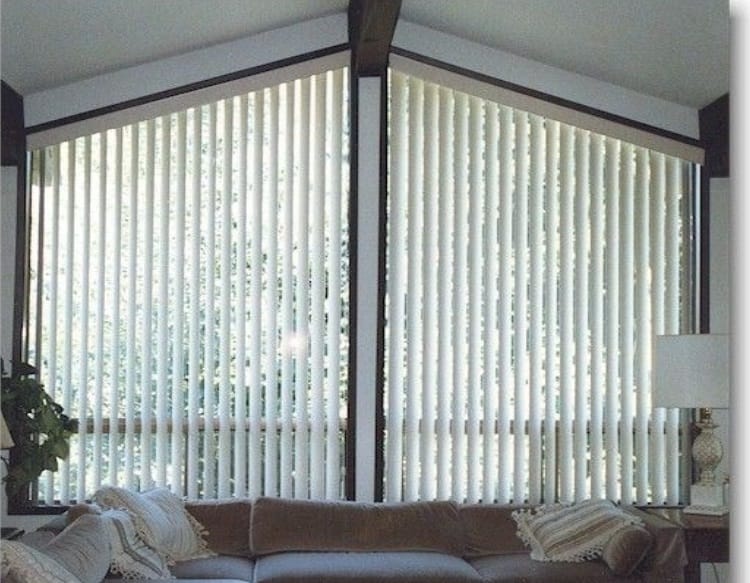 These top-angled vertical blinds are perfect for cathedral-style or sloped windows, as well as sliding glass doors. Contemporary and clean, these modern vertical blinds come in both curved and s-shaped slat options for optimal light control. You'll be able to select between neutrals, metallics, and earthy tones. Buy Here.
Fabric Vertical Blinds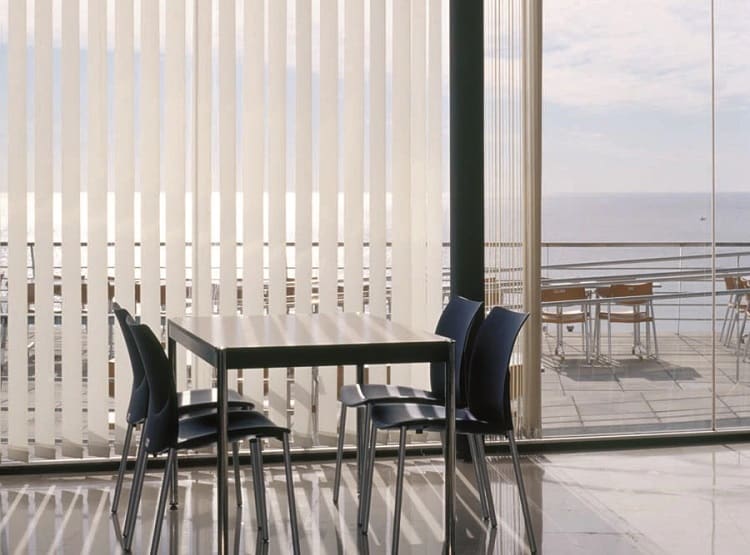 Fabric vertical blinds can be trickier to clean, but they're a great option if you want a softer, more decorative look. Daylight filters in as soft and ambient for a blend of privacy and inviting sunlight.
Do note that these vertical blinds do not offer complete privacy– you can see through them as they do not close completely. They're available in smooth and textured finishes, mostly in white, gray, brown, and other neutral colors. Buy Here.
White Room Darkening Vertical Blinds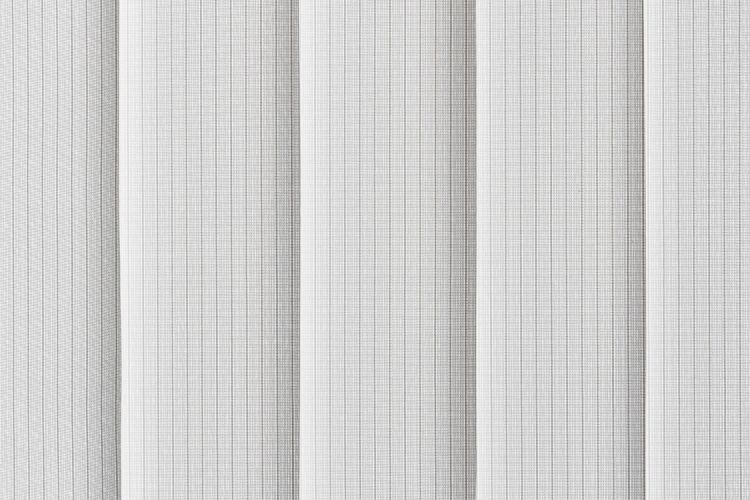 Overwhelmed by options? It's hard to go wrong with white blinds. These blinds are self-aligning, equipped with an easy-to-use wand system.
You'll also be provided with a custom-cut head real and installation directions to take you to step by step. Providing a balance of privacy and soft light, these vertical blinds are practical options for large windows and sliding doors. Buy Here.
Frequently Asked Questions
Question: Can You Place Vertical Blinds in the Washing Machine?
Answer: When it comes to cleaning vertical blinds, I always recommend doing so by light dusting and using a damp washcloth. That said, with some fabrics, you can use a washing machine on a light/gentle cycle.
However, you cannot place them in the dryer, and some materials (such as wood) should never be placed in a washing machine. Keep in mind that even sturdy vertical blinds can become fragile, so use caution and follow the instructions specified from the vertical blinds you purchase.
Question: Can I Spray Paint My Vertical Blinds?
Answer: While I recommend purchasing a color you are going to use for a while, sometimes you want to change your style without buying new blinds. You can easily spray paint vinyl and fabric blinds– just be careful to use a specialty paint suitable for that fabric.
Question: What is a Good Replacement For Vertical Blinds?
Answer: The most common alternative to vertical blinds is curtains or drapes. These are easier to set up and tend to be more affordable. Drapes and curtains also offer a decorative touch to a room. On a less positive note, drapes and curtains both have fewer options when it comes to light filtering.
Final Thoughts
Vertical blinds may be initially more expensive, but they're durable and versatile. They're a great option for large windows and sliding glass doors.
Home Depot doesn't offer much in the way of blackout or light filtering blinds, but if you're in the majority in search of room darkening blinds, they have quite an impressive selection.