Latest posts by Erin Jamieson
(see all)
From styled nails on Tik Tok to dyed hair, teal is one of the hottest colors for 2021. And now that inspiration is making its way to home decor, curtains included.
The first sign that teal is in for home decor? It was named the color of the year by Benjamin Moore last fall, and the trend continues to be seen into 2021.
The paint brand selects a color of the year every Fall, and for 2020, it was Aegean Teal. The hue has been described as "organic and multifunctional" but was selected specifically in response to the uptick of home renovation projects during a pandemic. A blend of blue and green with touches of gray, it's easy to see why it's been given the title.
And now, teal curtains are showing up in homes, from sheer decorative curtains to adventurous patterns, there's a lot to love.
But are teal curtains right for you and your home? Consider this your guide to teal curtain ideas in 2021. I'll give you my tips for buying and styling teal curtains, and my picks for where to buy teal curtains.
How do I pick the right curtain color and pattern?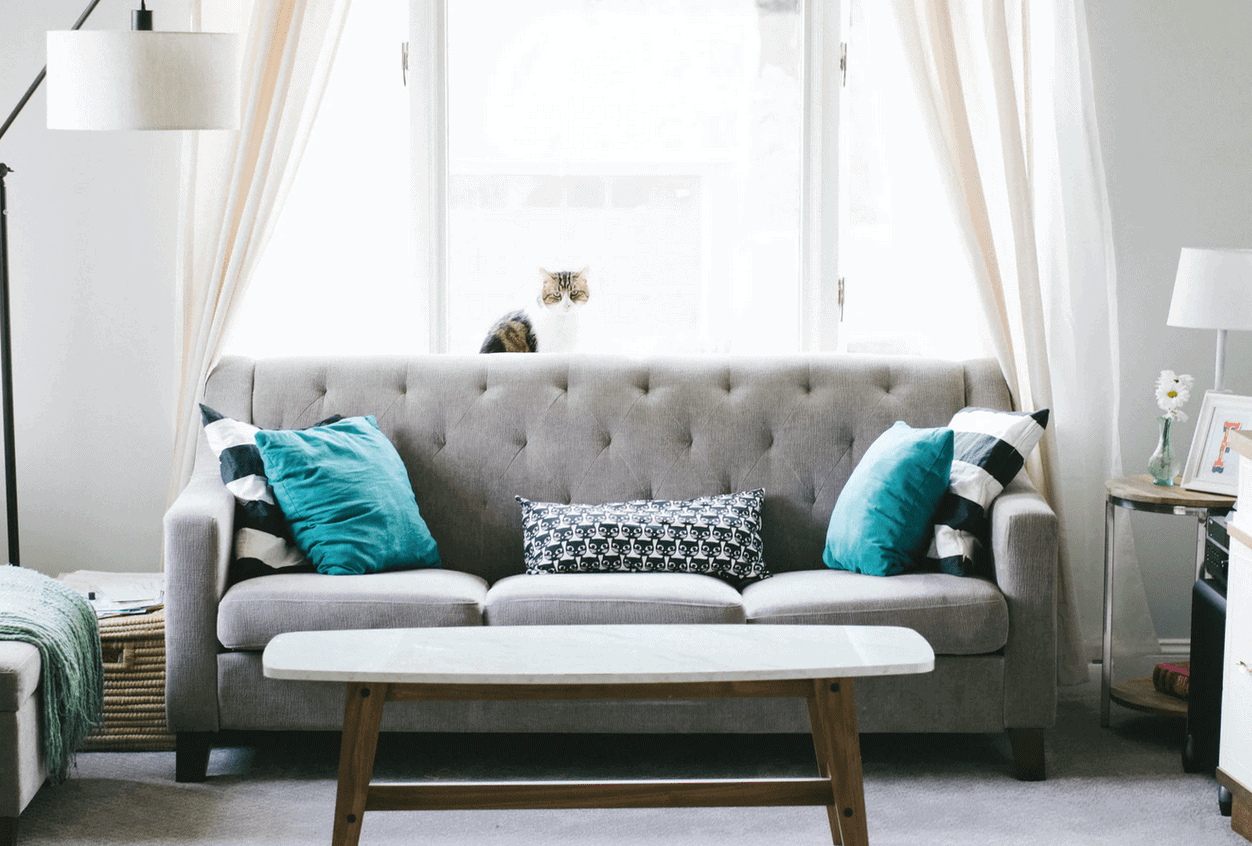 Picking the right color for your curtains can be tricky. You'll need to consider your personal style preferences, what will coordinate with what you already have, and how to make the most out of your curtains. In 2021, there are no hard and fast rules as to what colors you should buy, but there are a few factors you should consider before getting sold on a color that catches your eye.
Should curtains be lighter or darker than walls?
Most experts recommend for complementary looks, you opt for curtains that are either a shade lighter or darker than your walls. You can, of course, play with curtains that are not the same colors as your walls at all. But when it comes to picking the hue of those colors, there is some logic between lighter vs darker colors.
If you have a light wall, dark curtains would be a better option. Lighter curtains, meanwhile, will stand out more on dark walls. It's a simple matter of creating interesting contrasts to work within the space you have.
Do dark curtains make a room look smaller?
Another factor to consider is how dark or light curtains make a room feel. Dark curtains tend to make a room feel smaller, but also cozier. On the flip side, lighter curtains, especially sheer curtains, can make a room feel larger than it is. Length also plays a factor: tall windows will make a room appear taller than it actually is.
Of course, you can balance out dark or light curtains by the wall colors you choose, as well as how heavily you pack in furnishings and other accents.
Is it better to have plain or patterned curtains?
Beyond color, you'll also need to decide between plain and patterned curtains. As you might imagine, there's no one right answer to this question.
Patterned curtains act as decor– you might even think of them the way you'd think about wall paintings. The patterns, even subtle ones, act as a visual point of interest. They are popular for a wide variety of styles, from boho to vintage to rustic.
Plain curtains are more neutral and can be used to accent or add a finishing touch to a room. Plain curtains are more subtle, and often are popular for modern and minimalist looks. In some fabrics, like velvet, they can pull off a modern traditional style.
How do I select teal curtains?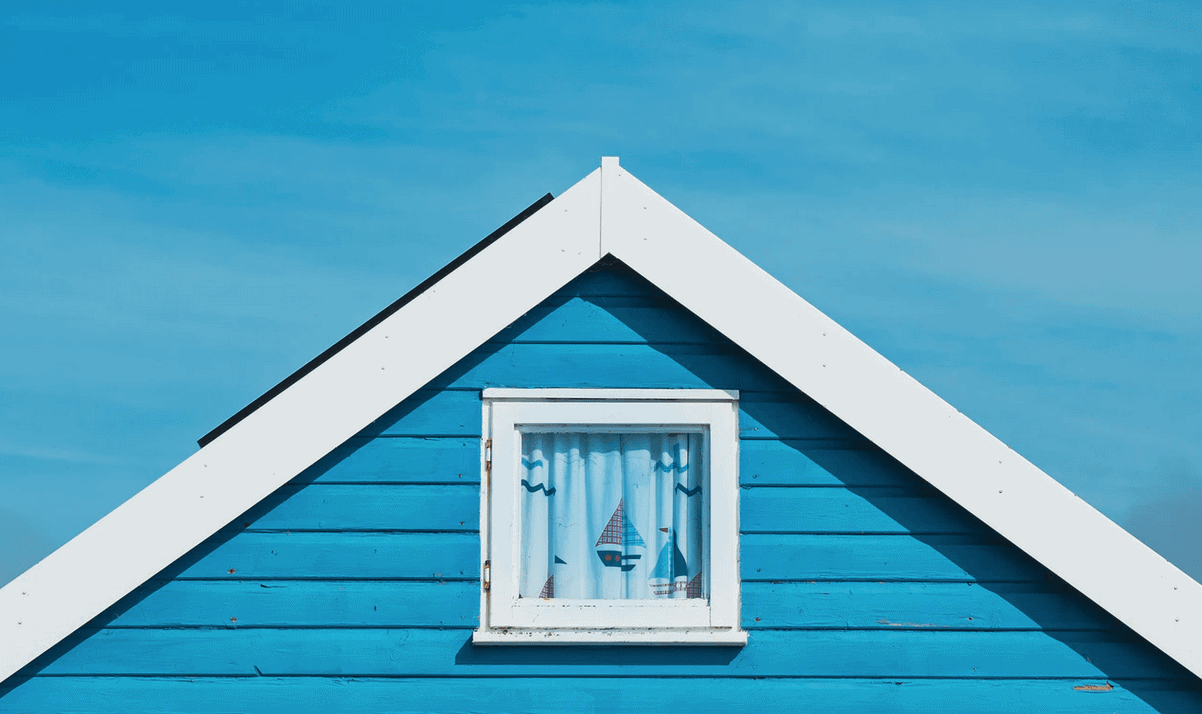 If you're sold on teal curtains, you still need to think about how you're going to style them– and exactly what shade you'll select. You'd be surprised at how much variety there is.
Are turquoise and teal the same color?
First, I wanted to touch upon a common question: is there a difference between teal and turquoise? In truth, the words are used interchangeably, and you may notice that looking for something in a turquoise hue will yield results similar to teal colors.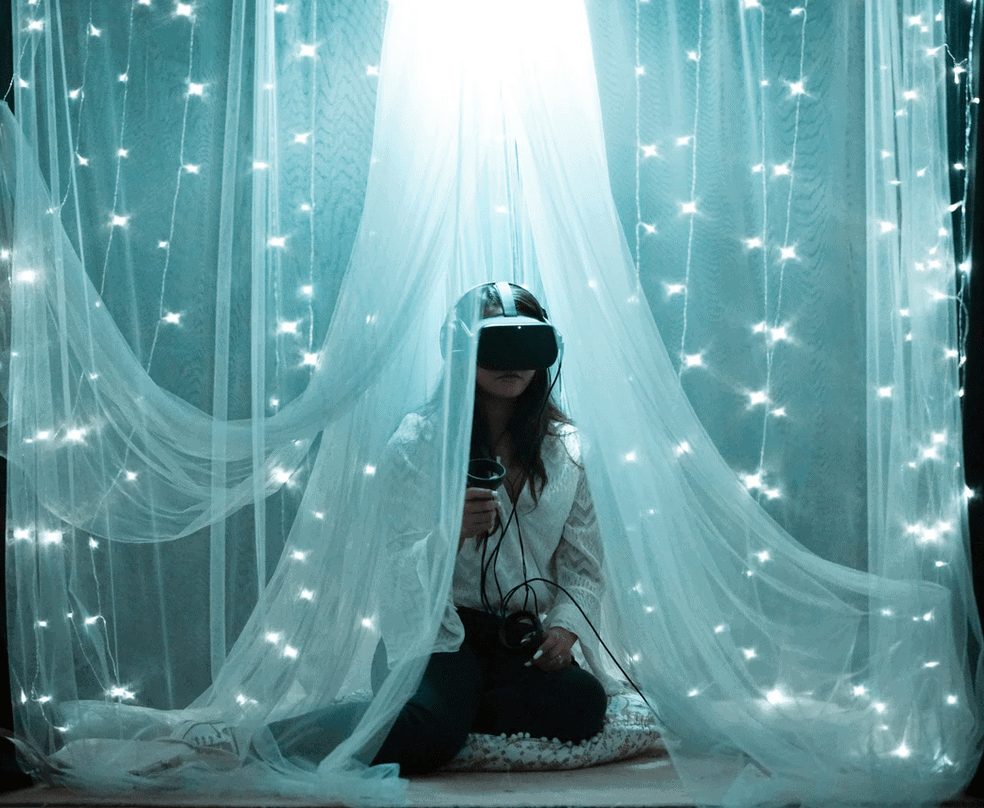 There's a good reason: both turquoise and teal are shades of blue with green in them. However, there is a difference. Teal is usually medium to deep blue-green and made by mixing blue and green colors. Turquoise is actually classified as blue and is in between blue and green. Turquoise is closer to blue, whereas teal is closer to green.
That said, for this guide, I'll include curtains that are classified as teal but may have more of a turquoise hue. This allows you to explore the spectrum of both of these popular blue-green colors.
What color goes with teal curtains?
Something I love about teal curtains is that you really can style them with an array of different colors. The most vibrant teals tend to have yellow-green undertones, while deeper tales are more heavily green. Depending on the shade, and what effect you want, there are a few ways you can go.
Bright white and creams will also work with teal curtains. You can also consider navy for a subtle, complementary look, or pinks, brown, brown, and even gold for more of a "pop" of contrast.
The colors you'll want to avoid are generally reds and blacks. I also don't find that teal curtains pair especially well with gray walls.
Can you use any fabric for curtains?
Beyond the color, you'll also need to decide on what fabric best suits your curtains. While it's true nearly any fabric can be used, certain ones have distinct advantages and disadvantages. Lace, linen, cotton, polyester, velvet, acrylic, silk, brocade, and voile are the most common.
As far as most durable, linen, silk, and silk blends, and velvet blends typically hold up the longest for window curtains. Polyester and cotton blends are suitable for light use and quite common– they just might not last quite as long. For outdoor curtains, you'll see a lot of 100 percent polyester, but Olefin, a form of polypropene, will be more durable.
Teal Curtains: My Ideas
Now I'll give you my top ideas for teal curtains in 2021. From blackout curtains for privacy to sheer curtains to allow natural light to flood a room, you'll find a variety of styles and hues to suit your home. Hopefully, these pics will inspire your future shopping trip.
Blackout Teal Curtains
Blackout curtains are used for exactly what that sounds like: they block out light. Blackout curtains usually are double-lined to block out light coming in. They're popular for bedrooms, especially for someone living on a busy street. Note that blackout curtains do vary in how much sunlight they block, ranging usually from around 80 percent to 99 percent. They also are more helpful for insulating a home vs other curtain types. Of course, you wouldn't want blackout curtains in all rooms of the home.
Minimalist Mudcloth Blackout Curtains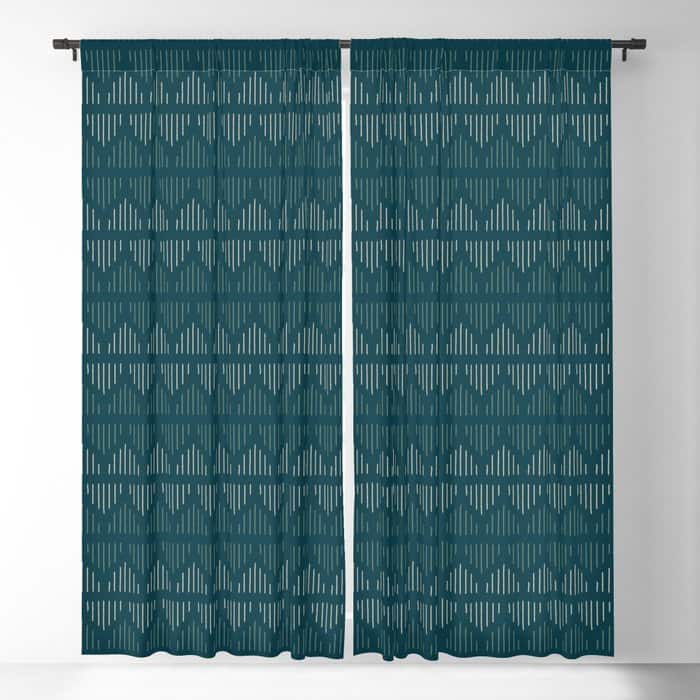 These 100 percent polyester teal curtains are machine washable and feature a pocket for easy curtain rod hanging. A subtle, modern design is perfect for modern and minimalist bedrooms. White accents lift the deeper teal hue for a relaxing effect. Buy Here.
Thermal Insulated Total Blackout Curtains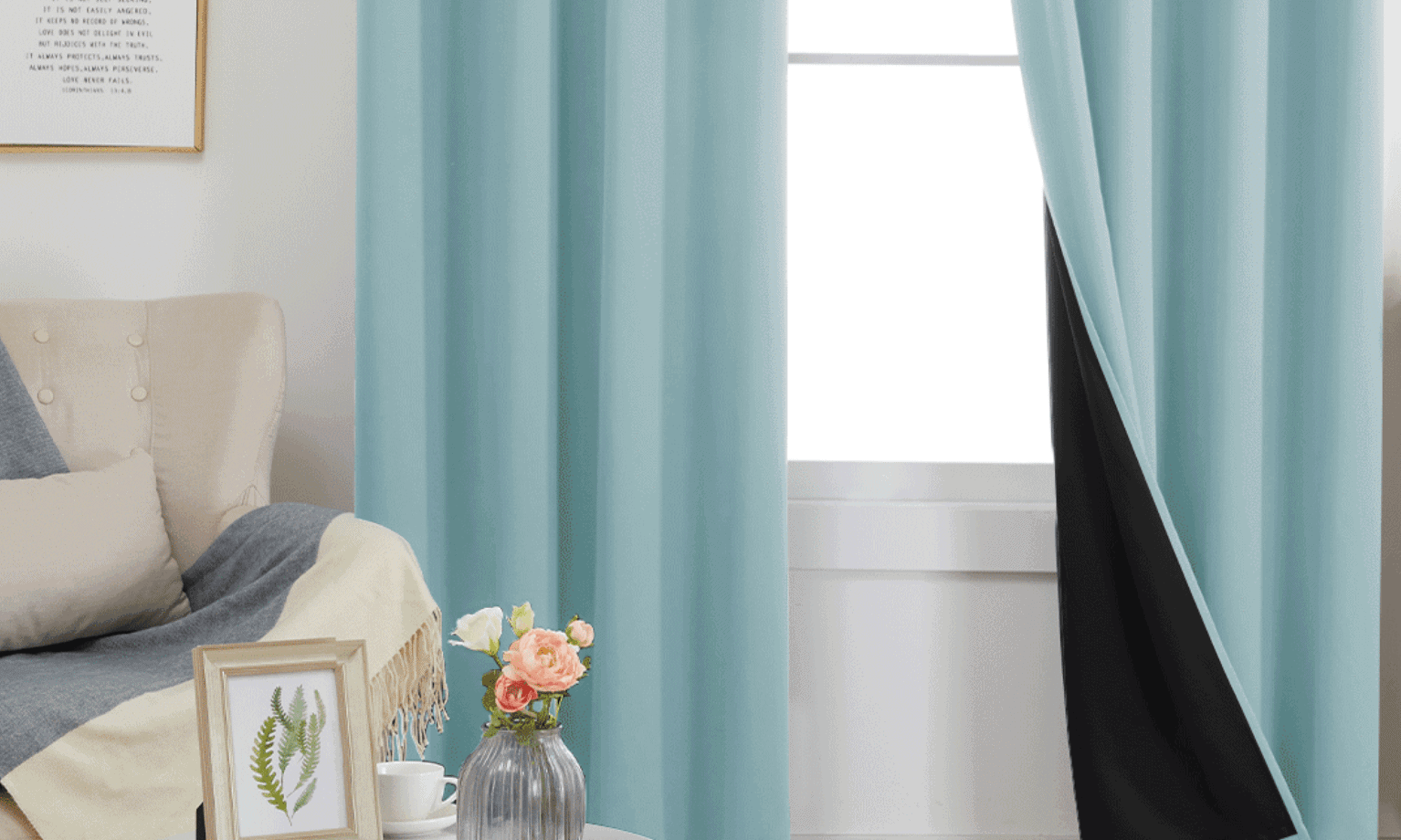 If you want complete blackout curtains with added insulation, consider these. Available in teal in many other colors, solid colors are set on soft, 100 percent polyester. The high-density dual layer material also provides noise reduction for a peaceful room. Buy Here.
Sun Zero Oslo Theater Grade Extreme Blackout Curtains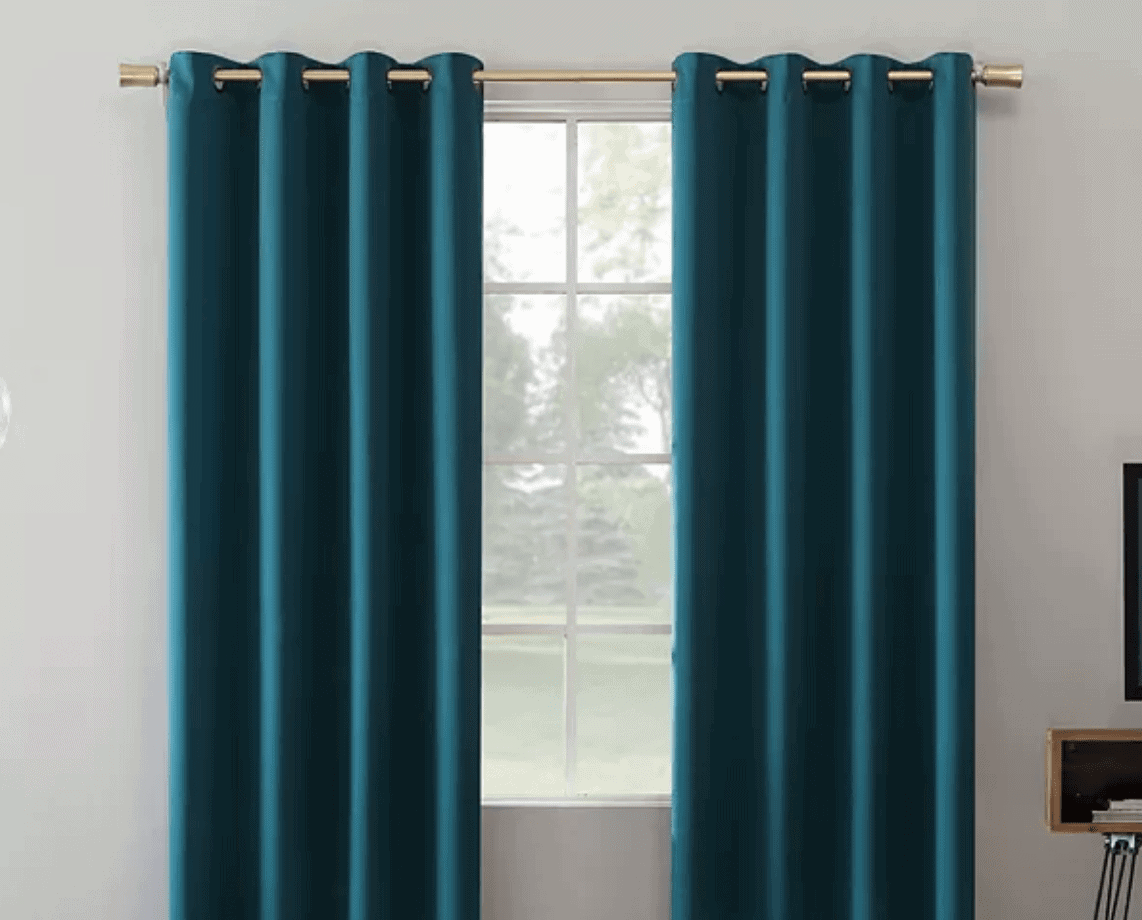 These deeper teal blackout curtains offer a modern, sophisticated look. Designed to block out 100 percent of external light up to 35 percent of outside noises, these are energy efficient and easy to use for bedrooms or even for home theaters. Machine washable, polyester, with a gunmetal finish grommet; Buy Here.
Eclipse Harper Velvet Absolute Zero Blackout Curtains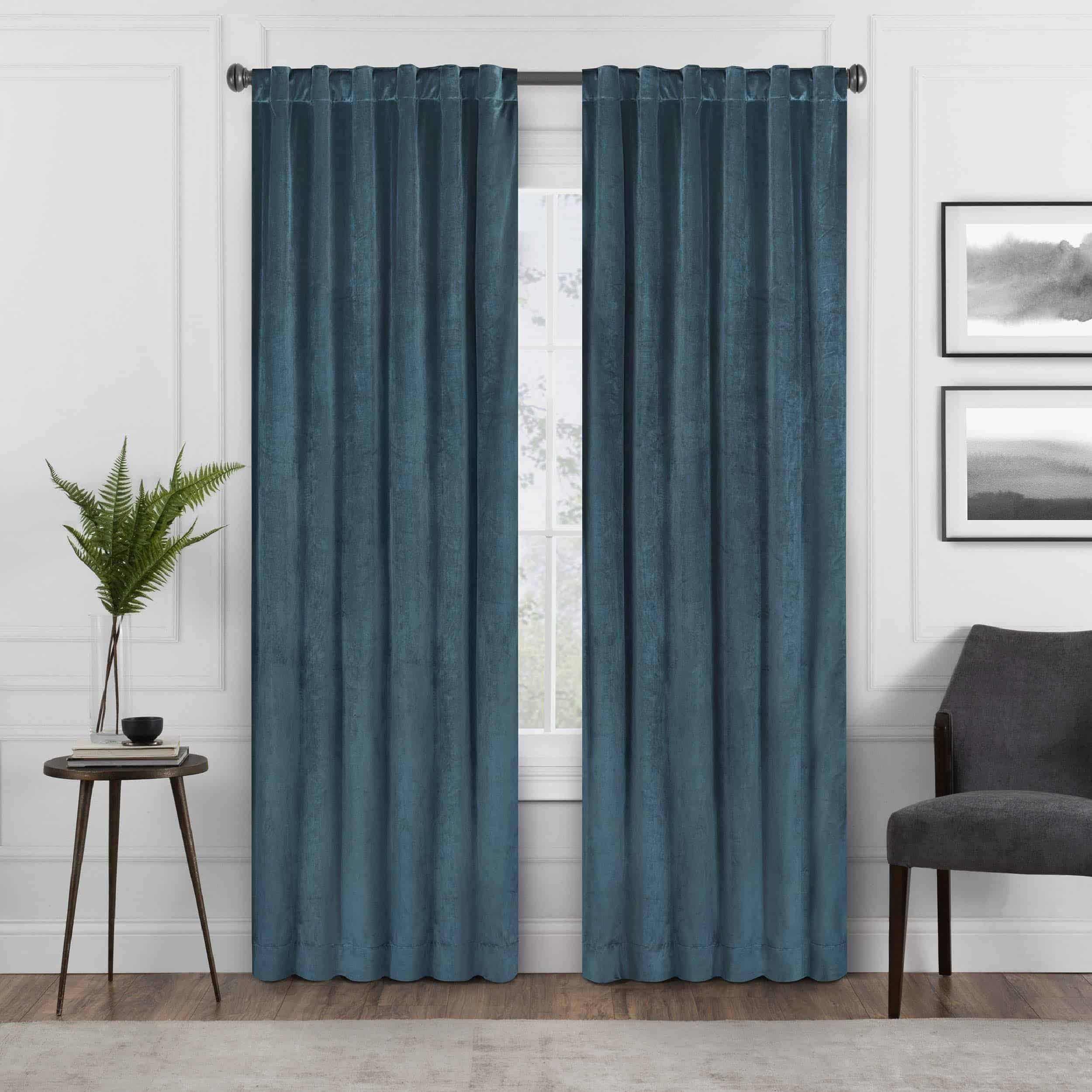 Velvet curtains are a surprising trend we're seeing more of in 2021. While still far from the most popular choice, velvet curtains tend to be durable and add an elegant allure. As these teal blackout curtains show, they can also be surprisingly modern. Made with polyester, these curtains are machine washable and easy to set up. Buy Here.
Patterned Teal Curtains
Nature-inspired, minimalist designs and thoughtful accents are some of the styles you'll find this year for teal curtains. From shabby chic to modern, from bold to simpler, patterned teal curtains add dimension to rooms and can really transform your space. The trends in 2021 lean artistic, whether it's with elegant subtlety or a more playful design.
Vintage and Shabby Chic Teal Tropical Curtains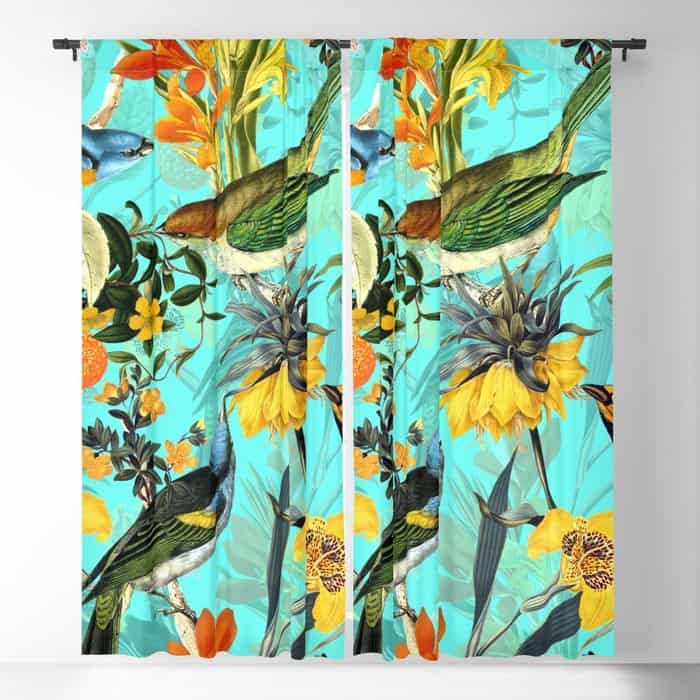 These also happen to be blackout curtains, but the bold pattern is likely the first feature that'll catch your eye. Large print birds delight, with sunny yellow and orange blossoms. This fun look would be perfect for a home near a body of water, or even just for nature themed bedroom. The lightweight polyester is machine washable. Buy Here.
Martha Stewart Teal Velvet Curtains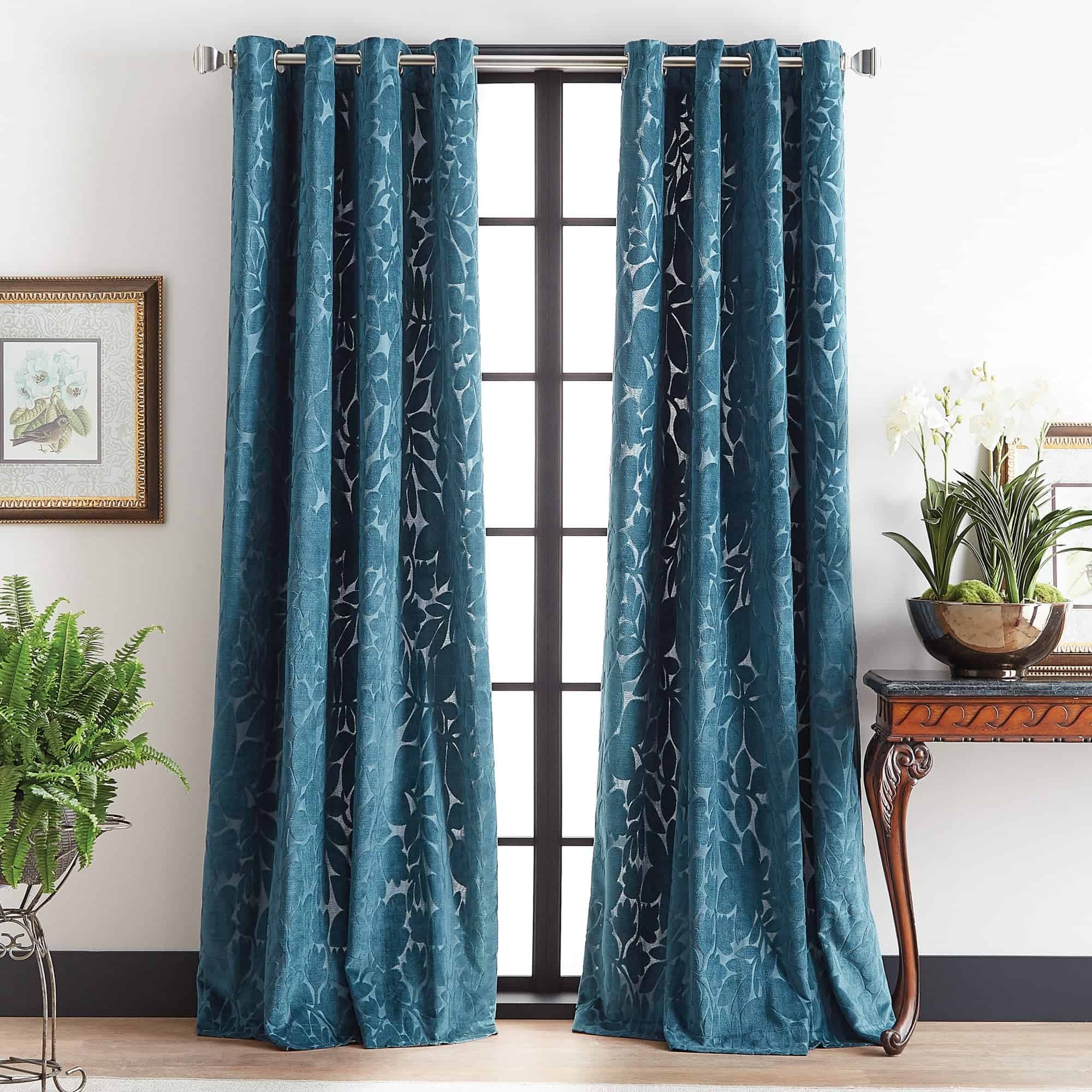 These modern velvet curtains feature an elegant design of blossoming botanicals. The lush pattern is effortlessly stylish and subdued enough you can easily play with colors and textures to pair with. They're made out of polyester, machine washable, and would be a great addition to dining rooms but also living rooms. Buy Here.
Dusty Turquoise Abstract Pattern Curtains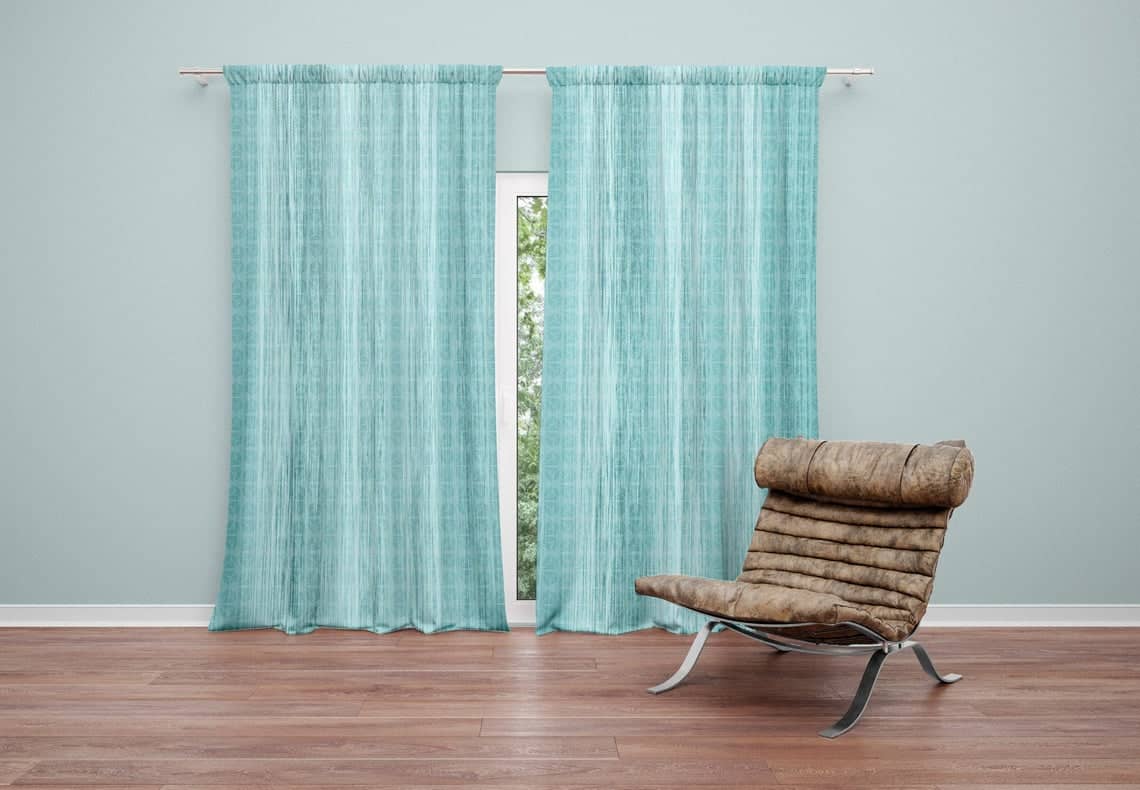 Technically, these curtains are turquoise– but very much worth a look. A dainty, modern design makes these handmade curtains stand out. Teal, turquoise, and chalk-white notes team up with tribal-inspired blended lines. I love this look paired with whites and browns. These are fairly sheer curtains, so they'll let a good deal of natural light come in. Buy Here.
Ambesonne Moroccan Pattern Teal Curtains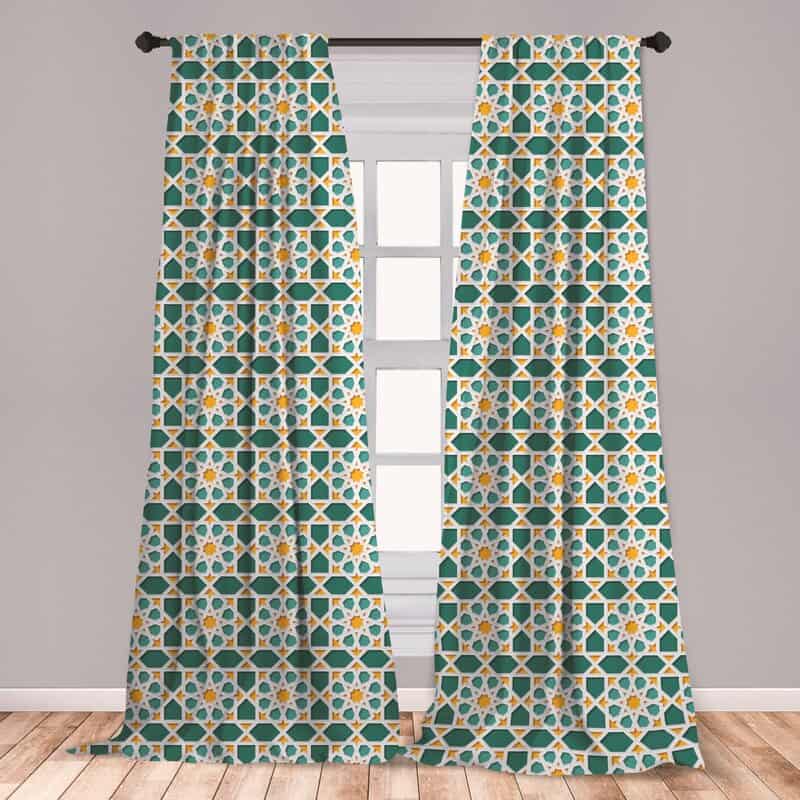 These lightweight microfiber curtains offer some privacy without blocking out all light. They're also a great option if you love teal but aren't sold in an all-teal style. A digitally printed design features bold yellows, teals, and greens for a rich design. They're also lightweight and machine washable. Buy Here.
Ikat Print Linen & Cotton Curtains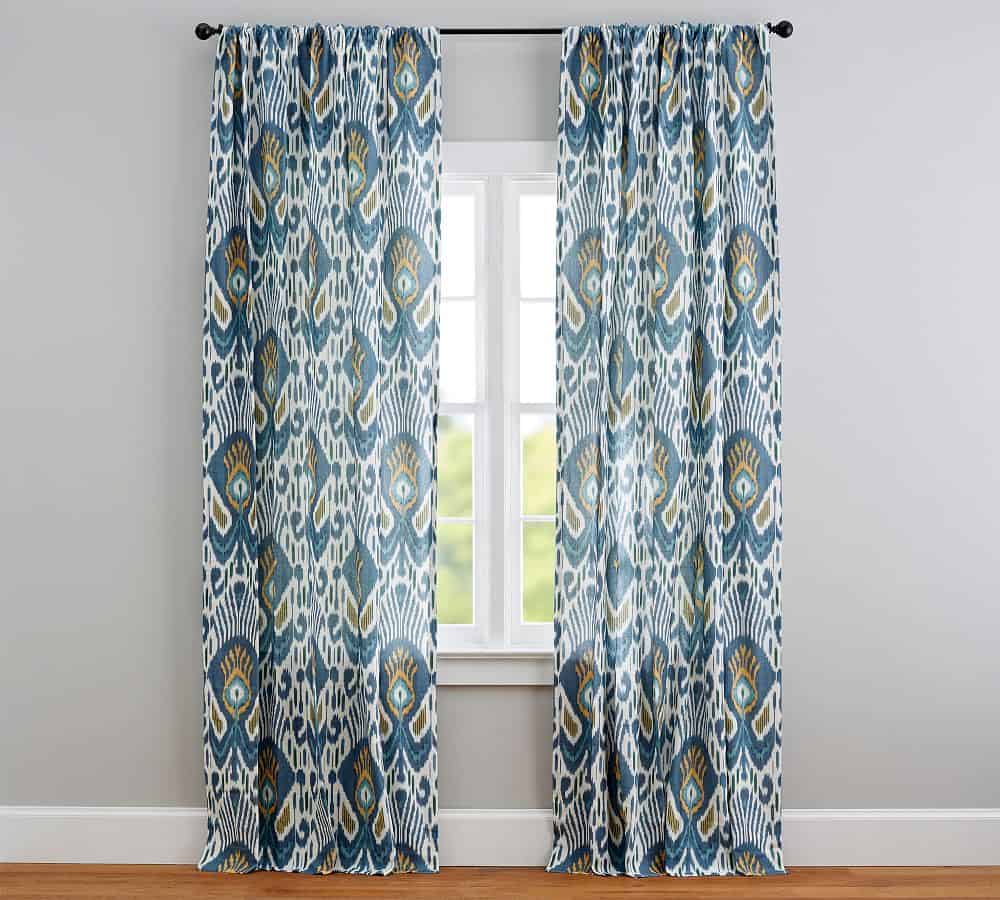 If you're a lover of abstract art, consider this teal, turquoise, and yellow curtains. Available with blackout or regular cotton lining, this dramatic pattern is a standout look for a living room. Pair with neutrals and grays to balance the look, or go bright with teal or white furnishings. Buy Here.
Mahina Curtains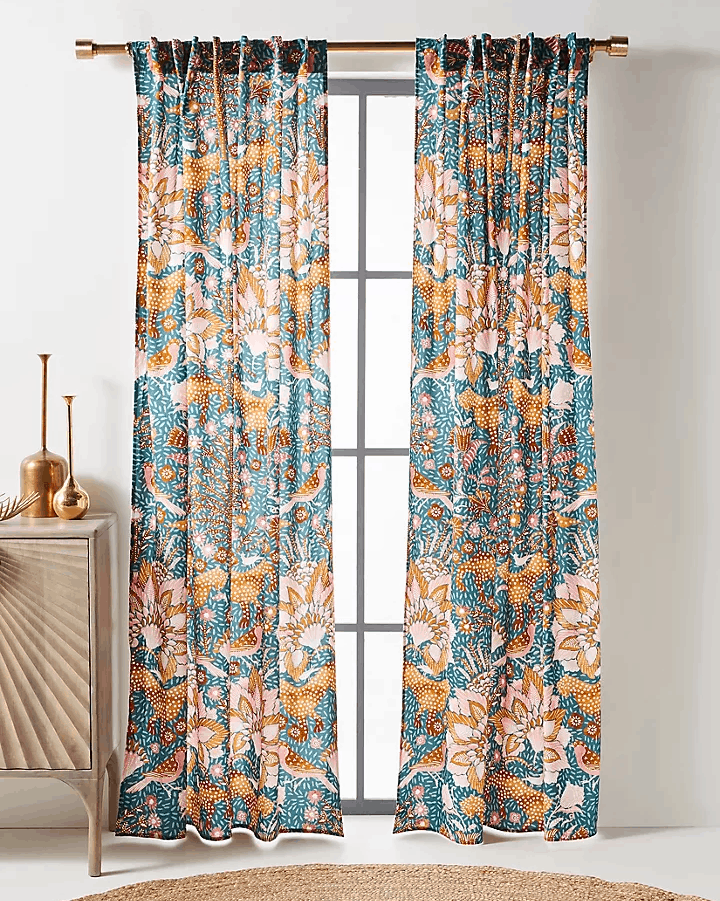 These dazzling curtains feature a bold, boho floral print. Pink and orange blooms are set against turquoise/ teal for dramatic contrast. These curtains are 100 percent cotton, machine washable, and would make a great addition to a bedroom. Buy Here.
Gemma Grommet Teal Curtains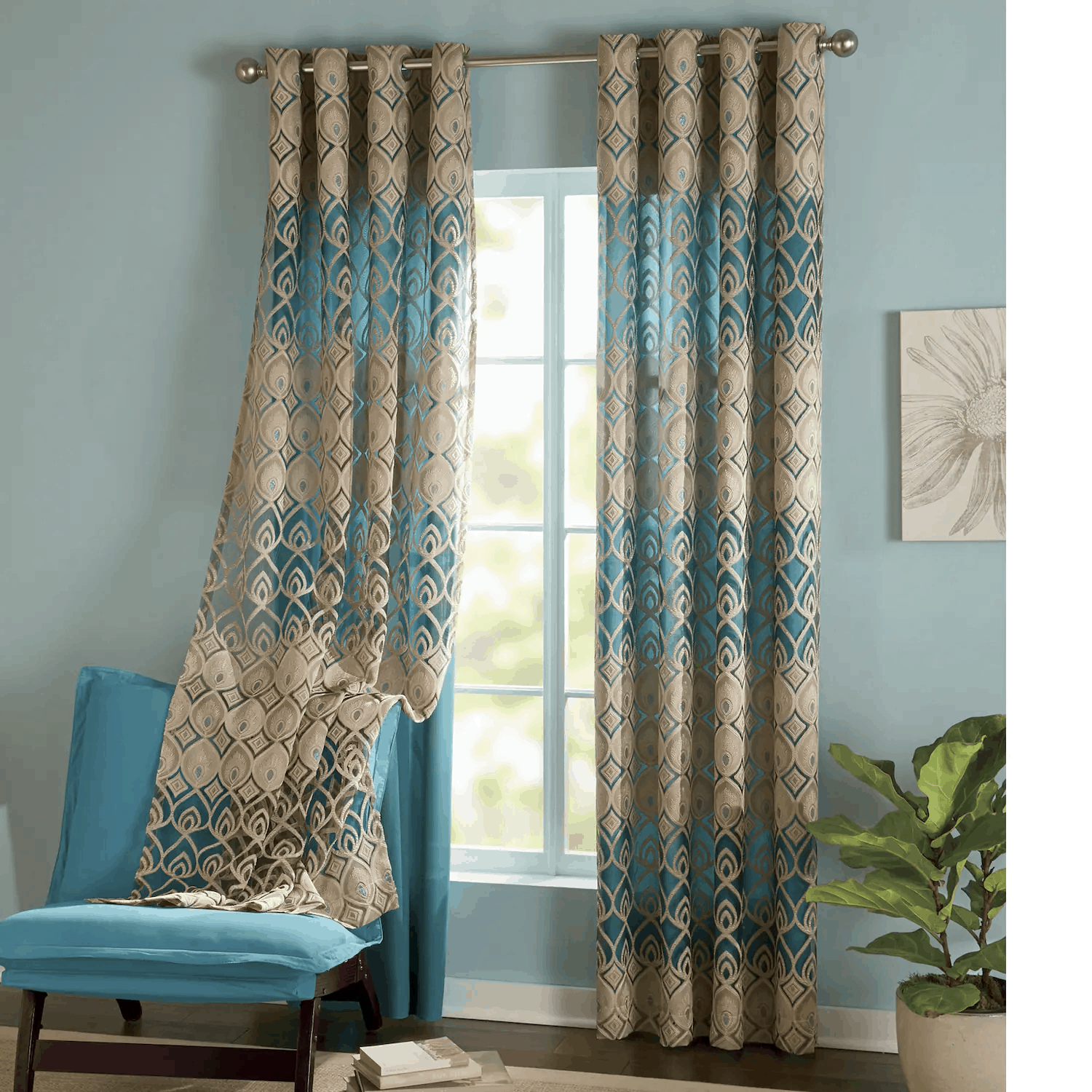 Who knew that a peacock pattern could be subtle? These grommet panel curtains would look lovely in boho-chic and vintage-styled homes. A warm tan hue is paired with a teal underlay, which is a peacock feather pattern. These curtains look spectacular paired with teal, turquoise, tans, and bright or off-whites. Buy Here.
Sheer Teal Curtains
Sheer curtains won't offer much in the way of privacy, but they can be a beautiful option for sunny rooms. Add them for decor and to allow light to flood in. Sheer material with a teal hue evokes a sense of calm. These curtains range from boho to elegant, as well as boho chic (the two styles combined).
Alyssa Hamilton Abstract Teal and Peach Sheer Curtains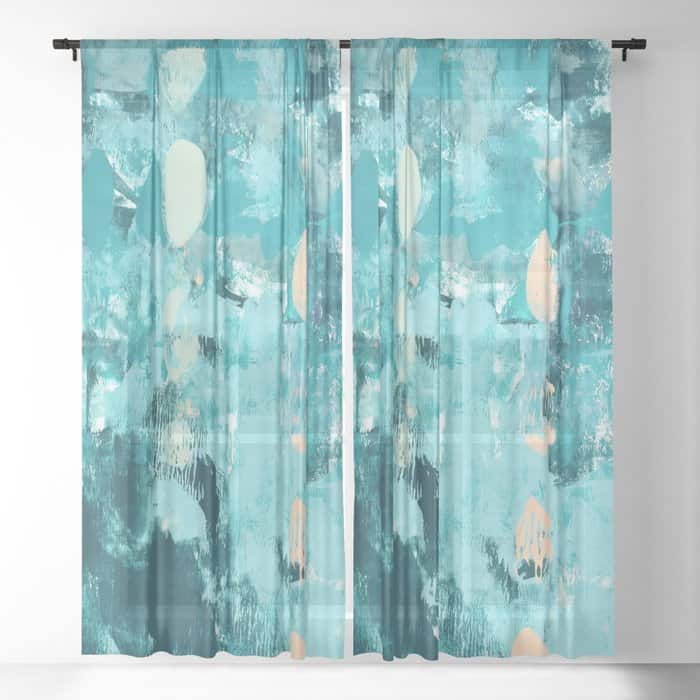 These woven polyester sheer curtains are a beautiful addition to a sunny room. The teal tones exude calm, while the warm peach hues are complemented by streaming sunlight. There's a sense of movement to the abstract design that echoes water. Buy Here.
Bella Sheer Teal Window Curtains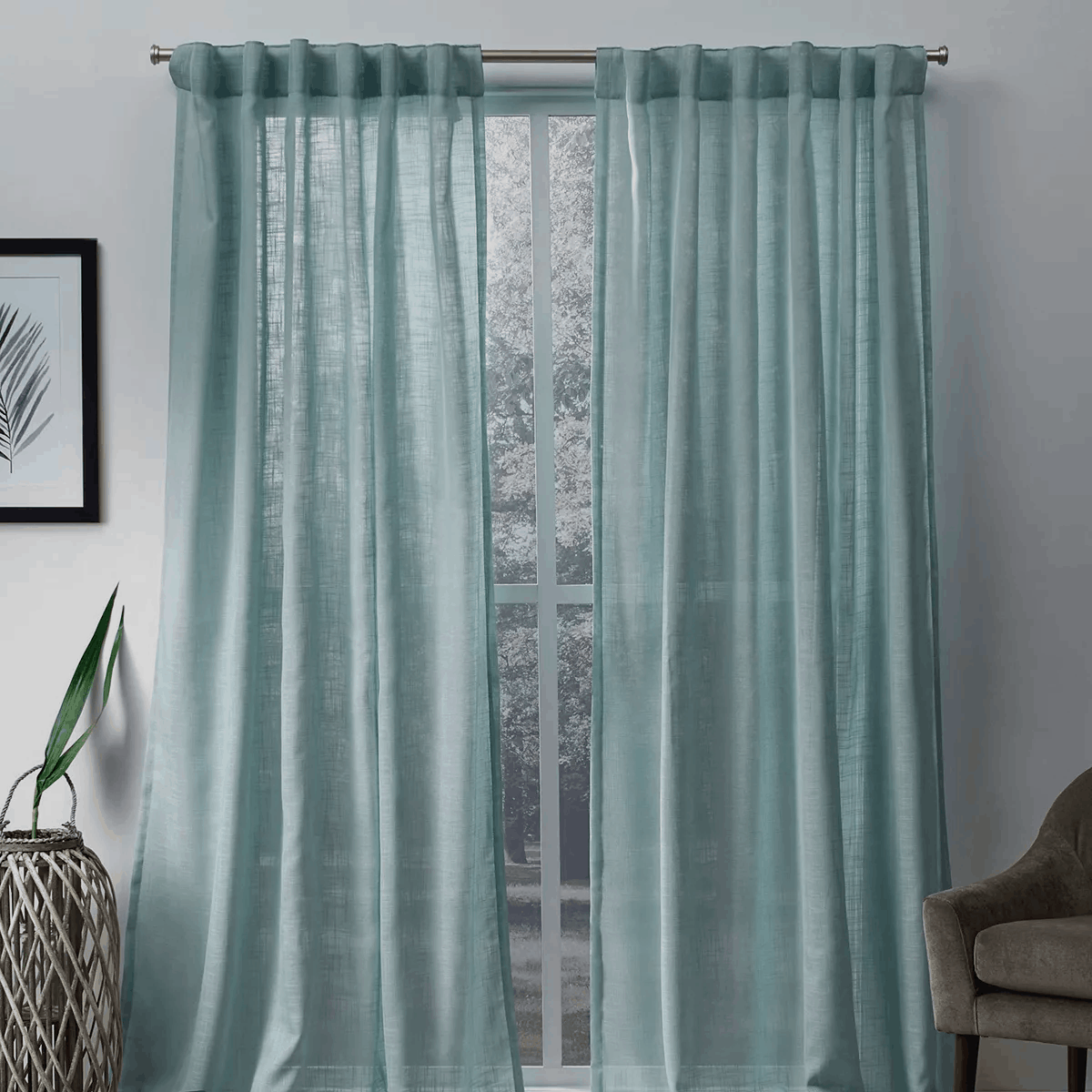 These polyester curtains are a beautiful 'seafoam' color. The design is effortless, modern, and elegant and would be complemented with white and neutral tones. I especially like these curtains overlooking trees or gardens, if you have any. They're versatile enough they'd work in most rooms. Buy Here.
Liz Clairborne Home Expressions Lisette Curtains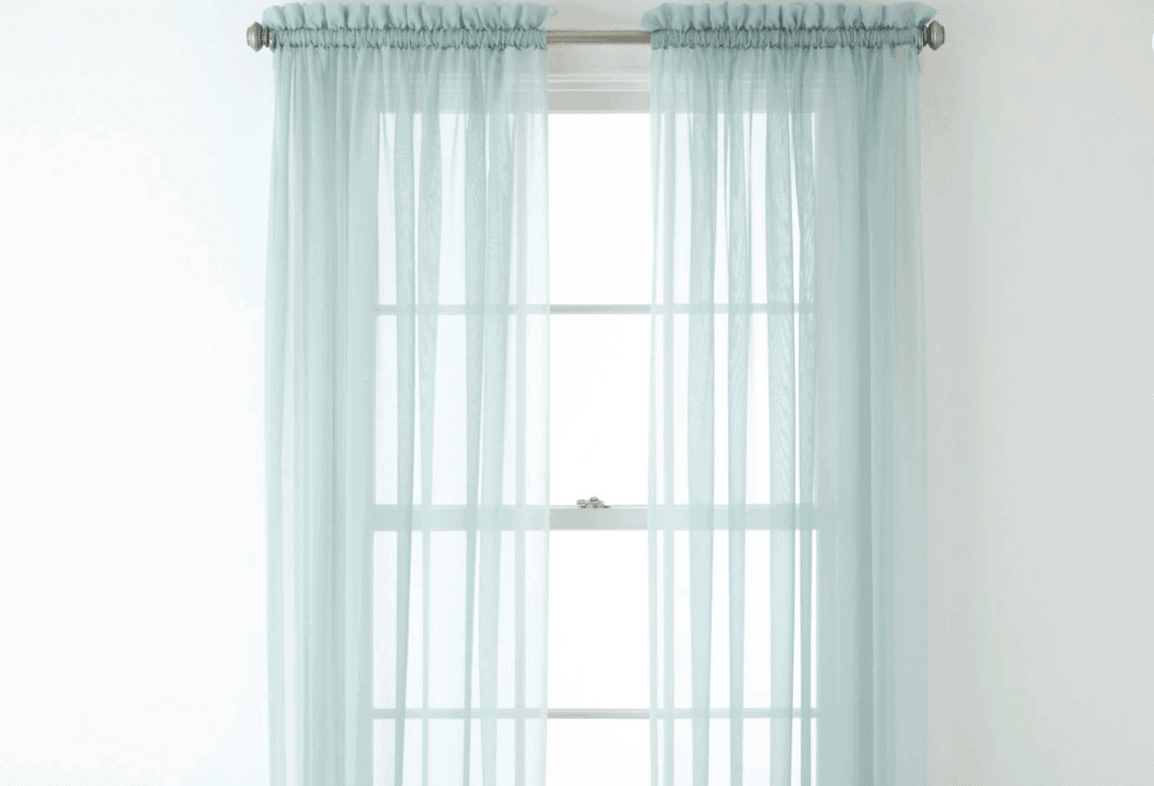 These budget-friendly sheer curtains 'gently filter light' for a soft, ambient effect for any room. The 100 percent woven polyester is machine washable. The traditional design is versatile enough that you can pair it with the furniture of your choice. Since the curtains are understated, you might consider pairing them with a statement rug. Buy Here.
Crushed Sheer Teal Curtains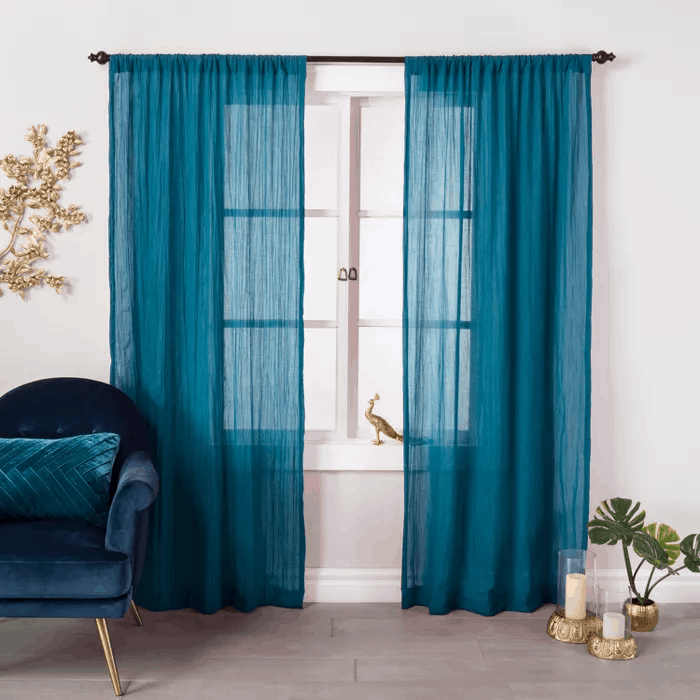 Usually, you want sheer curtains that are smooth– but these curtains provide boho-inspired texture. The polyester curtains are machine washable, made with a plain, modern wave. Consider pairing these with white and shades of turquoise, or even bold complementary colors. Buy Here.
Vue Arashi Graduated Teal Curtains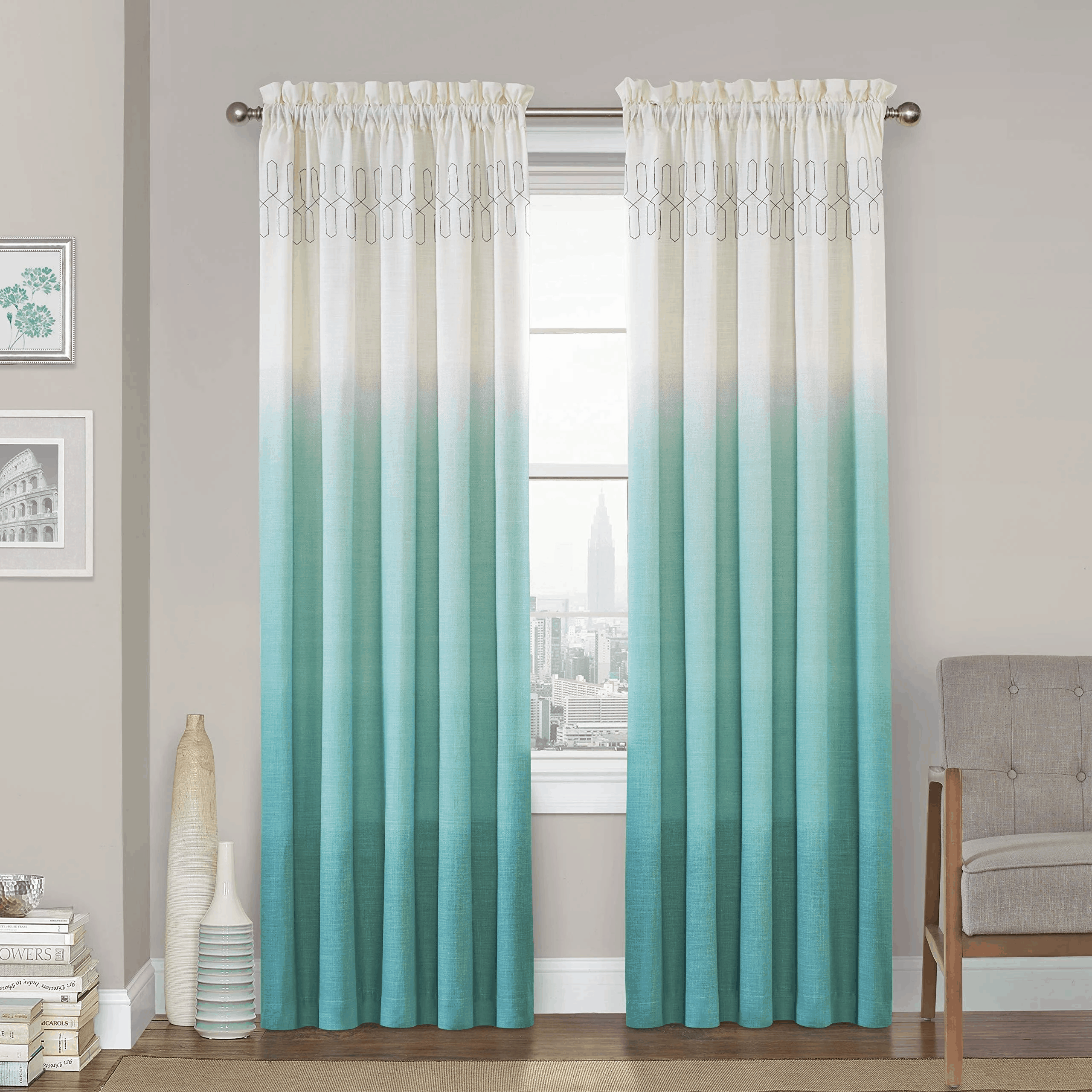 These sheer curtains are nothing short of playful. The ombre hue starts with white at the top and slips in teal and turquoise. Embroidery and a modern rod pocket panel make for a pleasing design. Since these are statement curtains, consider keeping furnishing to solid colors. They're 100 percent cotton and machine washable. Buy Here.
Frequently Asked Questions
Question: What curtains are in style in 2021?
Answer: In 2021, there are a lot of styles to choose from. Some mainstream trends include more sheer and lightweight curtains, boho and nature-inspired designs. I've also seen many solid, modern curtains. Off-beat trends include bamboo and velvet curtains, as well as curtain beads for a boho-hippie-inspired room. For colors, trendy options include gray, neutrals, dusty rose, mustard yellows, and blues and greens.
Question: What is the best color for bedroom curtains?
Answer: As with any room, you should think about how to create balance in terms of color and contrast. For minimalist, plain rooms, go for a bolder hue. If you already have bright hues and vivid patterns in your bedroom, opt for a subtle, more classic curtain style. No matter what color you choose, generally it's a good idea to opt for a shade or two lighter or darker than your walls.
Question: What curtains make a room look bigger?
Answer: Looking to create an illusion of a larger room? Nix the dark curtains and opt for light hues, or even sheers, when applicable. Floor-length curtains also extend how tall the room appears. Balance the room by adding just enough furnishings and decor to your liking. If you try to fit too much into a room, it's going to feel smaller and more cramped.
Final Thoughts
Teal curtains can be elegant, modern, or boho. Whether you're looking for privacy from black-out curtains or just want an elegant accent, you have more options than ever to choose from in 2021. Just be willing to branch out: if you like teal curtains, chances are you'll be interested in turquoise and aqua hues as well. You can also choose to bring out more green or more blue with wall hangings, pants, or rugs.