Latest posts by Angelique Alice
(see all)
When we think of the dining room, most of us think about the chandeliers, tables, and chairs, leaving the curtains at the bottom of the list, if not forgetting them. For dining rooms next to the backyard or garden, most people tend to leave the windows bare and without curtains as they do not seem necessary. However, this should not be the case.
Did you know that curtains add some color, texture, and softness to the room? A room that was once boring could liven up with some flowing curtains. Below are some fantastic curtain ideas and tips on how to find the best dining room curtains for your home. They will convince you to head to your nearest store or online boutique and get yourself some incredible curtains for your dining room, and begin your new adventurous life!
Factors To Consider When Choosing The Best Curtains For Your Dining Room
There are numerous factors that you should consider when buying dining room curtains. One of the common mistakes that people make is choosing the first ones they find online, especially if they are in a hurry. However, this should not be the case. So, what should you look for? Read on below.
Style
One of the first things you need to consider is the style of curtains that will hang in your dining room. Do you have an existing rail and do not want to replace it? If that is so, you will have to look for curtains suitable for that rail type. However, if you are open to other options, you will have endless choices. However, this should not intimidate you, as we are here to guide you every step of the way.
Box Pleat Curtains
These are perfect for the formal dining room as they give a modern but casual look on the window. If you love a contemporary style, then this is perfect for you. The pleats have a box shape at the top and allow the fabric to drape into a deep fold at the curtains' full length.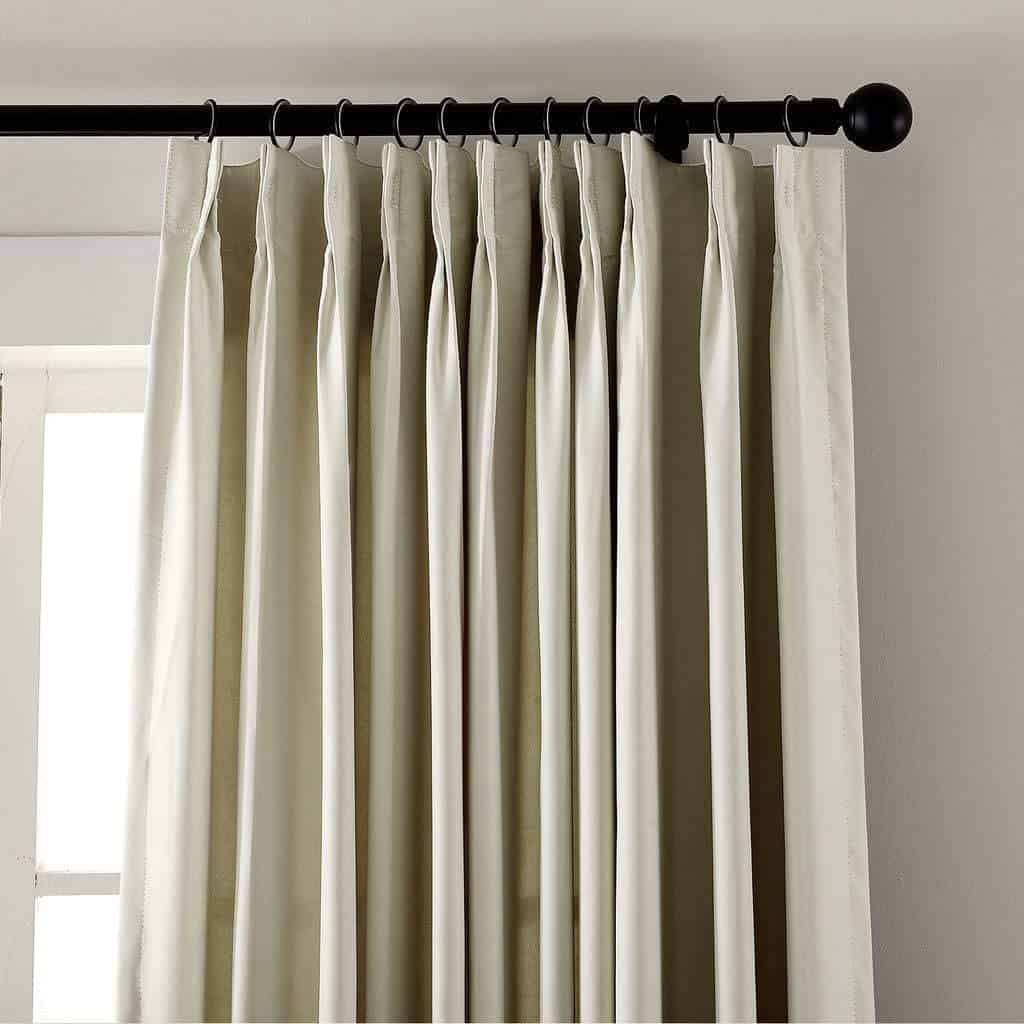 Pencil Pleat Curtains
These usually have thin pleats and are pretty versatile as they can be used with numerous hooks and rails. Also known as the 3" Tape curtains, they create a traditional look for your dining room. If you want a simple, classic, and basic look, then pencil pleated curtains are the type for you.
Eyelet Curtains
Also known as ring top curtains, these are pretty popular as they give a modern look to any dining room window. The eyelet heading has metal rings at the top, making the curtains super easy to hang.
Goblet Pleat Curtains
These curtains add an attractive finish to the curtain headings, making them quite similar to the pinch pleat heading. However, the goblet pleat heading is detailed and is usually ticked and folded to give it a wineglass look. With this heading, you will be required to use lined curtains to maintain the pleats' shape.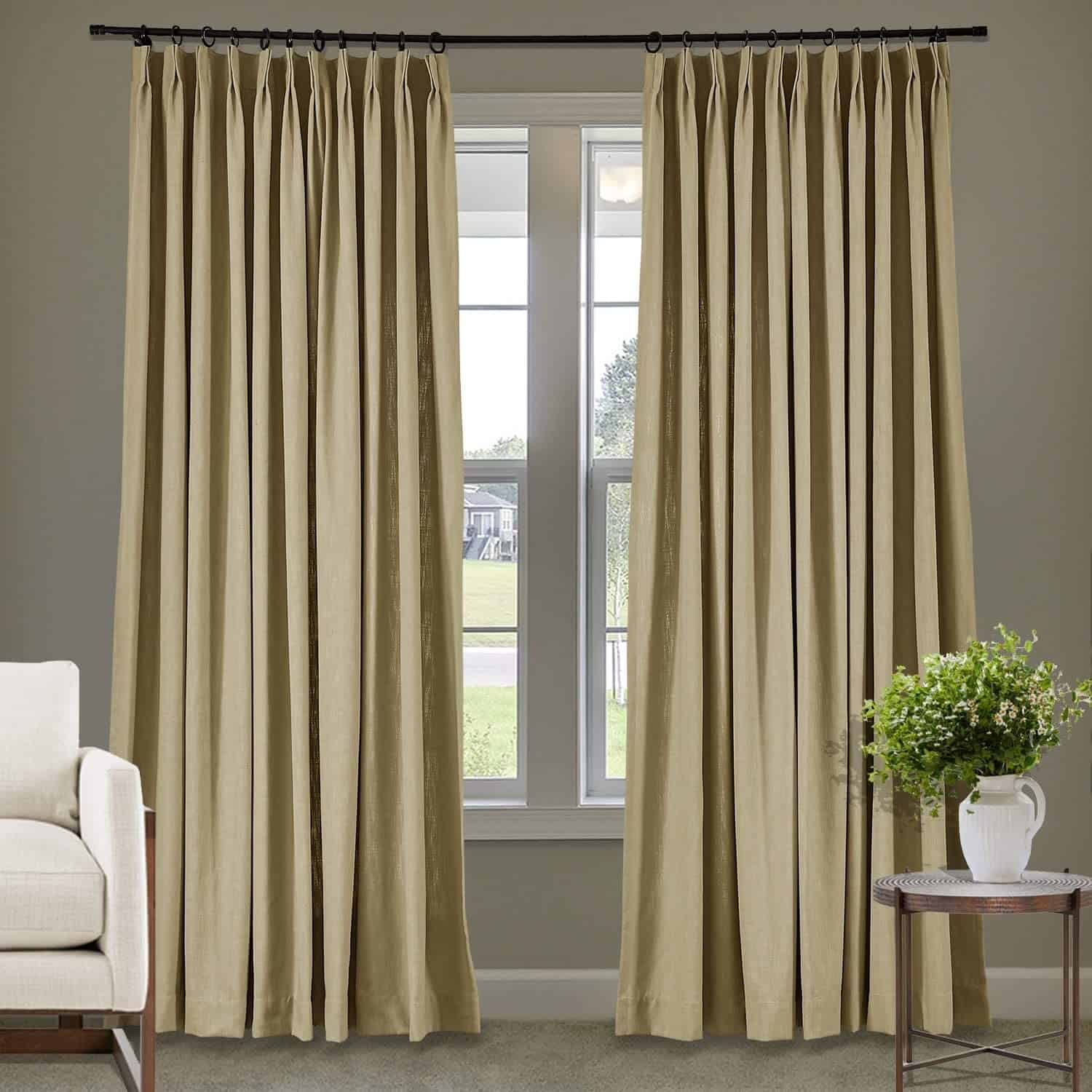 Pinch Pleat Curtains
If you are looking for a luxurious and decorative curtain for your dining room, this is the best option. Pinch pleated curtains come in five different styles. These include single pleat, duo pleat, triple pinch, four-finger, and five-finger pinch pleats. The fabric at the top of the curtains is usually pinched together, with the pleats loosening at the bottom.
Tab-top Curtains
These curtains come with loops at the top so that they can be pulled right over the rod. With tab tops, most of the rod is left exposed, but the rounded pleats are narrower.
Color Or Pattern
Once you have decided on the curtain style, the next thing to think about is the color or pattern. One thing to note is that the color should coordinate with the dining room's color scheme to ensure that they complement each other.
One of the oldest looks that people use is the same fabric for the window treatments as the seat cushions and table cloth. This is a traditional look, but it still works. However, you can decide to step out of this and try something else that suits your color palette. You can choose any color or pattern of your choice, as long as they complement each other.
Below are some of the colors that we recommend;
Red
Red is known as a stimulating color. It helps stimulate your appetite, energy and makes you more active. These qualities make them perfect for the dining room. However, a key point to note is that red curtains tend to be pretty appetizing; hence you may end up overeating or expressing too many emotions.
White
White curtains are simple but pretty elegant. Simple white cotton curtains in white are a great look, especially for the modern farmhouse.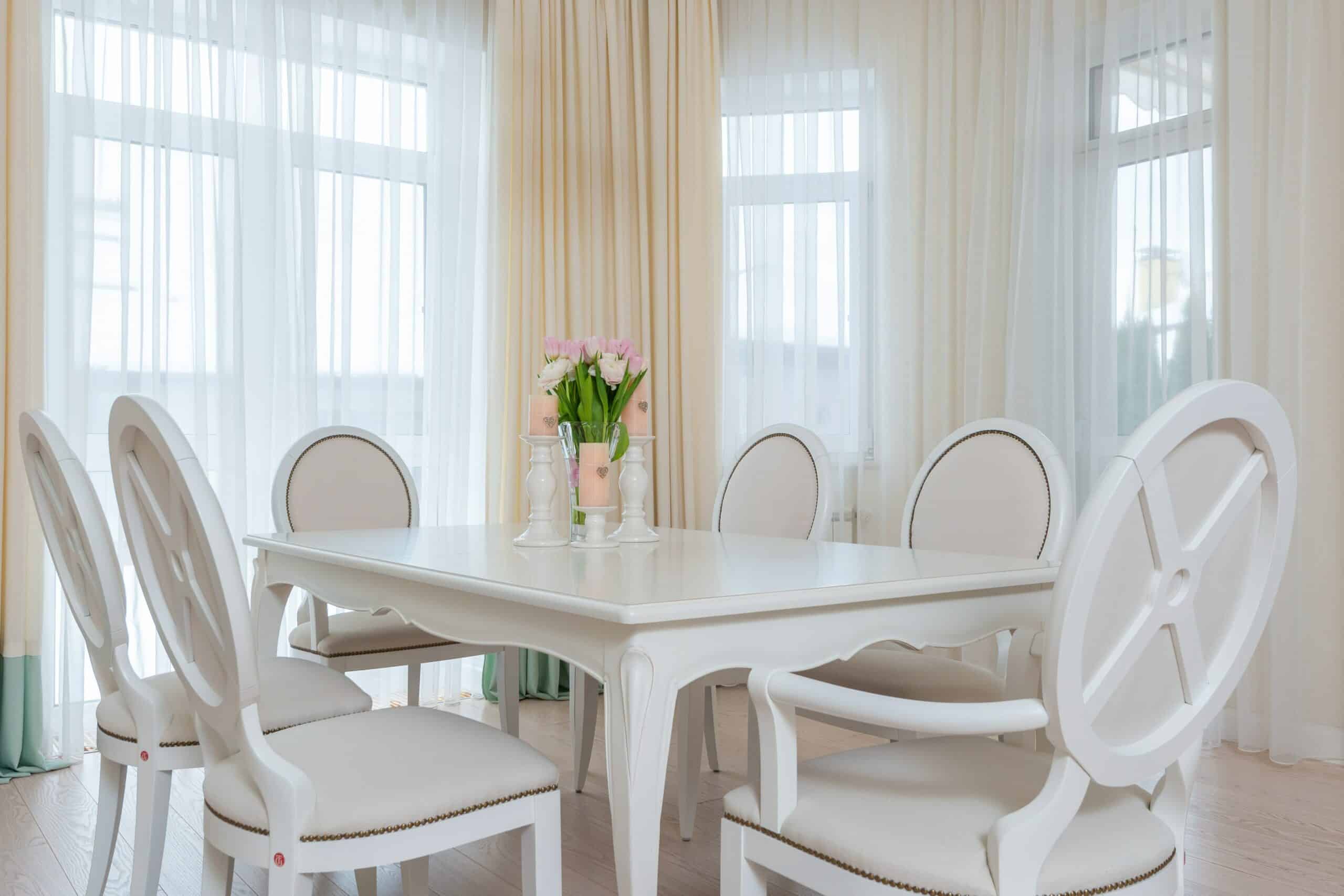 Orange
Orange creates a sense of comfort, makes it easy to accept changes, and helps provide energy. It also improves digestion, hence great for the dining room.
Blue
Royal blue curtains add some elegance to the room, especially if the décor is white and light.
Light Brown
If you want a cozy feel, then light brown curtains will do the trick. They help with concentration, which will be great for you. However, ensure that the interior accents are bright to avoid making the room feel dull.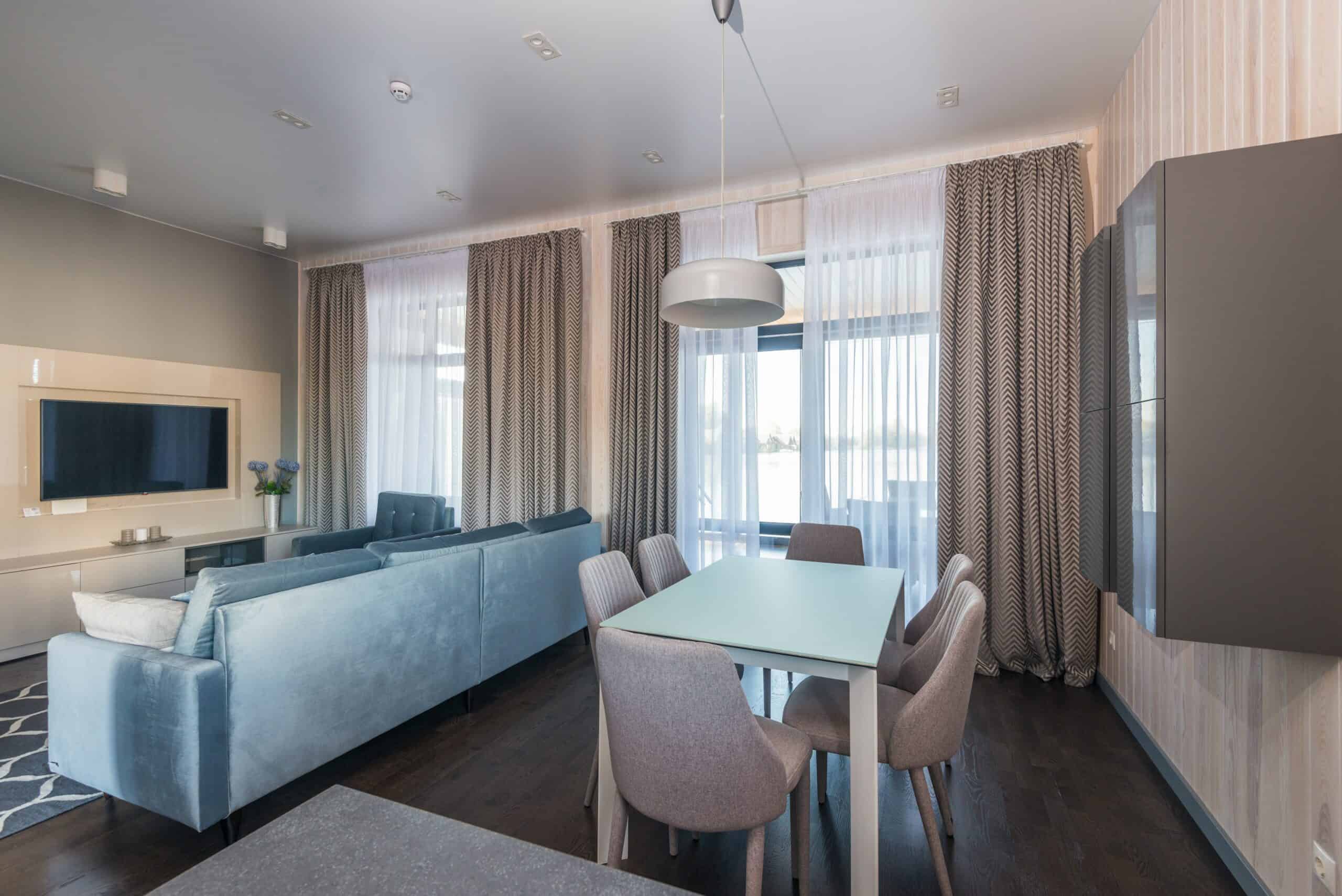 Velvet
If you want to add class to your dining room, then velvet will do the trick. Its luxe appeal makes it perfect for the dining room. It goes well with white, grey, or darker shades such as forest green walls to complement them.
Cost
Curtains have different prices based on the fabric, size, type, and brand. Higher-quality curtains will be more costly than their low-quality counterparts. Here, the trick is to have a budget and stick to it as much as possible.
Size
Nothing is as frustrating as getting the ideal curtain with the right color, style, and at an affordable cost, only to realize that it is smaller than your window. It can be pretty frustrating and embarrassing as you will have spent your hard-earned money. This is why you need to consider the size of the curtain when choosing one. We recommend that your dining room curtains should at least skim the floor but not be too short.
How To Measure For Width
It is crucial to measure your curtain before you begin shopping for them. Note that the width of the window and the curtain are two different things, unlike most people believe, and order the wrong size. We recommend that the curtain's size be wider than that of the windows' width to allow for folds. If you purchase curtains of the same size as the window, you will have to pull the curtain to fit, which will not look great for the room.
How To Measure For Length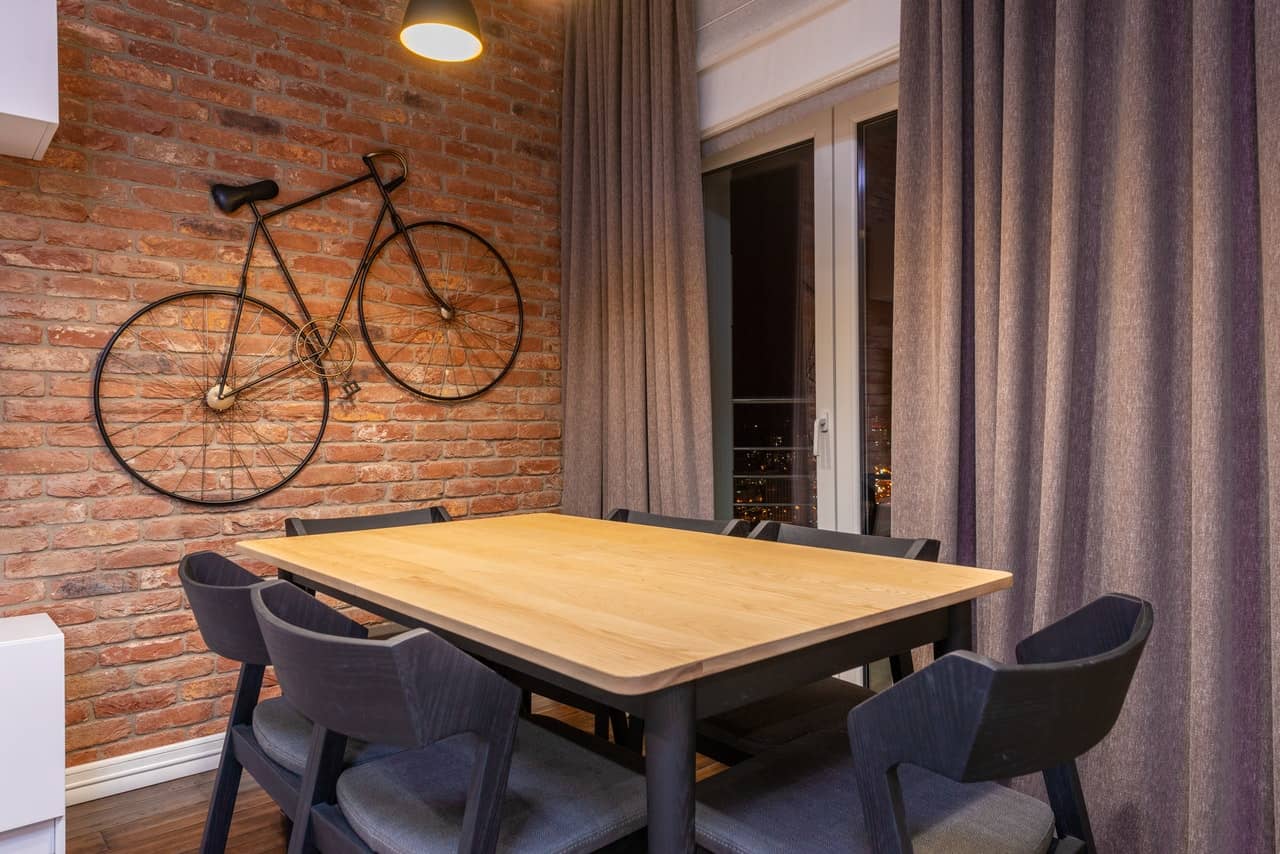 When measuring for curtain length, ensure that you do so from several inches above the curtain rail and measure to the bottom of the window's ledge. A key point to note is that the minimum length should be so that the lower hem hangs just below the ledge.
However, there is no maximum length when it comes to curtain length, as this depends on your preference. For example, some people prefer their curtains hanging to the top of the baseboards, while others want them hanging midway between the base of the window ledge and the floor. Others love their curtains being extra-long, making the fabric lie in folds on the floor.
Read our full guide on how to measure curtains the right way.
Our Top Dining Room Curtain Recommendations
There are endless dining room curtain options to choose from. However, this should not scare you as we have compiled a list of our top dining room curtains and why we love them. We chose these dining room curtains based on affordability, availability, and positive customer reviews. They include: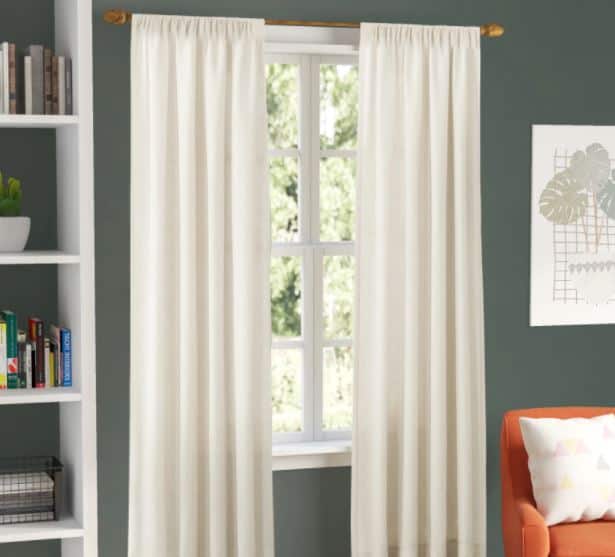 One of the newest trends in 2021 is linen curtains. They have become quite popular due to their captivating effect, durability, incredible aesthetic, and eco-friendliness. They are also tranquil, relaxing, flowy, and easy to handle due to their semi-sheer and lightweight material. They are also natural and organic, making them an excellent option for your dining room.
These Berwick linen blend curtains are the best way to elevate your windows. They are stylish, neutral, and semi-sheer curtain panels that will instantly change the appearance of your dining room. The linen in the fabric helps to allow the right amount of light to brighten up the space and give you some privacy. Another reason why we love them is that they are easily machine washable; hence you can wash them as regularly as you want to.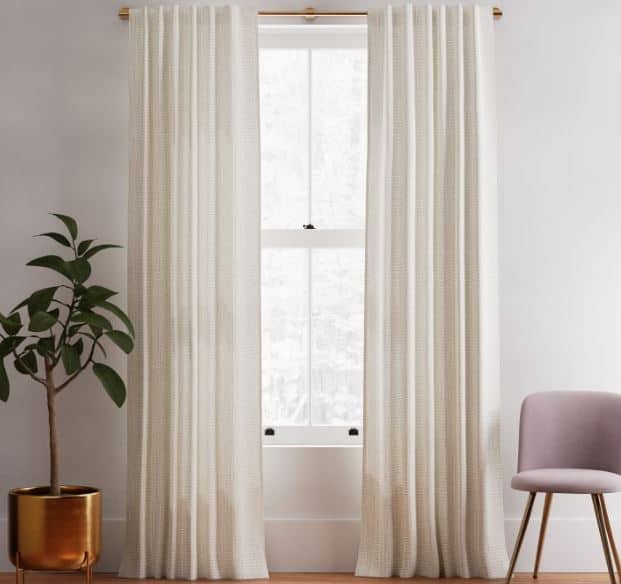 If you want neutral colors that are not boring but have a personality of their own, then these are the curtains for you. These cotton canvas patterned curtains from West Elm are perfect for a contemporary living room. They have some sheen and subtle patter to make the windows look incredible but not too flashy. They also block the majority of the light and help insulate windows. Another quality that we love is that they have a dual top treatment that lets you choose how to hand them, whether bunched or pleated.
If you want to add some life to your dining room, why not go for velvet curtains? According to Huffman, velvet curtains are the color to go for if you want a solid color with drama. Here is where the matte velvet curtains from Anthropologie come in. They are light-blocking and come in several jewel tones. The color, fabric, and feel make them quite stylish.
Frequently Asked Questions About Dining Room Curtains
Question: Are Curtains Better Than Blinds For Dining Rooms?
Answer: When comparing blinds and curtains, there are numerous factors to consider. Blinds are cheaper and give you more control over the amount of light in the room. They are also easier to clean than curtains. However, curtains are more versatile and come in numerous designs. They are also more durable and will last you for years as compared to blinds. When it comes to cost, curtains are more expensive and harder to clean. Therefore, the choice depends on your preference and what works for you.
Question: What Is The Best Fabric For Dining Room Curtains?
Answer: Silk, linen, velvet, and faux silk are the best fabrics to use for window treatments. They hang the best as compared to their other counterparts. Faux silk is the most durable and does not deteriorate as quickly as real silk if placed in a sunny room. Also, if you do not line your silk fabric, then it will rot. Therefore, ensure that you line and interline your curtains to make them last longer.
Question: Should Curtain In The Living Room And Dining Room Match?
Answer: It is crucial to ensure that all your rooms look unified. One of the ways to do this is to match your curtains. It is therefore recommended to keep your curtains uniform. However, you can mix and match as long as the patterns and colors are mixed evenly. For example, you can stick to one color but switch up the pattern or material.
Question: How Do I Remove Wrinkles From My Brand New Curtains?
Answer: When buying brand new curtains, you may notice that they are badly creased, even after hanging them. However, this should not worry you as you can get rid of them with a bit of work. One of the things to do is to take them for dry-cleaning. You can also apply water through steaming or laundering to remove the creases.
Conclusion
The thought of buying new dining room curtains can give you anxiety. However, with the above-detailed guide, you will be able to get the best dining room curtains for you without any hassle. Curtains are essential to the home and should not be ignored. Try out one of the recommendations that we love above, and tell us how your experience is in the comments below.