Latest posts by Erin Jamieson
(see all)
Even with all we know about sleep and how it impacts our health in 2022, over one-third of Americans get less than 7 hours of sleep per night, according to the CDC. And now, some Americans are trying to guide their life back to balance, with budget-friendly Target blackout curtains.
For many of us, curtains and blinds are a way to add decor and some privacy. But if 2021 has taught me, and countless others, anything, it's just how much our health matters. And sleep can have a profound impact on someone's quality of life. 
In a compiled report from the Sleep Foundation, just how much sleep matters may be shocking to some. While there are much-needed public campaigns about drunk driving, drowsy driving may cause as many as 6,000 fatalities per year. Workers are far more likely to have accidents, and nurses are three times as likely to make medical errors.
Sleep is also directly correlated with mental health and physical health. Without sleep, our bodies and minds don't have the ability to regenerate and heal. And while there are many remedies for poor sleep, one of the cheapest and least invasive ways to help is through environmental changes.
One of those ways? Investing in a blackout curtain for your bedroom. I'll tell you what you need to know for selecting the best blackout curtains, then guide you to the best options at Target. 
What are blackout curtains?
Blackout curtains are one of three main curtain types you can buy. Whether you're longing for a boho-style curtain or longing for sleek modern curtains, one of the most important factors to consider is the degree of light filtering the curtain offers. Sheer, light-filtering, room darkening, and blackout curtains are all options. While one is not inherently better or worse than another, they do all have different purposes.
Sheer Curtains
Sheer curtains allow the most light to flood a room, and, subsequently, the least privacy. Sheer curtains are most often used for decorative purposes or room dividers. These are also often paired with blinds for additional privacy. 
Room Darkening Curtains
The most popular category for curtains is room darkening curtains. These curtains do just that– slightly darken your room. They're useful for reducing glare and have a softening effect in a room. They can be partially seen through, but offer a balance of sunlight and privacy.
Blackout Curtains
Blackout curtains are used to almost completely block out light, as well as block or reduce sound. These curtains are most commonly used in bedrooms and for rooms overlooking a noisy street. Blackout curtains have become more popular– perhaps in response to sleep deprivation and what we know about how light disrupts sleep. 
Do blackout curtains really work?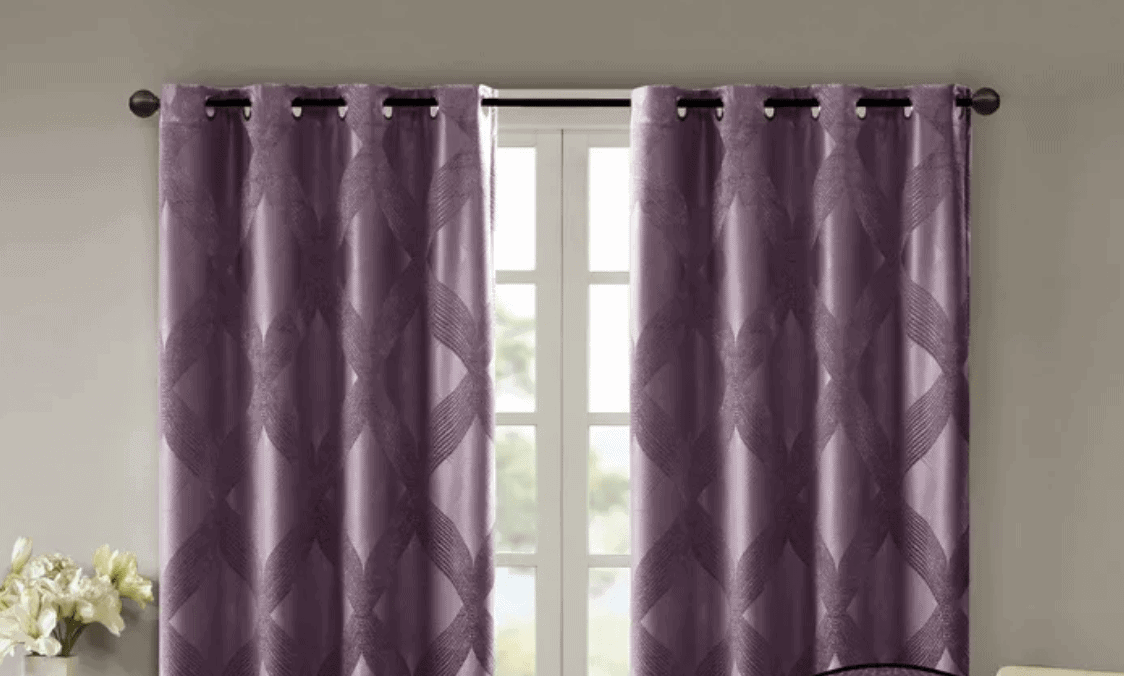 Blackout curtains are usually constructed with double-lined fabric. Blackout curtains typically block anywhere from 95 percent to 100 percent of all outside light. Not all, but many also are designed to block out or deafen outside noise. Of course, they cannot block out everything, 100 percent of the time.
Some light can come through if there are gaps around the window. If not properly installed, you may find more light and noise comes in as well. To double the effect, you could also add blackout blinds or even regular blinds.
But generally speaking, high-quality blackout blinds do indeed work and will block out most noise and even some sounds. 
Are blackout curtains bad for your sleep?
I used to work as a social media specialist and writer for a sleep professional, and one thing I learned, if nothing else, is how important it is to get consistent and quality sleep. One of the biggest disruptors of sleep is light. 
While blue light (from electronics) is the most harmful, outside lights and noises can also disrupt circadian rhythms. To this end, blackout curtains can provide a quiet and dark environment that will help you sleep. 
They can't solve sleep issues, of course. You may have a physical or mental health condition interfering with your sleep. You should also invest in other environmental changes, such as buying a supportive mattress, changing your pillow, and keeping your bedroom cool. But there is only one instance where blackout curtains could be problematic for sleep. 
Do blackout curtains make it hard to wake up in the morning?
The downside to blackout curtains is they can make it harder to wake up in the morning. If you typically naturally wake up, vs via alarm, you may find yourself snoozing more, as you won't be exposed to the natural morning light. 
Which curtains are best for the blackout?
While most blackout curtains are made fairly well, it's also true that not all blackout curtains are created equal. You'll need to consider size, as well as the best fabric for your blackout curtains. 
What are the sizes of blackout curtains?
Blackout curtains typically come in standard widths of 42 or 52 inches. There are some places where you can custom order sizes. As far as length, the most common, and likely best, is floor length. Unless there's something that would obstruct the curtain, floor-length curtains generally are preferred, and for blackout, they will be most effective when full length. 
What fabric is good for blackout curtains?
Curtain fabric matters, too. Wood, bamboo, and bleed fabrics are not an option, as they allow too much light (unless they have blackout liners). Usually, blackout curtains and liners are made with polyester or polyester and cotton blends.
Cotton Curtains
Cotton curtains are generally durable and strong, but, because they're so absorbent, they attract mildew, dirt, and dust. They work for blackout curtains but can also be trickier to maintain.
Polyester Curtains (and Blends)
I prefer polyester curtains for blackout curtains. While they cannot easily be ironed or thrown in a dryer, they're durable, budget-friendly, and effective. They also are effective insulators for light, sound, and heat. 
As a note, some worry that polyester is made with toxic chemicals. All polyester curtains are approved for safe use– these chemicals are comparable to other home products. But if you are worried, you can opt for polyester that's labeled as OEKO-TECH certified. This is an independent testing agency that ensures no harmful chemicals are used. 
Shop Blackout OEKO-TECH curtains here. There are also some options sold by Target. 
What other features should I consider when buying blackout curtains?
You'll also need to consider how heavily you'll use your blackout curtains, and wear. Many blackout curtains have to be hand washed but some do allow for machine washing– in fact, Target has an impressive collection of curtains that you can use a machine for. Wrinkle and fade-resistant curtains aren't a must but may be helpful to consider. Fade-resistant curtains may be most worth your investment if you're buying a dark color.
How do you make black-out curtains look good?
Blackout curtains actually do not need to be black or navy blue. In fact, you can buy blackout curtains in a wide variety of colors and patterns, which leaves you a lot of room to style them as you wish. 
Dark colors may indeed be a bit more effective in blocking out light, but the key is to make sure your curtains have an infective inside liner to block out light and noise. If you do opt for a plain blackout curtain, you can still add some style by coordinating with wall colors and adding accents, tables, or potted plants, as well as wall art.
Target Blackout Curtains: My Picks
Now I'll give you my picks for the best Target blackout curtains in 2022. While these are not the finest curtains you can buy, Target actually has a pretty respectable selection, with blackout curtains that are effective, safe, and even stylish. Mostly budget-friendly, you'll find that Target has styles to suit the room of your choice.
I considered the price, materials used, and current trends. I've also focused on features such as energy efficiency, noise reduction, UV protection, and insulation. 
I've sorted them by indoor and outdoor curtains, so you know where and how you can use them. 
Indoor Blackout Curtains 
Indoor blackout curtains can be used in bedrooms, but also wherever you want more privacy. From UV protection to saving money on heating and cooling with added insulation, blackout curtains can make your home more comfortable and private. The great news is that Target has a generous selection of well over 400 indoor blackout curtains, from classic solid prints to sleek and modern to even boho. On top of that, Target carries blackout curtains that won't drain your wallet, but also are highly rated by consumers. 
Celeste Draft Stopper Blackout Curtain Panel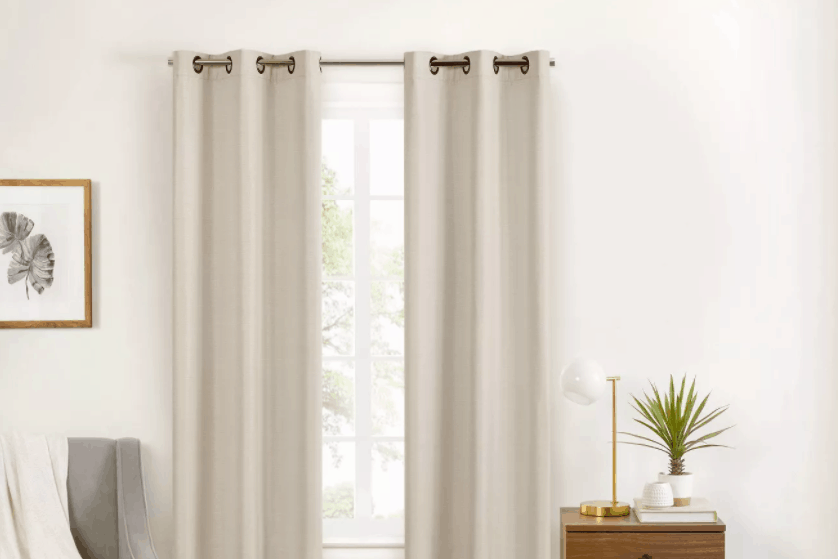 Sold as single panels, these bestselling solid color blackout curtains feature two in one. You'll get the option for both room darkening and blackout, in useful colors (black, navy, gray, and sand). An extra fleece layer is a clever way to add insulation and more noise reduction. Perfect for cool and hot climates and making your home more comfortable; Buy Here.
Voile Overlay Blackout Curtains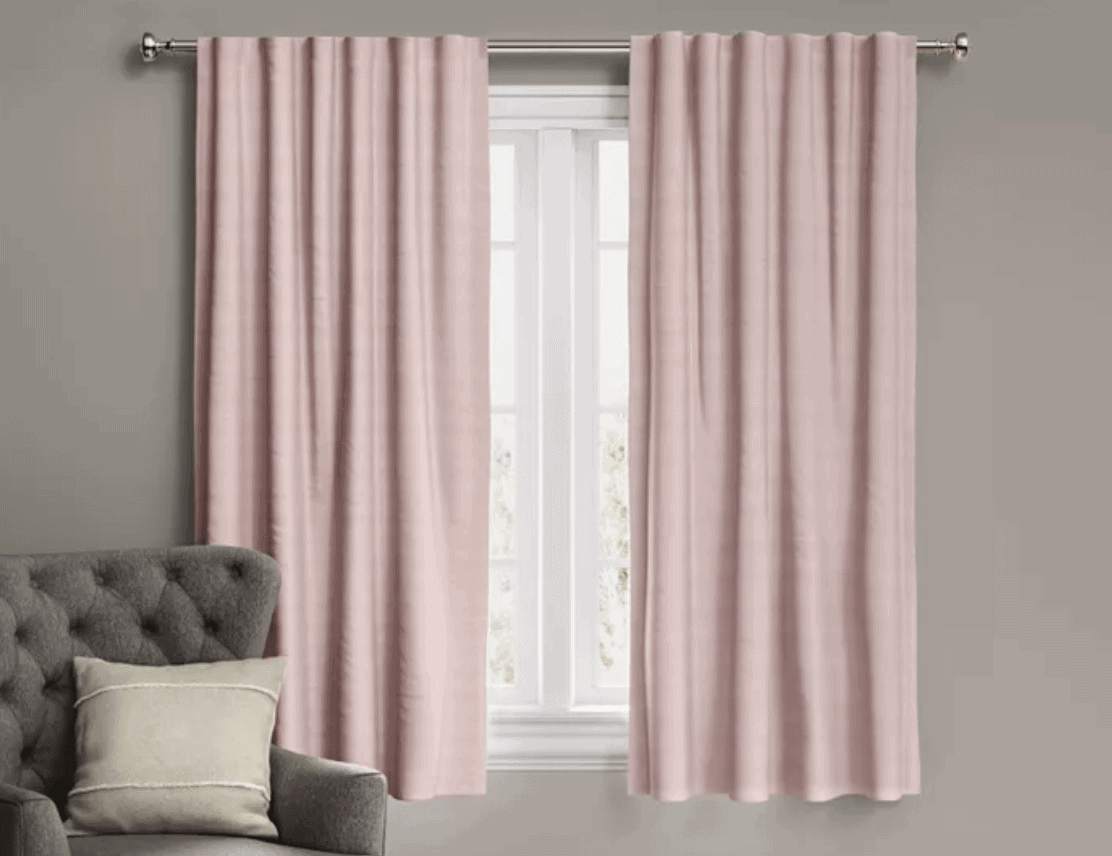 These pleasing blackout curtains provide a lighter, boho chic, or modern look. A half-length or floor-length design and pastel mint, pink and white show that blackout curtains don't have to be bulky or dark. They are machine washable on a gentle cycle and easy to use and install– just a few reasons why they're a Target bestseller. Buy Here. 
Doral Cream Blackout Curtain Panel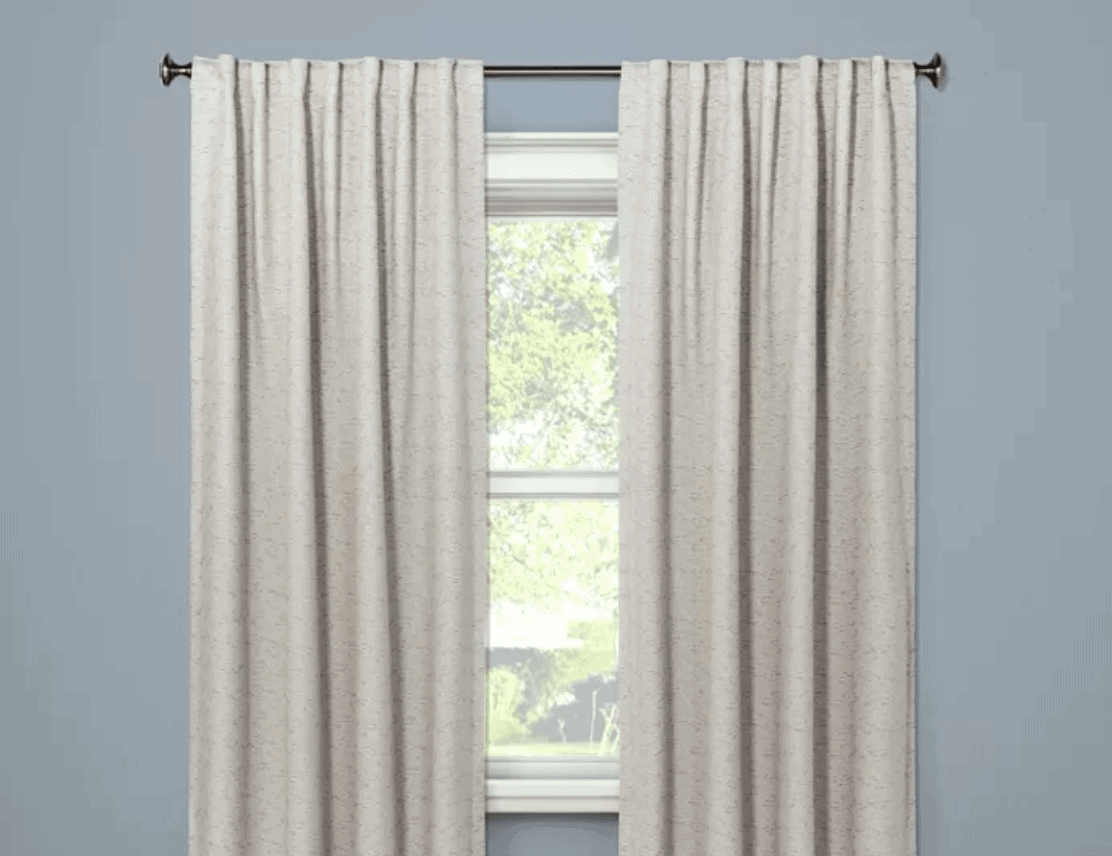 These blackout curtains feature a textured cream design that would look at home for country-chic and boho homes. The understated style features light indigo accents and the rod pocket hanging makes for a modern design. These are simple blackout curtains that mostly focus on blocking out light if you want a no-fuss option for under $30. Buy Here. 
Vanessa Marble Metallic Blackout Curtains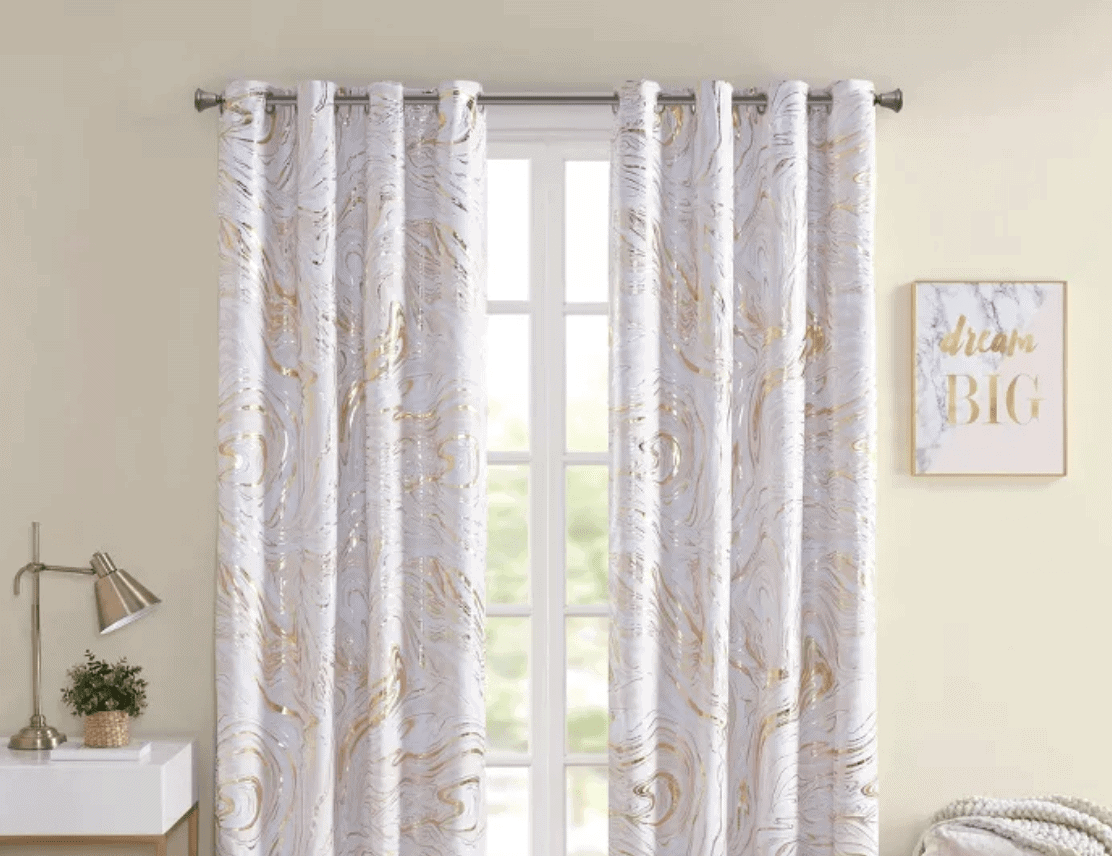 These striking modern blackout curtains are a beautiful option for not only bedrooms but also living rooms that need more privacy. Available in gray/ silver and blush/ white, ultrasoft microfiber fabric uses built-in thermal technology to insulate your home. They're also machine washable. Buy Here. 
Jacqueline Maldonado Synthesis Rasberry Blackout Curtain Panels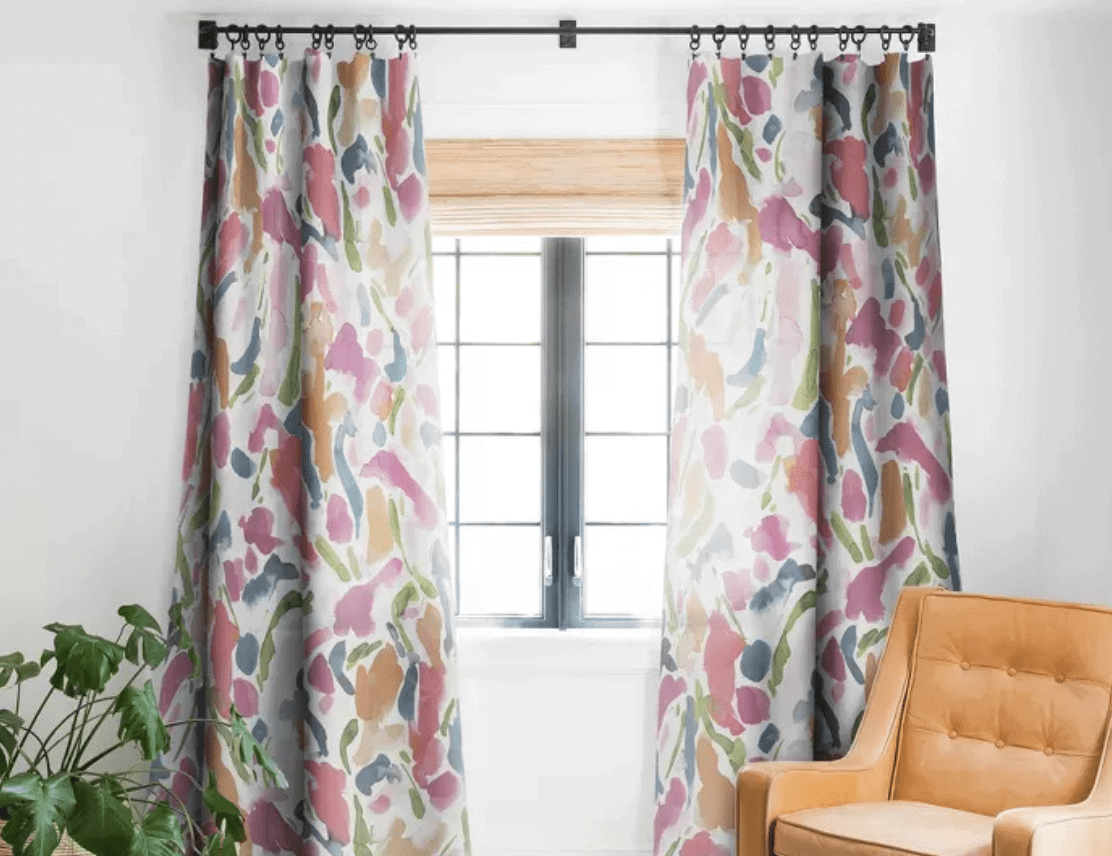 Looking for floral curtains? These contemporary styled blackout curtains are just one of many pleasing options from Jacqueline Maldonardo's Target selections. 100 percent lightweight polyester keeps your home private and is easily hung with a rod pocket design. They may not come with added features, but they're a nice option to consider if you want something that doesn't immediately stand out as a blackout curtain. Buy Here. 
Luxor Blackout Curtain Panels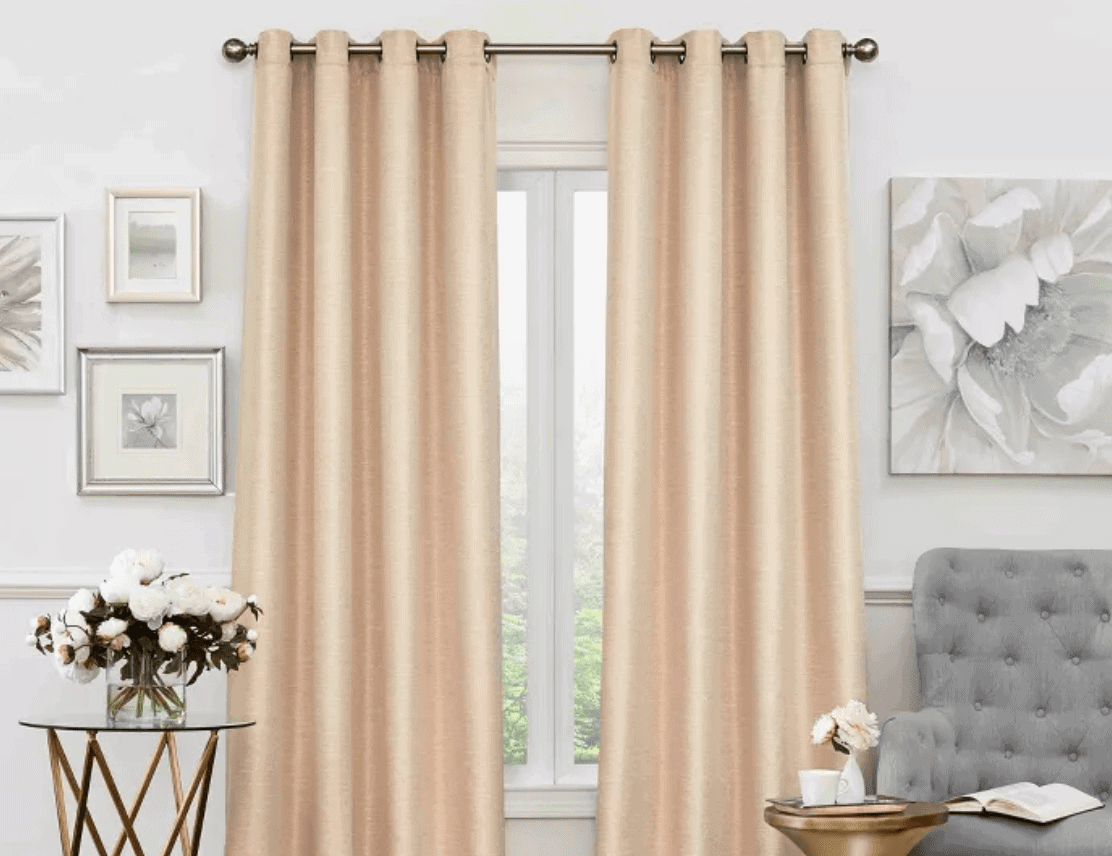 These stately blackout curtains are available in warm champagne or rich silver to add elegance to any room. Easy care allows you to machine wash these curtains or spot clean. With these curtains, you'll not only block out light but also reduce noise and insulate a room. The premium thermal lining is a step up from some other Target curtains. Buy Here. 
Geometric Trellis Thermal Insulated Blackout Curtains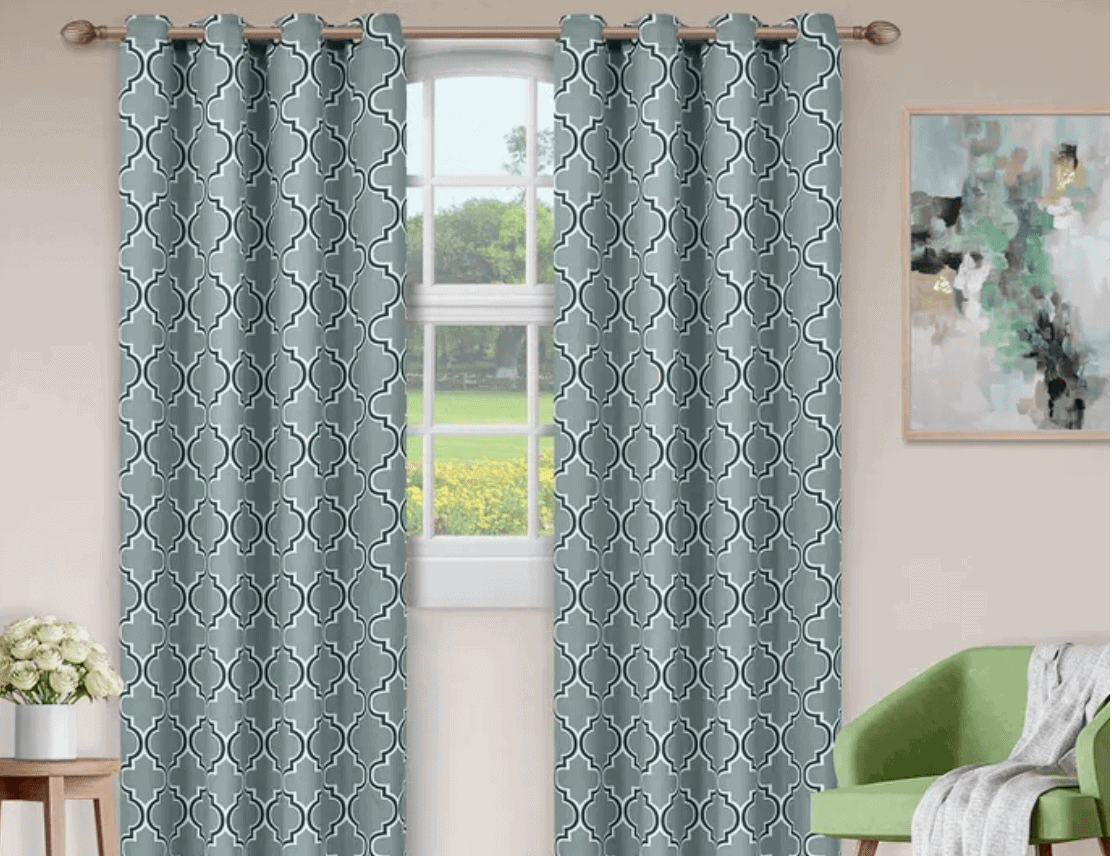 While solid curtains are hard to go wrong with, in 2022 more and more homeowners are showing their personal style with playful patterns. These geometric patterned blackout curtains are available in navy blue, silver, teal, and white. The design is an instant classic, but with a contemporary boho nod. But what I love most about these curtains is how practical they are: not only are they machine washable, but they're also wrinkled and fade-resistant, making them one of my favorite buys for a busy home. Buy Here. 
Outdoor Blackout Curtains
Can blackout curtains be used outdoors? In fact, a few can– but you need to make sure the curtains you buy specifically state they can be used outdoors. Blackout curtains are most commonly used inside, but outdoor curtains can be used for patios and to divide spaces.
A bonus is that many blackout curtains help block harmful UV rays. In addition to porches, many like to use them in front of pools or other areas, saving them the need to erect a privacy fence. Target offers just a few blackout curtains that can be used outside, but these three listed below are solid buys. 
Kenneth Extra Wide Blackout Grommet Door Panel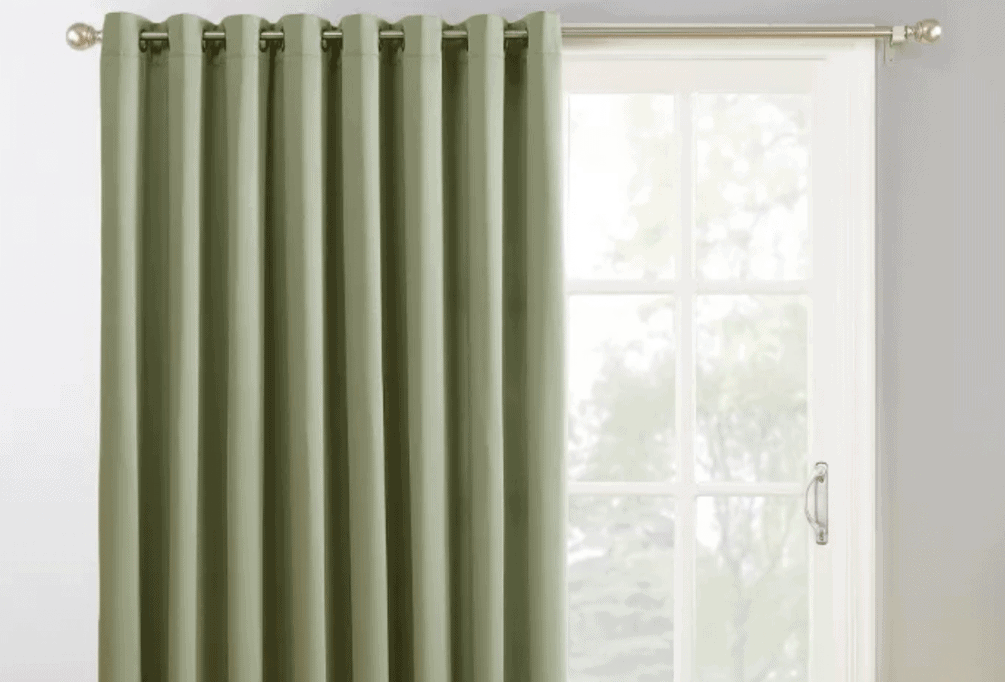 These classic grommet curtain panels are ideal for sliding doors, both in and outside. Equipped with a pull wand, they're easy to use and can improve your energy efficiency by as much as 25 percent. Not only do these blackout curtains provide insulation, but they also provide a noise reduction of up to 25 percent for a quieter space. Available in taupe, barley, gray, green, white, silver-gray, and teal; Buy Here. 
Enzi Herringbone Draft Shield Insulated Blackout Curtain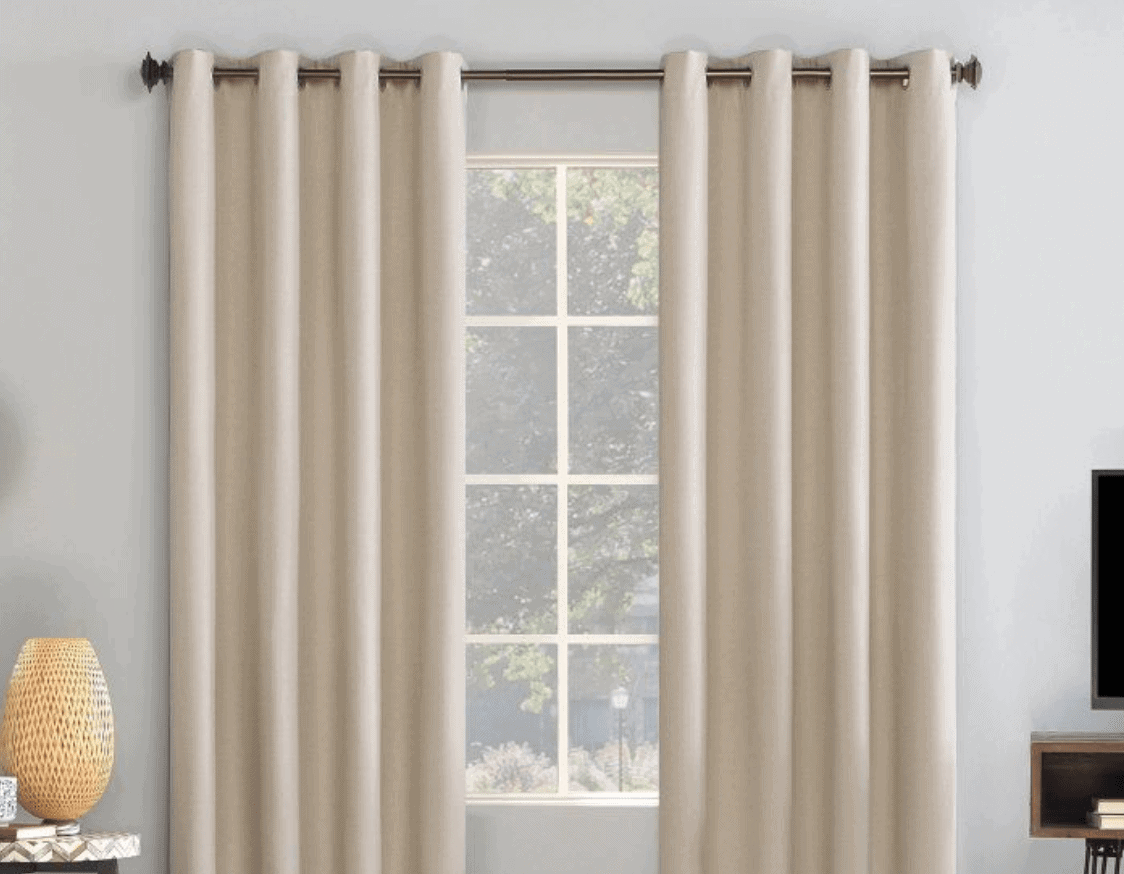 These insulated blackout curtains earned an average of 5 out of 5 stars from customers and feature fabulous features for a great price. These versatile blackout curtains can be used indoors and outdoors, and can even be machine washed on a gentle cycle. Designed to be great insulators and energy-efficient, use these for porches or even over drafty living room windows. Available in beige, blue, gray, and silver; Buy Here. 
Coastal Printed Striped Grommet Top Indoor/ Outdoor Blackout Curtains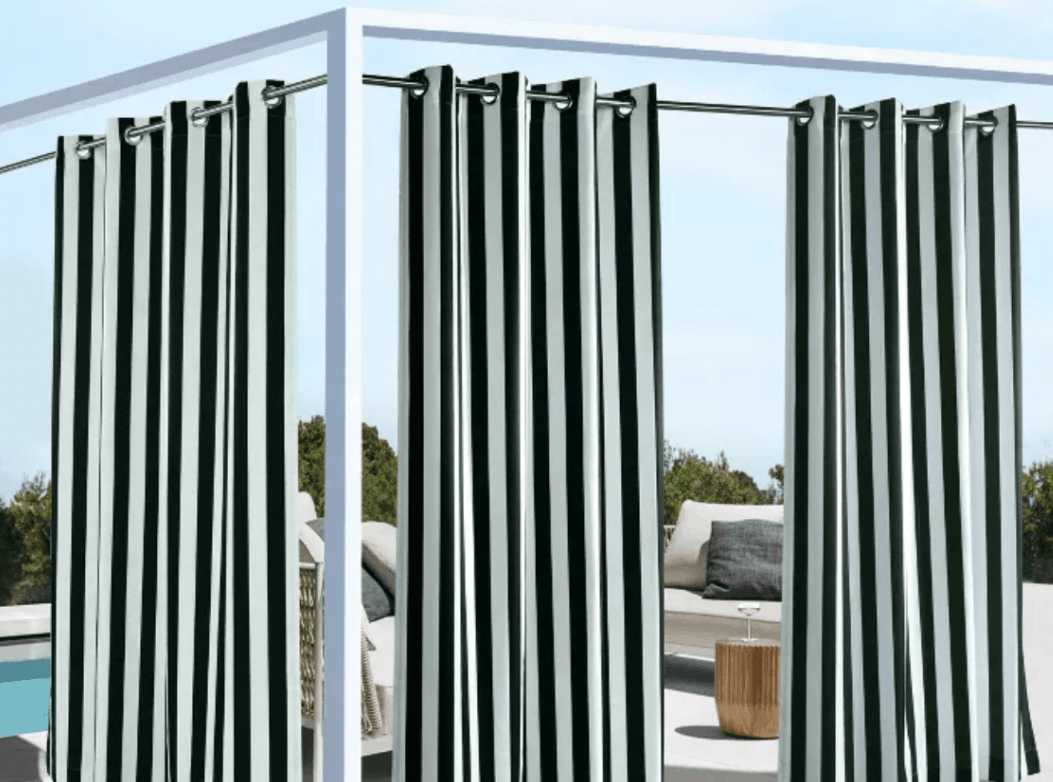 Who says outdoor blackout curtains have to be plain? Breaking away from the expected solid patterns, these classic striped curtains add fun or even a coastal look to outdoor porches and beside pools. Available in black and white, dark gray and white, or taupe and white, these Target blackout curtains are also fade, mildew, and water-resistant. Buy Here. 
Frequently Asked Questions
Question: Can you wash blackout curtains?
Answer: Most blackout curtains need to be hand washed. The multiple layer construction means that a machine can jumble or even ruin blackout curtains– and you should never place them in a dryer. Use a soft cloth and gentle scrub by hand and leave it out to dry. Some blackout curtains can be machine washed on a delicate cycle, but you should only do this if your curtains specify this.
Question: What can I use instead of blackout curtains?
Answer: Of course, if you want additional privacy or protection, there are other options. The most common alternative to blackout curtains is blackout blinds. You can also opt for room darkening curtains or shades if you want privacy but don't want to block out all light. For an outdoor patio, you can use outdoor curtains or blinds, or install a privacy fence. 
Question: How do you choose blackout curtain width?
Answer: Aim for an additional 10 to 25 percent addition to the width of your base if you want to cover the entire window with another drape. Otherwise, you can fit blackout curtains to size.
Final Thoughts
I was fairly impressed with Target's collection of blackout curtains. While they may not be the most luxurious options out there, they're mostly well made, and come in a wide variety of styles. With great consumer reviews, a pleasing selection, and fair prices, they're a good starting point for blackout curtains for your home. Just make sure when you buy any blackout curtains you carefully read instructions for care and proper use to get the longest-lasting curtains possible.