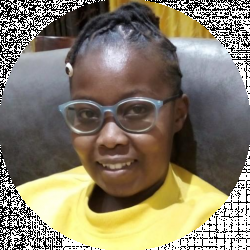 Latest posts by Jeanne Murugami
(see all)
Ever find yourself out on the porch admiring your home's exterior and not being able to enjoy it because of that water-stained curtain or a draft coming through? 
With outdoor waterproof curtains, you can finally be comfortable with no worries. These curtains will keep both rain and wind out so you'll never have to worry about draughts again. Built with durability in mind, these come with high color retention abilities, so you don't have to worry about their colors fading too soon.
In this article, we will go deep to unveil the best outdoor waterproof curtains and ideas together with all that you need to consider before buying one. We've reviewed eight of the best curtains according to budget, efficiency, features, and appearance.
Top Outdoor Waterproof Curtains
We chose these curtains based on affordability, availability, and positive customer reviews.
1. Exclusive Home Outdoor Curtains: Best Overall Outdoor Waterproof Curtains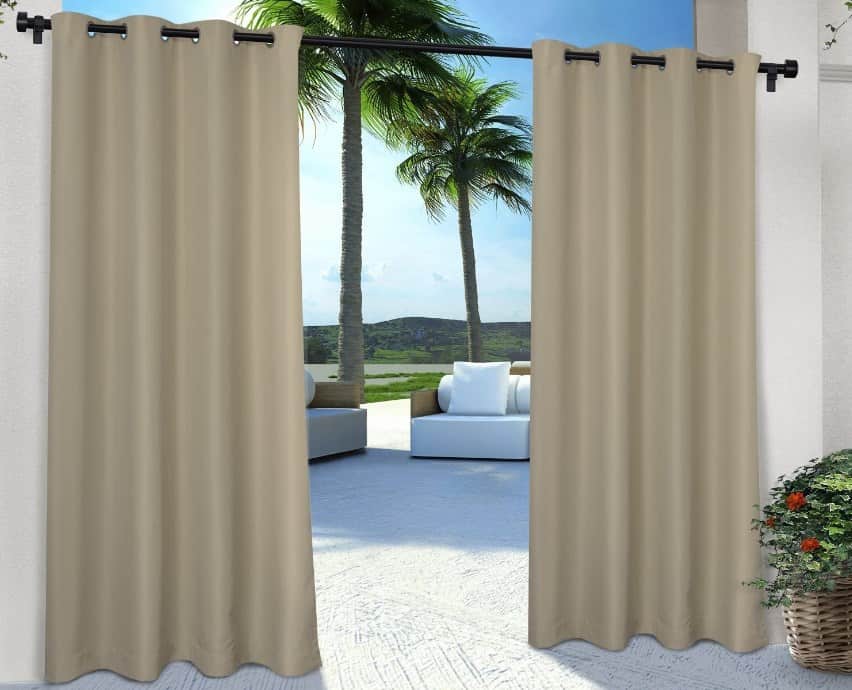 Exclusive Home outdoor curtains are the best overall choice for any patio, screened porch, or cabana. These elegant home panels provide an eye-catching addition to your viewing experience while also providing complete coverage from the sun's rays. With easy care instructions that include spot cleaning and hand washing, these curtains will always look as good as they were on day one with just a little bit of work.
These beautifully designed curtains feature soft cotton linings sandwiched between two layers of stable polyester. This means they are durable yet gentle on your indoor furnishings with rust-free stainless steel grommets that make them easy to hang up anywhere you want.
Pros
Durable to withstand different weather conditions

Offer you the privacy you desire

Protect you from light and heat
Cons
They are very heavy, so you might need stronger rods.
2. NICETOWN Curtains for Patio: Best Budget Outdoor Waterproof Curtains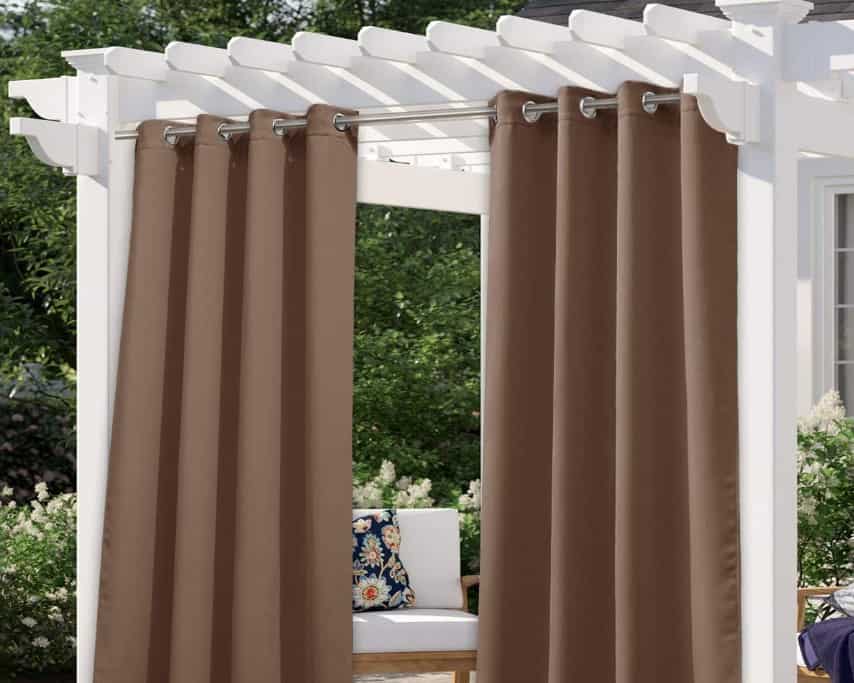 The Nicetown outdoor curtains are designed to be waterproof and durable for all-weather use. The polyester curtains also feature a triple weave technology that blocks sunlight, allowing people to stay cool during summer. 
Quality textured materials will have a tremendous vertical sense, and their panels provide real separation from one another while providing privacy. The silver stainless steel grommets make them luxurious in appearance.
More importantly, these long polyester curtains come in a wide range of colors, so feel free to choose whichever matches the decor theme of your home's outdoor area perfectly.
Pros
Water-resistant.

They are durable and easy to maintain

They protect one from ultra rays, heat and are suitable for privacy.
Cons
Pricey, considering the package has only one panel.
3. RYB HOME Patio Curtains: Best Blackout Outdoor Waterproof Curtains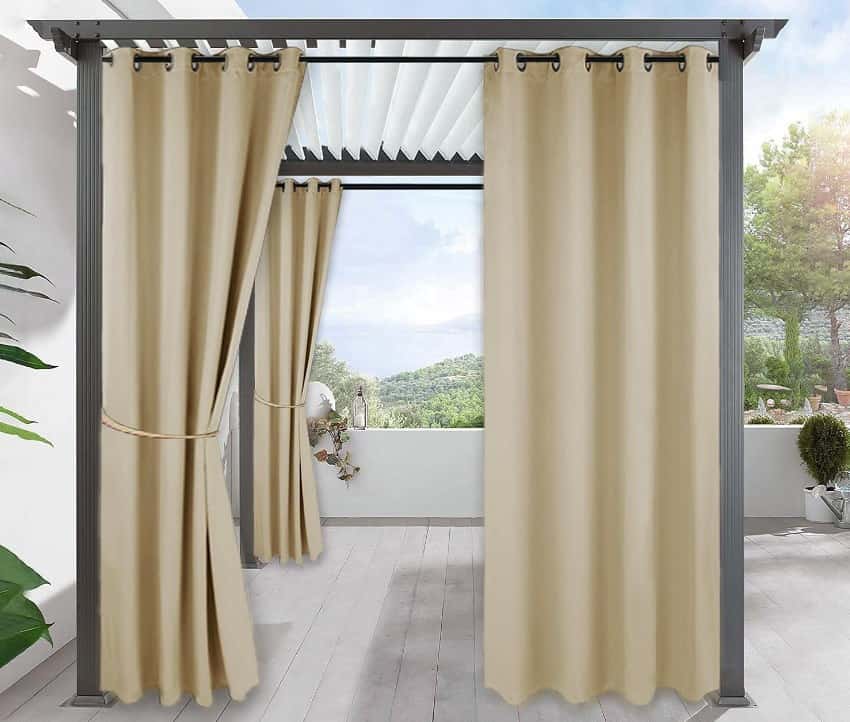 In the past, indoor curtains were used for the outdoors too, but we all know they can't withstand weather, but not anymore. RYB Home just released thick, durable, and blackout outdoor curtains that directly block out 95% of sunlight for your ultimate comfort while chilling and relaxing in your outside area.
Made from high-quality material plus carefully treated with a special tech-mesh and thermal insulation, these curtains automatically balance summer heat and cold winter extremes. This is to keep you cozy all year round. They offer a stylish way to bring an elegant atmosphere back into your home entertainment area.
Pros
They offer excellent sun blockage

Easy to wash and clean

Easy to hung and install

Offer you a wide range of colors to choose from
Cons
Might wear and tear soon if they are not well maintained.
4. Sun Zero Valencia Cabana Stripe Outdoor UV Protectant Energy Efficient Grommet Curtain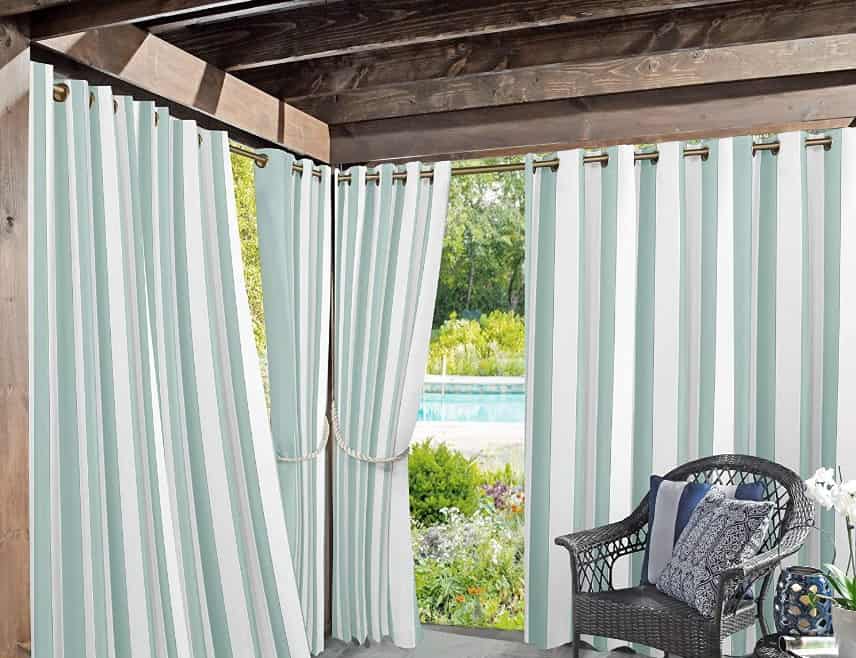 Sun Zero Valencia Cabana Stripe Outdoor Curtains are perfect for outdoor living spaces such as pergolas and gazebos. These lightweight curtains block harmful UV rays, are water-resistant and stain-resistant to withstand the elements of any climate.  
Despite this, they are still light enough not to detract from your space or block out natural sunlight with their beautiful design that adds an ambiance that will make any space more coastal.
With rust-proof grommets up to 1.5 inches in diameter, these curtains can also be used indoors so you can enjoy their beauty year-round without worrying about mismatching different types and patterns.
Pros
They work well to block harmful UV rays

Perfect fabric for privacy

Made from good material to enhance durability

Unlike other brands, they come lightweight
Cons
While they are rust and water-resistant, they are not mildew-resistant. If not well maintained, you'll find some mildew on them.
5. LORDTEX Moroccan Print Curtains: Best Patterned Outdoor Waterproof Curtains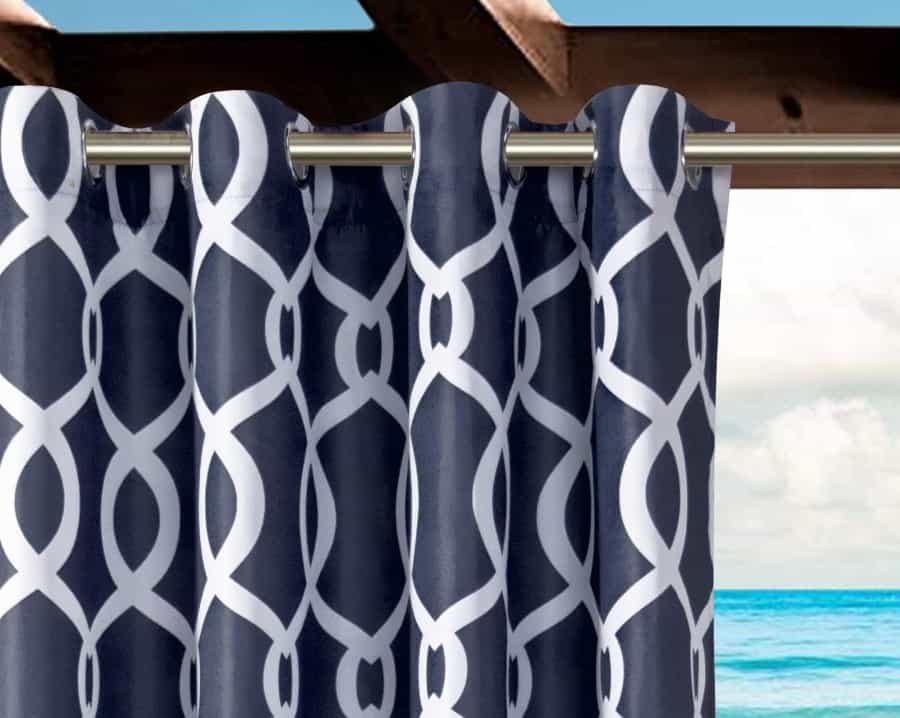 Are you looking for an elegant way to stay dry when it rains or resists the bright sun? The LORDTEX Moroccan Print Outdoor Curtains are perfect for covering any outdoor patio, porch, pool, and pergola. 
They're made of 100% waterproof polyester fabric with a fade-resistant print that gives your space a more modern feel.
Best of all, these curtains come at affordable prices and have easy installation, so they can be used in almost any setting imaginable. With eight metal non-rust grommets at 1.6 inches in diameter on each one, it's simple to hang them up as well as remove them quickly off your rails.
Pros
They have easy maintenance and installation

They are stain-resistant

They are very durable; made out of polyester
Cons
There are a few complaints about these curtains fading after prolonged use.
6. BONZER Curtains: Softest Waterproof Outdoor Curtains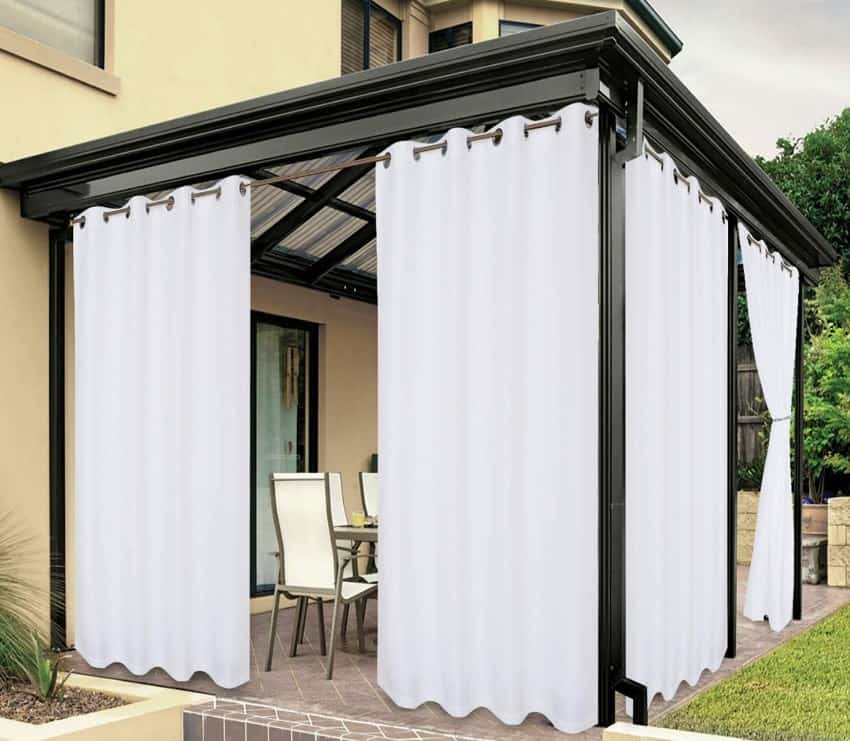 The BONZER Curtains are the perfect choice for those that need a little peace and privacy during their day. These curtains keep light out so you can use your space privately, no matter what time of day.
In addition to giving you some peace in an area often overrun with activity, the durable construction provides extra protection from the sun's hot UV rays or rain or snow that could wash away details on walls. Whether you are looking for luxurious softness or thick opaque material – Bonzer curtains got you covered.
Pros
The fabric is waterproof, and stain resistant

The curtains are fade-resistant 

Wide range of colors to choose from
Cons
The panels are small, and you may need a couple of them.
7. HOMEIDEAS 2 Panels Curtains: Best Multifunctional Outdoor Curtains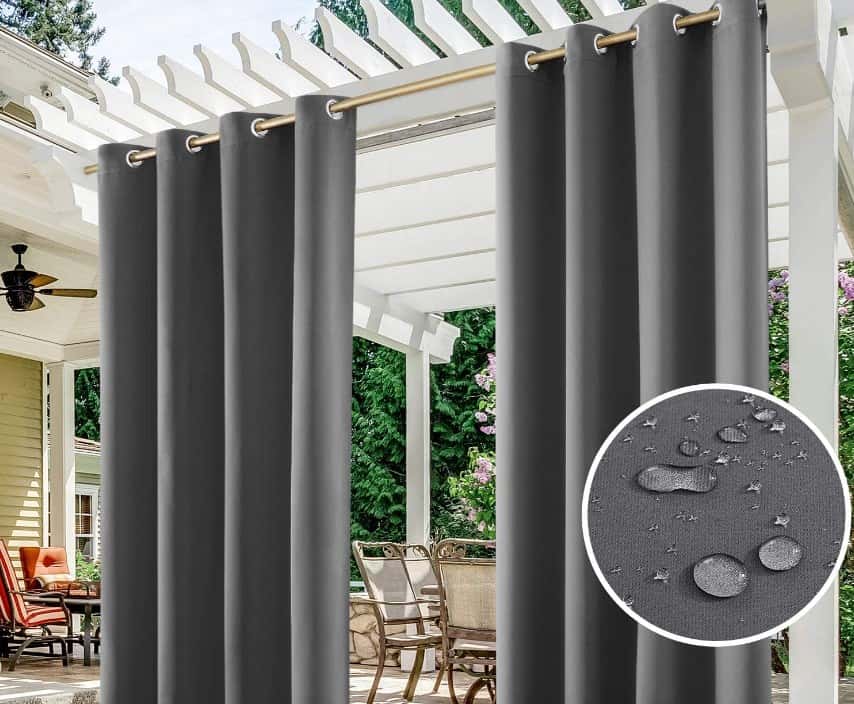 These HOMEIDEAS Curtains are made from polyester, which is durable and lightweight for easy installation on your patio or porch windows. 
With alternating patterns between panels in eye-catching color combinations, these curtains offer privacy while still allowing natural light into spaces as well as providing insulation all year long. 
Elegant without being overbearing, HomeIdeas' outdoor curtain collection proves that good design can be functional too. When used with heating devices, they add warmth during winter and help cool off homes by blocking out heat waves using lighter materials during summertime.
Pros
They don't  fade easily

They are stain-resistant

They are durable and elegant

They are various sizes and colors to choose from
Cons
Some users complained that the package comes with only one panel, contrary to the description.
8. Elrene Home Fashions: Best Premium Outdoor Curtains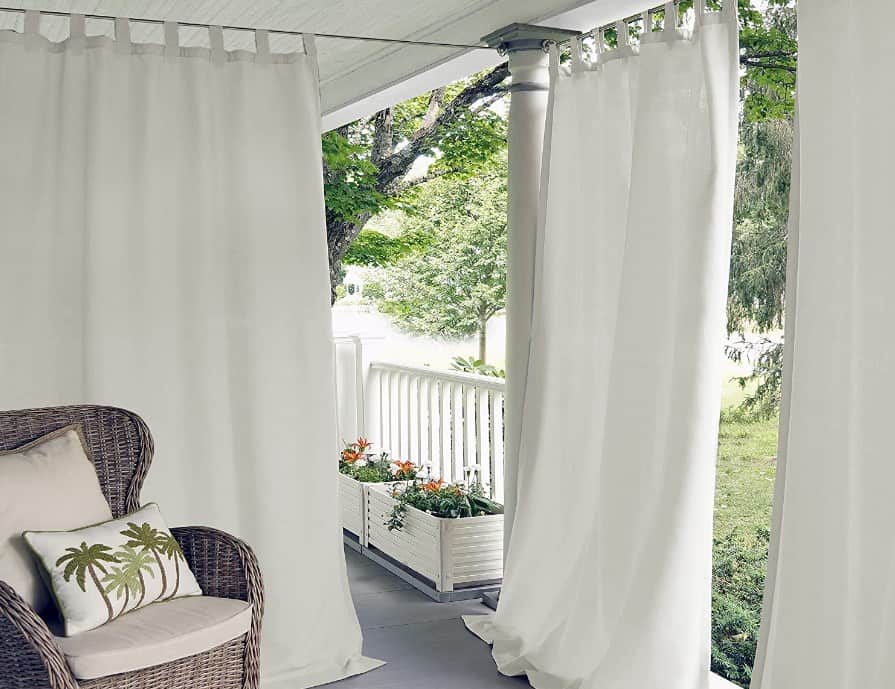 With Elrene Home Fashions, outdoor living just became 100x better. Erlene Outdoor Curtains particularly come in handy for those transitional seasons of spring and fall when sometimes the afternoon sun is out, and sometimes it's not. 
Use these water-resistant, fade-resistant beauties as a finishing touch on your deck or balcony while you sip on lemonade with friends. You can also use them indoors in an area where windows need to be shaded with something more than sheer curtains — after all, they have UV protection too. 
They can easily be cleaned using a washing machine or hand.
Pros
They are versatile; can be used indoors and outdoors

They easily match with other decors 

Have a durable and excellent quality

They offer maximum privacy
Cons
Pricey considering the package only comes with one panel
Factors To Consider When Purchasing Outdoor Waterproof Curtains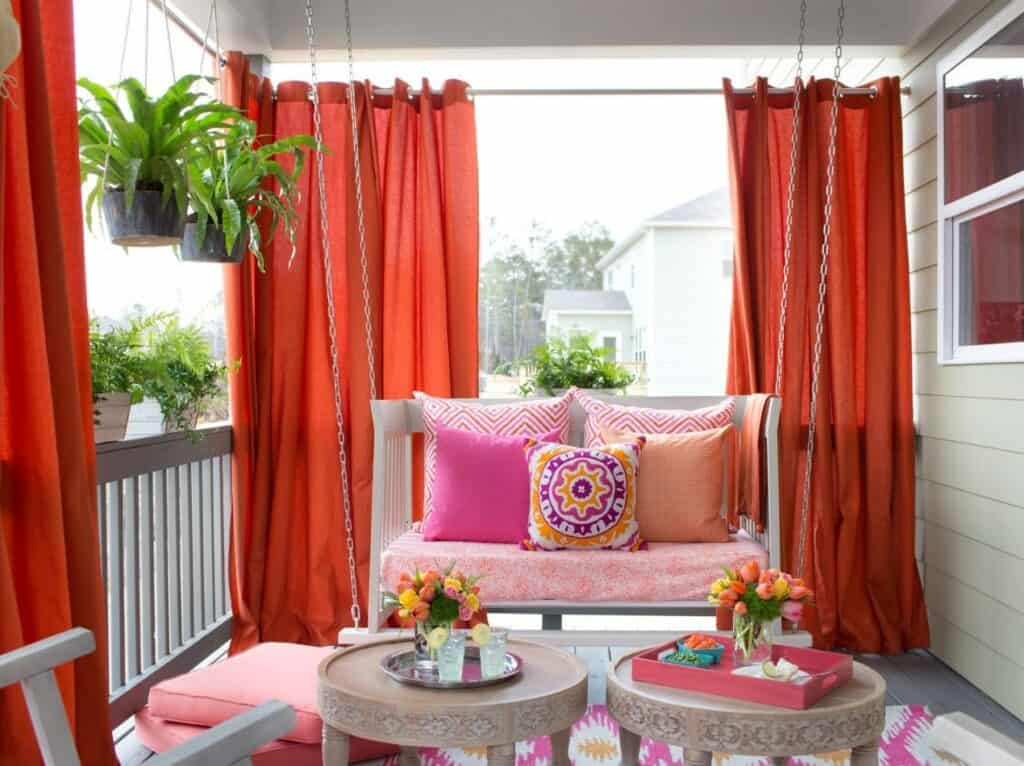 When purchasing your outdoor curtains for your area, here are some considerations you need to put at hand.
Type of Fabric
You want the right fabric for your needs, one that blocks light and heat in summer or warms up during the winter months. There's Cotton which is perfect if you have some natural light coming through. Sunbrella has been specially designed to keep it looking good even after years outdoors, while Olefin will provide durability on all fronts without compromising style.
There are other varieties to choose from, such as polyester, acrylic, velvet, etc. Depending on how your outdoor area looks, you sure won't miss one that makes your home look beautiful. Heat regulation will be no problem, and saving on energy too would have been solved.
Maintenance
When it comes to choosing outdoor waterproof curtains, there are a few factors that you should consider. One is the maintenance of these items: do you have all the necessary housework tools at home, or will this be an added expense? If not, then low-budget options may suffice for your purposes and desires.
The Ease and Methods of Installation
Consider the ease and methods of installation when purchasing outdoor waterproof curtains. Some are more cumbersome than others to set up, while others can be installed with a simple zip-tie or Velcro strap that attaches to one side of your window frame. There's no need for anything permanent if you don't like it.
Experimentation is key here, and the best way will vary depending on how you want your curtain hung and what kinds of tools you have available at home already.
Are you Guaranteed Privacy?
Outdoor waterproof curtains are a necessary accessory for any patio or backyard. Patios provide the perfect opportunity to get away from your everyday life. However, privacy is still important when you want to relax with friends and family without being interrupted by the prying eyes of strangers or neighbors alike. 
Curtains can be one part of this solution if they offer complete sound insulation and block out the light that could reveal what's going on in private spaces like patios at night time – heavy fabrics work best for these purposes.
Colour of The Curtain
Do you want to find outdoor waterproof curtains that will match your home's décor? Well, there are many things you should consider before purchasing them. First of all, what color do you prefer the most? There is a wide variety of colors in stores and choices for those who would like more than one hue. 
Another important consideration is how much sunlight enters through your patio door or windows during daytime hours. If it's too much, choose shades that block these rays by going with darker hues.
Frequently Asked Questions
Question: Is it Okay for an Outdoor Waterproof Curtain to Touch the Ground?
Answer: Is touching the ground okay? It really depends! Dry dirt is fine but wet mud could ruin your window treatment, not to mention looking awful they'll look or smell while damp. But it also depends on how much maintenance you are willing to do. Long curtains look elegant, but is it worth all the cleaning?
Question: Which Fabrics Should One Avoid When Purchasing Outdoor Curtains
Answer: Heavy fabrics such as cotton and canvas should be highly avoided since they come with few setbacks. Mould is common in cotton, and canvas picks mildew very fast. Another problem with these two is that they don't dry quickly due to their poor absorption properties (no one wants mold or wet curtains). 
Another essential point to note when it comes to outdoor curtains is the material. Some people want to use indoor fabrics for their patios but are disappointed because they cannot withstand outdoor conditions. 
Question: Can You Use Outdoor Curtains as Indoor Curtains?
Answer: Can you use outdoor curtains indoors? Absolutely! Outdoor curtain sets offer a wide variety of colors, prints, and patterns, so it's nearly impossible not to find one that will match your current decor perfectly.
If you're looking for something more formal but still want some natural light in from the outside, look at indoor/outdoor fabrics which have UV protection so they won't fade over time when exposed to sunlight all day long.
However, just because these curtains can be used indoors doesn't mean that they're appropriate for every occasion.
Conclusion
Outdoor curtains are a great way to enjoy your outdoor space in style and comfort. Whether you're looking for privacy, blocking light, or just want some shade on those hot summer days, these products will do the job.
 If you need help finding the right one for you, we recommend the Exclusive Home Outdoor Curtains. Whether you're looking for easy-care fabric or something that blocks out light and noise entirely, these outdoor curtains have got what you need.