Latest posts by Erin Jamieson
(see all)
In 2021, curtains are no longer just window covering, but an inspiration to transform rooms with your personal style. And ombre curtains may be one of the most playful and creative ideas to transform a space.
One of the most popular uses for ombre curtains has been dorm rooms, and that remains true in 2021. As someone who penny-pinched me as an undergraduate and graduate student, I know how important it is to stretch a dollar– but also how meaningful it can be to add personal touches to a dorm room.
Alongside accent rugs and bold wall decor are popular choices, but statement curtains, including ombre curtains, are among the top dorm decor ideas under $100 for 2021. 
But the ombre curtain trend has also inspired ideas for homes, too. Shabby-chic bathrooms, Instagram designs, and modern or boho homes are all adding ombre curtains. From blush pink and white to saturated jewel tones, boho curtains are making a splash.
But is the ombre curtain trend right for you? In this guide, I'll tell you what you need to know about ombre curtains, how to find the best styles for you and my ideas for 2021.
What does ombre mean?
Chances are you're familiar with the term ombre, but it is applied for different things, and it's easy to get confused with other related styles. Ombre is actually derived from a Spanish term, but in English, it's usually associated with either a hairstyle or a fashion style. In both cases, the general meaning is blending one hue to another hue. Often, the ombre moves from a lighter to a deeper shade. 
What is ombre in interior design?
Ombre refers to the same principle in interior design. Generally, the term suggests a shift from different hues. You'll see ombres for not only curtains, but even accent walls, modern paintings, and more. Ombre is described as playful and expressive and is often associated with both creativity and freedom. 
Is ombre still in style in 2021?
Ombre is very much still in style in 2021. That's true for everything from hair to home decor. If anything, the ombre is a natural fit for the trends of 2021. 2020 saw a surge in trends leaning towards more expressive styles, alongside investment in home decor. Ombre curtains are an unexpected addition to a room, but they're also a little more versatile than you might think.
Ombre comes in about any hues you can think of, from bold hues to dusky pastels and modern jewel tones, or even neutral shades. Along with that, ombre curtains can suit modern, boho-chic, and artistic rooms. 
What's the difference between ombre and gradient?
Ombre and gradient curtains are often grouped together and for good reason. Gradient curtains typically involve going from one color to another color, while ombre curtains always involve going from one shade to another shade of the same general color. Both are in style, and sometimes the terms are used interchangeably by consumers. 
What is color block design?
Outside of the ombre trend but closely related is color blocking. Color blocking has a retro appeal, but can actually look modern in the right settings. Color blocking involves blocks or sections of usually several colors. The difference between color blocking and gradients is that color blocking usually has distinct sections, while gradient slowly fades into the next color. Ombre and gradients are a softer look. 
Which type of ombre curtains are best?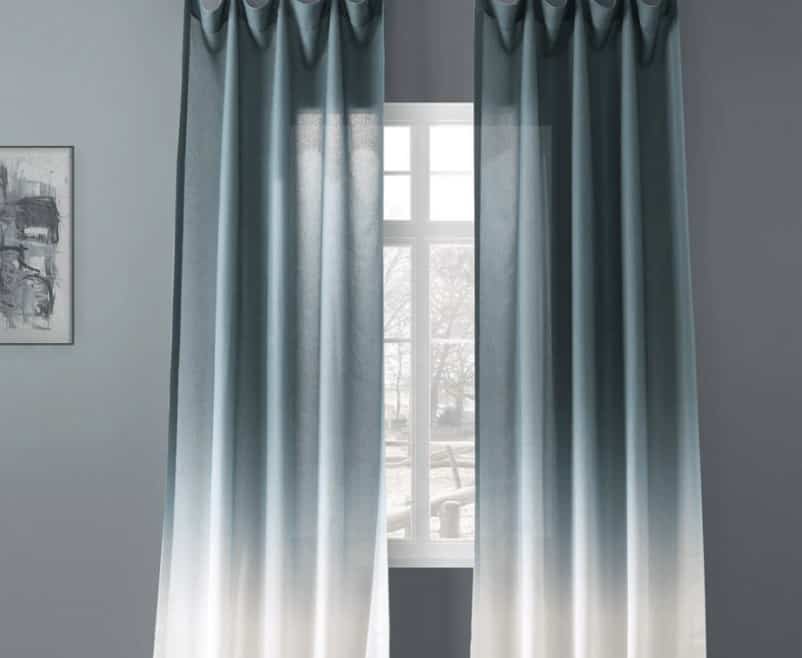 Selecting ombre curtains depends not only on style but how you'll use them. You'll at least want to consider how to match the room of your choice, the amount of light filtration, and the next fabric for you. 
How do you pick ombre curtains to match a room?
One mistake many people make is trying too hard to match a room. In 2021, there's nothing wrong with trying to complement a room but you should feel free not to perfectly match what you have. If anything, you want to think about what will make for the best statement. Typically, you'll want to select curtains that are within a shade lighter or darker than your walls. Ombre curtains of course can make this a little tricky, and the hues change from top to bottom. But if both are within a shade or two from the wall, you should be satisfied with your choice. 
You'll also want to consider other factors, such as decor and other furnishings in the room. Statement pieces can help tie your look together. For instance, you might tie in an unexpected hue with a painting with the same color. 
What is the most luxurious fabric for curtains?
Linen and true velvet are considered to be among the most luxurious fabrics for curtains. That said, they aren't always the best option. The issue is they can be expensive, and you'll have less selection. There are some linen ombre curtains, but far fewer. Linen or line blended with rayon is known to be durable and it's as heavy as velvet.
If you're looking for cheaper curtains and curtains for dorm rooms or casual rooms, both polyester and cotton blends are reasonable. Cotton curtains are lightweight, have a clean look, and are easy to care for. 
For bathrooms and blackout curtains, polyester is preferred due to its resistance to moisture and mildew. If you're concerned about polyester safety, some people prefer Oexch-Tech certified blends. 
All told, most ombre curtains will be cotton or polyester blends, and for the average consumer, this may make more sense than the most luxurious materials possible. 
Best Ombre Curtains: My Picks
Now I'll give you some of my favorite ideas for ombre curtains. I chose these based on style, affordability, and positive customer reviews. I've included blackout curtains, room darkening curtains, light-filtering, and sheer curtains so you have options for every room. These are some styles that really stood out to me as either versatile or distinct. All are made with fabric that's easy to care for, and offered at fair prices from reputable brands. 
Ombre Blackout Curtains
Blackout curtains block out 100 percent or nearly 100 percent of incoming light. They also reduce noise, insulate drafty windows, and may make it easier to fall asleep at night. Usually, people think about blackout curtains as bully and dark, but they don't have to be, as these ombre curtains prove. If you are opting for a light color, just make sure there's an internal blackout lining. 
Porch & Den Millbrook Ombre Blackout Curtains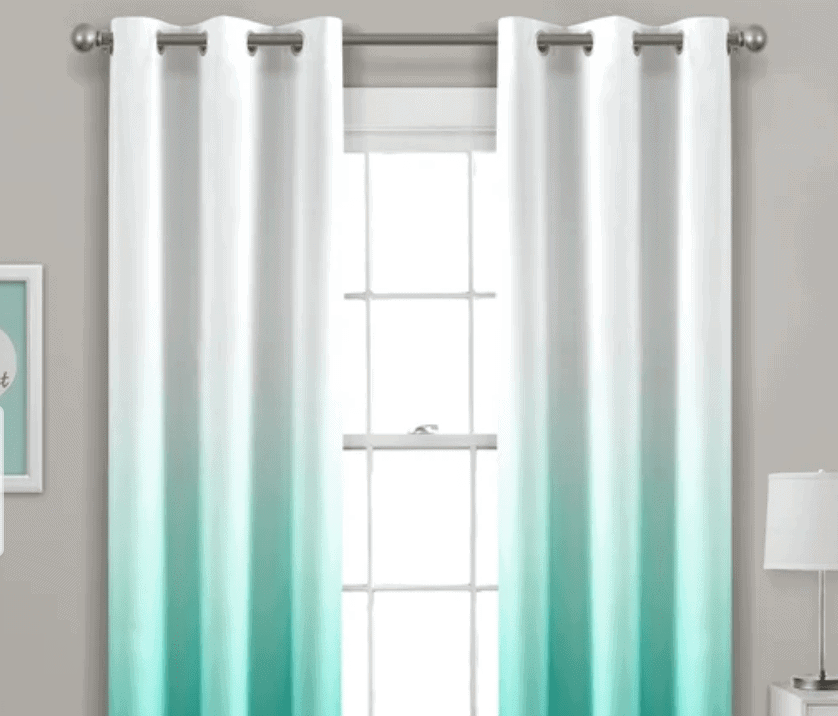 These bestselling ombre blackout curtains come in pastel hues: aqua, blush, and lavender. Contemporary, playful, and useful for kids' and teens' bedrooms or even a boho room, these polyester curtains are machine washable. 100 percent black-out lining provides the ultimate privacy and protection from outside light for better sleep. These curtains also reduce noise and are energy efficient. Buy Here. 
Project 62 Blackout Gray Ombre Curtains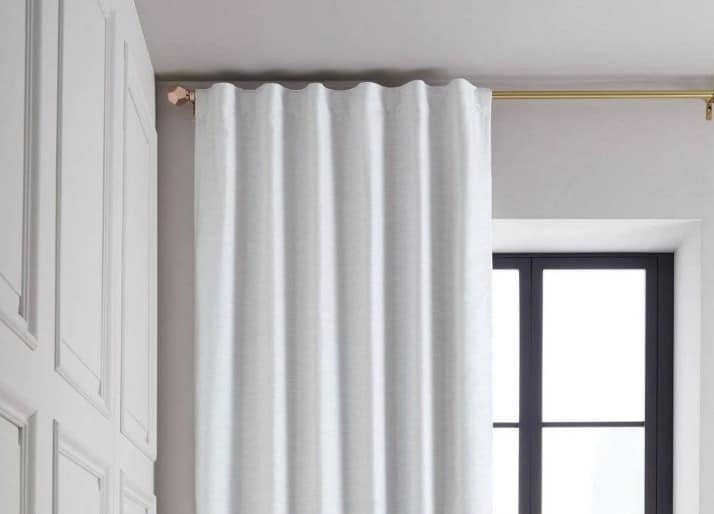 These crowd-pleasing ombre curtains prove you don't have to go bright. Leaning more towards a color blocking style, I still wanted to include these for several reasons. They're 100 polyester, durable, and block out all light for privacy. They can easily be styled for modern, contemporary, and casual to formal rooms. Gray and white are both pleasing colors, and a large majority of consumers awarded these curtains 5 out of 5 stars. Buy Here. 
Thermal Insulated Ombre Living Room Curtains
A more formal take on ombre, these curtains are suited for living rooms and even formal dining rooms. They're 100 percent polyester, durable, and block out sunlight and UV rays. Added insulated makes for energy savings and the pattern features elegant stitchwork. While I usually don't purchase away from typical home-good sellers, this seller has great ratings and a history of over 800 sales. Buy Here. 
Modern 3D Ombre Window Blackout Curtains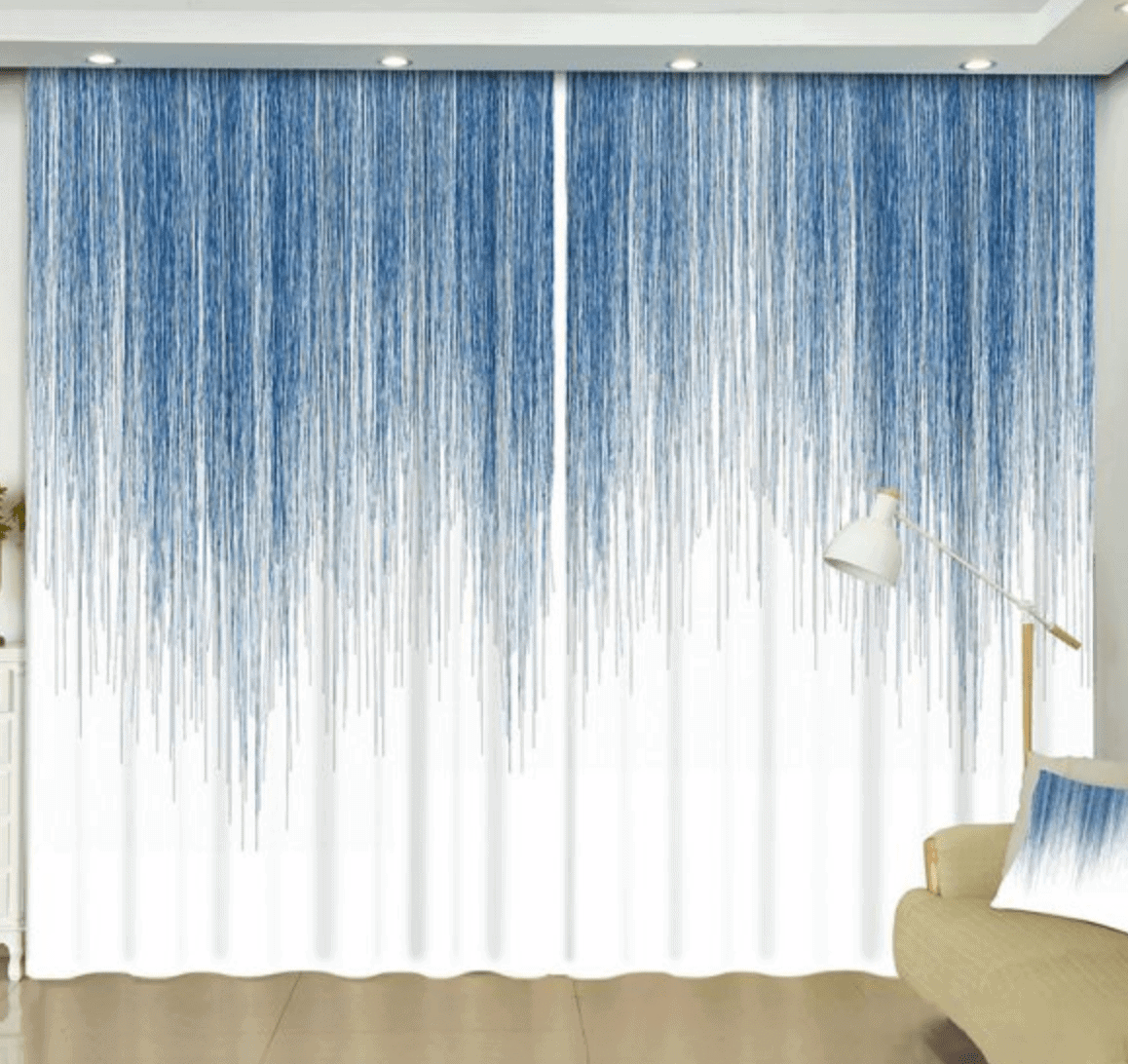 These delight ombre curtains are artistic and eye-catching, with undeniable flair. A blue and white 3D print is set on a rod pocket style, with energy-efficient blackout lining. Lighter and more playful than most blackout curtains, they're 100 percent polyester and can be machine washed. Buy Here. 
Ombre Room Darkening Curtains
Room darkening curtains are popular for almost any room. Unlike blackout curtains, they don't shut out all light, but most light. They're popular for media rooms and excellent at reducing glare. These ombre room darkening curtains can be used for living rooms, home offices, and bedrooms. 
Monte Ombre Room Darkening Curtains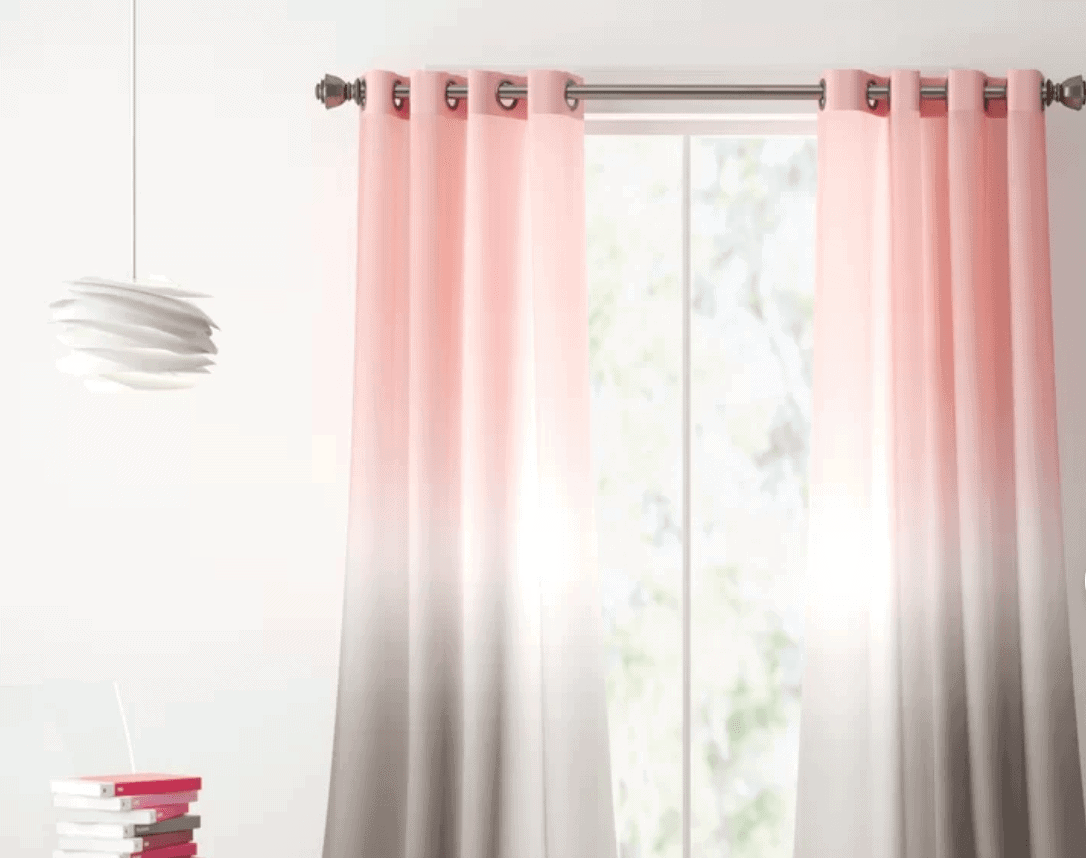 On sale for 39 percent off, these are some of my favorite ombre curtains. The room darkening curtains feature noise reduction, energy-efficient polyester with insulation, and will keep your rooms comfortable and private. The blush, aqua, and yellow patterns may not be quite as versatile, but they're a modern pop of color and could be styled with decorative accents in bedrooms and living rooms. Buy Here. 
BesHome Design Ombre Room Darkening Curtains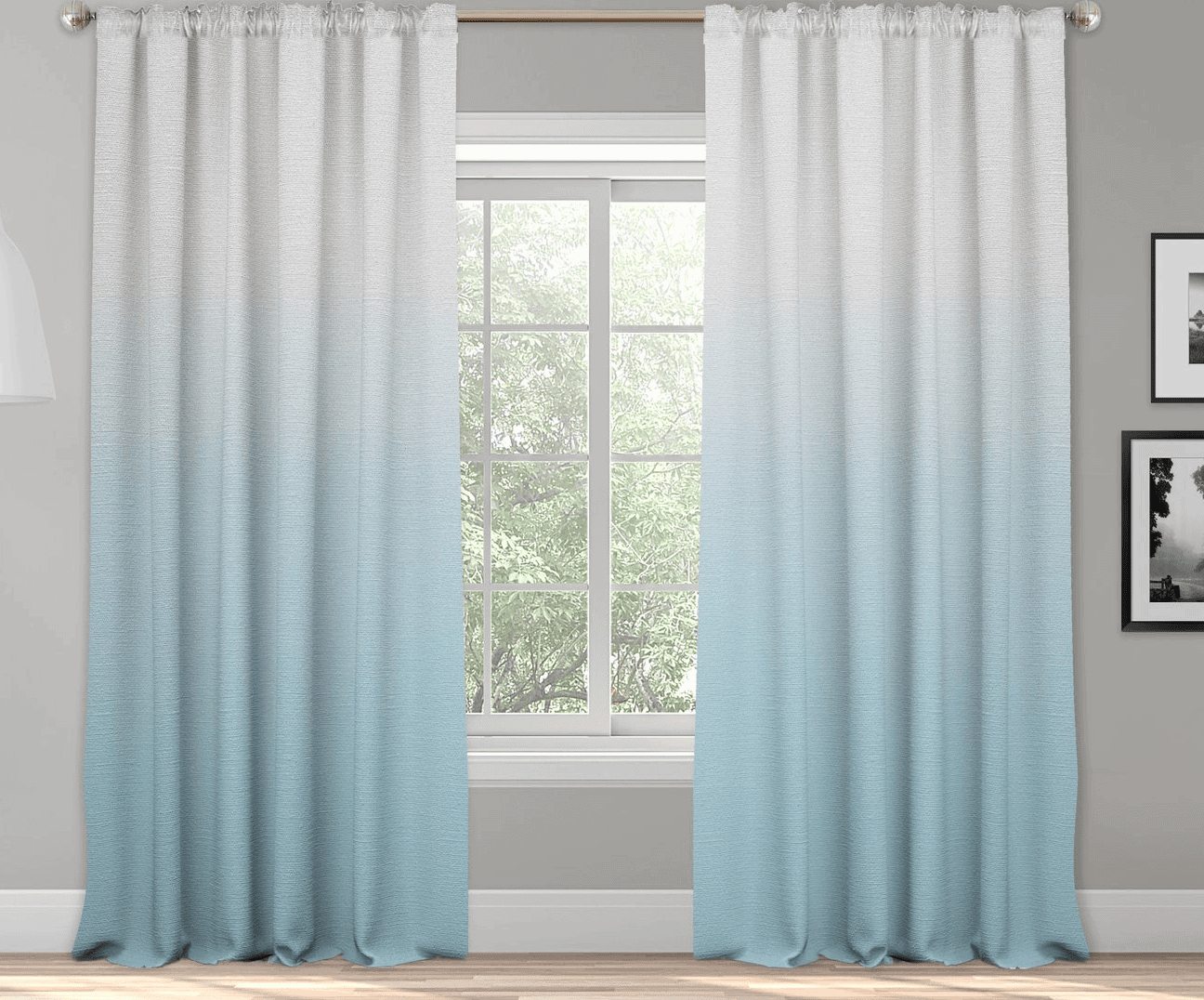 Another one of my favorite ombre curtains? These customized, handmade curtains from a well-loved Etsy shop. These curtains are made using 3D printing and are available in about any color you can imagine, from baby blue to coral to deep shades like navy and dark green. They also sell sheer tulle curtains with the same pattern. These 100 percent polyester curtains feature energy-efficient insulation, privacy, but you can even request a different fabric. Buy Here. 
3D Ombre Room Darkening Curtains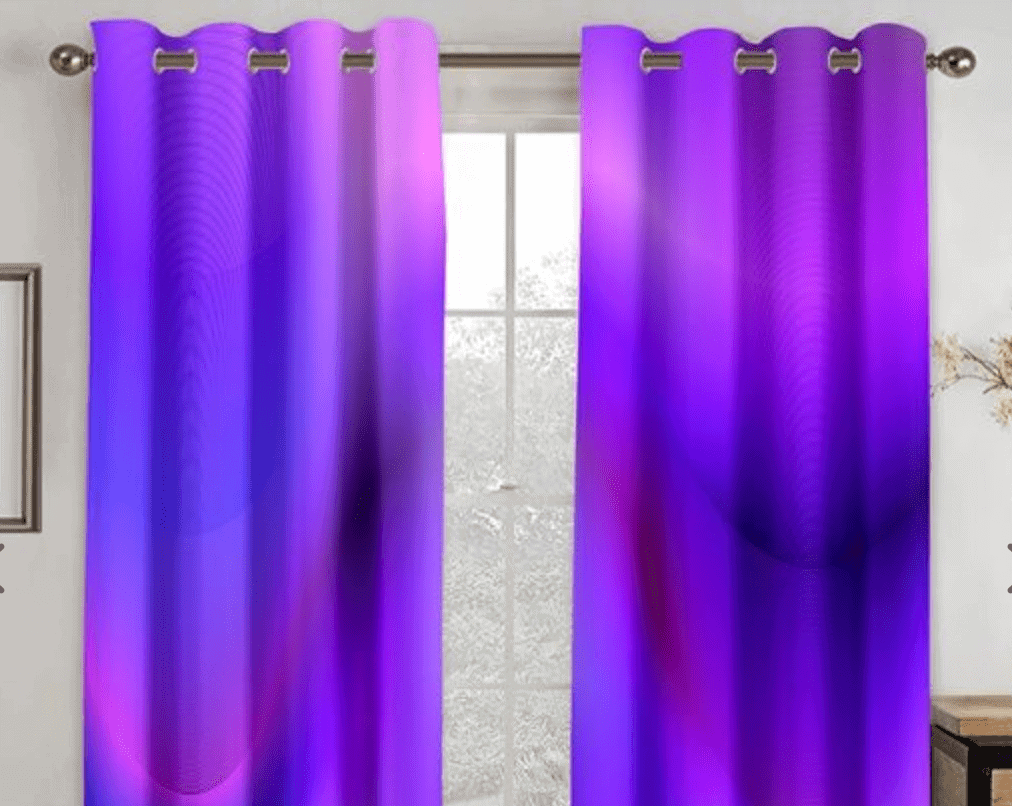 A similar 3D printing technology is used to make this bolder ombre room darkening curtains. These curtains are unapologetically boho-hippie, with a dazzling array of purple hues. The polyester curtains are machine washable and block out 80 percent of light. They can also be used for sliding patio doors. Buy Here. 
Nuss Ombre Room Darkening Curtains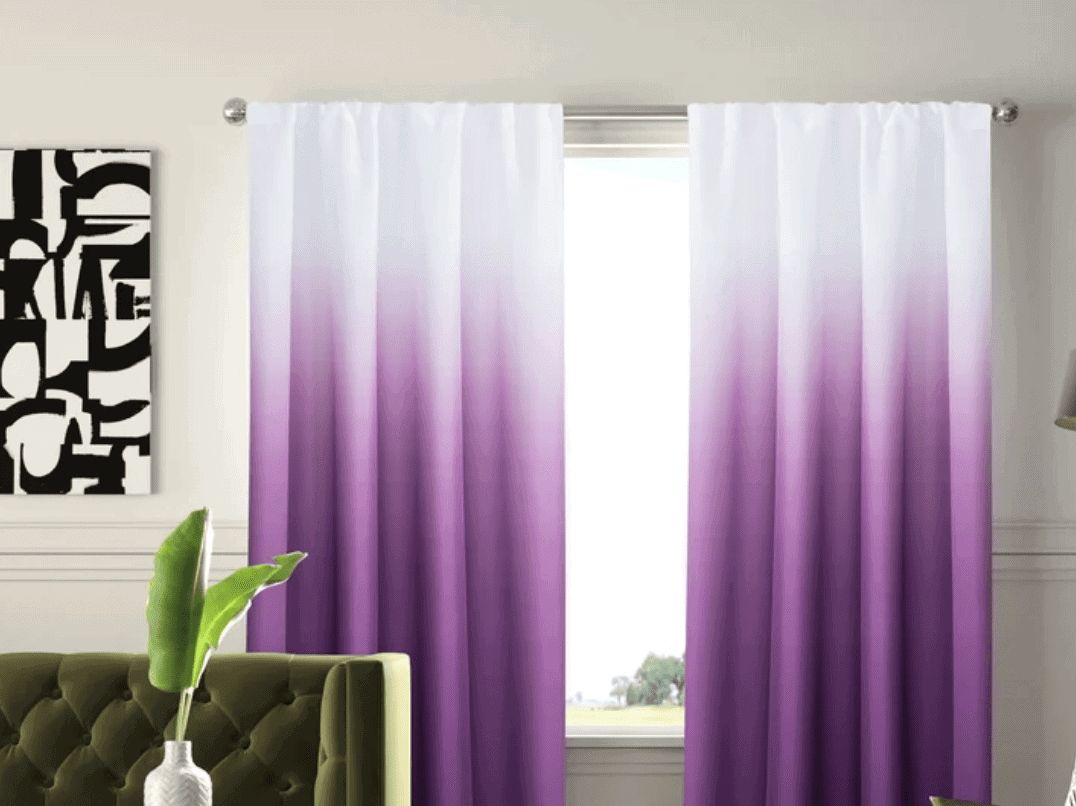 These highly rated room darkening ombre curtains feature an easy rod pocket installation that is made with 100 percent polyester. Machine washable, they provide privacy in a trendy take on ombre. Available in blue, purple, gold, and black. Buy Here. 
Echo Print Fair Trade Ombre Curtains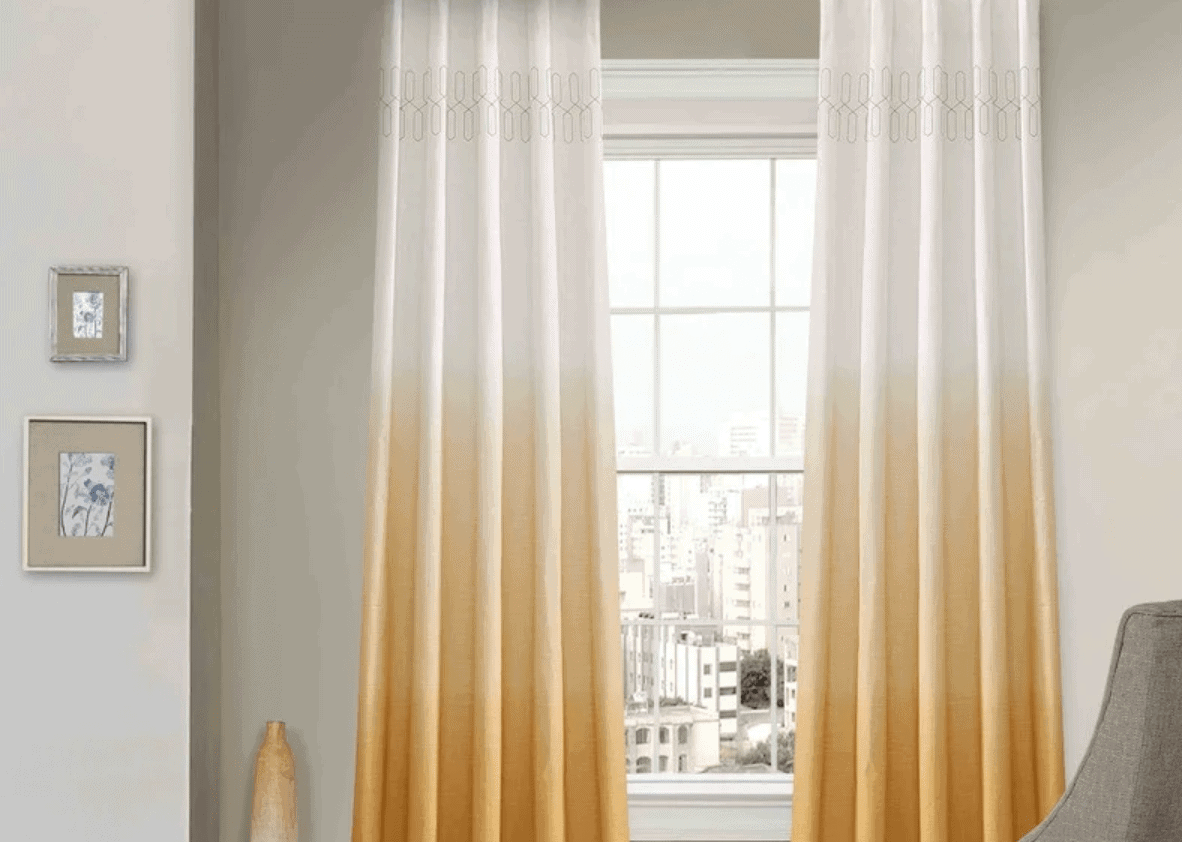 One of my favorite ombre curtains, and a favorite for room darkening options, are these beautiful ombre curtains. Gold and ivory tones exude elegance. The 100 percent cotton curtains are certified Fair Trade and even have added insulation. Buy Here. 
Ombre Light-Filtering/ Semi-Sheer Curtains
Light filtering or semi-sheer curtains are a natural fit for ombre curtains. These types of curtains still offer a little privacy in that they aren't completely see-through. Their main use is to gently filter light. Breezy and lightweight, these ombre curtains are a great choice for a back room where you want natural sunlight. 
Gray Window Ombre Curtains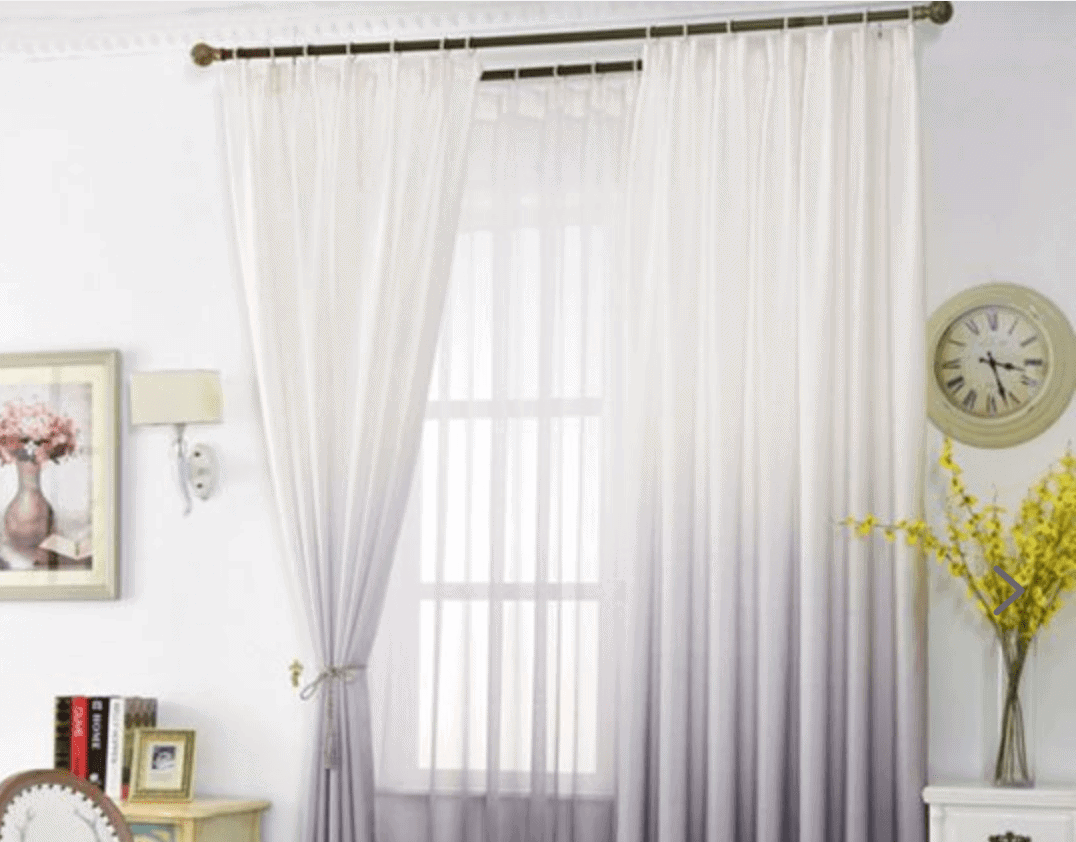 These ombre curtains are also energy-efficient, which isn't always the case for light-filtering curtains. The modern grommet panel style is available in sun-kissed yellow or contemporary gray. 40 percent of light filtrates, providing a little privacy but still allowing for a sunny room. You do have to hand wash these fabric blend curtains. Buy Here. 
Vue Signature Arashi Ombre Curtains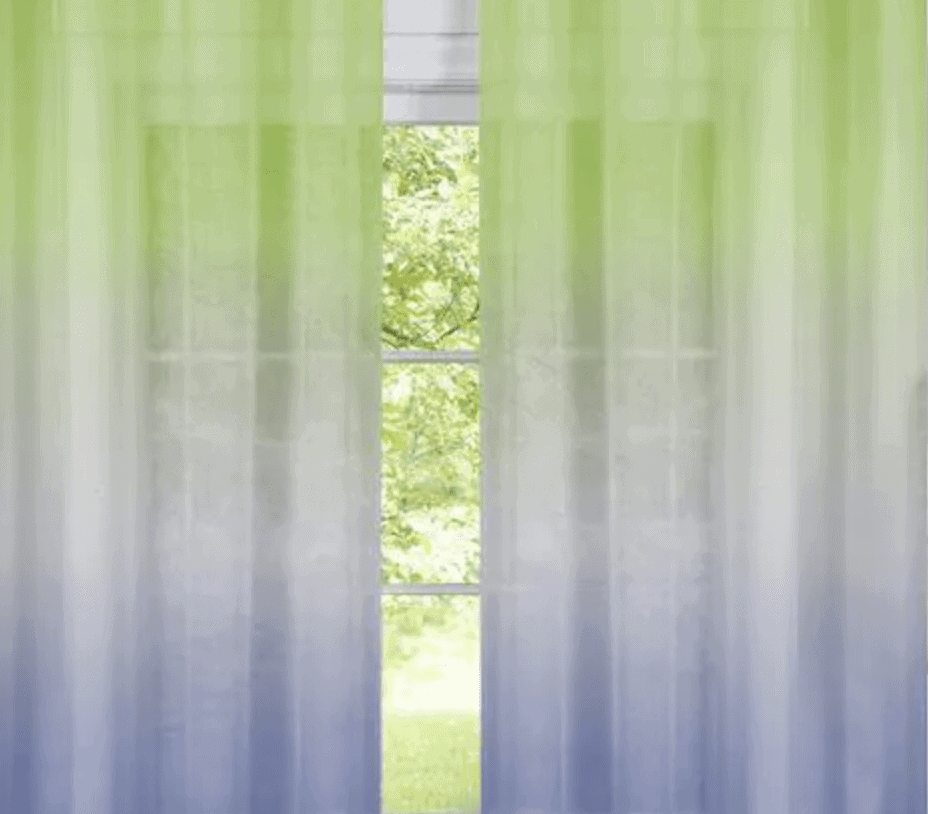 These stately light filtering ombre curtains feature embroidery and a pleasing design. These 100 percent cotton curtains are a nice alternative to polyester and machine washable, with a rod pocket style. I love these for back rooms, living rooms, and dining rooms. Available in teal, gray, lilac, melon, gold, and indigo; Buy Here. 
Achim Rainbow Ombre Curtains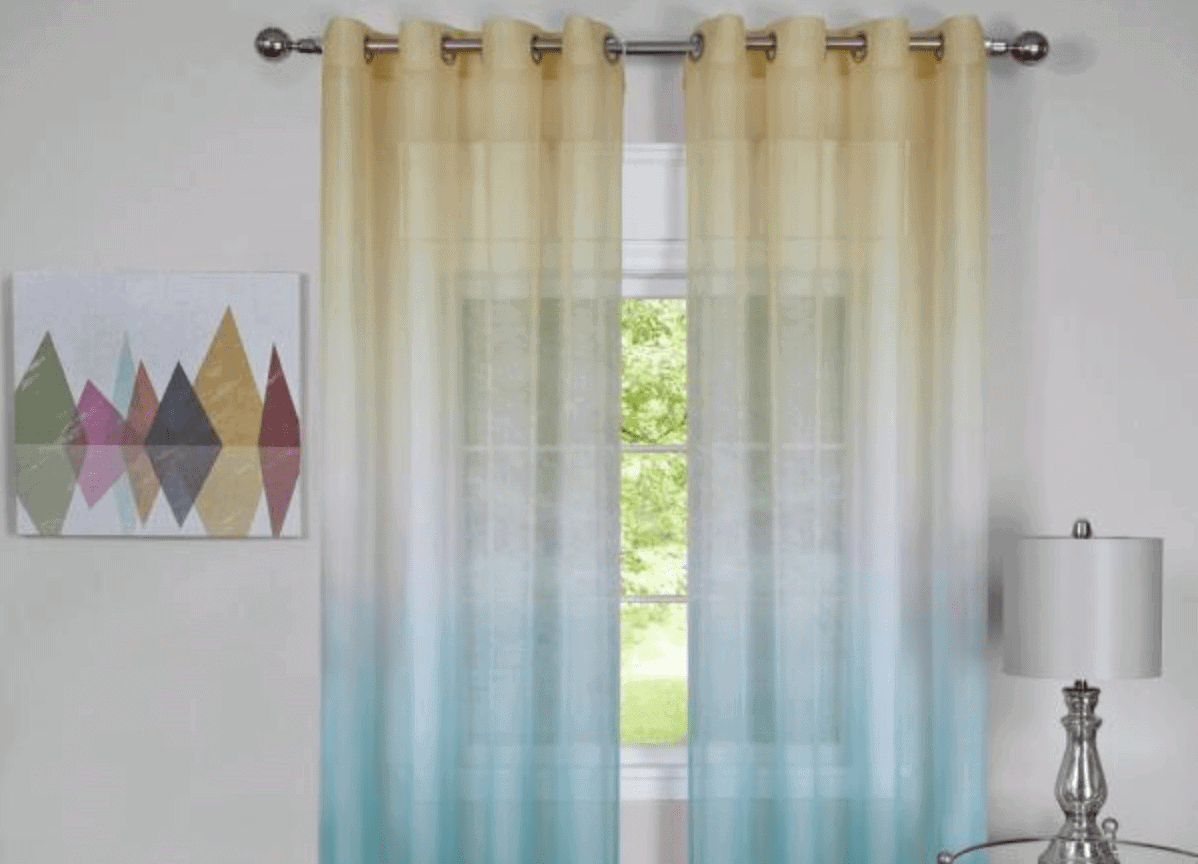 These playful ombre curtains are semi-sheer, machine washable, and inspiring addition to a bedroom or sitting room. Available in yellow, green, and blue hues, the semi-sheer polyester complements the pastel tones. Buy Here.
Ombre Sheer Curtains
Sheer curtains are see-through, diaphanous, and lean from elegant to playful. These curtains don't offer much in the way of light blocking or privacy but are meant as a decorative accent. Consider these in place of other decors. I also love the look of using ombre curtains for a clever room divider. 
Pottery Barn Pastel Ombre Sheer Curtains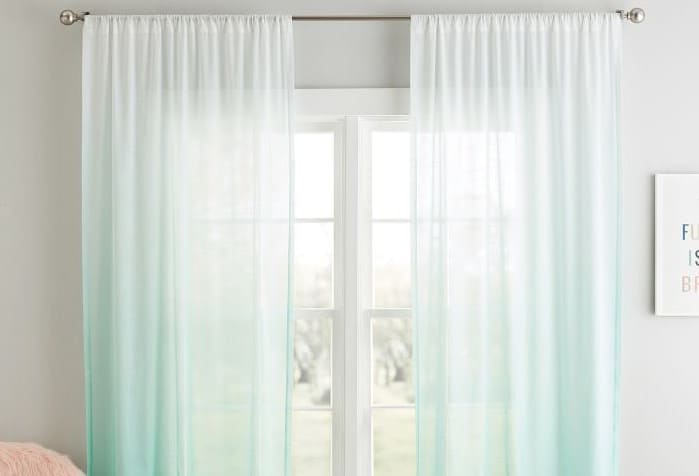 These dainty ombre curtains are made with sustainably sourced, 100 percent cotton. Machine washable, allowing natural light to flood a room and pair with other pastels. Sold as individual panels or as a set of two, these accent ombre curtains are well made and feature a light-hearted style. Colors include lavender, teal, and blush; Buy Here. 
Two-Tone Ombre Sheer Curtains
These highly rated sheer ombre curtains are easy to care for and offer a breezy appeal. The 100 percent polyester curtains are affordable, lightweight, and machine washable. The grommet panels feature easy installation and daily use, and you can select from burgundy or tan, both of which look great with wood, faux wood, and bamboo floors. Buy Here. 
B. Smith Olsen Ombre Sheer Curtains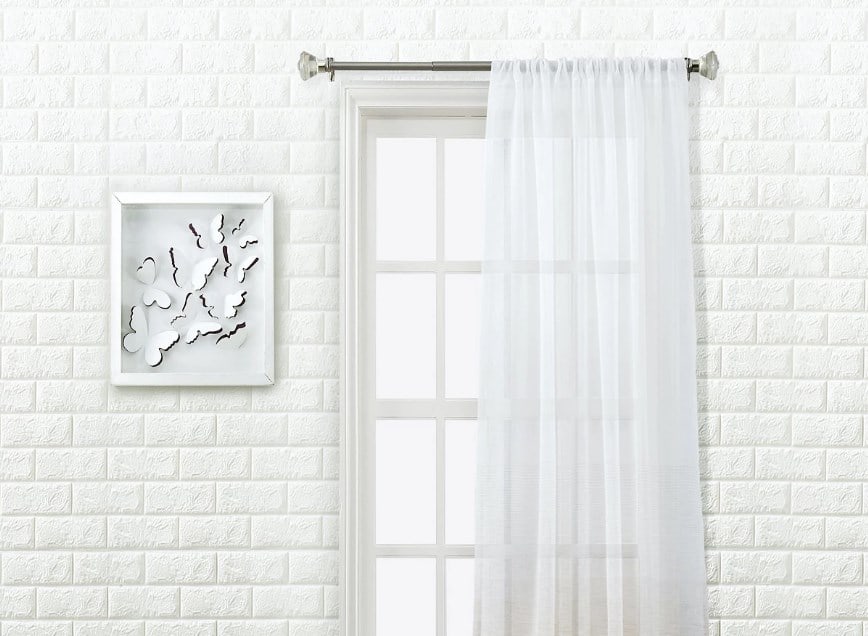 These sheer ombre curtains provide effortless elegance and are currently on sale for over 50 percent off. The 100 percent polyester fabric is lightweight and machine washable, styled with a subtle gray to neutral hue. Useful for reducing glare, these curtains would look at home with most decor. Buy Here. 
Schatzi Brown Thema Ombre Sheer Curtains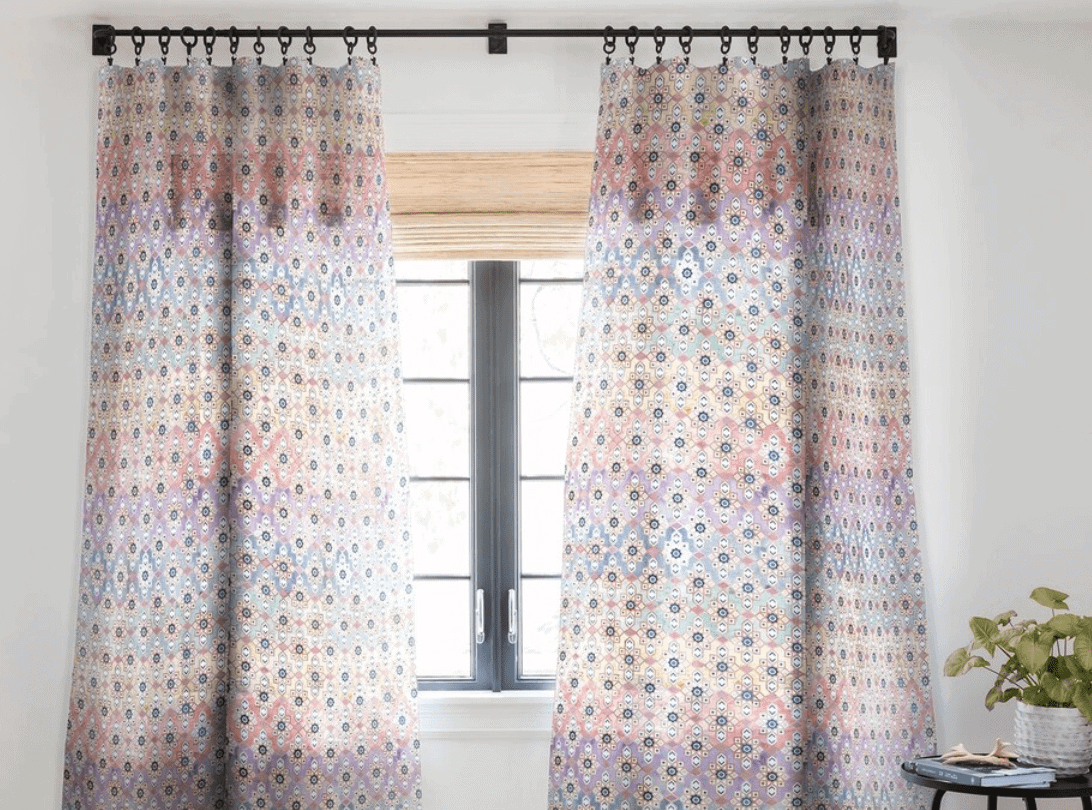 Easily one of the most detailed ombre curtains you can buy, these are playful and perfect for a boho-styled room. The lightweight woven polyester fabric is machine washable and looks more expensive than many polyester curtains. The multicolored, geometric pattern is a refreshing take on the trend and sure to be a statement in any room. Buy Here. 
Frequently Asked Questions
Question: What is the best color for curtains?
Answer: There is no one best color for curtains, but colors can shape the way a room looks. Lighter colors tend to make a room appear larger, while darker colors can make a room feel cozier. You'll want to select curtains that complement the colors in your room– use a color wheel to determine what's best. If you have bold colors in the room, you might want to consider a softer accent and vice-versa. 
Question: How do I match my couch to curtains?
Answer: You don't need to worry about exactly matching a couch– think of it more as coordinating. Choosing complementary colors and not fighting too much with patterns is a safe way to go. If you opt for ombre curtains, for instance, a solid color couch may be the best choice. 
Question: What color of curtains match a gray sofa?
Answer: Ivory and cream curtains look fantastic with a gray sofa, as do white. If you want to get a bit more adventurous, I recommend midnight or navy blue, golds, rose, orange, and minty to deep greens. Since gray is such a neutral color, it's hard to go wrong. 
Final Thoughts
Ombre curtains are a statement, to say the least, but as you can see, they aren't always bold. Sometimes subtle ombre curtains can be used to complement even neutral rooms. Ombre curtains are undeniably artistic and fun, but in 2021, you don't have to only use them in bedrooms.
For a dressy look, opt for a subtle tone and add accent faux/ real potted plants and a painting. And since ombre curtains make a statement of their own, you may find you need less decor.