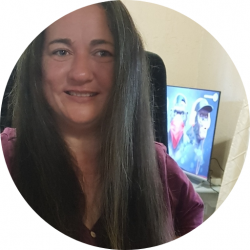 Latest posts by Caroline Lambert
(see all)
From gender-neutral and "not-in-your-face" homes to bright and bold Fabergé level designs, these pink curtains ideas and inspiration could suit most people, men and women alike. Pink was once a color reserved for girly flair, but thanks to gender evolution, anyone can use any color. Who said pink is for girls?
I'm about to blow your mind when it comes to pink curtains. Other than the gender misconception surrounding pink curtains and other decors, the color also feels a little awkward if you don't know what you're doing. So many questions feel unanswered by this confusing color in interior design.
If you're wondering whether pink curtains can fit your home, stop now. Sure, there will be limitations for rooms, decor, and corresponding colors, but fear not if your favorite color is pink. You can still use it in your home, and I'm going to show you how to glamorize your home without looking like a 5-year-old girl.
The Value of Pink
I won't argue that pink can be a strange color in interior design, but it can be a beautiful addition to a new style if you use it correctly. Pink also carries value and meaning as any other color. And no, it doesn't mean flowers, girls, cuteness, and subtlety.
Pink is a feminine color representing love, kindness, compassion, intimacy, relaxation, and calmness in its lighter shades. The darker shades can exude confidence, passion, vibrancy, and awakeness. Dark shades can also be overly stimulating, leading to feelings of aggravation.
Combining various shades of pink can soothe the darker shades' highly stimulating moods with calm elements, and the passion combined with intimacy can overload the sparks between couples. Before you start doubting whether pink can work in unisex or male rooms, the new gender revolutions promote femininity in men.
There's nothing wrong with a man who adds a little pink to his home elements; however, some shades are better than others. Do you want to know a secret, gentlemen? A study by Face Research Laboratory proved that women in wealthier countries prefer men with a hint of femininity.
Never doubt the essence of any color, even if it's pink. It carries a wonderful mood, and some shades work well for men and women. There's also nothing wrong with using it traditionally to enhance a child's bedroom.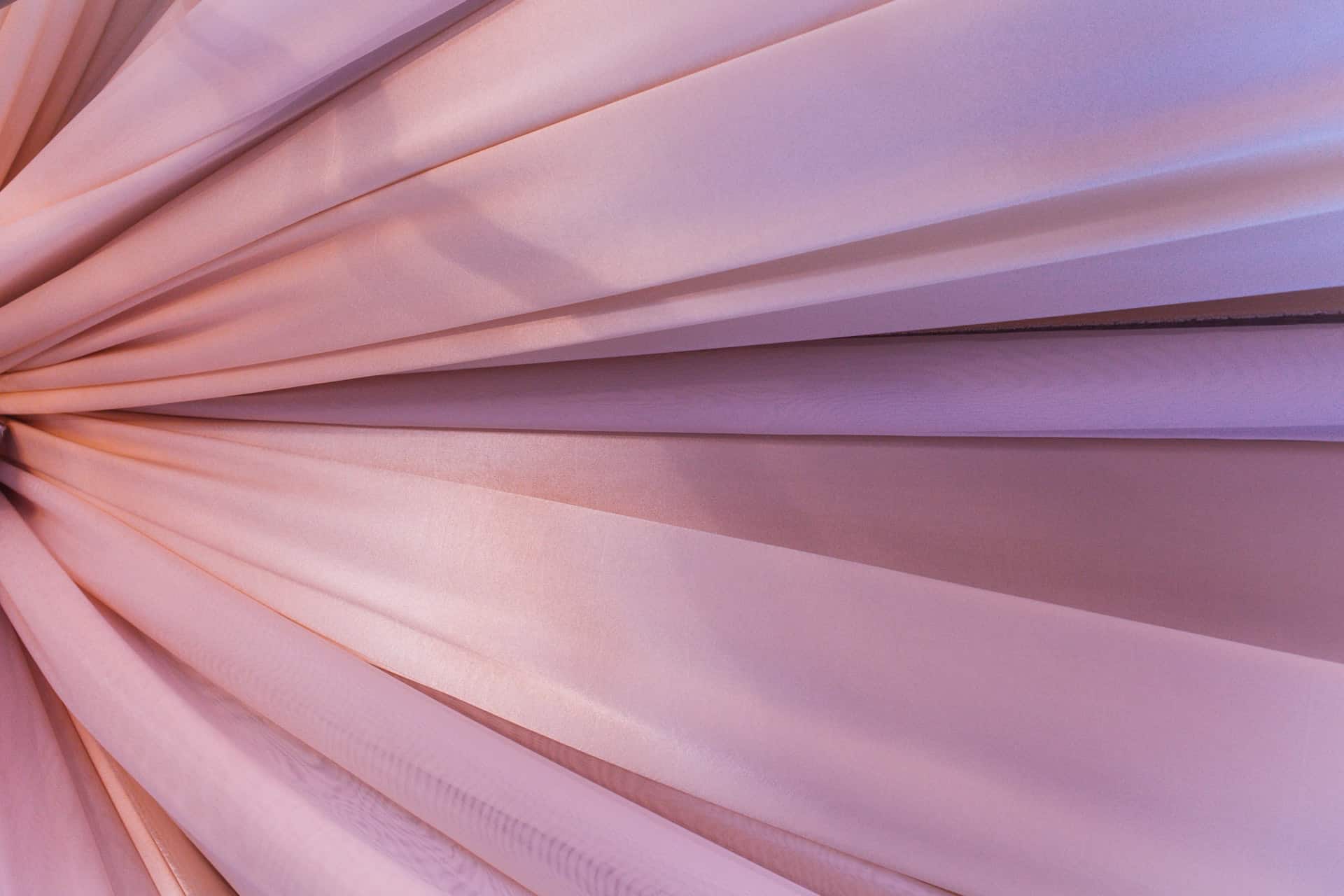 Choose the Right Shade First
All this talk about men and women using pink will sound weird unless I help you understand which pink shades are good for women or will go well with a unisex room. Knowing the colors is also great if you want to make your curtains from scratch with the help of a designer. These are the most popular feminine pink shades:
Original pink (#FCOFCO)
Ultra pink (#FF6FFF)
Magenta (#FFOO9O)
Creamy pink (#FF69B4)
Carnation (#FFA6C9)
Taffy (#F987C5)
Bubblegum (#FE5BAC)
Hot pink (#F81894)
Blush (#FEC5E5)
Ballet slipper (#F79AC0)
The range of unisex pink shades is vaster. These shades also work well in most rooms, kids' rooms, and shared bedrooms:
Ruby (#EO115F)
Thulian (#FDE6FA1)
Lavender (#FBAED2)
Fuschia (#FFOOFF)
French rose (#F64A8A)
Cerise (#DE3163)
Brick (#FB607F)
Amaranth (#F19CBB)
Punch (#EC5578)
Lemonade (#FD89C8)
Flamingo (#FCA387)
Salmon (#FDAB9F)
Fandango (#DF5286)
Baby pink (#F5C3C2)
Rouge (#F26B8A)
Your home doesn't need to look like a princess castle or blushing panther unless you want that. You can use the convenient color-finder at Pantone to see how each shade looks by its number. You can even compare the shades to see which ones complement each other if you want to layer window treatments.
U-Turn or Straight Ahead…
Pink is not everyone's cup of tea. I'm not the greatest fan of pink in any sense, but that's because I have darker skin that doesn't match well to light pink colors. When I saw the available shades, I realized how to use pink in my home, clothes, and cosmetics.
The good news I'm trying to share is that I look at pink with an objective view. Admittedly, it has to fit the room, mood, and person, but I searched for various pink window treatments that could fit almost any design in your home. If you're a little critical like me, the pink curtains ideas and inspiration I chose should sit well for you.
This is the moment you either run away from the idea of pink curtains, or you push ahead to be wowed as much as I was.
Fabulous Pink Curtains Ideas and Inspiration
You haven't headed for the hills yet? Good! These curtains ideas are mind-blowing in the right rooms. And if you're feeling a little eccentric or experimental, you can always shake things up between rooms, genders, and styles. If not, follow the bread crumbs to where each idea will strike the right balance.
1. Vintage Dining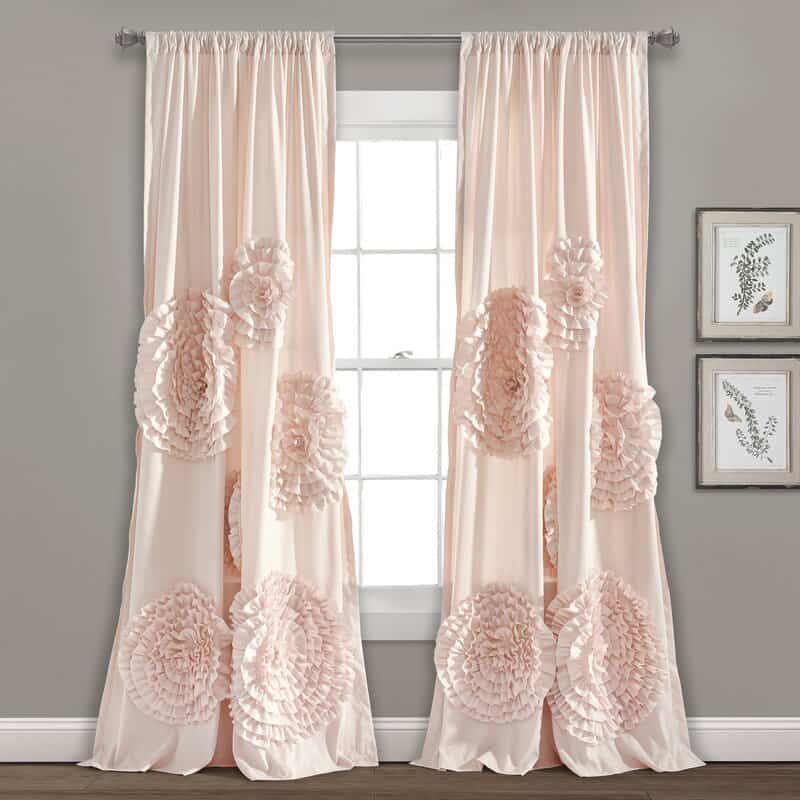 Vintage never truly goes out of style, and the dining room is the perfect place to splash a little vintage flair without overwhelming the room or decor. These Isiah Floral Semi-Sheer Curtains from Wayfair come in blush pink. The ruffled medallions may feel over-the-top but imagine a dark natural wood dining table.
The curtains are made of polyester, and they're machine-washable, even though they don't look like it. They also have no lining, which allows natural light to enter the room. I may call it vintage, but you may say farmhouse. These curtains look great against a gray wall with a white rod.
Key Notes:
unisex style
works well with natural wood in a dining room
complementing colors include gray, light browns, white, pastel green, or a darker shade of pink
costs $58.99
2. Gentle Blackout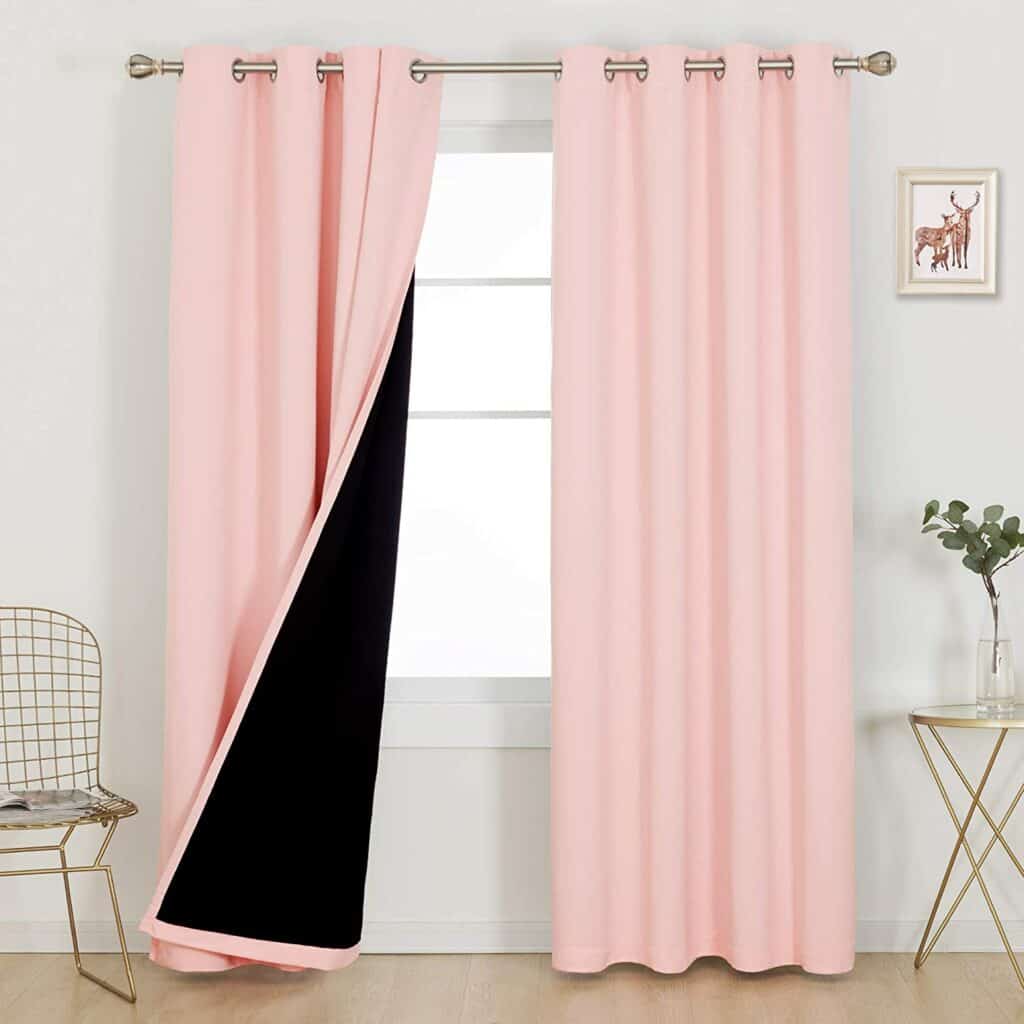 Who doesn't love blackout curtains, especially to add that hint of privacy? People wrongly think blackout curtains are dark, dreary, or encumbering, but they come in all colors, shades, and fabrics. Blackout curtains add privacy to a room while blocking some of the intense sunlight when a home faces South.
To create a gentle blackout without darkening the room, you can opt for these Deconovo Total Blackout Double Curtains on Amazon. The polyester blend comes in a lighter shade of pink with a black lining, doubling as a thermal absorption in the winter months. You still want to trap the heat, but you don't want sharp light.
The grommet-style curtains are also modern, and they fit well into most bedrooms where you want peaceful sleep if you get too much sun in your windows. The color also blends well into most furnishings, linen, and decor.
Key Notes:
feminine, young, vibrant, and contemporary style
works well in a bedroom or office
can complement pastel colors like green, teal, and yellow, or it can be emboldened by hot pink or bubblegum
costs $43.99
3. Princess Layering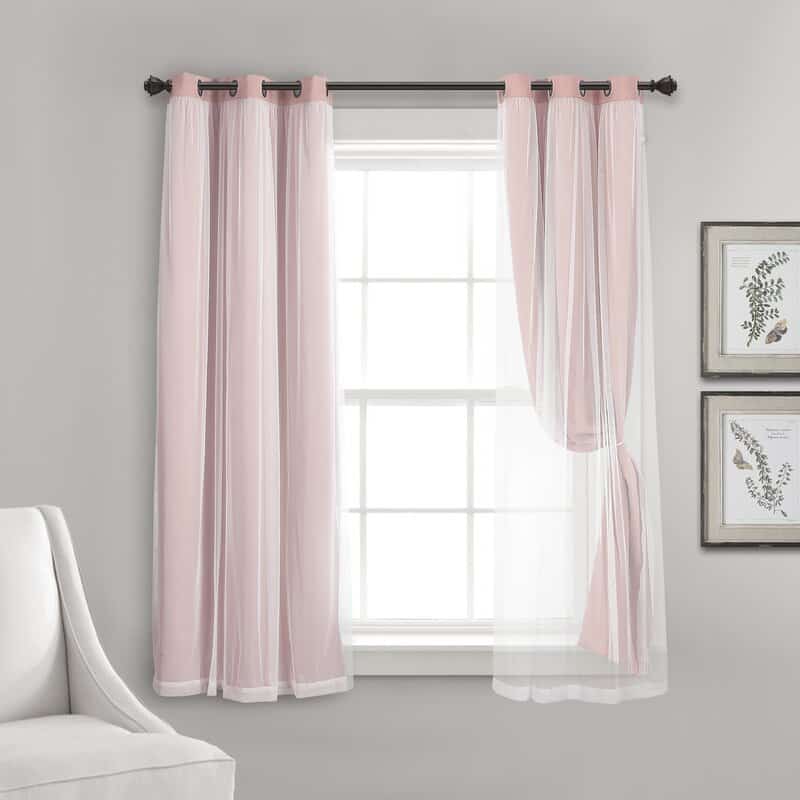 I found a beautiful set of curtains for layering pink with white, which is a complementary color. These Busselton Solid Blackout Thermal Curtains from Wayfair add that princess vibe and would work beautifully in a young woman's or girl's bedroom. They'll even work in the living room if you want that vibe.
They're made from a combination of blackout polyester with a sheer white overlay, which you can tie to the sides for the castle effect that makes you think you're walking through royal passages. They have the bonus of being sound-proofing curtains to make them a sure-winner for bedrooms.
Key Notes:
feminine, girly, young, and stylish design
works in bedrooms and living room (only if the furniture and linen complements the curtains)
complementary colors include plenty of white, light gray, tea green, beige, and small elements of Portafino yellow
costs $59.19 with free shipping in the U.S.
4. Versatile Pink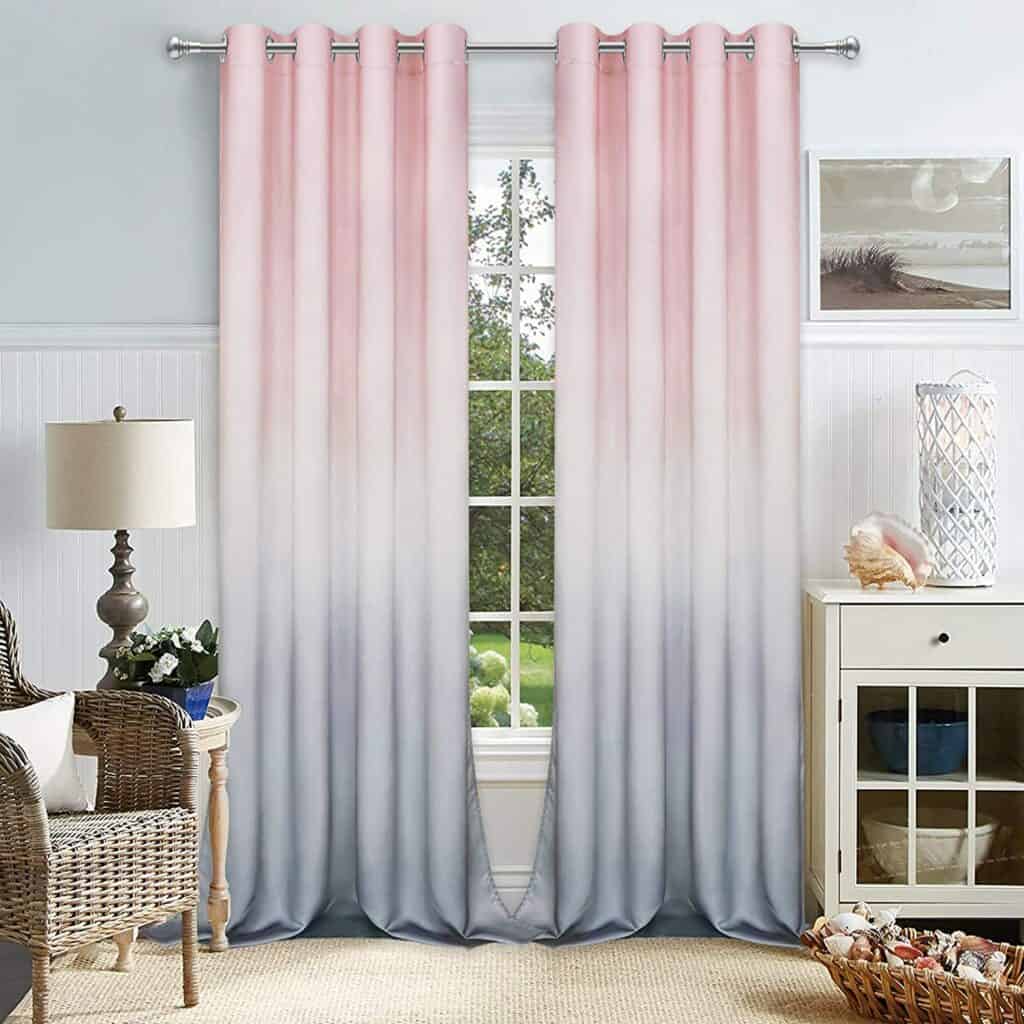 Moving away from the princess castle to a contemporary and versatile pink curtain set that fits in nearly every room, these Ombre Gradient Two-Tone Curtains on Amazon lean back into unisex designs. The fading pink that runs into white and gray allows more room for matching furniture, accents, and rugs.
The satin gradient design of the curtain makes it feel silky in any room, which hangs easily and can block sharper sunrays. It looks great on a silver or white rod and exudes a level of sophistication. This is an incredible choice for turning living spaces into something modern with a dash of eye-catching glamor.
Key Notes:
unisex style and contemporary
works in bedrooms, offices, living rooms, and dining rooms
complementary colors include silver, white, other shades of pink, beige, baby blue, pale yellow, and yellow-green
costs $35.91
5. Starry Romance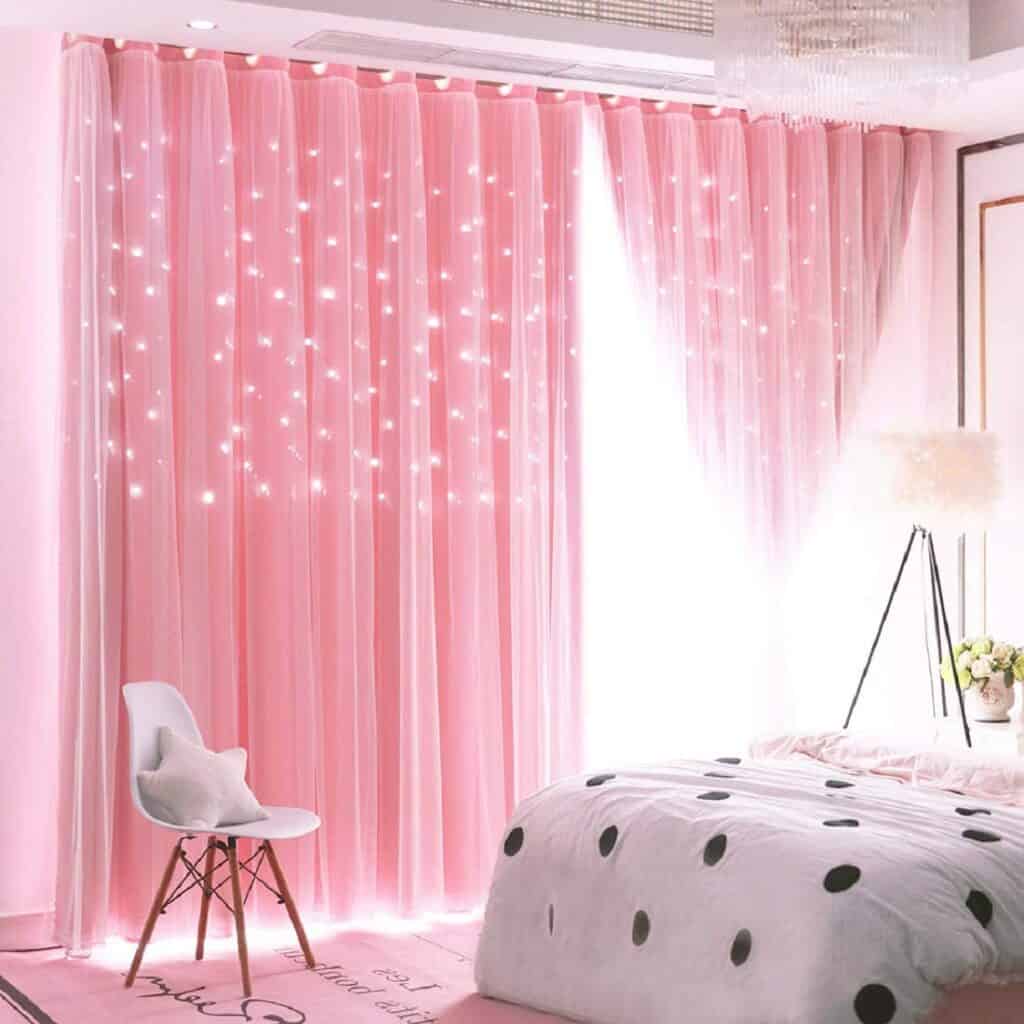 We can all enjoy some romance, men and women alike. However, these beautiful Unistar Blackout Double Layer Curtains look like something from a Jane Austen novel. Women will likely hang these gorgeous curtains in their bedrooms, but men can also spice things up a bit.
The base curtain is made of polyester, while the layer is sheer with a starry night effect. The curtains are also soundproof and blackout to ensure the spark ignites in privacy. The only setback with these curtains is that they don't match too well with many colors.
Key Notes:
unisex style, albeit probably more for ladies
works in a bedroom, or you can try them in the living room if you're brave enough
complementary colors include white, light grays, light beiges, and silver
costs $39.99 with free delivery in the U.S.
6. Moroccan Warmth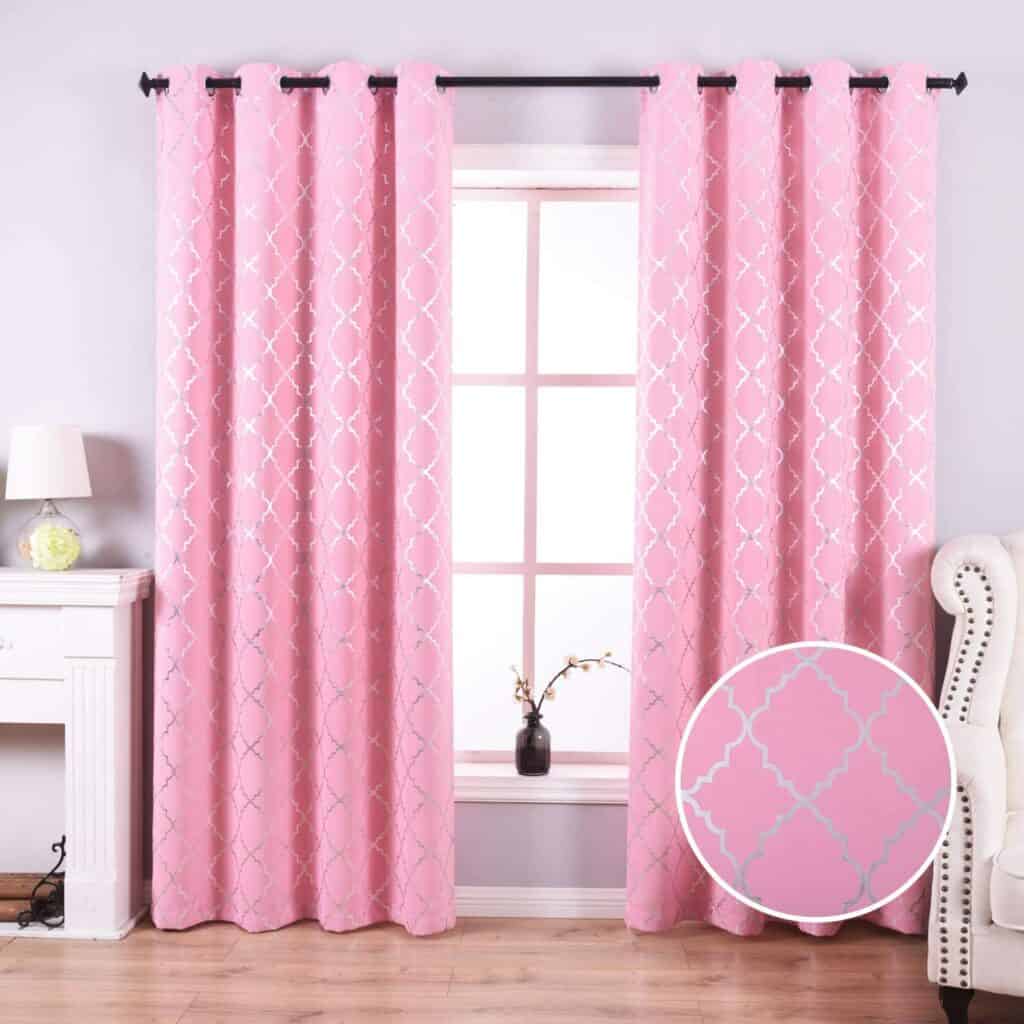 Morocco is a gorgeous country known for its flair, glamor, and bright colors. Pink is no exception. Stepping back into the simple yet elegant use of pink curtains, these sleek Anjee Blackout Curtains could spruce up any living room, bedroom, dining room, or hallway. The Moroccan Rhombus pattern fits well into most spaces.
The pattern is also not overbearing, which means you can match it to similar geometric designs or plain upholstery in the room. These curtains are also thermal, blackout, and noise-reducing. Talk about a jackpot for elegance. They look amazing against a white couch with dark pink or red cushions.
Key Notes:
unisex and contemporary style
works well in a bedroom, living room, dining room, or bathroom
complementary colors include white, silver, various shades of green, bright yellows, light brown, or beige
costs $23.99
7. Minimal Effort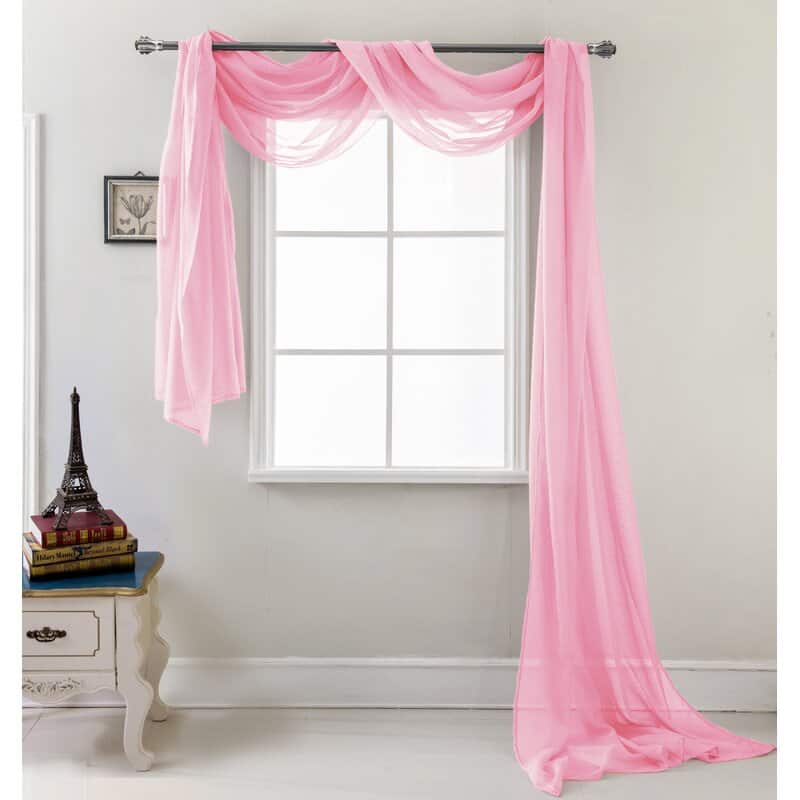 Not everyone loves flashy or bold curtains. Some people love simplicity and minimalism, elaborated in the Brannon Solid Sheer Window Scarf from Wayfair. Dressing a window is like dressing yourself. Whether you choose to live like a nudist is entirely up to you, so let your curtains match your lifestyle.
The sheer window scarf looks elegant, poise, and sleek as it gently embraces the top of the window. There isn't much curtain, but this one can work for men and women who want that touch of window treatment to accent their contemporary living space.
Key Notes:
unisex (in different shades of pink) and minimalist style
works in a living room, dining room, office, or hallway
complementary colors include white, beige, yellow, silver, darker shades of pink, lighter shades of pink, burgundy, light brown, or a single bold blue accent
costs $22.99
Secret: This scarf would also look lovely as a color-breaker over black and white curtains. Additionally, it may also work as a teaser for a kitchen window if you like minimalism. As a bonus, use this scarf in small rooms to make the room look bigger.
8. Plaid Country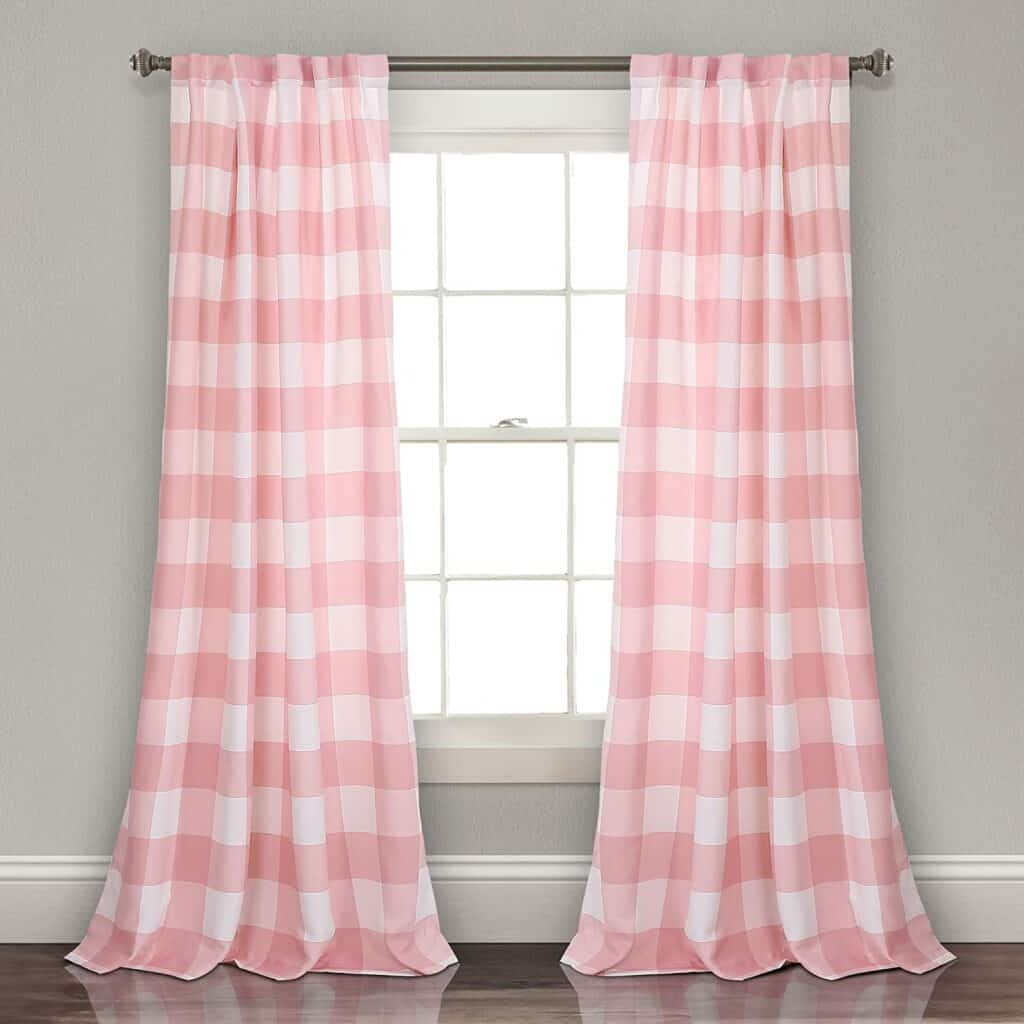 Many people love the subtle country feel of plaid patterns, so I found these easy-to-match Lush Decor curtains for that hint of farmhouse design. The checkered polyester allows you to match the curtains beautifully to solid color furniture. For a bolder statement, you can add a Hot pink accent in the room.
If you want to keep it country, a dining room with a similar tablecloth works if you keep the furniture and other accents plain. These curtains also work well against white or pink walls. Keep in mind that you don't want your walls to be the same color, though. They don't block much light, so it's best to use them where it won't matter.
Key Notes:
unisex with a farmhouse vibe
works in a bedroom, living room, dining room, or on the patio
complementary colors include white, other shades of pink, gray, brick, natural wood, teal, and lighter yellows
costs $41.99
9. Oriental Glamor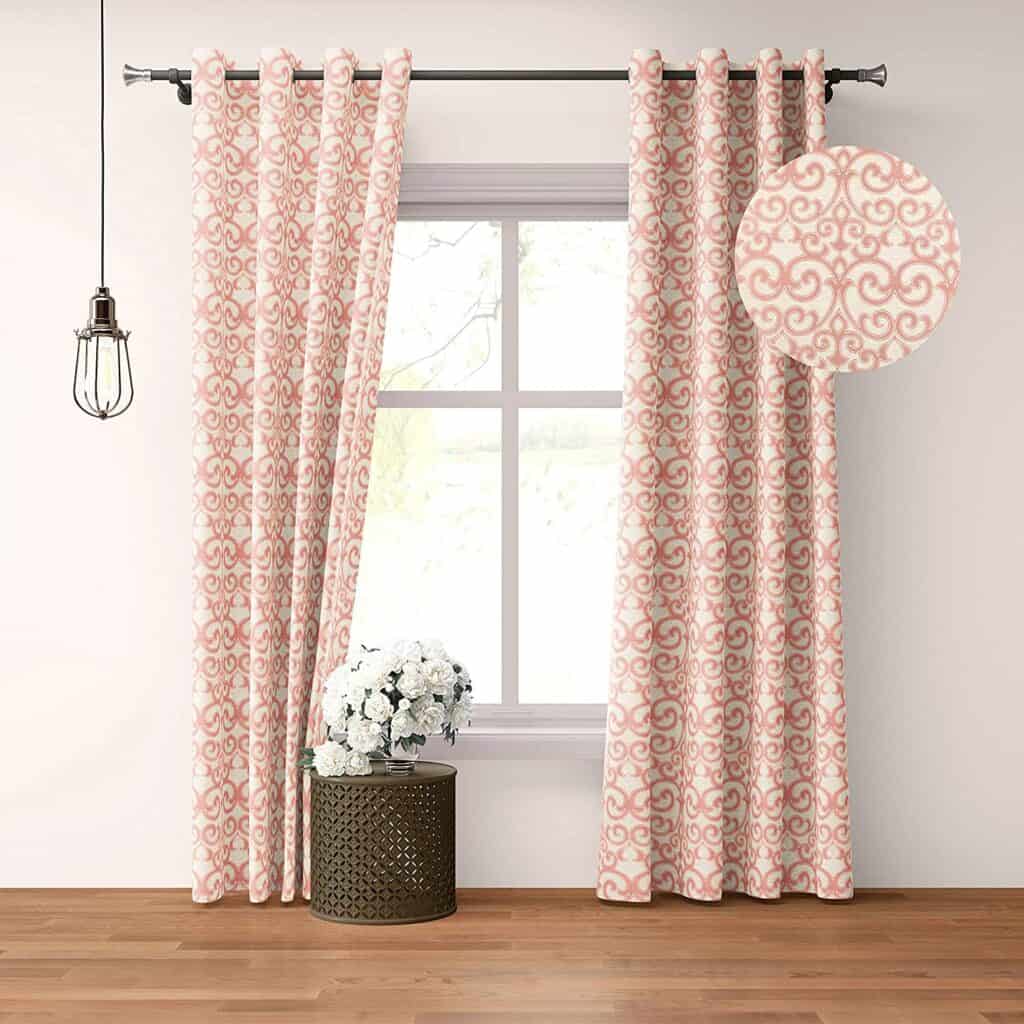 Oriental and damask patterns are also trending in 2021. These Linen Blended Grommet Curtain Panels on Amazon bring an element of the Middle-Eastern culture into your living room or bedroom. Linen is a fabric that will never go out of style because of its longevity and sturdiness.
The curtains bring a vintage mood twisted into an elegant French room. It would be best to match them with a solid color or mildly patterned furniture, but if you love the Art Nouveau or Victorian style, you'll create a classy, sophisticated space that exudes wealth and power.
Imagine the curtains behind this beauty of a chaise for a formal space.
Key Notes:
the unisex style also fits into modern and vintage designs
works well in the living room, bedroom, or dining room
complementary colors include white, silver, gold, yellow, green, light beige, other pink shades, black, and light blue
costs $32.99
10. Lalaland Nursery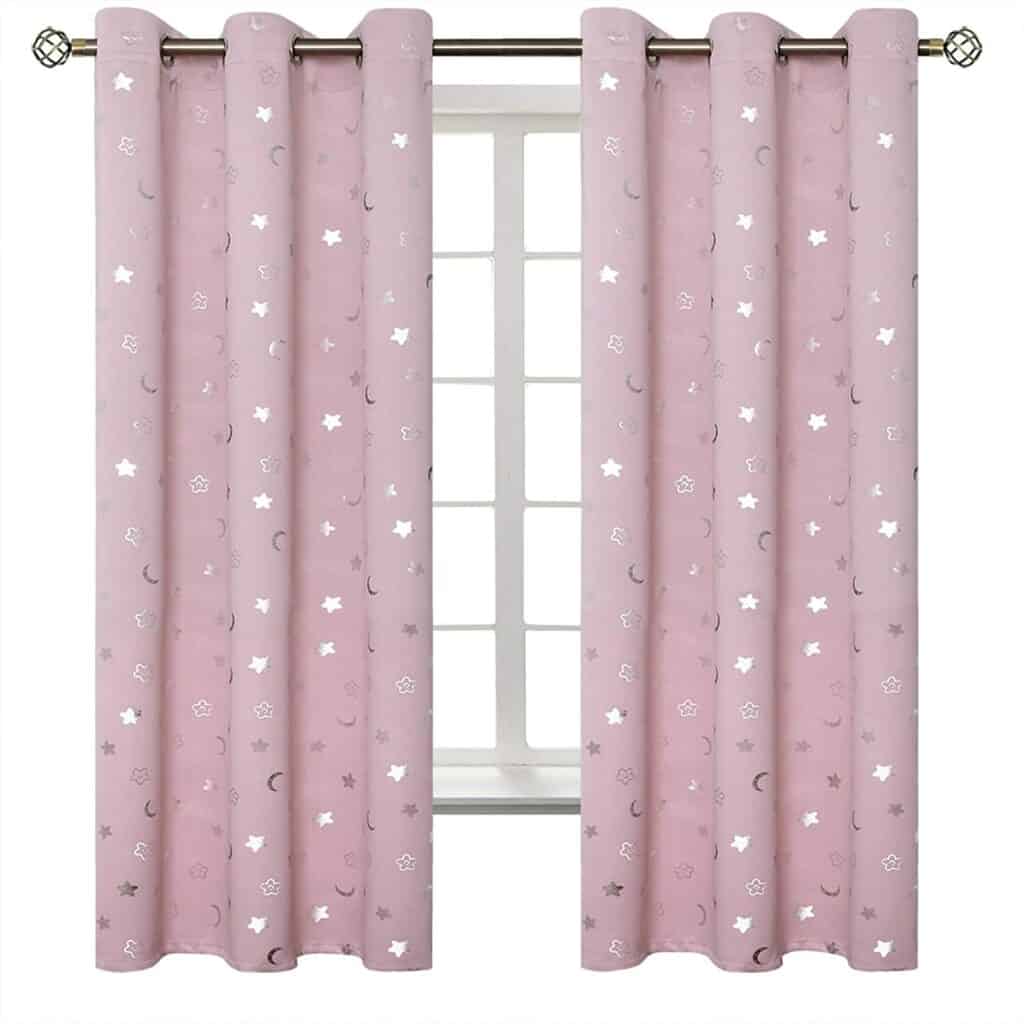 Nursery curtains are a crisis for parents these days. Pink is a favorite for girls, especially babies, so I had to find a curtain perfect for a nursery. A baby can't be binarily neutral yet, but who knows? Even worse, the doctor says you're having a girl, and then a boy pops out! Surprises are expected with babies.
Anyway, these Moon and Stars Blackout Curtains tend to subliminally instruct a baby to fall asleep as a bonus. The pattern is subtle, but the curtains blackout most of the light, which is amazing news for new parents. The grommet-style curtains are also insulated to keep the nursery warmer.
Key Notes:
feminine color
works well in the nursery of a new baby who doesn't know how to sleep yet (Yay!)
complementary colors include white and various shades of pink (if you have a girl)
costs $26.99
11. Soapy Pleasure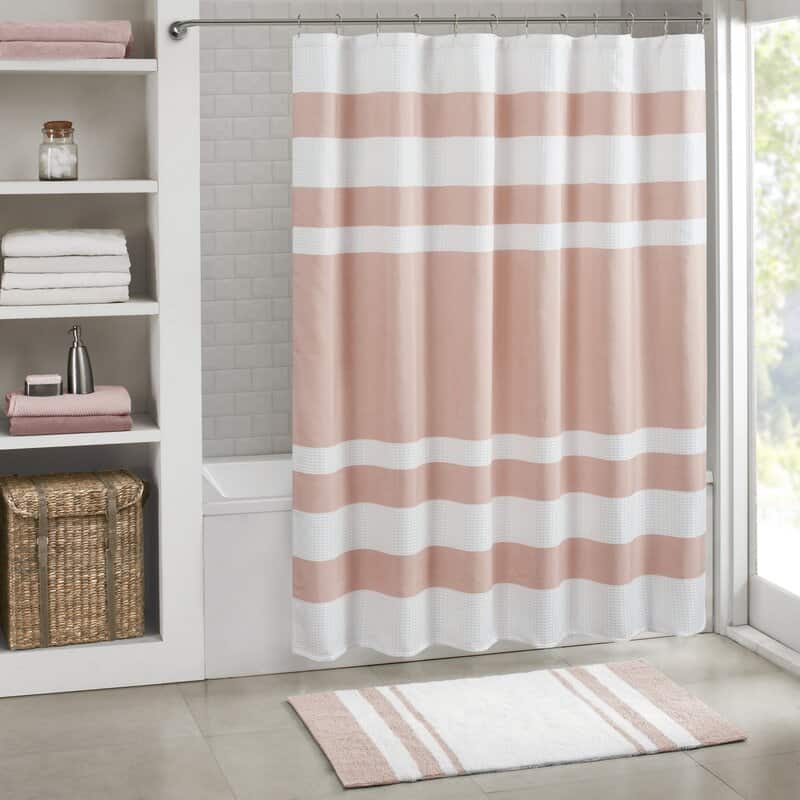 I always thought a pink bathroom is so girly, and I'm anything but girly. However, I decided to find some options, and this Striped Single Shower Curtain from Wayfair certainly intrigued me. It's pink enough to add some sparkle without going over the top. The bathroom can still be snow-white while hanging this one.
If you want a feminine bathroom, you can opt for pink window curtains. Blush pink is generally feminine, but the strong white accents allow for a unisex style. If you want a unisex space, opt for white linen window curtains. Stripes are also in fashion in 2021.
Key Notes:
unisex and contemporary style
works in the bathroom (unless you have some unique ideas for shower curtains)
complementary colors include white, beige, earthy tones, black, and other shades of pink
costs $43.69
12. Subtle Kitchen Notes
The kitchen isn't a place we normally think of hanging pink curtains, but this Orrstown Floral Scalloped Window Valance from Wayfair brings just the right amount of pink into a kitchen. The floral design also looks fitting to a space where we chop herbs and plants.
The valance is embroidered with a cherry blossom design, but the white stands out enough to make it an easy match for most accents in the room. It would look great with natural or white-washed wood if you want a breezy cottage-style kitchen. The valance also promotes the space if your kitchen is small.
Key Notes:
unisex style and airy
works in the kitchen or on a small hallway window
complementary colors range vastly from white to wooden tones and earthy elements
costs $29.99
Expert Advice for Hanging Pink Curtains
Pink, albeit a more versatile color than you thought, still comes with some guidelines before turning your home into a princess castle, which your girls will grow out of eventually if you have little ones. Designing beautiful spaces that fit my mood, personality, family, and eccentric preferences keeps me on my objective toes.
When it comes to pink, as calming and wondrous as the color can be, I have simple guidelines:
Never exceed three shades of pink in the same room. Remember that the color can cause aggravated moods, so don't splurge on too many shades. Overkill of any color is not recommended. Rather blend complementary colors into the room. Too many colors or shades can also cause chaotic moods.
Be careful only to match pink shades to their complementary colors. Combining bright oranges and pinks can look like an interior disaster. Keep the complementary colors in mind when choosing a couch, cushions, rug, or wall decor. Use the color-finder from Pantone to see how they blend.
You must choose pink shades carefully to match your mood, gender, or personality, or you'll have confusion in your designs. If the shade isn't listed at the beginning of this article, please research whether it's unisex or not.
Always choose pink curtains, one shade darker or lighter than the walls. Fading with pink will create too much of a mood-altering color.
Use darker shades of pink in larger rooms to shrink them and bring a sense of coziness to the space. Use lighter shades of pink in smaller rooms to create airiness and the sense of a larger room.
Lighter and medium shades of pink work well with layered window treatments. For example, you can even layer the gorgeous window scarf over white blinds for a simple and modern style. Don't exceed three layers.
Darker shades of pink don't work too well in layered window treatments. Instead, use a bold or brightly colored pink statement in the room to accent the curtains. A headboard, dressing table, or bold wall decor works well. Stick to white linen in the bedroom if you accent the curtains with something bold.
The best fabrics for lighter shades of pink are linen, mauve, sheer, velvet, faux silk, and cotton, whereas the best fabrics for darker shades of pink include velvet, silk, cotton, and linen only.
The best complementary colors for darker shades of pink include burgundy, teal, light gray, or natural wooden tones. Don't use more than three complementary colors, either. The rods and window treatments also count toward the color accents.
The best complementary colors for lighter shades of pink include white, two other shades of pink, yellow-green, beige, silver, pastel blue, and green. Again, it goes for the rods, too.
A bonus tip is to justify a boldly pink room with juxtaposed wooden flooring, wall panels, or furniture.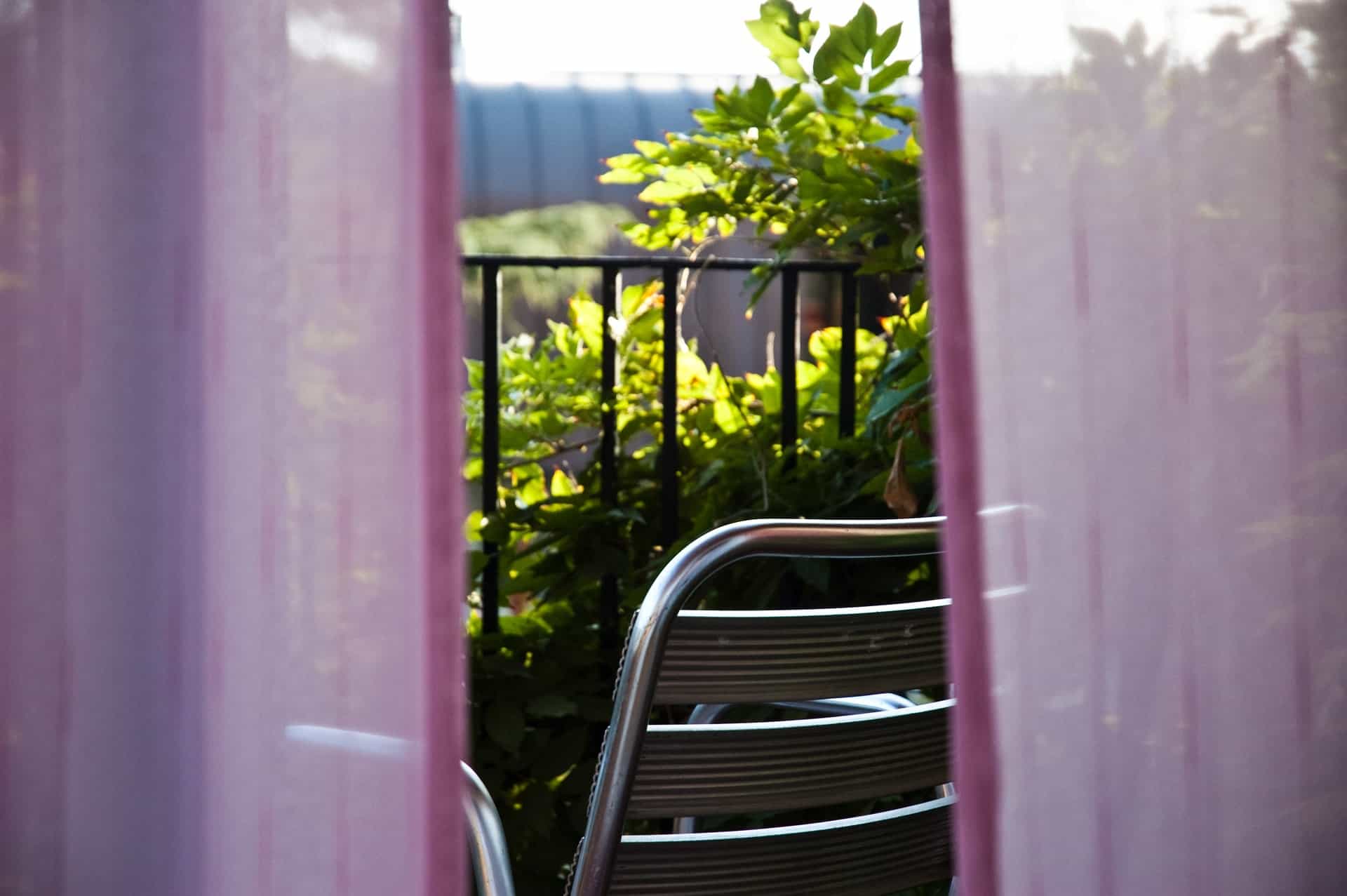 Places to Find Pink Fabric and Curtains
Pink may be limited to some people, but it's widely available due to the gender confusion for little girls. You can find wonderful fabrics at:
You can also source ready-made curtains from:
If you want a designer making unique curtains with chosen fabrics and shades, and your pockets are deep enough, look at:
Frequently Asked Questions
Question: What do Pink Curtains Represent?
Answer: Pink is an eccentric color that doesn't fit everyone and every mood, but it represents love, kindness, compassion, intimacy, and romance. It also represents some femininity for binary men and those who want to express something uniquely sexy. Darker shades are extreme, so balance them with lighter shades or complementing colors.
Question: What is the Best Color Match for Pink?
Answer: Pink is a challenging color to match if you want contemporary designs that don't scream feminine or little girls, but there's one incredible complementary color, according to Artist and Color Maestro Carol McIntyre. The best color match is the exact opposite of the color wheel, which is yellow-green. It's bright, but Carol uses it to create beautiful contrasts.
Bonus Tip: Blush pink also goes well with chocolate brown, beige, and olive green.
Question: Can Men Really Pull off Pink in Interior Design?
Answer: Firstly, it's a matter of choice, but yes, you can! Have you ever read The Great Gatsby? Gatsby flaunts a pink suit in the book and later in the movie. He's a sophisticated, wealthy man who loves luring women, including his neighbor. He's certainly not feminine in any way, but he proudly wears pink.
The truth behind this legendary romance novel is that pink was never reserved for women and little girls. Pink was once a color choice for bold men who flaunted their wealth and attractiveness. It's only a recent conundrum where new parents make everything pink when expecting a girl.
Men in pink meant something different in the early 1900s, and today's binary genders, gender-neutral movements, and politically correct or PC terms don't condone color reservations for certain genders. In fact, salmon pink is on the rise for men. It's a favorite, even with heterosexual men. Pink is back for all genders!
Final Thoughts
Whether you're a little skeptical of including pink in your interior designs or not, the facts don't lie. Pink has made a comeback, but you must use it sparingly and cautiously. I've slowly adopted a liking for certain shades of pink, even including it in my cosmetics now. I've also added simple and modern stripes to my bathroom.
Pink doesn't take away from the elegance of a mature design, either. I'm certainly not a Gen Z. Admittedly, I'm a Millenial, so my experimental field is vast with interior designs and curtains, but I assure you that I'm as fussy as they come. I evolve only with the trends that tug my soul, and pink has pulled me into the 'like' zone.
From designing a nursery with pink flair to sparking romance in the bedroom, there are numerous designs you can attempt. Whatever you do, please don't make every room pink. That would be like a unicorn leaving a mess. My absolute favorite is the window scarf because I can add it to my other designs with different colors.
My second favorite is the oriental pattern, which will make your home feel sophisticated, and the design is subtle enough to add to solid colors or slightly patterned accents. Now, before you blush, choose your shade and room so you can experiment with one of the favorites above.
For More Curtain Ideas: