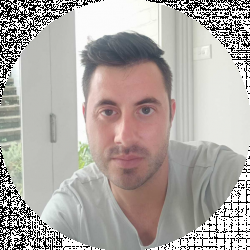 Latest posts by David Borgogni
(see all)
Besides affecting the quality of life, noise pollution causes various illnesses and sleep disorders that have long-term effects on your health. This guide to the best soundproof curtains will show you how to filter out urban noise by installing sound-absorbing curtains in your home.
These curtains can also be useful if you're recording YouTube videos or running a music studio from home as they will allow you to create conditions you need to make high-quality audio recordings.
In addition to lowering noise levels, these curtains also have sun-blocking properties as they're usually made of thick, non-transparent fabrics.
Our guide to the best soundproof curtains will take you through the most important features these curtains have to offer and help you choose a model that meets all your needs.
The 5 Best Soundproof Curtains
Are soundproof curtains really soundproof?
Soundproof curtains don't block 100% of all sound frequencies and volumes. So, technically they're not soundproof, but rather sound absorbent as they dampen the sound and reduce its volume.
Sound waves traveling through this type of curtain are either reflected or absorbed, which results in the reduction of their volume.
Surfaces with high densities are more efficient at lowering the decibel level of a sound than low-density surfaces like standard curtains that somewhat amplify the sounds traveling through them.
The abilities of soundproofing objects depend on their mass, so the heavier the curtains you choose are, the more noise they'll be able to reflect or absorb.
The easiest way to add mass to curtains is to create a multi-layered structure, and for that reason, most soundproof curtains have two or more layers.
Despite this, a certain percentage of sound still passes through these curtains, so you have to consider alternative options to create soundproof conditions in a room.
Types of soundproof curtains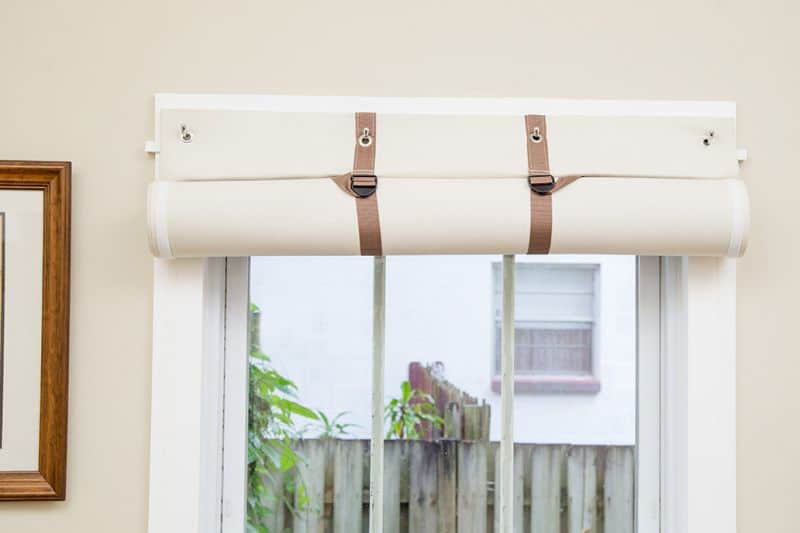 Depending on their mass and the materials they're made of, soundproof curtains can be divided into several separate categories. For example, models designed for residential use are labeled as blackout curtains.
The weight and thickness of these curtains are sufficient to block traffic noises or overlapping voices, but they can only lower construction noises or sounds of airplane engines.
The other two types of soundproof curtains aren't technically curtains, but their properties enable you to use them to soundproof a window. The audio absorption sheets resemble curtains because they're fitted with grommets that enable you to hang them onto a curtain rod.
Absorption sheets eliminate most outside noises regardless of their volume, but they're not designed with aesthetics in mind, so they're a better choice for home-based music studios than bedrooms or living rooms.
The primary purpose of industrial blankets is to protect fragile objects during transportation, but the structure of the material makes it suitable for window insulation. It is worth noting that industrial blankets don't have grommets, and hanging them can be challenging.
Soundproof curtain materials
Acoustic curtains can be made of different materials that have varying sound-absorbing properties. For example, velvet curtains often have a pile weave structure that consists of a series of loops designed to trap air and consequently deaden sounds.
Theaters and professional audio recording studios commonly use Kilo Serge fabric curtains that utilize densely packed wool to trap air. This fabric can also double as a soundproofing liner in a home-based setting because it has excellent light-blocking properties.
In addition, curtains made of felt, suede, or velour all have excellent sound-absorbing features, and you can also use them to prevent heat transfer during warm or cold months.
Affordable versions of soundproofing curtains are made of polyester, while models that feature triple-weaved fabrics are also quite common. Sound absorption sheets are made of different fabrics, and they're padded with mineral wool, cellulose, fiberglass, or similar materials.
Thermal features of soundproof curtains
Multilayered blackout curtains are often multifunctional, as, besides sound, they can also stop light and trap heat. Hence, these curtains provide excellent thermal insulation in spaces in which they're installed, which helps maintain a comfortable room temperature throughout the year.
Thermal curtains can be used for soundproofing purposes as they're usually heavy enough to reflect or absorb audio waves. Consequently, acoustic curtains can help you lower power consumption and make your home more energy-efficient.
Up to 25% of thermal loss in a room occurs through windows depending on the type and size of windowpanes, so installing blackout curtains with thermal and soundproofing properties will make a room quieter and more pleasant.
Moreover, some models have detachable liners that enable you to control the amount of light, heat, and sound entering a room.
Setting up soundproof curtains
Hanging these curtains is the only thing you'll have to do to create a basic soundproof set up in a room. Weight is one of the most important features of acoustic curtains, which is why you need to make sure that the curtain rod on which you want to install them is sturdy enough to carry their weight.
You won't block 100% of noise coming through the windows in basic setups, even if the curtain covers the entire window. However, any gaps between the curtain and the window will allow a certain amount of noise to escape.
Eliminating all outside noise in home conditions is nearly impossible, as you'd have to seal a window from all sides, but doing so will make it dysfunctional.
Installing a curved curtain rod will enable you to get a soundproof curtain closer to the wall and block the sound escaping through the curtain's sides.
The most important factors to consider while choosing soundproof curtains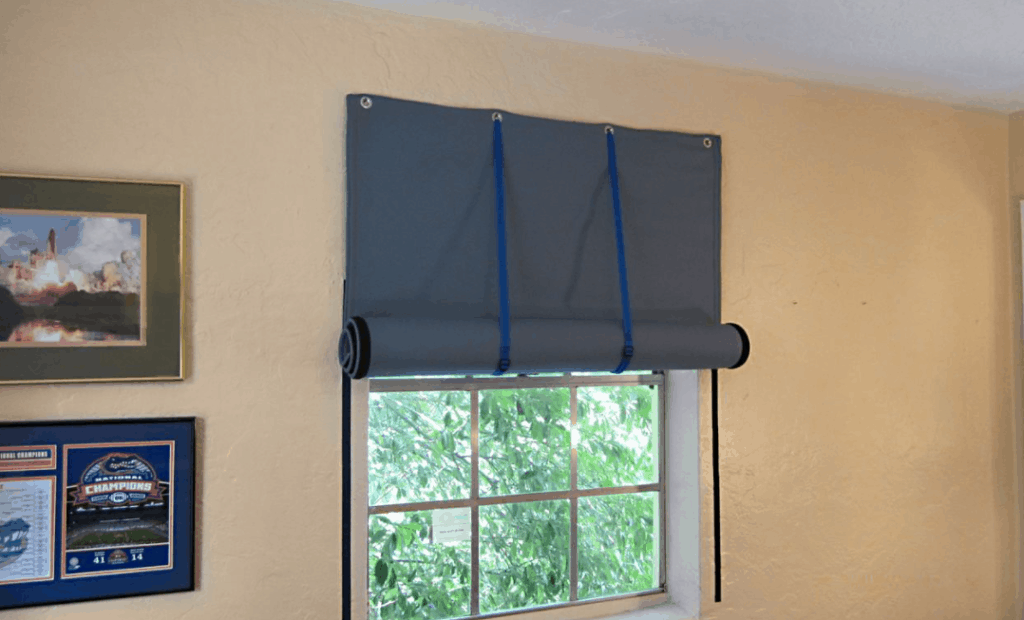 Although you can't block out all street noises coming into your home, getting acoustic curtains will help you filter out most of these noises. Depending on the model you choose, a soundproof curtain can reflect or absorb up to 90% percent of the sounds that reach them.
So, in case you want to record audio, you'll need a curtain that blocks almost all noises, but if you're just searching for protection against urban noises, most blackout curtains will provide you with the sound insulation you need.
Besides the type of soundproof curtains, you should consider several other factors while deciding which model to choose.
The curtain's size and weight
To be effective, an acoustic curtain has to cover the entire window, so before starting to explore different options, you first have to measure the window you want to cover.
Ideally, the curtain you choose should be around 12 inches longer and 24 inches wider than the window to achieve optimal sound insulation. Window treatments that stretch from the ceiling to the floor are probably the most effective, although installing them isn't always possible.
Curtains that weigh less than 2lbs don't have acoustic properties, and most soundproof models weigh between 4lbs and 10lbs.
Layering and materials
The materials such as velvet or Kilo Serge are naturally heavy, which is a part of the reason why they're so efficient at blocking sounds. However, curtains made of these materials are expensive, so you should opt for a more affordable solution unless you're planning on using them in professional contexts.
Getting a multilayer polyester curtain is a budget-friendly choice that will allow you to control how much noise is getting into a room by installing or removing an internal liner. In addition, the curtain's layering affects its thermal and sun-blocking capabilities.
The sturdiness of the curtain rod
Weight is arguably the most important feature of acoustic curtains, so opting for the heaviest option available will ensure that you'll be able to block most noises. However, hanging a 9lbs curtain can be a challenge if you don't have a curtain rod that can carry so much weight.
In addition to the rod's weight management abilities, you also need to pay attention to its shape since curved models allow you to place a curtain closer to the wall and boost its soundproofing performance.
Upkeep requirements
Textile curtains are dust magnets that require regular cleaning. You have to clean velvet soundproofing curtains at least twice a year, but whether or not you can machine wash them depends on the type of velvet the curtain is made of.
Besides velvet models, other acoustic curtains might need dry-cleaning, which increases the cost of their upkeep. Reading the care instructions provided by the manufacturer is the easiest way to find the appropriate way of cleaning and ironing the soundproof curtains you're interested in.
Cost and durability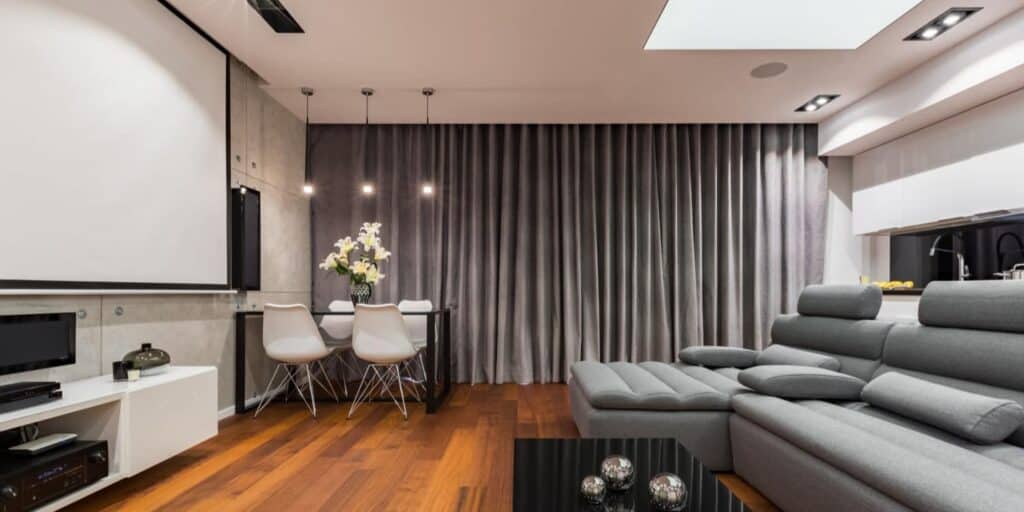 Prolonged exposure to direct sunlight can cause fading of velvet and other materials used to produce curtains with soundproofing properties. Studying the material properties will enable you to estimate the durability of the model you'd like to get.
Prices of blackout curtains span from less than $20 to more than $2000, depending on the material, design, or the manufacturer.
The cost of audio absorption panels and all the necessary accessories can exceed the $2000 mark, while even the entry-level models can cost several hundred dollars.
The advantages of soundproof curtains
Multiple functionalities
In addition to sound reflecting and absorbing abilities, acoustic curtains block sunlight almost entirely, preventing heat transfer. As a result, the room they're installed is protected from UV rays, heat loss, and noise.
Quick installation
Most models ship with preinstalled grommets that allow you to hang a curtain in just a few minutes. However, you need to check the rod's weight limitations since some models might not carry more than 5lbs of weight.
Removable liners
Some multilayered models have detachable liners that can be added or removed depending on your sun-blocking or soundproofing needs. Consequently, you can use a room for different purposes without having to worry about noise levels or the amount of available light.
The disadvantages of soundproof curtains
Blackout curtains are not entirely soundproof
A certain amount of sound will go through blackout curtains regardless of the material or the setup you choose. Hence, you'll have to opt for the audio absorption sheets if your goal is to muffle or eliminate noises produced by airplanes, construction sites, or revving of a car's engine.
Top 5 soundproof curtains
Muico Blackout Curtain Panels – The most energy-efficient soundproof curtains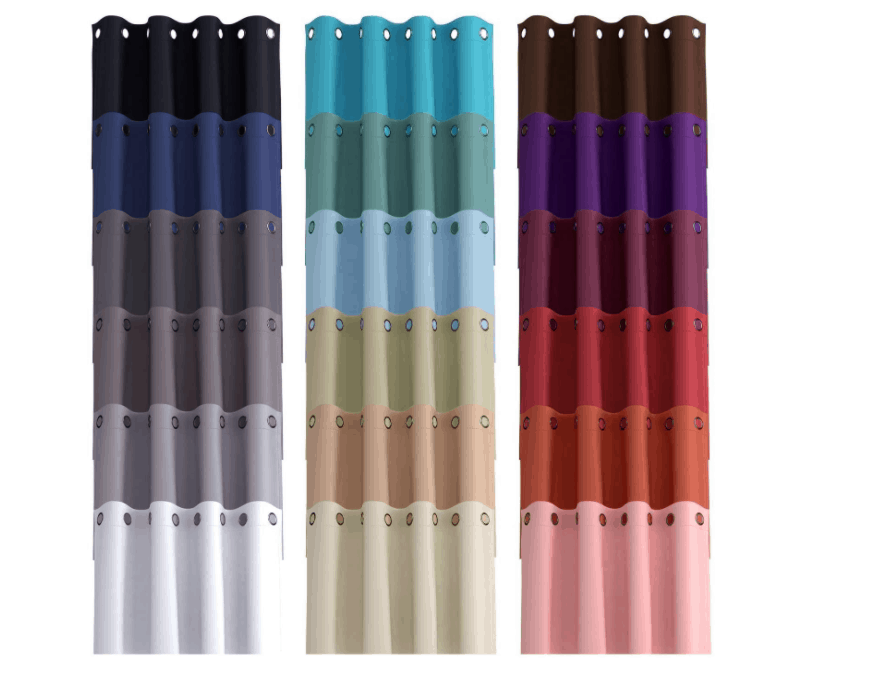 Managing noise levels in your home while maintaining a pleasant room temperature is easy with Muico Blackout Curtain Panels. Despite being relatively lightweight, these curtains can still reflect or absorb as much as 60% of sound waves that go through them.
The length of the panel can be either 63, 84, or 95 inches, while its width is limited to 52 inches, and you should choose the option that matches the height at which the curtain rod is installed.
These thick polyester curtains block the hot or cold air coming through the windows, and by doing so, they increase your home's energy efficiency.
Pros
Machine washable
Excellent sound control
Stunning thermal properties
A broad spectrum of color options
Cons
Available in just three lengths
Questionable durability
Moondream Sound Insulation Curtain – The best polyester soundproof curtains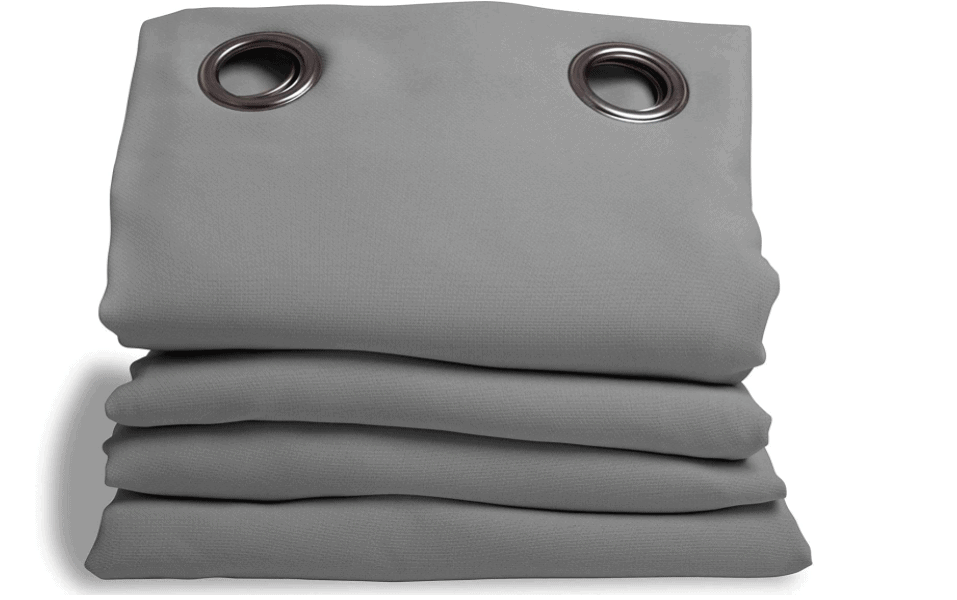 The rust-proof 1.6-inch grommets make installing the Moondream Sound Insulation Curtain a simple task. However, the model weighs almost 7lbs, so you should check if the curtain rod on which you want to hang can handle its weight.
In addition to lowering noise levels in a room, you can also use these curtains to completely block the light and prevent heat loss. The Moondream's sound insulation curtains are made of polyester, which indicates that prolonged sun exposure isn't going to fade its color.
You can choose from four different lengths of these curtains, but all versions have 57-inch width.
Pros
3-layer construction
Efficient sound and thermal insulation
Length can be adjusted with the hemming tape
Made of durable materials
Cons
Liner isn't removable
It can be too heavy for some curtain rods
Wontex Blackout Curtains – The best soundproof curtains for living rooms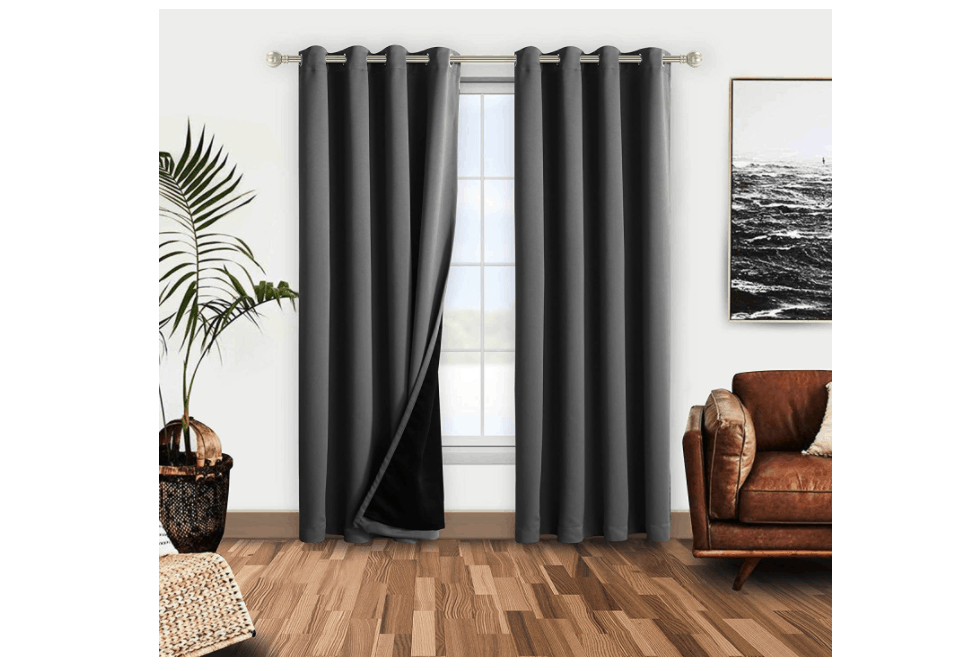 The broad selection of colors makes finding the version of Wontex Blackout Curtains that match the furniture in your living room an easy task. There are more than ten color options available, and you can choose from multiple width and length options.
The black liner blocks almost 100% of UV rays, and it helps regulate the room's temperature. Optionally you can use this polyester blackout curtain as a room divider because it is non-transparent, and it deadens sounds effectively.
The manufacturer offers a 60-day money-back guarantee for this model, so you can return it if you're not pleased with its performance.
Pros
Features 8 silver grommets for quick installation
Excellent light blocking capabilities
It doesn't require heavy-duty curtain rods
Low maintenance requirements
Cons
Sound insulation features could be better
Panels might require length adjustments
RYB Home Soundproof Blackout Curtains – The best triple-weave soundproof curtains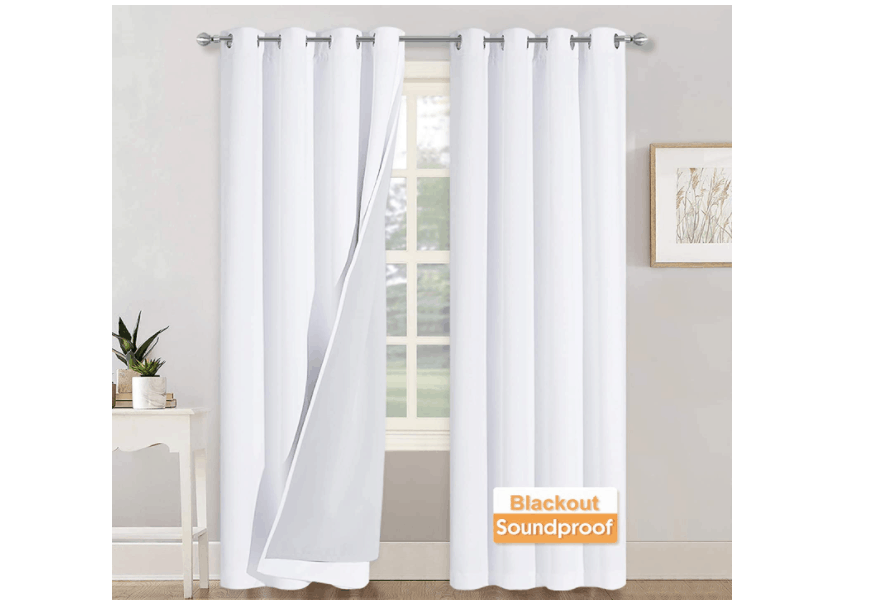 The combination of triple-weave fabric and detachable felt liner located between the front and back layers makes the RYB Home Soundproof Blackout Curtains one of the best acoustic window treatments on the market.
These curtains ship in pairs, so you'll get two panels in a chosen color and size if you opt for this RYB Home's model. You should keep in mind that the width of both panels is 104 inches, and you can choose from several length options.
Although they can block sounds like birds chirping or street conversations, these curtains can't absorb or reflect high-frequency noises.
Pros
Affordable price
The detachable felt liner allows you to control the amount of light and sound entering a room.
Heavy 3-layer construction ensures noise-canceling performance
Reduces the household's power consumption
Cons
No warranty period
More expensive than similar models
Audimute Sound Absorption Sheet – Soundproof curtains with the best sound absorption capacity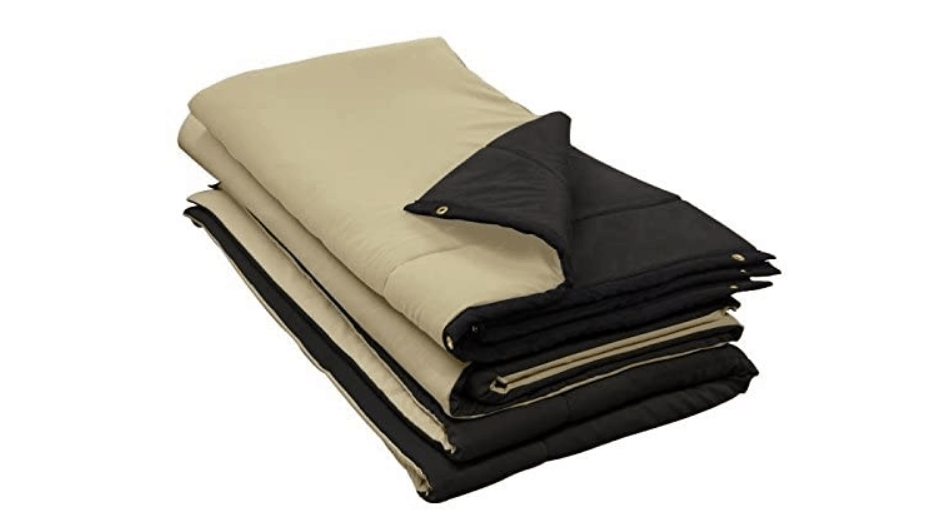 If the sound absorption capabilities of residential blackout curtains don't meet your needs, you should take a look at the Audimute Sound Absorption Sheet. The manufacturer developed the eco-C-tex sound absorption material that absorbs 85% of sound waves in contact with it.
The sheet has 3 grommets that fit most curtain rods, but you should keep in mind that this Audimute's model weighs 10lbs. That's why you need to check if the rod on which you want to hang this absorption sheet can carry so much weight.
Pros
Remarkable sound absorption capabilities
Great for home cinemas or recording studios
Eco-friendly and non-toxic absorption material
Easy setup
Cons
Visually unattractive design
Not a budget-friendly soundproofing option
Frequently asked questions about soundproof curtains.
Question: Do I need soundproof curtains to block outdoor noises?
Answer: Not necessarily, since any thick fabric absorbs a certain portion of sound waves that go through it. However, soundproof blackout curtains are the most elegant option you have at your disposal.
Question: How long do soundproofing curtains keep their sound absorption features?
Answer: All types of acoustic curtains are durable, and they don't lose their sound absorption abilities over time. However, the padding of sound-absorbing sheets can start to group over time, potentially lowering its sound-canceling capacities.
Question: Are all soundproofing curtains machine washable?
Answer: No, some models can only be dry-cleaned.
Question: What's the difference between thermal and soundproofing curtains?
Answer: Even though both curtain types can prevent heat transfer through windows, soundproofing curtains don't have foam insulation that would boost their energy-saving performance.
Our verdict: How to know which soundproof curtains are the best?
Living in a city necessarily means that you'll be dealing with traffic noises, loud street conversations, and various other types of noises. These sounds can disrupt your sleeping cycle and make you feel perpetually exhausted.
Soundproof curtains offer a simple and affordable solution to this problem, as they absorb or lower the volume of sounds that get in touch with them by 50 to 60%.
We recommend getting the Muico Blackout Curtain Panels if you can't spend too much on a window treatment but still want a curtain that lowers the volume of most noises.
On the other hand, the Audimute Sound Absorption Sheet might be a more reliable solution that would allow minimal noise to enter a room through windows.
Which of the best soundproofing curtains are you going to choose? Leave a comment and let us know.