Latest posts by Erin Jamieson
(see all)
From modern chairs to retro accents, velvet is back in fashion for homes in 2021. And velvet curtains may just guide you to capturing this elegant style.
The velvet trend for 2021 both revisits and reinvents how homeowners are seeing velvet. Gone are the days where velvet is limited to one style. Now, Americans are embracing the curtain trend with modern, vintage, and even whimsical styles.
While velvet sofas are trending, for many a more subtle approach makes sense. By adding just a touch of velvet, you can truly transform a room in a way you may never have imagined. That's where, of course, velvet curtains come in.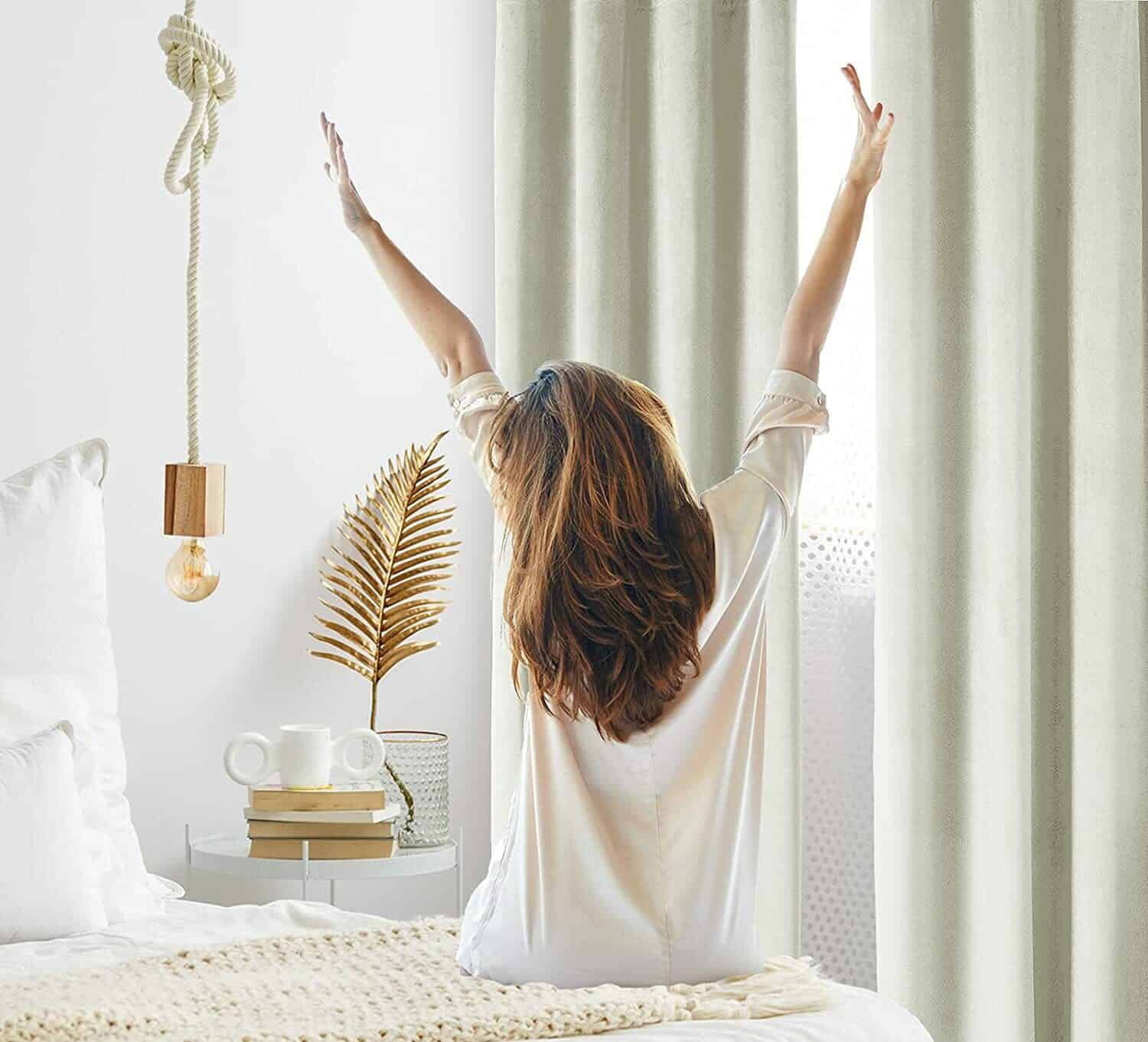 This unexpected choice for curtains shines with its refined elegance– but 2021 is proving that, just as trends come and go, they can also change with each interpretation. So while it's true that other styles, such as boho curtains or modern minimalist, are favored by many, velvet drapes may just be a way to make your room or home distinct.
Consider this your guide to buying and selecting the best velvet curtains for your home. I'll explain how to tell you what's the best quality velvet for you, then give you my picks for velvet curtains, from modern to vintage, in 2021.
How can you tell if it's good quality velvet?
The quality of velvet matters especially if you're investing in a large velvet asset, such as a couch. That said, it's good to make note of the quality and kind of velvet you're purchasing so you make sure you're paying a fair price.
Unfortunately, in most cases, you'll have to inquire about the velvet being used. Velvet curtains in particular often do not specify what kind or quality of velvet. The greater the pile density, the more durable and precious velvet you have. The highest quality velvet also has a smooth and even appearance, and you won't be able to see through it.
Silk velvet is of the finest quality, followed by rayon or nylon velvet. Linen and mohair velvet are also great options for curtains.
What is the best type of Velvet for curtains?
Interestingly enough, the best velvet for durable curtains isn't pure velvet. While pure velvet would suit a vintage look and is elegant, it isn't actually as durable as some more affordable options. A blend of padding made out of cotton or polyester can help the velvet curtains last longer. On the other hand, of course, you want to be aware if you're buying real velvet or faux velvet.
The key here is balance: decide if appearance and value matter more, or durability does. Most prefer a blend of the two.
Is Velvet good for curtains?
As with most materials, velvet comes with its pros and cons. While an undeniably elegant and unique statement, there are many factors you need to consider before buying velvet curtains. Above all, you need to decide if velvet fits your lifestyle and how and where you should consider hanging velvet curtains.
Is Velvet hard to maintain?
Perhaps the most important factor is what it will require to maintain velvet curtains. Velvet curtains cannot be treated the same way you'd treat cotton or polyester. Instead, they require some extra attention to stay looking beautiful and to retain their durability. The good news is that, well properly cared for, velvet curtains can last a long time.
Does velvet clean easily?
Velvet actually cleans more easily than you'd think– but it needs to be cleaned consistently and quickly after a spill. In the case of a spill, use a damp cloth and blot it carefully. Hard rubbing can make the stain worse. For dust and debris, regular vacuuming can prevent buildup. In many cases, however, I do know it's a better option to clean by hand vs machine.
Is Velvet waterproof?
The tricky thing about velvet and water is that it depends. Some velvet is nearly waterproof, while other velvet is not. For this reason, you'll need to read the description and care instructions closely to see whether or not your velvet curtains are suited for outdoor use. I do recommend applying the protective spray, not only for rain or other elements but even to protect against stains.
Are velvet curtains expensive?
Velvet curtains vary a great deal in terms of price. If you're buying true vintage velvet curtains, expect to pay a decent price– starting at one hundred dollars, and on up as the velvet quality increases and the vintage becomes more valuable. In general, you'll pay the most for silk velvet curtains and less for velvet made from synthetic and natural fibers.
At the same time, the increased demand for velvet curtains has led to a rise in more affordable options. Velvet and cotton blend curtains are especially affordable.
Do velvet curtains look cheap?
Velvet curtains, at their finest, look refined. But if you choose poor-quality velvet curtains, they can look cheaper. The main reason why velvet curtains would look cheap would be if they are crushed or crinkled or in disrepair, however. By keeping your velvet curtains properly maintained, you can avoid a cheap look.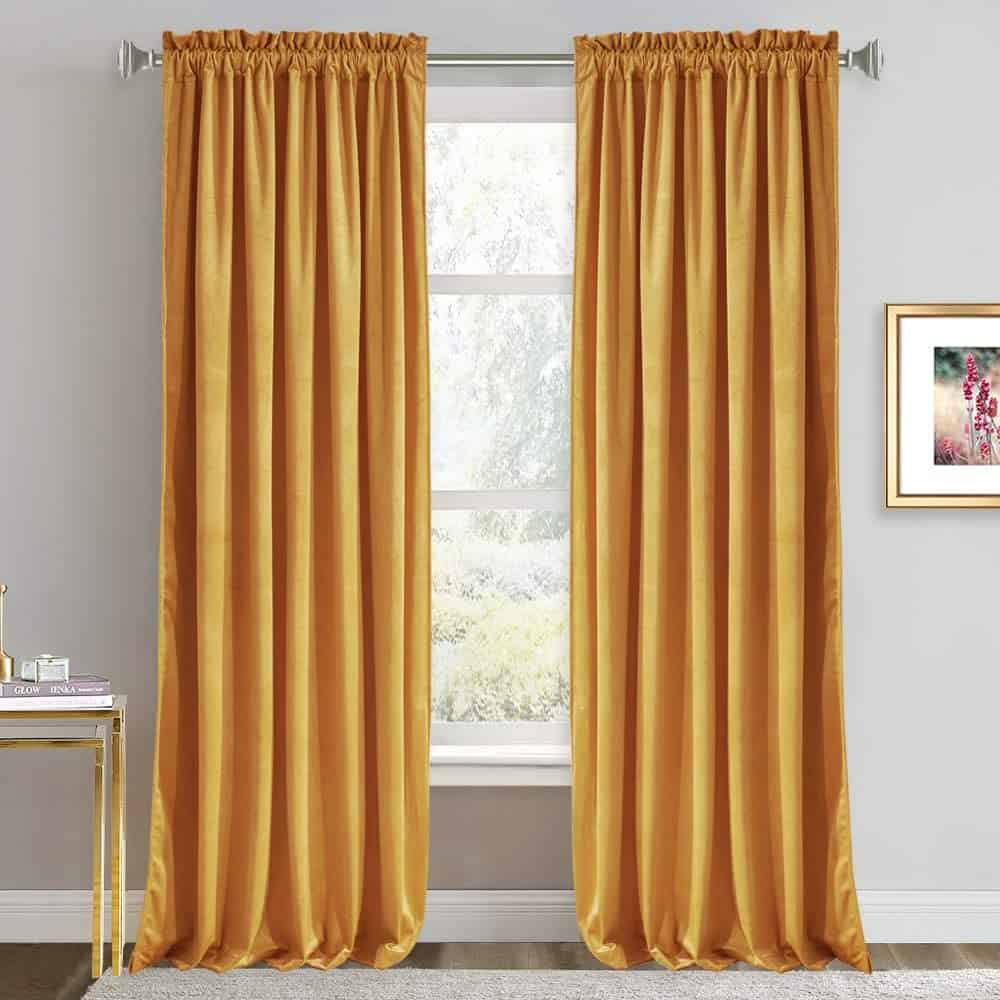 Can you fix the damaged velvet?
A plus about velvet is that it's not as fragile as some may think. While it is true that velvet is not entirely stain-resistant and not all velvet is waterproof, crushed velvet can almost always be fixed. If your curtains are looking especially wrinkled, crushed, or damaged, steam can be applied to smooth the fabric. However, this must be done with caution, and with patience. Apply steam to the inner side of the fabric bit by bit to renew the curtains to their original condition.
Velvet Curtains: My Picks
Now I'll give you my picks for velvet curtain ideas in 2021. I've included modern velvet curtains, vintage-styled, true vintage, and even whimsical velvet curtains. The designs range from streamlined and simple to elaborate and detailed. From modern homes to traditional homes, you'll find a style that suits you.
Be creative, too. You can use velvet curtains for dining areas, bedrooms, and living spaces, or even as an accent to a sitting room or study.
Modern Velvet Curtains
Modern velvet curtains push against expectations. While still elegant, modern curtains tend to have a lighter look, with solid colors and simple paneling. The minimalist details pair well with velvet for an elegant addition to any contemporary or modern home.
While neutrals are popular for modern velvet curtains, you'll also find cool blues and greens, as well as warm golds. Modern velvet curtains tend to be the most affordable, and the least valuable– making them a great option for dipping your toes into the velvet curtain trend.
European Linen and Flax Velvet Curtains
If you're on the fence about velvet curtains, you don't have to fully invest. These curtains are made with linen and flax, with velvet on the lower half for a modern color-blocking effect. A beautiful sheen provides modern elegance to the honey and brown hues. The rich neutral tones would work with any wood or bamboo floors. Buy Here.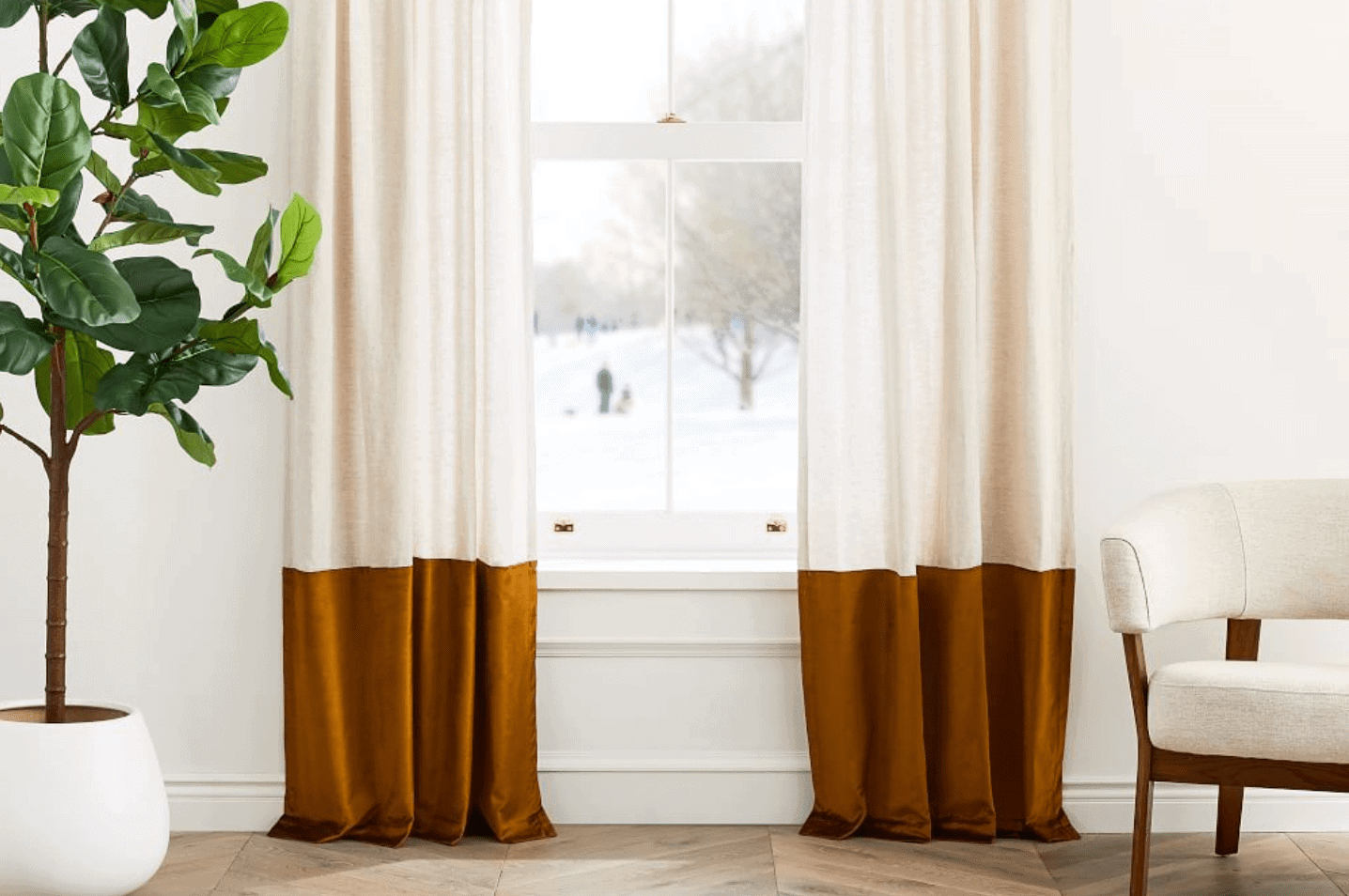 Luxury Modern Herring Designer Curtains
These luxurious modern curtains are machine washable and offer 85 percent blackout from incoming light, making them suited for bedrooms. You can choose from fixed or pull pleats. There's understated elegance, and the dusky orange is sure to provide a dramatic effect on any room. Buy Here.
Custom Color Luxury Velvet Curtains
Love the look of modern velvet curtains but can't seem to find a color that suits you? Consider these handmade, custom-order luxury velvet curtains. While you can order a pattern of your own choice, available solid colors include beige, black, blue, brown, gray, green, orange, pink, purple, red, silver, white and yellow. The pencil pleating makes for a modern- traditional look, for a versatile idea all around. Buy Here.
Velvet Rod Pocket Curtains
Still, looking for even more colors? These velvet rod curtains are made with polyester and feature protection against incoming light and UV rays. Soft, subtle, and easy to maintain, these beautiful velvet curtains are available in 28 colors. You'll have your choice from neutral, warm, and cool tones to find your perfect shade. Buy Here.
Velvet Louise Curtains
These polyester velvet curtains are machine washable and a breeze to hang in any room. Teal, gray, mauve, marigold, and blush tones lean modern and even modern boho chic. The tunnel tab construction is contemporary, and you'll even have a choice of four sizes for the perfect fit. Buy Here.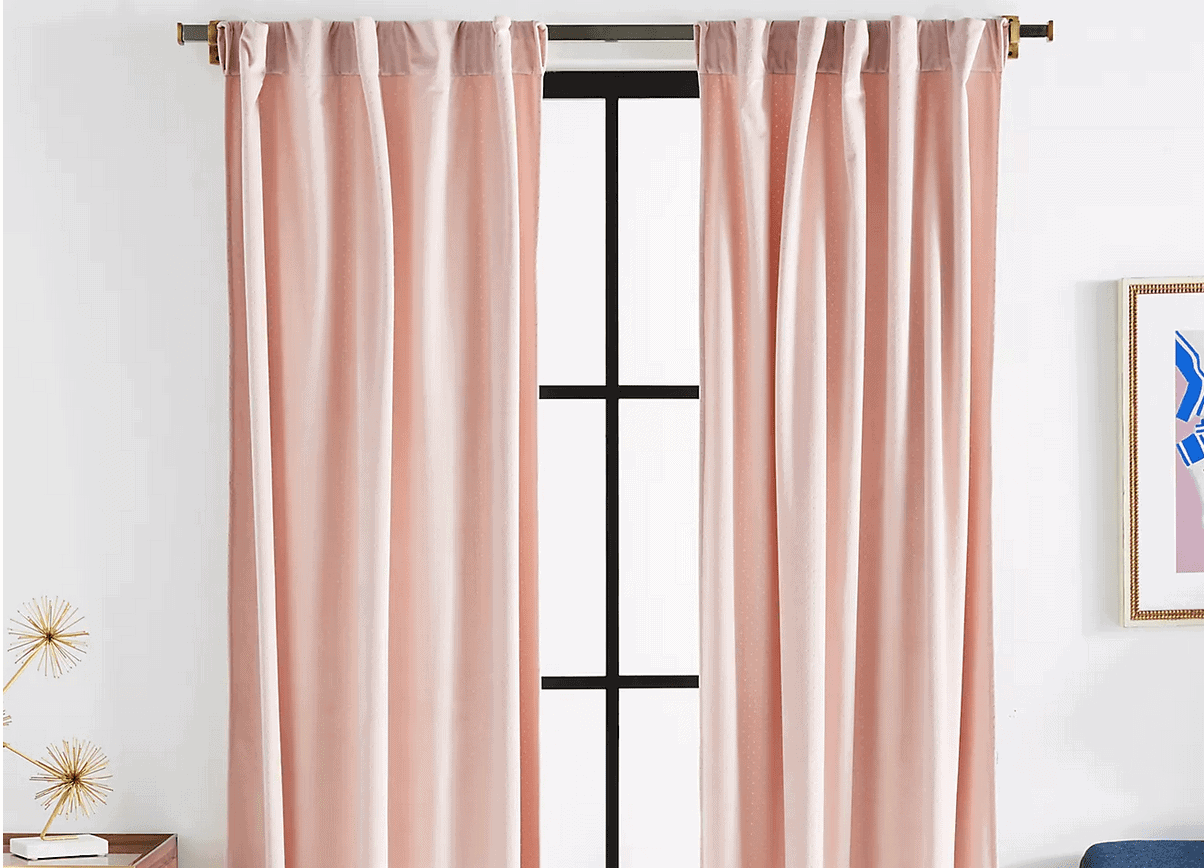 Modern Luxury Bronzing Velvet Textured Curtains
These gorgeous velvet curtains add a touch of glamour without being overbearing. A dark blue hue is accented with flecks of silver, embodying an abstract art style. I especially like these curtains paired with lighter teals and wood tones. Buy Here.
Milla Modern Luxury Velvet Curtains
Light sage green curtains are an elegant touch to white furniture. The velvet curtains are machine washable and feature 85 percent blackout from incoming light. Available in full and fixed pleating, you can even customize an order if you can't find your size. Buy Here.
Vintage and Vintage-Inspired Velvet Curtains
As you can imagine, true vintage velvet curtains, especially ones dating back hundreds of years, are not only hard to get your hands on but quite expensive. I've included a few great vintage finds within a reasonable price range, and well as vintage-inspired curtains.
All of these curtains trend towards majestic designs, with details with rich embroidery among the trim, and deep hues that are typically associated with velvet. Eye-catching as they are, you'll need to pair this with formal furniture to pull the look off.
Luxury Green Velvet Embroidered Curtains
The rose motif is very vintage, and the trailing embroidery is delicate and elegant. Blush, pink and white tones are set against medium green velvet. Gold trimming and accents add vintage touches and a formal feel. Consider these curtains for a dining room. They're also machine washable and offer privacy from the sun. Buy Here.
Luxury European Tassel Velvet Curtains
Tassels have been used for decor dating back to the days of Ancient Rome. But tassels are most strongly associated with the Art Deco era, as this is when they made a comeback after a decline during the Victorian era. These beautiful machine washable velvet curtains can be custom ordered, with options for tassels on both sides, one side, or none at all. Choose from deep blue or sheer hues. Buy Here.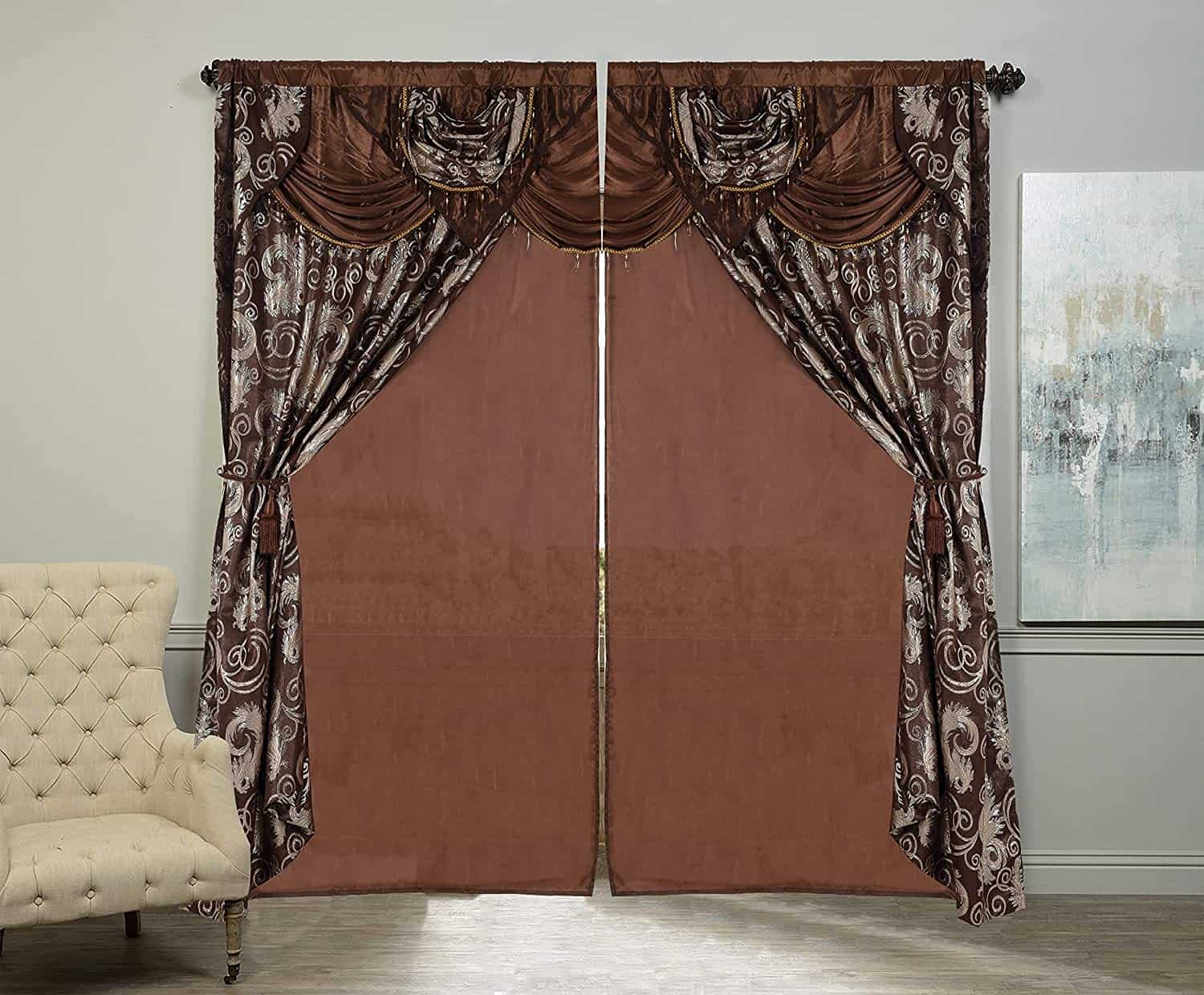 100 Colors- Luxury Velvet Curtains
These vintage-inspired velvet curtains have the subtle pleats of modern curtains, but rich hues and a vintage appeal. These stately velvet curtains are made to order (with 100 color choices!) and have an almost regal appearance for any room. Buy Here.
Bordeaux Vintage Velvet Curtains
Vintage from the 1940s, these gorgeous French curtains are made out of raised velvet fabric. An intricate rose pattern and sturdy material make these curtains a true gem. These velvet curtains would look at home in French-themed formal homes as well as eclectic vintage homes. Even if these are no longer available by the time you look, I recommend keeping your eye on the seller, who specializes in pieces from France. Buy Here.
Antique Royal Blue French Velvet Curtains
Another seller to look out for is Stevistuff on Etsy. These regal velvet curtains are vintage from the 1900s. The Royal, or Parlor Blue, features rich silk backing. While not of course as versatile as some options, these curtains will add a historical, vintage appeal to a formal room. Buy Here.
Whimsical Velvet Curtains
While velvet is heavily associated with elegant tradition, in 2021 velvet curtains are getting an update with whimsical, boho features. Eclectic nature themes, bird motifs, and artistic designs are an unexpected bit of character to refined velvet curtains. These curtains would suit eclectic boho homes or even shabby chic.
Gold Velvet Floral Curtains
These vibrant velvet curtains block out 80 percent light to keep your privacy. At the same time, they have a lighter, more contemporary style, with a large floral print. Cream, gold, and splashes of blue delight and pair well with gray and neutral furnishings. Consider adding turquoise and yellow accents to complete the room. Buy Here.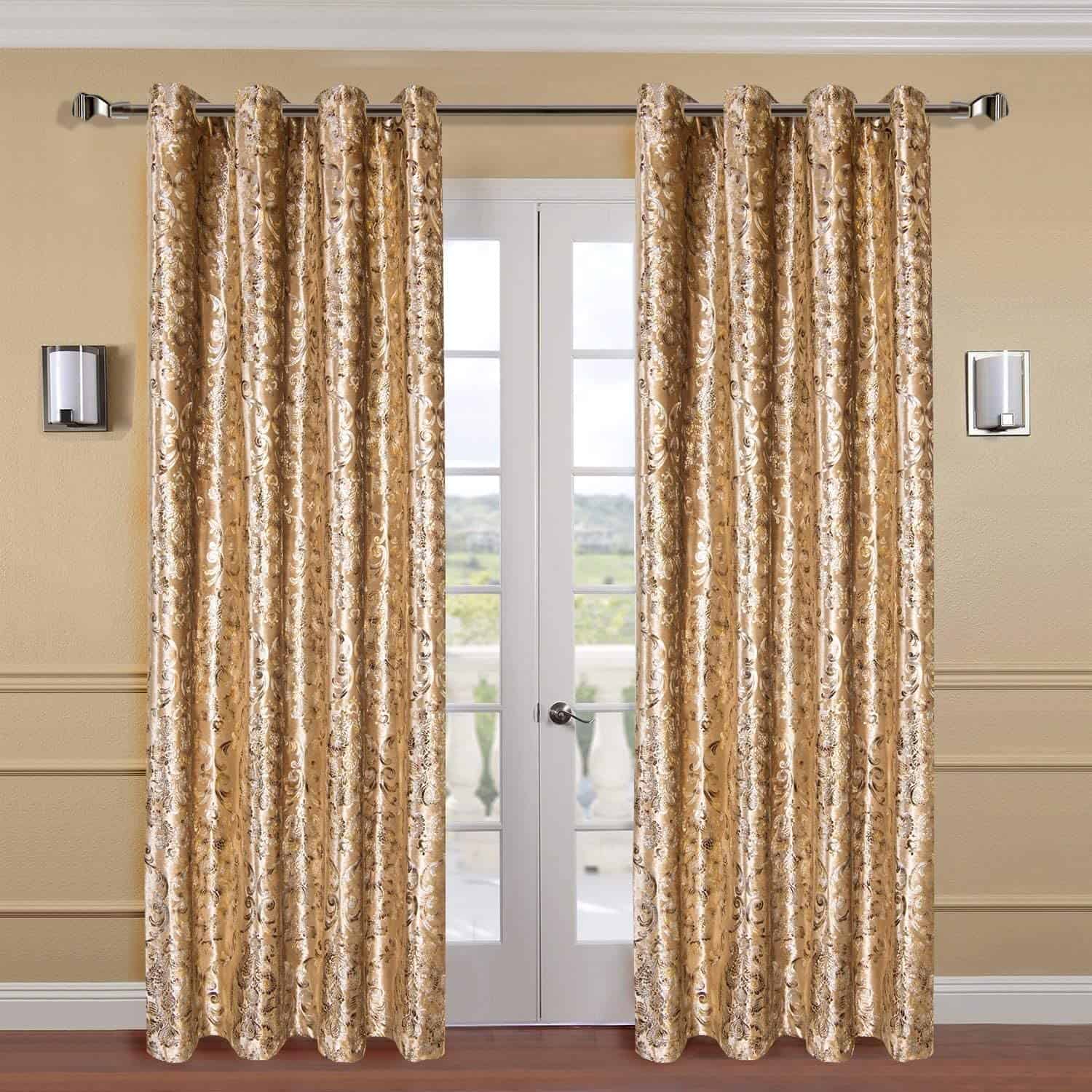 Holly Velvet Curtains
Who knew velvet could be so carefree? These velvet curtains are machine washable, with a polyester blend, and made with a tunnel tab construction. The blooms and bountiful greenery bring life to any room. If you're really into it, you could even don these curtains to welcome in the Spring season. Buy Here.
Red Bird Printed Velvet Curtains
These velvet curtains are made with a cotton blend and could be used in bedrooms or living rooms. While the bird motif is in line with boho, the red velvet is a classic take for an elegant feel. Rich yellows accent the curtains, helping them complement the wood and earthy tones. They also feature some light shading for added privacy. You can also buy Yellow Bird Velvet Curtains from the same creator. Buy Here.
Large Print Velvet Floral Curtains
These large print floral velvet curtains are boho and retro, with lash white, pink, and red flowers set on a pale blue background. Sure to make a statement for bedrooms and living rooms alike, these velvet curtains are crafted with lightweight polyester and machine washable. They also offer privacy, with blackout panels. Buy Here.
Bird Printed Velvet Curtains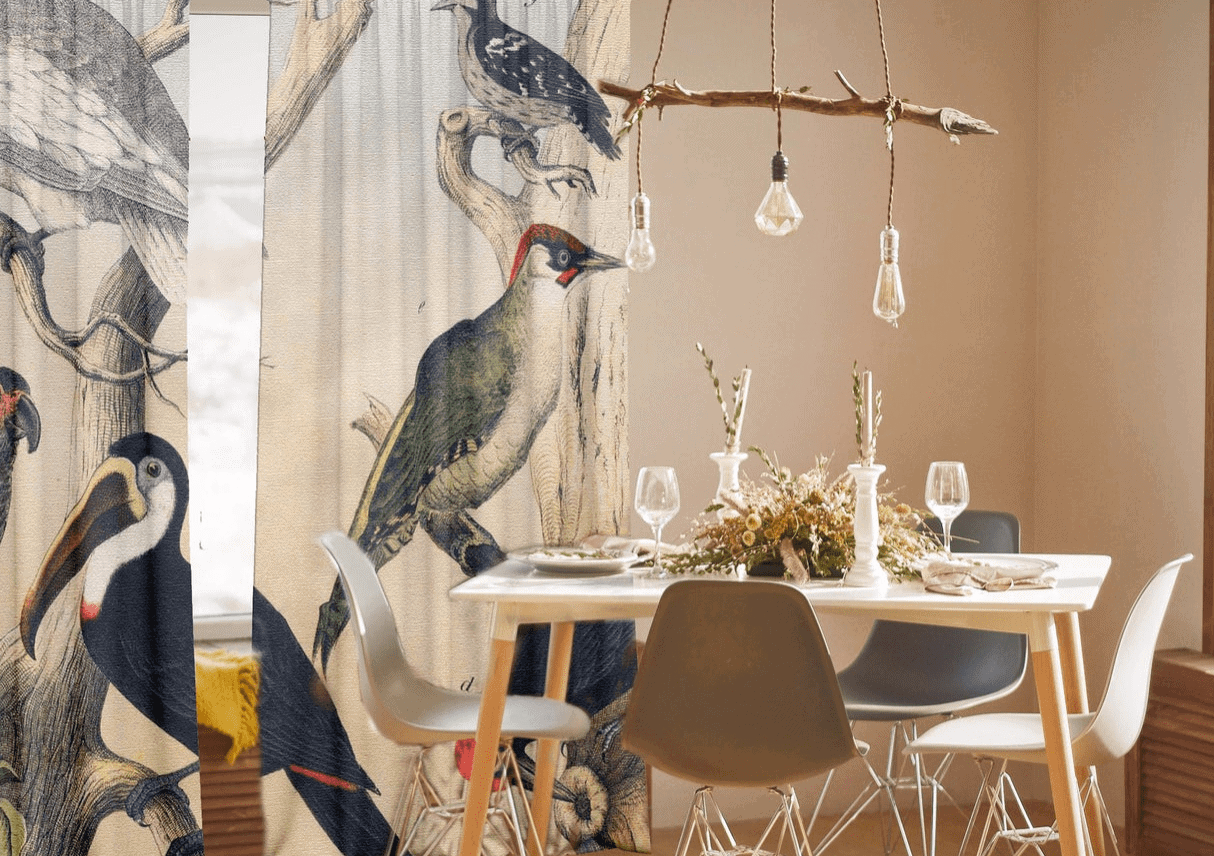 These handmade curtains are designed with an artistic vision in mind. Heavyweight material blocks sunlight and respects your privacy, with the addition of blackout lining. Each bird is beautifully rendered, with an array of colors. These velvet curtains are a work of art. Buy Here.
Frequently Asked Questions
Question: How do you protect velvet?
Answer: The good news is that most velvet curtains are made with polyester and cotton blends, but you still need to know how to protect them. There are specialized sprays you can buy for both stain and water protection. For 100 percent velvet curtains, never use them outdoors. If you're cleaning your velvet curtains, use the smallest attachment possible on your vacuum cleaner. Some even wrap the attachment with cheesecloth or something similar. If you're still worried about damaging your curtains, you can also hand brush off dust or debris.
Question: Why is velvet expensive?
Answer: You'll pay more for velvet than you would for other materials due to how it's constructed. Velvet is flat woven, a technique that requires both more fabric and more time and precision to produce than many popular fabrics.
Question: Is Velvet a good choice for a sofa?
Answer: The hottest trend right now for velvet and home decor is actually velvet sofas. As you can imagine, velvet sofas are elegant and certainly durable. The most popular option is synthetic velvet sofas. They are also unlikely to snag or fade and relatively easy to maintain. However, true velvet sofas can fade. They also tend to attract more dust than other materials and are a little trickier to clean.
Final Thoughts
Velvet curtains can provide a vintage appeal to any room, but they're no longer limited to one aesthetic. Solid color velvet curtains and whimsical designs both offer unexpected modern accents. No matter what velvet curtains you buy, they're sure to add a touch of elegance and a little privacy to the room of your choice.