Latest posts by Erin Jamieson
(see all)
Actress Alexandra Breckenridge may be known for her lead role as Melinda in the Netflix series Virgin River, but now all eyes one her quaint home. Filled with boho details like statement curtains, it's giving the public some inspiration for their own home renovations.
Breckenridge's Atlanta boho home was actually styled by her mother, who's worked as a professional interior designer. When she first moved in, the home had a 90s retro theme that didn't fit Breckenridge's personal style. Now it's transformed into what she describes as an eclectic, boho theme.
Black and white family photos and bookshelves with personalized ornaments show how much family means. Natural tones and cozy carpets make the space feel inviting. But it's the boho touches–including nature-themed wallpaper and accent curtains– that really make the space.
As charming as the Atlanta home is, with its mix of vintage, boho, and modern charm, the truth is that boho curtains can be used in many ways, no matter your taste or budget.
From framing an entire boho-styled home to adding accents to themed rooms, consider this your guide to boho curtains in 2021. I'll explain the do's and don't of boho style and how to select the best boho curtains for you.
What is a boho-style home?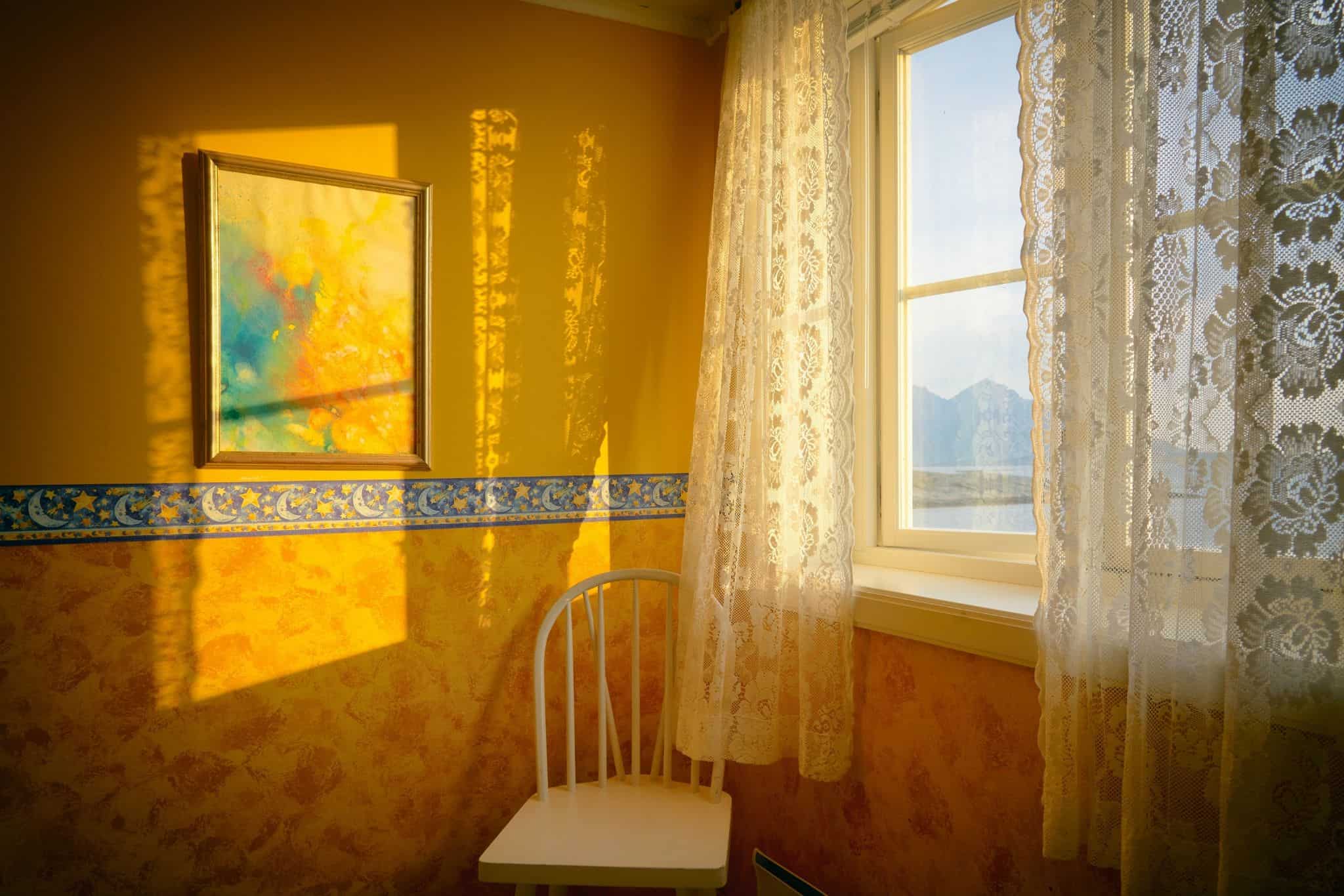 Before you consider buying boho curtains, first it's important to understand what boho actually means. It's a popular term that's been used so much that it's easy to get confused, or not have much of a direction. Of course, keep in mind that more and more people are also embracing eclectic homes that encompass many styles at once. In some ways, boho curtains are perfectly suited for this purpose.
Read our full guide on how to find the best curtains for your needs.
Where is boho style from?
First, a little background on the boho style. It may surprise you, but the boho style is said to have originated during the French Revolution. Following the revolution, many French artists fell into poverty and saw wearing multiple, eclectic styles as a way to express themselves. To this day, boho styles are associated with artists, creative creators, and intellectuals.
The boho style we most know today, however, flourished in the 60s and 70s. Boho style differs depending on region, and it's seen not only in the United States but also in much of Europe.
What is boho style?
So what exactly is boho style? The fact is that there is a degree of variety in how it is defined. While boho style is associated with earthy and bold dusky tones, it's also a mix of retro 60s and 70s fashions. Eclectic patterns, colors, and a relaxed look are all central to boho.
Boho also describes a lifestyle– a more relaxed approach, and liberation from societal standards and norms. For this reason, many describe boho homes as effortless, relaxed, or calming– even though quite a bit of thought goes into designing such homes.
What is the modern boho style?
One example of how boho style has transformed is the modern boho style. A modern boho style pairs contemporary pieces with eclectic accents and bold colors. This can look like minimalist or mid-century modern furniture paired with accents rugs and curtains.
Often, modern boho has sleek or 'simple' furnishings, paired with more expressive statements. Modern boho is carried by modern styles, but with quirky details to combine two styles in one.
How do you style boho curtains?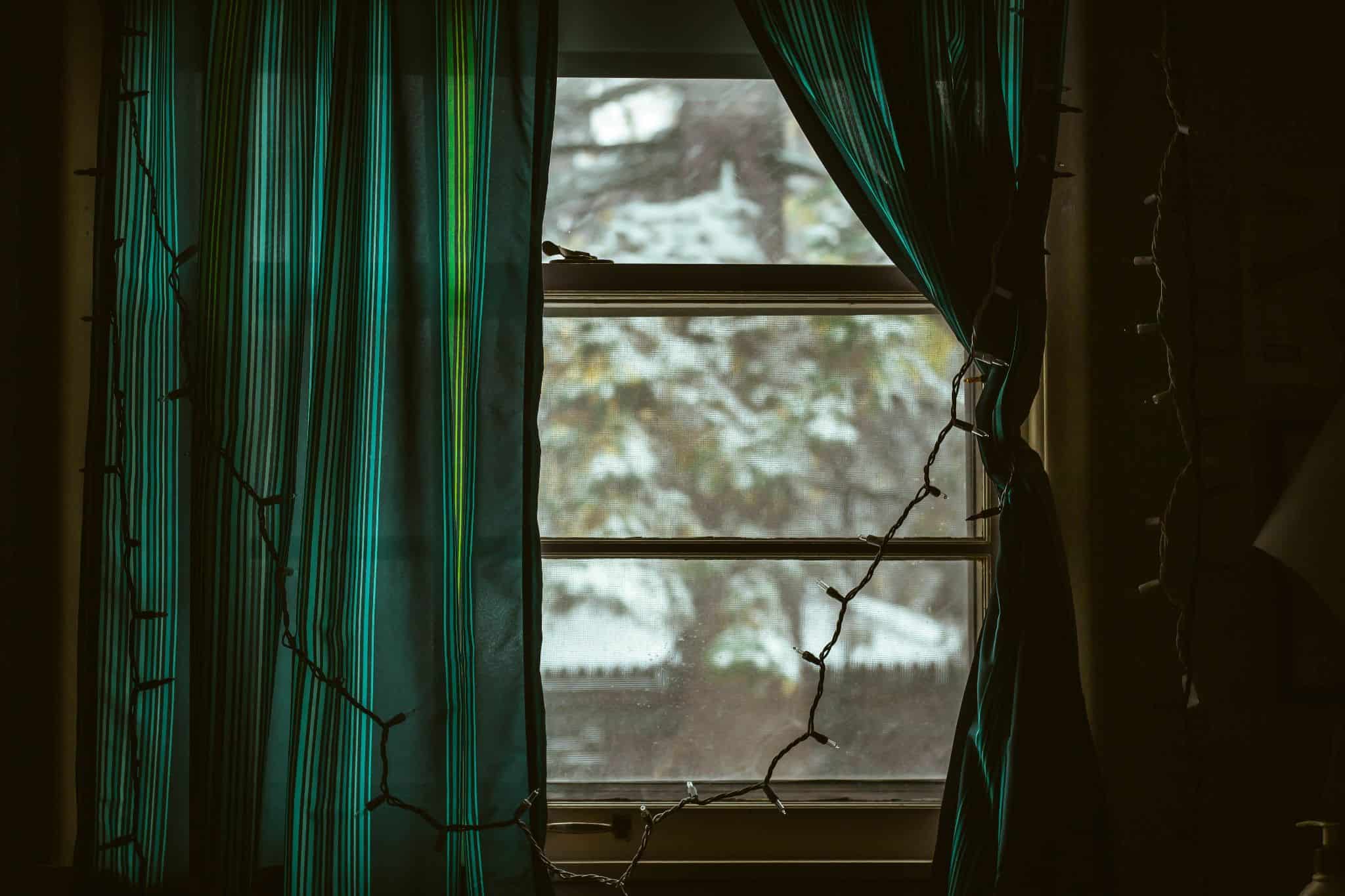 One of the best things about boho style is that you can make up your own rules. If anything, boho encourages eclectic styles and innovation. So when it comes to decorating a boho home or styling boho curtains, little touches can make a big difference. Boho curtains should either serve as a focal accent point– bold colors in a neutral room– or as a coordinating accent. Earthy tone boho curtains, for instance, can complete a look and tie a theme together.
Potted plants, eclectic knick-knacks, and accent rugs would be considered to bring boho curtains to their full style potential.
What is boho material?
In general, boho materials lean towards the natural. Think denim, chiffon, leather, cotton, suede, and silk. But if you're buying curtains, cotton is typical, while faux silk and velvet tend to be especially durable. In reality, you should invest in high-quality materials– but don't worry if the material itself doesn't strike you as especially boho. Diaphanous, light materials and semi-sheer looks work well with earthy tones, while statement bold boho curtains call for heavier fabrics.
Also, keep in mind that boho style is all about mixing and matching. If, for example, you have a fairly plain room, consider playing with different textures or accent colors.
What are boho colors?
Boho colors are often associated with the earth. Think sand, neutral, grass, and other earthy tones. At the same time, boho colors also embrace the unconventional. You might classify them as "type dye colors"– rich, saturated colors that make a big statement. Teals, oranges, pinks, and even canary yellow or passionate purples are common.
Perhaps one reason why boho style is hard to know is that it is, by nature, eclectic. Expect to pair earthy tones with bright pops of color to achieve that look.
What color should curtains match?
With boho curtains, you don't need to stick to conventional rules. If anything, have fun by styling against the grain. General Convention, however, helps make the most out of your boho curtains. For curtains that are meant to complement, consider one shade darker or lighter. This is a great idea for earthy tones. A cream-colored wall looks spectacular paired with a dusty brown.
But if you want to add a statement color, consider complementary colors. For instance, if much of the room is blue, a Fuschia or mandarin orange curtain will really pop when you enter the room.
Just remember: boho is defined by an eclectic, mix and match style. That means you can have fun with unexpected combinations, even those that go against typical 'fashion rules'.
Boho Curtains: My Ideas
Now I'll give you my top ideas for boho curtains in 2021. You'll be able to select from bold accent color curtains, nature-inspired curtains, and textured curtains. Embracing earthy tones and pops of retro color, here are some great ways to complete your boho-styled home or room.
Bold Colors & Patterns- Boho Curtains
Bold colors harken back to retro themes. These curtains make for the perfect accents to living rooms and bedrooms. While a play with patterns is not unseen, solid colors tie in a more modern boho take. Consider pairing these curtains with other complementary colors, so that they really shine.
Striped Watercolor Nautical Green Boho Curtains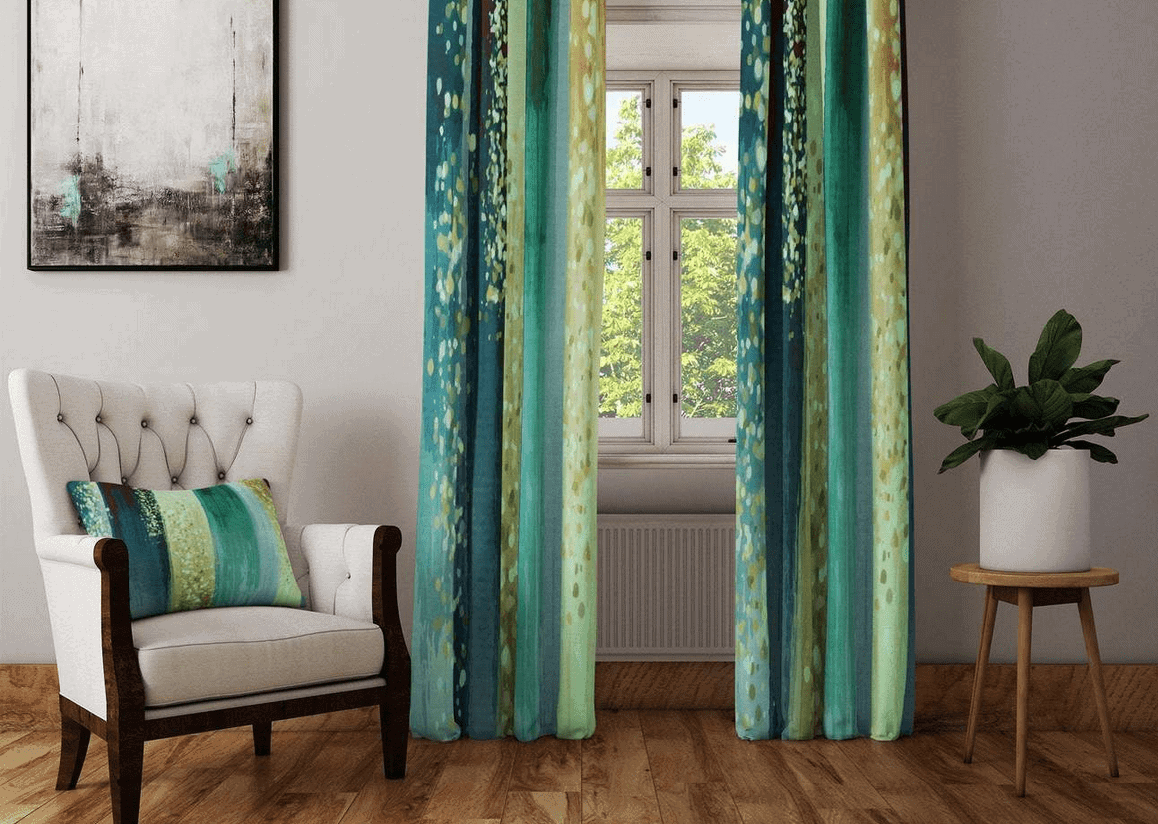 These stunning boho curtains are made out of polyester and silk shading cloth. Machine washable and made to order, something is dazzling about the spectrum of green hues, accented with shimmering lighter hues. Fantastical but sturdy, these curtains pair excellently with wood floors and neutral furniture. Buy Here.
Mandala Cotton Curtains
These handmade 100 percent cotton curtains add a delightful splash of color for a traditional boho feel. Mandalas are a symbol of spiritualism, often associated with meditation and reflection. Rich orange and yellows in an elaborate pattern make for a dramatic statement. Consider these curtains for a room where you can be alone and quiet, or even as a room divider. Buy Here.
Horseradish Cotton Velvet Curtains
The mustard yellow hue is modern boho and there's a simplicity with the streamlined, pleated design. You can purchase these curtains with antique brass, brushed nickel, polished nickel, or antique nickel hardware. The opaque fabric also offers more privacy than many boho curtains. Buy Here.
Basic Solid Turquoise Darkening Curtains
These budget-friendly curtains come in bold hues, including this modern boho Marine. The polyester construction provides noise reduction and room darkening and even helps regulate temperature. These curtains would be a fantastic addition to living or dining spaces. Buy Here.
Chloe Patchwork Gauze Curtains
Honey to orange hues makes for statement curtains. The graduated colors and the diaphanous material provide a traditional boho feel and add a sense of ease to any room. Designed to allow natural light to infiltrate, consider these curtains for living and sitting spaces. They look fantastic with ivory, cream, and white. Buy Here.
Nature Inspired Boho Curtains
Nature themes, especially trees and flowers, are at the heart of much of boho decor. You'll also find earth and sky allusions. These nature-inspired boho curtains capture a sense of whimsy, from dramatic to more understated. I love these curtains especially for windows overlooking gardens, backward, or woods– but you can play with where you use them.
Boho Vintage Nature Blackout Curtains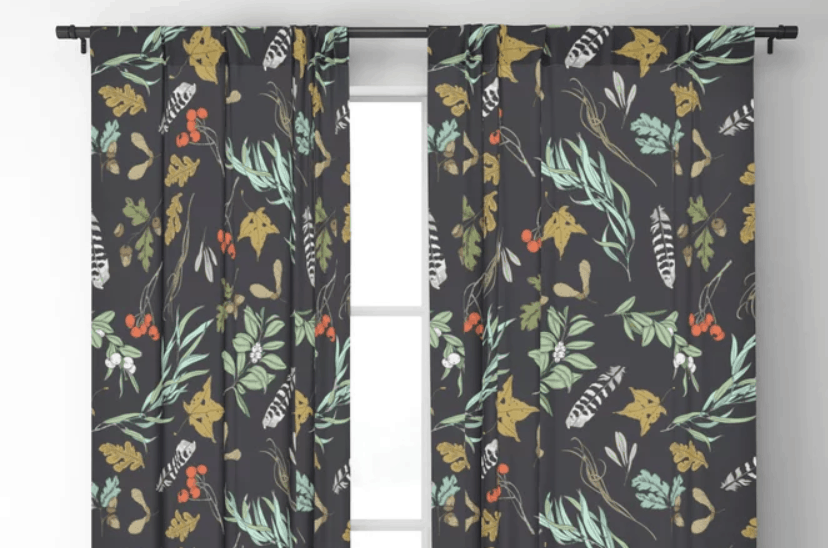 Love the boho look but want a modern design that fits a bedroom? This modern take on boho features blackout curtains, made with lightweight polyester and equipped with a pocket for easy hanging. They're also machine washable and fuss-free– making this a viable option even for a kid's room. Buy Here.
Boho Bouquet Blackout Curtains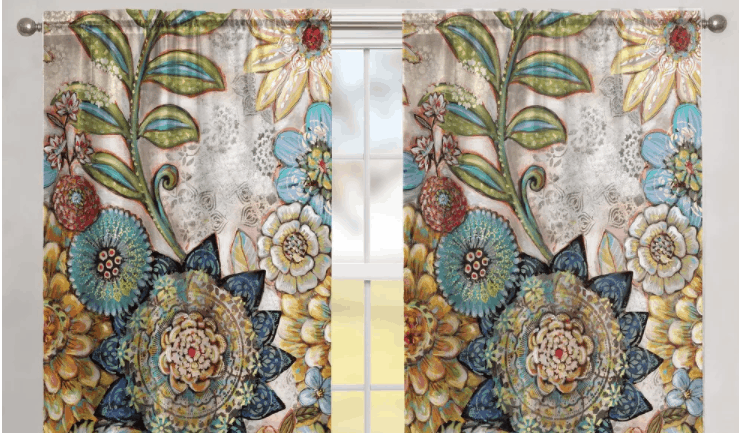 Offering plenty of privacy, these boho, floral curtains feature large print, whimsical takes on nature. A bouquet of boho colors, from cool pastels to warm oranges makes for compelling statement curtains. These work well as accents to minimalist furnishings. Buy Here.
Valley of the Sun Curtain Panel
Sold as single panels, this handmade curtain is truly unique. Made out of cotton and polyester, the detailed mountain and lake theme is a different take, and could be used to tie boho with more western themes. The additional lining is also available for more privacy. Buy Here.
Sun Pattern Printed Curtains
Welcome in a boho-hippie style with these sun patterned curtains. The polyester curtains are waterproof and beautifully printed. Orange, yellow, crimson, and other hues add warmth and delight to a room. Buy Here.
Randel Dream Forest Floral Curtains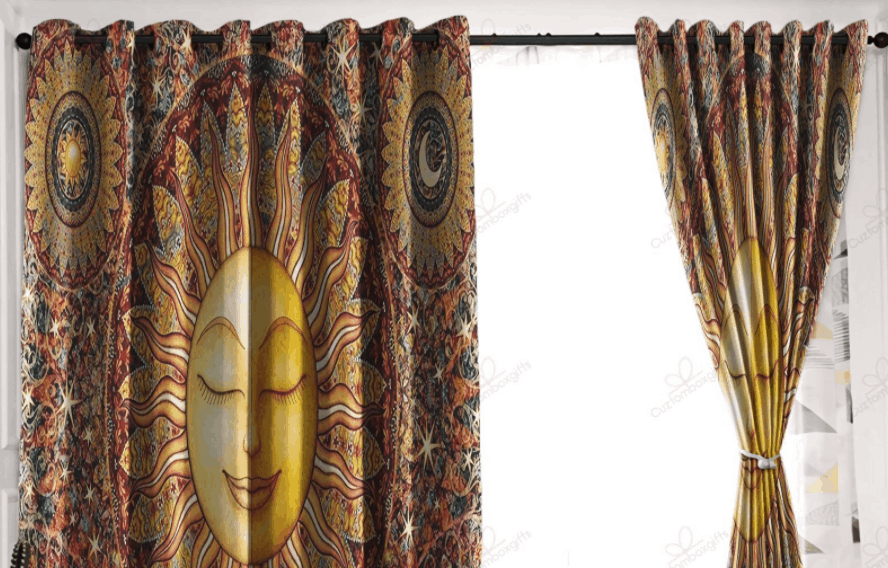 These blackout boho curtains offer privacy but also a boho-chic (elegant) style. Birch tree leaves are handpainted on polyester with teal and gold hues. Not only are they elegant and boho, but they also are easy to care for–and machine washable. Consider hanging these curtains in the dining room and living areas. Buy Here.
Textured and Patterned Boho Curtains
Of course, a major aspect of boho style is playing with textures, patterns, and styles. These curtains feature unique textures and are the perfect way to shake a room up. For modern boho, pair with minimalist and neutral furnishings. For traditional or eclectic boho, have fun and even mix and match with other patterned accents, like a rug or striped furniture. Get inventive as you wish to embrace these playful curtains.
Boho Curtains with Tassels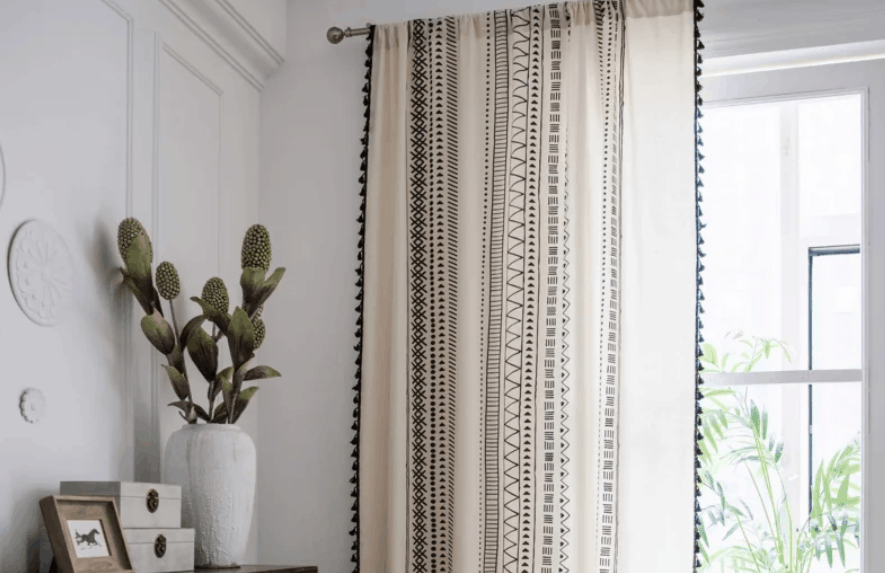 If you love the idea of boho textured curtains but aren't sure where to start, this is a subtle way to get started. The black and cream colors are trimmed with tassels and would even work with a rustic-themed home. The heavy linen is meant to provide privacy, but also allow light to filter in. They're also fade-resistant and wrinkle-free. Buy Here.
Macrame Decorative Window Panel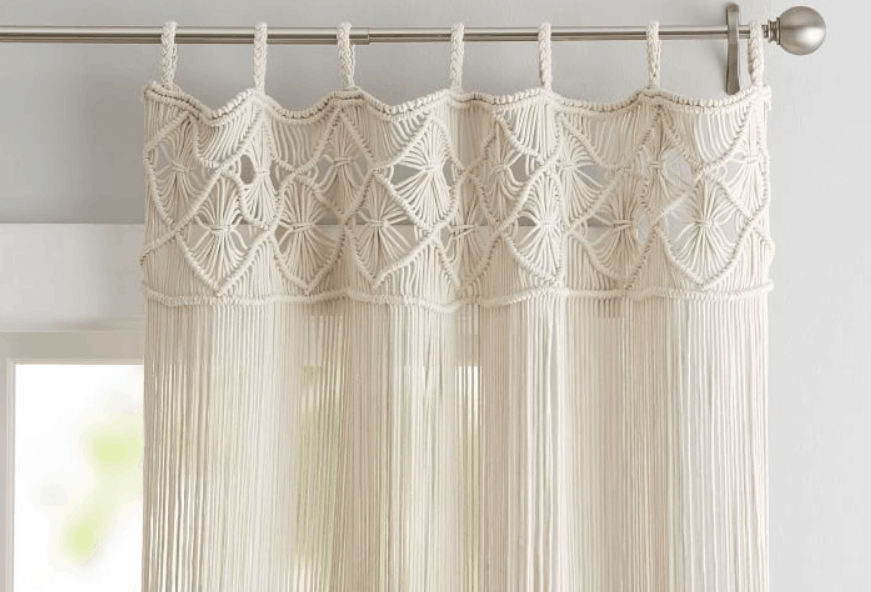 Meant as a decorative curtain or room divider, this light and airy curtain is perfect for modern boho rooms. Available in blush and ivory, these curtains are handcrafted and sustainably sourced with dainty fringe trim details. If you want to carry a boho-chic theme, consider an elegant accent rug. Buy Here.
Boho Geometric Abstract Curtains
This playful pattern would fit into any modern home but add a subtle boho accent. These handmade polyester curtains are available in sheer and blackout styles. Navy, rust, beige, and earthy tones exude calm. Buy Here.
Pom-Pom Tassel Linen Curtains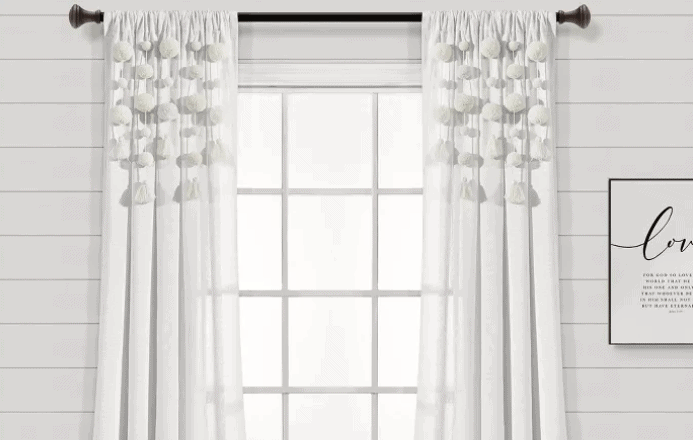 A cotton and linen blend, these curtains are pure fun. Pom-poms and tassels add texture to floor-length curtains. They've available in gray and off-white and allow natural light to come in, with a bit of privacy. Playful and modern, I love these curtains for just about any room. Buy Here.
Recycled Silk Panel Curtains
These curtains offer a dreamlike charm. The recycled silk material is handmade by artisans in India and blends a variety of textiles for a compelling and eclectic look. Available in many colors, these curtains would be perfect for a small study or a bedroom. Buy Here.
Bohemian Rust Curtains
The amulet design comes from Turkey and is meant to ward off ill fortune– you could even use these curtains for a Feng Shui-inspired home or room. Hand Printed using carved bricks and hand-dyed with all-natural dyes, this is a truly unique idea. Constructed with 100 percent cotton, these lightweight curtains are pleasing and would be at home in living spaces and studies.
Frequently Asked Questions
Question: Should curtains be darker than walls?
Answer: Remember: there are no hard and fast rules when it comes to selecting the correct shade of curtains for your room. That said, most designers recommend you go a shade or two lighter or darker than your wall, rather than matching your wall. For darker walls, lighter curtain shades have a different impact, and vice versa.
Question: Should curtains match your wall color?
Answer: If your curtains exactly match your wall color, they aren't going to have much of an impact, but rather blend in. Instead, either go a shade or two lighter or select a curtain that will complement your wall color. When in doubt, bring a sample swatch of your wall color when selecting your curtains.
Question: Are Boho and hippie the same?
Answer: There's some confusion about the terms boho and hippie. It certainly is true that the styles overlap. More likely than not, you've seen styles marketed as boho hippie before. Much of the difference between the two actually can be pointed to their origins.
Hippie fashion arose out of a political protest, while boho more arose out of a lifestyle preference and a means for personal expression. Boho also has more overlap with other styles, such as boho-chic and modern boho. If you had to generalize, Boho is also very much more multicultural and can lean elegant, and hippie is a more narrowly defined style.
Final Thoughts
Boho curtains add whimsical and even bold statements for bedrooms, dining rooms, and living areas alike. From playful textures to bold colors to nature-inspired styles, boho curtains cannot merely be placed in one category. The most important thing to remember is that boho is all about playing with conventions. Buy curtains that allow you to do just that and express your unique personality.