Latest posts by Erin Jamieson
(see all)
Breezy sheer curtains and eco-friendly options like bamboo may be trending in 2021. Yet for anyone hoping to capture a vintage or cottage aesthetic, it's lace curtains that are especially appealing.
And while lace curtains may seem dated to some, fashion designer Betsey Johnson proves there are bright new ways to style them in 2021.
Johnson's Malibu mobile home, which is on the market for $1.95 million, shows how lace curtains can be made to fit the most unexpected decor themes.
The whimsical home is located in Paradise Cove Mobile Park and features two bedrooms and two bathrooms exuding bright hues and retro decor. If the outdoor pink flamingo and the pergola-covered garden area don't catch your eye, the master bedroom, with canary yellow hues, just might.
But it's the retro accents that make the home. And one of those just happens to be the flamingo pink lace curtains. The bright hue and intricate lace tie in perfectly with the zany, unabashedly retro theme.
Of course, you don't have to have a million-dollar budget or a love for bright retro-styled homes to make the most out of lace curtains.
Consider this guide to how to buy lace curtains in 2021, and my picks for where to buy them.
How Can You Tell if it's a Good Quality Lace?
Before buying lace curtains, I want to discuss lace in of itself. Not all lace is created equal, and while you'll have limited options for lace curtains, it's still helpful to understand what you're paying for, and where and how best to use them.
The first sign of low-quality lace is that there aren't any details about how it was made, or what kind of lace it is.
If you simply see something labeled as 'lace,' it's important to understand that it may be of poor quality. Bad lace tends to look generic, while quality lace tends to be more intricate in detail, no matter the style.
Furthermore, look at the pattern. Curved lace is considered more desirable since blocky patterns tend to be a hallmark of more generic, mass-produced, and less stylish lace.
What is the Thinnest Lace?
HD lace is typically considered the thinnest type of lace. It also tends to be especially fragile, as compared to other lace types. HD lace is often used for clothing and is loved for being soft, but it's also not very durable and thus not a great option for lace curtains.
What is the Most Delicate Lace?
It's important, however, to distinguish between thin and delicate. Delicate lace is described more for its patterns and intricacies vs its durability. Chantilly lace is known for its delicate patterns and is prized as a beautiful and elegant option. Chantilly lace is often also used from trims on different products.
What is the Most Durable Type of Lace?
While you may not be able to get your hands on the very most durable type of lace, Venetian lace, also known as Guipure lace, tends to be the most sturdy. Another good bet is a blend of high-quality cotton and lace.
How do I Select Lace Curtains?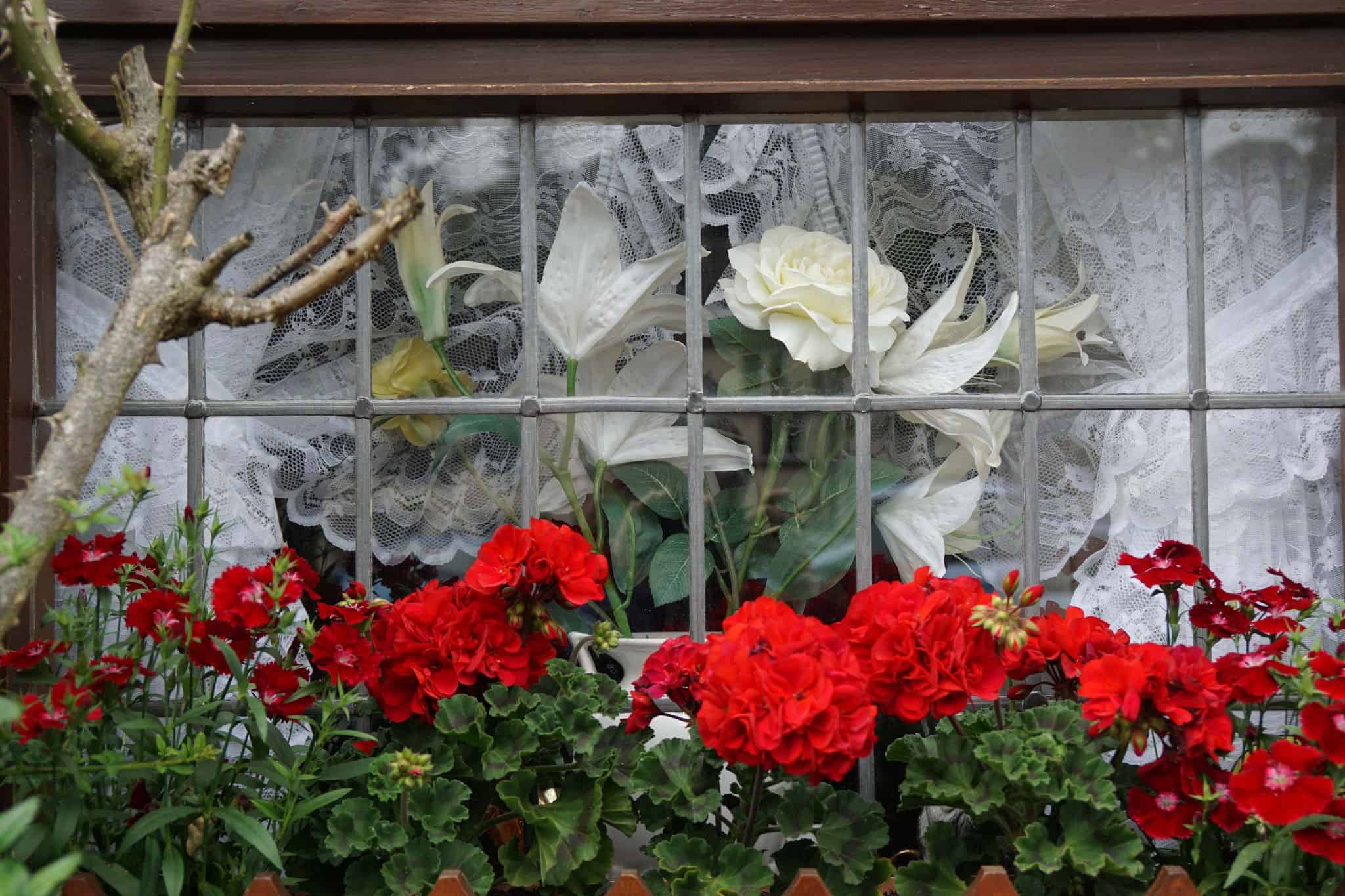 Before you buy lace curtains, you need to know how to use them and what should go into your selection. Lace curtains are never truly out of style– they go in and out of being trendy. But whether you're buying for a vintage, retro, or even country appeal, you need to know the pros and cons of this curtain style.
What Are Lace Curtains Made From?
First of all, most lace curtains are made from a blend of materials. Your best options for lace curtains are made from a blend of polyester and/or cotton. This improves durability.
However, make sure you aren't buying polyester or cotton curtains alone that merely are mimicking a lace pattern– which is a practice for some cheap options.
What are the Different Shades of Lace?
Lace also comes in many different shades. While you may think immediately of white, you can find some options in pastels and other colors.
But most likely, you'll be selecting between different shades of white. You have stark white, which has a brighter hue. But you'll also have off-whites, such as ivory and ecru. Off whites provide a more vintage look, while stark white tends to read as more modern.
How Long by Lace Curtains Last?
Lace curtains of reputable quality are still sometimes a bit more fragile than other options but should last a fair amount of time. The highest quality lace curtains should last an average of four years unlined, or five years lined.
Of course, much consideration must be given to how they are used. If you have small children or pets, avoid fragile curtains or use lace curtains in lower-traffic areas of your home.
Can you Wash Lace Curtains?
You can hand wash lace curtains, but some can be washed in a laundry machine. You'll need to select a hand wash or gentle wash cycle and first have the water fill enough to soak the curtains.
That said, you should always follow directions from the manufacturer, and it's safer to hand wash more delicate curtains. Lace, like other curtains, will pick up dirt and dust and can be lightly dusted.
How Long Should Lace Curtains Be?
Lace curtains come in all lengths, though the most popular ones are floor-length and half curtains. Floor-length lace curtains are elegant, but of course, require a little more upkeep.
Can You Use Lace Curtains Outdoors?
Generally, I'd recommend keeping lace curtains indoors. Unlike bamboo curtains, lace curtains are not water-resistant. Lace actually becomes more fragile when it's wet as well. Even though most lace curtains are polyester and cotton blends, they're simply not the best option for outdoor use.
Do Lace Curtains Provide Privacy?
The truth is that lace curtains are typically poor choices if you're most concerned about privacy. They tend to be quite sheer and allow light to come in both day and night.
In fact, you'll enjoy even less privacy from even sturdy lace curtains at night. For this reason, lace curtains are best used as accents and along with blinds or shades that can provide you that desired privacy.
Lace Curtains: My Picks
Now I'll give you my ideas for lace curtains in 2021. I've divided them based on their general style, from modern knitted lace curtains to traditional Madras and Nottingham curtains. Use this as your inspiration to narrow down what styles might be right for you and your home.
Madras Lace Curtains
Whether you do it or not, many traditional or vintage lace curtains are madras lace curtains. Madras lace is a cotton and lace, woven blend.
Madras lace can take a long time to make– up to one day for twelve yards. Madras lace curtains are often made in Scotland and are a sought-after style for "cottage style" homes. It's high-quality lace, with a rustic charm. Keep in mind that these options cost around $70 to $300.
Aviary Madras Lace Curtains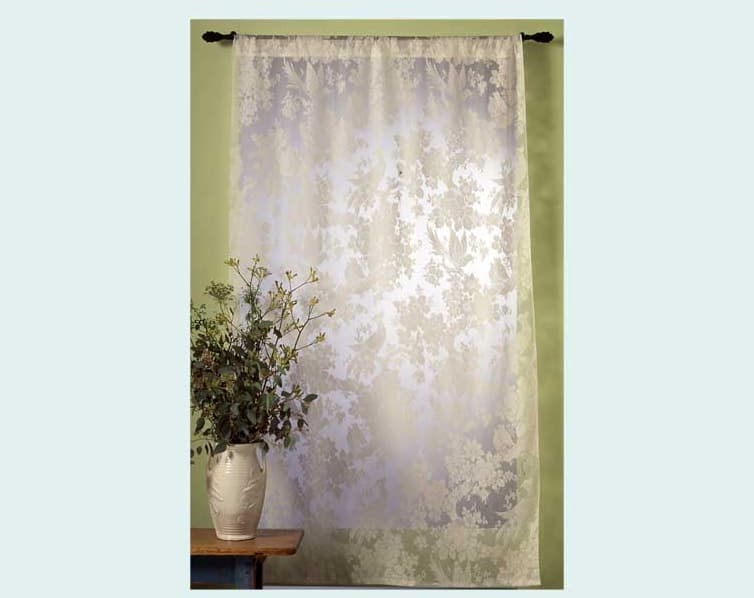 These exquisite lace curtains feature an intricate bird and floral design. A blend of lace and cotton, the semi-sheer curtain pairs with ivory motifs for an elegant but elaborate take on lace curtains.
Made in Scotland, these lace curtains look beautiful set against accent walls.
Buy Here.
Damselfly Madras Lace Curtains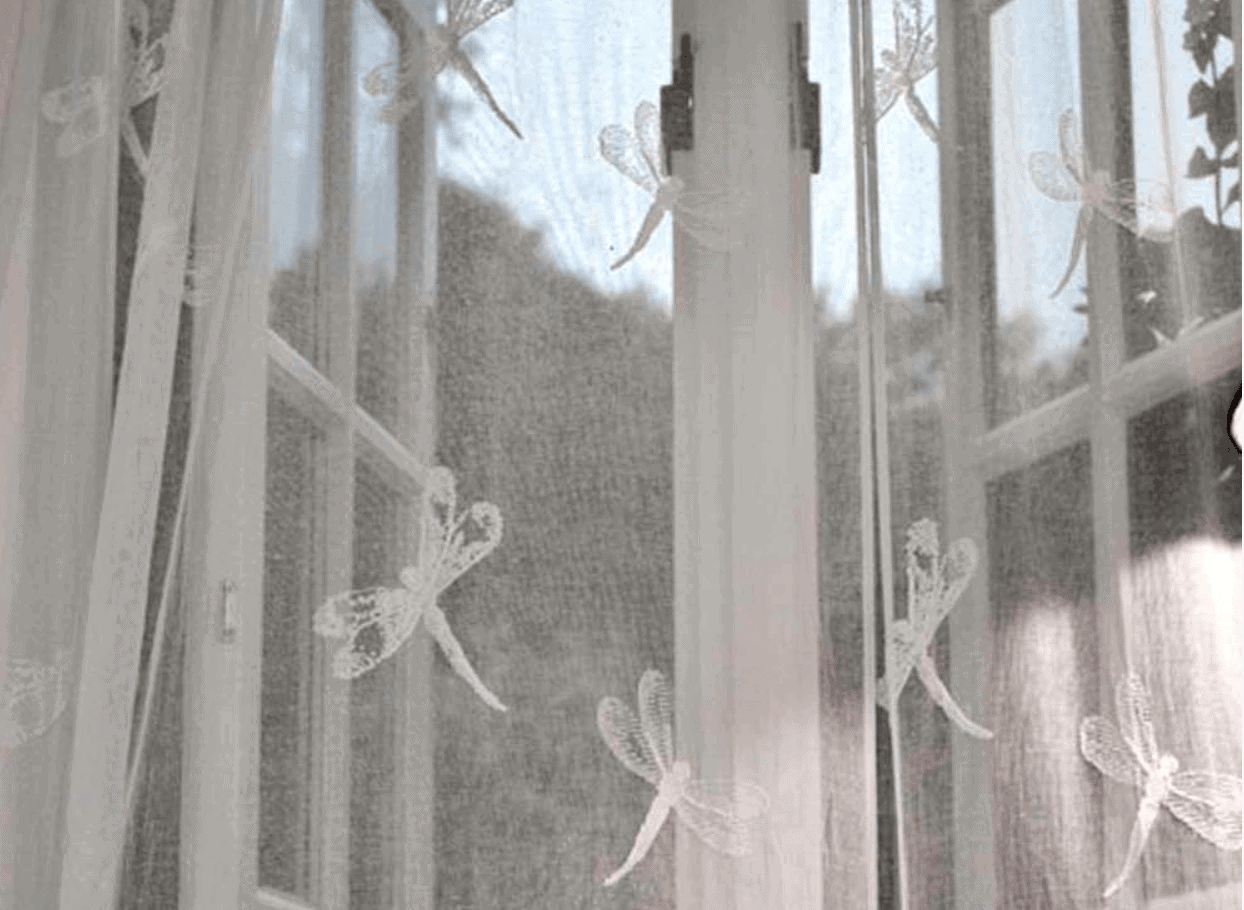 Beautiful Scottish lace is given a modern update with this charming, but simple design. The Damselfly, the old English term for dragonflies, has been a popular and recurring motif for a few years now. Wisp, ambient dragonflies are stitched on sheer curtains for a diaphanous, whimsical style. Buy Here .
Antique Scottish Mandras Leaves Lace Curtains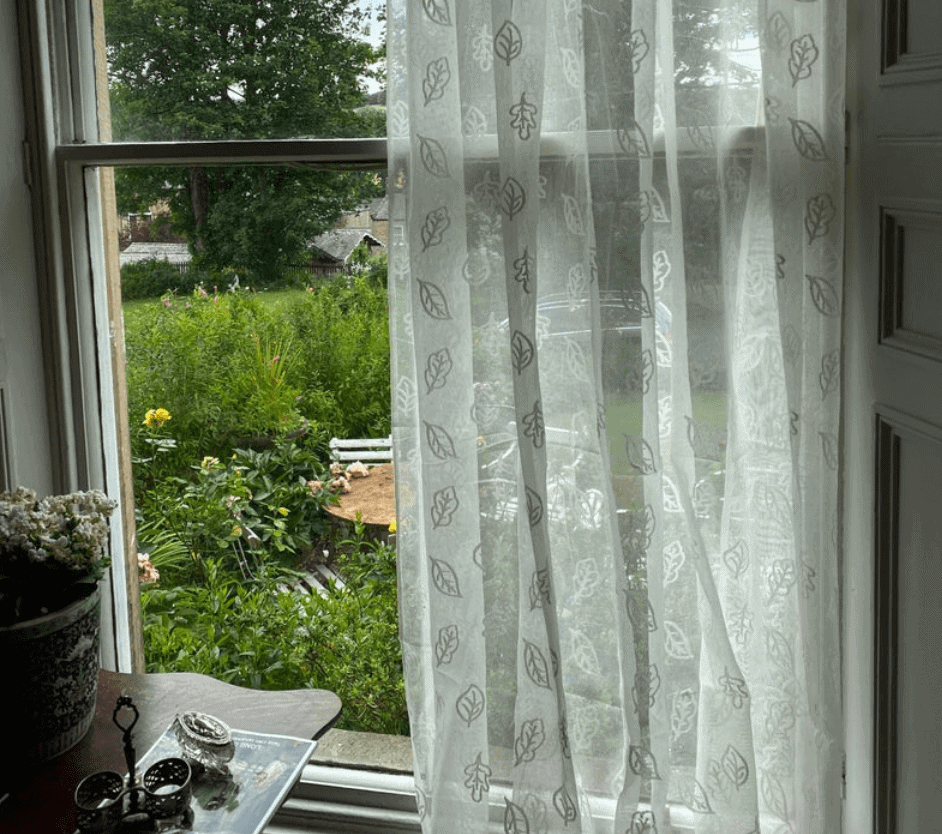 This handmade Madras lace curtain features a modern leaf design that would look at home in a cozy cottage. The construction of the paneling adds a little more privacy to the semi-sheer ivory, cream, and white curtains. Buy Here .
Antique Scottish Madras Crewelwork Wool Lace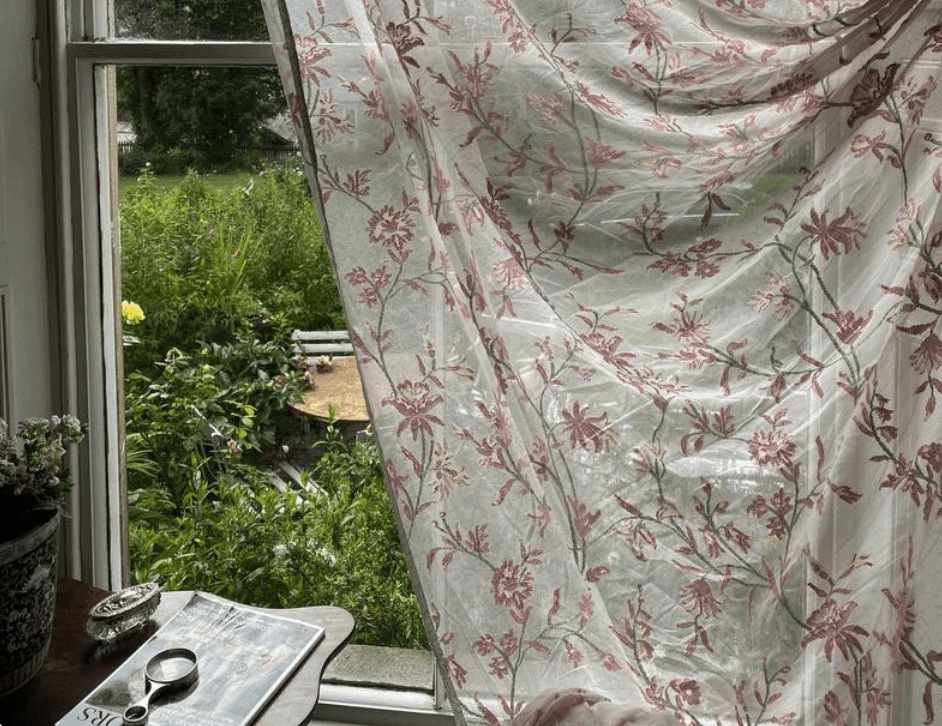 These ivory lace curtains are covered with traditional Jacobean-era floral designs. Lively pink floral vines provide a sense of movement and classic romance. These lace curtains offer an alluring elegance for any cottage, traditional, or rustic home. Buy Here .
Striped Cotton Madras Lace Curtains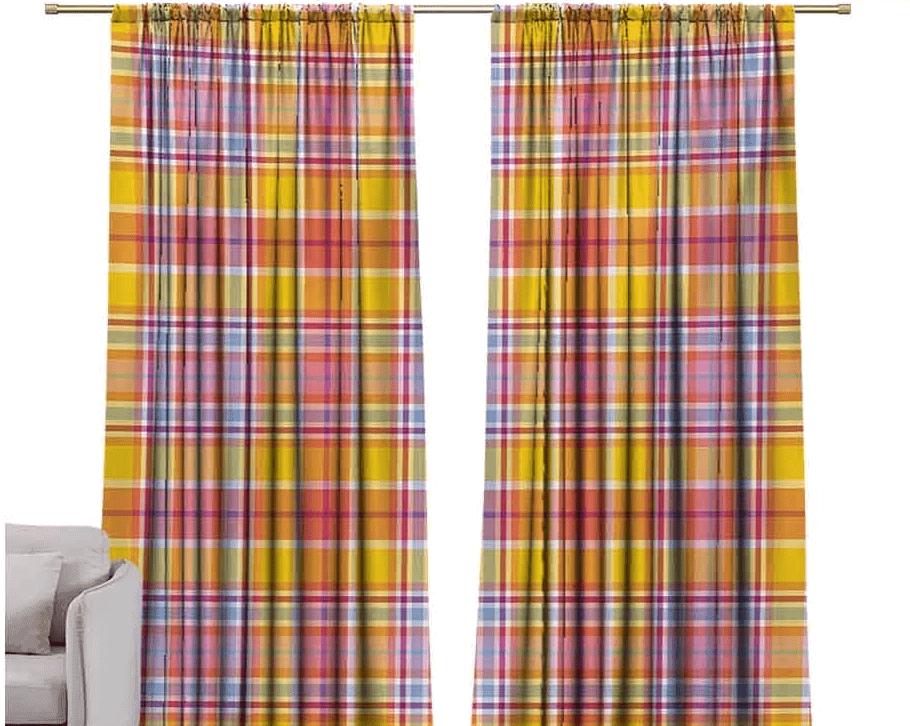 Looking for a contemporary rustic or cottage look? These curtains are a surprising take on lace curtains that you don't typically see. Marigold yellow, rosy pink, and whispers of blue sare make for a vivid tartan design. Buy Here.
Read our full guide on how to find the best Yellow Curtains.
Alexia Scottish Madras Victorian Lace Curtains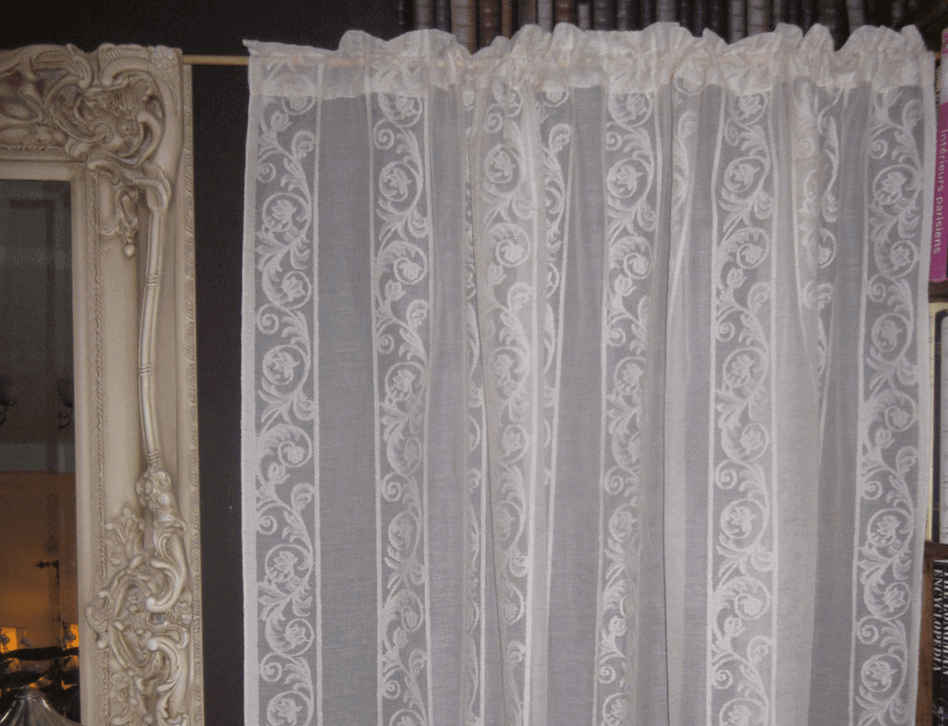 These Victorian-style lace curtains have an unexpectedly light look. Panels of traditional Victorian-era floral and vine motifs excuse elegance. While this look is classic and vintage, it's also understated enough that you can play with vintage, traditional, and country styles. Buy Here .
Annemarie Scottish Madras Lace Curtains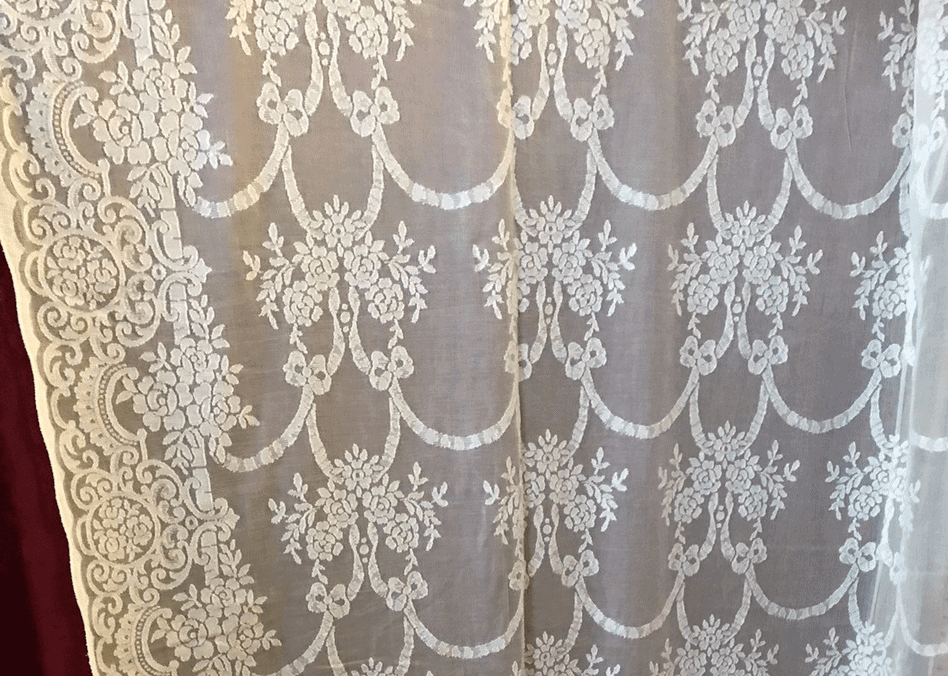 This elaborate design is not typical of Madras lace curtains but is perfectly suited for a Victorian-style room. Cream and ivory motifs wow with a rich sense of tradition, and undeniable flair. These curtains could even work as room dividers for a formal dining room. Buy Here .
Modern Lace Curtains
Under this category are probably the styles of lace curtains you'll feel most familiar with. These knitted lace curtains do not have any specific method to produce but are usually more modern, versatile, cheaper, and easier to get your hands on.
However, my picks are not just any lace curtains made in the United States. Rather all of these are knitted, rather than purely mass-produced, and use lace with cotton or polyester blends.
These options still are not as high quality as Madras or Nottingham, but many may find these curtains suit their aesthetic needs. Expect to pay $30 t0 $150.
Gracewood Hollow Knitted Lace Medallion Curtains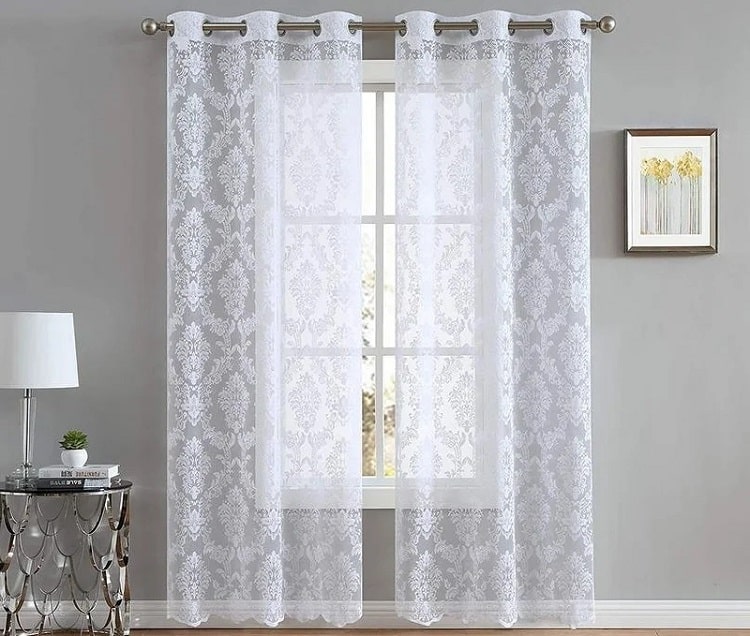 These knitted lace curtains are a refreshing, modern take that will suit a wide range of homes. Available in white, silver, and ivory, the delicate design adds faint elegance without overwhelming. A lace and polyester blend, it's also easy to care for.
Wrinkle-resistant and machine washable, these contemporary lace curtains are a practical choice. Buy Here .
Pebbles Knitted Lace Floral Curtains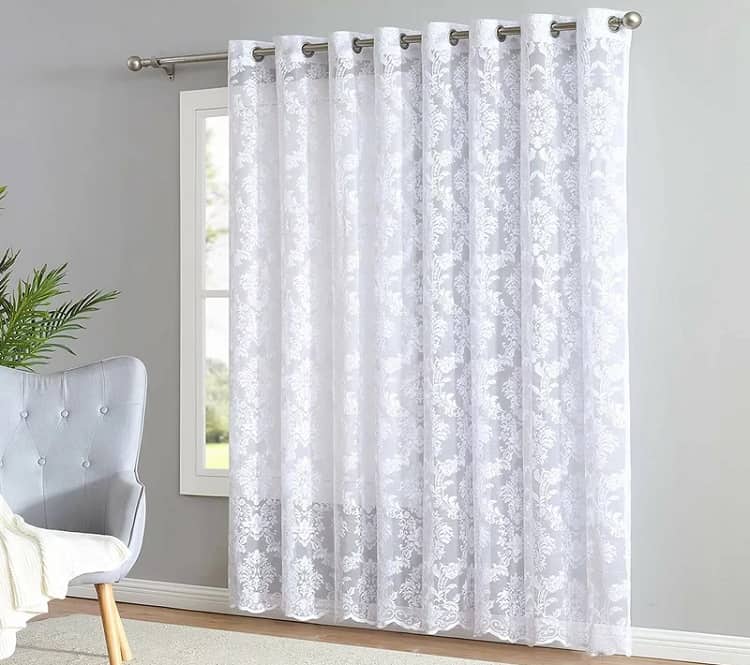 Available in white, ivory, or silver, these semi-sheer modern lace curtains would beautifully frame any window near a garden, patio, or outdoor space. Light floral motifs accent semi-sheer panels. These lace curtains would even work with minimalist furniture. Buy Here .
Marine Life Knitted Lace Curtains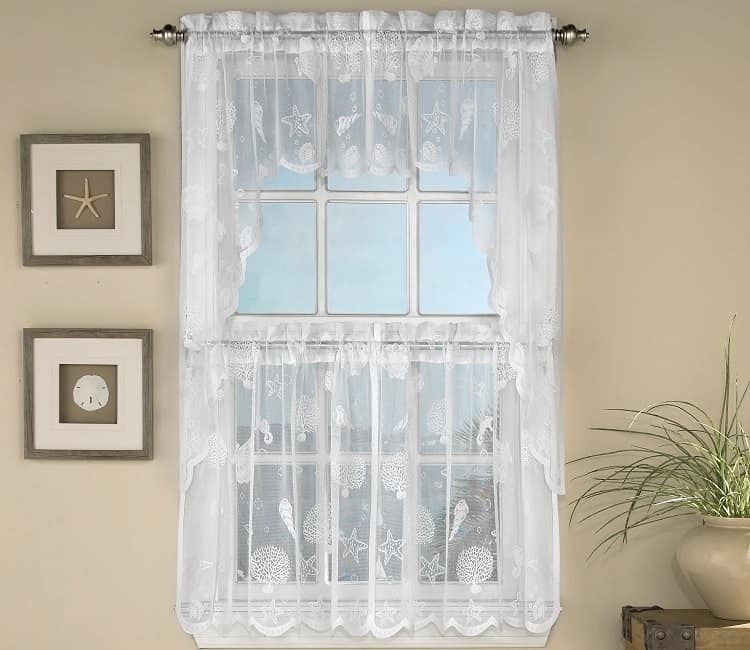 Lace curtains are becoming more whimsical with their modern takes, as these curtains show. The playful sea life designs aren't exactly elegant–but they do add a quirky touch to seaside homes. Available in white or ivory and made with a lace and polyester blend; Buy Here .
Knit Lace Bird Motif Curtains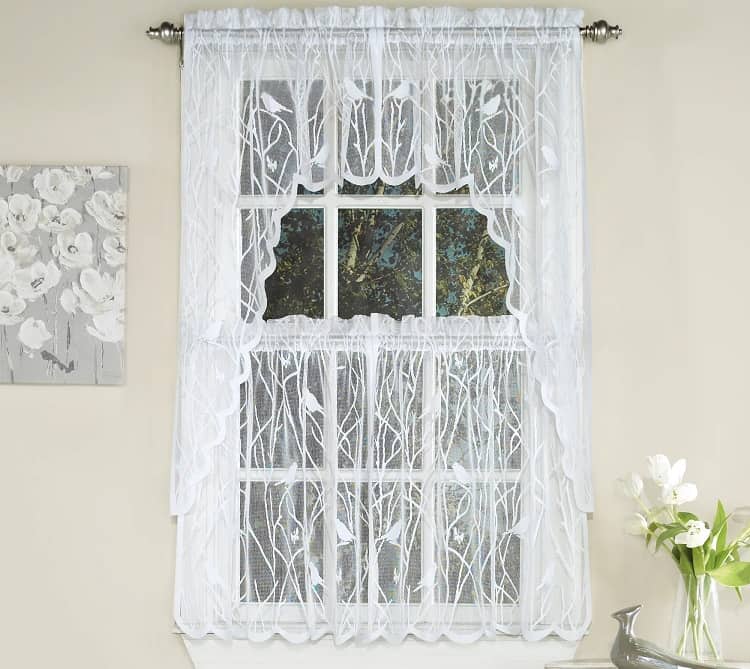 The bird motif would fit with even boho-style homes and is delightful for any nature lover. Petite birds and branches are constructed on a valance to bring natural light– especially suited for kitchens. They're casual, machine-washable curtains that are a fun entry point for anyone new to lace curtains. Buy Here .
Nottingham Lace Curtains
Nottingham lace curtains are, alongside Madras lace curtains, among the highest quality styles you can buy. Like Madras lace curtains, Nottingham lace is also not mass-produced but crafted with care and exquisite attention to detail.
Suited for a vintage style, these refined lace curtains have 5 percent polyester in their construction, which allows for more versatility in terms of designs and patterns. You'll find larger and some more modern prints with a classic, refined look.
Alice Nottingham Lace Curtains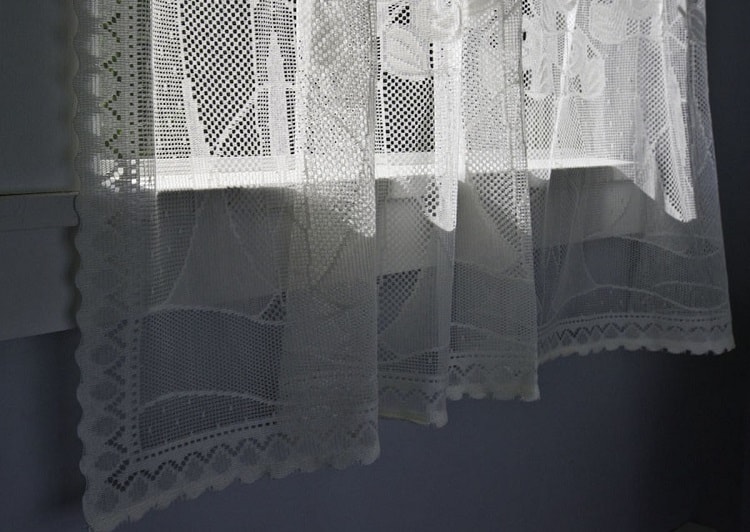 These beautiful Nottingham curtains are stitched with an Art Nouveau design. Available in both pale ivory and antique white, the style is artistic and retro, with subtle refinement. In many ways, these lace curtains prove that lace can be versatile and go beyond the expected. Buy Here .
Large Floral Scroll Nottingham Lace Curtains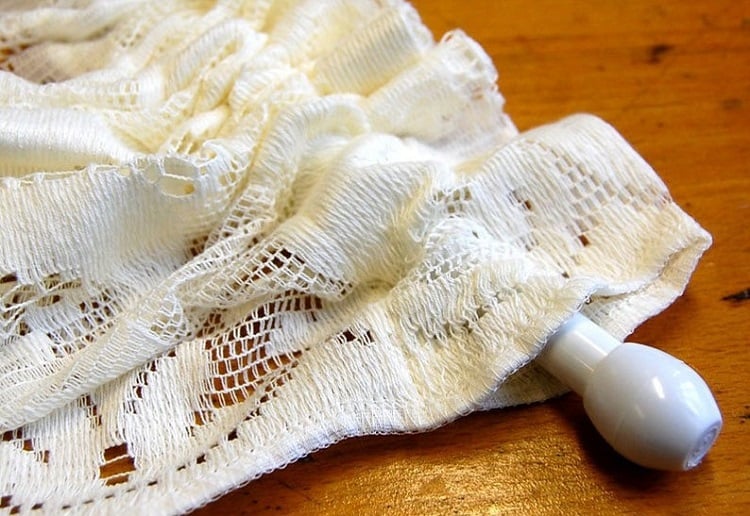 Sold by single curtain panels, these vintage lace curtains feature an oversized floral print design, suited for vintage or even retro comes. Ivory and cream make for a soft statement and look especially suited for dark wood tones. Buy Here .
Madelyn Country Cottage Lace Valance
If you aren't in search of floor-length lace curtains, this valance provides an alternative. The Nottingham lace panel features a vintage bride-bise design and a charming country-themed motif. Pair with blinds for added privacy, or use in a room where you want plenty of natural light. Buy Here .
Beatrice Nottingham Lace Curtains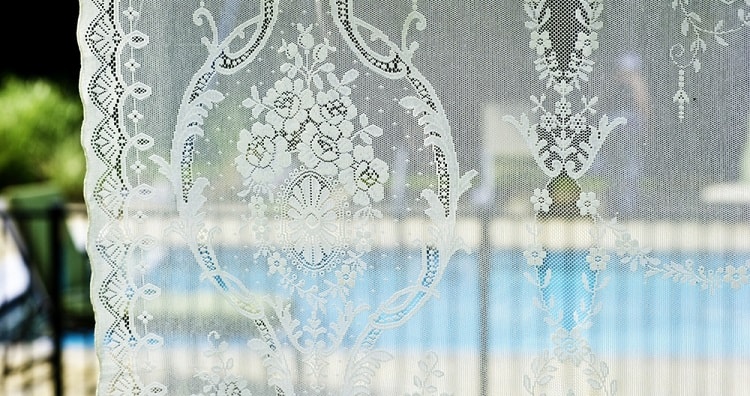 These lace curtains feature a classic Victorian design. Roses and fleur de lys add antique and elegant notes on antique white or pale ivory. Dainty but elegant, these lace curtains are perfect statements to formal rooms. Buy Here .
Charming Hearts Vintage Nottingham Lace Curtain Panels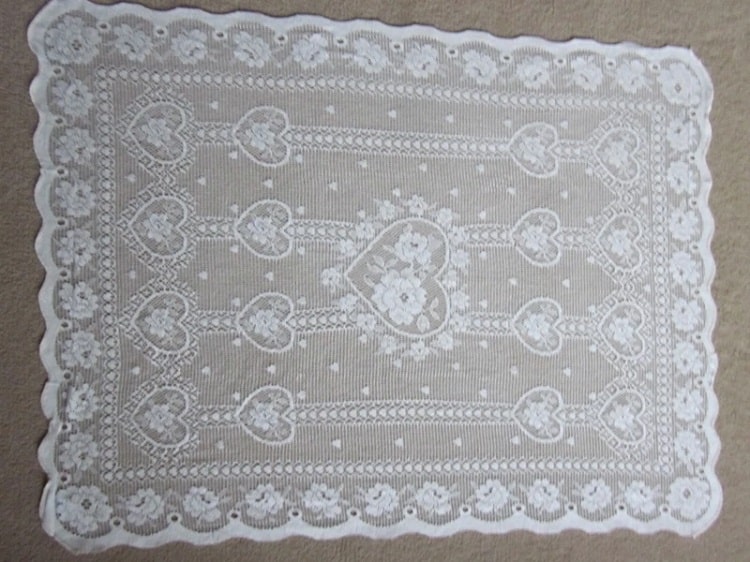 A charming heart design is knitted on ivory lace. Each vintage curtain panel has scalloped edges for a beautiful, polished look. The heart motif would be suited for a cozy cottage-style home or even for a nursery. Buy Here .
Victoria Vintage Heritage Design Lace Curtain Panels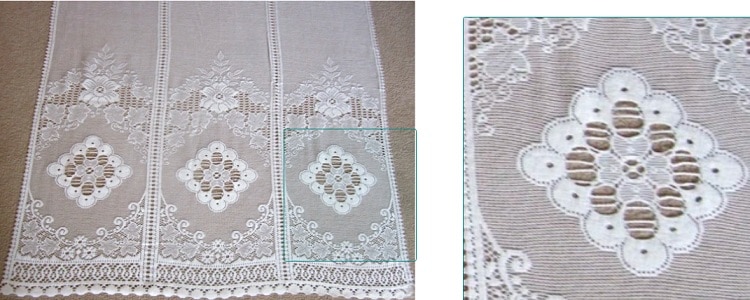 A subtle, artistic look accents these 1930s style vintage lace curtains. A fine weave and scalloped trim provide a beautiful and unexpected refinement to any room. Ivory with cream trim provides an elegant but subtle contrast. Buy Here .
Frequently Asked Questions
Question: How do You Whiten Lace Curtains?
Answer: If you've bought white lace curtains or even vintage curtains and noticed they've yellowed, the good news is that you can whiten them again if you're careful.
Two parts ammonia to one part peroxide in a bucket of warm water can be applied to lace curtains. Be careful and gentle, rinse, and hang your curtains to dry in a safe location.
Question: How do You Remove Mildew From Lace Curtains?
Answer: If you notice mildew on your lace curtains, your best bet is to remove it as soon as possible. Gently brush off anything you can. If possible, the machine washes on the specified settings.
If you cannot, you'll have to thoroughly hand wash your curtains. You can also add baking soda to help clean, and you may need to even spot clean.
Question: Can I Use Bleach on Lace Curtains?
Answer: Bleach is sometimes used for spot cleaning lace curtains, but this must be done with caution. Make a solution of one part bleach to four parts water and use a spray bottle to apply to the affected area.
Spray at a distance, and spray lightly. If you're uncertain, it may be best to take it to a professional dry cleaner.
Final Thoughts
Lace curtains offer vintage and rustic charm. While delicate and sheer, there's an undeniable elegance they bring to any room. Always remember to only buy via secure payment methods, and purchase blinds or liners if you're concerned about privacy.