Latest posts by Angelique Alice
(see all)
The majority of the time, when we are shopping for new curtains, we're excited about trying out new bright or bold colors. Many people think of white curtains as basic and do not see if they will add the wow factor to the home.
However, this is not true! Did you know that white curtains will change the appearance of your home from basic to high-end? It gives off the Beverly Hills vibe regardless of where you live. Amazing, right? Therefore, do not overlook their power, as we will give you a white curtains guide and ideas that you can use the next time you want to revamp your house.
Why White Curtains?
Below are some of the reasons why white curtains are worth it.
Classic never goes out of style, and white curtains add that to your home. The best thing about white curtains is that they will still look fresh and clean with any decor, hence a win for you. Also, you do not have to worry about them when you redecorate or buy a new couch and need curtains to fit in. They never go out of style, hence the perfect go-to for all types of homes.
White curtains come with thousands of options. There are many fabric options to choose from, such as sheer, silk, and even cotton. You also have different shades of white to choose from, such as cream, off-white, classic cotton, among others. Therefore, if you think that white is dull, think twice, as you will have a lot to choose from with this stunning color.
Imagine waking up in the morning and seeing your white curtains flowing gently with the breeze. This will give you a cozy feeling that will jumpstart your day. Also, if you have a fantastic view, the curtains will perfectly blend in, making the view the focal point without a hindrance.
How To Pick The Perfect White Curtains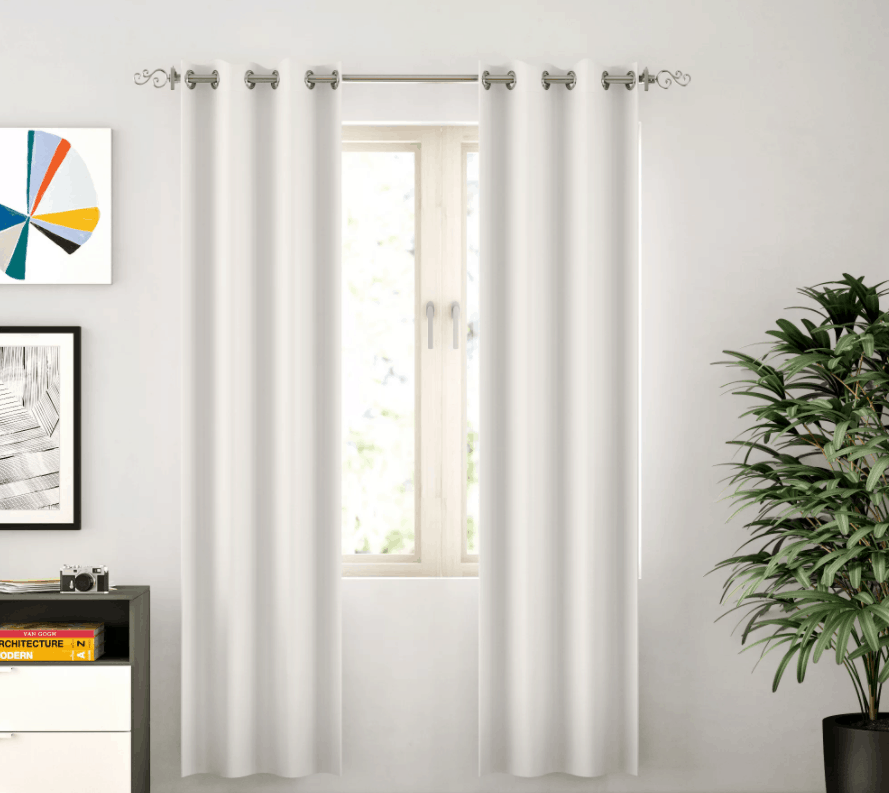 Whether you have neutral surroundings or not, white curtains will come in handy. Below are some of the factors you need to consider when choosing the best white curtains.
Texture
The texture of your curtains is a crucial factor to look into when selecting curtains. A semi-translucent sheer will soften the light as it transfers from the windows to the house.
However, if you are bold, you can use a patterned tone to add confidence to your space. If you want to be unique, we highly recommend unique textures such as silk and linen. Faux silk is perfect for sunny rooms; however, it is vital to remember that you need to line your silk; otherwise, it will eventually rot.
Mood
Before shopping for white curtains, it is essential first to understand your home's aesthetics. What works for you is not what will work for another person. For example, the curtains you choose will differ if the room is modern and sophisticated, from cozy and traditional ones.
Undertones
Your wall's undertones will play a vital role in the type of curtains you choose. For example, if they have warmer undertones such as yellow, we recommend going for ivory white tones. If, on the other hand, you have cooler tones, then bright white will do great.
White Blackout Curtains
Are you those who sleep better when there is no light in the room, mainly during the day? If this is you, then you may be wondering if white curtains will help you out. The good news is that they can!
The solution to this is using white blackout curtains. Blackout curtains block the light out of the room completely; thus, you can go ahead and sleep peacefully, whether it is in the afternoon or late morning hours if you slept late. However, you may be wondering if white blocks the light, as dark colors do. The answer to this is that white blackout curtains work better than their dark counterparts.
White Curtains Guide And Ideas: Our Top 10 Recommendations
White curtain choices are endless, and you may be confused about where to start from. The good news is that we are here to make the process more streamlined for you. Below are some of our best ten white curtain recommendations.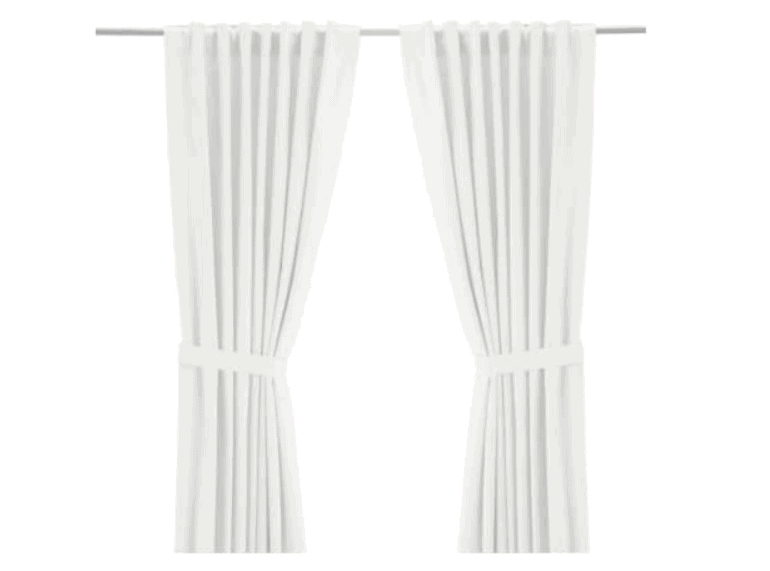 If you want the perfect budget-friendly curtains, then these IKEA Ritva curtains will be a lifesaver. They filter in light perfectly, and the material is relatively thick. It is also not too heavy, hence no need to worry, as it will let in just the right amount of light, unlike sheer curtains.
They are more ivory white than solid white, but once you iron them, they will lighten up. At night, they will look a bit opaque, which comes in handy with privacy concerns.
Another reason we love these curtains is that you can hang them in several ways. They come with a traditional pocket poll to give them a cinched look. Also, they have back tabs that will provide you with a more folded effect which is great for the dining room. Unlike most curtains, they come in 98″ and 118″ sizes and have great linen for the $50 price from Amazon. They also have a heading tape that makes it pretty easy for you to create pleats.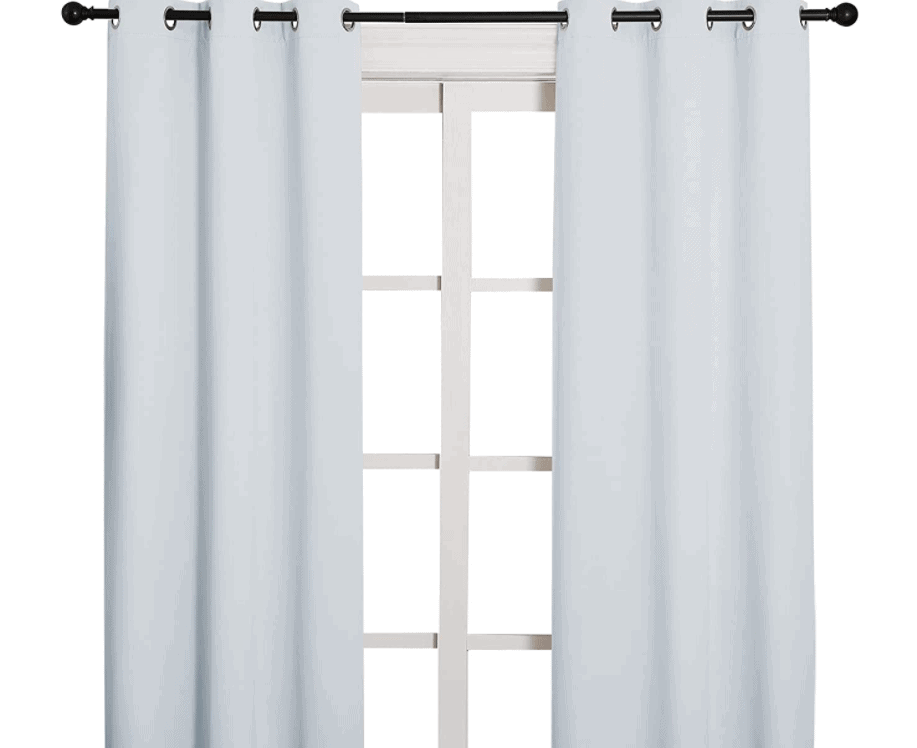 These are the best white blackout curtains in the market. We highly recommend them because they remove up to 99% of light and UV rays that would typically find their way into your room. Also, did you know that they can reduce the sound from outside coming into your room? Now you know!
These NICETOWN curtains are 100% polyester and have six grommets on top, making them relatively easy to install. They come in a pair of two 42″ by 84″ curtains and balance out the room's temperature. They also lengthen the life of your furniture by blocking the sun's rays from coming through.
These curtains are also machine-washable and can be easily ironed, hence nothing to worry about. The only downside is that they might darken the room but not completely black it out.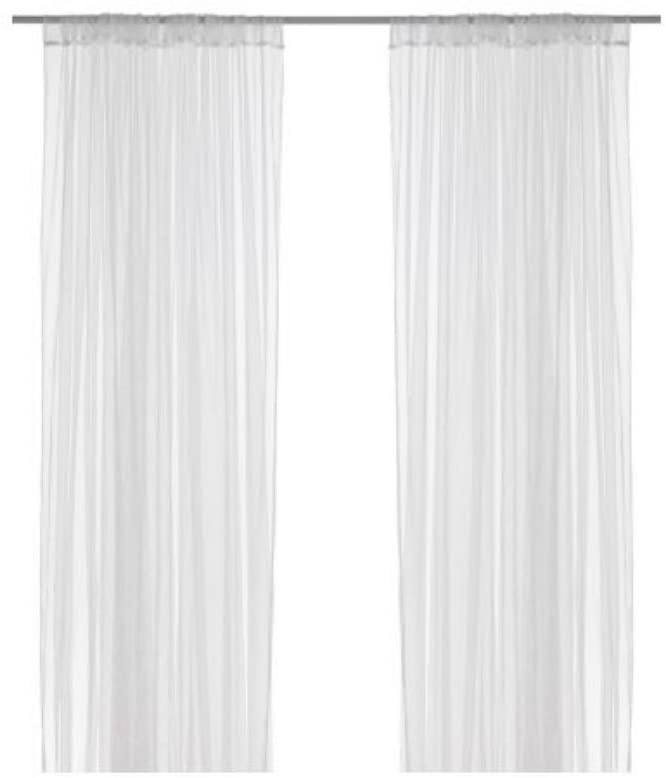 These IKEA LILL mesh curtains come in a pair of four or eight panels and are quite affordable than regular mesh curtains. They average 98 inches in length and 110 inches in width; hence you have enough material to customize your home. The fabric is also 100% polyester, so no need to hem them.
The curtains also have rod pockets; therefore, you can hang them directly with a curtain rod to keep them in place. They are also machine-washable; hence no hassles when washing them.
The only downside is that they will shrink by 2% after the first wash.
If you want white bedroom or living room curtains, then this Jinchan's set is perfect for you. It has an outstanding light reduction feature that enhances your privacy and also enhances comfort. Therefore, you can enjoy watching your favorite movie without glare at the screen.
Their durable waffle fabric makes them last long; hence they will serve you for many years, which is a win. They are also machine washable in cold water, tumble dry and gentle cycle. They also have a simple design with matte silver grommets that make them easy to hang.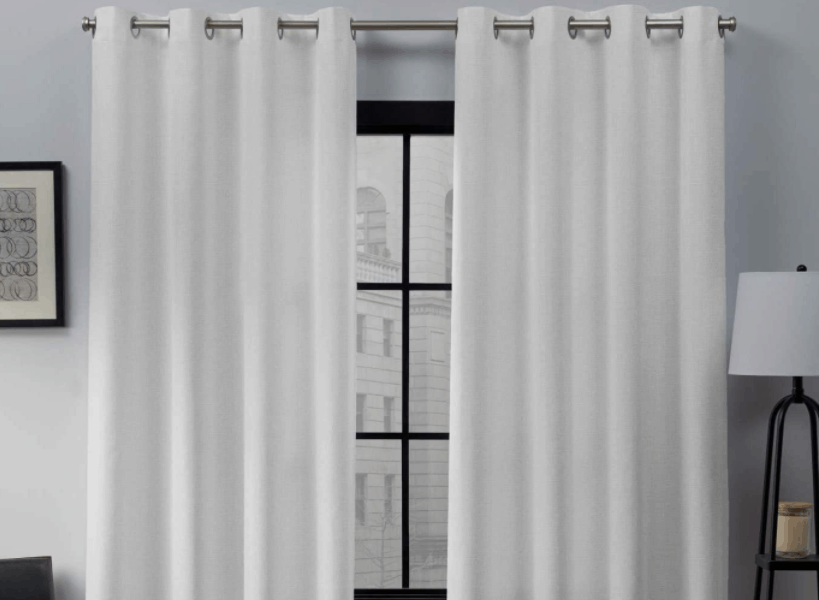 These curtains are perfect for home extensions such as covered patios, gazebos, pergolas, and cabanas. They are 100% polyester and come in two curtain panels, measuring 54″ by 84″. These Loha panels are breathtaking due to their fine-textured linen look on luxurious fabrics.
They come in eight matte silver grommets per panel, and we highly recommend that you order around three times the rod width for proper fullness and an elegant look.
Contrary to most machine-washable curtains, these only need to be spot cleaned or hand washed. Also, if you need to iron them, you should use low heat to avoid destroying the fabric.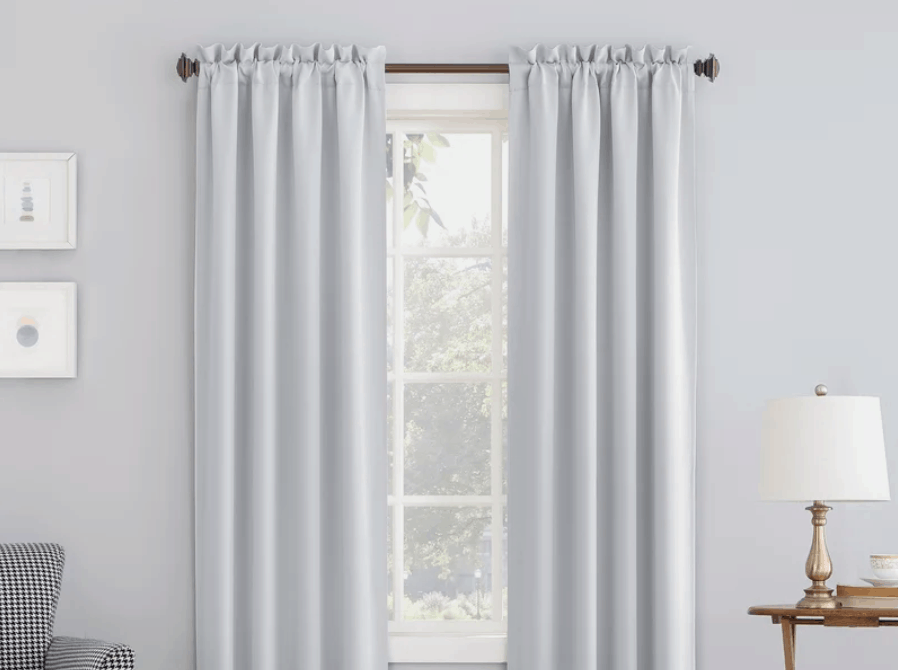 This polyester curtain panel has blackout capabilities, noise reduction, and thermal insulation in one. It also has a 3″ ruffled header and a 3″ tailored bottom hem for a polished look. We particularly love the fact that it reduces energy lost through the windows by 30%. It is also machine washable hence no hassles when it gets dirty.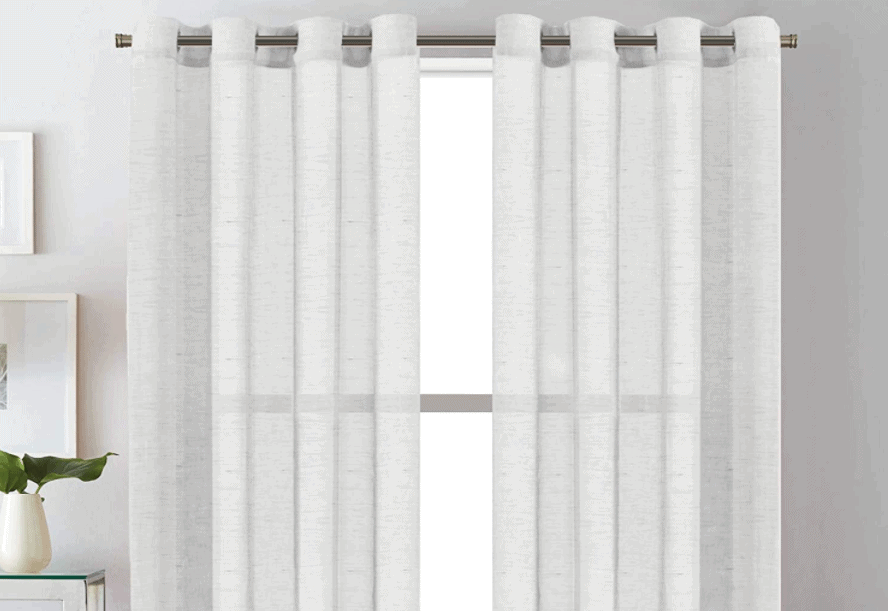 These linen white H.VERSAILTEX curtains will add elegance to your home. They are crafted utilizing the open weave flax linen-based fabric material; hence, they are high quality and aesthetic. They are also made breathable to give you a first-class touch to the existing decor in the home.
We love them because they are environment-friendly and formaldehyde-free; hence, pretty safe for children. This makes them also perfect for the nursery.
They also come in various lengths such as 84″,96″, and 108″; hence you have lots of options to choose from to blend with the home decor.
These curtains are also machine washable; however, we recommend that you only use non-chlorine bleach when you need to.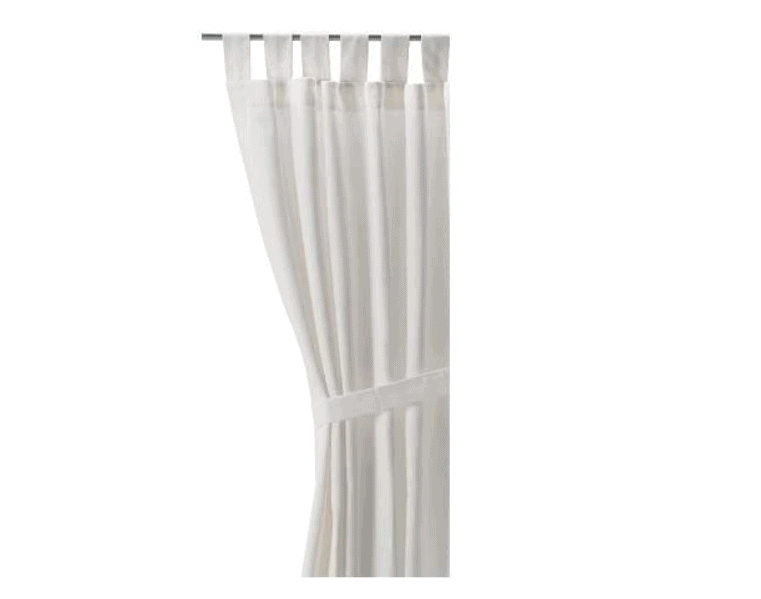 These curtains are pretty popular, not only with buyers but also designers. They are quite affordable for their expensive high-end look.
They measure 98 inches in length and 55 inches in width. You can hem them to the desired size with an iron-on hem strip. They are made of cotton and have a clean-like linen appearance that makes them perfect for any room in the house. The material is also easy to wash and lays nicely.
They also have a tab top heading making it relatively easy to hang and move them. They offer privacy while also allowing the right amount of sunlight in the room.
Their only downside is that they may wrinkle easily.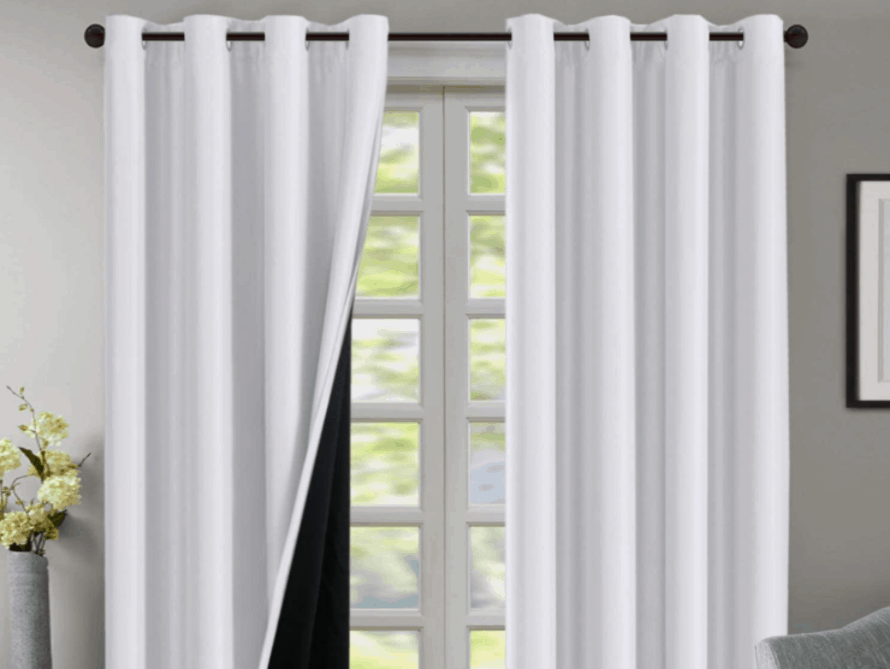 These are the most stylish white blackout curtains. Flamingo P is known for its innovative and high-tech curtains, and these are no exception. They completely block all the sunlight from your room; hence you can sleep peacefully. Also, we love the company because they have double-sided curtains, with one side being clean white and the other black to keep out the sunlight. Also, the curtains have the front side made of silk feeling Duchesse fabric, and the back made of woven fabric without chemical coatings.
They come in pairs, with each curtain having eight grommets; hence installation is a walk in the park. They are soundproof, modern, have an ergonomic design, and are environmentally friendly. They also are energy efficient with thermal regulation. You can also machine wash them, tumble dry and iron them.
Their drawback is that they are thicker and heavier than standard curtains.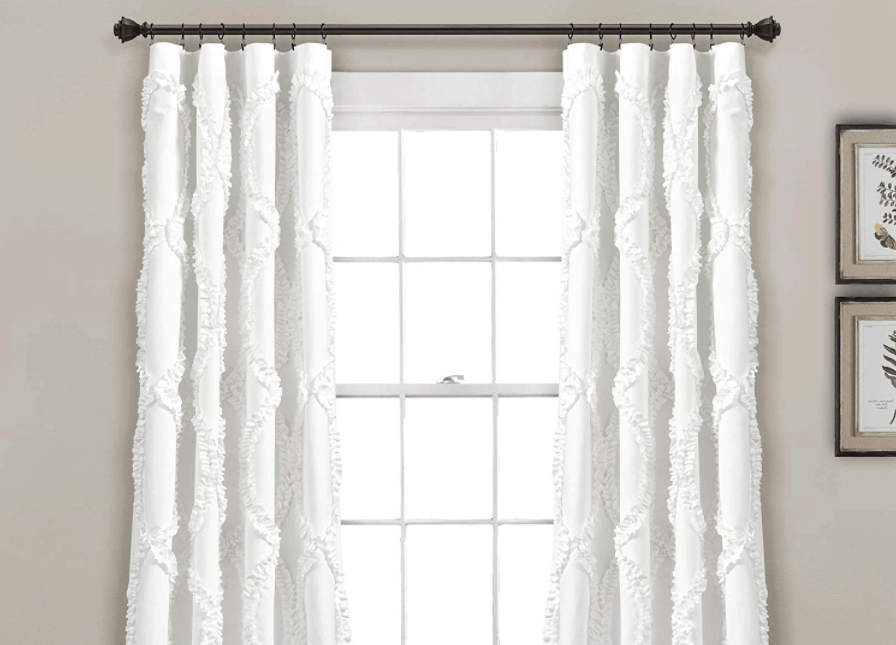 If you are looking for a luxurious curtain that will add elegance to your contemporary or modern living space, then this is the best option for you. Its polyester fabric adds to its softness and durability; hence you will use it for years. It measures 54 inches in width and 84 inches in length.
We love its semi-sheer design that allows natural light to penetrate the room well while maintaining your privacy. Its ruffle embroidery pattern is also a feature to look out for as it will upgrade your home's appearance. The textured curtain detail makes it perfect for the dining room, bedroom, or living room. However, it is not lined and is sold as a single curtain.
The only downside is that it is pretty delicate; hence, you need to dry clean it and not wash it yourself.
FAQs
Question: Do White Curtains Let In Too Much Light?
Answer: Many people are afraid to use white curtains as they fear that they will let in too much light compared to darker ones or blinds. However, there are some options that you should consider.
For example, sheer curtains have a low light filter; thus, they block the least amount of light. Unlined curtains are a bit better than sheer curtains as they have medium-light filtering. On the other hand, lined curtains are better at light filtering, but they will not make the room dark. The best curtains to shield the room from light and UV rays are blackout curtains.
Based on these options, it is up to you to choose the one that works for you.
Question: Do White Curtains Go With Everything?
Answer: Yes, white curtains are neutral; hence, they will go with any wall shade and decor. This makes them quite versatile for the home, regardless of any changes in the design and decor.
Question: How Do I Whiten My Yellowed Curtains?
Answer: It is quite common to have your curtains become gray or yellowed with time. This happens due to environmental factors such as nicotine from cigarette smoke or cooking residue. It can also occur due to chlorine bleaching as it weakens the fibers and yellows the fabric. So, how do you whiten yellowed curtains?
First, remove the yellowing caused by water deposits with Yellow Out or Iron Out products. These will remove the rust and iron deposits. Secondly, remove the stains from the white fabric with a Rit dye remover. Once you are done, soak the curtains in hot water and lemon for one hour and hand-wash them. Hang them to dry or put them in the dryer. However, ensure that you check the label instructions before soaking them in hot water.
Next, soak them in a washing machine with baking soda, bleach, and laundry detergent. Once done, immerse them in warm water, a quarter a cup of dishwasher detergent, and laundry detergent. Rinse and then hang them to dry. The last step is to place them in the washing machine again, add one cup of white vinegar and laundry soap. The vinegar will help remove all the soap deposits. After that, dry them in the dryer or hang them to dry.
Conclusion
White curtains add elegance and class to the home. With the above guide, you will be able to get the perfect curtain for your home, regardless of whether you have a modern or contemporary home. We particularly love IKEA curtains and highly recommend them. Try one of the above options and let us know how they treat you. All the best in your shopping ventures!