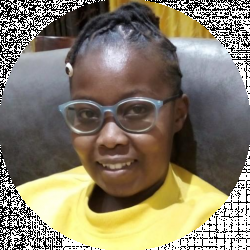 Latest posts by Jeanne Murugami
(see all)
best farmhouse curtainsbest farmhouse curtainsYou can effortlessly create a farmhouse ambiance in the countryside or the city with the right farmhouse curtains. While there are countless ways to dress windows, practical reasons should guide you in choosing your curtains.
What, for instance, do you wish to achieve by using a certain fabric or color? Why would a particular color or pattern be preferable to another? To help you make informed window treatment decisions, we have a collection of top farmhouse curtains ideas you should explore before purchasing. We chose these curtains based on availability, affordability, and positive customer reviews.
5 Best Amazon Farmhouse Curtains
Suppose you are searching for farmhouse curtains from Amazon. In that case, there are very high chances that you're having trouble deciding which curtain to purchase, given the wide array of dazzling products available.
The collection you'll find includes a wide range of colors, designs, and materials, and the prices vary widely. To help you make an informed decision, we have ranked the 5 best Amazon farmhouse curtains, and we highly recommend that you read on before buying.
1. Elrene Home Fashions Brighton Windowpane Plaid Grid Blackout Curtains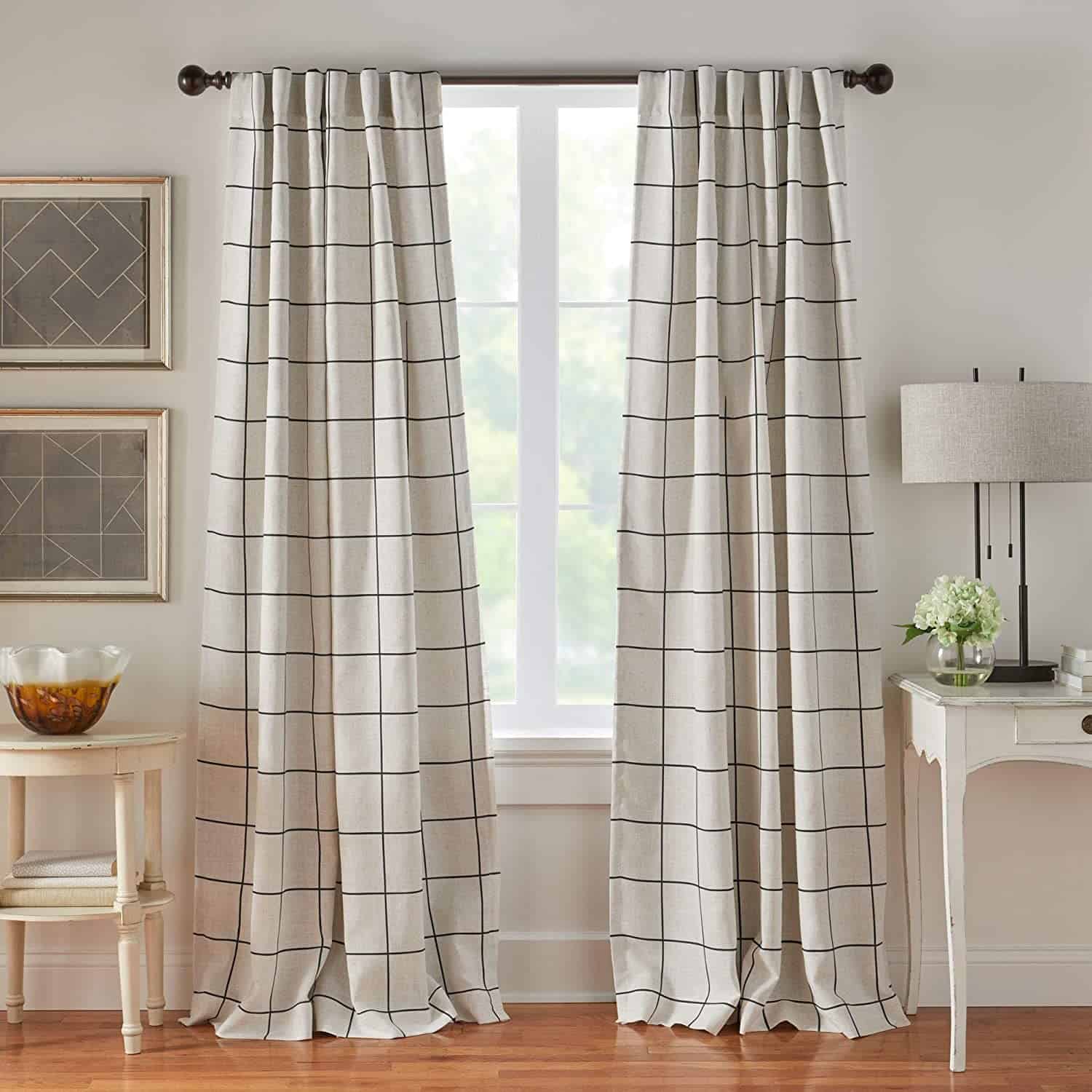 When looking for the ultimate blackout curtain, you can never go wrong with the Elrene Home Fashions Brighton blackout curtain when looking for the ultimate blackout curtains. Measuring 52 x 84 inches, these black curtains are made from a blend of linen and polyester and are available at $41.53, which is a steal considering the material they are made of.
Should you be light-sensitive yet love to nap during the day, this is the curtain to choose because its blackout room darkening panels are designed to block both light and noise. This also means that the curtains can keep the home cool during summer and trap in winter heat, thereby reducing your home heating and cooling expenses.
With the curtains installed, you also never need to worry about your furniture getting discolored because of exposure to the sun's harmful rays. The curtains are available in beautiful geometric patterns, and taking care of them is easy as they are machine washable.
Pros:
Great light and noise-blocking abilities
Available in elegant geometric patterns
Saves energy
Easy to clean using the washing machine
Reasonably priced
Cons:
Complaints about curtain threads coming off
2. Lush Décor Riley Curtain Sheer Ruffled Textured Bow Window Panel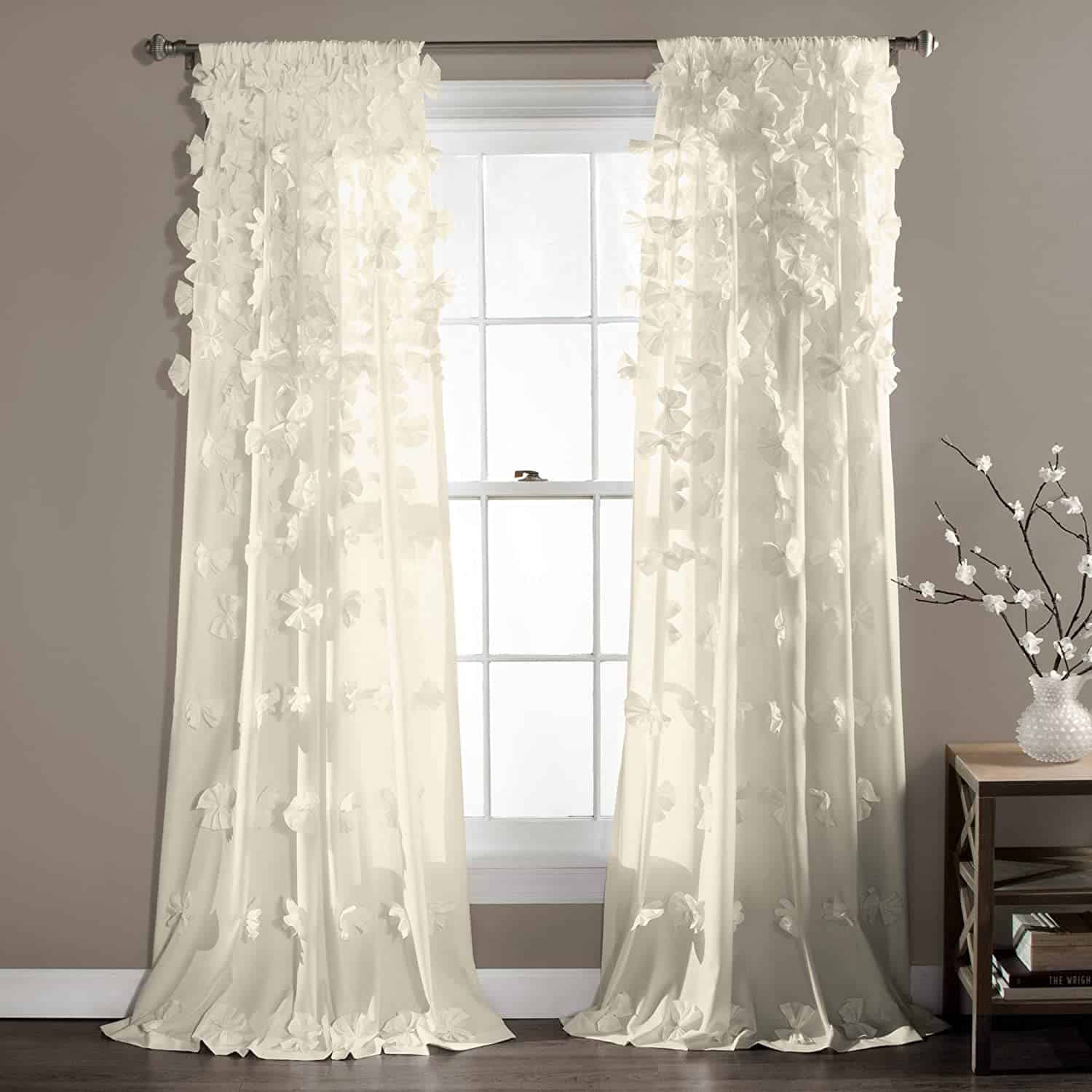 When you are looking for the perfect curtain for your dining room, living room, or bedroom, the Lush Décor Riley curtain would be an ideal choice for several reasons. Its ruffled texture lends a luxurious touch to any room, and the ivory color makes the curtain blend in easily with the furniture in any room.
Made of 100% polyester and constructed in a semi-sheer design, this curtain easily lets in natural light without compromising your privacy. These stunning curtains are the ultimate adornment of any girl's room and are especially ideal for children's nurseries.
Pros:
Beautiful, feminine patterns
Allows natural light in
Provides privacy from peeping eyes
Cons:
High-maintenance as the curtains can only be dry-cleaned.
3. Lush Décor Linen Button Window Curtain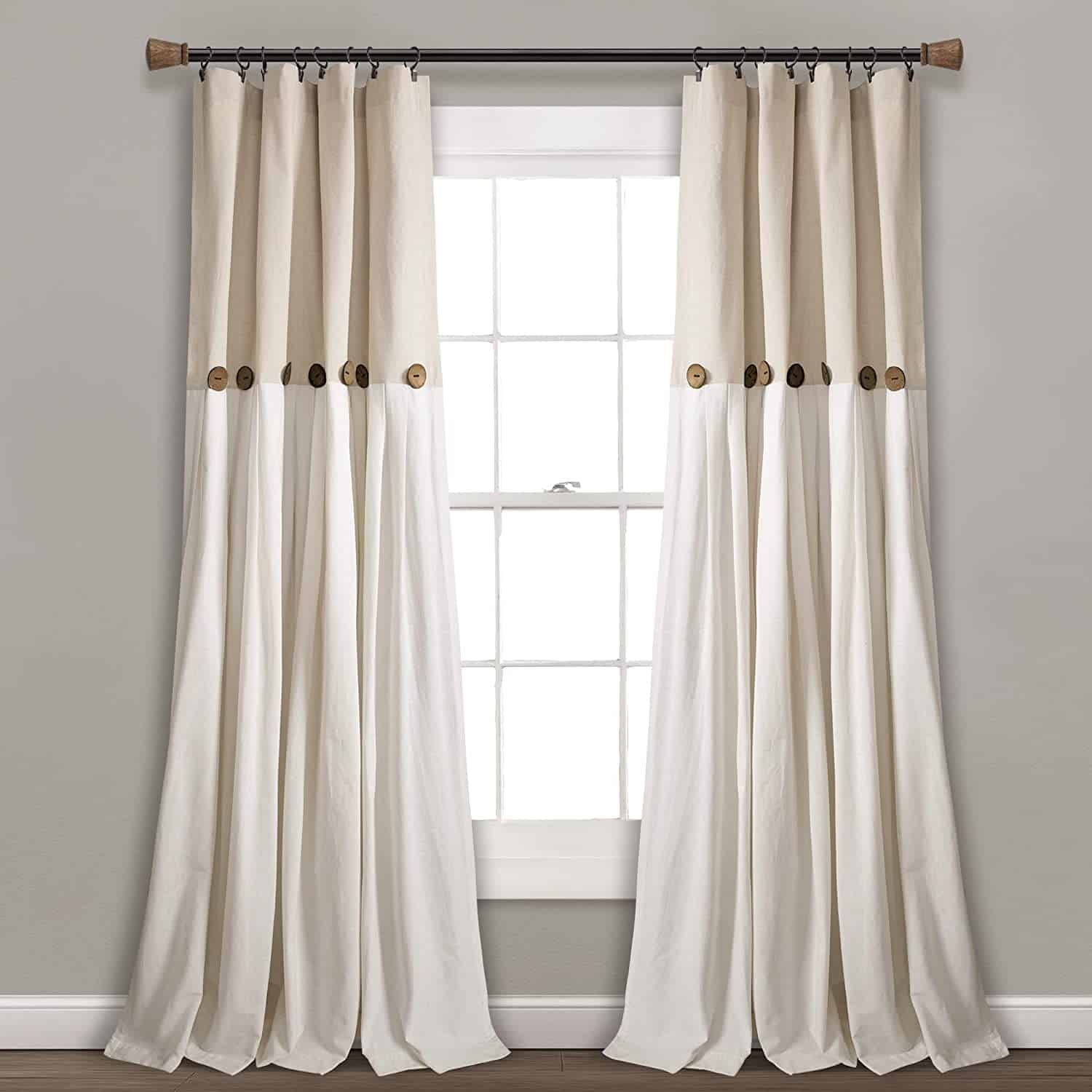 The farmhouse style is all about the natural and rustic, and the Lush Décor Linen Button Window Curtains from Triangle Home Fashions are worth considering if you crave this style. Available in linen color and made from a blend of cotton and linen fabric, these curtains are an effortless addition to the traditional farmhouse style. They would be a great addition to your living room, bedroom, and kitchen.
The curtains come in two tones and are embellished with beautiful buttons and pleats. Although they are not fully blackout, the curtains are good at filtering light and have powerful temperature control abilities. By buying these curtains, you'll have invested in a product that will be in your home for a long time, and one that is easy to take care of as the curtains can be machine washed.
Pros:
Great light-filtering abilities
Embellishments are ideal for the farmhouse décor
Easy to clean using the washing machine
Cons:
4. Lahore Boho Living Room Curtains 63 Inch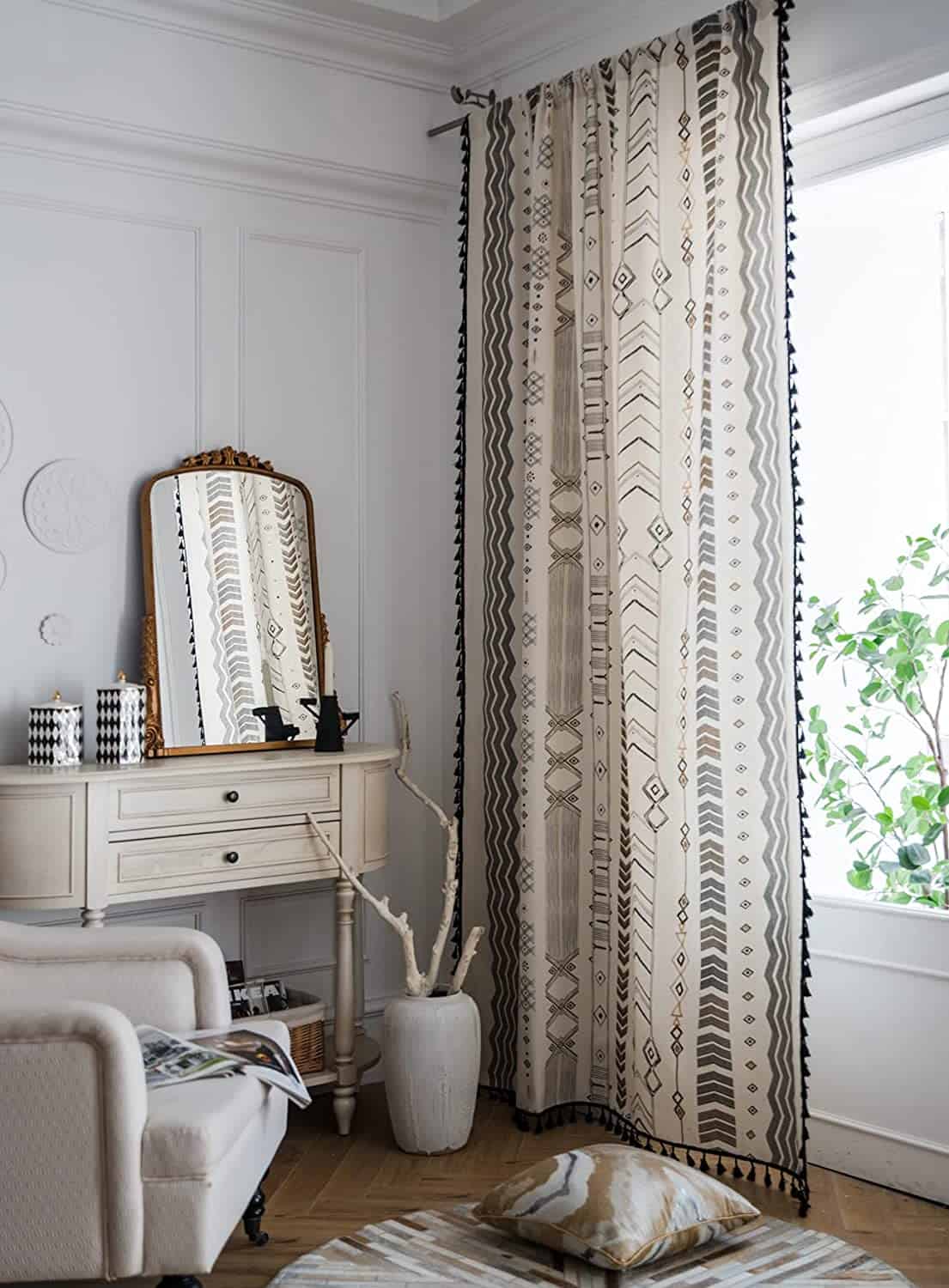 To adorn your living room in the farmhouse style, the Lahore Boho Living 63 inch curtains are a great choice. Although they are known as living room curtains, the curtains can be used to adorn your bedroom and kitchen, thanks to their elegant geometric tribal patterns.
Made from a blend of cotton and linen, the curtains are not just classy looking but are guaranteed to give you many years of great service. They are machine washable and therefore easy to maintain and are great at filtering light and providing privacy.
Pros:
Durable and easy to maintain
Filters light while preserving the privacy
Bohemian color and geometric tribal patterns are ideal for the farmhouse style.
Cons:
The material is a bit stiff.
5. Lahore Solid Color Tassel Window Curtains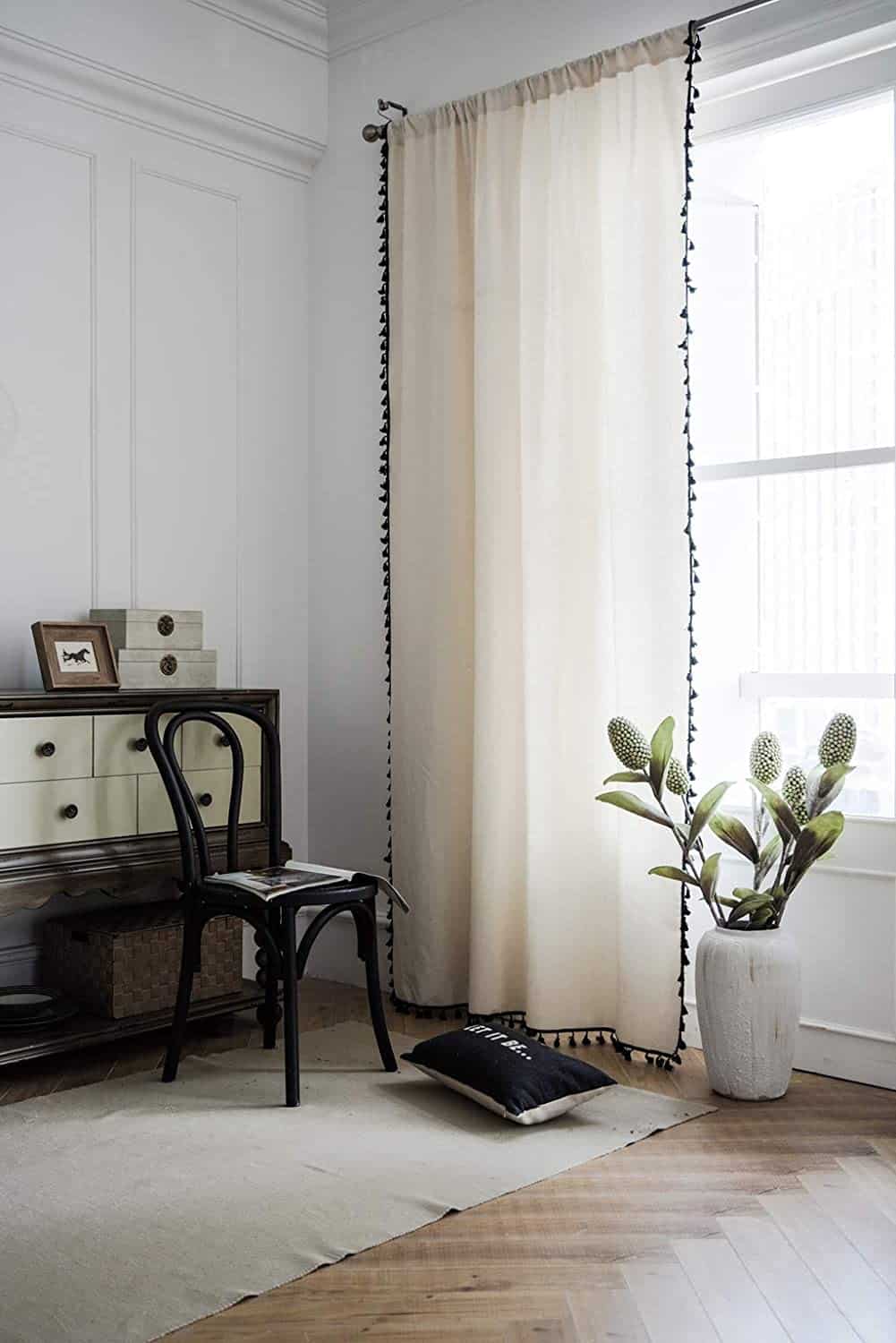 When you need to brighten up any room in your home, you can never go wrong with Lahome's Solid Color Tassel Window Curtains. Measuring 52x 95 inches, these white curtains are made from a cotton-blended fabric, making them aesthetically appealing and highly durable.
For your privacy, the curtains are capable of blocking the view from outside while still filtering in enough light with their 50% blackout ability. Maintenance is also a walk in the park as you just need to machine wash them in cold water.
Pros:
Great light-filtering ability
Easy maintenance as you can machine wash
Substantial energy savings
Cons:
Complaints about curtain length being shorter than 84 inches
How to Choose the Best Farmhouse Curtains
Deciding On Color
If there's one word that would aptly describe the farmhouse style, that word would be simplicity. The style is relaxed, laid-back, and welcoming, and the colors you choose for your farmhouse windows should reflect this.
Since the materials used for farmhouse curtains usually derive their inspiration from nature (later on), neutral colors are highly recommended. That's why you'll find white, gray, and beige being some of the most popular colors for farmhouse-style curtains. When choosing a color for your farmhouse curtains, you have various options, including:
Sheer White Curtains
Sheer white curtains are popular with many homeowners because they blend in with various décor styles, including the farmhouse style. They are especially ideal for living rooms because the sheer material provides privacy from peeping eyes while at the same time allowing light to filter into the room.
While sheer whites are predominant in the farmhouse curtains style, there are plenty of color options, including cream, ivory, and a host of earth tones.
Stripes and Patterns
While neutral colors take center stage in the farmhouse curtains style, your choice of colors is never limited. The simplicity associated with the farmhouse style is not cast in stone, and there are many patterned and striped fabrics that you could use to dress your windows.
If, for instance, you have a neutral color scheme in your living room, you can complement it with a touch of nature by dressing the windows in curtains featuring flowers and plants or even birds. For a kitchen with some green potted plants, how about dressing the windows in curtains with green and white stripes? By doing so, you'll be adding color to the room in a way that complements the neutral colors. This ultimately means that you are only limited by your imagination when choosing colors for your farmhouse-style curtains.
Deciding On Material
Choosing the material for your farmhouse curtains is an important decision that should be carefully thought through. While aesthetics are important, you need to know the costs associated with the various materials.
One important question you need to answer is: apart from the initial expenses that you incur purchasing the material, what kind of maintenance does the curtain entail, and is it something that you can afford? When choosing fabric for your farmhouse curtains, you have many options, including:
Linen
Linen is a beloved farmhouse curtain material because of its elegant texture and ability to let light in. Linen is the epitome of the timeless elegance associated with the farmhouse style and would be great for window dressing. On the downside, however, linen is rather expensive compared to the other materials you could choose for your curtains.
Sheer Curtains
The fact that you'll find most farmhouse-style homes dressed in sheer curtains is enough testimony to the versatility of this material. Besides being available in many colors, sheer is also available in a wide range of textures and thicknesses, which means you are never short of choices.
Moreover, sheer easily blends in with the various furniture items in a home and is ideal for creating the farmhouse environment you could be craving. Compared to linen, sheer is more price-competitive in addition to being low-maintenance.
Burlap
When you want to create the ultimate rustic look in your farmhouse curtains, you can never go wrong when you choose curtains made from burlap. Burlap is especially recommended for kitchen windows and any other rooms that are highly trafficked.
In addition to filtering in light, burlap curtains can withstand the roughness of dust, wind, and other elements. Burlap is a hardy material because it is woven from fibers of hemp and jute, which are known to withstand very rough usage.
When you choose burlap for your farmhouse curtains, you might be pleasantly surprised to learn that the material used to make your curtain is actually recycled from sacks and would otherwise have gone to waste. By buying such curtains, you'll be playing your part in environmental conservation. Burlap is a highly affordable material.
Natural Woven Shades
The farmhouse style is all about being natural, and the best way to achieve it when dressing your windows is by using exquisite raw material. There are many natural woven shades that you could go for, and the most popular products are usually made from jute, bamboo, and a host of natural grasses.
Natural woven shades create an air of informality and are ideal for a room dedicated to entertaining guests. The variety of natural hues that you can obtain in the market is quite diverse. Some shades can filter light and, should you desire to create complete darkness in a room, there are blackout window liners that you could go for. Natural woven shades might be unbeatable when looking for natural yet elegant farmhouse curtains at an affordable price.
Non-Fabric Options
When you think about farmhouse curtains, you may be imagining that all your curtains have to be made from some fabric. While fabrics are the most common window treatments that you're likely to find in most homes, you also can dress your window with non-fabric material.
Instead of having a curtain, you could cover your windows with sliding wooden doors. The use of sliding wooden doors allows for extreme customization. The wood you choose for your sliding door could be made to match the color and texture of other furniture in the room. Using such doors also gives you the ability to control the amount of light in the room – you can leave the doors ajar to obtain maximum light or shut them tight to limit the amount of light.
Another non-fabric option that you could consider is installing an awning on the outside of the window. Awnings are ideal for homes that have high ceilings. When choosing an awning for the window space, make sure that the metal you choose complements the rest of the furniture in the room.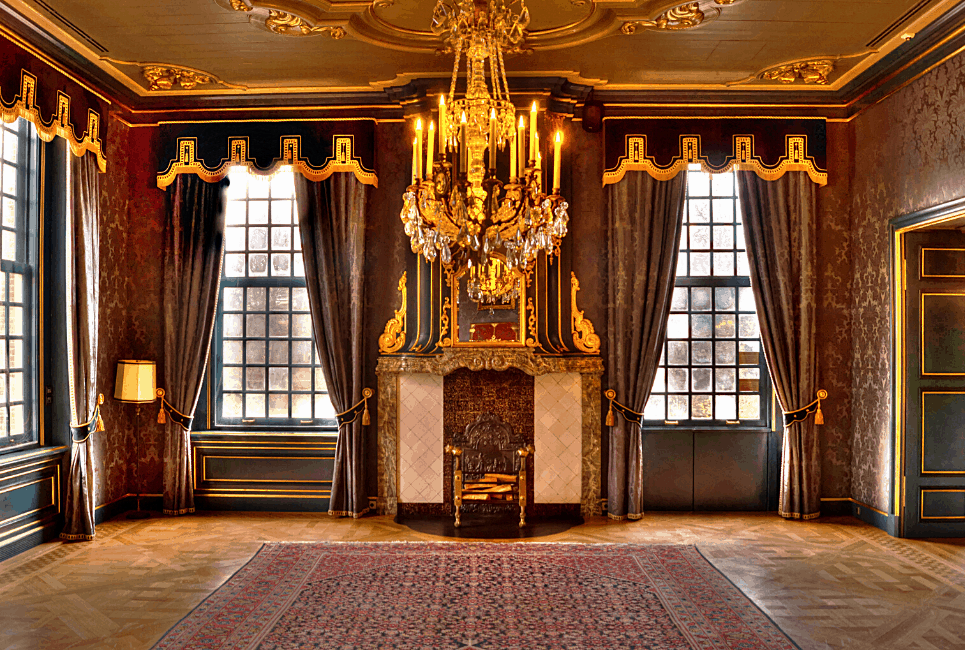 Important Considerations When Buying and Installing Farmhouse Curtains
While you could be spoilt for choice when looking for farmhouse curtains, always remember that the curtains you choose should play a complementary role to the assets on the property. In addition to the color and material of the curtain, there are some critical considerations to which you need to pay attention, including the following:
The Prominent/Historical Features of the Property
Some homes are historical, and much of this history is expressed in various house features, especially the windows. Before purchasing your farmhouse curtains, you'd do yourself a favor to find out how the curtains you intend to buy fit in with the rest of the home's features.
While you want your curtains to perform the practical tasks of blocking light and providing privacy, you still want to show off the most distinctive historical features of the window. Functionality aside, you need to make sure that the historical aspects of the window are still visible.
The Curtain Rods to Use
While you could have chosen the perfect farmhouse curtain, you could go wrong if you failed to get the ideal curtain rods. Some of the rods you're likely to get in the stores are too modern and hardly fit in with the rustic farmhouse style. To complement your farmhouse curtains, look out for curtain rods made from classic wood or antique metal.
Apart from the material of the curtain rod, you also need to ensure that your rod can carry the weight of the curtain as non-sturdy rods could easily break down. Even when the rod does not break down, it should take the weight of the curtain without sagging in the middle.
Getting the Measurements Right
This might sound like a no-brainer, but you'd be surprised to learn that many people spend a lot of time shopping for the perfect farmhouse curtains only to be disappointed to discover that the product they eventually get does not fit their windows as snugly as they expected it to.
Where size is concerned, perhaps the most frustrating scenario is to get your dream curtain only to find out that it floats a few feet off the floor when you hang it. To guard against this possibility, consider getting curtains that are a little longer than the measurements you took. You're better off with curtains that are pooled a few inches on the floor rather than a few inches off it.
Apart from the curtains, it would help if you also got the measurements of your curtain rods right. After measuring the width of your window, make sure that the curtain rod you buy is several inches wider than the window. For a window that is 100 inches wide, for example, consider buying a rod that is about 110 or more inches.
Read our full guide on how to measure your curtains the right way.
Frequently Asked Questions
Question: What Are the Curtain Colors Associated With the Farmhouse Style?
Answer: The farmhouse style usually features neutral colors, and you'll find that the most popular drapes are available in colors such as white and gray. The farmhouse style also features myriad colors from nature, which accent the neutral tones in most rooms. Natural shades such as green and blue are therefore fairly common in farmhouse curtains.
Question: Which Are the Most Popular Farmhouse Curtains and Why?
Answer: Today, as in the past, sheer curtains are amongst the most popular farmhouse curtains. Sheers are popular because of their ability to blend in with the furniture items in a home. Today, the person who wishes to buy sheers has a wide range to choose from because, in addition to the ever-popular white sheers, modern buyers can obtain sheers in many other colors. Apart from the wide variety, sheers are rather inexpensive compared to other farmhouse materials and easy to maintain.
Question: What Should I Pay Attention to When Buying Farmhouse Curtains?
Answer: Farmhouse curtains are an important investment, and some of the products you'll find in the market tend to be rather pricey. Before clicking the "add to cart" icon when you buy such products online, you should beware of the buying cost and the maintenance expenses you are bound to incur. If you took the example of linen, you'd notice that while the fabric is expensive, it might prove more pocket-friendly in the end because it's long-lasting and does not require too much in the way of maintenance.
Cost and maintenance aside, the farmhouse curtain you buy should add value to your property. Splashing some cash on a product that you consider an essential addition to your property could be a very prudent decision.
Conclusion
Carefully selected farmhouse curtains can transform a home so that a previously drab room now becomes the home's center of attraction. To uplift your home with the coziness and timelessness that farmhouse curtains are known for, you have a huge variety of curtain types and colors to choose from. While this variety is certainly a plus, the downside is that you might have problems deciding the material or color to choose.
Need our advice? Well, we would certainly recommend farmhouse curtains made from burlap. Not only are these curtains aesthetically appealing, but the fact that most of them are made from recycled products makes them great for the environment. Isn't it a swell idea to know that you are not just beautifying your home but also reducing your carbon footprint when you buy burlap farmhouse curtains?