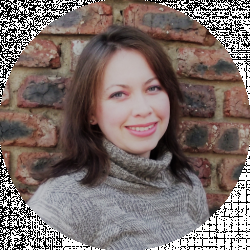 Latest posts by Talitha vanNiekerk
(see all)
International travel and tourism have seen the rise of exotic inspiration and ideas for home décor, and this finally culminated in the boho style of décor. This style is incredibly popular since it encourages individuality and the use of exotic cultures to create colors and patterns. It also seamlessly blends with and expands on most décor styles you may already have in your home. 
Whether you go full-gypsy and create a foreign world in your home, or simply introduce unique accents and ideas to complement your existing style, boho is for anyone and any budget. The most convenient and affordable way to begin introducing and experimenting with a bohemian style is to change your window treatments. 
Bohemian curtains need not break the bank, and you can easily use an existing curtain that you update, stencil, or add decorations to for that first step into boho style. Most quality online furnishings and home stores sell pre-designed bohemian curtains that will help inspire your home's transformation. Let's take a look!
How Do You Create a Bohemian Look?
To create a great bohemian look, you simply let your creativity run wild. Draw inspiration from otherworldly cultures like Morocco, Italy, India, China, Japan, the West Indies, the open plains of Mexico, and the Native American cultures of North and South America. Look at patterns, decorations, colors, and designs.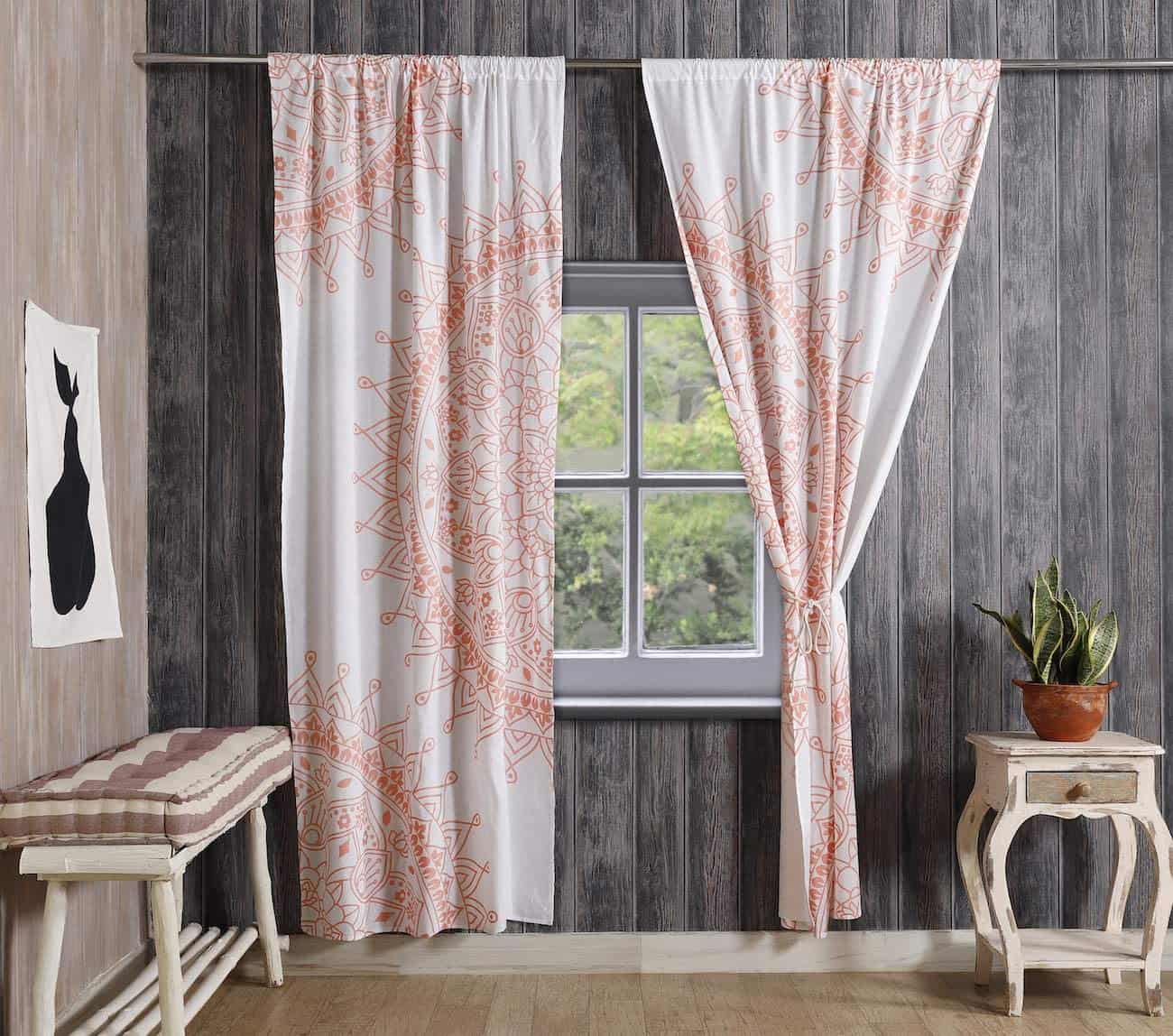 In a world that is increasingly sanitized and sleek with technology, it is refreshing to have earthy tones, bright accents, and rich textures reasserted in your home. Curtains are where this revolution to the past is most easily seen. Try long drapes, gauzy sheers, and textured panels combined with blinds, window scarves, macramé hangings, and beaded curtains that make you want to touch and feel and drink in the rich vibrance of delicious curtains. 
The aim is to layer colors, patterns, textures, designs, motifs, and decorations to create a wonderful old-world ambiance that speaks about home, relaxation, and culture. The great thing is you can combine what you already own with a few accent pieces and achieve the look in no time at all.
Three Ways of Making Sense of Bohemian Curtains In Your Home
There are many bohemian style curtains available, and while it may be easiest to simply choose a finished bohemian curtain, it won't necessarily work in your space. So here are some quick guides to choosing Bohemian curtains for your décor scheme. 
Choose a Color Theme
In the room you will be decorating, look at the colors you see. Are these colors you wish to keep? If not, which colors would you like to choose for the new room? 
Find three top colors that you will be used to anchor your bohemian décor scheme with. These three colors will be present in your curtains or in the tie-backs or ornamentation that you may choose for your window treatment. You may also echo these colors in scatter cushions, drapery, wall colors, etc. There will be other colors too, but focus on these three main colors to help structure your look. 
Decide on an Overall Theme or Motif
There will be a recurring motif or design that will run through your room décor. Perhaps you are using birds, Moroccan print, or stenciled designs to link everything together? Maybe you will structure your bohemian look around feathers and birds, or you may end up choosing religious iconography. 
Remember, there are no limits to what you can choose as your décor theme. Have fun with the theme, and be sure to choose something you will like for a while. You don't have to put hundreds of theme items in your room, and you can create a great theme with a few accent points.
Repeat What You Have
If you already have a few great textures in your room, you can also repeat these or contrast them with your choice in curtains. Should you already have a lively pattern going in your upholstery, floors, or walls and perhaps feel intimidated by the idea of patterned curtains too, then you can definitely go with plain colored panels—just layer them and use a few colors. 
Bohemian Curtains Buyer's Guide and Considerations
When choosing curtains to complete your bohemian or boho look, there are a few considerations to keep in mind:
Color, Texture, and Pattern
You don't have to be shy when you choose bohemian curtains. The more colorful the better, but sticking to your top three colors is best. Even if you may think a particular color choice is so screeching bright that you will surely end up getting a visit from the décor-police, you don't have to worry.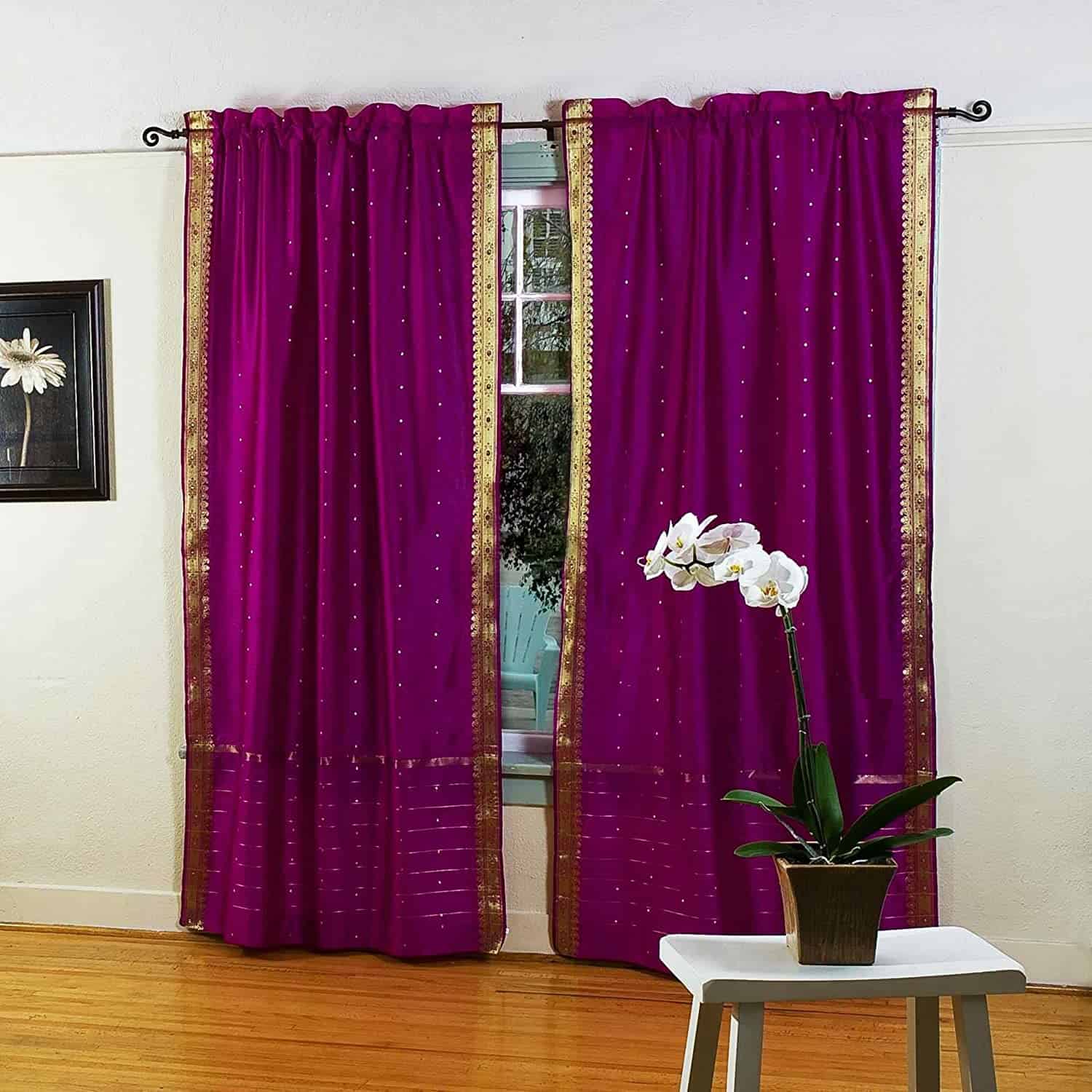 Colors you do want to avoid include black, gray, and plain white. These are formal colors, and bohemian décor schemes are opposed to any formal structuring. Yet, you can use black stencils, bold prints in black and white, plain white curtains with great tassels or fringes or layers of fabric, and you can also use gray curtains when combined with a fun element like macramé fringes or curtain scarves. 
Textures can also be used to help you create something special. The idea is to be brave and go bold. Bohemian décor is free-spirited and free from the normal rules of décor. 
Cheap Is Okay
The bohemian look if VERY budget friendly. You don't have to choose the most expensive look or spend thousands on high-end fabrics and designs. There are a range of affordable and even cheap window treatments available to meet your bohemian heart. From bamboo blinds, window scarves, sheers, and beaded curtains to roman blinds and single layer treatments, you can find a bohemian window dressing to suit your taste. 
Trimmings, Embellishments, and Details
Bohemian themed decors are all about those little elements of texture, design, whimsical trimmings and embellishments, and details that you sometimes find when you are in the room for a while. The idea is to really have a great time and make something that is uniquely your taste within the rich and vibrant world of bohemian style. 
What Is Your Window Like?
Keep in mind that your bohemian curtains need to be functional too. So if you have a window with intense sunlight on it for most of the day, then choosing something that will weather easily and quickly fall apart is not ideal.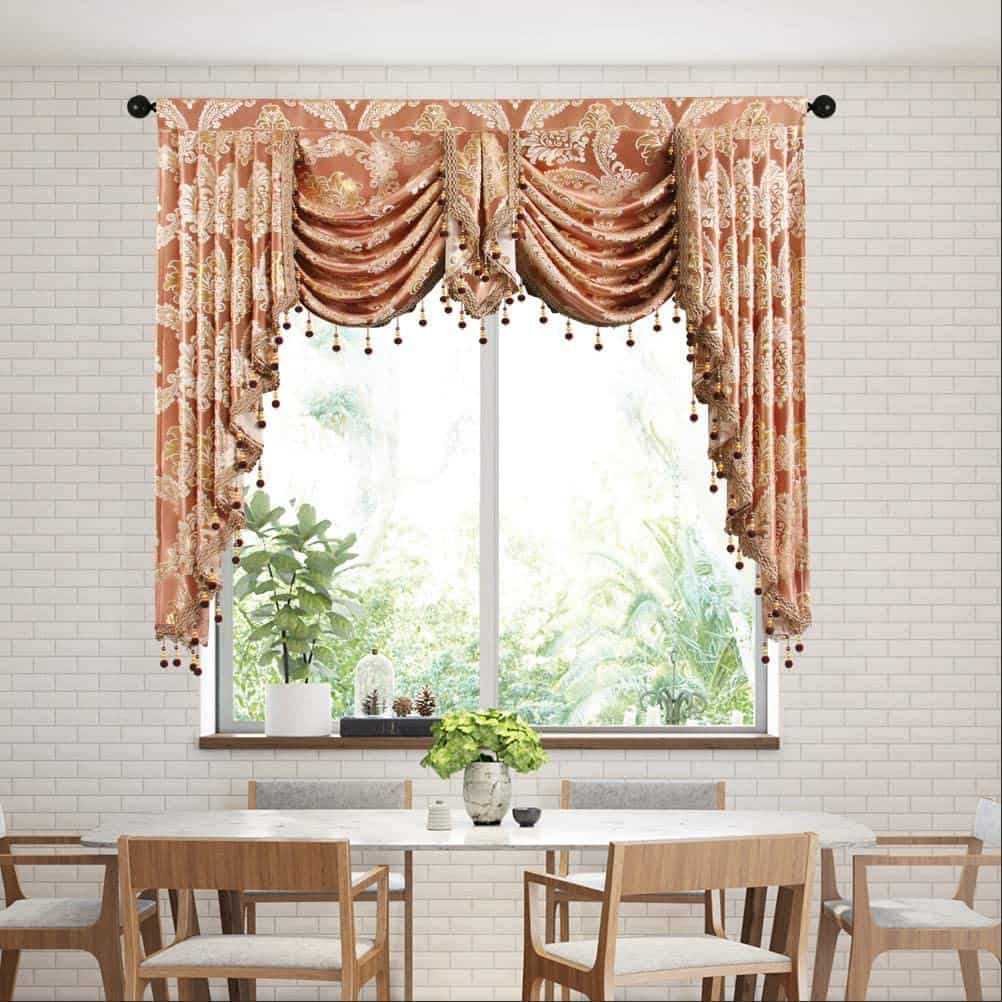 While bohemian curtains are supposed to be free-spirited, they should also offer you quality service and fulfill their window feature function. This may mean that you need to layer those sleek sheers with tassels with some blackout curtains to be practical and stylistically correct. 
Bohemian Curtains Buyer's Recommendations
Top Bohemian Curtain Options
Best India Detailed Curtain Panel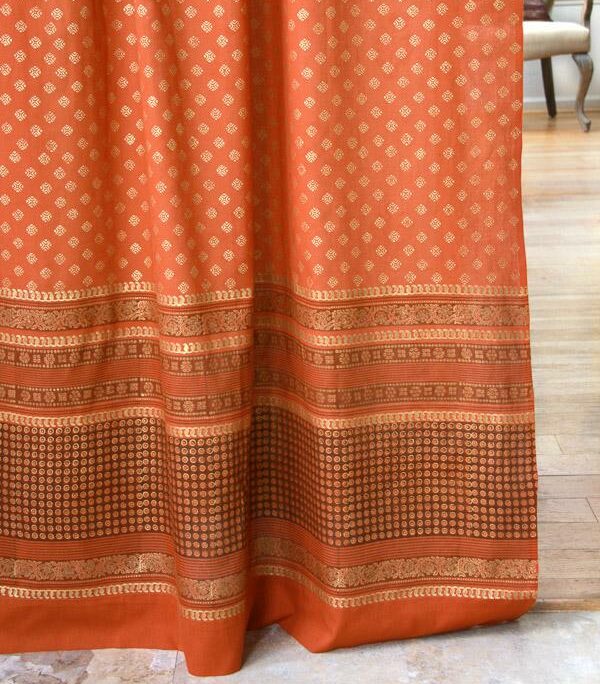 There is a definite appeal to things that originate in the rich culture of India. This old world feel is abundantly present in the Shimmering Goldstone—Orange Gold Sari India Curtain Panel from SaffronMarigold.com. There are a range of seven jewel toned colors, but the orange gold Sari is especially charming. 
Available in a panel size of 44 by 63 inches up to 44 by 108 inches, this will suit most windows or give you the option to create an airy look with a straight panel with minimal gathering. The cotton voile is easy to care for, and it has great light filtering capabilities, making for a magical window treatment. 
From the 63 and 84 inch length curtains, you have the option of using the five tabs at the top for hanging or the curtain rod pocket. The shorter and longer lengths don't feature these tabs, which is a bit sad if you have your heart set on them. However, you can easily add ties at the top to hang these airy curtains from. 
Best of all, these curtain panels are all hand printed with traditional wood blocks—creating an authentic old-world feel that will be a talking point to any room. Each curtain is also matched with a color-appropriate tie-back, making life easier when needing to tie your curtains to the side or to reveal additional layers if you combine these with other curtains. 
The inspiration for these panels are each unique, and you can see variations according to the color block printing process, ink batches, and even the individual artists who make these hand printed panels. These sari-inspired panels will surely make you smile like the mythical creator of the first sari did. 
With the delicacy of the ink and the gold paste that adds shimmer to the design, it is advised that the panels only be cleaned by dry cleaning them. 
Best Ruffled Bohemian Curtains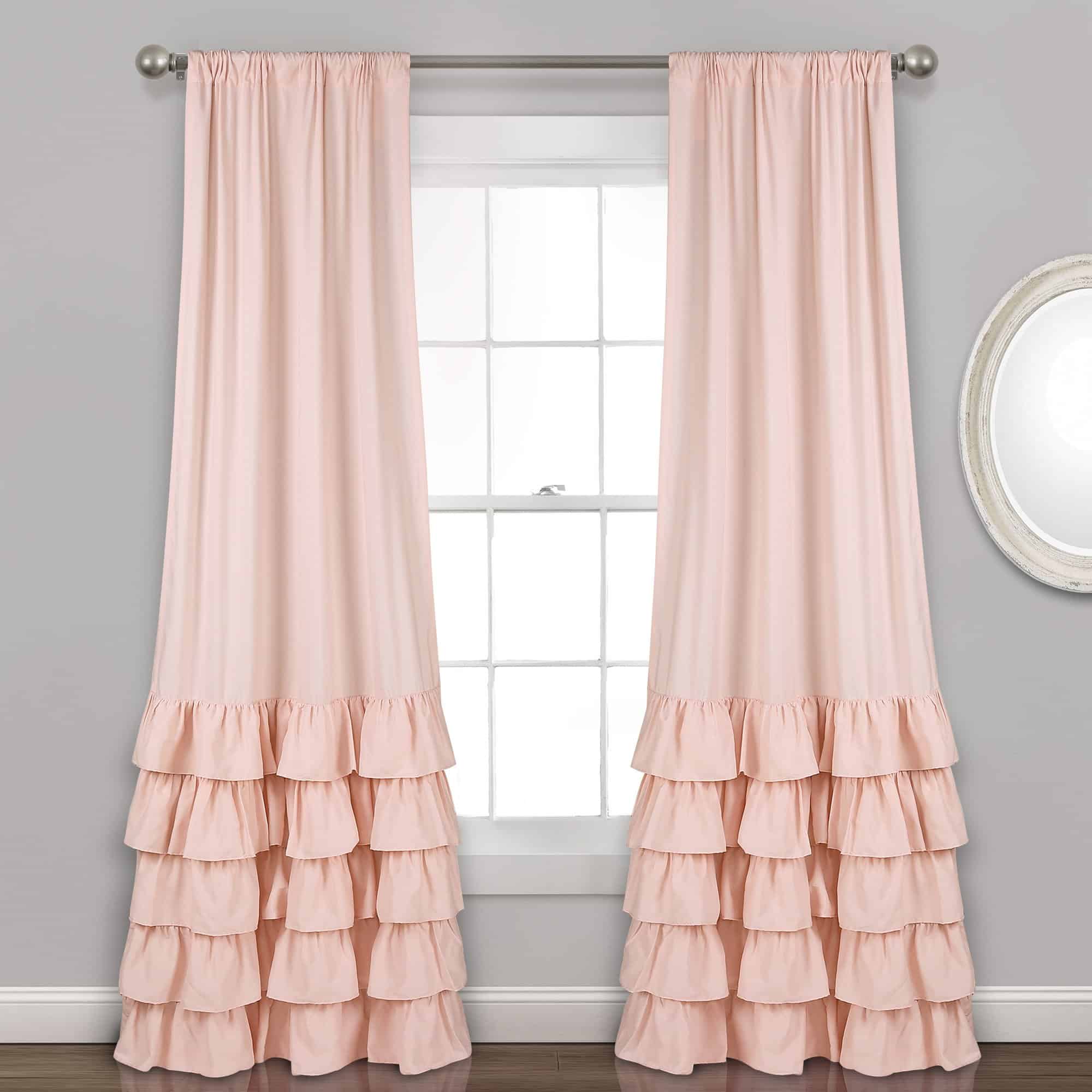 If you're not quite ready for the brightness of the India sari design, then perhaps the texture of a ruffle panel will appeal to you. The Allison Ruffle Window Curtain Panel Set is ideal for those who are trying out their feet in bohemian style for the first time. These plain colored panels combine well with other curtains for a flash of color or pattern. 
We love the aqua blue or blush pink colors as inspiration for a bohemian style room. Choose three major colors for your room and pick up one of these in your choice of ruffle curtain. 
There are three sizes to choose from, ranging from 40 by 63 inches up to 40 by 95 inches. The curtain panels are hung by rod pockets, but you can also use clip-on rings to hang the curtain panels. 
Depending on the length of your curtain, you can expect from three rows of ruffles up to five rows of ruffles. This all adds in creating a feeling of gypsy abandon with the ruffle layers puddling in a lush arrangement. 
Each order has two panels, which is ideal for a wider window or to be able to draw the curtains open and closed according to your privacy needs. Because the curtains are unlined, there is gorgeous light filtration that lets air in and filters the room's ambience beautifully. 
These ruffle curtains are easier to care for as they are 100% polyester, and while you can dry clean them, you can also machine wash them in cold water in a mesh laundry bag. Should you feel the need, you can also iron them lightly. 
The ruffled appearance will complement any bohemian look, and these will go really well with slip cover couches, a few large bean bags, and a plush area rug. 
Best Bohemian Valance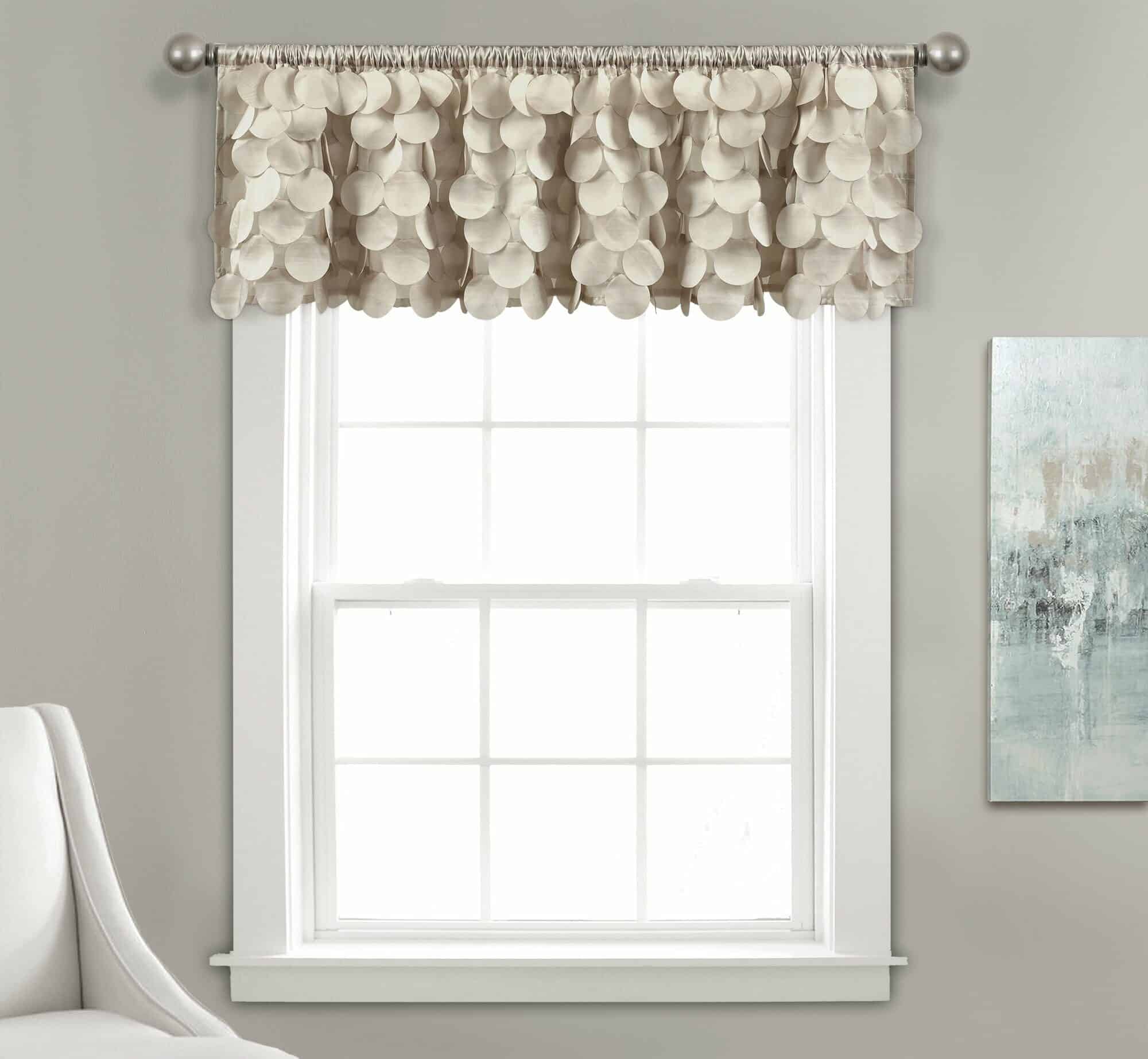 For that tucked away surprise, why not add a textured valance to introduce the bohemian look to your windows with the Gigi Valance by Lush Décor? This taffeta valance is 100% polyester, and it comes in six colors, ranging from ivory, turquoise, and blush to wheat color. The textured appearance is exotic and appealing. 
Combine it with some textured layers or beaded curtains for a truly bohemian look. 
The valance is only available in one size, 14 by 70 inches, which does limit your options a bit, though you can add a second valance for wider windows. The bright laser cut circles, which have been hand-sewn to the backing fabric, make up for this with sheer charm. 
The rod pocket is 1.5 inches wide, which will fit a slender rod, or you can hang it with curtain rings too. We love sewing on bright curtain ties for a truly whimsical look. 
Care for the Gigi Valance is a bit tricky as it can't be washed at all since the laser cut circles will fray. Dry cleaning is recommended. 
Best Sheer Printed Bohemian Curtain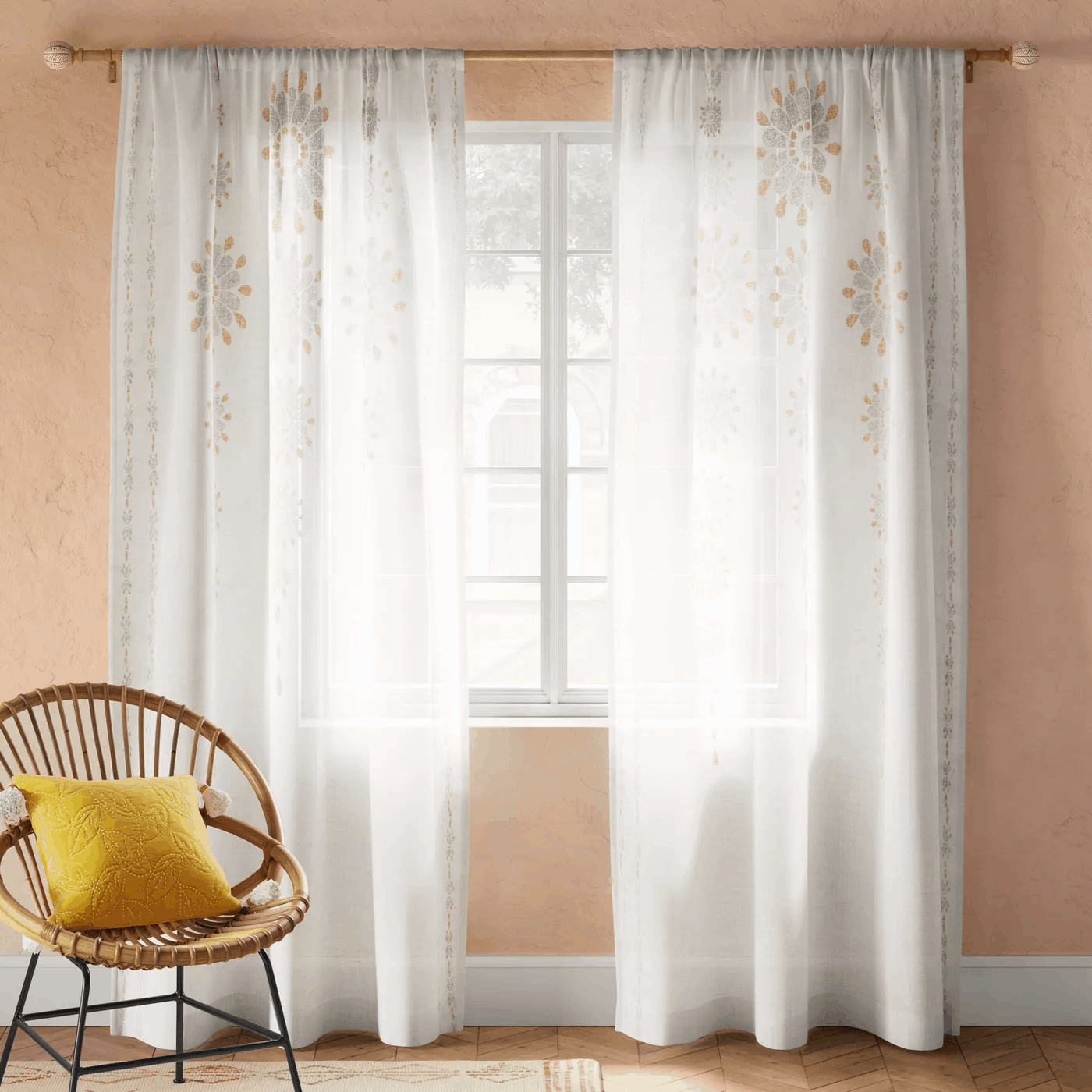 Sheer curtains help introduce the outside world into your home, and bohemian style is very close to nature with its delight in sunlight, air, and movement. Watching the wind play in the folds of a great printed sheer curtain is a luxury you can indulge in as you lounge on your thickly padded sofa or armchair. The Amber Medallion Sheer Curtain Panel Off White by Opalhouse™ from Target is an ideal choice for a classic bohemian look. 
With the tasteful off-white polyester base, these sheers are printed with a tasteful semi-translucent medallion in shades of gold and blue. Combine it with plain gold panels or tassels in metallic shades of gold to help add exotic charm to this curtain with a layered look. 
The easy upkeep helps you spend more time enjoying your beautiful bohemian décor scheme and less time struggling to clean. Simply throw it in the washing machine and you're good to go. 
Use the curtain rod pockets for hanging or add curtain rings with clips to help you hang this sheer at your window. It's a great way to let in light and ambience. 
Best Bohemian Moroccan Curtains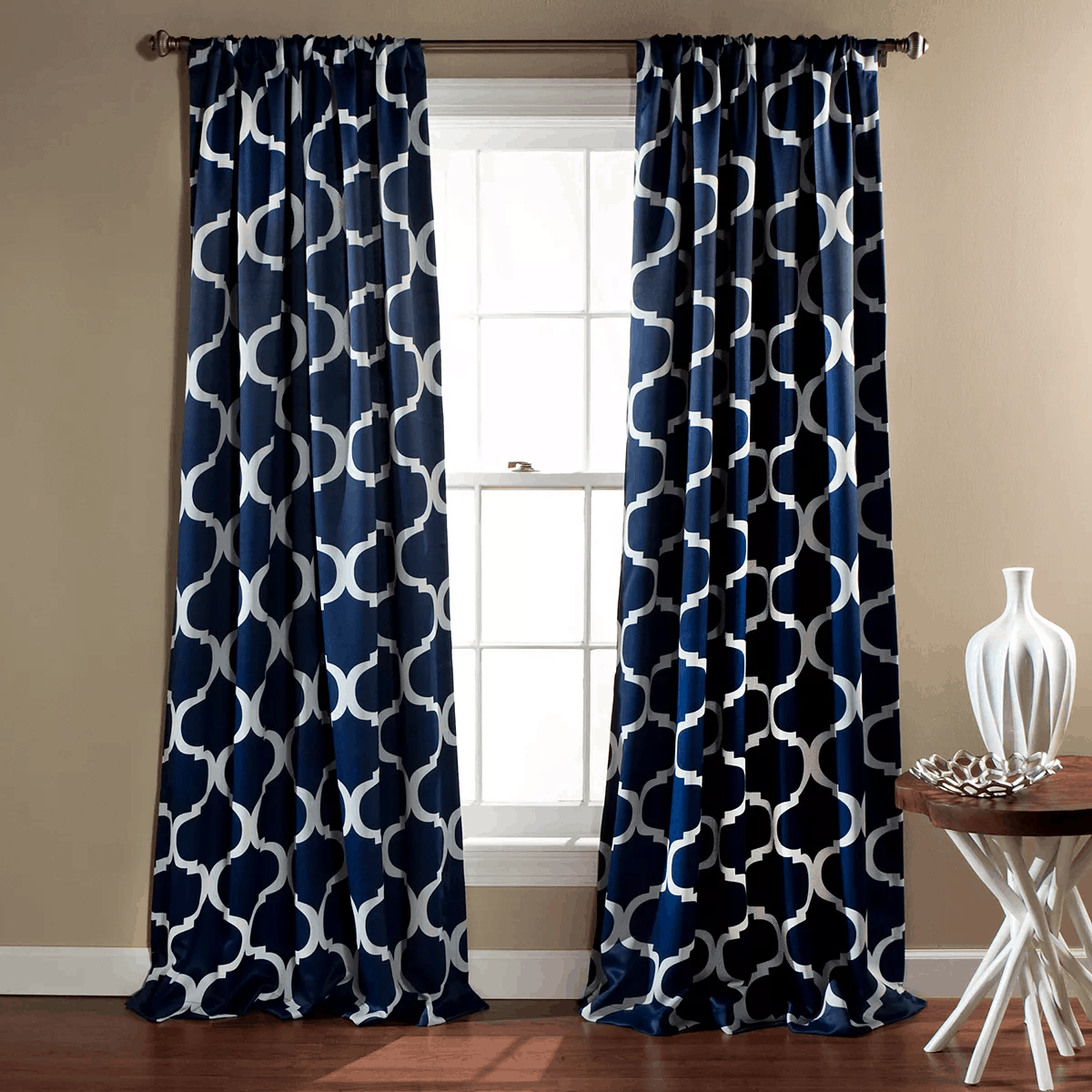 When you hear the word bohemian, chances are you think of Morocco. These navy patterned Lush Décor 2-pack Geo Blackout Window Curtains from Kohl's are ideal to hint at the tiled alleys of Marrakesh, with their arabesque style patterns.

While a dark color like navy isn't traditionally associated with bohemian style, you can easily freshen up the look by adding a brightly colored or heavily textured tie back to help draw open these block-out curtains. 
The rod pockets enable easy hanging, but you will have to dry clean these polyester curtains. 
Available in a range of sizes, you can opt for a shorter look that allows for a more eclectic furniture arrangement with your available floor space, or you can go full on luxury with a puddle effect on the floor with a longer curtain. 
Best Room Darkening Bohemian Damask Pattern Curtains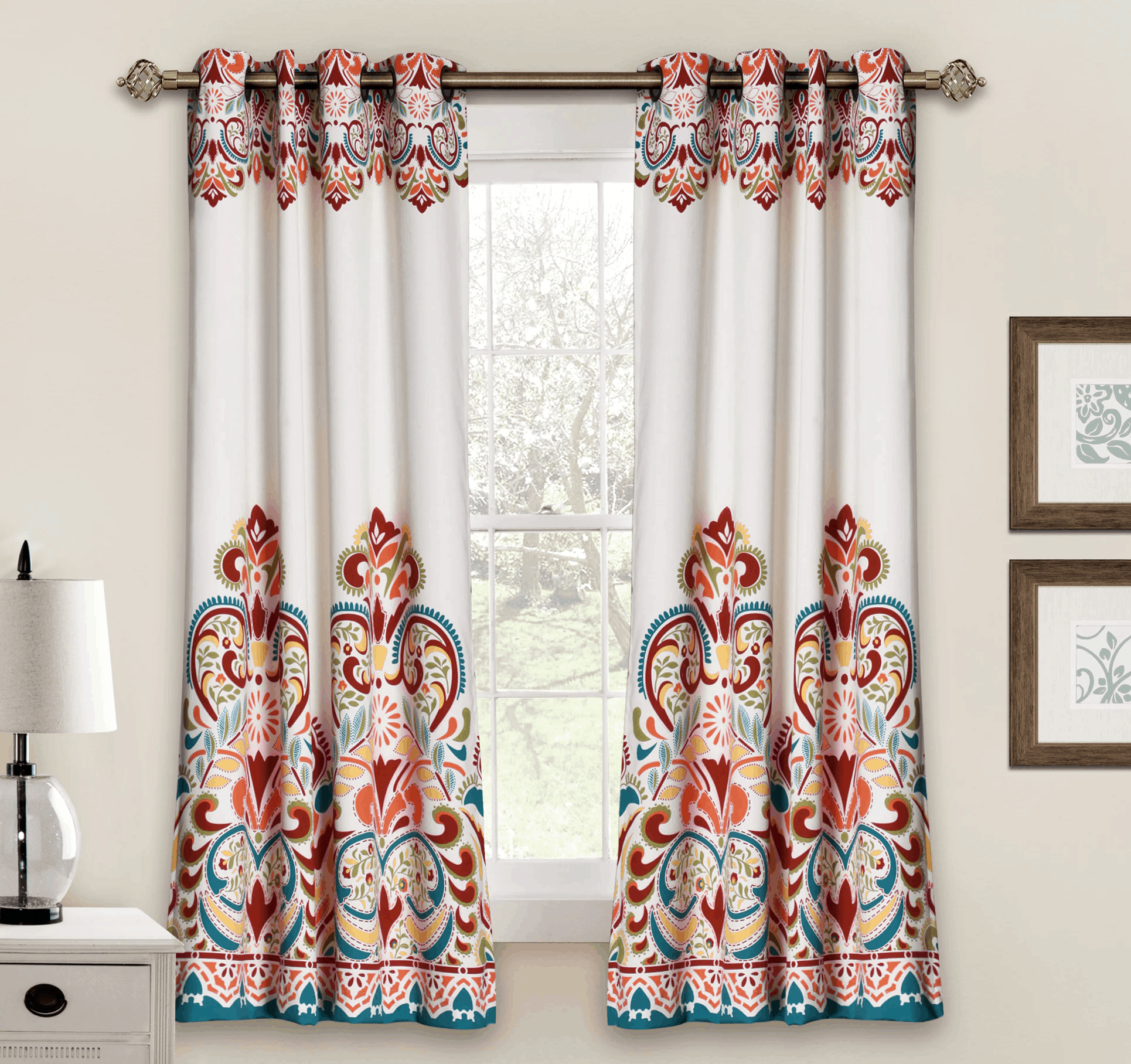 If you are looking for a stunning yet pleasantly understated damask pattern with great light control properties, then the Curated Nomad Presidio Room Darkening Window Curtain Panel Pair by The Curated Nomad on Overstock is for you. Available in a range of four color combinations, these twin pack curtains are made from an easy-care polyester. You can choose between combinations of blue and green, turquoise and tangerine, yellow and gray, and navy and tangerine. We love the blue and green combination.
Hang these authentically bohemian curtains with the convenient rod pocket hanging system, and by choosing a longer length, you can puddle them in a rich drape to the floor. There are four sizes to choose out of, ranging from 53 by 63 inches to 52 by 95 inches drop. 
The room darkening effect also helps with energy efficiency as it controls your room's ambient temperature. The damask headers and the full-bodied base with rich colors and patterns are inspirational and will combine well with other bohemian colors. 
Best Native American Bohemian Print Curtains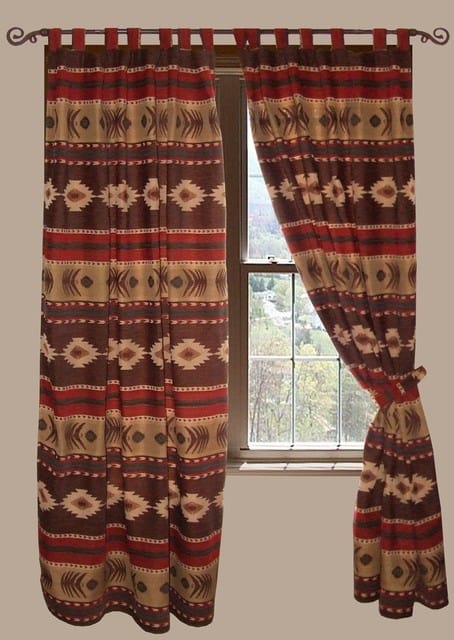 There is something completely free-spirited about the old country of the Wild West, and these traditional patterned diamond and feather designed Cimarron Striped Southwest Drape Set by Carstens are ideal! The rich earthy pallet of coffee browns, tan, and cardinal reds is any bohemian earth-loving decorator's dream. Match this up with some leather sofas or a great egg chair and you're good to go. 
The original design of these drapes pay homage to the Apache, Jicarilla, and Ute tribes, and you can build an authentic experience that will bring you closer to the land and the rich cultures of the Americas. The tab top hanging system allows for great finials and other hanging features to be included to round off that ancient feel. We're thinking a great eye-catching dreamcatcher hanging from the curtain rod would be the ideal feature point. 
One downside is the limited sizing that these stunning drapes come in. There are sadly no size options, and you have to opt for the 54 by 84 inch size per panel. This will suit most standard windows, but you can always combine these with some tassels or other decorations to increase the length if you need to. 
Bohemian Curtain Ideas FAQs
Question: What's bohemian style?
Answer: Bohemian style is a style that is favored by those with an artistic streak and a love of cultures, freedom, and unusual designs. In curtains, bohemian style trends with vibrant colors, ethnic and ancient patterns, and layers of textures. 
Question: Are bohemian curtains and décor in style?
Answer: Since bohemian or boho style is not based on any particular theme, it will always be in style. By adding new elements or layers to the décor scheme, you can easily update and refresh your bohemian style. Simply choose three main colors, decide on a general motif, and be creative. The rest is part of your boho dreams!
Question: Bohemian, how to style?
Answer: When you decide to go bohemian, it can be overwhelming to get started. Simply begin with your curtains, then progress to the rest of the room. These are great tips for creating a real and authentic bohemian style room:
Layer your curtain textures by choosing more than one type of curtain to combine per window.

Complement different patterns, and apply the simple rule of using pattern successfully—if you use more than one pattern, just make sure it is on the same scale.

Go hand-made if you can't find the perfect curtain by simply adding some stenciling or motif design to a plain curtain.
In Conclusion
Everyone can embrace their bohemian spirit by filling up their home with vibrant colors, exotic patterns, and rich textures in their curtains. Whether you opt for the sari curtain or a Cimarron stripe, you can create an unusual and eclectic style in your home to express your creative side. Don't hold back, and more really is better!