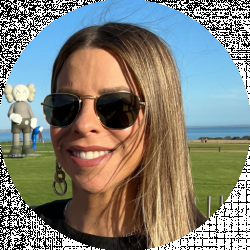 Latest posts by Maddy Chiffey
(see all)
Navy blue is a relaxing, tranquil color, associated with royalty – it's a rich, strong shade that goes well in bedrooms, offices, dining rooms, and offices.
If you're decorating and you're drawn to this shade, here are our top navy blue curtain ideas – from ideas for nurseries to guest bedrooms and offices, we have navy blue curtains to suit all situations.
If you want to get inspired, keep reading – we'll start with something simple!
Plain Navy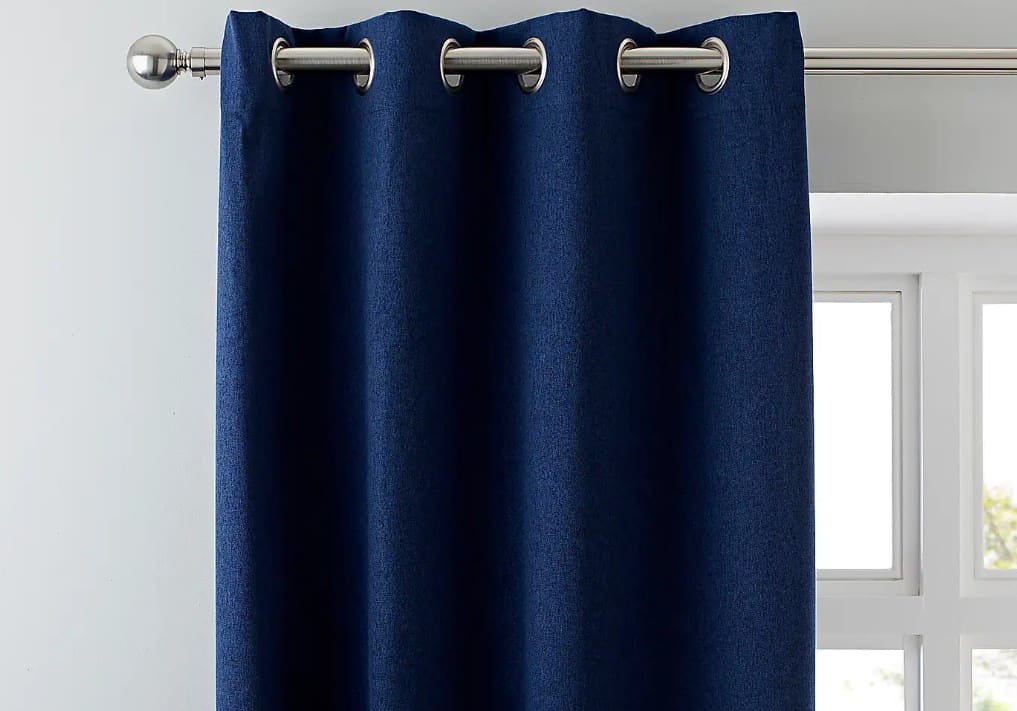 Any shade of plain blue curtain is a calming, subtle choice, and navy is no exception. Plain navy blue curtains look great against a clean white wall. They also make a great accompaniment to bold patterned wallpaper.
Navy Blue Stripes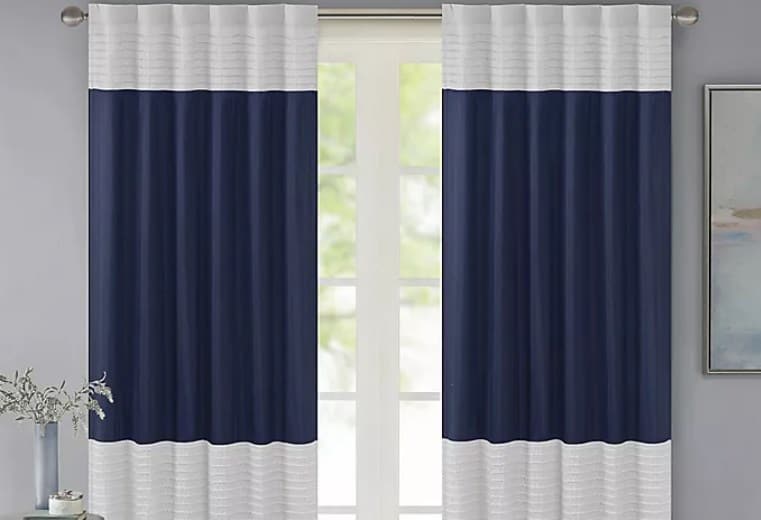 If plain navy blue isn't for you, but you don't want to go for a bold floral pattern, why not try stripes? These curtains come in calming shades of navy, lighter blue, and white, which opens up a ton of options in terms of wall colors to match.
Navy Blue Velvet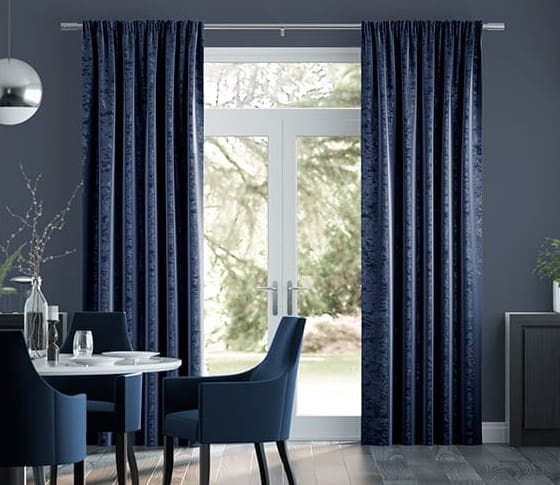 Sometimes it's nice to add a bit of texture to create an interesting feature in the room. Velvet is still on-trend, and this navy blue shade is a striking choice, ideal for a dining room or lounge.
Cream with Navy Accents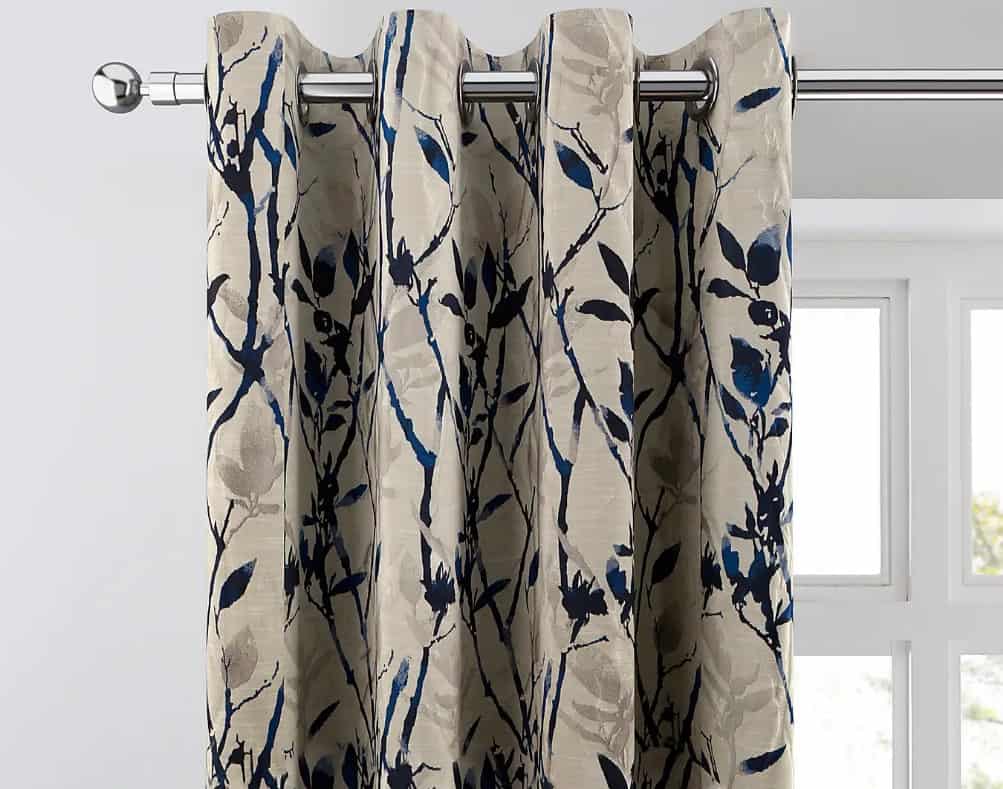 You don't have to stick to just navy blue. These curtains are a neutral stone color, but the navy blue accents make for a calming, pretty pattern. Curtains with blue patterns are perfect for picking up other blue feature points in the room (for example, a blue velvet chair or blue cushions).
Navy Blue Gingham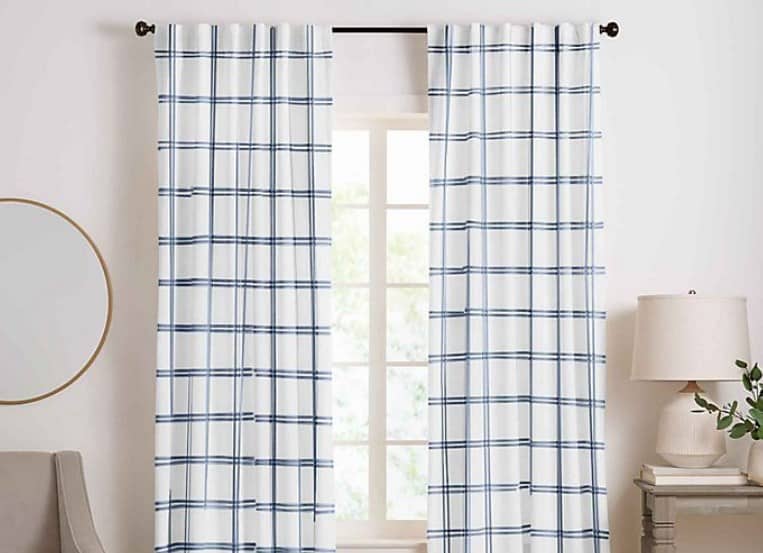 Gingham is a classic pattern, and it makes for a great choice for any room in the house. It particularly suits kitchens, but really, this pattern works in any room. Navy blue check curtains make for a nice subtle pop of color.
Bird Print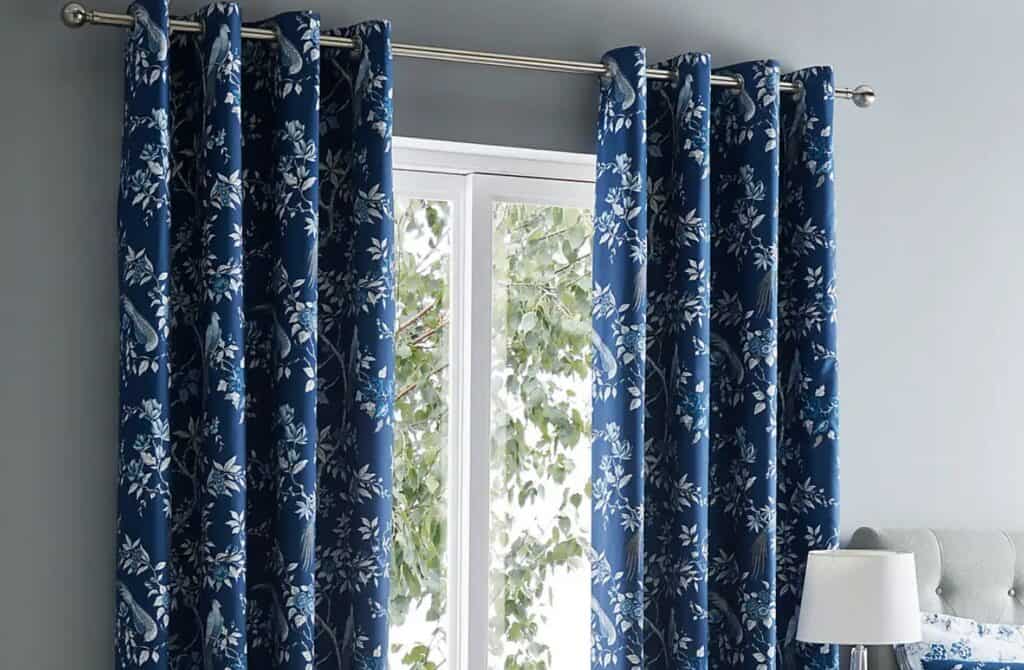 If you like a pattern but don't want to go for just floral, why not look for a bird print? These curtains are bold, and the navy color suits plain white or light blue walls, and it looks great with white furniture.
Navy Blue Circles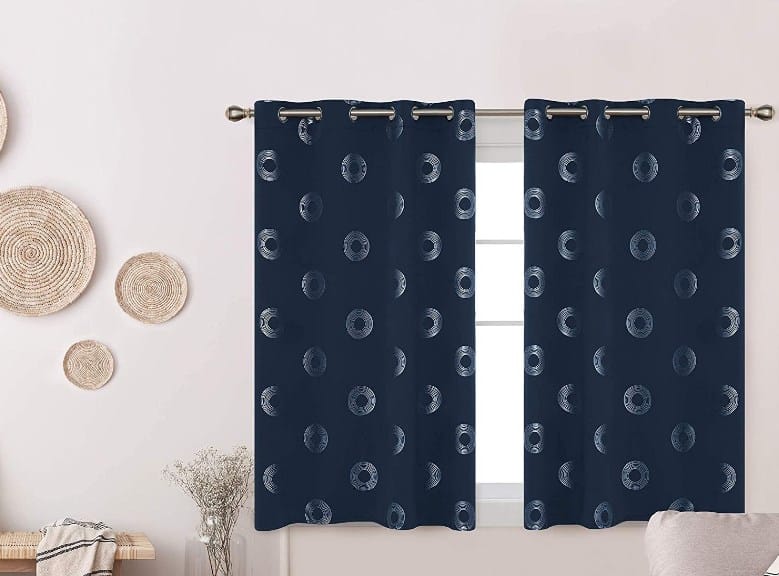 You can add a bit of interest to plain navy curtains with metallic circles – these work really well against plain white or pale blue walls. Ideal for a guest bedroom or perhaps a teenager's bedroom, these are interesting enough not to be boring but still subtle enough to not be the main feature in the room.
Navy Blue Feathers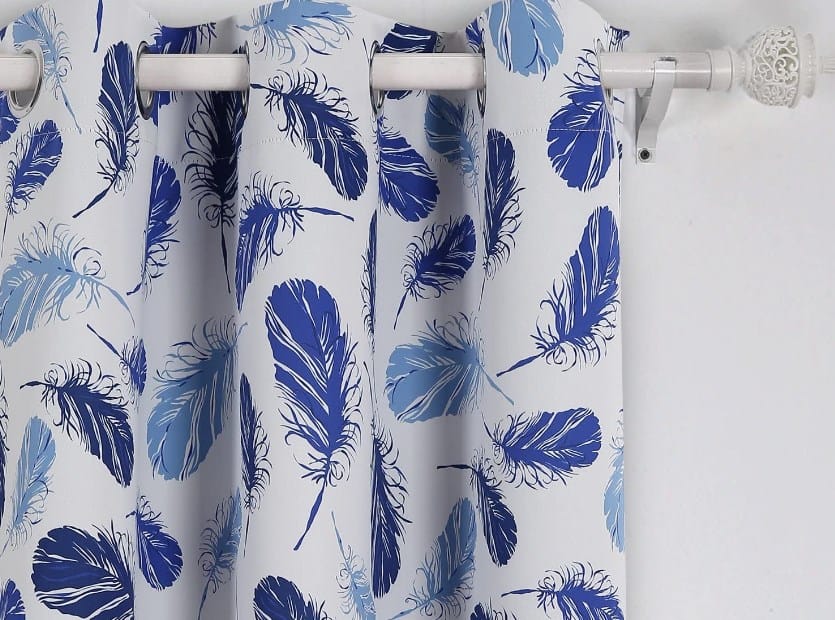 These bright, pretty curtains work well for bedrooms – the feather pattern is relaxing, and the navy and bright blue feathers against the white give you a few options in terms of color matching.
Feature Curtains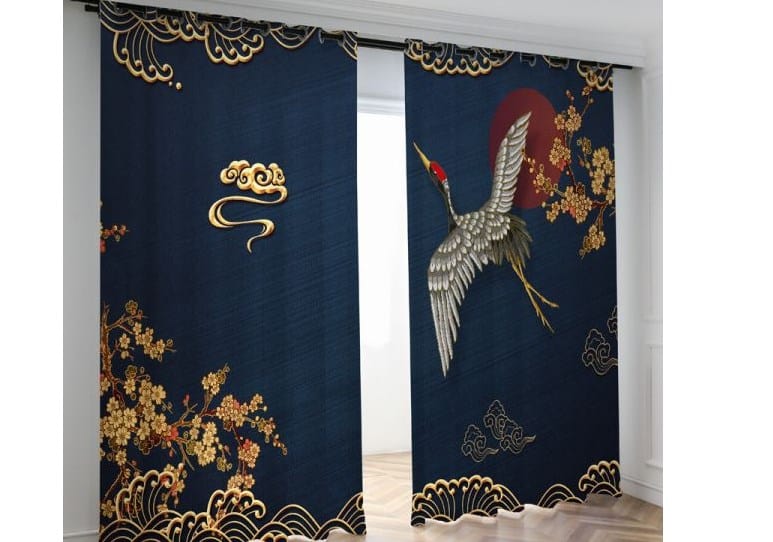 These window drapes are bold! If you want something a bit more interesting than your average curtains, look for something with a unique, interesting print. These make a great 'feature' curtain for a plainer room and are a beautiful focal point.
Navy Blue Dinosaur Print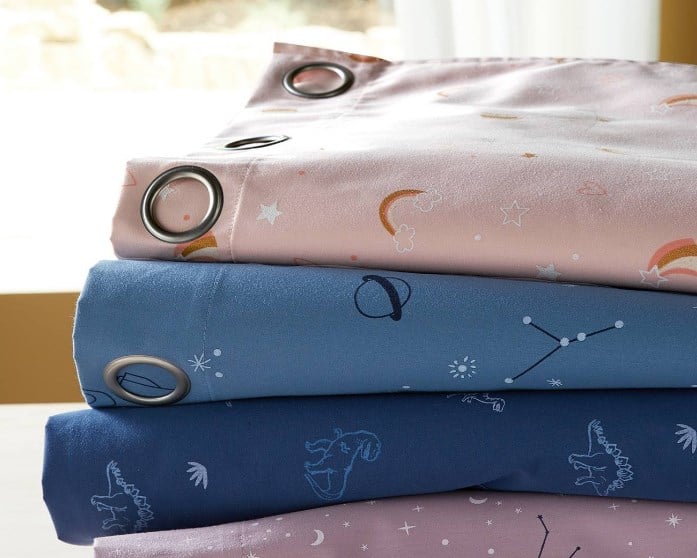 Dinosaurs are super popular for both boys and girls. These curtains make for a great 'upgrade' from a baby/toddler's bedroom into something a little more grown-up whilst still being fun and playful.
Navy Blue Leaf Print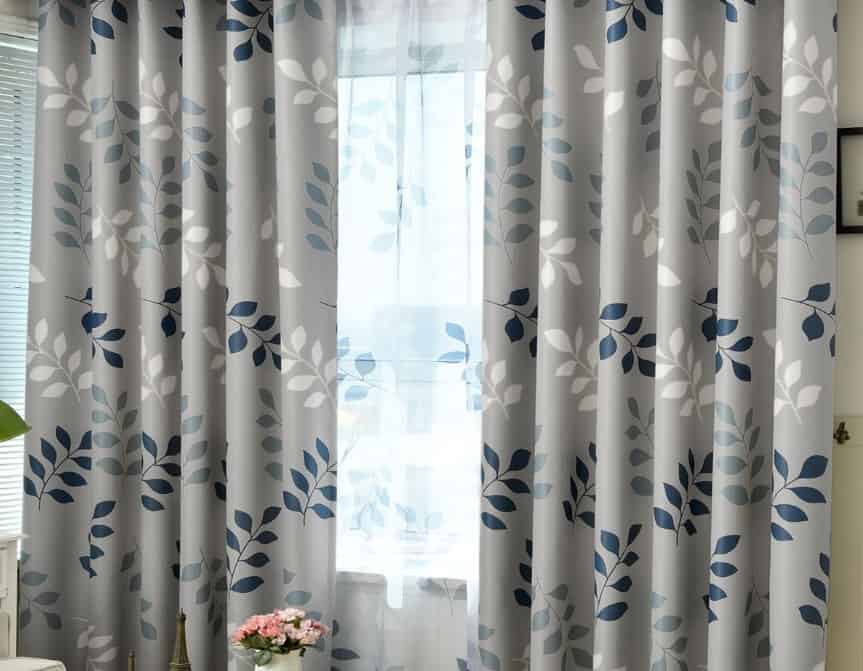 While these curtains are a stone color, they have beautiful blue accents. That makes them a versatile choice, matching neutral wall shades as well as varying shades of blue, from pale blue-grey right through to navy. Leaf prints strike a nice balance between interesting and beautiful to look at and subtle enough not to draw all the attention in the room.
Geometric Print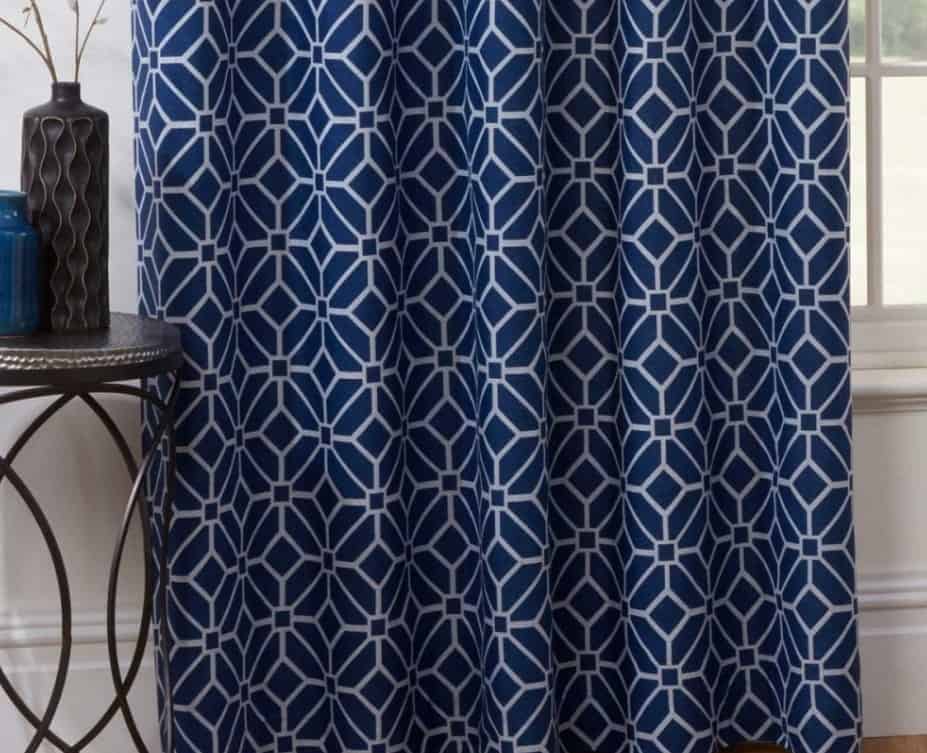 Want something bold and modern? A geometric print could be your best bet. Navy and white are a classic combination, and these curtains look smart and up-to-date. They're ideal for any room in the house but look particularly good in a lounge or bedroom.
Navy Jacquard Curtains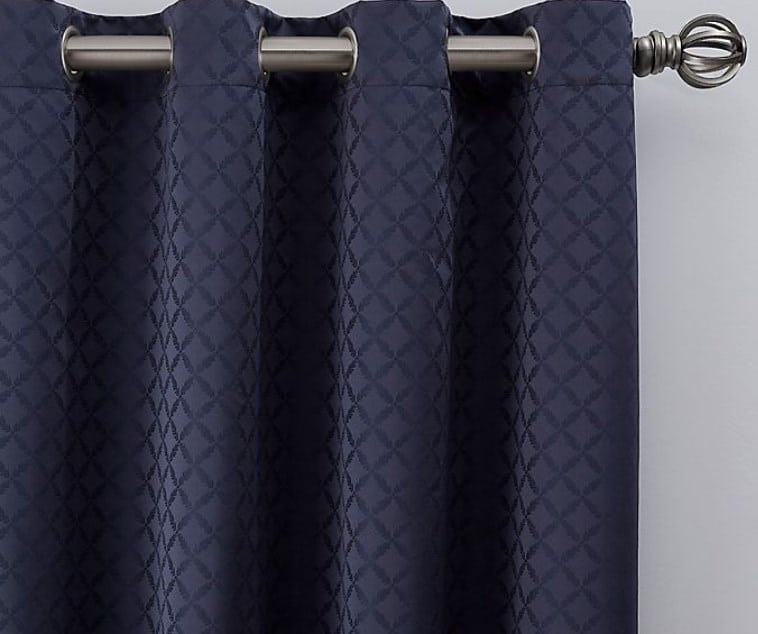 If you want a patterned curtain, but you don't want it to be the main focal point in the room, go for a smaller pattern. This jacquard pattern is subtle, but a bit more interesting to look at than plain navy curtains.
Navy Blue Star Curtains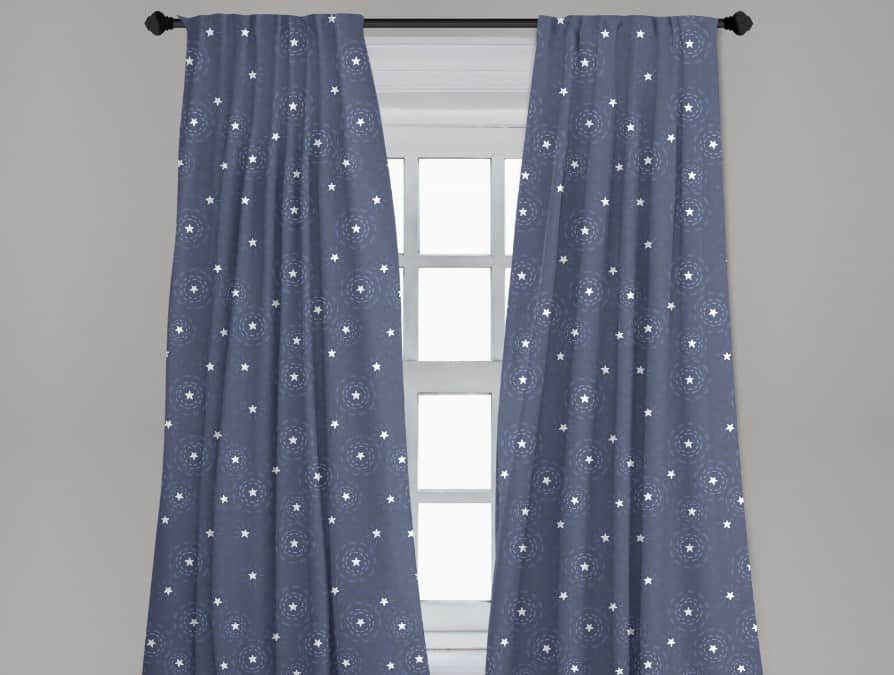 You may think that star-patterned curtains are just for kids, but depending on the style you go for, you could use them for all ages – from nurseries to teenagers' bedrooms to guest bedrooms. They add a touch of whimsy and magic to any room. If you want something extra special, look for curtains with star-shaped cutouts – the light will shine through the stars, creating a pretty focal point for the room.
Blue Rose Print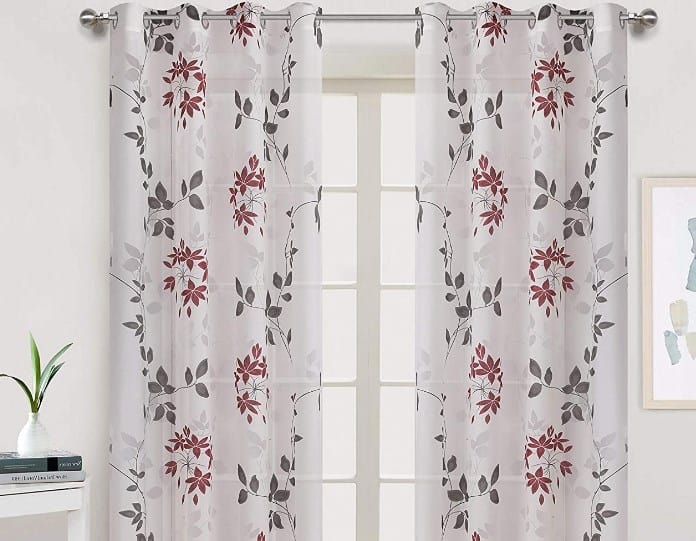 You can't go wrong with a classic rose-print curtain, a beautiful addition to any lounge or bedroom. Navy and white are a great combination, and these curtains would suit white or navy walls perfectly.
Navy Pom Pom Curtains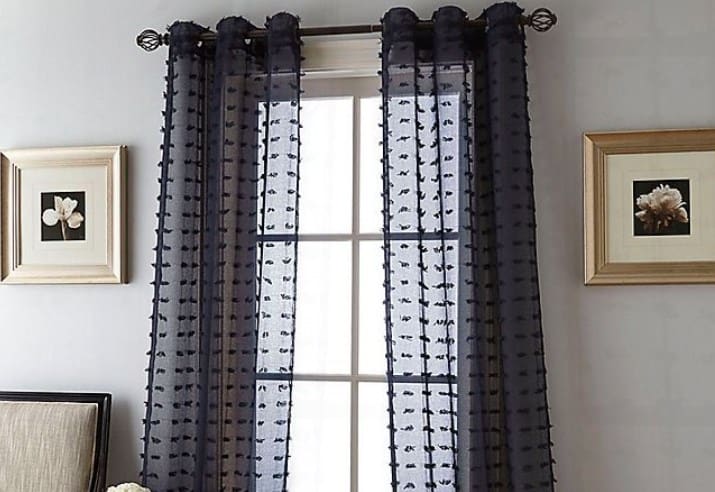 If you want to add some texture to your living room or office, these pom curtains are a great choice. While they won't block out the sun, they are pretty and delicate.
Navy Space Print Curtains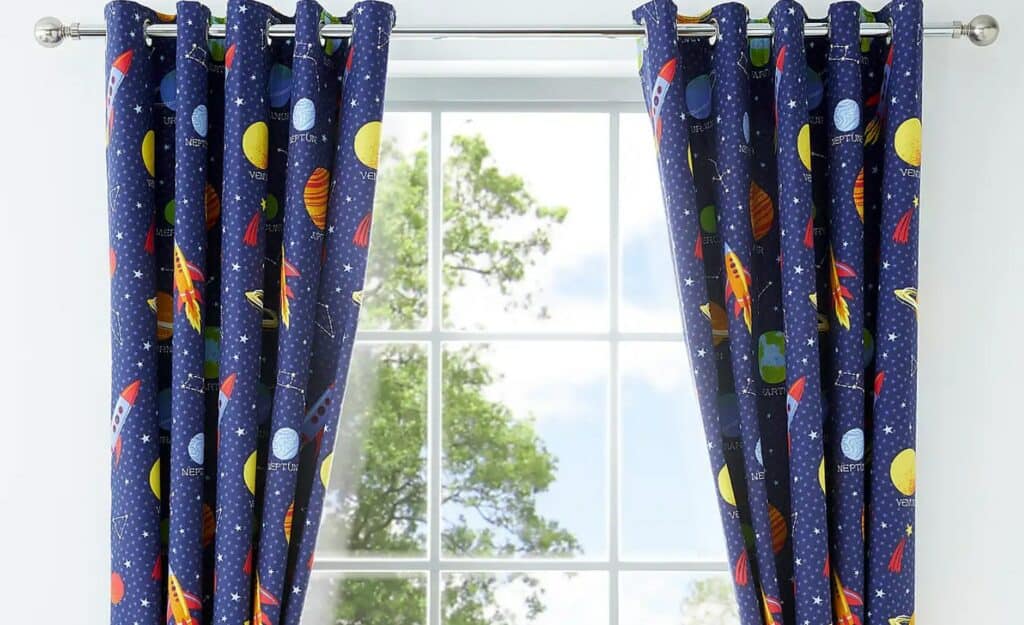 If you've got a budding astronaut in your life, space-themed curtains are a cute focal point for their bedroom. An excellent choice for nurseries, too, this gives your little one something interesting to look at and goes well with white or pale blue walls.
Navy Tropical Print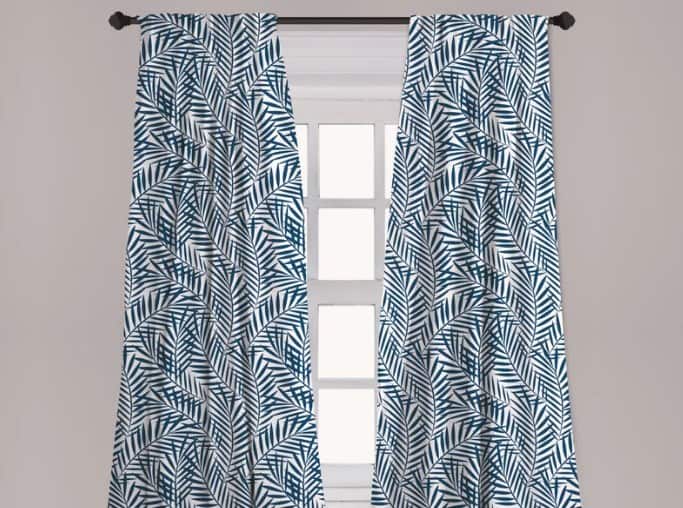 Want something a bit bolder? Go for a tropical print. Tropical prints give a modern twist, so if you're bored of stripes or florals, these are a good choice. They work with all kinds of wall colors, too.
Navy Blue Sheer Curtains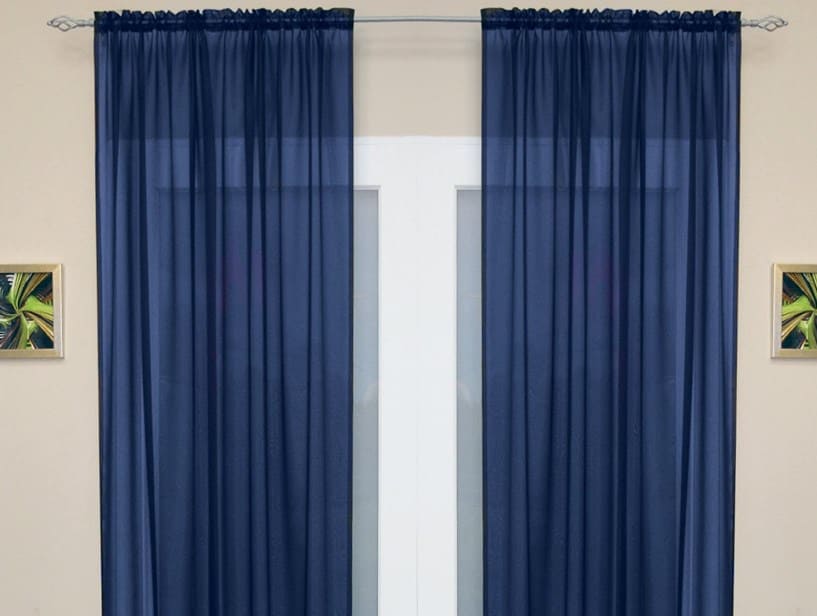 If you want something delicate, go for a navy blue sheer curtain against white or neutral walls. While these won't block out the sun, they do look pretty, and make a great choice for a lounge or dining room. You could also use them in a bedroom layered over a corded blind.
Frequently Asked Questions
Before you go, here are some frequently asked questions about navy blue curtains …
Question: Which rooms suit navy curtains best?
Answer: Navy blue goes well in any room! It's a versatile shade, matching neutrals like taupe or stone, white, and other shades of blue. Navy curtains work in living rooms, bedrooms, offices, and dining rooms.
Question: How can I tell what size curtains I need?
Answer: The length is pretty easy – just measure from where your curtain rail will be down to your desired length. The width can be a bit tricker. Ideally, you'll want something at least twice the width of your actual window. This will give you a nice amount of fullness. On the other hand, if you're going for sheer curtains, you can go for three times the width of your window, and it will still hang nicely.
Question: Do navy blue curtains go with gray walls?
Answer: Navy works well with lighter gray – dark gray combined with navy might be a little too dark, especially if the lighting in that particular room isn't great. If you're ever unsure, look for color swatches online. For example, the website Color Hunt has a range of free color palettes to choose from, so you can find a palette you like and then base your wall, curtain, and furniture choices on that.
Our Final Thoughts
Hopefully, this has given you some inspiration on which navy blue curtains to go for. It's easy to feel overwhelmed with so much choice out there, but that does mean there should be a perfect pair of navy blue curtains out there for you!
Read More: