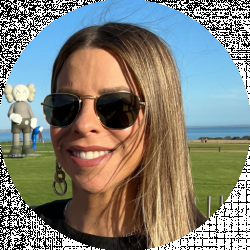 Latest posts by Maddy Chiffey
(see all)
Red is a bold and beautiful choice for home furnishings, but you might be wondering how you can introduce it to your home. These trendy red curtain ideas will give you 20 examples of how red curtains can give your bedroom, lounge, dining room, or kitchen a new lease of life.
From burgundy through to light coral reds, there are a surprising number of options out there for you. Here are some of our top red curtain picks to get you started:
Plain Red Blackout Curtains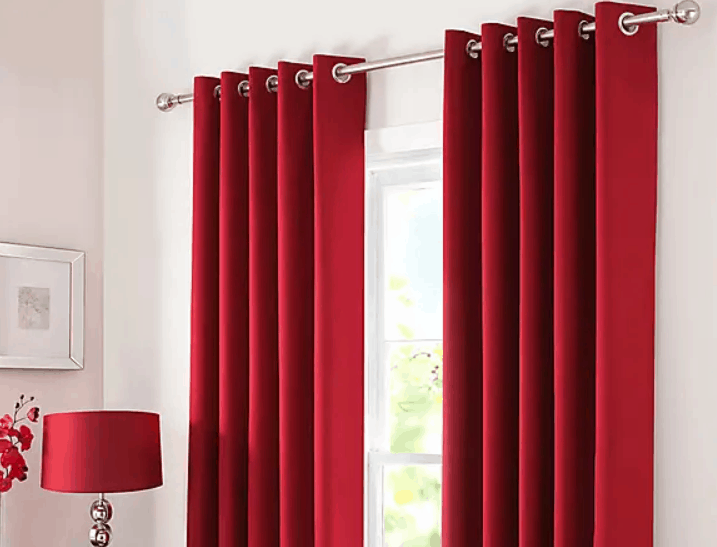 If you want something elegant and bold, go for a pair of classic plain red curtains. Paired here with neutral walls, they're eye-catching without becoming the main focal point in the room. You can match these with other accessories – think cushions, lamps, vases, and so on.
These curtains work well in both lounges and bedrooms – they're blackout curtains, so they block out the sun completely if you want to stay cool, and they also block out cold draughts in the winter.
You can go for any shade you like – from a lighter coral red through to deep burgundy, there are shades of red out there to suit your tastes. You can even match your curtains to statement wallpaper, as they're plain enough not to draw attention away from your feature wall.
If you want some textural interest, you can go for plain red velvet curtains, which add an extra dimension to your curtains.
Plaid Kitchen Curtains
There's something nostalgic about these plaid curtains. Plaid was hugely popular in the 1970s, fading out of fashion in the '80s, and then having another resurgence in the '90s. Plaid curtains are still popular even after all this time, and they're a classic, retro look for kitchens.
These short curtains are a perfect accent piece to brighten up your kitchen, and these particular curtains are easy to thread onto a rod, so they take just minutes to hang. If you're looking for kitchen curtains, make sure you get a pair that is easy to wash – kitchen curtains can get grubby quickly compared to curtains in other rooms!
Red Embroidered Curtains
These deep, wine-colored curtains with metallic embroidery are a beautiful choice for living rooms and dining rooms. They're eye-catching but not bold enough to draw all the attention – for patterned curtains; they're pretty subtle.
The great thing about wine or burgundy-colored curtains is that they have a great depth to them. They're bold but still warm – ideal against a backdrop of a neutral wall, like gray or white.
If you've got a room that needs a glamorous makeover, these are good ones to go for.
Red Poppy Curtains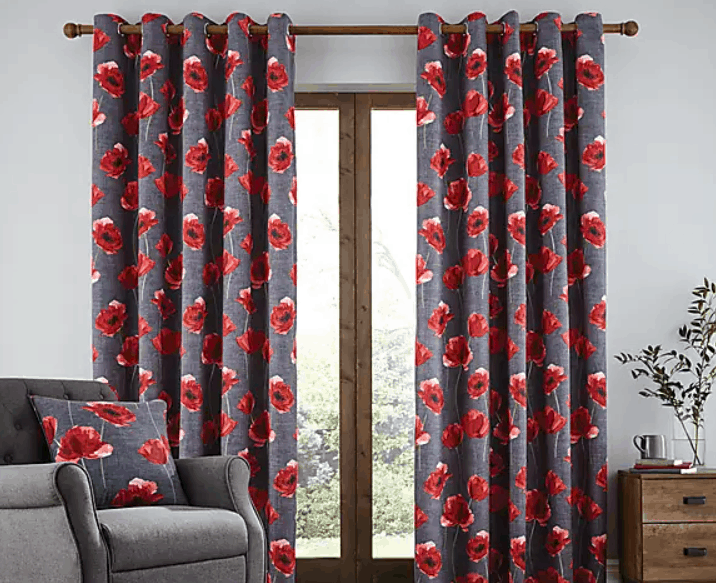 While these red poppy curtains have a gray backdrop, they would work well in a room with red accessories (like the red rug in this picture). They're bold and eye-catching – they'd be better suited to plain walls rather than patterned wallpaper. If you have a large window and would like it to be the focal point, a large floral pattern is a good choice.
Poppies feel a bit more modern than more traditional flowers (like roses), so if you want a floral without going too old-school, these are beautiful.
Sheer Embroidered Curtains
While sheer curtains won't block out the sunlight, they work really well in lounges, dining rooms, and offices. So if you love red, but you would like something a bit more delicate, these sheer curtains are great.
The embroidery on the bottom of these curtains adds a delicate, eye-catching touch without being too 'in-your-face. Of course, you can use them in bedrooms too, but it may be a good idea to layer them over a roller blind or something similar so you can block the light out at night.
Geometric Red Curtains
These curtains add a splash of red. They're ideal for teenagers – they add some interest to a room without being too 'childish,' so if you have a kid in need of a room upgrade, these could work well. They'd also go nicely in a guest bedroom or an office.
As they have a black and white backdrop, you have a few options in terms of color matching, but plain walls will suit these curtains best – they're quite bold so that they might be a bit too much with a patterned wall. On the other hand, they'd look great against white or gray walls.
Multicolored Embroidered Leaf Curtains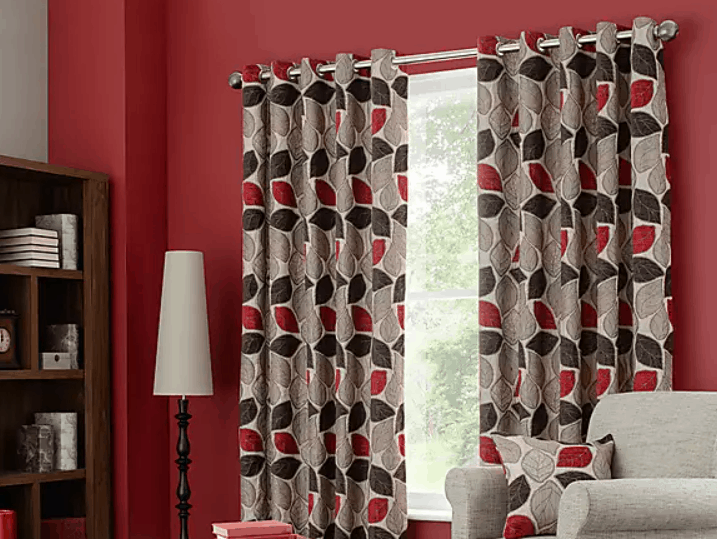 If you want to go for red walls, you might think red curtains will be too much. These embroidered multicolored curtains are a great option in that case – the splash of red will match the walls nicely.
There are a few options here in terms of matching furniture – light and dark gray couches or armchairs will match these beautifully. You can also pair these curtains with a light gray wall and go for a red couch if you want to make a statement with your furniture.
Black and Red Curtains
These black and red curtains are dramatic – they make for a striking, interesting focal point in a lounge or dining room. If you love the look of plain red, but you want to break it up a bit, the black section of these curtains adds a bit of interest.
These curtains are fairly dark, so they'd work better in a well-lit room. A darker room might start to feel a bit too dark with these curtains. They work well against darker gray walls, but you'd have to balance them out with lighter touches in the room (like the lamp in this example).
Floral Embroidered Blackout Curtains
These embroidered curtains are very dramatic and striking. They're also pretty, with delicate flowers at the top and a satin finish. Ideal for a bedroom or lounge as they have a blackout lining, they're bold whilst being 'feminine at the same time.
As these curtains are so striking, they'd look great against plainer walls. Light gray or white works particularly well with these curtains.
Wine Tulip Patterned Curtains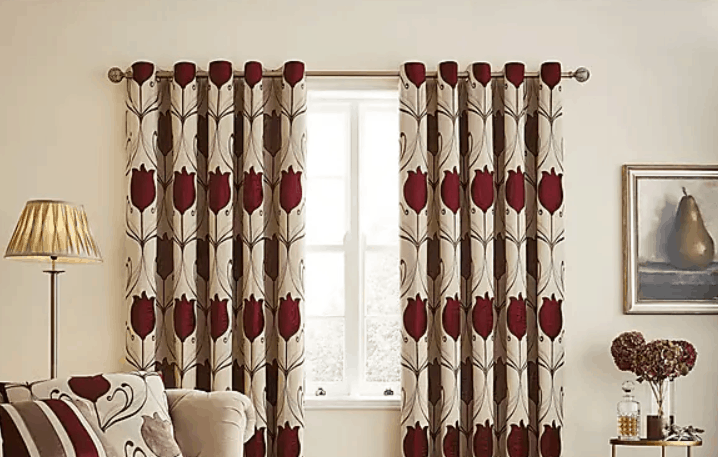 If you want something a little more traditional, these tulip-patterned curtains are warm and welcoming, creating a cozy vibe. Ideal for a living room, these have a splash of deep wine red, which is great, as it opens up a few options in terms of color matching. You could go for neutrals (as seen in this example), with the red in the curtains being the focal point. Or, you could pair them with a wine-colored feature wall. You could also go for neutral walls with a wine-colored armchair or couch.
As the base color of these curtains is quite warm, it matches well with warm-toned neturals – cooler shades of white, for example, may not match these very well.
White and Red Curtains
If you love red but you're worried red curtains will make the room too dark, these white and red curtains are ideal. They're bright and eye-catching – if you have a darker room that doesn't get much natural light, these would brighten up the room whilst still giving you a splash of red to work with.
You could pick up this red in the wall color, or go for red accessories, like cushions or a rug, to tie it all together.
Red Full-Length Plaid Curtains
These red full-length plaid curtains have a warm, festive vibe. If you like to switch up your decor for the fall and winter, these are perfect. Matched with a natural wall and matching cushions, they feel cozy and familiar.
Plaid is always a good choice, and these would work well in lounges, bedrooms, and dining rooms.
Red Sheer Single Curtain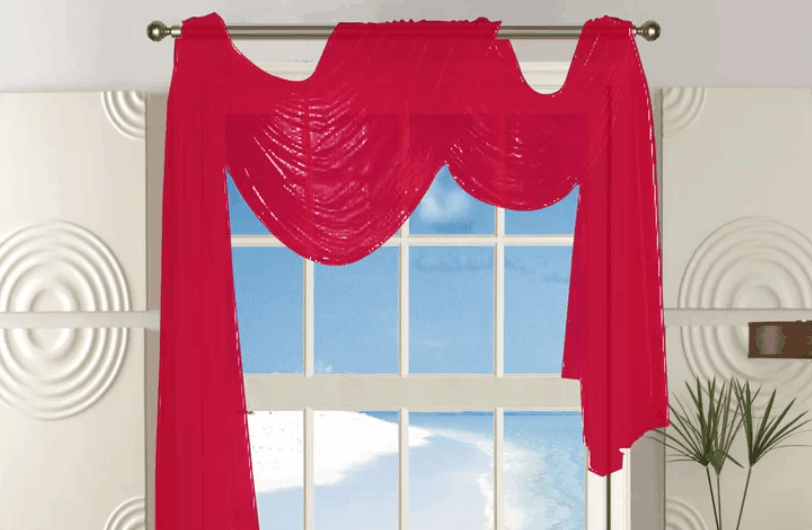 Do you want a dramatic accent piece for your room? This single sheer red curtain drapes beautifully, and it looks pretty and striking at the same time.
This curtain is sheer, so it wouldn't work if you want to block the light out. It works best against a plain window without any other kind of curtain or blind, so it would make a good choice for a dining room, or anywhere that doesn't require you to block out the light in the evenings.
This splash of red works well with lighter walls, particularly against a bright white wall.
Red and Blue Floral Curtains
These red and blue floral curtains are bright, bold, and pretty. They're mostly red, so you can accessories with red furniture or accessories, but the blue opens up more options. You can pick up that blue in cushions or a rug, for example. The neutral undertone means it works well against a variety of wall colors. You could go for bright with blue, or choose gray or cream for something more subtle – whatever you like the best!
Red Stag Curtains
It can be hard to find patterned curtains that aren't floral – which is where these red stag curtains come in. They're bold and interesting, and the stags give a modern twist to plain burgundy curtains. If you want something a bit more unique, these are great. They work really well in bedrooms – if you've got a guest bedroom and you want to add a bit of an interesting focal point, these are ideal.
They're pretty eye-catching, so would work best against plainer walls.
Wave Pattened Curtains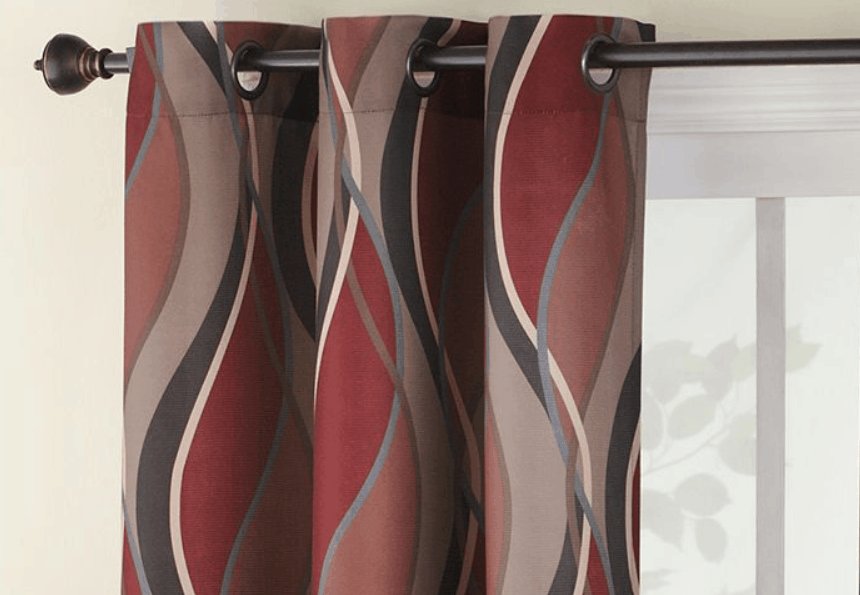 Another great choice if you want something more interesting than plain red, these wave patterned curtains add an interesting, eye-catching element to your lounge, dining room or bedroom. They have several colors, so you can pick up any of them in terms of wall colors – you could go for burgundy, neutral, white, or light red.
You can also go for burgundy accessories if you want to bring out that red even more.
Classic Rose Print Red Curtains
If you love the traditional look, these classic rose print red curtains are beautiful and give a warm, cozy, vintage vibe. While the rose print looks traditional, these curtains are bright and will lighten up any room.
You can pair these with a gray wall, or you could go for burgundy or lighter red, as there are some pinky-red tones in the rose pattern. They work well in any room.
Red Pompom Curtains
If you want to add textural interest to your room, you could go for pompom-adorned curtains like these ones. They're pretty and delicate, but still subtle. You could pair these with a roller blind for a boho look, and the lighter red means it will look bright and airy when paired with lighter walls.
If you like red but you don't want to go for anything too dramatic, these are great.
Red and Green Floral Curtains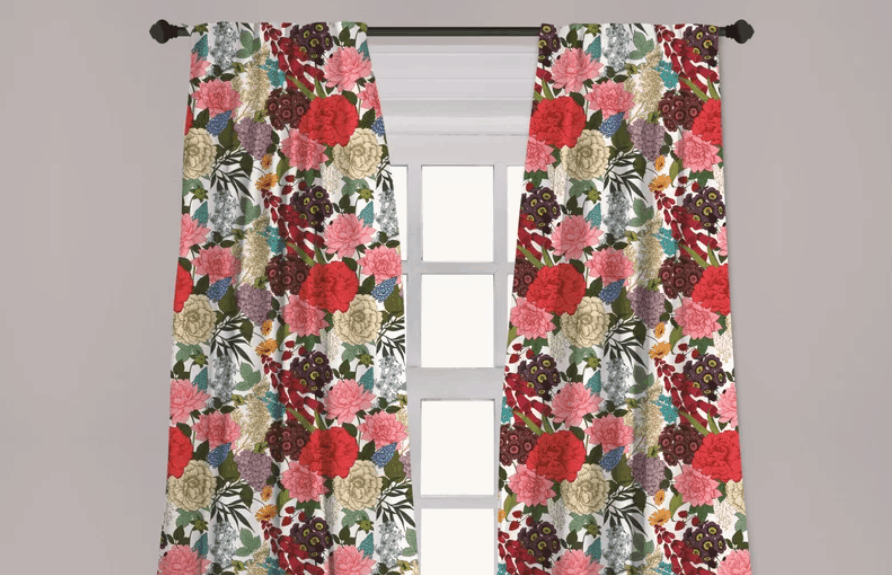 These red and green floral curtains are bold and modern thanks to the greenery. They're very bold, so they'd make a dramatic focal point for any bedroom or lounge. You've also got a lot of options here in terms of color matching. Greens, neutrals, pinks, reds, or even pale lilac will work well with these.
Red and Gray Striped Curtains
Stripes are a classic, modern choice for any lounge, bedroom, or office. These red and gray curtains are great as they work well with several colors including neutral grey or white, navy, or burgundy.
As they're fairly dark, they'd work best in rooms that are well-lit if possible.
Frequently Asked Questions
Before you go, here are some frequently asked questions about red curtains:
Question: Are red curtains easy to clean?
Answer: It depends on the curtains themselves. Red doesn't 'attract' dirt more than any other color. Looking at the care instructions on your red curtains can help – you may need to wash your kitchen curtains more than your office curtains, for example, so it's good to know that your curtains can be machine washed, as this is very convenient.
Question: What colors match red curtains?
Answer: You'll have a few options with red, depending on the shade you've gone for:
• Primary red goes with white, yellow, orange, green, and blue
• Cherry red goes with grey, blue, cream, and beige
• Tomato red goes with mint green, cyan, cream, and gray
• Raspberry red goes with white and cream
• Burgundy goes with gray, turquoise, and cream
Generally, neutral shades go with red – think cream, gray, white, and so on.
Question: How else can I introduce red into my home decor?
Answer: You can introduce red into your home in other areas than just curtains. For example, you could go for bold patterned wallpaper with burgundy accents. You could go for a plain, rose-red wall. You could go for red couches, cushions, and rugs. There are lots of ways to tie your chosen colors together!
Our Final Thoughts
Hopefully, this has helped you to find some trendy red curtains for your home. No matter what room you're thinking of, there is a pair of red curtains out there that will work perfectly for you!