Latest posts by Erin Jamieson
(see all)
Curtains come in more styles than you might imagine– from boho curtains to sleek modern curtains and even eclectic styles. But floral curtains fit all of those categories and more- which may explain why they're still one of the top trending ideas in 2022.
Floral curtains were recently featured in a Cleveland showcase home, designed by Ashleigh Clark Group. This colorful home shows just how creative homeowners and interior designers are getting in 2022, with bright pops of blue, green, red, and striking statement pieces.
And while the lime green ottoman may catch your eye, it's the little touches of decor that pull it all together. Patterns and florals accent window curtains for striking statements. The look somehow blurs the lines of eclectic, modern, and even traditional styles.
But whether you love bold colors or a more subtle, refined look, there's little doubt that floral curtains are a compelling option for 2022. 
Consider this your short guide to floral curtain inspiration in 2022. I'll give my top Floral Curtains ideas, as well as some criteria you may want to consider before purchasing floral curtains for your own home. 
Which type of curtain is best?
Before you start shopping for floral curtains, I always recommend setting some search criteria. While there is no one best style or fabric for curtains, knowing what makes the most sense for you and your living situation will help you narrow down your options and select the best curtains for you. 
What curtains are in style in 2022?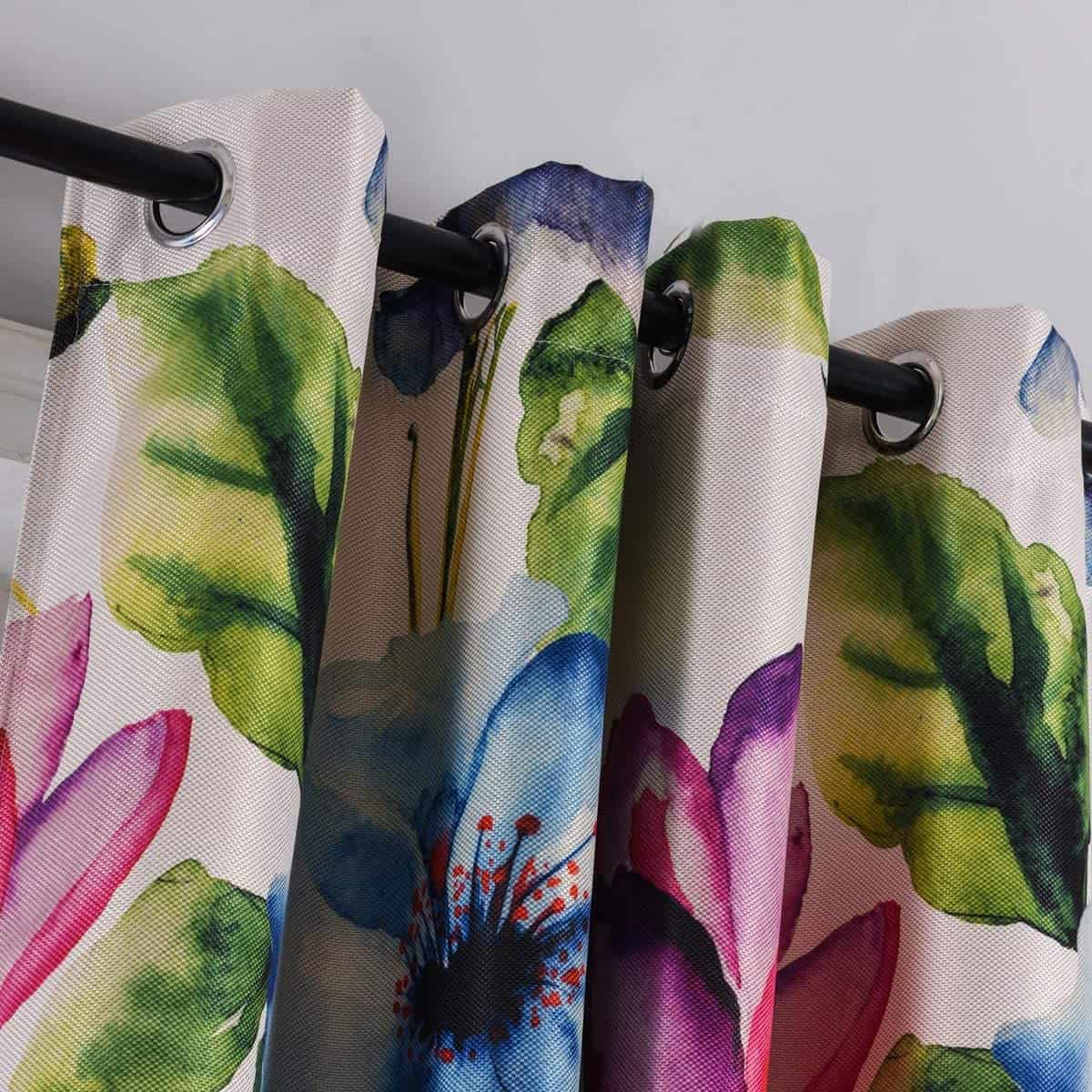 One thing I'm loving about 2022 is how many options for popular styles there are. For curtains, there's a trend towards personalized looks that really show off your personal taste, and that makes for a greater diversity of styles. 
Lightweight & Airy Curtains
The biggest trend is towards lighter and airy styles. While some still love the classic look of traditional curtains, many are looking for ways to open up their space and make it feel more inviting and larger than it is. Lighter colors are popular, as are lightweight materials. Cotton blends, polyester, and even tulle are popular for their lightweight feel and look. 
Those with a larger budget also are loving silk curtains this year. 
Energy Efficient Curtains
At the same time, many are looking for ways to reduce costs on energy bills, insulate their home, and add privacy. Blackout curtains are more popular and available in more styles than ever, as are room darkening curtains with added insulation. Eco-friendly options, including wood and bamboo blinds, are less-expected trends. 
Patterns and Florals
At the same time, 2022 is a great time for expressive curtains. These include geometric patterns, but also nature-themed prints. Airy statement curtains show off personal styles and add flair to bedrooms, living rooms, and dining rooms. 
What is the best fabric for curtains?
Linen and linen blends are suitable for durable curtains, as are rayon curtains. While velvet curtains are durable, they can be hard to maintain and are heavy. 
Polyester and cotton are popular options that are both durable, low-cost, and fairly easy to maintain. While not as high-quality as linen, most find these to be useful for everyday wear and tear. They do come with downsides. Cotton can attract moisture and mildew, while polyester can't really be ironed and some have concerns about polyester safety (though they've been determined generally safe for consumer use).
Do curtains have to touch the floor?
Curtains come in different lengths– and there is no hard and fast rule that your curtains have to touch the floor. Short curtains are often used over kitchen sinks or in bathrooms. The rule of thumb is that longer curtains are typically used unless there is something that would obstruct their path. 
Ultimately, curtain length is up to you. Keep in mind that floor-length curtains also have the additional advantage of added privacy and insulation. 
What does a floral pattern symbolize?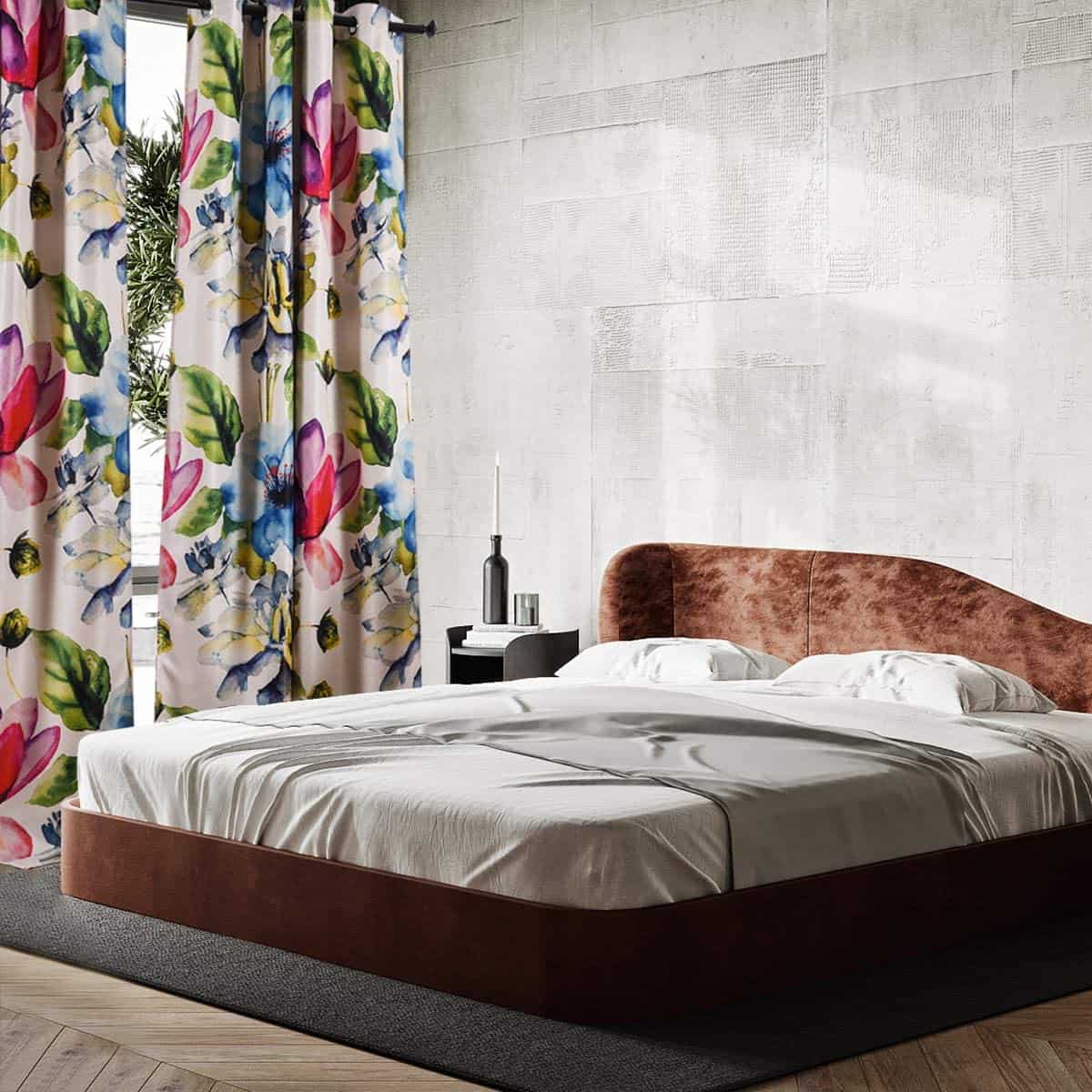 One great thing about floral curtains is that they can also be meaningful. Though of course, you can select a design purely for aesthetic reasons, and added meaning may just be a great way to decorate your home. 
Florals have long been a print for elegance and sophistication, as well as femininity. Of course, floral prints are heavily connected to nature, rebirth, passion, and beauty. In fact, nearly every flower type has its own unique meaning. They can also express creativity, being in tune with the natural world, and exude a hopeful feel to any room. 
What are the different floral curtain design styles?
Floral curtains aren't limited to one style. In fact, you'll find a wide range of styles that will suit your home. While floral curtains may sound traditional, the truth is that you'll have more options than you might imagine. 
Boho Floral Curtains
Breezy fabrics, pastels, and dreamy prints make many floral prints ideal for boho and boho-chic homes. Even ombre curtains sometimes have floral accents. These curtains are lightweight, often used as accents, and add personality to bedrooms, dining rooms, and living rooms alike.
Traditional and Formal 
Of course, you'll find no shortage of traditional and formal floral curtains. You can even look for vintage-inspired and elegant designs. Traditional colors, patterns, and streamlined designs are easy to find. 
Modern
Modern floral curtains often feature bolder or bigger floral prints, and may even pair floral patterns with other patterns or themes. Modern floral curtains also include more minimalist styles and neutral colors. 
Floral Curtains: My Picks
Now I'll give you some of my favorite ideas for floral curtains in 2022. I've selected these options for their easy care, relative durability, and signature styles. I've also included popular trends, from traditional to boho to modern floral styles. Hopefully one of these blackouts, light-filtering, room-darkening, or sheer curtains will provide some inspiration for your own shopping. 
All of these curtains are either budget-friendly or fairly priced so you can find an option to suit you. Always make sure to check out all color options, too. 
Blackout Floral Curtains
While floral curtains are most commonly paired with lighter or traditional fabrics, the increasing popularity of blackout curtains means you can find floral prints here, too. Many have liners so that the fabric still appears contemporary and lively. Blackout curtains are often used for bedrooms on busy streets to block out noise and sound. 
Holli Zollinger Serville Garden Blackout Curtains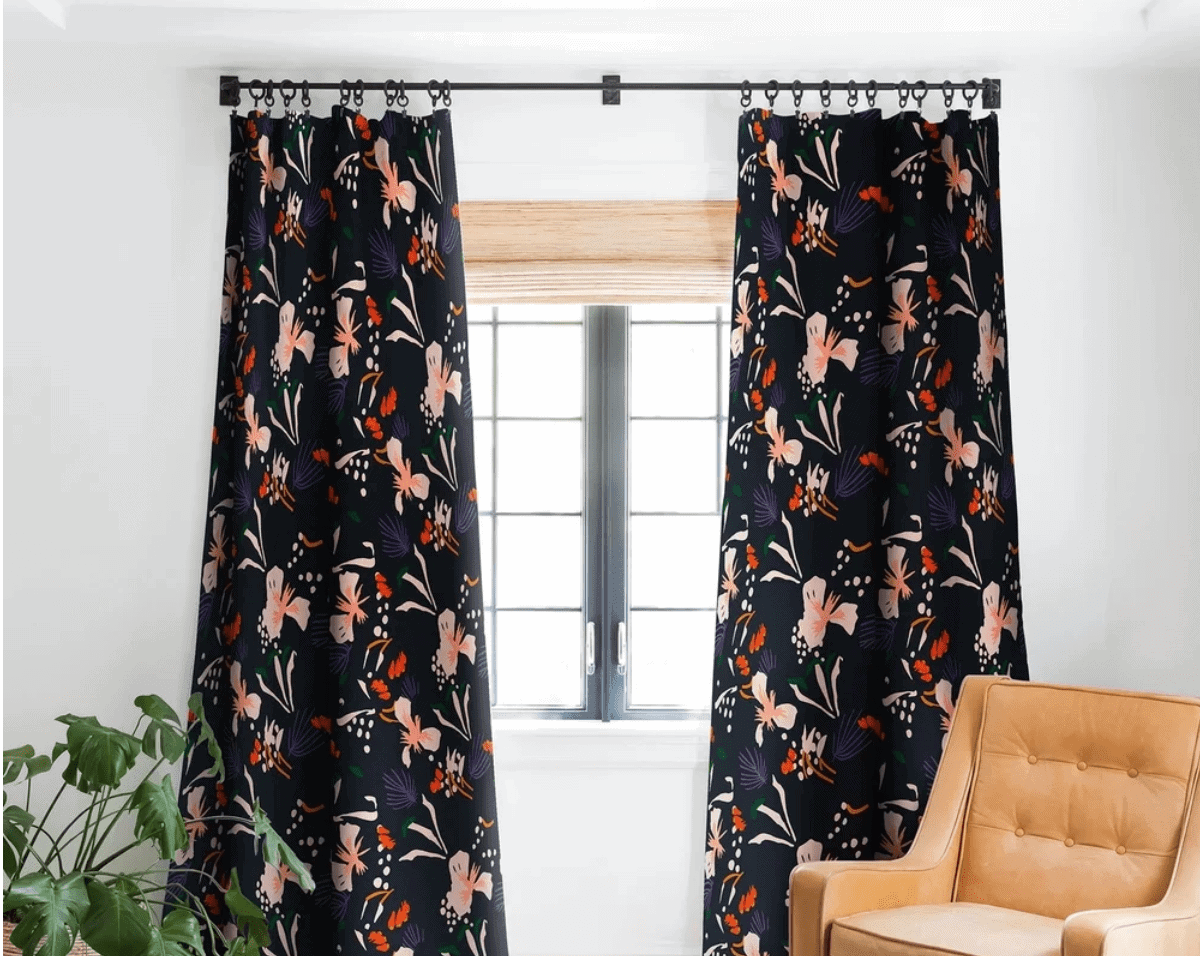 These curtains are actually more a deep gray, but still a beautiful contemporary option. The blackout floral curtains are made with durable, woven polyester fabric and are fade resistant. A lively pattern of peach and rose hues makes a statement but is easy to complement with neutrals. Machine washable and great for blocking out almost 100 percent of light; Buy Here. 
Vintage Floral Mustard Curtains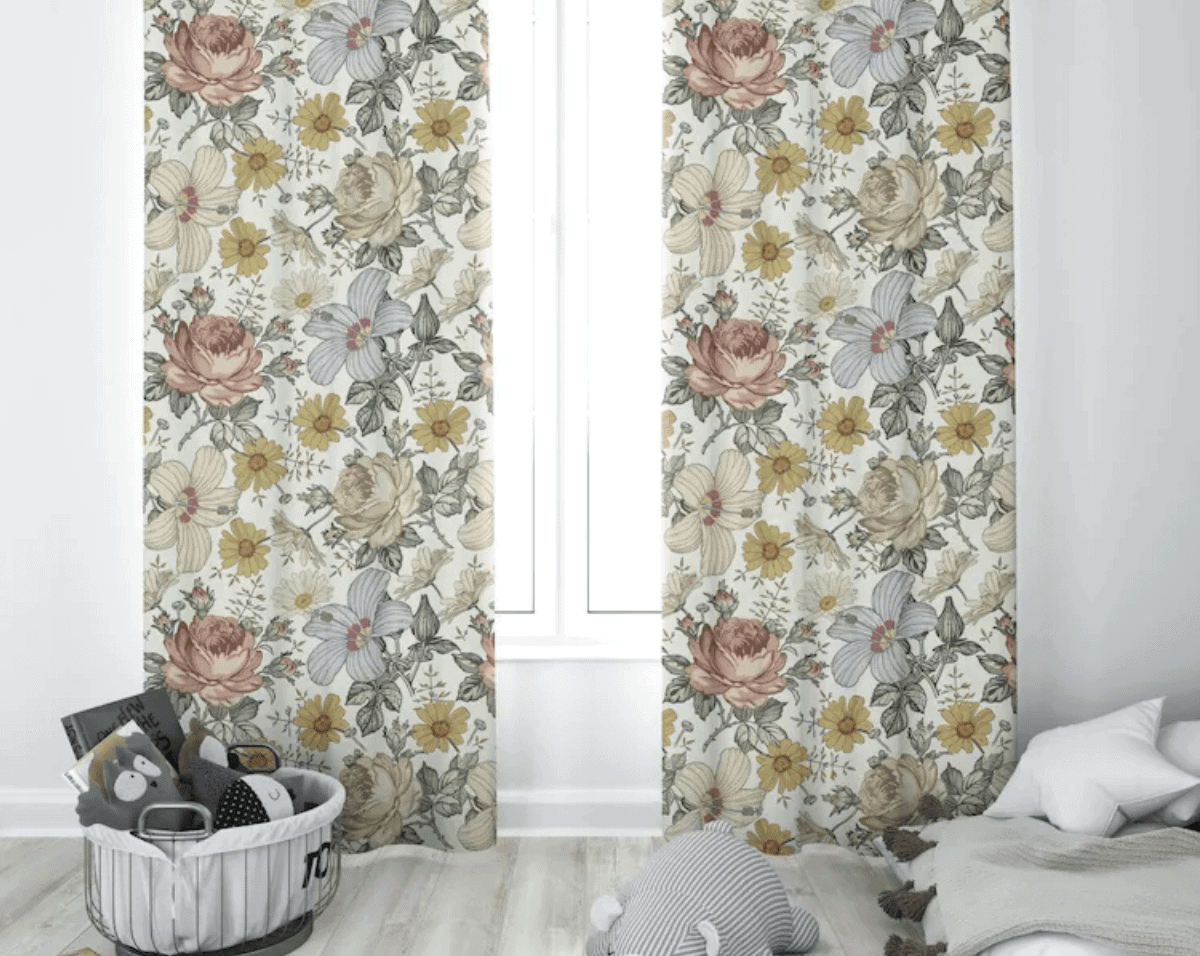 Meant for a nursery or bedroom, these vintage-inspired blackout curtains are available with blackout, linen, or cotton materials. Made to order, a vintage print features soft neutrals and stylized flowers while providing light-blocking and privacy you need. Buy Here. 
Dunnell Floral Blackout Thermal Curtains
If you're looking for a blackout curtain that helps save on your energy bills, consider these floral blackout curtains. Available in blue, coral, yellow, gray, or multicolor prints, the traditional floral style has a formal feel. You'll also get the benefit of noise reduction and insulation for drafty windows. Buy Here. 
Randel Dream Forest Floral Blackout Curtains
These dreamy curtains would fit boho-chic-styled homes and rooms. Purchased as singles, each panel is hand-painted with branches in bloom, in pleasing teal, gold, and ivory. The polyester fabric is machine washable and provides the privacy you'd expect from blackout curtains. Buy Here. 
Room Darkening Floral Curtains
Want the most options for styles? Room darkening curtains block out light and reduce glare, without being as heavy as blackout– and still letting sun natural light in. You'll get plenty of privacy, with both modern and traditional floral patterns. Use these for rooms with TVs, or anywhere you spend a lot of time and want privacy. 
Lush Decor Dolores Room Darkening Floral Darkening Curtains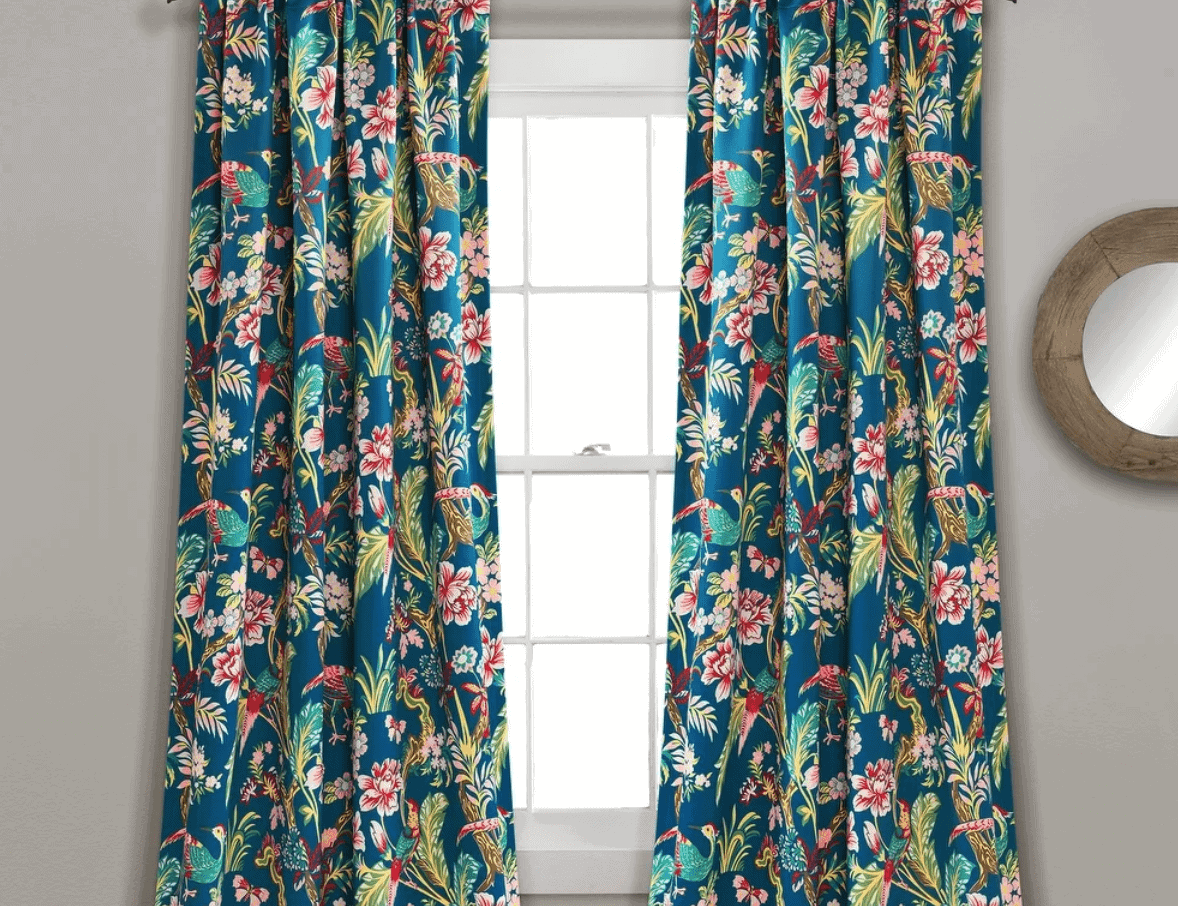 These lush room darkening curtains present a vibrant statement. Available with a navy, blue, yellow, or orange backdrop, elaborate florals paired with protection and light-blocking. Machine-washable polyester is easy to care for and boasts energy efficiency and noise reduction. Buy Here. 
Poppy Floral Urban Room Darkening Curtains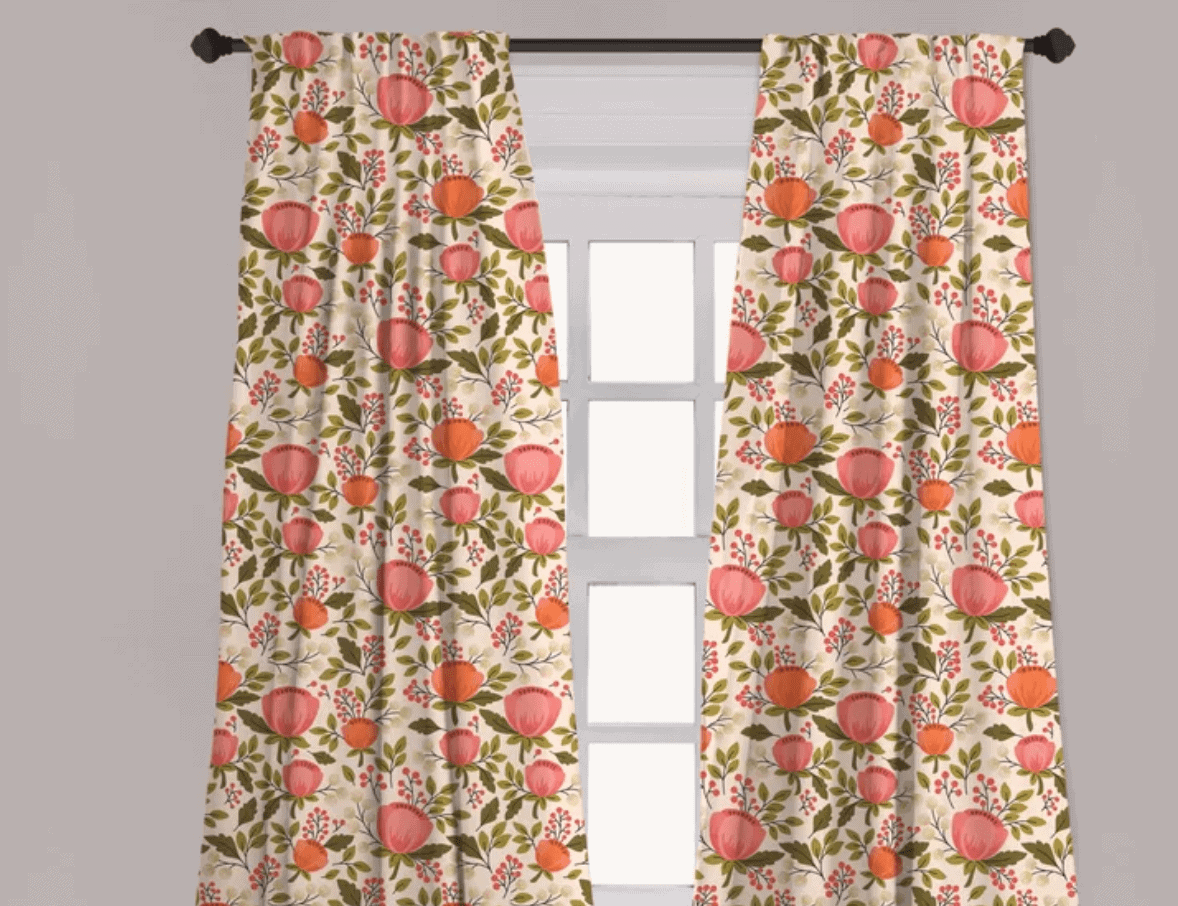 The microfiber polyester fabric is soft and lightweight. A retro, playful design is made with digital art printing. Peach and orange hues add life to a room, with a traditional rod pocket design and machine washable panels. Buy Here. 
Lush Decor Aster Jacobean Room Darkening Curtains
Paisley floral print provides a classic but stylish appeal to dining and living rooms. A back tab is paired with energy-efficient polyester so you can enjoy privacy and insulation. Polyester and machine washable, these curtains look excellent set against wood or bamboo floors. 
English Garden Floral Room Darkening Curtains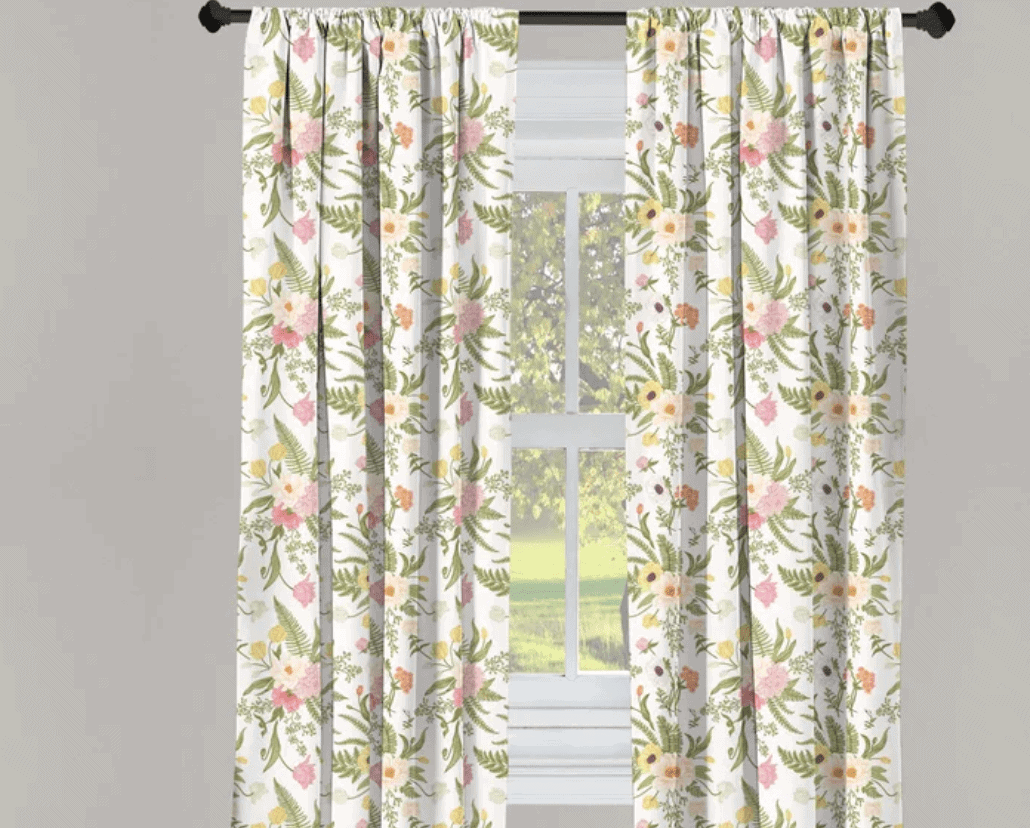 These affordable room darkening curtains would look spectacular in a rustic or cottage-themed home. Digital printing provides long-lasting, soft colors, with machine washable polyester. The rod pocket-style curtains can be hung anywhere to reduce glare and provide privacy. Buy Here. 
Sam Floral Room Darkening Thermal Curtains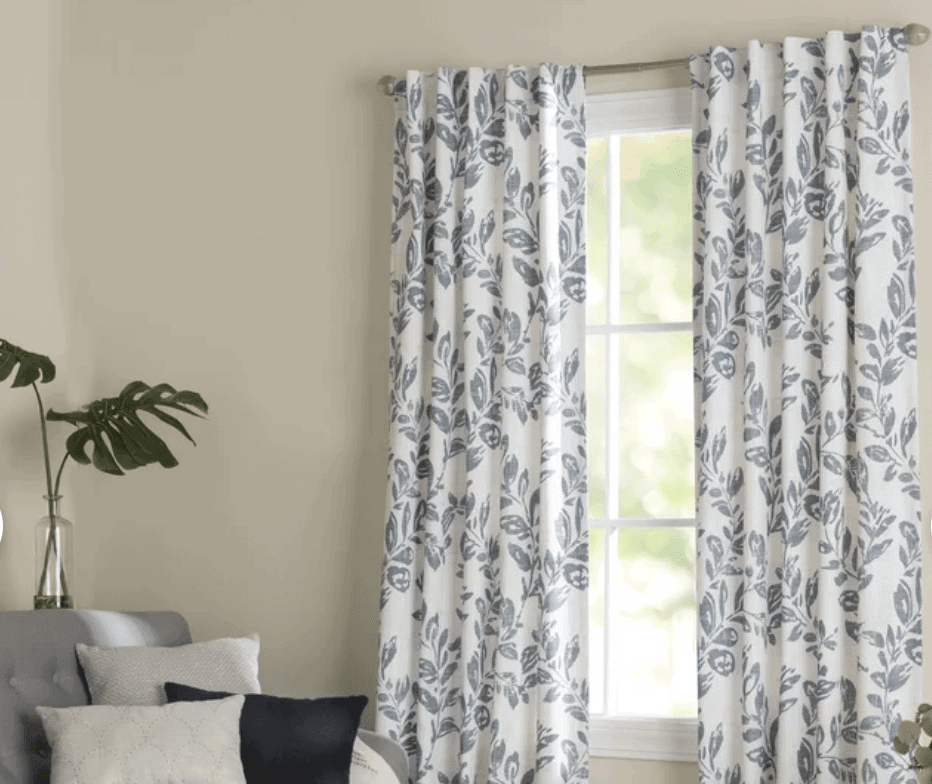 These modern farmhouse curtains are not only effective for room darkening but also for saving energy. Specially designed with foam-backed lining, these curtains insulate more than your average room darkening curtain and also reduce noise. Made out of polyester, you will have to hand wash them. Available in blue and taupe; Buy Here. 
Semi-Sheer Floral Curtains
These beautiful semi-sheer floral curtains are a great idea if you love a light, fresh, and breezy look but still want a touch of privacy. Lightweight fabrics and easy care make these floral curtains effortless options for living areas and even bedrooms. 
Whispering Hydrangea Floral Curtains
Hydrangeas represent grace and thankfulness. Often associated with peace and harmony, abundant hydrangea blooms accent with gentle pink, blue, and ivory. The polyester and cotton blend is not only easy to wash but also dries well. Bring vintage, country charm to your home with these breezy, light-filtering curtains. Buy Here. 
Ralph Lauren Brendan Floral Curtains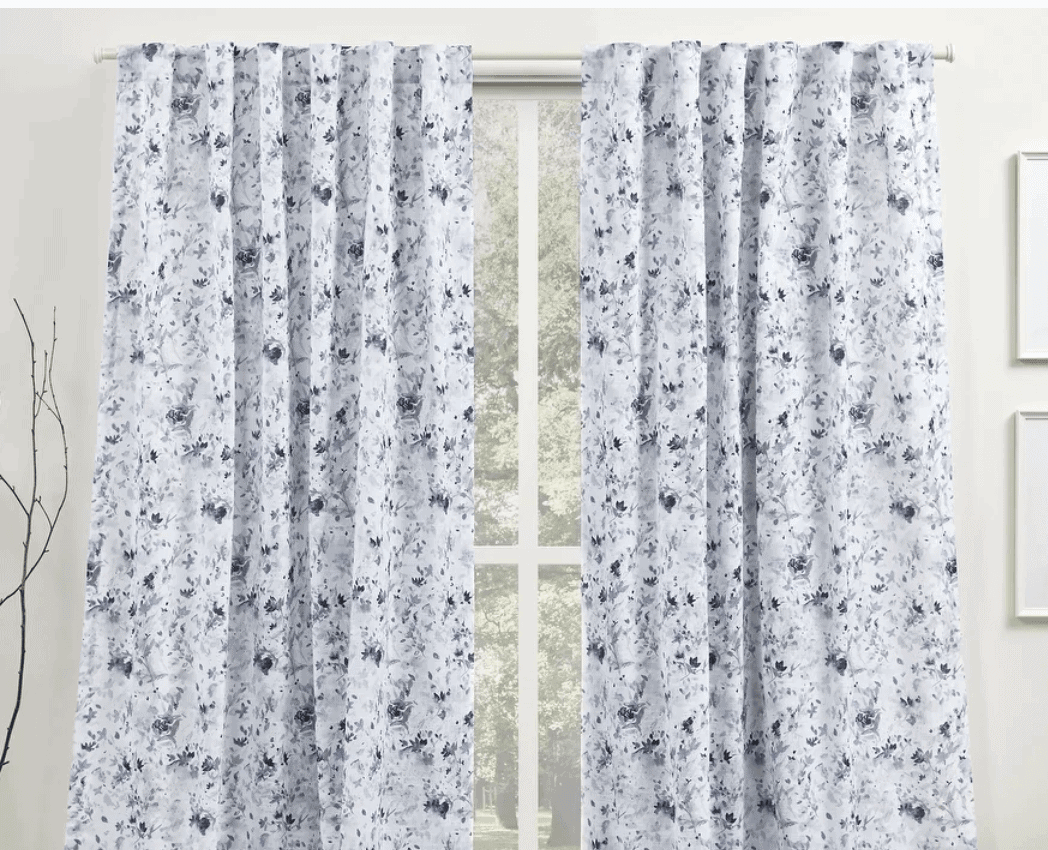 These polyester, machine-washable curtains provide easy installation. Hang using the hidden tab, rings, or a classic rod pocket. A faint floral print presents a modern, delicate approach to a floral theme. These light-filtering curtains are available in yellow, blue, and tan and shine when overlooking a garden. Buy Here. 
Floral Daisy Light-Filtering Target Curtains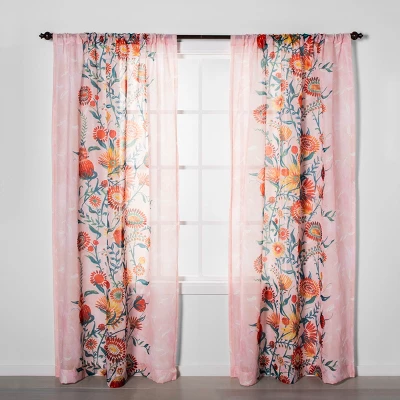 Target curtains tend to be affordable, modern, and highly rated by customers. These floral, light-filtering curtains are no exception. A plain weave polyester fabric is machine washable, lightweight, and durable. The versatile rod pocket design allows you to customize or even pair with a sheer liner. A bold vine in bloom adds a careful, modern boho style to these playful curtains. Buy Here. 
Roxann Elegance Lace Floral Curtains
Lace curtains are a classic and can look at home with vintage, traditional, and country-chic rooms. These add elegance, with a nice balance of light filtration and privacy. Lace is paired with polyester details and a graceful floral pattern, able to be hung on a rod pocket. Buy Here. 
Sheer Floral Curtains
Sheer floral curtains make for beautiful room dividers or exquisite statement pieces. Let natural light flood in living spaces and show off your personal style. If you want added privacy, you can pair them with plain white blinds either on that window or side windows. Lightweight and elegant, it's easy to see why many love sheer floral curtains. 
Kiera Floral Sheer Curtains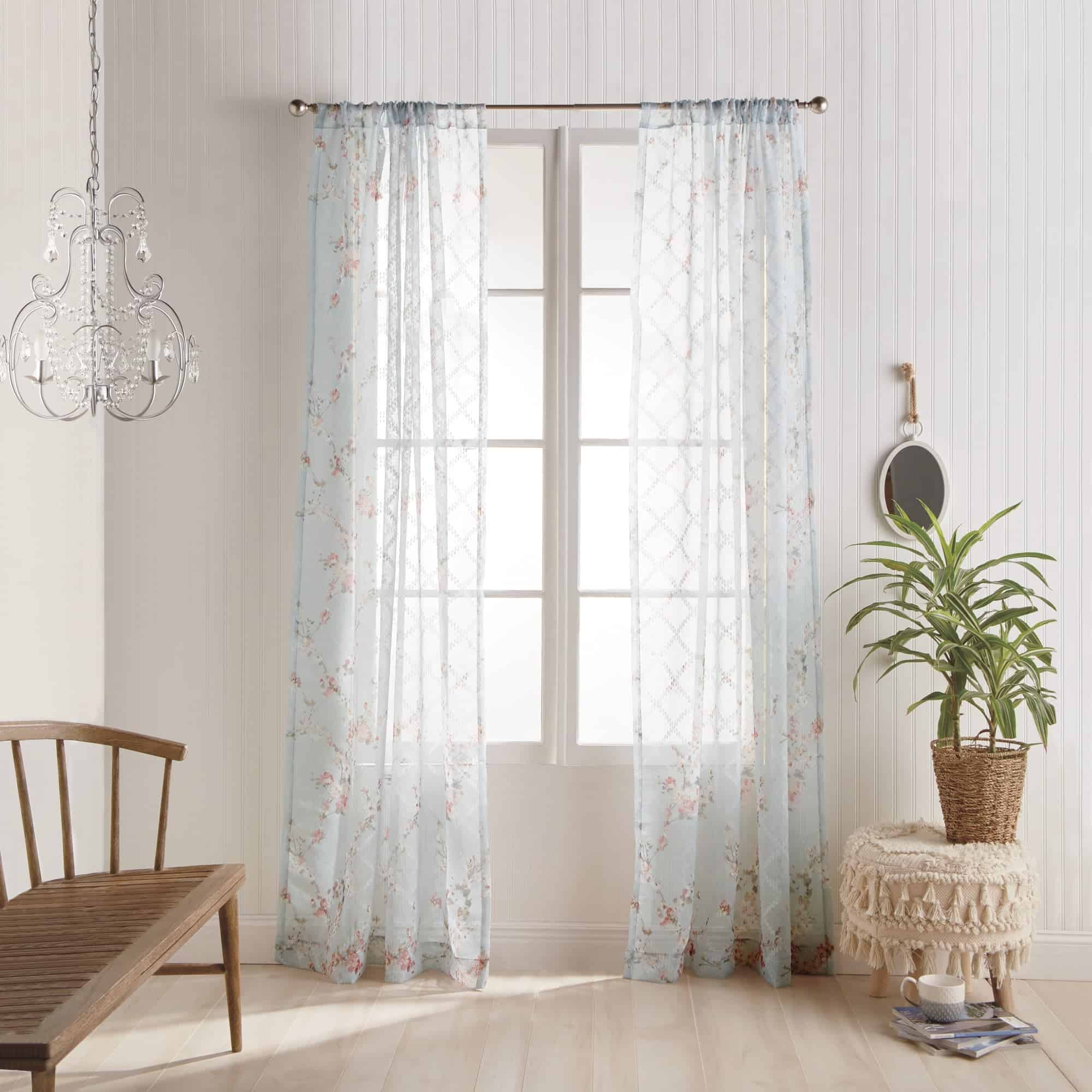 Light blue and blush floral details evoke an airy and inviting feeling to entryways, hallways, and side rooms. Made with machine washable polyester, these highly-rated sheer curtains are unlined and fit a rod pocket hanging. Part vintage, part country chic, consider pairing these curtains with wood and neutral tones. Buy Here. 
Alison Floral Lace Curtains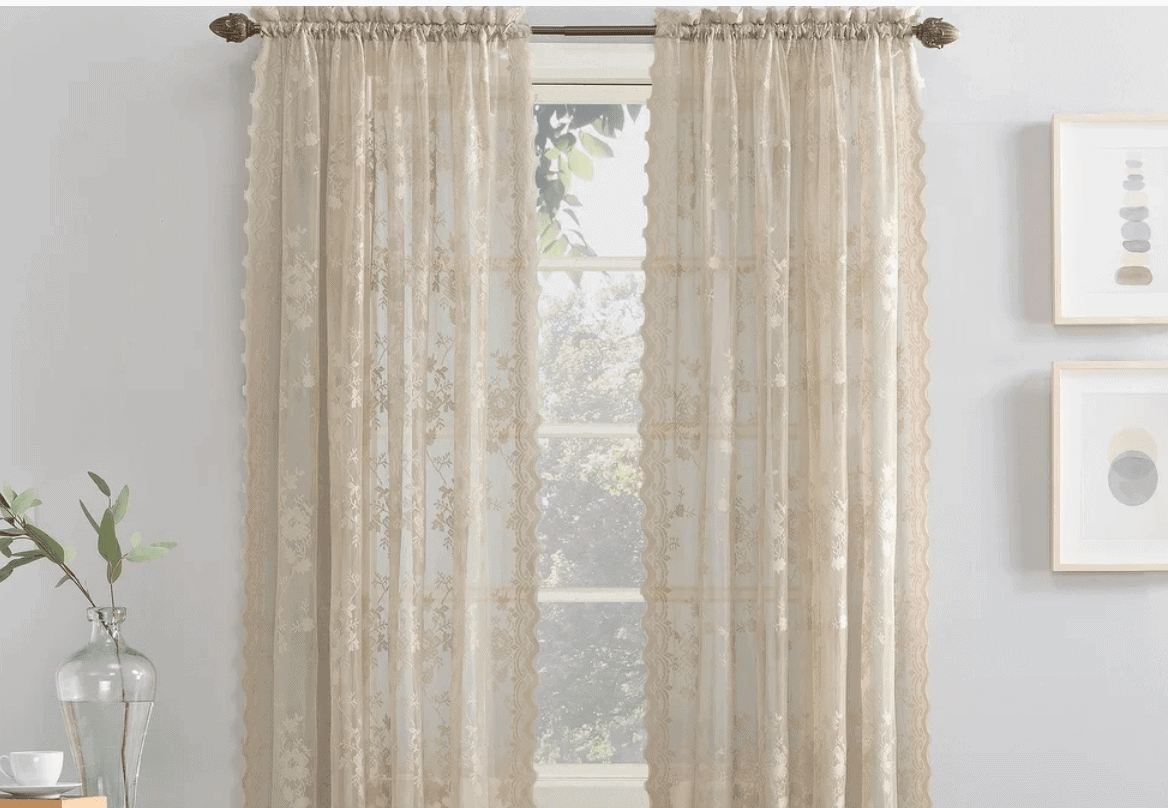 Lace and floral designs are natural matches for each other. A lace and polyester blend is easy to wash and care for but provides much of the elegance of traditional lace curtains. Suited for all seasons, the panels feature both sheer and semi-sheer sections and are available in shades of white and off-white. Traditional but updated, consider placing these curtains near a gray accent wall. Buy Here. 
Madison Park Abelia Floral Curtains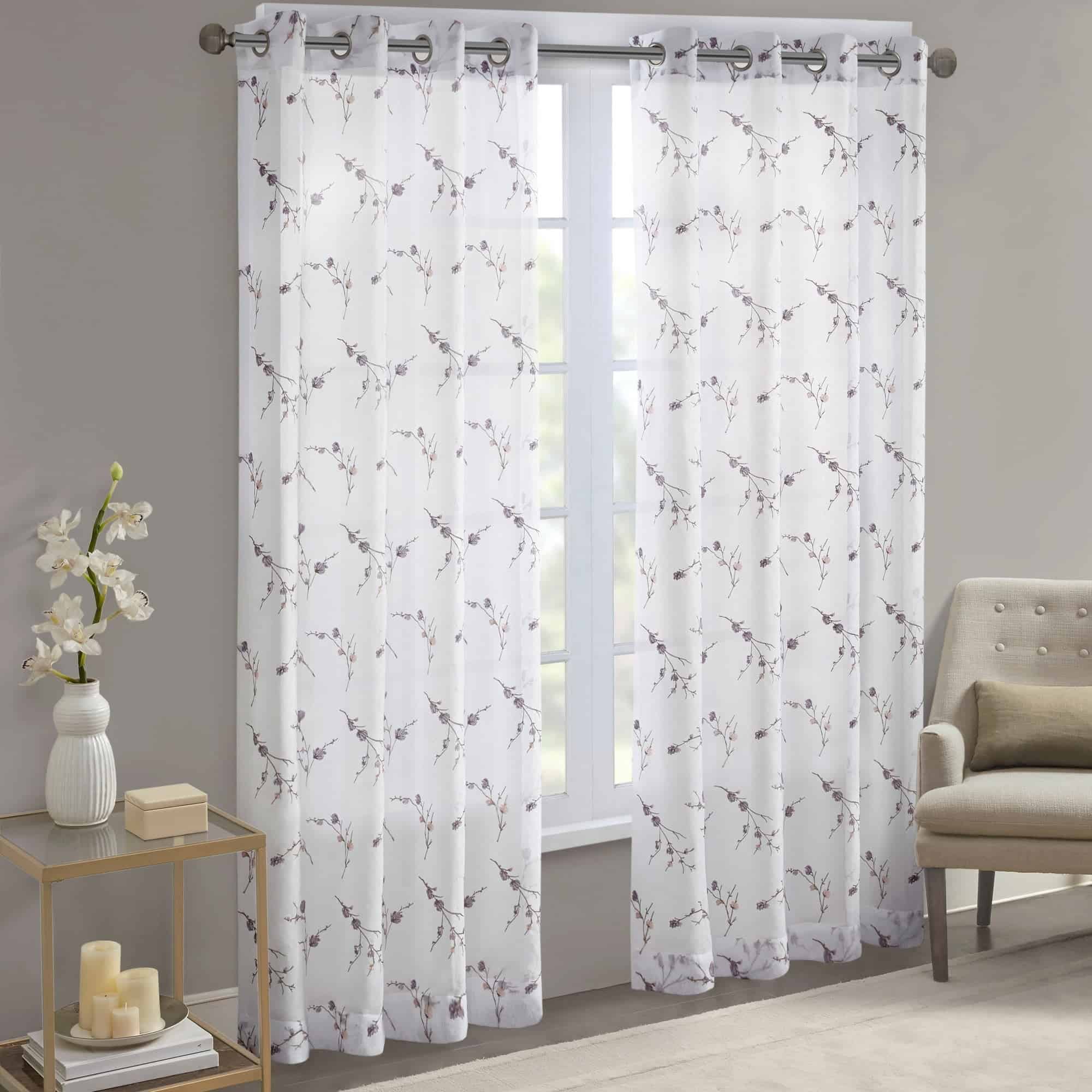 Abuelas are flowered shrubs indigenous to Asia and Mexico. Known for their pine-shaped florals, they've become known as a symbol for equality within Mexico. They're also an excellent source of inspiration for these modern floral curtains. Sheer polyester hangs on a grommet style and is available in natural and white or blush and purple. Buy Here. 
August Grove Tie-Top Floral Curtains
These Wayfair curtains are among my favorite options for a floral curtain. The sheer panels are constructed for a durable linen and polyester blend (with the bonus of being machine washable). A lightly distressed Jacobean floral pattern is romantic, vintage, and traditional, set with a classic tie-top. Buy Here. 
Frequently Asked Questions
Question: How often should you wash sheer curtains?
Answer: Sheer curtains are a little trickier than regular curtains. Not only do they tend to be more fragile, but they can also stain more easily. While other curtains you can wait for some until they look dirty, it's best to wash your sheer curtains regularly, around once a month. 
Question: What is the best way to clean curtains?
Answer: Most curtains will be clean with gentle vacuuming. Use an attachment and tread carefully with more fragile curtains. Some curtains can be machine washed on a gentle cycle, but you absolutely must check if your specific type of curtains will endure this. 
Question: What is the difference between thermal and blackout curtains?
Answer: Blackout curtains often insulate and include thermal qualities. Some blackout curtains are both blackout and thermal. Blackout curtains usually are made with woven or lined materials to block sunlight– which is their main purpose. Meanwhile, thermal curtains are used mostly to improve energy efficiency and block out sound. 
Final Thoughts
As you can see, floral curtains come in a wide range of styles. In 2022, you don't have to settle for a style that doesn't suit your home. If you do opt for floral curtains, think of them as pieces of statement decor in a room. To complement a room, look at the most prominent color on the curtains (or colors) and look to pair them with a wall that's either a shade lighter or darker.