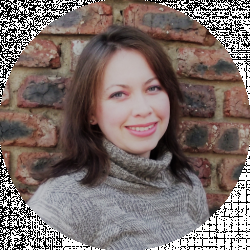 Latest posts by Talitha vanNiekerk
(see all)
Changing up your curtains can provide you with an easy, cost-effective, and quick way to spruce up your home. When choosing curtains, the selection of fabrics available can be intimidating.
From velvet to denims, and from polyester to silk, there are so many choices. One of the safest choices you can make for your home is to choose linen curtains. 
Linen curtains are an excellent choice for home drapery and curtains, and you will certainly enjoy a range of benefits.
Deciding which linen curtain to choose will depend on the overall design look you are seeking for your home. Whichever décor or style you desire, linen curtains are as versatile as they are functional. 
This handy linen curtain guide will help you choose the best linen curtains for your home.
I'm going to share the best linen curtains for different styles, as well as what to look at when choosing your next set of linen curtains. But first, let's consider why linen is a better fabric choice than other types of curtaining.
Linen Curtains Benefits
There are many benefits to linen curtains. These include:
Linen drapes beautifully.

They offer a classy look to any room decor scheme, and they are appropriate to use in any room in your home. 

With the calm offered by the neutral tones of linen curtains, they are ideal for any home where a busier curtain would be inappropriate. 

Linen is a natural fiber that is inherently mold resistant, and it is also anti-microbial, which makes it a great choice for those with allergies. 

If you live near the coast or in a particularly humid area, then linen is the ultimate choice as it doesn't shrink in high humidity like velvet or silk does. 

It's also sun-proof, and linen curtains won't fade in strong sunlight. 

The open weave of linen curtains allows air to circulate, helping homes stay well ventilated during summer, while the heavier fabric offers extra insulation during winter. 

Linen curtains are resilient, making them great choices when it comes to homes with pets and children.

The natural fibers are stain resistant, and they wash easily.

There are a huge range of colors, designs, patterns, and weave variations available in linen curtains, so your choices need not be a simple white linen curtain unless that's what your décor scheme calls for. 

Linen curtains are fully washable.

This makes them a convenient choice for any homeowner. 

Many hanging options are available for linen curtains from tab top, curtain rods, curtain ties, and curtain rails to eyelets, grommets, and curtain rings.
Linen Curtains Considerations
When browsing the different linen curtain options, you should not lose sight of the real reasons you are looking for linen curtains. 
Buy the Best Quality
Be sure to buy a high-quality linen and not a linen textured curtain, which may not be made from 100% linen. Top of the line are linen curtains made from Belgian flax fibers.
This provides a fine weave to the curtains, which can help them block out light and filter airflow. 
Keep Your Style or Design in Mind
If you have a contemporary style room, you would probably opt for linen curtains that are hemmed to hang above floor level.
Buying linen curtains that puddle on the floor will depend on a more classic decoration style. Choose a fabric that better puddles such as a soft linen or finer weave for classic drapery style curtains.
For a more contemporary look, you can choose a more structured linen weave.
Coarse weave linen curtains are ideal for a boho look or opt for stone washed linens to get a more sleek finish. 
Consider Climate Control
Remember that a room with direct sunlight for most of the day will eventually fade any curtain. While linen is more fade-resistant than other fabrics, you would still do better by choosing a neutral tone linen fabric that won't show fading as easily as a patterned linen fabric.
Consider the Room and Linen Weight
If your window is prone to strong wind, you may want to choose a heavier weave linen to help the curtain to not fly away on the rail.
For windows where you value privacy, choosing a thicker weave linen will also reduce the transparency and ensure your neighbors don't see into your home all the time.
I prefer to choose heavier linen curtains for bedrooms and TV rooms, while a lightweight and more transparent linen curtain works well in the sunroom or lounge. 
Achieve That Look
In design terms, getting the understated look can be really hard to do. With linen curtains, you can easily achieve it. Simply combine plain linen curtains with finials or tie-backs that contrast or brighten up with some neutral tones.
Cleaning Curtains
Cleaning up your curtains is everybody's worst nightmare. Washing curtains can lead to shrinkage or fabric twisting, and you may end up with a stiff and unhappy curtain.
Luckily, linen curtains are the best when it comes to cleaning, and they are certainly easier to clean than velvet curtains .
As a bonus, linen curtains are pill-resistant, meaning they won't get the tell-tale hobo pilling look that happens to some fabrics that have been through a washing machine. 
Simply take them off, add to the washing machine with an oxy cleaner, set the machine to the lowest or most gentle setting, and wash lightly.
Once they have been washed, you simply remove them from the washing machine and hang them open while still damp.
Linen curtains become softer when they have been washed a few times, but they don't shrink, which makes them a safe choice for areas that are used a lot, where soiling happens more often.
How to Hang Linen Curtains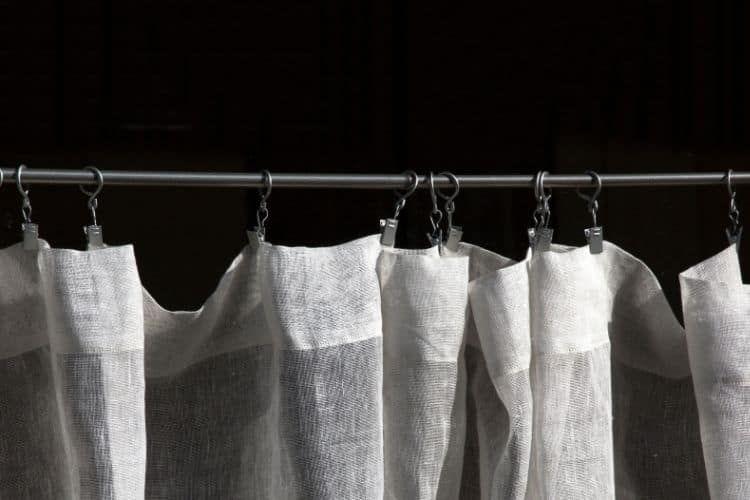 There are a number of ways to hang your linen curtains, and the choice will likely depend on the size and shape of your windows and the desired overall look you wish to create. Popular ways to hang linen curtains include:
Rod Pockets
This is where a slim pocket has been sewn into the top of the linen curtain. A rod is slipped into this, and you would hang this by two mounting brackets.
This option isn't suitable for windows where you would want to open curtains often. Usually, this form of hanging is accompanied by the use of tie-backs to simply scoop the curtains aside when you want to open the windows. 
Pencil Pleats
Bunching the curtain to create a fold-over pleat and sewing on pinch or pleat tape can help you hang this type of linen curtain from a curtain rail. 
Tab Top Curtains
When you sew extra tabs of fabric at the top of your linen curtain that easily hook over the curtain rod, you can achieve a luxurious but informal look. This is ideal for linen curtains at French doors or near sliding doors to your pool area. 
Curtain Ties
With the rustic appeal of linen curtains, you can also opt for curtain ties, which are two slips of linen sewn in sets along the curtain top. You can tie curtains onto a curtain rod using a range of knots that will achieve a stylistic look. 
Other Curtain Ideas
Linen is so versatile that you can also create a cafe curtain look by only covering the bottom half or lower two-thirds of your window with a sheer or slightly pleated curtain. 
How to Measure Your Window for Linen Curtains
As any homeowner should know, finding the correct length of curtaining for your home and decor styles is important to manage the desired look.
Measuring your windows and rails or rods will accurately influence how your curtains will hang. With linen curtains, you should measure like this: 
Length
Decide what style the curtain will be and how you will hang your curtains. Measure from the rod or curtain rail you will be hanging your curtains from.
Most people find that linen curtains hang best when they are hung from as much as six inches above the top of the window frame.
Full Length Curtains
Measure from the top of the curtain rod or rail to the floor. Add in the width of the hems you will require. Tab top curtains require adjustment according to the length of the tabs. 
Extra Length Curtains
If you wish the curtains to pool on the floor, be sure to add the extra length required for this (an additional 16 inches will do nicely). 
Shorter Length Curtains
Should you wish the curtains to move frequently, you would ensure the bottom hem ends at least half an inch above the floor to keep the hems from gathering dust and being soiled. This also stops you from stepping on your curtains when you open and close them. 
Width
Depending on the style of curtain, you would measure your window width, add an additional five inches for each of the sides, and then times this by the required fullness as dictated by your chosen style. 
For pleated curtains, you would times your width by two to ensure a nice and full finish. With tab top curtains, you would do well with a gather of one and a half times your width. 
Best Choices of Linen Curtains on the Market
Best Sheer Linen Curtains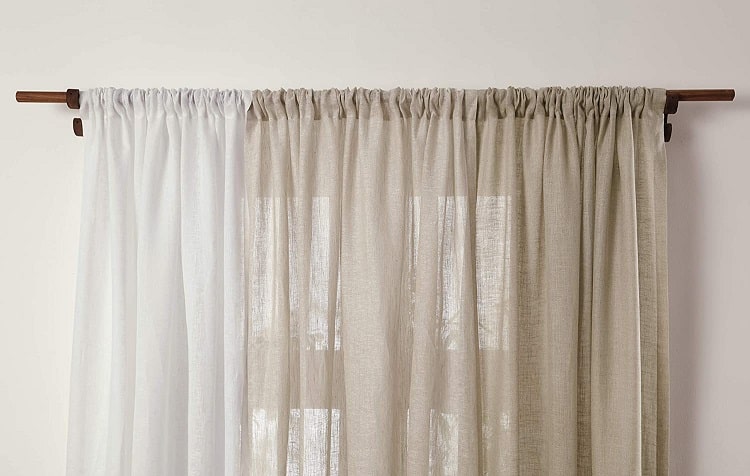 I love these classic linen curtains from Solino . They offer a classy feel, are easy to care for, and come in a range of widths to suit any window measurement.
The height is a standard 52 inches, but the width ranges from 45 to 132 inches. This leaves you with loads of room to play for larger windows or to create a fuller look by gathering in the curtains more.
There are 17 different colors to suit any decor scheme, and you can raise or lower the curtain rod depending on whether you want a contemporary or classic puddle look. The white linen curtain is made from 100% European linen for the best-quality fabric. 
The three-inch rod pocket will accommodate most width of the curtain rods, while the four-inch bottom hem provides enough weight to neatly anchor the curtain. 
Best 100% Blackout Linen Curtains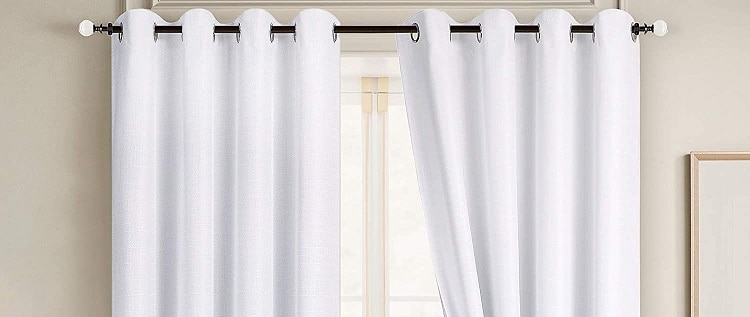 In bedrooms, studies, and TV rooms, having the ability to completely blackout light and have a quiet and darkened room is a great advantage.
This is where a 100% blackout linen curtain is a great choice. These 100% linen blackout curtains by Diraysid are ideal for exactly this purpose. 
The sizing is diverse with a standard width of 52 inches and a length variety of 63 to 95 inches. This means you can easily choose between a puddle look or raise your curtain rods for a more contemporary look. 
Double layers help with insulation by keeping rooms cool during summer and warm during winter. This helps reduce heating and cooling costs, making this an eco-friendly choice too. 
Grommet hanging system helps curtains easily move on curtain rod for convenient opening and closing. Long-lasting enough to wash when required, though linen is naturally dirt-repellent.
Best Tab Top Linen Curtains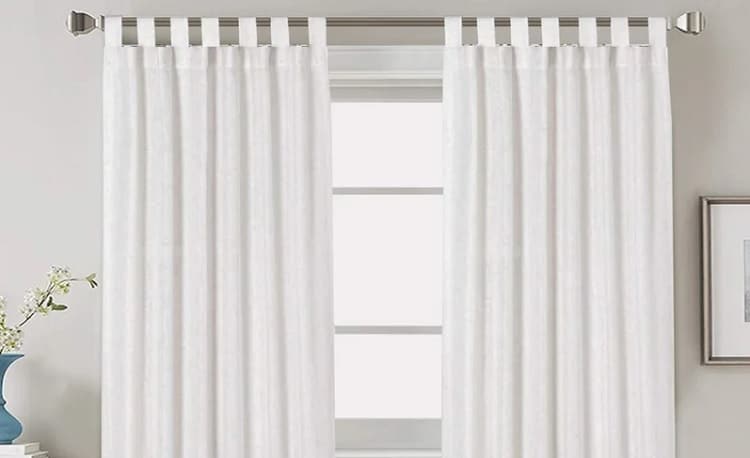 Available in 7 design and color variations, this is an ideal tab top linen curtain . The semi-sheer finish helps to ensure privacy while letting natural airflow into your home.
The sizing is a bit more limited to only 52 by 63-inch panels, but this will fit most windows. The length is ideal for an off-the-floor look, which will suit contemporary décor styles. 
It's also an ideal design for pet or child-friendly homes as the curtains are kept off the floor and dirt free. 
Best Gathering Tape Linen Curtains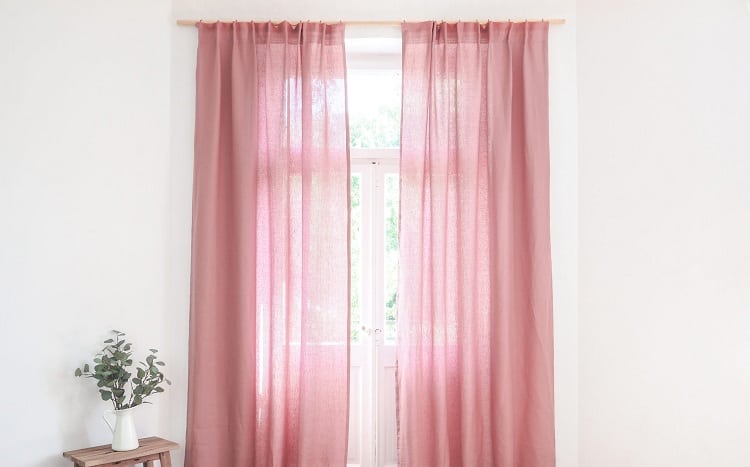 If you are looking for something exquisite, this is for you. Available in 7 color variations, this authentic linen weave is complementary to any décor style.
The gathering tape can be pulled in to create pencil pleats, an overall gathered look, or even group pleating in a pattern. There are a huge selection of sizes available, which makes customizing your look even easier. 
The lengths start at 47 inches to 157 inches, with width being 55 inches. If your windows are wider or you require odd sizes, these can be made to order. The heading tape is multifunctional, so you can use it to accommodate rods or curtain tracks. 
The high-quality stone washed linen finish is achieved since these linen curtains are handmade in Poland. 
Linen Curtains FAQs
Question: Why Are Linen Curtains Expensive?
Answer: The flax fibers used for linen curtains need to be processed in traditional ways, which is why many high-quality linen curtains are handmade.
This is a costly process, and you can end up paying over $100 a panel for quality linen curtains. Linen also has inherent properties like being pill-resistant, insect-repellent, and light-diffusing, which also add to the price tag. 
Question: Is Linen Good for Curtains?
Answer: Linen curtains are often the choice of designers and interior decorators. The finish is only achieved with linen, where the fabric is made from natural fibers and creates the dreamy billowing look. 
The association of linen curtains is that of luxury and comfort. With linen curtains, you achieve beautiful drapery for puddle curtains, and the quality offers a long service use. 
Question: Do Linen Curtains Shrink?
Answer: Since it is a natural fiber, there may be a certain amount of shrinkage you can expect. However, once you hang the curtains, they should stretch back into shape.
Quality linen curtains are preshrunk or stone washed to ensure the shrinking is minimized. This also affects the texture of the linen curtain, giving it a more structured look, which will ensure less wrinkles. 
Question: Can Linen Curtains be Dyed?
Answer: Linen, being a natural fabric, is an ideal material to dye. The fibers are not heat-sealed like some synthetic fabrics, which means they will readily absorb the dye, giving you an even appearance. Natural fabrics like linen will also hold their new color better. 
The Final Curtain
While linen curtains are somewhat more pricey than synthetic blends, they are worth the cost. With linen curtains, you get a specific look that synthetic blended curtains simply can't offer.
The durability, versatility of linen curtains, and their ease of care make them a great choice for any home and any décor scheme. 
Be sure to check whether the curtains you are buying are in fact 100% linen and if you do not need to cut costs by choosing a blend, then opt for a linen-cotton blend as this will most closely resemble 100% linen curtain.
The benefits of linen curtains include being good for the environment and your health. They give you great privacy, light control and sound control, and a curtain that is easy to clean and maintain. What more could you ask for?