Latest posts by Erin Jamieson
(see all)
It's been a hot summer, to say the least for most Americans. In fact, June 2021 was the hottest June from 127 years of records. And one of the best ways to beat the heat and save on AC is to know how to properly close blinds.
The advice became even more apparent for residents of Tennessee, who experienced unusually hot temperatures with real feels of over 100 degrees in July. The heat was concerning enough that Tennessee authorities warned residents to check their homes for energy efficiency.
The advice was deceptively simple: homeowners and renters were urged to use window coverings like curtains and blinds. They were also advised to stay hydrated and monitor for any heat sensitivity or exhaustion symptoms. But perhaps the most important advice? Simply remembering to close blinds.
Those tips may help save money on energy bills– but the excessive heat also pointed to why such measures would be important. And while they seem simple on the surface, the truth is that some blinds can be tricky to use– and knowing how to properly close them truly can make a notable difference.
Consider this your guide for how to close– and when to close– your blinds. I'll also give you my picks for some easy-to-close blinds that you can buy today.
What is The Proper Way to Close Blinds?
The proper way to close binds does depend on your blind type. But a general rule of thumb is that you should never feel like you're forcing a blind close. If you're too aggressive, your blinds could break. If you find you're struggling to close your blinds, make sure you understand the proper way to close your blind type.
How do You Close a Cordless Blind?
Cordless blinds close a little differently than your average blinds. Luckily. It's pretty easy to close and open cordless blinds– usually even more so than some more stubborn corded blinds. Standard cordless blinds can be closed by pulling down on the bottom, whole motorized blinds usually use some form of a button or remote.
Cordless Blinds with Rails
For a cordless blind with rails, simply pull down the rail. You'll need to be gentle. If you do have stubborn blinds, chances are that your blinds are off track or may not have been installed properly. If you have a wand on the sides, this can be used to rotate the slats of the blinds.
Cordless Panel Blinds/ Shades
Panel shades are a bit different in that they don't close and open by being pushed up or down. Instead, cordless panels open and close either left or right. Some cordless panels come with a wand, while others require you to manually push the panels to the right.
Always make sure that you're pushing gently– again, if you sense any resistance, there may be something broken. Usually, you'll have to close each panel, though some modern cordless panel shades are on a track system where one shade closes all or many.
Motorized Cordless Blinds
Motorized cordless blinds are about as easy as you can get. Most have remote control of some sort that clearly indicates how to open or close your blinds. Even if you don't have a remote– or lose it– almost all motorized blinds have a button you can press to open or close. A few higher-tech blinds even have settings where you can schedule your blinds to automatically open and close at certain times.
How do you Close Corded Blinds?
Corded blinds require you to manually close them. While some corded blinds have stick rods, while others have string blinds or a continuous loop cord. To properly close corded blinds, you should follow a careful step-by-step process.
The pull string, which sits typically on the right side, needs to be pulled to the left at approximately 45 degrees. This unlocks the blinds. Make sure that all slats are flat and even with each other. Smooth any slats that are sticking up or in a different position.
To finish closing the blinds, gradually loosen your hold on the pull string, and guide it towards the trigger motor. Your motions will be smooth and gradually bring the slats down.
How do You Close a 3 String Blind?
You'll need to hold the two pull strings together, then pull at a 45-degree angle to the left. Just as you would with other blinds, gradually guide the slates down, and make sure they stay even as you let them fall.
How do You Close Blinds When Stuck?
Of course, sometimes things happen and your blind can become stuck. This is especially true of older, corded blinds. The best thing to do in this situation is to gently pull down on the blinds. This can sometimes loosen them, and allow them to be lowered. With cords, you should hold them straight down, and gently guide them to the center.
Your goal is to align them so that they're parallel with the rail. Of course, never force it. If you simply can't get them unstuck, it may be best to contact the manufacturer.
Should I Close My Blinds at Night?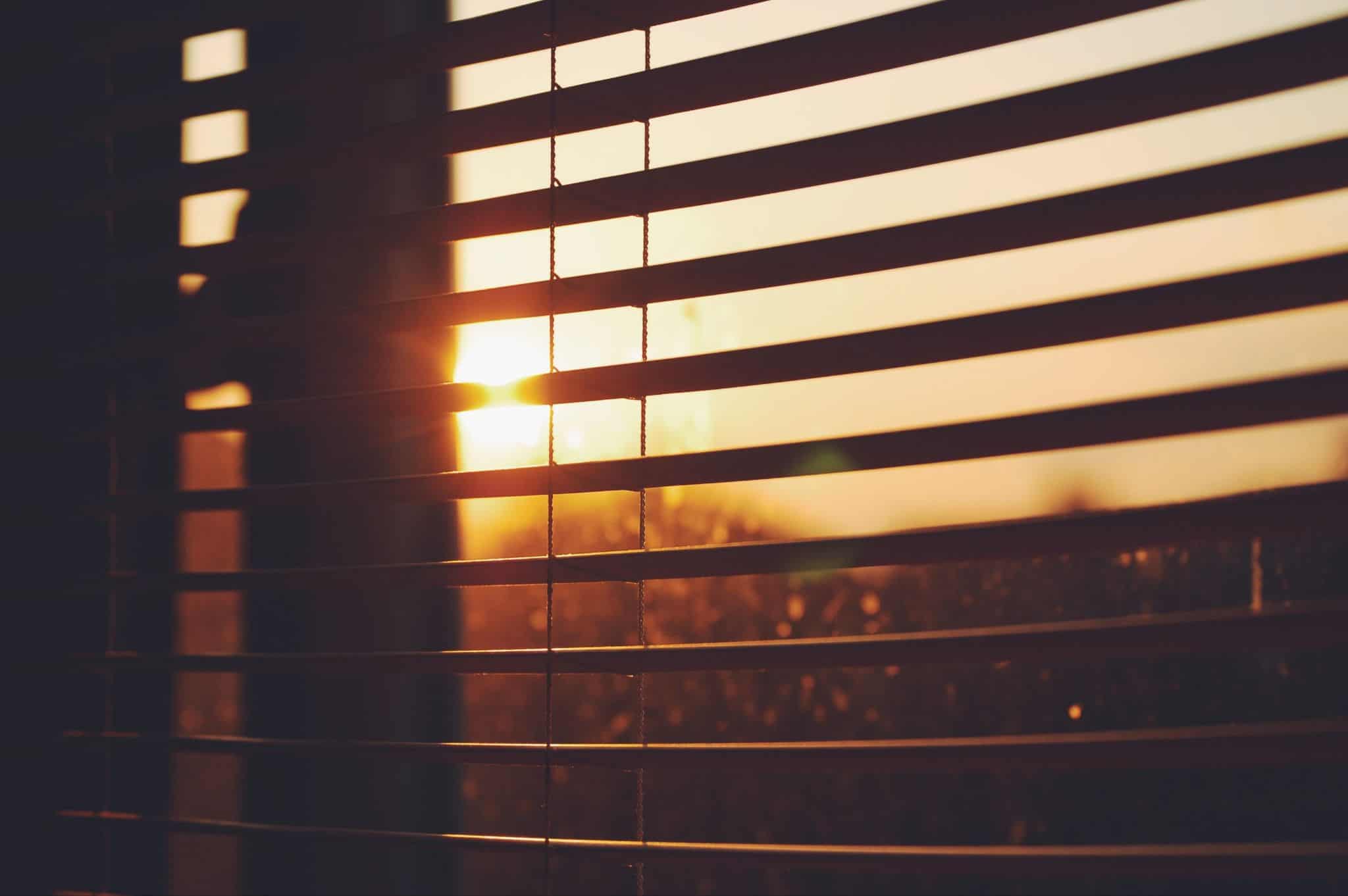 There's also the question of when to close your blinds. Most people prefer to close their blinds at night, for a few reasons. First and foremost, of course, closing blinds at night provides added privacy. But there are more reasons than that. A big incentive to close your blinds at night is insulation.
Closing blinds helps save energy, both during warm months when you're running out of air conditioning and during winter when you're running heat.
What Time Should You Close Your Blinds?
When you close your blinds is up to your personal preference. After dusk is especially recommended– you could make it a habit to close your blinds as the sun is setting. I also recommend closing blinds in rooms you're not currently in, regardless of the time of day.
Easy-to-Close Blinds: My Picks
While knowing how to close blinds, of course, is a must, some blinds are simply easier to use than others. Here are my picks for light filtering blinds, room darkening blinds, and blackout blinds that are all fairly intuitive to operate.
Easy Close Light Filtering Blinds & Shades
Light filtering blinds will allow the most natural light to come into a room, of all blinds types. Their main function is to dim glare and transform sunlight into a softer hue. More opaque blinds will provide a bit more privacy.
While the degree of privacy you'll enjoy from these blinds does vary a great deal depending on the materials used, However, light filtering blinds cannot be seen through at night. Rather, you're likely to see shadows of movement.
Classic Light Filtering Cordless Cellular Shades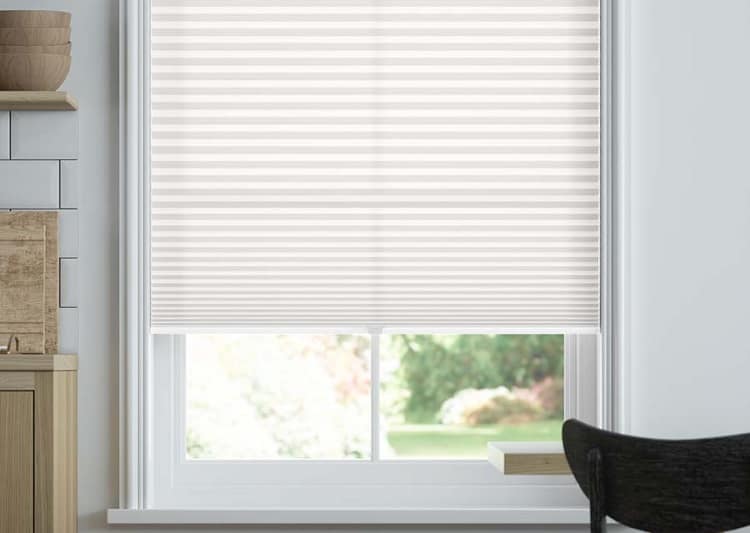 While blinds have individual slats, shades usually are in one or two parts and are even easier to use. This budget-friendly shade comes with color-coordinated metal rails. The shades are a simple, classic look that will work with modern and traditional homes alike.
These fuss-free shades come in 10 colors, including white and neutrals, and are designed to be more energy efficient by blocking UV rays. Buy Here.
No Tools Cordless Cellular Shades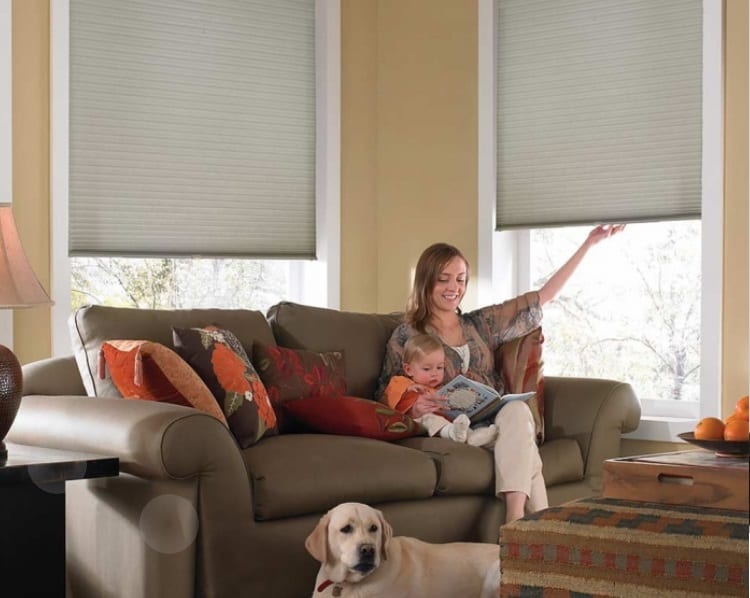 No tools, from the problem. These cellular shades are a great alternative to light filtering blinds that are custom made within 2 business days.
Offering a touch of soft light into any room, you can mount these blinds on walls without any nails, hammers, or screwdrivers. The clean, classic style comes in white, ivory, beige, gold, silver, linen, amber, bay leaf, and espresso. Buy Here.
Mainstays Cordless Mini Light Filtering Blinds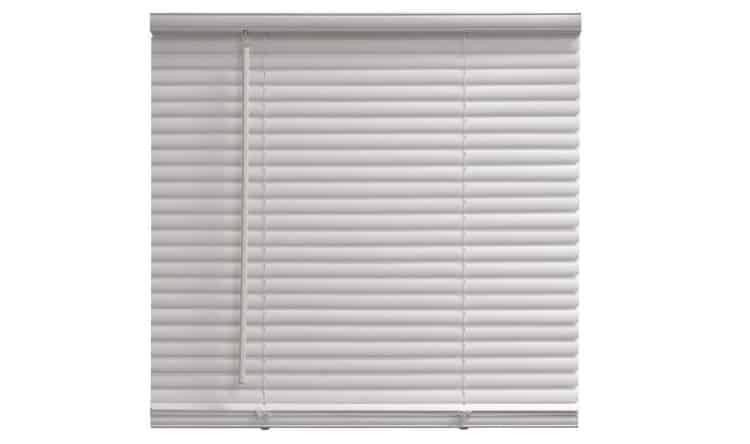 These vinyl blinds are about as affordable as you get. And while they may not last you forever, they're used to open, shut and maintain. The easy lift design means you won't be tugging at stubborn cords.
These come with easy to install hardware and have been WCMA certified as a great choice for kids. Available in white; Buy Here.
2 Inch Light Filtering Fabric Blinds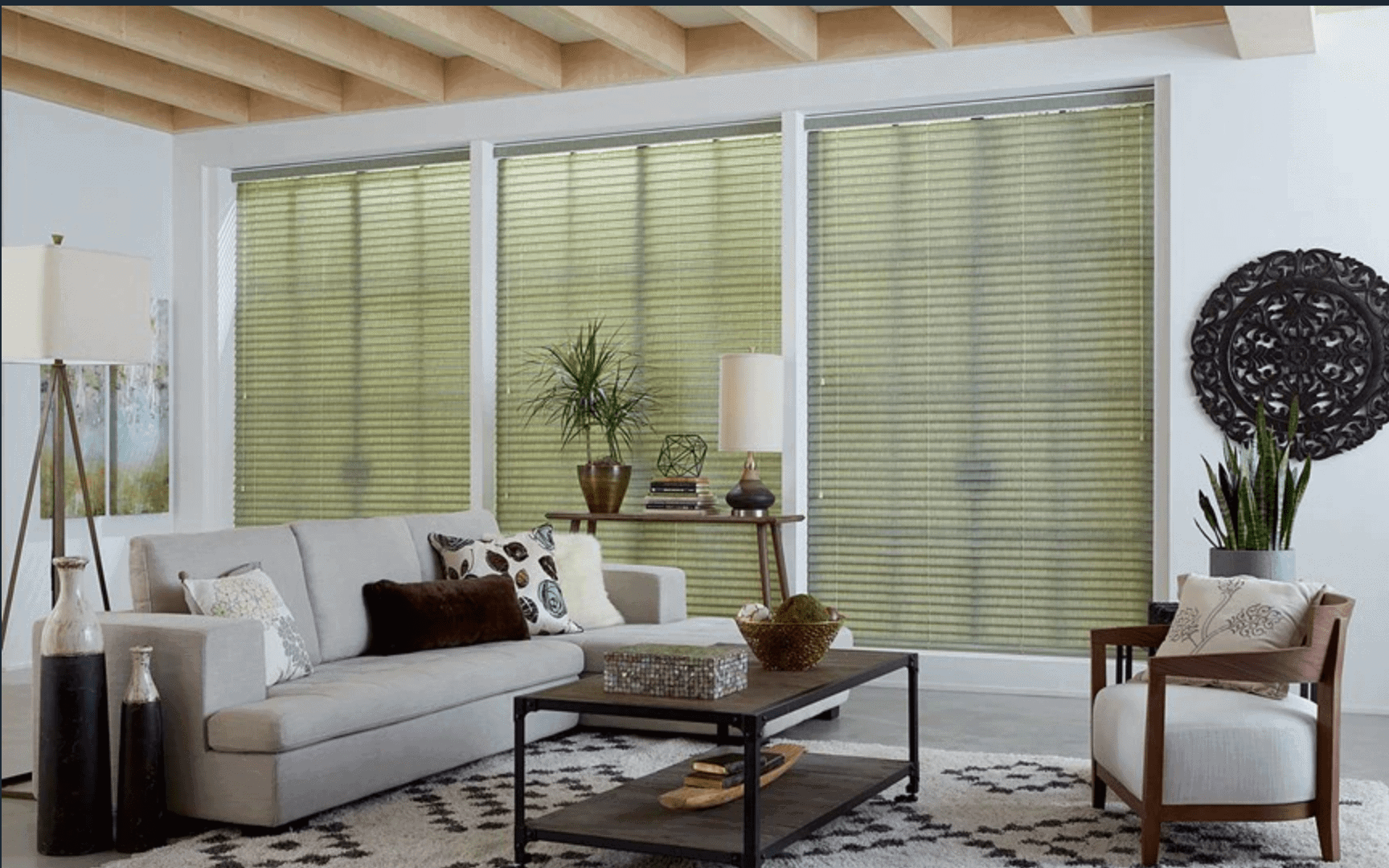 Described as soft but sophisticated, these fabric blinds add a more formal feel to a modern or traditional room, while exuding gentle natural light. As a plus, they're surprisingly lightweight and easy to lift, open, or close. They're also dust and water-resistant– making them fuss-free to maintain. Buy Here.
Easy Close Room Darkening Blinds
Room darkening blinds are a middle ground between light filtering blinds and blackout blinds. For this reason, room darkening blinds tend to be the most popular, and you'll have the widest selection.
Offering you more privacy than light filtering curtains, without blocking out nearly all light, like blackout blinds, these blinds can be used to softly darken a room. These blinds, for instance, are useful for rooms with TVs or home offices, as they can reduce the glare of electronic devices and screens more effectively than light filtering blinds.
White Cordless Faux Wood Room Darkening Blinds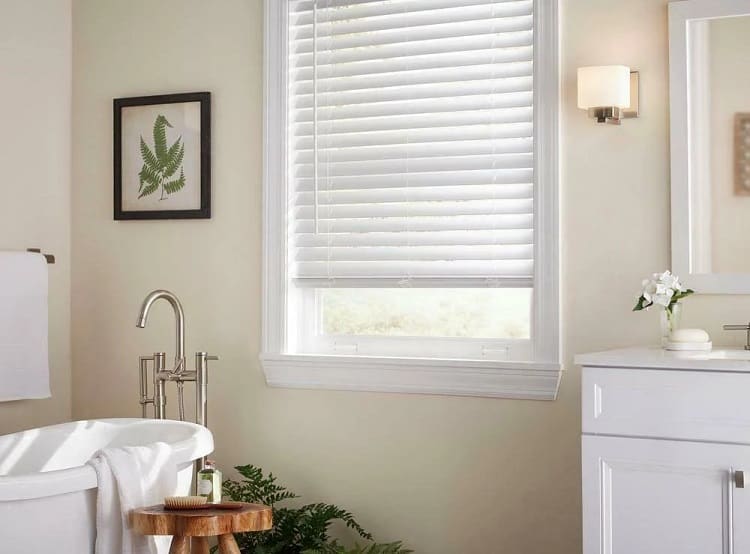 These are just a tad trickier to use– you have to rotate down to close them– but a streamlined, modern design makes them intuitive once you get used to them.
The blinds are moisture and heat hesitant, and the faux wood comes in a variety of stains. With a great balance of privacy and natural light, these blinds are inviting and durable. Buy Here.
Levolor Trim and Go Cordless Faux Wood Blinds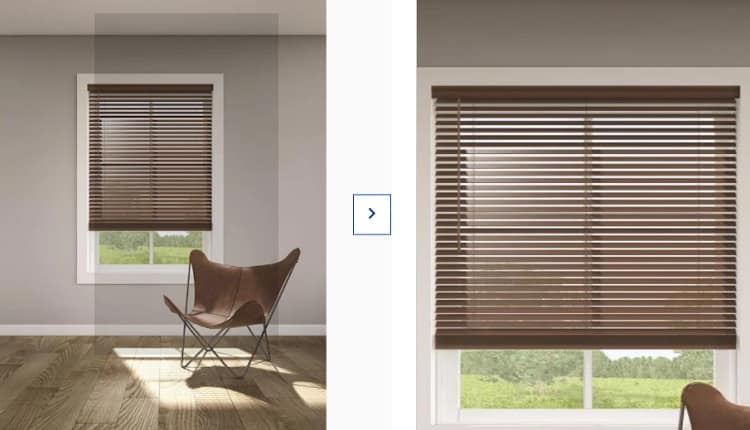 These room darkening blinds are also made out of faux wood and are moisture resistant. The easy lift design makes them effortless to open and close, as well as child-safe. Even better, these blinds come with a complimentary 5-year warranty. Buy Here.
Project Source Room Darkening Vinyl Mini Blinds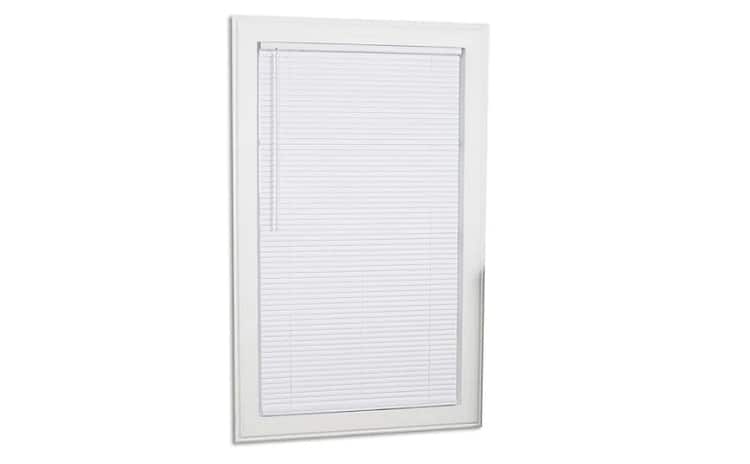 These cordless mini blinds feature an easy lift and lower system and are low maintenance. Moisture-resistant blinds are easy to clean and install and come with a matching head and bottom rail. They can also easily be adjusted to your liking. Buy Here.
Embossed Faux Wood Room Darkening Blinds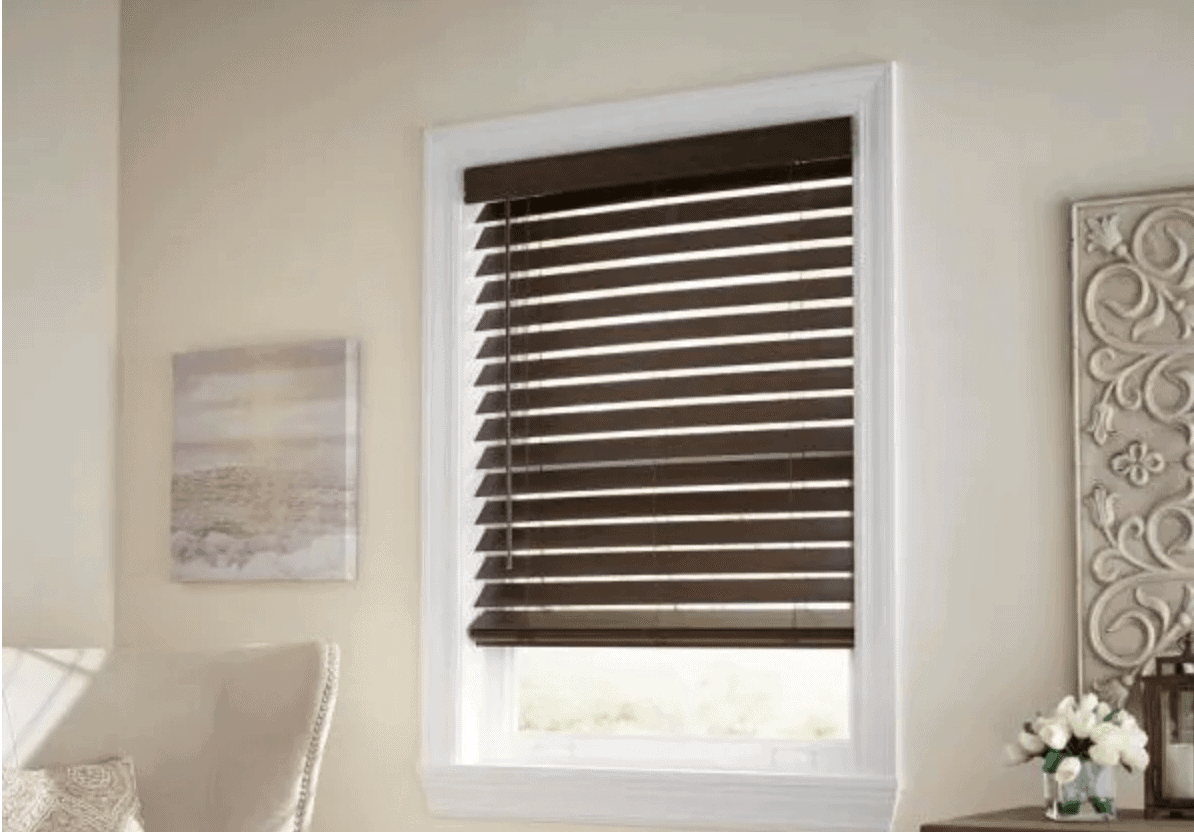 With an embossed grain finish, these blinds add traditional, classic style to any room. The 2.5-inch slats offer a unique design with 25 percent greater light and viewing variability.
While you do need to rotate the blinds down to close, these well-made blinds offer a nice balance between easy-to-use and great features. They also come with a decorative crown. Available in chestnut, gray, espresso, and white; Buy Here.
Easy Close Blackout Blinds/ Shades
Blackout blinds, or more commonly, blackout shades, are effective for bedrooms when you live on a noisy street and need to get some rest. Offering the most privacy possible, these blinds or shades are sometimes even paired with blackout curtains to double the noise reduction.
But the main purpose of blackout blinds and shades is to block out light and provide privacy– anywhere from around 80 percent to 100 percent of light. Horizontal blinds will be slightly more effective than vertical blinds in this category.
Redi Shade Blackout Pleated Window Blinds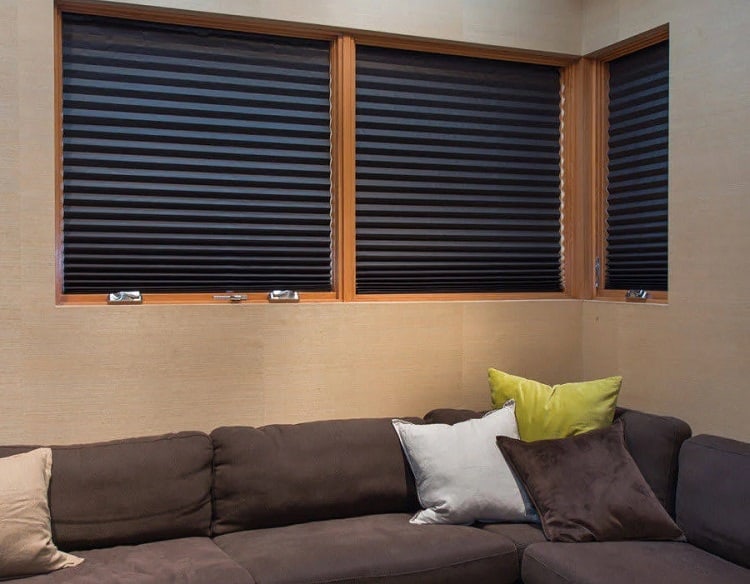 These pleated window blinds come with clips that help raise and lower for low tech, but easy use. Blocking 99 percent of UV rays and light, they're ideal for bedroom and media rooms. Surprisingly, paper blinds can still be expected to last 6 years.
That's a little shorter than the average (from 7 to 8 years) but it's a great way to cut costs if you're on a budget. These window coverings are crack and run-resistant. Buy Here.
Cordless Top Down Bottom Up Blackout Cellular Shades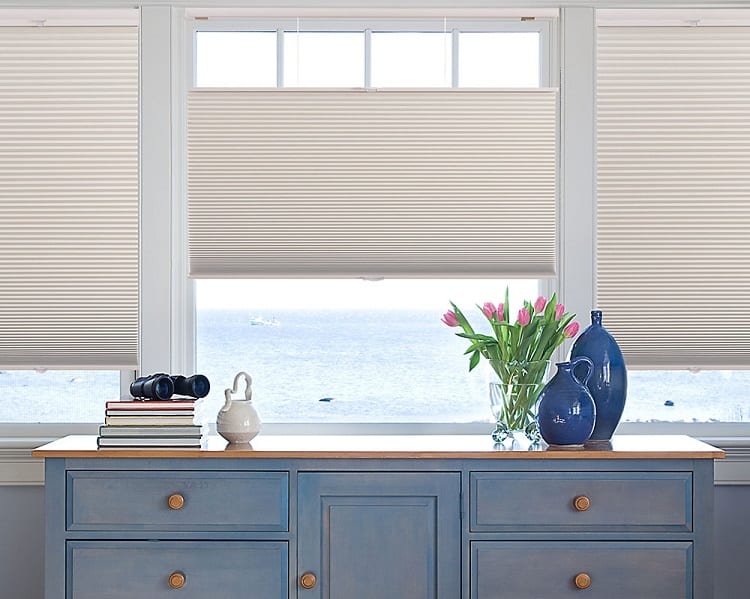 If you want versatility and easy to open and close window coverings, look no further. These polyester shades are bestsellers and highly rated, and it's easy to see why. A mylar lining blocks up to 100 percent of light when closed and also serves as an insulator.
Since these can be open and shut from top or bottom, you have more flexibility for light control than many blackout window coverings offer. Buy Here.
Economy Blackout Roller Shades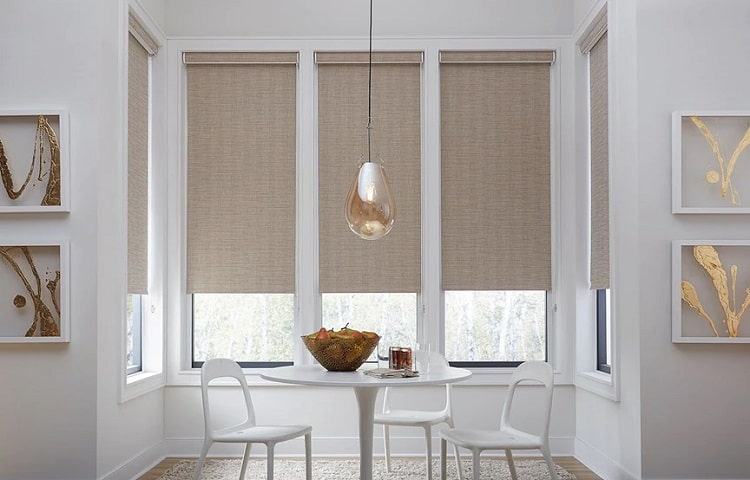 Crisp and contemporary, these blackout shades feature a simple cordless lift that opens and closes seamlessly. The smooth fabric comes in cool, earthy, and classic tones. In fact, you have over 150 colors and designs to choose from. They're also budget-friendly and come with a fit guarantee. Buy Here.
No Tool Cordless Blackout Shades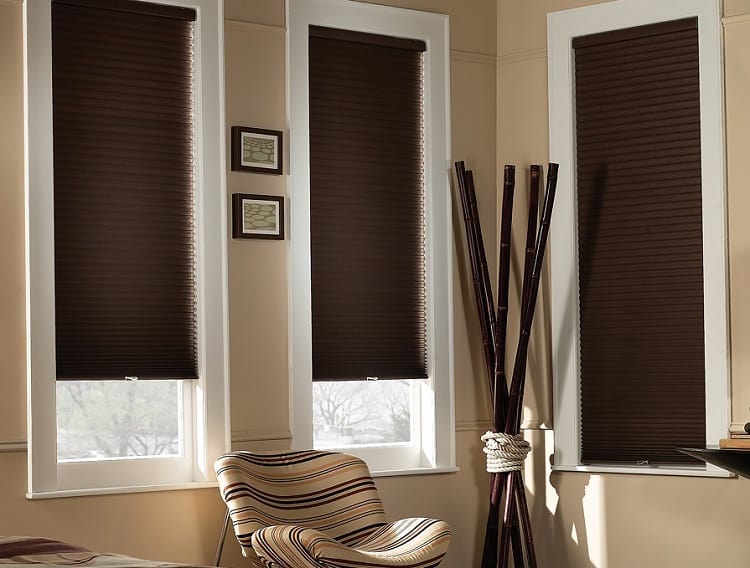 Not only are these blackout shades easy to open and close, but they're also pretty easy to install. These shades block out 100 percent of incoming light with a special honeycomb texture to provide additional insulation.
The mounting has been tested for durability and is a great contemporary option. Available in white, off-white, naturals, and browns; Buy Here.
Frequently Asked Questions
Question: How do You Open Blinds Without a Wand?
Answer: Not all cordless blinds come with a wand. If you didn't receive a wand with your purchase or damaged yours, the good news is that you can still open and close your blinds. Pull panels or slats with your hand and slide them along the track. Make sure your pull is both smooth and gentle so you don't inflict damage.
Question: How do Top-Down Shades Work?
Answer: Top-down, cordless shades are fairly easy to use. You'll need to pull on the plastic tab on the top of the shade to lower it, then secure it again when it's placed to your liking. The tabs should snap onto the railing.
Question: Why Won't My Blinds Go Up?
Answer: If your blinds simply won't go up, chances are that they're stuck– or even broken. The most common issue is either with a cord malfunction or a track malfunction. For corded blinds, pull the cord until it is parallel to the headrail. Then gently pull the blinds down.
This usually realigns your blinds. For cordless blinds, tug to a 45-degree angle. If none of these options work, you may need to contact the manufacturer. Never force a blind.
Final Thoughts
Knowing how to close and open blinds can save you a lot of headaches, but even the best blinds can get stuck. If you have a generous budget and think it's worth the cost, you can also opt for motorized, or "smart blinds." If you already have new or good condition blinds installed, you can also add a smart blind controller.