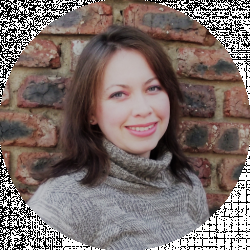 Latest posts by Talitha vanNiekerk
(see all)
One of the most popular curtain color combinations is classic blue and white. Whether you choose plain, chequered, striped, patterned, medallion, or fades, blue and white always make for a stunning curtain color combination. However, there are a gazillion tonal and pattern variations of blue and white curtains on the market, so how do you know what options are best? 
We'll help you gain some clarity with these top blue and white color curtains, but let's look at how to choose a curtain (whether it is blue and white or white and blue) for the best effect. 
Buyer's Guide for Blue and White Curtains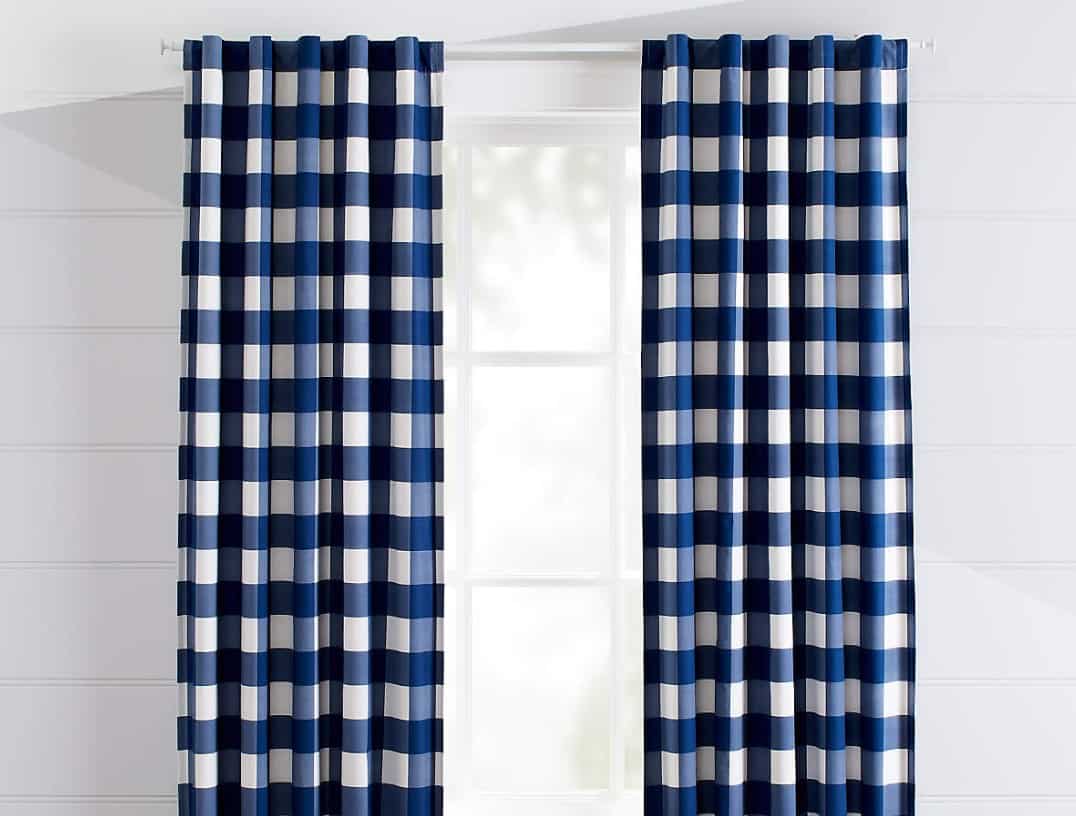 No matter the price tag or the elegance of a particular curtain, it is important to consider these basic principles when choosing a curtain:
The Right Size
Any curtain will look really terrible if it doesn't fit the dimensions of the window. Choosing curtains that are too short, not wide enough, or simply not the right size for the number of hooks or grommets will result in an ugly finish. Be sure to choose the right size no matter the additional cost.
People often choose to buy a smaller curtain, hoping it will cover their window, but they then discover that the curtain hangs poorly since it isn't full enough to properly drape the window. Be sure to add in the following when measuring your window space:
For a smaller pattern curtain, measure the width and length (drop). Add in 6-12 inches per curtain panel for seams, and on the drop, add in an additional 11-15 inches for a hem to ensure the curtain hangs properly. 
If you have a small or fine pattern curtain, you would want to have a full curtain, which means the curtain panels need to have a total width that equals twice the window width. With larger patterns, you can opt for a less full gathering and choose to have a total width of one and a half times the window width. 
The thickness of the curtain fabric will also play a role. A sheer curtain may require more than twice the width of the window to achieve a really full look. Voile or satin curtains may need to be gathered in as much as three times the width of the window to look ample and luxurious. Trying to skimp with a curtain panel that is less than double the width for these curtain materials will result in a very tacky appearance. 
The Best and Most Effective Hanging System
Each fabric type hangs differently. Choose a hanging system that complements the fabric and the room decor for the best appearance. If you are opting for white and blue linen curtains that are unlined, you may choose to have a grommet, curtain rod pocket, or tape hanging system as the fabric is quite dense and can withstand these methods. However, a sheer curtain like voile may not hold up to having grommets or a taped top. 
For really filmy and sheer curtains, you may want to have certain weights added to the bottom hem to improve the way the curtain hangs. These help balance a really lightweight curtain for a better hem weight. 
Fabric 
Make sure you invest in quality curtain fabric. Many curtains are synthetic and made with a blend of polyester. While this makes them easy to care for, it can lead to them not being as sun-resistant as a more natural fabric such as linen may be. 
Choose a fabric that suits your budget, gives you the right feel for your home decor, and requires the kind of care you can invest in it. 
Color Fastness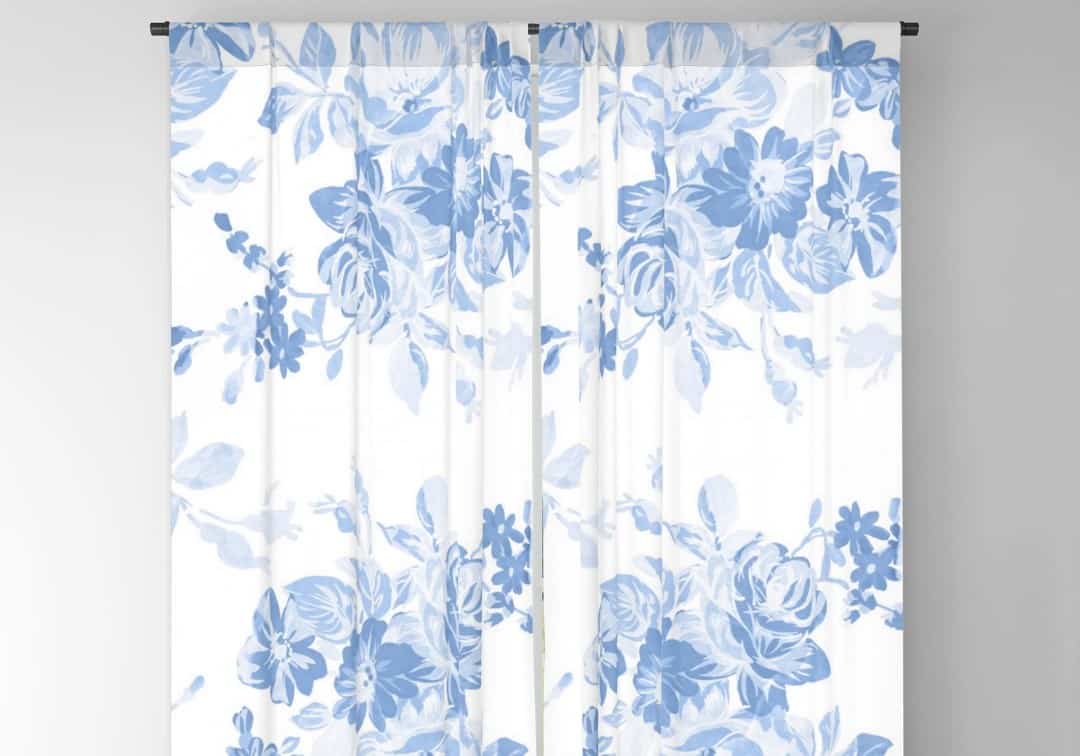 Natural fabrics also have better color retention, which is essential when choosing a curtain with two dominant colors like white and blue. Some synthetics may have less color-fastness, and after one or two washes, your blues may bleed into the whites. Normally, if you have plain colored curtains, this wouldn't be a problem as you would simply wash different colors separately, but when the colors are on the same curtain panel, it can be a problem. 
Also, check with the manufacturer whether the curtain is fade resistant as you wouldn't want to buy a beautiful blue chequered curtain only to have the blues turn gray after a month or two. 
Pattern Appropriateness
While we adore patterns, not all patterns are suitable for all homes. If you have a large space, you can absolutely choose a large-scale pattern, but in a smaller space with several windows to cover, a large and busy pattern may not be a good choice. The goal of the curtains you choose should be to harmoniously complete the decor scheme, not dominate the room. 
Be sure to keep the scale of the patterns you choose in mind when you select your next blue and white curtains. What looks pleasant on your PC screen may be overwhelming in real life. 
Professional Finish
Your curtains will hopefully be hanging around in your home for several years at least, so be sure to choose quality of manufacture. This means you should inspect the finishing of the curtains. Check the quality of the stitching, the evenness of the hems and seams, and be sure to evaluate the strength of the hanging system, whether it is grommets, rod pockets, or tape. 
Most online retailers offer a returns policy on all products, so be sure to check out all the edges and overall finish of the curtains you purchase. If you aren't entirely satisfied, be sure to ask for a refund or exchange within your window of opportunity to do so. 
Care and Maintenance of Blue and White Curtains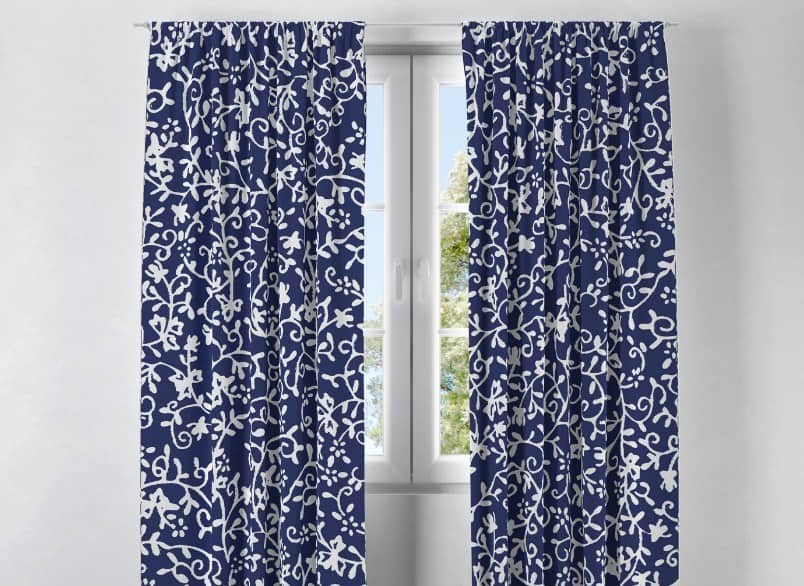 How do you take care of your blue and white curtains to ensure longevity and good service? Whenever you have a curtain with two dominant colors, the chances are that one color will bleed into the other when you wash them, so how do you keep your whites white and your blues blue? 
There are several elements that can damage and wear a curtain. Light, dust, heat, and water can lead to serious damage to the curtain fabric. While light colors reflect bright sunlight and don't fade much, darker colors absorb light and they will begin to fade over time.
This means that while your white curtain will remain nicely fade resistant, the blue patterns on that curtain will fade with time, and soon you will have a white and gray curtain and not a white and blue curtain. 
If you have a curtain with substantial blue patterning, at least 45% and upwards, you would be advised to choose a curtain with a lining as this will reduce the fade and keep both the white and blue colors true to their tone. However, the real curtain damager is water. Washing is especially damaging to curtains, no matter what the colors.
A white and blue curtain will likely start to have some color bleed, and when the fibers start piling, it could lead to fuzzy edges between the blue and the white areas on the curtain, destroying your crisp patterns. 
To care for your blue and white curtains, follow this care routine:
Shake Regularly
The reason you may want to wash your curtains is when they become dusty and grimey. To avoid this happening, you can shake your curtains each night when you close them. This will dislodge the dust and other particles that may have clung to your curtains during the day. When particles don't have time to settle, it will prolong the life of your curtains and limit how often you need to wash them. 
Vacuum Weekly
By running the brush attachment of your vacuum cleaner over your curtains weekly, you will further remove any ingrained dust and particles. This will also liven up the weave of the fabric, ensuring the curtain remains resilient. 
Spot Treat
When life happens and you do have a spill on your lovely blue and white curtains, be sure to clean it up immediately. Start by blotting the fabric carefully, removing any stain particles. Work from the outside inward to prevent the stain from spreading. 
Once you have blotted, you can mix a solution of warm water and a few drops of dishwashing solution to clean the remaining stain off. After the stained area is clean, rinse lightly with clean water. 
Wash or Dry Clean
When your curtains have become too soiled to clean with a shake or a vacuum session, it may be time to wash them. We prefer a cold water wash as this further reduces the risk of the colors bleeding. Some curtains may state quite clearly that they are to be dry cleaned only, so read the care label when your curtains arrive. 
Blue and White Curtain Criteria Explained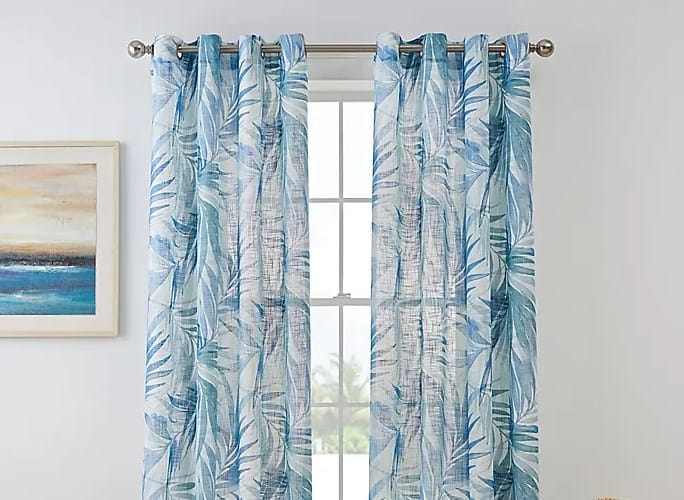 While there are many stunning pictures of decadent blue and white curtains on the internet, we don't believe in just buying with our eyes. Logical also needs to have its say or your bank manager may have a fit! So we kept the following curtain criteria in mind:
Fabric
The materials used for these curtains all need to be of high quality. These curtains should have clear care instructions, and if they are washable, they shouldn't fade or wrinkle as a result. This means we only chose curtains with clear wash instructions and that are made from durable fabrics.
Look
The final appearance should be stylish and suitable to diverse decor needs. We made sure to select blue and white curtains that are as stylish as they are versatile. 
Price and Value
While we don't mind paying a bit more for quality curtains, they should provide value for an increased price. Luckily, you can select diverse fabric types for some of the chosen curtains to suit your pocket and style. We made sure to select a variety of products to suit most budgets.  
Consumer Reviews
Thankfully, many online stores have customer reviews features, which can give us a global view of what people, just like you, think of these curtains. We were really careful to only select ones that have real and favorable reviews that indicate the quality and feel of these curtains.
The 6 Best Blue and White Curtains Guide
There are a number of blue and white curtains that can look striking in the right home decor scheme. Be sure to choose a pattern or design that will compliment your decor and not overpower it. We love the following curtains!
Room Darkening Blue and White Thermal Curtains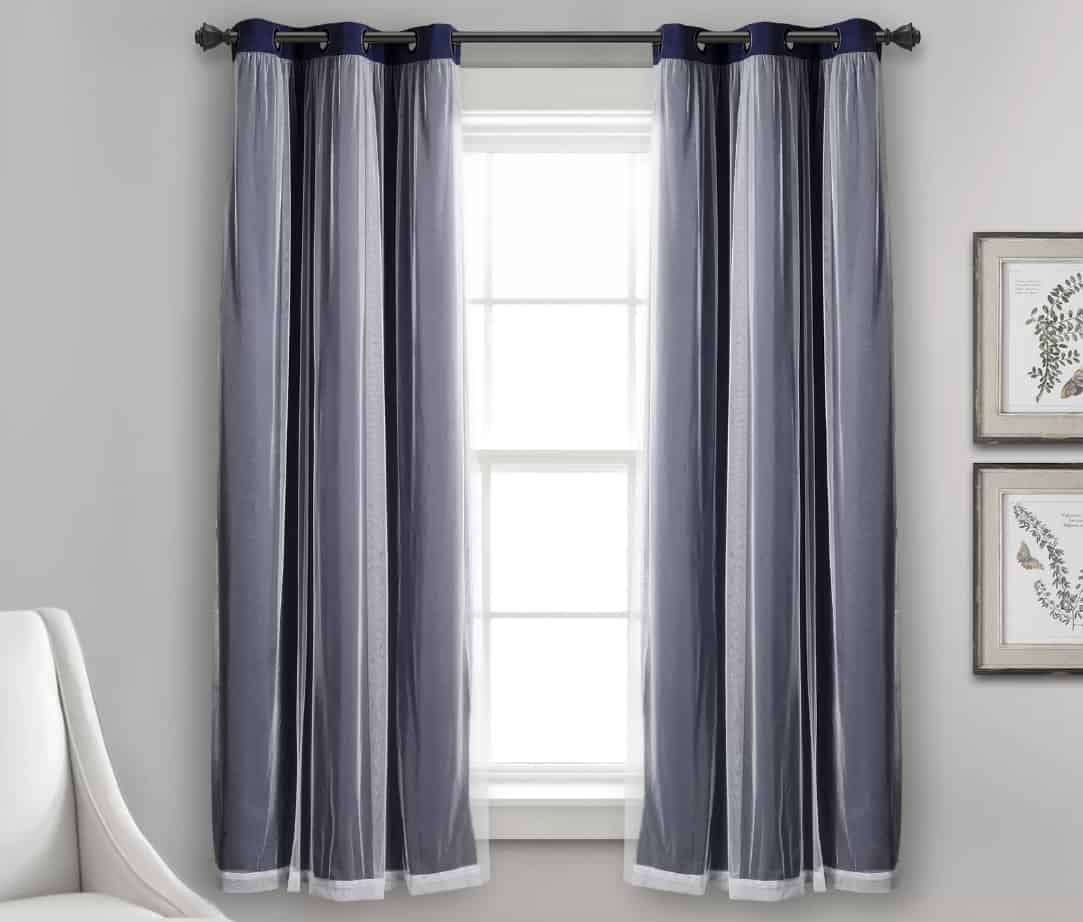 Curtains usually serve the main purpose of blocking out harsh light, and blackout curtains are increasingly popular as they also offer privacy, thermoregulation, and noise control. The Busselton Solid Blackout Thermal Curtain Panels by Ophelia and Co are offered on Wayfair, and these are truly stunning curtains. 
We love the navy and white curtains, which combine the blackout curtain in navy with a sheer layer in white. The curtains come in a two-pack and there are six sizes available ranging from 38 by 84 inches up to 38 by 120 inches. This will ensure you can find the curtain length that suits your home or even opt for a longer length to create a puddle effect. 
Made from 100% polyester, these curtains are machine washable. However, you should do so by using a mesh bag to prevent unnecessary wringing in the machine. Hang while still wet, and avoid chlorine bleach. 
With over 3,000 positive reviews on Wayfair, this is definitely one of our favorite blue and white curtain options. The easy-hanging grommet system also helps with hanging the curtains on any smaller than three inches curtain rod. 
Best Blue and White Striped Curtains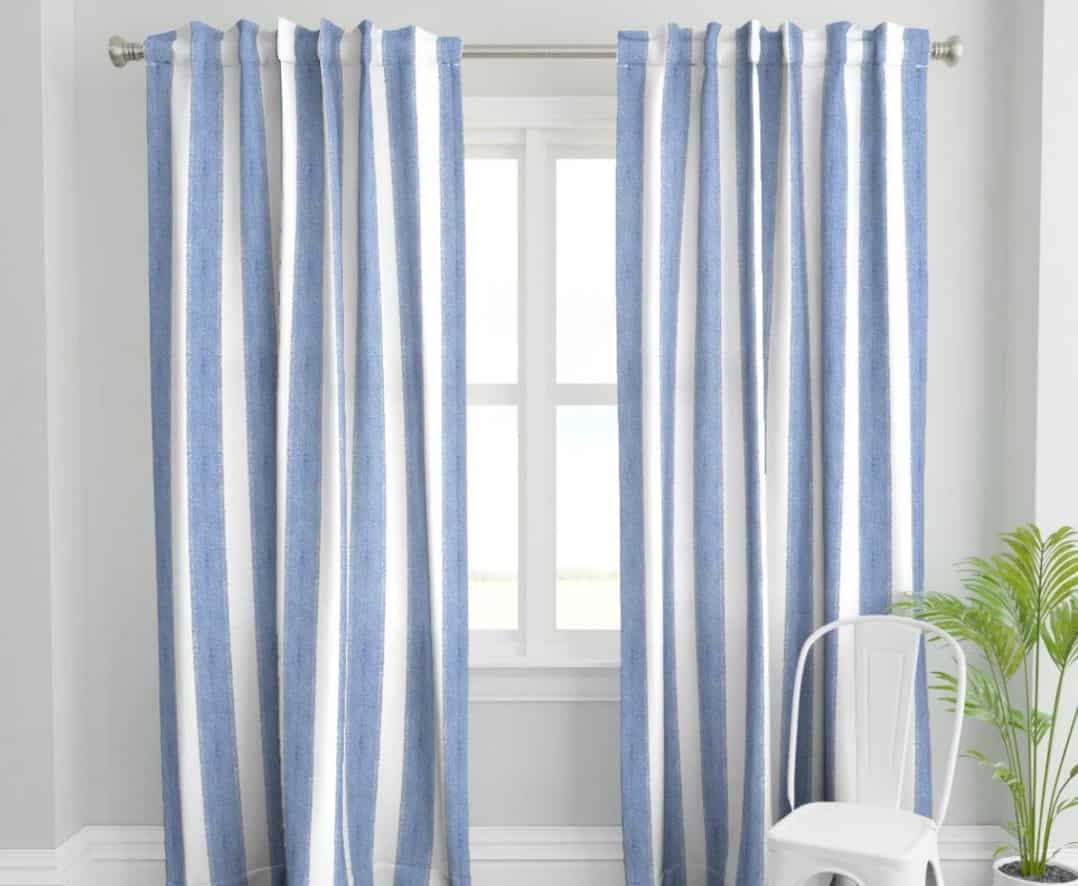 If you want a classic look, then the Dotted Stripe Curtain Panel – Shagreen Stripe by danika_herrick is going to tick all your boxes. Sold on Etsy by Spoonflowerhome, this is a luxurious curtain set in a traditional blue tone. 
Available in two fabric options, you will be tempted by the cotton-canvas blend material or the linen-cotton option. Either way, you will love running your hands over these curtains. If you are still not entirely sure, you can always order a sample online. 
With a handy rod pocket, you will easily hang these curtains, creating a full draped look. There are three hanging lengths available, and you should keep in mind that each panel is sold separately. The fabric is sturdy enough to provide a structured finish that will suit living areas and even guest bedrooms. 
Care is fairly easy, depending on which of the fabric options you choose. Most fabric curtains recommend dry cleaning to preserve the material's integrity and prevent colors from running. While the fabric types are all of high quality, we still recommend you follow the care and maintenance steps as discussed previously.  
Best Blue and White Floral Design Curtains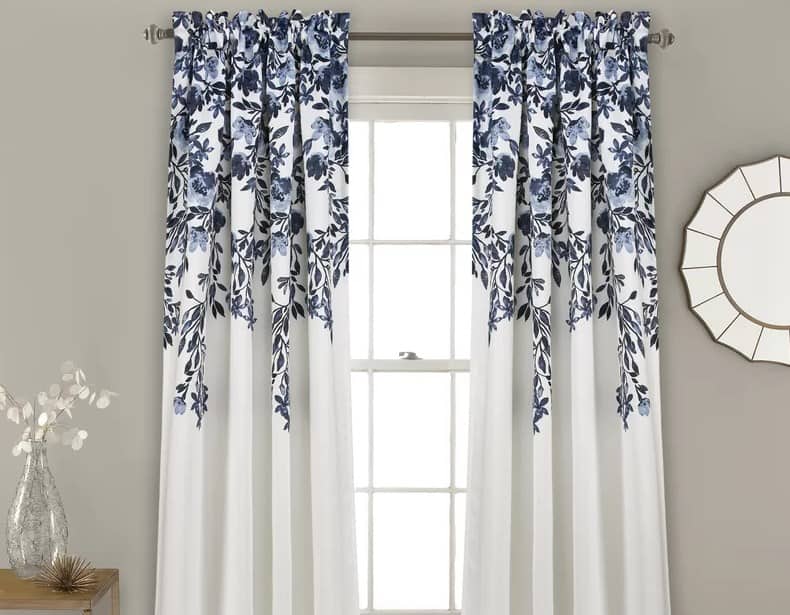 The Darby HomeCo hits the nail with the Saffr Walden Floral Room Darkening Thermal Rod Pocket Curtain Panels. Sold on Darby HomeCo by Wayfair, these are some of the most stylish floral designs that we've seen in a while. 
The curtains hang with ample fullness, and by simply sliding them onto the curtain rod, you can hang any of the three sizes that are available in navy without breaking a sweat. These curtains are also super easy to care for and are made from polyester, you can drop them in the wash when you're busy with laundry. 
As an added bonus, these curtains are sold as a set, which helps to cut costs too. 
Most Stylish Sheer Blue and White Curtains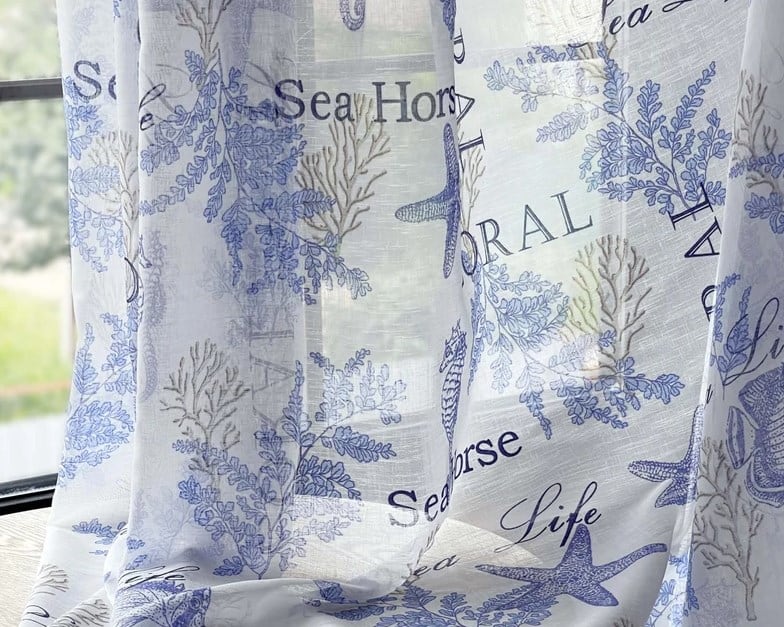 Exotic curtains are eye-catching, and these sheer curtains are a real winner. The Linen Sheer Curtains Sea life theme offers a beautifully calming experience as you enter the room. Printed voile drapes are an absolute talking point for any room. Printed with a stylish ocean theme, the smooth texture of these curtains helps introduce air and light to any room.  
There are 14 widths to choose from, and we are confident in the value these sheer blue and white curtains will add to any room. You can order yours online at Etsy in the PointDecor shop, and remember to note what hanging style you would like as these curtains are available in rod or ring hanging systems. 
Made from 100% polyester, these curtains are fully washable, and this certainly earns some points as homeowners don't have to worry about difficult cleaning exercises. While the polyester voile is sun-hardy, it is still a good idea to hang these curtains in front of a window that won't get loads of sun. Polyester tends to resist sun fading quite well. 
Despite the delicate fabric, this curtain is surprisingly hardy. 
Best Exotic Blue and White Bohemian Curtains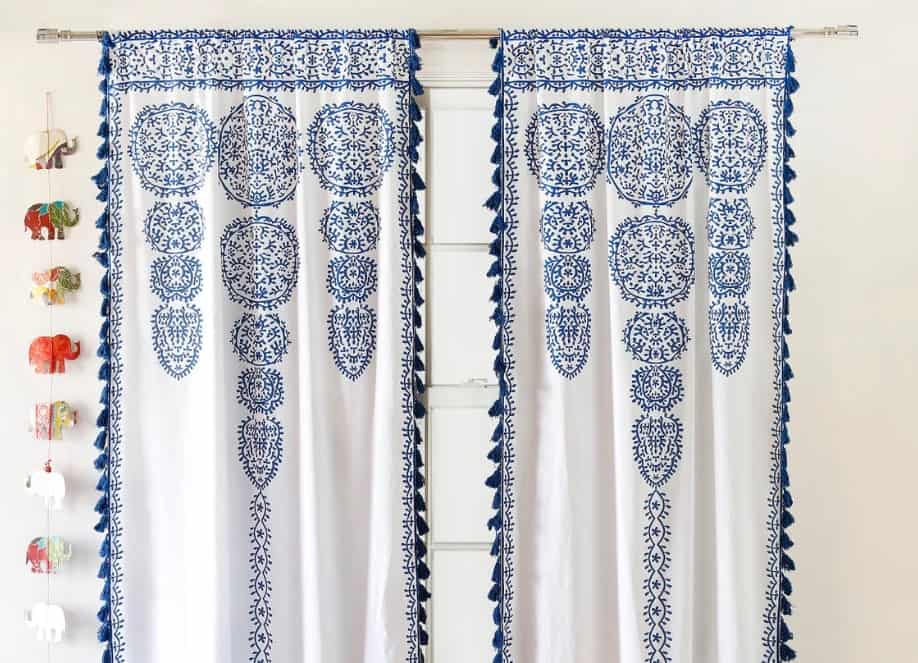 If you want to achieve an exotic look, then opt for the Blue Mandala Medallion Moroccan Window Curtains by JaipurCollecsitive on Etsy. These are gorgeous double panel curtains with a stunning mandala design and tassel edging. 
Made from cotton and pom lace, this is truly eye-catching window treatment. For an authentic look and feel, the panels are printed using traditional Indian screen printing methods, and each curtain is specially made on order. 
Care for these panels will be limited to dry cleaning to prevent the traditional dyes from being washed out with machine wash processes. Spot treatment is a must to keep these curtains clean and be sure to shake any dust and particles from these curtain panels at least once a day. 
Each panel is 82 by 41 inches, and the total curtain width is 82 inches. For a window that exceeds this, you can consider buying a second set, or you may opt for a plain colored sheer curtain to edge the central design with. There are many different ways to display and hang these curtains. 
Each panel is sewn with a rod pocket, which will fit most standard size rods, making hanging really easy. With their understated blue pattern, these mandala curtains are perfect for any room. 
Most Ambient Moroccan Damask Blue and White Curtains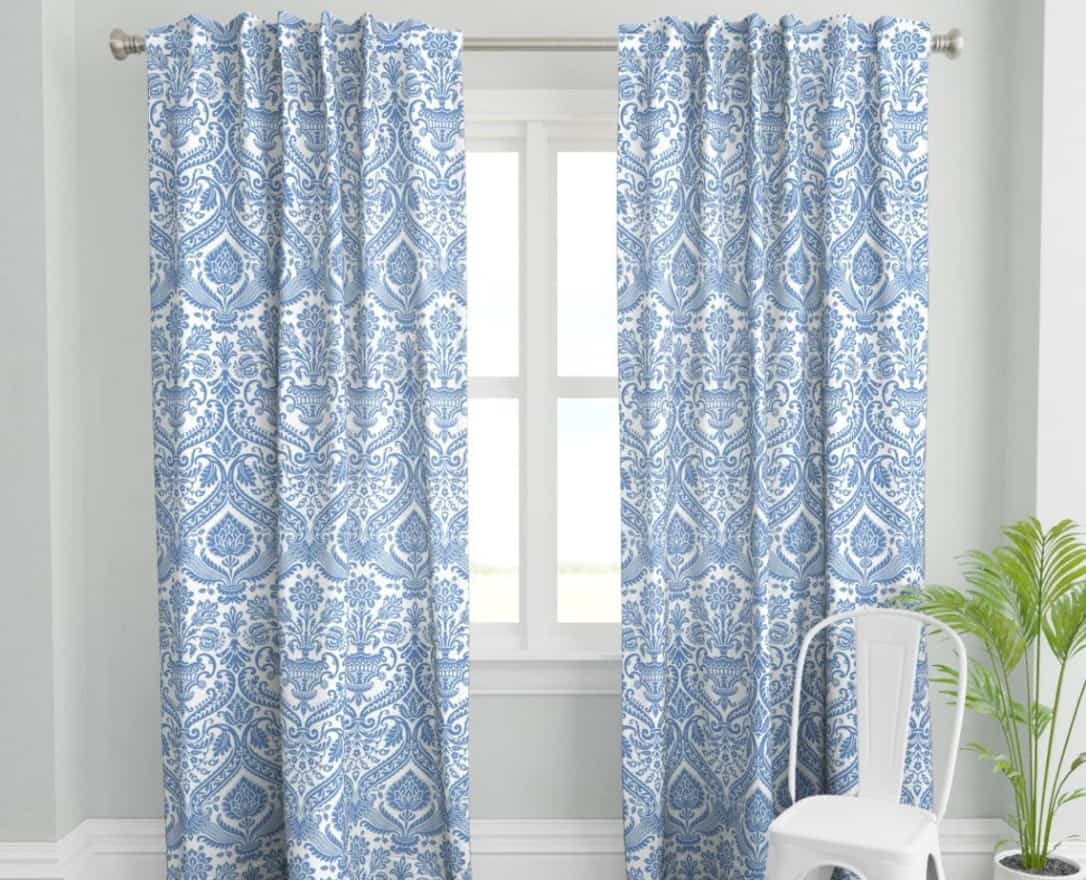 Damask patterns are always en vogue, so you can't go wrong with the Chinoiserie Damask Curtain Panel – Porcelain Damask by muhlenkott – China Blue White Ornate Victorian Custom Curtain Panel sold on Etsy for Spoonflower. The delicate pattern is subdued, reminiscent of fine China and Victorian themes. 
Note the panels are sold individually, which makes covering a larger window easier as you don't have to order a two-pack curtain set. At a width of 50 by 84-108 inches, these panels are luxurious and will create that classic look for your windows. 
Taking the understated look one step further, these curtains are manufactured from several options such as the organic cotton sateen, which provides quality, and a low-level sheen or the linen-cotton canvas with the mat finish. 
Due to the delicate print and tassels, these curtains are recommended for dry cleaning, hence, you should shake daily and vacuum weekly to avoid unnecessary washing being needed. 
FAQs
Question: How do you care for blue and white curtains?
Answer: By caring for your curtains according to the manufacturer's instructions, you will be able to care for your blue and white curtains better. Washing may cause the blues to bleed into the whites, so be careful of simply washing your curtains. 
Question: What is the best way to clean curtains?
Answer: If you can wash your curtains, this is the best way. However, a curtain that needs to be dry cleaned should never be washed. For washing, be sure to use lukewarm water, a mild detergent, non-chlorine bleach, and a gentle wash cycle. Hang the curtains immediately when they have been washed to prevent wrinkling. 
Question: How low should my blue and white curtains hang?
Answer: If you have low ceilings, you may be able to opt for the 84-inch curtains, but in general, it is better to select a certain length that is down to floor level as these simply show better. While you may fear your white curtains could stain, this should not dissuade you from hanging longer length and even puddle length curtains. 
You can always choose to use a fabric guard like Scotch-guard to help stop your curtains from picking up dust and stains. Daily shaking and weekly vacuuming will also help keep those white hems white. 
The Verdict 
We love blue and white curtains, and while patterns are always a great idea in blue and white curtain combinations, the Busselton Solid Blackout Thermal Curtain Panels are simply exceptional in terms of practicality, easy-care, and hanging systems. There are also several sizes available and with two curtains per pack, these are cost-effective too. 
Let the blue and white splendor of luxurious, sheer, or patterned curtains liven up your home today.