Latest posts by Angelique Alice
(see all)
Most of us are familiar with sleeping in a room that is not dark enough. In such instances, we always struggle to sleep or manage to sleep for a few hours before our alarms ring and end up feeling disoriented throughout the day. Luckily, there is something you could do to get that goodnight's sleep.
After all, it is essential since it can either make or break us. There are blackout curtains that have been made to cater to people like you. Therefore, if this is you, suffering ends here. Also, if you have been looking for the ultimate best short blackout curtains and ideas to no avail, read on to find out detailed information about them.
Factors to Consider Before Knowing Buying the Best Short Blackout Curtains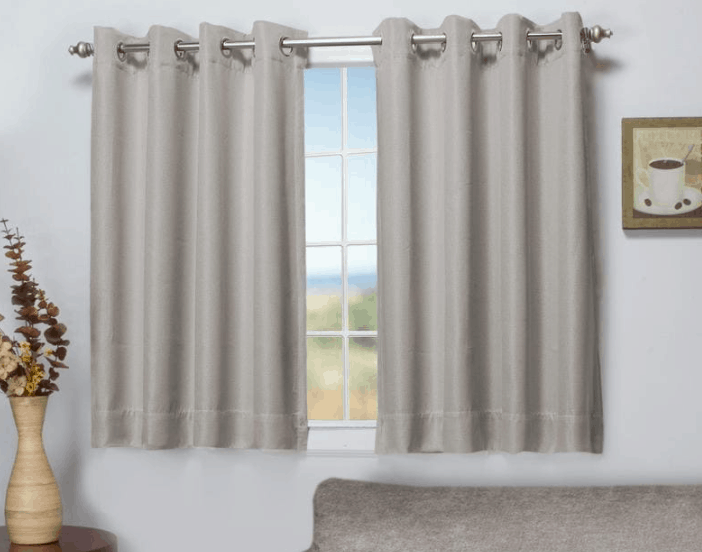 Color
Color is an important factor to consider. Please keep your room's color and style in mind when choosing it. Someone would argue that short blackout curtains usually come in dark colors like gray and graphite, but modern ones come in bold colors and patterns.
Therefore, you can opt for what suits you best. However, you should know that when going for these colorful options, buying a lining is crucial. This is because using these curtains alone may deprive you of 100% light-blocking protection.
Size
Blackout curtains tend to come in standard widths of 42 or 52 inches per panel and lengths ranging differently. However, they are also available in both extra large and small widths and lengths. This is because there are many windows shapes and sizes.
Tips to Consider When Measuring the Best Short Blackout Curtains
The first tip is to ascertain that the curtains' rod is above the top of the window to block as much light as possible. If you want this to be done effectively, extend at least four inches above the window frame.

Consider the length. Mark the point where the rod will be positioned and take measurements until the window's frame bottom. Once you have got everything right, the entry of light will be the least of your concerns. Note that if you cover a large area with the curtains, the amount of heat you will lose to the window during the night will be minimal.

Consider the sides. The rod should go beyond the window by two to three inches on either side by all means possible. You should also confirm whether your blackout curtains have a magnetic strip since not all have them. Magnetic strips are used to hold the blackout curtains against the window frames and block the light. Once you notice they are present in the curtains, let them be installed on the window frame to make a seal. Note that the magnetic strip on the frame should not be visible when the curtains have been pulled back and are open.
Fabric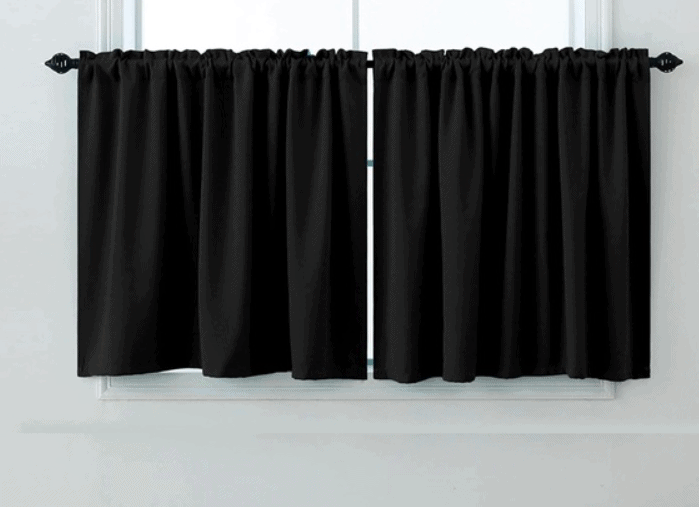 If you ask around, the best short blackout curtains are made from densely woven fabric. The latter may entail polyester or thick cotton, which do not let light get through their fibers. To increase light blocking and noise reduction effectiveness, consider getting an acrylic-coated poly or cotton lining. Anyone whose goal is to keep their room well-insulated should get an additional thermal layer.
Price
What is your budget? This should be the first question you ask yourself. That way, when perusing through the internet looking for the price range of the best short blackout curtains, you know how far you can financially stretch yourself.
Style
We are fond of the numerous style options revolving around fabric and color. However, there is the need to know that how curtains are or can be hung is part of their style. In that regard, the most common styles for short blackout curtains are by using a rod pocket or grommets. The latter are holes where curtain rods pass through.
This style requires placing the rods high up to prevent the grommet holes from hanging over the window and let light in. Note that these metal accents are great for modern rooms. Rod pockets, on the other hand, let the curtain rods slip into the curtain's fabric. As a result, the light doesn't come into the room.
If you are going for a classy style, this is the one for you without a reasonable doubt. Also, you may come across blackout curtains with a weighted bottom hem or a magnetic strip which do not allow light seepage. While installing this type of curtain, you must follow the instructions to ascertain that the magnetic strip is not visible when they are drawn back. Ensure that whatever style you choose fits the room accordingly; you don't want any regrets anyway.
Functions of Short Blackout Curtains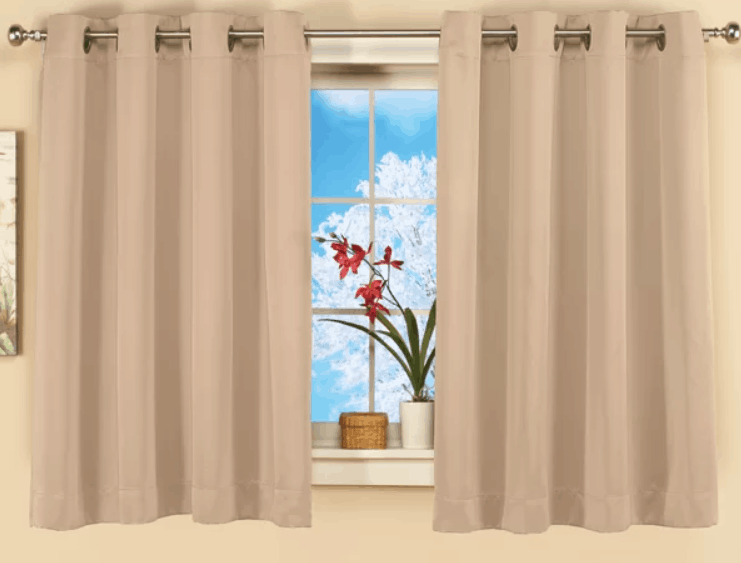 The following are some of the functions:
They Block Light
Do you have night shifts? If so, these curtains are what you need. Some blackout curtains block out up to 99% of light; therefore, you can sleep like a baby even during the day. Your unusual sleeping habits are probably taking a toll on you; hence, why should you continue making yourself suffer? Get a pair of blackout curtains today, and you will barely tell the difference between day and night time.
Moreover, they will reduce any health problems whatsoever you may be having. In addition to that, if you live in a region where the sun is usually out for 24 or more hours, these curtains will certainly come in handy. Also, if you love having friends over for movies or have a home theater system, blackout curtains should be your go-to.
They Block Noise
If you live in an area with a lot of noise and are tired of it, short blackout curtains will make your life more bearable. Silence is beautiful, and we all yearn for it sometimes. Who would have thought curtains would be the solution to such problems? These curtains can block 40% of noise; thus, you don't have to move out.
They Save Energy
During the winter season, these curtains can trap heat while keeping the light out. Besides that, they can keep the heat out during the summer. That is a win-win situation. Did you know that 10 to 25% of thermal energy loss goes out the windows? However, having short blackout curtains cut this down by 25%. As a result, your utility bills, not forgetting greenhouse gases, go down. What are you waiting for? If you are keen on using things that are friendly to the environment, this should be on your list.
The Short Blackout Curtains We Render Best
Why We Love Them
One thing is for sure everyone struggles to sleep even though not every day, on some days, especially when there is light seeping in. Fortunately, short blackout curtains prioritize your sleep and your health at large which is a plus. We love the fact that they mimic the absence of light, thus making any time sleeping time.
In addition to that, they come with noise-reducing properties, which are very instrumental in making your sleep worthwhile. Also, there are so many options for you to choose from in the market. Therefore, as much as it can be hard to decide, at least you have options!
NICETOWN Grommet Top Short Blackout Curtains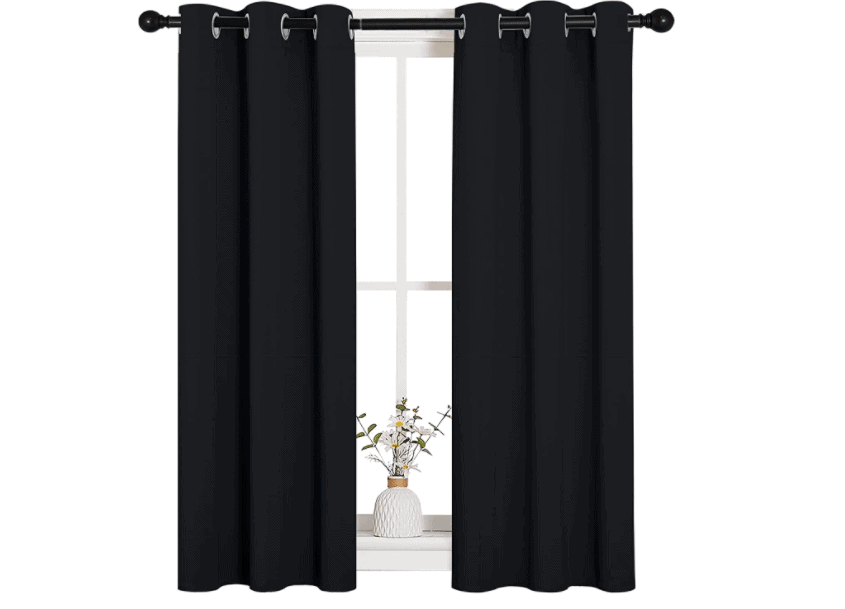 You most certainly will fall for this pair because they are made with the same material both inside and out.
Pros
They have a color palette of fifteen colors from which you can choose the color of your dreams. Remember, black blackout curtains are not the only option you have got.

Easy to maintain.

They are durable.

They have the grommet style, which is quite renowned and, as a result, make the curtain fold beautifully while maintaining a clean look.

They have many size options.

Wrinkle-free.
Cons
They have no thermal lining, which insulates you from cold and heat.

Each curtain is 42 inches wide, but it doesn't fit the entire window because the drape's ends are folded.

Darker colors have a better effect than lighter ones.
MIUCO Textured Short Blackout Curtains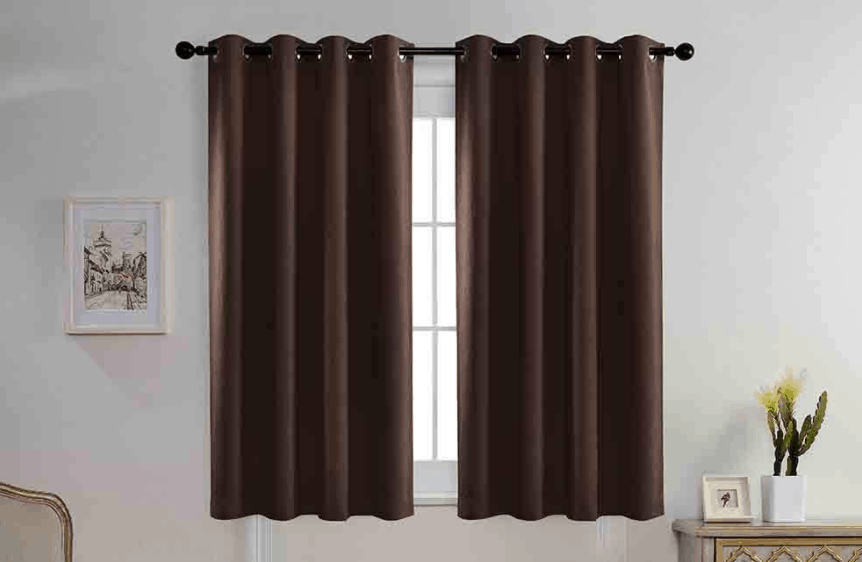 Are you going for stylish curtains or that luxurious vibe? This is it.
Pros
Save you a few coins since they are energy efficient.

They have color options, including sky blue.

Easy to clean or dust.

They have a great texture which makes them unique.

Reduces noise.

Go with any decor.
Cons
They require no bleach.

Costly. They cost double the usual curtains in the market.

Light color options don't block light as well as darker color options.
Yakamok Short Blackout Curtains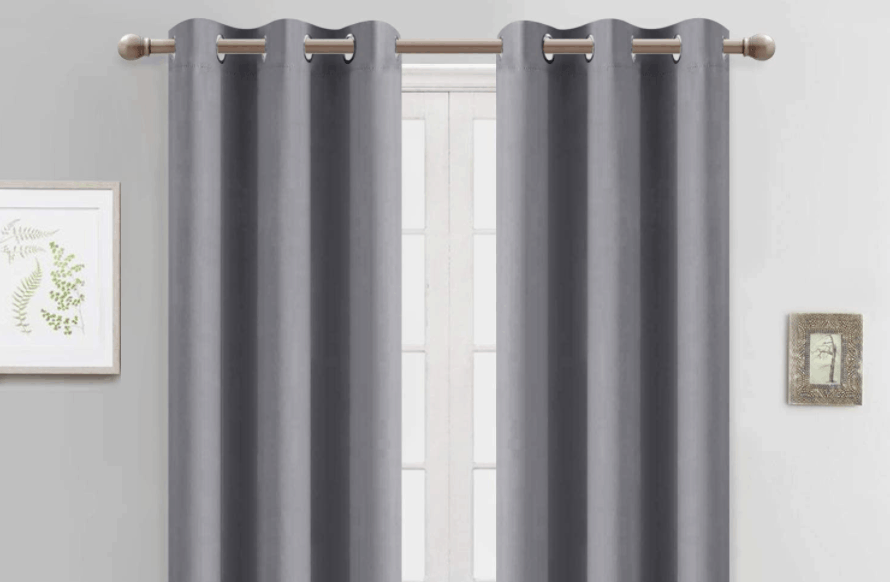 These curtains are a good choice for anyone going for a soft yet elegant pair.
Pros
They have noise-reducing effects.

Installation is easy.

Block up to 85 to 99% sunlight and 100% UV rays.

They are made with the same material on both sides.

They have an amazing fabric.

They are machine-washable.

They have matte silver grommets, which add to the aesthetic of a room.

Available in twenty-three different colors.
Cons
You have to air them before installation- something that happens to almost every product being shipped.

They require no bleach.

Some color descriptions may fail to match the actual color. It would be best if you focused on the image, not the description.
RYB Home Short Blackout Curtains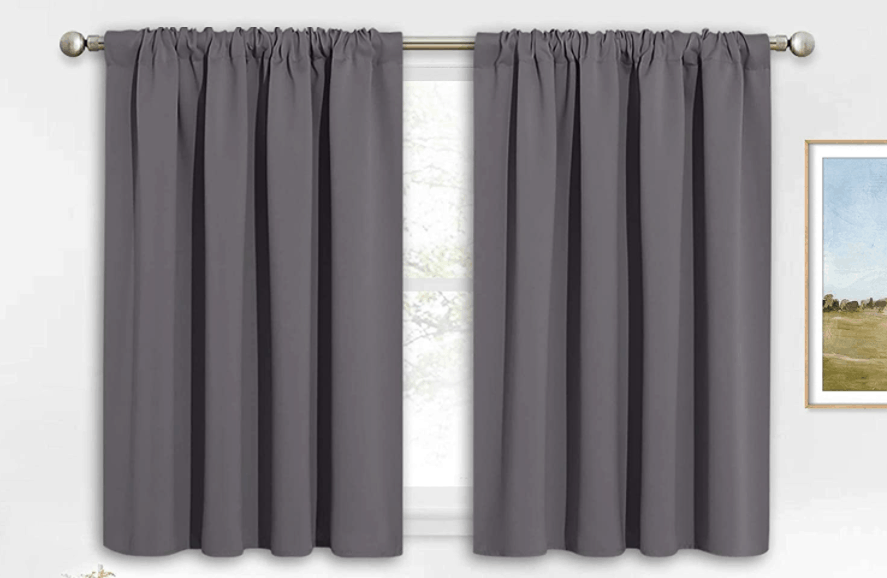 We all need a pair of curtains that would look great in any room, and the RYB home short blackout curtains are it. That way, they could be on rotation to spice the house up.
Pros
They offer maximum privacy.

They are versatile since they can be used as curtains or tiers

Both sides of the curtain are similar.

Machine-washable.

They block 85 to 95% of sunlight and UV rays.
Cons
You can only use non-chlorine bleach on them.
Utopia Short Bedding Blackout Room and Thermal Insulating Window Curtains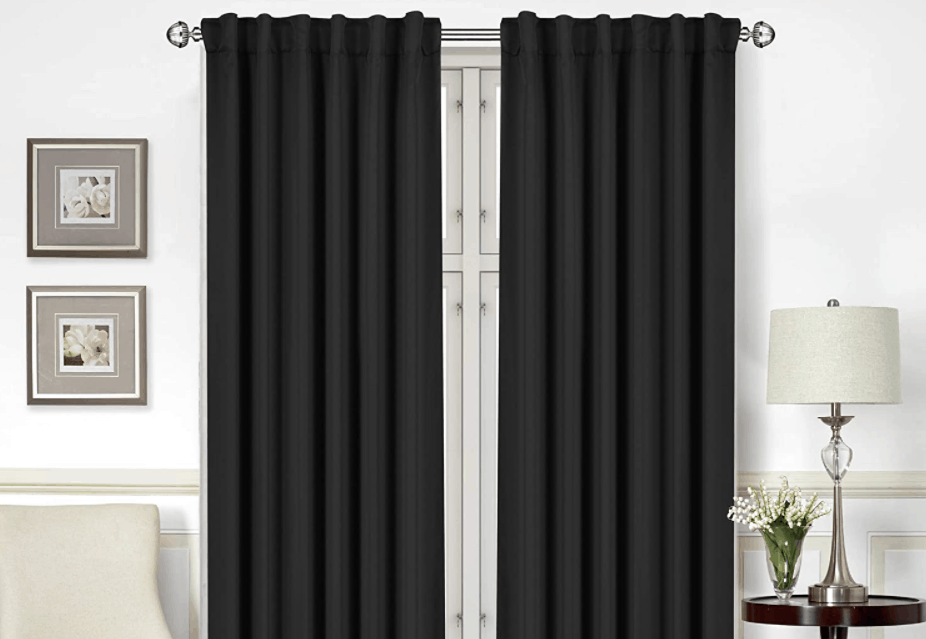 These curtains are easy to install; therefore, you won't struggle to get things done.
Pros
Reduce up to 60% of noise from outside.

Machine-washable.

They come with two-tie backs, which are used to close the blinds during the day.

They have a thick material to block out up to 99% of sunlight.
Cons
They could be very heavy.

The sizing is not consistent, especially if you order many at a go.
Frequently Asked Questions About The Best Short Blackout Curtains
Some of the questions include:
Question: Do Blackout Curtains Smell?
Answer: Yes. You have probably seen this online while looking for curtain or brand reviews. This is nothing to worry about since it comes about due to the manufacturing process. Before, the manufacturing process entailed coating a piece of polyester fabric with acrylic foam and adhesive layers to bring about black properties.
Afterward, the curtains were sealed in plastic packaging and only opened by the end-user. This comes in handy, especially while in transportation. When they get to you, they usually reek of chemicals. However, it doesn't last longer than a few minutes. Note that this smell can develop with time as the curtains are exposed to the sun and the chemicals still present within them.
Question: Do Blackout Curtains Work?
Answer: Of course, they do live up to the hype. However, this is only possible if you go for the best ones yet. For example, the ones we have recommended above. Ensure you go for quality over everything; please don't compromise.
Blackout curtains are made of woven fibers which are opaque; hence, no one can see through them. If you have never used them before, we are certain that they will blow your mind away matters sound blocking and trapping heat.
Question: What is the Best Color for Blackout Curtains?
Answer: The dark-colored curtains used to be deemed best because they provide the ultimate protection from sunlight; thus, bringing about a total blackout effect.
Not to mean that other colors don't do the job. They do. However, they won't block out as much sunlight as the darker blackout curtains without a dark lining. If anything adding the latter makes them block 100% light. The secret is to ensure that the layer closest to the window is made with the crucial fabric that blocks the light out.
Best Short Blackout Curtain Ideas: Conclusion
The above is information about the best short blackout curtains ideas. If you have been looking for them and are probably thinking of giving up, we are confident that this article will help. Remember, quality speaks volumes. If you want to buy the best curtains, ensure that you have enough resources to cater to the bill.
In addition to that, you won't have a chance to go for low-quality short blackout curtains. When making that purchase, ensure that your curtain matches your style and the like; after all, you would certainly want something to complement the room. Also, feel free to go for bold colors, too, since they work the same way as long as they have a dark lining.