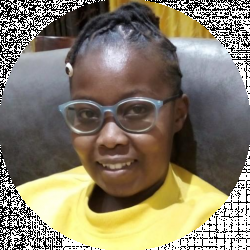 Latest posts by Jeanne Murugami
(see all)
The modern basement serves many purposes. While some basements are storage spaces that are rarely used, today, you'll find that many homeowners are using their basements as offices, workshops, and even bedrooms. This means that the TLC that you give the rest of the rooms in the house needs to extend to the basement. 
For a space that is used regularly, this TLC will inevitably include window treatment, and that's why we have compiled the following ideal basement window curtains to assist you.
The Best Amazon Basement Window Curtains
When you finally decide to dress your basement windows, you'll find that you have a wide range of products available online. To help you in your search for the best basement window curtains, read on to see our review of the best that Amazon has to offer.
We've reviewed them according to features i.e. blackout and size, i.e. best for large and small windows, the budget, and of course best overall.
Mrs. Naturall Basement Window Curtains 24 Inch: Best Overall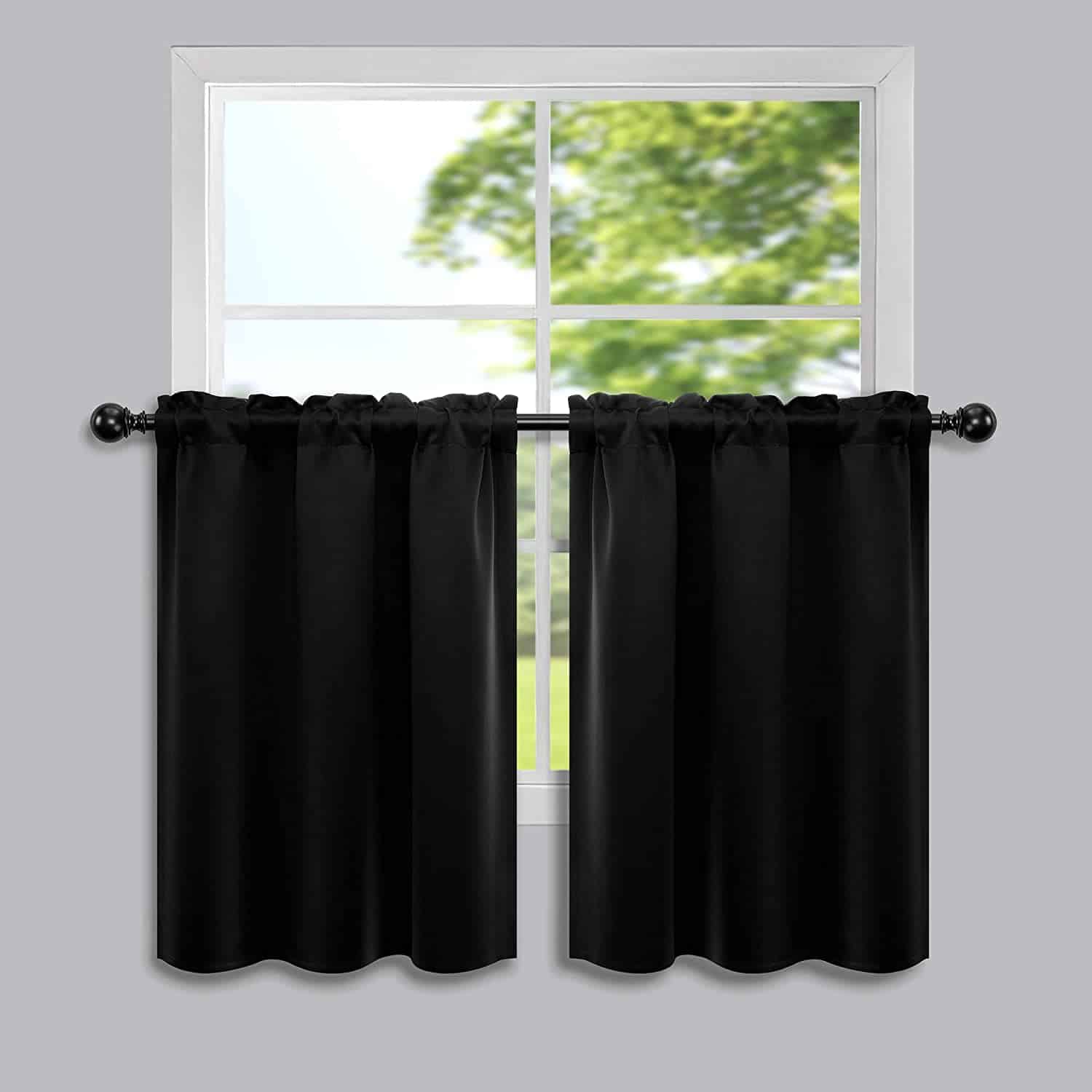 When looking for a basement curtain that will give you many years of service, you should consider buying these 24-inch basement window curtains by Mrs. Natural. Measuring 34×24 inches, these curtains are made of a triple-weaved textured microfiber fabric to guarantee durability.
If you use your basement as a bedroom, these black curtains are ideal for their extraordinary blackout abilities. In addition to blocking out over 90% of light, they also block out heat and with them installed, you'll spend less on house cooling expenses.
While they're marketed as basement curtains, these products are pretty versatile, and you could use them to cover other small spaces. The curtains are also low-maintenance as you only need to machine wash them in cold water.
Pros
Great blackout ability

Energy-saving because of their room-cooling functions

Durable and low-maintenance – can be machine-washed

Curtains are competitively priced
Cons
Complaints about incorrect curtain measurements
Valea Home Blackout Tiers Curtains: Best Basement Curtains For Small Windows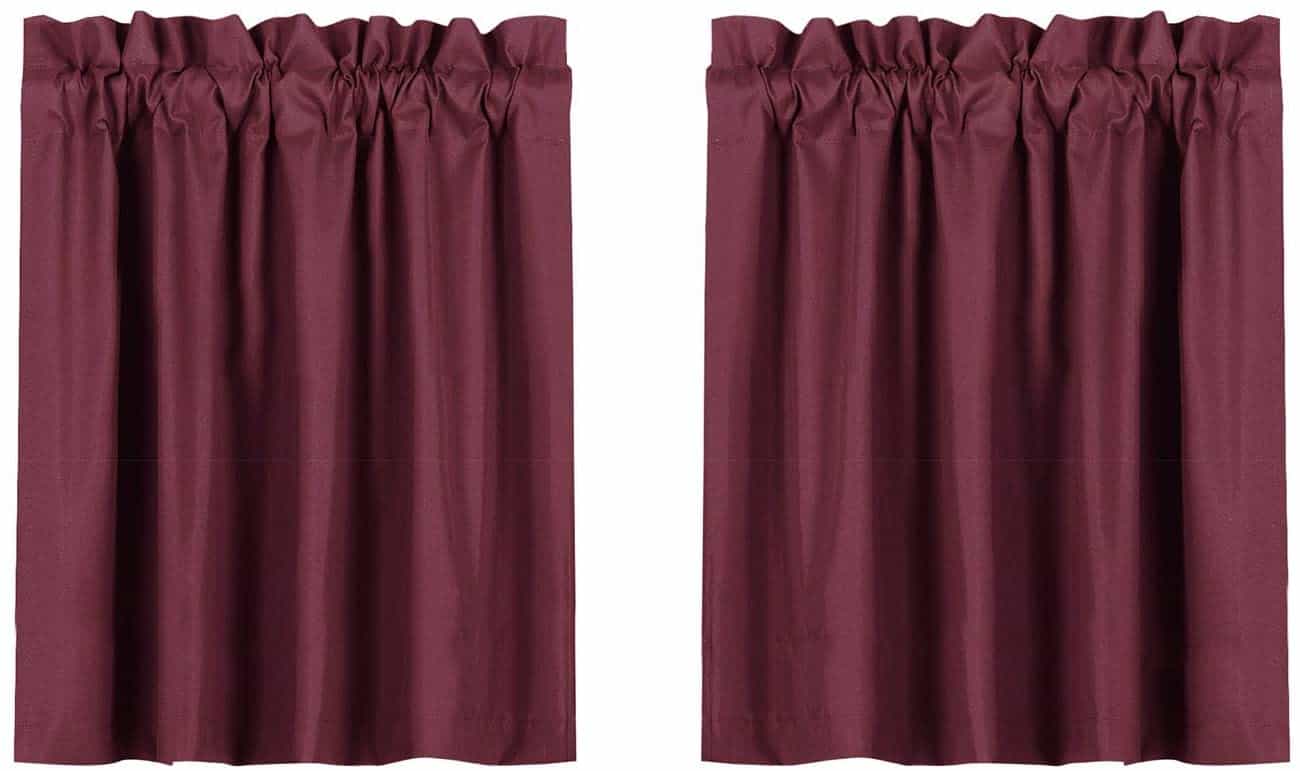 When you're looking for a basement curtain that turns day into night, you should look no further than Valea Home Blackout tiers curtains. Available in gray color and measuring 30×24 inches, these small curtains can completely block out the light from your basement, and with them installed, you can enjoy your afternoon siesta in peace.
The curtains also block out noise, and the thick microfiber material they are made from is water-resistant. You never need to worry about your books or furniture getting soaked by rainwater as long as the curtains are closed. The curtains are easy to install and remove and, being machine washable, and they are also easy to take care of.
Pros
Curtains have 100% blackout ability

Waterproof and energy-saving

Microfiber material used is durable

Costs little in maintenance

There are six sizes to choose from
Cons
The material used is a bit stiff.
Gray Window Valances: Best Blackout Basement Curtains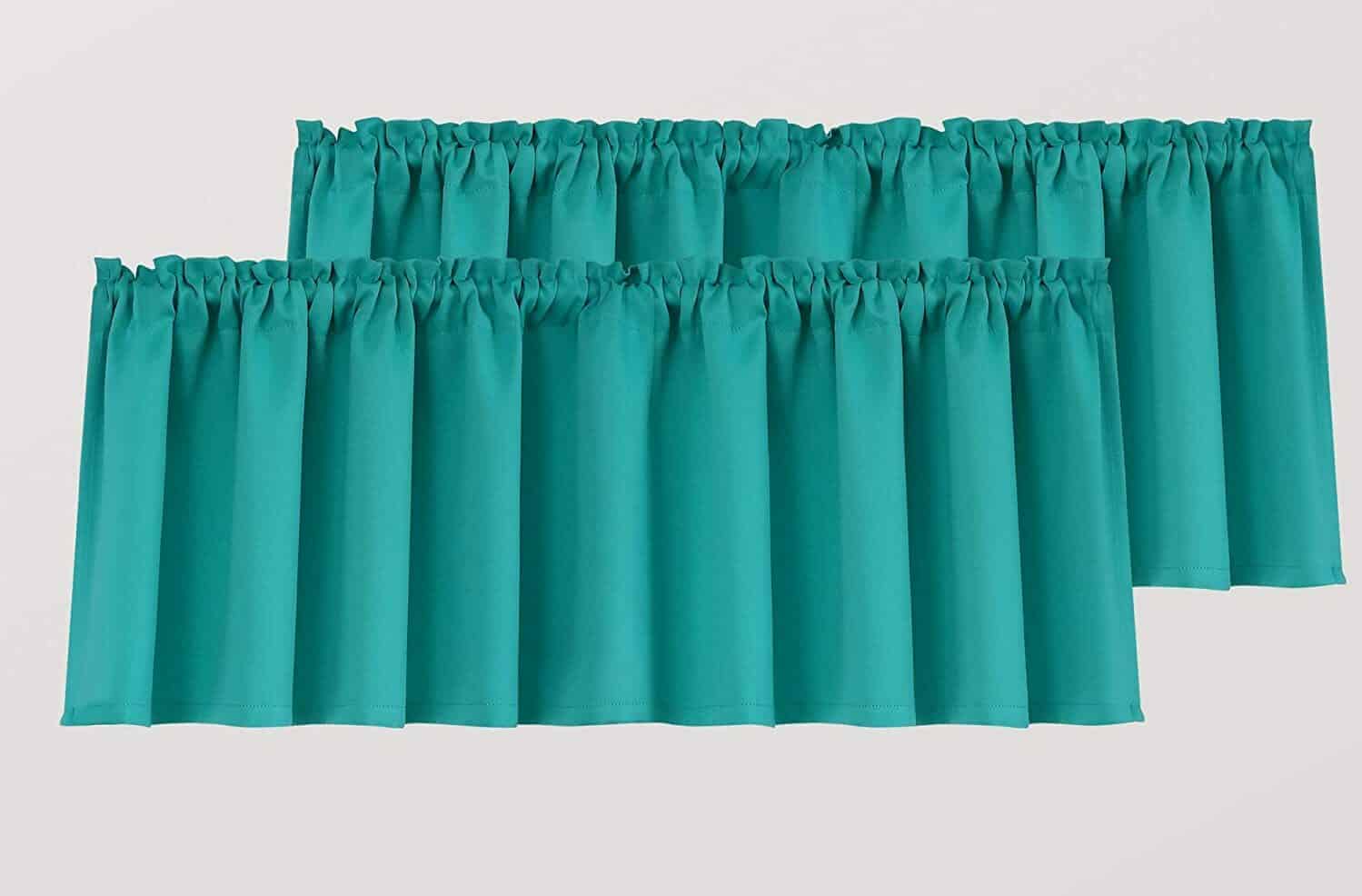 Also manufactured by Mrs. Naturall Textiles, the Gray Window Valances would be a great addition to your basement. Gray in color and measuring 52×18 inches, these valances are made from triple-weaved textured microfiber fabric.
This fabric makes the valance soft yet thick enough to withstand years of rough use. The material has excellent light-blocking abilities and will also save energy as it also blocks out heat. Taking care of these valances is easy as they only need to be machine washed.
Pros
Thick, soft, and durable material

Substantial blackout abilities

Energy-saving

Easy maintenance
Cons
Curtain measurements are not always right
SeeGlee Curtains: Best Basement Curtains for Tall Basement Bathroom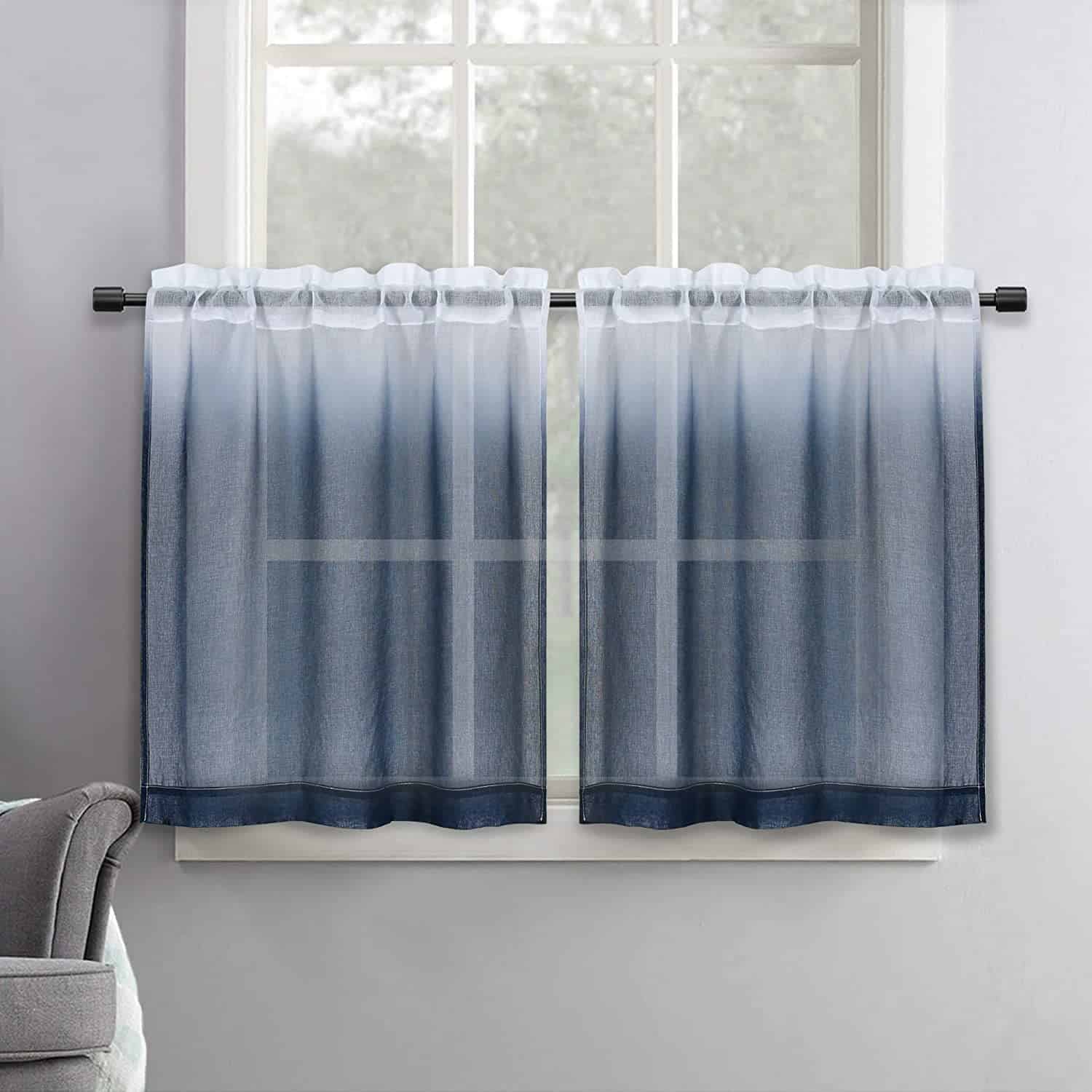 Basements can be dark and dour tiny spaces and, if your basement fits this description, you should consider cheering up the SeeGlee curtains for the basement bathroom.
As the name suggests, these are sheer curtains, and they are made from faux linen polyester. Measuring 24×24 inches and weighing a mere 3.2 ounces, these are lightweight curtains, and they might be what you need to brighten up your basement. The curtains are elegantly designed and allow natural light to flood your room. Maintenance is also easy as the curtains are machine-washable.
Pros
Elegant and attractive design

Curtains allow plenty of natural light

Curtains are low-maintenance
Cons
Material is too light for a product meant to preserve privacy
Grey Valances: Best Budget Basement Curtains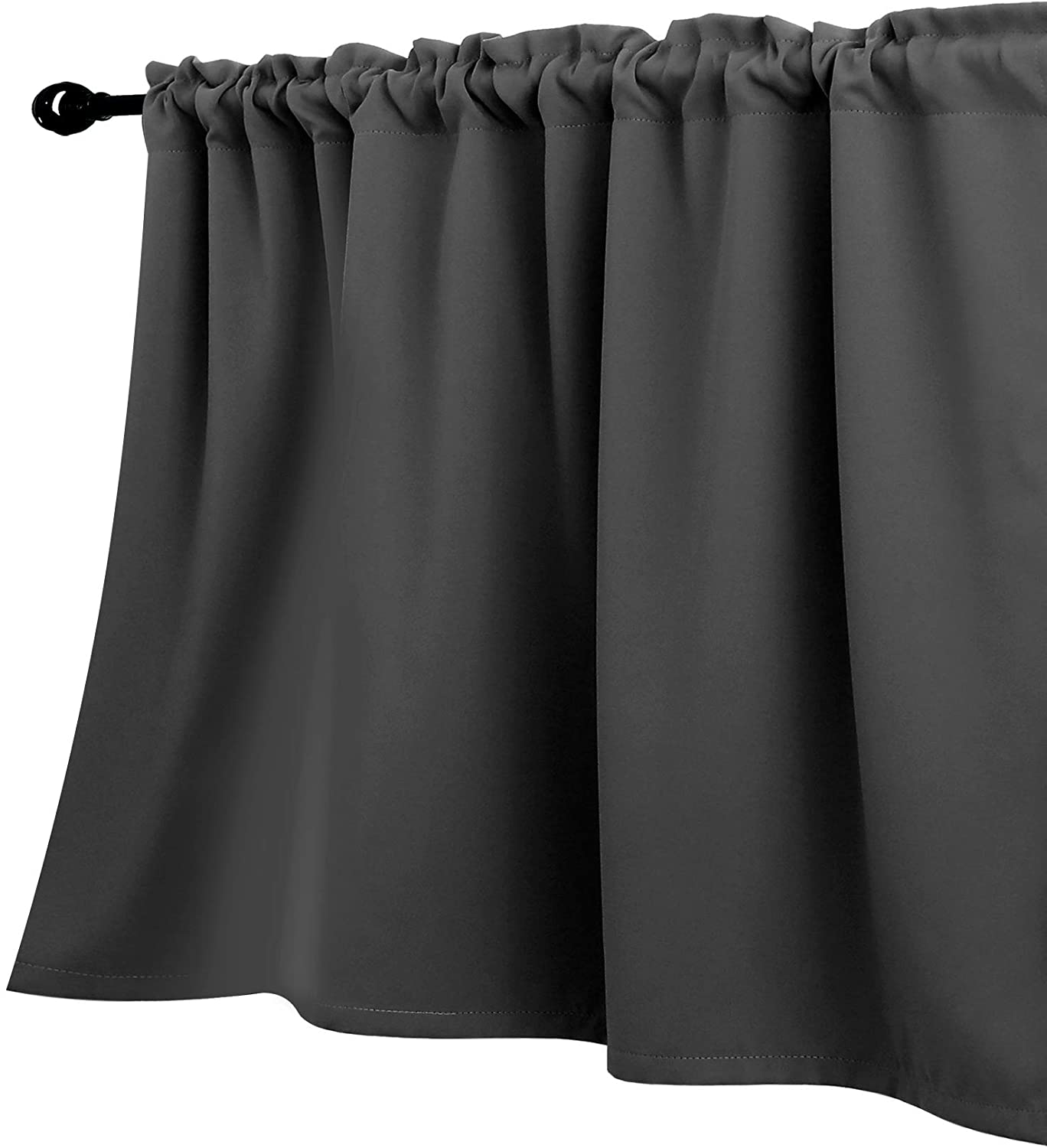 If your basement window is super-small and you're wondering what to cover it with, the Grey Valances might be the answer. Manufactured by Koufall Textile and measuring 52×18 inches, these curtains are made from triple-weave blackout fabric.
Available in dark gray, these curtains have astounding light-blocking abilities and are ideal when you want total darkness in the basement. They are also great for privacy as the view from the outside is blocked. The craftsmanship is good, and the appearance of the material is fabulous. Since you can machine wash these curtains, they are also easy to maintain.
Pros
Good and durable fabric

Good light-blocking abilities

Easy maintenance

Reasonably priced
Cons
Complaints about some curtains being shorter than advertised
Common Challenges in Choosing Basement Window Treatments
Before deciding how you're going to dress your windows, it's essential to know the challenges you're likely to encounter.
While you might desire to dress your basement windows in the same style as the windows in the rest of the house, you'll find that basement windows present unique challenges.
One of the biggest challenges is the size of the basement windows. These windows are usually tiny, and most are positioned high up on the wall. The size of the windows limits the amount of natural light available in the room, and this could prove a massive challenge if you intended to convert your basement into an office. The need for abundant natural light is, therefore, an important consideration when choosing window treatments.
Since most basements are located underground, they receive less-than-adequate light and tend to be damp. When choosing window treatments for such spaces, you need to consider the need for creating a comfortable space that is both well-lit and warm enough.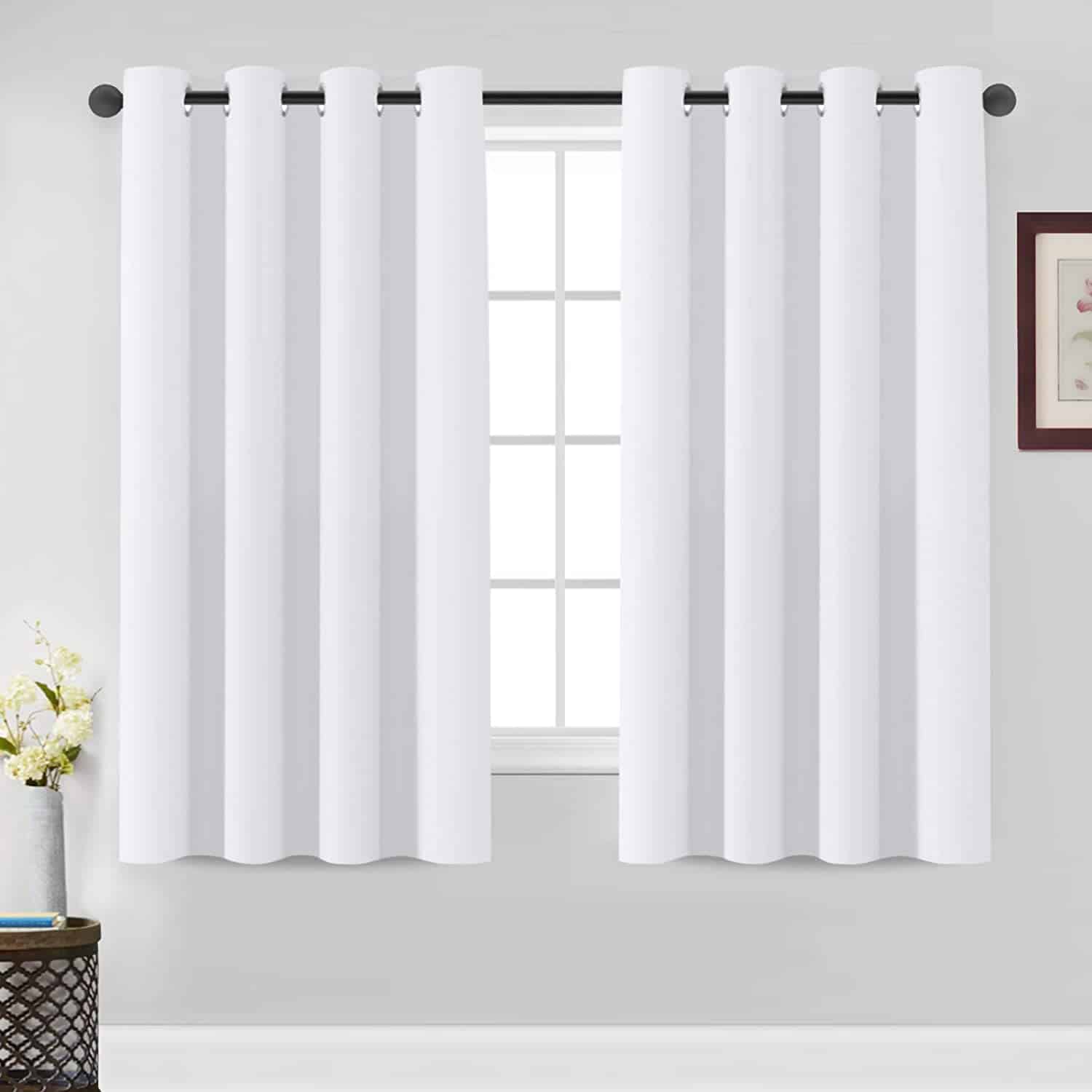 How to Style Basement Window Curtains
The basement window treatments you choose should be both practical and aesthetically appealing. Fortunately, regardless of the shape and condition of your basement, you are never short of choices, and the following ideal basement window curtains ideas should help turn your basement into a beautiful and comfortable living or working space.
Light It Up With Sheer Curtains
If you're using your basement as an office, you need all the natural light you can get, and one sure way to make sure that you're never deprived of light is by installing sheer curtains. While you could opt for sheer whites, you could also choose sheers of other colors. Sheer curtains are suitable for accessing natural light while providing the privacy you need.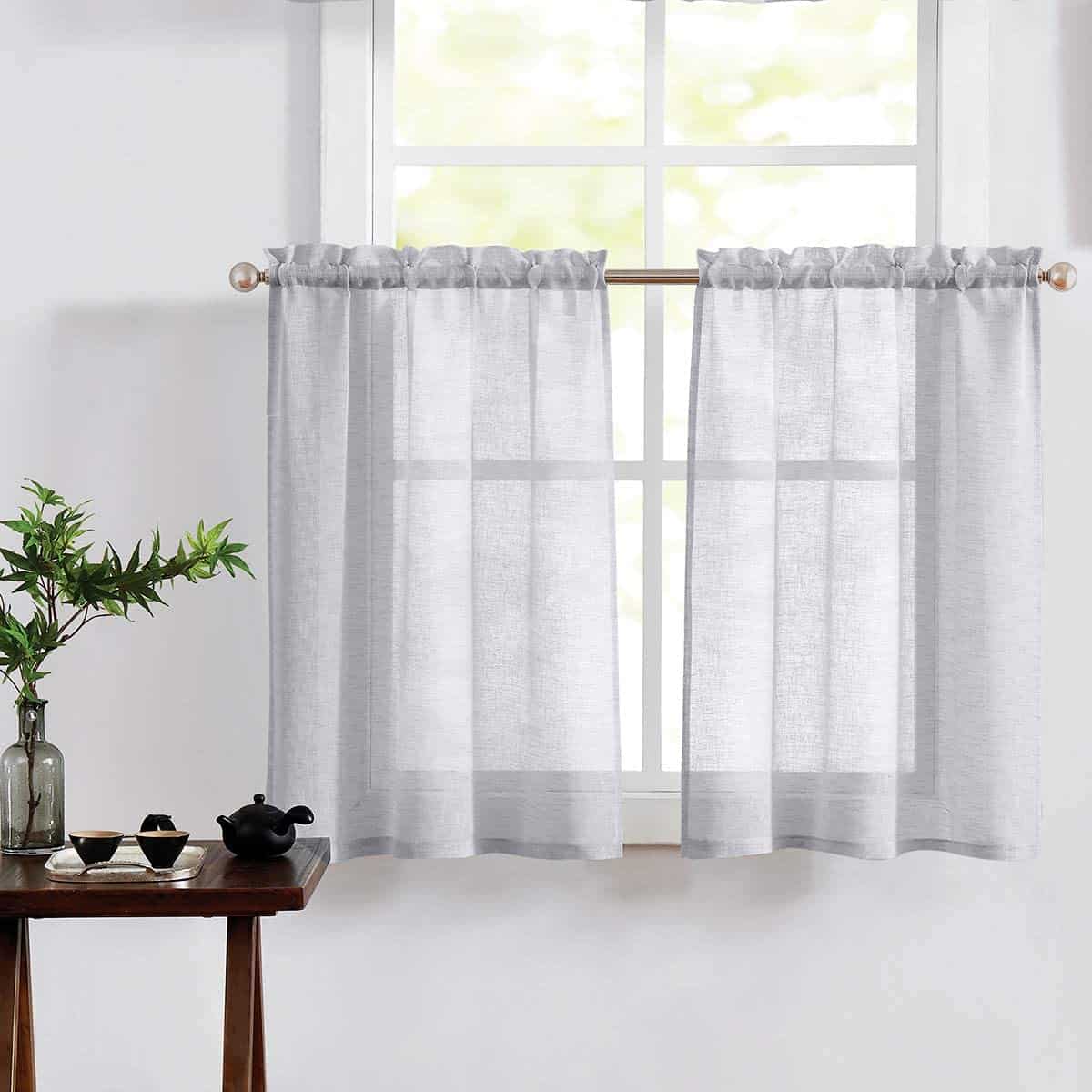 Warm It Up With Heavy-Fabric Curtains
If dampness and wetness are the two words that describe the condition of your basement, you risk encouraging the growth of mold and mildew unless you can keep the place warm. To guard against the elements, curtains made of heavy fabric are ideal.
By keeping the cold away using heavy-fabric curtains, you'll not only be protecting your health but will also save on house-warming bills. To ensure that the curtains you choose are both practical and beautiful, you should consider getting floor-length curtains even if you have small windows. Such curtains create the illusion of large windows and are ideal for beautifying your basement.
Go Digital with Auto Curtains/Blinds
To give your basement windows a touch of class and modernity, how about installing automated curtains or blinds? Such curtains or blinds are especially ideal for people who spend their working hours in the basement before retiring somewhere else in the house.
If you just retired to bed on the second floor of your house, you no longer need to go to the basement to find out if the windows are drawn. By using your smartphone or other mobile devices, you can close and open curtains and windows in your basement, regardless of your location.
Create the Ideal Theater Atmosphere with Blackout Curtains
As noted above, modern basements are used for many purposes, and today, you'll find families that have converted basements into entertainment areas.
Should you be using your basement as a home theater, you need to keep out the sunlight, and the ideal way to do this is by using blackout curtains. There are blackout curtains that have 100% ability to block sunlight and therefore create the aura of an actual theater. Moreover, these curtains can also block out the heat.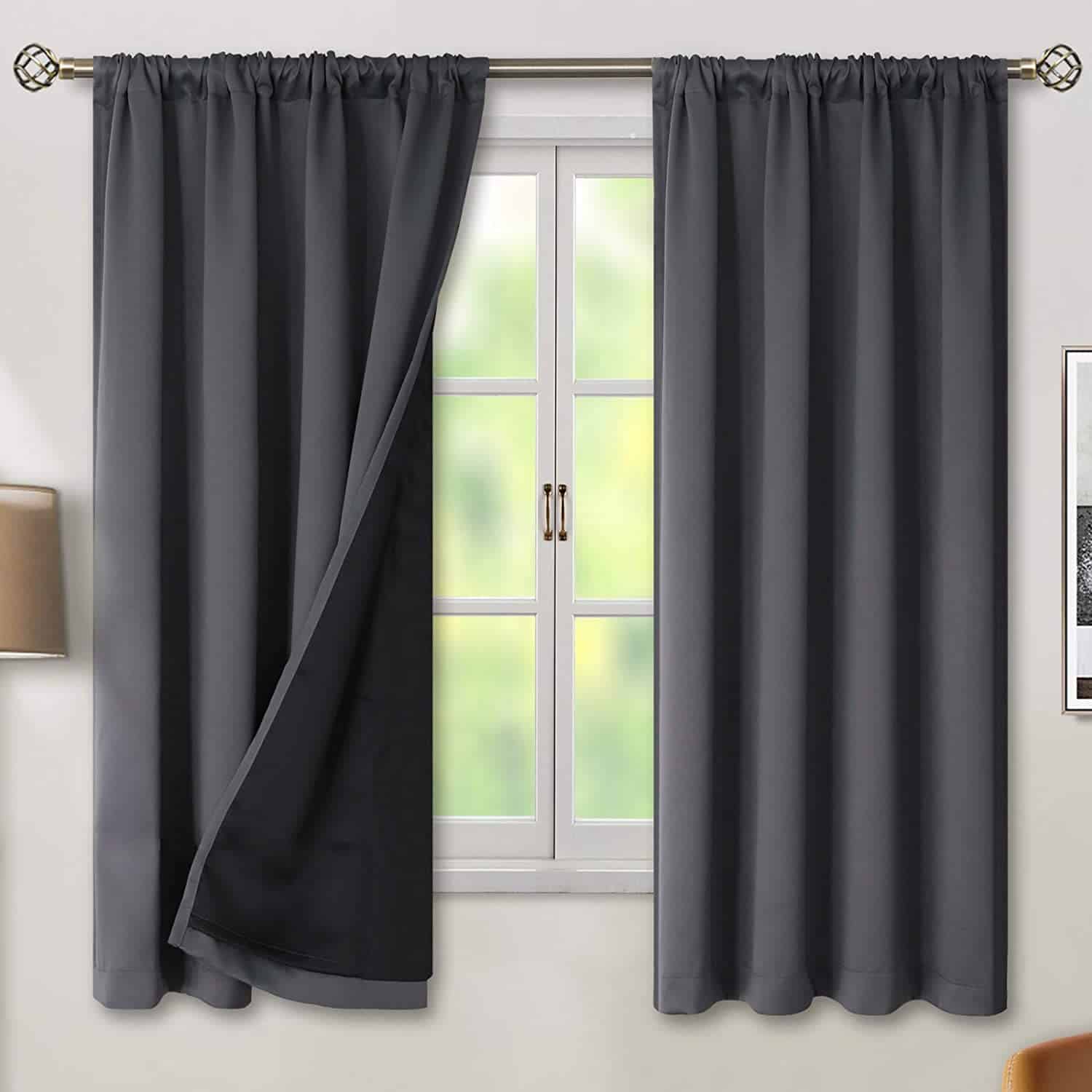 Add a Touch of Nature with Woven Wood Blinds
To welcome nature in your basement, you might have some potted plants, but you can take this a notch higher by adorning your windows with woven wood blinds.
Since these blinds are available in natural colors, they easily blend in with the rest of the furniture in your basement. Additionally, most wooden blinds are affordable and easy to maintain. Unlike cloth curtains which might have to be dry-cleaned, woven wood blinds just need to be wiped with a cloth once in a while.
Get UV Protection with Window Shades
Covering the space with window shades is a great way to beautify the basement window while ensuring UV rays are kept out of your room. Shades can darken a room or create a complete blackout environment. With shades installed, you're assured that you won't get hurt by UV rays and that your furniture won't get faded or discolored because of exposure to the sun.
"Magnify" Tiny Windows
Regardless of the adornments that you put in your basement, the room will still look dingy when the windows are small. To improve the appearance of the room, there are several things you can do to make the windows look larger than they are, including the following:
Installing Window Shutters: Window shutters usually cover an area larger than the space of the windows and therefore give the impression that the window is more extensive than it is. Window shutters are also suitable for light control and privacy. By opening the shutters, you get maximum sunlight, and you can create a private environment by closing the shutters.
Installing Tall Faux Shutters:

When your window is small, and you want it to appear taller than it is, you could also install faux shutters that are taller than the windows. If your shutters extend to the floor of the basement, anybody looking at them will get the impression that your windows are that tall, and this enhances the appearance of your basement. Faux shutters are affordable because most of them are made from recycled materials, and they are also easy to maintain.

Installing Mirrors above the Windows:

Should you have space above your basement window, you can make the window appear larger than it is by covering that space in mirrors. When installed professionally, nobody can tell where the window ends and where the mirror begins.

Use Blinds to Create False Windows:

If your basement has one tiny window, you could create the impression that you have more windows by using blinds to cover the spaces on either side of the window. By ensuring that you get the measurements right, somebody looking at the spaces covered in blinds will assume that those are windows.

Apart from creating the illusion of additional windows, the blinds you choose will add color to the room, and it's therefore helpful if you choose blinds that tone with the furniture in your basement.
FAQs
Question: How Do I Protect My Basement Windows From Water Damage?
Answer: Since some basements are located underground, it is easy for the windows and the rest of the room to suffer from water damage. However, you can protect your basement windows by ensuring that your gutters, downspouts, and the entire drainage system is working well to prevent floods. Installing waterproof curtains would be an added advantage.
Question: How Do I Improve the Appearance of My Basement Window?
Answer: Because of their small size, basement windows are not likely to look appealing unless you take steps to make them look bigger. There are many ways to do this, including the use of mirrors and the installation of faux shutters.
Question: What Is the Ideal Color for a Basement Window Curtain?
Answer: When it comes to color, there's no perfect color as what works in one basement might fail to work in another. Before settling on a color for your curtain, you need to look at all furniture items in the basement to confirm that the color you choose fits in with the other things in the room. Although the color you choose is a matter of personal preference, you should make sure that it matches the room's décor.
Question: What Are the Best Materials for Basement Curtain Windows?
Answer: When choosing materials for your basement windows, you have a wide variety of choices, but there's no single material that can be considered the best. When choosing your window dressings, there are many factors to consider, and you'll find that while a particular material could be great at some functions, it might not be good enough for other functions.
If, for instance, you wish to increase the amount of light that your basement receives, you might consider investing in sheer curtains. On the other hand, if you desire to limit the amount available in the room, you might have to consider blackout curtains made from heavy fabrics.
Question: How Do I Choose Curtain Rods for My Basement Window Curtains?
Answer: When choosing a rod for your window curtains, you could select either modern tension rods or traditional ones. Traditional rods usually require plenty of drilling, and you need to have the tools to help you install them. It's also important to remember that you might not be allowed to drill walls if yours is a rented property. Tension rods are much easier to install as they do not require any drilling. Moreover, they are expandable, and you could adjust them to fit the exact measurements of the curtain you wish to hang.
Conclusion
As you can see from the basement window curtain ideas we've compiled, it's not too hard to make your basement window both functional and beautiful. While one curtain style could look ideal for your property, there's no harm in experimenting with different styles before settling on what you consider the best.
When shopping for basement window curtain materials, look out for products that are both price-competitive and durable. Therefore, you should invest in products that can withstand exposure to the elements (such as waterproof curtains) and those that do not require too much in the way of maintenance.
Since the basement might also be a place where you'll spend a lot of time, the window furnishings should be comfortable and aesthetically pleasing. When you do your homework well, you'll be pleasantly surprised to see the bland space in your basement turned into the most elegant room in your home.
For our top pick, we recommend Mrs. Naturelle's triple-weaved, textured microfiber fabric basement curtains that are guaranteed to be durable. The black color blocks out 90% of light and heat in addition to saving you money on cooling bills. These would make an ideal bedroom curtain for your space even if it is a finished basement.