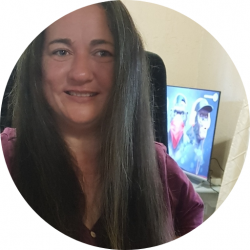 Latest posts by Caroline Lambert
(see all)
Please enter the best gold curtain ideas when it comes to pizazz, glamor, and all things gorgeous! The color of happiness and absolute elegance is a gateway to turn your home into a fabulous space. Gold curtains can match many decorating styles and turn the ambiance up to another level.
I'm not exorbitantly feminine, but I'm crazy about making my home pop. I want to feel the elements bouncing off each other in the rooms, and I want the curtains to enliven the space to animate everything and create a realm of beauty, relaxation, and creative craftsmanship.
I don't take interior decorating lightly. I'm a snob in my social crowds, and my styles go beyond what others are capable of imagining. Gold is the one color that stole my imagination because of its connections to all things expensive but elegant, masterful but achievable in any home.
I look beyond the realm of possibility with the color to see how I can decorate my home like an emperor's palace without emptying my monetary temple. Ironically, I want to add a wealthy tone to my home without spending my entire life savings.
The two main reasons I choose the best gold curtain ideas below are that they should be affordable and fit into any background to keep my home flexible with future designs. I've outlined the curtains that fit into my idea of combining affluence and pliability to your pocket so you can also hop aboard the golden chariot.
Why Choose Gold?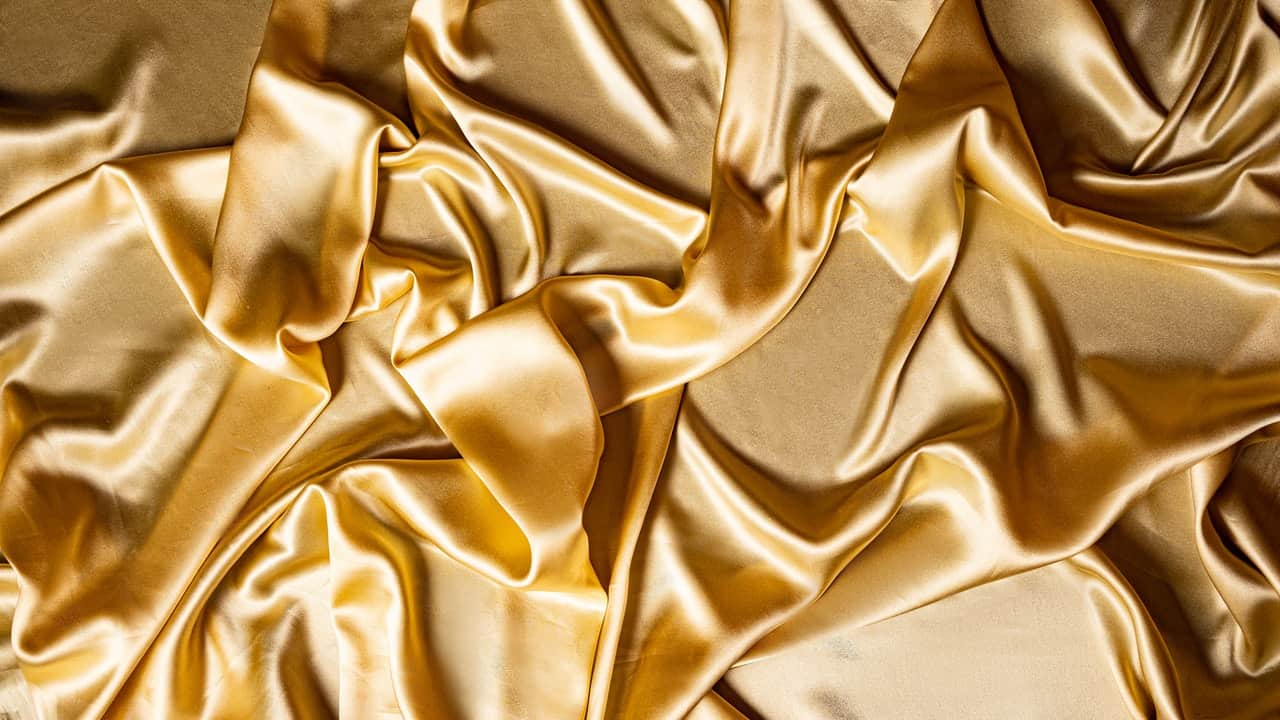 If I placed a silver bracelet next to a golden one, which one would you prefer? Why? Gold has a mystical aura about it. It exudes an attraction that plagued ancient cultures, from the Romans to the Egyptians more than 4,000 years ago. Humans were always attracted to precious metals and still are today.
Gold is the true international currency because it may lose some value in the short term, but it will gain value again. It will always be a valuable precious metal, and investors scoop it up as they get hold of it. How can we argue with the magnetic attraction everyone feels toward gold?
Other than gold being a sure investment, the color is just as valuable. The color wasn't just ornate for the ancient Egyptians. It was also used to create decorations and interior designs in the temples and clothe the Pharoahs. The color was considered divine, being as close to the Gods as possible.
Millennia later, gold is used in numerous interior design trends, namely:
The list will go on forever because many designers used gold throughout the ages to create opulent masterpieces in architecture and interior styles. Some interior styles aren't suited to a gold hue, namely:
Farmhouse
Lakeside
Rustic
Palladian
Post-modern
Regence
Country
The color also carries many meanings and can speak to anyone. Gold echoes luxury, wealth, happiness, sophistication, optimism, elegance, cheerfulness, antiquity, somber, conservative, caring, courage, passion, wisdom, and illumination. Additionally, it has this healing aura about it, which may be due to the Greeks.
The Greek gods were also often depicted with golden hair and clothing. They believed the color gold represented the sun god called Ra. Gold was symbolic of Ra's warm, wise, and healing light that reached the earth. It's also a spiritual aspect of "all that is or exists."
Gold is magnetically influential over everyone to some degree. It's the color that brings "all that is" together to create magical moments filled with elegant optimism. The healing energy from gold can also elevate your home, allowing everyone to feel at peace when they enter it.
The Best Gold Curtain Ideas for Your Home
The reasons for designing your home with gold colors are countless, and I've chosen these beautiful curtains by keeping my price below $50, and I want flexibility in mind.
1. Contemporary Elegance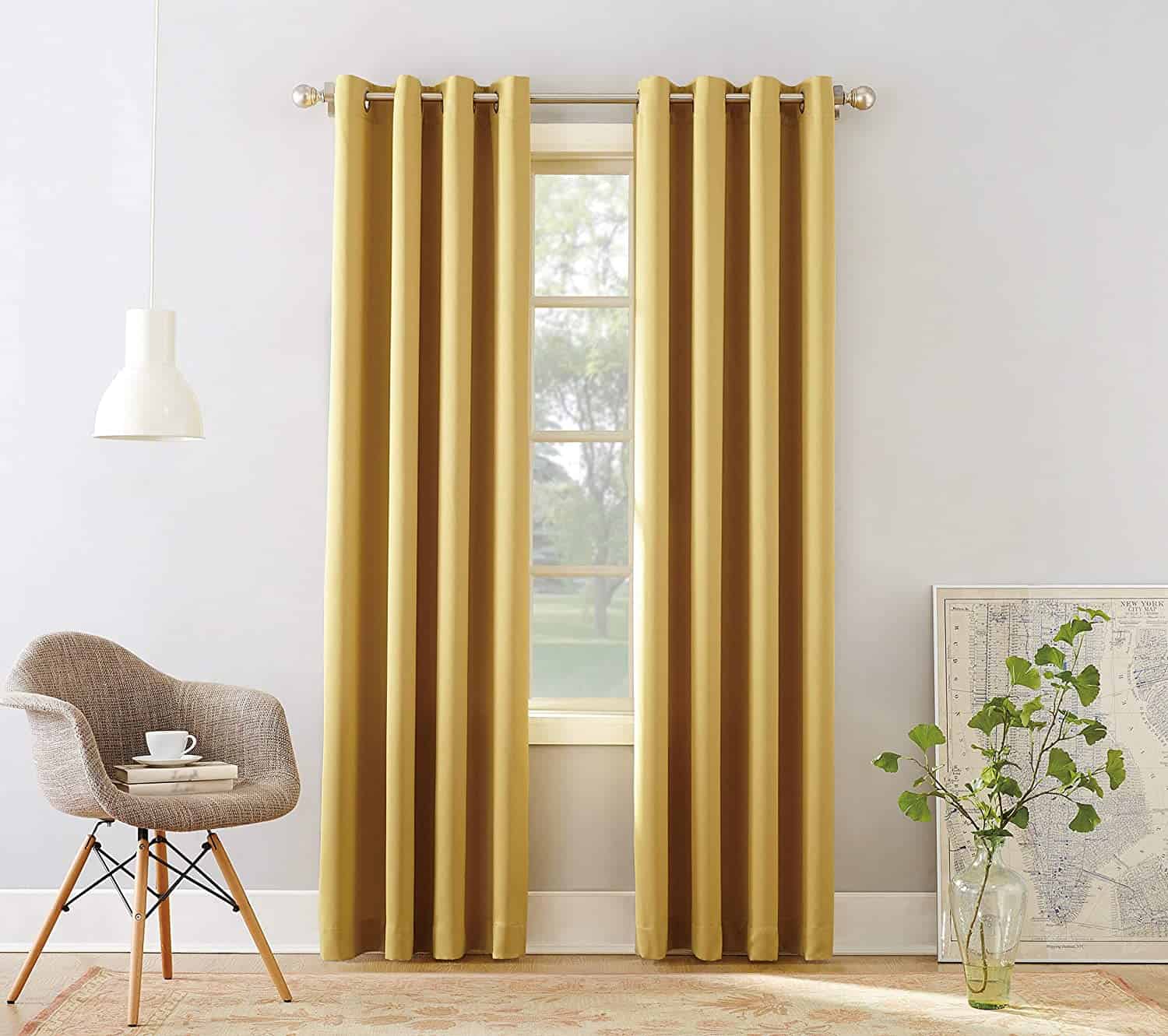 Contemporary designs are a popular choice for many designers who want that hint of flair accenting the room. The Sun Zero Grommet Curtain Panel is a good choice, and it's only $14.99! It's a full blackout curtain that also absorbs the heat from the sun. You can't match the color gold better than adding it with sunray features.
The solid metal-style curtains hang easily in any room, and they match with earthy colors or whites. Even though the fabric looks silky, this is pure polyester, making it easy to clean. The curtains also reduce sound, turning your living room into a peaceful place where you can soak up the optimistic rays.
Key Features
They work in the living room, bedroom, and hallway.
They fit well into contemporary designs.
They offer thermal, noise-reducing, blackout, and energy-efficient qualities.
They'd look great with natural wooden floors and a white rod.
2. Sophisticated Formalities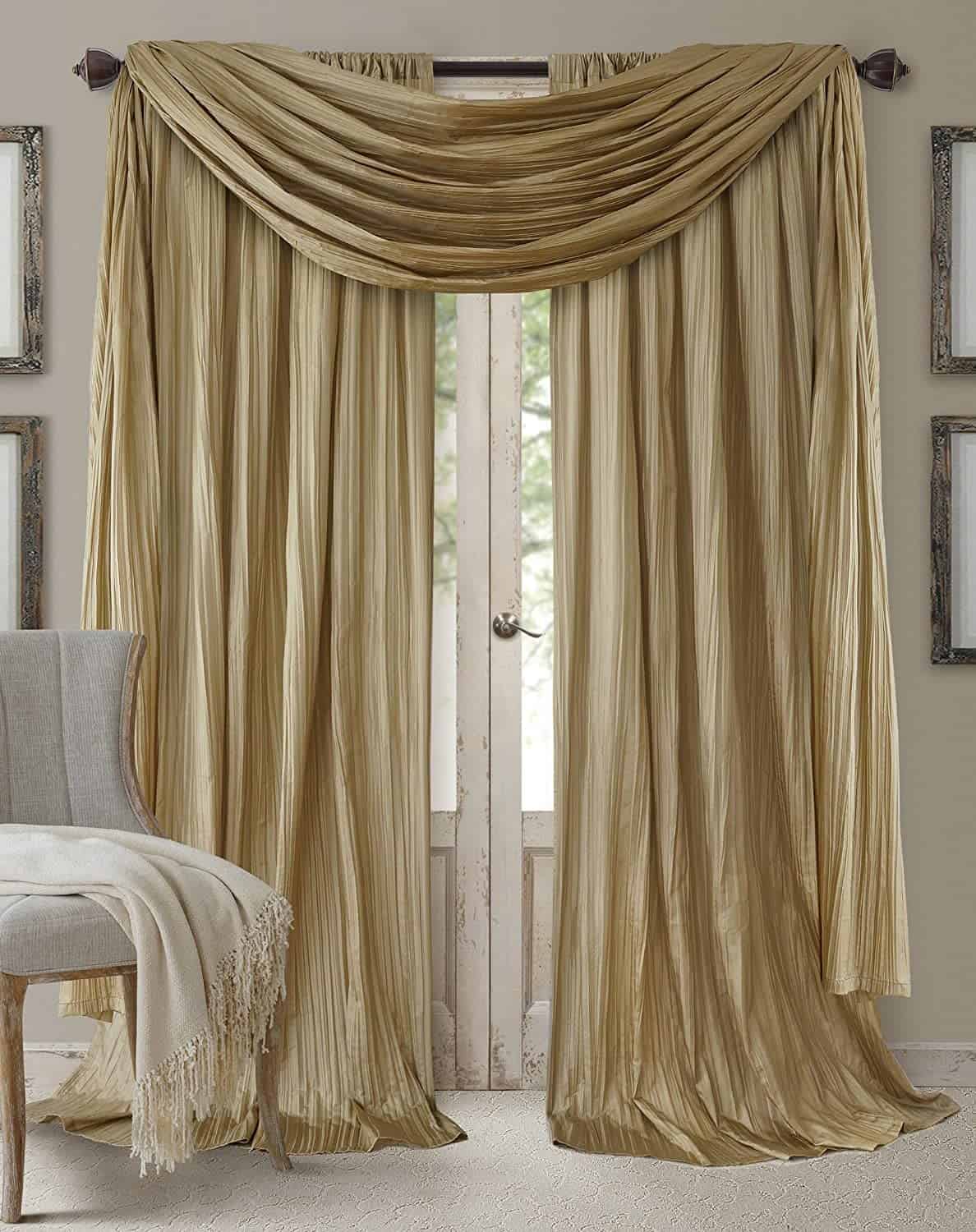 Of course, I found a beautiful pair of curtains that fit well into styles like American Colonial, Victorian, Georgian, and Egyptian interiors, albeit this one is probably best for formal rooms or a mature bedroom. The Elrene Home Fashions Athena Curtain Panel marries sophistication to wealthy tones.
At $36.07, it also won't break the bank to add some glamor to your living room. The durable polyester curtain panel comes with a beautiful scarf-style valance to embolden the accent, turning the room into something from an ancient temple. You'll reach the right glamor level if you add some formal and antique furniture.
Key Features
They work in any formal space like a dining or living room or mature bedroom.
They fit styles like Victorian, Georgian, French, Jacobean, Baroque, and Egyptian.
The accents include blue, red, burgundy, black, white, silver, emerald green, and other royal shades.
They balance well with floral upholstery designs commonly used in Victorian and Baroque-style furniture.
They'd also pop with a white rug and chaise with gold trimmings, accented by yellow and black cushions.
3. Gold Leaf Pleasures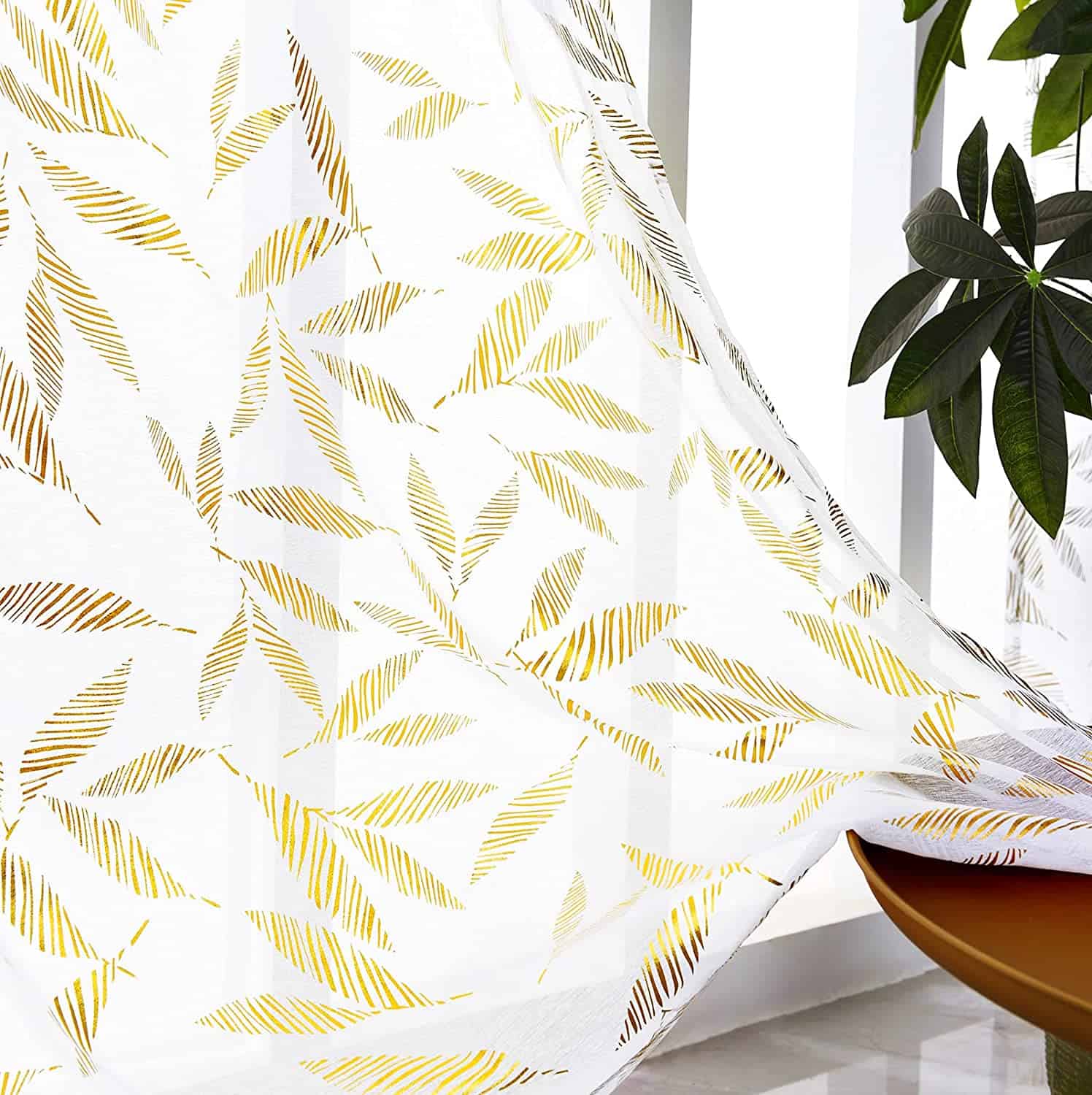 Gold leaf is a trend on its own, even becoming popular in luxury cuisine. It allows you to add gorgeous color without over-the-top glamor in a room. The CaaMoo Gold Leaf Sheer Curtains bring modern simplicity to an ancient love for a precious, divine color, clashing two worlds into one.
The curtains are made from polyurethane, making them lightweight, but the semi-sheer panels work in nearly all rooms in the home. They only cost $13.99 and use the traditional rod pocket hanging technique. The modern gold-leaf pattern also allows subtlety into the room, accenting most furnishings and colors.
Key Features
They work in a bedroom, living room, dining room, hallway, entrance, nursery, kitchen, and bathroom (the fabric is waterproof).
They fit best with contemporary and Chinese styles.
The accent colors like yellow, orange, red, white, silver, gray, and lighter shades of green or blue.
They offer some blackout capability and are machine-washable.
They would only work with solid color accents in furnishings and decor.
4. Oriental Moderne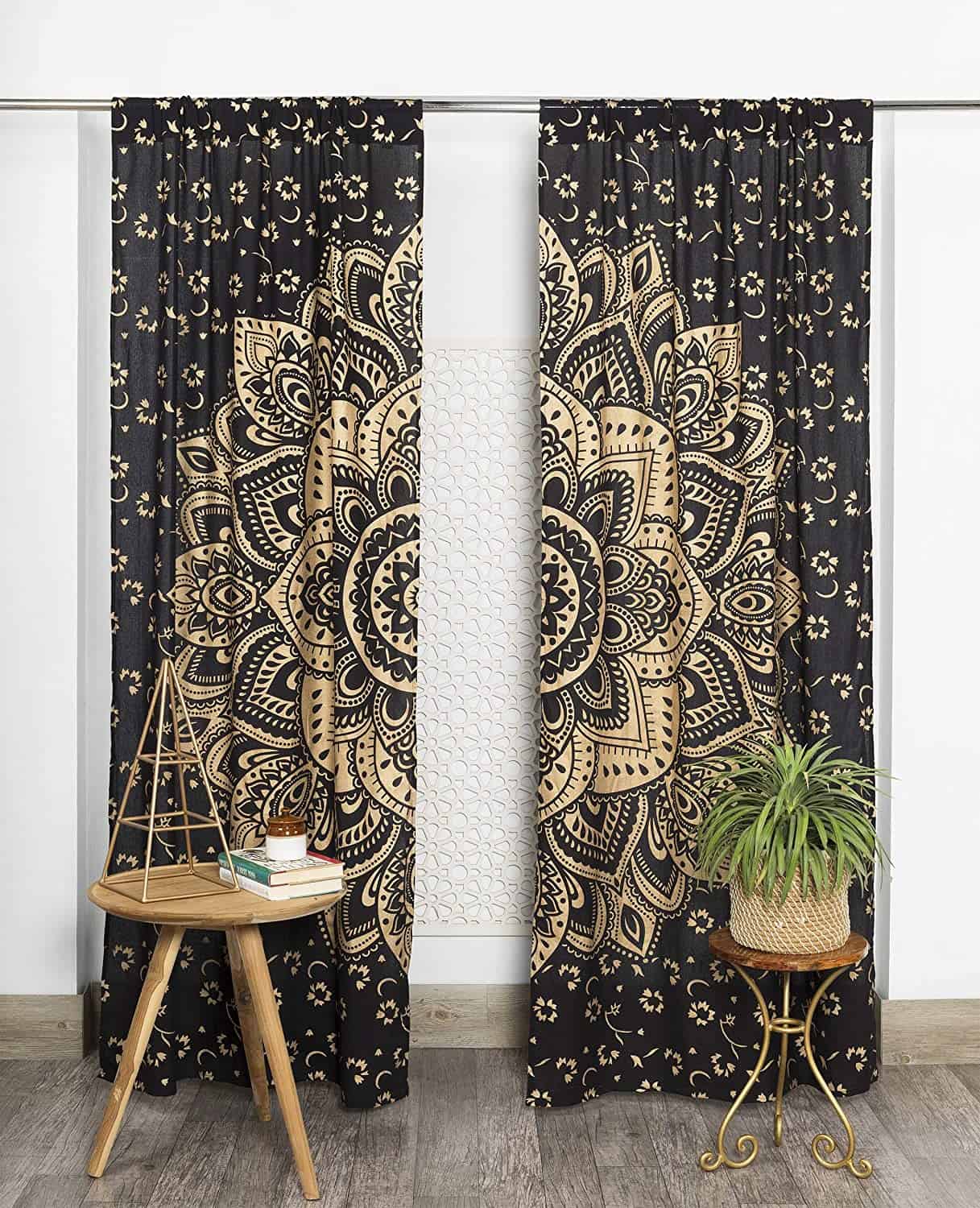 One color gold suits better than most is black, which also happens to be trending in 2021. The HandiCrafts Indian Hippie Mandala Curtains combine sophisticated golden hues with a black background to create a contemporary panel for most rooms. It will set you back $16.99 and be worth every cent!
The curtains are made from sturdy cotton fabric, intended to last for many years. The black is also not overwhelming as the golden mandala stands out with a glossy finish. They hang on a rod pocket design and add that beautiful Eastern opulence to rooms with varying styles and accents.
Key Features
They work in most rooms!
They fit well into contemporary, oriental, Chinese, American Colonial, Arabic, Boho, Egyptian, Moroccan, and Indian styles.
The accent colors like black, charcoal, gold, yellow, orange, red, royal blue, brown, beige, and other illuminated shades.
They come in various sizes including 18″ x 32″ / 24″ x 76″ / 38″ x 83″ / 36″ x 51″ and more.
They would suit affluent accents best, like ornate furniture, gold-trimmed mirrors, brass wall hangings, or a black couch with bright orange cushions.
5. Moroccan Foil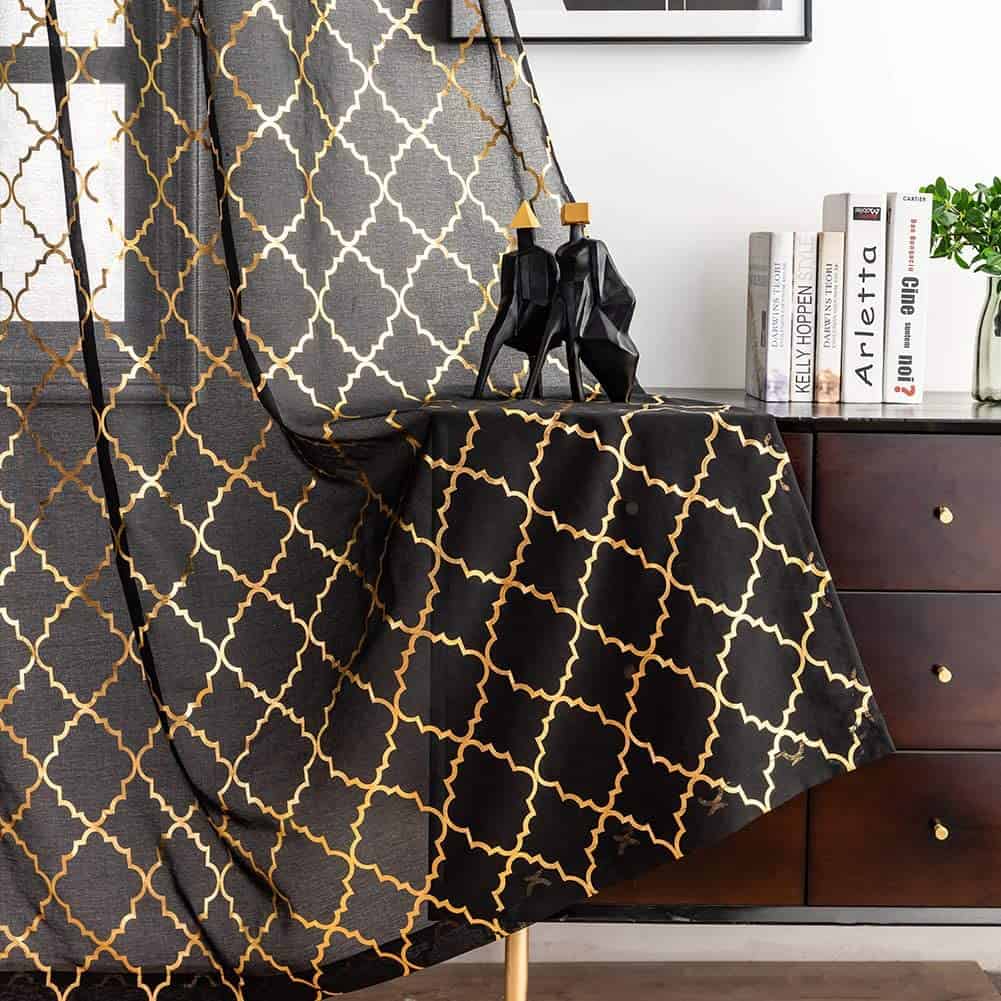 Following close behind the oriental flair of the last curtain panel, the Kotile Moroccan Sheer Curtains allow for a golden foil hue with black undertones. They also provide some privacy with a geometric design, easy to match with furnishings and decor. The rod pocket panels offer a metallic accent and only cost $22.99.
They soften the light entering the room and come in a durable voile fabric. They can be machine-washed in cold water, but it's not recommended to treat them with heat. They're stylish enough to add some glamor to a contemporary space.
Key Features
They work well in most rooms, except for the kitchen.
They fit into a contemporary, Moroccan, Eastern, Boho, or Art Deco setting.
The accent colors like gray, earthy tones, black, yellow, orange, red, burgundy, and silver.
They offer some blackout potential and comes in various sizes to fit most windows.
They'd suit solid-colored furniture best unless you're striking an Arabic design.
6. Metallic Age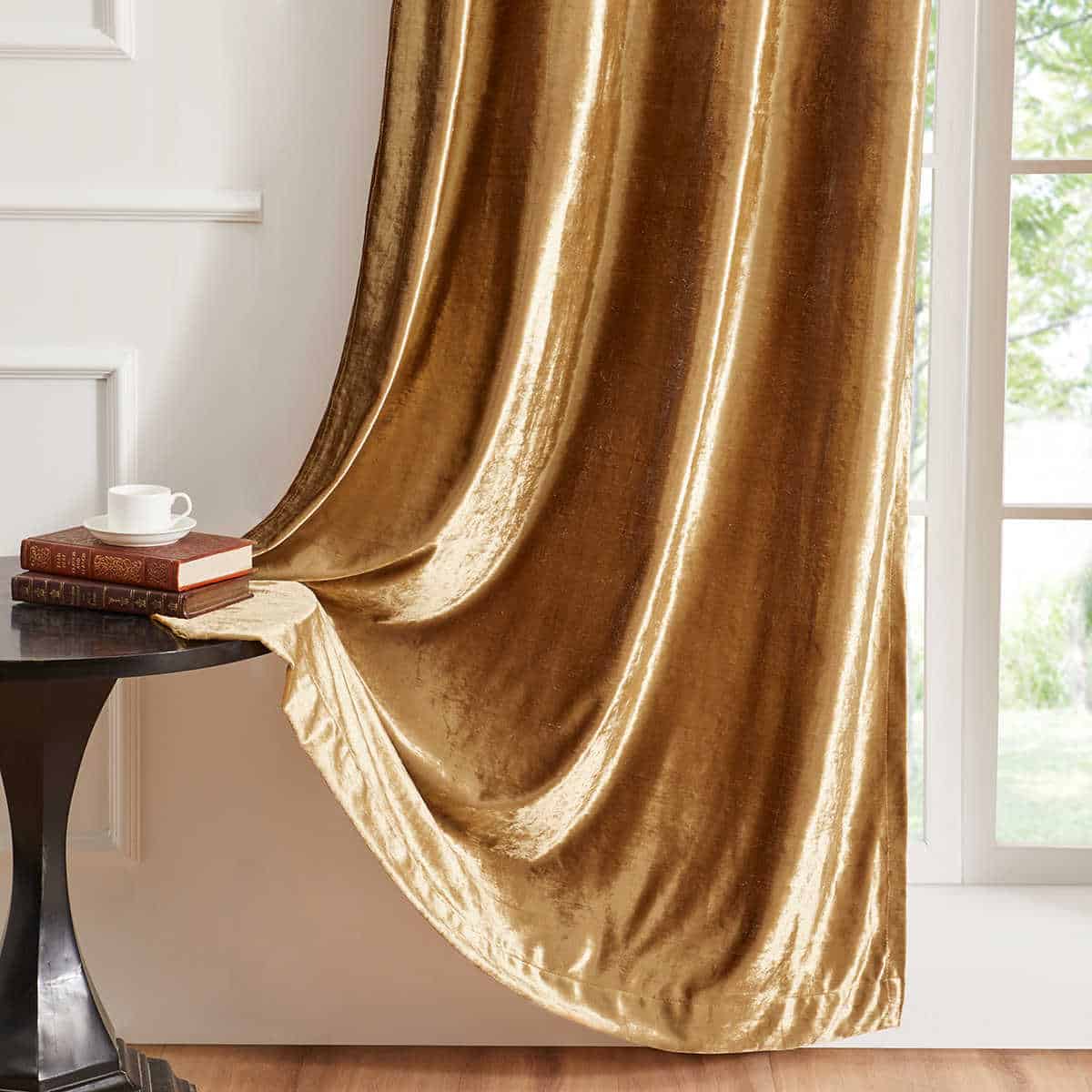 Modern times call for new trends like an industrial and metal interior style, the latter being perfect for the color gold if you want a contemporary home. The Cogbill Semi-Sheer Grommet Curtains from Wayfair exude metallic elements. These "see-the-glare-from-space" curtains cost $26.99 and complete the metallic look.
Some people might be rightfully afraid of blinding their guests and neighbors but isn't that what in-your-face gold is all about? Made from faux silk, the feel of these curtains will be as prestigious as the glare. You might need sunglasses to prevent the overwhelming joy from these curtains, but they're gorgeous!
Key Features
They work well in the living room, bedroom, or office.
They fit into contemporary, metallic, Arabic, Egyptian, Jacobean, Baroque, and Indian styles.
The accent colors include other metals if you're using the metallic design, or you can use various shades of orange, black, gray, yellow, white, as well as emerald green, royal blue, and rust.
They block plenty of light from entering the room.
They would suit some lightly floral furniture and accents or metallic, silver-colored surfaces.
7. Toning it Down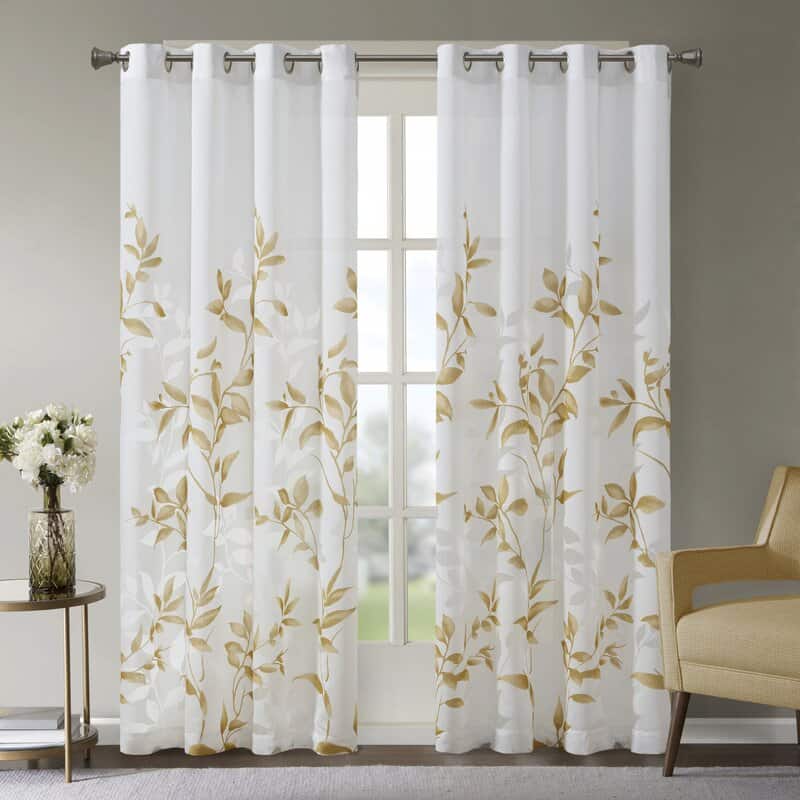 Gold is fabulous and glorious, but sometimes, we must use a lighter accent. The Andover Mills Floral Grommet Curtains kick the tone down many notches from the previous glaring beauty. If you want a simpler, contemporary design with a hint of golden flair, this is an option. It costs $17.99.
The golden floral pattern rests neatly on a white background, toning down many moods in darker rooms. This is also a great option for smaller spaces where you need lighter curtains. They're made from polyester and fit well into most spaces where elegance and beauty collide.
Key Features
They work well in an office, bedroom, living room, dining room, hallway, or entrance.
They fit into contemporary, Arabic, American Colonial, Chinese, and Art Deco styles.
The accent colors include warmer whites, yellows, soft blues, gentle greens, orange, red, black, light gray, brown, chocolate, beige, and earthy tones.
They're lightweight, light-filtering curtains that are easy to machine-wash.
They look incredible with a light brown couch accented by rust and chocolate cushions. Add white frames to the walls for a contemporary design.
8. Luxurious Jacquard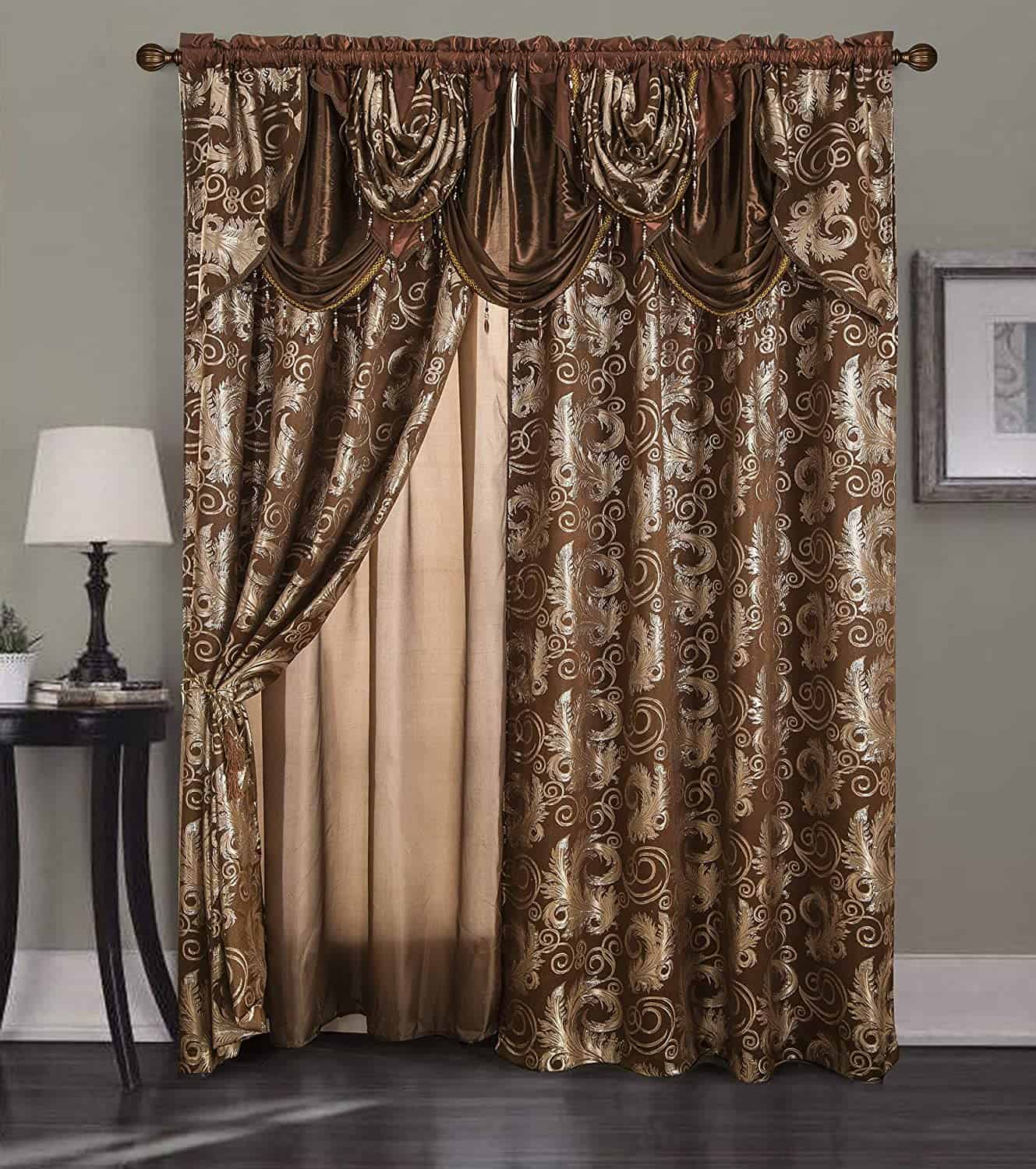 Jumping straight back into over-the-top luxury designs made to turn guests envious of your home, the Golden Rugs Jacquard Curtains do the job thoroughly. Utilizing various shades of gold and jacquard design patterns, this valance-included pair of curtains cost $39.99, one of the most expensive I'll allow on my list.
They're totally worth the price as they're ornate in every way. They include backing, a gorgeous valance, durability in the form of blended polyester. The backing is made of sheer fabric, and these curtains have that opulent element as they can be tied back, crossed over, and hung in formal spaces.
Key Features
They work well in an Eastern-style bedroom, living room, and dining room.
They fit into Arabic, Moroccan, Victorian, Baroque, Indian, Egyptian, Medieval, Jacobean, and Georgian styles.
The accent colors are limited to solid colors, including darker grays, black, metallic hues, bright orange, bright red, burgundy, charcoal, olive green, emerald green, and chocolate brown.
They have a single-rod layer for easy installation.
They'd look amazing with a solid-color chaise with gold trimmings.
9. Exotic Sheers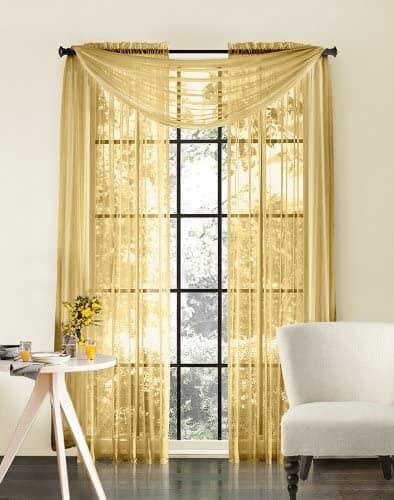 Some curtains beautify a room in any color, and the Amari Linen Sheer Drapes bring elegance to a sense of freedom. The gorgeously designed rod pocket curtains come with a scarf, overlapping the solid pattern in the sheer panels. The scarf is long enough to embrace the floor on both sides. This set only costs $14.90!
Also available in multiple sizes, the panels can suit most rooms in your home. They look sleek and contemporary enough to blend into the accents and elements of the walls and decor. The gold color isn't overwhelming, either, making these curtains as versatile as beige and earthy tones.
Key Features
They work well in most rooms!
They fit into contemporary, Art Deco, American Colonial, Arabic, Carolean, and accentuated Baroque styles.
The accent colors are white, yellow, rust, orange, red, pastel, various grays, lighter greens, lighter blues, and natural wooden tones.
They give a layered effect with minimal effort.
They'd work beautifully with white furniture accented by lighter shades of orange, yellow, or green cushions for a contemporary design.
10. Golden Ombre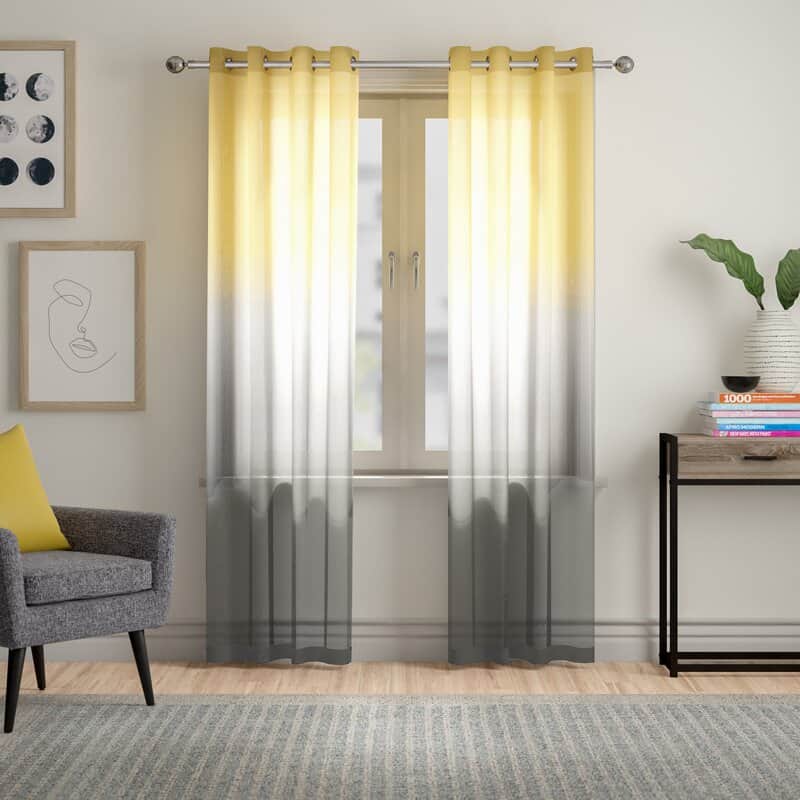 Ombre or fading-style curtains are quite popular in modern homes, and they match so easily with most things. The Peterson Ombre Curtain Panel is versatile enough to match the shades of gray recommended in 2021. It gives a sense of minimalism with modern touches and only costs $18.99.
Minimalists also like a minimal cost, right? These are great curtains for small spaces, and they bring plenty of light into the room. The golden top of the curtain fades into a gentle shade of gray, almost looking white as the colors blend. The grommet style hangs well on silver rods, and the polyester fabric is machine-washable.
Key Features
They work in the bedroom, living room, dining room, office, and even bathroom.
They fit into contemporary and Carolean styles.
The accent colors include white, various grays, gold, yellow, orange, red, pastel colors, earthy tones, and hints of silver.
This is truly a versatile option for gold.
They'd look amazing in a hallway with an earthy tone armchair under the window and a metallic side table
11. Medieval Radiance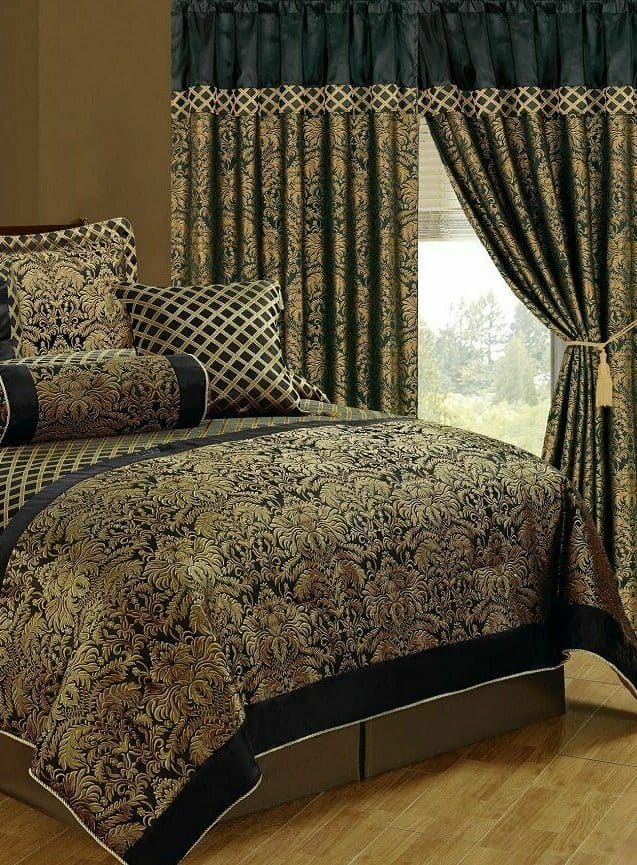 Not everyone loves the medieval interior design style, but some people love an extra hue of black and darker shades, making their large rooms cozier. The Chemozoi Jacquard Floral Curtains come from Lisbon, and they suit more than the medieval style. The polyester panels are heavy and cost $44.99, nearly toppling the budget.
They're mainly black with golden hues, a jacquard pattern, and a solid valance to finish the layered set. The rod pocket curtains also include tassels to tie them behind decorative holdbacks. The curtains also have a matching comforter set for your bed should you wish to go all medieval.
Key Features
They work in a bedroom, living room, and dining room.
They fit into the medieval, Jacobean, Art Deco, Arabic, Moroccan, and Baroque styles.
The accent colors include charcoal, illuminated yellow, orange, rust, red, burgundy, black, brown, and other metallic shades.
They add glamor to a boring space and are machine-washable.
They'd look wonderful with solid color furniture and natural woods (black furniture for a darker ambiance or illuminated accents for a lighter ambiance).
12. Gradient Splice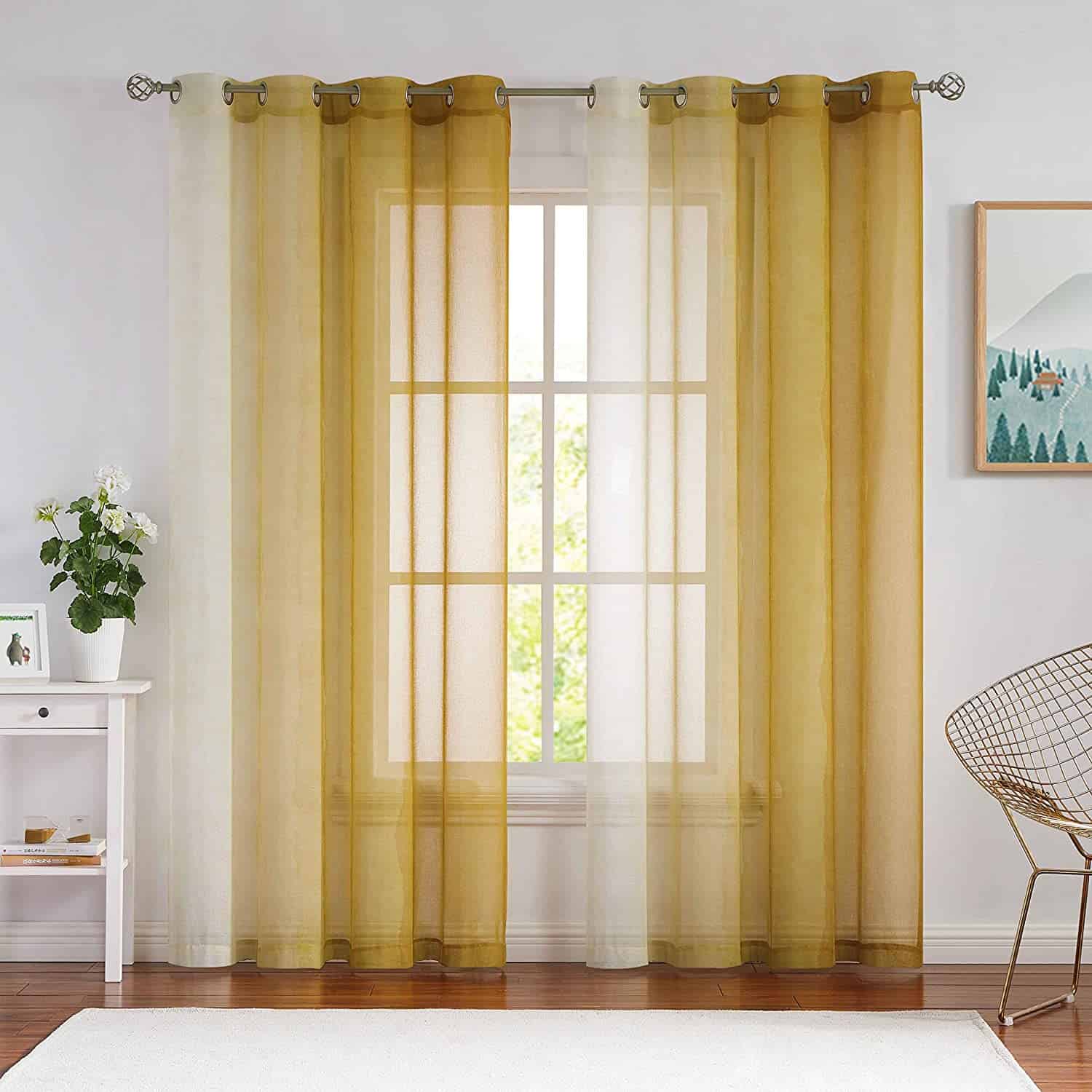 Back to a touch of contemporary flavor, the Nottingsom Home Sheer Curtains allow you to add versatile colors and accents in a cooler, lighter room again. Costing merely $26.89, the curtains use a non-reflective gradience from white to gold before repeating the same pattern on the opposite panel.
Gradient curtains normally reflect the pattern inward, but this pair of curtains is as unique as my taste. They also look amazing on dark metallic rods and fit in most spaces. The possibilities are countless, and you have an airy feel that allows you to use them in small spaces.
Key Features
They work in most rooms!
They fit into a contemporary style.
The accent colors include white, pastel blue, yellow, green, pink, orange, and beige.
They're light-filtering curtains with a linen texture.
They'd look beautiful with earthy tone rugs and a couch accented by rustic-colored cushions.
The Many Faces of Gold
When you think gold, images of a flashy, metal color come to mind. I've used the traditional shade of gold to choose my favorite curtain ideas, but you can also use the many shades to design customized curtains should you wish. Gold has magnificent shades, some subtler than others.
InstaLinen is an online fabric store that sells a huge variety of golden fabrics from different countries. Most of the fabric is linen, making it perfect to design beautiful curtains. Some of the gorgeous shades include:
Designing custom curtains can be pricier than purchasing ready-made curtains from Wayfair, Amazon, or Society6, but you have free reign over what you want. Gold doesn't come with a single face, so customizing your style is an option if you want to spend more.
Tips to Mix Metal Colors
If you're aiming for a metallic-prevalent style, you need to know the secrets of mixing metals. Stainless steel kitchens are a fad, but mixing metals requires a little finesse.
Use mainly gold in your curtains if your accent colors are warm yellow, orange, and red.
Use mainly silver or cooler colors in your curtains if your accents are white or pastel colors.
One color must always be dominant, and the other must only accent it when it comes to warm and cool colors. Don't mismatch cool and warm colors to cancel each other out.
The rule of metals is never to exceed three shades or types in one room.
Metallic or warm colors also reflect well-off mirrors and gilded wall hangings.
Whatever you do, please don't use a gold-colored couch or rug with the curtains, no matter how subtle the golden hue is in the curtains.
Go for elegance and affluent beauty rather than overbearing metallic hues that leave people confused and moods bouncing all over the place.
Unique Ways to Use Gold Curtains for a More Glamorous Design
Gold is a fun color to add to your home, and you can contrast the curtains with accents and elements that make people say, wow! Use unique decorating tips to elevate the design with the divine color. Gold can fade into a contemporary room if you wish, but be bold enough to try some unique hacks that make the color explode.
Bounce the Radiance
Another rule with gold is to remember that it bounces light like the sun shares its warmth with the earth. Using it near light sources is easy with curtains if your home faces South. You can also add additional sconces, cushions, and lampshades in the room to amplify the bouncing radiance in an airy room.
Hooked for More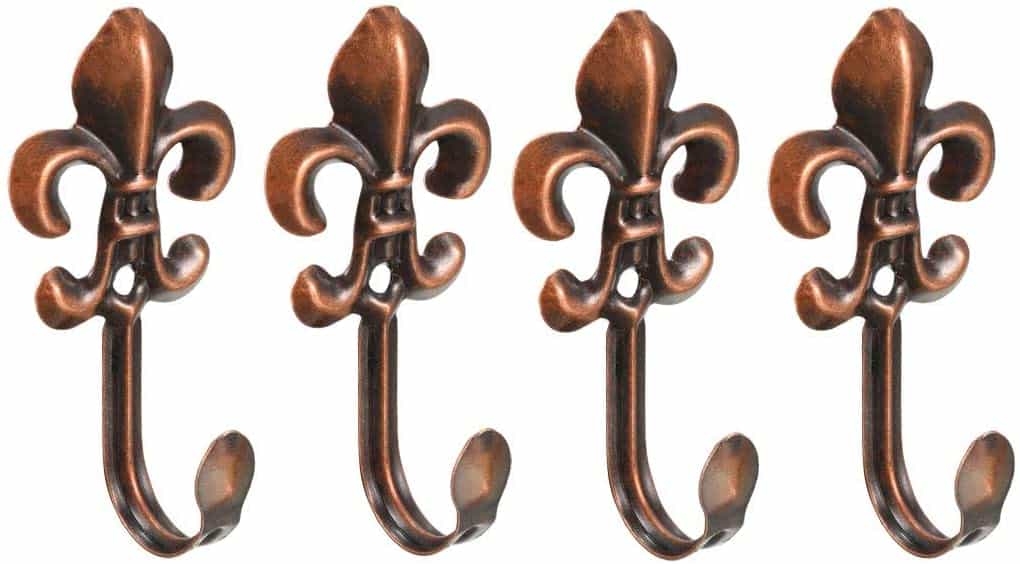 Omit the traditional hooks that hold the curtain rod and replace them with brass or copper hooks for an extra pop from a bland wall. You can also fix a grommet curtain in place by attaching each eyelet to a hook and using ties to open the curtain. These curtain hooks on Amazon add the copper accent to the wall.
Knobbing Around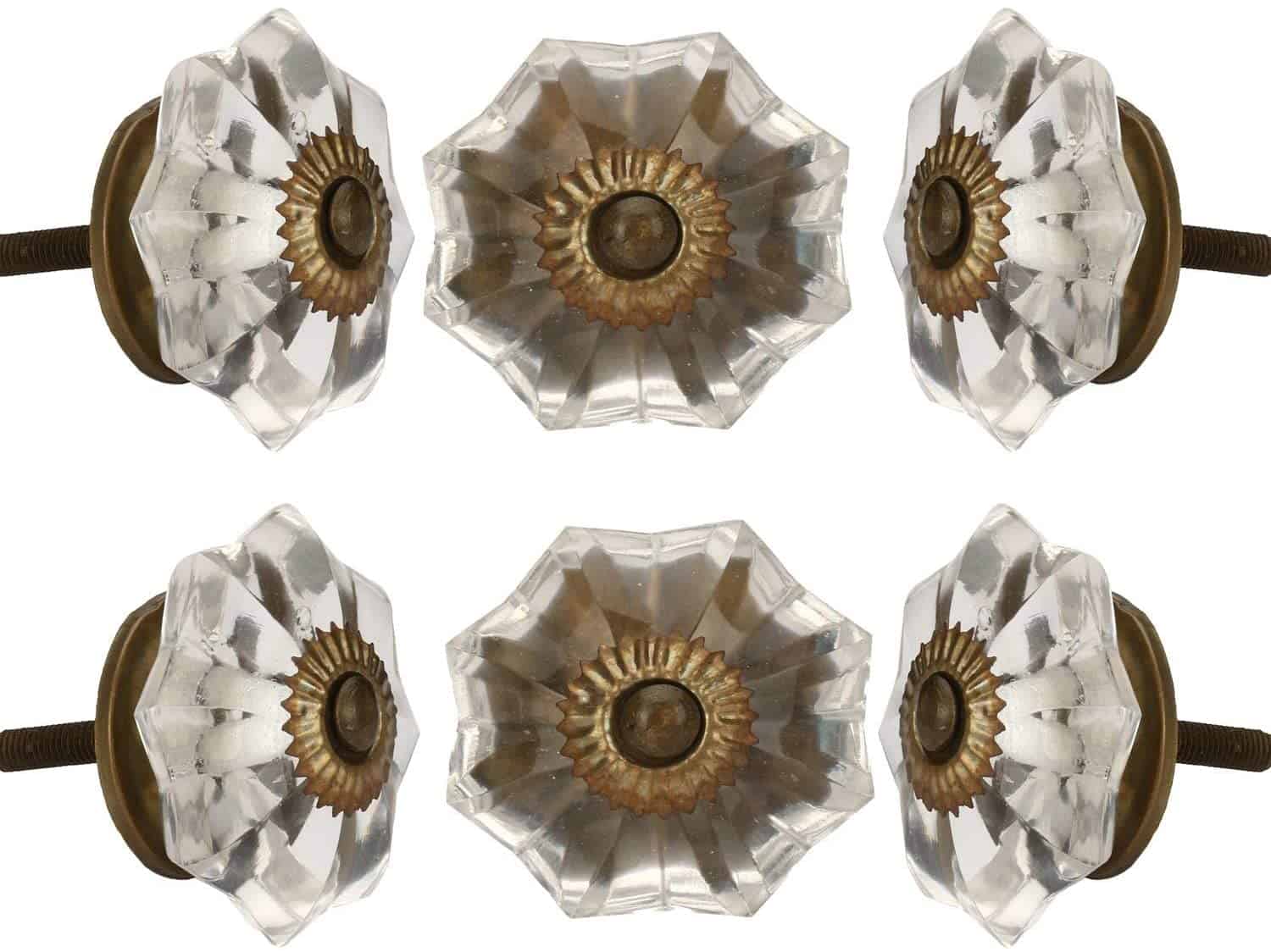 Another way to add some metallic flair to the curtains is by using decorative doorknobs to tie them back. These brass doorknobs on Amazon also have a crystal design to beautify the style more. The brass is just sharp enough to shine through the crystal overlay, bringing an extra level of pizazz.
Reaching New Heights
This unique trick will work best with darker shades of gold curtains, but hanging them higher can turn a large room into a cozier space. Go two to three inches higher with your rod to give the illusion of a lower ceiling. Going wider has the same effect.
Unique Antiquity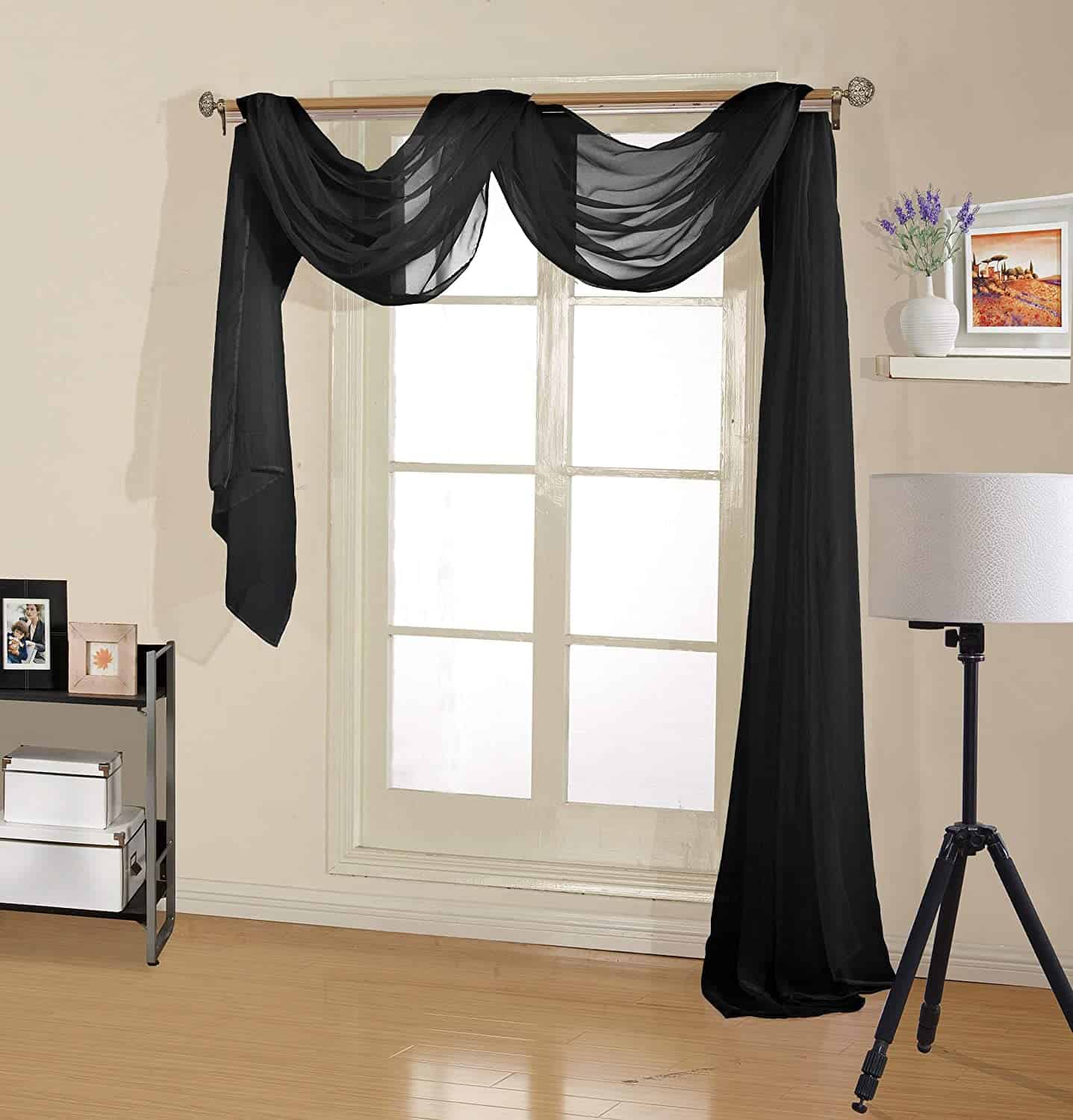 Using antique holdbacks with gold curtains is what everyone does, but you can go ape with your design to be the gem in the sand of society. These gorgeous vintage swan holdbacks will do the trick. You'll need four of them to create the stepping effect above your window treatment.
You're not using them next to your curtains. You're installing them at random heights above the curtain rod. This works well with solid-colored gold curtains that need more wow. Forget about symmetry, and hang each holdback at a different height before purchasing this beautiful scarf to hang over them gently.
Drawing Drapes
Another beautifully unique effect on golden drapes, particularly the Baroque-style, patterned, or ornate kinds, is to create the illusion that the drapes are drawn closed with ropes. It will work if you have your drapes tied to the sides of the window. Add some rope from Home Depot to these wonderful tiebacks for this idea.
You'll never actually use the drawstrings you create, but they hang down the center of the panels, preferably over a sheer backing to complete the illusion. Using this trick with curtains you don't walk through in an entrance or patio doorway is also recommended.
Your golden designs are only limited by your mind and imagination. Go wild, try new things, and be unique!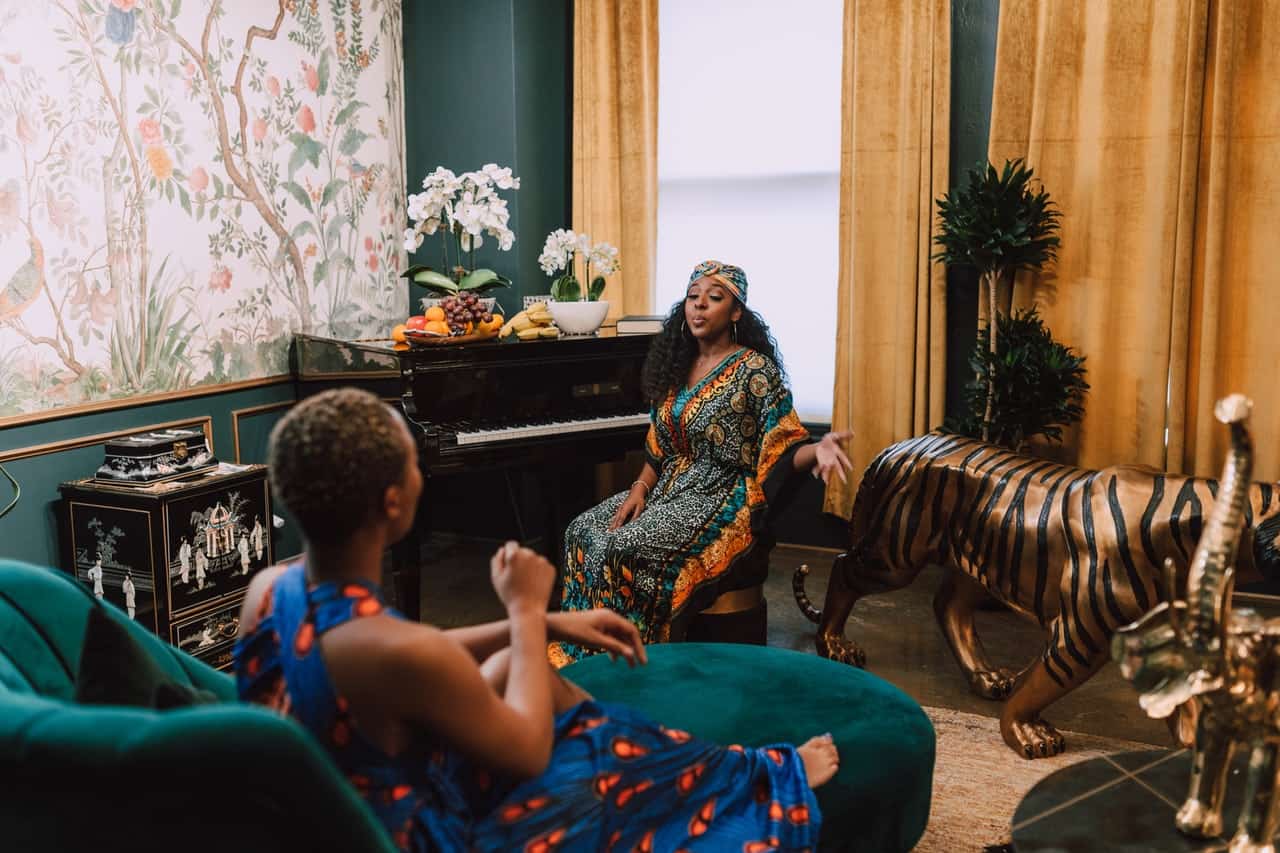 FAQs
Question: What Colors Best Contrast Gold?
Answer: The Better Homes and Gardens Magazine recommends charcoal, slate gray, rich olive, warmer shades of white, chocolate brown, marble, burgundy, red, emerald green, royal blue, illuminated yellow, and neutral colors. Gold is more versatile than you think, but keep the cool and warm contrasts in mind.
Question: What Color Wall Best Matches Gold Curtains?
Answer: Neutral shades are the best option with gold curtains. A lighter shade of earthy tones, a warmer white, or a smoky blue wall emphasizes the golden shade in most rooms. Never place gold curtains over a darker shade of the wall, no matter the color. Walls can take attention away from gold curtains if they're too dark.
Question: What Fabrics Look Great in Gold?
Answer: Various shades of gold look better in different fabrics. The darker shades strike elegance and affluence in faux silk, velvet, polyester, silk, jacquard, and faux leather (reserved for the brave), whereas the lighter shades of gold suit better to linen, cotton, polyester, crushed velvet, sheer, satin, and basketweave.
Best Gold Curtain Ideas: Final Thoughts
Gold makes me feel like an empress in a gorgeously divine temple, and it does wonders for positive vibes, contrary to the fears empresses lived under in ancient times. It also tends to boost my courage and motivation to meditate deeply and spiritually, which may be due to its divine roots.
The metallic color is versatile enough to fit into any home and room, providing the family with healing properties only matched by the sun as it collects the light and radiates it around the room. I'm not sorry for adding this affluent color to my home; knowing it makes people think I'm more comfortable than what's true.
If I'm bound to be the talk of the town, I will give them something to talk about that awakens envy. I've selected my curtains based on versatility and price, so I highly recommend the gorgeous Oriental Mandala panels. For a greater budget and unique opportunities in your design, the luxury jacquard panels are a must.
For More Trending Ideas: