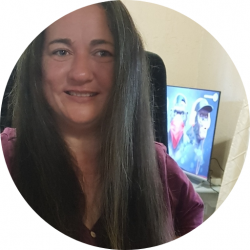 Latest posts by Caroline Lambert
(see all)
Black and white curtains ideas could be partly inspired by the elegant horse-like animal that walks the plains of Africa. A zebra looks like a majestic white horse covered in black accent stripes, flaunting the two best contrasting colors quickly becoming a household trend in interior designs.
The contrast of black and white is made famous by Siberian tigers, dalmations, and even the cruel woman who hunts the dogs. White is a smash hit in interior design in 2021, but black is coming back to the center stage. For a showstopping but sleek design, black and white bring a designer's dream into your home.
If you're asking whether it's recommended, the answers are yes and yes! And you won't believe how much you can do with two of the top trending colors. From layered window treatments to bold statements that prove how opposites attract, you'll find inspiration for your home in the top 19 ideas for black and white curtains.
The Magic of Opposites
When a designer speaks of contrasting colors, they talk about how two colors are so opposing that they attract each other like the negative and positive ends of a magnet draw into each other. Gone are the days where curtains, rugs, couches, and the walls must match or display numerous shades of monochrome colors.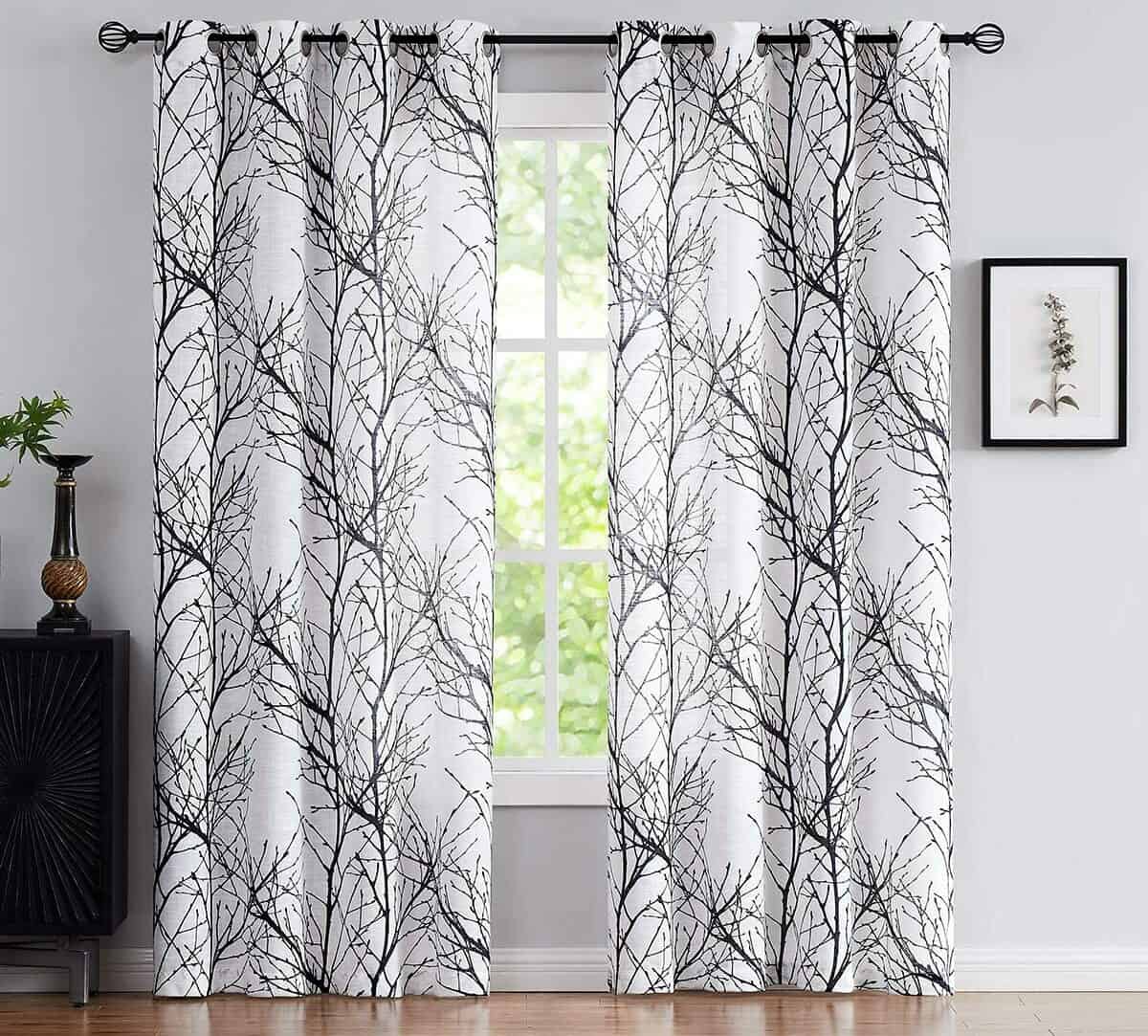 Imagine walking into a room where the colors are so boldly opposed that they tango with each other. It's so elegant and sophisticated that you can't take your eyes off the dancing duo. This is how you bring absolute glamor and gorgeousness into any room in your home.
Some people are fine with faded rooms, but you're not here for that, are you? You want your home to stand out. You want it to drop jaws and make others envious. Black and white can do just that. It can push your home into the next generation where black is no longer considered a morbid color.
In fact, black represents power, mystery, elegance, and sophistication at another level. Colors are powerful persuasions for the mind and mood. There is psychology built around colors. However, the same psychology tells a secret. Black is also capable of turning a mood down, angry, or impulsive.
On the other hand, white raises a mood with peaceful, pure, innocent, and fresh rejuvenation. Every color offers pros and cons, and sadly, white is considered a color without stimulation in psychology. But this is where it gets exciting. Black and white are perfectly contrasted with balancing the mood and effects in a room.
Where white lacks stimulation for exciting moods, black restores it. Where black overstimulates some moods, white brings them back down to earth. Could you design anything more perfect than that?
But Black and White Feel Limited…
On the contrary, black and white are both neutral colors with which you can use multiple accents. Some colors that pop with the zebrified background include:
Dusty rose (adds classic warmth and elegance)
Other shades of red
Bright yellow shades
Silver (for striking finishes with metallic accents)
Fuschia
Blush
Darker blue shades
Emerald green (to combine elegance with a natural tone)
Light beige
Stone gray
Turquoise (for bold or experimental people)
Dandelion (adds a funky and youthful vibe)
Whatever you do, please do not add brown or chocolate colors with black and white curtains. If anything could be called an interior train smash, this would be it. Interior director Linda Holmes recommends matching gold and black with gentle white accents if you want something modern.
There are also various fabric options for black and white designs. Some options to consider include:
Silk
Linen
Velvet
Blinds
Bamboo
Polyester
Cotton
Thermal
Blackout
Sheer
Layering black and white curtains also allows you to use more than one type of fabric. You might use black drapery over white sheer curtains. Designing your interior is about allowing the imagination outside of the box, and there are no limits to that.
Black and white curtains offer endless possibilities, and the rooms will be easier to mix and match with the zebrified design. Besides, you can even use walls and decor to accent the curtains if you're bold enough. This room by Marcus Design is an example of how bold you can be.
Indeed, some rooms are over the top like this one, but that's why you use the numerous accent colors to break the monochrome before turning your bathroom into a circus tent. And as far as rooms go, you don't want your entire home black and white, but any room can become the zebrified center of your home.
Secret Tip: Black and white contrasts even better if you place a wall mirror diagonally across the room.
Black and White Curtains Ideas for a Living Room
Before correcting the circus tent train smash posted on Pinterest, let's take a look at what opportunities lie in your living room. The rule of thumb with black especially is that the room must be spacious. Black can shrink the room and is largely used with double-height ceilings and grande bedrooms.
1. Subtle Hues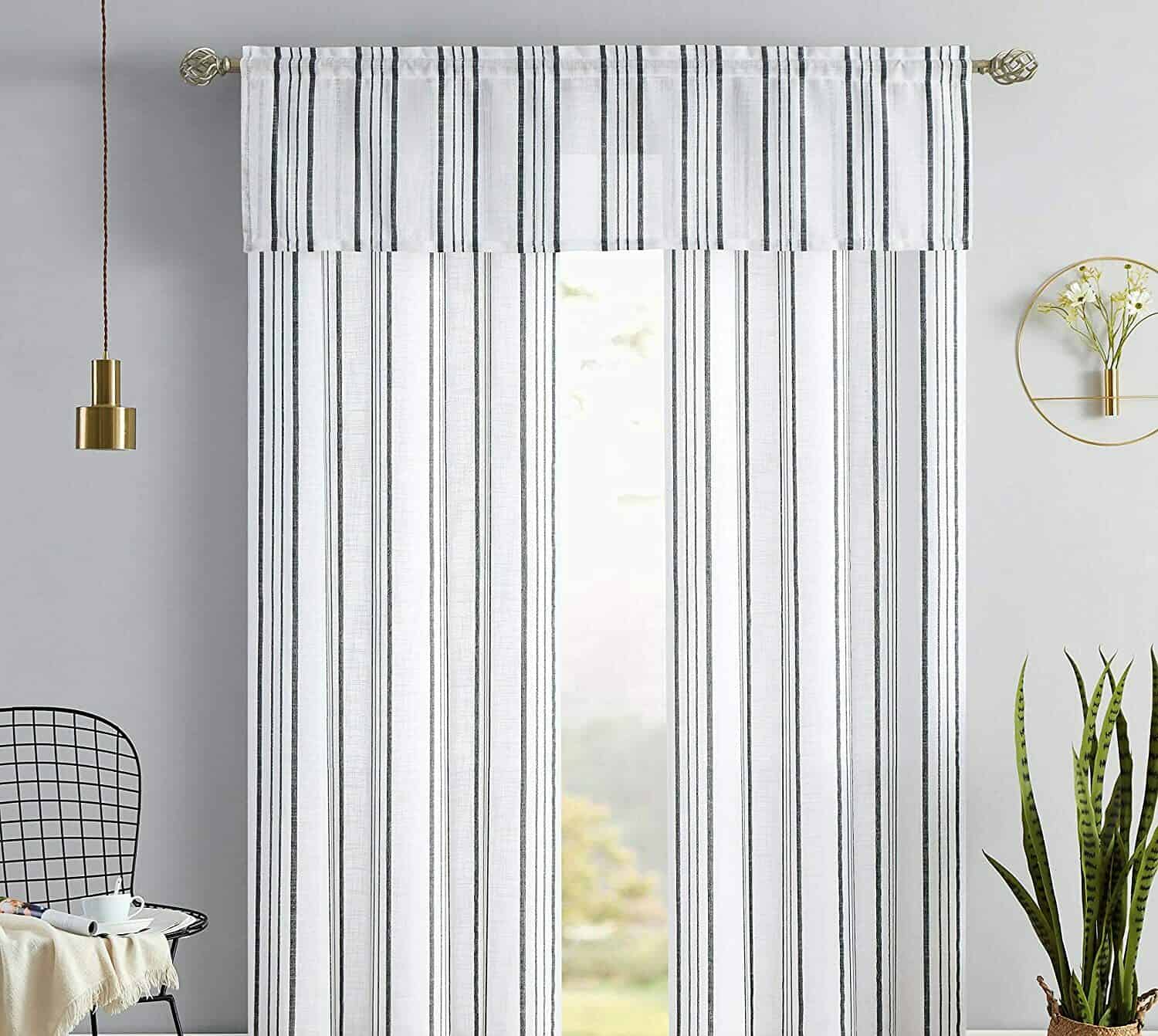 If you don't have a spacious living room, you can always opt for a subtler set of black and white curtains like these found on Amazon. The Pinstripe Grommet Rustic Voile Rod Pocket Sheer Drapes also filter light if you're aiming at reducing glare with blackout curtains.
This blend of contrasting colors won't reduce the size or airiness of the room, and you can match them with gray or silver colors in the furniture. These lightweight sheer curtains are easily hung on any color rod, but black will improve the accent. White rods would make it subtler, almost like a fading background.
2. Diagonal Simplicity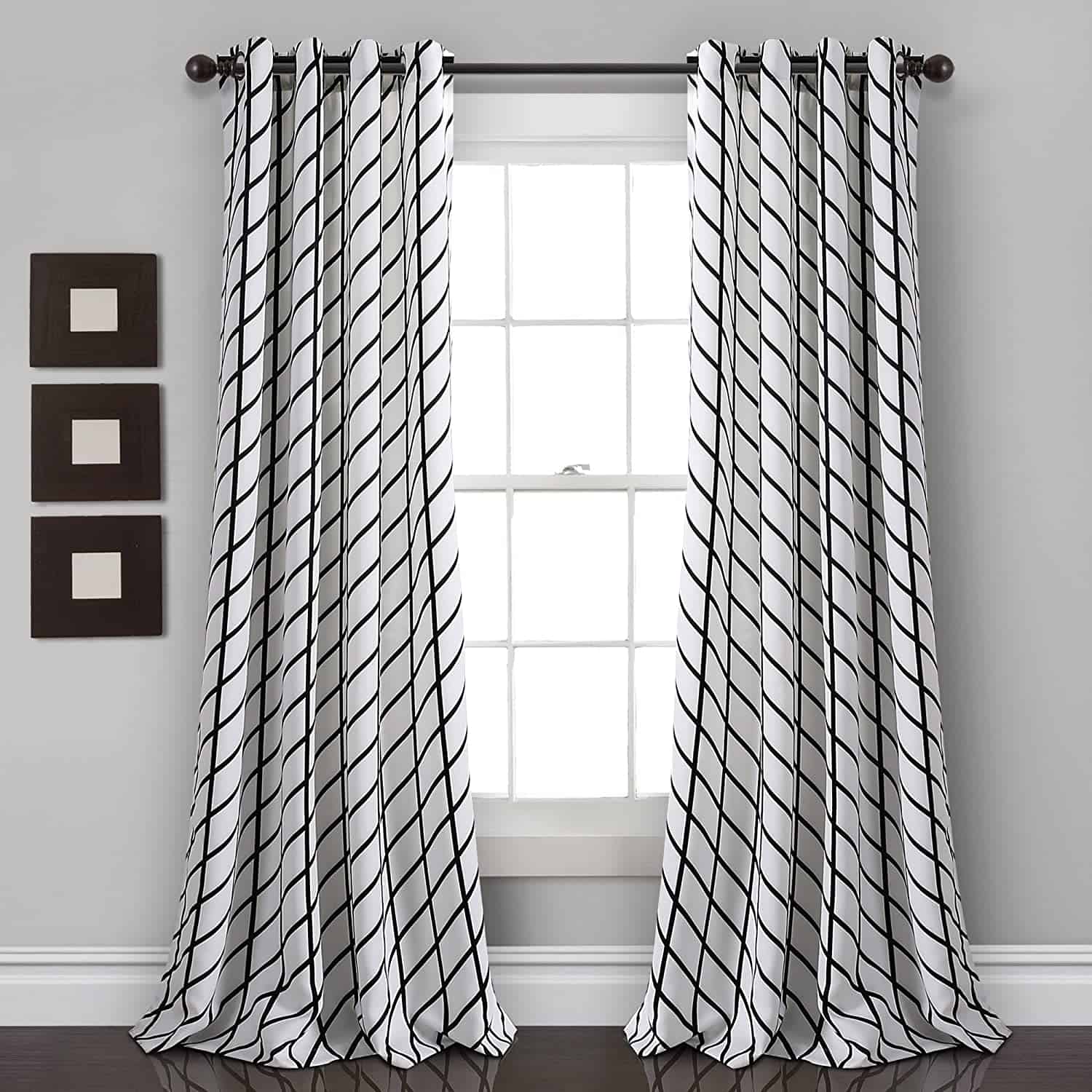 Geometric designs are a trending option to add to any room in your home, but who said they must be vertical or horizontal? Diagonal lines can bring attention to the curtains as they point inward, revealing the window as a gateway to something beautiful. Moreover, stripes are easily matched with plain or striped furniture.
This pair of Feather Arrow Geo Room-Darkening Curtains from Lush Decor can act as a buffer to draw attention to whatever you place in front of the window. For example, you can place a chrome and glass table right under the window, or you can leave it bare to allow the window treatment to speak for itself.
3. Shabby Chic Glamor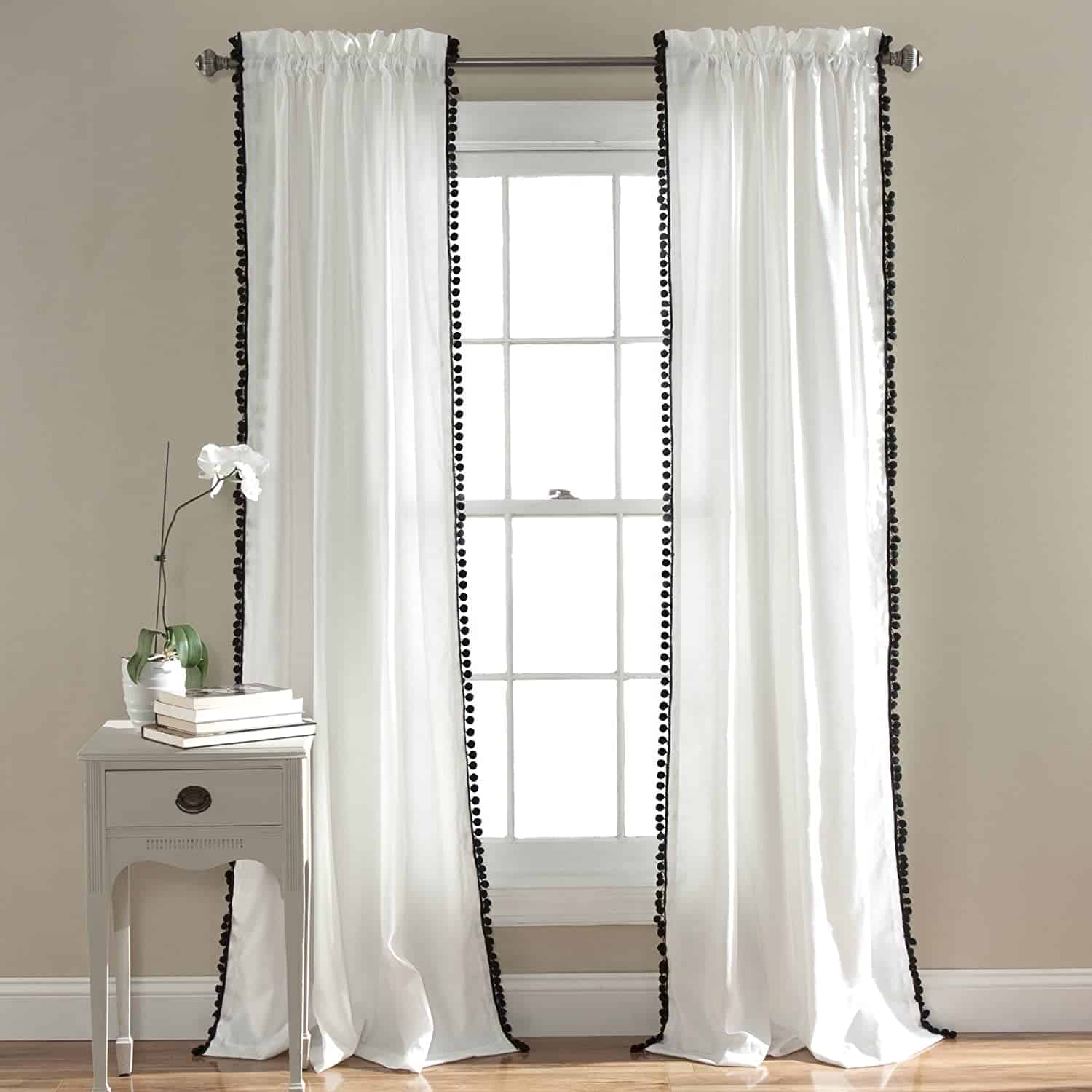 Shabby Chic is a style used by interior designers when they want the furniture and accents to look worn in a room. Traditionally, it's done with colorful furniture, but black and white also modernize the style. You could use a plain set of white linen curtains with black trimmings.
Lush Decor has a set of sheer curtains in Shabby Chic style if you want to keep the room airier while bouncing some of the strong light back outside. The trimmings are gorgeous with tussles, and this set may even work in a layered window treatment if you want a solid black curtain behind it.
The amount of black you add to your contrast is entirely up to you. Nothing says you can't go ape if you're balancing the contrasts in the room decor.
4. Taking a Leap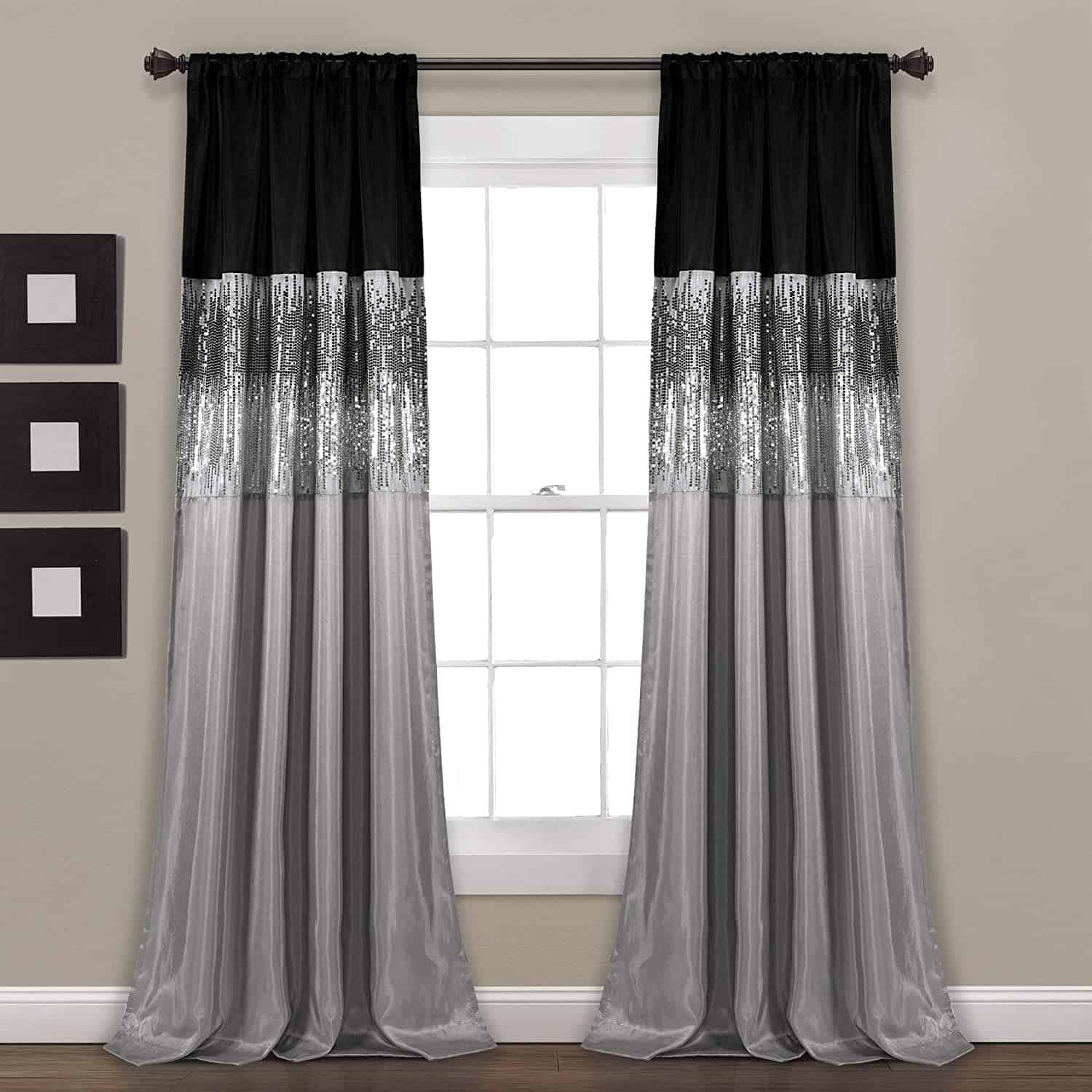 Subtleties aside, black and white can work as bold colors in your living room if it's spacious enough. A tip with spacious rooms or double ceilings is that you can hang your curtains higher to give the impression that the ceiling isn't as high as it looks. Raise your rods by two to three inches before hanging something spectacular.
If you'd like to step further away from subtleties, you can also check out these elegant drops available on Amazon. They give the impression that the curtain fades from a night sky into a white/silver color as they touch the floor. Multiple fabrics are used on the same design to make it pop better.
5. Gradient Sophistication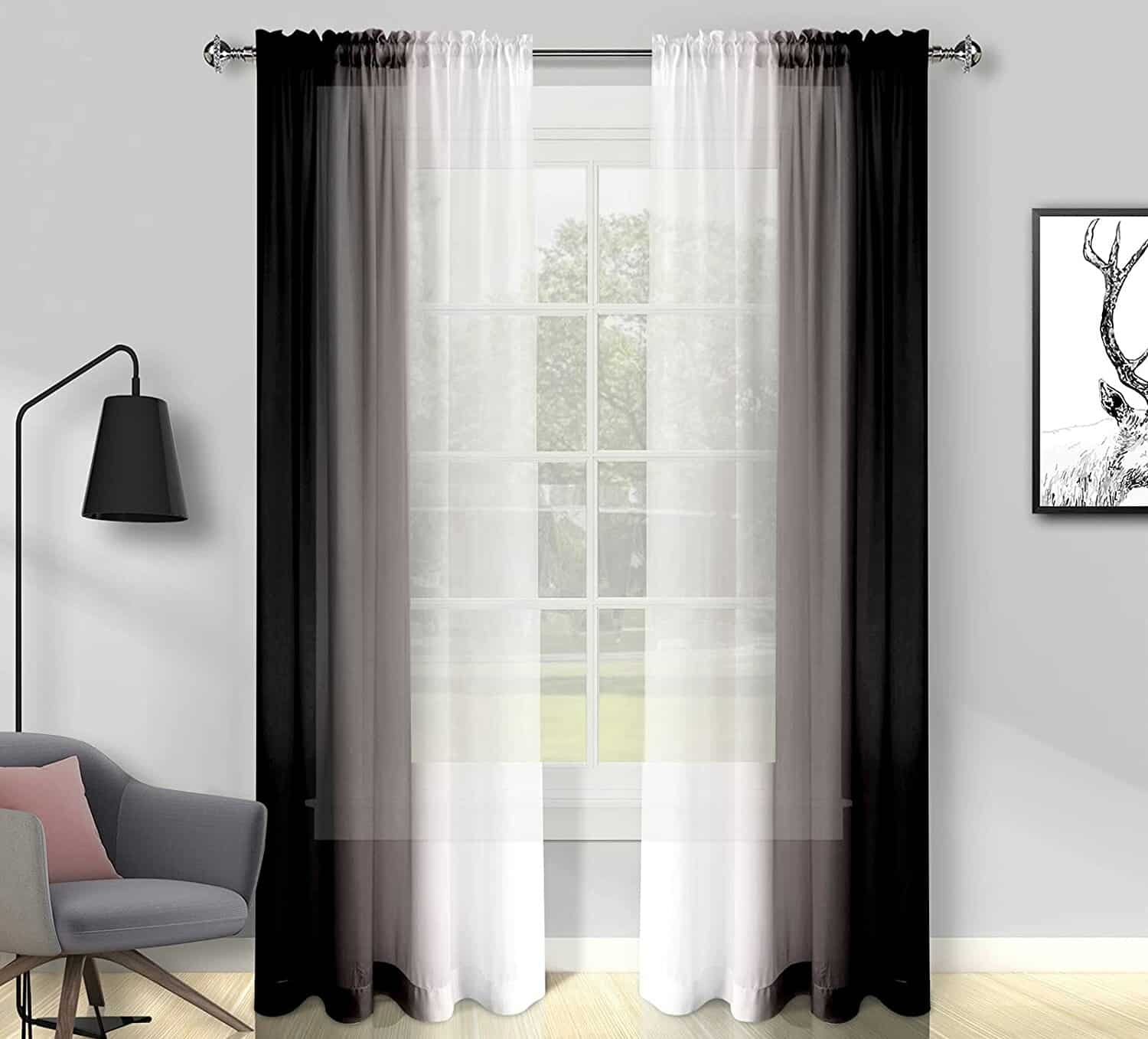 Adding gradience to the living room allows for versatile decor while keeping the room sophisticated enough for modern times. Gradience also allows you to play around with the colors if you change things up a bit, and you can mix and match various fabrics to create a sleek design.
This set of gradient drops from the Melodieux Store brings abundant opportunities in your living room. They add a little gray to the mix. The left starts with a solid black chiffon drop followed by a gray chiffon drop and a white sheer curtain. The same pattern is reflectively repeated on the other side of the rod.
The gradient colors and fabrics in the Melodieux design welcome a myriad of furniture and accent options. A gray couch with black cushions works well, and you can use a chrome rod to finish the accent. Adding a mirror diagonally across the room would make it a trendy space open enough to work with smaller rooms.
6. Bold Geometrics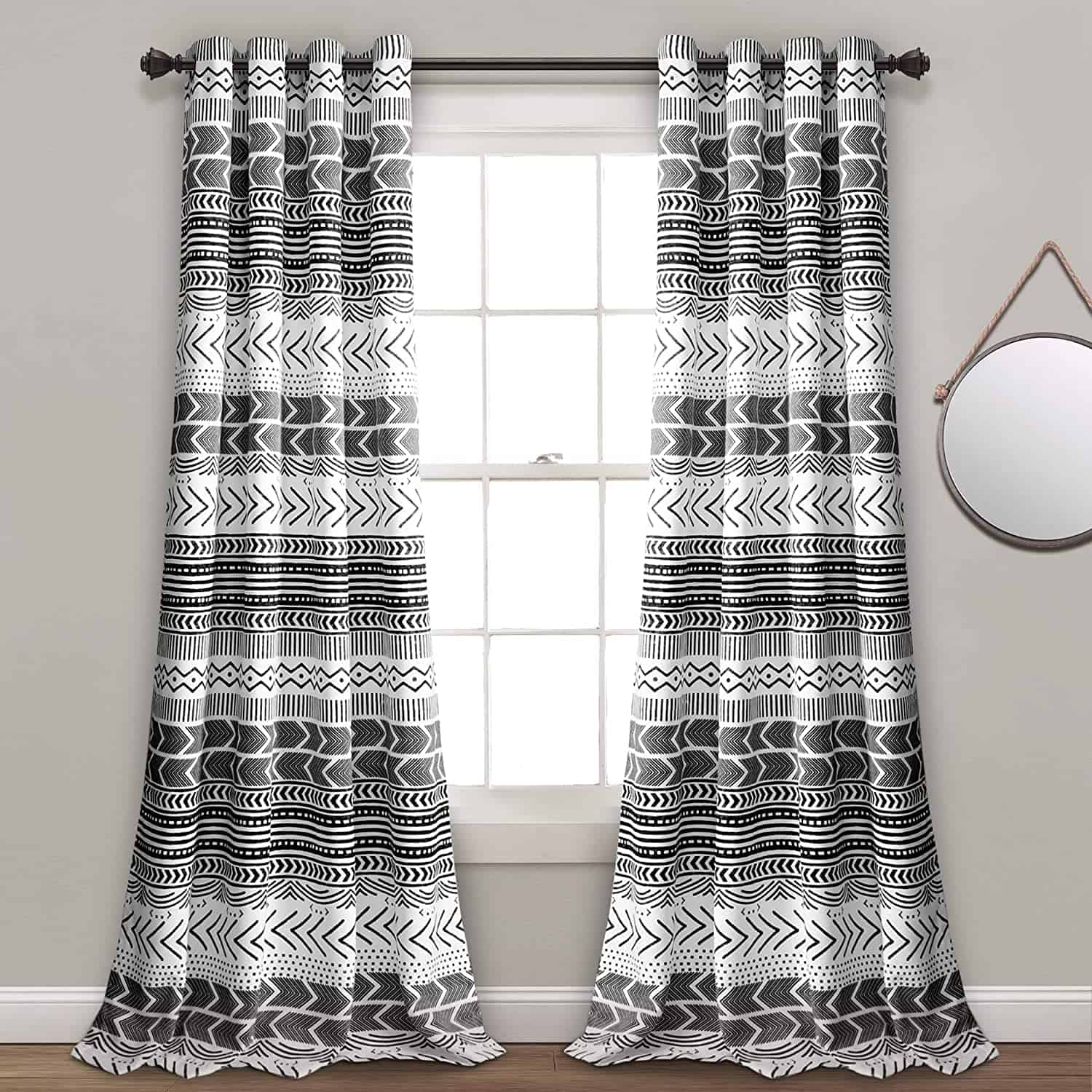 The crazy thing is that black and white works in any pattern, shape, or design, making it a wonderful option for bold geometric patterns in the living room. This black and white Hygge Geo Room Darkening Panel pair on Amazon will amaze anyone who walks into the room with doubt about adding dark colors.
The polyester curtains offer heavier contrasts without overwhelming the room. The curtains are inspired by Boho and Hygge designs to bring a little glamor into a boring space. They use metal grommets for easy installation, and these curtains are machine-washable. How is that not a winner?
7. Soundproof Valiance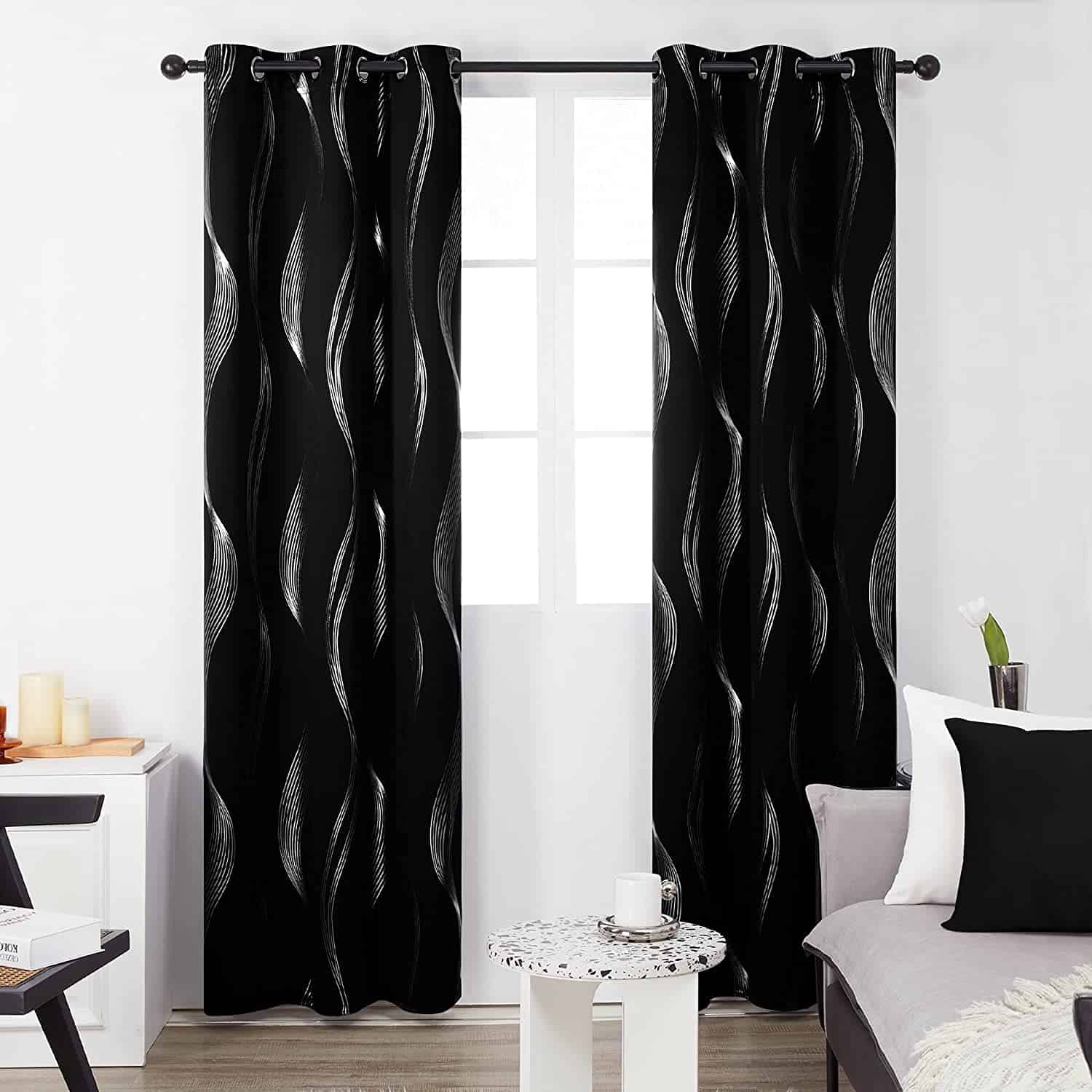 Did you know that some curtains reduce sound vibrations? Now that's incredible news if you live in a noisy city! Blackout curtains are one thing, but noise-reducing curtains offer a new level of privacy and comfort. However, this isn't all about the sound-proof qualities of the curtains that caught my eye.
These Deconovo blackout curtains offer you a chance to be valiant in your designs. Black is such a beautiful color, so why not flaunt it in all its glory? The fine white accent allows you to brazenly embrace a dark window treatment in a large room with double ceilings.
The fabric is a heavy polyester, and the subtle white pattern almost looks silver. This set matches with shades of gray, silver, white, and black throughout the living room.
8. Thermal Comfort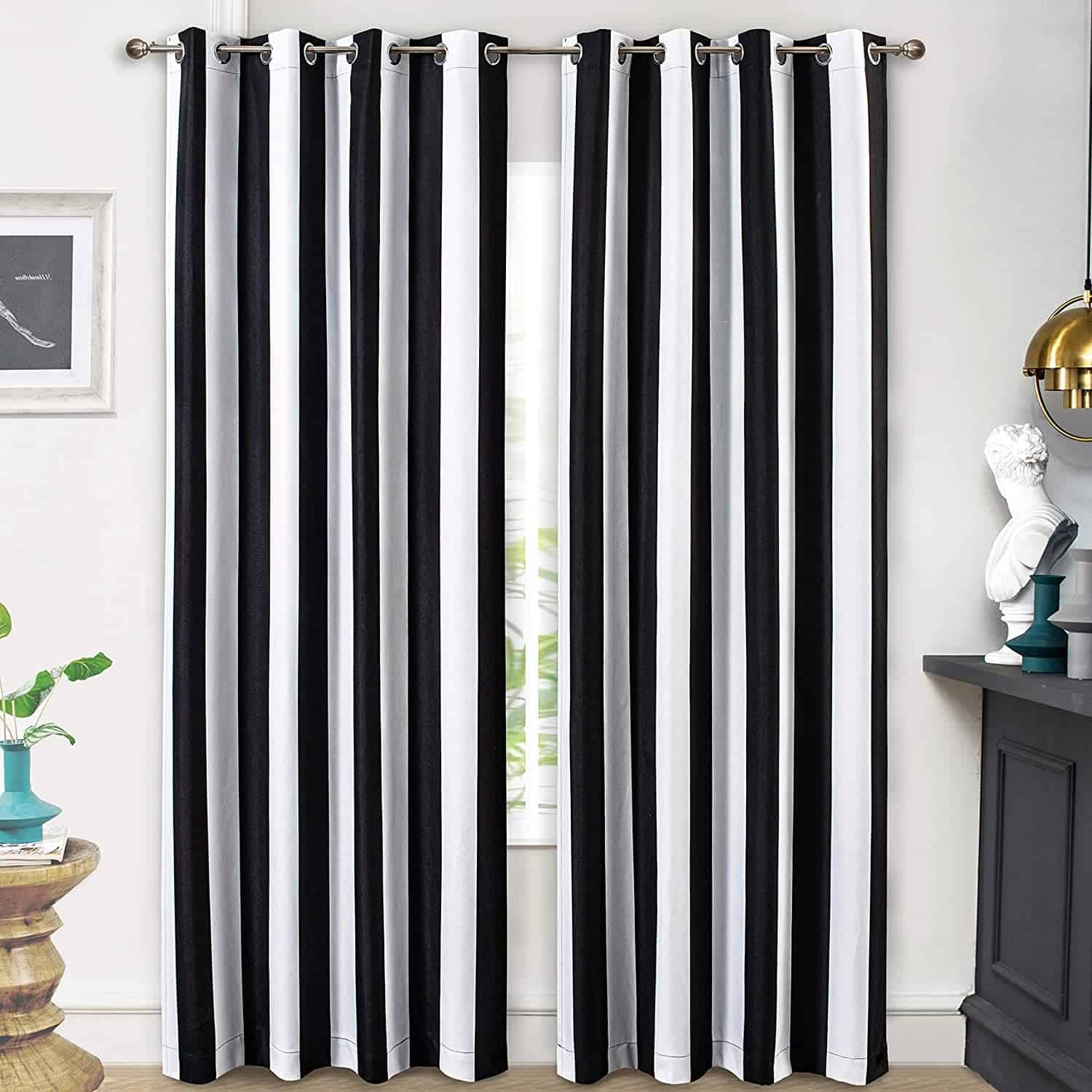 Surprise, curtains also come in thermal fabrics that allow the heat to stay in the room, which is awesome news if you have a double-sized living room. Adding a contemporary design of vertical or horizontal stripes to any room is enhanced by the thermal factor in the Drift Away Store curtains.
These grommet-style 100% blackout curtains bring warmth to a color that appears cold. The heavy polyester fabric brings the bonus of sound-reducing qualities, and this pair of drops look amazing against white or light gray walls. Adding a bright red or blue splash into the room can also work if you use solid colors.
9. Country Feels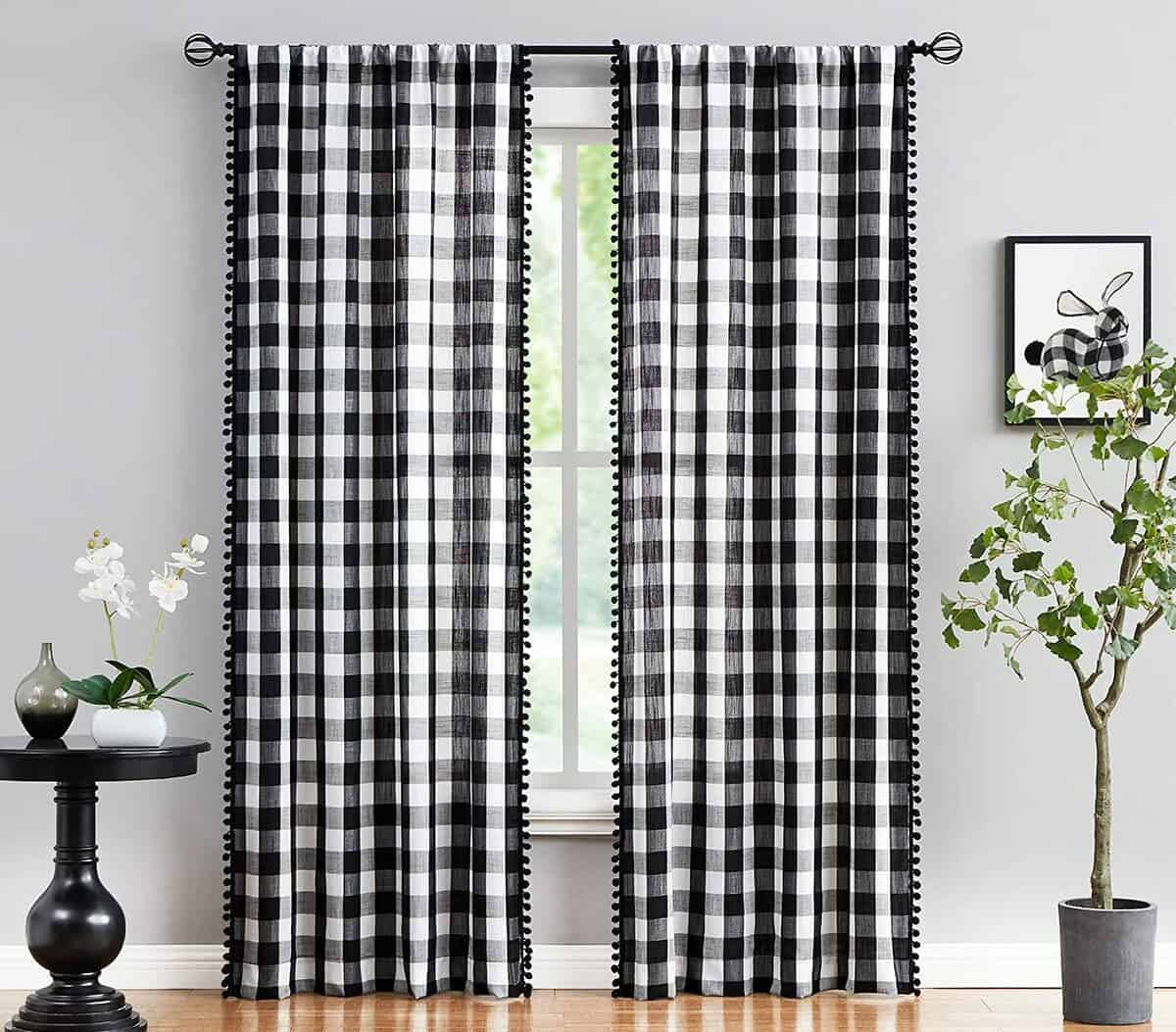 Rustic or countryside designs feel awkward with black and white curtains, but that's only because you've never seen it in action. Contemporary design doesn't recommend adding too much rustic or farm-style furniture and accents in one room. A dash of everything contrasts each other far better than an overkill of country.
Sticking to a checkered pattern in your curtains allows you to bring black and white into the living room. These Pom Pom White Black Buffalo Check Curtains also break down the masculine feel of too many rustic vibes. They're semi-sheer curtains that also bring extra light into the room.
If you're looking for a finer check print, look at these country-styled curtains from Ziolte. The tab top allows for a more traditional rustic design, and the 100% cotton fabric is easy to wash. Keep in mind that you shouldn't add too many pattern accents in a room with checked curtains.
10. Layered Zebras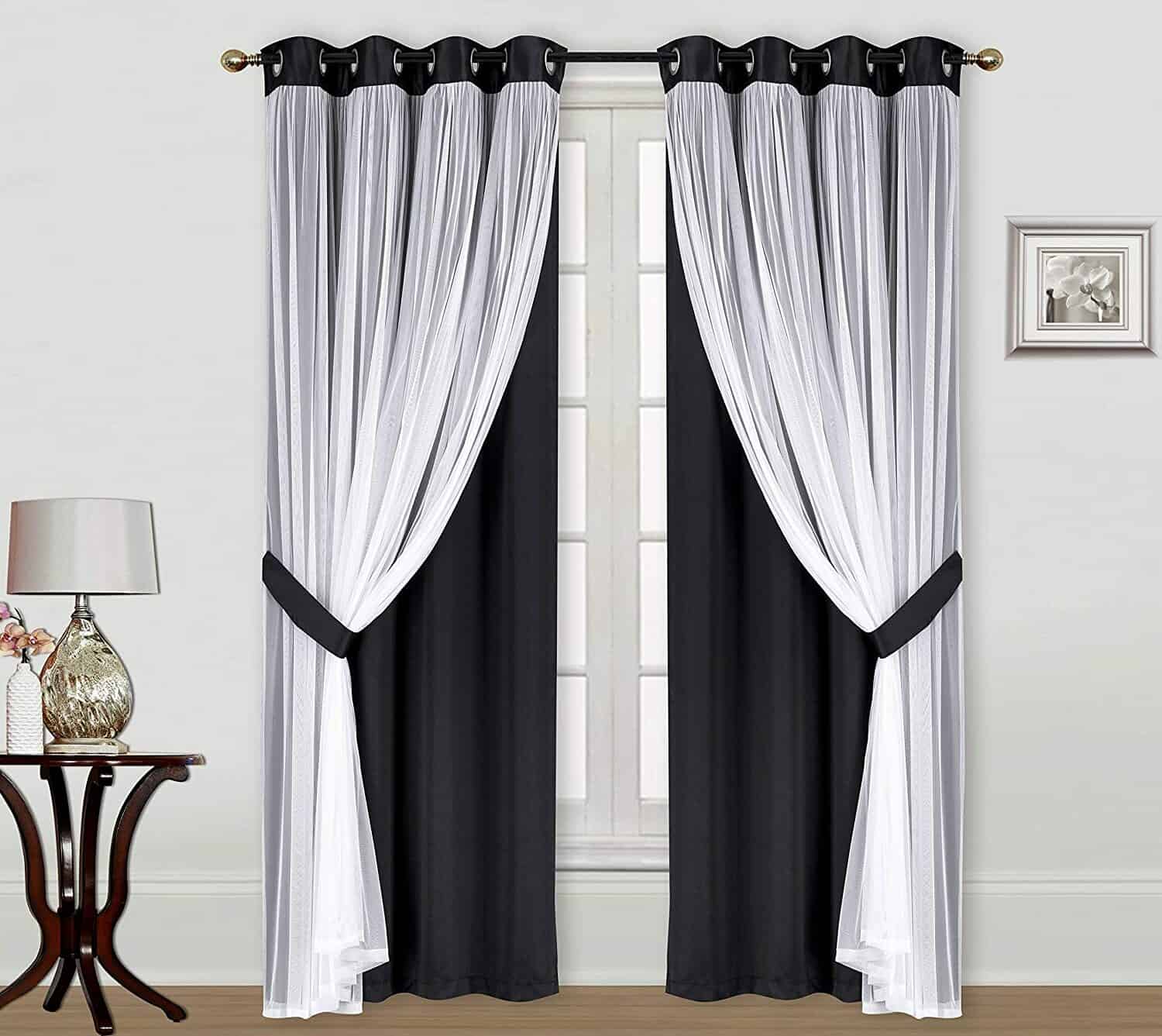 There are so many options to layer window treatments. Layering black and white curtains is a bold statement waiting to scream elegant in the living room. You could layer black curtains over white blinds while tying the curtains back to create an opulent design over blinds.
Otherwise, you could create the same opulence in layering curtains. Either place the white curtains behind the black ones, opening each to a different setting. You could also try these ready-made curtains with a solid black blackout curtain overshadowed by a sheer white curtain. Pizazz never looked so good!
Black and White Curtains Ideas for a Bedroom
A bedroom is a place of rest, peace, and balanced oppositions, so we don't struggle to sleep. Too much black can upset the balance, and too much white can kill the spark as we become too relaxed. These are some ideas to spruce up the bedroom with black and white curtains.
1. Call Me Ombre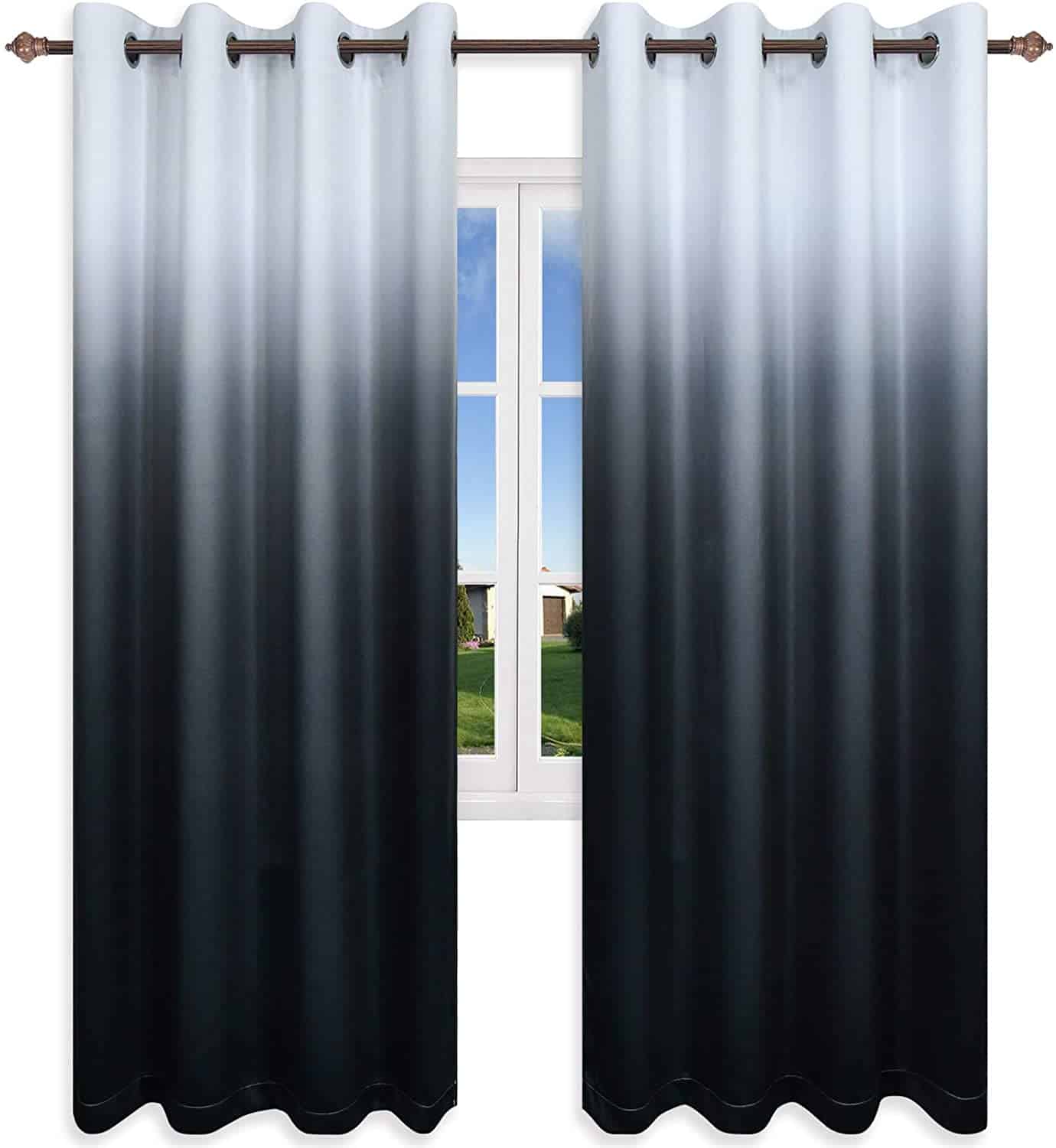 An ombre design is similar to gradient fading in a curtain. It strikes elegance and the perfect balance of colors in any bedroom, and as a bonus, it's easy to match with your linen. These gradient thermal grommet drapes are perfect for a bedroom as they close and open easily while providing warmth in winter and fall.
You get a rich fabric that will last for years, and it blocks up to 95% of UV rays to ensure undisturbed sleep. The fading white from the top into a black bottom allows the curtains to set the right mood between rest and excitement, allowing the bedroom to be the place you desire in all ways.
2. Boho Inspired Bedroom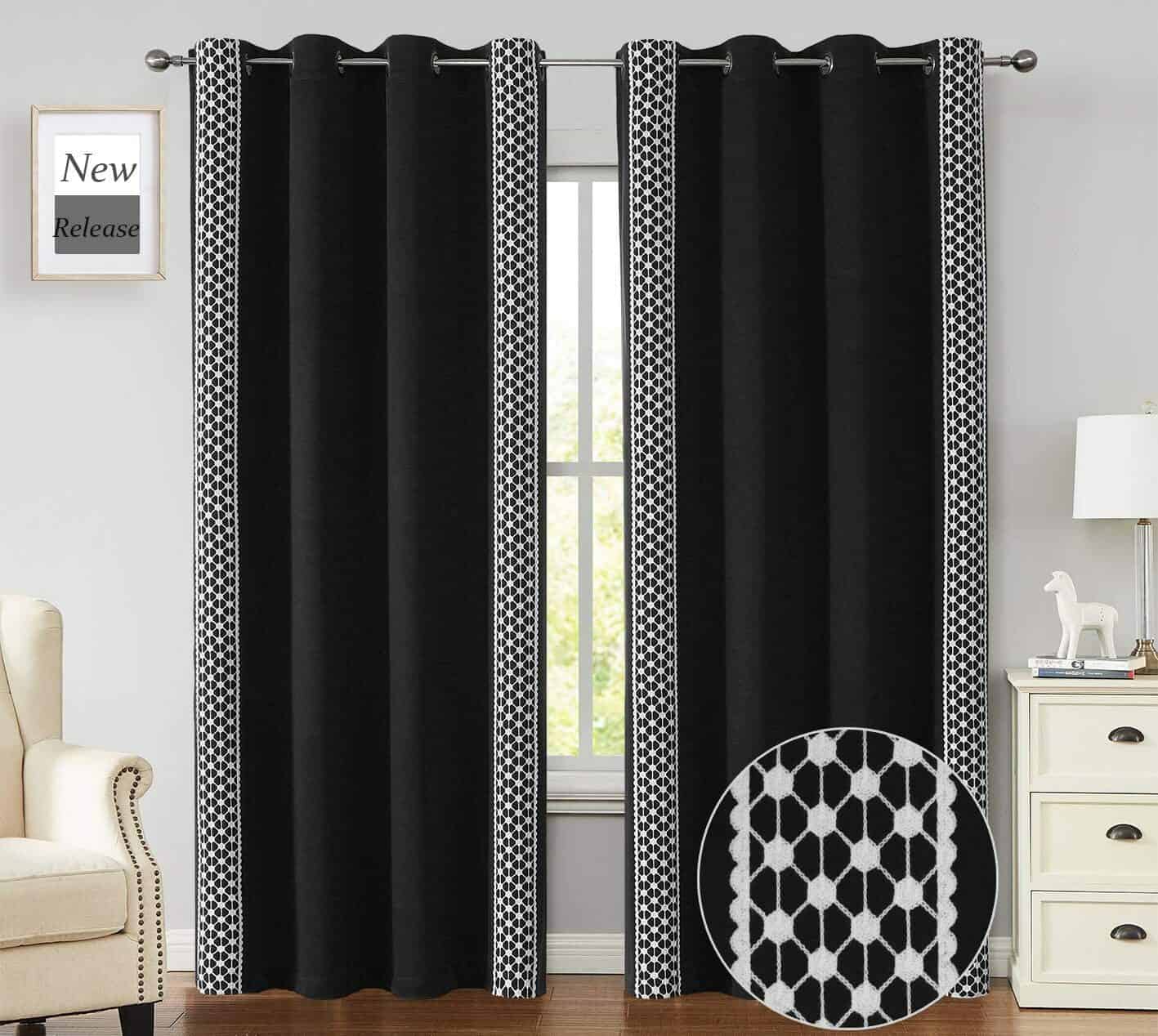 Before you panic, Bohomenian styles are simple and contemporary, even though impoverished artists inspired them after the French revolution in the 19th century. Talk about a story of rags to riches. Boho styles are huge in interior designs in 2021, and black and white can also enter the arena.
These blackout geometric grommet curtains bring Boho and contemporary design together with embroidered trimmings. The thick, durable black fabric feels smooth while offering intricately beautiful white embroidery on the sides. This is a bold move for black in a bedroom, but it will work well with white linen and red navy blue pillow covers.
3. Block the Faux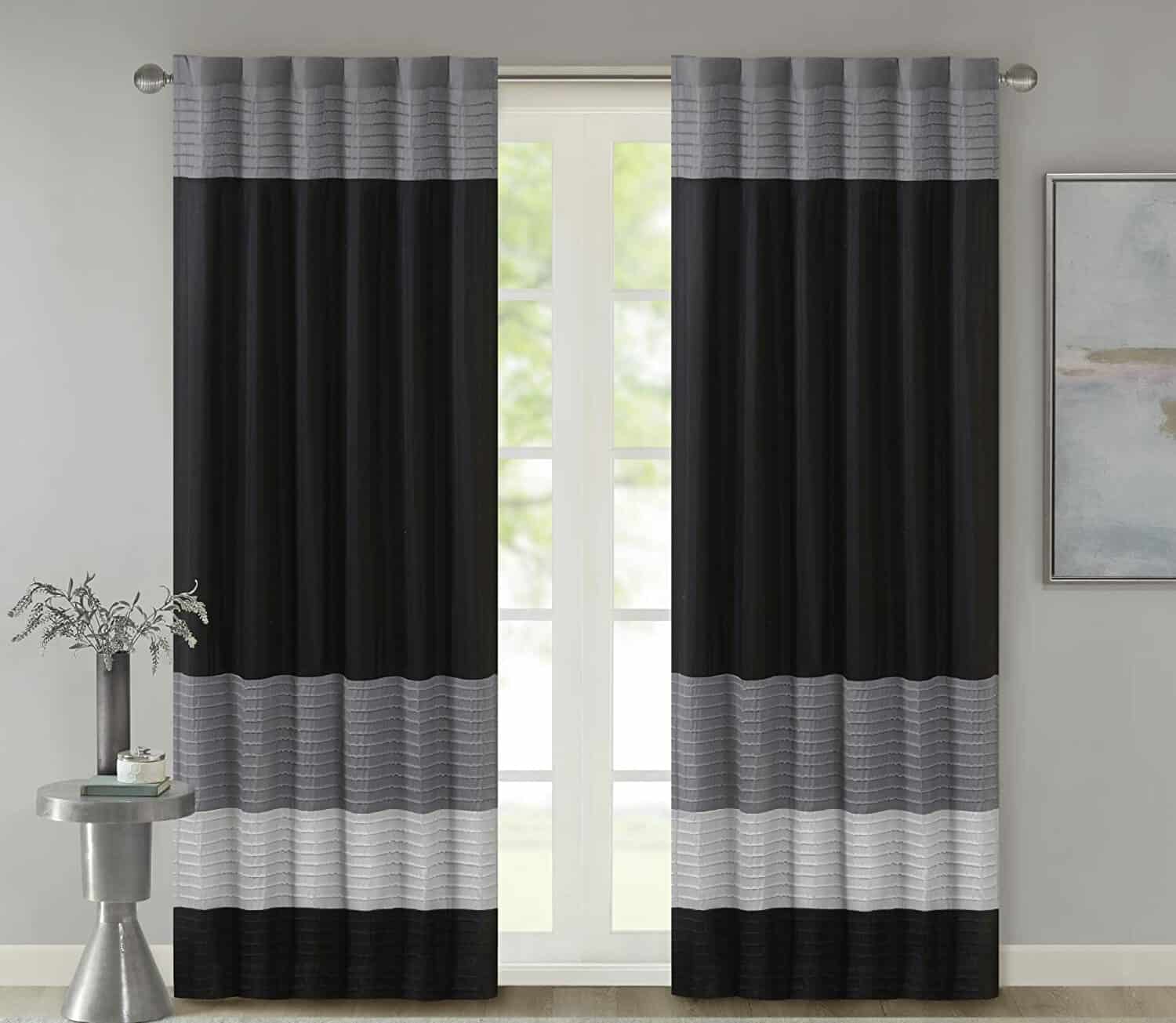 Block pattern curtains are also in style in 2021, and they make for great bedroom designs. Adding a little gray into the black and white design, these Faux Silk Rod Pocket curtains from Madison Park blends elegance with versatility in a bedroom. Besides, isn't silk a beautiful fabric in a bedroom?
The curtains are made of polyester, but they have a silk feel and look. They also have a thick back lining for added privacy and a cozy ambiance. The blocks also have pintuck detailing for added texture. As a bonus, Madison Park has matching linen for the bed if you want to extend the block style.
Black and White Curtains Ideas for a Bathroom
A bathroom isn't a circus tent, but you could add contrasting ambiance to the space, especially if your tiles are white.
1. Golden Marble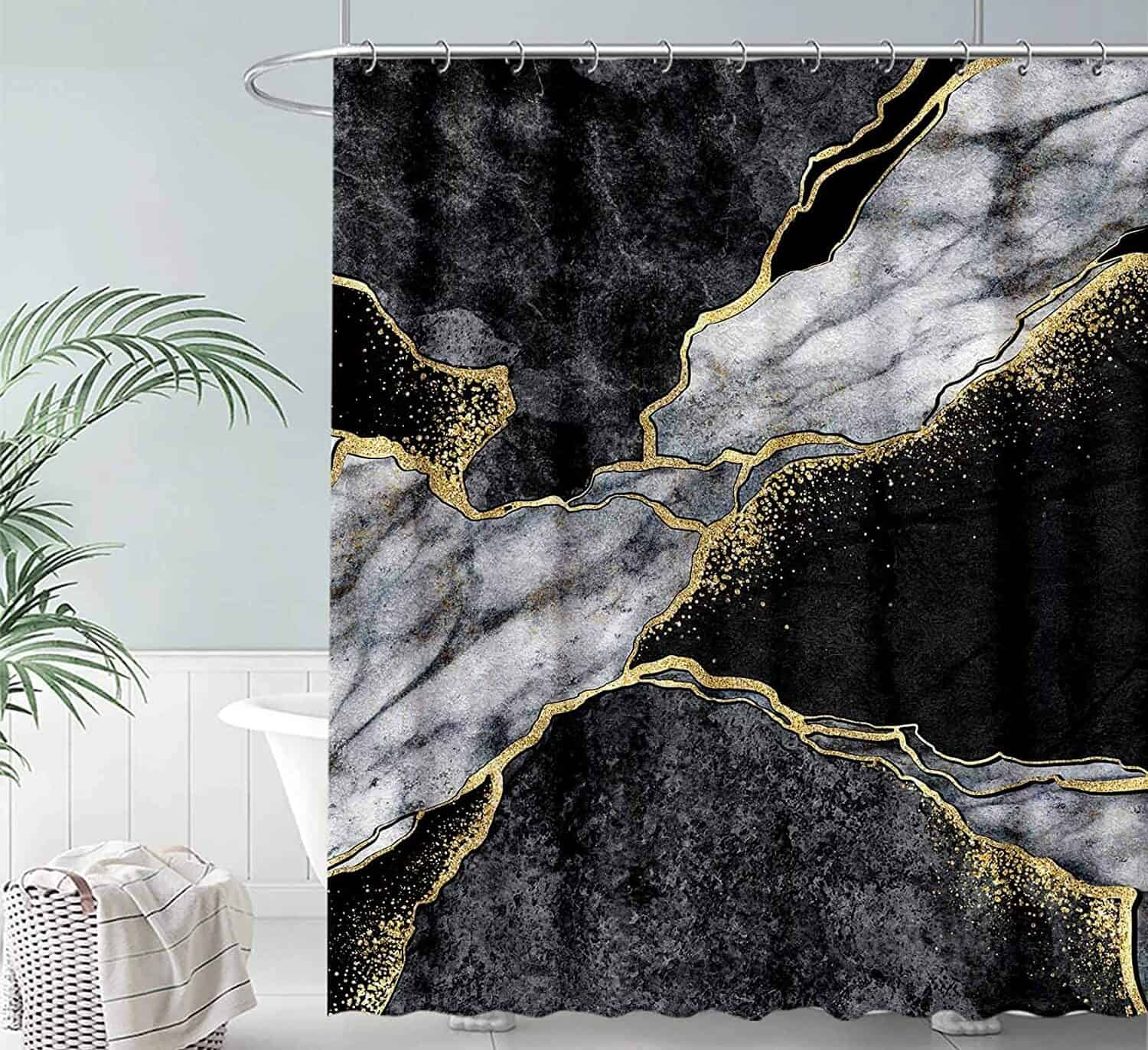 Gold is a first-choice accent for black and white, so Full Sail's waterproof polyester shower curtain is a sure winner. The abstract design looks like black and white granite with golden accents splashed between the colors. It would best match with a simpler window design like this against a white tiled background.
2. Overpowering White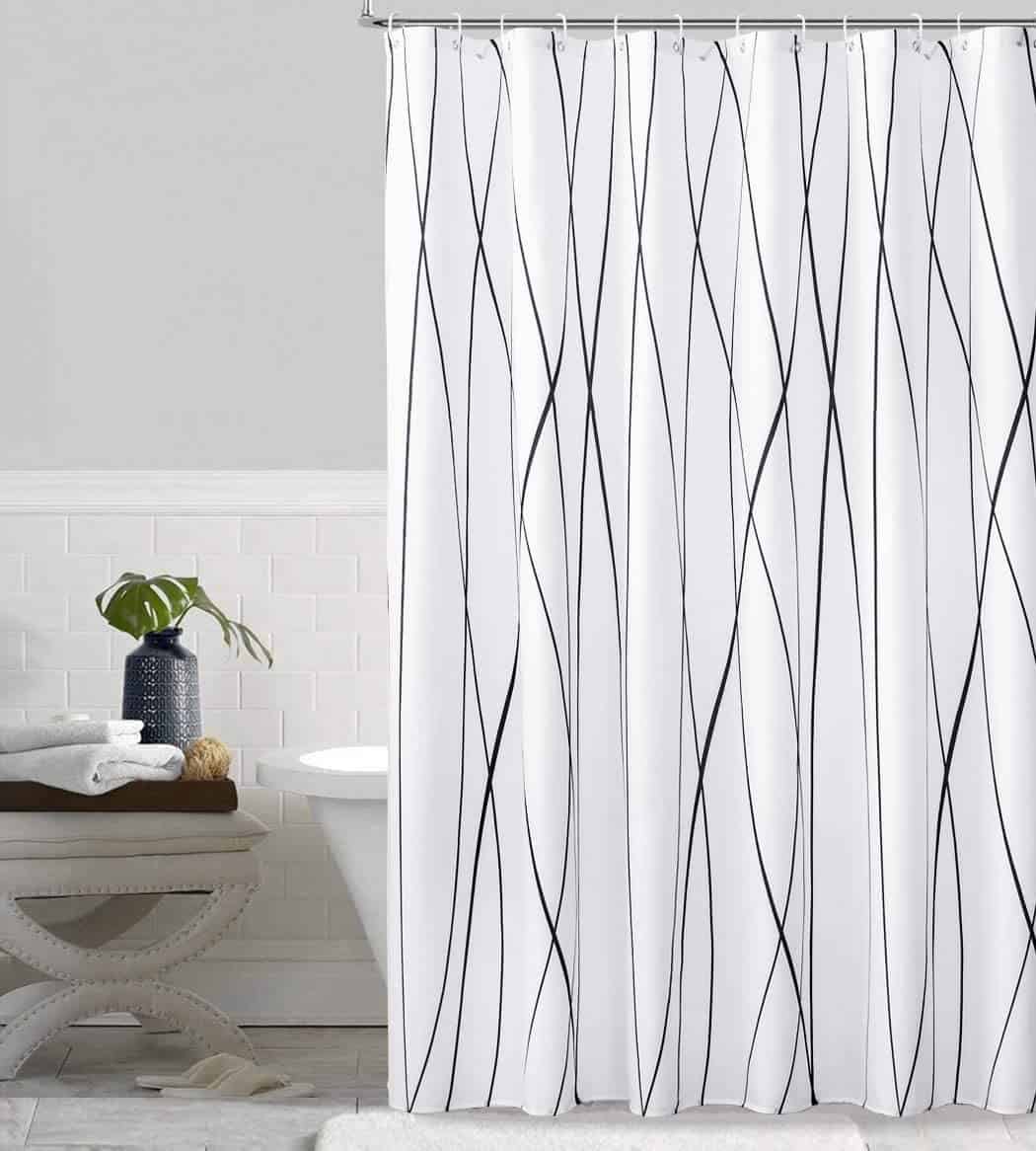 If your bathroom is smaller, you'll want to use white as your base and black as your accent. This contemporary striped shower curtain will match well with a plain white window treatment. This 3-piece valance set doubles as a blackout and thermal option to keep the bathroom light.
Bonus Tip: Add black and blue or yellow accents to the bathroom to balance the colors without shrinking the room.
3. Tribal Fun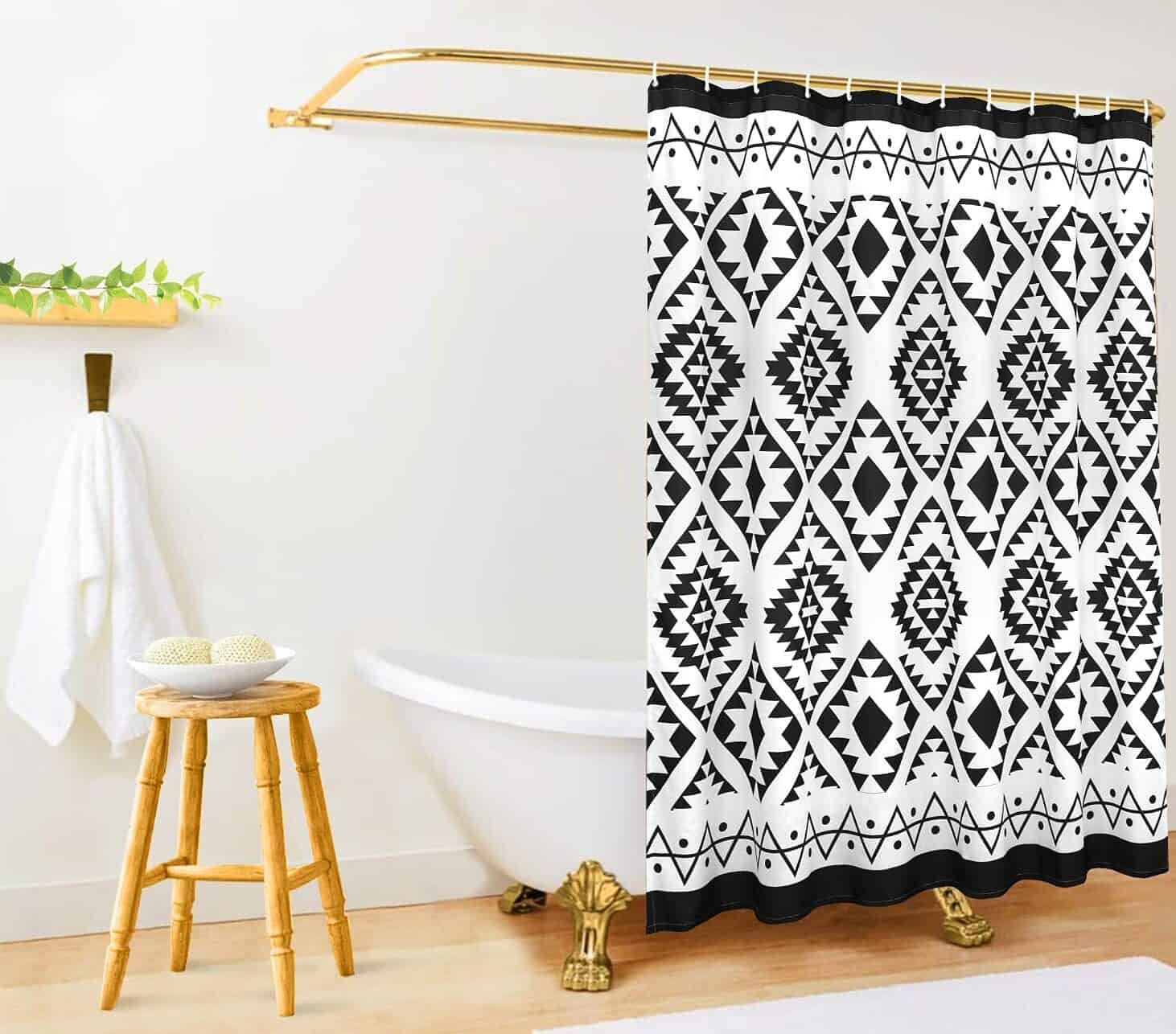 The Boho tradition can sneak into the bathroom as well.  Combining this incredibly artistic Boho-style shower curtain adds decor to boredom, especially if you have gold finishes in your bathroom. The geometric design will bounce well off a sheer black curtain or valance on the window. Maybe this one intrigues your passions.
Black and White Curtains Ideas for a Kitchen
Let's not forget the kitchen. Too much of anything becomes monotonous. Remember that you shouldn't zebrify every room in your home, but having options expands the possibilities.
1. Cottage Kitchens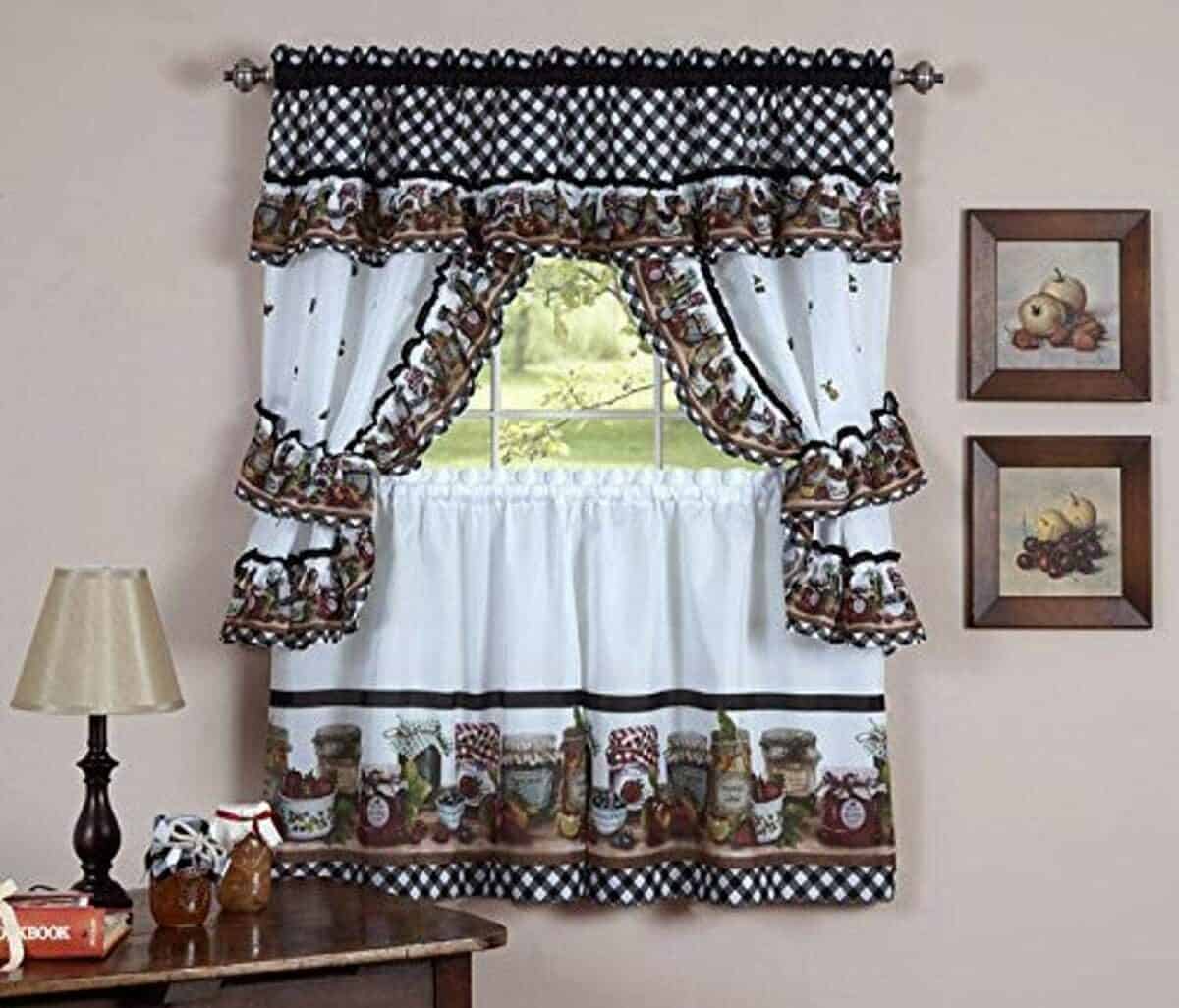 A kitchen is a place of warmth and family, and some people still go gaga for the cottage feel. Black and white work well in a kitchen. This 2-piece mason jar setup does fine for a country-style kitchen filled with moments of familial laughter. Moreover, it has rustic-colored images to match fresh fruit and spices in the kitchen.
2. Damask Balloons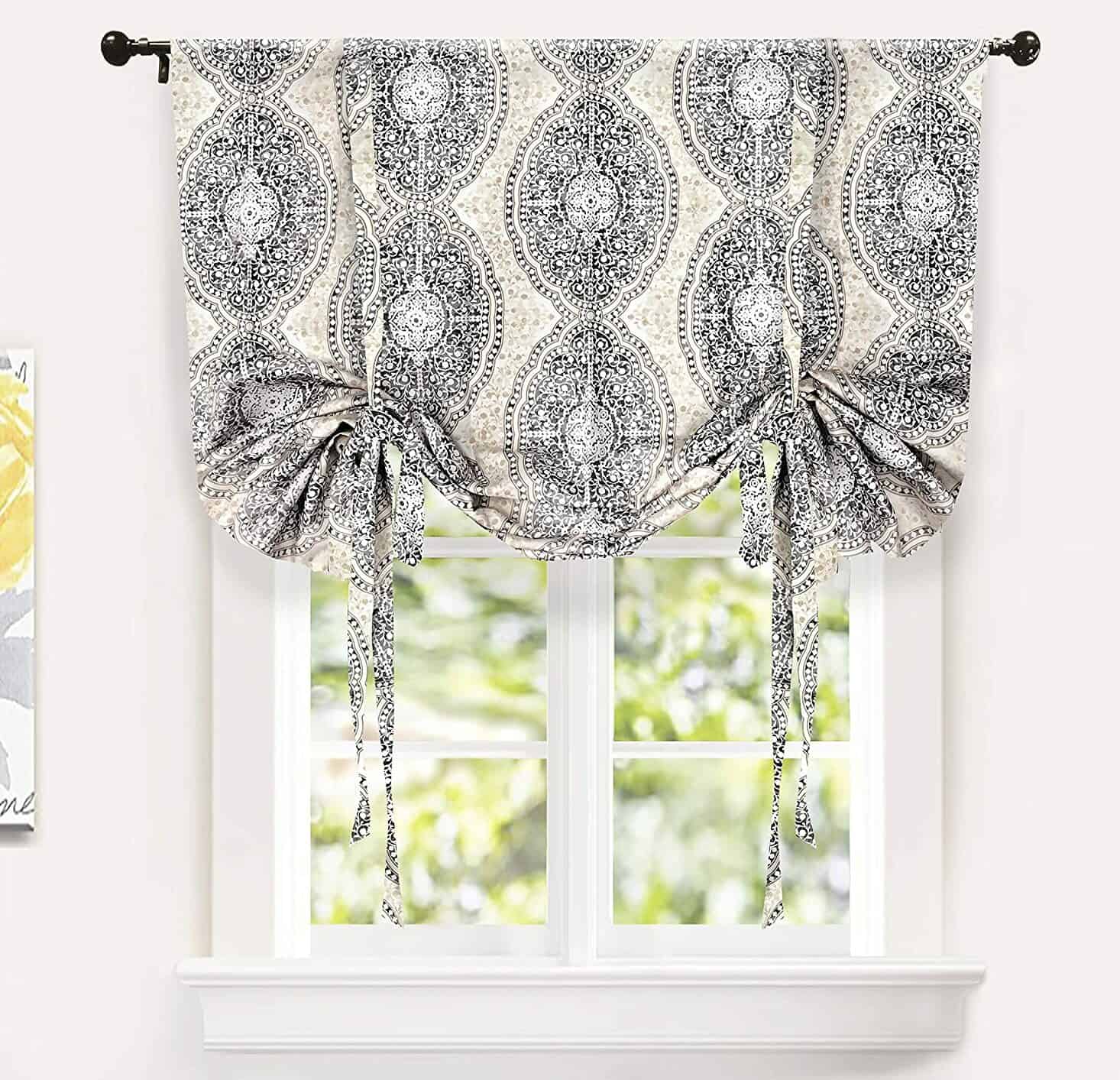 For a slightly more contemporary design on a kitchen window, this beautifully intricate damask-style balloon curtain brings black and white to a room without shrinking the space. Additionally, it's a blackout, thermal curtain with easy-to-use drawstrings, while the designer used triple weaved fabric for ultimate quality.
3. Ethnic Pleasures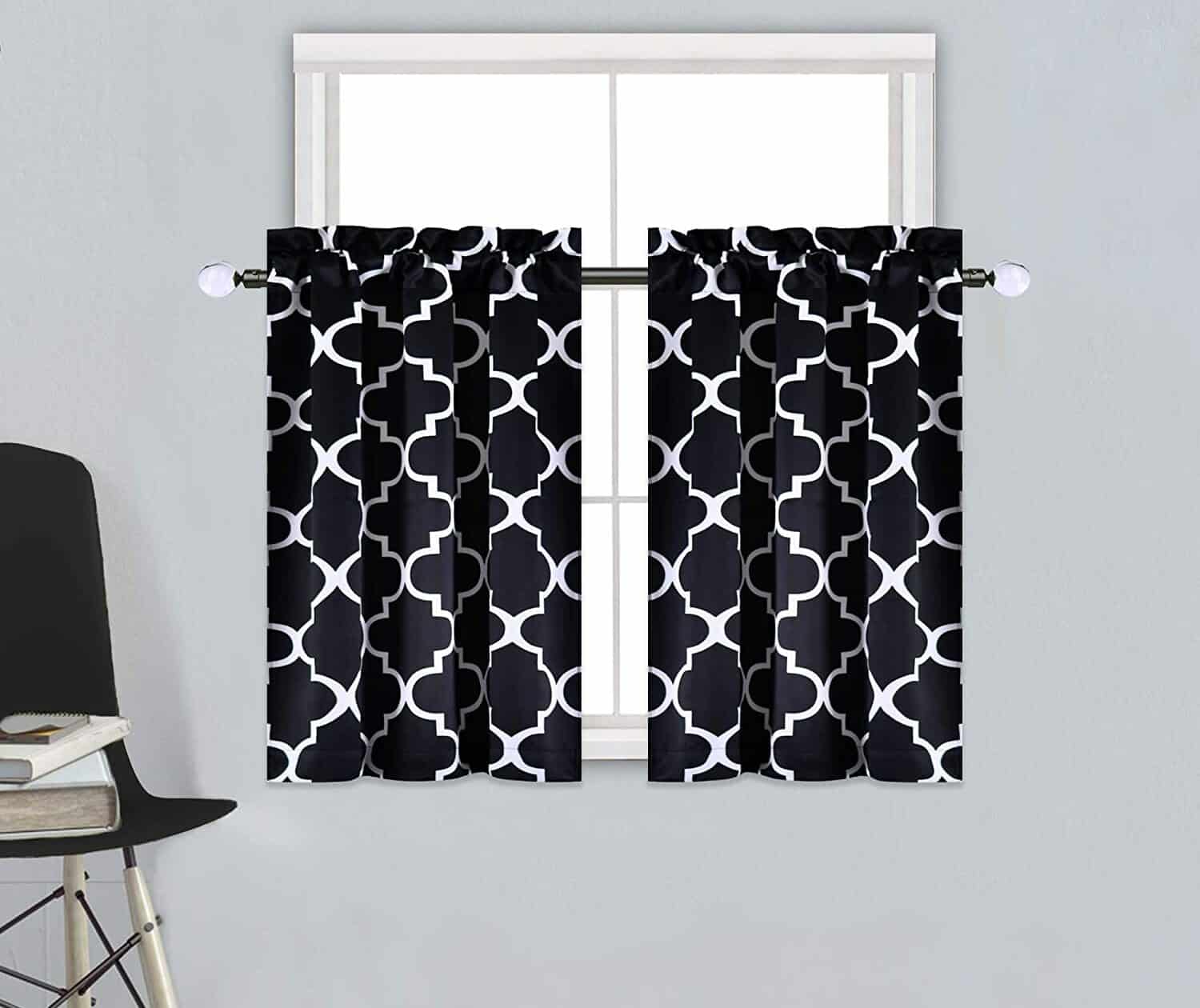 I love experimenting with ethnic cuisine in my kitchen, so these curtains immediately caught my eye. The Morrocan design matches my zest for food from other countries while utilizing the black and white contrasts. It makes my kitchen feel like a real foreign cafe. This curtain is best used in a larger kitchen.
Tips for Using Opposing Colors in Your Home
To truly understand the beauty of opposing forces like yin and yang, you must understand each force individually. If you're struggling to match your furniture, walls, and accents with black and white, take a step back and consider how you can match your decor with the individual forces that encumber the duo.
White Ambiance
White is a neutral color that fades into virtually any background, wall, or room. It's beyond sophisticated, and it's tied to so many beautiful traditions. It can even welcome peace to warring states, and the color splash in your home is considered modern while being minimalistic and clean.
White blends with numerous colors other than black, including red and blue. White has no shades per se, but it can also fade into silvers, grays, and beiges. It builds momentum into other colors while providing a neutral base for patterns and eccentric designs.
The biggest downfall with white is that it doesn't wash easily or stay clean. Consider this when you design your rooms. Always use more black than white if you have large enough rooms. Use more white and less black if you have smaller spaces, or you'll be wondering what happened to your room.
Mainly white curtains can also contrast black walls, especially if the black accents on the curtains are minimal. You can even be brave enough to have a pure white room with minor black trimmings but think twice about it if you have kids or pets. Your decor shouldn't cause stress.
Black Ambiance
The other side of the opposing colors is black, and if you're into Eastern cultures, you'll know that a little bit of black in white is recommended and vice versa. It has a lot to do with the fight between evil and good, but in this case, it's about contrasting two moods to create bliss.
The beauty of black is that it fades into every color. Why do you think black clothes are so popular? Matching black to orange, purple, green, blue, red, gray, white, yellow, and mauve are just some possibilities. To make the black and white design work well, you'll need to focus more on matching white to other colors.
Black also brings a certain sophistication to any space, and it can be used in formal or casual settings. Black also absorbs sunlight and heat, making it an automatic comforter in cooler homes. These are rules to remember with large black accents:
Only use primary black curtains in larger or grande rooms.
Use black curtains to increase the cozy ambiance of empty rooms.
Hang them in rooms with double-height ceilings and raise the rods.
Don't hang primary black curtains against a black or dark wall.
Solid black curtains can work with any pattern, shape, valance, piece of furniture, or design.
And that's how simple it becomes to use the yin-yang contrast in your home.
Where to Find Amazing Black and White Curtains
Zebrifying your home doesn't need to cost a fortune as the colors are available at most stores and on Amazon. For affordable options, browse these stores:
And no, you won't need to assemble your IKEA curtains. Jokes aside, the color combination is easy to find.
Frequently Asked Questions
Question: Which Fabrics are the Best for Black and White Curtains?
Answer: If furry curtains looked good in homes, I'd say order some from Africa, but a hide over your window could look ridiculous. The best fabrics for black and white curtains are simply; everything—silk, velvet, cotton, polyester, linen, and sheer work well.
Question: Should Curtains be Darker or Lighter Than the Walls?
Answer: Unless you're trying to set an inverted trend, your curtains should be at least one shade lighter than the walls if you have darker or colored walls, but any color goes with white or black walls, so consider this contrast to be an exception. However, don't put black curtains against a black or navy blue wall.
Question: Should the Main Accent be Black or White to Retain Better Heat?
Answer: Which color do you see better when you stand outside? White bounces back at you as your eyes capture the energy. White is highly reflective, meaning it will dispel heat from your rooms, whereas black will absorb it into the fabric. For warmer, cozier homes, choose larger black accents or solid black curtains.
Question: What Color Sofa or Rug Do I Need?
Answer: Again, it comes down to a personal choice between curtains. For patterns and geometric curtains, stick to solid furniture colors. For solid curtains, stick to patterns in your accents. When it comes to which color you can use, any contrasting colors for white will work well with black.
Question: Does Too Much Black Make My Home Look Gothic, Evil, or Occult-Like?
Answer: I must laugh when people ask me about the occult-like ambiance. Stereotyping a color is a little fascist. White is the exact contrast to black, so this style guide has no gothic moods. Even the Department of Physics at the University of Illinois agrees that black and white are opposing forces that attract each other.
Final Thoughts
Black and white are powerful but neutral colors that seem to find each other in everything from nature to ancient philosophies. They represent the beginning and end of everything, and they've been a part of fashion and decor for many years. Both colors bring immense mood changes and qualities to any home.
Keep in mind that your space and accents will influence which curtains you install, but if your home welcomes the trends of dark and pure combined, I highly recommend the "Soundproof Valiance" idea for a living room. I recommend the "Boho Inspired Bedroom" for your exciting and peaceful bedroom.
For the kitchen, I recommend "Ethnic Pleasures" because I'm a sucker for other cultures. I'd certainly recommend the "Golden Marble" Design for any bathroom with white tiles. You can't add more finesse to a room where you need to relax and rejuvenate yourself.
For more inspirational trends in curtains, check out: