Latest posts by Erin Jamieson
(see all)
JCPenney has long been known for its budget-friendly home goods and clothes– including great ideas for window curtains. And while its future as a store is uncertain, it may just be one of the best places to snag a great deal on curtains in 2022.
2020 was not kind to many department stores, and that was especially true for JCPenney. JCPenney was already struggling to keep pace with competitors, both from the discount side (like TJ Maxx) and dominating all-in-one stores, like Target. 
But JCPenney, which has offered online shopping but continued to excel most at in-person shopping, was hit especially hard when lockdowns swept the United States. As nearly 27% of retail sales fell around the country, JCPenney closed many of its stores, including one near me. 
But the company may still have a fighting chance. After changing CEOs more than a few times and filing for bankruptcy in 2020, the remaining brick and mortar stores and online store was purchased by Simon Property Group and Brookfield Asset Management. 
Now, JCPenney is focusing on offering a more modern catalog of home goods, including curtains, at attractive prices. While the future for JCPenney is uncertain, the curtain collection ironically may have improved for 2022. 
So what's in it for you? Better deals and potentially appealing curtain ideas that are more updated than before. In this guide, I'll tell you what to expect when buying curtains from JCPenney, and my favorite ideas for curtains in 2022. 
What does JCPenney sell?
JCPenney sells products both online and in their physical stores, which you can locate using the JCPenney store finder tool. Think of JCPenney as a traditional department store. Like Macy's, they sell clothing, accessories, beauty products, and home goods and decor. They're also known for their affordable fine jewelry collection and small appliances. Some JC Penney's also have hair-cutting salons attached. 
Does JCPenney carry curtains in the store?
Many love the experience of shopping in stores for curtains, and I understand that. Not all JCPenney stores have curtains in-store, or many may have some curtains, but a far more limited selection than what you'll find online. However, you can shop online and have the curtains shipped to the store of your choice. How many curtains are in store is largely dependent on demand and the size of the store. 
Does JCPenney install window treatments?
One reason why many buy window coverings and treatments from a store like Home Depot is that there often is an option to have them professionally installed. And for a while. JCPenney did as well. In fact, they had their own custom window department. 
This allowed customers to design and find made-to-order window coverings and even included professional installation services. But in wake of the struggles during the pandemic, JCPenney no longer offers these services. The good news is that most of the curtains and drapes they sell are easy to install yourself. 
Does JCPenney make custom drapes?
This, too, is no longer a feature. Though JCPenney once made custom drapes, now they do not. However, you may find that their catalog is sizable enough you don't need to custom order. For tricky sizes, you could order curtains that are larger than you need and hire (if needed) a professional to cut them to size.
 You could also opt for Home Depot curtains as an alternative if you need a fairly plain but durable curtain that can be professionally installed.  
What's ordering from JCPenney like?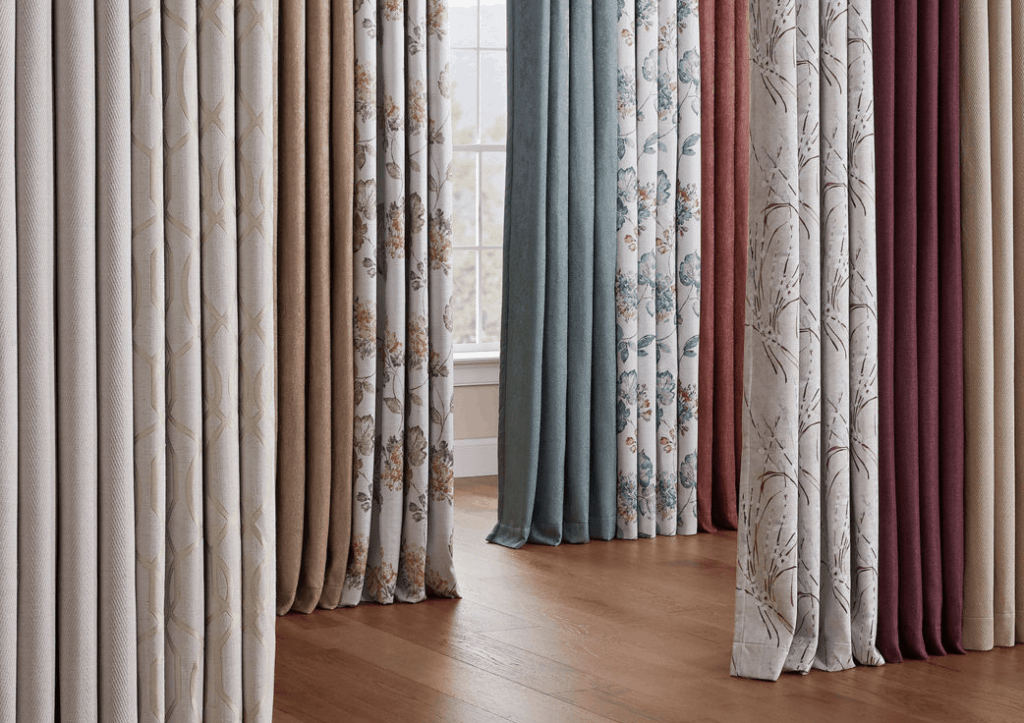 Ordering from JC Penney is usually a fairly easy process. Their updated website is easy to use, and you can even shop by clearance and sales, which now is an even better bet than it was in the past. You simply add an item to your virtual cart and you'll be given plenty of information about their products before you buy. 
How do I check on orders from JCPenney?
Once you've ordered curtains from JCPenney, you can track your order online. You should receive a confirmation of your order, along with a tracking number. 
Does JCPenney offer free shipping to stores?
For most products, including curtains, JCPenney also allows you to ship to a store near you if you prefer that to be shipped to your door. 
How many days do I have to return something to JCPenney?
JCPenney offers a generous return policy (28 to 90 days, depending) for its curtains and most of its retail. However, you do need a receipt or confirmation of purchase. A refund offers the price of purchase, but not the sales tax paid. Some items have been returned in-store without a receipt for store credit. You can return by store or by mail. 
Does JCPenney offer price matching?
Another reason why JCPenney may make for a smart budgeting decision for curtains is its price match guarantee program. An identical item must be found within 2 weeks, at a lower price. You should bring the listing to a physical store or contact support by calling 1-800-322-1189.
As a whole, ordering from JCPenney is not extraordinary, but it does have some advantages. 
Is JCPenney a good place to buy curtains from?
JCPenney has some fair consumer policies, but what about their curtains? Online, you have more than 1,100 curtains and drapes to choose from, making for one of the bigger collections for a traditional department store. 
What kinds of curtains does JCPenney carry?
JCPenney carries blackout, room darkening, light-filtering, and sheer curtains. While low cost but durable polyester and cotton curtains are common, you'll also find a handful of lace, linen, and velvet curtains. 
Most of their collection is contemporary or traditional styles. However, you'll also be able to select a few rustic and farmhouse, and modern glam designs. They do a nice job of supplying versatile and solid colors while adding a few playful but expected prints to their collection. 
Neither the very highest nor poor quality, the average customer is going to be able to find curtains that work for their home.  
How much do JCPenney curtains cost?
JCPenney curtains cost anything from $5 to $350. $350 is an outlier– expect to spend $100 to $200 for the highest quality, insulated curtain sets, but an average of $25 to $75 for most curtains. For what's offered, the prices are fair– and you have the price matching guarantee if you find those curtains elsewhere. 
With constant sales and clearance sections, you can also benefit from lower-cost curtains. 
JCPenney Curtains: My Picks
Here are my top ideas for JCPenney curtains in 2022. For my picks, I've considered the materials used, special features (such as insulation, light protection, and easy care), and the overall value. I also made sure to include a variety of aesthetic designs as well as different levels of light filtration so you get a solid sense of what JCPenney has to offer. 
Blackout Curtains
JCPenney blackout curtains range from $7.99 (clearance) to $42.79 for an overall quite affordable collection. You'll mostly find solid colors and modern geometric prints, in classic colors like white, blue, gray, and neutrals.
Some of my favorite options are specifically designed to be energy efficient, so you get not only 100 percent privacy and sun-blocking, but also save a little on energy bills. Cotton and polyester are the most common fabrics.
Eclipse Ambiance Shimmer Draft Stopper Energy Saving Blackout Curtains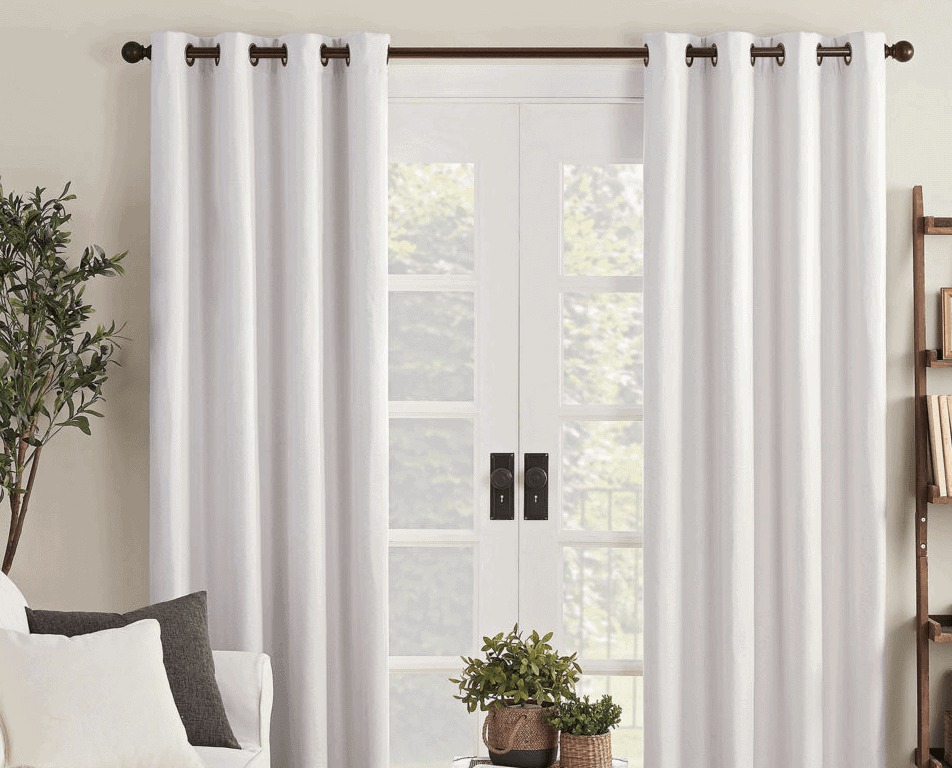 The highest-rated blackout curtains that JCPenney sells, are a classic grommet panel style, with energy-saving features. The 100 percent polyester, Jacquard fabric is machine washable and designed to both block out all light and insulate against drafty doorways or wide windows. The classic white is contemporary and elegant (lookout for a deep red coming back in stock). Buy Here. 
Linen Street Naturals Blackout Rod Pocket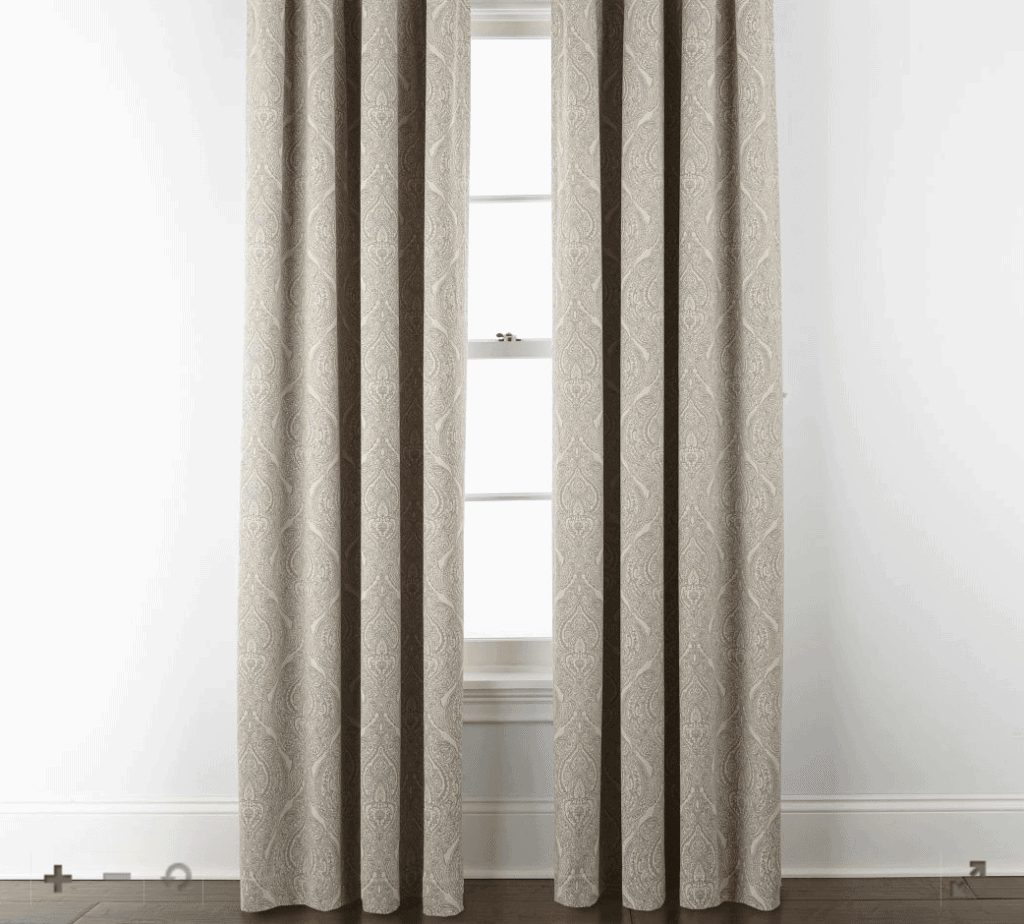 These blackout curtains are at once versatile and elegant, with 100% blocking protection from sunlight. Woven cotton and linen are soft and more luxurious than most blackout curtains. The lining also provides noise reduction and is energy efficient. They can be left unbuttoned or hung with a rod pocket. I also love the subtle designs of these curtains, available in Carolina clay, light indigo, and even a blue floral print. Buy Here. 
Loom & Forge Mason Textured Energy Saving Curtains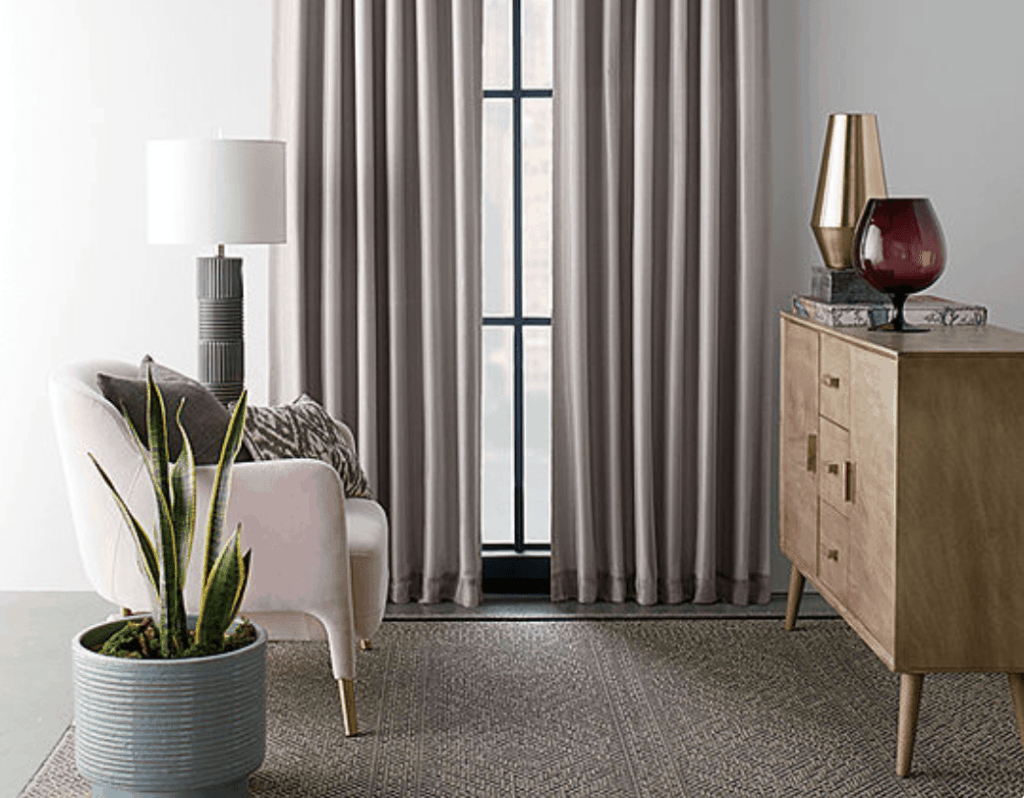 These energy-saving blackout curtains are made out of 100 percent woven polyester and are machine washable. The simple rod pocket style is classic and contemporary. Clean lines and a sleek design make for a look that's unlikely to go out of style anytime soon, Available in silver, purple mauve, teal, brown, charcoal, and white. Buy Here. 
Max Blackout Emerson Scroll Curtains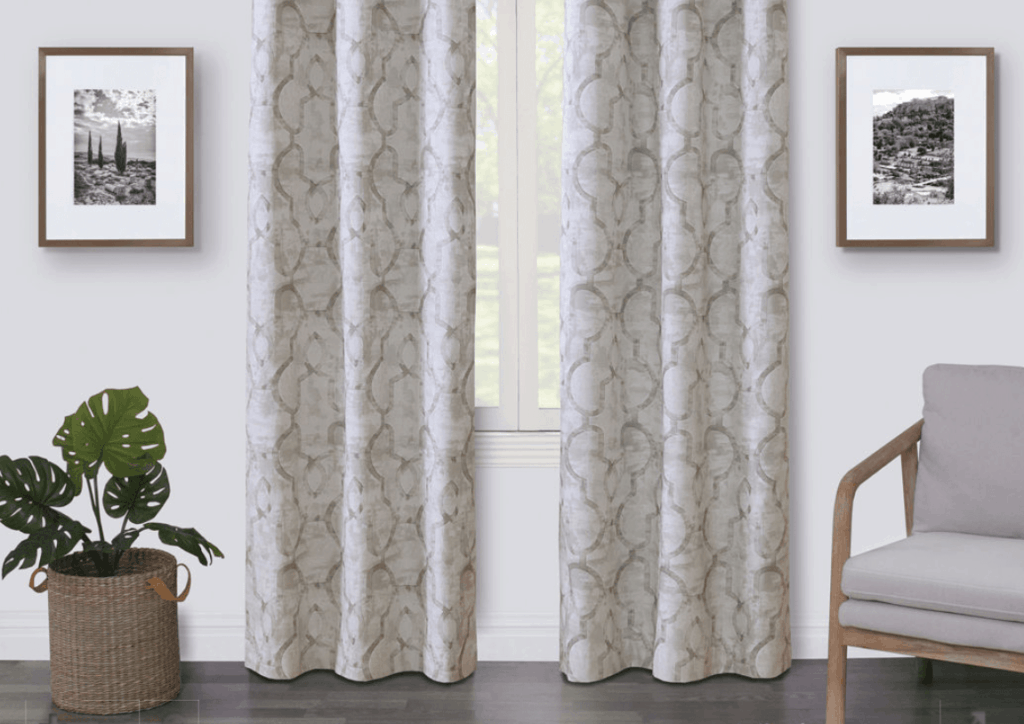 These unique blackout curtains feature a scroll pattern in gray or mocha. The grommet hanging features a traditional look, with lightweight polyester material. The machine-washable curtains are made with a woven fabric with blackout lining. While these don't have as many features as other blackout curtains, they come at an excellent price. Buy Here. 
Intelligent Design Khloe Metallic Geometric Printed Blackout Curtains
If you're looking for JCPenney blackout curtains with great overall value, I recommend these. Geometric and metallic prints make for a vibrant modern look. These curtains pair with a foam back for additional insulation and noise reduction, plus energy savings. They also perfectly complement bedding and shower curtains sold by JCPenney. Available in blush gold, ivory, aqua, gray, white, and navy. Buy Here. 
Room Darkening Curtains
JCPenney room darkening curtains are actually classified as "blackout curtains" as opposed to "100 percent blackout." To clarify, this means simply that these curtains block out most– usually around 80 to 90+ percent– of incoming light.
Popular for living spaces and media rooms, JC Penney's room darkening curtains feature solid colors but also more lively and playful prints. Contemporary, classic designs range from casual to slightly formal. Prices range from $9.99 to $224, with the majority of curtains priced under $100. 
Alivia Metallic Stripe Energy Curtains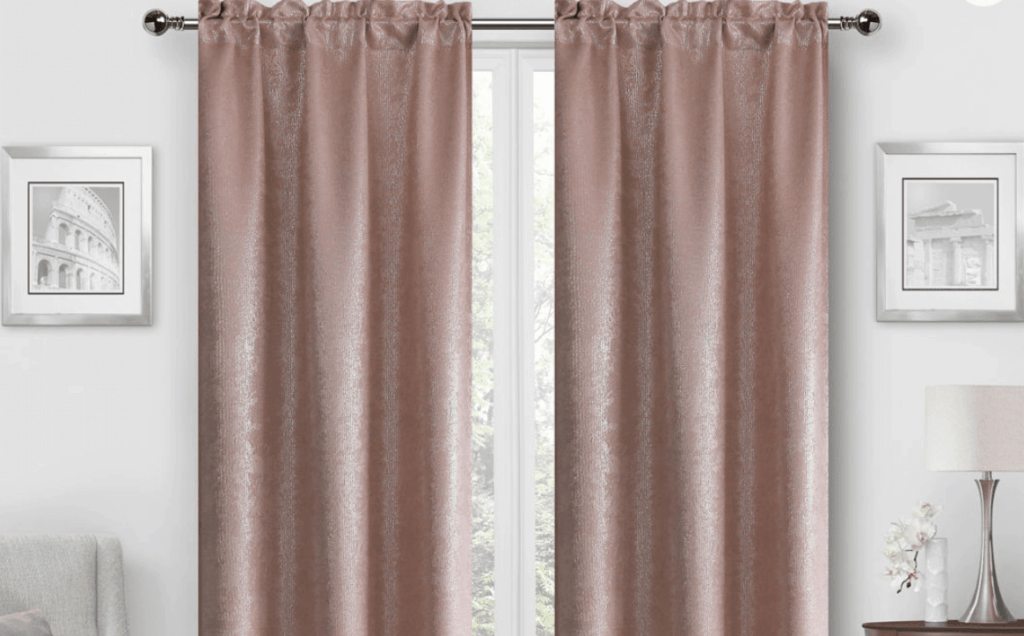 These 100 percent woven curtains feature room darkening protection from the sun and come with a rod pocket installation. Available in white and blush, the metallic accents make for a dazzling but still practical curtain. They're also machine washable and designed to save energy. Buy Here. 
Exclusive Home Sateen Curtains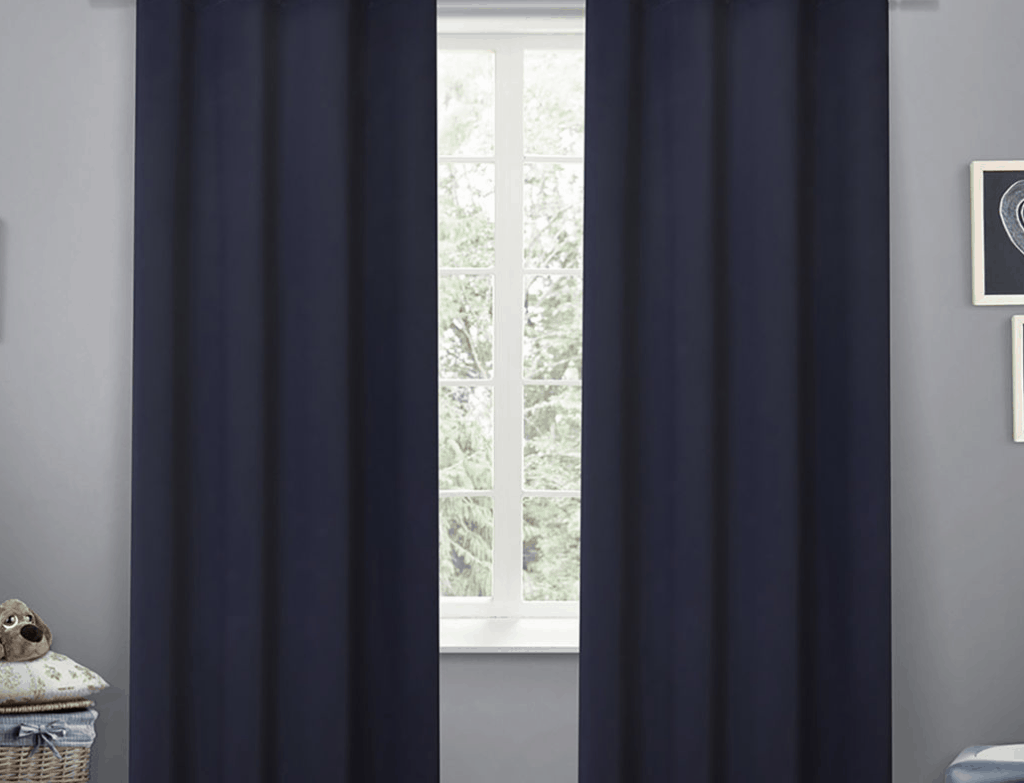 Now on sale, these sateen curtains are available in multiple lengths and made with 100 percent woven polyester. They feature a luxurious finish and are soft to the touch.
I love the bonus UV protection and Thermax technology to keep your home protected. These pair with matte silver grommets for a modern, luxurious look. Not only that but they're available in many colors, including navy, blush, seafoam, teal, silver, espresso, vanilla, charcoal, linen, yellow, orange, chili, lilac, peacoat blue, and black. Buy Here. 
Regal Home Aerin Printed Energy Saving Curtains
Looking to save energy but longing for a unique print? 100 percent woven polyester b; locks out most light. These curtains come with a bronze grommet hanging and are energy efficient. The playful pattern is available in blue, pink, and gray and fits a boho aesthetic. Buy Here. 
Faux Silk Taffeta Energy-Saving Blackout Curtains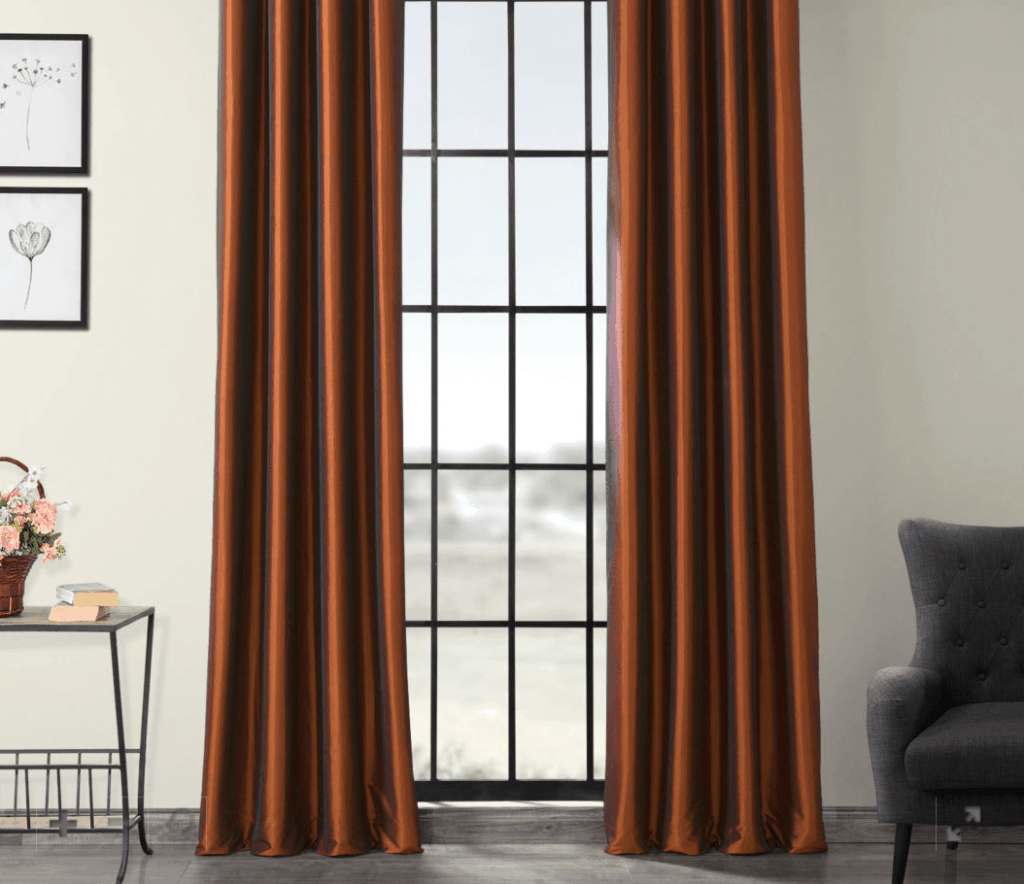 If you're longing for the luxurious look of silk without the price or upkeep, consider these faux silk curtains. They feature a beautiful sheen, complete with thermal insulation that'll keep you comfortable year-round. These energy-efficient curtains are available in antique beige, black, copper brown, gold nugget, graphite, navy blue, platinum, and robin's egg. Buy Here. 
Eclipse Kerry Ogee Energy Saving Curtains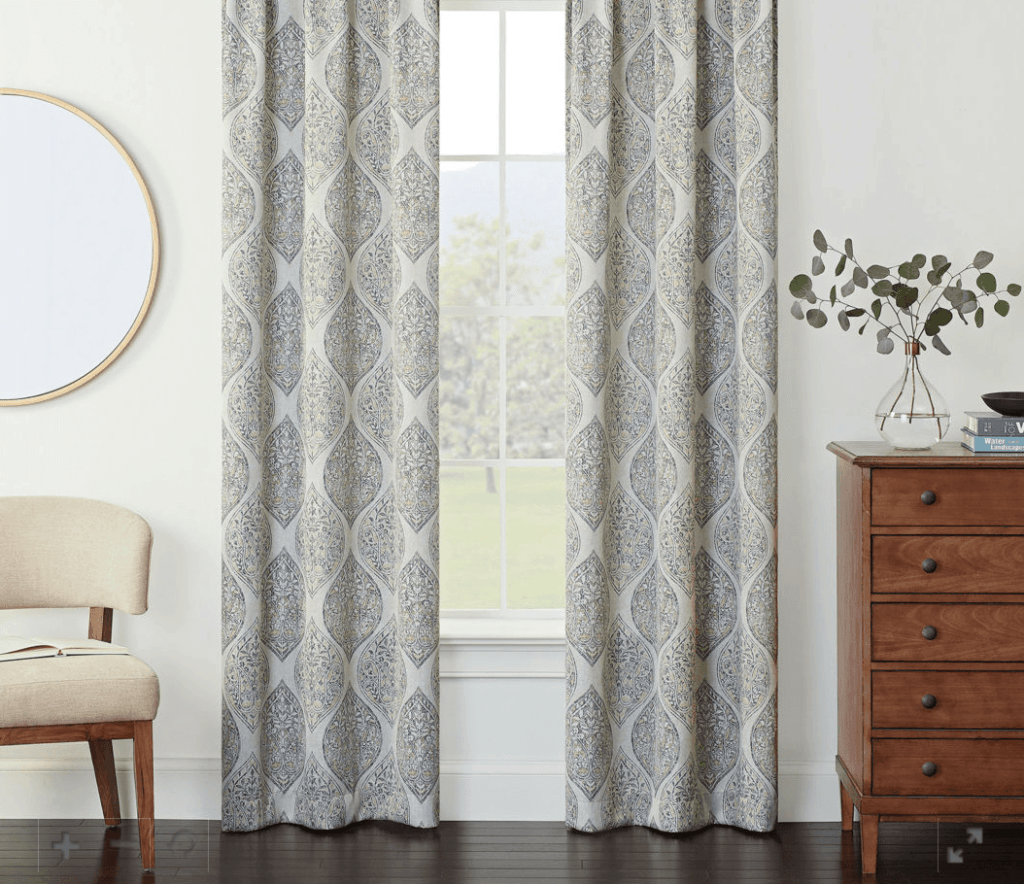 This printed curtain has a retro, classic feel with a neutral tone. These energy-saving curtains are made out of polyester with thermal insulation and are machine washable. Sophisticated but not overdone, these curtains also cost less than $40. Buy Here. 
Light Filtering Curtains
From checkered to floral prints and geometric patterns, you'll find the most variety in JCPenney's light filtering curtains. These curtains come in styles that suit everything from a modern to a country home. Meant to reduce glare but allow natural light to flood in, light filtering curtains are popular for living spaces that need just a touch of privacy but that you want to keep feeling bright and airy. These curtains are priced from $9.99 to $44.99, with the majority priced under $30. 
Sunsmart Laurel Floral Energy Light-Filtering Curtains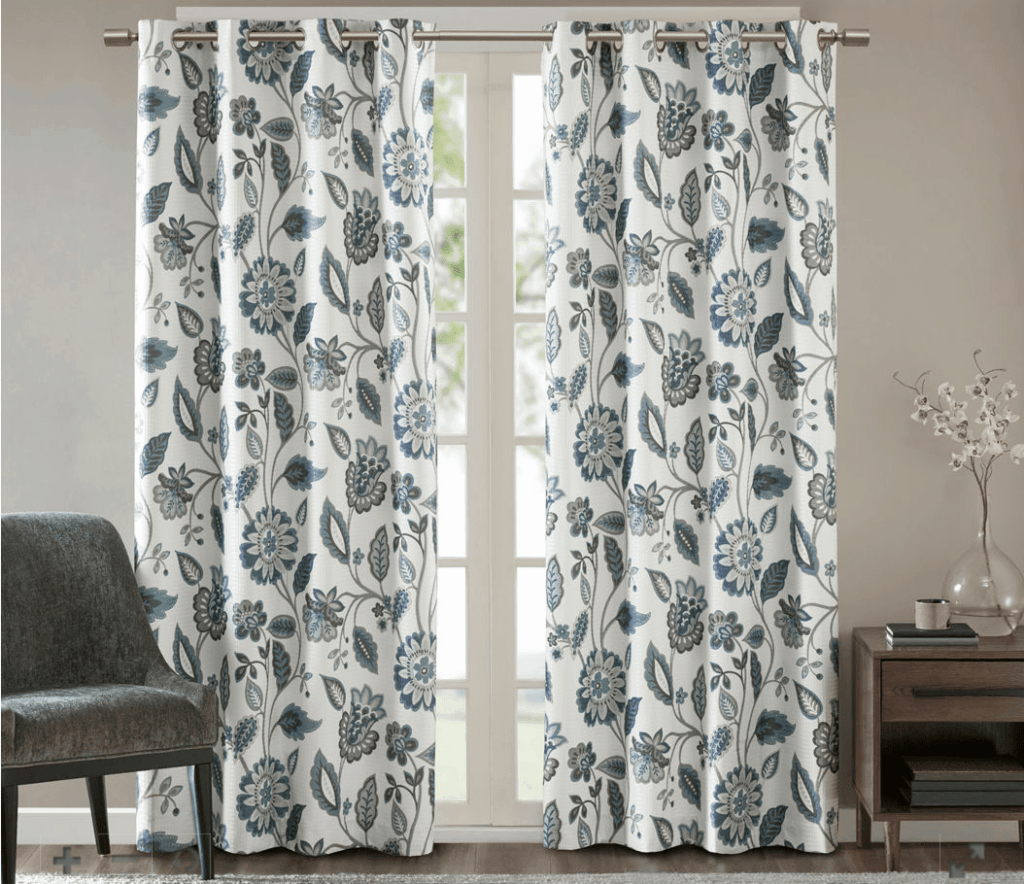 These energy-saving curtains feature a floral print design with 100 percent Jacquard polyester. The fabric features a noise reduction barrier with a foam backing for more protection than your average light filtering curtain. They're also machine washable and available in aqua on white. Buy Here. 
Regal Home Surfaces Tiles Light-Filtering Curtains
These 100 percent polyester curtains are machine washable and pair with a grommet construction. The unique pattern features a modern take on tie-dye with a modern art aesthetic. These curtains gently filter light and are durable for everyday use. Buy Here. 
Regal Home Avondale Light Filtering Curtains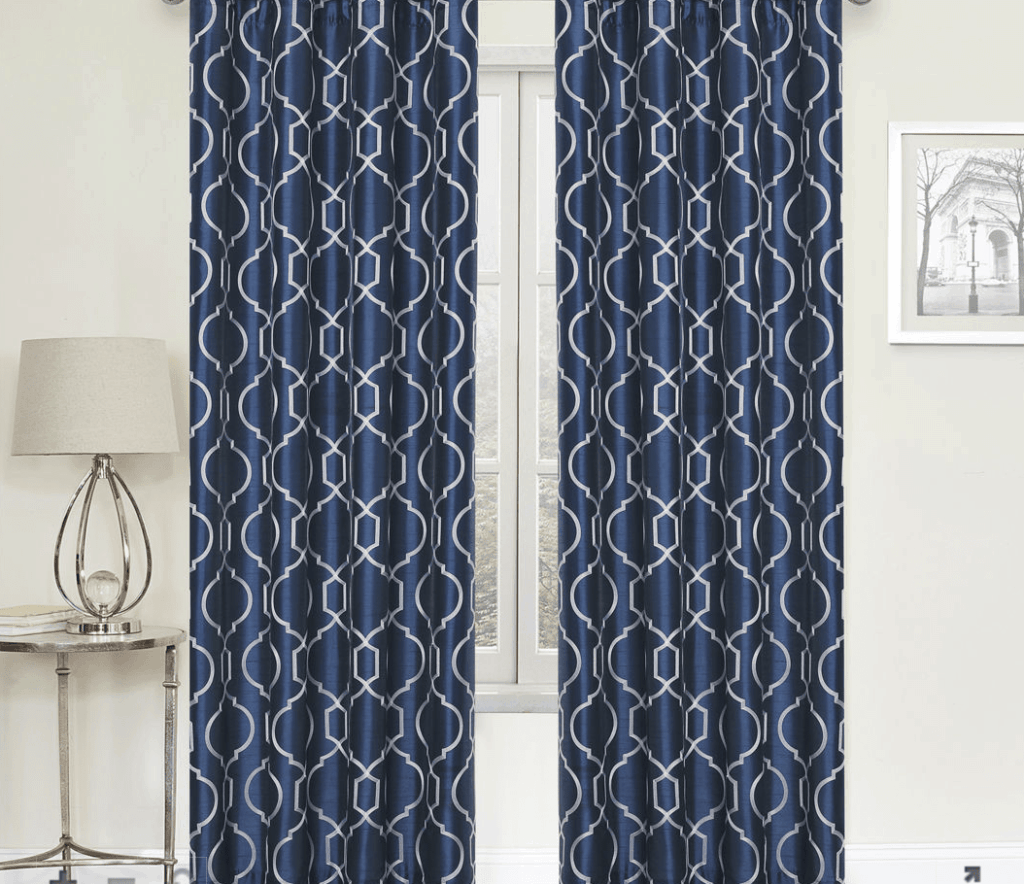 These delightful modern curtains feature a geometric design made out of woven polyester. Easy to care for and machine washable, they are useful for reducing glare while still providing plentiful sunlight for an inviting room. Available in navy, white, gray, burgundy, and beige and at an affordable price; Buy Here. 
Eclipse Liberty Light-Filtering Curtains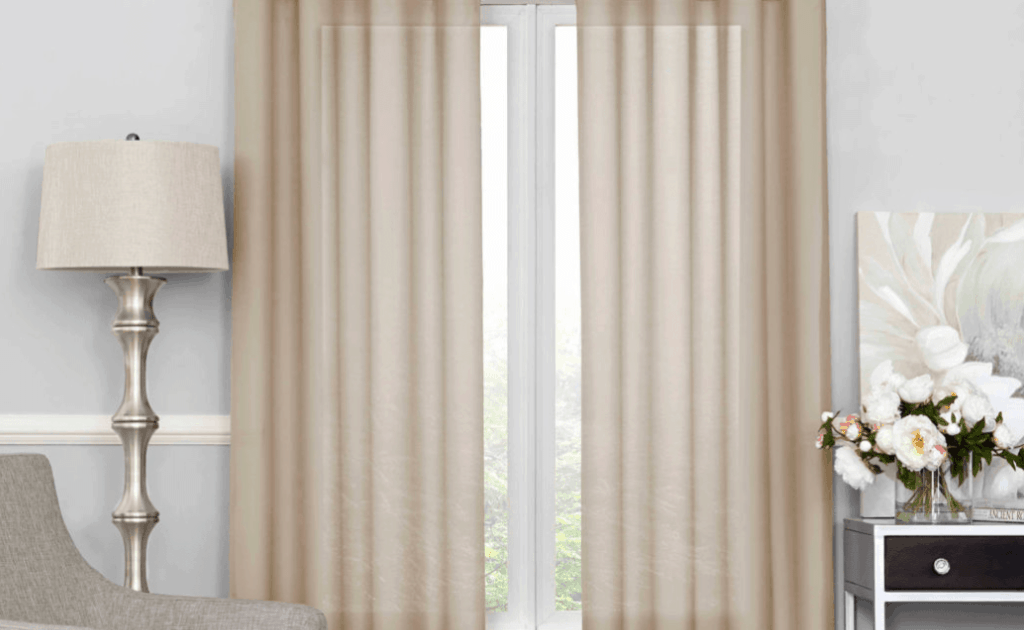 Sometimes you just need a solid color, contemporary curtain, and these affordable light-filtering curtains fit the bill. Now on sale for under $25, these 100 percent polyester curtains feature a soft, approachable look that can easily be doubled up or paired with blinds for more privacy. Machine washable and available in gray, ecru, mist, white, ivory, and beige. Buy Here. 
Sheer Curtains
Sheer curtains are used to add decor and just a touch of protection from the sun. Lightweight materials are useful for creating a warm and inviting space, with elegance. Sometimes, people pair sheer curtains with blinds. JCPenney's collection of sheer curtains feature white, off-white, and dusky, soft hues. Hem detailing and elegant embroidery are some features of these affordable curtains. Sheer curtains from JCPenney are priced from $5.99 to $62.99, with the majority priced under $30.
Anti-Dust Sheer Curtains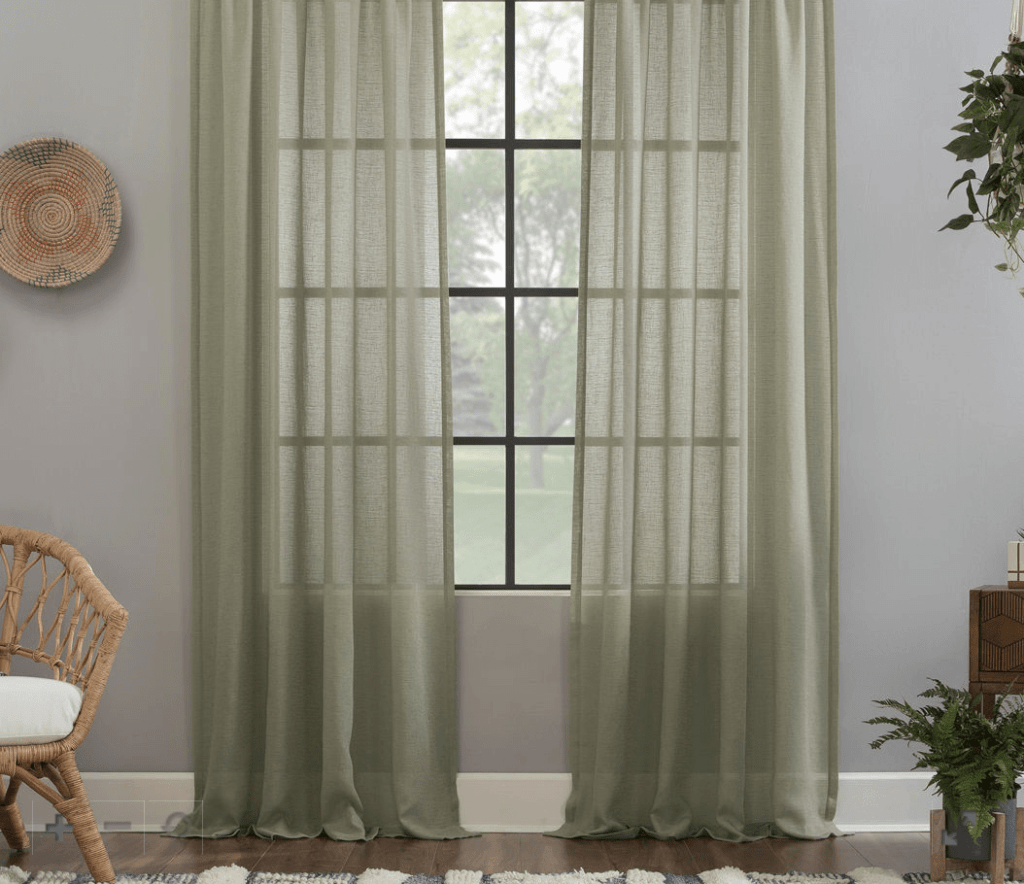 If you suffer from allergies like me, you should definitely consider these hypoallergenic curtains from JCPenney. The sheer polyester and linen blend is made with chemical-free fibers designed to reduce dust, dander, and other environmental allergens that tend to cling to curtains.
The semi-crushed texture is not only stylish but easier to keep up than smooth curtains. These contemporary, machine washable curtains come in ecru, celadon green, flax yellow, gray, and white. Buy Here. 
Venice Energy Saving Sheer Curtains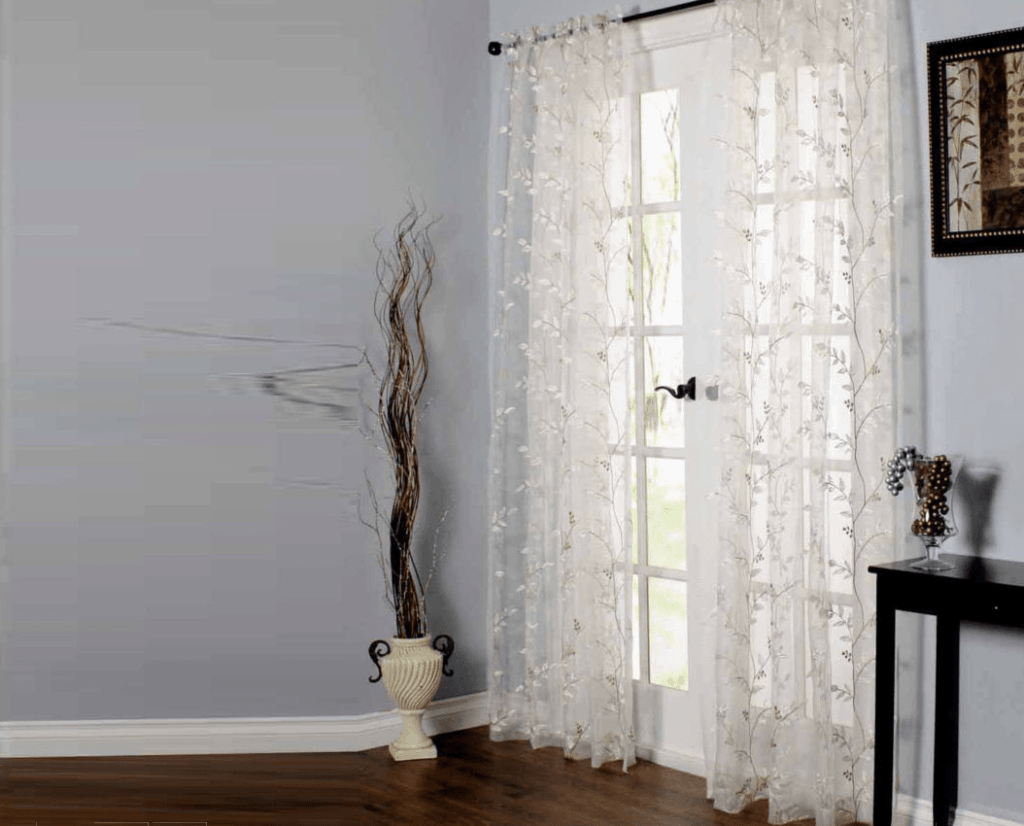 These embroidered sheer curtains are not only elegant but also boast features you don't typically see from sheer curtains. Woven polyester is designed to reduce noise and lightly insulate, all with a lightweight and enchanting design. Buy Here.
Elrene Home Fashions Carmen Extra Wide Indoor/ Outdoor Sheer Curtains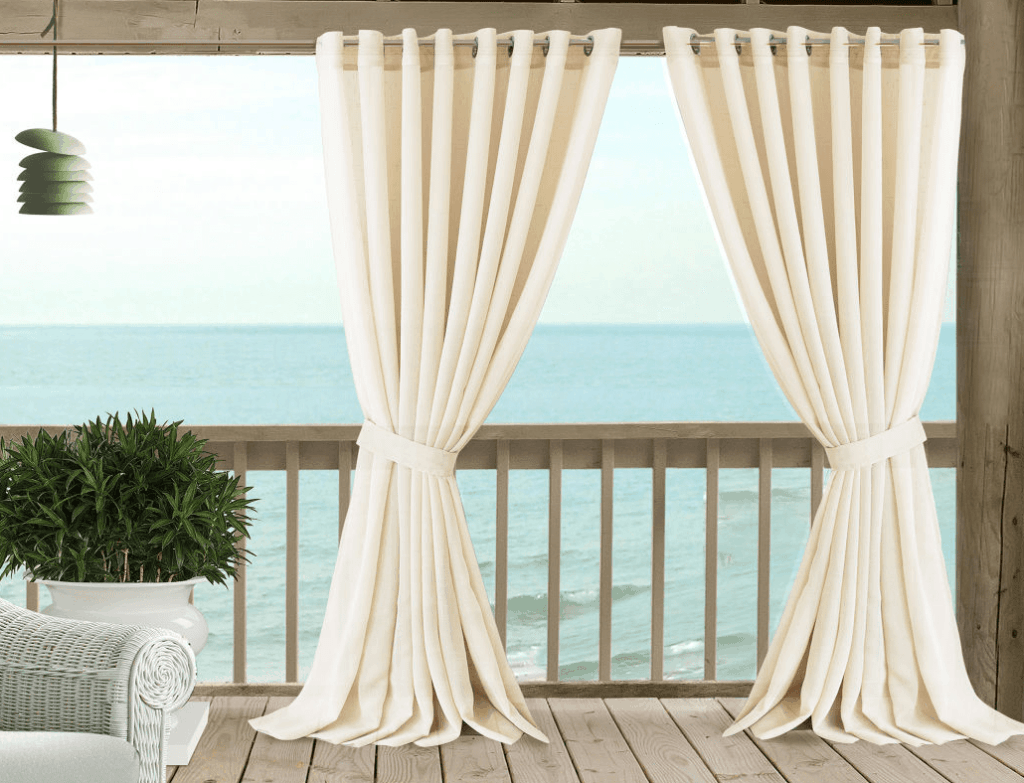 These sheer curtains are suited for indoor use, but also outdoor decks and patios. The extra-wide construction is also stain and fade resistant, with impressive UV ray protection and an SPF of 50+.
Not only that, but the woven polyester fabric is resistant to mildew and mold, and comes with stainless steel, rust-proof grommets. While the customer rating is not high, it is only from one customer, and the complaint was mostly about the design and how it looks indoors. Overall, it's a great buy. Available in ivory, natural, and white. Buy Here. 
Frequently Asked Questions
Question: Does the JCPenney card have an annual fee?
Answer: A JCPenney card can be used to finance large purchases if you choose. There is no annual fee. The introductory purchase of a JCPenney card provides 0 percent APR for 18 to 48 months, though balance transfers are not allowed. 
Question: Does JCPenney have a senior discount?
Answer: JCPenney does not offer a specific senior discount for any products. However, the good news is that they have regular sales. In addition, not only are most of their products affordable but most products are also offered with price matching. That means that if you find an identical product at another store, then you can request the price to be reduced to match that other product. 
Question: Can you exchange at Penney's without a receipt?
Answer: Products in their original packaging can be exchanged for store credit only if you're missing your receipt of purchase. They must be in their original condition as well, and be returned within that product's return policy time period.
Final Thoughts & Alternatives
JCPenney may have fallen upon hard times in 2020, but in 2021, under new management, the good news is that you still have many options, especially for online shopping. While their curtains are not exceptional, they're a great price and useful especially for contemporary and classic homes. 
Looking for affordable curtains with the same modern appeal? You can also try 
Target Curtains, or, for a similar department shopping experience but at a slightly higher price, Macy's Curtains.