Latest posts by Erin Jamieson
(see all)
Blue curtains remain the most popular in 2022, alongside practical neutral hues. But it's also a year of bold personality, full of rich color ideas. That includes the unexpected but dramatic touch of rich burgundy curtain ideas for everything from media rooms to bedrooms and living spaces.
The unexpected shade is usually associated with luxury, and that's still true. Burgundy curtains accent Justin Timberlake and Sam Fox's supper club in the heart of Nashville. The supper club, set for a September 28th debut, us one of the most notable restaurant openings since the pandemic, and for that, a dramatic interior was expected.
Alluring and dramatic it is. The Twelve Thirty Club seats 400 and includes three stories. Set on Fifth + Broadway, the club is a classic take on a 19th-century design, with entertainment, music, and beautiful lighting for an immersive dining experience. The menu includes delicacies such as Wagyu Steak Tartare, Truffle Cheese Garlic Toast, and seafood-forward entrees. 
To set that stage? Rich burgundy curtains for timeless awe. 
But there are signs that burgundy curtains are finding their way into homes, too. While bleu and neutral curtains are still popular, less expected hues, from burnt orange to caramel gold are trending in 2022. And with home renovations becoming both more expressive and returning to classic auras, you don't have to be wealthy to benefit from a new look.
This guide will point you to some of the best ideas for rich burgundy curtains. I'll tell you how to select the best fabrics and how to coordinate so you can find your perfect style. 
What curtain color should I get?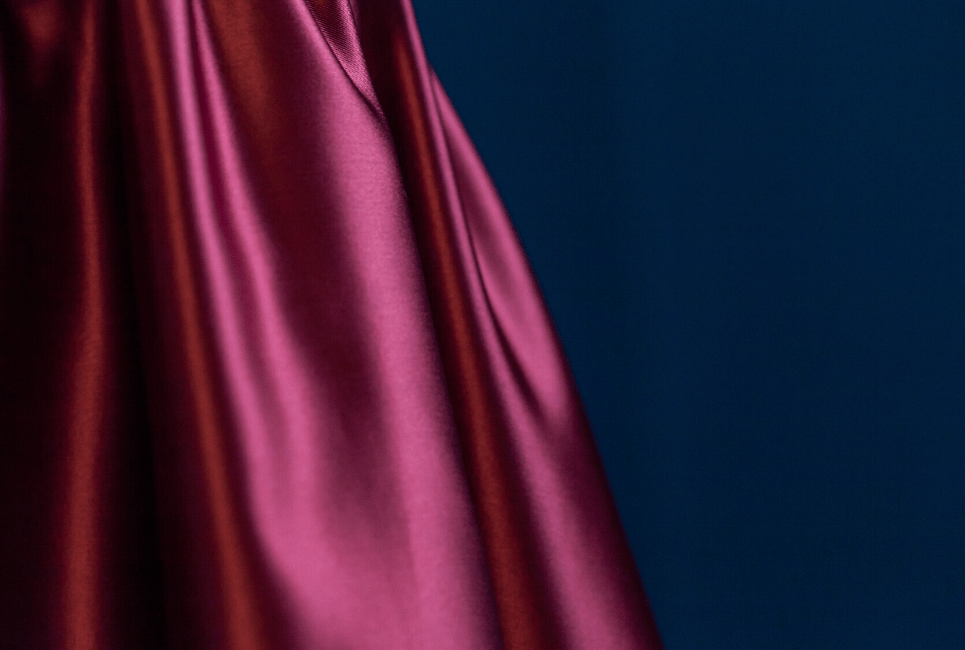 You're at least considering burgundy for curtains. But before you fully commit, there are a few things you need to know. The color you select from four curtains impacts the mood and even how large or cozy your rooms feel. There are no hard and fast rules, but there are basic design principles that are helpful to follow. 
Should curtains match the wall color?
First, some good news for the free-spirited: by no means do you have to match your wall color. If anything, complementary curtain colors can provide more allure. If you want a put-together seamless look, you can use your wall color as a guide. It's ideal to go one shade lighter or darker, either way. This allows your curtains to complement your wall colors without them blending in completely. 
What color did curtains go with light walls?
Light walls, such as white, off-white, neutrals, and light gray, actually look spectacular with darker curtains- including burgundy. Pairing light curtains with light walls make it difficult to appreciate. Dark curtains on darker walls risk the room feeling oppressive. 
Do dark curtains make a room look smaller?
Dark curtains can provide the illusion of a smaller but cozier room. They're best suited for fairly open rooms. If you love the look of burgundy curtains, make sure you're using them in an airy space. The appearance of a smaller room is not necessarily a negative, but it is something to keep in mind. Opt for floor-length curtains, hung a little higher than usual to extend the illusion of height. 
What color is burgundy?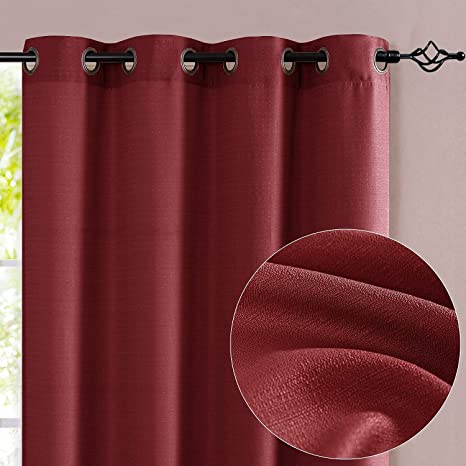 Burgundy is a rich hue in the red color family. To say burgundy is simply red is disingenuous to the depth of color this signature hue brings. Classic, timeless and bold, it's a unique option that's surprisingly useful. 
What does the color burgundy symbolize?
Burgundy, named after the famous wine region in France, is thought to symbolize ambition, power, and wealth. This seems fitting– prone to its signature hue to its association with French wine. 
What's the difference between burgundy and red?
Burgundy is a form of red but is a bit more sophisticated and richer. The deep red hue is reminiscent of a wine from the famed French region. Burgundy is in the red family, but with undertones of brown and purple. 
Is burgundy the same as maroon?
Maroon is a lovely color, but it lacks the richness of burgundy. Burgundy is a shade lighter than maroon. While it shares some of the brown undertones, the biggest difference is that maroon doesn't share the purple hues– which adds a more full-bodied, rich look to burgundy. 
What colors go with burgundy curtains?
Worried you can't pull burgundy curtains off? Burgundy goes with brown hues, reds, grays, tans, and other neutral colors. I recommend opting for a lighter shade of all of these so that the room doesn't feel too dark and the burgundy curtains stand out. 
How do you select the best burgundy curtains?
Sold on the color? For burgundy curtains, I recommend spending a bit more. Burgundy curtains call for lush, rich fabrics that can carry the color. Here's how I pick my favorite burgundy curtains. 
How do you pick fabric for burgundy curtains?
Of course, you can find burgundy curtains in a variety of fabric types. But I recommend opting for both durable and sturdy fabrics that suit the hue. My favorites include brocade (often made with a cotton blend), linen, and velvet. 
There are a few downsides to these rich fabrics. While durable, they are trickier to clean and require more upkeep. They also are best suited for indoors, rather than outside. But they make for beautiful burgundy curtains with richness and tradition behind them. A cheap polyester fabric simply doesn't carry that same appeal for burgundy colors. 
These fabrics also lend themselves to more classic and traditional styles. Keep your curtains' floor length for a luxurious look and hang them higher if you want to expand the illusion of higher ceilings. 
What else should I consider?
The tricky part about being more selective with both color and fabric type is that, of course, you'll have less selection. Shop mindfully, with sellers in mind. For unique styles, like brocade, my go-to is verified Etsy sellers who have a strong reputation and history of sales. For linen and velvet, I opt for respected sellers in the window coverings industry. Make sure you're buying from a secure site, and that the description species the materials being used
Burgundy Curtains: My Picks
Here are my picks for some of my favorite, rich burgundy curtains. From classic brocade to contemporary linen and iconic genuine velvet, all of these curtains are made with careful craftsmanship, quality materials, and by reputable creators. 
Most of my picks, by the materials I've opted for, are room darkening curtains. These are one of the most useful styles– able to reduce glare and provide privacy without completely shutting out all light. 
Brocade Burgundy Curtains
Brocade fabric curtains offer a beautiful and intricate accent to any room. These richly patterned curtains are made out of shuttle woven fabric (including silk, cotton, and other materials) and usually feature silver and gold threads. The weave is beautiful, expressive, and a lovely match for rich burgundy shades.
1940s Rich Burgundy Brocade Curtain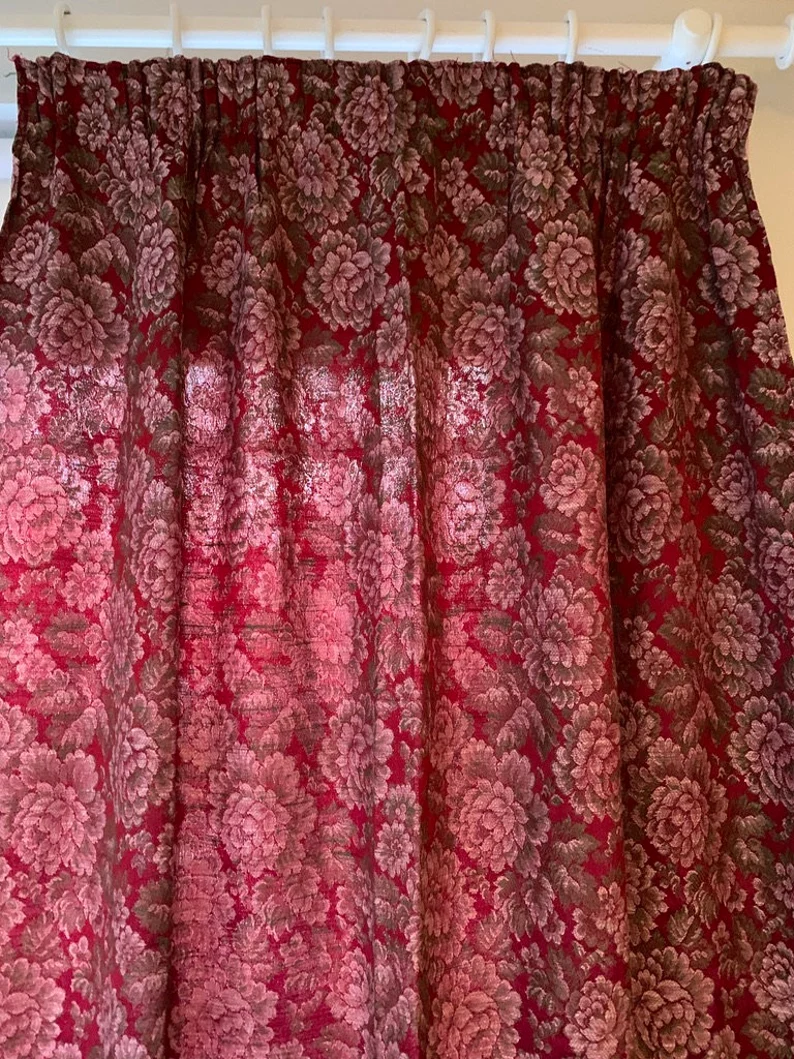 If you love vintage curtains, this is a great Etsy seller to follow. These gorgeous burgundy curtains also are sure to supply ideas for how the rich color can lend itself to intricate, traditional designs. The silk brocade fabric features an exquisite floral pattern with cream and green, set on a stunning burgundy backdrop. This rare curtain panel is priced at $49.90; Buy Here. 
Vintage 1930's Cotton Brocade Burgundy Curtains
Limited in stock, this curtain style is still sure to provide you with ideas for a brocade style. These gorgeous brocade cotton curtains come with intricate gold floral curtains. The gold and burgundy hues are bold and elegant. Two panels are priced at $90; Buy Here. 
Damask Brocade Burgundy Opulent Curtains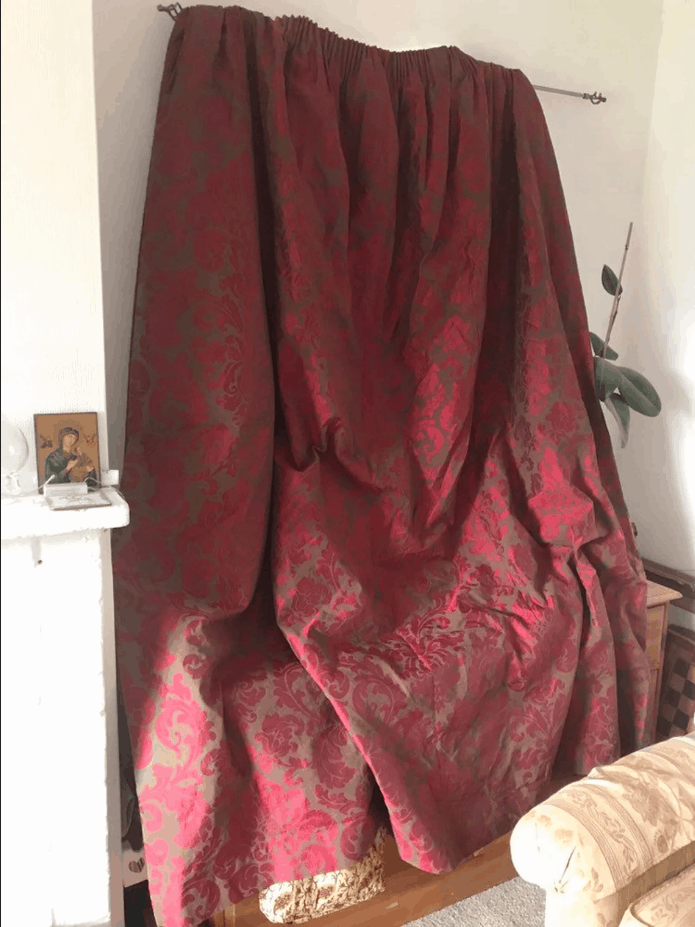 A red to burgundy hue, depending on the lighting, makes an immediate impression with these regal French curtains. Heavyweight taffeta makes for a classic, truly elegant look, paired with taupe and mocha accents. Details add a shimmering effect in the light, paired with cream cotton lining. Priced at $246.65; Buy Here. 
Astoria Grand Heiderman Damask Burgundy Brocade Curtains
Brocade isn't only vintage. These contemporary curtains are from Wayfair, in better supply, and cost just $49.99. The burgundy curtains are not as rich in appearance, but easier to maintain. Machine washable, the microfiber fabric is adorned with a classic brocade style, complete with matched valances for a beautiful layered look, plus room darkening for a balance of privacy and light. Buy Here. 
Linen Burgundy Curtains 
Linen is an excellent choice for curtains of any kind. Linen curtains are known to be a little pricier but sturdy and can range from classic to contemporary. Featuring a more natural look, linen curtains are a balance between tailored and billowing. Linen curtains can crease, and you'll usually need to spot clean. I have also included some linen blends. 
Room Darkening/ Blackout Contemporary Linen Curtains
These burgundy curtains are sleek and modern, while still impressing with a rich hue. The triple weave linen allows you to save energy, and you have an optional lining for blackout curtains when you want more insulation and quiet. The lush, faintly textured construction is appealing without coming across as outdated. On sale for just $24.17; Buy Here. 
Insulated Linen Blend Rod Curtains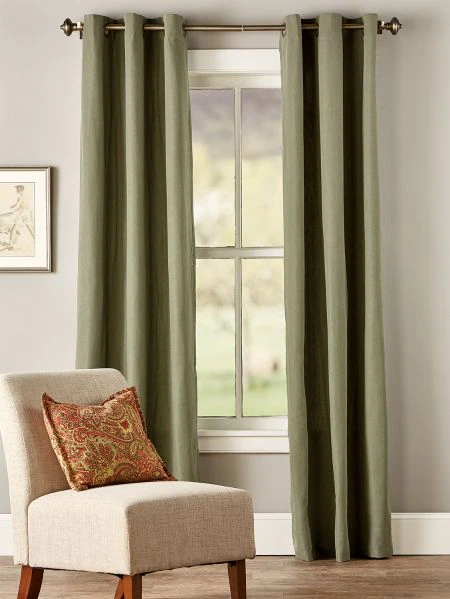 These linen blend curtains come from the Vermont Country Store and are priced from $109.95 to $149.95. Providing a soft, elegant touch to any home, I love how these burgundy curtains straddle between contemporary and classic. Linen, polyester, and cotton blend for a rich look that's durable, light, and machine washable. These energy-efficient curtains make your rooms more comfortable year-round, with understated elegance. Buy Here. 
Jab Burgundy and Cream Luxury Linen Curtains
These gorgeous burgundy and cream curtains are imported from France. Pairing iconic designers from England and France, the exquisite blend of cream, purple, red, and burgundy makes for a simply sublime style. Meant to embody wine and artistic European culture, these curtains don't come cheap– priced at $512– but they're truly beautiful. Buy Here.
Faux Linen Burgundy Sheer Curtains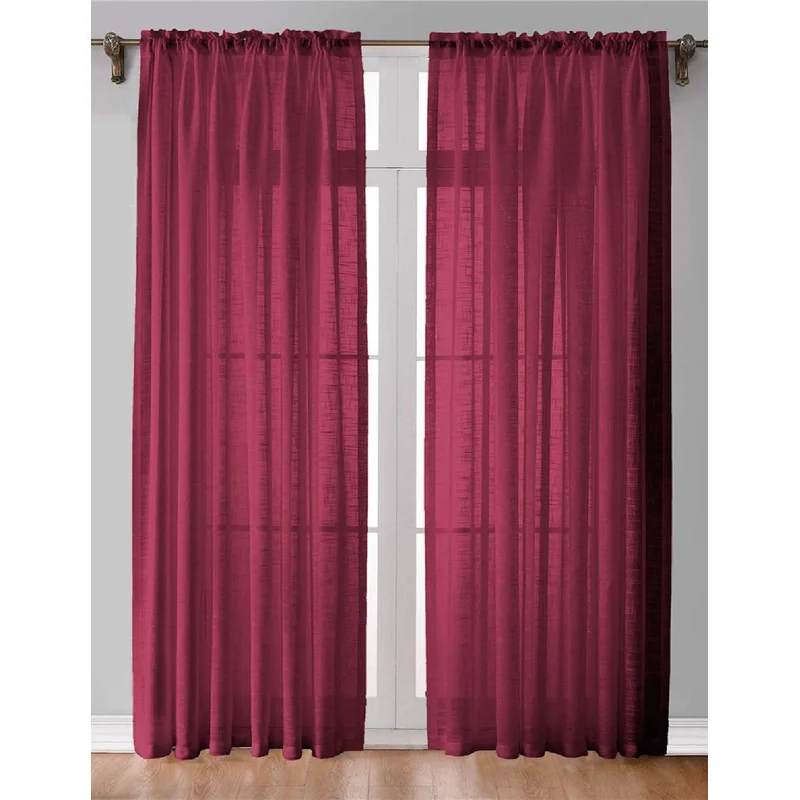 Faux linen isn't my first choice– but it provides some rich textures and beauty with a practical design. These practical curtains are a softer take on burgundy curtains, with sheer construction that gently blocks the harshest sunlight. They can also be paired with blackout lining and feature machine washable polyester. Priced at $131; Buy Here. 
Velvet Burgundy Curtains
Velvet curtains are a perfect choice for burgundy hues. The classic fabric may be seen as vintage, but it's coming back in style for 2022. Velvet curtains are the ultimate choice for luxury and are expressive. Able to last for many years when well cared for, the heavier look is suited for traditional rooms and furnishings. Like linen, velvet does require upkeep, and you should avoid using velvet curtains in moisture-rich rooms. I've also included velvet and polyester blends. 
EFF Blackout Signature Velvet Burgundy Curtains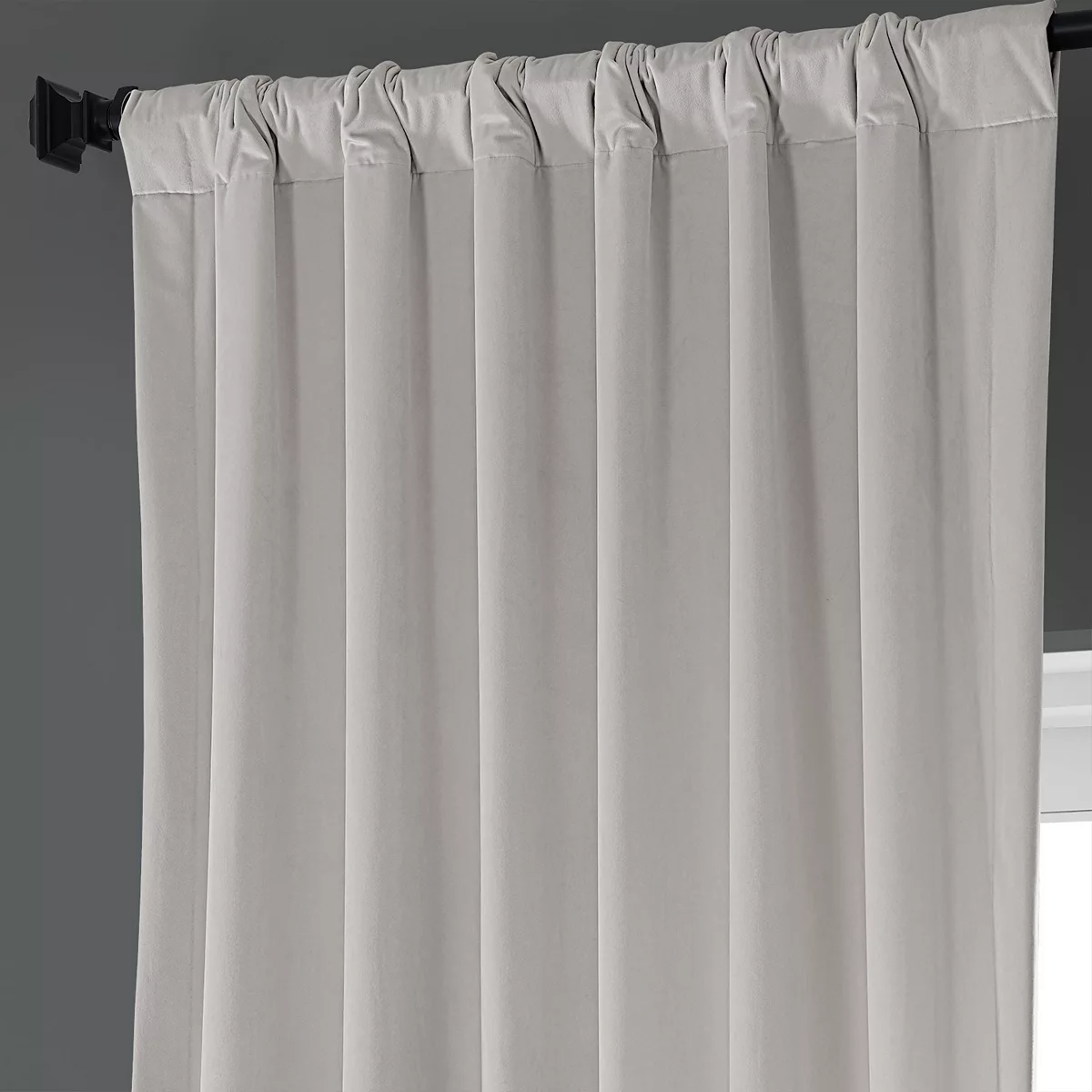 Now on sale for $107.07, these beautiful velvet burgundy curtains feature blackout lining for maximum privacy. The drape is formal, polished, and contemporary. The stylish curtains are velvet with polyester lining and can be installed in up to three ways for insulation and light control. Buy Here. 
Signature Blackout Double Wide Burgundy Drapes
These velvet curtains from Wayfair are priced at $134.14 and carry an average of 4.8 out of 5 stars, based upon over 890 reviews. These stylish pleating pairs with polyester blackout lining for insulation and noise reduction. The classic rod pocket is elegant and luxurious. Buy Here. 
Luxury German Burgundy Velvet Curtains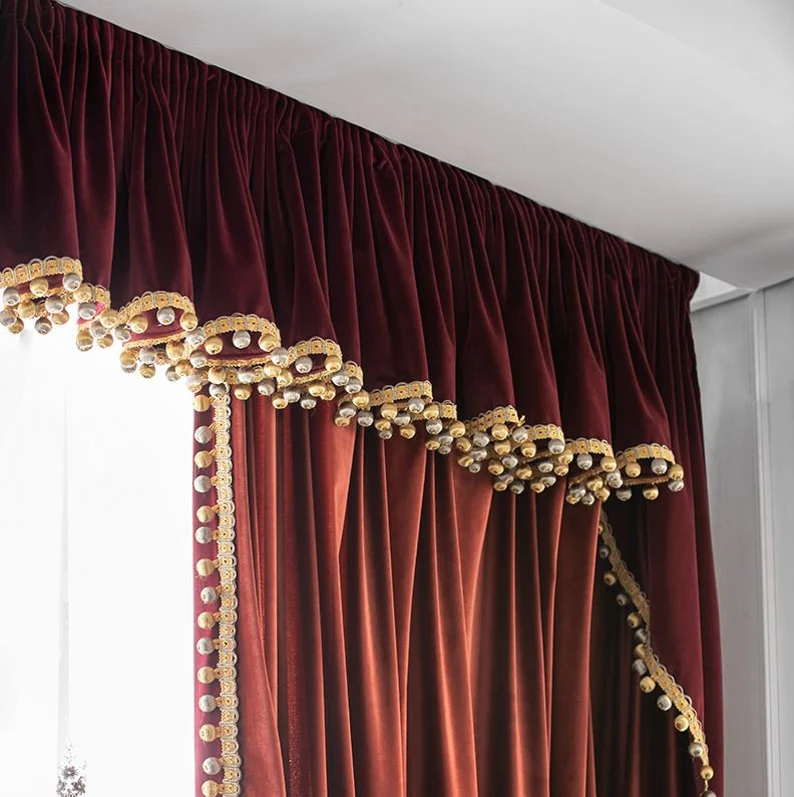 Looking for genuine, truly rich, and luxurious velvet curtains? These burgundy curtains are constructed out of German, thickened velvet for an opulent style. These elegant panels block up to 85 percent of light and are finished with a traditional fringe. Priced at $262.57; Buy Here. 
Stretch Faux Velvet Burgundy Curtains 
These faux velvet burgundy curtains are available in natural or hemmed edges for contemporary or traditional styles. The polyester and spandex blend makes them easy to care for, with stretch material for a unique, modern take. They work with rod pocket hangings and can be made to fit the space of your liking. Priced at $69.99 per panel; Buy Here. 
Frequently Asked Questions
Question: How does the color burgundy affect your mood?
Answer: Colors all impact as differently as individuals. Color psychology suggests that burgundy tends to create a more contemplative and serious mood. Burgundy creates ambiance and a sense of timelessness. Paired with neutrals, burgundy can pop for an expressive splash of color. Purple can also be an interesting accent color to bring out the unique undertones of burgundy. 
Question: How does the color maroon affect your mood?
Answer: Maroon, which has more brown undertones than burgundy and no purple, is said to have a slightly different effect. The color maroon is associated with creativity, passion, power, risk, courage, and warmth. This color is more understated in some ways and maybe a nice in-between if you like the idea of burgundy curtains but are looking for a hue that's more within the brown color palette. 
Question: What color curtains are popular?
Answer: Blue curtains are quite popular, as are versatile grays and neutral colors. Bolder colors are becoming more popular in 2022 as well, such as burnt orange. Decorative trim and metallic elements add modern touches and brighten certain hues. Color is in, as are interesting patterns, from geometric to boho. Expressive colors show that more and more Americans are willing to step out of the expected and design to showcase their personality. 
Question: Are curtains with sheers outdated?
Answer: Burgundy curtains, and especially traditional curtain types, are often paired with sheer details. Modern styles tend to favor sleek, streamlined, and simple looks. Sheers add vintage or classic appeal. So while some such detailing may seem outdated, the truth is that they can add some character. And in 2022, more elaborate curtains and more traditional fabrics are being welcomed back for expressive home styles. 
Final Thoughts 
Burgundy curtains are sure to make an impression whether it's for a bedroom or main living space. The rich hue is at once unique and classic, with an elegant and timeless appeal. While I love the idea of opting for opulent fabrics, including some lower and middle-cost options hopefully will provide ideas as to how to capture that rich look and allure– while keeping it more practical, both budget-wise and for the care needed. 
Still, interested in burgundy curtains but want a lighter, less rich look? You can shop for affordable moisture-resistant polyester curtains at Kohl's, JCPenney, and Lowe's. These are a bit more casual and can be used for modern and minimalist homes. They also will work more in moisture-rich environments. Though not my top choice, such curtains may be practical for your living situation.