Latest posts by Erin Jamieson
(see all)
If you're shopping for blinds, you've probably considered home improvement stores like Home Depot, Menard's, and Lowe's. But its specialty online store, Blinds Galore that's making headlines in 2022 for what's being called a groundbreaking feature. 
In a press release through Cision, Blinds Galore announced a new policy that they hope will help them stand apart from competitors. 
In what's being touted as Blinds Galore's "dedication to world-class customer service," a new policy may just entice more shoppers. The Blinds Galore Guarantee promises free exchanges on products, for any reason at all.
At first glance, this may seem like a normal, if generous policy. But while it's true other stores offer exchanges, there are usually several asterisks behind those rules. And in this case, it's unique because of what Blinds Galore sells.
All Blinds Galore items are custom-made, yet they're available for free exchanges now, for any reason whatsoever. Granted, window shutters are not covered– but blinds and all other products are. 
Speaking on behalf of the policy change, President Chelle Walters explained that the goal was to satisfy customers as much as possible, saying that she wanted customers to "shop confidently" and "worry-free."
But if this changes enough to recommend Blinds Galore? And is it your best bet for finding customized blinds?
In this Blinds Galore Review, I'll tell you what you need to know about buying from Blinds Galore, and give you my top recommendations for the best blinds they have to offer. 
Is Blinds Galore a good company?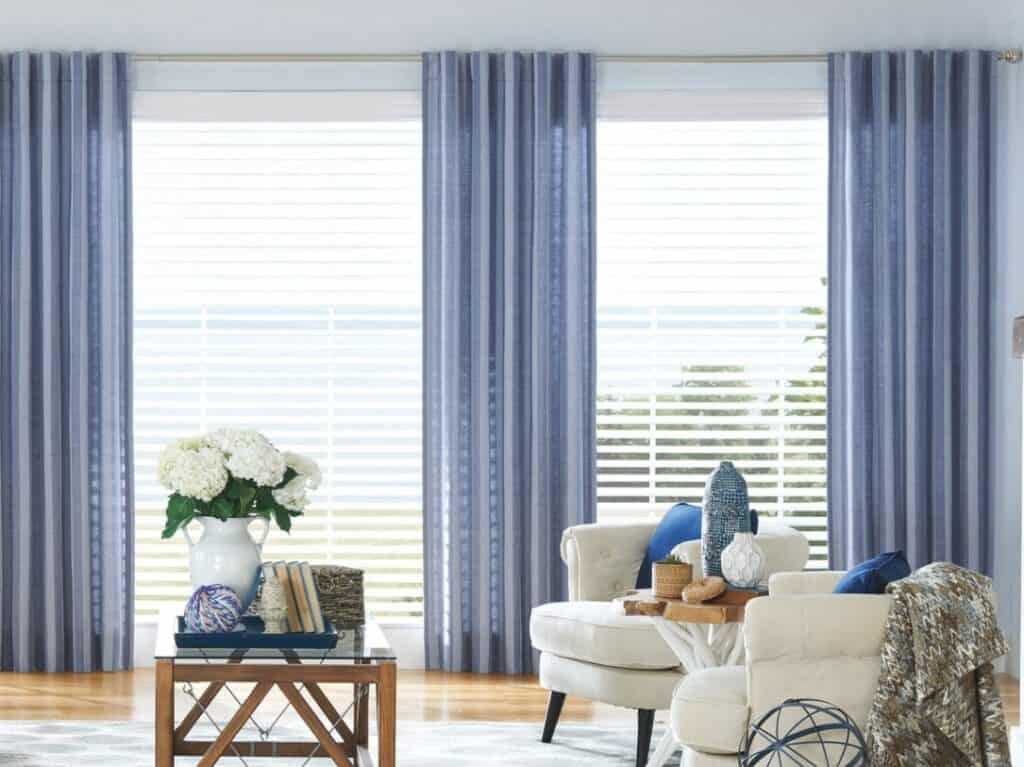 The most important place to start is to take a deeper look at what Blinds Galore is and what they stand for. Peeling back the glossy press releases and acclaim, here's what I discovered, from simple facts about their business model to their true reputation. 
What is Blinds Galore?
Blinds Galore is a specialty store that sells name-brand and customized window treatments. Based in California, the family-owned business pairs personal orders with online shopping. While my focus will be blinded today, they sell blinds, shades, shutters, curtains, and drapes. 
What products does Blinds Galore sell?
Blinds Galore sells shades, blinds, and accessories for window coverings. You can shop by room, materials, product type, brands, price, and more. 
What are Blinds Galore's customer service policies?
Selecting products from Blinds Galore is fairly easy. Their website is clean and easy to navigate, with filters and categories for all window types. Even better, customers can request free samples before a full purchase and take advantage of the new free exchange policy, offered for all products aside from shutters. But their policies go beyond that, offering more security for your purchases. 
Does Blinds Galore have a warranty policy?
All window coverings come with a limited warranty that covers manufacturing defects and immediate problems. Warranties do vary based upon the brand, so to make sure you understand what your warranty covers, click here for the Brand Warranties page. 
Does Blinds Galore have any sales?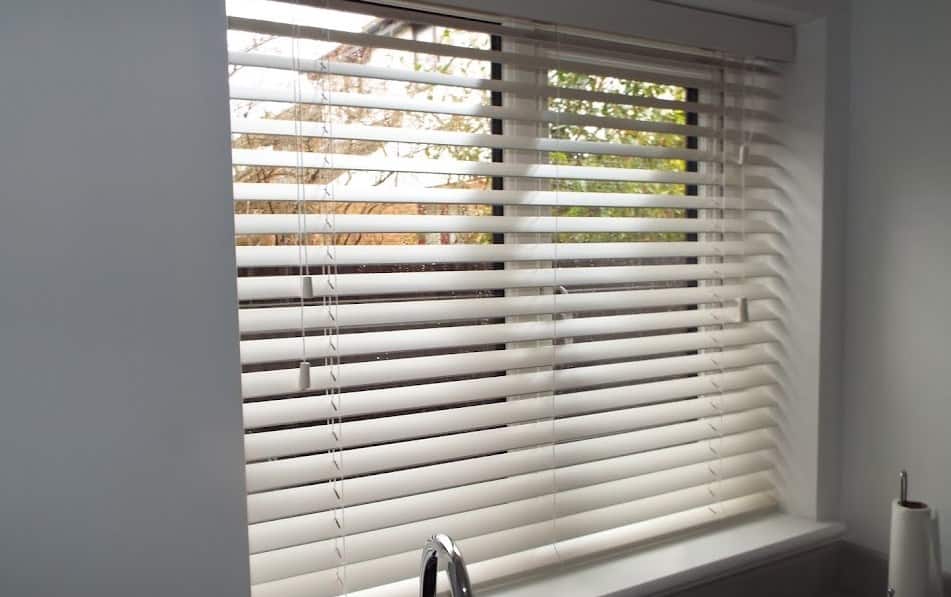 Blinds Galore offers price matching, but they also have sales. It's not uncommon to see sales on individual products or even 40 percent off site-wide sales. You can sometimes find promotional codes for additional savings as well. 
How does Blinds Galore shipping work?
Blinds Galore offers free shipping on all products that are under 94" wide throughout the continental United States and in Canada. Any products above this width or over 94" in height are subject to a $70 delivery fee. 
All regular orders to Alaska and Hawaii are subject to a flat shipping fee of $30. Vertical blinds and shutters come with a $75 delivery fee, while any products beyond 94" wide or 94" high are subject to a $120 shipping fee.
Delivery times vary, but you can get an estimate by checking out the individual delivery times expected for the product you're buying. Some products, like cellular shades, can take as much as 14 to 17 business days, while blinds average 4-8 business days. 
Orders under 94" are shipped via UPS, FedEx, or Canada Post. 
What is Blinds Galore's Privacy Policy?
Blinds Galore uses SSL 3.0 (secure server technology) to encrypt your personal information. This protects your data from anyone aside from authorized users. However, those do include some third parties. 
Third parties that may access your information include their email service (ESP), widgets, pop-ups, analytic platforms, and other metrics for advertising (Adwords and Bing Ads) as well as marketing. No personal information is sold, and data on race, political opinions, religion, trade union membership, genetic data, health, or sexual orientation is not collected. 
Is Blinds Galore legit?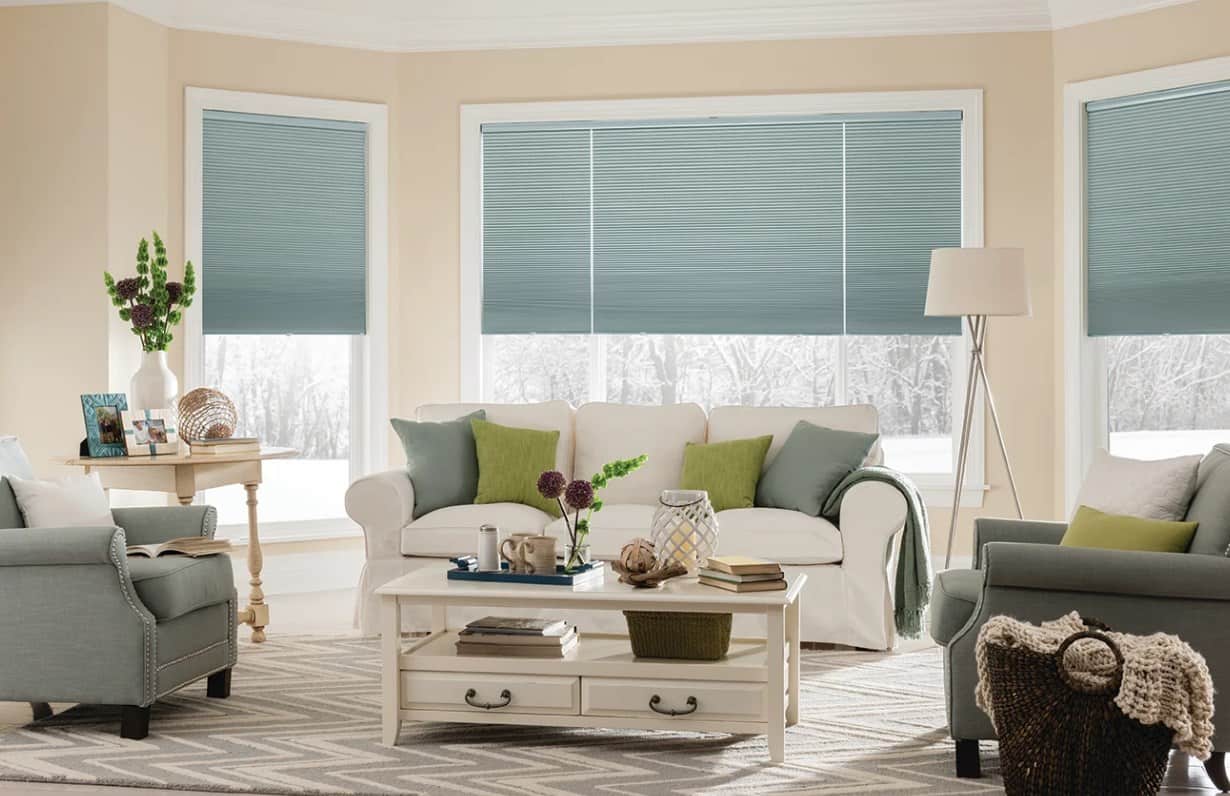 All of these policies look great on the surface– but does Blinds Galore live up to its name? While Blinds Galore certainly is a genuine business- now with 17 years under its belt– it's not always the same as having a great experience.
There's good news and bad news on that front, starting with its Better Business Bureau profile and heading over to average customer experiences.
Better Business Bureau Rating
The  BBB (Better Business Bureau) has a set of criteria to rate businesses, including complaints filed, promises fulfilled, customer satisfaction, product quality, and more. Some years ago, Blinds Galore carried an A + rating. Today that rating has slipped to an A- rating.
While still a decent rating, it is a potential sign that service is not up to the same standards as it once was. 49 formal complaints have been closed in the past three years, and 27 closed in the past 12 months. Since a large number of these complaints occurred in the last 12 months, at least some of them may be related to shipping issues and less staff during the pandemic. 
What do customers think?
Customer opinion is mixed when it comes to Blinds Galore. On the official Facebook page, the company mustered a mere 2.9 out of 5 stars, based upon a little over 50 customer reviews On Houzz, that rating went up to 3.3 out of 5 stars– based upon just 22 reviews. 
Looking into the negative reviews, however, is a bit more encouraging. I noticed a reviewer stating that some complaints were from not being able to exchange blinds– a policy which is now changed. Complaints also stemmed from shipping delays and mix-ups. While Blinds Galore is likely in part to blame, the truth is that many companies are struggling with delayed shipping still due to the impact of the pandemic. So of these complaints, they are concerning– but perhaps not unique to Blinds Galore.
Another takeaway is that blinds are often made with cheaper or "flimsy" materials. Truth be told, it would be helpful to understand what blinds were bought. Some materials are flimsy by nature– so these details are helpful for understanding if this was a true disappointment. 
As a whole? The complaints raise some concerns, so I'd only buy a small order from them to start with, but many of the complaints can be explained by materials purchased, changed policies, or the impact of the pandemic.
How do I select the best blinds from Blinds Galore?

Since Blinds Galore's claim to fame is blinds, my focus for recommendations will be blinds– but I'll include a small section that provides an honest review of other window coverings that they sell as well. Here's how you navigate Blinds Galore to find the best blinds possible.  
I also want to focus on blinds because shutters are not covered by the free exchange policy– something I find very important during pandemic shipping delays and mix-ups. As such, I think your best bet is to shop for blinds here, especially considering some of the complaints. 
What type of blinds does Blinds Galore sell?
Blinds Galore sells a wide range of blinds, including wood blinds, faux wood blinds, mini blinds, Venetian blinds, vertical blinds, and panel track blinds. 
How much do blinds from Blinds Galore cost?
Since Blinds Galore offers custom order blinds, they aren't as cheap as Walmart blinds. Wood blinds range from $65 to $165. Faux wood blinds cost $31 to $79 on sale, to give you an idea. As a whole, you can expect to pay anywhere from under $20 to around $200, depending on blind materials. 
What type of  Blinds Galore blinds are most durable?
Of the blinds they sell, you'll find that faux wood blinds and aluminum typically will be the most durable. Both are resistant to fading, moisture, and warping and suited for everyday use. PVC and other synthetic materials– some of which are used to make faux wood– are durable as well, though they can have a "flimsy" feel to them. Real wood blinds can be durable– but they're only suitable for environments with moderate to low humidity. 
Are Blinds Galore blinds toxic?
This is not unique to Blinds Galore, but rather popular blind materials. Synthetic materials, including PVC and Vinyl, do create toxic byproducts during manufacturing. According to a report by the state of New Jersey, PVC is a source of phthalates. Phthalates were banned from children's toys in New Jersey, and are a concern for children. Yet this indeed is one of the most common and popular materials used. If you're concerned, bamboo, real wood, and aluminum are alternatives. 
Blinds Galore Blinds: My Picks
Here are my picks for some of the best blinds that Blind Galore sells. I've focused on price point to value for the materials used, as well as customer ratings. Since all of these are customized for you, prices will vary widely depending on your desired size. 
Wood Blinds
Wood Blinds are more popular than ever in 2022. The classic look provides a beautiful accent to traditional homes and a touch of elegance. While durable in many ways, the worst aspect about real wood blinds is that they can warp under moisture-rich conditions. 
Blinds Galore Premium Wood Blinds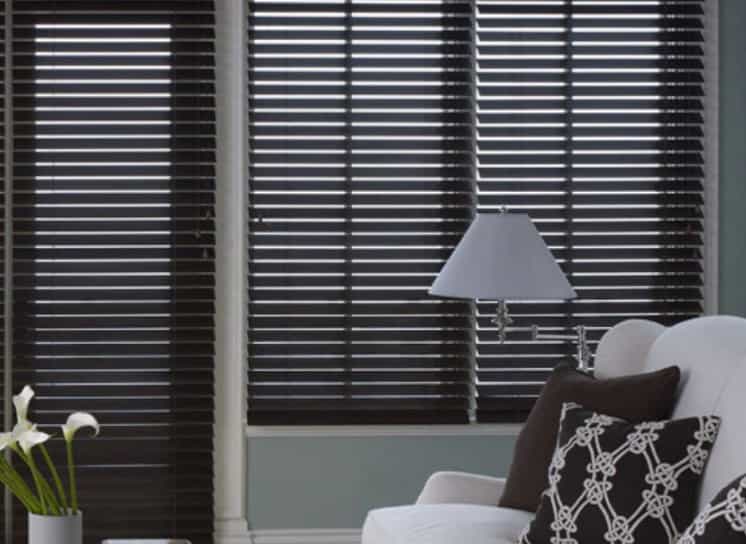 These beautiful, top-rated wood blinds feature 2 ⅜ inch slats. The premium wood blinds are custom made with North American hardwood and can easily be customized with valances and decorative tape. Stylish and timeless, you can choose from colonial white, chestnut, deep mahogany, dark cherry, sunset wood, dark walnut, and wood stains. Buy Here. 
Bali Northern Heights Collection 1 Inch Wood Blinds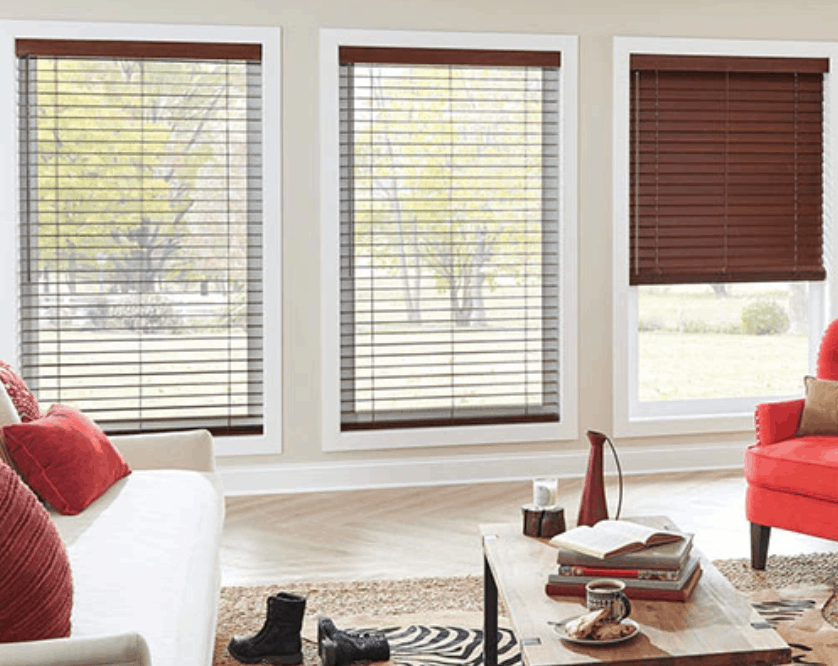 It's hard to find mini wood blinds, but here they are. These blinds are made from select North American wood and are designed to naturally be lighter and durable. Easy to lift and operate for daily use, these pleasing blinds would look at home in a home office. Available in picket fence, snowstorm, winter, heirloom, natural, wheatfield, maple, regal oak, majestic walnut, teriyaki, and heron gray stains; Buy Here. 
Blinds Galore 2" Hardwood Blinds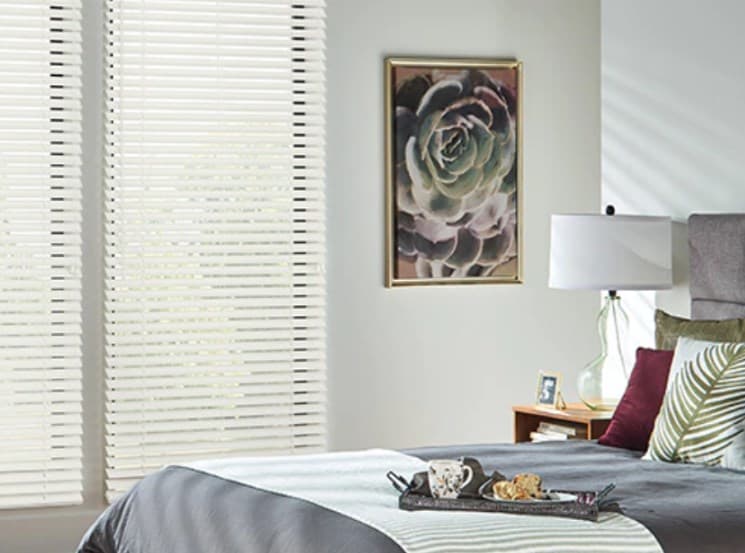 These elegant blinds are competitively priced and boast a 4.5-star average base upon over 360 reviews. A part of Blinds Galore's private label, these wood blinds pair with elegant valances and wood tassels. Even better, they're available in 13 stains, including glacier, linen white, putty, pine nut, honey, hazelnut, sierra, American walnut, toffee, steel gray, coastal mist, and night owl; Buy Here. 
Faux Wood Blinds
Faux wood blinds mimic the grain and style of real wood blinds, but aren't susceptible to moisture, cracking and warping. Lightweight and stylish, they can last for years. They can be made out of materials such as vinyl or PVC, which have the same potential safety concerns as I mentioned earlier. However, there is one exception. 
Simply Chic Faux Wood Blinds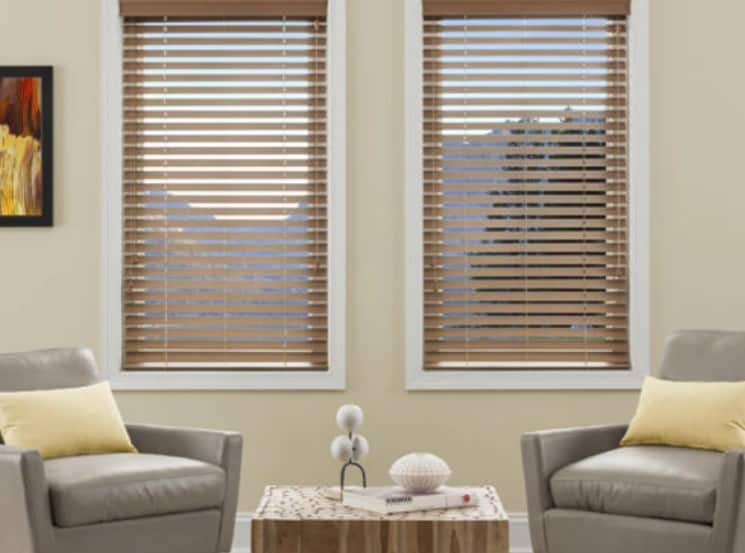 Can't decide between real wood and faux wood blinds– or love the idea of real wood and can't quite afford it? Consider these unique, stylish blinds. Real American hardwood pairs with advanced thermal polymers. In layman's terms, who get a balance of elegance and durability. Resistant to UV rays, chipping, and moisture, these could even be used in bathrooms. Available in white, linen, cream, natural and textured white and oak finishes; Buy Here. 
Bali Oeko-tex Certified Faux Wood Blinds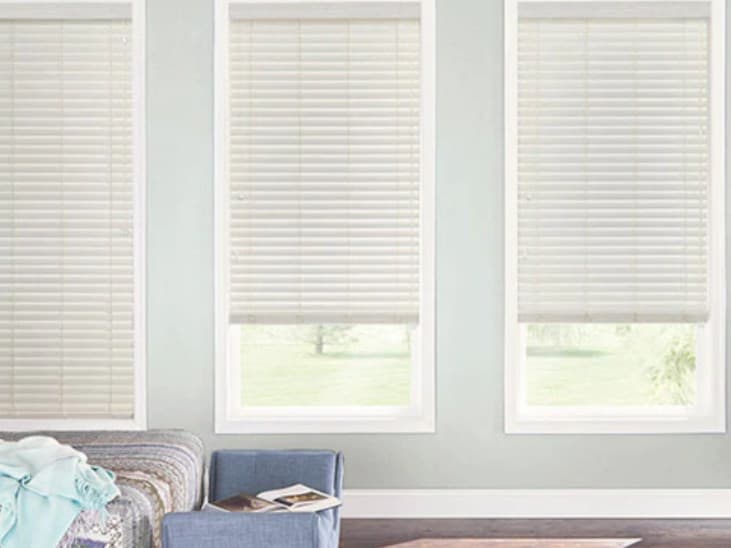 This is my favorite option for faux wood blinds from Blinds Galore. Oeko-tex certified means that there are no harmful or potentially toxic chemicals used in manufacturing. The generous 2 ½ slats provide a better view outdoors. This is a better pick if you have kids or pets vs your average faux wood blinds– and they're still resistant to moisture and warping; Buy Here. 
Mini Blinds
Mini blinds have slats that are the width of regular blinds. These types of blinds don't provide as much privacy at night, but they are helpful for light filtering and are considered incredibly versatile. Used for home offices and regular living spaces, mini blinds can be made from a variety of materials– usually vinyl, PVC or aluminum. My favorite is aluminum, as this material tends to be durable and sleek, as well as easy to work with. 
Bali LightBlocker Aluminum Mini Blinds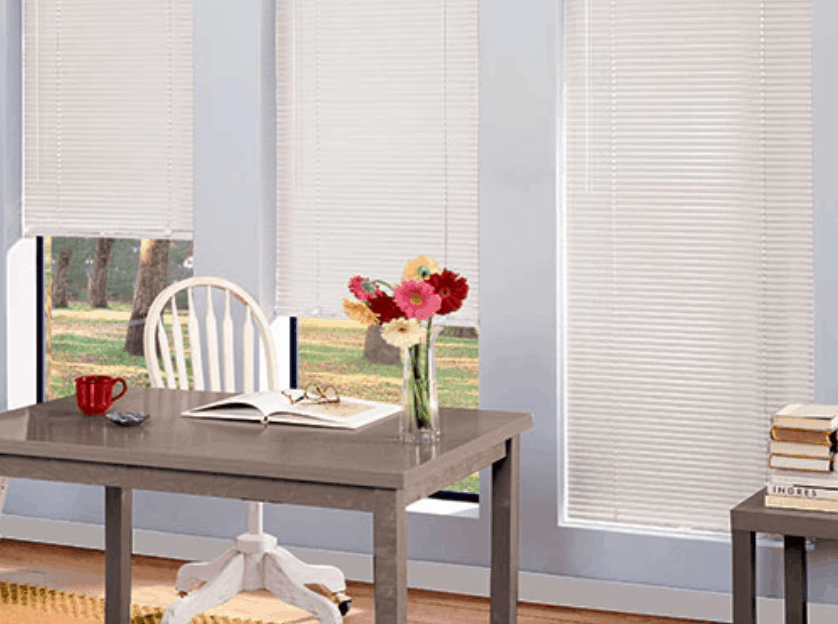 Looking for affordable and versatile mini blinds? These blinds maximize your control over light filtering. The style is ideal for tight spaces and reducing glare. A hidden head-rail reduces additional entering light while providing a subtle and modern style. You can choose from many lift options (both corded and cordless), as well as an impressive 33 colors– from white and off white to neutrals, metallics, and even burgundy and blue; Buy Here. 
Bali LightBlocker ½ inch Micro Blinds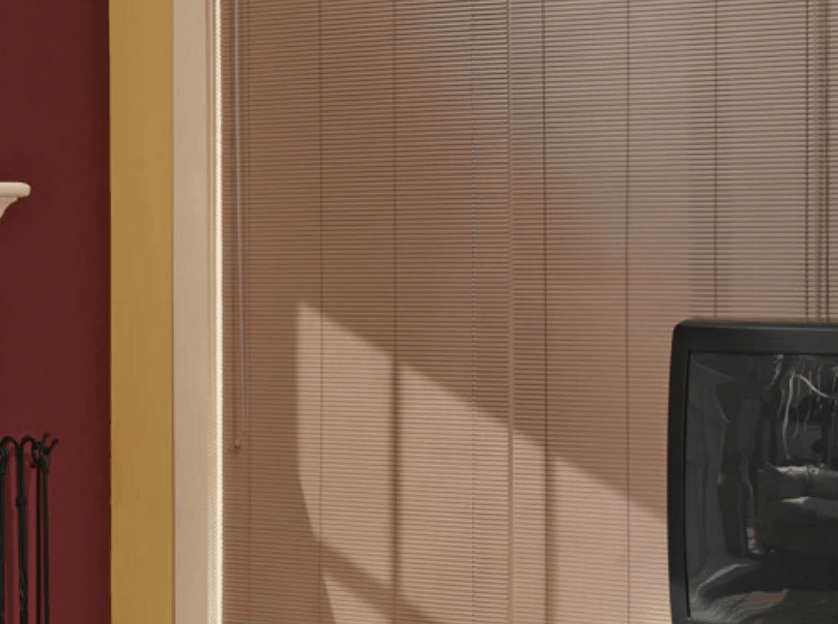 Micro blinds aren't common– which is why this option stands out. Perfect for especially small spaces, these blinds feature modern ½ inch aluminum slats and add minimalist, modern appeal. A balance between light control and privacy, precision rollers allow for easy, everyday use. As a bonus, the slats are resistant to stains, bacteria, dust, and scratches. Economical and available in 15 colors; Buy Here. 
Bali LightBlocker 8-Gauge Mini Blinds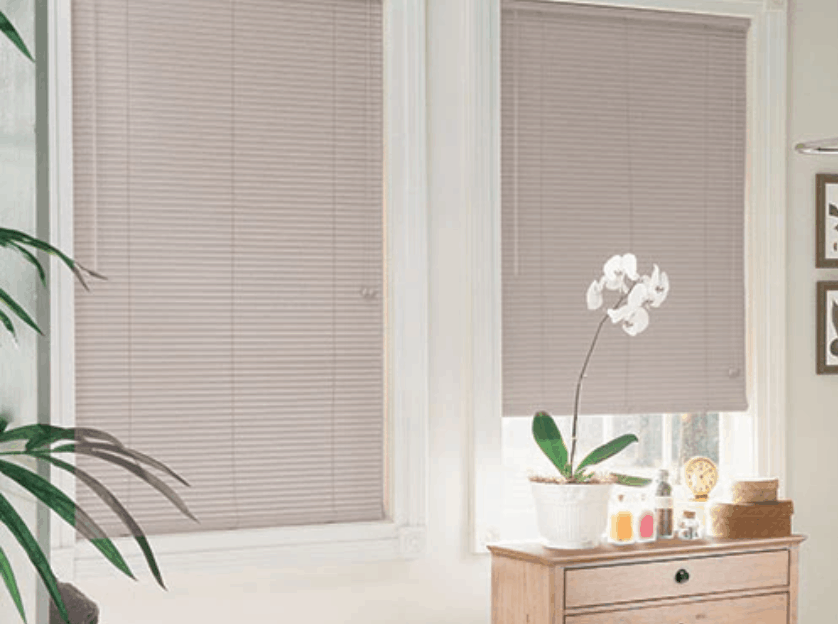 Love the idea of aluminum mini blinds but looking for more color options? These highly rated mini blinds come in an impressive 45 shades, from white and off-white to bolder pops of color. The tight slat construction allows for tighter control of light, with the same precision rollers of other Bali mini-blinds for easy operation. You can also expect stain dust, stain, bacteria, and scratches, or dent resistance. The blinds feature 8 gauges, equipped for heavy use, completed with hidden brackets; Buy Here. 
Frequently Asked Questions
Question: Where are Blinds Galore blinds made?
Answer: Blinds Galore blinds are made in San Diego, though materials are shipped from elsewhere. 
Question: Are Blindster blinds good quality?
Answer: Blindster ranks among the top e-commerce blind websites and enjoys an average consumer rating of 4.65 out of 5 stars based upon more than 3,500 reviews. They have faced some COVID-related shipping issues in 2020 and 2021. Blindster sells custom shades and blinds, from faux wood to wood, bamboo, aluminum, mini blinds, and more. While not all premium blinds, Blindster is a solid place to buy blinds, especially if you're looking for a close alternative to Blinds Galore. 
Question: Are American Blinds Made in the USA?
Answer: Most blinds from American Blinds are made in the USA. but not all. You can sort by blinds made in the USA on the American Blinds Website. 
Final Thoughts & Buying Alternatives
As a whole, Blinds Galore is a reasonable place to buy blinds. From versatile to elegant, the company offers fair prices and far more customization than many of its competitors. The biggest concerns right now with Blinds Galore– and any online shopping experience- pertain to shipping delays.
Like a lot of what Blinds Galore has to offer, but want to do some comparison shopping? Blindster is a top rated blind company that offers an excellent selection and an easy shopping experience.