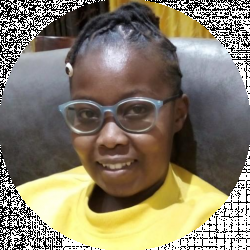 Latest posts by Jeanne Murugami
(see all)
Many people have their own take on what makes the perfect curtains. Some love them for their ability to block out light, while others find that they can help achieve a certain mood in a room. In this blog post, we'll explore some of the top blue curtain ideas and how you might be able to incorporate them into your home. 
What are some of your favorite things about blue curtains?
A blue color is a perfect choice when you want to make your room appear more calm and peaceful.  It's also a good idea if you live near water or have an ocean view outside of your window, as this will reflect on the curtains beautifully in any light condition. If you're looking for ideas that are not too bold but still capture some flair, then these may be just right!
Bright Blue Curtains and Sky Blue Curtains
Mint Blue
Mint blue curtains will fit any room. They are often considered romantic because of their pale, delicate color, perfect for a more intimate atmosphere.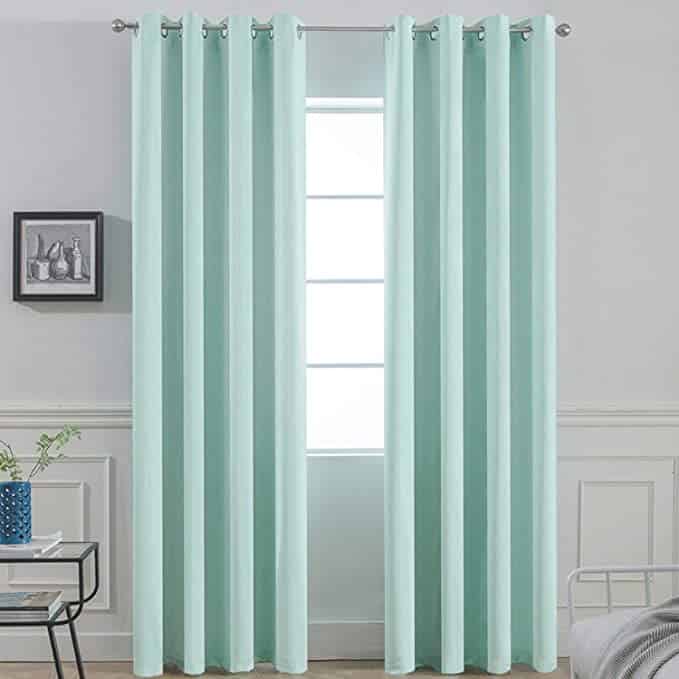 Mint blue will also go well with other colors such as whites or light greens so long they're not too bright against the fabric's hue. If you want your living space to feel cozy and warm while still maintaining decorum, then consider adding mint-blue curtains next time you spend an evening reading by the fire!
Vivid Playfulness
It's easy to turn a plain room into an inviting space with the introduction of color. Pale blue is perfect for adding artistic flair. Patterns make it more interesting while also making the pale hue work better in smaller spaces like bedrooms or dens. 
To maximize this effect, consider pairing your new curtains with matching bedding and carpeting that coordinates, as well as some green plants near windows (especially if you live up high)to help bring nature inside.
Delicate Beauty
Sky blue curtains are a perfect match for your baby girl or baby boy nursery. They remind you of the song Coldplay with lyrics like 'In a sky full of stars.' The view blends well with furniture that is modern, white, and vintage.

Sky Blue
Sky blue curtains can be an easy way to bring color into your room. They'll match any of the sets of decor you have, so they're a perfect addition for a look that feels cohesive without being too busy or cluttered. 
Patterned Blue
A sky-blue-colored curtain can make any baby's room look inviting. The patterned curtains have a lovely cloud design that gives off an innocent feel to the nursery or bedroom space. If you want to create even more of this feeling, we recommend adding a tulle tieback to them. They will blend beautifully, making all visitors take notice when admiring from outside the doorway.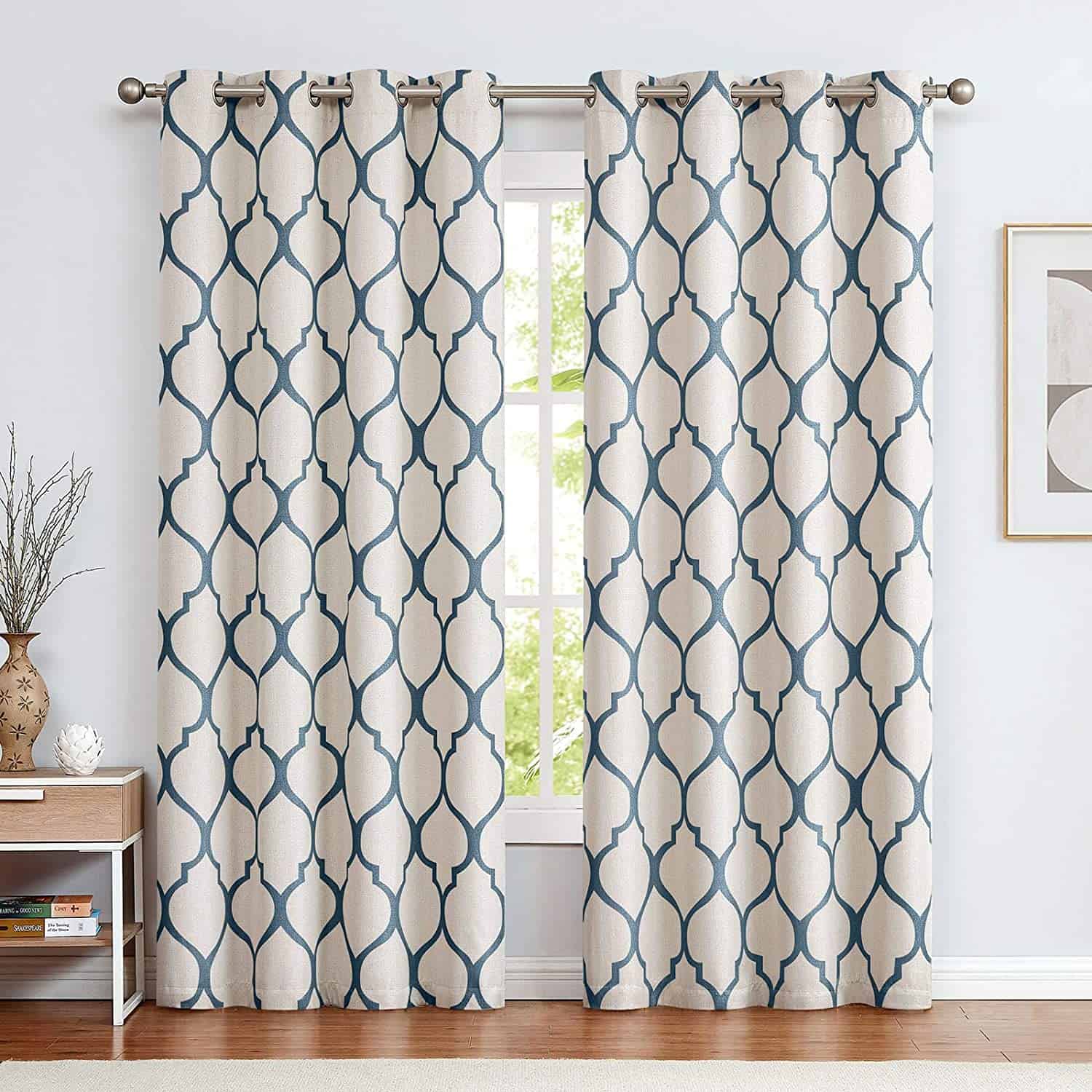 Navy Blue Blackout Curtains
Messy Beauty
Navy blue curtains with a trimmed edge are the best way to achieve that vintage look if you have an open and airy space. Be careful, though! Kittens can get their paws into those edges, so it might be worth investing in some curtain hooks for extra security. 
White walls give your room style while also being easy to clean up after messy kitty mishaps or when they decide it's time for them to explore outside of your window.
Daylight Dreaming
Navy blue curtains with stars and other celestial patterns are a whimsical way to welcome nightfall in your child's nursery. They let only minimal light through, so it will never feel too bright, making them perfect for sleep time.
Combine them with dark or plain white room settings for the most realistically necessary yet beautiful look imaginable.
Noble Blue
Noble blue curtains are a perfect way to add sophistication and class to any room. They look great with navy or royal blue, matched by horizontal stripes on the bottom side of your curtain for added flair. You can match these colors well in modern rooms too!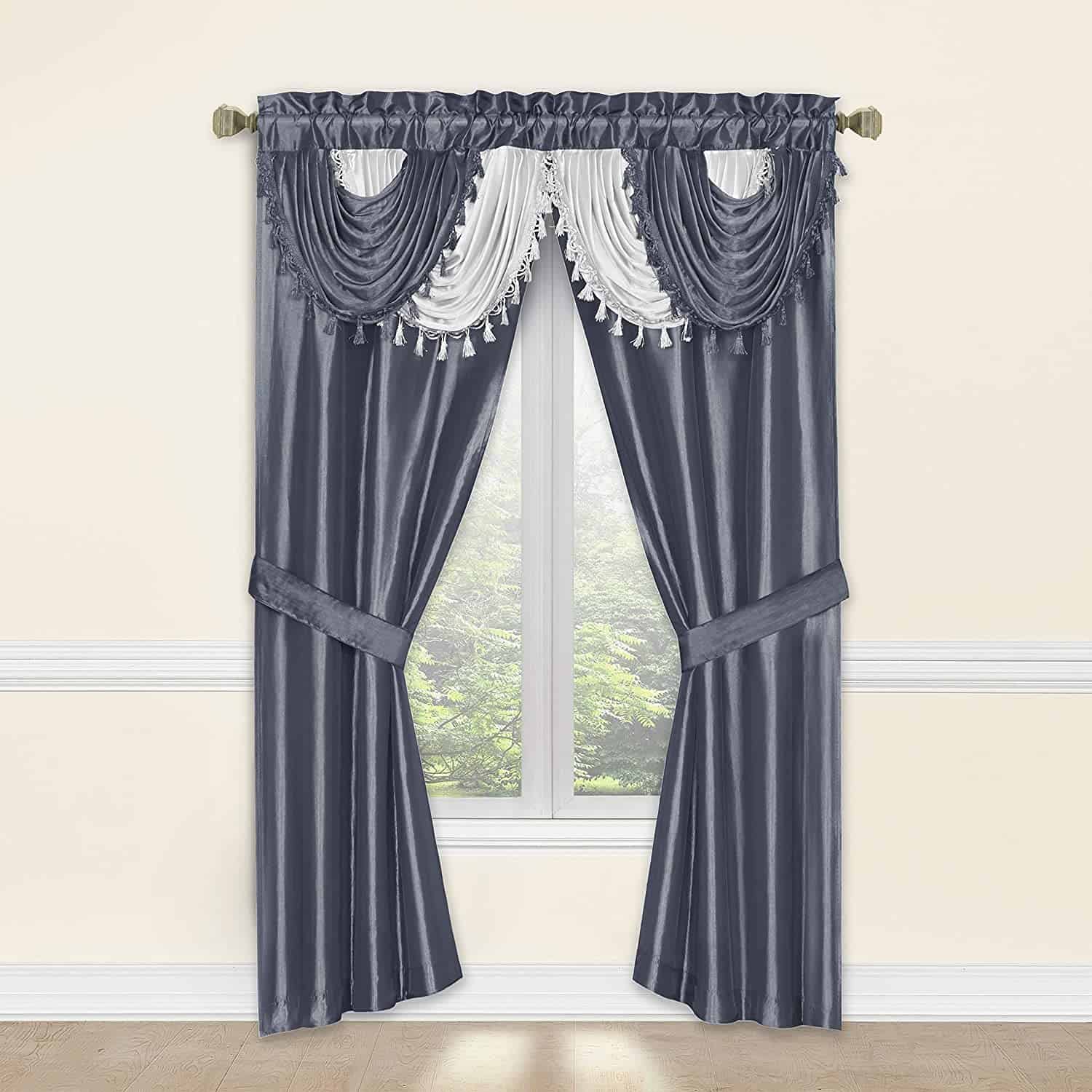 For those who love this color but want more than just plain old noble blueness, you're in luck because there is so much variety available. Patterns like damask prints make it seem as if the sky has opened up right before your eyes.
Blue Suede
Blue suede curtains are a great way to make your room feel more elegant while adding some finesse. The vertical stripes will create the illusion of depth, and by doing so, it'll make your room look taller than it actually is.
To get the full effect, you can pair them with gray colors as well. 
Finest Simplicity
Navy blue curtains are best for hopeless dreamers to get a sense of peace. The color and simplicity will match any design or style you have in your house, making it cozy no matter what else is there.
Living Room Blue Curtain Ideas
If you have been struggling with the perfect living room curtains, it may be time to consider a color that blends in beautifully. Curtains should not take away from an overall design but rather enhance and complement them. 
Blue is one such color because of its versatility and sense of freshness, bringing life into any space without overpowering other colors or designs within your living room. 
Here are some ideas on how blue can work well with various styles:
Color Trio
A trio of curtain colors will significantly impact the look and feel of any living room. You can use this vibrant technique to alternate panels among rosy pink, white, or navy color curtains for an elegant effect that is sure to impress your guests. 
Try using these bold hues in other areas as well; think furniture.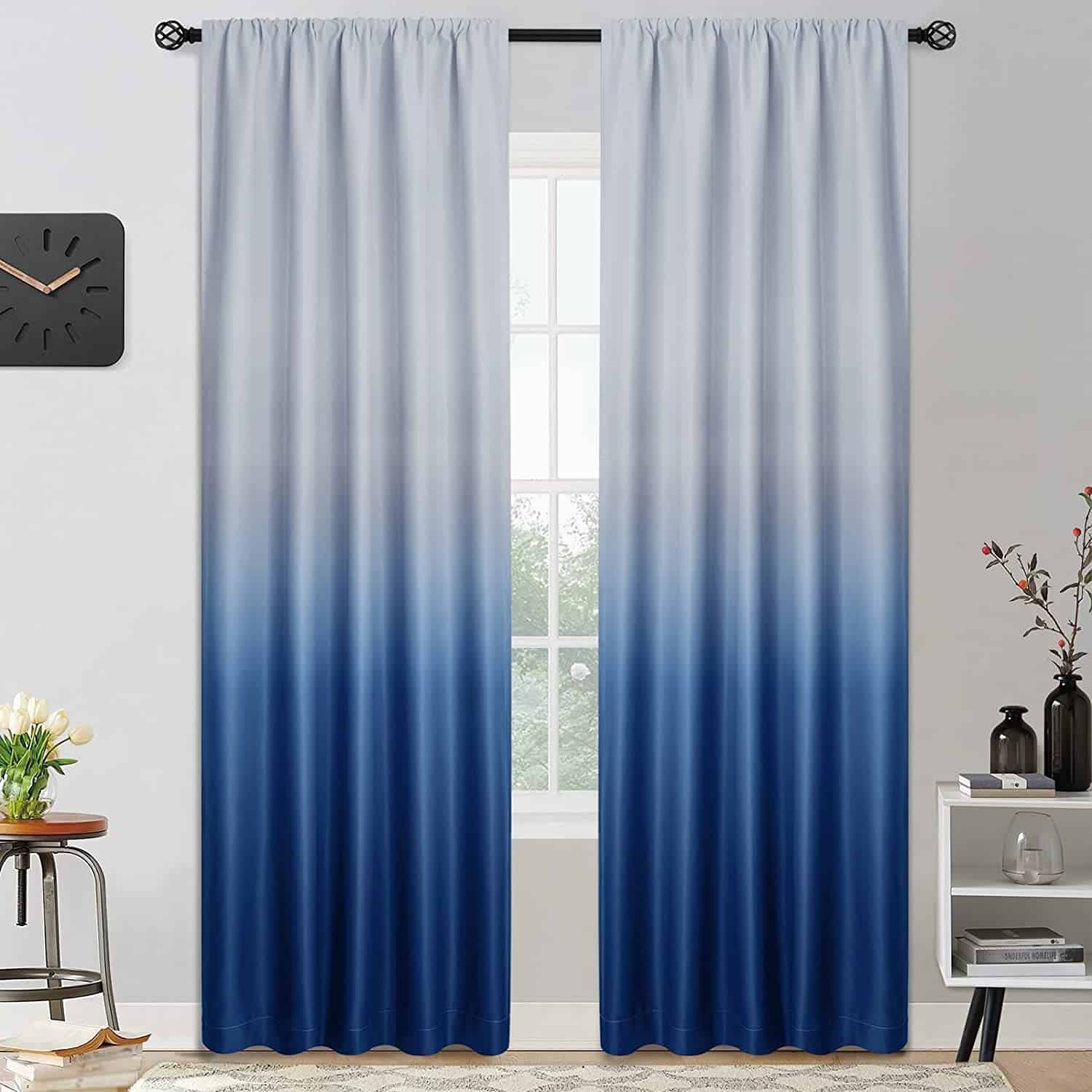 Christmas Curtains
You don't have to spend hours decorating your house for the holidays. The best way is just by changing curtains. Seek blue Christmas-themed ones that feature a beautiful design at the top. At the bottom, they should be red with blocks of different colors like pink or purple. Your throwdown pillows need to match these curtains as well, and you'll be good to go in no time.
Beige and Sky Blue
Beige and sky blue have always been perfect together. Not only will they blend seamlessly, but the two colors are calming to look at for hours on end. 
For a more elegant touch, you can use curtains with beige panels in front of windows dressed up by fresh-sky colored drapes overlapping them like flowing waterfalls over an abrupt waterfall's edge. Or you can just put one panel from each color side by side. It doesn't matter which is first really because both sides will work equally as well.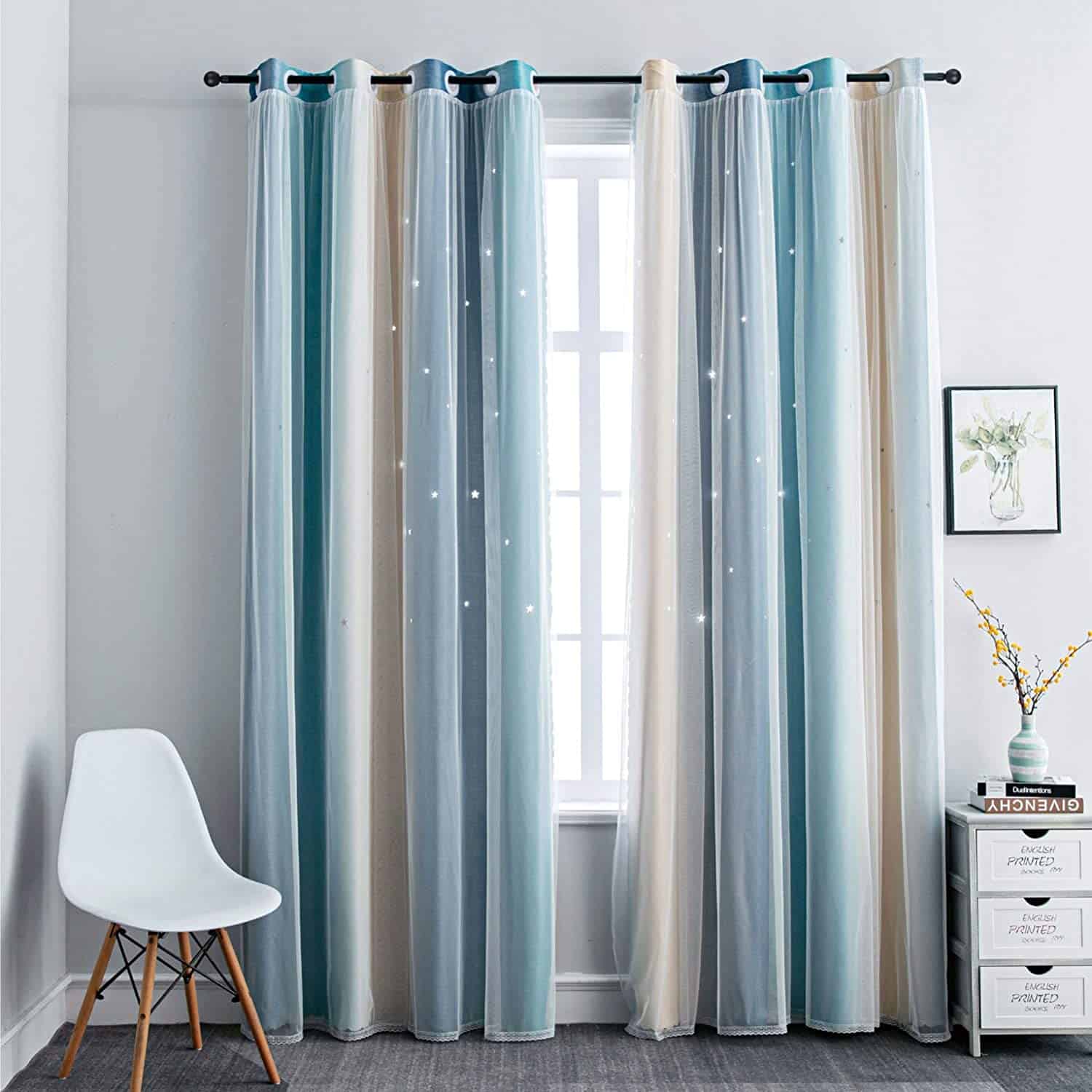 Blue Linen
A beautiful addition to your living room is blue linen curtains. When the sun streams through, these linens will have a gorgeous look that can add value and warmth to any home. 
They should be long enough from floor-to-ceiling for them not only to give you more privacy but also to make the space appear larger than it actually is.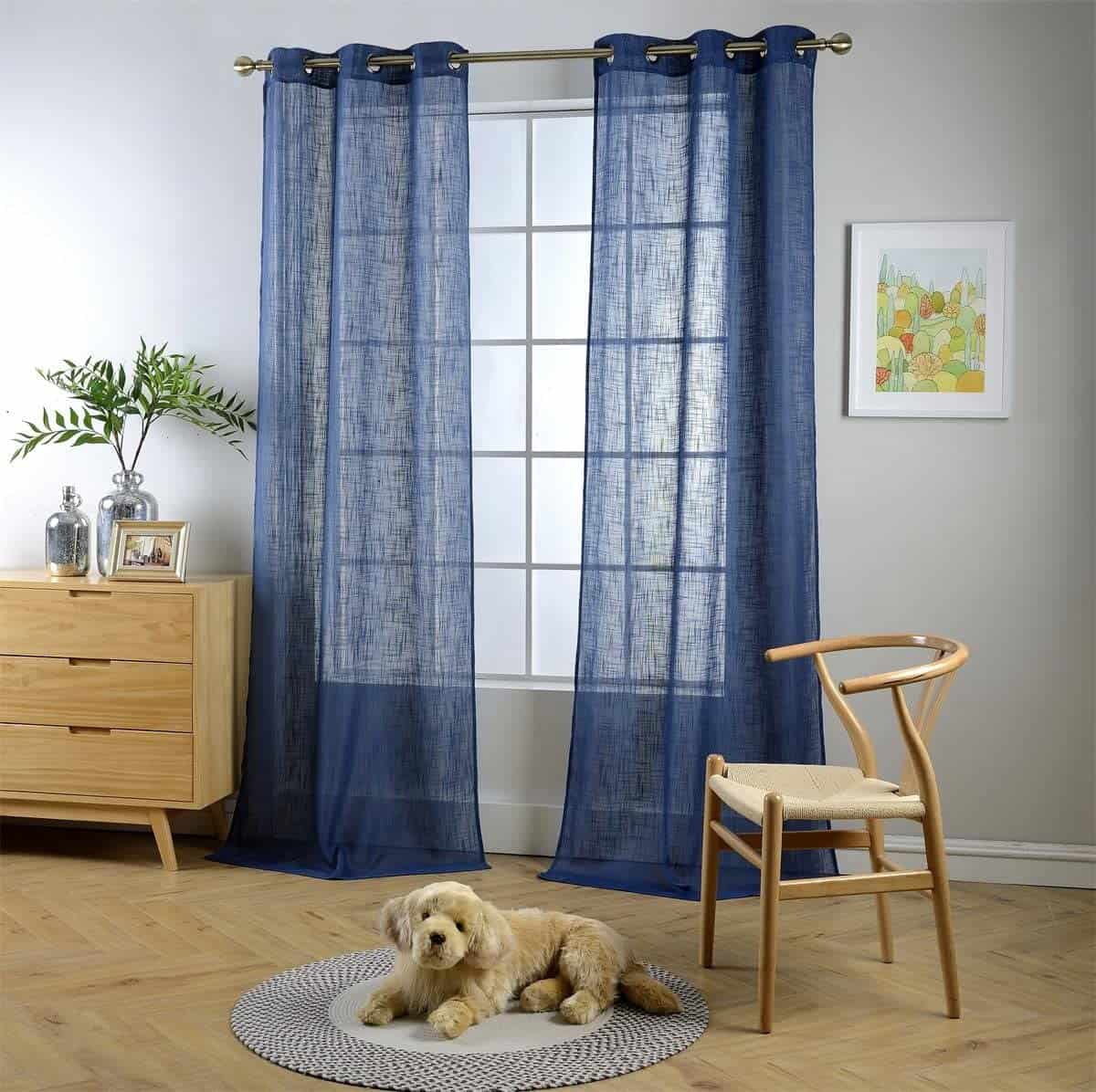 Coastal Blues
Coastal blues give you a calm feeling whenever you are in your living room. You can blend the curtains with white to give it an elegant coastal theme look. 
Tying them elegantly or mixing and matching different colors can make the space feel more expansive, modern, and inviting.
Blue Curtain Ideas for Your Bedroom
Picking a light or dark blue curtain is all about which color of the spectrum you need in your bedroom. Light blues will give off that natural, refreshing hue, while darker blues can be more soothing and romantic depending on what's required to create an atmosphere most conducive to sleep. 
Here are some bedroom blue curtain ideas;
Horizontal Stripes
For a nautical theme, you should consider the use of horizontal stripes. For instance, if your bedding matches the navy blue hue in curtains you choose for your bedroom space and has green and white as its background colors, then opt to have vertical striping similar to hues next time around. 
This will ensure consistency between all aspects of this room's design scheme.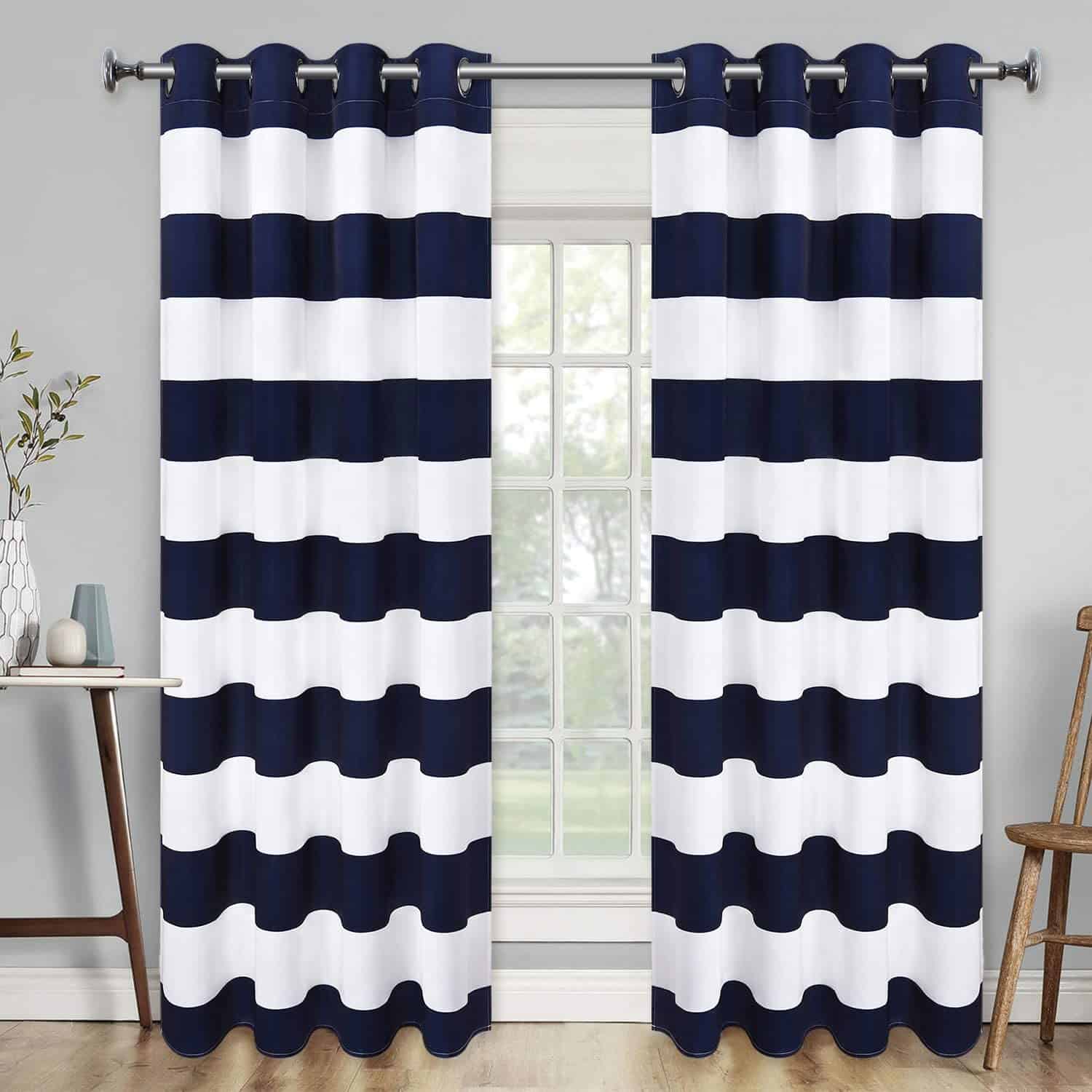 Horizontal Blue Curtains Against Vertical Wallpaper
Horizontal blue-striped curtains were once an indication of wealth and sophistication, but these days they are nearly as ubiquitous in a young person's bedroom. They're also perfect for creating that cozy feeling you might seek when building your own cabin or taking the next step into adulthood. So why not combine them with vertical blue wallpaper to create a casual vibe?
A Mixture of Blue
A beautiful, romantic room can be achieved by combining a variety of blue hues in your bedroom. You could do this with light denim colors for the curtains and bedding or bright turquoise-colored sheets to complete the look.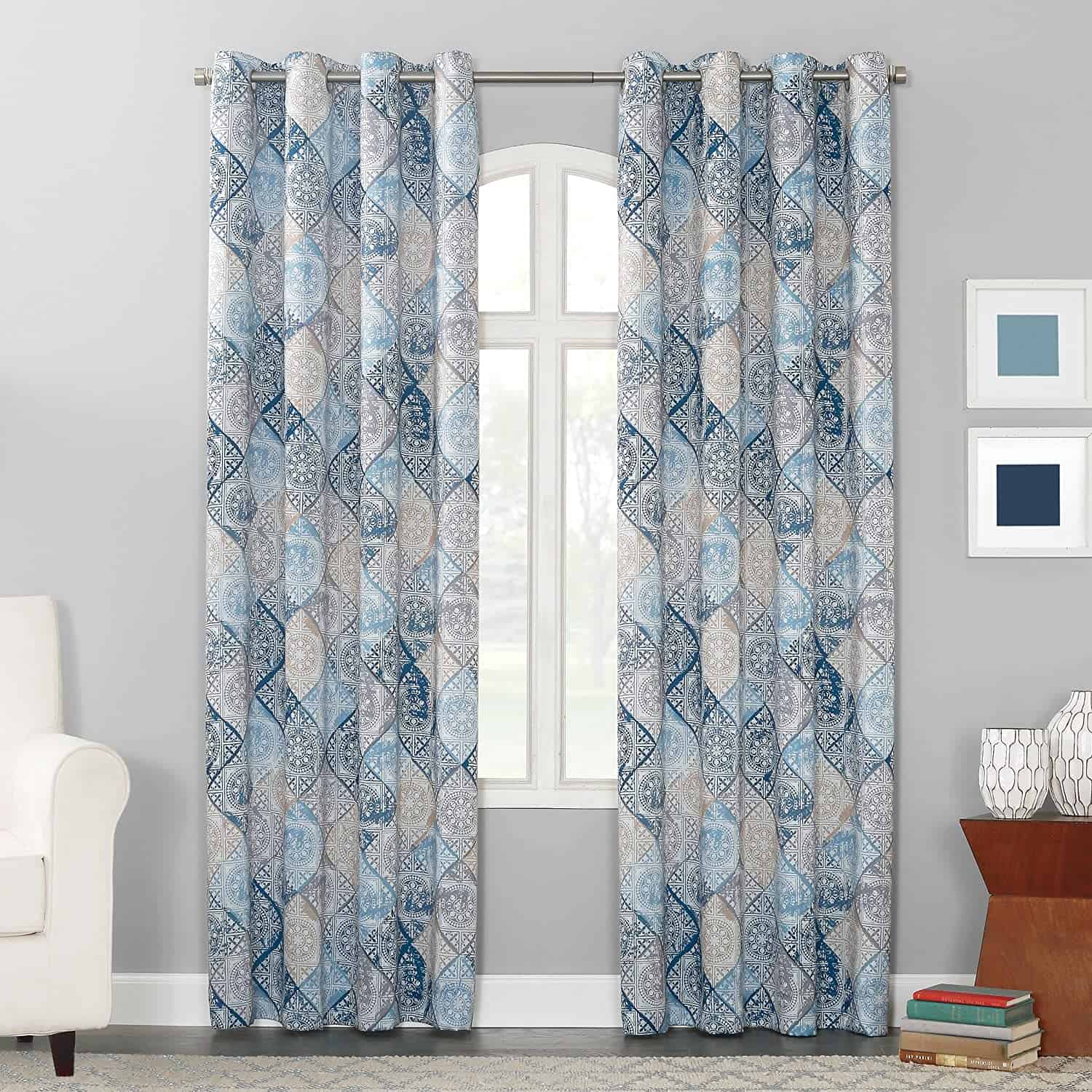 Blue Curtains And Blue Beddings
If you match your beddings with your curtains, the results are fantastic. The patterns will be punctuated by blue, making your bedroom a calm place. You need not worry as you can get curtains and beddings in sets, and they will give you an instant harmony design.
Same Tone of Blue for Curtains, Beddings, and Rugs
Who says you have to choose a different color for your curtains, bedding, and carpet? You can make everything match by choosing one specific tone. For instance, if you go with an ocean-blue shade on the walls of your bedroom, then it will look charming if all these items are also in that same turquoise hue. 
Light Allowing Sheer Curtains With a Stunning Blue Curtain
Darker colors can reduce the amount of light penetrating your bedroom. However, if you love dark colors, this is not an issue for you, and there are plenty of ways to get around it. One of them is to consider combining dark blue or black sheers with a stunning royal blue curtain. You can let the dark curtains open until the time you are going to sleep. 
How You Can Upgrade Your Interior With Attractive Blue Drapes
Just like sheers, blue drapes can affect the ambiance of an interior positively. They are both timeless and trendy. They can also fit in with different decorating schemes, themes, and styles.
Whether you would love to give your living space a beach-style makeover or you love a modern-polished look, attractive blue drapes can rescue you. Here are some ways you can use these drapes along with blue curtains for a perfect look.
In Your Dining
Blue is a prevalent color for most dining areas. It also looks great in the kitchen and living areas because it can match both. Blue drapes are perfect for changing up with white backgrounds or light-filled ones that still have blue tints alike. What's even better, adding flower vases of blue flowers into them will give you an ultra-sweet curated feel when you're sitting down at dinner time!
In Your Living Room
A white and blue color palette can be an excellent choice for any home's interior design. It is versatile so that you can switch the feel of your room from coastal to beachy or modern with just a few decorative pieces or accessories. 
The next time you want to change up the colors in your living space, try using light blue curtains paired with navy drapes. This will create a cozy yet chic atmosphere.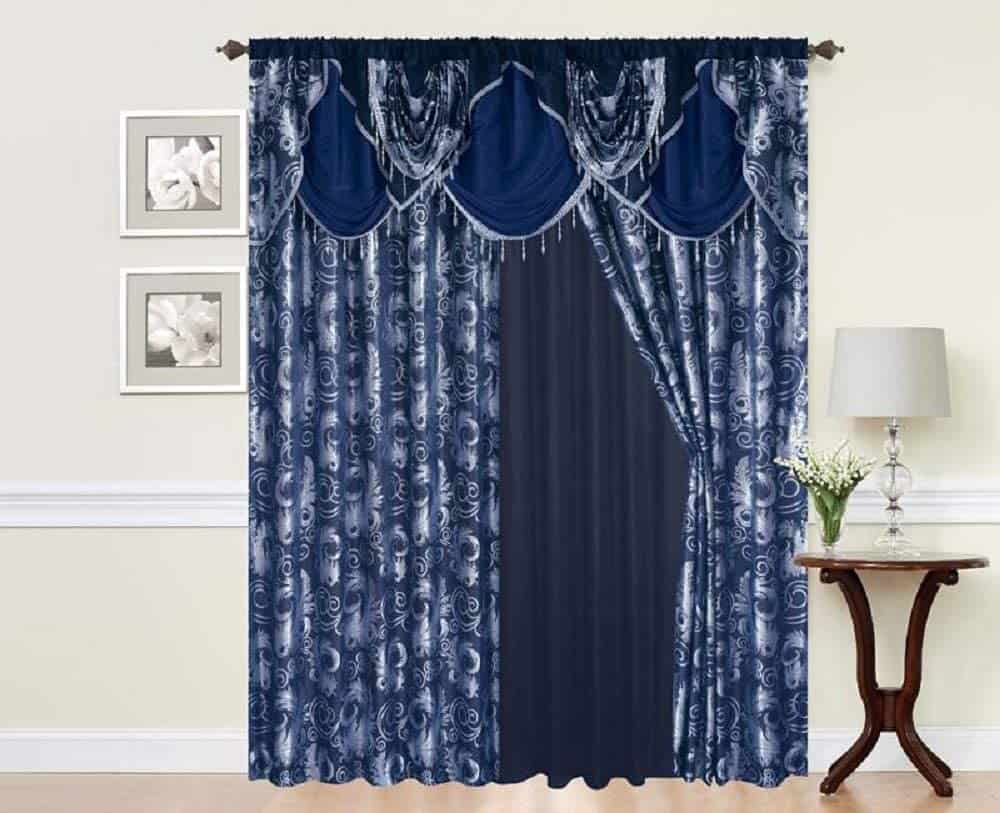 If dark blues are what inspire creativity, then use them as window treatments. They'll make rooms filled with natural light seem brighter than ever before.
You will enjoy the aesthetic perk of heavier drapes in cool months when you can make use of their added weight to keep warm. You'll also appreciate them during warmer seasons, blocking out sunlight without being too heavy or uncomfortable. They provide plenty of airflow with light and sheers for a well-ventilated room.
Dark Blue Drapes With Dark Blue Curtains
Drapes are often an essential part of the overall décor. However, not all drape fabrics work in every setting and need to be assessed for compatibility. 
If you have dark blue curtains or carpeting that is already installed, it can sometimes make sense to match black draperies. They will bring out an elegant appearance by blending seamlessly into these existing elements within your space. Dark blue drapes, when at their dazzling best, give off a very appealing solid sight. 
Frequently Asked Questions
Question: What Colour Curtains Go with Blue Couch?
Answer: Colors that go well with a blue couch are cool colors like white, light green, and black. You can also add some warmth by adding red or yellow to your décor.
Question: What Furniture Goes With Blue Curtains?
Answer: If you're looking for a chic or city vibe, bright colors are the way to go. For example, an orange couch paired with blue curtains creates such a vibrant and dynamic space! You could pair it with pink pillows that have gold threading as well.
Question: What Is a Good Accent Color for Blue?
Answer: The colors light blue, royal blue, and baby blue can be combined with a multitude of other colors such as yellow or shades of pink. Sky-blue is stunning when paired with many different complimentary colors like white, cream, and gold.
Conclusion
Creating a home that reflects your personality is always an exciting and sometimes daunting task. Whether you're looking for curtains to complement the rest of your decorating or are hoping to find some new inspiration for color schemes, we hope these top blue curtain ideas can help.
Let us know which ones you like best – and don't forget to share with friends who might be in search of their own perfect window dressing.