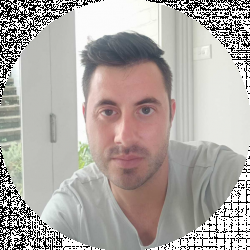 Latest posts by David Borgogni
(see all)
Our Factory Direct Blinds review puts the company to the test on how well it matches the convenience, diversity, affordability, availability, and ease of shipping associated with online stores.
The company is known to stock a wide range of blind designs, fabrics, and colors that will most definitely fit any homeowner's taste and style.
So if you are out to redecorate your home, and you are toying with the idea of shopping from Factory Direct Blinds to automate your window space, make them more child friendly, add a layer of privacy to your home, filter or even regulate light, our review has you covered.
We shall include an overview of how other companies compare with Factory Direct Blinds, sample a few customer reviews, list its pros and cons, answer some FAQs before finally wrapping it up with a final verdict.
Let's start off with an overview of the company;
Factory Direct Blinds History
Factory Direct Blinds is headquartered in Phoenix, Arizona and was incorporated in 1993 when only a handful of companies specialized in window treatment. Since then, it has grown its product range, client reach and recorded over 1 million sales.
Its continued existence long after the likes of 3 Day Blinds was acquired by competitors is a testament to doing something right. But unlike such competitors, Factory Direct has stuck to a pretty lean range of products, two to be exact.
Such a lean range of products affords the company time to specialize in the products they offer, positioning them as leaders in their chosen line of business.
But it also precariously exposes them to be overshadowed by competitor companies that offer everything, including canopy bed curtains (here is how to find the best canopy bed curtains), under the window treatment business niche.
Luckily for them, this hasn't been the case, and if anything, they seem to be expanding the scope of their target clients to include commercial clients such as hotels, institutions among other businesses. Let's dive into products offered by Factory Direct Blinds;
Products by Factory Direct Blinds
Although the website has only two main categories of products, each category has more subcategories.
For instance, clients have the option to shop by feature under which you can shop by cordless, blackout, budget-friendly, sliding glass doors, and even top down bottom up.
For those who would rather shop by room, you can browse and shop by a room where you can find something like Cordless Classic Faux wood WHITE under bedroom, or even kitchen where you can get Premier 3% Solar Screen Roller Shade. And now to its main products;
Window Blinds

Window blinds by Factory Direct Blinds are highly functional, versatile, and tend to be chic and stylish. They also come in a wide range of textures, colors, and materials.
So whether you are the type who prefers a fabric blind that will give your window space a homely aesthetic touch or even an elegant, softer, and neat touch of a woven wood blind, you are sure to get something that will fit your needs.
Here is a quick rundown of blinds from Factory Direct Blinds;
Vertical Blinds

Factory Direct Blinds stocks and produces vertical blinds that allow for extensive customization.
Each of the blinds has slats running along a regressed track at the top and will allow for opening by parting in the middle or opening from side to side.
When ordering, one gets customizing options by size, color, mount type, control style, stack, headrail color, extra vane, and valance color.
So whatever your needs are, be they for smaller windows, patio doors, or even floor-to-ceiling windows, Factory Direct Blinds has something to match your needs.
Read our full guide on how to find the best door curtains.
Mini Blinds

These are window blinds with slats about 1 inch thick or half the width of standard blinds. They are commonly used to regulate light that gets into a room. Despite their popularity, their effectiveness on matters controlling light is as highly effective as blackout shades.
Unlike vertical blinds, they are cheaper and allow for limited customization, including mount type, size, and color (proceed to a detailed mini blind guide).
Faux Wood Blinds

Faux wood blinds are made from synthetic material, making them affordable, more versatile, and durable than wood blinds. They are commonly used in rooms or areas characterized by higher humidity levels.
Another category they are to launch soon is the wooden blinds. These blinds make for one of the most versatile subcategories as they can be cured to any color, pattern, or design. With them, one is sure to get the natural warmth associated with wood.
However, the downside to them is that being natural, they are more susceptible to weather elements that may make them warp, break, split, or even break.
Window Shades

Unlike the hard and manually pulled blinds, window shades are soft and are meant to be drawn up or down and come with neither slats nor vanes. Although they do not allow one to regulate light, they are made to different levels of opacity. The types available on Factory Direct Blinds include;
Cellular Shades

These shades are popular with people trying to minimize outdoor temperature transfers. The shades have air-filled cells that come in the shape of 3D honeycombs to help insulate against heat transfer (skip to the best thermal curtains). The company allows for customization by mount type, color, and size.
Pleated Shades

The shades are made from paper or fabric and layer into a crisp fold when lowered or raised. They come in a variety of colors, sizes, and patterns.
Roman Shades

Roman shades feature a classic kind of window treatment that is both timeless and beautiful. The Roman shades come in different styles and may be made from fabric or seagrass. They are designed to fold into themselves as they are pulled upwards to form a stack on the upper part of the window.
The shades come with or without a lining that serves as blackouts or thermal regulators.
Roller Shades and Solar Shades

The roller shades are made from a wide range of natural and synthetic materials. They make for one of the most versatile shades as they can be customize based on roll direction, lift side, cassette valance, mount type, among other options.
On the other hand, solar shades are specifically made for people inhabiting areas with sensitive UV rays.
Other available options include Zebra shades and Bamboo and Wood Woven shades (skip to our detailed bamboo roll-up blinds).
Commercial Bids
If you are looking to open up a commercial business or even want to revamp and spice up your window frames, then Factory Direct Blinds may have just what you need.
The company has a specialized section that caters to bulky blind orders or commercial clients.
Availability
Unlike 3 Day Blinds that are limited to select states, Factory Direct Blinds is available to the 48 contiguous United States. For these states, clients will receive free shipping for all their shades and blinds orders.
Interestingly, all states qualify for a no sale tax except California.
How to Order from Factory Direct Blinds
Step 1: Get Your Window Measurements
As the company does not have professionals to be sent for home visits, the client is left on their own to get their window measurements.
Though most windows come in standard measurements, it is wise to get your window measurements before making a purchase.
To assist their clients with measurements, the company has a series of online measurement tools, alongside other tools, to aid them in getting more precise measurements.
Step 2: Browse products and customize
This second step is pretty much easier than the first. Having got your measurements, browse through the company's extensive products to get the window treatment that will best serve your needs.
If you are unsure how that particular treatment will look on your window frame, you can request free samples.
However, the free samples are limited to one main category, capped at a maximum quantity of 10 pieces, and cannot be combined with any shades or blinds order.
People outside the 48 continental United States will have to part with a $15 postage fee, including those in Canada and Hawaii.
Step 3: Checkout
After you are fully content with your selection, add your selected products to the cart and checkout. If your delivery address is within California or New York, then you will incur additional sales tax as stipulated by your state, county, or local municipality.
Shipping

Unlike most companies that give an estimate of how long it may take for them to manufacture and ship your order, Factory Direct Blinds has no timeframe of how long it may take.
Instead, they give a disclaimer that depending on production timeframes and volume in progress, there may be delays in shipping.
Customer Service
Factory Direct Blinds can be reached through 1-800-355-2546, mail, or live chat. They are available Monday through to Friday from 0800 hours to 1700 hours.
Other than the reviews on their website, consumer reviews are hard to come by on sites such as Sitejabber and Trustpilot. So it is generally not easy to objectively gauge how satisfied or dissatisfied clients are using independent sources.
But based on the reviews left on the company website, an overwhelming majority consistently leave a 5-star rating.
Factory Direct Blinds' competitive Edge
Online Tools
To make up for the lack of home visiting professionals, the company has some online tools to guide you through measuring and even understanding the entire window treatment process. If you are not the handy type, they have experts who can be reached via phone.
Window Treatment Specialists
If you could rather interact with a real specialist, the company provides for scheduled calls during which clients can speak with experts. The clients can as well opt to live chat with the experts to be guided on how best to shop.
Free Samples
To afford clients a first-hand interaction with the blinds and shades, the company ships free samples to all the 48 contagious states of America.
Free shipping
All orders on blinds and shades are shipped for free in addition to zero-rated sale tax. However, the tax depends on the client's county, state, or municipal tax policies.
Pros and Cons of Factory Direct Blinds
Pros
Specialists in blinds and shades.
Offer free shipping and zero-rated sale tax.
Have a vast selection of colors, materials, and patterns.
Have extensive how-to guides to assist clients with the window treatment process.
Cons
They are not an all in one store
Charge for customization.
Have no specified shipping timeframes.
Reviews of Factory Direct Blinds
Despite being ranked 25th on sitejabber's top 40 blinds companies, the company has received numerous positive feedback on its site. Most clients note that the company offers fast and easy deliveries, stocks high-quality products, and offers affordable products.
The only negative feedback available laments how difficult it is to navigate the site and how unhelpful the customer support is. The client notes that you will be directed to the customization page that charges you for every customization you select should you seek assistance.
Here is a sample of reviews posted on Sitejabber;
Mountain S.
"…….Their website and order form are both user-friendly, and the on-site chat help speaks American English, which is always a plus. The shades are manufactured and delivered within the week and function perfectly. Also easy to install….."
Narinder S.
"………..they will guide you all the information in customization which will need to pay more money as an add on feature which can be applicable to your customized product. Customer service is worst……."
Alternatives to Factory Direct Blinds
Etsy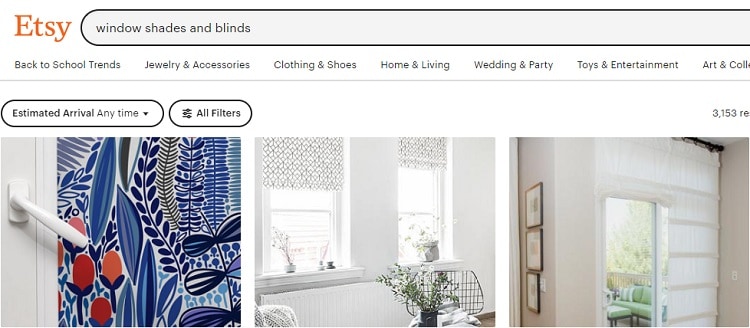 Etsy is a one-stop shop for all your jewelry, art, home, and living, among other household and necessities. So if you are out for a one-stop shop that stocks much more than curtains, drapes, and shades, then try Etsy.
Their vast collection of over 100,000 products in the window treatment section may easily overwhelm anyone. So better have a well-formed idea of what you really need before browsing their extensive category.
The upside to this site is that it allows you to both sell and buy products, is a known brand, is available the world over, has a mobile app, ships for free in 1 to 3 days, and may have lower prices depending on what you need.
However, the downside to the site is that owing to its diversification; there is no specialist to guide you in the purchase process and may not have detailed how-to guide you on measuring and installing. Here is how to buy shades and blinds from Etsy.
Wayfair

Wayfair is a giant retail store that stocks thousands of products, including shades and curtains. Its vast storage includes shades and blinds made from different materials, comes in different colors, patterns, and styles.
If you are the cautious type that doesn't trust a site with zero to little reviews, then Wayfair will most definitely make a cut, for it has thousands of reviews that average an impressive 4.6.
So if you are out to give your window a new look, Wayfair has the perfect pair of shades or blinds to match your unique needs.
Similar to Factory Direct Blinds, Wayfair has an advanced filter system that will allow you to narrow your search to exactly what you need. It also has a wide range of products at fairly affordable prices, is available to residents across the US and beyond, and has an intuitive and straightforward site.
On the flip side, though, Wayfair will have you pay for returns should you not like the product shipped, may have shipping delays, and require you to return products 30 days after delivery should they fail to meet the standards you signed for. Here is how to buy shades and blinds from Wayfair.
Frequently Asked Questions
Question: Is Factory Direct Blinds legit?
Answer: The poor rating and not being accredited by Better Business Bureau notwithstanding, there has been no complaint filed against the company as having ripped off a buyer.
Question: Where are Factory Direct Blinds Manufactured?
Answer: Factory Direct Blinds acts as a bridge between manufacturers and potential buyers. It does not manufacture blinds and instead relays customer orders to specific factories from whom they then arrange for shipping.
Question: Who owns Factory Direct Blinds?
Answer: Lori Goslee owns the Phoenix, Arizona-based company.
Final Thoughts
Blinds, shades, and curtains (here are the less known soundproof curtains) are some of the basic ways to decorate your home and give it some semblance of privacy. But then moving from store to store with measurements in hand is no fun activity for even those who fancy shopping.
Which is where online stores come in. They are made to afford convenience, ease customization, and of course, save you a dollar or more.
Factory Direct Blinds performs relatively well based on these facets but can do better to enhance its range of products, get more experts on board, cut back or even eliminate customization costs, register with BBB, and encourage more reviews on consumer sites.
That said, its specialization, vast collection of products for the categories it stocks, and a detailed search function option are a plus. You can buy Blinds and Shades from Factory Direct Blinds here.