Latest posts by Erin Jamieson
(see all)
2020 was a big year for home improvement projects. And not only did Americans spend more and invest more time, but sweeping trends, including eco-friendly bamboo curtains, contain to supply ideas into 2021.
In 2020, Americans spent almost $240 billion on renovations and other projects. According to Harvard University researchers, that's a record-breaking year.
And while much of that was likely in part due to a pandemic boost, there are signs home improvement projects will continue to be profitably headed into 2021.
Because of this renewed interest in finding the best for their homes, Americans have also become more selective about what they buy.
In fact, despite economic hardships, eco-friendly products like bamboo curtains continued to top styling ideas. But the new interest in this unconventional curtain type isn't all about sustainability. Many Americans are pricing bamboo curtains for the unique look, and as a way to customize their homes.
Consider this your guide to the best bamboo curtain ideas in 2021. I'll tell you what you need to know about bamboo curtains so you can make the best purchase possible.
Are Bamboo Curtains a Good Option for My Home?
Regardless of the reason you're reading this article, you should know that bamboo curtains come with pros and cons.
While bamboo curtains no doubt offer a unique flair to your home before you buy any curtains you need to consider if they're fit for your lifestyle, budget, and expectations.
Are Bamboo Curtains Modern?
In terms of style, bamboo curtains range from modern to traditional. In fact, one excellent aspect of bamboo curtains is that they're considered quite versatile.
Many panel bamboo curtains, including cotton blends, are modern and even minimalistic. Solid grain or color bamboo curtains have an updated modern look that'll go with most decor.
At the same time, beaded bamboo curtains often feature traditional designs and colors and can be used as sophisticated accent pieces for rooms. Bamboo curtains as a whole are neither modern or traditional- meaning they can fit into most homes,
Bamboo Curtains Keep Heat Out?
One fantastic feature of bamboo is that it's a great insulator. Granted, if you want the best effect, blinds will do far more than most curtains. In general, however, bamboo curtains have great potential for lowering energy bills. For the best effect, use both bamboo blinds and curtains.
Are Bamboo Curtains Waterproof?
While not exactly waterproof, bamboo that's been treated is water-resistant. That means that high-quality bamboo curtains and shades will not mar in wet conditions. This makes them more versatile than some other curtain types.
Are Bamboo Curtains Durable?
Whether or not you'll get years out of your bamboo curtains depends on a few factors. For one, heavily used bamboo curtains won't last as well. Also keep in mind that bamboo curtains, even high-quality ones, are going to be more delicate than other curtain types.
For that reason, bamboo curtains may not be the best choice for anyone with young children or rambunctious pets.
Higher-quality bamboo will always be more durable. Panel-style bamboo curtains, especially those made with high-quality cotton blends will be more durable than beaded bamboo curtains.
Can You See Through Bamboo Curtains at Night?
While bamboo curtains and shades are inviting by allowing in sunlight, that comes at a cost at night. The truth is that bamboo curtains do let in more light than other curtain types.
While not as sheer as purely sheer curtains, keep in mind that bamboo curtains may not be the best option for someone living on a busy street. Of course, you could always solve this by pairing bamboo curtains with effective blinds.
If you're worried about privacy in general, just opt ​​to have liners installed.
Are Bamboo Curtains Toxic?
There's a misconception that bamboo blinds, curtains, and even floors are toxic. The truth is that bamboo in itself is not toxic. With flooring, concerns are more about cheap adhesive used.
When it comes to curtains and blinds, you'll only run into trouble if you buy faux bamboo. Some faux bamboo can be made with materials that can cause reactions in sensitive individuals.
How do You Use Bamboo Curtains?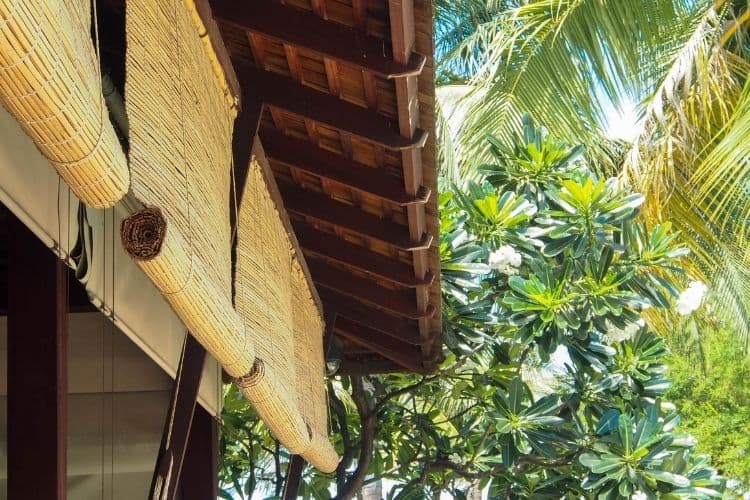 Knowing where to place and take care of bamboo curtains will be important to make the most out of your purchase. Where you place them, and what you do with them is going to make a difference, so here's what you need to know.
Are Bamboo Curtains Good for the Outdoors?
Since bamboo curtains are water-resistant, you can use them both inside and outside. Some may want to use bamboo curtains for screened-in porches, as they allow natural light to come and keep the porch more insulated. That said, from keep in mind that bamboo curtains are generally more brittle, so they may not hold up as well under inclement weather.
How do You Clean Bamboo Curtains?
Cleaning bamboo curtains usually involve light vacuuming. You'll want to use a suitable vacuum attachment to properly clean dust, dirt, and other debris. Use a low setting to make sure you don't damage your curtains.
I recommend cleaning bamboo curtains frequently. If you allow too much dust or dirt to build up, cleaning can be tricky, due to the fragile construction of bamboo curtains.
Can Bamboo Shades or Curtains be Painted?
One reason why many love bamboo shades and curtains are that they can be customized. Just like you'd be able to paint wood, you can paint curtains and shades to your liking.
That said, this does take some finesse. For one, bamboo curtains and shades are still a bit delicate, so painting will take a light touch.
To paint a bamboo curtain, set it flat on a floor, with necessary covering. Make sure it cannot roll-up. You can freehand, use a design, or even stencils.
Should you make a mistake, keep a separate cloth and paint to remove close at hand. If you have a good sense of control, in some cases spray painting may be a preferred method.
Bamboo Curtains: My Picks
Now that you know what you need to consider before buying bamboo curtains, here are some of my favorite ideas. I've included both beaded and more traditional panel bamboo curtains, as well as range of styles. Hopefully, these will inspire you to get started shopping for your home.
Beaded Bamboo Curtains
Beaded curtains, also referred to as door beads, are more used as room separators than typical window curtains (hence the name). Beaded curtains are meant to provide either a sense of privacy or separation of space, and bamboo perfectly allows light to penetrate.
However, in some cases, you'll also see beaded curtains near back doors or porches, as they can discourage flies from entering the house.
Rainbow Bamboo Beaded Curtains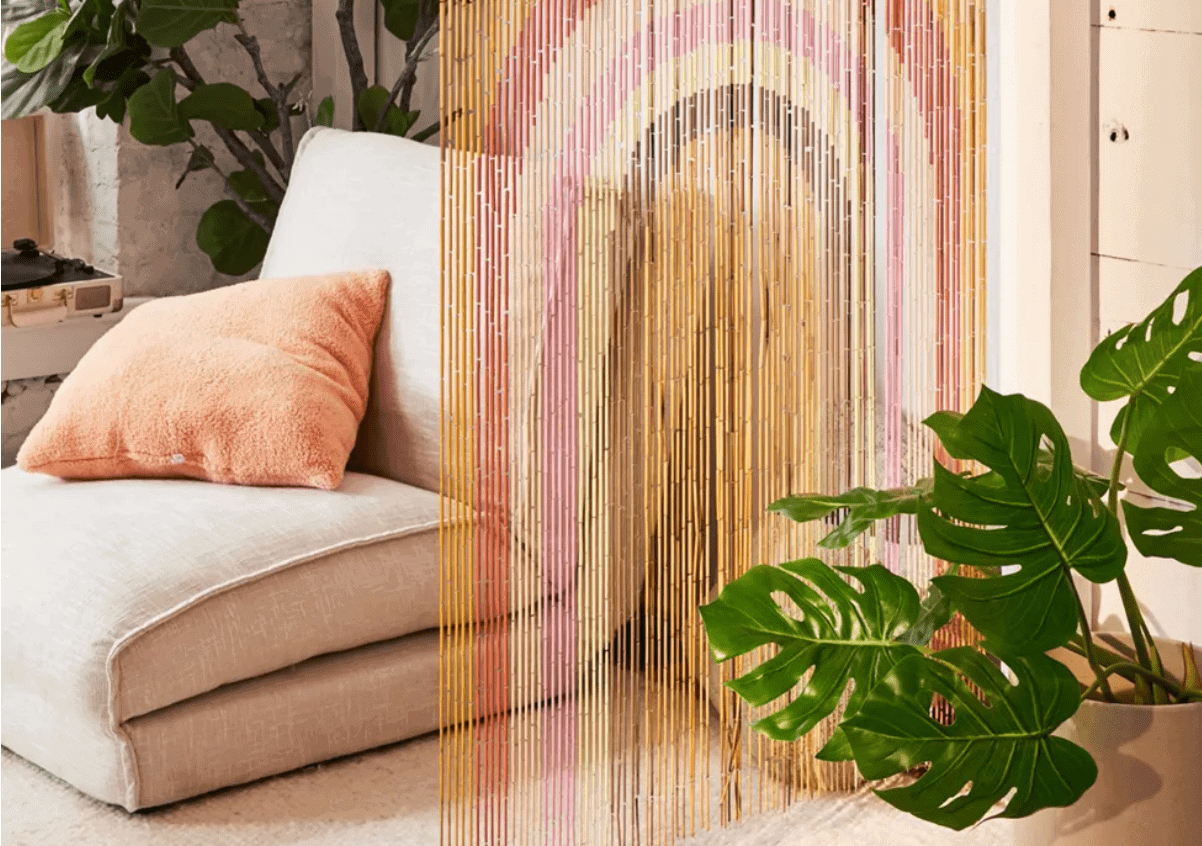 Embrace the retro 70s look with this playful bamboo beaded curtain from Urban Outfitters. Natural bamboo tones pair with red, pink, and pale yellow for a subtle but lively style.
This room divider looks excellent beside plants and sitting areas. Pair with neutral, peach, or yellow decor and furniture. Priced at $44; Buy Here .
Natural Bamboo Beaded Curtains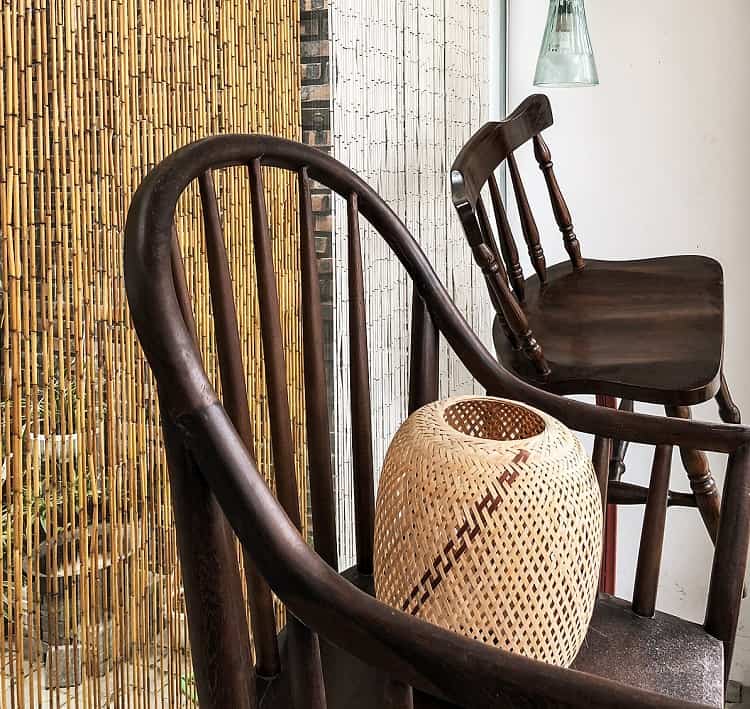 This handmade bamboo beaded curtain is about as versatile as you can get. The natural look is not only a component with anything but it is unlikely to soon go out of style.
You can even use it for porches, for keeping out dust and allergens. These beaded curtains pair especially well with wooden furniture. Retails for $53.99; Buy Here .
Simple Bamboo Beaded Curtains
With an all-natural appeal, these beaded curtains are more substantial and less sheer. A boho aesthetic and modern minimalist addition to any room, consider these your go-to beaded bamboo curtains.
I especially like these curtains paired with pops of orange or other warm tones. Priced at $49; Buy Here .
Sun and Moon Bamboo Beaded Curtains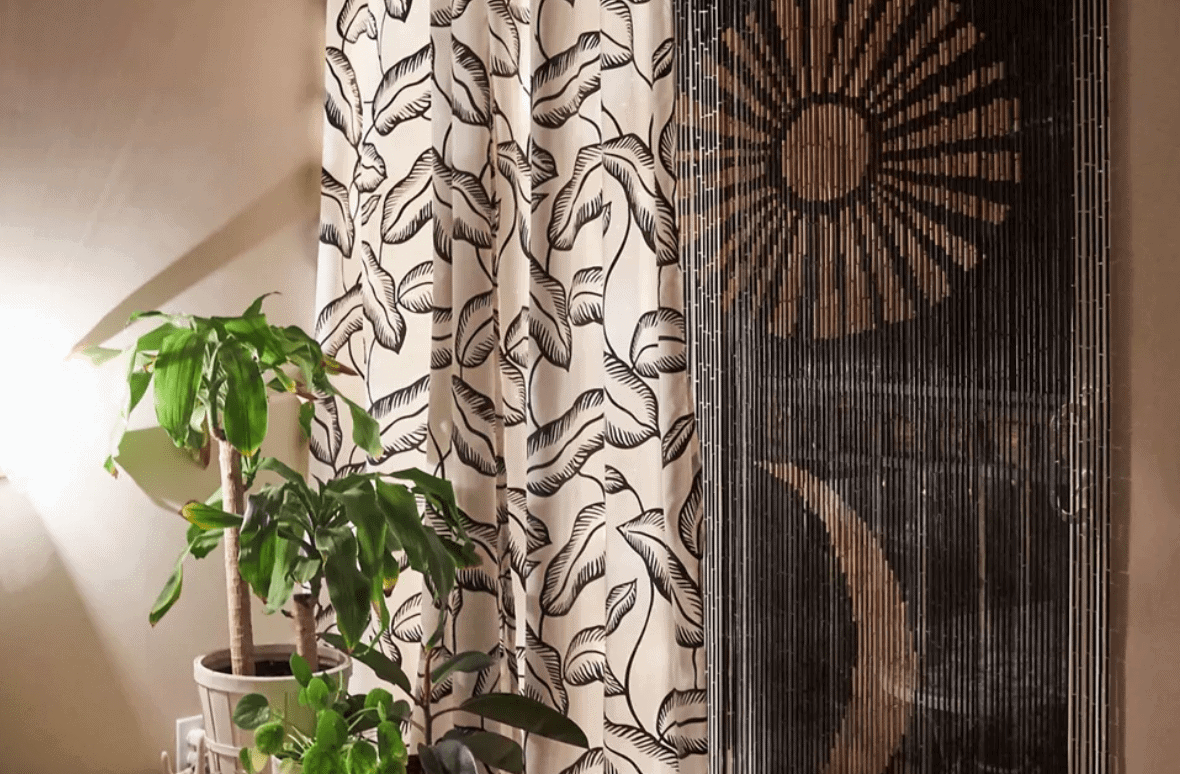 I'm seeing celestial motifs popping up everywhere this year– from jewelry and accessories to home decor. These beaded curtains evoke a sun and moon theme in a stylized, eye-catching way. Handmade, and a bestseller on Etsy, yellow and orange symbols are perfectly paired with a blue backdrop.
These dreamy and artistic bamboo curtains are perfect as entryways for sitting rooms and home offices. You could even use them to divide the shared bedroom. Priced at $60.99; Buy Here .
Hawaiian Birds of Paradise Bamboo Beaded Curtains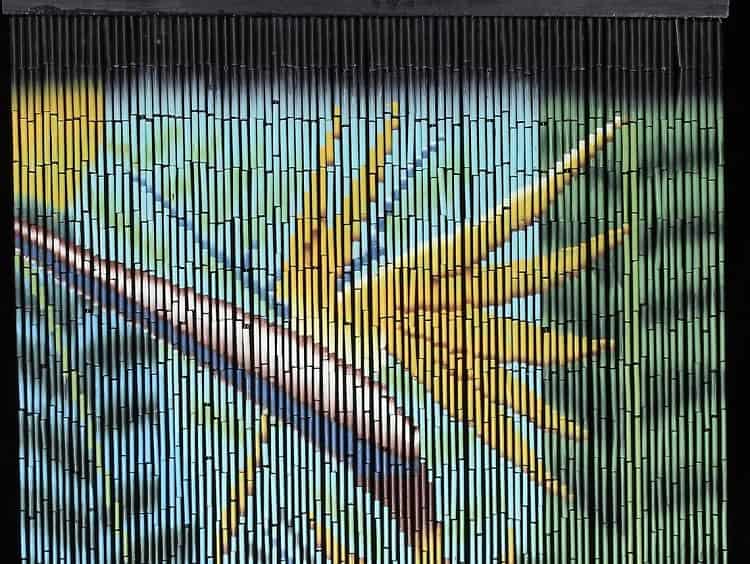 These bamboo curtains are hand-painted with exquisite detail. Yellow, turquoise, and green tones evoke a tropical theme.
Whether you live in a tropical region or have visited one means to you, these bamboo curtains will provide a calming and inspiring presence to any living space. Priced at $58.90; Buy Here .
Window Bamboo Curtains
If you're looking for regular window curtains, bamboo is an excellent choice for bringing in natural light– just remember to buy some blinds for added privacy for bedrooms or bathrooms. The current trend for curtains in 2021 is natural materials and prints. Bamboo curtains are especially popular for living spaces.
Bamboo Table-Top Panel Curtains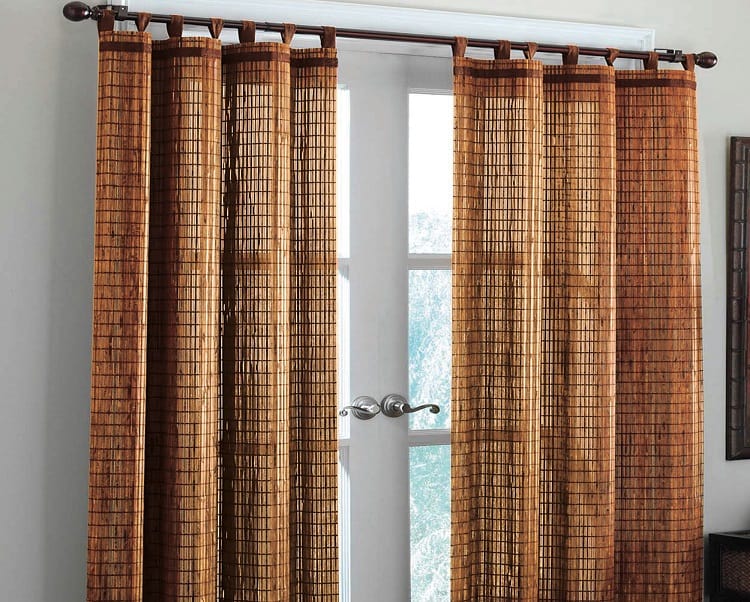 These checkered bamboo panel curtains are a great choice if you want a little more privacy. Available in honey oak brown, mahogany brown, and gray, the traditional bamboo style allows light to filter through but isn't as sheer as many bamboo curtains.
Consider these eco-friendly curtains for back doors. On sale for $39.99; Buy Here .
Bamboo Grommet Panel Curtains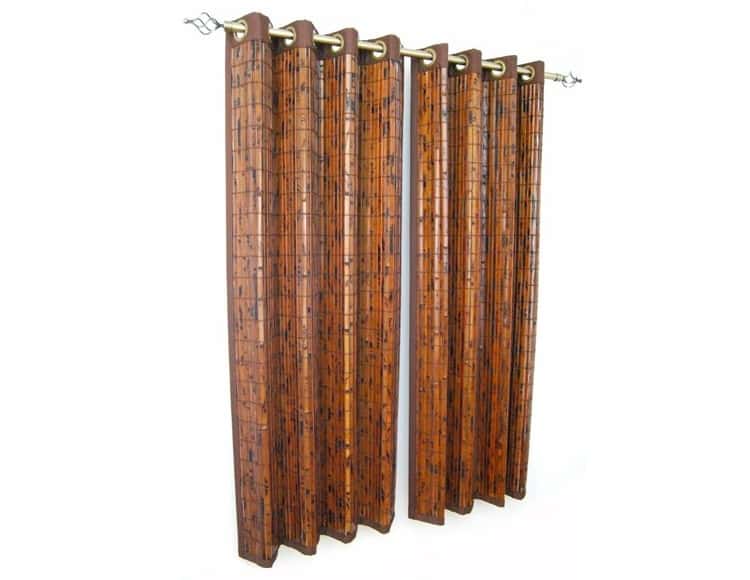 A rich espresso hue and a sturdier construction make these $201.88 bamboo curtains a great option. If you're sold on bamboo curtains or have kids or pets, these 95 percent bamboo (5 percent cotton) are thicker and more able to withstand everyday wear.
The heavier look is suited for traditional homes. Buy Here .
Easy Glide Natural Bamboo Window Curtains

These natural bamboo curtains are my favorite idea for pretty much any home. In some ways the most practical and best value, you can even purchase with extra insulation and blackout panels.
The 100 percent bamboo curtains are trimmed with dark brown cotton and are fuss-free to install and use. Priced at $55.99 to $59.99, not including add-ons. Buy Here.
Bamboo Wood Window Curtains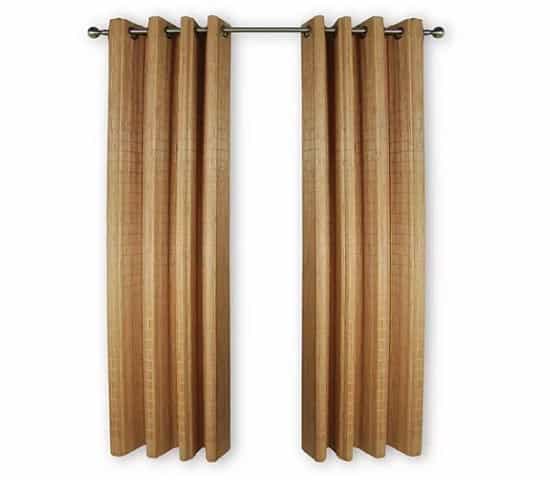 These 100 percent bamboo curtains offer a heavier look, in a teak tone that complements most rooms. An understated appeal but with a little more privacy than some bamboo curtains makes this a good idea for front rooms. Priced at $108.36; Buy Here.
Mountain Bamboo Curtains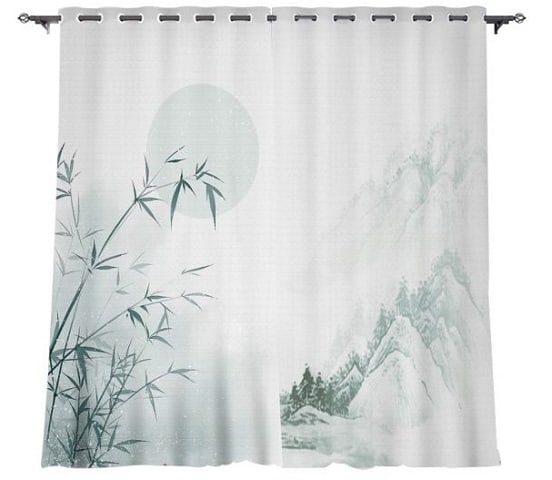 These bamboo curtains are a perfect balance between beaded and typical window curtains. They aren't solid bamboo, but they provide a nice mix of appealing features.
The mountain print design is an unexpected statement to any room, but the bamboo blend will hold up better than beaded curtains.
Available in 8 sizes and made with a polyester blend, these energy-efficient curtains can be machine washed and offer light filtration of up to 70 percent. Priced from $54.25 to $109.18 while on sale. Buy Here.
Loretta Bamboo Woven Print Curtain Panel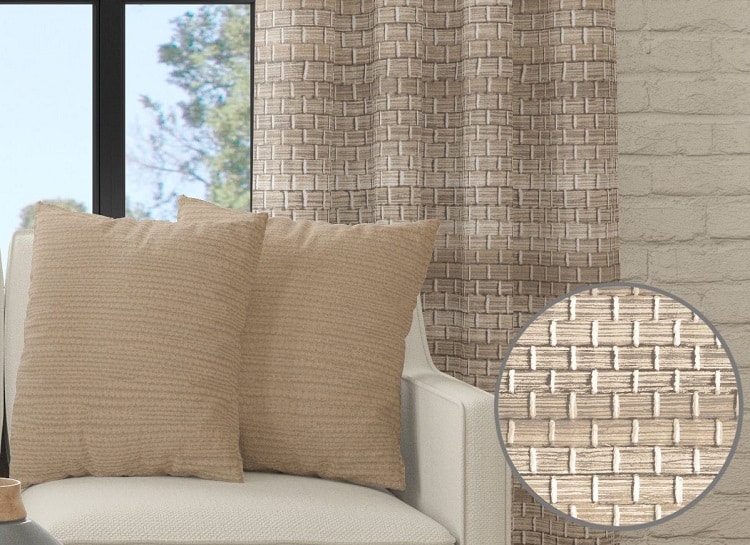 This curtain panel is truly one of a kind. Designed by artist Marcelle Bleu, the natural pattern is a beautiful addition to any sitting room. While even the unlined panel is meant to provide some privacy, you can also buy a blackout liner, which can block up to 99 percent of light.
For these reasons, this is my favorite idea for a bedroom bamboo panel. It's also suited for outdoor porches. Select from a wide variety of colors, including brown, burlap, camel, gray, gold, ivory, and tan. Panels are sold separately, however, not as sets. Priced from $33 to $39. Buy Here .
Frequently Asked Questions
Question: What Type of Curtains is in Style 2021?
Answer: In 2021, there's a focus towards natural and light, breezy hues. Many are embracing more transparent curtains to bright in natural light, whether that's light cotton blends or tulle. Bringing in natural light ties into a renewed interest in eco-friendly and sustainable curtains, such as bamboo curtains.
On the other hand, another trend is a solid color, statement curtains in unexpected hues, such as dusty pinks, greens, and blues. But perhaps the most sweeping trend is a pull towards minimalist and natural styles.
Question: From Bamboo Curtains / Shades Collect Dust?
Answer: Unfortunately, you'd be hard-pressed to find any curtains or shades that don't collect dust. Expect that bamboo curtains can collect dust, dirt, and other debris.
The good news is that, with reasonable care, this shouldn't pose a problem. Lightly dust or use a vacuum on low and most of the time, bamboo shades and curtains can easily be cleaned.
Question: Are Bamboo Shades Good for a Bathroom?
Answer: Bamboo shades and curtains are prized for their insulating properties as well as sustainability. At the same time, bamboo tends to let light in and isn't the best for privacy. If you do want to install bamboo shades in your bathroom, you'll need to buy a complementary privacy liner.
Question: What Can I Put Behind Sheer Curtains for Privacy?
Answer: If you're using sheer curtains, you don't have to give up privacy. Some sheer or semi-sheer curtains are even sold with privacy liners. In the instances when this is not the case, blinds, or even double curtain rods are also options for added privacy.
Final Thoughts
Bamboo curtains may not be the best option for every home, but there's a lot to love. Not only are bamboo curtains a trend for 2021, but they also offer insulation, natural light filtration, and a more sustainable option.
For more fragile beaded bamboo curtains, you'll need to consider if they make sense for your household– or use them in a room not heavily used by children or pets. Whatever you decide, bamboo curtains are versatile and will fit in modern, boho, and traditional rooms alike.