Latest posts by Erin Jamieson
(see all)
From boho to bamboo and sleek modern styles, there are more options for curtains than ever in 2021. But it's door curtains that are getting the most attention– for their high-tech inspiration.
Smart curtains are just one of many smart home tech technologies that we're seeing this year. Especially helpful from the front or back door curtains, tech-savvy homeowners are embracing the interesting take on curtains.
The Switchbot Curtain allows you to control your curtains using your smartphone or a voice-activated device, including Alexa and Google Assistant. Not only can you open and close your curtains on a set schedule but there are different versions for different curtain rods– aside from grommets.
As part of a series of smart home systems that are becoming increasingly popular in the industry, these smart curtains are yet another way to potentially save energy in your home. That's especially true if you're using blackout door curtains.
Of course, it doesn't come at a cheap price. And you don't need an automated system to take advantage of the top door curtain ideas in 2021.
In this guide, I'll tell you what you need to know about door curtains, how to use them, and some of my tops picks for inspiration in 2021.
Why do people put curtains over doors?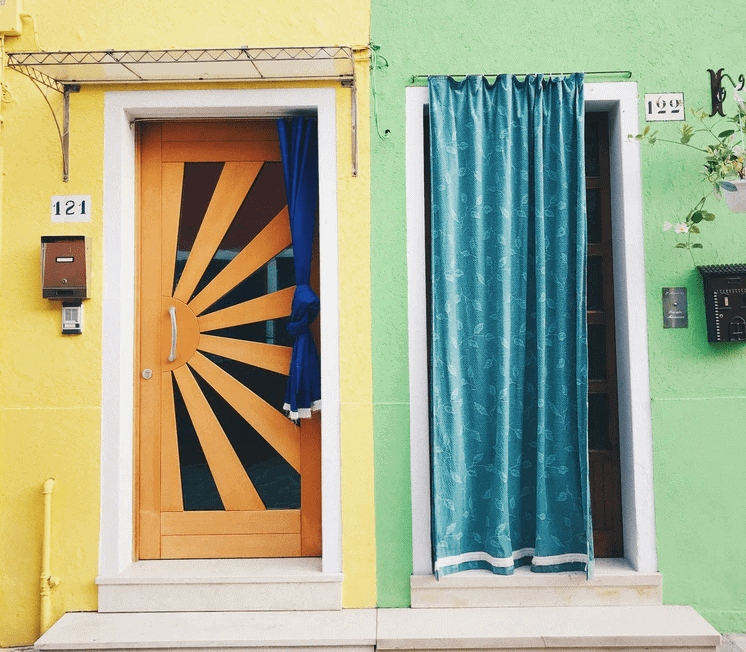 If you've ever been shopping for curtains, chances are that you're shopping for windows– whether that's in your living room or bedroom or even a kitchen. But door curtains actually can be an excellent touch for any home. Door curtains are seen for front doors, back doors, and patio doors, both for practical and decorative purposes.
For Decor
The number one reason many seek door curtains is for decorative purposes. That's true of classic lace curtains for a front door, or even boho-inspired bead curtains. Door curtains can add an inviting touch and tie in different styles. It's a way of dressing up entryways without too much effort. Front door curtains set the tone for the style and mood of your home.
As Room Dividers
Another way door curtains are used is for diving up a room. A curtain could even be used in a door frame for open concept rooms. Door curtains provide a sense of separation and can help organize a space. Beaded curtains are especially popular ways to do so. Curtains are simply one of the most cost-effective ways to transform the space in a room, no major renovations are needed.
For Privacy
Of course, curtains of any kind offer more privacy. This is especially true for black-out curtains. If you live on a busy street, a door curtain may be a way to make your space feel more private and quieter.
For Insulation
Curtains can also act as insulators, and it only makes sense that door curtains would help keep your house cool or warm. In fact, many buy insulated curtains for their front and back doors, or any doors that lead to the outside and may be used often. This could potentially make a noticeable difference in small homes in particular.
How do I select door curtains?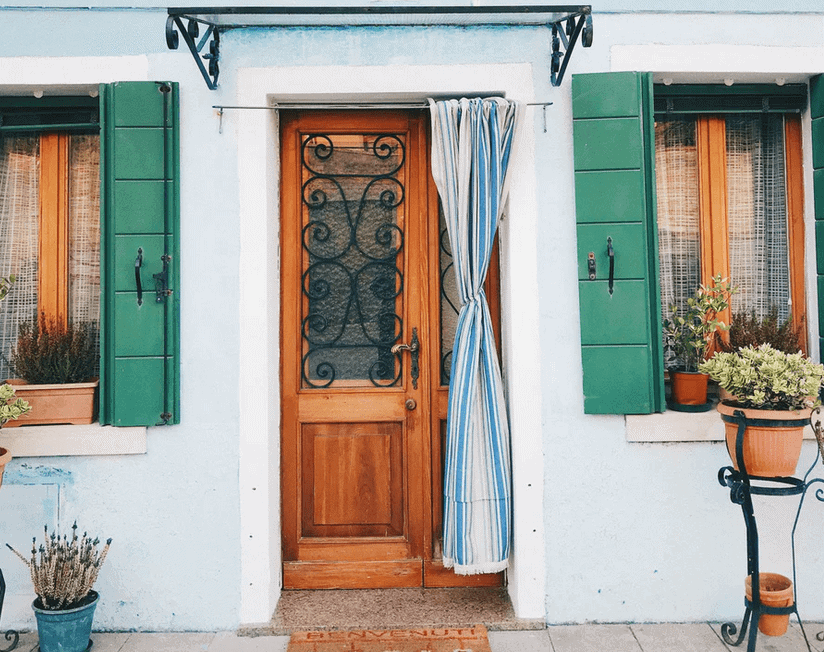 Selecting door curtains means understanding what you're looking for– it is purely decorative, or meant to serve a purpose? If you just want a decorative touch, you can be less picky and simply look for the type of curtain you'd like. But if you're worried about durability or style, you'll need to narrow down your choices. On top of it, you'll have to think about how you'll hang your curtains.
What length are door curtains?
The majority of door curtains come are 46 or 66 inches wide and 84 inches long, but there are also short curtain window options. Outside of standard sizes, of course, you can custom order. Many door curtains are made custom to fit different door heights and styles.
For windows on doors, measure as you would for other windows. Measure the length from top to bottom and the width from left to right.
What material should curtains be?
Curtains come in about any materials you can imagine, from bamboo to cotton. The most popular curtains are often cotton or polyester, or blends of the two. Linen, and linen with a rayon blend, tend to be the most durable.
For outdoor door curtains or patio curtains, you'll need to be more selective. Olefin and polyester are preferred for enduring the elements. Avoid canvas, cotton, or any other fabrics that are not water-resistant or will not hold up well under wind and other weather conditions.
What curtains are best for French doors?
French doors can be tricky. You want your curtains to complement your doors, so don't be stingy on the measurements. Make sure your curtains are wide enough. I also recommend opting for floor-length curtains to achieve the elegant look that French doors deserve.
As for style? You can't go wrong with French country-inspired curtains, but there are countless other options. Tulle, sheer panels, and even lace add elegance to your entryway. If you're going modern, I recommend neutrals, grays, and whites. For a front door in general, I also recommend certain colors that complement both your front door and the wall colors.
How do you hang curtains on a door window?
You can either hand curtains a traditional way, but nails are not always needed. If you don't have nails, you can use tension hooks, magnetic rods (for metal doors), or 3M command hooks. If you have any doubts about what option would work best for your home, you can always consult a salesperson when you're buying curtains.
Door Curtains: My Top Ideas
Now I'll give you my top ideas for door curtains in 2021. I'm covering a variety of styles so you can find door curtains for the purpose that suits you.
These include boho door curtain beads, patterned door curtains, sheer door curtains, thermal door curtains, and even short-length door curtains. Read on for inspiration for your shopping, and where to buy my top picks.
Door Curtain Beads
Door curtain beads are used for decorating but also organizing a space. These are great for open concepts and for leading into a room meant for relaxation or reflection. Some also love to use them to distinguish outdoor spaces– just be aware that some beads are a bit fragile. While not as durable as regular curtains, curtain beads capture a boho or effortless whimsy to a room that can truly transform the space. Since these are more delicate, I can't recommend these if you have very young children or rambunctious pets.
Rainbow Wooden Curtain Beads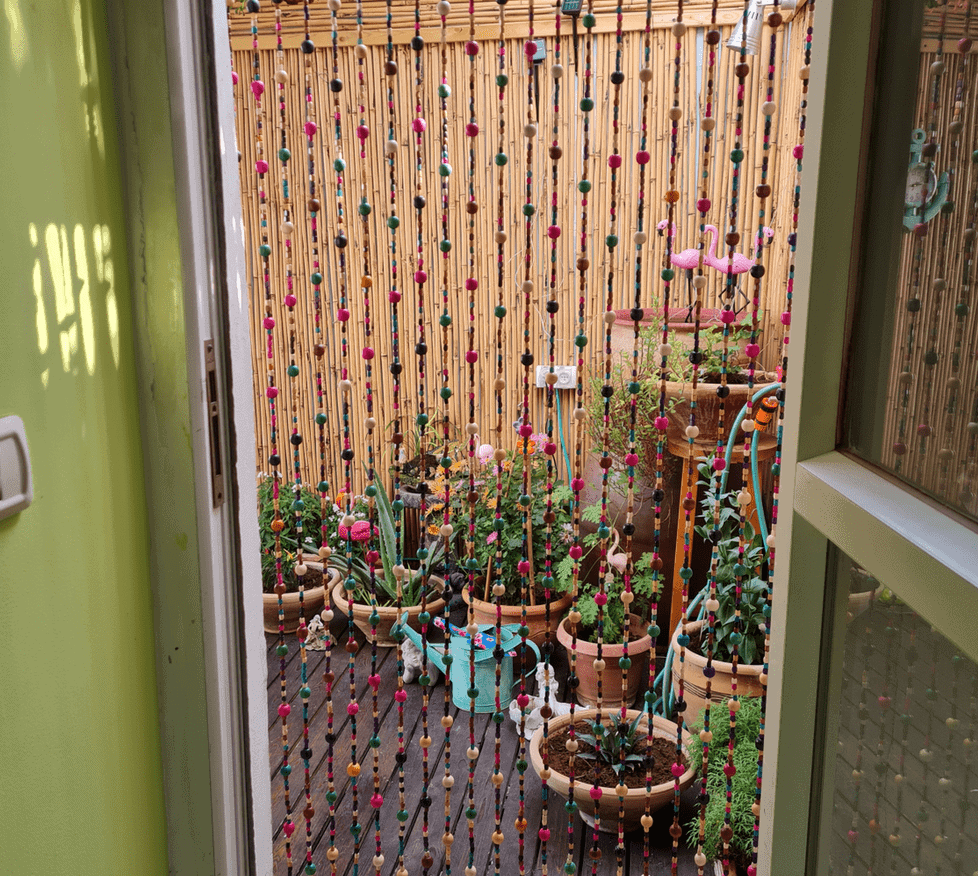 These door curtain beads are handmade and hand-painted. Bamboo wooden beads inspire an authentic boho look and are also playful and inviting. Multi-bead shapes are used to add a sense of dimension to these playful curtains, while neutral tones balance out bright blues, pinks, and greens. Consider this for a transition into a screened-in patio. Buy Here.
Custom Czech Glass Crystal Door Beads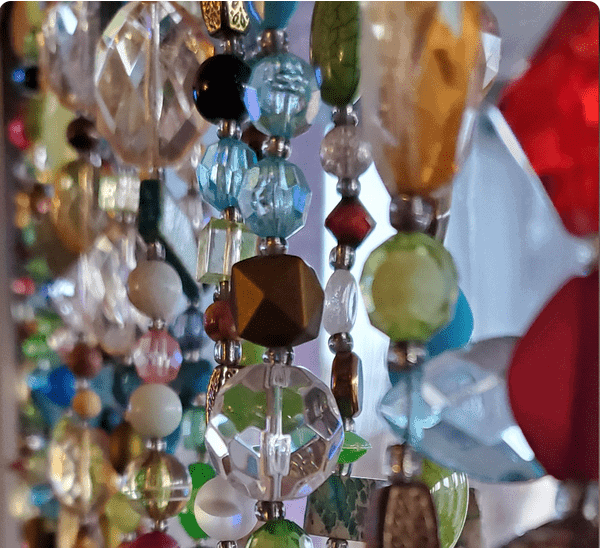 These handmade door curtain beads dazzle with jewel tones. A mix of colors and textures provides an eclectic but complementary look, designed especially for hallway entrances. Glass, acrylic, and metal team with gemstones like jade, amethyst, and turquoise for a delightful surprise. All curtains are made to order and take around a business week to make. Buy Here.
Natural Bamboo Beaded Curtains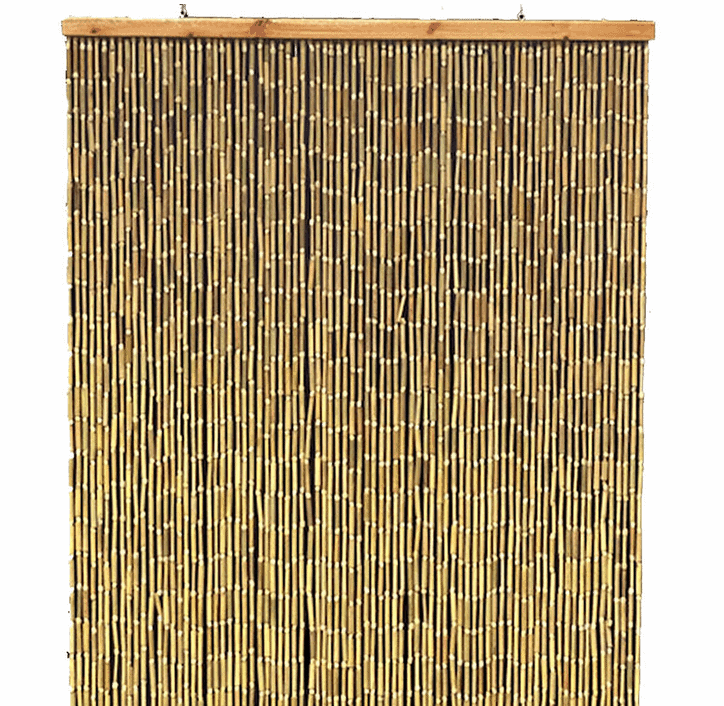 Natural bamboo beads provide a carefree, boho entrance to any room. Handmade, the curtains are constructed with 80 strands of natural bamboo and strung easy heavy-duty thread. The neutral tone makes these curtains versatile– feel free to pair with any colors for your own unique look. Buy Here.
Geometric Wood Beaded Curtains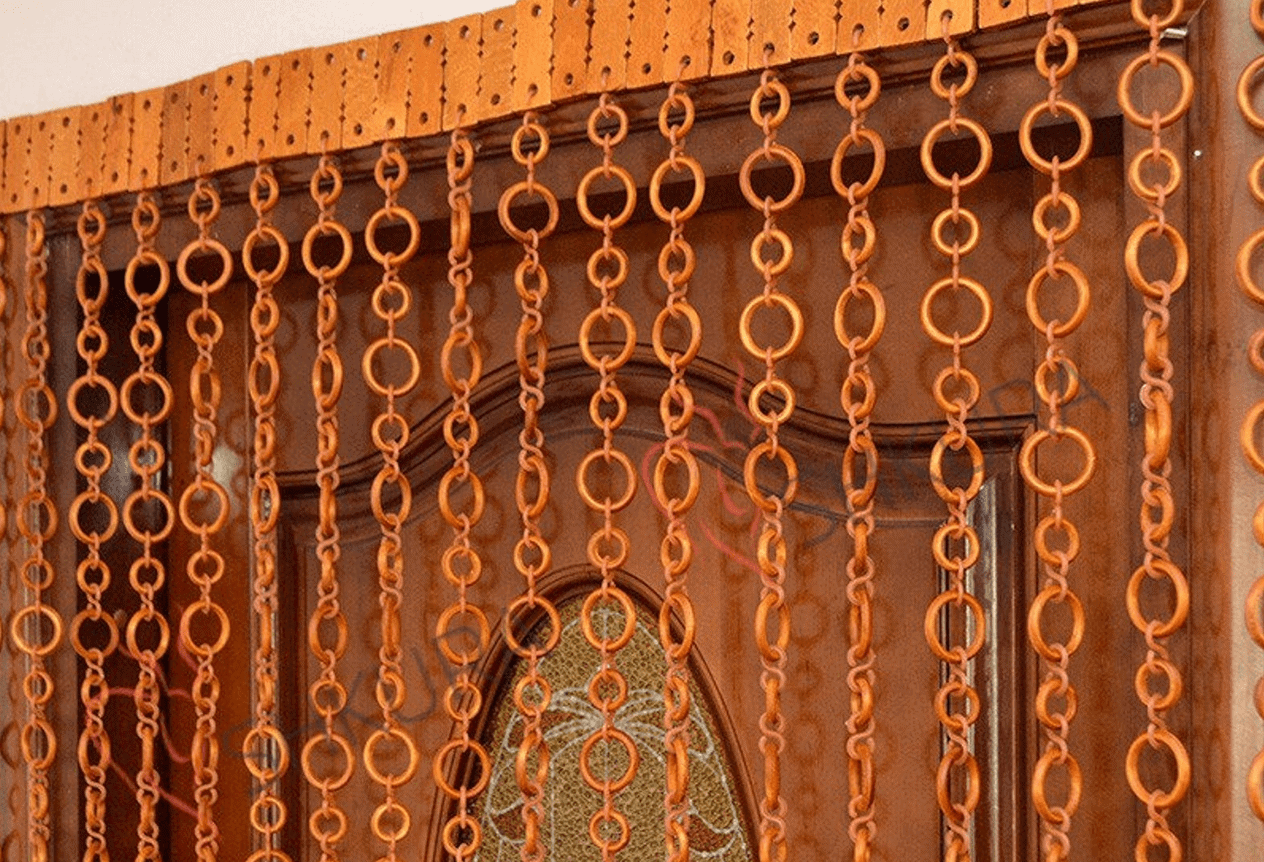 The geometric design of these beaded curtains adds an artistic touch to a doorway. Multicolored or solid orange links dangle for a dramatic effect. The solid orange blends well with deeper wood tones, but the multicolor option breaks up the look for a nod to boho. Buy Here.
Beaded Suncatcher Door Curtains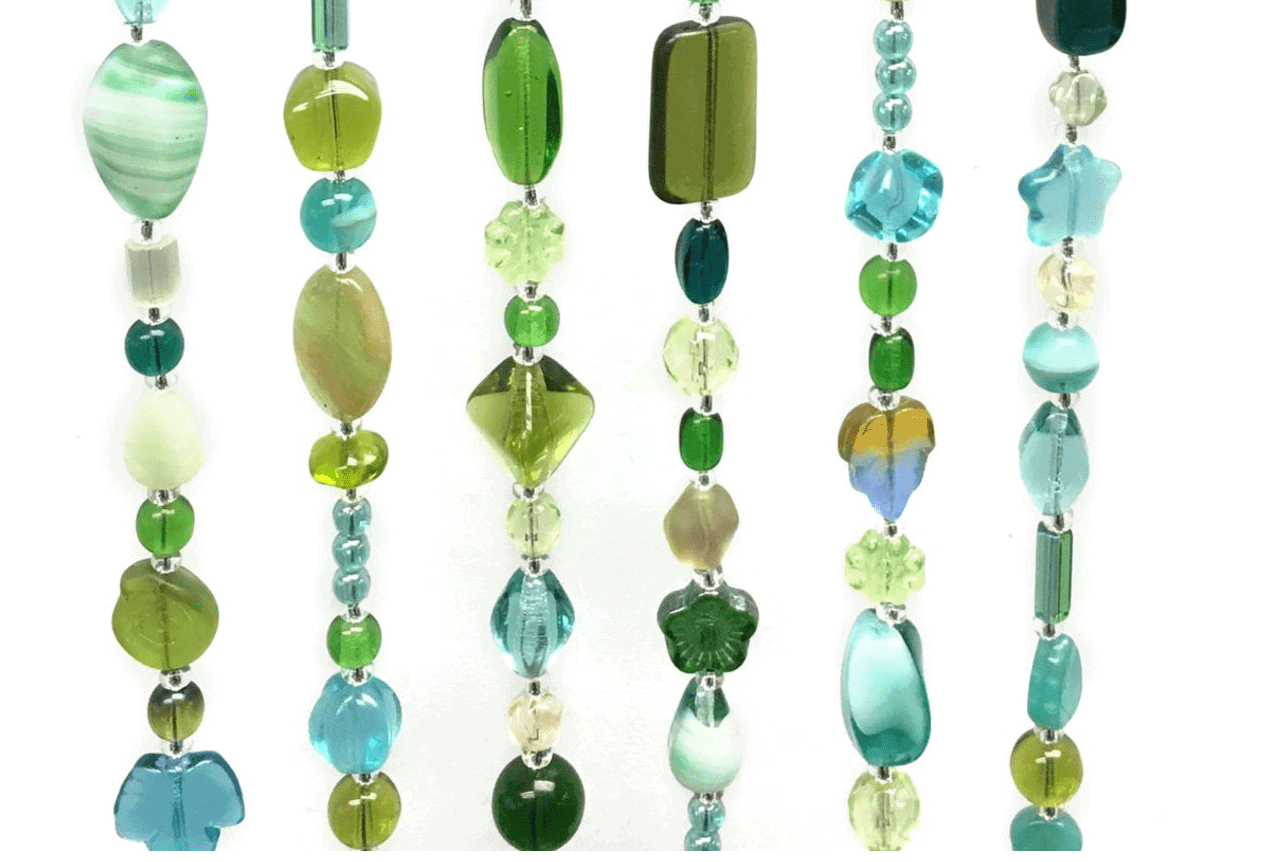 Handmade glass and nylon strands are crafted with thought. Turquoise and green hues evoke a sense of peace for a boho entrance to a room. Pair these whimsical door beads with bright cool tones and a statement rug. Buy Here.
Patterned Door Curtains
From classic plaid to intricate designs, patterned door curtains come in just about any style you can imagine. Of course, there is some overlap with other categories: you can find patterns in blackout and sheer curtains. Most typically, however, these are traditional curtain panels that offer a balance of privacy and sunlight.
Drift Away Dandelion Floral Door Curtains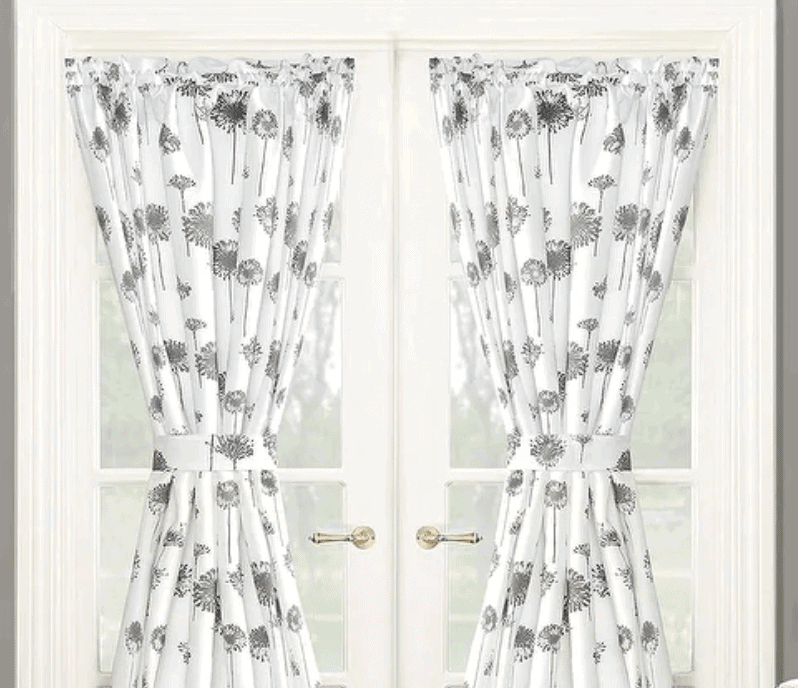 These soft 100 percent polyester curtains provide a stylish botanical theme to any room. Floral curtains are modernized with gray print, set on white fabric. The contrast makes these playful curtains stand out but also complements any neutral or even more colorful rooms. As a plus, they're also machine washable. Buy Here.
French Door Blue Panel Curtains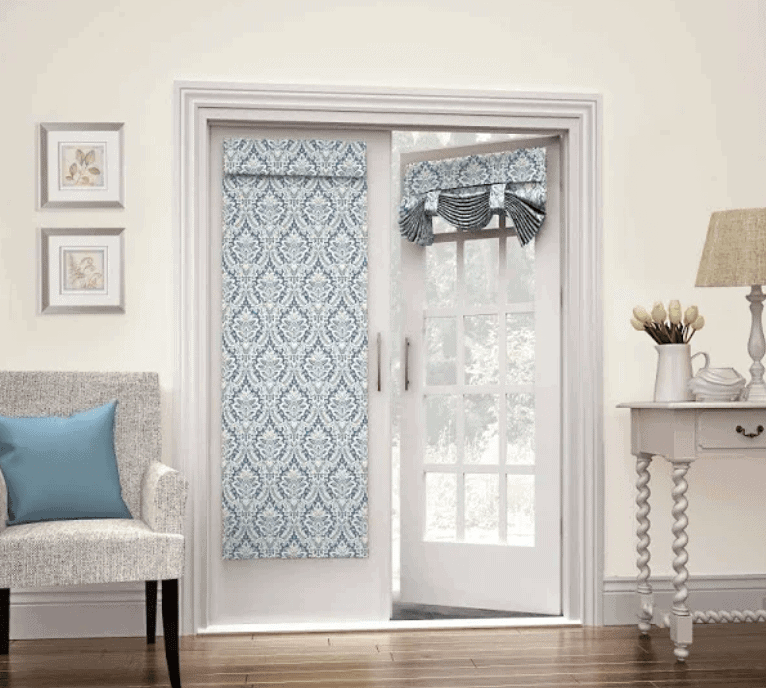 These clever door panel curtains can be pulled down to block light or pulled up for decorative purposes. The blueprint is a classic look for white and wood furniture and flooring. The hook and loop attachment makes for easy assembly. You can also buy a cream-colored pattern. Buy Here.
3D Print Leaf Pattern Door Curtains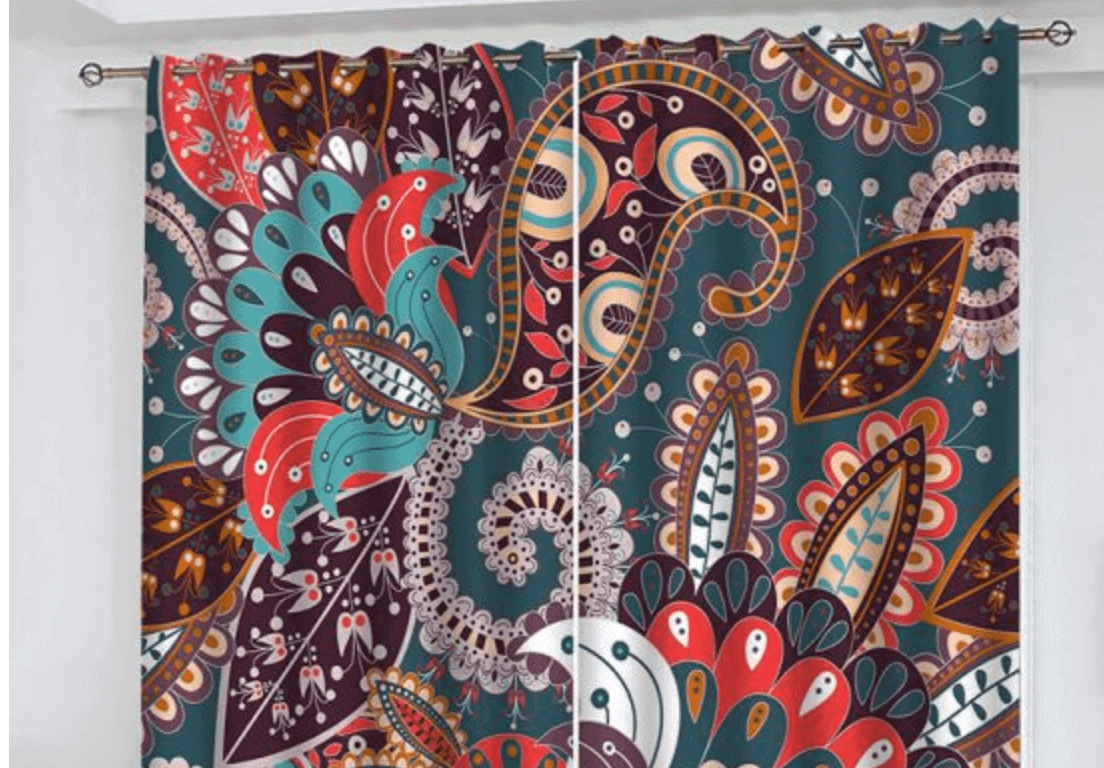 Designed especially for sliding patio doors, these retro-boho and bold curtains have more than one benefit. Aside from the vibrant design, these curtains offer noise reduction and are even machine washable. Available in grommet or double pleat styles; Buy Here.
Japanese Linen Curtains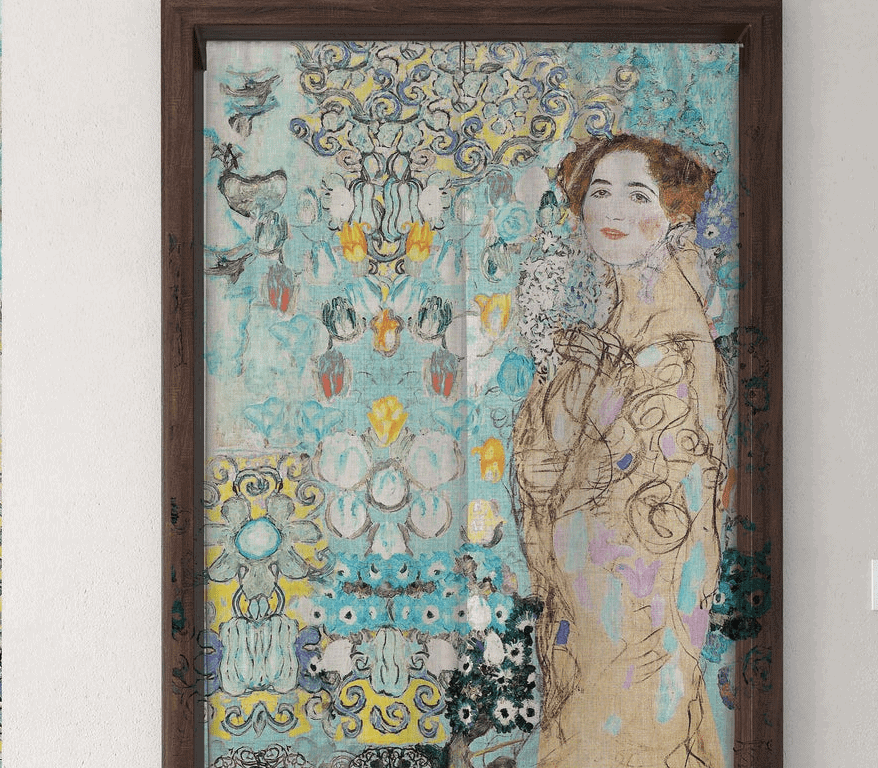 These beautiful doorway curtains are available in two styles and two unique patterns and are handmade. Featuring the "Portrait of Maria Munsk" by Gustav Klimt, the curtains are not only gorgeous but also durable. Oeko-Tex certified 100 percent linen is high quality, and also machine washable. While this style won't fit practical needs, these are one of my favorite curtains for doorways. Buy Here.
Single Panel Spring Bling Door Curtain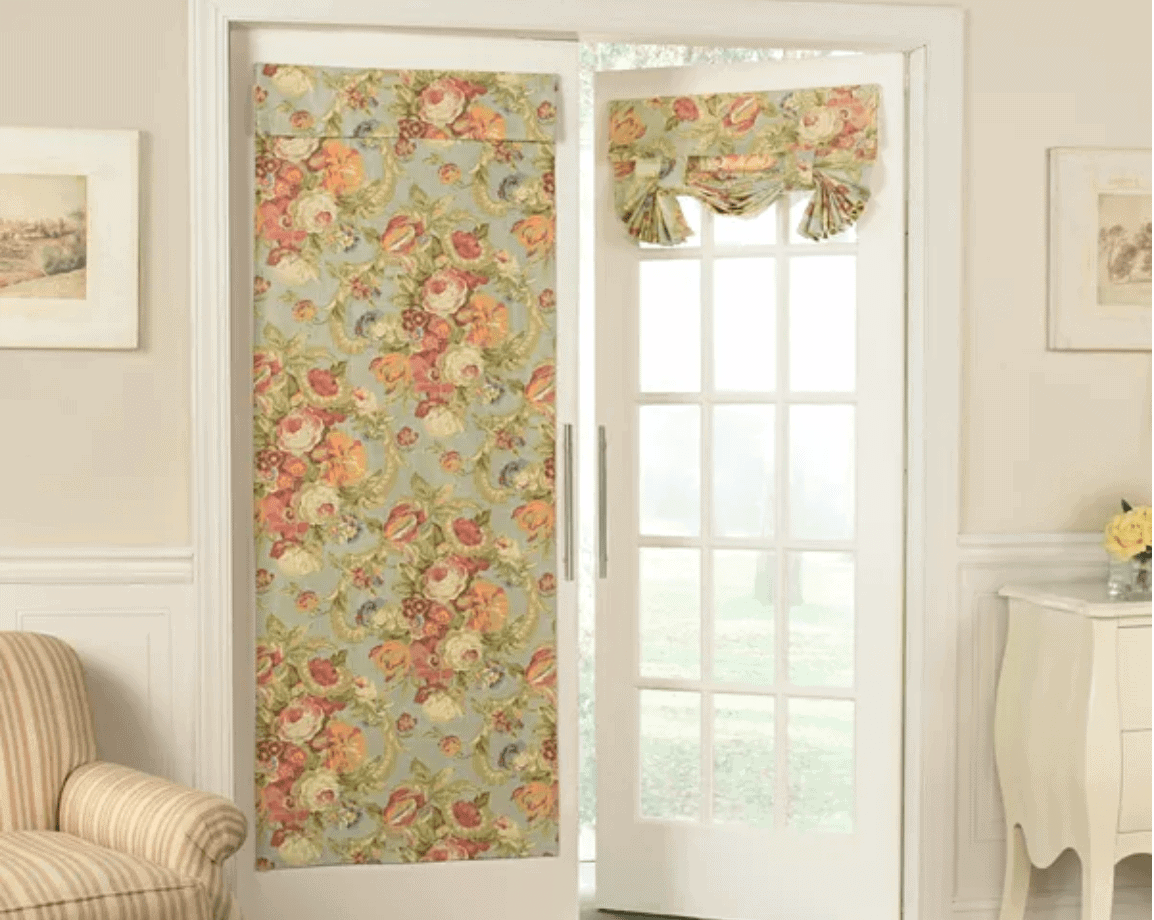 Available in green or rose patterns, these elegant door curtains would look at home in a country, French, or vintage-inspired home. The detailed and Spring-like pattern is an exquisite touch to doorways and is complementary with white and wood tones. Buy Here.
Sheer Door Curtains
Obviously, sheer curtains are meant to provide privacy. Instead, sheer door curtains are used for decorative purposes. They offer a sense of separation from the outside world while bringing in natural sunlight. If you have a sunny room that feels unfinished, consider adding sheer door curtains. These are also favorites for leading out into screened porches. These are also a beloved choice for French doors.
Classic Sheer Rod Pocket Curtains
Available in white and natural tones, these curtains are made out of 100 percent polyester and machine washable. About as classic and simple as you can get, let natural sunlight flood your rooms with a graceful, effortless accent. Buy Here.
Knarr Semi-Sheer Cotton Door Curtains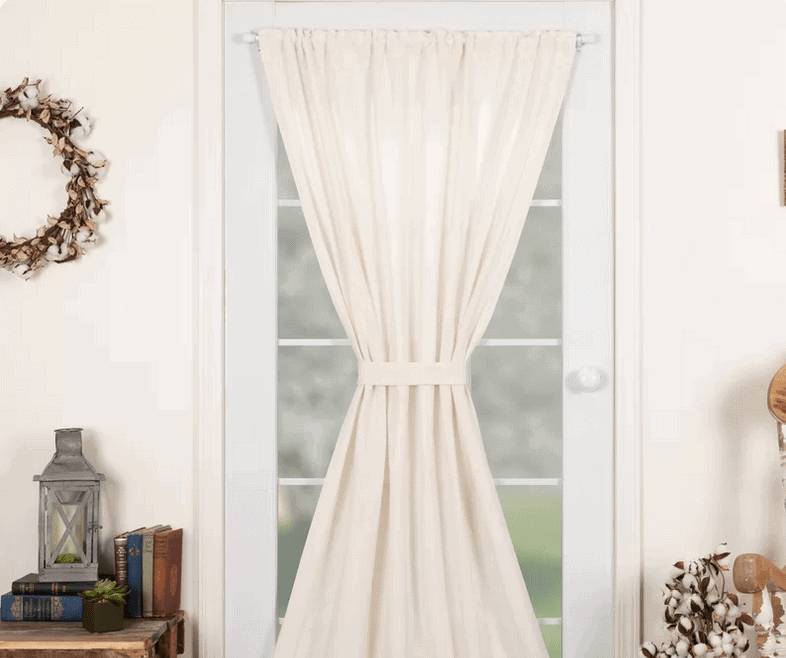 Specifically designed for French doors, these 100 percent cotton curtains are an easy solution if you're on the fence about sheer curtains. Semi-sheer construction provides a bit more privacy while allowing for natural sunlight to flood in. The antique and vintage white hues are versatile and unlikely to go out of style. Buy Here.
Heritage Lace Door Curtains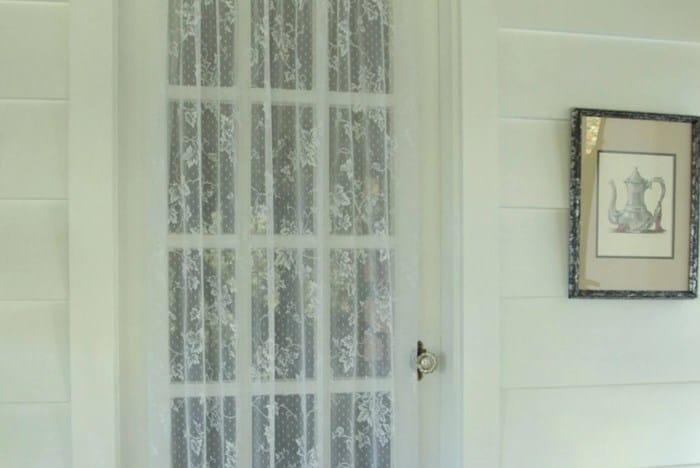 Lace curtains are becoming more popular again in 2021, and these door curtains show why. Elegant, dainty, these curtains can work with rustic, eclectic, and vintage themes. The polyester blend offers care-free maintenance. Buy Here.
Charcoal Sheer Door Curtains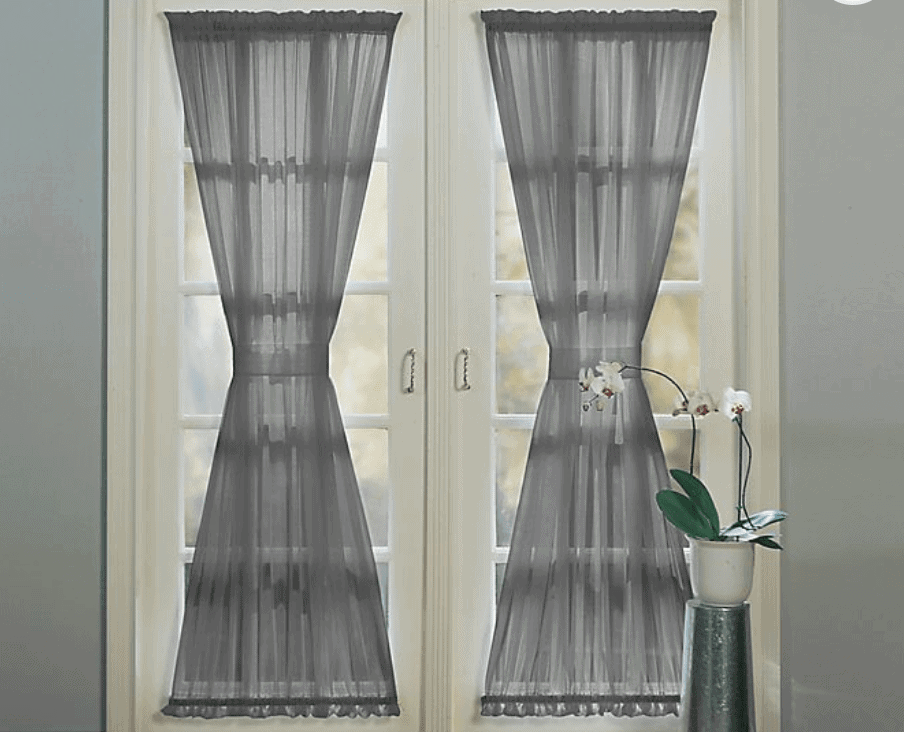 This budget-friendly option features sheer door curtains in an unexpected hue. The charcoal color offers a tad more privacy and still feels classic, but with a modern touch. You can also select eggshell or white, but the gray hue is a nice way to modernize the look. The curtains must be bought separately, as individual rod pocket panels. Buy Here.
Short Door Curtains
Short, or half curtains, are less popular for doors, but they have their uses. If you have a kitchen door, I recommend short door curtains, due to the cooking, cleaning and heavy traffic. You could also use short door curtains for bathrooms, or if you just want an accent without worrying about the upkeep of longer curtains. They're also practical, of course, for front doors that have a small single window.
Semi Sheer French Door Curtain Panel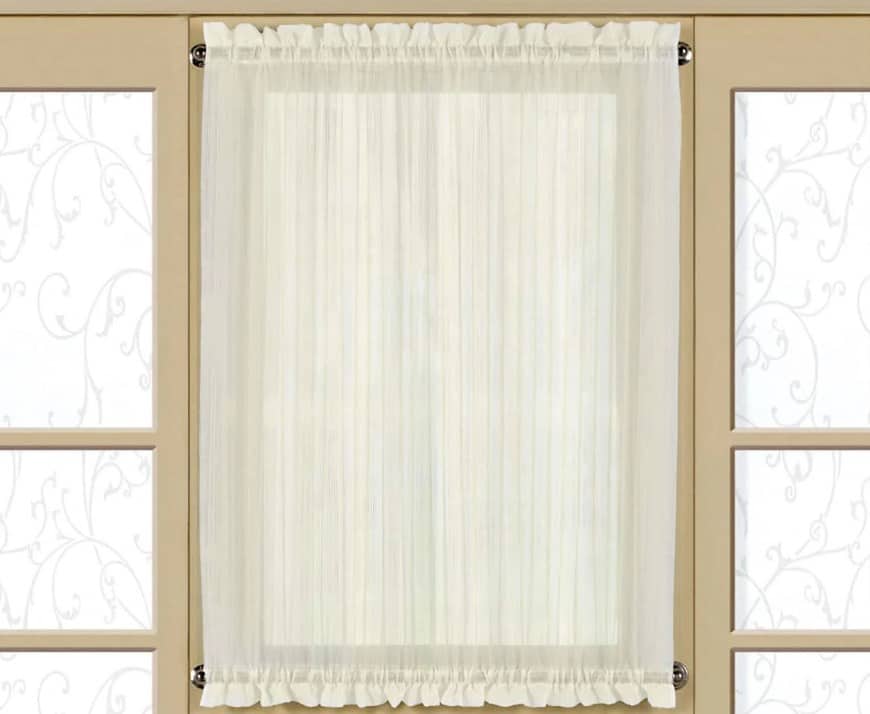 Adding just a little privacy, plenty of sunlight can stream in through this curtain panel. The 100 percent polyester curtains are hung with a rod pocket panel and are easy to install. Available in off-white (eggshell) for a classic look. Buy Here.
Geometric Door Curtain Panels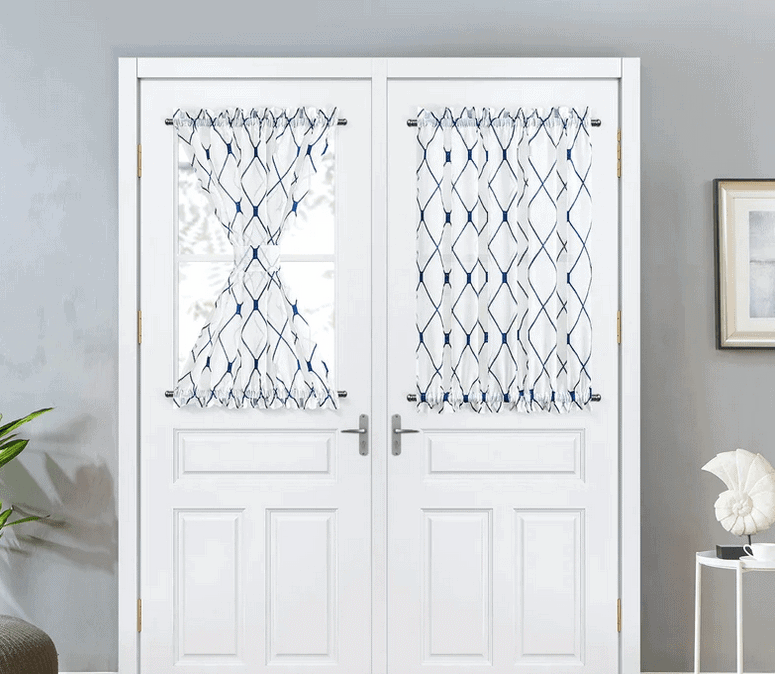 Sheer curtains are accented with geometric patterns for a modern and artistic look. Available in navy, black and gray, these playful door curtain panels are popular for back doors and look fantastic on white and gray. Buy Here.
Japanese Short Doorway Curtains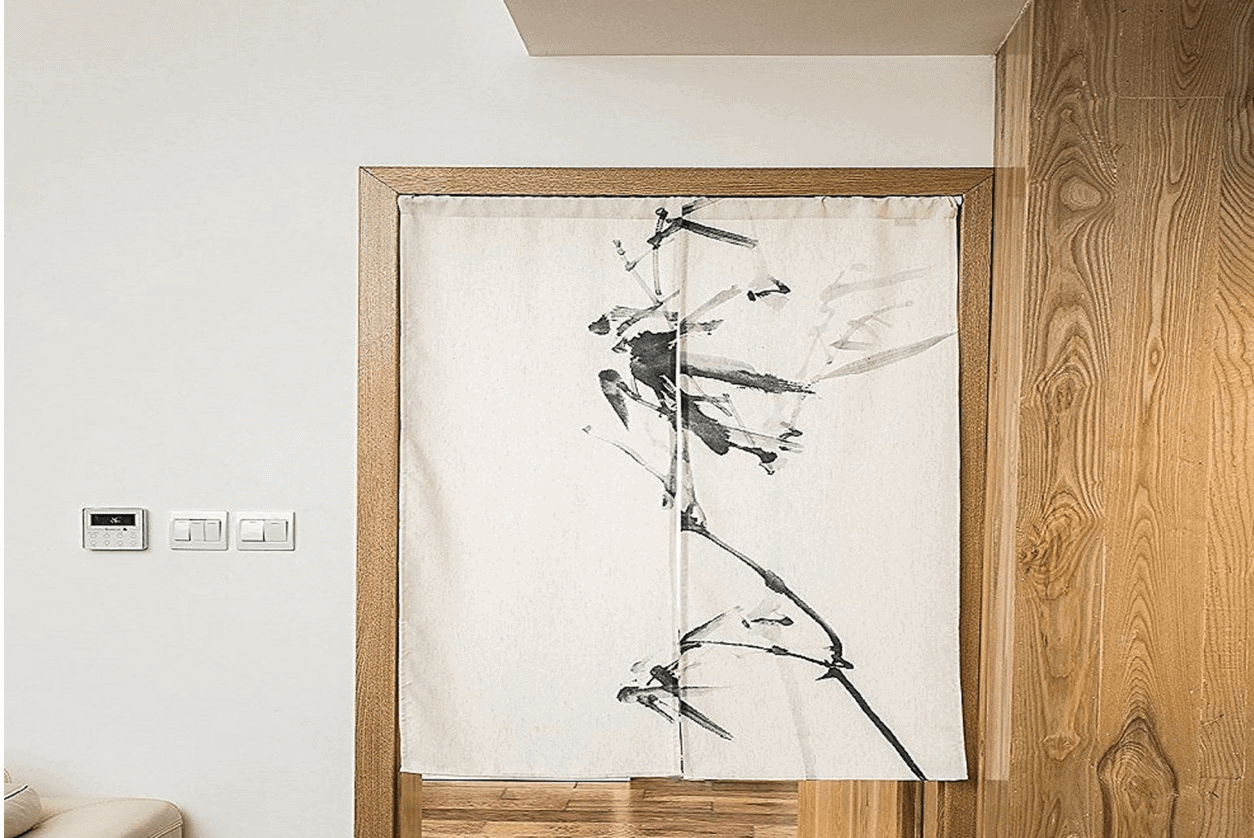 This handmade cotton and linen doorway curtain is exquisite in its simplicity. It's also versatile: you can use it for a doorway divider, but even hang it as wall decor. I love this look for minimalist or Feng Shui homes. Buy Here.
Duck River Textile Print Door Curtains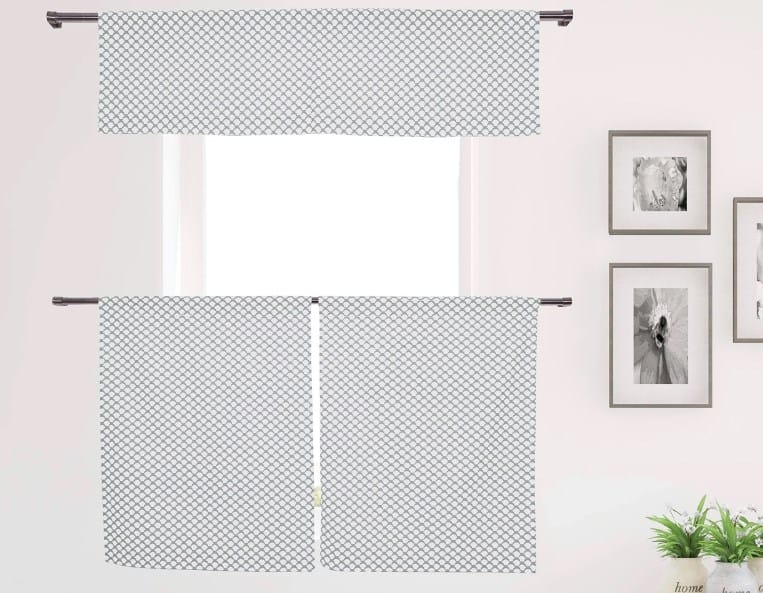 Available in navy, khaki, or black, these door curtains feature a two-tiered style and work for modern and vintage styles. They have just enough detail to create interest, but not too much that they'll clash with another decor. They're also machine washable and made out of a cotton and linen blend. Buy Here.
Thermal Door Curtains
Thermal or insulated door curtains are great investments. While you may not notice an immediate, dramatic effect, every little tweak can help your home stay more comfortable and energy-efficient. These door curtains are perfect if you feel a lot of heat escaping from a front or back door. Of course, you'll need to take other measures as well but insulated curtains are a low-cost start. They also tend to provide privacy for busy streets.
George Thermal Blackout Door Curtains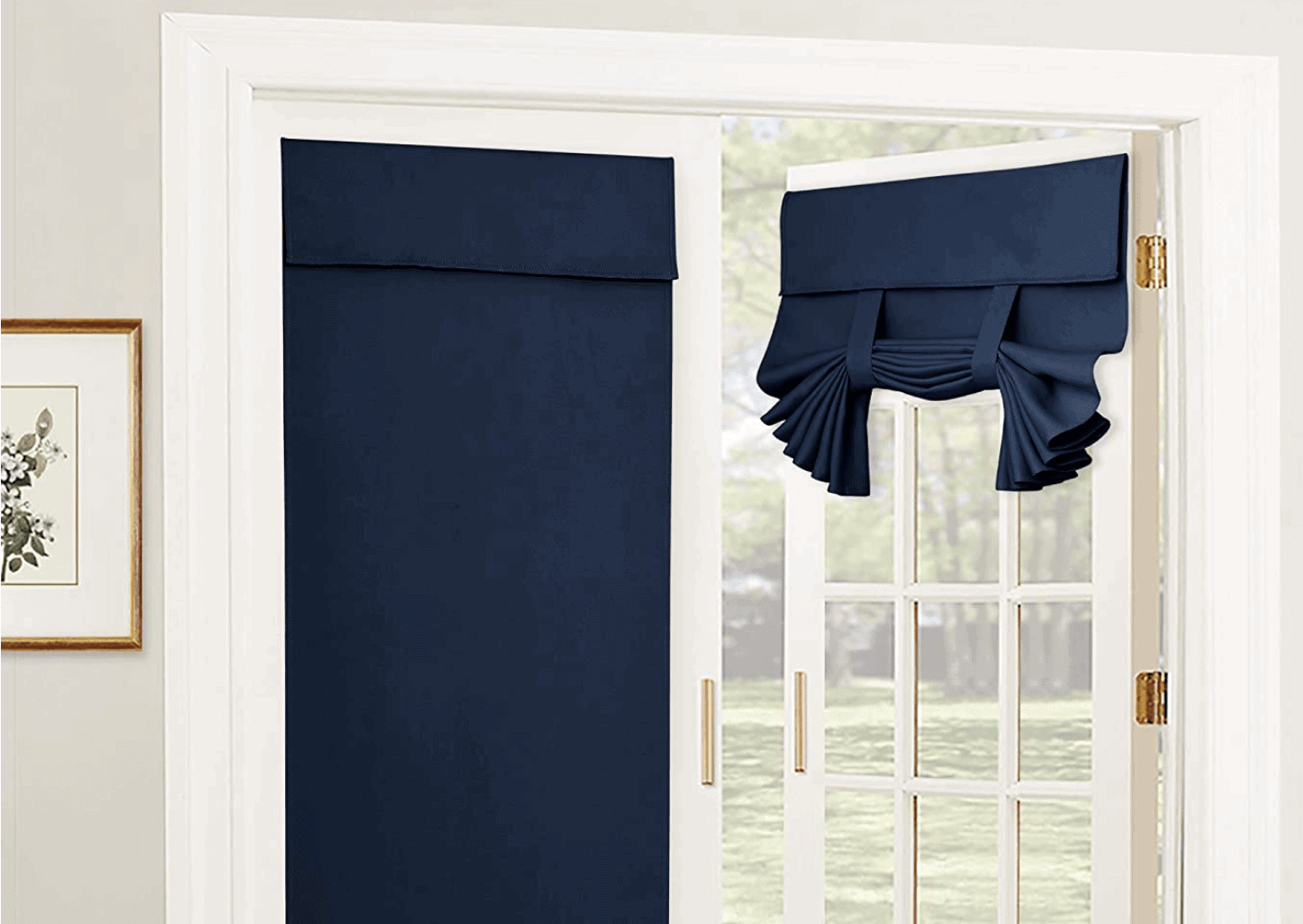 Enjoy privacy, insulation, and a relaxing night with these curtains. The blackout paneling is ideal for anyone who is looking for ways to keep the house dark at night, while the added insulation is an energy saver. The style is straightforward and modern, available in classic dark hues and neutrals. Select from the beige, black, navy, coffee, red, grey, navy, dark blue, and white. Buy Here.
Thermal Magnetic Self Sealing Door Curtain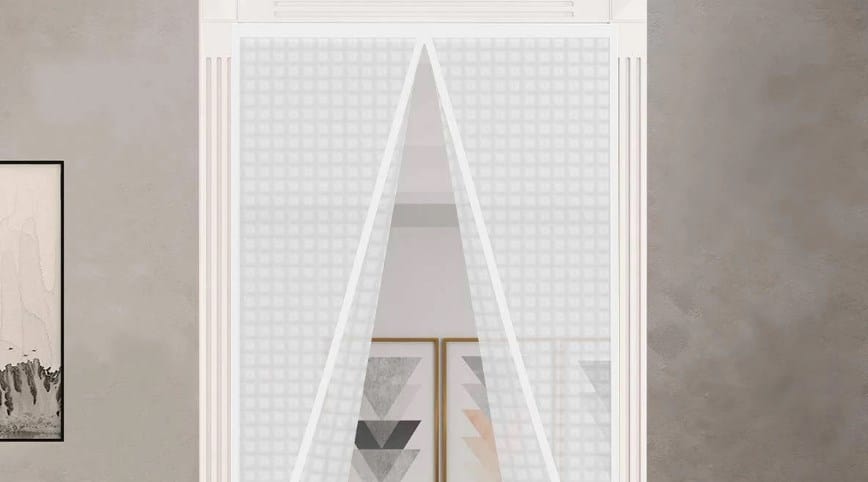 You don't need expensive smart curtains to save energy. These clever magnetic curtains fit door sizes up to 36 by 82 inches and seamlessly open and close. Eco-friendly and machine washable, they're even scratch-resistant and can be used in homes with pets. Buy Here.
Thermal Blackout Patio Curtain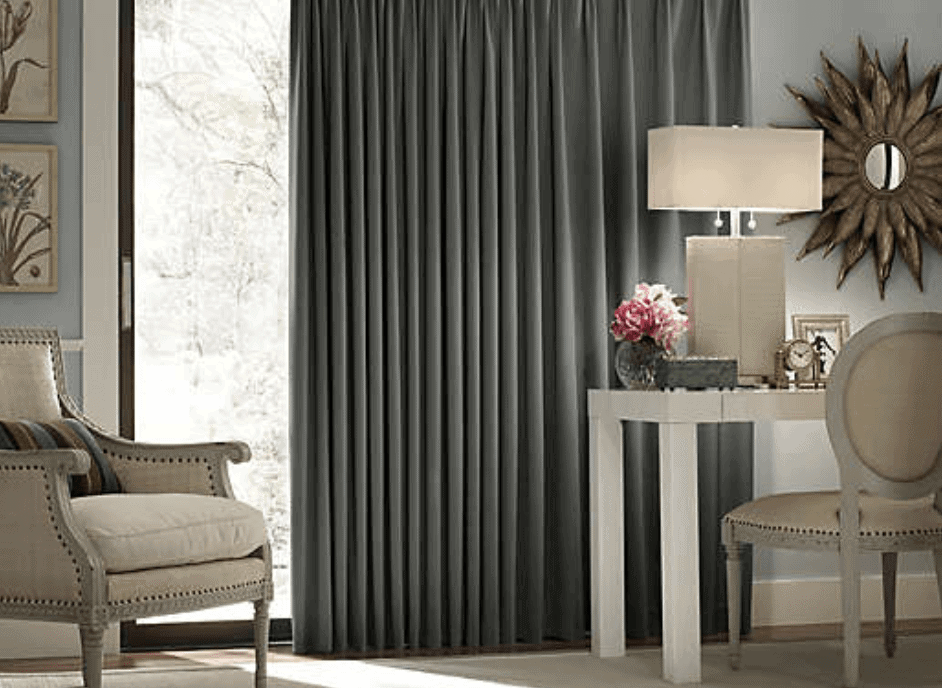 These curtains are made especially for sliding patio doors and offer privacy and protection against energy loss. An alternative to vertical blinds, the extra-wide polyester construction is a practical solution. The charcoal color will pair with neutrals but also more colorful walls. Buy Here.
Thermal Insulated Solid Color Magnetic Curtains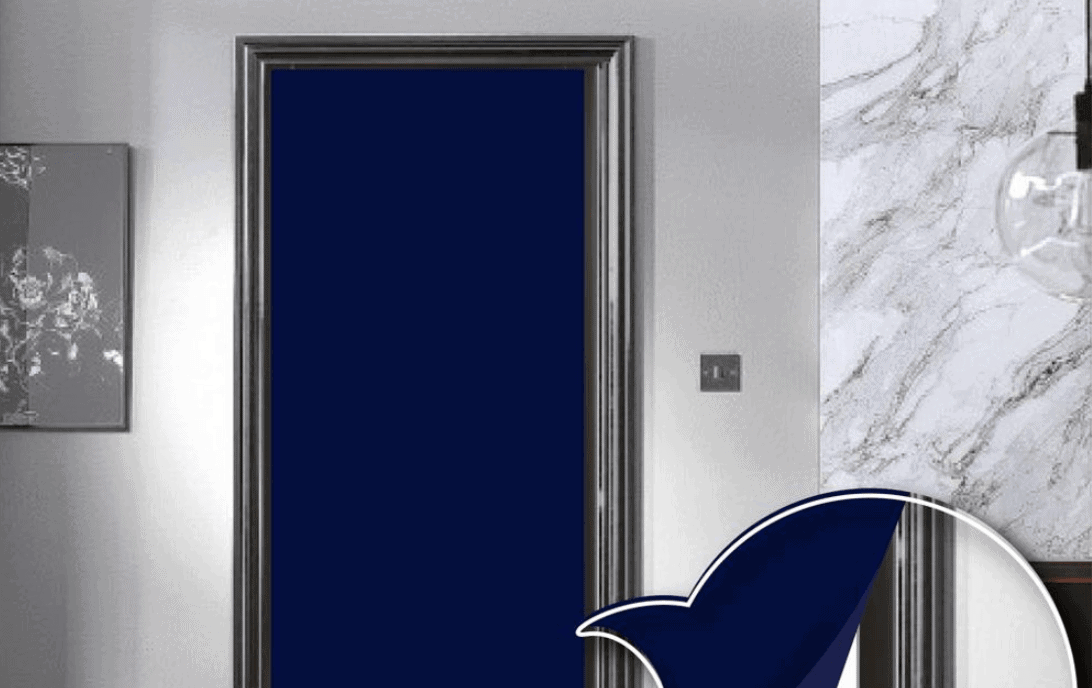 Like the idea of magnetic door curtains but don't like the sheer style? Consider these solid color curtains. The blackout curtains provide 99 percent protection against UV rays, won't wrinkle, and are machine washable. Available in black, blue, gray, and taupe. Buy Here.
Frequently Asked Questions
Question: What can I use instead of curtains?
Answer: Doorway curtains aren't your only option if you want some privacy. The most common alternative blinds. Curtain panels and shutters are also options.
Question: What is the point of door beads?
Answer: Door beads are used for decor and room dividers. They provide a bohemian and carefree feel to a room and can even be used to transition from outdoor and indoor patios.
Question: What are door curtains called?
Answer: While a door curtain is a common term, a portière refers to a curtain that's hung over doors or entrances. This comes from the French term for a door (porte).
Final Thoughts
Door curtains not only add decor but can add privacy and even be used to insulate your home. Whether you're longing for a boho, modern, or vintage look, you have countless options. Consider what fabric makes sense for your home, and make sure you have the right measurements to ensure a proper fit.