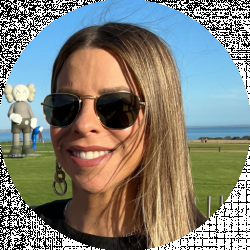 Latest posts by Maddy Chiffey
(see all)
Yellow has to be the most cheerful color, and it's a popular choice in interior design for good reason. If you're looking for inspiration, here are our top yellow curtain ideas!
There's a lot of variety in yellow – you can go for pale lemon splashes of color for a calming effect or mustard yellow with a bold pattern to make an impact.
So whether you want to go subtle or bold, here are 20 ideas for yellow curtains for bedrooms, offices, lounges, and more!
Bold Yellow Floral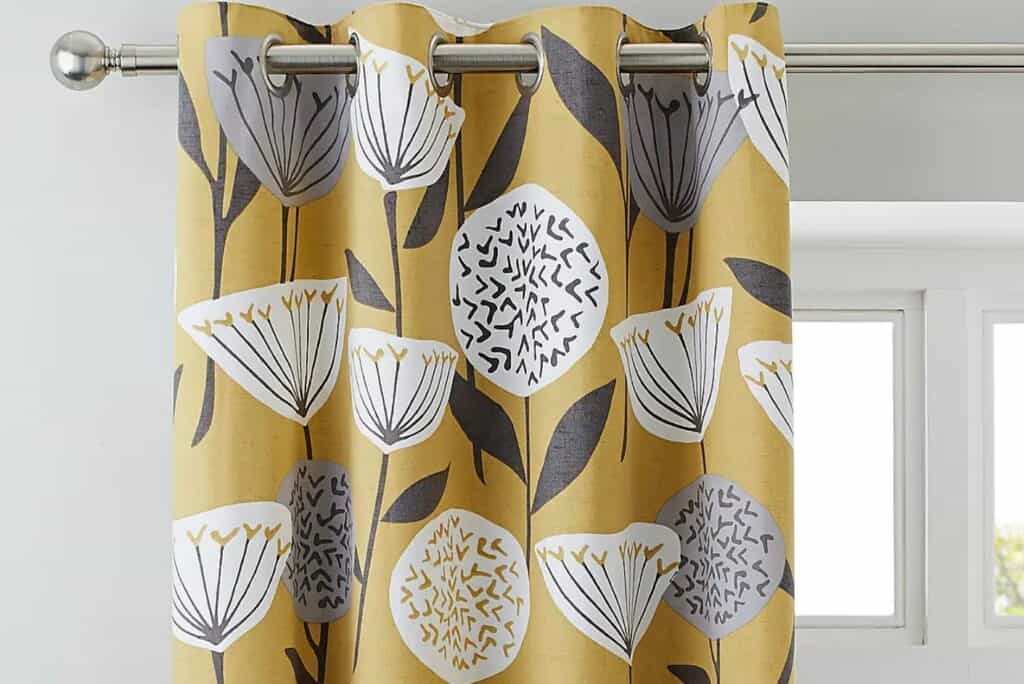 Yellow suits a bold pattern, so if you want to go for a modern twist on the classic floral print, this bold yellow floral curtain is a good choice.
Yellow Chevron
Chevron is a nice alternative to stripes, and it feels modern and fresh in yellow and white. This is ideal for a pop of color against a neutral wall and makes a fresh and interesting choice for a lounge or dining room.
Yellow and Gray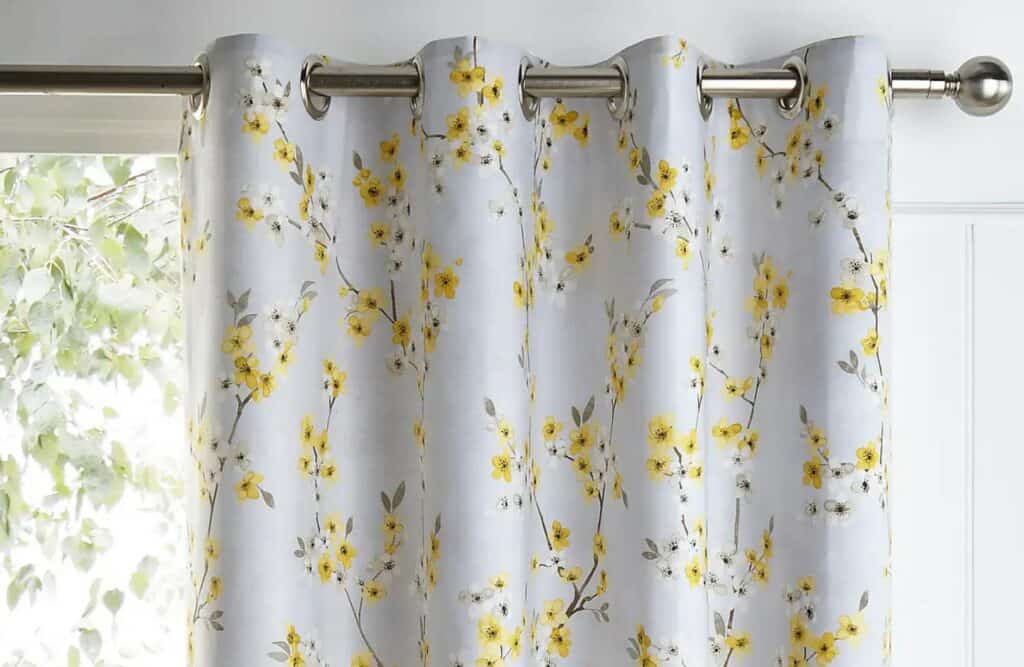 Yellow and pale gray look beautiful together, and these curtains are a great way to introduce a subtle pop of yellow into your room. They look particularly good with bright white walls.
Plain Yellow
There's something simple and beautiful about plain yellow curtains. They add a bold splash of color to any room, whether that be a lounge, bedroom, or office. Because they're fairly plain, you can use them with patterned wallpaper without them clashing.
Lemon Print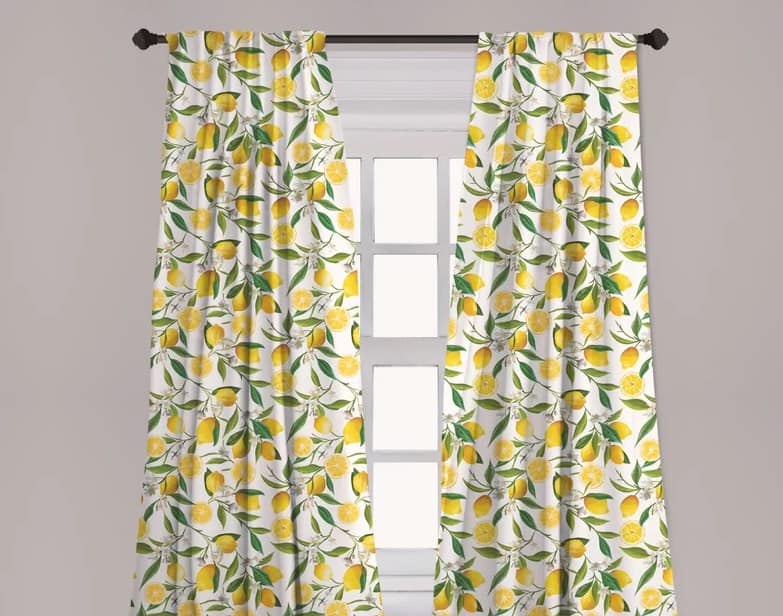 If you want something fresh and modern, lemon print is a good choice. It introduces a splash of yellow and works really well against the backdrop of plain walls. The foliage introduces green too, which opens up color options for the rest of your room.
Sheer Yellow
If you want something subtle and delicate, sheer yellow curtains are a great choice. They brighten up any room, from bedrooms to lounges to offices. They work well on their own if you don't want to block out the sun or layered over a roller blind.
Yellow Gingham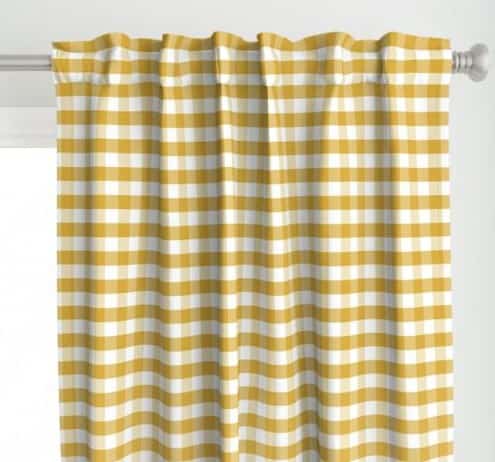 Gingham is a fresh and bright classic, and it looks great in yellow. These curtains are ideal for kitchens and dining rooms and will bring a nice splash of color to the room.
Sunflower Print
Sunflowers represent longevity, loyalty, and love. Their cheerful appearance is enough to brighten a gloomy day, so why not introduce them to your home? The sunflower print is bold and bright, making these curtains a great statement piece for any room.
Yellow Damask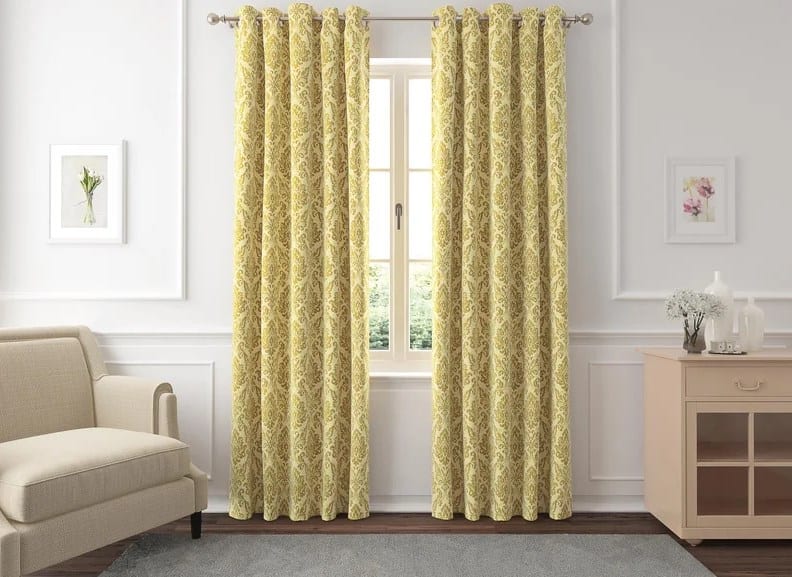 Damask is a classic pattern for curtains, and it gives a sophisticated vibe. However, in yellow, it has a bit of a modern twist. Ideal if you want a nice pop of color with a beautiful print.
Yellow and Gray
Yellow makes a great contrast to gray, and these zig-zag chevron curtains are a good example of this. If you like a splash of brightness from the yellow, but you don't want it to dominate, these curtains are a great choice.
Yellow Stripes
Stripes are a classic choice, and these horizontal bold yellow and white curtains add a nice touch of brightness to any room.
Yellow Ombre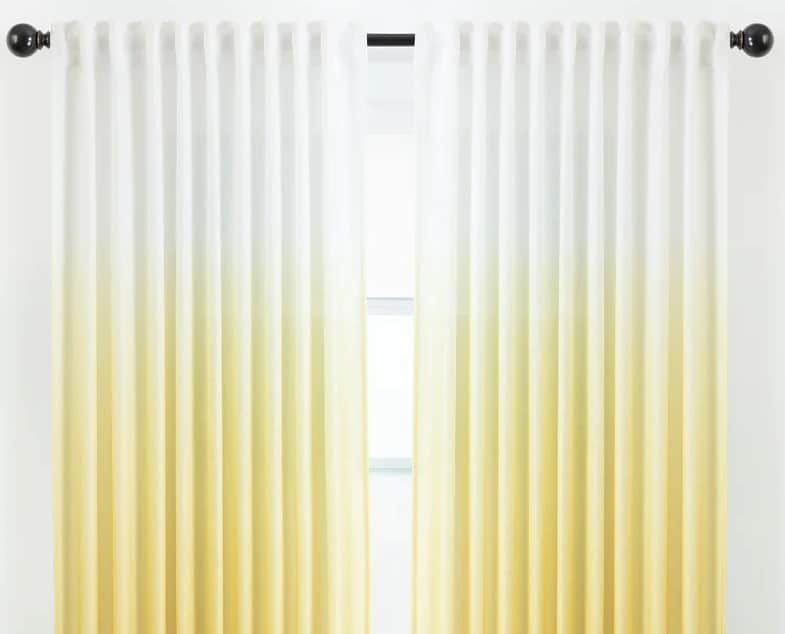 If you want something a bit more interesting than plain yellow but you don't want a pattern, ombre is the way to go. This white to pale yellow ombre gives a delicate look, ideal for a lounge or bedroom.
Geometric Print
If you're not into delicate prints, this geometric print might be what you're looking for. A bit more modern than florals or stripes, these curtains add a nice pop of color and are a bold choice against gray or white walls.
Trees and Branches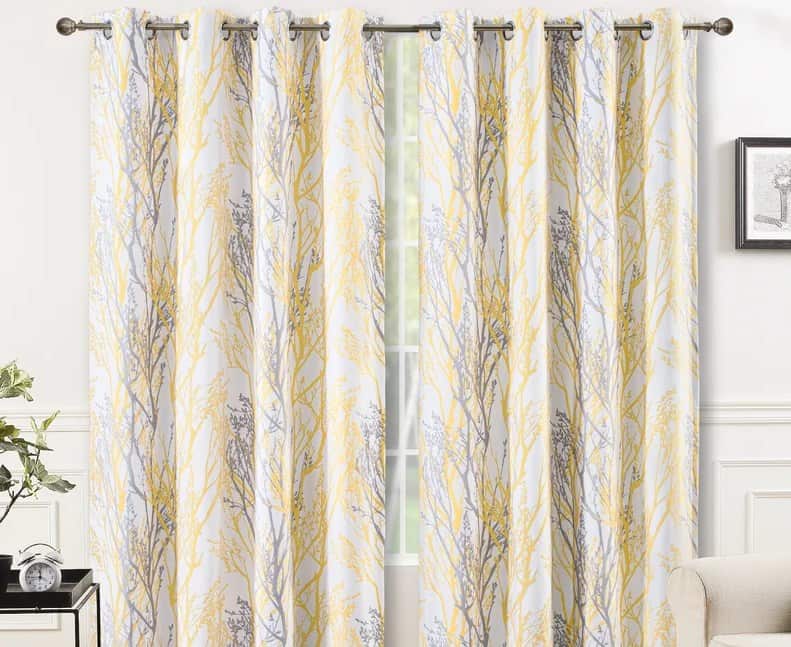 You can bring a touch of nature into your home by going for curtains featuring trees or branches. This is a nice alternative to floral print, and the yellow and gray look great together.
Yellow Circles
You can't go wrong with a circular print, and these curtains feel friendly and bright in yellow. Ideal for bedrooms, these curtains are perfect against plain walls in white or gray.
Yellow Pom Poms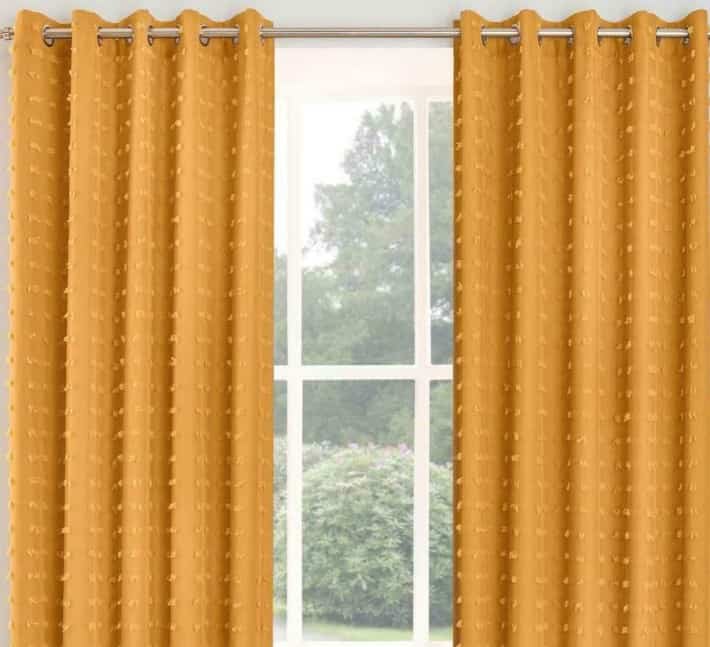 Sometimes what a room needs is a little more texture, and these curtains are a great example of that. If you want to add an interesting feature to your room, go for curtains with pom poms – they add a nice texture without being too 'in your face.
Yellow Star Print
These are a beautiful choice for kids' bedrooms – they're bright and colorful, with big, bold stars. Star prints are a good choice for space-loving kids! These particular curtains are sheer, but they'd layer well over a roll-up blind.
Buttercup Print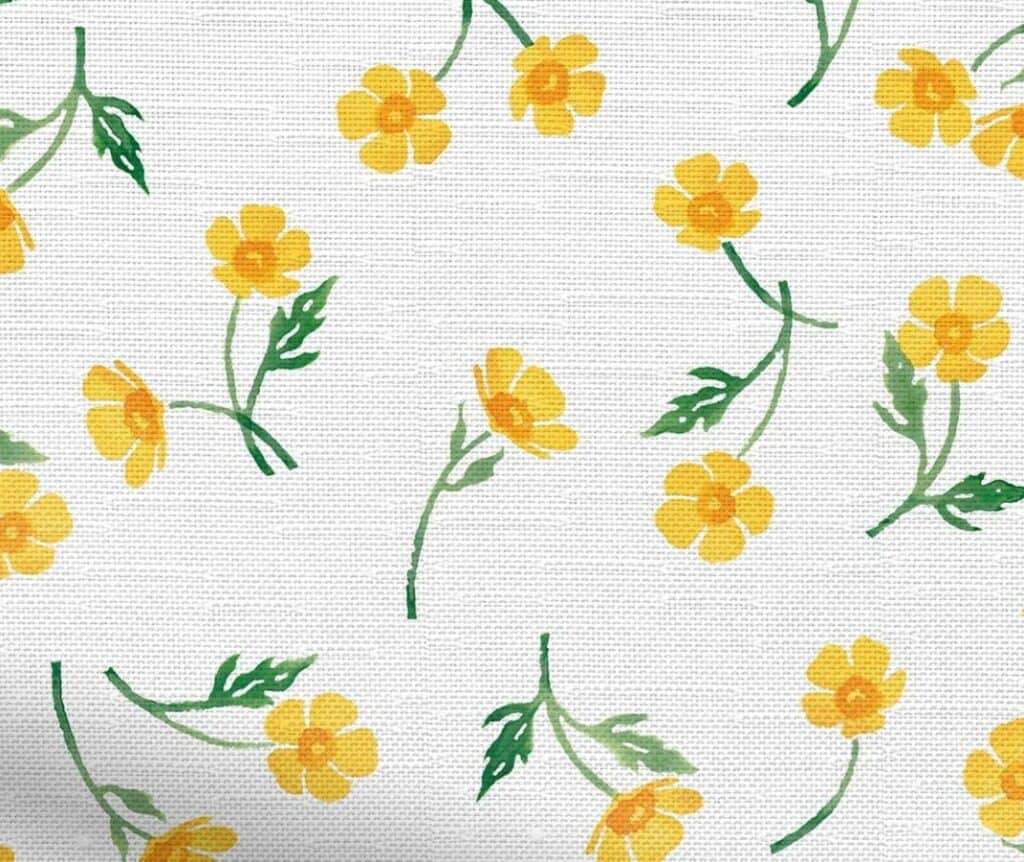 If you like sunflower print curtains, but you want to go for something a bit smaller and more delicate, these buttercup curtains are a great choice. These curtains are a pretty choice for bedrooms and lounges.
Large Print
Going for a large print is a bold choice, making your curtains more of a feature in the room. These flowers and dragonflies bring a bit of nature into your home and add a nice pop of color too.
Yellow with Metallics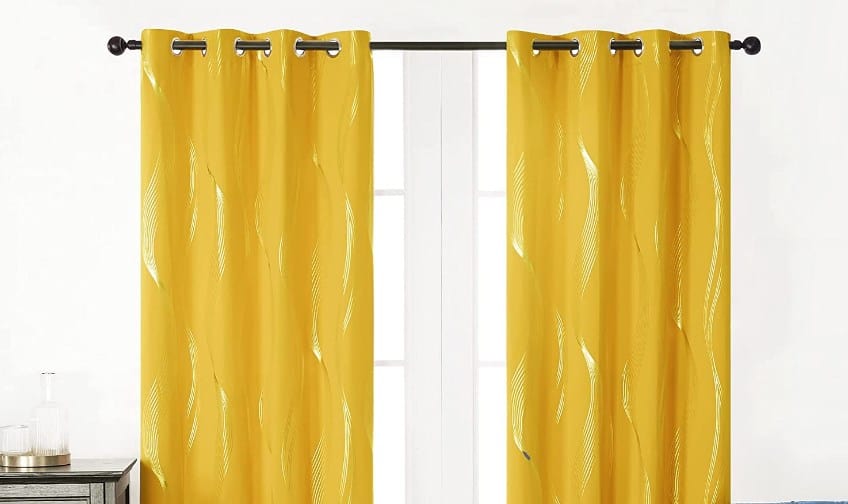 Want to add a touch of glamour and sparkle to your living space? These yellow curtains with a metallic pattern are subtle but pretty. They're great for bedrooms for all ages.
Frequently Asked Questions
Before you go, here are some frequently asked questions:
Question: What color goes with yellow curtains?
Answer; Yellow might seem like a bold color, but it's surprisingly versatile. You can pair yellow with white and neutrals easily, and it goes particularly well with grey. It also goes well with green, purple, and navy blue, so you'll have a lot of choices.
Question: How do I measure my window for curtains?
Answer: Measure the length from where your curtain rail will be down to the length that you prefer. Then, measure the width of your window, and be sure to buy curtains that are at least double that measurement (even triple if you're going for sheer curtains) for the right amount of fullness.
Question: How can I pick the right shade of yellow curtains for my room?
Answer: If you're shopping in a store, bring along a paint swatch with you – this will help you to figure out whether your chosen curtains will match your room or not. You should also take into account your furniture and how that will match the curtains too. If you're redecorating from scratch, check out Color Hunt for some premade color palettes.
Our Final Thoughts
Whether you're redecorating your lounge or you just want to brighten up a bedroom, yellow is a great choice. Hopefully, this list has given you some ideas on the best yellow curtains for your home!