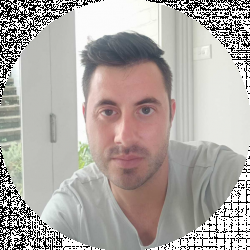 Latest posts by David Borgogni
(see all)
Treatments for a single-window can cost up to a few hundred dollars, so you may end up spending more than a thousand dollars to cover all windows in your home. If you're looking for the best bamboo roll-up blinds, our guide will help and show you how to find affordable and highly efficient window treatment.
Bamboo is naturally resistant to sun exposure, and the material won't fade or warp even after years of heavy-duty usage. At the same time, bamboo blinds don't block sunlight entirely, and they keep the room well-lit when rolled down.
Aside from being practical, these blinds are also stylish so that you can pair them with different types of home décor styles. Our guide will supply you with the information you need to find a suitable window treatment for your home.
The 5 Best Bamboo Roll Up Blinds
Types of Bamboo Blinds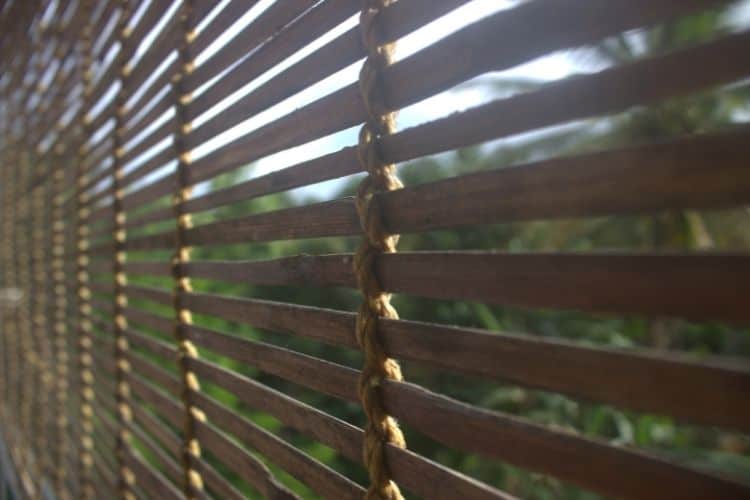 Bamboo was used to create blinds for centuries, and until today, it's one of the most popular window treatment choices. Blinds made of bamboo are available in two different versions, so you can either get roll-up or roman bamboo blinds.
At first glance, it is difficult to spot a difference between these two types of bamboo blinds, as they utilize the same lift system and their designs are almost identical.
Some brands also offer roller blinds that are made of natural bamboo, but these models feature the same components as the other two types of bamboo blinds.
The biggest difference among them is the mounting mechanism, as roman bamboo blinds feature brackets tightened to both the window frame and the shades.
The other two types of these blinds are equipped with a pair of triangular hangers that allow you to place them on the L-shaped screw hanging system. It is worth adding that bamboo blinds can be mounted either inside or outside of the window frame.
The Versatility of Bamboo Blinds
The natural look of bamboo blinds allows them to blend in most residential settings, but they can also be used in commercial structures such as hotels or restaurants. The material responds well to high humidity levels, which makes it suitable for bathrooms or patios.
If the roll-up version of these blinds gets soaked, they will dry up quickly, but you need to roll them down and leave them to dry. These blinds are available in a wide range of sizes that can cover small, standard, or large windows.
What's more, non-standard options are available for circular, triangular, and other irregularly shaped windows. Unlike other types of window treatments, bamboo blinds can be shortened if they are too long for a window, but this process is technical, and you might end up making the blinds uneven.
Most models are available in different natural wood colors and patterns, and they usually match casual, bohemian, or oriental home décor styles.
Privacy Protection
Bamboo roll-up blinds aren't an ideal solution for windows facing the street because the onlookers can see through them. The simple solution to this problem is to add a non-transparent liner that will block the view and the sunlight.
Blackout liners can be attached to the blinds easily, and they prevent the light from seeping through the space between the slats. Semi-transparent options are also available, and they're a better choice if you want to protect your privacy but still let some light into the room.
Liners can be either black or white, and they're made of different types of fabric, so their light blocking capabilities depend on the liner material you choose. Including liners into the blinds, setup isn't mandatory, especially if the windows are not at the street level.
The Insulation Capabilities of Bamboo Roll-up Blinds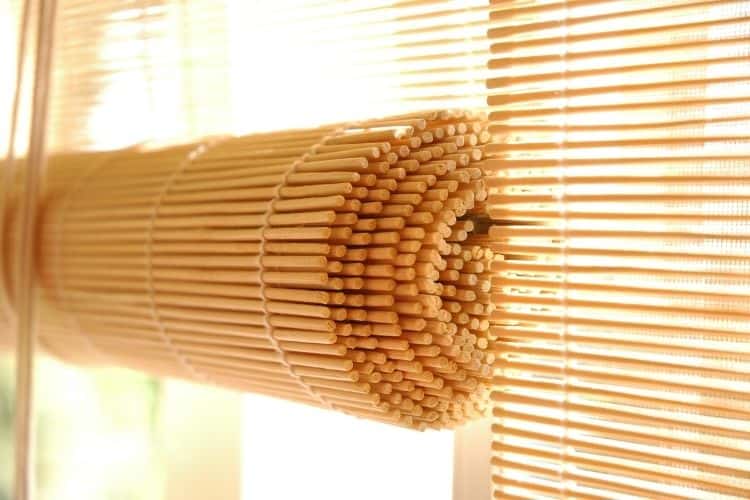 The heat transfer that occurs through windows can only be partially stopped with these types of blinds. Adding a liner will significantly increase their insulation capabilities, but even in this case, a certain amount of heat or cold will get through.
Arguably, the biggest downside of bamboo roll-up blinds is that they don't have UV blocking capabilities, so they can't stop the UV radiation from entering a room despite having excellent sun-blocking capabilities.
Also, utilizing the inside mounting method will enable you to locate the blinds closer to the windowpane, which will boost their ability to prevent heat transfer.
Moving the blinds further away from the window will create more space for the heat to escape into the room, and it'll make it much more difficult to keep the room temperature at the optimum level.
You should search for alternative options, such as cellular shades, if you're struggling to keep a room cool or warm throughout the year.
The Installation Process
Unlike almost all other types of window coverings, roll-up blinds made of bamboo don't require professional installation. The process of installing these shades on a window is straightforward, and it takes around 20 to 30 minutes to complete.
Most models come with the hardware you're going to need to install them, so there's no need to search for compatible screw-in hooks or triangular hangers. You just have to drill a pair of 1/16-inch holes at the same level and insert the screw-in hooks.
Once the hooks are in place, you can proceed to hang the blinds and check if they're properly aligned with the window. Bamboo roll-up blinds usually weigh between 3lbs and 6lbs, so it is highly unlikely that their weight will put too much strain on the hanging mechanism.
Moreover, if the hooks or triangular hangers get damaged, replacing them won't take much time or effort. For more permanent fixtures, you can hot glue bamboo blinds to the window frame, but doing so will make it difficult to replace them, and it might damage the frame and the material.
The Most Important Factors to Consider While Choosing Bamboo Roll-up Blinds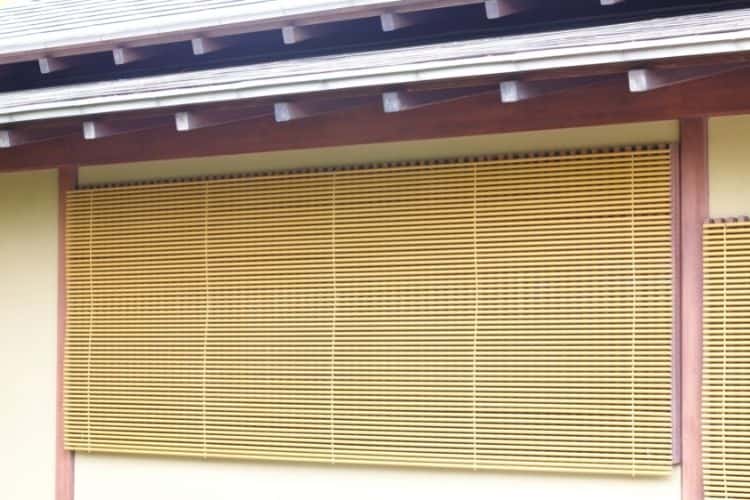 The combination of style and functionality makes these blinds an attractive option for a broad range of homeowners. Regardless of the color or pattern you choose, they will fit seamlessly with the rest of the room's interior.
Moreover, their resistance to humidity makes them an excellent option for patios and similar outdoor spaces. Keeping the blinds clean won't require much more than dusting them once per week, so you won't have to waste a lot of time on their upkeep.
A wide range of factors can influence your decision on which model to choose, as the room's position or the purpose you use it is among numerous aspects you have to consider during the selection process.
We've shortlisted some of the most important factors you should consider while deciding which bamboo roll-up blinds to get, so let's get a quick look at them.
Home Décor Style
Even though they can match a wide range of home décor styles, they are not perfect for every room. The eco-friendly material is generally well suited for laid-back but elegant settings, while it might seem out of place for more formal and classic styles of home décor.
They aren't affected by high humidity levels, which makes them a good long-term solution for both outdoor and indoor spaces. However, they aren't water-resistant, and prolonged exposure to rain or snow can damage them.
Room's Sun Exposure
The amount of sunlight a room is getting during the day can help you determine if bamboo blinds are the correct choice for that room. These blinds block the sunlight only partially, and they'll let a considerable amount of light through unless you add a liner.
Pairing these blinds with blackout liners is your best option if the room is exposed to sunlight throughout the day. The semi-transparent and blackout liners also lower the heat transfer, which helps maintain a comfortable room temperature in warm and cold weather conditions.
Natural or faux bamboo
You'll encounter several variations of the bamboo shades in terms of materials used to produce them. The most eco-friendly option is the models made of natural bamboo, as they have a minimal ecological footprint.
The same can be said about the woven wood blinds and shades made of a mixture of bamboo, natural grasses, or straw.
Faux bamboo window treatments are not as efficient at preventing heat transfers, and you should avoid models made from artificial materials that mimic the look of natural bamboo shades.
The Size and Shape of the Windows
Measuring the length and width of a window you'd like to cover is a mandatory step during the selection process. Knowing the exact dimensions of a window will make it easier to find the right model.
Some manufacturers also offer custom-made versions of these blinds that are designed to fit irregularly shaped windows. Inside and outside mounts are available for most models, so you have to specify which option you prefer to avoid complications during the installation process.
A Corded or Cordless Model
Blinds that feature cords are a potential source of danger for children and pets, so if you want to eliminate any chances of accidents, you should opt for a cordless version of bamboo blinds.
Some corded models have plastic clips that fall of if the cord is pulled hard, preventing any injury caused by it. Optionally, you can get a safety cleat designed to gather the cords and prevent children or pets from reaching them.
Cordless bamboo roll-up blinds are usually more expensive than the corded models, but the price difference isn't too wide.
Cost and Durability
In addition to being environmentally friendly, bamboo is also a sturdy material that doesn't lose its properties quickly. Hence, getting blinds made from this material will ensure that you won't have to change the window treatment for several years.
Roll-ups are also the least expensive version of bamboo blinds, as you can get this type of window covering for less than $50. This means that you can get window coverings for all windows in your home without spending too much money, and you won't have to cover the installation costs.
The Advantages of Bamboo Roll-up Blinds
Made From Eco-Friendly Materials
Bamboo roll-up blinds have a minimal ecological footprint, as harvesting, the plant doesn't endanger the environment or the animals who are using it as food. These blinds don't have the chemical smell usually associated with the models made from artificial materials.
Easy Installation
It doesn't take much effort to hang these types of blinds, so there's no need to hire a professional installer. Once installed, the hanging mechanism can remain intact for years because it isn't carrying a lot of weight.
Affordable Window Treatment
Instead of spending hundreds of dollars on real wood or cellular blinds, you can get bamboo roll-up blinds at a reasonable price. Installing these blinds on your windows will reduce your costs in the long run since you won't have to spend a lot of money to replace them.
The Disadvantages of Bamboo Roll-up Blinds
No UV Blocking Capabilities
Bamboo roll-up blinds can't stop UV rays that are entering your home, and you have to install a blackout liner if you want to prevent the sunlight from flooding a room. Also, these blinds don't have a lot to offer regarding privacy protection if they're installed without a liner.
Top 5 Bamboo Roll-up Blinds
TJ Global Bamboo Roll Up Blinds – The Most Durable Bamboo Roll-up Blinds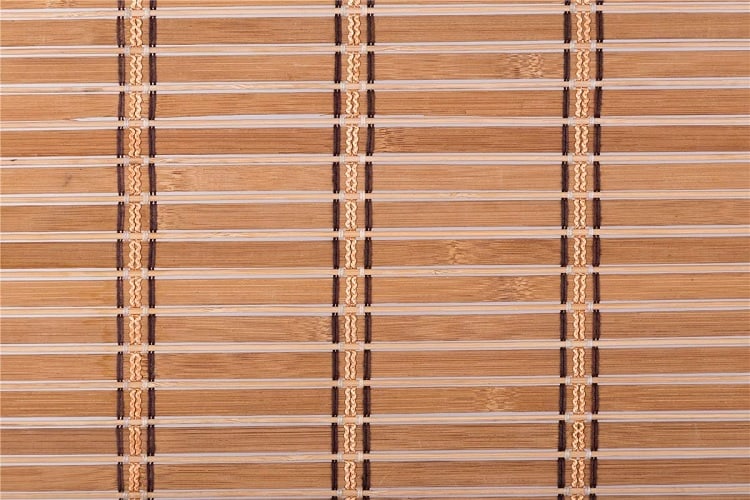 Equipped with thermal insulation properties, the TJ Global Bamboo Roll Up blinds help maintain a comfortable room temperature throughout the year by preventing heat transfer.
The blinds are designed for 24-inch, 28-inch, 32-inch, or 42-inch wide windows, and all versions of these blinds have a 72-inch drop. Although bamboo usually performs well in damp conditions, this TJ Global's model isn't the best choice for rooms that have high humidity levels.
Also, these blinds don't have a valance which affects their design and visual appeal.
Pros
Different width options available
Made from natural and durable materials
Good sunlight blocking capabilities
Suitable for indoor and outdoor use
Cons
Limited color selection
Cord installation can be complicated
ZY Blinds Bamboo Roll Up Blinds – The Most Versatile Bamboo Roll-up Blinds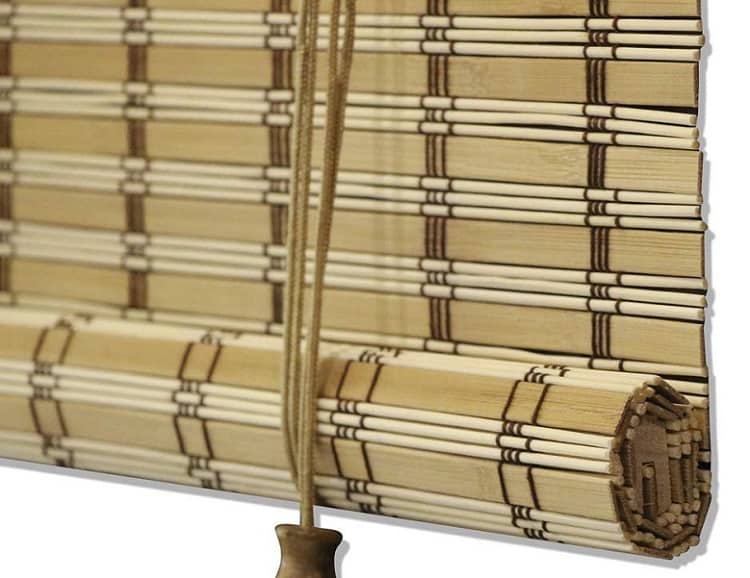 Simple but stylish design makes the ZY Blinds Bamboo Roll Up Blinds a good match for hotel lobbies, restaurants, or cozy living rooms. You can choose from several pattern options and pick the one that best fits the interior of the room in which the blinds will be installed.
Besides a broad spectrum of predesigned sizes, the manufacturer also offers custom-made versions of these blinds, enabling you to adjust them to the shape of the window you're covering. The inside and outside mount versions of these blinds are also available.
Pros
Great selection of sizes
The blinds come with a matching valance
Excellent light filtering features
Made of hypoallergenic material
Cons
Not for outdoor use
Cords can cause safety concerns
Asian Home Bamboo Roll Up Blinds – The Most Affordable Roll-up Blinds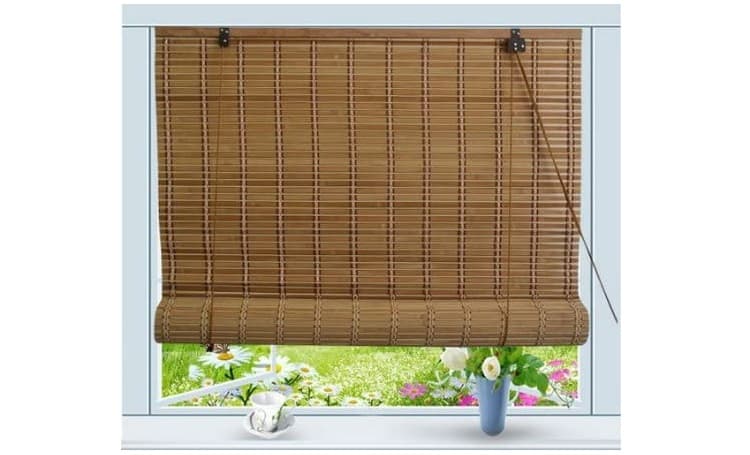 Although they might not be the most visually attractive blinds on the market, the Asian Home Bamboo Roll-Up Blinds are still an efficient and inexpensive sun-blocking solution. This base corded model has a simple valance that matches the color of slats.
The cords are held together by a plastic clip that falls off when too much pressure is applied to them, ensuring that children or pets can't get injured. The Asian Home's roll-up blinds are available in just one size and single color, so it might be difficult to match it with the rest of the furniture in your home.
Pros
Quick and easy installation
Good safety features
Excellent price-performance ratio
Low maintenance requirements
Cons
Poor privacy protection features
A limited selection of colors and sizes
Seta Direct Cordless Bamboo Roll Up Blinds – The Best Cordless Bamboo Roll-up Blinds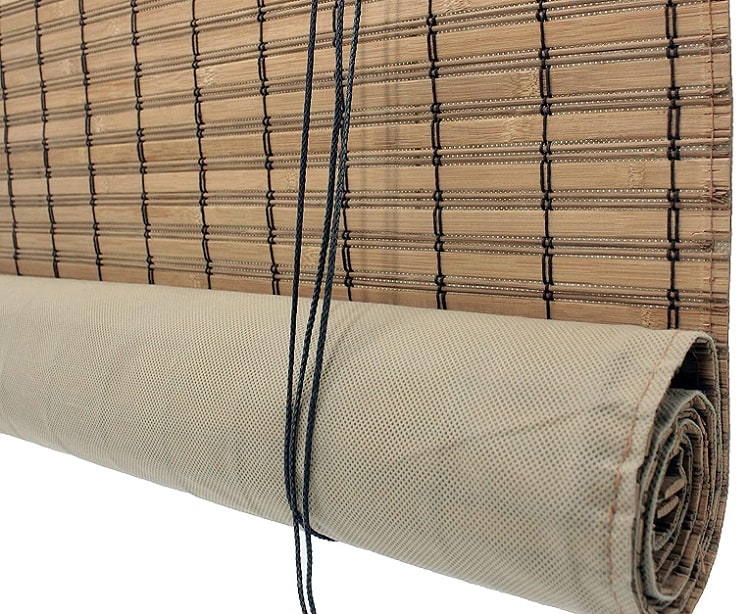 If you're searching for blinds you can install in a kid's room or you simply don't want to deal with cords, you should consider getting the Seta Direct Cordless Bamboo Roll Up Blinds. Although you can choose from various widths, all versions of these blinds have a 72-inch drop.
The Seta Direct's model comes with a pair of clips that enable you to either fold the blinds or roll them up. These blinds are available with and without a liner so that you can choose the privacy option that is best suited for the window you'd like to cover.
Pros
Ships with the equipment for inside and outside mounts
Simple height adjustments
Offers efficient protection from sunlight
Safe for children
Cons
It can be too long for some windows
Designed primarily for indoor use
Thy Trading Bamboo Roll Up Blinds – Best Bamboo Roll-up Blinds of Patios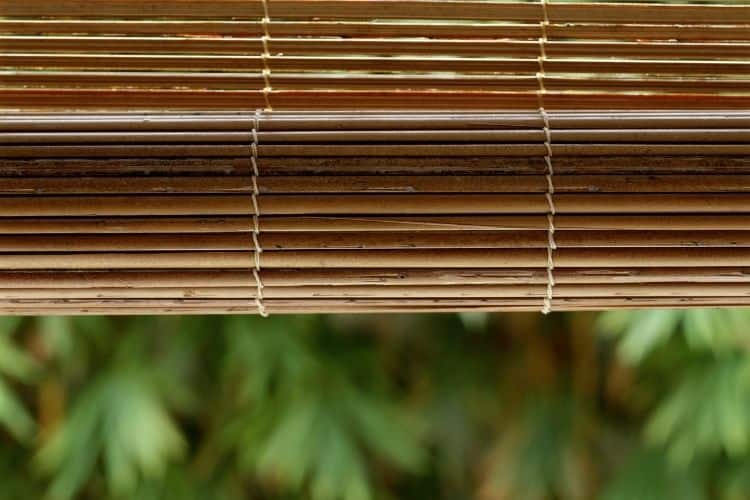 Making a shade on your patio will be much easier if you opt for Thy Trading Bamboo Roll-Up Blinds. This model is available in just one size, so unless you're searching for treatment for 60 x 72-inch windows, you won't be able to use these bamboo blinds inside your home.
Their size and capability to perform well in humid conditions make these blinds better suited for outdoor use. Thy Trading's model doesn't have a liner, so you shouldn't expect too much in terms of privacy or sun protection.
Pros
Lightweight and easy to install
Detachable plastic clips hold the cord
Great performance in outdoor conditions
Reasonable price
Cons
Too large for most standard windows
Available in just one color
Frequently Asked Questions About Bamboo Roll-up Blinds
Question: How Are Woven Wood Blinds Different From Bamboo Roll-up Blinds?
Answer: Woven wood consists of a combination of materials that include reeds, rattan, jute, and bamboo, while bamboo roll-up blinds are made just from this plant.
Question: How Long do Bamboo Roll-up Blinds Last?
Answer: Depending on the sun exposure they're getting, bamboo roll-up blinds can remain in perfect condition for up to ten years.
Question: Are Faux Wood Blinds Better Than Bamboo Roll-up Blinds?
Answer: Faux wood blinds offer more privacy, heat, and sunlight protection than their bamboo counterparts, but they're not easy to install. Also, faux wood models are usually made of PVC and similar artificial materials that aren't necessarily environmentally friendly.
Question: Are Bamboo Roll-up Blinds Washable?
Answer: Some models have a washable surface, and you can use a wet towel to clean them, however in most cases dusting or vacuuming the blinds is going to be enough to keep them clean.
Question: Do I Have to Add a Liner to Bamboo Roll-up Blinds?
Answer: These blinds don't offer a lot of privacy protection without a liner, so installing a liner will improve their insulation capabilities and prevent onlookers from having an unobstructed view of your home.
Our Verdict: How to Know Which Bamboo Roll-up Blinds Are the Best?
The basic protection against sunlight the bamboo roll-up blinds offer is often enough to filter out the light and keep a room bright. These blinds are more affordable than most other types of window treatments, but they're still fashionable enough to fit a wide range of home decors.
The material's durability is one of its biggest advantages, as you won't have to replace your bamboo blinds very often. We recommend choosing the Seta Direct Cordless Bamboo Roll-Up Blinds because they're safe for children or pets, and they're available in different color options.
You should consider getting the ZY Blinds Bamboo Roll Up Blinds if you need a model that can fit in different contexts. Which of the best bamboo roll-up blinds are you going to choose? Let us know in the comments.