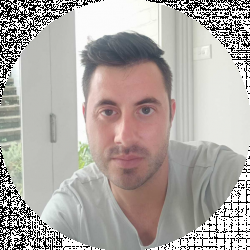 Latest posts by David Borgogni
(see all)
Sleeping comfortably is one of the keys to leading a long and healthy life, but excessive heat, buzzing insects, or loud street noises can easily disrupt your sleep cycle. Some of the best canopy bed curtains can help you deal with these issues and improve the quality of your sleep.
Canopy beds are back in a big way, as some industry-leading brands have started to manufacture models equipped with sturdy frames capable of carrying heavy drapes.
Besides their aesthetic appeal, canopy beds have a practical purpose, as draping a bed with a piece of fabric can give you more privacy or keep you warm while you sleep.
In this guide to the best canopy bed curtains, we'll help you choose a model that matches the size of your bed and décor in your bedroom. Go through our guide to the best Levolor blinds if you're searching for efficient and stylish window treatment options.
The 5 Best Canopy Bed Curtains
A short history of canopy beds
Our notion of privacy has changed throughout the centuries, as in our day and age, sharing a room with more than one person is considered unusual. However, royals and aristocrats often shared their bedrooms with servants taking care of their clothes and everything else they needed.
Canopy beds fitted with long and heavy drapes provided the privacy that was otherwise hard to find, but canopy curtains also had a more functional purpose. Large bedrooms in castles and courts were notoriously difficult to heat, and a curtain provided thermal insulation around the bed.
They also offered protection against rodents and insects that were frequent visitors of households both large and small. During the 20th century, canopy beds and their heavy curtains fell out of fashion as they were rapidly replaced with more portable single or double beds.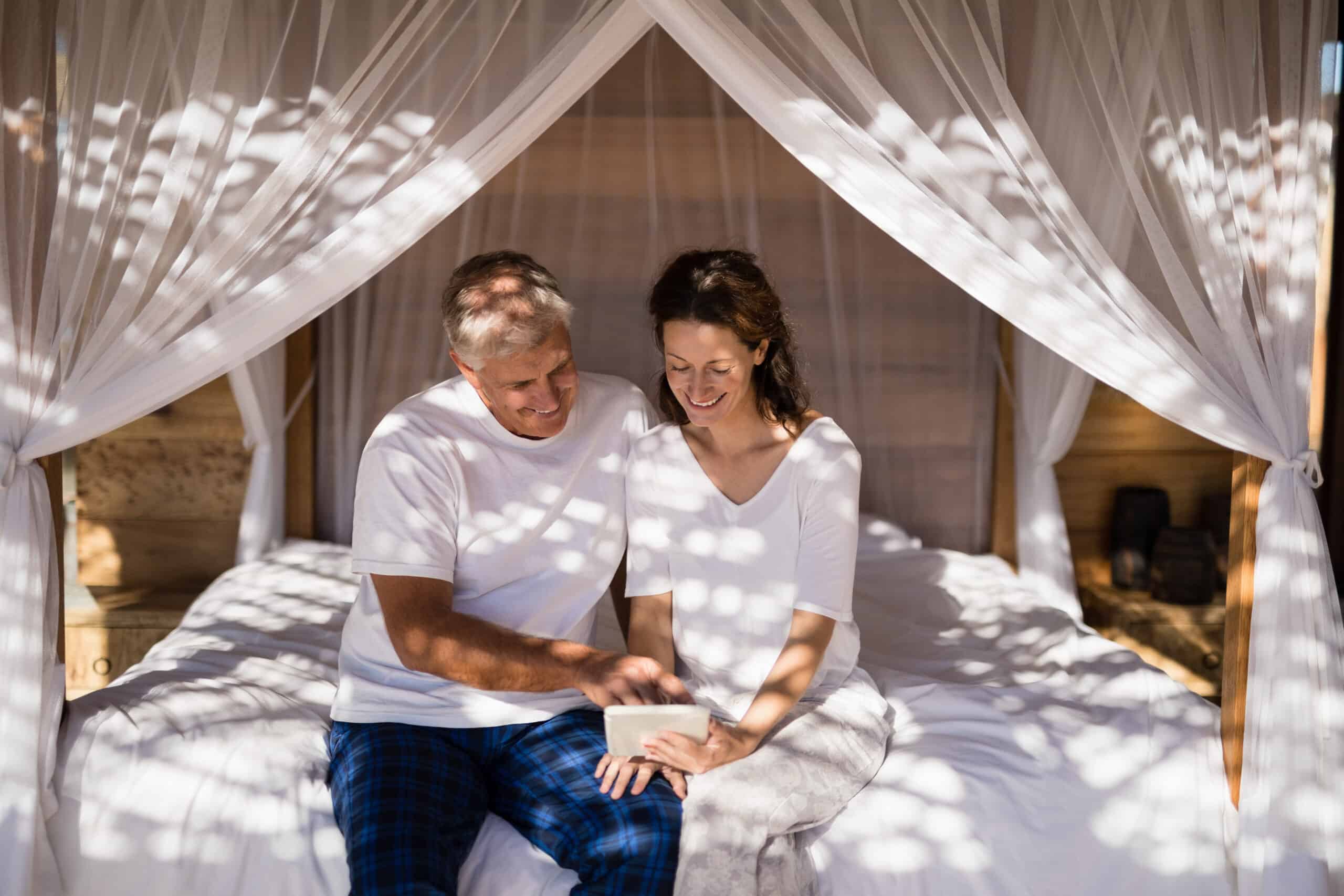 Lightweight metal frames and stylish modern designs are a huge part of the rising popularity of these beds.
Types of canopy bed curtains
Contemporary canopy beds are available in traditional and modern variants. The traditional version of these beds usually evokes Victorian canopy beds that had carved wooden frames and heavy pleated curtains.
Simple and geometric designs characterize the modern variants of canopy beds made from wood, metal, or the combination of these two materials. The frames that support the curtains are sturdy enough to carry curtains that weigh several pounds.
However, the weight the frame needs to handle depends on the type of curtain you choose, as blackout curtains weigh much more than veneer models. Most people choose to switch between these two types of curtains for canopy beds as neither of them is suited for all seasons.
Besides blocking light, a multilayered blackout curtain also disrupts the airflow and prevents the cold air from reaching the mattress. On the other hand, veneer curtains allow the air to flow freely, making them a great option for warm periods of the year.
Canopy bed curtain materials
Traditionally chintz, tapestry, or silk fabrics were used to create curtains for canopy beds, but you're not necessarily limited by these materials. You can experiment with different fabrics to find the solution you like, especially if you want to sew the curtains by yourself.
Also, recreating the look of traditional Lit a la Francaise, Lit a Duchesse, Lit a la demi-ciel, Lit a la polonaise, or Lit a la turque canopy beds may require you to use specific materials or combine several fabrics.
However, most contemporary canopy beds mimic the Lit a la franchise look and style that features a flat canopy top and openings on three sides.
Materials such as muslin or velvet are both beautiful and highly functional, but they're also expensive, so you might end up spending hundreds of dollars on canopy bed curtains made of these fabrics.
Models made of polyester are an affordable alternative as you can get canopy bed curtains made from this material for less than $50.
Privacy protection and light-blocking capabilities
For centuries, privacy protection has been one of the main purposes of these curtains, as they separated the sleeping area from the rest of the bedroom. Today, this feature isn't as important as it used to be, although it can be very useful for spaces where installing blinds or shades is impossible.
Curtains for canopy beds make it easier to separate sleeping areas, and they're a great solution for rooms shared by several people. Models made of non-transparent materials also block or filter light enabling you to sleep during the day.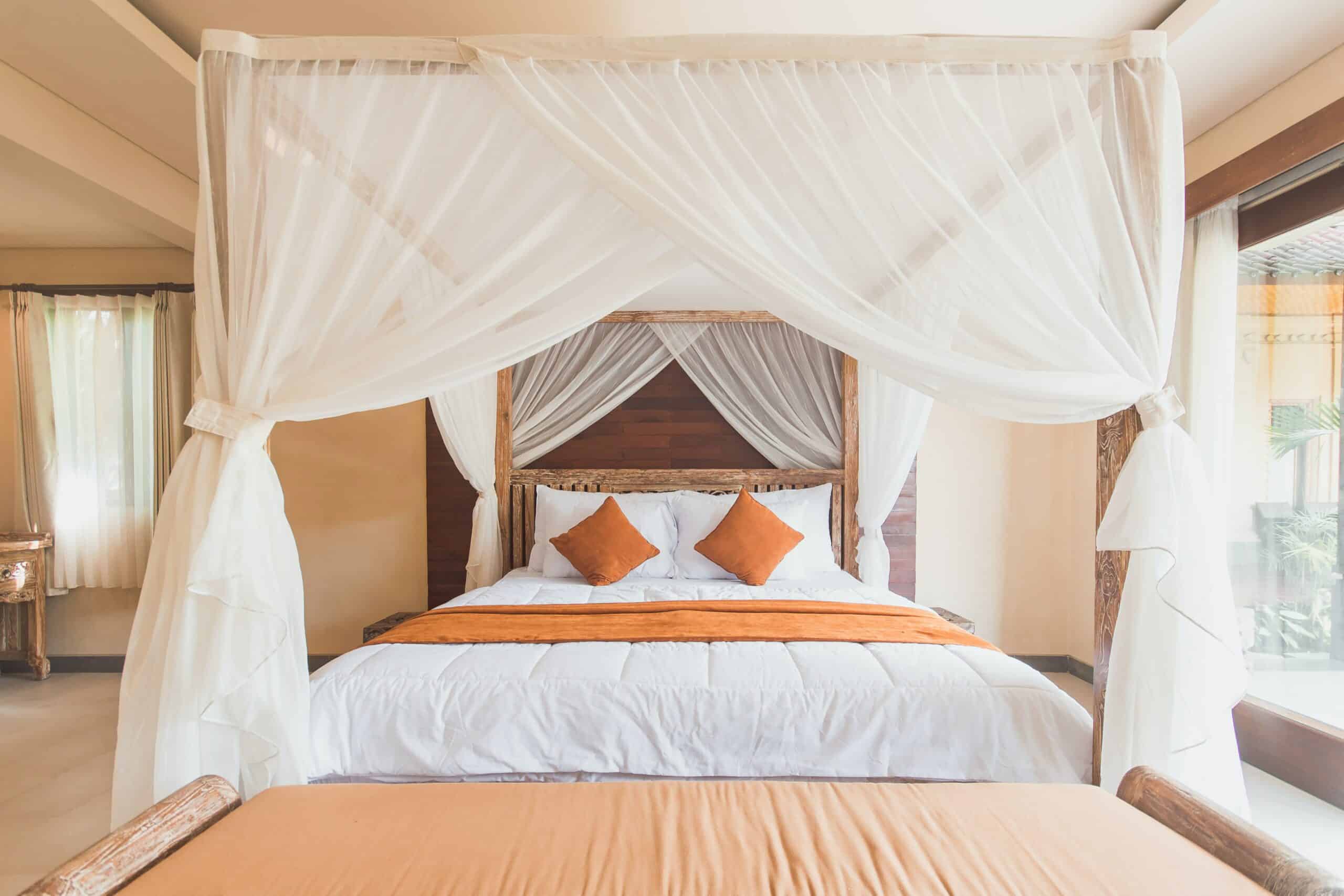 Bear in mind that non-transparent fabrics trap heat, and for that reason, blackout canopy bed curtains aren't the best choice for hot climates.
Translucent curtains only soften the light, and you can't use them to control how much light reaches your sleeping area, but they can protect you from insects and keep you cool during the summer months.
Dust management
All curtains absorb vast quantities of dust, so regardless of the material you choose, your canopy bed curtains will attract dust particles. This can become an issue if you're allergic to house dust or mites, as dust accumulates in all parts of canopy beds.
Some curtains for these beds are made of dustproof materials such as microfiber, but even if you get a canopy bed curtain made of a dustproof material, you'll still have to wash it frequently.
These types of beds are generally a poor fit for households that have pets because they attract hair. In addition, both cats and dogs might try to climb the hanging drapes and pull them down or get stuck at the top.
High upkeep requirements of canopy beds make them an impractical solution for most households, as you have to wash and change the curtains regularly.
The most important factors to consider while choosing canopy bed curtains
Contemporary variations of canopy beds combine the vintage look with a functional design that fits a wide range of home décor styles. However, these beds usually occupy a lot of space, and they make relatively small bedrooms with low ceilings look cramped.
Although the visual side of these curtains is important, it shouldn't be your only search criteria, as various factors can affect the model's compatibility with a particular canopy bed.
Learning more about the material's properties or the complexity of the installation process will help you decide if the curtains you're interested in are a good match for your canopy bed. Let's take a look at more factors that can help you choose the right canopy bed curtains.
The bed size
Manufacturers offer curtains for these beds in all standard bed sizes so that you can choose the option that fits the canopy bed you have. In most cases, the size of these curtains is denoted by the recommended bed size.
So, for instance, queen-size curtains should match the dimensions of queen-size canopy beds, but you must still check your bed's dimensions to ensure that the curtain model isn't too small or too large.
You should also measure the distance between the top of the frame and the lower end of the bed support to find out how long the curtains should be.
The weight of the curtains
Even though the frames of canopy beds have sturdy metal or wooden frames, their weight-carrying capacities vary from model to model.
Blackout curtains are usually made of heavy fabrics that can weigh more than 5lbs, and putting so much weight on a flimsy frame can cause it to collapse. That's why you need to check the frame's load management abilities and the curtain's weight before you opt for a particular model.
Curtain transparency level
Manufacturers offer a full spectrum of transparency options that span from veneer to opaque. You should pick the curtain transparency level that best fits the bed's location or the home décor style you're trying to create.
Translucent models can't block light which makes them a poor fit for people who want to sleep during the day. Depending on the model, blackout canopy bed curtain models can block up to 100% light and muffle sounds.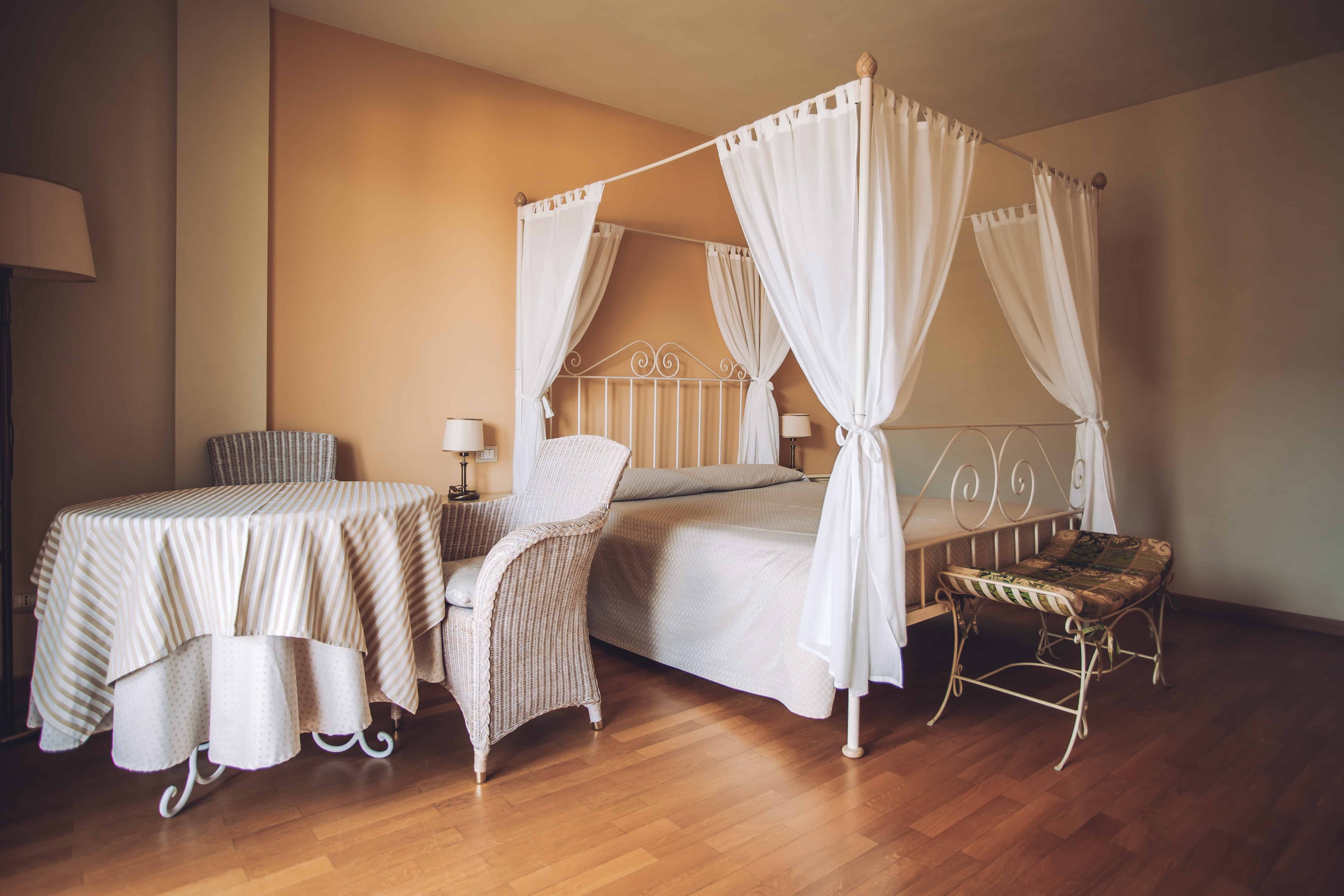 Heat management
If you're having trouble insulating windows or maintaining a constant room temperature, canopy bed curtains can help you create a warmer sleeping environment. The vast majority of models that can trap heat effectively are heavy, and they might put a lot of stress on the bed's frame.
Besides, these curtains for canopy beds are only a good option for low-temperature conditions, and you must open the curtains and tie them to one of the frame's support rails to prevent overheating.
On the other hand, veneer curtains for this type of bed usually don't have thermal insulation features, as they allow the air to flow freely.
Affordability
The price of a canopy bed curtain model depends on the quality of the material and its properties. So, you can spend anywhere between tens and hundreds of dollars on a curtain for a canopy bed.
You should keep in mind that the curtain's size also affects the price, so the models made for twin beds are less expensive than the models designed for California King beds. The fabrics from which these curtains are made don't wear out quickly, and in most cases, you won't have to replace them often.
The advantages of canopy bed curtains
Easy light management
Instead of covering the windows with blinds and drapes, you can hang curtains around the bed and choose how much light you want to let into your sleeping environment. Even the translucent models filter light and create a more pleasant atmosphere in your bed.
Bug and insect protection
Sleeping with the windows open during summer is an invitation for mosquitos and all other types of insects into your home. Canopy bed curtains shield you from insects which makes them a great option for hot and wet climates.
Matches a wide range of home décor styles
Canopy beds have always been regarded as symbols of wealth and prestige. Contemporary versions of these beds enable you to choose from a variety of curtain designs so that you can pick the model that matches the rest of the furniture in your bedroom.
The disadvantages of canopy bed curtains
High maintenance requirements
Even if you choose a machine washable model, you will still have to take these curtains off once every few months. In addition, canopy bed curtains attract dust, and they can cause strong allergic reactions if you're dust intolerant.
Top 5 canopy bed curtains
Obokidly Canopy Bed Curtains – The best blackout canopy bed curtains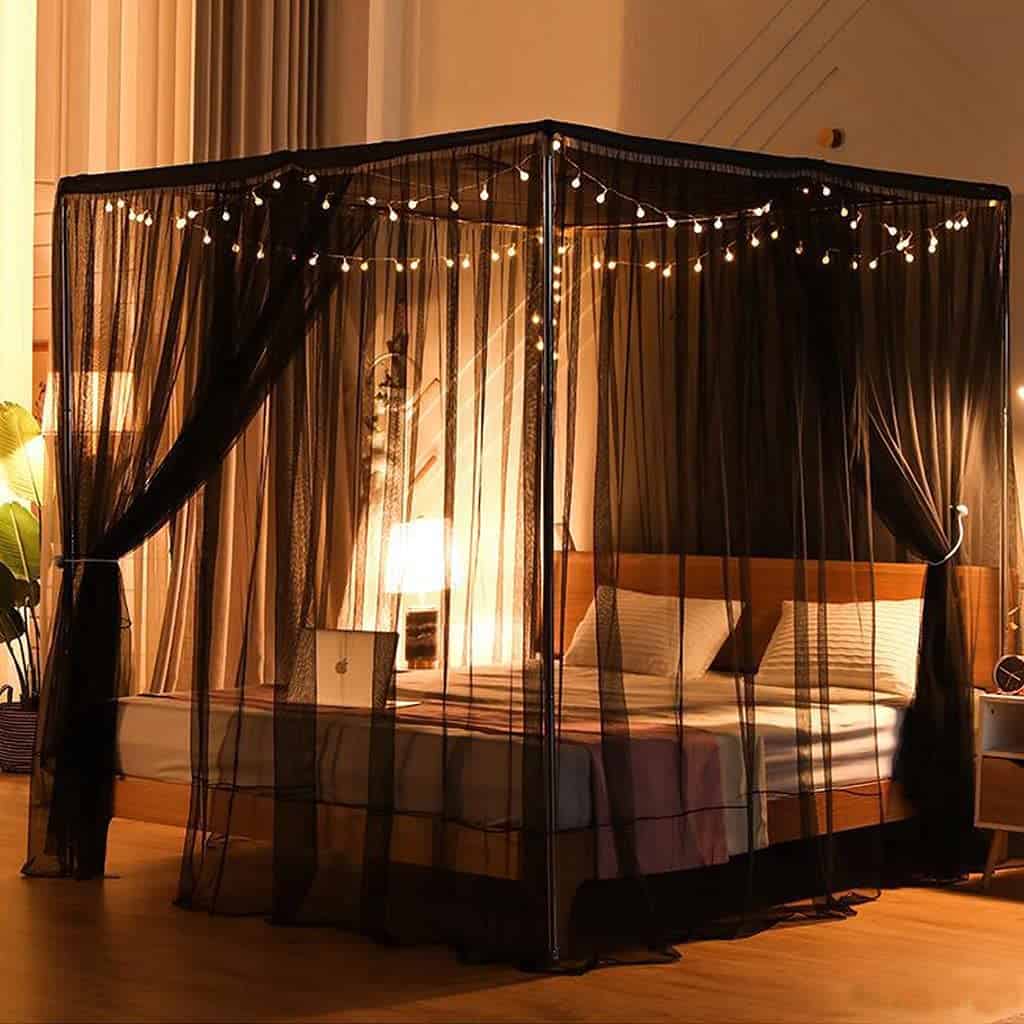 A sleek and tasteful design of the Obokidly Canopy Bed Curtains will make your room more stylish while enabling you to control how much light you're letting into your sleeping environment. These curtains are made of polyester blend and polyester fabrics, and they're only available in black color.
Besides, you can use this curtain as a mosquito net since the fabrics are thick enough to prevent insects from entering the area above the mattress. The Obokidly's model is available in all standard bed sizes, and the length of these curtains is 78 inches regardless of the size option you chose.
Pros
These curtains block almost 100% of light
Available in multiple sizes
Excellent insect protection
Suitable for outdoor use
Cons
Expensive
It might be too warm for the summer months
Mengersi Canopy Bed Curtains – The best dustproof canopy bed curtains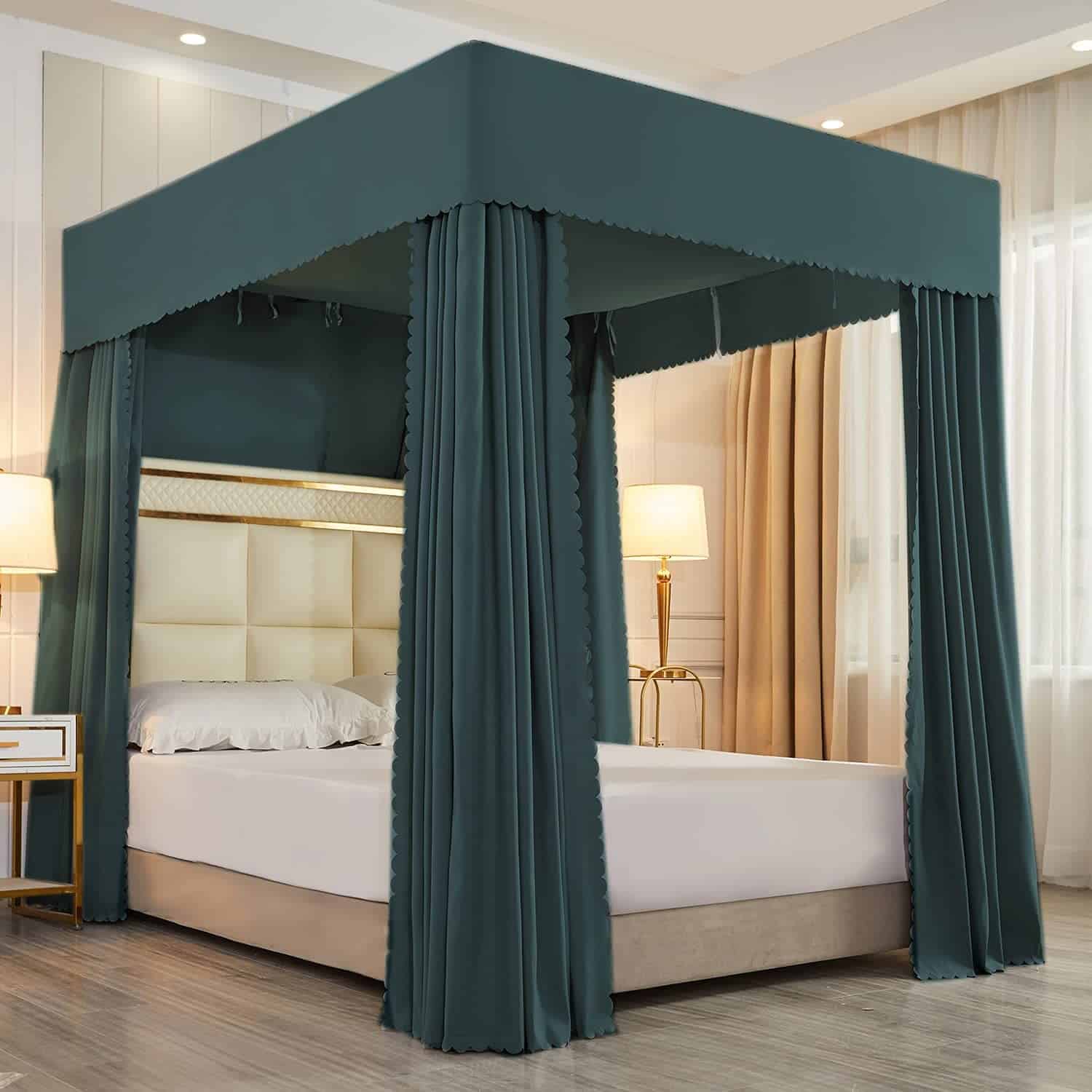 Installing Mengresi Canopy Bed Curtains requires a minimum amount of effort, as you just have to thread the curtain loops through the frame. These curtains are made of dustproof fabric that protects the sleeper from dust particles and lowers the upkeep requirements.
These cotton blend curtains have openings on all sides of the bed that allow for quick access to the mattress and easy light control. The frame isn't included in the package, but you can purchase it from the same manufacturer.
Pros
Great light-blocking capabilities
Suitable for both cold and hot weather conditions
Reasonably priced
A broad spectrum of color options
Cons
These curtains weigh more than 5lbs
The fabric doesn't absorb sounds
Pangzi Canopy Bed Curtains – The best canopy bed curtains for bohemian home decors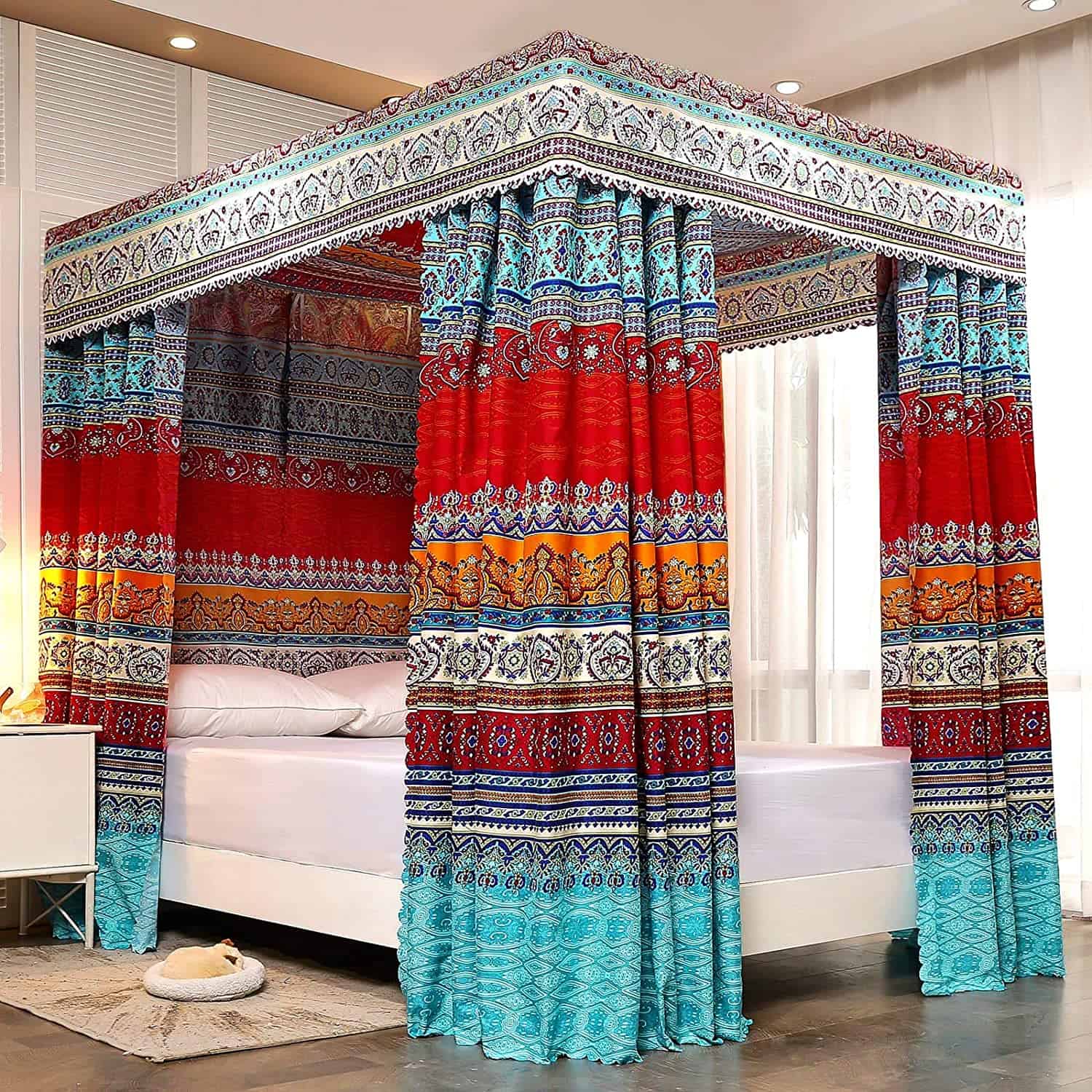 The eccentric patterns on Pangzi Canopy Bed Curtains enable you to fit them in non-conventional home furnishing settings. You can choose from Red, Rose Pink, and Style A color options, and each of these variants features a different pattern.
These polyester fabrics don't have impressive light-blocking capabilities, but they're still efficient enough to darken your sleeping area. They can also help you deal with drafts or regulate the temperature in your sleeping environment.
Installing these curtains is easy, as they ship with a pair of ropes that keep the top of the curtain from sagging, and they feature fabric loops that are compatible with most frames.
Pros
Unconventional pattern design
Suitable for canopy beds of all sizes
Machine washable
Good thermal insulation properties
Cons
Not a great fit for warm climates
It doesn't block light entirely
Nattey Canopy Bed Mosquito Net – The best insect protection canopy bed curtain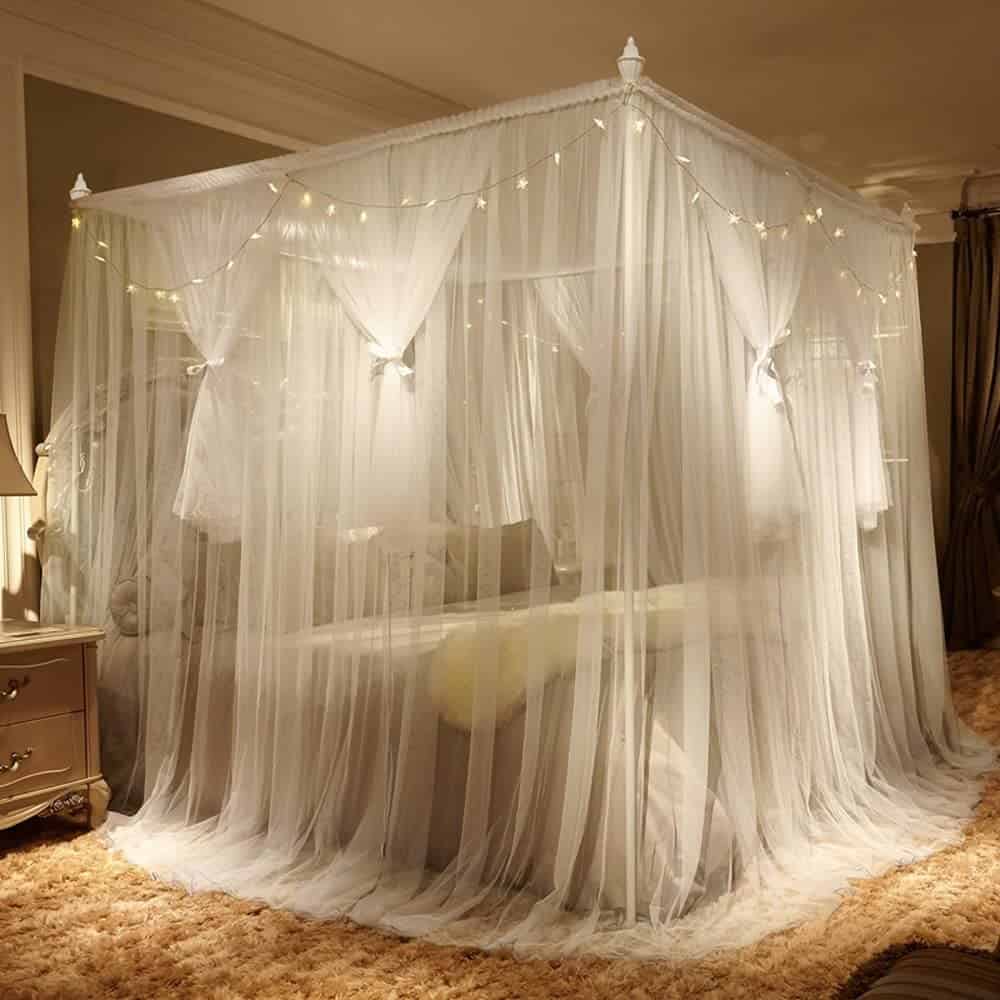 You should take a closer look at the Nattey Canopy Bed Mosquito Net if buzzing insects keep you awake at night. These transparent polyester canopy bed curtains can either be mounted on four corners of the frame or hanged from the frame using hooks that are included in the package.
You can choose from a variety of color options and opt for the size that matches the size of your bed, but keep in mind that you're going to need a frame that is 78-inch tall to install these curtains.
Pros
Great for warm climates
Offers excellent protection against insects
Lightweight
Available in different colors
Cons
Can't block light
Frame's sharp edges can tear the fabric
Twinkle Star Bed Canopy– Best canopy bed curtains for frameless installation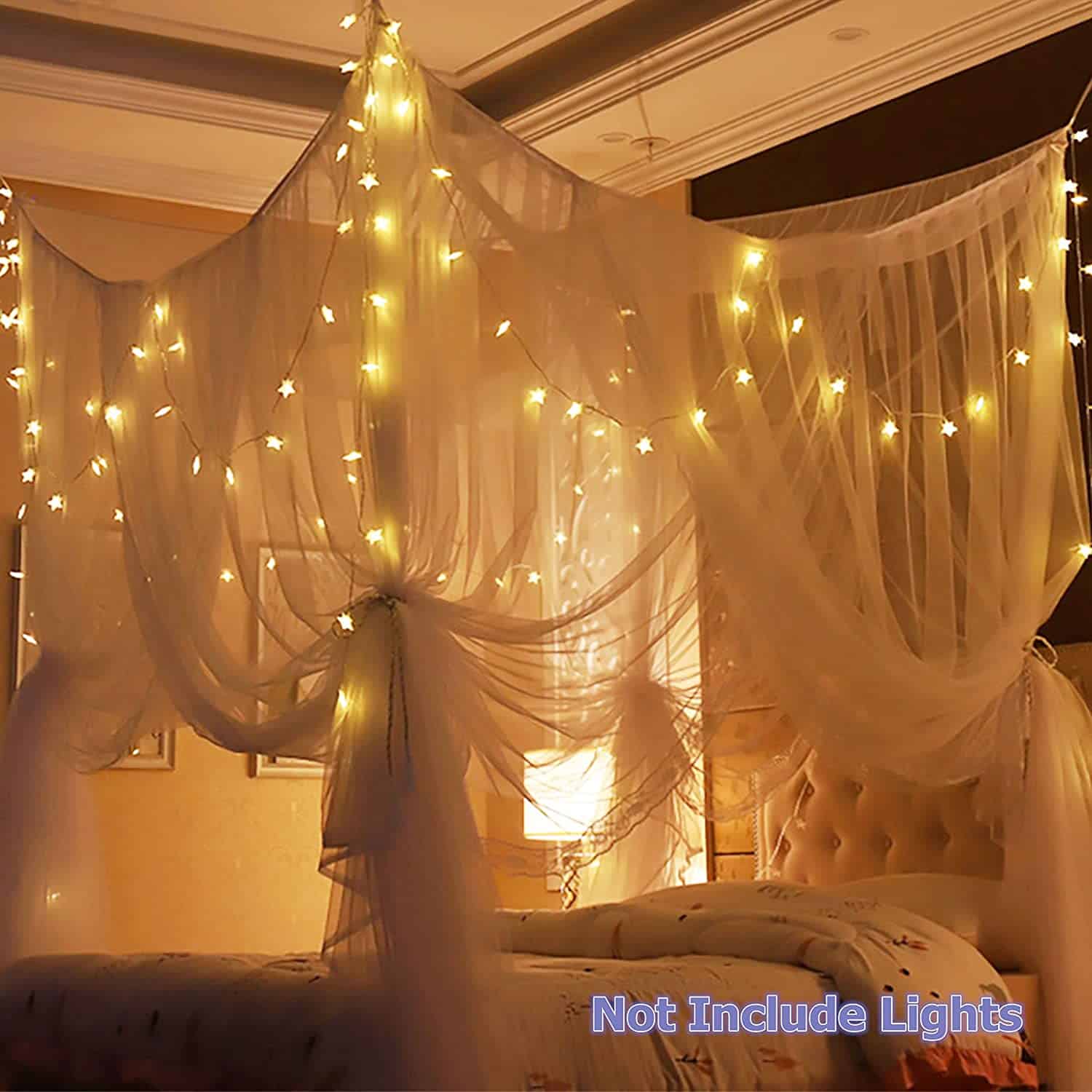 Instead of searching for a frame that matches your bed and the curtain model you'd like to get, you can get the Twinkle Star Bed Canopy that can be installed without the frame.
These curtains come with an installation kit that includes hooks, anchors, and ropes that allow you to tie the curtain when you want to leave the entrance to your bed open. The Twinkle Star's bed canopy is so light that you can carry it with you when you go camping or install it in your courtyard.
Pros
It doesn't require a frame for installation
Lightweight and portable
Protects against insects
Made from durable mesh fabric
Cons
Utilitarian design
Available in black and white versions
Frequently asked questions about canopy bed curtains
Question: How long should the canopy bed curtains be?
Answer: The drop of the curtains you choose should hang around five inches from the floor after you mount them onto the frame.
Question: Do canopy bed curtains have sound insulation properties?
Answer: Models made of thick fabrics can muffle sounds, but they can't block them completely, while sheer versions of these curtains don't have sound insulation properties.
Question: Can I hang lights over canopy bed curtains?
Answer: Yes, you can decorate your canopy bed curtains with lights but make sure to use the lights that don't generate heat.
Question: Are canopy bed curtains durable?
Answer: Yes, they are, but veneer models can easily be torn up if the frame contains sharp edges.
Our verdict: How to choose the best canopy bed curtains?
Although they might seem old-fashioned, canopy bed curtains can make a bedroom look more elegant or bohemian. These curtains don't have a solely aesthetic purpose, as they can protect you from insects or limit the amount of light that reaches your sleeping environment.
What's more, an additional liner around your bed can ensure that you stay warm during cold winter nights. We recommend choosing the Obokidly Canopy Bed Curtains if you need an elegant solution that can block daylight or serve as a mosquito net.
These curtains are expensive, so if you're on a budget, you should consider getting the Mengresi Canopy Bed Curtains in case you need opaque curtains. Optionally, you can get the Twinkle Star Bed Canopy if you don't want to install the frame on your bed.
Which of the best canopy bed curtains are you going to choose? Let us know in the comments or continue reading our guide to the best magnetic blinds.