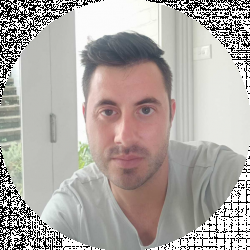 Latest posts by David Borgogni
(see all)
Every window treatment store features hundreds if not thousands of different blinds and shades models, but only a handful of industry-leading brands really stand out. In this guide to the best Levolor blinds, we're going to take a look at all the reasons why homeowners so highly regard the brand throughout the United States.
Levolor manufactures blinds that match a broad spectrum of interior decors, but the brand's models are more than just decorative as they improve the room's energy efficiency by preventing heat transfer through windows.
Besides, customers can design the blinds and select the material, color, or tilt-type, so that the model they purchase can fit a window and the rest of the space perfectly.
Our guide to the best Levolor blinds will walk you through the brand's offer of shades and blinds, and it will hopefully help you pick the option that best fits your needs.
The 5 Best Levolor Blinds
A brief history of the Levolor brand
Levolor isn't a newcomer to the window blinds market, since it has a century-long tradition of producing window treatments with remarkable light-blocking abilities. The company was founded by H.K Lorentzen, a die cutter who migrated to the United States in the early twentieth century.
Shortly after starting the company in 1914, Lorentzen introduced the assembly line concept, which enabled him to distribute blinds on a national level.
Nearly a hundred years later, the company's products can be purchased at almost any retail store, and you won't have too much trouble finding the Levolor brand at Home Depot or Lowe's.
Hunter Douglas acquired Levolor in 2016 and it currently operates as a sub-brand of this custom window coverings brand. The Levolor company has offices in China, Mexico, and Canada, but it is still a brand tied predominantly to the US market.
Types of shades and blinds the brand offers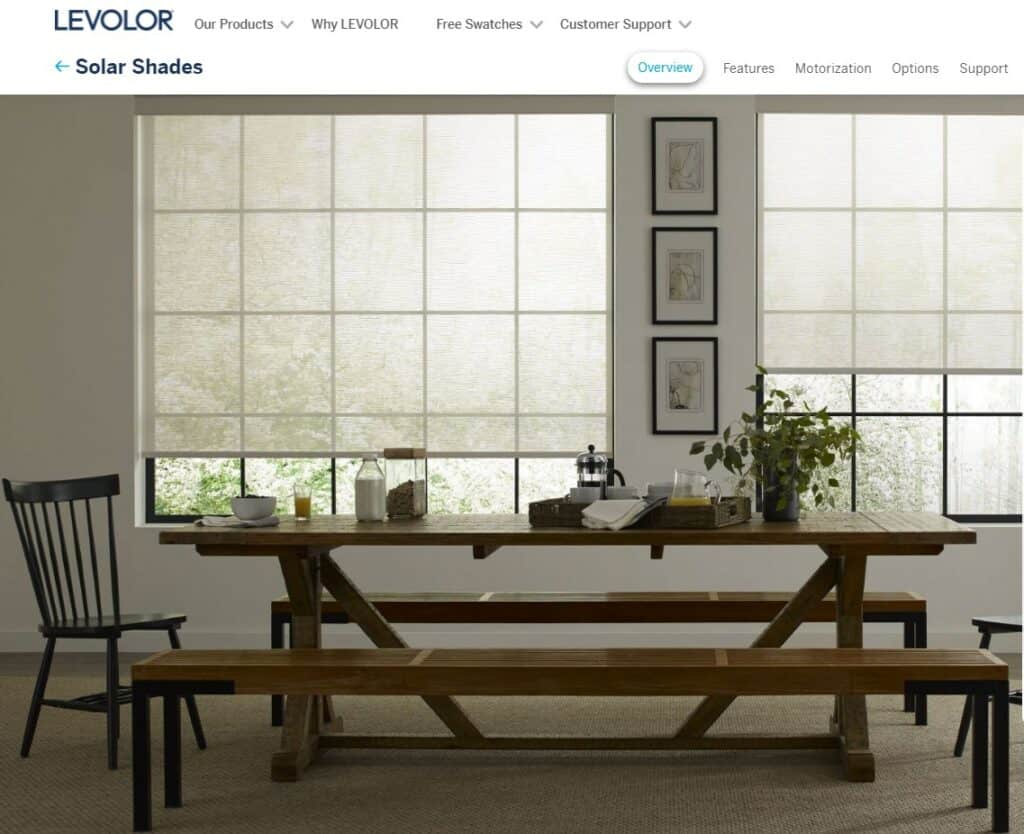 Even though Levolor's competitors offer a more versatile selection of shades, blinds, and shutters, you'll still have plenty of options at your disposal if you opt for one of the brand's models.
Rather than manufacturing-specific models, Levolor's offer is centered around different types of shades and blinds. This enables you to decide if you want to get real or faux wood blinds, for instance, and then customize the window coverings you chose following your taste and needs.
You can choose from 15 different blinds, shades, and shutter options, including solar shades, mark 1 metal blinds, or soft vertical blinds. Regardless of the window covering type you select, you can design the solution that matches your criteria and make an order directly through Levolor's website.
On the other hand, the brand's models you'll find in retail stores throughout the country are also customizable, so you don't necessarily have to order the model you're interested in online.
Cordless and corded blinds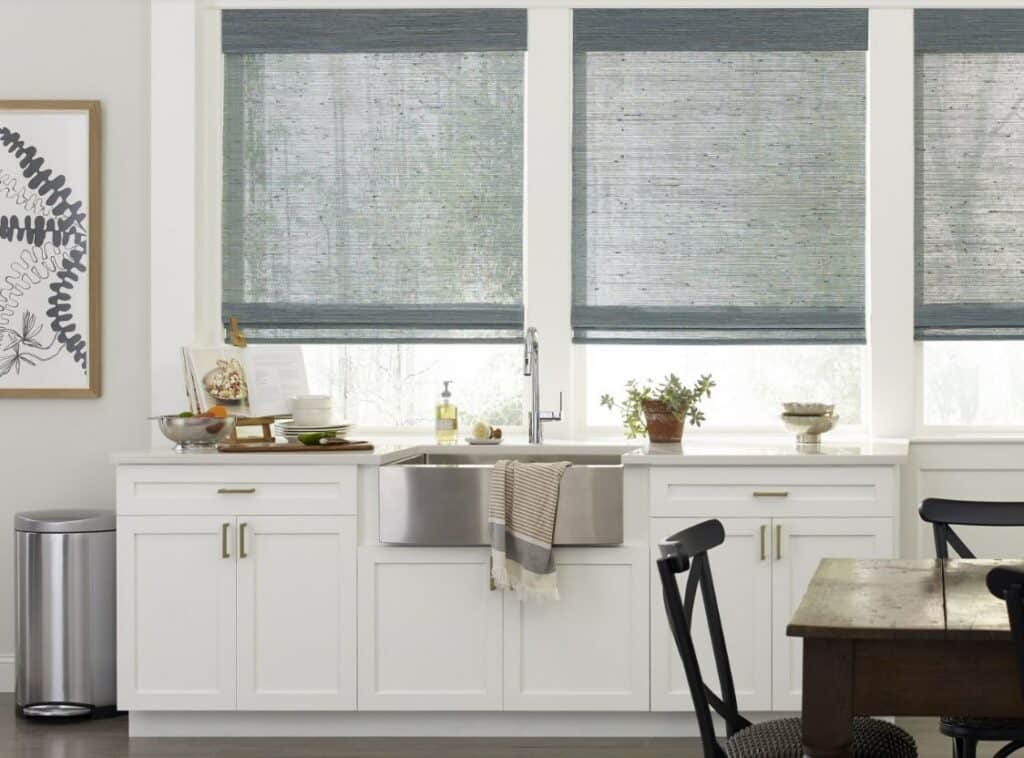 All of the brand's models allow a high level of control over the window coverings, and you can decide if you want your blinds or shades to have corded or cordless lift control.
Levolor offers several options for each blind or shades model, so for instance, the brand's natural shades are available in four different lift control options, while real wood blinds have only two lift options.
Cordless blinds and shade models are recommended for households with kids and pets as they eliminate the room for accidents.
Besides, the cordless and corded blinds models, you can also opt for a cord loop model, but handling this lift control system isn't as easy as operating a corded or cordless system. You should also keep in mind that the price of the model you choose depends on the lift control it has.
Motorization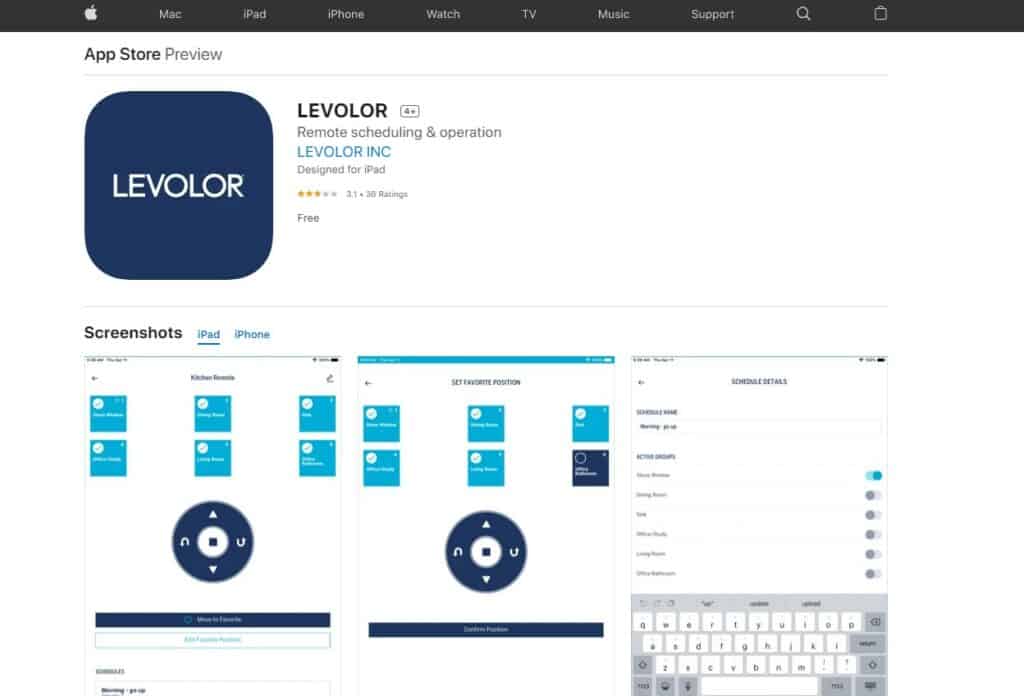 Probably the most elegant blinds and shades lift solution you can choose is the motorized lift system. Opting for the motorized version of Levolor's blinds and shades will enable you to control them through the Levolor app available for iOS and Android devices.
The app is compatible with the Levolor Premium 6-Channel Remote and it allows you to control blinds and shades in every room from your tablet or Smartphone.
Motorized blinds and shades can be preprogrammed to rotate throughout the day so that they block direct sunlight but still let insufficient light in the room at different hours.
In addition, you can set the time when you want to open blinds or shades every morning and use the window coverings in your home as an alarm clock. The app can also be used remotely to block sunlight when you're not at home or to open blinds just before you return home.
Mounting options
The available mounting options depending on the type of blinds or shades you're interested in. The 2-in-1 headrail is the most common mounting solution, while inside and outside mount options are also available for suitable types of window coverings.
In case you're considering vertical or soft vertical blinds, you'll have multiple valance designs at your disposal so that you can choose the solution that best fits the rest of the room's interior.
The brand's soft vertical blinds can have Channel, Fabric, or Estate™ valances, and you can decide if you want to go with a standard option or opt for more elegant headrail concealing solutions.
It is worth adding that Mark 1 metal blinds or roman shades can have integrated valances which can limit your options. Also, you need to check if a particular valance or mounting type affects the cost of the window covering you want to get.
The most important factors to consider while choosing the best Levolor blinds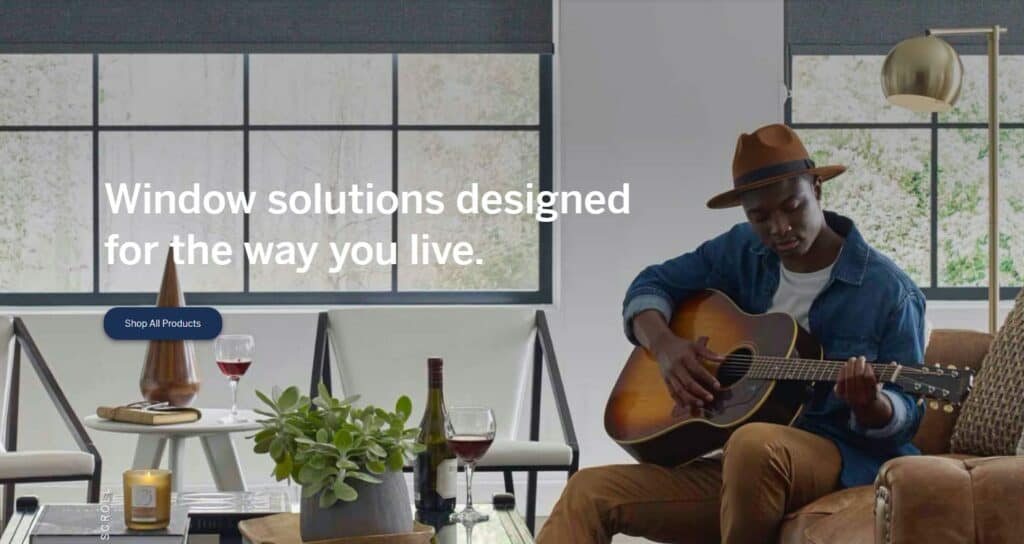 Levolor's customization features offer you a way to avoid getting generic window cover solutions that might not fit your home's style or the shape and size of your windows.
The manufacturer lets you choose every component of the shades and blinds you'd like to purchase, as you can select different materials, colors or even choose how wide the slats are going to be.
Besides the properties of shades and blinds, you also have to consider contextual factors while choosing window coverings since the purpose for which a room is used or the location of the windows can help you determine which type of blinds or shades is the best choice.
Let's take a look at some of the most important aspects you need to pay attention to while choosing the Levolor blinds.
Window size
Standard windows can be between 36-inches and 84-inches wide and their standard heights span from 24-inches to 60-inches. That's why you need to measure the window on which you want to install blinds to know the size of the window covering you need to get.
The largest size of the Levolor's blinds or shades depends on their type, and the maximum size of the brand's real wood blinds is 143-7/8-inches x 120-inches. On the other hand, the largest version of Levolor vertical blinds measures 188-3/8 x 144-inches.
So, the solution you choose needs to fit the window you'd like to cover.
Privacy and style
Cellular and banded shades aren't differently only stylistically, since their privacy protection capabilities aren't the same.
Windows that are looking onto the street usually need blinds or shades that have excellent privacy protection properties, while windows overlooking the courtyard are better protected from onlookers and hence only need shades that have excellent sunlight blocking features.
The window treatment you choose doesn't serve a solely functional purpose, so you should opt for a solution that matches your home's style.
Lift and tilt types
The vast majority of conventional blinds and shades utilize a corded lift system, and models that are equipped with this system are usually the most affordable. However, corded blinds are not entirely safe, as children and pets can harm themselves by getting tangled up in the cord.
Cordless and motorized shades and blinds are equipped with a wand that allows you to raise or lower the blinds. The tilt types you'll have at your disposal depending on the type of shades or blades you'd like to get.
Available controls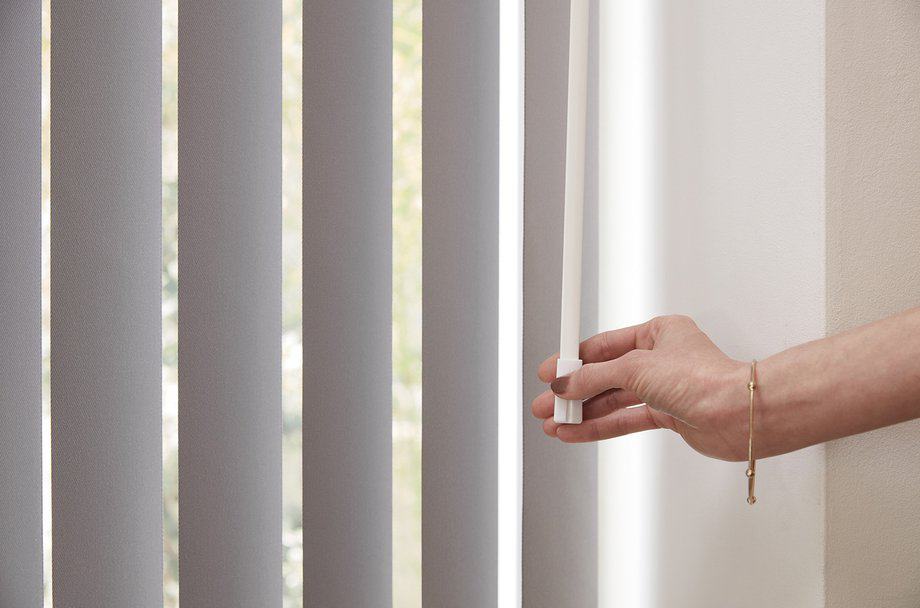 The manufacturer lets you choose if you want the wand or the cord to be located on the left or right side of the window. In addition, you can select the length of the wand and specify the tilting or drawing method that meets your needs.
The manufacturer offers additional options for each type of blinds and shades so that you can select how many headrails you want the blinds to have or include additional features that are available for a specific blind or shade type.
Cost and warranty
The price of Levolor's blinds and shades depends on several factors, as the size, the lift system, or the material from which the window treatment is made can all affect its price.
You can check the base price for all types of shutters, shades, and blinds the company offers, but you should only use this sum as a reference point since the actual cost depends on the features you select.
Levolor offers a limited lifetime warranty for all of its products, and the average lifespan of the company's products is around ten years. Also, you'll get a 5-years warranty for all components of motorized lifting systems and a 3-year warranty for vinyl vanes if you opt for vertical blinds.
The advantages of Levolor blinds
A broad spectrum of customization options
The impressive selection of colors, materials, or sizes the Levolor brand offers grants you the tools you need to design window treatment that meets your needs. It also helps you avoid having to deal with predesigned blinds and shades that may or may not fit the window you'd like to cover.
The motorized lift system
Instead of opening and closing the shades and blinds manually every time you want to block light or let it in, you can get the motorized lift system that can be controlled with a remote or through the Levolor app. The app lets you create a schedule that regulates when and for how long the blinds are going to be open.
Reasonable prices
The cost of the Levolor's Venetian blinds is slightly above the national average, as the base version of Rivera Metal Blinds costs $37.34, while on average the least expensive Venetian blinds models cost around $25.
The disadvantages of Levolor blinds
Levolor app is not compatible with all remotes
You won't be able to control the blinds and shades equipped with a motorized lift system through the Levolor app, unless you have the Levolor Premium 6-Channel Remote, because the app isn't compatible with an earlier version of the remote.
Top 5 Levolor blinds
Real wood blinds – The most durable Levolor blinds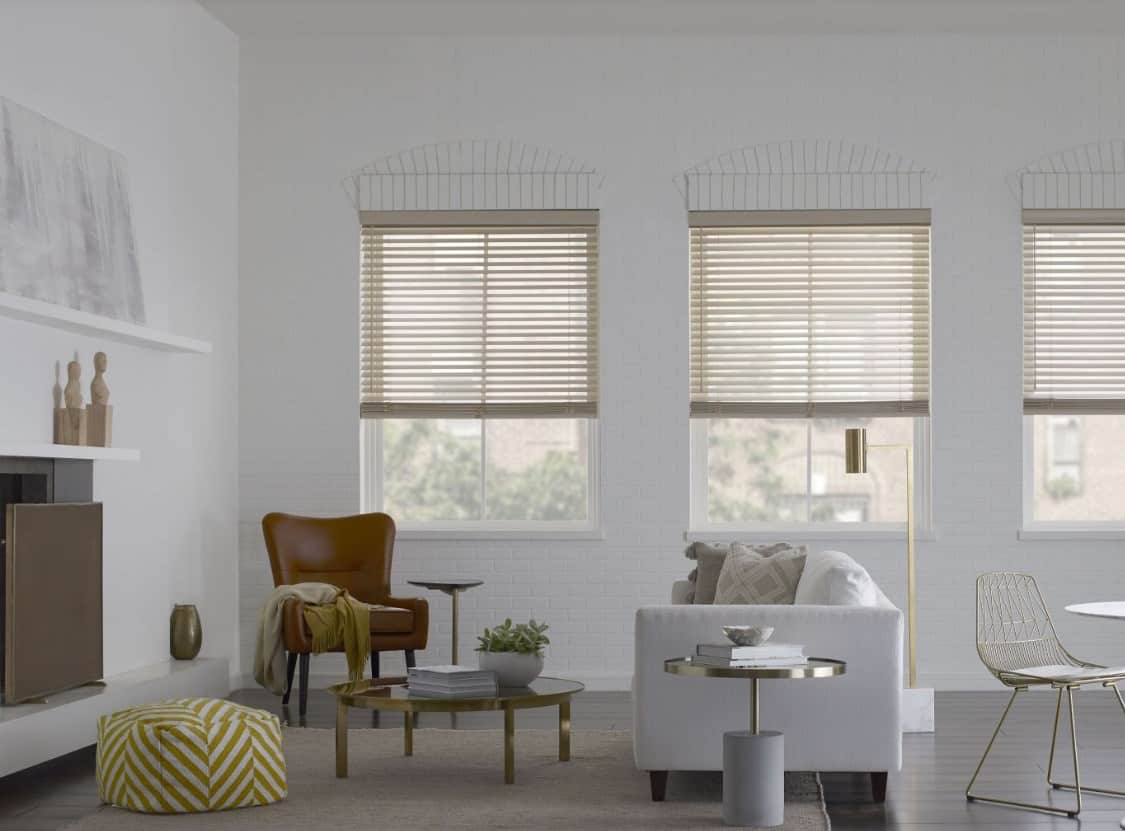 The perfect blend of durability and elegance the Levolor's real wood blinds offer makes them an excellent solution for homeowners in need of blinds that have both supreme sun protection and appealing design.
You can choose from three different packages that come with matching tassels, valances, and wands. Customizing real wood blinds is also an option, and you pick a color, specify the slat size and insert the dimensions of the window.
The manufacturer lets you choose the lift and tilt types and you can also decide where the cord and wand are going to be located.
Pros
Real wood blinds have an anti-fading coating
Multiple mounting options
Excellent selection of decorative tapes
Elegant design
Cons
Available slat sizes depend on the color you choose
Limited color range
Vertical blinds – Best Levolor Blinds for Bay Windows and Sliding Doors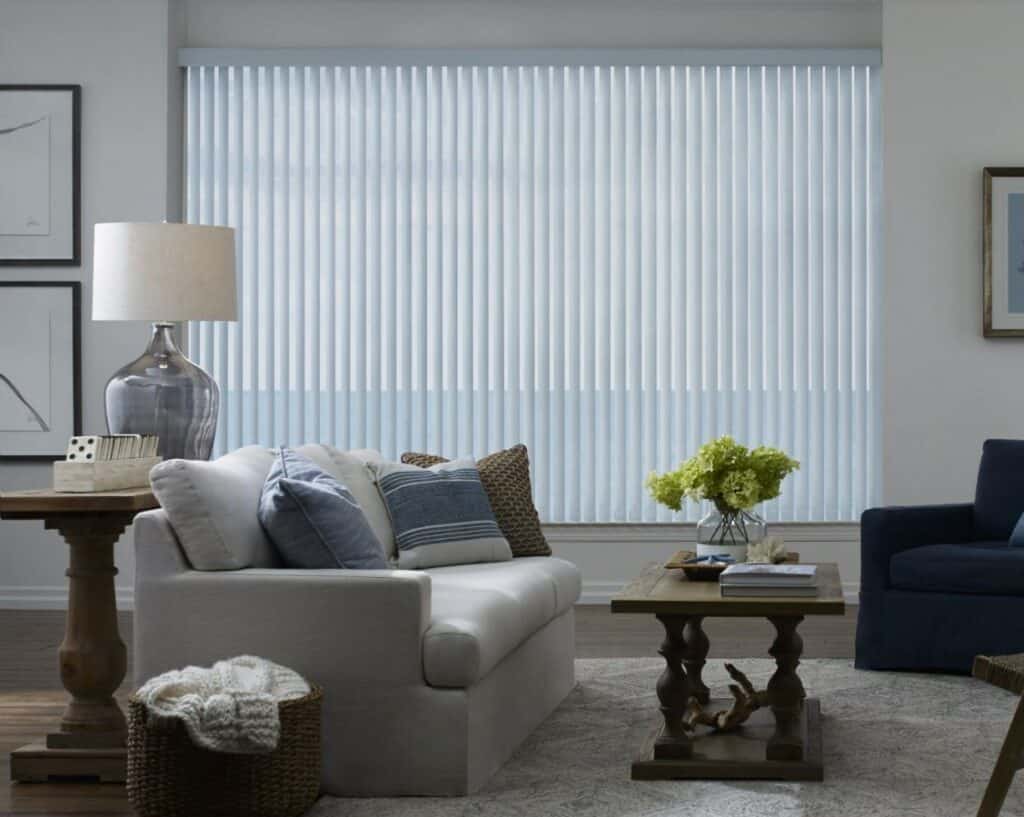 Covering large windows with Levolor vertical blinds will help you regulate the amount of sunlight that gets into a room or block the view from the street entirely.
The manufacturer offers three valances with its vertical blind models and the DesignedLine™ – Tailored Valance and DesignedLine™ – Rounded Valance are included in a setup you choose free of charge. Their color is the same as the color of vanes.
The Traditional Valance isn't included in standard offers, and you can get this trim in 4 different colors at an additional cost.
Pros
Customers can choose the installation position
A variety of stack/draw options
Excellent selection of valance styles
A broad spectrum of color options
Cons
Not suitable for standard windows
Some vane materials are not durable
Cellular shades – The most versatile Levolor blinds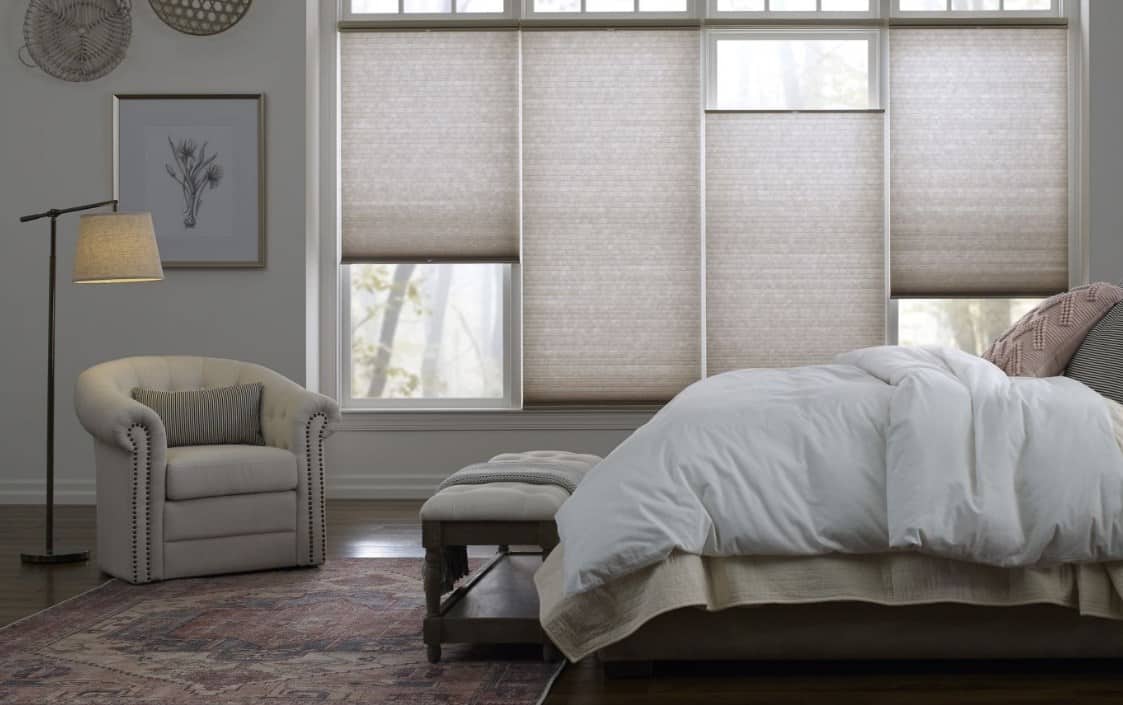 You can choose from honeycomb fabric shape and double cell fabric versions of the Levolor Custom Cellular Shades. Moreover, the manufacturer offers an EnergyShield™ variant of cellular shades that features a thin liner within cells that boosts the material's insulation capabilities.
Besides the fabric, you can also choose the lift style of these shades, as the manufacturer offers versions that come with bottom-up, top-down/bottom-up, and day/night lift styles.
Moreover, there are 5 mounting options to choose from including the specialty shape option that enables you to fit cellular shades on irregularly shaped windows.
Pros
Levolor cellular shades improve the room's insulation
Excellent privacy protection
Suitable for both large and small windows
Great selection of materials
Cons
Not the most budget-friendly solution
High upkeep requirements
Riviera Metal Blinds – The most affordable Levolor blinds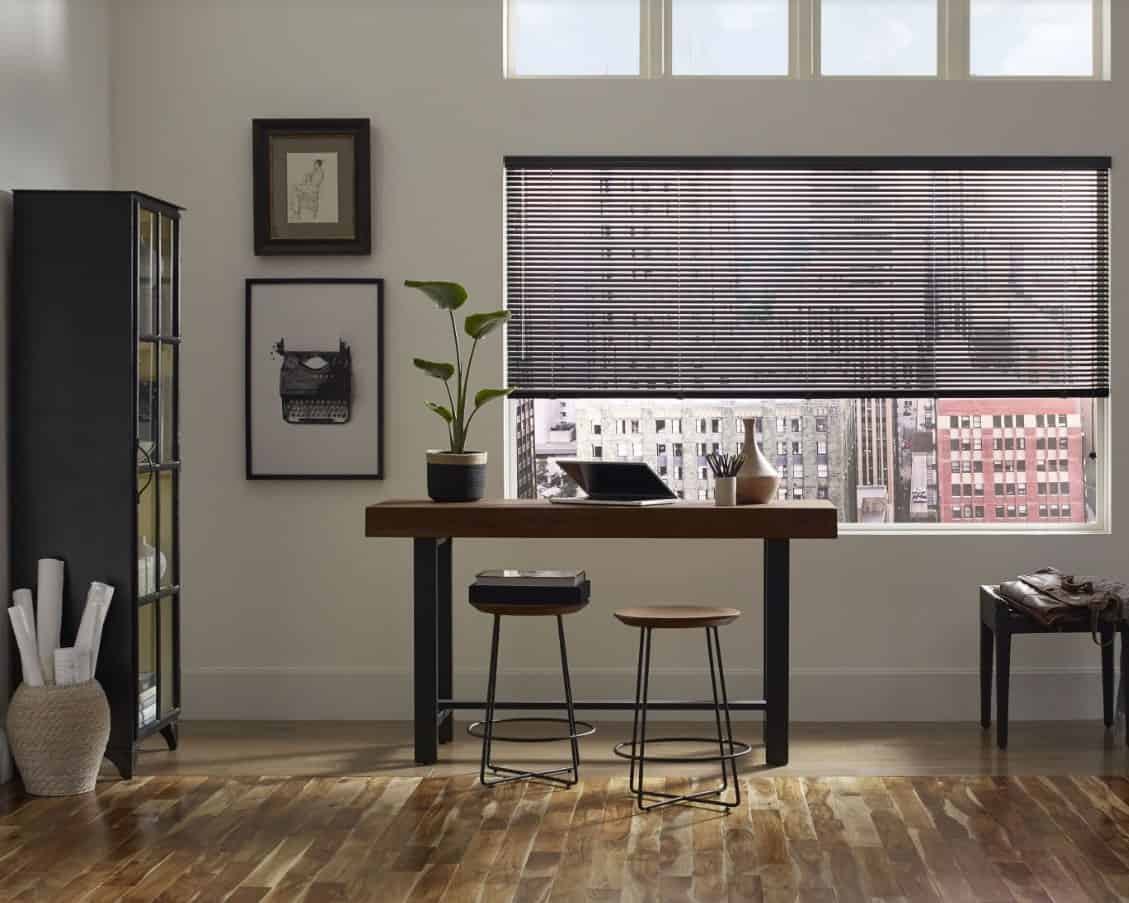 Moderate price and excellent sun-blocking capabilities are some of the biggest advantages the Riviera Metal Blinds have to offer. ½-inch and 1-inch slates have 8-gauge width while the 2-inch slates are available in 9-gauge width.
The standard Riviera Metal Blinds with a StandardVouge™ valance, and the SheerView and LightMaster features that allow for effortless light control can be added to the base model, but the SheerView option isn't available with all finishes.
The manufacturer offers both corded and cordless lift options, but motorization systems aren't available for this type of blinds.
Pros
Good sun-blocking properties
Multiple slate sizes
The valance fits different types of settings
Affordable price
Cons
No motorization options
Slates can be flimsy
Banded shades – The most luxurious Levolor blinds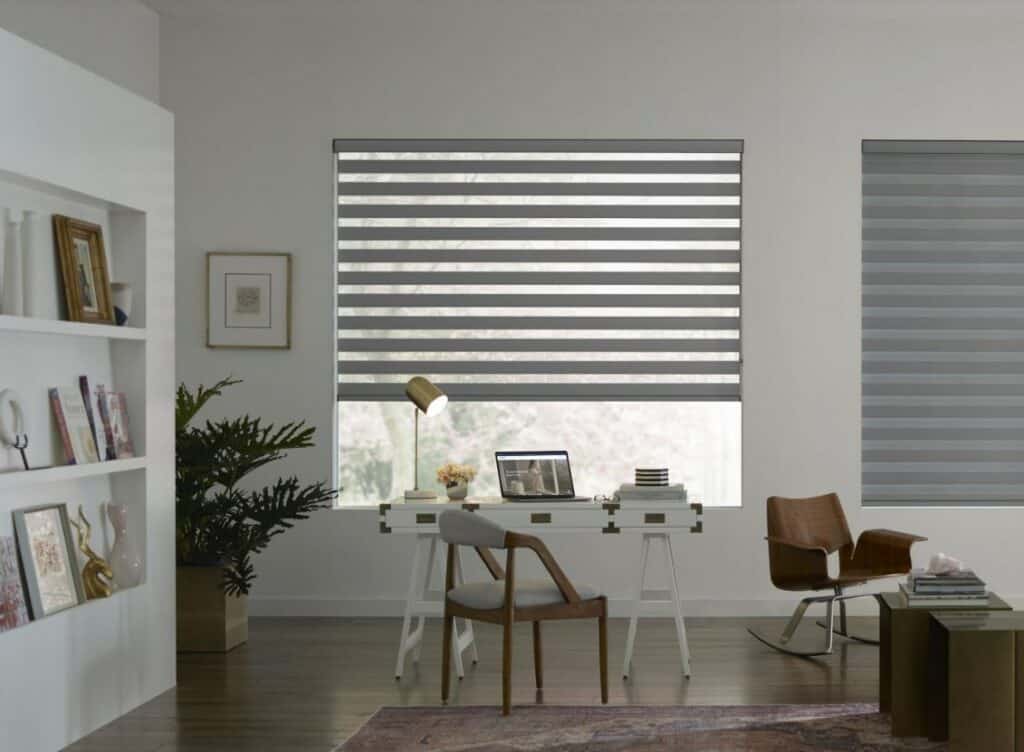 Efficient light protection and sophisticated design are a big part of the reason why banded shades have become so popular. Levolor produces Light Filtering and Room Darkening banded shades and you can choose the most appropriate option for the context in which you want to use these shades.
The selection of materials depends on the color option you select, but you'll be able to choose between at least two materials. You can also decide if you want to install banded shades inside or outside the window frame in most cases.
Pros
Good privacy and light protection
Customizable cassette size
Wide selection of materials
Matches a broad range of home decors
Cons
Insulation capabilities could be better
More expensive than other types of window treatments
Frequently asked questions about Levolor blinds
Question: Is it difficult to find replacement parts for Levolor blinds?
Answer: The brand manufactures spare parts for all types of blinds it offers, so you won't have to spend too much time looking for the part you want to replace.
Question: Can I order free swatches for Levolor blinds?
Answer: Yes, you can, but the number of available colors isn't the same for all blinds, shutters, and shades the brand offers.
Question: Do retailers offer the same prices for Levolor blinds as the company?
Answer: When purchased directly from the company, the pricing of Levolor blinds is lower than when you buy Levolor blinds through a retailer.
Question: Does Levolor offer installation services?
Answer: The company doesn't include the installation services in their offer, but the installation manuals contain detailed instructions on how to install Levolor shades, blinds, or shutters.
Our Verdict: Which Levolor Blinds Should you Choose?
As one of the most recognizable names in the window treatment industry, Levolor is often a great choice for homeowners that need moderately priced but highly efficient window coverings.
All of the brand's blinds, shades, and shutters are fully customizable, so finding the option that fits your windows or sliding doors perfectly won't take a lot of effort.
Which type of Levolor blinds you're going to choose depends on various factors, but we recommend choosing the brand's real wood blinds if you need a classy window treatment that will help you control the amount of light that enters through a window.
If you're searching for a simple and affordable solution we suggest opting for the Riviera Metal Blinds. Which of the best Levolor blinds are you going to choose? Let us know in the comments.