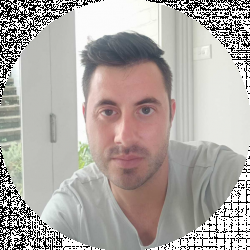 Latest posts by David Borgogni
(see all)
In our Just Blind review, we delve into how good this window treatment company really is.
We shall start the review with a brief outline of products stocked by the company, the shipping timeframes and charges, and then an audit of the company's customer service.
We shall then explore the kind of warranties and coupons the company extends to its clients before looking at alternatives to Just Blinds and answer a few FAQS and finally wrap up with our verdict.
Let's start by having a look at the kind of products Just Blinds sell:
Products by Just Blinds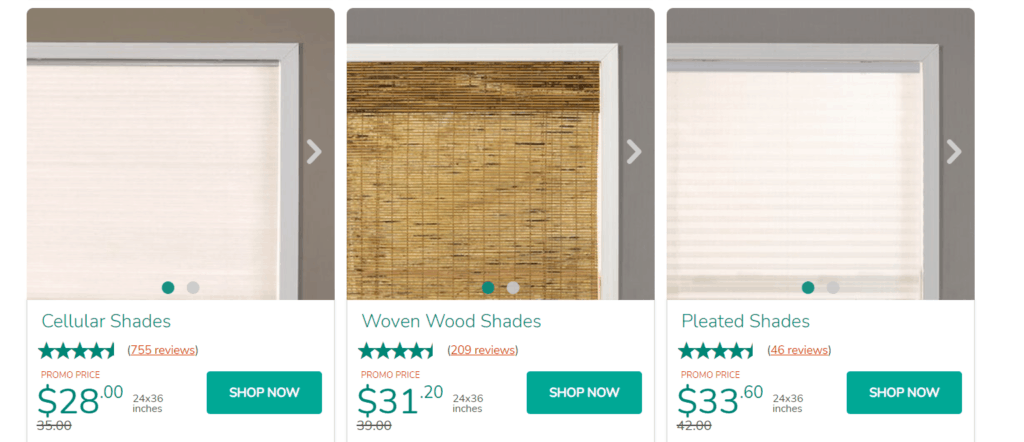 Just Blinds is an exclusively online company that deals in window treatments. It was started in 2002 in Houston, Texas, and stocks a vast assortment of;
The materials, colors (proceed to top yellow curtain ideas), styles, and sizes are diverse and made to order. Under each type of window treatment are more subcategories. For instance, under blinds, they have;
Faux wood blinds.
Wood blinds.
Aluminum blinds.
Through their website, the products can be customized to the customer's liking.
Let's now dive into the company's shipping.
Shipping
Just Blinds does not charge any fees for shipping across America, except for Alaska and Hawaii. Additionally, the free shipping excludes shutters or very large products, which are charged $30 per product.
The products are shipped through UPS/FedEx. The shipments, however, cannot be shipped to P.O. Box addresses or overseas military bases.
According to Just Blinds, each order is received within 2 to 3 weeks from the time you place your order. Here is the breakdown.
Upon ordering, your product is customized to your specifications within 5 to 10 business days by the manufacturer.
Upon completion, the product is dispatched for shipment, and clients are notified and can expect their product within 1 to 5 business days. The variation in product delivery is due to differences in the locality of clients.
To keep track of your shipment on the company website, simply key in your email and tracking number(s) to get an update on the order status.
It is important to note that the approximate processing time of 5 to 10 business days varies depending on your order and how you need it customized. To give you an exact timeframe, each product added to your shopping cart shows an accompanying estimation of how soon it can be processed and shipped.
Availability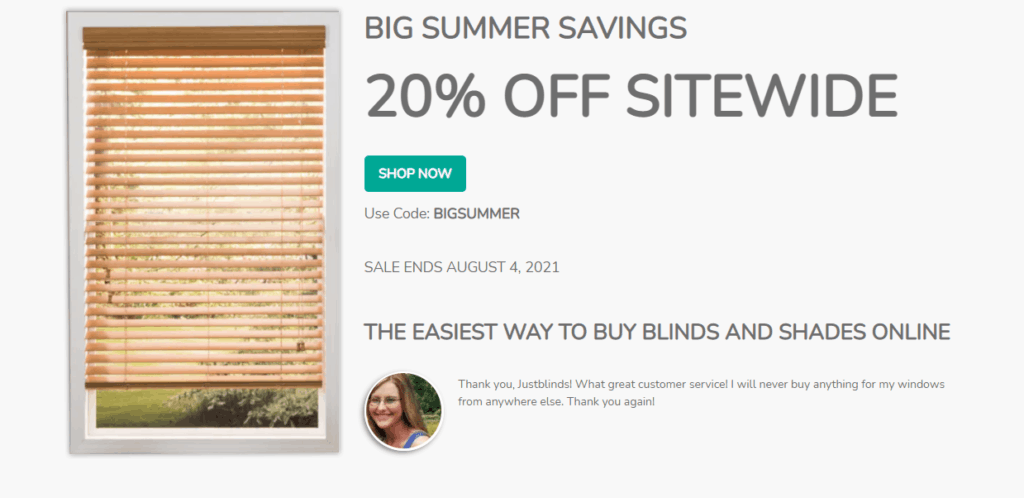 Just Blinds ships across America, including Alaska and Hawaii. However, it charges an extra $30 for shipping large products to Alaska and Hawaii. Plus, it does not do international shipping.
Customer Service
To assess the company's effectiveness in customer service, we analyzed reviews from three main sites. One of the sites, Sitejabber, scores the company 2.73 out of a possible 5.
Among the complaints raised by clients include the prolonged delay that the company takes to deliver orders and being kept on hold for close to an hour when contacting customer support.
To confirm the laxity and breakdown in communication, we sought the scoring the company had on Trustpilot. Based on the 14 reviews on the company (at time of writing), the company had an average score of 3. The negative reviews raised were the same issues raised on Sitejabber.
Our overall verdict is that the company's communication channels are wanting.
Warranties and Coupons
To cushion and protect the clients against damage, the company gives the client a standard warranty. The warranty gives them a 14-day window within which they must file a complaint about shipping damages and/or vendor defects. However, they will have a 3-year period for operating mechanisms, parts, and materials.
This warranty precludes color, size, and style. Those who want a more comprehensive warranty can opt to part with an extra $14 for upgrading to the deluxe warranty.
In deluxe, clients have 30-day measure protection, 30- day design assurance, and a 3-year breakage warranty.
However, the company encourages clients to take caution, especially for those opting for standard. To better help, it has amassed a detailed resource to help on how to measure and install.
It also sends 10-free samples to clients to help get a better feeling of the material, style, and color before making a purchasing decision. Then, should they choose to order, they get a coupon that they cannot redeem for cash or gifts and can only be used once per order.
Sales tax

Unlike Factory Direct Blinds, Just Blinds charges sales taxes as outlined in each state's tax laws.
How to get in contact with Just Blinds.
The company can be reached through a toll-free number 866-398-5302
Reviews
Some clients note that they are really pleased with the high-quality fabrics and materials that the company uses. They also indicate that the products' pricing is fair compared to other companies such as 3 Day Blinds and Factory Direct Blinds (proceed to our Factory Direct review).
Some clients, however, note how difficult it is to get hold of the customer care representatives. This is especially so when one wants to change their order details or even request repairs and refunds. They also decry the length of time it takes to have their order shipped. Others also note that orders delivered do not often reflect what is ordered in quality and size.
Here is a snapshot of what most clients had to say about the company;
"…waited for almost 2 hr since the recording said the "wait time is 1 hr" with no response. I also opted for them to call M.E. back numerous times, and they never did, BUT if you choose the New Order option, someone will readily respond…."
"…..18 Hours On Hold Over 4 Days; Never Talked to a Person…..I have called customer service 7-times over 4-days. After you're on hold for 3-Hours, the system disconnects you, and you have to call back. I have yet to talk to a person."
"…..You were polite, efficient, and knowledgeable. It is so nice to get exceptional service…."
"….In late September, I received an email that my blinds were "in production" and would ship early December. Really??? Four months for an update and then two months to produce two sets of generic mini-blinds?!?…"
Pros and cons
Pros
Ships for free to all states in the U.S.
It has a vast collection of how to install and measure.
Runs several discounts for its customers.
Has cheaper products as compared to most companies.
Provides warranties for its clients.
Cons.
Lengthy shipping period.
Charges extra to cover client products for freight damages and vendor defects.
Unresponsive customer service.
Alternatives to Just Blinds
Ikea

Though popularly known for flat-packed furniture, Ikea offers window treatment solutions such as drapery, blinds, and shades. Under each solution is a multitude of products similar to those stocked by the likes of 3 Day Blinds Blinds (proceed to the 3 Day Blinds review).
The company has varying shipping options, including contactless doorstep delivery and small delivery. However, the deliveries must be paid for, unlike 3 Day Blinds that offer free delivery.
The company stocks an extensive array of blinds, shades, and curtains. Unlike Factory Direct and Just blinds companies that ship to only the USA, it ships to over 30 countries and is in the process of making its services and products in more other countries.
Like Budget Blinds, the company stocks window treatment products whose price range from as little as $10 to over $800 depending on quality, style, fabric, and size. In addition, the company operates a series of enterprises, including others that are independently owned.
The company also offers flexible payment options, including one-off options or installment options. Based on reviews from clients, the customer is responsible and satisfactorily handles customer complaints.
Ikea also has been extensively reviewed across different consumer sites, so you can get an idea of what it is like to shop and buy from them. Other than this, Ikea products can be purchased both in-store and online.
Wayfair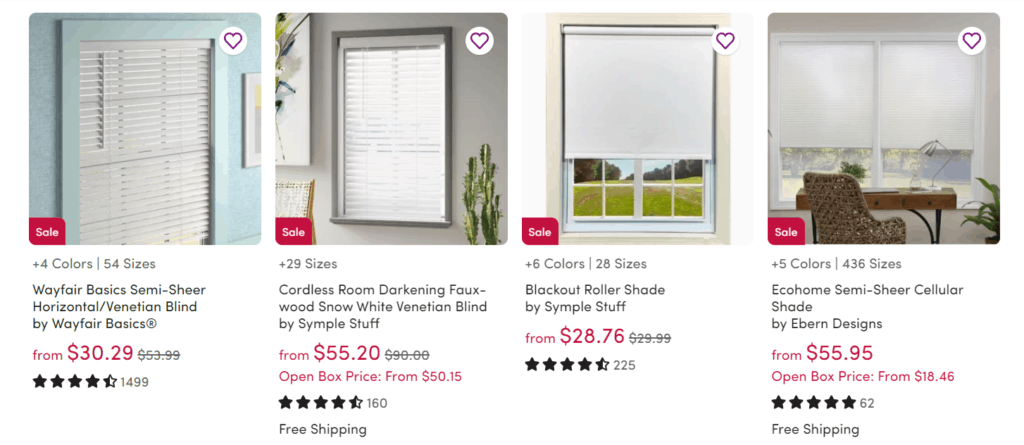 Wayfair has a vast collection of window treatment solutions that come in a range of styles, colors, sizes, and materials. The diverse collection of shades, drapes, and blinds (checkout the best magnetic blinds ) can be shipped expeditiously for free, and this is so unlike the months of waiting in Just Blinds.
However, the free shipping is for orders above $35. Though there is a cap for goods that qualify for free shipping, they have it means that you have the freedom to stretch your budget slightly.
The search filter option allows you to search and locate easily or even customize the window treatments to your liking. The company also provides a means through which clients can track their orders.
Unlike the likes of 3 Day Budget, the company clearly indicates the pricing of each product, making it easier for customers to shop and buy products within their budgets. With deals and discounts, you might want to periodically browse through the site to see when you can get the best deal on any window treatment product.
For clients outside of the U.S., Wayfair has local brands such as Wayfair U.K., through which it can deliver products to clients outside of the U.S. The one downside to buying from Wayfair is that there being different sellers, there can be no standard rating on quality, material, fabric, and style.
Frequently Asked Questions
Question: Is Just Blinds a legitimate Company?
Answer: Yes, Just Blinds is a legitimate, exclusively online company that deals in window treatment solutions. Since its founding in 2002, it has served over 1 million customers and has received numerous reviews across different consumer review sites. It is also registered with the Better Business Bureau, where it has a brand rating of A+.
Question: What Does Just Blind's color disclaimer mean?
Answer: Color disclaimer is a precautionary tip to the client to minimize variations for what they think they saw on screen and what they receive in their order. In the disclaimer, clients are strongly advised to order samples before they make the purchase decision. This is to reduce order cancellations.
Question: Do Just Blinds offer samples?
Answer: Yes. Just Blinds offers a maximum of 10 free samples and a coupon that can be redeemed only once per order should you decide to buy from them. The coupon cannot be redeemed in any other way other than by using it to purchase their products.
Final Thoughts
If the consistent negative reviews are anything to go by, Just Blinds has fallen short of the many benefits associated with online stores. Therefore, it must look into the complaints, revamp or even rebrand before it can inspire consumers' confidence as a go-to company.
However, should you opt to use Just Blinds to get window treatments, be sure to get the measurement right, have a flexible time frame, and cover your products with their deluxe warranty?