Latest posts by Erin Jamieson
(see all)
If you're looking for blinds, chances are your main concern is privacy and control over sunlight. But now more Americans are seeing unique options like matchstick blinds as the best way to guide them towards a warm, signature style.
Modern homes, with minimalist furniture, neutral tones, and metallic accents, have been trendy for a while. But the difference between 2020 and now 2021 is that more homeowners are looking for ways to add some warmth and ambiance to the sleek, modern look.
One way? Investing in window coverings that add a personal touch. And while traditional roller shades are one-way stylists create warmth in contemporary homes, bamboo is matchstick blinds and shades are making an unexpected addition.
Or perhaps not so unexpected. The natural look, along with the eco-friendly boost, fits in some trends seen for homes and apartments in 2021. And while many still are not even aware of what matchstick blinds are, I wouldn't be surprised if that changes as we head later into this year and 2022.
Curious? Consider this your short guide to matchstick blinds and shades. I'll tell you what a matchstick blind is, what they offer in terms of privacy and insulation, and give you some inspiration for where to buy this style.
What is a matchstick blind?
A matchstick blind is so named based upon its design. That design consists of thin, cylinder pieces of wood pieced together. Also known as woven wooden blinds, most matchstick blinds are made out of bamboo. Technically, you could find another wood type, but the term is associated with woven bamboo.
Matchstick blinds are almost also neutral tones, and rarely painted or ornamented. They lean towards a traditional but simple or minimalist style. The natural design and warm tones provide a modern but cozy appeal, while bamboo itself is associated with eco-friendly movements. It's easy to see why this unique style of blinds and shades is becoming more popular.
Are matchstick blinds or shades right for my home?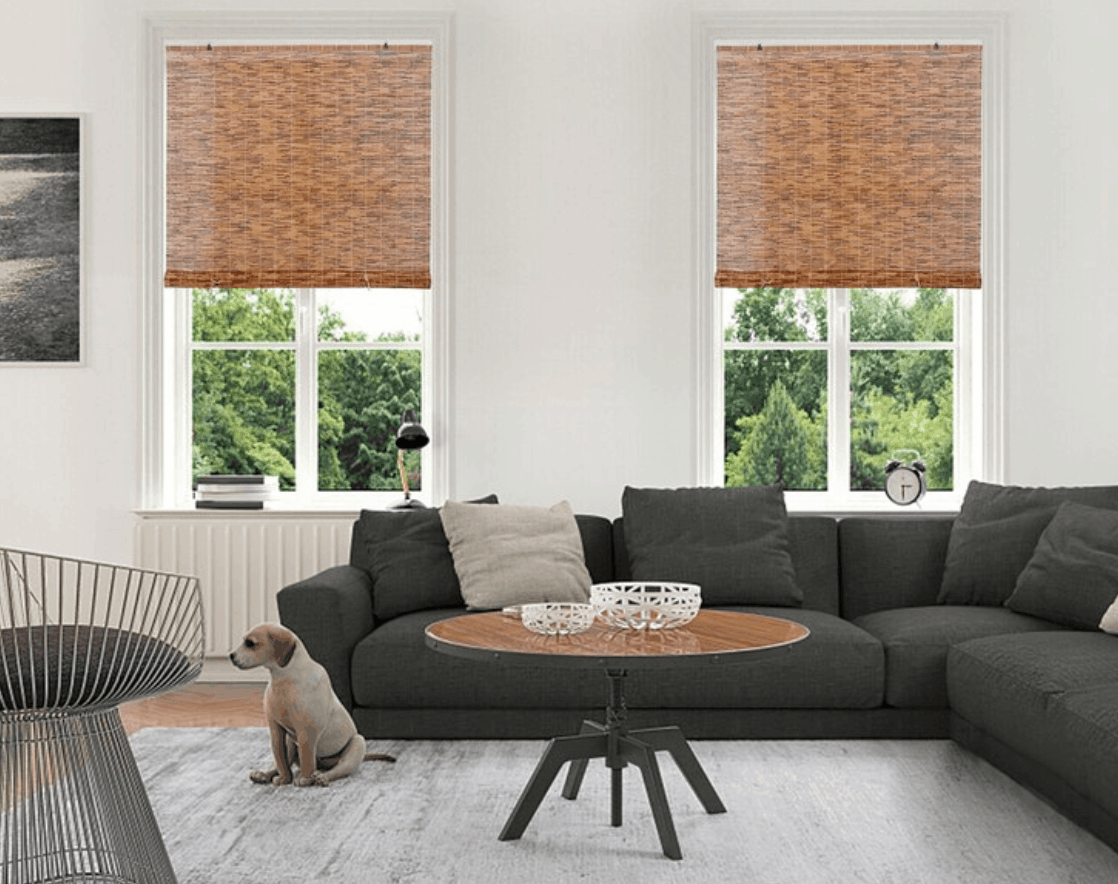 Matchstick blinds offer warmth and modern appeal, but of course, that doesn't mean they're right for everyone. Here's what you should consider when it comes to cost, light, privacy, and other important features.
How much do matchstick blinds cost?
Even more so, matchstick blinds and shades come at a budget-friendly price. That is, most of them do. You could pay as little as $30 for a blind or shade covering for your window. At the same time, there are expensive options, especially handcrafted options, that can cost a little under $150 per window. Still, most matchstick blinds are relatively affordable, especially considering the price to quality ratio.
Can you see through bamboo matchstick blinds?
Whether you buy matchstick blinds or shades, the truth is that they can be partially seen through, no matter what style you buy. This is especially true due to how they're constructed. Because of this, many opt to buy privacy liners, and a few options do come with a complementary liner. They aren't as see-through as sheer curtains, but they won't provide as much privacy as typical blinds.
How much light do matchstick blinds let in?
Blinds and shades made out of bamboo, especially matchstick, are known for their ability to allow natural light to flood a room. You'll find many options for light filtering blinds, which are ideal for reducing the sun's glare but sustaining a sunny and inviting room. At the same time, you can find some options with additional panels to help darken a room.
As a whole, they're known to be fairly versatile in terms of adjusting light filtration and directing it into a room.
Do bamboo matchstick blinds keep the heat out?
Bamboo shades and blinds of all kinds are actually quite helpful for keeping heat out. In fact, bamboo window covers are notable for their insulating properties. Because of this, it is possible you could keep your home not only more comfortable but also energy efficient.
That said, matchstick blinds are a tiny less efficient than insulators vs shades, due to the way they're made. But as a whole, any bamboo window coverings will have an energy efficiency advantage.
Can you cut bamboo matchstick blinds?
You can in fact cut matchstick blinds and shades, but it can be a tricky feat. Many use painter's tapes on the edges, because it's the edges that are the most delicate and prone to breaking. You can roll shades around the headrail to focus on where you want to cut them. That said, if you've never cut bamboo blinds before, know they are harder to do so than regular blinds. I recommend seeking professional help.
How well do matchstick blinds or shades last?
The good news is that, in the proper settings, matchstick blinds can be fairly durable. First of all, bamboo woven wood window coverings have an advantage over hardwood in that they're resistant to moisture and heat. Unlike other hardwood blinds, you won't have to worry about shrinking, warping, or related issues. They're also resistant to sun exposure, so true bamboo matchstick blinds and shades won't discolor.
The one downside is that matchstick blinds do have some weak sections– especially corners, so you need to be careful when installing them. You also won't be able to throw them into the washer. All told, they're durable if treated properly.
Are woven wood matchstick blinds and shades modern?
The great thing about matchstick blinds and shades is that they aren't solely modern or traditional. Most consider them versatile, and easy to style. The woven wood is more contemporary than other hardwood blinds, but you can play with how they look in your home. Some suggestions for decor include statement rugs, fireplaces, and plants. While these suit minimalist homes, they can also work with as wide a range of styles such as boho, eclectic, and even traditional.
Matchstick Blinds & Shades: My Picks
Now I'll provide my picks for the best matchstick blinds and shades. I've decided to include both blinds and shades, so you have more options. While matchstick bamboo window coverings are a compelling choice, it's also true that there still is a more limited selection of options vs some other window coverings. So here are some places you can buy matchstick blinds and shades.
My picks are based on the following criteria: affordability, craftsmanship, quality of materials, and overall use. While I wanted to include some affordable options, I made sure that every blind or shade offers suitable durability and use for its price point. All blinds and shades are made out of real bamboo and are clearly suited, depending on the pick, for indoor or outdoor use. They also are well constructed and meant to endure everyday wear. Finally, I made sure that these blinds and shades were easy to use and install, without any long cords that would violate public safety standards in the United States.
Matchstick Blinds
For matchstick blinds, you can either choose a one-stop source– a website dedicated to only matchstick blinds–or find a few options from other retailers. While Home Depot does carry some, you'll also find matchstick blinds on Etsy and ForeverBamboo, a specialty retailer in bamboo home goods. Blinds will be more affordable, and they tend to be easier to clean and maintain than shades. In some ways, blinds are also more versatile than shades in terms of light-filtering or blocking capabilities. Of course, they also provide less privacy and less insulation.
Coffee Bamboo Red Matchstick Blinds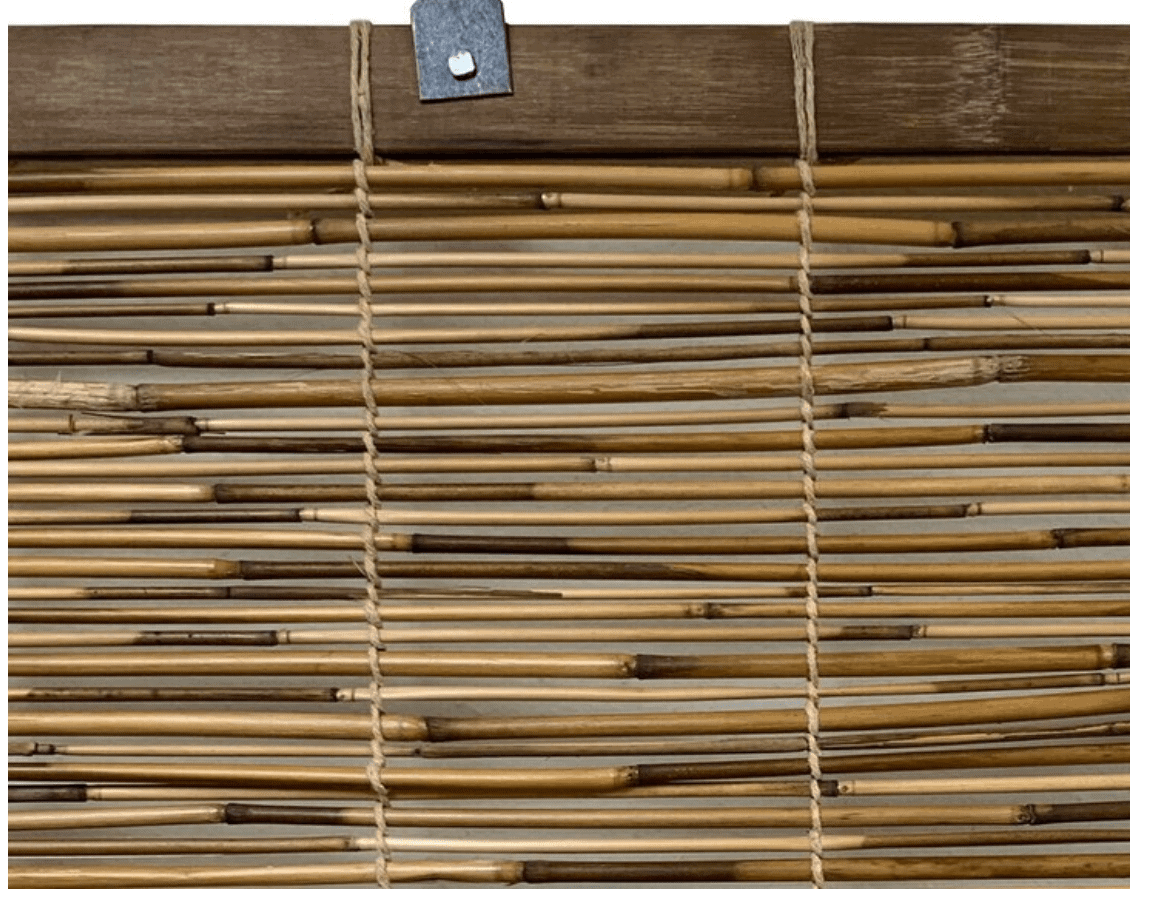 These affordable matchstick blinds are easy to use, with the roll-up operation. Helpful for protecting against UV rays, the light filtering blinds balance allowing a room to feel airy and adding a little privacy and protection from the sun. A great balance between a typical shade and typical blinds, the coffee and chocolate tones are fantastic paired with neutrals, grays, blues, and white.
Cross Thread Matchstick Handmade Blinds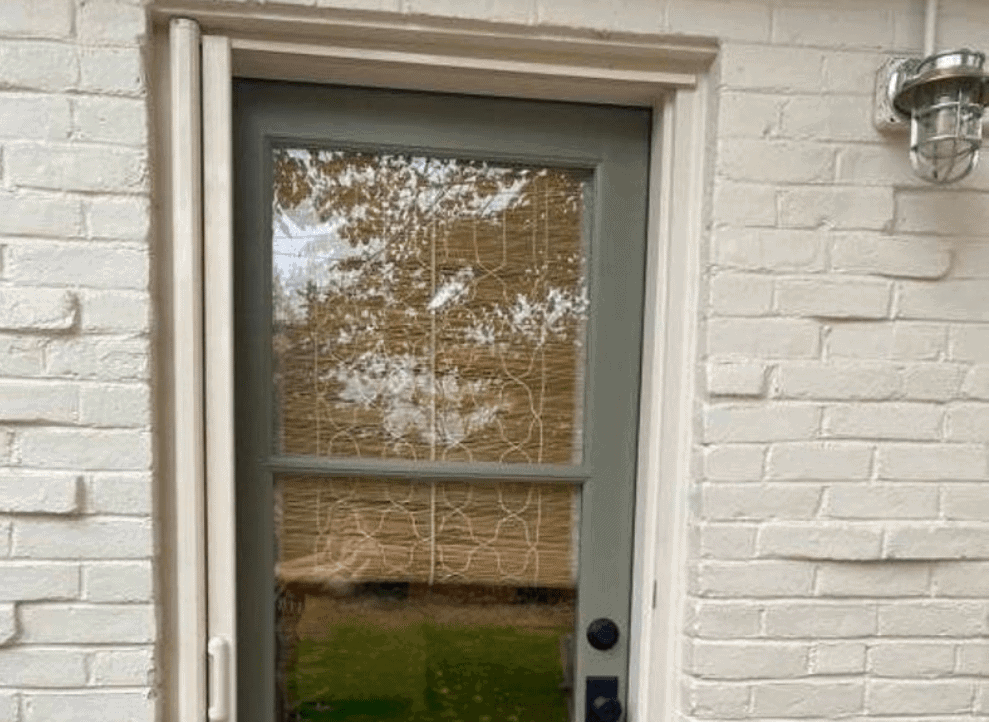 These handmade roller blinds are a beautiful addition to kitchens and back doors and windows. The easy-to-use pulley system is traditional and provides fuss-free use. Offering protection from heat, humidity, and rain, your custom order will be ready to seek in one to two business weeks. Buy Here.
Natural Bamboo Matchstick Blinds
These corded, roll-up blinds feature a natural bamboo look. You can easily place these in any room for beautiful light filtering capabilities. The neutral tone and simple design make it perfect for contemporary but even traditional homes. Consider these for screened-in porches, balconies, and other outward-looking spaces. Buy Here.
Choco Brown Matchstick Slat Blinds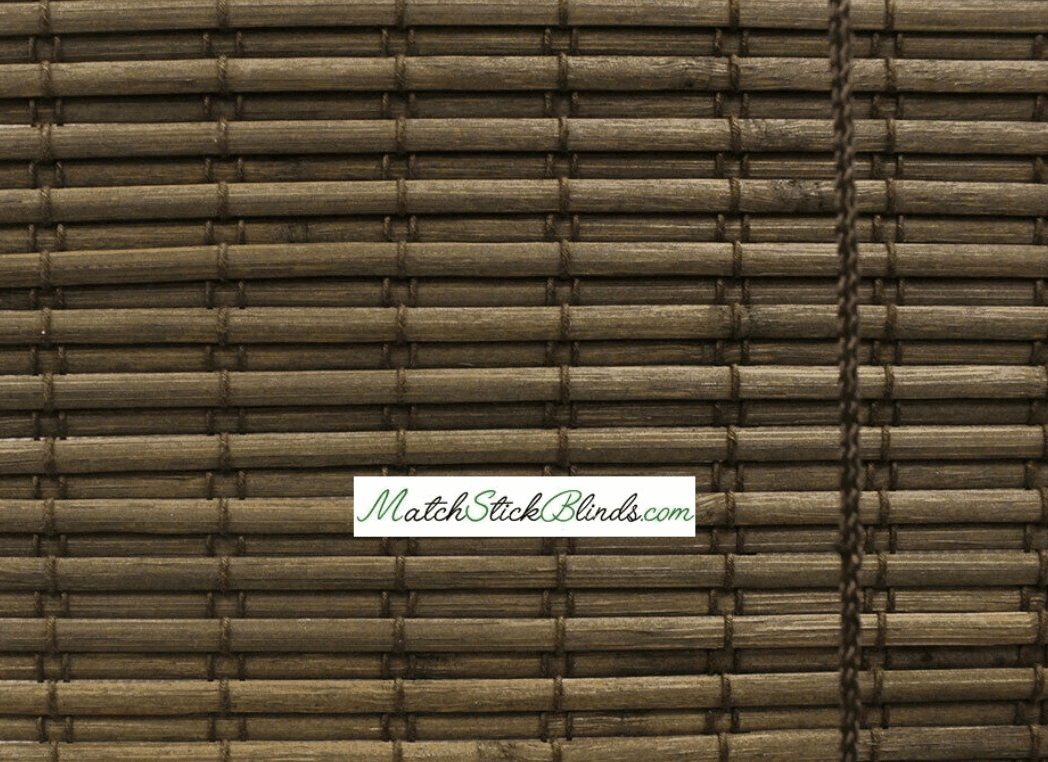 Looking for a little more privacy? While these matchstick blinds still allow natural light to come in, it's harder to see in with a darker hue and a tighter slat construction. While light bamboo is airy and inviting, the chocolate brown tone has a rich undertone and is sure to make a statement in any room. You'll still get the advantages of durable bamboo, just in a less expected look.
Honey Amber Matchstick Blinds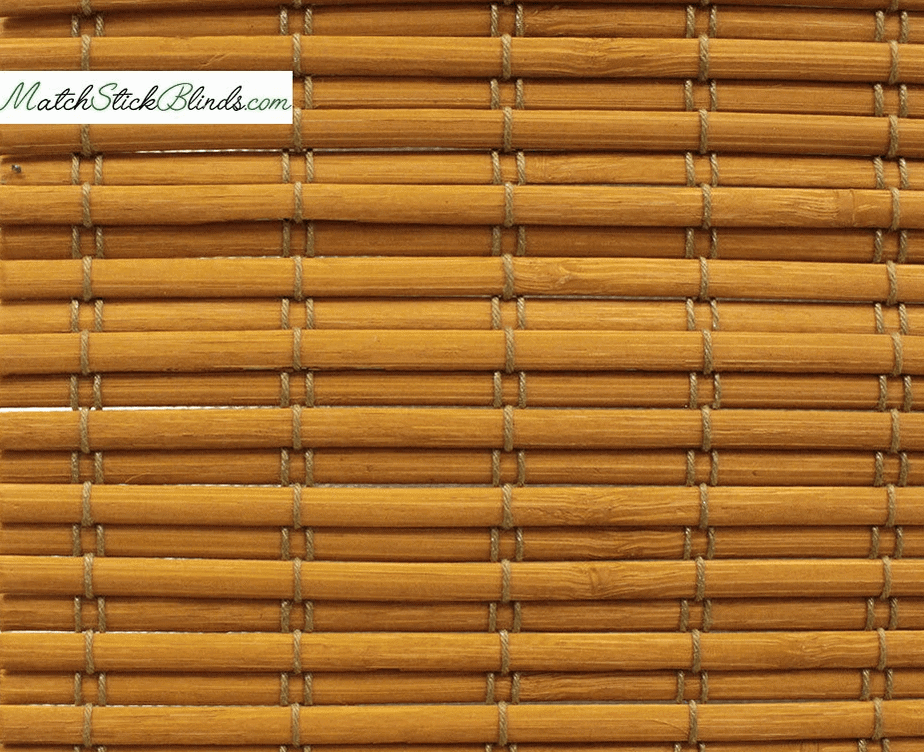 Looking to add warmth to a room? These designer matchstick blinds feature a warm honey amber tone. Not only is this look inviting, but it also works especially well with oranges, blues, and yellows. You'll get plenty of natural light, but a little more privacy than a natural hue. Consider these blinds for kitchens or living rooms. Buy Here.
Tortoise Toro Matchstick Blinds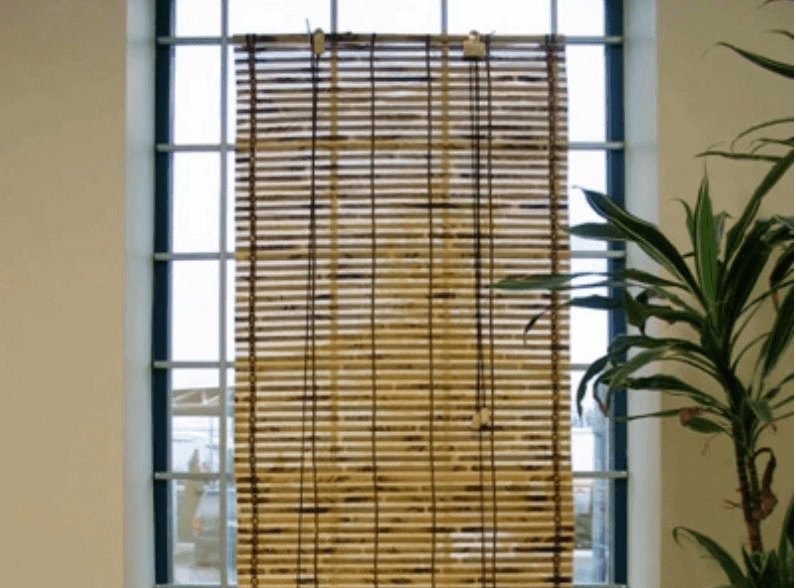 The tortoise print makes a statement blind– you could even use these for the decor alone. Flecks of chocolate and amber add interest to natural bamboo. The corded roll-up design is traditional and easy to use. While durable enough to weather humidity and temperature fluctuations, these blinds would look at home as room dividers. Buy Here.
Matchstick Shades
The term matchstick is usually associated with blinds, but here I'm using the term to broaden your choices. Matchstick shades, like blinds, feature woven bamboo and a contemporary take on a traditional window covering. Matchstick shades have much of the same appeal as matchstick blinds, but there are some advantages.
Matchstick shades offer more privacy and insulation than blinds. They also tend to be less temperamental to pull up or down. You'll see roller shades in particular, some of which are actually popular for patios. At the same time, they are more expensive than blinds, and a little trickier to clean.
World Menagerie Matchstick Semi-Sheer Roman Shades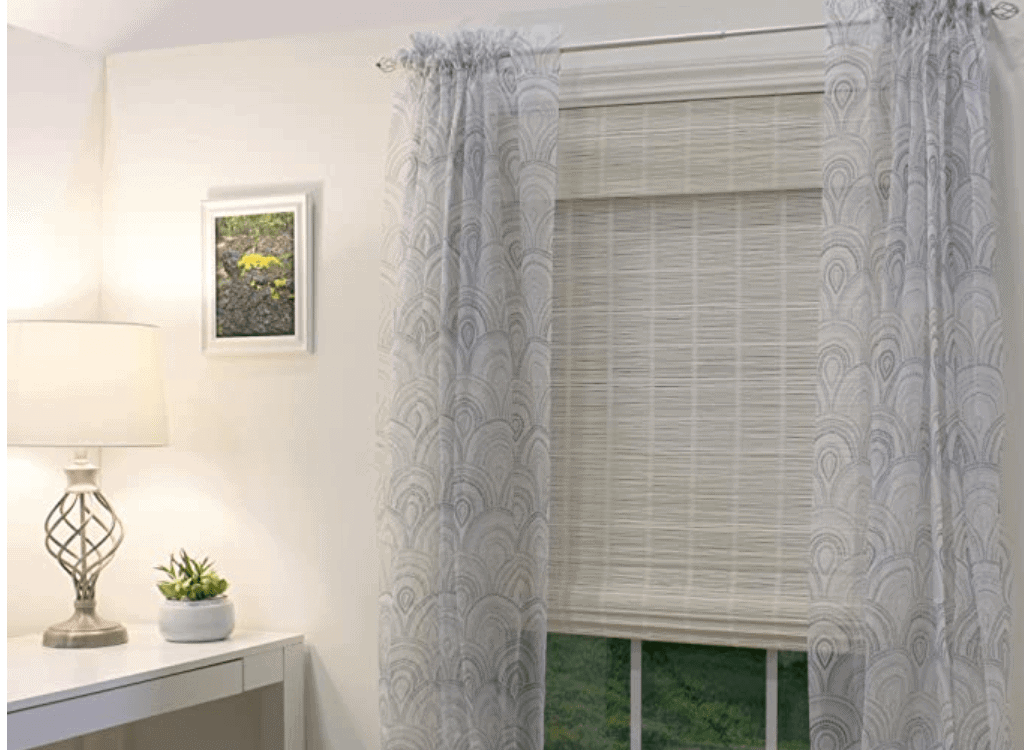 While currently out of stock as of this writing on Wayfair, I still wanted to recommend keeping your eyes on these matchstick shades. And, in fact, you can buy a direct alternative on Amazon. Made in white and driftwood hues, the cordless matchstick shades feature environmentally friendly bamboo that offers soft light filtration. The semi-sheer style looks at home for lake and beachside homes, or if you just want to bring some light to a living space. It's a casual, comfortable, and modern style. Buy Here or Buy the Amazon Alternative Here.
Arlo Tuscan Bamboo Matchstick Shades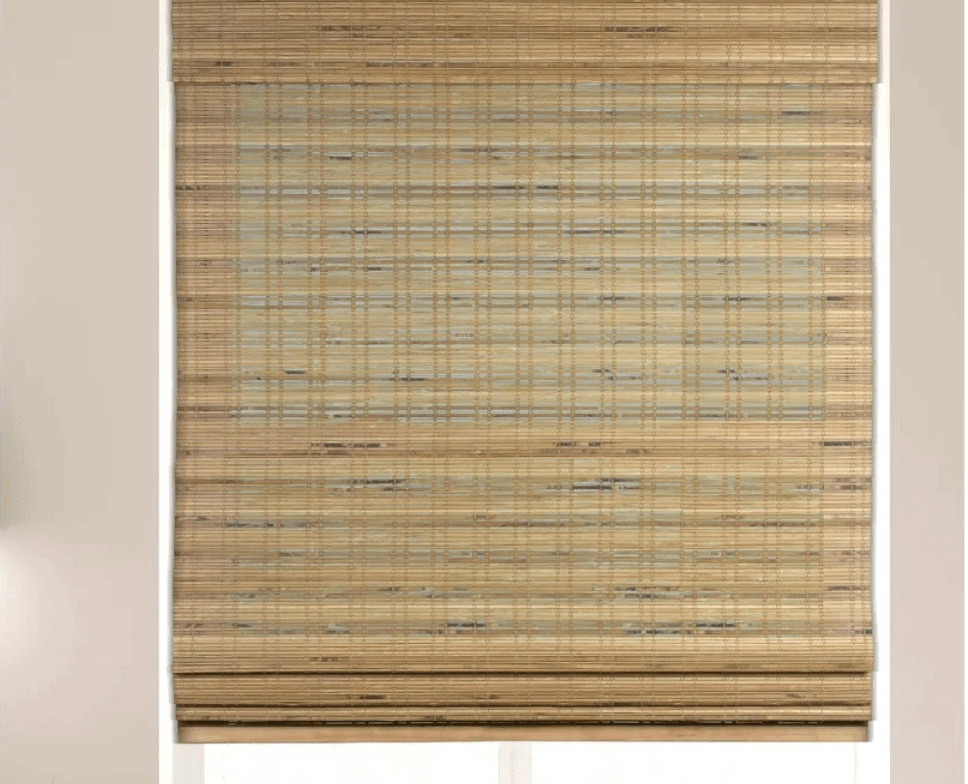 Earning a "Best for Kids" safety certificate, these matchstick bamboo blinds are great for Feng Shui and even boho chic homes. Sturdy bamboo is set on a cordless lift and provides a minimalist appeal. Soft light filtration is ideal for well–used rooms, but these bamboo shades are not meant to be used outdoors. The Tuscan color is a warmer take on your usual natural hue. You'll have a wide range of standard sizes to choose from. Buy Here.
Bayou Breeze Matchstick Cordless Shades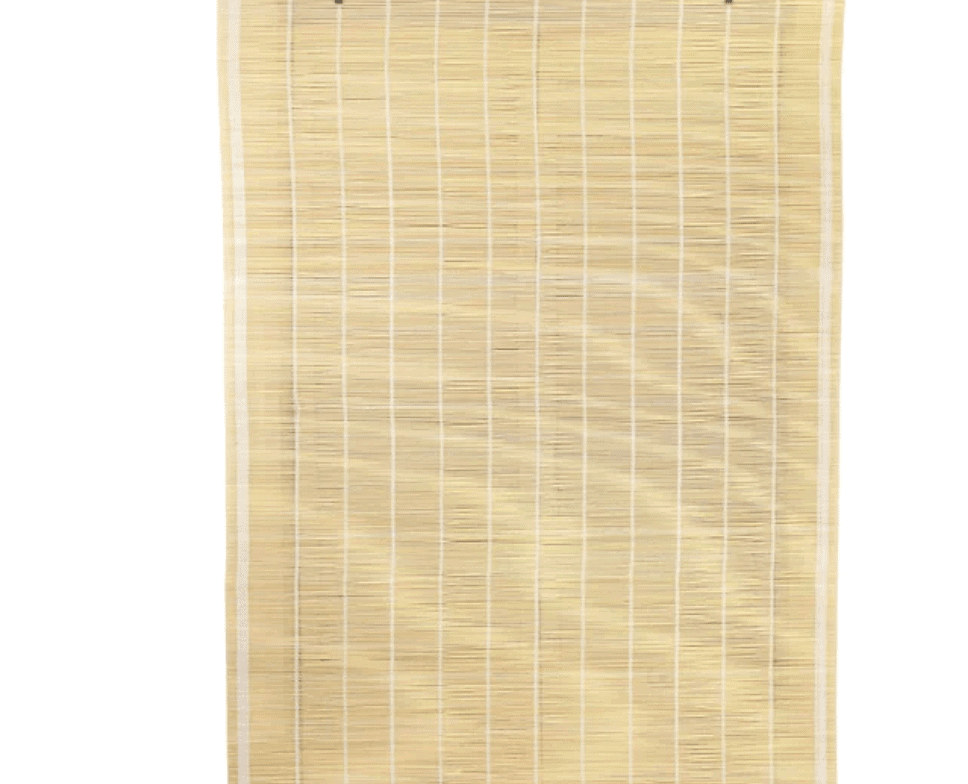 A semi-sheer construction, a light natural hue, and an easy-to-use design make these shades a great choice if you've never used matchstick window coverings before. An earthy, organic style bamboo offers three hook positions for additional light control. These are meant for indoor use.
Handmade Roller Matchstick Shades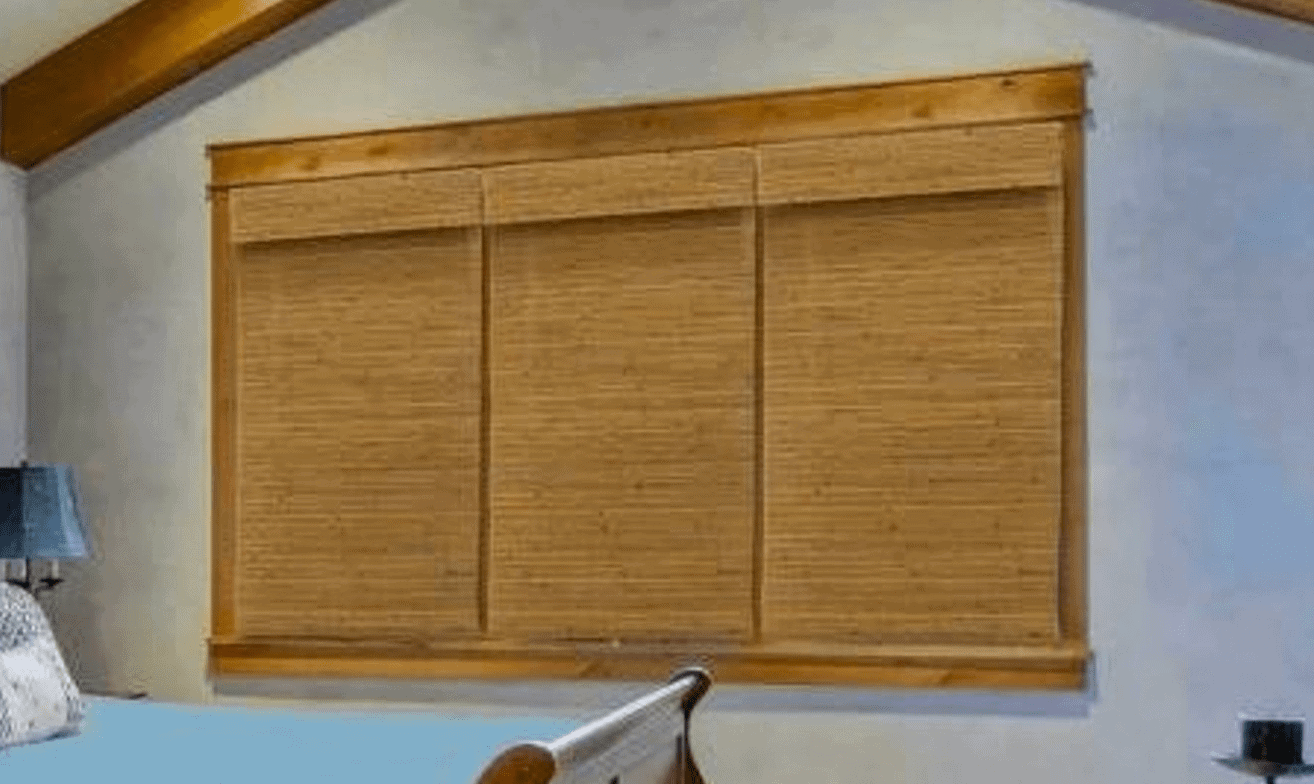 These designer bamboo shades are handmade and traditional but also stylish. Providing greater protection against heat and cold, these roller shades also offer enough privacy that you can use them in bedrooms. I also love that they're versatile and durable enough to be used for outdoor patios. Plus, you'll have a selection of different patterns and colors to choose from.
Natural Woven Bamboo Shades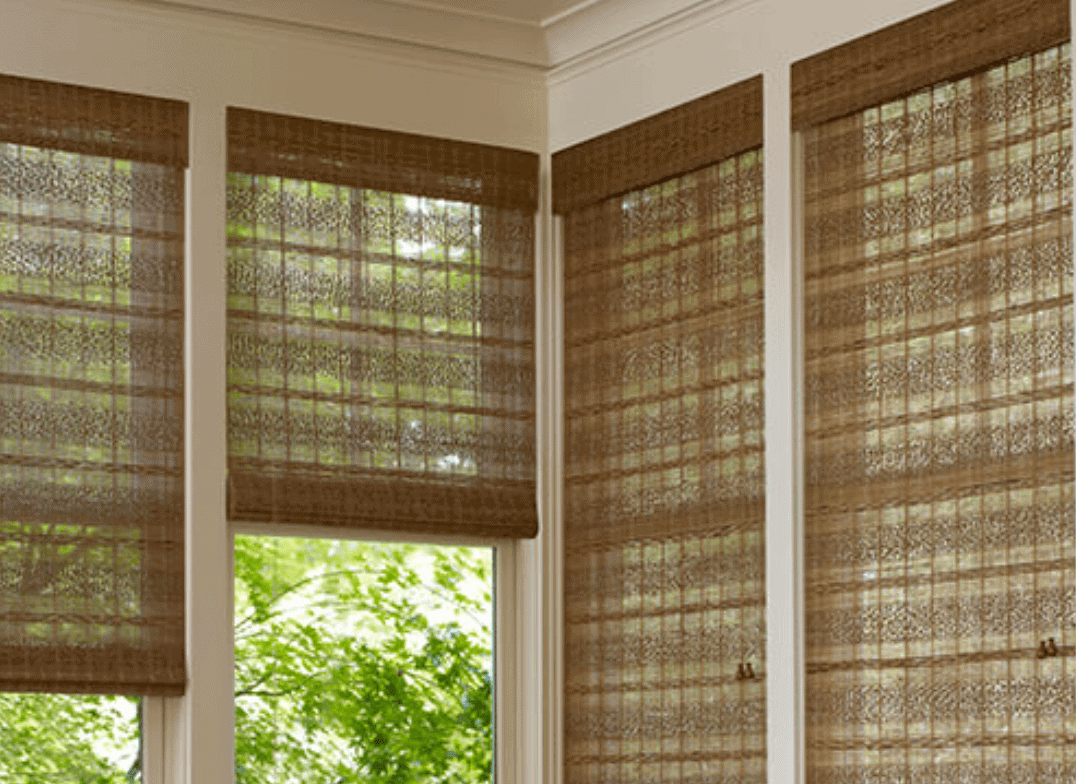 Made with eco-friendly reed and bamboo, these matchstick shades offer a natural look with a contemporary texture. Grass weaves add accents to your typical woven bamboo blinds and make for an almost elegant look. Meant to softly filter light, these shades also can be purchased with a fabric liner for additional privacy. Meant to be used inside; Buy Here.
Rayon Bamboo Sun Shades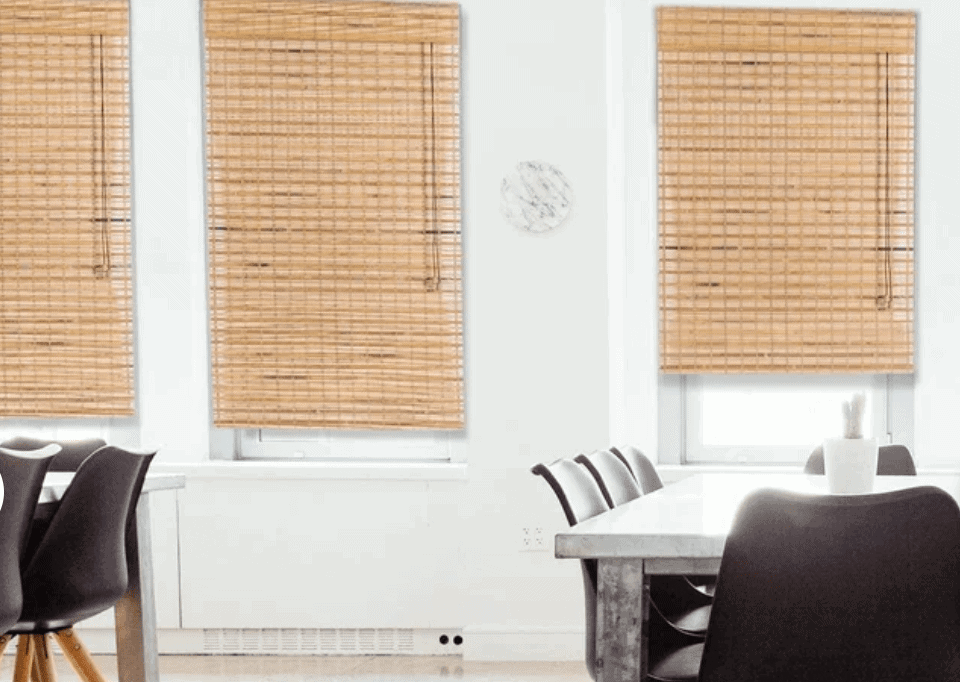 These matchstick shades aren't cheap– but they're one of the best options if you want more privacy. These room darkening shades are durable and can easily be rolled up or down. Made with the highest quality rayon from bamboo, they also work to insulate and keep your home comfortable. You may get more years out of a more expensive shade– these are hardier than some affordable options. Buy Here.
Budget Matchstick Sun Shades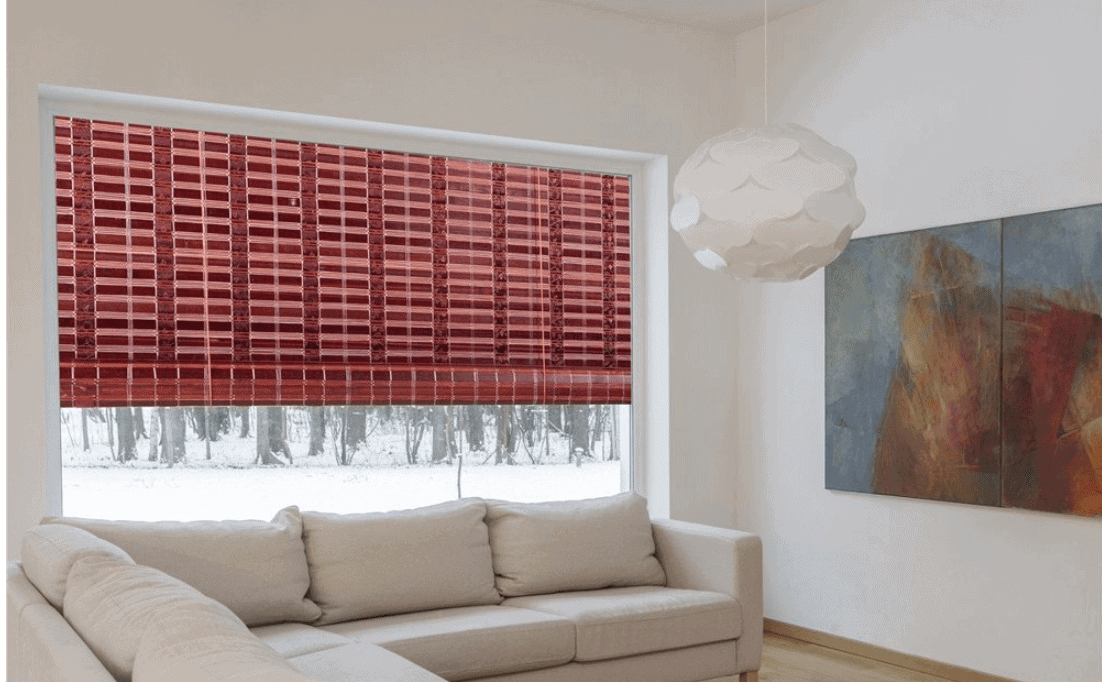 Still, longing for more privacy but on a tight budget? These matchstick blinds could be an option. Though not as hand-selected in terms of quality bamboo, these affordable shades are rated well by customers and offer a contemporary style. It only takes a few minutes to install, they're certified child safe, and easy to use. They offer more light control and a little more privacy than semi-sheer bamboo shades and blinds. Buy Here.
Frequently Asked Questions
Question: Should blinds be lighter or darker than walls?
Answer: Blinds follow the same rule as curtains. In truth, you don't have to limit yourself to blinds that are just darker or lighter than your walls. The key is to offer complementary contrast. That means you want to generally stick with the same color tone, but be one shade darker or lighter than your walls. That said, neutral blinds and white shades will work with any wall color.
Question: Should blinds match the wall or floor?
Answer: You have the option to match either your wall or floor. And when you're matching, typically you aren't going for an exact match, but rather a hue that's within a shade or two, lighter or darker. When you match your blinds with your floor, your room tends to appear visually shorter, while matching with a wall will extend the illusion of height in that room.
Question: Which is cheaper: blinds or shades?
Answer: No matter what kind of blinds or shades you're buying, on average, that same material will be cheaper as blinds than shades. Shades are a little more expensive than blinds and also offer more privacy and coverage. That said, it's not always a substantial difference, and of course, you can find both blinds and shades at nearly any price point.
Question: Is it better to have curtains or blinds?
Answer: There is no one simple answer to– as both blinds and curtains offer pros and cons. In fact, sometimes blinds are paired with curtains. Depending on the curtain type, curtains can offer more privacy and coverage than blinds. They also add decor to a room. At the same time, blinds are more practical for small spaces, and you can toy a little more with how much light is coming in. Curtains tend to be at their best when mounted near the ceiling and floor-length.
Final Thoughts & Buying Decision
Matchstick blinds and shades are made out of bamboo and offer a light, inviting appeal. Best for soft light filtering, most options will not offer much privacy, so I don't recommend using them in bathrooms or sensitive areas. When you're buying, make sure you check for intended use: while some do quite well outside, others are intended for indoor use only. You can also inquire about protective sprays to increase the durability of your window coverings.
As to whether you should buy matchstick blinds or shades? I think they are fantastic decorative ideas for humid climates, and can be well used in kitchens. I do think that shades are the best option– they're only a little more expensive, and you'll enjoy more privacy and insulation. Plus, they're less likely to break.