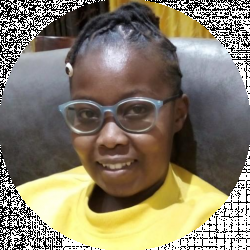 Latest posts by Jeanne Murugami
(see all)
There are blinds, and then there are black blinds. Black, like all noirs, is an intimidating yet distinct and powerful color for your interiors. 
To ensure you get the best black blinds in the market, we've scoured the depths of Amazon to bring you our top black blinds faves in this comprehensive guide. It covers their variety in design, style, functionality, materials, and hardware. 
Why Blinds?
If you prefer blinds over any other window treatment, you likely want to have more control over the way light filters into your space. Blinds are the best at this due to adjustable, tiltable slats that give you control over temperature and sunlight coming inside. Besides, you'll also get more privacy,  a clean linear custom fit, and an easy maintenance routine. Pocket-wise, blinds are worth it due to their durable materials plus sleek, elegant designs. 
As you make your selection, focus on your needs, space, and preferred design or style. For instance, aluminum blinds are best for durability, faux wood, PVC, and vinyl for ease of maintenance, and faux wood for interiors with bright warm colors. 
Moreover, wider horizontal slats give the illusion of more enormous windows and add an element of space in apartments and small rooms. Vertical blinds work best for expansive windows. Especially if the windows have a sweeping view or are across sliding glass doors.
Why Do You Need them Black?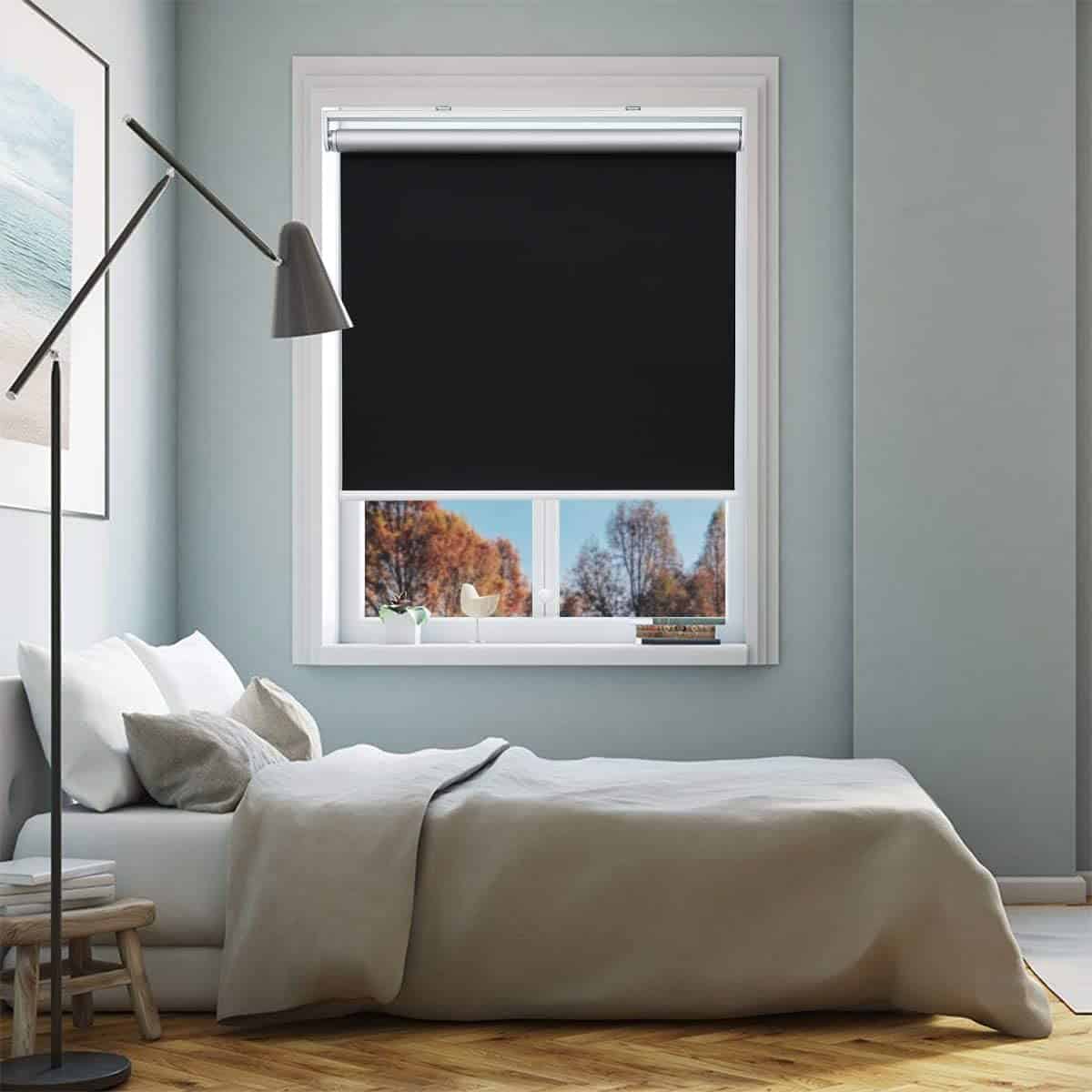 Black blinds combine effortlessly with your furniture, furnishings, and personal style, whatever it may be. You don't have to worry about changing some elements to accommodate them. The horizontal stripes on most blinds help to combine different opacities to create a unique look and feel for your space. 
Some black blinds like the honeycomb design allow for the passage of light, thermal and acoustic insulation. This will enable you to enjoy each type of space with a comfortable temperature and minimal or zero noise. Others like the blackout blind block out sunlight and harmful UV rays.
You also have the option of acquiring the motorized ones for ease of use without laces. They give you greater control through your cell phone or tablet from anywhere in your home.
What Type of Blinds Are in Style?
Blinds are trendy and highly functional as compared to traditional curtains. They offer a wide selection of attractive features to match your personal style, hygiene, privacy, lighting, and heating requirements. Some are tech-enabled with motorized and automated operating systems. Below are some examples of trendy window blinds in terms of design, style, and functionality.
Roman Blinds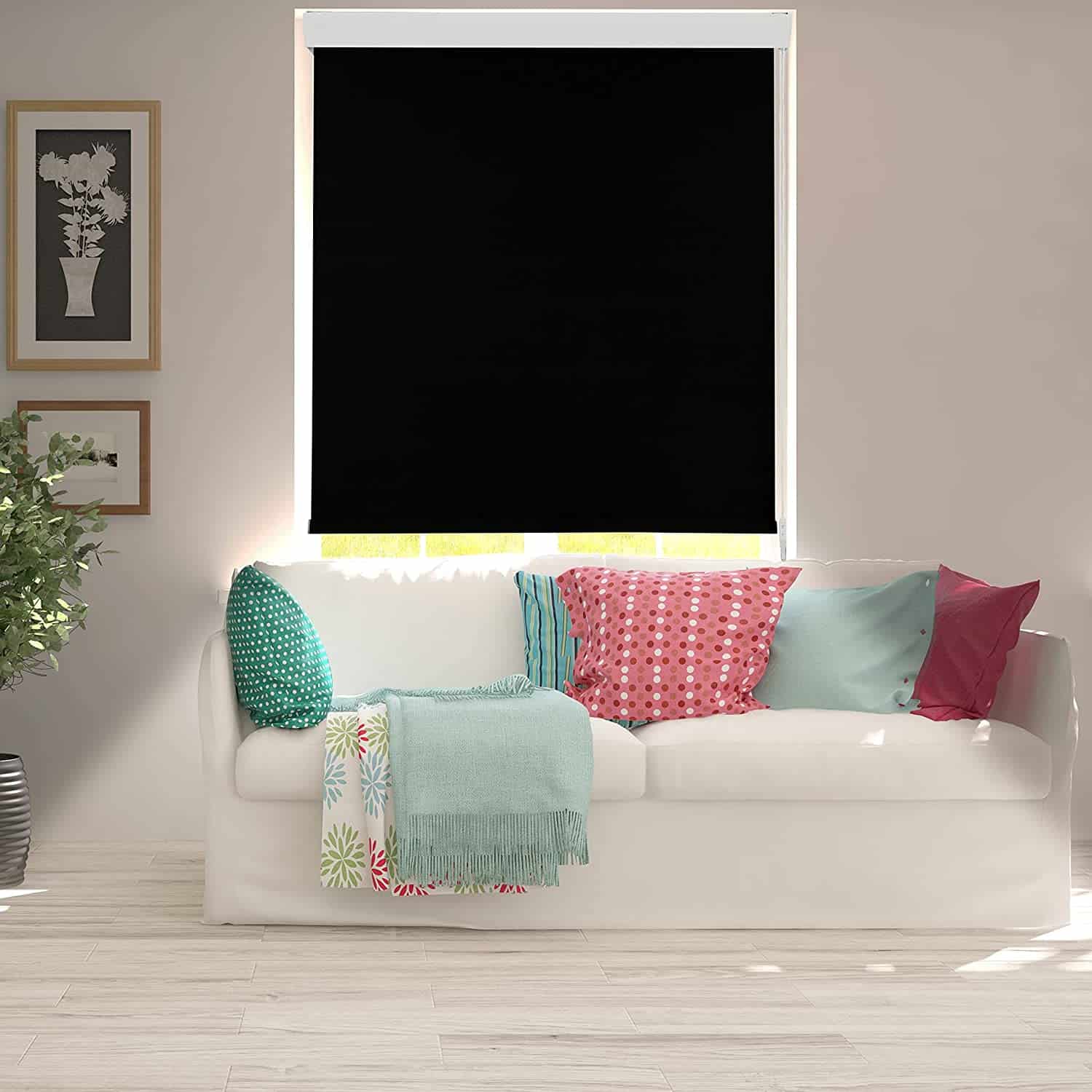 These blinds are at the top of the window blinds pecking order. They're luxurious, elegant, and a staple of ostentatious living spaces. They function as one piece of flat fabric which folds as you draw the string. They're pleated so that they form neat, clean folds and, when closed,  lay flat for that clean, minimalist look.
Black Blinds
A goodnight's sleep and privacy are a top priority for most. The current trend is for zebra blinds that guarantee your privacy while allowing some light to seep into the space. Black blinds are popular for bedrooms, living rooms, and gaming rooms. 
Eco-Friendly Blinds
Recycling and environmental conservation is a hot issue with everyone seeking to contribute to it. There are blinds now made from eco-friendly sustainable fabrics and materials. Some of the most effective eco blinds are honeycomb blinds due to the air pocket that provides an extra level of insulation.
Sound-Proof Blinds
There are window blinds adept at reducing outside noises or sound. Honeycomb blinds are suitable for this because the pocket of air within the blind acts as a soundproofing layer and helps dampen sounds.
10 Hot Black Blinds Picks: Impressive, Stylish and Effective
1. Cordless Mini Blinds: Best for Small Windows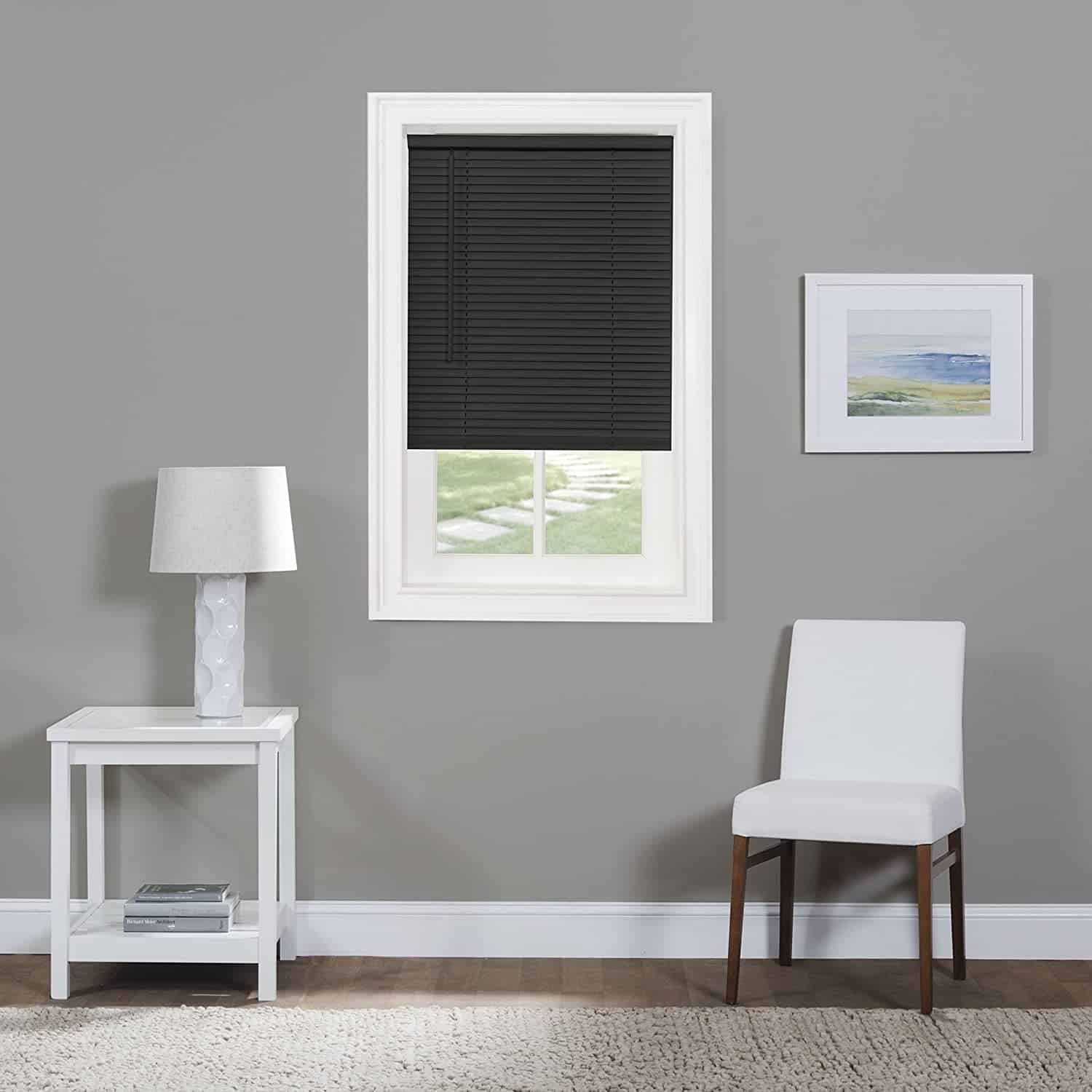 You're going to love this stylish 1-inch mini black blind as much as we do. It features a 2-inch valance and safety cord tassel with a tilt wand to manage functionality. You can be sure it will block the sun, harmful UVs, dust and still make you look good. 
You can also rest easy knowing your kids and pets are safe since it's cordless. The quality construction ensures durability as there's no warping, fading, or sagging. What's more, It comes ready to work with mounting brackets for inside, outside, or ceiling installation and includes all hardware and installation instructions.     
Pros
Value for money

Lightweight and durable

Easy to install and maintain
Cons
Have Brackets back up, as the blinds own might not hold up
2. Black Paper Blinds: Best for Bedrooms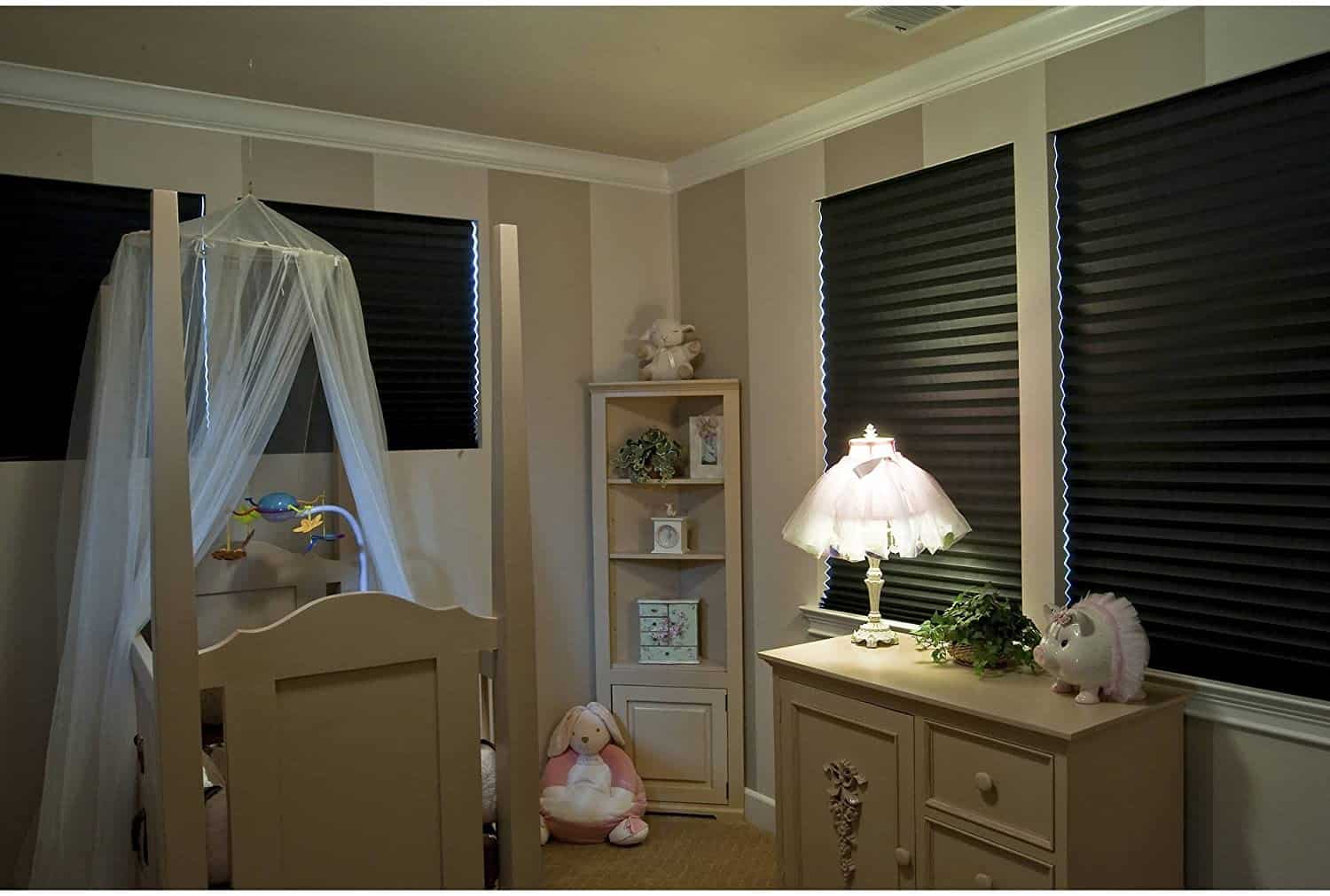 For a temporary window treatment solution with maximum blackout, consider these single panel black blinds. They're 100% paper with a pleated design that's easy to open or close with a single pull to the string in the center. Installation is also easy since you'll trim to your window's dimensions, peel off the adhesive and stick on the window frame or pane.  
Pros
Easy to use and install

Durable 

Value for money
Cons
Pretty flammable, so steer clear of open flames
3. Blackout Cordless Roller Blinds: Best for Kids Rooms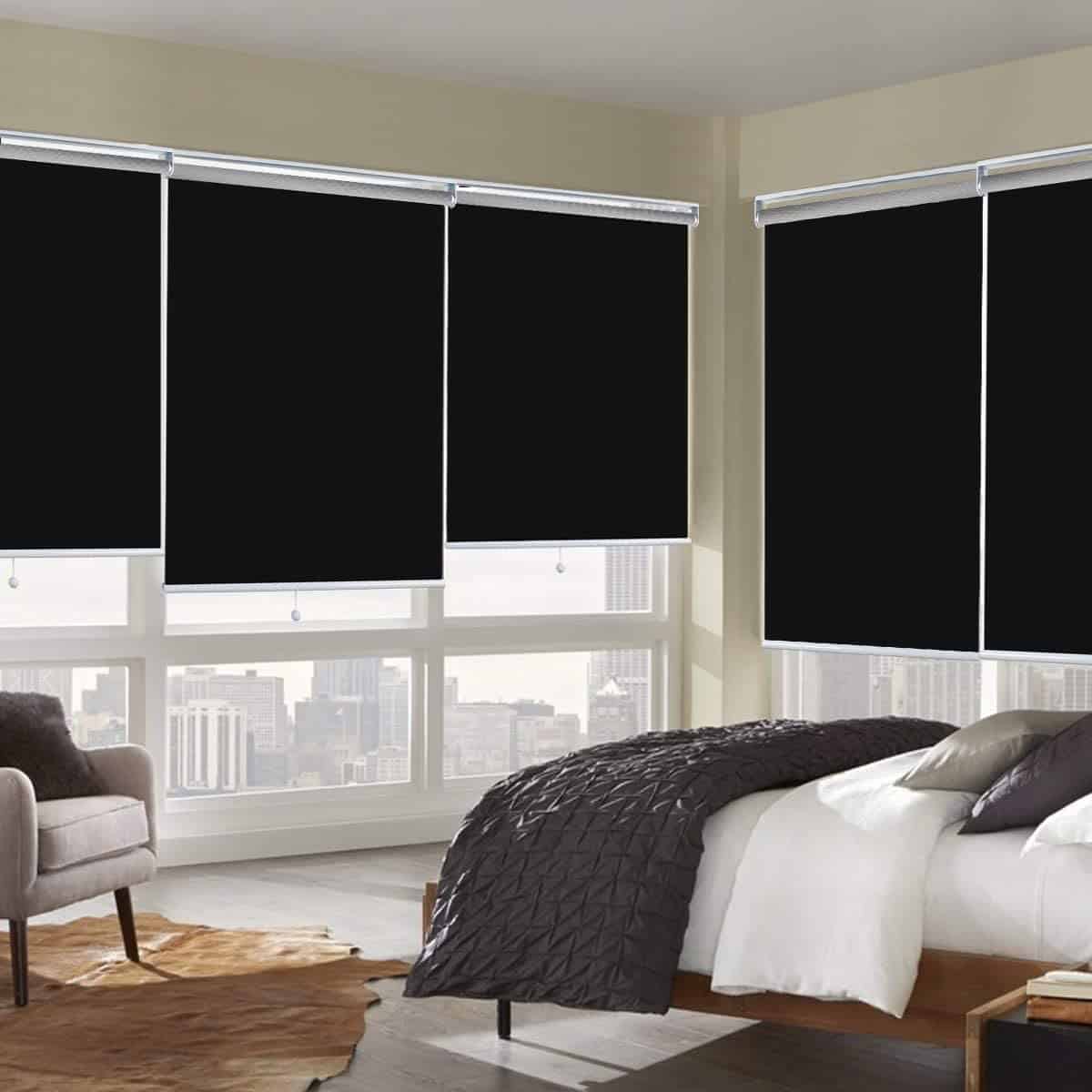 Still, on blackout solutions, we recommend these super cool black blinds. They consist of 100% blackout fabric with a silver coating at the back to block out sunlight and UV rays.
Installation is easy as you can use them inside or outside mount, and you'll only require two screws that come with the package. Their spring-loaded mechanism ensures easy control of functionality that includes adjusting them to any height you want.
Pros
Easy to install and use

Effective in blocking sunlight and controlling the temperature

Value for money
Cons
Have backup installation hardware
4. Aluminum Mini Blinds: Best for Living Rooms or Offices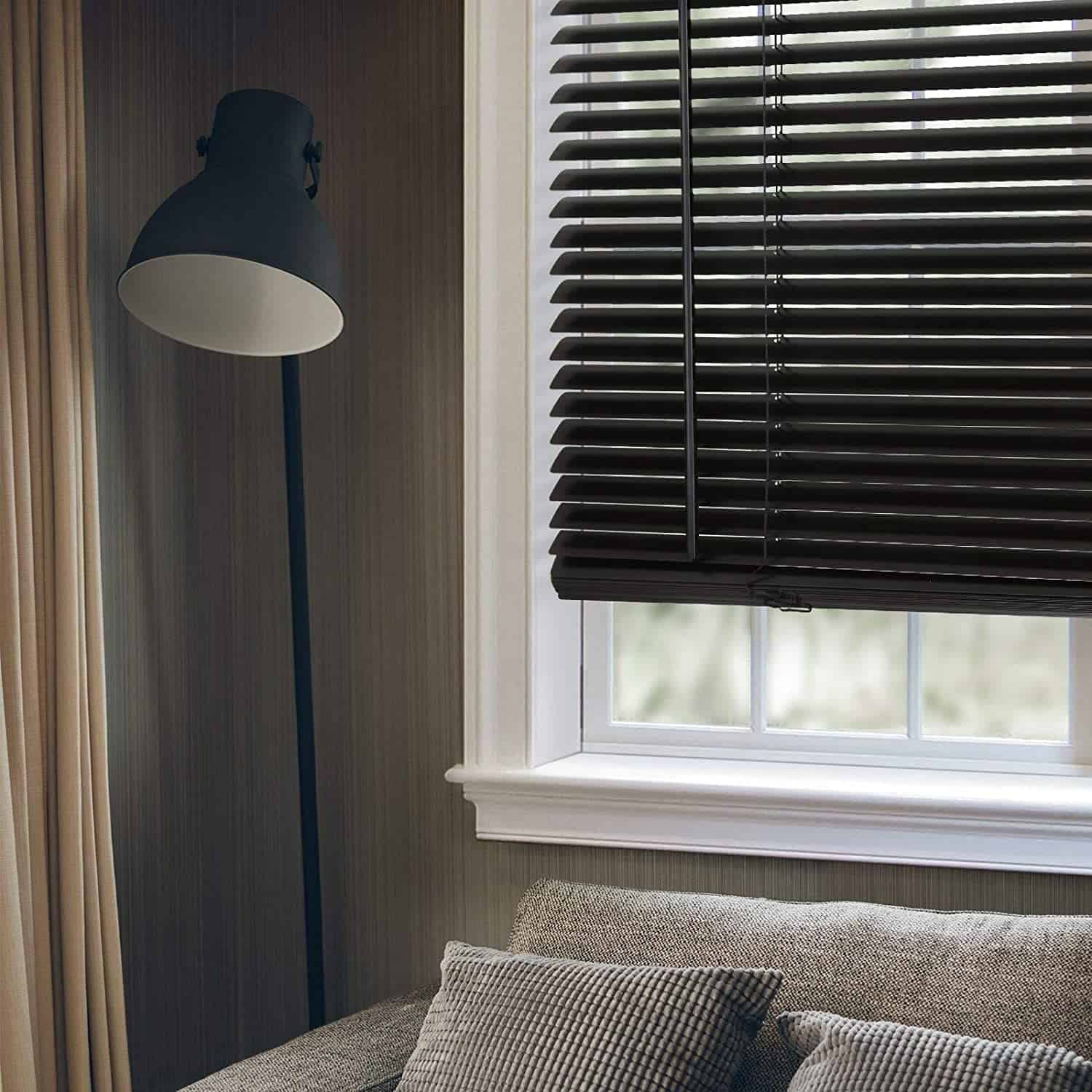 If durability comes first over everything else, you should consider these black blinds for their premium aluminum quality. They have an invisible hole design for maximum functionality, ensuring heightened privacy and a total blackout of sunlight and UV rays. 
Their attachment hardware is further reinforced to accommodate up to 30 kg weights with an aluminum rail at the top and bottom. Finally, the anti-slip parts help to firmly fix the blinds in the window by balancing through the friction and tension.
Pros
Easy to install

Quality material, construction, and elegant design

Durable
Cons  
Have backup installment and attachment hardware.
5. Horizontal Valance Blinds: Best for Small Living Rooms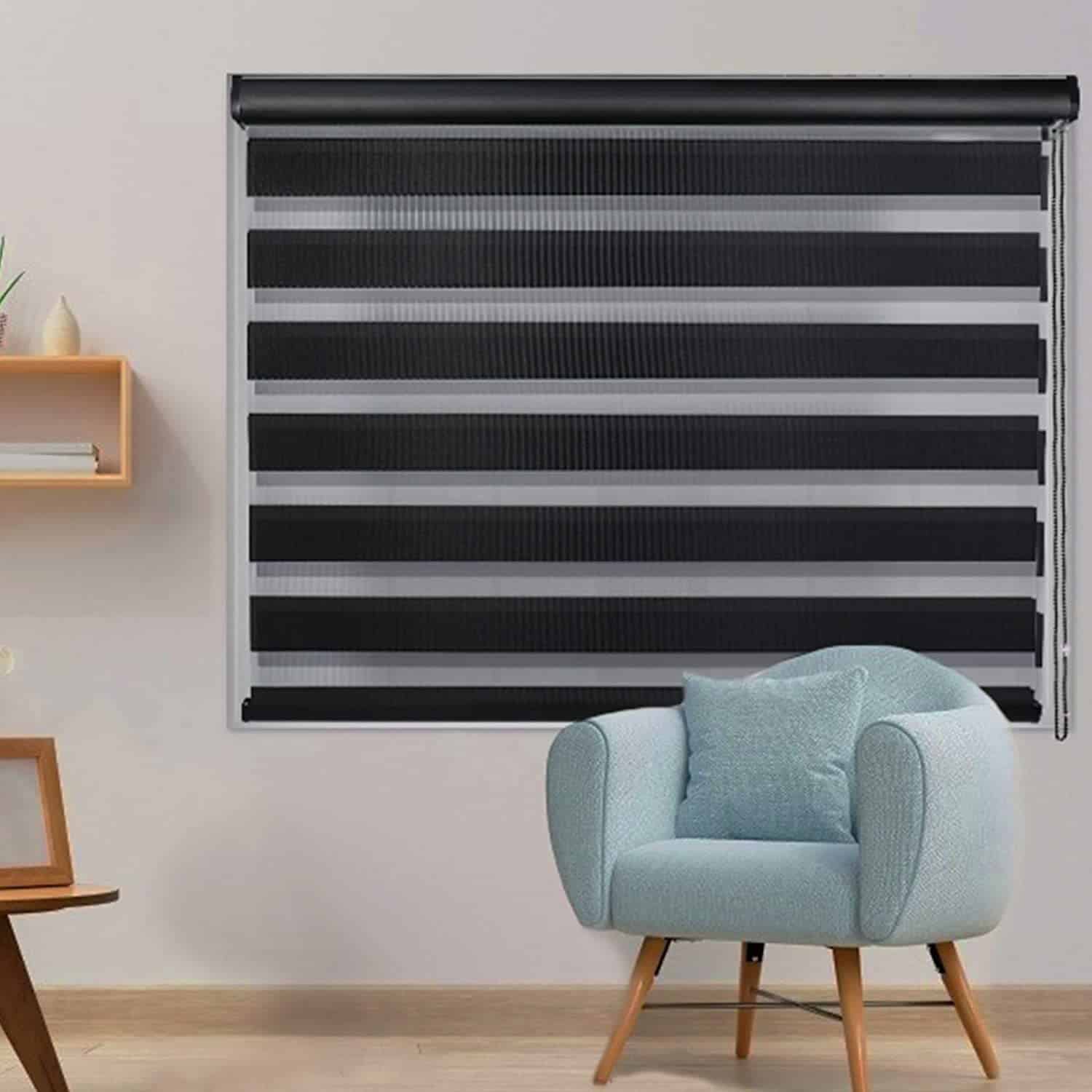 Highly irresistible, the look and feel of these black blinds will inspire you. They're an elegant mix of sheer and solid fabric in horizontal zebra stripes, giving you an all-in-one aesthetics and functionality solution. Maintenance is easy because the fabric doesn't stain easily, and you keep it clean by gently wiping it with a damp cloth. Using these black blinds is hassle-free to use. 
All you have to do is adjust the length of the entire horizontal roller by pulling on a chain connector. Each panel comes with a safety feature so that it can be disconnected from the pull cord if entangled, preventing accidental injury.
Pros
Easy to install

Value for money

Catchy design and good quality
Cons
Pretty delicate, ideal for gentle use
6. Thermal Insulated Black Blinds: Best for SunRoofs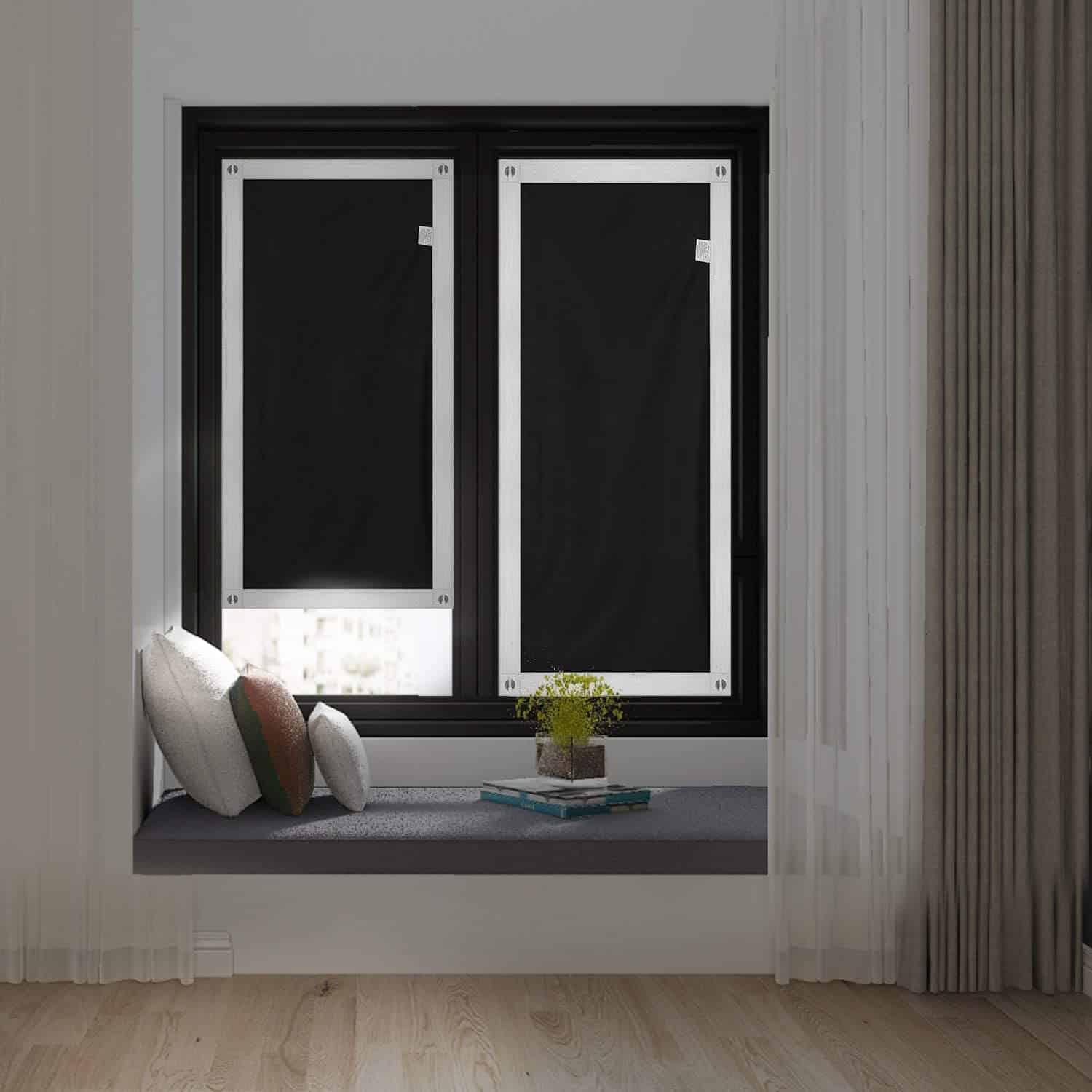 These black blinds are perfect if all you need is temperature regulation and energy efficiency. They've got good blackout and thermal regulation opacity and consist of 300D waterproof oxford fabric on the inside and silver coating on the outside. You can mount them on any smooth glass with suction cups or velcro strips, meaning you can use them anywhere, house or car.
Pros
Easy to install

Portable

Hassle-free maintenance and cleaning routine
Cons
No instructions or assembling guidance 
7. Pleated Fabric Blinds: Best for Small Windows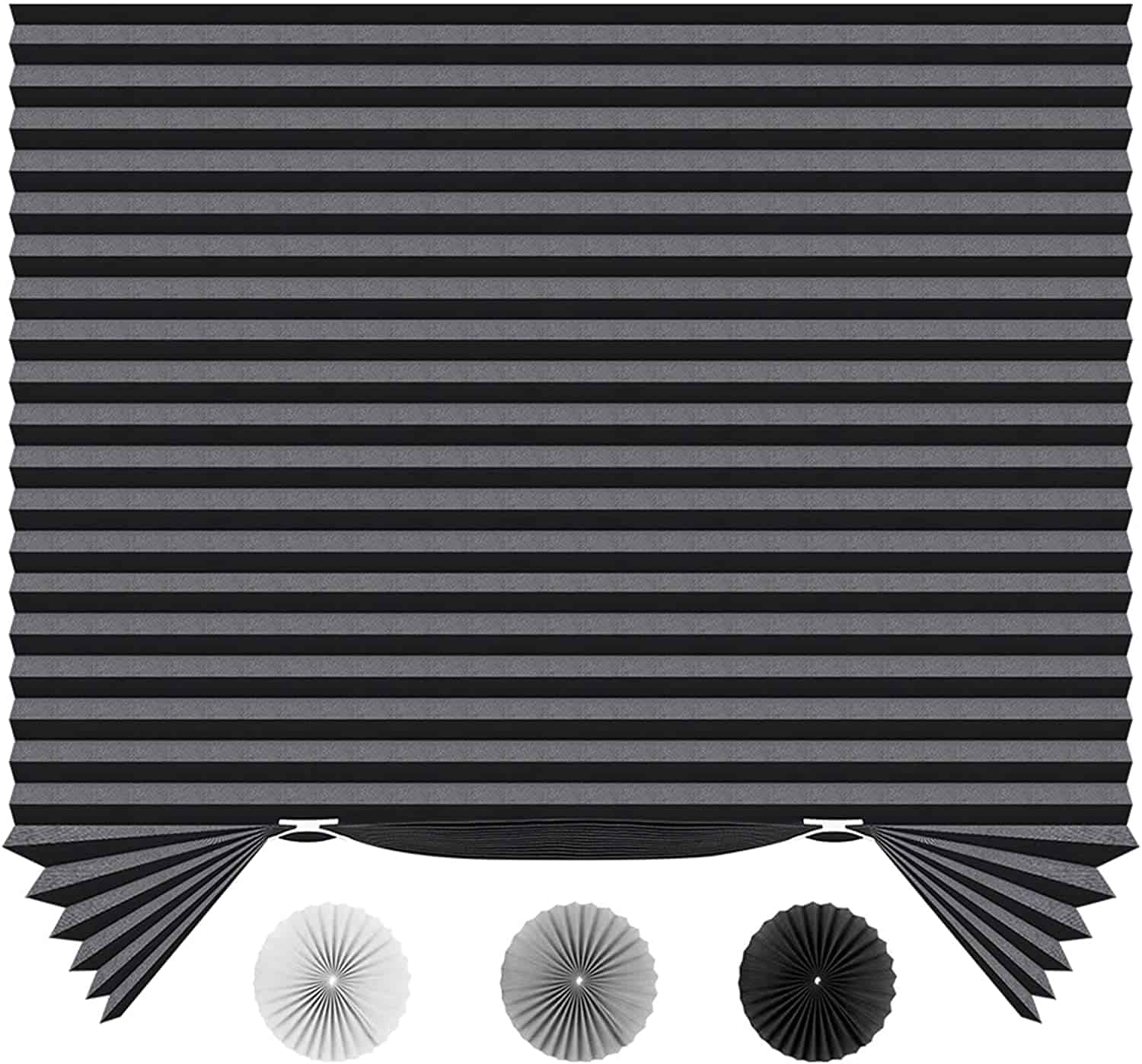 A pleated fabric blind is a modern and stylish option with many benefits. These black fabric blinds are non-toxic, breathable, environmentally friendly, easy to install/disassemble, and clean and airy looking with no curtain lines or beads. They are highly functional for sun-blocking UV rays and dust, which makes them great.
You'll love the look because it's clean and airy with no beads or curtain lines.
Pros
Good adhesion

Easy to install

Value for money
Cons
Have backup installation hardware
8. Cellular Honeycomb Black Blinds: Best for Acoustics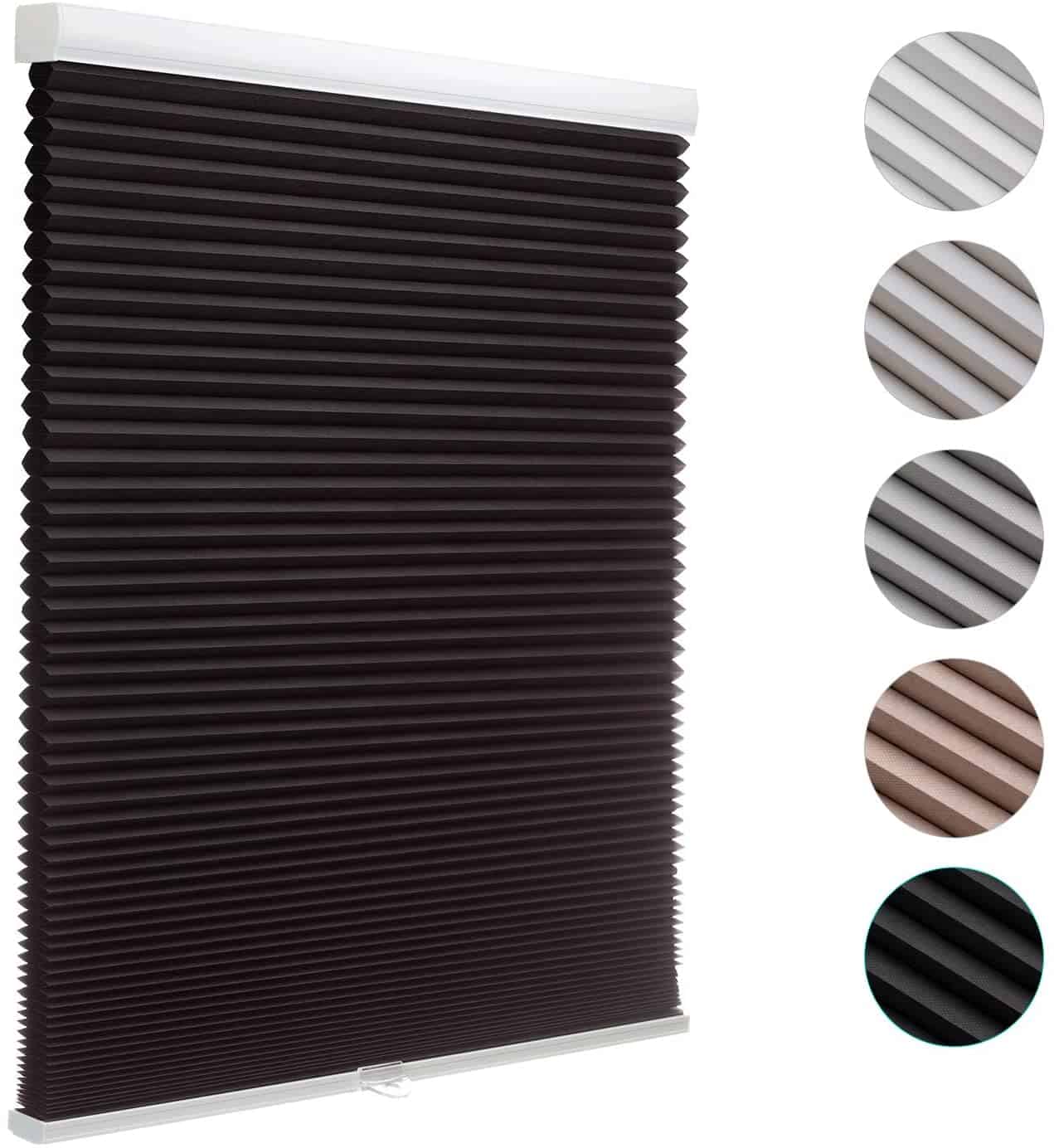 Check out these cellular honeycomb black blinds for more ideas and inspiration. Their material is nonwoven and environmentally friendly. Worried about the effect of long-term sun exposure?  
They'll be almost as good as new, depending on your maintenance. Expect zero peelings, cracking, unpleasant odor, and resistance to color change. They also have maximum blackout opacity to block sunlight, UV rays, and dust. The honeycomb structure also ensures your space stays free of noise pollution, is cool and well insulated. 
Pros
Easy to use and install

Good quality

Durable and have hassle-free maintenance 
Cons
It comes with hardly any directions on the installation
9. Woven Pleated Black Blind: Best for Bathrooms and Living Rooms with Arch Windows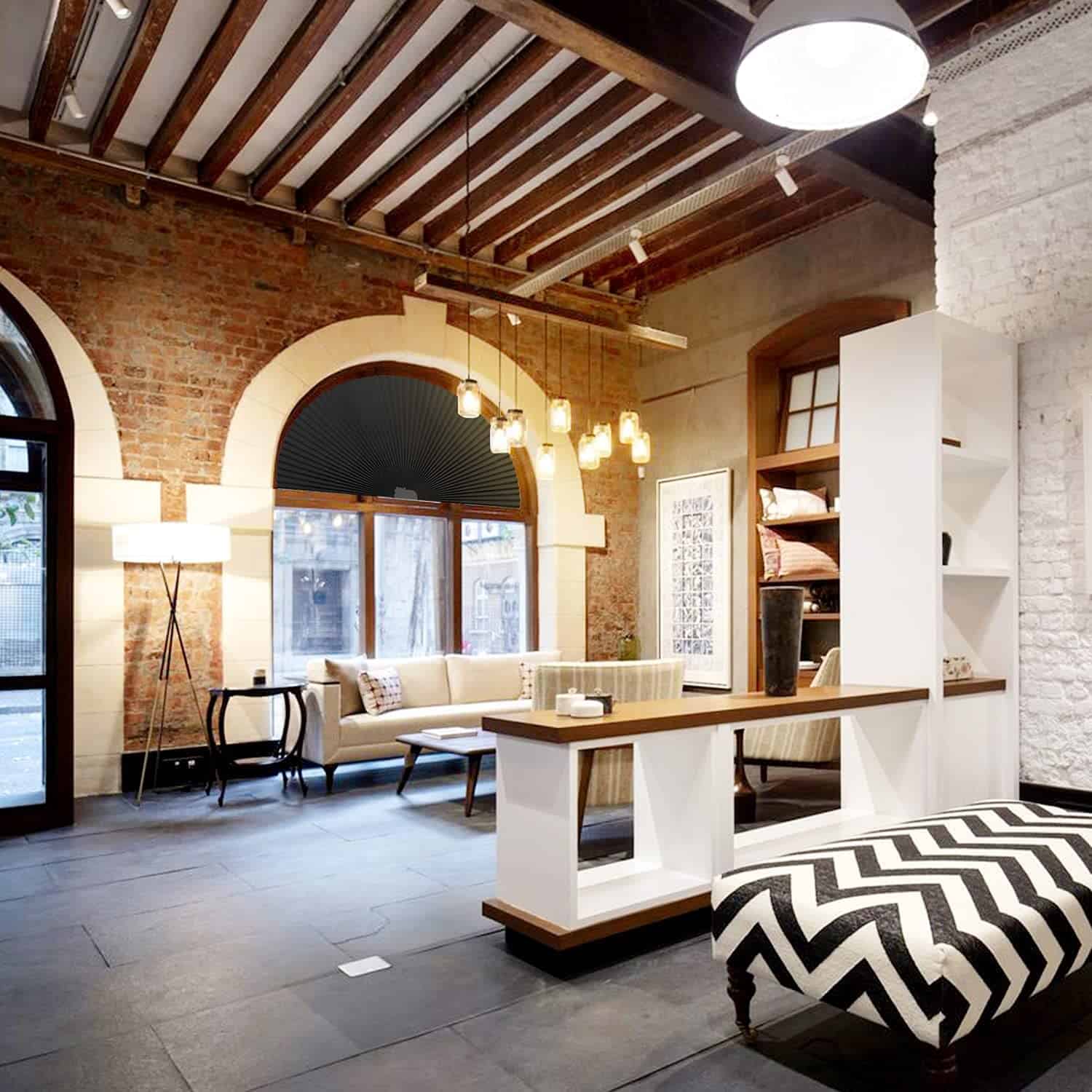 These gorgeous black blinds are 100% non-woven, polyester fabric with an aluminum film on the back part. This works well to block UV rays, regulate the heat, and can secure your privacy. You'll find it easy to install as you'll cut it according to your window's dimensions. These blinds also come with accessories to prevent unnecessary tilting or falling. 3MM adhesive ensures they catch on and stay put. 
Pros
High-quality fabric

Easy to install

Lightweight and sheer
Cons
You may require extra adhesive support.
10. Fabric Roller Blind: Best for Offices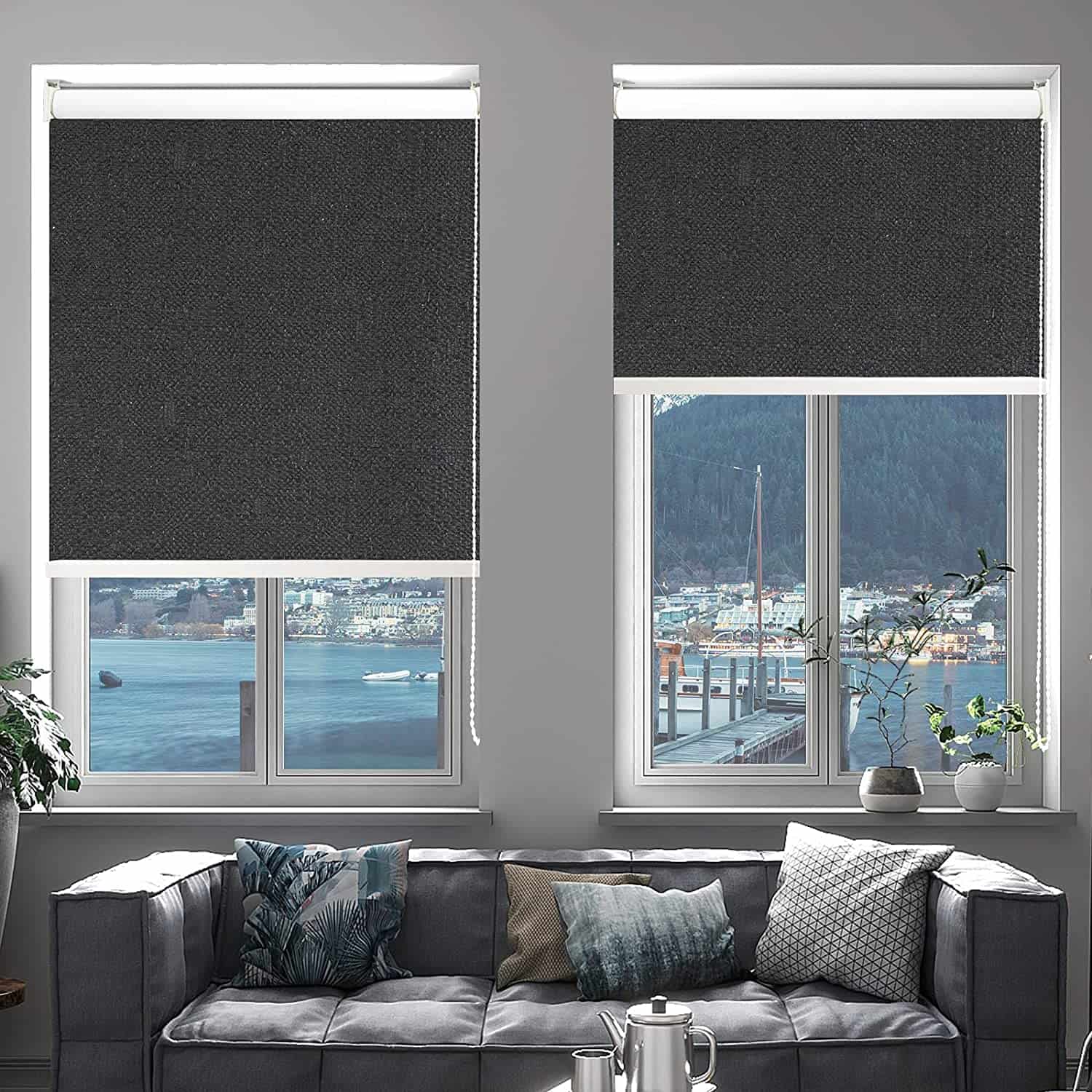 These eco-friendly black blinds don't have pungent odors and consist of polyester, which is pretty good at light filtering. Their blackout opacity is superb for sun blocking, UV protection, and space insulation. Installation is easy since you can do an inside or outside mount.
Pros
Easy to install

Durable

Sleek, contemporary style 
Cons
Beaded pull string is somewhat archaic for the design

Have backup attachment and installation hardware
How to Style Black Blinds 
To get the best out of black, use it sparingly with contrasting, complementary colors. When well applied, it adds depth and an ultra-sophisticated look to a space. Here are some styling tips to give you ideas and inspiration.
Use Zebra Stripes Blinds for a Subtle Look
Zebra stripe blinds allow light to filter into a room while adding exciting color contrast. They coordinate with other colors in the space and provide a beautifully controlled glimpse of the outside view (picture seeing green trees through the stripes). 
When raised, it gives a valance effect to add to the window frame's beauty and a unique unobstructed outside view that serves to complement the look and feel of your space (much like a picture).
Create Patterns for Depth
There's one option to create the impression of a magnificent pattern by using a popular designer's trick, layering black roman blinds or skylight blinds with other colors, for instance, white or blush curtains. What a contrasting, catchy effect! The other option is to use patterned black blinds in a neutral space. 
Darken the Mood of Your Space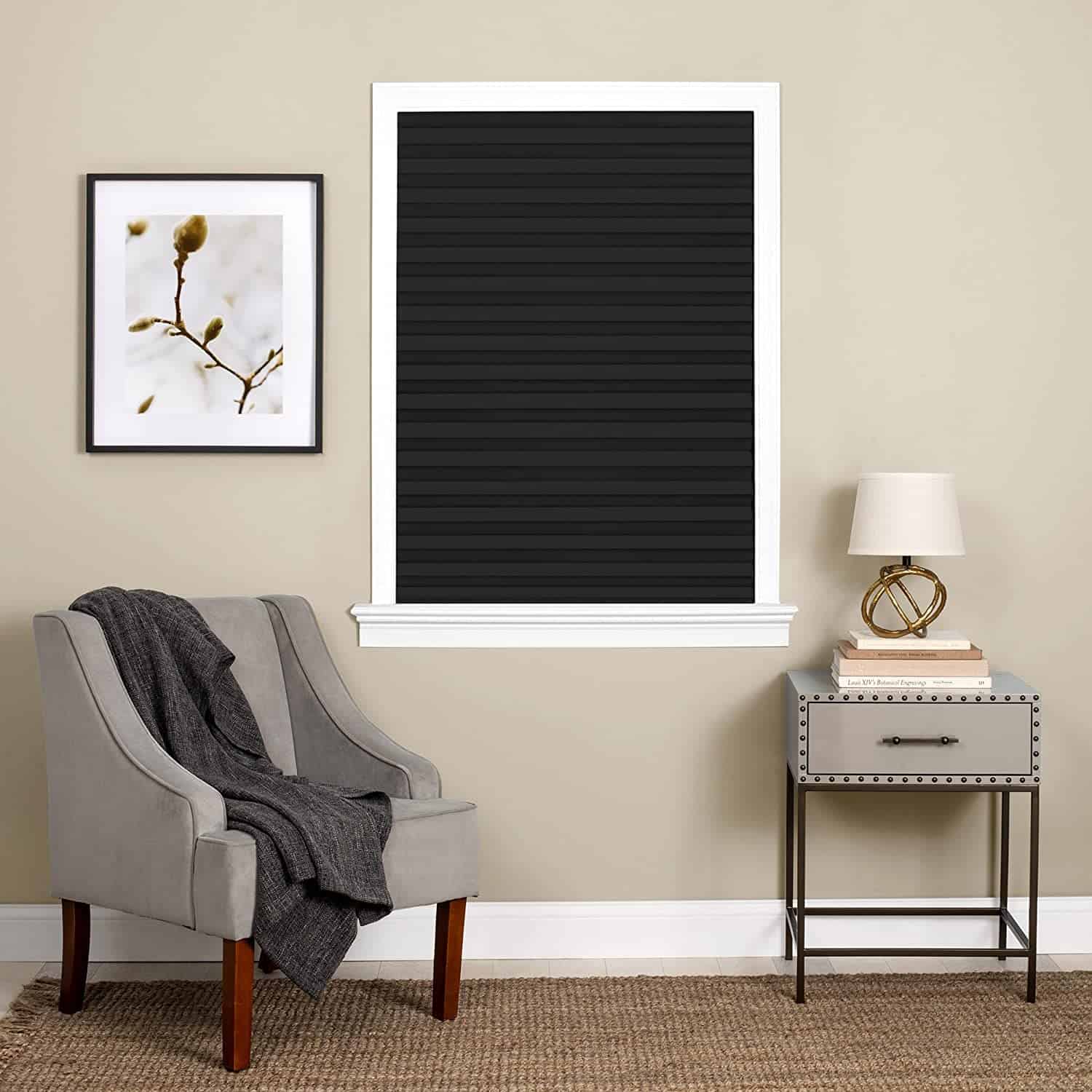 All black spaces have their allure because not everyone wants a brightly colored bubbly space. Black blinds can help achieve a chic, luxurious, and sophisticated look, especially when combined with sparkly, large chandeliers and mood lighting.
To Enhance Large Spaces 
Black blinds are the perfect anchorage for spacious, airy spaces such as high ceiling living rooms, grand dining rooms, and spacious bedrooms. They stand out in a complementary style without engulfing the spaces with their 'darkness.' 
In an open-plan space, they can create a unique backdrop, or you can utilize them to bring some privacy as the large glass doors connecting the living room to the backyard open up. If you think black blinds are dull, throw in some geometric or flowery patterns to spice things up.
What to Consider When Choosing Blinds
Functionality
Understand the issues you want to address by having black blinds—for instance, sun blocking, light-filtering, acoustics, thermal insulation, dust control, and more. 
Safety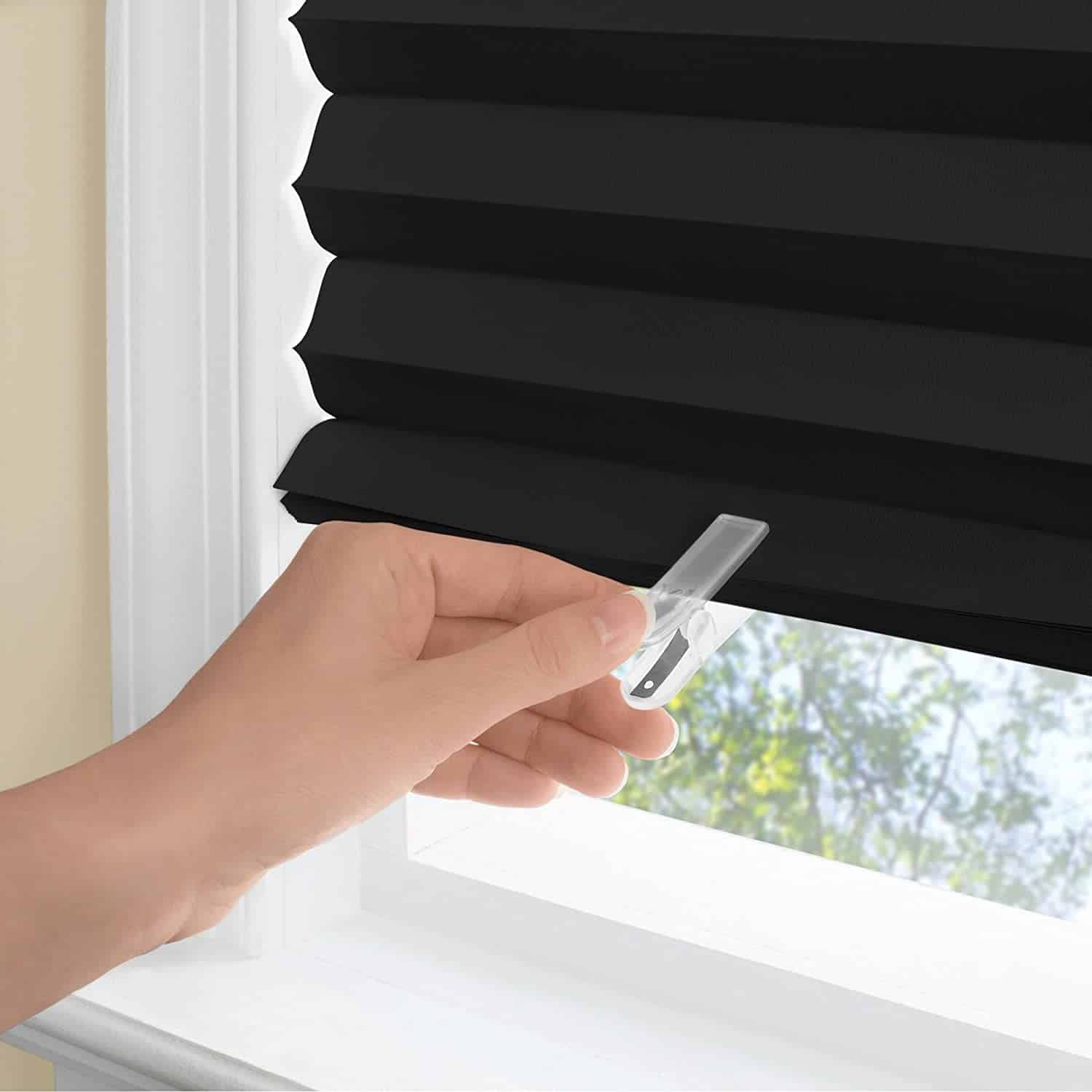 Consider the people in your living spaces. Are there kids, pets, elders, or anyone whose movement may be affected by cords and tassels? Or a flammable fabric that could catch fire effortlessly? Ensure the blinds have safety as a top priority.
Maintenance and Durability
Check on the ease of cleaning, fabric durability, and operations to determine the value you're likely to derive from your black blinds. 
Your Decor Style
Consider your style and how black blinds are likely to impact it. Is it formal, chic, or country? Bold colors can be fun or dramatic. Subtle hues are perfect for a room decorated in neutral, earthy colors. 
Affordability 
Are your preferred black blinds value for money? Weigh the above factors against the price and make your decision. Factors that contribute to price are; size, customization, pattern, and some added features.  
FAQs
Question: Which Blinds Are Best for Blackout?
Answer: The best blackout blinds will block out all the outside light to give you the peace to work,  sleep or be secluded from prying eyes or unnecessary disturbance. It also boils down to your needs and usage.
However, to determine efficacy, check the fabric type and quality plus the stretch and fitting. The blackout feature is an add-on to window blinds made of fabric such as roman, roller, or vertical blinds. Examples of features to look out for in best blackout blinds are:
• Mounting options: The best blackout blinds come with various mounting options allowing you to hang your blind inside or outside the window's frame. It could also give you the option to hang it to the ceiling to stop light leaking from the top of the window. Roller blinds have these qualities in spade; hence any blind with this design is worth consideration.
• Cover all and fitting:  The perfect blackout blind provides complete cover without allowing light to seep in, such as a skylight blind. They're built into a frame that blocks out the tiniest speck of light when shut. They come with suction cups or velcro strips for ease of use and movement in any space.
Question: Should Blinds Be Lighter or Darker Than Walls?
Answer: You can either choose to have lighter or darker blinds than your walls. However, the color of these two should be at least one shade and tone different from each other so that they do not look jumbled together in a good blend-able way.
Question: What Blinds to Put on Black Windows?
Answer: A black shade or blind provides a seamless appearance from both the interior and exterior of the home for solid black window frames.
A smart choice to put on windows with solid, dark colors is a blackout curtain that will keep out all light so your eyes can rest without any interference. You may want them if you have trouble sleeping in sunlight since they block it entirely rather than just letting some inside as other shades do.
Question: Should All Blinds in a House Match?
Answer: Not all blinds in a house need to match. You can create a statement in the room by using patterned blinds or bold colors.
Black Blinds Ideas and Inspiration: Conclusion
There you have it, the top black blinds on Amazon. This complete guide on black blinds should be handy in your search and the perfect reference when you want to make the purchase.
Remember, black blinds are versatile window treatments that are a handy decor accessory with added functionality. You can rely on them to create a cocoon that's free from sunlight, UV rays, dust, and noise. They're also energy efficient by helping to insulate your space against the vagaries of weather. 
Black blinds also come in various designs such as roman, roller, vertical, Venetian, and more. They're made of various materials to provide variations. Examples of materials are wood, aluminum, fabric, synthetic and sustainable.  It's evident there's something for everyone, you included. So, what's our recommendation?
The cellular honeycomb black blinds. They're eco-friendly and durable. No matter how long you expose them to the sun, there'll be no peeling, cracking, unpleasant odor, and resistance to color change.
Furthermore, they come with maximum functionality besides rendering style and elegance to your space. They have100% blackout opacity to block sunlight, UV rays, and dust. The honeycomb structure is effective at ensuring your space stays cool and well insulated.