Latest posts by Erin Jamieson
(see all)
In 2021, many Americans are looking for budget-friendly blinds like the popular Home Decorators collection. The question is: are these blinds, in review, a great option, or a misstep?
Curtains and blinds are set to sell more than ever. According to market research, curtains and blinds are expected to grow nationally and globally. That aligns with the trend in home renovations. In 2020, the average home spent over $13,000 on renovations–an increase of $4,000 from the previous year.
But the catch? While Americans may be more invested in renovating their home, at the same time they're also wary of spending too much. While DIY projects continue to trend, overall trends suggest that Americans are spending fewer post-lockdowns and being more careful with their money.
The trick is that, while Americans still value window coverings for privacy— and they still want those blinds or curtains to last– they also don't want to spend more than they have to.
Home Decorators Collection offers blinds that hit that sweet spot, on the surface– while not dirt cheap, they are relatively affordable.
This Home Decorators Collection Blinds Review will tackle what the Home Decorators Collection is and tell you what you need to consider before buying, as well as my picks for the best blinds from the Home Decorators Collection in 2021.
What is a Home Decorators Collection?
Home Decorators Collection is based in St. Louis and has an online collection of rugs, window coverings, and home decor. It's been in business for 42 years, but had a troubling history– while offering some compelling products, under its own brand name, it had an unofficial failing reputation under the Better Business Bureau. Strangely, though, only 4 formal complaints have been filed within the past three years. But now things have changed, and that's where Home Depot comes into play.
Did Home Depot buy Home Decorations Collection?
This is where the positive news comes in. The Home Decorators Collection was acquired by Home Depot in 2006. The acquisition it seems was a win-win: Home Decorators Collection came under better management and earned a better reputation. In turn, acquiring Home Decorators Collection doubled the size of Home Depot's direct home decor options.
Now, over a decade and a half later, consumers have more access than ever to Home Decorators Collection– and the reviews are far more positive, focused on the products themselves vs the management.
What products are available from the Home Decorators Collection?
Home Decorators collection can be bought from Home Depot primarily, but you'll find some options through Amazon as well. In addition to blinds, you'll find a variety of window coverings, flooring options, fans, and vanities, and small furniture for kitchens and bathrooms.
Styles lean classic and contemporary. Grays, whites, and browns are the most common options for colors. Most all products are versatile and updated, but not anything that particularly stands out. Home Decorators Collection is a go-to for some for a reason: their decor and other options can be used in many different home styles, and they're fairly practical.
Are Home Decorators Collection blinds good quality?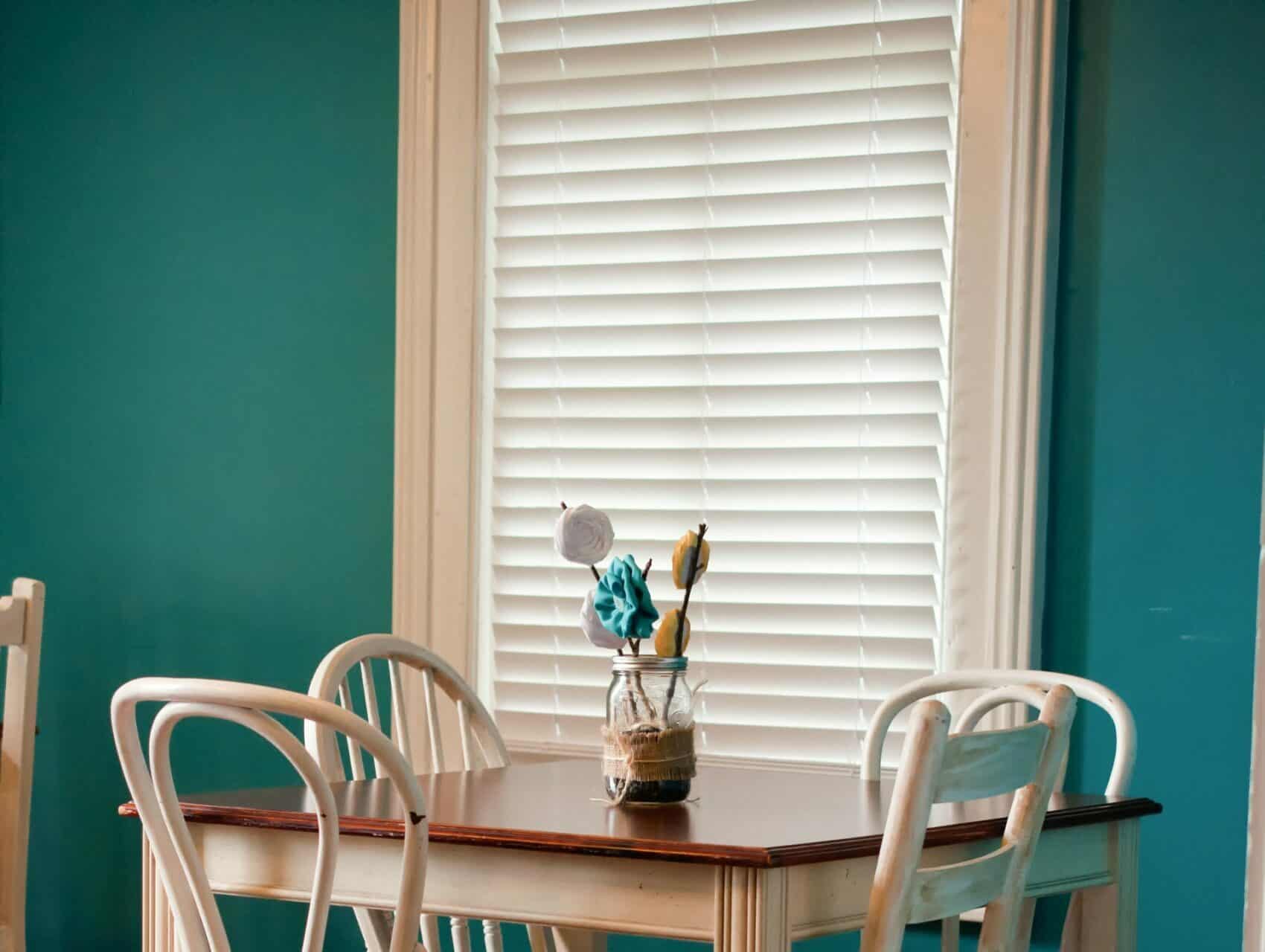 Of course, the most important thing to consider is their blind offerings. Home Decorators Collection blinds earn over 4.5 out of 5 stars on average based upon customer reviews on the majority of their blinds.
They've earned praise for their quality to price point ratio. While their blinds are not the most luxurious, best-made blinds you can find, their faux wood blinds especially live up to expectations. Depending on what you're looking for, their collection of blinds offers fairly durable blinds without draining your wallet.
What types of blinds are in the Home Decorations Collection?
The Home Decorators Collection may seem extensive at first glance, but they don't actually have that many options, all considered, for blinds. That said, the options they do have are useful for many. The collection includes faux wood blinds, as well as bamboo blinds. They also have options for paper and fabric shades.
Many Home Decorator Collection blinds are room darkening blinds (the most popular type of blind), but you will find a few options for light filtering blinds, as well as blackout shades. Home Decorators Collection sells all cordless blinds and shades. Style-wise, blinds match the rest of the Home Decorator Collection: with classic contemporary looks.
How much do Home Decorators blinds cost?
Another thing I appreciate about Home Decorators blinds is that they come with affordable and more expensive options. Expect to pay $20 as a starting price, up to $149 for the most luxurious options. On average, expect to pay $50 to $60. You can certainly find blinds that are cheaper, but also blinds that are more expensive.
And the good news is that they do have options at different price points. Of course, you'll have to factor in other costs, especially if you plan to have your blinds professionally installed. That said, like most blinds, these blinds are fairly easy to put up yourself.
Do Home Decorators Collection blinds last?
How long your blinds last depends on several factors, including; the overall quality of the construction materials, the materials used, and how you use them. While customers were pleased with the quality, and there are many things to admire, I wanted to take a closer look at the materials being used.
All told, Home Decorators Collection has expected quality for the materials used. If taken care of and used properly, you should be able to get the average life span (around 7 years) out of most blinds. While they don't go above and beyond in terms of quality, they meet expectations.
Faux Wood Blinds
Faux wood blinds are actually an excellent choice, and more durable than other materials. Faux wood doesn't have the luxurious look as hardwood blinds (even though that's what they are mimicking), but they do have advantages.
Faux wood blinds usually are moisture and heat resistant, and not prone to warping or shrinking. They're fairly low maintenance, though you can't throw them in a washing machine as you could with some other blinds. They're mid-range in terms of how expensive they are.
Hardwood Blinds and Bamboo Blinds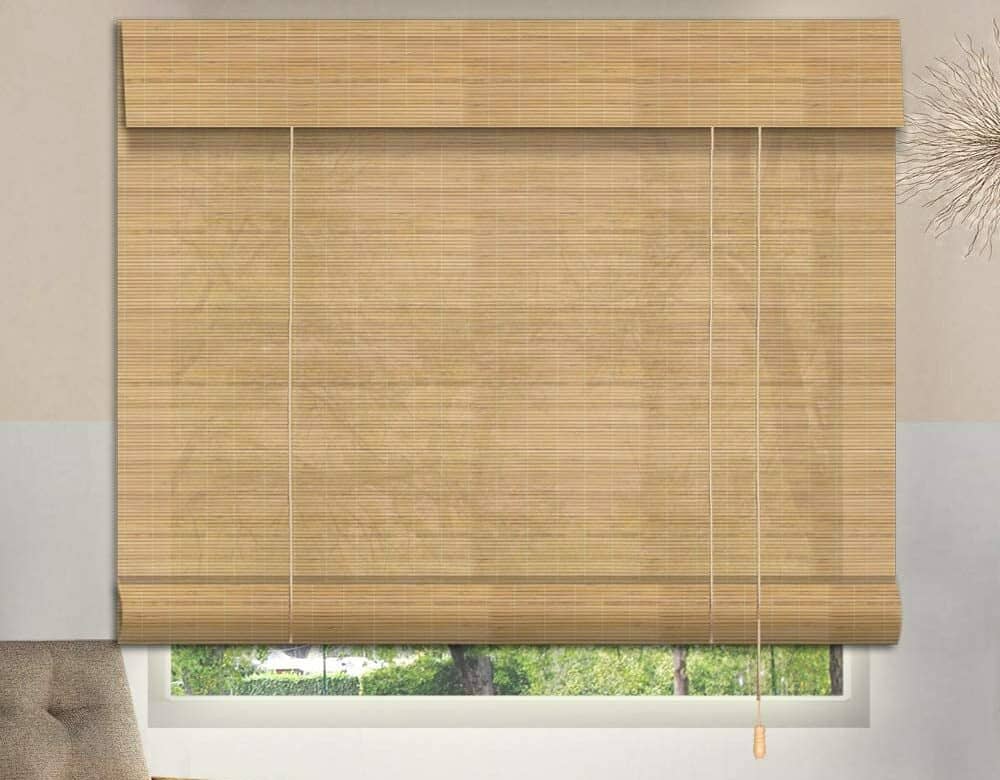 Of the two, when it comes to durability, you're actually better off selecting bamboo– but I love that Home Decorators Collection provides the option for both. Bamboo is lightweight and resistant to moisture and temperature fluctuations. It's easy to clean, though it can be more fragile than faux wood. Hardwood blinds are beautiful, and can last in the right circumstances– but they should only be used in low humidity areas, and there is the risk they can break or shrink.
Home Decorators Blinds: My Picks
Now I'll give you my picks for the best Home Decorators Collection blinds and shades you can buy in 2021. I've made sure to include a variety of materials– from faux wood to bamboo and fabric– as well as different light-filtering options, from blackout shades to light filtering blinds. I'll tell you why I selected each one, and where to buy them.
Home Decorators Collections Bamboo Blinds/ Shades
Bamboo blinds offer a classic, traditional appeal with refined elegance. While bamboo can also fit with boho and eclectic homes, wooden blinds and shades of any kind certainly offer a unique look. Despite their refinement, these blinds stick true to what Home Decorator Collection is known for: contemporary, simple, classic cordless options that you can use in about any room. The bad news? There's only one option I'll recommend– there simply isn't a lot to choose from if you're buying from Home Depot directly.
Modern Farmhouse Light-Filtering Bamboo Shades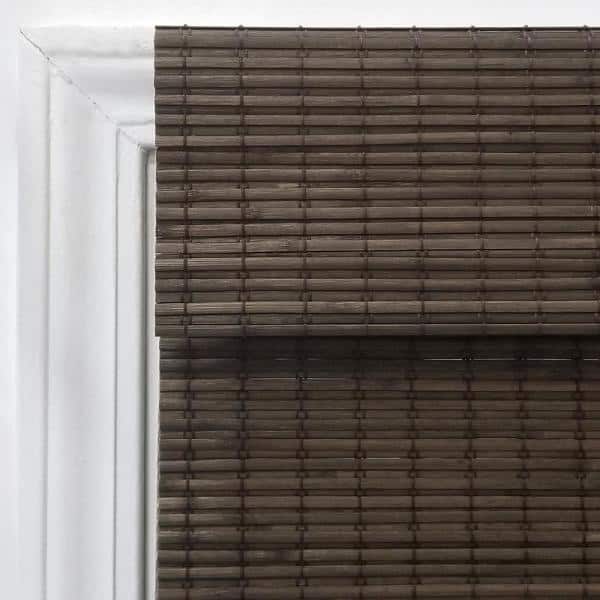 Available in espresso and honey tones, these light-filtering bamboo shades are an excellent option not only for modern farmhouse themes but traditional and even boho rooms. A roman shade style is mounted inside or outside the window frame. Your purchase comes with matching decorative valances and hardware, and all orders are cut to size.
The cordless shades offer light filtering– for protection against the sun's glare while still allowing natural light to flood a room. The elegance and textured design are appealing, and these shades, as is common for Home Decorators Collection, also come with a limited lifetime warranty. The easy installation means you can do it yourself, and there's a lot of ways to style these bamboo shades to your liking. Buy Here.
Home Decorators Collection Faux Wood Blinds
You'll find the most options for faux wood blinds from Home Decorators Collection. The great news is that faux wood is typically durable, as well as moisture and heat resistant, and Home Decorators Collection doesn't disappoint. The classic contemporary style fits well. By no means do these blinds look the same as hardwood blinds– but the durability and high customer reviews give this category my top rating of all blinds Home Decorators Collection offers.
Cordless Premium Faux Wood Blinds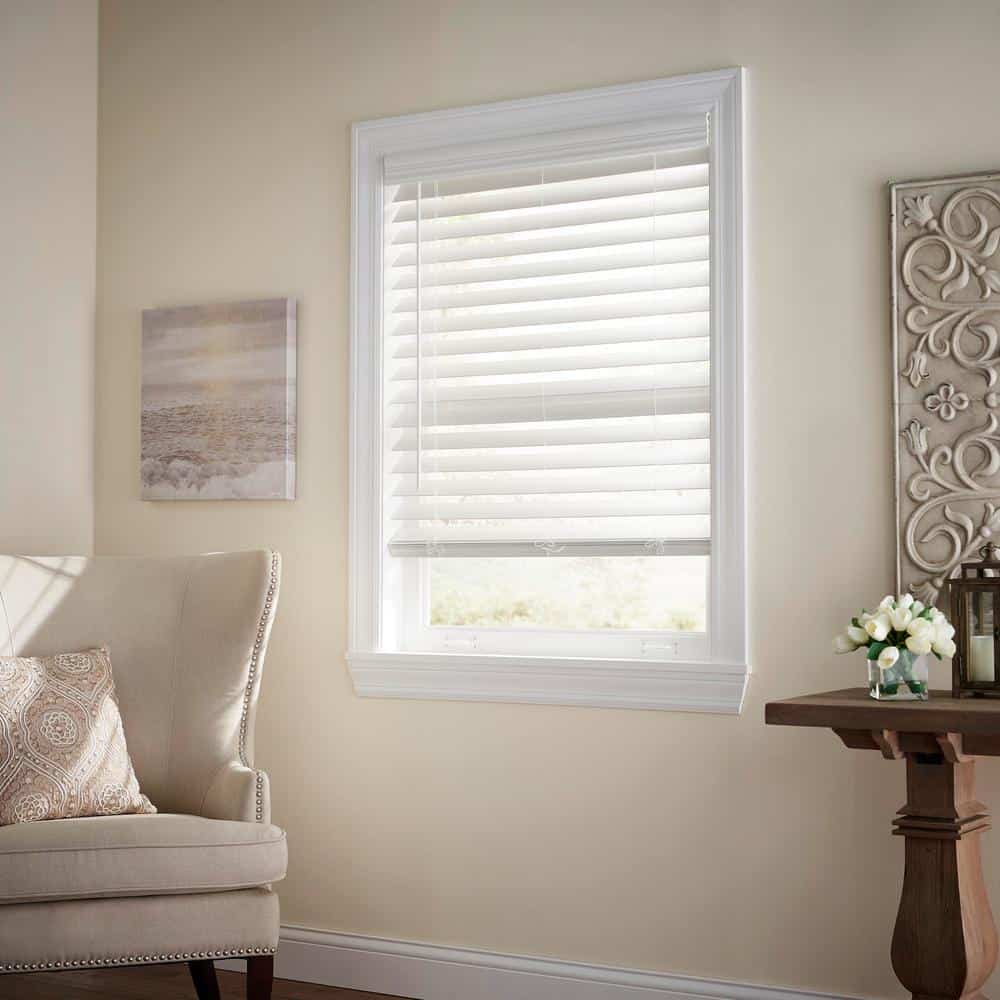 You can't go wrong with white blinds. White blinds continue to be the most popular color. But these premium faux wood blinds also come in chestnut, espresso, and gray finishes. The embossed grain is meant to mimic wood.
I really like the 2.5-inch slats– .5 inches more generous than the typical– if you want greater light control and more viewing possibilities. The cordless faux blinds are made to fit and come with a privacy slat, mounting hardware, a decorative headrail, and valances. These also ship the next business day. Buy Here.
White Cordless Room Darkening Faux Wood Blinds
These classic 2" faux wood blinds are ideal for making a room where you'll be spending a lot of screen time more comfortable. Whether you're watching TV, using a laptop, or even your smartphone, room darkening blinds are meant to reduce glare and provide a bit more privacy than light filtering blinds. You'll get the same features– embossed grain and complementary hardware, headrails, and valances. Buy Here.
Economy Cordless Faux Wood Blinds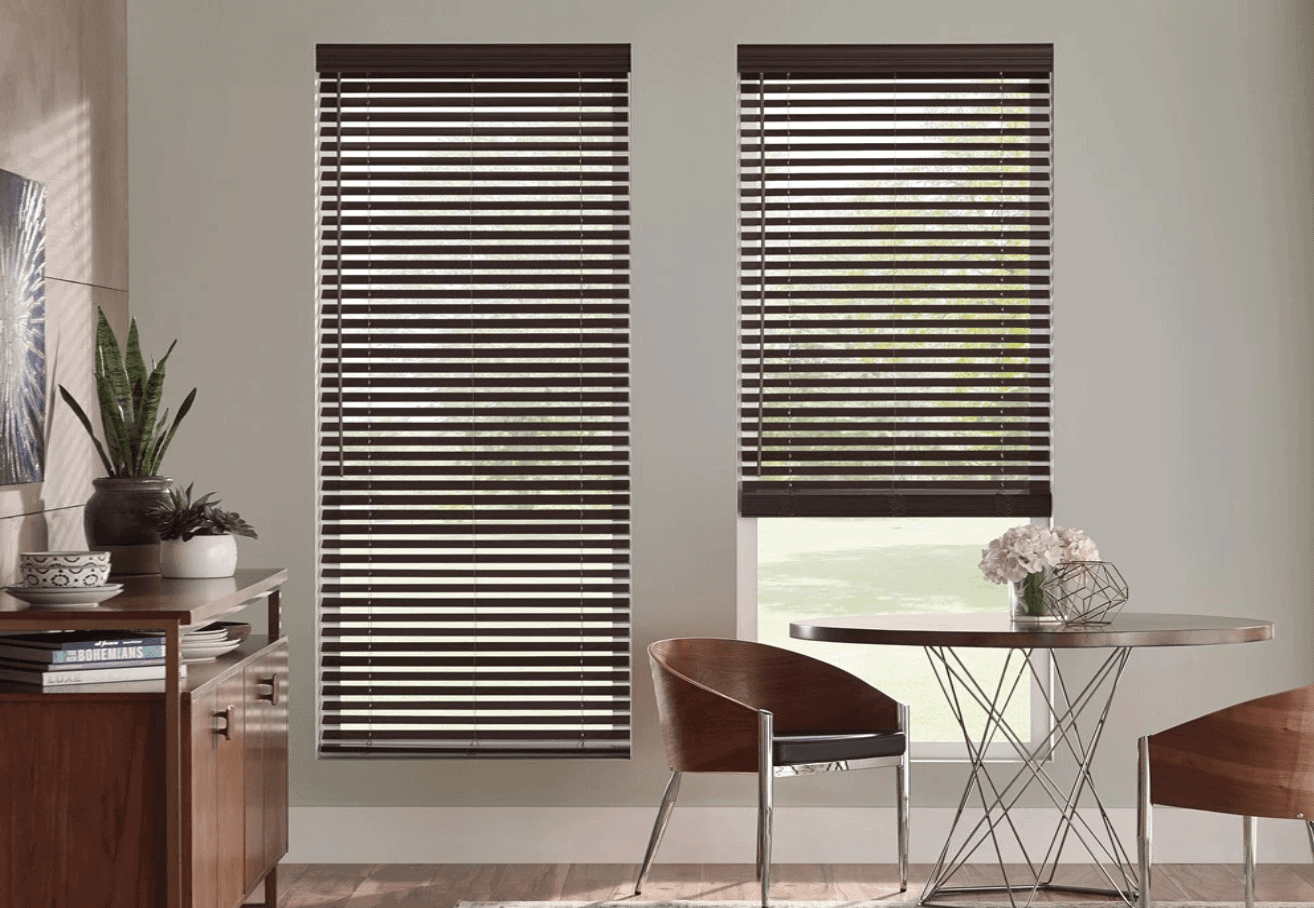 Looking for a budget-friendly option? These faux blinds cost less and are still highly rated. You'll also have more options– with smooth, embossed, and 'real grain' finishes. Colors range from white to off-white to wooden hues (from golden oak to dark pecan). The 2" slats are easy to clean and stick with the modern, cordless design. Buy Here.
Home Decorators Collection Cellular Shades
Fabric and parchment shades are options for someone who isn't sold on blinds. They also offer a bit more of a selection for light adjustment, with both light-filtering and blackout options. Sticking true with the rest of the collection, these window coverings are still cordless, versatile, and made with a simple contemporary design.
Cordless Blackout Cellular Shade
These shades offer privacy with a contemporary and thoughtful design. The honeycomb shape provides extra insulation and could even trim some of your energy costs. You'll have a choice of three lengths, as well as useful colors, including white, pewter, mocha, and latte (tan). The fabric shades are cordless and come with a white backing for a uniform appearance. Buy Here.
Cordless Light Filtering Cellular Shade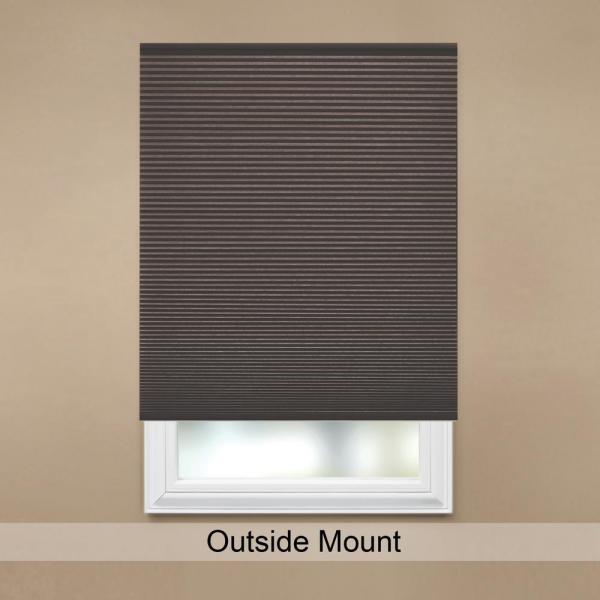 These highly rated shades from the Home Decorators Collection are a great alternative to blinds for living spaces. Available in chocolate, parchment, pebble gray, tan and white, these shades provide a classic style that will suit most homes. Available in three lengths, these shades filter light for a soft glow and make for a comfortable room. The cordless shades still provide added insulation with their honeycomb construction– despite allowing more light to come in. Buy Here.
Home Decorators Collection Blinds Review – FAQs
Question: How do you shorten Home Decorators Collection blinds?
Answer: While some blinds can be made to order, other Home Decorators Collection blinds offer only a few sizes. The good news is that they can be shortened, either by yourself or a professional.
Start by lowering your blinds all the way and opening the slats. Next, make a mark on the blind where you want the blinds to settle (all other slats below will be removed). Next, break off/ remove all slats below. Be careful not to break any cords or strings, as this will break the blinds. Push the bottom rail out (if there is a button, push it out) to loosen it.
From there, you'll need to carefully remove the ladder string. Cut up to two rungs below the final slat you want to keep. Pull on the pull cords and raise the bottom rail to rest on the bottom slat. Finishing by securing the ladder string back into the holes in the bottom rail. If you can't do this yourself, of course, sometimes it's best to call a professional.
Question: Will Home Depot cut my blinds?
Answer: The good news is that even if you're on a tight budget, you can have your blinds professionally cut. Any blinds you buy from Home Depot can be cut to the exact size, free of charge. The catch? This applies to blinds that are bought in a physical storefront.
Question: What company does Home Depot use for delivery?
Answer: Home Depot is known to have fast delivery times–with many products offering same-day delivery. Home Depot uses Roadie for that express delivery service.
Other Alternatives to Consider
But if you're not sold on the Home Decorations collection for blinds, the good news is there are some great alternatives. If you love the affordability of the Home Decorators collection but want more options, consider these collections.
SelectBlinds
SelectBlinds are affordable and can be custom ordered. Their company holds an A+ rating from the Better Business Bureau and is well-loved for its wide selection of blinds and shades. You'll find everything from faux wood blinds to bamboo, wood, and even sheers. Shop Here.
Blindster
Another great alternative? Blindster sells highly rated blinds at an affordable price. Shop popular styles, including faux wood, wood, aluminum, and vinyl blinds. They also offer a fit guarantee and free shipping with orders. Shop Here.
Final Thoughts
In review, the Home Decorators Collection does not stand out for its blinds, but they are respectable choices for most homes. I'd love to see more variety– both in materials and colors– but, since coming under Home Depot's control, they have enjoyed a satisfying reputation. If you like bamboo or faux wood blinds and are looking for a contemporary style without paying an exorbitant price, they may be a good choice for you.