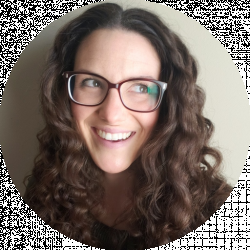 Latest posts by Sarah Caldwell
(see all)
Blinds do more than give your home the privacy you need. They can also add comfort, control light, lower your energy bills, and help you sleep. You may even find some blinds controlled by a remote or smart blind that will work with your smart assistant
This guide is intended to help you select the right blinds for you based on style, safety, convenience, and their ability to block sunlight. I'll review the different types of blinds that do the best job of giving you privacy and then I'll suggest some specific products you may enjoy.
Types of Blinds
The number of blinds styles available is too many to count. They come in all shapes, sizes, and colors, too. I can't possibly review everything, but the specific styles I will talk about here are great for privacy and comfort. They will also offer thermal insulation to keep your utility bills at a minimum.
Venetian blinds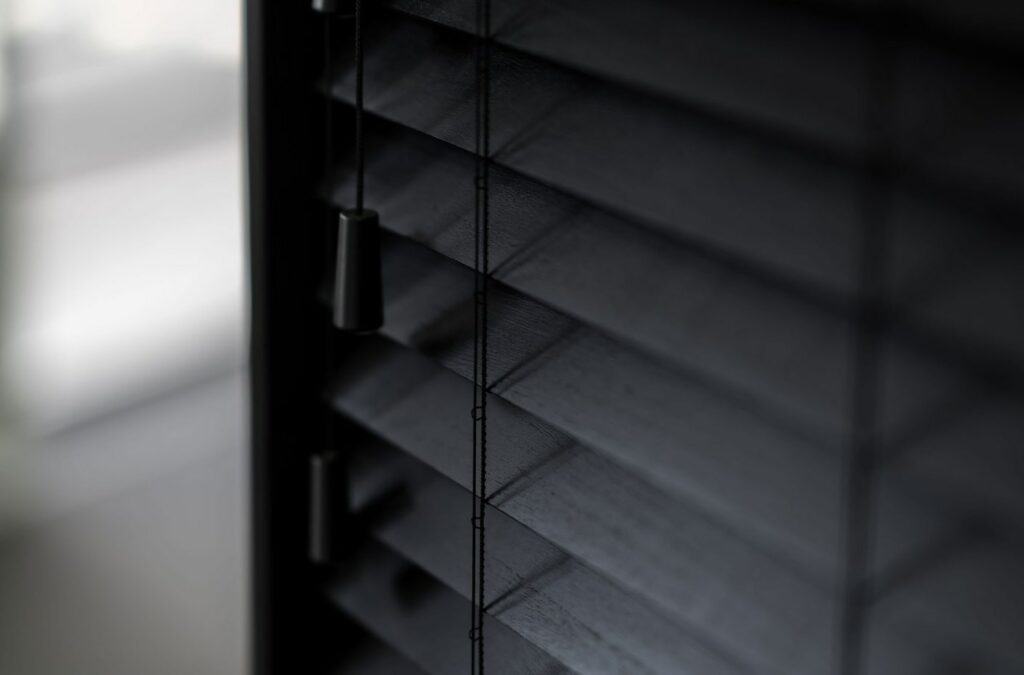 These blinds are the type of blinds you're likely the most used to seeing. They consist of pull cords controlling horizontal slats and wands that twist. You can raise and lower them or open and close them to control the light you want to let in.
When down and closed, these blinds offer privacy and an extra layer of thermal insulation. However, they don't always block every bit of light and they're not always the most attractive solutions either.
The good news is that Venetian blinds have been improved, and today, they're made of much higher quality materials and the designs are a lot more attractive than they used to be. Slats can be made of aluminum, wood, or vinyl for a durable and attractive design.
There are also cordless designs that allow you to raise or lower the blinds just by adjusting the shade at the bottom. They come in an endless number of colors to match most home interiors.
While these don't have complete blackout capabilities and they don't add as much insulation as other options, they're the best option for those on a budget. They cost a lot less than other styles, so it's the most affordable choice if you don't want to break the bank.
Roman blinds
These blinds are very stylish. They're usually made of fabric that folds into themselves as they open. While they're made of fabric, they can be made of a wide variety of different fabrics, adding to the color and texture of the window.
These blinds are great at blocking sunlight and offer more insulation than Venetian blinds. Because they're made of fabric, most manufacturers will include a lining that helps to keep the temperature of your room more consistent. They also fit tightly into the window frame, which helps block light and even better controls temperature variance.
Quality Roman shades may be very expensive, but they offer superior design and functionality.
Vertical blinds
These types of blinds are commonly used on patio doors that slide. They have long slats suspended from the top rail and feature a twisting wand that is used to open and close as well as slide the blinds.
Vertical blinds can be very finicky and aren't the best solution for households with pets or children. You can also open them the wrong way or twist them too far, causing them to break.
If you opt for these types of blinds, look for options that are made with wide fabric panels. These are less likely to break because they're more durable, but you can't adjust them to let in light.
Pleated blinds
These blinds have slats shaped like an accordion that fold in together as you lift them up. There are two varieties of these, and both options work with most windows with each having its advantages.
Standard pleated blinds come in plenty of patterns and colors and tend to be the cheaper variety. This option has an exposed cord in every other pleat.
Honeycomb blinds are more pricey, but they trap air between 2-3 layers of fabric, which creates an extra barrier to increase energy efficiency. They also block light better than standard pleated blinds and they have a cord that remains hidden inside the layers of fabric.
Roller blinds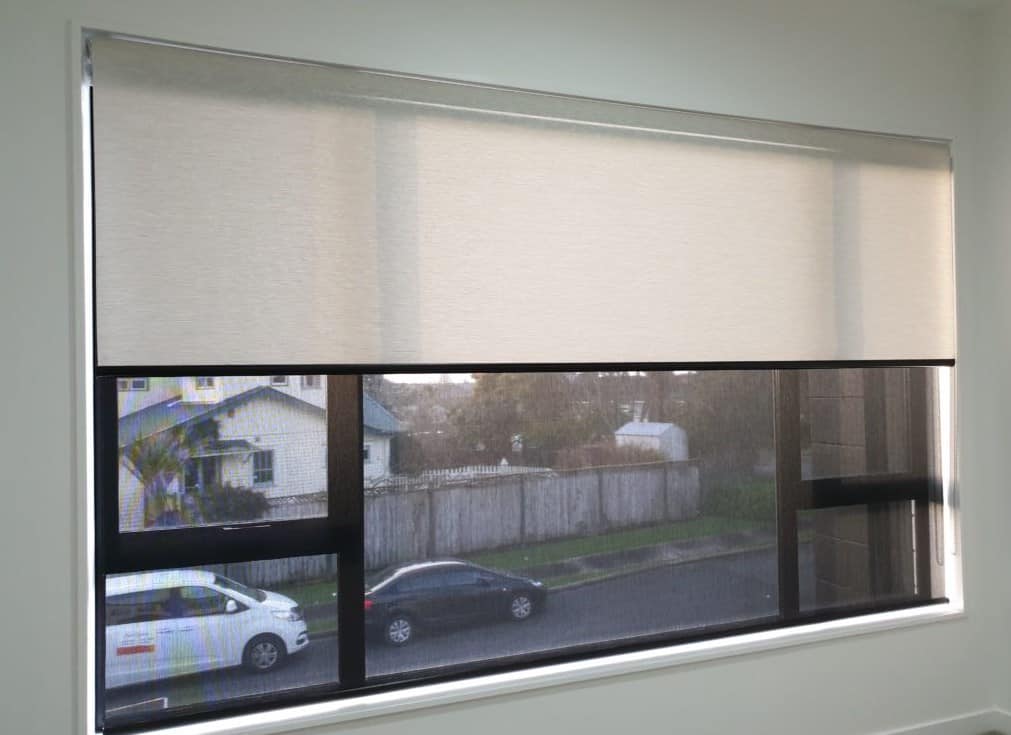 Roller blinds used to be a relatively poor-quality solution that never really worked as it should, but they're much better now. They come in a variety of colors, patterns, and fabrics. While their ability to block light is different based on the fabric you choose, some are very efficient.
The downside is that this option isn't as adjustable as some others. You can raise and lower them, but you don't have very precise control over their position. They can also be expensive, but they add a nice decorative touch and plenty of privacy with the right fabric.
Smart blinds
If you already have connected devices in your home, you can connect your blinds to your digital assistant so you can control them with your voice or program them to open and close at certain times. You can also use your smartphone to adjust them, even when you're not home.
These blinds are installed like other blinds, but they have a motor that connects to wifi, so you can set it up to connect with Google Home, Amazon Alexa, and your smartphone. Set up schedules to maximize efficiency, light, and privacy.
Roller-style blinds are the most common smart blinds, but you may be able to find other options like Venetian blinds or a combination of styles.
Automatic blinds
These are automatic blinds like smart blinds, but they don't connect to wifi. They simply have motors that are controlled with a remote. These types of blinds have been around for a long time. They may cost more than traditional blinds, but they add convenience.
Best Blinds for Privacy
Now that you know all about the types of blinds that offer the best privacy, it's time to look at some specific product options that may work for you. These are some of my favorites because they offer functionality and durability.
US Window And Floor 2" faux wood cordless blinds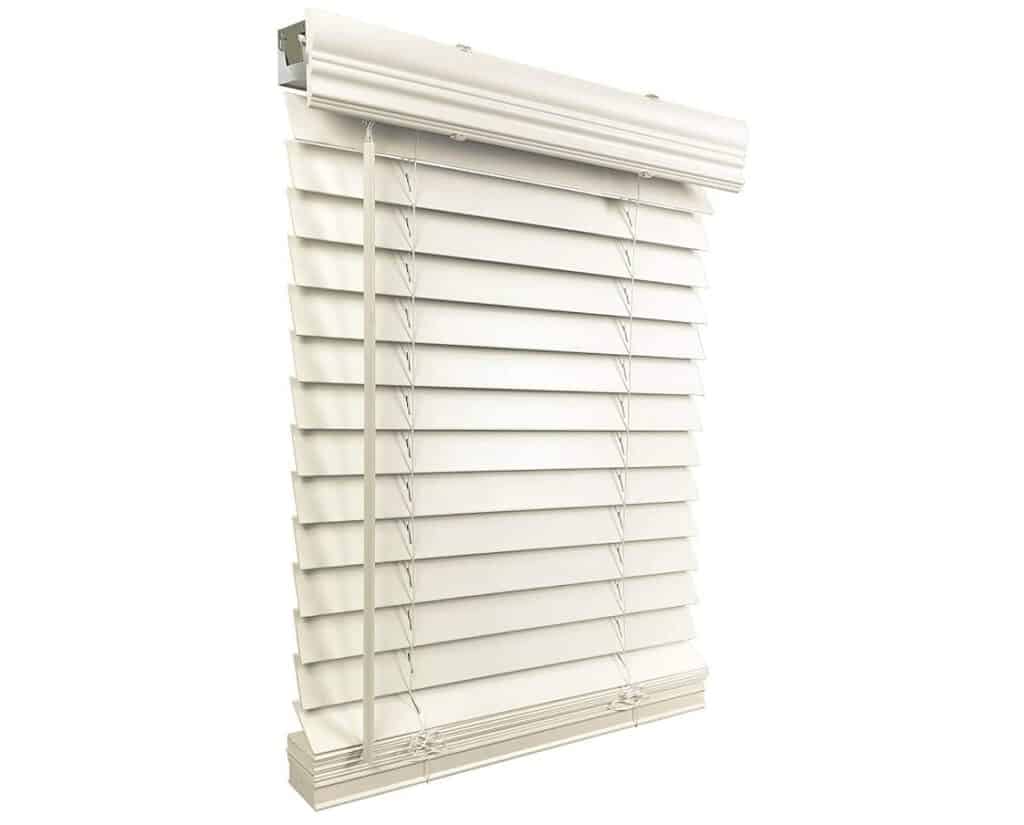 Venetian blinds offer plenty of versatility, and they're one of the best options for most people. This high-quality set is made of PVC slats with a wood grain appearance for durability and style. The wide slats give out a country vibe and add to their heft.
The cordless style eliminates the look of unsightly cords and the single wand allows you to tilt them with precision. These are great blinds for households with pets and small children because there's nothing to get tangled in.
When they're open, they let a lot of light in because the spacing between the slats is wide. When they're closed, the width blocks a lot more light than blinds with smaller slats. The decorative valance hides the headrail, which is made of heavy-duty steel.
Pros:
Heavy-duty and durable

Stylish and functional wide slats

Cordless design
Cons:
ShadesU Zebra dual layer roller sheer shades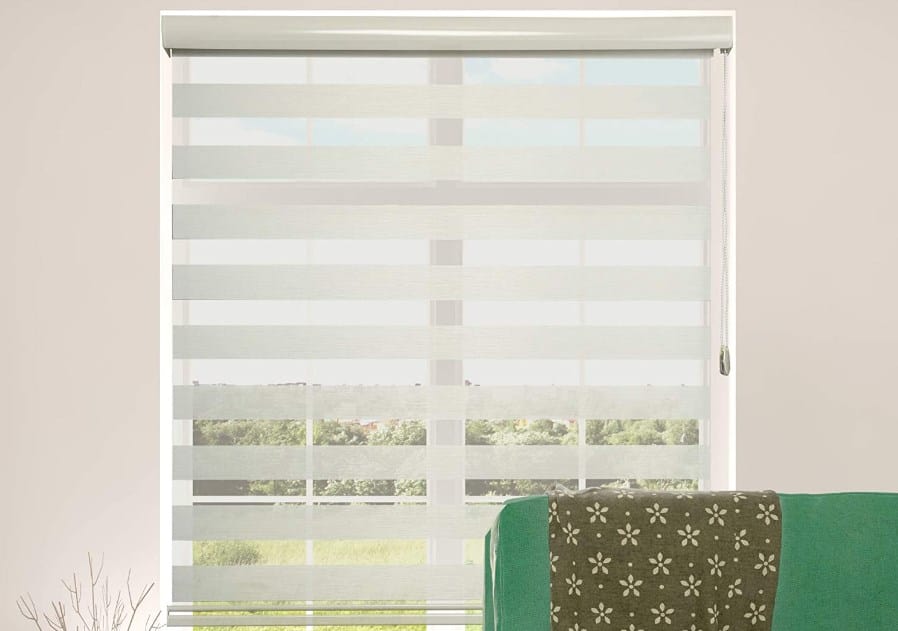 This particular set of blinds combines the best features of both Venetian blinds and roller shades. They have alternating solid and sheer slats that give them their zebra name. You can adjust them to let as much or as little light in as you would like.
Pull them all the way up for a clear view out the window or lower and rotate them for complete privacy. While this set does come with a cord, they're functional and stylish at the same time, and they come in four different colors.
Pros:
Precise control over light and privacy

Stylish and functional

Clever zebra design
Cons:
Bali Blinds 1" vinyl cordless blind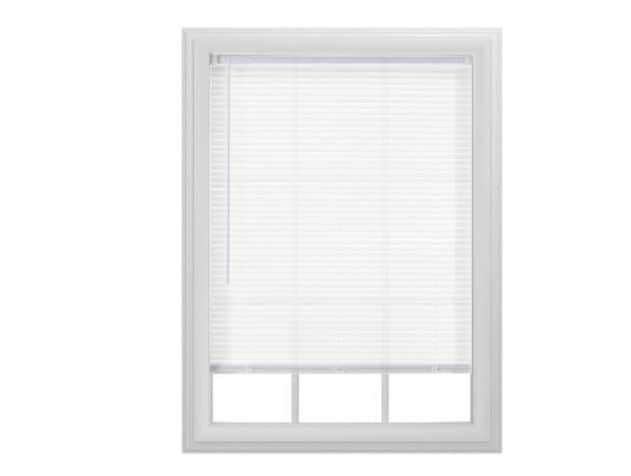 This affordable option is the best for people on a budget, like college students or renters. When you're living somewhere temporarily or you simply need a fast, cheap solution, these cordless blinds work great.
They feature a basic Venetian blind design, but they're cordless, which makes them even more functional and safe. The wand allows you to adjust the angle of the slats for privacy, and they come with all of the mounting hardware you need to hang them inside or outside the frame.
Pros:
Affordable

Functional and safe cordless design

Easy to hang and use
Cons:
Not stylish

Only comes in white
Yoolax motorized blinds with remote control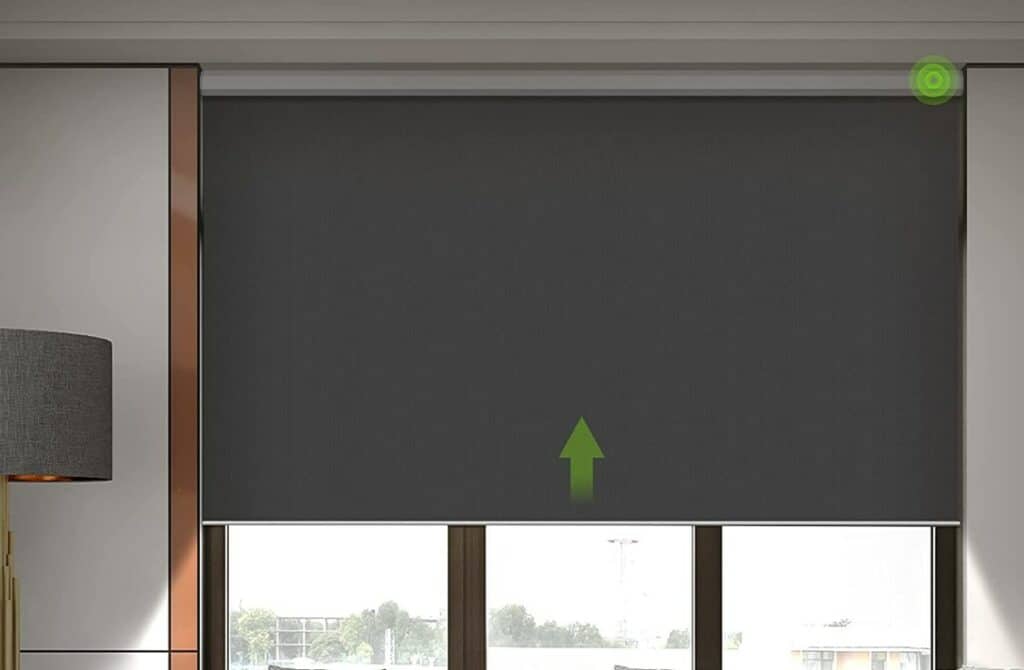 This set of blinds combines the convenience of remote control and a smart blind at an affordable price. These are more affordable than many other smart blinds on the market and they still offer a high-quality roller design in plenty of colors.
Choose a vinyl or polyester fabric in a dark color to block plenty of sunlight and give you privacy, or choose a lighter color to brighten up the room. The shade has a rechargeable motor with remote control and three settings. You can open or close the blinds, or set an adjustable middle position.
Program your blinds to work with your digital assistant for voice control. And perhaps the best thing about them is that when you order them, they're custom made for you so they'll fit your window perfectly.
Pros:
Custom made to fit

Smart blinds with remote control

Two fabric choices and plenty of color options

Affordable
Cons:
May also need a hub to connect to the digital assistant
CHICOLOGY cordless roller shades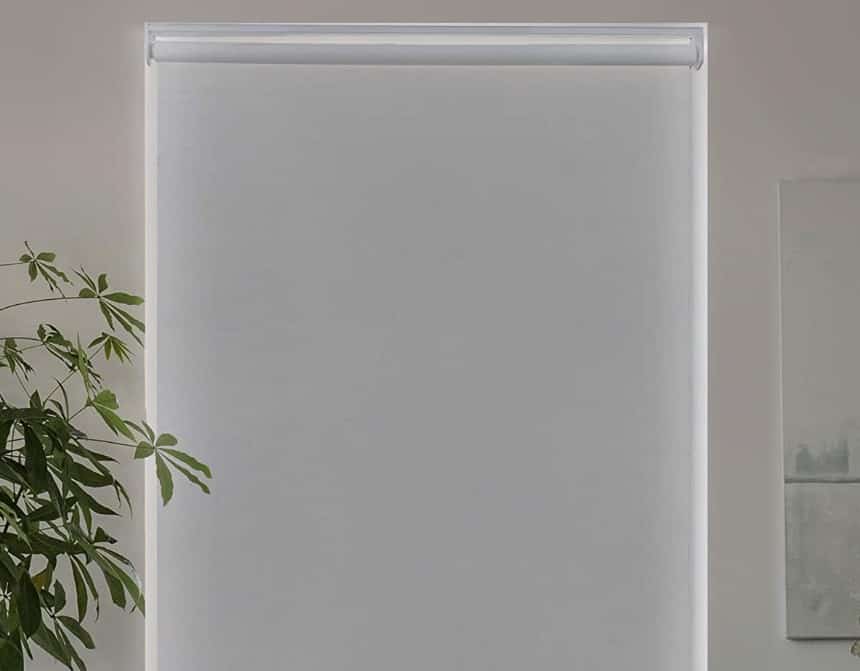 The Snap-N-Glide design of these blinds improves upon the old method for rolling up your roller shades. Where you used to have to pull your roller shades down and watch them fly, this set stays where you put it when you pull it down. When raising them, a very small pull will release it and it will gently roll up on its own.
These blinds offer a sheer look, thanks to blended polyester fabric, and it will filter out sunlight, but won't block it completely. This gives you privacy while still brightening up a room. They come in a few different neutral colors with varying levels of sheerness.
Pros:
Snap-N-Glide system makes them easy to use

Sleek design

5 colors to choose from
Cons:
Comes with a small pull cord
SBARTAR cordless cellular blackout shades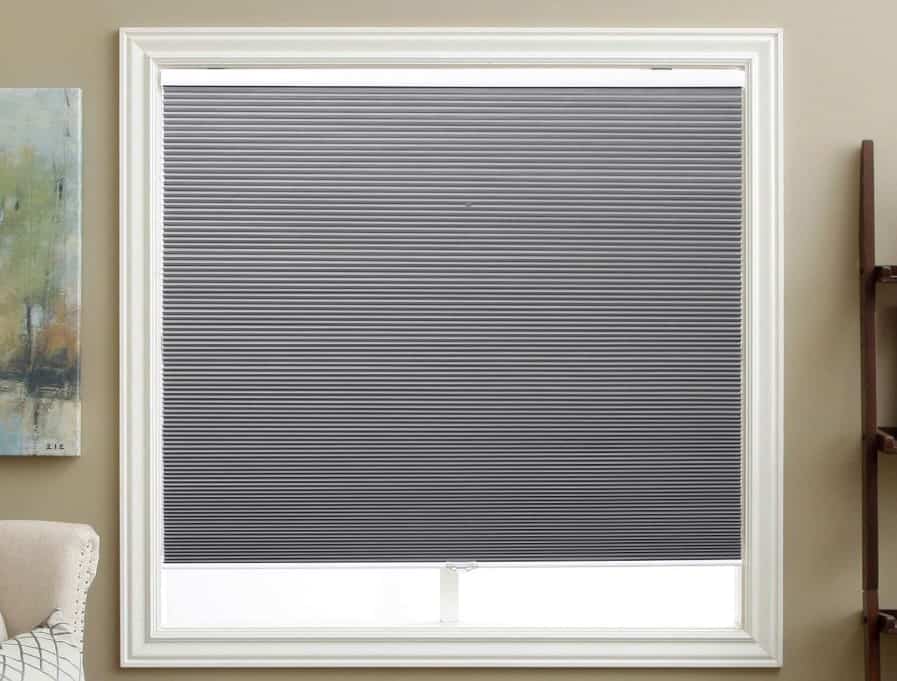 For complete privacy and light blocking action, these blinds will help you get the rest you need. They are made with a dual-layer of honeycomb-cell polyester that blocks sunlight, even if you choose a light color. This double-layer design creates a great thermal barrier for noise reduction and energy efficiency.
There are 11 colors to choose from and you can pick blackout blinds or light filtering blinds if you don't need the light totally gone. The internally routed cords keep them looking clean and they're safe for kids' bedrooms and homes with pets.
These shades are available in a variety of sizes and you can even order custom shades for your window. They come with all of the hardware you need to mount them inside or outside the window frame, so you'll be up and running in no time.
They may come out of the package with a strange odor, but after being exposed to air for a few weeks, the smell will dissipate.
Pros:
Blackout and light filtering options

11 colors

Double-layer polyester for noise reduction and energy efficiency

Cordless

Custom-fit options
Cons:
Come out of the package with an odor
GoDear Design deluxe sliding panel blind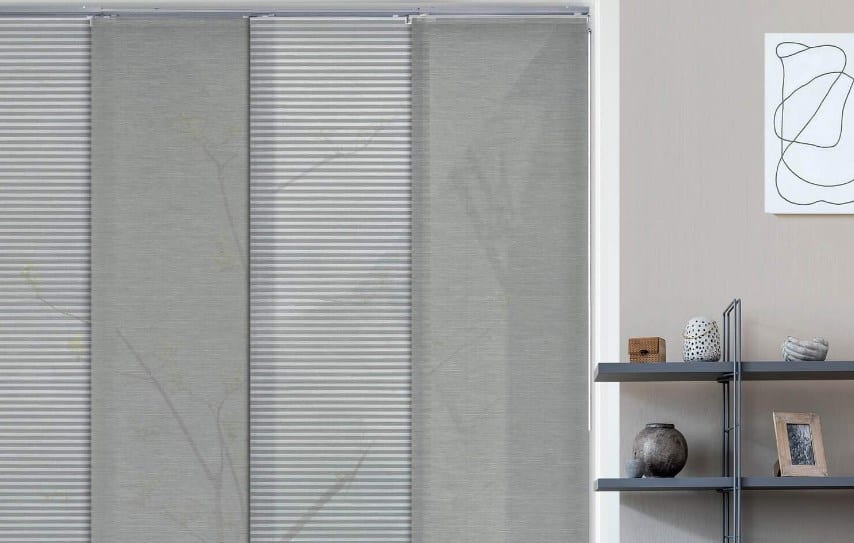 Many people with sliding doors don't like the look of vertical blinds, but this panel system is a bit different. The polyester and paper fabric blend makes them trimmable, so they'll fit nearly any patio door as well as some windows, giving you privacy and a sleek look.
They are mounted on adjustable tracks to fit a variety of widths and they slide gracefully open and closed rather than twisting open like traditional vertical blinds. There are two wands that help you pull the panels to either side.
This unique design is also very versatile. Choose to mount your sliding panels on the ceiling and use them as a room divider. There are three gorgeous earthy colors to choose from and the woven fabric is soft and beautiful. They're also very easy to clean using a vacuum or a duster.
Pros:
Functional paneling system

Trimmable to fit most doors and windows

Versatile sliding design
Cons:
Doesn't come with a valance to hide hardware

Panels stack in the open position and still cover some of the doors
FAQ
If you're still struggling with which kinds of blinds are best for you, you're not alone. These frequently asked questions about blinds will help you learn a little bit more so you can make a better decision.
Question: How do you install blinds?
Answer: Most blinds come with the hardware you need to install them. Simply attach the brackets to the inside of your window frame or the wall outside the frame for the look and coverage you need. You'll need a drill, a pencil, and a level.
Once the brackets are mounted, you can snap the blinds into them and you're done! Follow any specific manufacturer directions included in your package.
Question: How do you fix broken blinds?
Answer: Unfortunately, there's no way to fix broken blinds in most cases. Once the mechanism is damaged, you'll need to replace them. Sometimes slats will bed, and you can bend them back, but they'll never look new again. If slats break, you may or may not be able to replace them.
How do you keep light from coming through blinds?
The best way to keep light from coming through your blinds is to buy the right size and type of blinds for your window. If you want complete light blockage, you should try blackout blinds. Even if you don't want to block the light out completely, you can buy darker, thicker fabrics to make sure less light gets through.
If you're trying to filter out a lot of light, make sure your blinds fit tightly into your window frame so there's not much space for light to leak through.
Question: What color or finish should my blinds be?
Answer: If you want blinds that are beautiful as well as functional, choose something that will look great in your home. If you enjoy a minimalistic or modern design, choose white or gray. Neutral colors like brown and beige give you a great earthy look while colorful fabrics will give you an eclectic pop.
Final Thoughts: Which are The Best Privacy Blinds?
Blinds are a very personal choice, but when it comes to privacy in your home, they're necessary. Choose blinds that fit your needs including how much privacy you want, the thermal barrier you need to create, and how much light you want to block.
Just because your blinds need to be functional doesn't mean they can't also be beautiful. There are plenty of designs out there that are easy to use, will give you the features you need and will make your room look good.