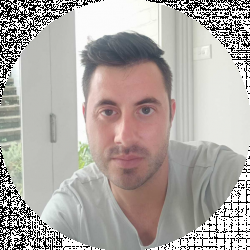 Latest posts by David Borgogni
(see all)
Up to 25% of heat loss occurs through windows, although how much heat or cold will enter a room through a window depends on the type of windowpane. In this guide to the best thermal curtains, we'll show you how to double your home's energy efficiency by simply changing the curtains.
Window insulation solutions aren't always visually pleasing since covering windowpanes with bubble wrap and putting a blanket over them is going to stop the cold or hot air from entering a room, but it doesn't look very stylish.
On the other hand, Thermal curtains are a much more elegant solution that'll allow you to choose a window treatment that matches the home décor, and it'll enable you to control the room temperature or block UV rays.
Our guide to the best thermal curtains will walk you through some of the most important features of this type of window treatment and hopefully assist you in choosing a model that'll improve your home's energy efficiency.
The 5 Best Thermal Curtains
How do thermal curtains work?
The main purpose of thermal curtains is to insulate a window and reduce or eliminate air infiltration. This is achieved by creating the dead-air space between the window and the rest of the room.
This space changes the way circulates in a room, and it traps the heat inside, preventing it from escaping through the window. During the summer months, these curtains reflect the sunlight that comes through the windows, which in turn keeps the room temperature at the same level.
R values denote how well windows or walls are insulated, and the R-value of your window depends on how many panes it has. However, the insulated walls have significantly higher R values than any type of window you can find on the market.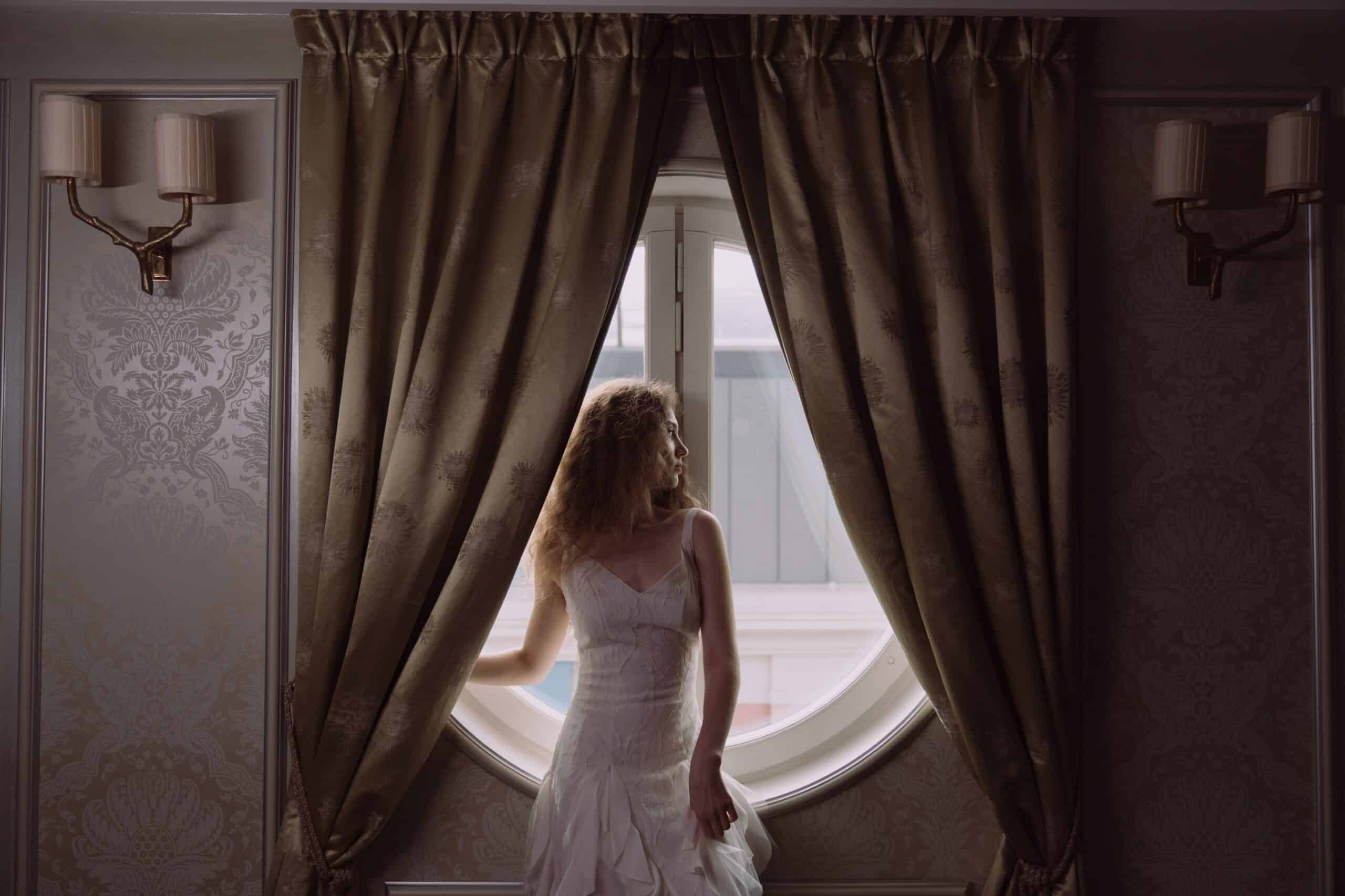 Installing thermal curtains can double the window's R-value and consequently lower the amount of power you have to use to heat or cool your home.
Types of thermal curtains
Nearly all standard types of curtains can be thermal if they have heat insulation properties. So, you're likely to encounter classic curtains, regular and hobbled Roman shades, or balloon shade while searching for thermal curtains.
One thing all types of thermal curtains have in common is weight, as they're significantly heavier than normal versions of these curtains. Weight is also a part of why they're so effective at preventing heat transfer since their multilayered structure prevents the heat or light from reaching the other side.
Such diversity of thermal curtains makes it easy to find a suitable treatment for your windows. Besides, these curtains can be an excellent solution if you want to insulate French or sliding doors.
However, to fully insulate a glass door or a window, thermal curtains have to be longer than the casement, as the length of each curtain panel determines how effective the dead-air space is going to be. Read our guide to the best magnetic blinds if you're searching for an inexpensive window treatment solution.
The most common thermal curtain materials
The curtain's thermal insulation properties largely depend on the material. Thermal curtains are made from various materials that can stop the heat as soon as it goes through the windowpane.
Some models combine several materials, as the liner and the outer layer are often made from different materials. This type of curtains can sometimes be made of natural materials such as cotton, velvet, or silk, but most thermal curtain models are made of either polyester or microfiber.
Each of these materials has excellent insulation properties, although models made of natural fabrics don't always have an insulation layer, as they rely on the fabric's features to trap or block the heat.
Fabrics made of microfiber and polyester aren't great insulators which is the reason why these models usually feature an extra layer that creates the dead-air space.
The insulation layer
Arguably, the most important characteristic of thermal curtains is the insulation layer. This feature separates these curtains from soundproof curtains that are also capable of preventing heat and cold from entering or exiting through windows.
Thermal curtains can have two or three-layer lining, and two-pass models allow some light to go through while three-pass curtains reflect or absorb more than 90% of sunrays that reach them.
The insulation layer is based between the liner facing the window and the fabric that is located on the outer side of the curtain. The insulation is made of heat-resistant materials such as foam, flannel, or felt, while some models can use cotton batting as an insulation material.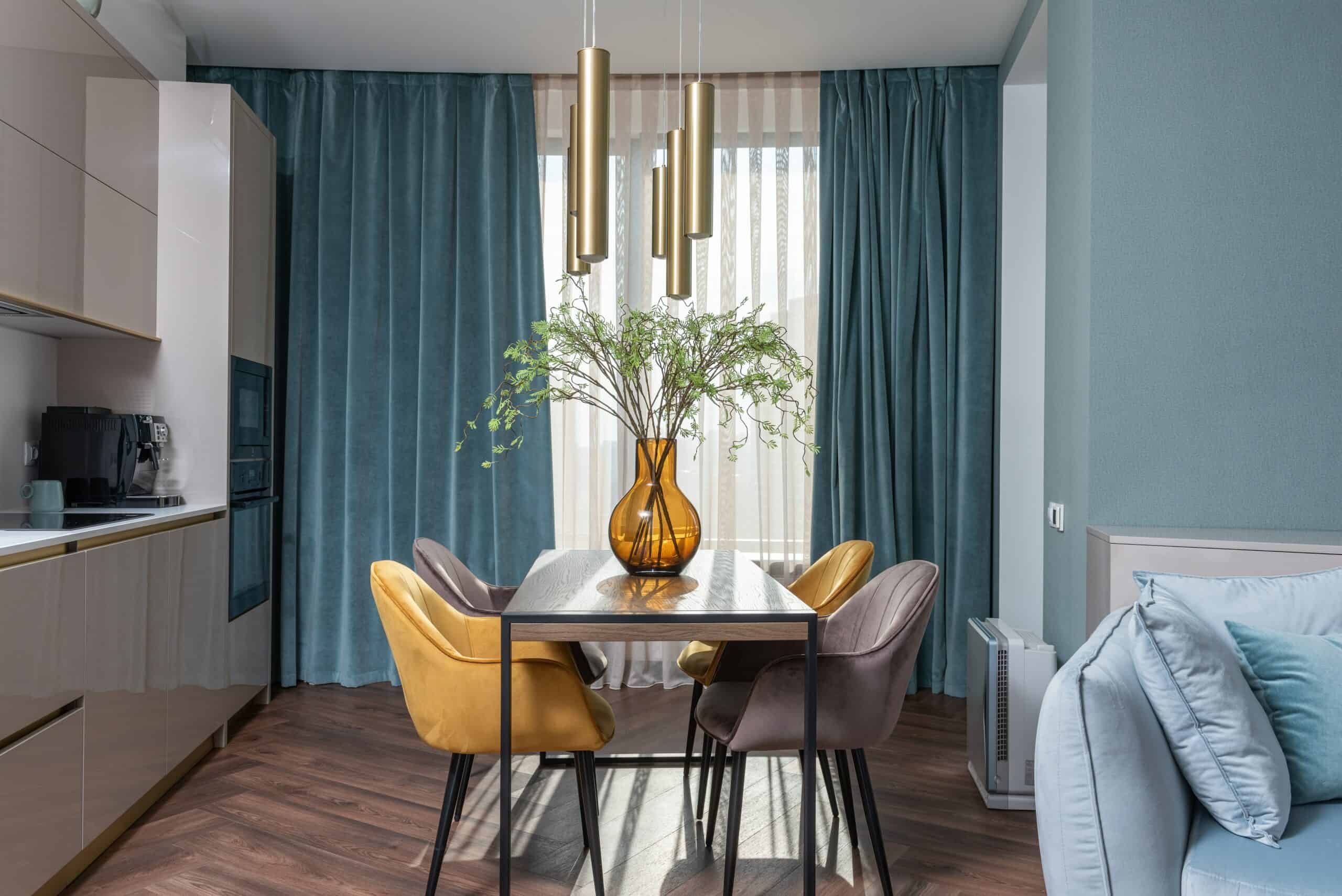 It is worth pointing out that manufacturers don't always provide information about the effectiveness of the insulation layer. That's why it is often impossible to know by how much the window's R-value is going to increase after you install a particular model of thermal curtains.
Light and sound blocking properties
Blackout liners are not a standard feature on all types of thermal curtains. In fact, some models can only darken a room because they either don't have a liner or the liner is semi-transparent.
Assessing the position of the window and the amount of sun exposure it gets during the day is the best way to decide if you should opt for a blackout or semi-transparent liner.
All thermal curtains have sound dampening abilities, but they are usually lighter than soundproof models, so they can't absorb high-volume sounds. Nonetheless, this type of window treatment can help you muffle street noises if you live in a busy area with heavy traffic.
Opting for soundproof curtains that have heat-blocking properties is also an option you have if the sound-absorbing features of standard thermal curtains don't meet your needs.
The most important things to consider while choosing thermal curtains
The room's temperature doesn't depend solely on the window's insulation since poorly insulated walls and doors can also allow heat transfer to happen. So, installing thermal curtains is just one of the steps you can take to improve your home's energy efficiency.
Also, installing these curtains as closely as possible to the wall will enable them to insulate a room better because it will minimize the space through which cold or hot air can escape.
You should keep in mind that these curtains can weigh 5lbs or more, so you need to check if the curtain rod you have can carry so much load. Let's take a look at more factors you should consider while deciding which thermal curtains to choose.
Type of windowpane
The R values or the amount of heat a windowpane lets through aren't the same for all window systems.
So, the R-value of a single-pane window is between 0.9 in the winter and 1 in the summer, while the R-value of double-pane windows varies from 1.64 during warm months and 1.72 during cold months on models that have ¼-inch air space.
Triple pane models have the highest R values, but even the high-end models rarely have R values above 3. Installing a thermal curtain will enable you to improve the room's insulation and lower the energy loss through the windows.
Curtain dimensions 
Ideally, the curtain rail on which you want to hang these curtains should be installed 6-inches above the window frame or even higher if you want to cover the entire wall. The curtain should drop at least three inches below the window frame, and it should cover as much or more space on the sides.
That's why you should measure the window's dimensions and then choose the curtain size that is large enough to prevent the cold or hot air from spreading throughout the room.
The number of layers
Air both hot and cold moves without disruption through thin fabrics, which is why regular shades and curtains can't prevent heat transfer. Models that have two or three layers alter the flow of the air by creating the dead-air space between the windowpane and the curtain.
However, curtains that feature a thermal insulation layer are more efficient at preventing heat transfer and maintaining room temperature at a constant level. In addition, thermal curtains equipped with blackout liners deflect UV rays which helps reduce the temperature even further.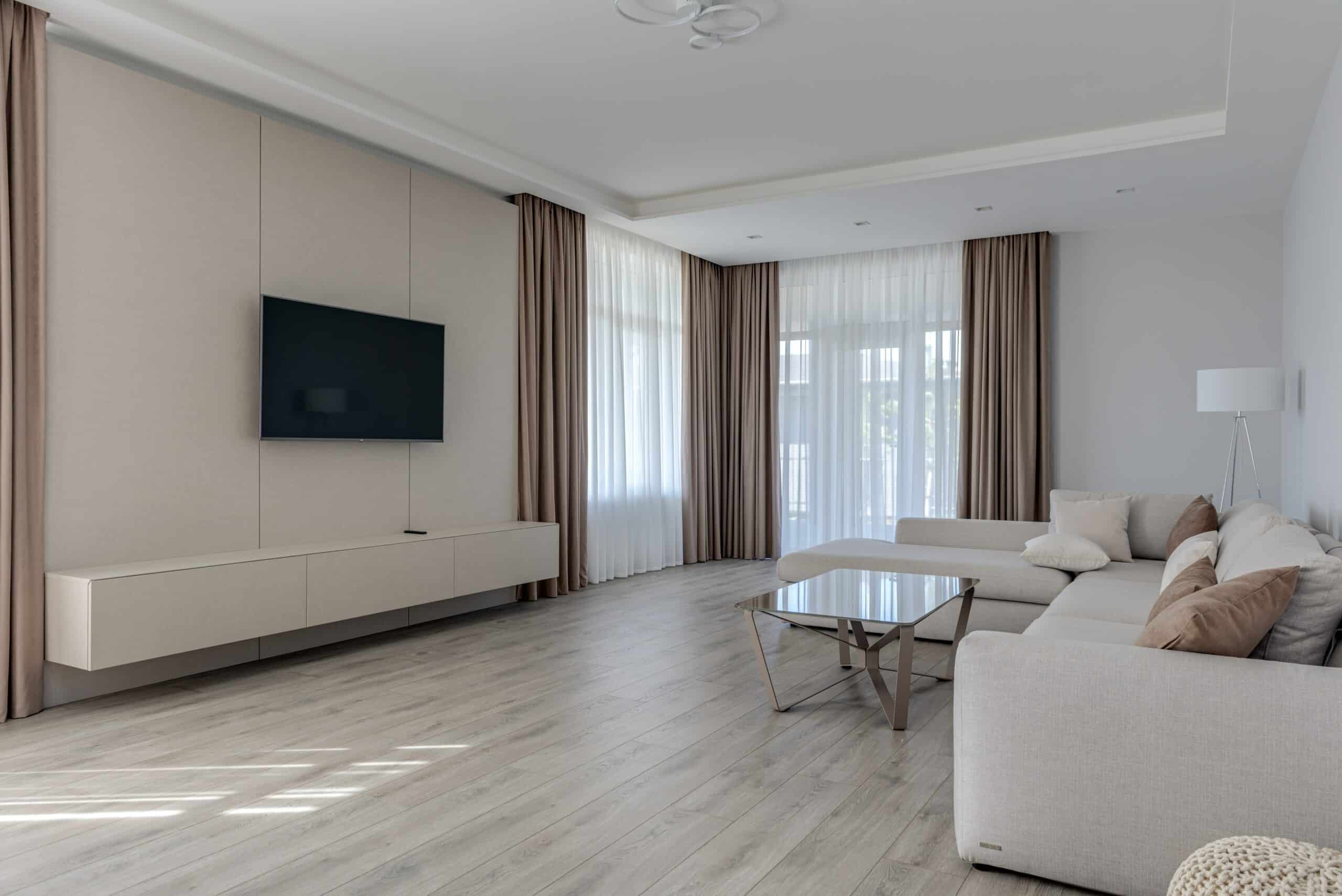 Maintenance requirements
Thermal curtains made of microfiber or polyester are usually machine washable, and you don't have to take any extra steps to keep them clean.
On the other hand, models made of natural fabrics might require dry cleaning, as machine washing might damage them. Going through the manufacturer's cleaning instructions is the best way to find the recommended washing temperature, ironing recommendations, and other maintenance requirements.
Like all heavy curtains, thermal curtains attract a lot of dust, and you should wash them every three to six months.
Cost and quality of the material
Curtains with thermal properties can cost between $20 and $300, depending on the manufacturer, insulation capabilities, or the material used to produce them.
Polyester and microfiber thermal curtains are the least expensive option, but despite this, they're still very efficient at improving the window's R values.
Although more expensive, velvet drapes or silk curtains are a better choice if you're searching for a thermal window treatment that matches an elegant home décor.
The advantages of thermal curtains
Excellent light and sound blocking features
Besides trapping heat, thermal curtains can stop sunlight from flooding a room or dampen the street sounds that come into your home through windows. In this manner, they allow you to control the noise and light levels in a room in which you install them.
Improved energy efficiency
The HVAC system in your home won't have to work hard to maintain the same temperature in all rooms if you insulate the windows with thermal curtains. As a result, you'll spend less electricity to power the HVAC system, and your monthly utility bills will be lower.
Affordability
You don't have to spend a small fortune to keep your home cool during hot summer months since you can purchase thermal panels that will block UV rays and reduce the heat transfer for less than $50.
The disadvantages of thermal curtains
Complicated installation process
Even though most thermal curtains come with grommets that are wide enough to fit on a standard curtain rod, the installation process is more complex than simply hanging these curtains.
The reason for this is that you need to minimize the free space between the curtain and the window to prevent the hot or cold air from escaping into the room.
Top 5 thermal curtains
HLC.ME Thermal Blackout Curtains – The most elegant thermal curtains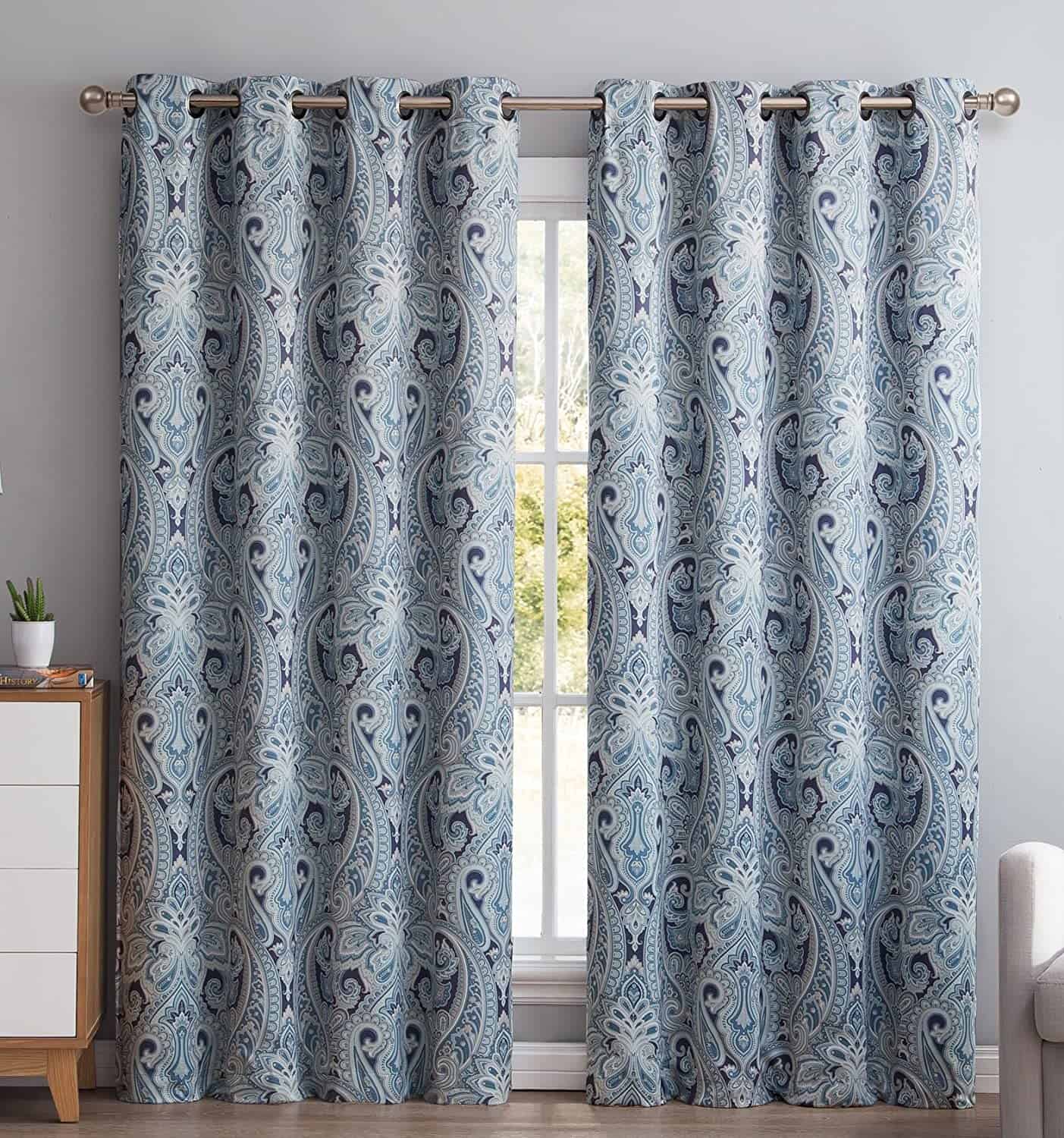 The three-layer construction of the HLC.ME Thermal Blackout Curtains ensure that only a minimal amount of heat and light can enter a room through a window.
The triple-weave polyester fabric reflects sunlight, while the blackout fabric beneath the back layer absorbs the heat carried by the UV rays.
The front fabric contains different multiple variations of damask-inspired prints, so you to choose the model that matches your home's décor. This model is available in lengths that vary from 54 to 96 inches, and the width of a single panel is 50 inches.
Pros
Moderately priced
Stylish prints
Multilayered construction
Cleaning these curtains is easy
Cons
Sound absorption features could be better
Shortening these curtains can be challenging
Best Home Fashion Thermal Blackout Curtain – The most affordable thermal curtains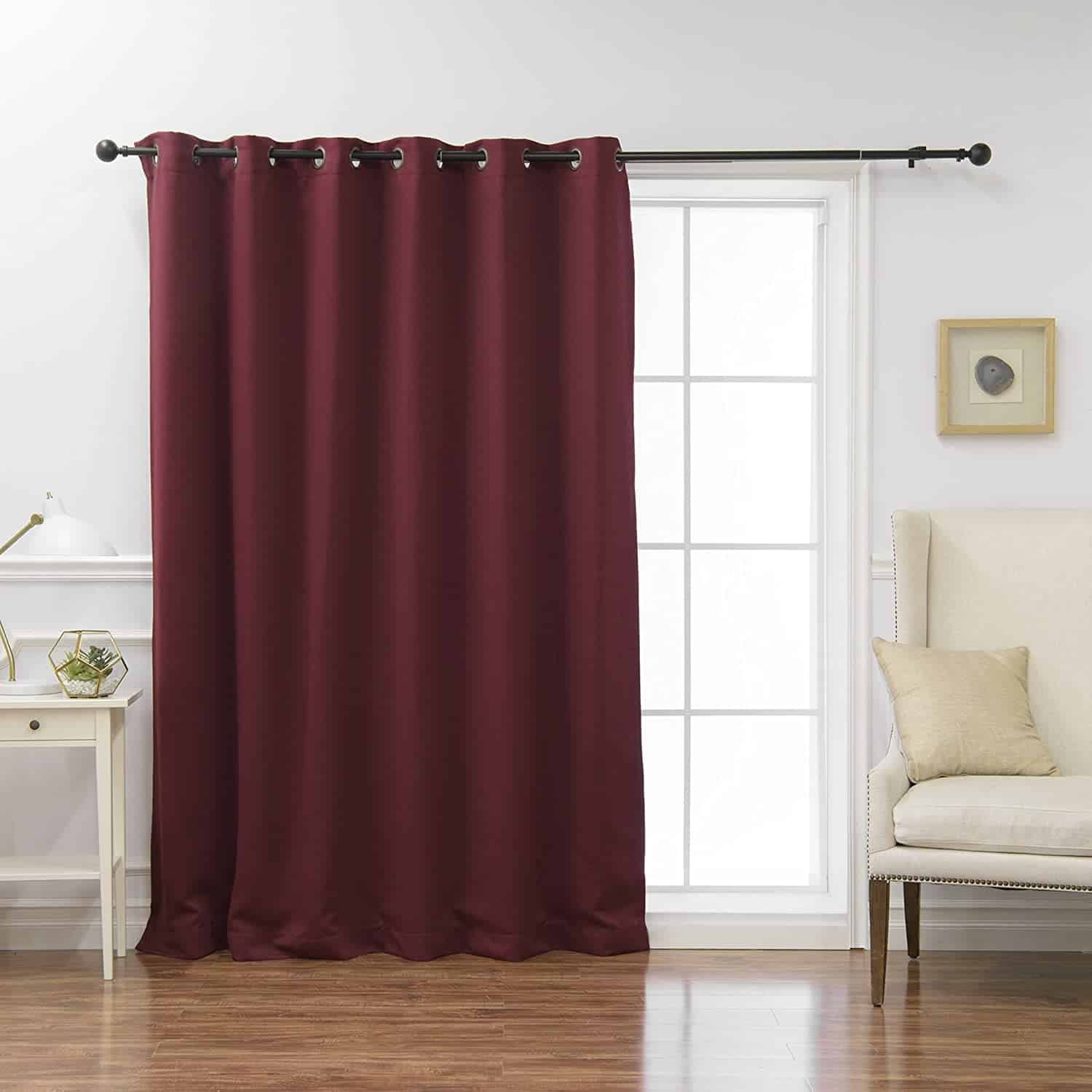 Despite the low price, the Best Home Fashion Thermal Blackout Curtain still blocks 100% of UV rays and 99% sunlight. So, besides thermally insulating a window or a glass door, the Best Home Fashion's curtains help you control the amount of light you're letting in a room.
The panels aren't sold in pairs, and they're available in just two sizes. You can choose between 80 x 96-inch and 100 x 96-inch panels that are too large for most standard windows. However, the manufacturer offers these curtains in a broad spectrum of dark and bright colors.
Pros
Machine washable
Great light-blocking features
Versatile color selection
Affordable price
Cons
It doesn't have an insulation layer
It might be too long for standard windows
Best Dreamcity Thermal Curtains – Best insulated thermal curtains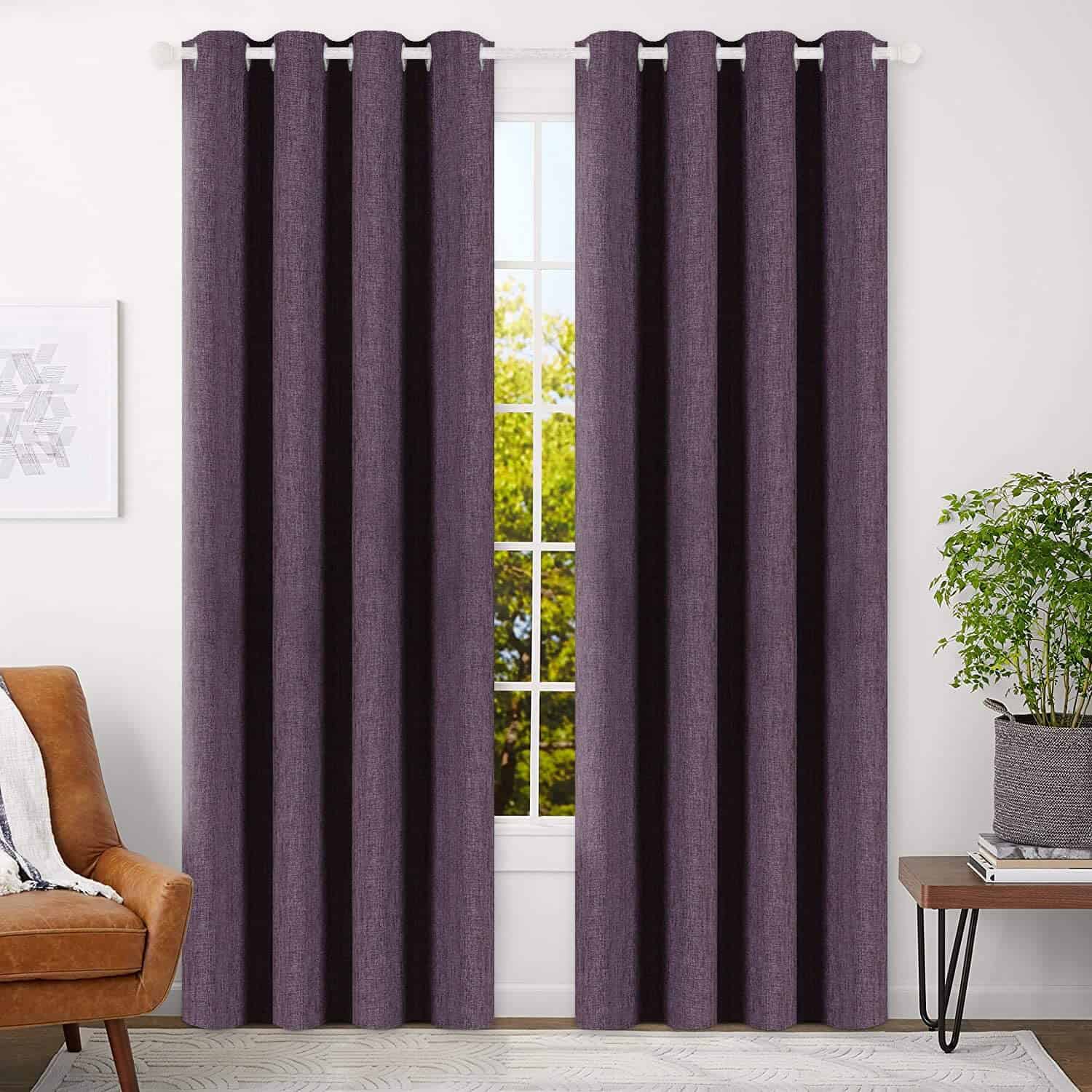 Even though they're made of a combination of polyester fabrics, the Best Dreamcity Thermal Curtains look like they're made of linen. The panels come in pairs, and you can choose between 52 x 63-inch and 52 x 84-inch panel sizes.
The model's thermal insulation layer is composed of high-density black yarn that absorbs heat efficiently and helps filter out the light. These curtains keep out up to 95% of the light which enables you to darken a room even when the window is fully exposed to sunlight.
Pros
Good sound-dampening features
Excellent price
The thermal insulation layer is made of high-quality materials
Instant room darkening
Cons
Only two size options
Curtains might shrink after washing
NICETOWN Thermal Insulated Curtains – Thermal curtains with the best light-blocking features
The triple-weave construction of the Nicetown Thermal Insulated Curtains includes front and back layers made of the same material and black yarn insulation that sits between the layers. The Nicetown's model is available in ten different sizes, and it is sold in sets that contain two panels.
There are almost 30 color options to choose from, both dark and light, but keep in mind that dark colors are more efficient at blocking light. Regardless of the version you choose, these curtains will block or reflect almost all UV rays and sunlight.
Pros
Excellent choice for doors and windows
Suitable for ironing and steam cleaning
The colors don't fade quickly
Available in a variety of colors and sizes
Cons
Low sound absorption
Lightweight
Dreamscene Thermal Curtains – Best thermal curtain for kids rooms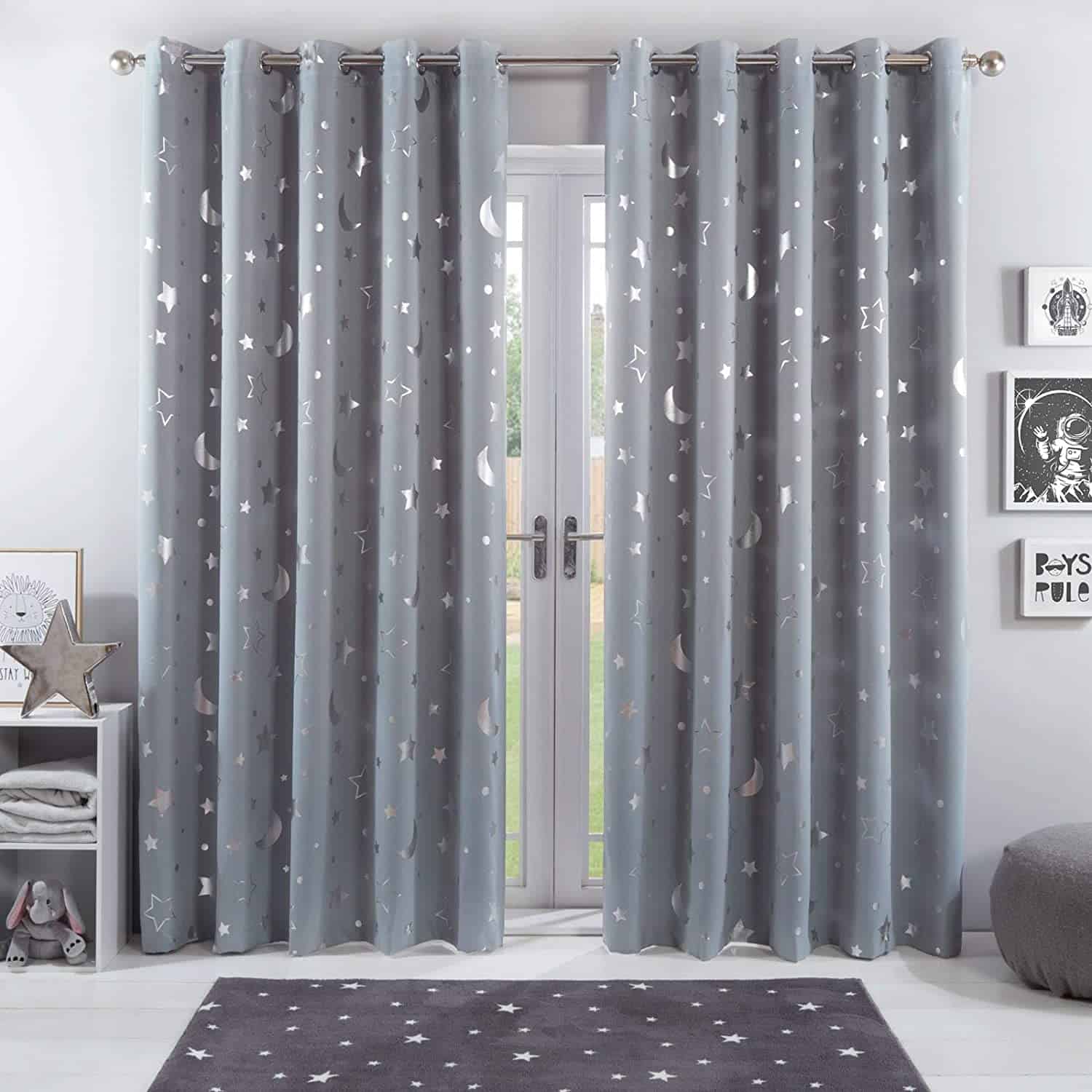 You should take a closer look at the Dreamscene Thermal Curtains if you want to protect your children from heat waves and extremely cold weather. These curtains are available in blue and pink colors, and both versions have metallic galaxy prints.
You can choose between 54, 72, and 90-inch drops, while the width of a panel can be either 46-inches or 66-inches. These Deramscene curtains block the light that's coming through the window, and they offer excellent thermal insulation, despite not having a heat-absorbing layer.
Pros
Great fit for kids rooms
Made of machine-washable polyester fabric
Fitted with silver grommets for quick installation
Good thermal insulation properties
Cons
Limited size and color options
Colors may start to fade if the curtain is exposed to direct sunlight frequently.
Frequently asked questions about thermal curtains
Question: Are thermal curtains suitable for outdoor use?
Answer: Hanging these curtains outdoors will most likely ruin them because rain, snow, or low temperatures can damage the fabric.
Question: Do all types of thermal curtains block light?
Answer: No, for instance, the thermal sheer curtains are designed to let the light through and insulate a window simultaneously.
Question: How quickly do thermal curtains lose their properties?
Answer: Most materials used to make these curtains don't fade or lose their thermal insulation properties quickly, and you can continue using the model you choose for years.
Question: Do thermal curtains need an insulation layer to be effective?
Answer: Although the thermal insulation layer makes these curtains more effective, it is not one of their vital components, as models that don't have this layer can still keep the heat out.
Our verdict: Which thermal curtains have the best energy-preserving properties?
From the standpoint of energy efficiency, windows are a weak point of every structure since even the models that utilize triple-pane systems have low R values. Thermal curtains help you deal with this issue as they can double the window's R-value by stopping the heat transfer.
This window treatment solution is will only work if it's properly installed because giving too much space between the curtain and the window or failing to cover the entire casement will allow the air to escape.
We recommend the Best Dreamcity Thermal Curtains if you want to ensure that the room temperature in your home isn't affected by hot or cold weather conditions.
Opting for a more affordable model such as the Best Home Fashion Thermal Blackout Curtain isn't necessarily your worst option because these curtains can still reduce heat transfer and block light.
Which of the best thermal curtains are you going to choose? Let us know in the comments or continue reading our guide to the best Levolor blinds to find out more about energy-saving window treatments this brand offers.