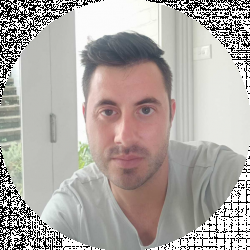 Latest posts by David Borgogni
(see all)
All versions of corded blinds are hard to find these days, as their distribution in retail and online stores was prohibited in 2018. So, in this guide to the best corded mini blinds, we're going to help you navigate the safety regulations and find the model that meets your requirements.
Cordless Venetian blinds have become a dominant window treatment option due to low safety concerns, but they're not an ideal solution for all types of windows.
The corded lift system makes it easier to adjust the position of slats since cordless models require you to push the bottom rail to the desired position. Mini blinds are available in corded and cordless versions, and in this guide, we're going to focus on models that utilize corded lift systems.
You should also check out our guide to the best magnetic blinds if you're searching for blinds that are easy to install.
Top 5 Corded Mini Blinds
The ban of corded mini blinds
When these blinds were banned from the Canadian and United States markets, nearly 80% of all blinds in retail stores were corded. The ban also extends to online sales, and it is currently not possible to purchase predesigned corded mini blinds from web stores.
However, models with short cords that are hard to reach aren't affected by this regulation, which means that some corded mini blinds are still available for sale.
The statistic published by the American Academy of Pediatrics showed that blinds cords between 1990 and 2016 injured 16,826 children. This information was why the Window Coverings Manufacturers Association and Consumer Product Safety Commission banned corded blinds.
However, ordering custom-made corded mini blinds is still possible, and you just have to get in touch with the manufacturer to receive an offer. Despite this finding mini blinds that are equipped with a corded lift mechanism can prove to be a challenge.
The difference between standard and mini blinds
The term mini blinds are somewhat misleading because it doesn't refer to the actual size of the window treatment, but rather to the width of the model's slats. This is one of the rare differences between the standard and mini Venetian blinds.
The slat widths of ½-inch to 1-1/2-inch are commonly used on the so-called mini blinds, while the standard versions are usually equipped with 2-inch and 2-1/2-inch slats. Both variants of Venetian blinds are made of aluminum and vinyl.
Aluminum slats – In addition to excellent room darkening capabilities, this material also helps regulate room temperature by partially preventing heat transfer. Aluminum is highly flexible but somewhat flimsy and the ends of slats might bend over time if they're not handled properly.
Vinyl slats – Although sturdy, vinyl slats don't have great thermal insulation properties, as they allow high amounts of heat to go through. Furthermore, prolonged exposure to direct sunlight can cause the warping of slats made of this material.
Privacy features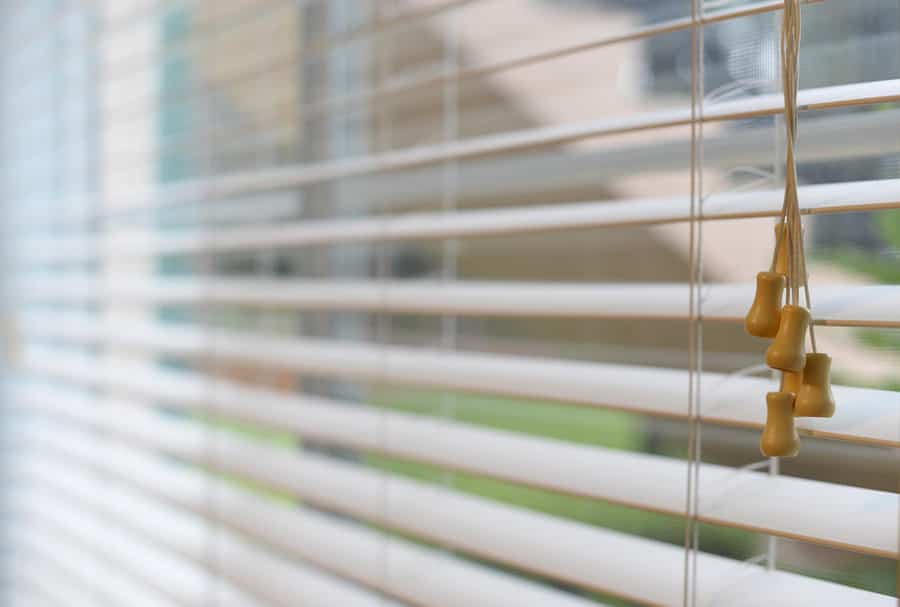 Conventional mini blinds feature routed holes that allow for the threading of the ladder cord used for tilting or lifting the slats. These holes let a certain amount of light through and provide the onlooker with a partial view of your home's interior.
The privacy mini blinds deal with these issues by replacing the routed wholes with privacy notches on each slat. Such construction ensures that less ambient light can't go through the window treatment and it improves privacy protection.
However, the level of privacy mini blinds offer at any given moment depends on the position of the slats, as they provide a minimum of privacy protection while they're parallel to each other. On the other hand, tilting these blinds to a down position will secure maximum privacy protection.
This position of slats also provides the best protection against direct sunlight, but you should keep in mind that mini blinds can't block all light that's coming through a window.
Water and corrosion resistance
High air humidity can damage slats on mini blinds if they don't have an anti-corrosion coating. Bathroom and kitchen blinds should be water-resistant as these spaces usually have high humidity levels.
What's more, condensation that occurs when warm air comes into contact with the cold surface of the windowpane can facilitate the deterioration of mini blinds that don't have water-resistant slats.
As the mildew evaporates it creates favorable conditions for the formation of mold on the slats or the ladder cord. It is worth pointing out that mini blinds neither cause nor prevent mildew accumulation and you must take precautionary measures to protect them from condensation.
Aluminum slats have high resistance to corrosion, but cracks or scratches in combination with prolonged exposure to moisture can cause these slats to corrode. Cleaning the mini-blinds regularly is the best way to protect them from mold and corrosion.
Window frame compatibility
Inside and outside mount options are available for the vast majority of mini blinds models you can find on the market. Narrow slats make this type of Venetian blinds better suited for small or regular size windows, as they're not the most elegant solution for sliding glass doors or large windows.
However, the inside mount is the most common mounting method of mini blinds because it occupies less space and it provides better thermal provides better windows' thermal insulation window treatment model is suitable for the windows you have to measure the width of the inner frame at the top, middle and bottom. Afterward, you should measure the inner frame's height at left, right, and center.
All corded mini blinds manufacturers produce models in standard window sizes, so finding the option that fits the window you want to cover shouldn't be difficult.
The most important factors to consider while choosing corded mini blinds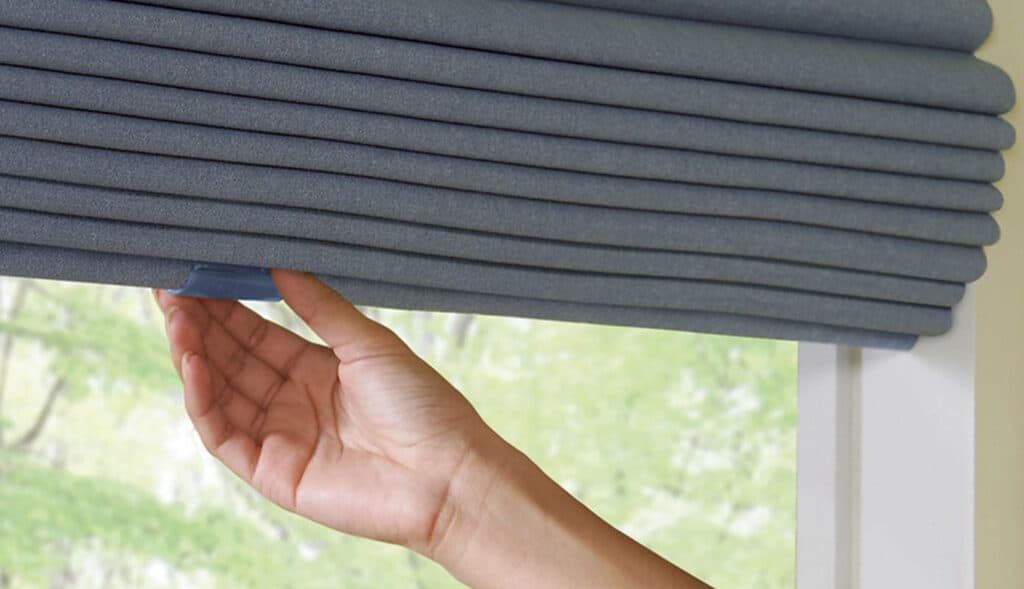 Despite safety concerns that prompted the ban of corded mini blinds, they're still among the best window treatment solutions for people with disabilities or households that have windows that are too large for cordless blinds.
However, opting for other types of window coverings might be a better option, as mini blinds don't have thermal insulation properties that are suitable for tall windows. Besides, corded lift mechanisms tend to break down easily, while bending or warping slats can make it impossible to tilt or lift these blinds.
Let's go through more factors you should consider while deciding if corded mini blinds are the right treatment for your windows.
Availability
The ban on corded blinds extends to their production and distribution, as manufacturers are prohibited from stocking models that utilize corded lift systems. Consequently, you won't be able to find mini blinds equipped with this lift system in US-based brick and mortar retail stores.
Checking the offers provided by online retailers is still worth a shot although you shouldn't expect great results.
Arguably, the best option you have is opting for a custom-made model, as you'll be able to choose the slats material and the color of the blinds, but you should also be prepared to spend more than you'd have to spend on a predesigned model.
Window and slat size
Narrow slats are the most important characteristic of mini blinds, but their width isn't the same on all models.
In most cases, these window treatments come with slats that are between ½-inch and 1-1/2-inch wide, but some manufacturers advertise their products as mini blinds even though they feature slats that are 2 inches wide.
Measuring the dimensions of the window will help you determine which size option you should choose and figure out the best mounting method. For that reason, you have to check the window depth and compare it with the minimum inside mount depth recommended by the manufacturer.
Room suitability
The properties of materials from which corded mini blinds are made usually determine their suitability for a specific space. This type of Venetian blinds emphasizes functionality over elegance, and it might not match all living room or bedroom décor styles.
Models made of vinyl can warp or their color might start to fade if they're constantly exposed to high temperatures. On the other hand, aluminum slats without an anti-corrosion coating might not be a good solution for kitchens and bathrooms as they decay faster in humid conditions.
Safety concerns
Corded mini blinds shouldn't be installed in rooms where infants or pets can reach them. Cord cleats offer a simple and safe solution to this problem as you can easily attach them to the wall and wrap the cord around them.
Other than posing a danger to children younger than six years old, corded mini blinds don't have any other safety concerns.
Although this type of Venetian blinds has been made obsolete by models equipped with cordless lift systems, it can still be a functional solution for windows that are hard to reach.
Durability and price
The average lifespan of corded mini blinds is approximately ten years, but a broad range of factors can affect the durability of the window treatment you chose. Vinyl slats are slightly less sturdy than aluminum slats as their colors can fade from exposure to sunlight.
These blinds aren't expensive, and most solutions for standard windows cost less than $50, but the actual price of the model you choose depends on the windowpane area you want to cover.
Custom-made models are more expensive and you must contact the manufacturer to find out the cost of the corded mini blinds you want to get.
The advantages of corded mini blinds
Cleaning corded mini blinds is easy
You won't have to do much more than dusting these blinds every week to keep them in perfect condition. Optionally, you can also use a vacuum cleaner to collect the dust that settled on the slats, but keep in mind that doing so might push them out of position.
Compatible with all standard window sizes
Covering a window with corded mini blinds shouldn't be difficult because all manufacturers offer models that are compatible with standard window sizes. You can even use this type of Venetian blinds to cover bay windows and other types of oddly shaped windows.
Affordable pricing
Corded mini blinds are an inexpensive but durable window treatment solution that is much more affordable than wooden window coverings or cellular shades. Models that have slats made of vinyl are usually less expensive than blind equipped with aluminum slats.
The disadvantages of corded mini blinds
Limited availability
The Consumer Product Safety Commission and the Window Covering Manufacturers Association introduced new safety standards regarding corded blinds in 2018 that effectively limited the availability of corded mini blinds in the United States and Canada.
Those models that can be found in brick and mortar and online retail stores must have short and inaccessible cords.
Top 5 corded mini blinds
HSYLYM Corded Mini Blinds – The best corded mini blinds for UV protection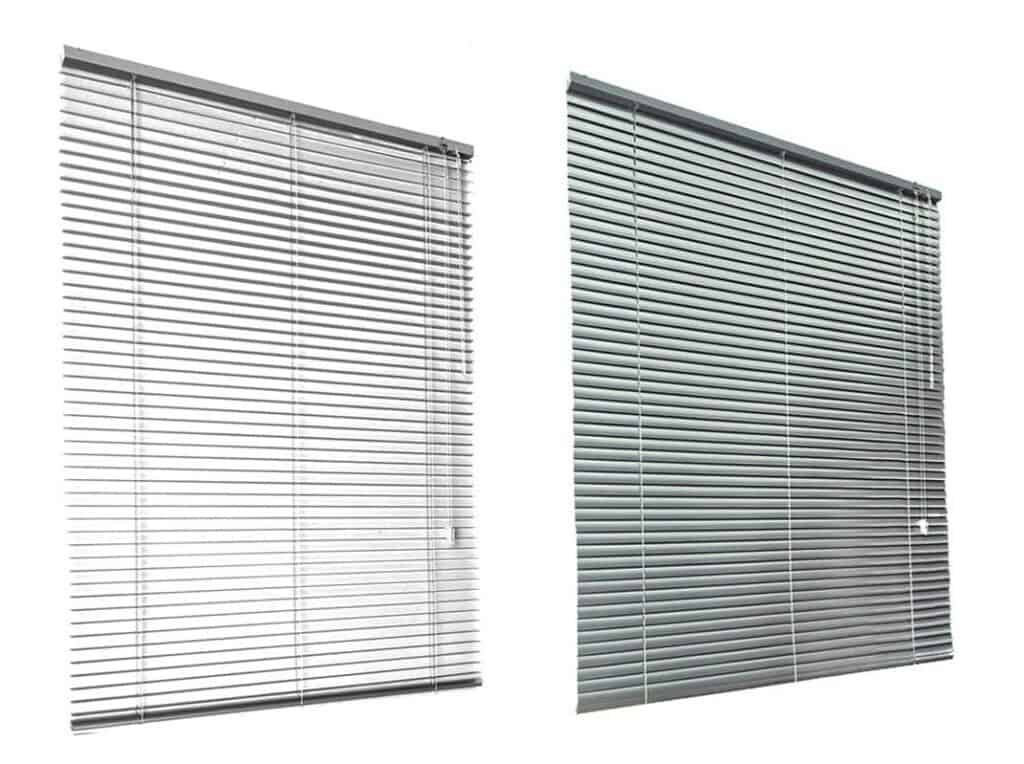 Rotating the transparent wand is the only thing you have to do in order to switch between the three light modes the HSYLYM Corded Mini Blinds offer. The 1-inch aluminum slats can be left in Sleeping, Reading, or Living modes depending on how much light you want to let into a room.
The slats have a UV coating, which helps them reflect up to 30% of heat and 70% of UV rays that reach them. These blinds are waterproof and you can install them in your kitchen or bathroom without having to worry about mildew condensation.
Pros
Easy to use lift mechanism
Straightforward installation process
Effortless light adjustments
Made from durable materials
Cons
Available in just one size
Limited color selection
Hampton Bay Alabaster Mini Blinds – The best room darkening mini blinds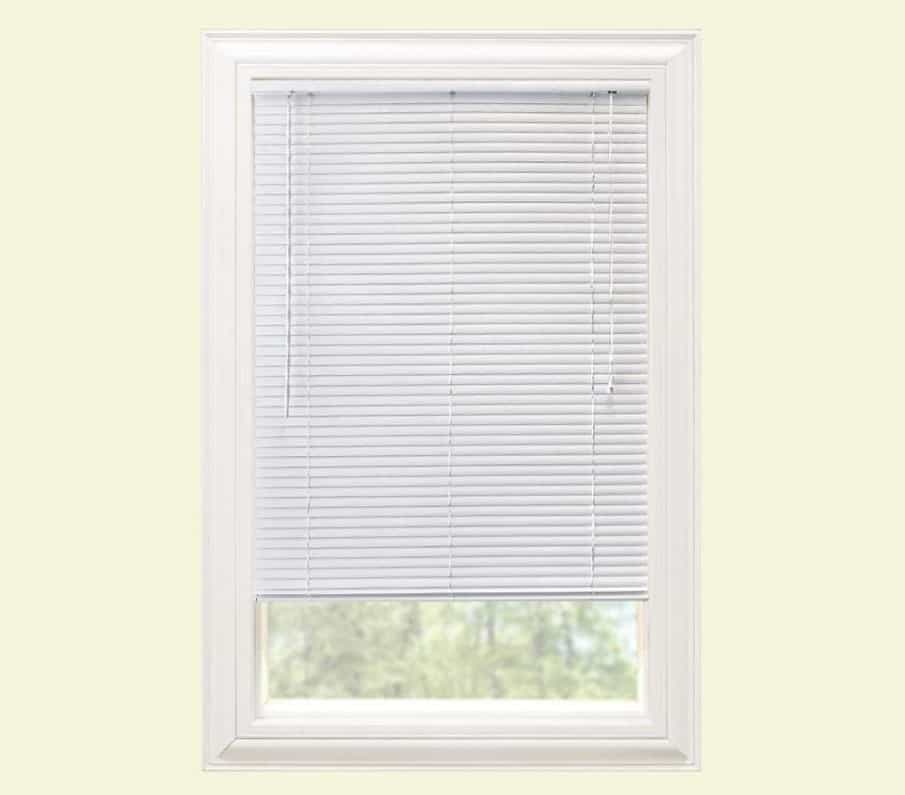 Filtering light or darkening a room with Hampton Bay Alabaster Mini Blinds doesn't require a lot of effort as you have to tilt the slats into the desired position. This model features 1-inch slats made of vinyl that are both fade and fire-resistant.
These corded blinds are available in just one color and they are only compatible with 27 x 64-inch windows. They're equipped with a break-away cord that separates from the lifting mechanism if too much force is applied.
Pros
Less expensive than similar models
Cleaning these mini blinds is easy
Outside and inside mounting options
Fade and fire-resistant slats
Cons
Poor thermal insulation performance
Flimsy construction
LazBlinds Aluminum Mini Blinds – The best light filtering mini blinds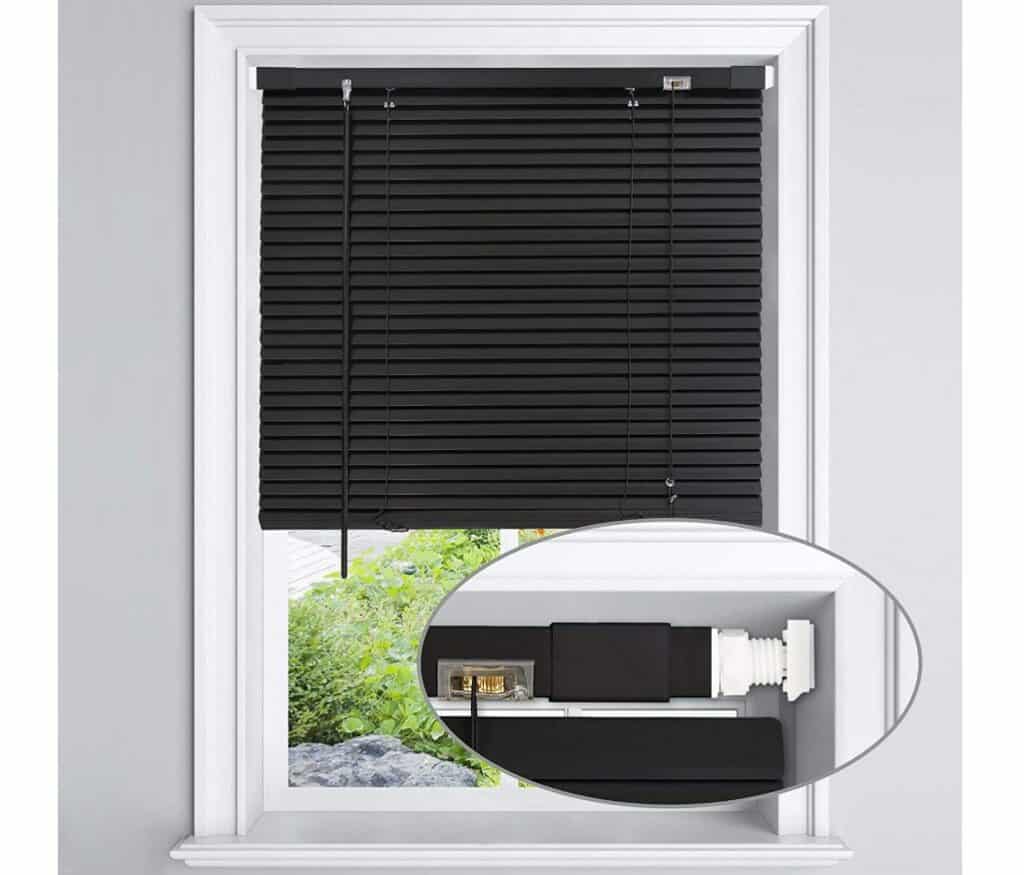 You can match the black LazBlindz Aluminum Mini Blinds with a variety of wall colors and home décor styles. What's more, the color of this window treatment helps reflect and absorb light more efficiently.
You can only opt for the inside mount version of these blinds since the manufacturer doesn't offer the outside mount options.
Also, you must get in touch with the manufacturer and provide the dimensions of the window you're covering in order to get corded mini blinds that can fit the window you want to cover.
Pros
Top and bottom rails keep the blinds in place
Excellent light filtering features
UV blocking capabilities
Available in all standard window sizes
Cons
Outside mount type isn't available
The design isn't very elegant
SEEYE Mini Blinds – The most versatile mini blinds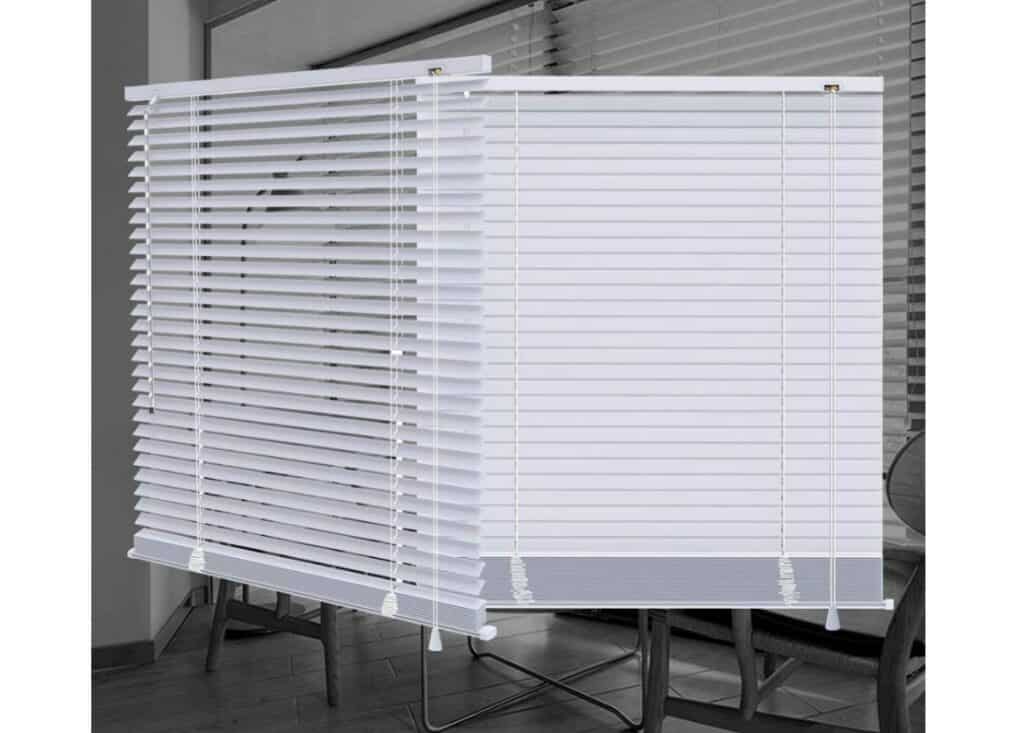 Whether you're searching for a window treatment you can install in your bedroom, bathroom, or office the SEEYE Mini Blinds might be the right solution. The slats on these blinds are made of an aluminum alloy and they are C-shaped to protect them from deformation.
Besides being waterproof and fireproof the SEEYE's model is also dustproof and you won't have to spend a lot of time cleaning it. Although it is compatible with different window sizes, this model can't be installed on windows that are longer than 64 inches.
Pros
These blinds are mold proof
Low upkeep requirements
Difficult to scratch or damage
Suitable for different environments
Cons
Outdated design
Potential strangulation hazard
Taiyuhomes Blackout Mini Blinds – The best custom-made mini blinds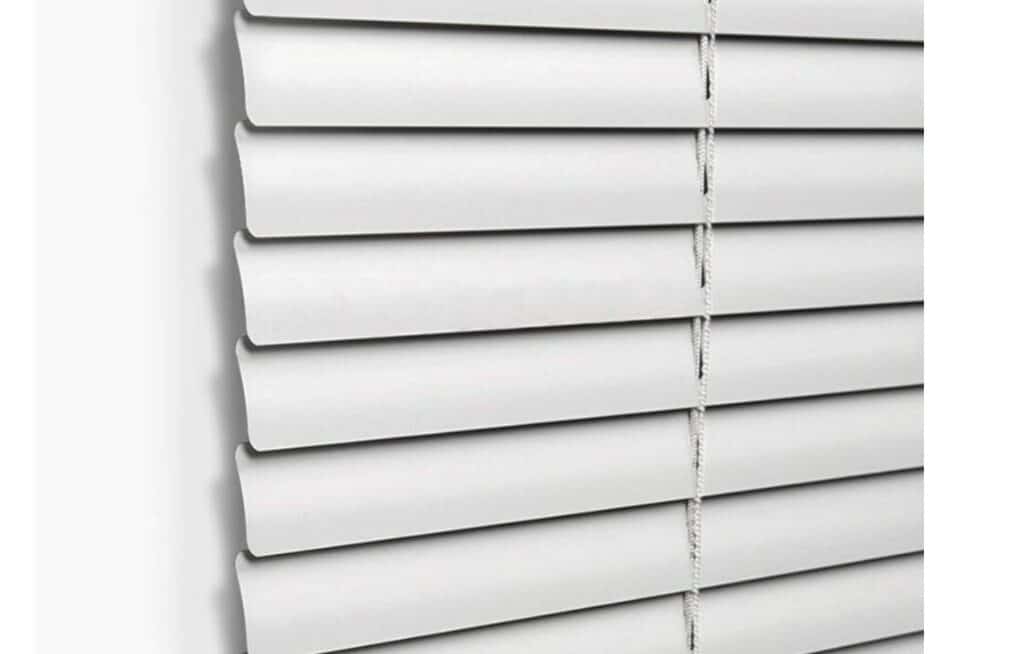 Customizing the Taiyuhomes Blackout Mini Blinds will enable you to get a treatment that is designed specifically for your windows. You just have to get in touch with the manufacturer, provide the window's dimensions and choose the color option that matches the walls.
These aluminum Venetian blinds have a high tenacity which indicates that they won't bend out of shape easily. Besides, they're water and mildew resistant, and high air humidity or frequent exposure to moisture can't damage them.
Switching between different light control modes lets you adjust the amount of light you're getting into a room to your current needs.
Pros
Great privacy protection features
Made of sturdy materials
There are 11 size options to choose from
Inexpensive
Cons
Modest UV protection capacities
Only two color options available
Frequently asked questions about corded mini blinds
Question: Are vinyl mini blinds different from faux wood blinds?
Answer: Not really, as both types of blinds are made from the same or similar materials. However, the corded faux wood blinds usually have slats that are wider than 2-inches, and it might be difficult to find the faux wood version of mini blinds.
Question: Is it difficult to install corded mini-blinds?
Answer: No, but you should still hire a professional installer if you're not familiar with the installation process.
Question: Where to look for corded mini-blinds?
Answer: In case you don't like the selection of corded mini blinds you can find online or at retail stores, you should try contacting the manufacturers to inquire about the customization options for this type of blinds.
Question: Can corded mini blinds block light completely?
Answer: Blackout versions of these blinds aren't available, but you should approach the models with this label cautiously since they almost certainly let some light and heat through.
Our verdict: Which corded mini blinds model is the best?
Only a few years ago, corded mini blinds were one of the most sought types of window treatments, but new safety regulations have quickly pushed them into obscurity. The predesigned cordless versions of these blinds are much easier to find, but their lifting mechanisms aren't suitable for all contexts.
We recommending choosing a customizable model such as the Taiyuhomes Blackout Mini Blinds because you can select the color and size of the window treatment.
In case custom-made window coverings exceed your budget limitations, you can opt for models with aluminum slats such as the LazBlindz Aluminum Mini Blinds or the HSYLYM Corded Mini Blinds.
We hope that this guide to the best corded mini blinds has provided you with the information you needed to find a window treatment that meets all your needs.
Please share your opinions with us in the comments or go through our guide to the best Levolor blinds to find out more about the corded mini blinds solutions this brand offers.