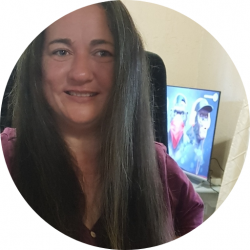 Latest posts by Caroline Lambert
(see all)
This sunflower curtains ideas guide will teach you a valuable secret; sunflowers and humans have something in common. We both rise and rest with the sun. Our lives revolve around sunshine. Bringing sunflowers into your home will make any room gorgeously joyful, and I'm about to share some wonderful ideas with you.
Some believe sunflowers belong in the garden or a vase on the kitchen table, but the beautiful, all-encumbering plant has numerous possibilities in your decor. It's a bold statement that steals the attention in the room. It says wow and leaves lasting impressions. It welcomes an aura of optimism and opportunity.
As someone passionate about interior design, I first doubted sunflowers. Still, I learned that the perfect balance between floral and contemporary glamor is just about choosing the right amount of boldness. I'm not about to make you go as bold as no man has gone before, but I'll show you a realm of stylish exception.
The level of boldness depends on you. From subtle accents to jaw-dropping statements, let a little sunlight into your home. My inspiration for each room is bound to encourage you to add sunflowers to one of the rooms. Don't fret; you'll have tips to blend the flowers into the rooms without repainting your entire home.
Sunflowers Meaning and Jaw-Dropping Facts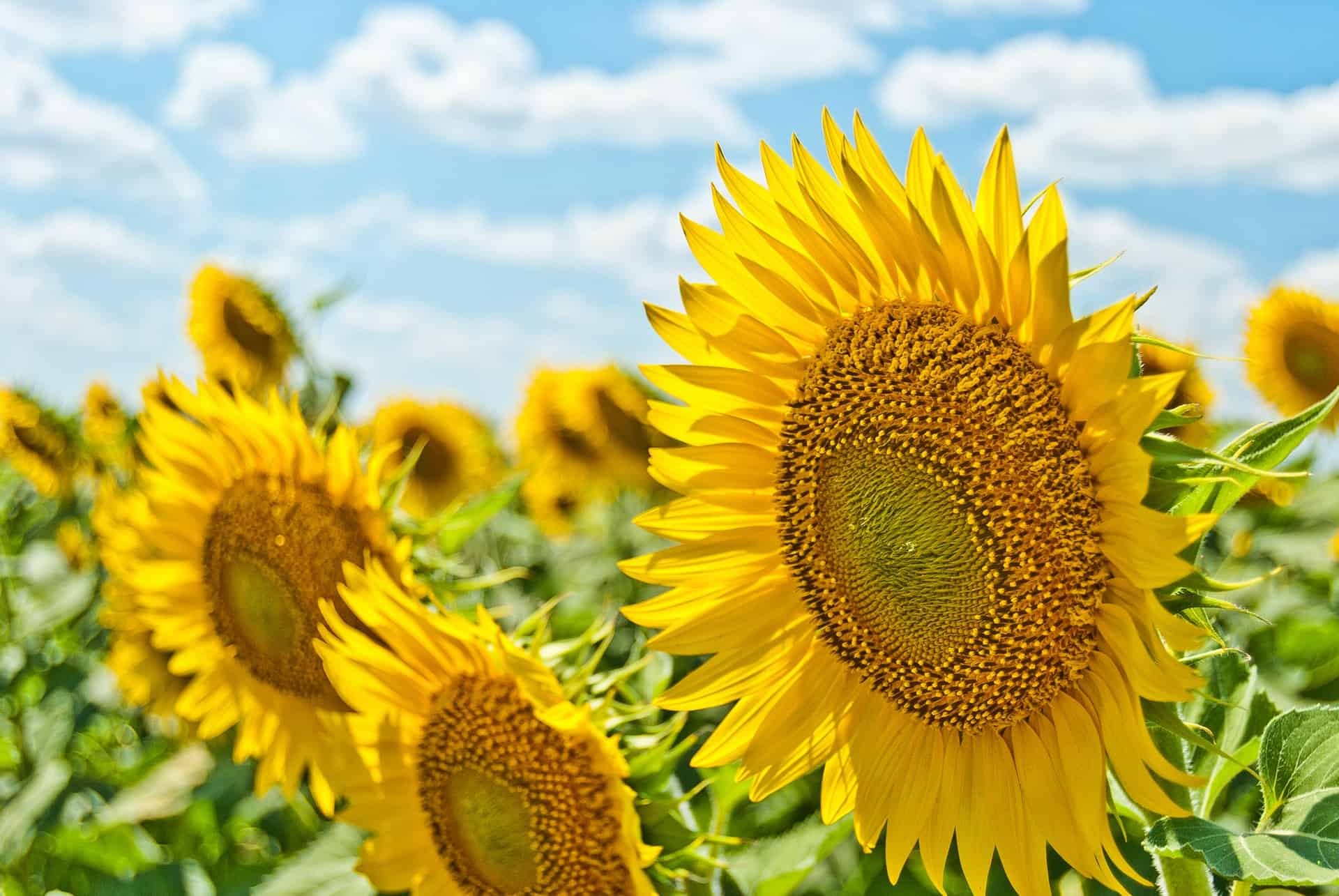 Sunflowers are beautiful flowers that follow the sunset and sunrise, but they're powerful, hardy, and relentless. They represent so much more than the bright color that instills happiness, optimism, creativity, and enlightenment. Yellow curtains are bright, in-your-face, and blend into most homes.
This is by no means negative; however, there's also a dark side to the color. It portrays egotism or an arrogant level of confidence. Sunflowers drain life from other flowers nearby. They grow up to 10 ft. tall, shadowing anything that intends to outshine them. This is ironically a positive thing in interior design.
If you ever wanted your curtains to stand out in a room, sunflower curtains take the spotlight. This could be advantageous if you have a few decorative pieces you want to fade. The behavior of the flower interested me when I learned the facts. These are some exciting facts about sunflowers:
The flower has a heliotropism behavior, meaning it actively responds to the direction of the sun. Talk about a flower that loves the spotlight. It faces the sun and droops its head at dusk. It literally looks for attention.
The sunflower radiates positivity, even though it has negative behavior to other plants. The flower profoundly represents life and longevity.
Sunflowers fascinated Vincent van Gogh enough to paint two series of the flower in the late 1900s. It even stole the attention of one of the most famous impressionists.
Sunflowers come in a rare shade of red because stealing the spotlight isn't enough without some species presenting themselves in the famous red carpet fashion once a year.
The flower doesn't stop grabbing attention because it's also commonly known to boost your mood. It can turn a sour mood sweet. This is great news if your home doesn't have many happy corners yet.
The flower's slight arrogance expresses itself in the name, too. It's the only flower known to have the word "flower" in it.
Sunflowers have even gone where few people have been: the International Space Station. Wow, attention-seeking much?
Undoubtedly, sunflowers represent a vast array of good vibes, and you'd miss out if you didn't consider them for your home. I've seen many beautiful designs, and you don't need to go over the top. If you want an in-your-face curtain, go for it, but you can also use subtler sunflower designs to welcome the elegant atmosphere.
Colors and Matching Accents
Sunflower curtains often have an exorbitant amount of yellow, making them one of the easiest curtains to match any room, wall, or furniture. Yellow comes in numerous shades, but one shade set the stage for color-matching experts Pantone in 2021. Illuminating yellow combined with ultimate gray is the fad.
It's the color combo making people awe this year. Illuminating yellow is as bright as the sunflowers you'll find on the curtains I share below. Having curtains with darker shades of gray as a background is the ultimate compliment to any room with darker walls and accenting colors. Yellow accents work like this:
The accents, furniture, walls, and decor in a room can easily match the yellow in your sunflower curtains. Remember, some curtains have sunflowers on the backdrop of a solid color. You must ensure that the background color also matches the room accents. Choose curtains with complementing background colors.
Sunflower Curtains Ideas for Bedrooms
In many ways, a bedroom is a place of magic, but it's also a space where our minds fold into themselves as we drift into the realm of dreams. It's the same space where we open our eyes to the sounds of the waking realm, stretching our arms as we stare around the room. The decor and curtains will either make us smile or sigh.
These three sunflower curtains ideas for the bedroom will allow you to wake up to a gorgeously stylish room where you're encouraged to start the day like it's a blessing.
Gentle Fields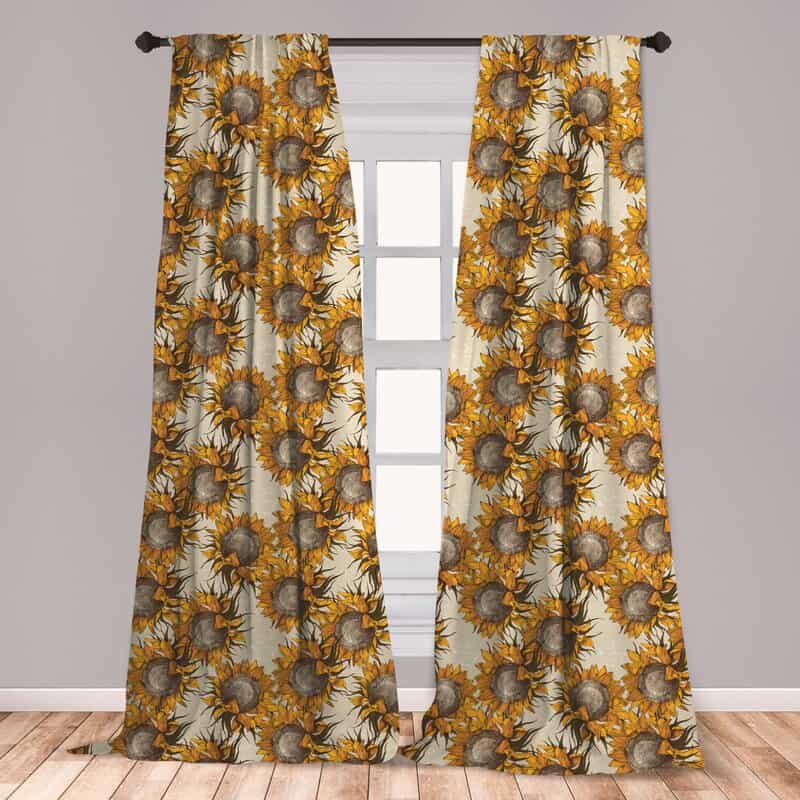 The words gentle and bedroom go together like peanut butter and jelly, and these gorgeous Sunflower Blackout Panels from Wayfair bring the two together. The white background matches easily to any accents, and the faded yellow of the sunflowers allows you to match these gorgeous curtains to earthy tones.
They'll also work wonders against an off-white wall while hanging on a brown rod. Bringing this shade of yellow into your bedroom won't allow you to splash bright yellow colors, though. Stick to subtle shades throughout the room, even using pastel colors or lighter blue, green, and orange shades.
Key Features:
Rod pocket header
Blackout curtains (perfect for reducing light in the bedroom for sounder sleep)
Machine washable (on a delicate cycle)
Microfiber/polyester fabric
No lining or backing
Available sizes: 28″ x 63″ / 28″ x 84″ / 28″ x 95″
Vintage style
Bold Statements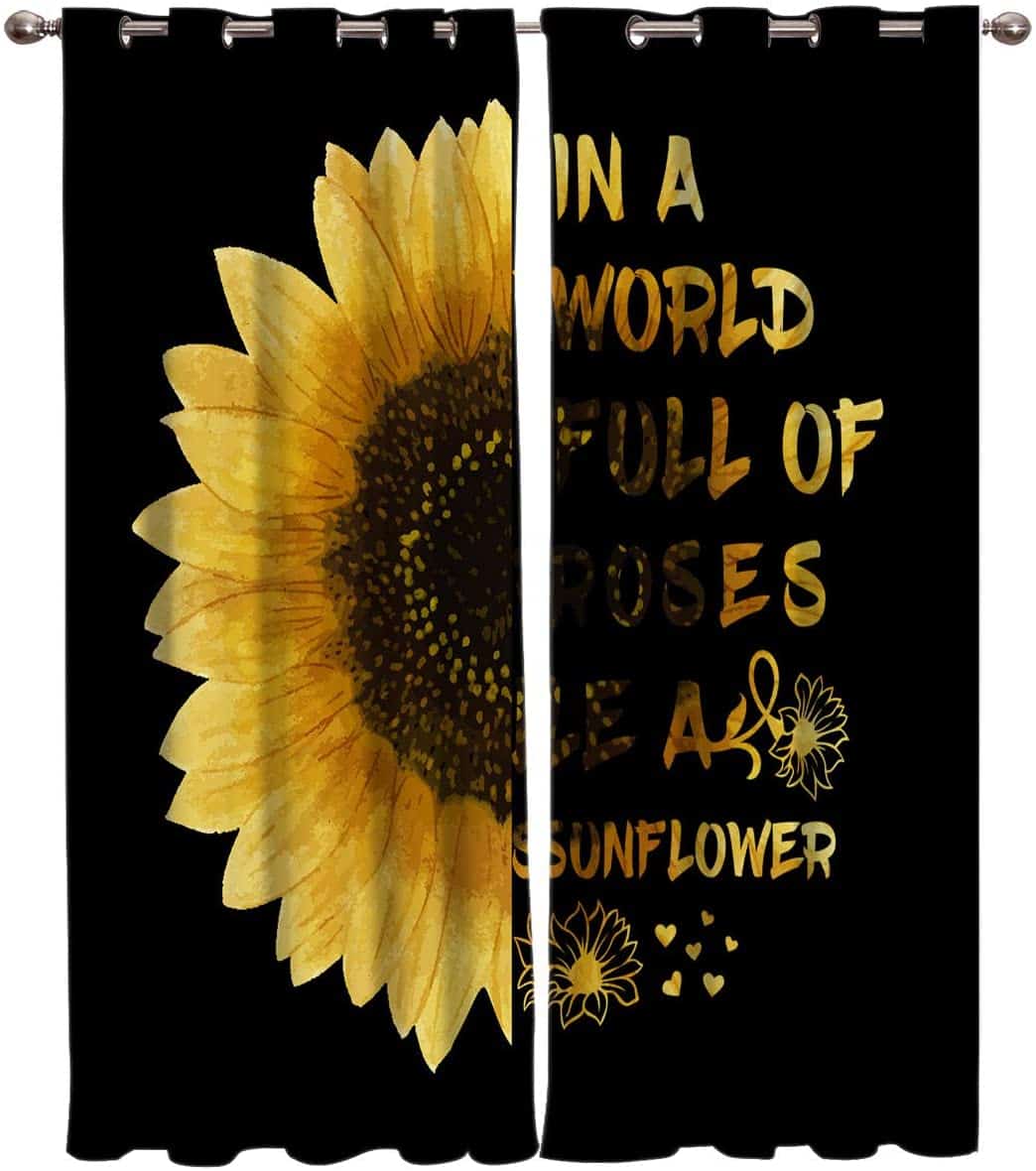 Black is a sexy color in interior design. Yellow may be bold, but so is black. If the saying "once you go black, you never go back" were ever true, it would be with curtains, especially in the bedroom. These absolutely incredible "You My Sunshine Only" Curtains will introduce you to the world of sexy, versatile, and bold curtains.
Bring sexy and bold back to the bedroom with colors that match anything. The black background fits well against lighter walls, such as white, light gray, or powdery shades. As for the accents and linen in the room, go bold or stay home! Illuminate your bedroom with bright yellows, greens, and oranges.
Key Features:
Grommet header
Blackout and thermal curtains (turning the heat up in a private space at the same time)
Machine washable with cold water
Polyester fabric
Available size: 80″ x 84″
Contemporary style
Balanced Hues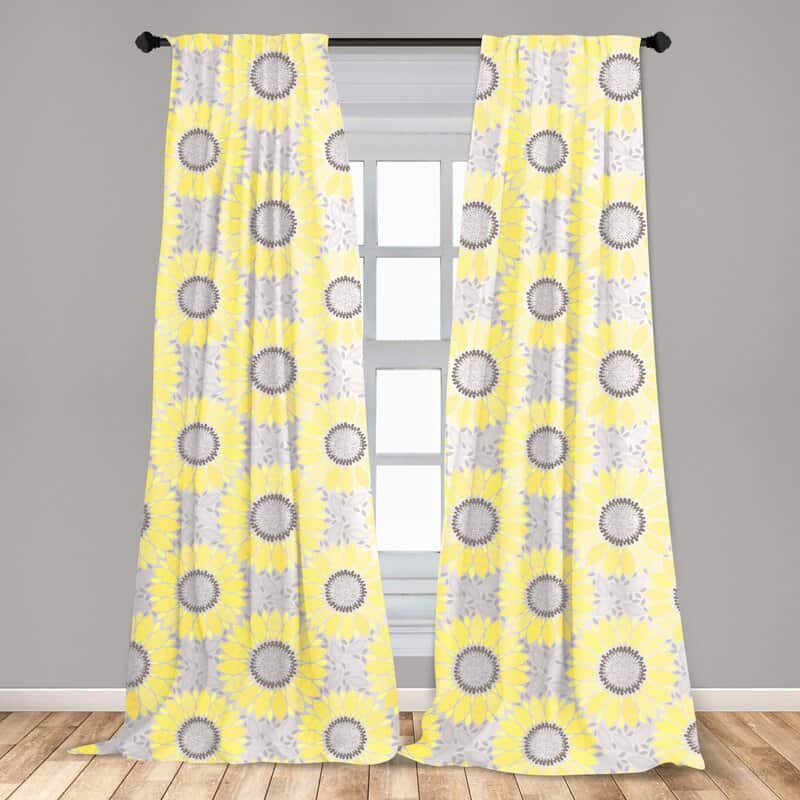 Gray and yellow complement each other in various shades, and these Illustration Sunflower Curtain Panels bring balance where boldness isn't wanted. Whether you go bold or subtle is also determined by the size of the bedroom. Bold colors make a room look smaller, whereas subtle hues open the space more.
This gorgeous curtain is a wonderful option for smaller bedrooms, and it matches with natural wood, earthy tones, pastel colors, and lighter shades of gray. You can give your bedroom a near fading look with these wonderful curtains. Add an adjacent vase with bright silk sunflowers to gain a country feel.
Key Features:
Rod pocket header
Blackout (privacy remains a factor in bedrooms for whatever reason you have)
Machine washable
Polyester fabric
No lining or backing
Available sizes: 28″ x 63″ / 28″ x 84″ / 28″ x 95″
Cottage/country style
Ideas for Living/Dining Rooms
The living and dining rooms are two more spaces we spend a lot of time enjoying meals with family, chatting about the week's funny moments, and laughing with friends. Bringing the sunshine with sunflower curtains into one of these spaces can turn happy moments into precious memories.
Elegant White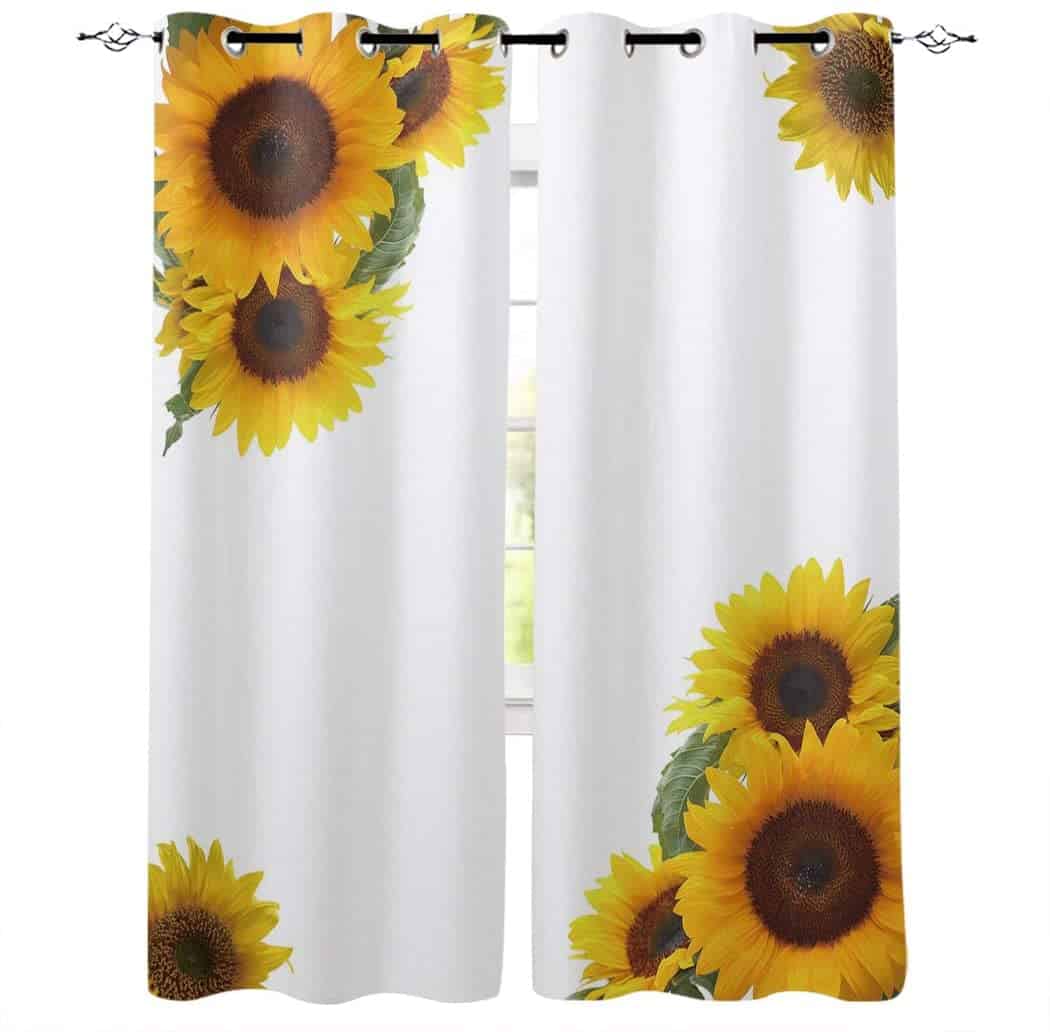 Balancing white with a vibrant sunflower pattern is a wonderful option in the living spaces you share with friends and family. White is another trending color in curtains. It's an elegant but peaceful color. These gorgeous T&H Sunflower Curtain Panels are sophisticated while offering the benefits of sunflowers.
They bring a country feel to a dining room if you add natural wood tones to the room or complement a sophisticated white living room with yellow and orange accents. The sunflower images are also gorgeously detailed, making you feel like you're looking at real sunflowers.
Key Features:
Grommet header (anti-rust)
Semi-sheer to allow enough sunlight into the room
Polyester blend fabric
No lining or backing
Available sizes: 54″ x 39″ / 80″ x 63″ / 80″ x 84″ / 104″ x 52″ / 104″ x 63″ / 104″ x 72″ / 104″ x 84″ / 104″ x 90″ / 104″ x 94″
Contemporary/country style
Focused Attention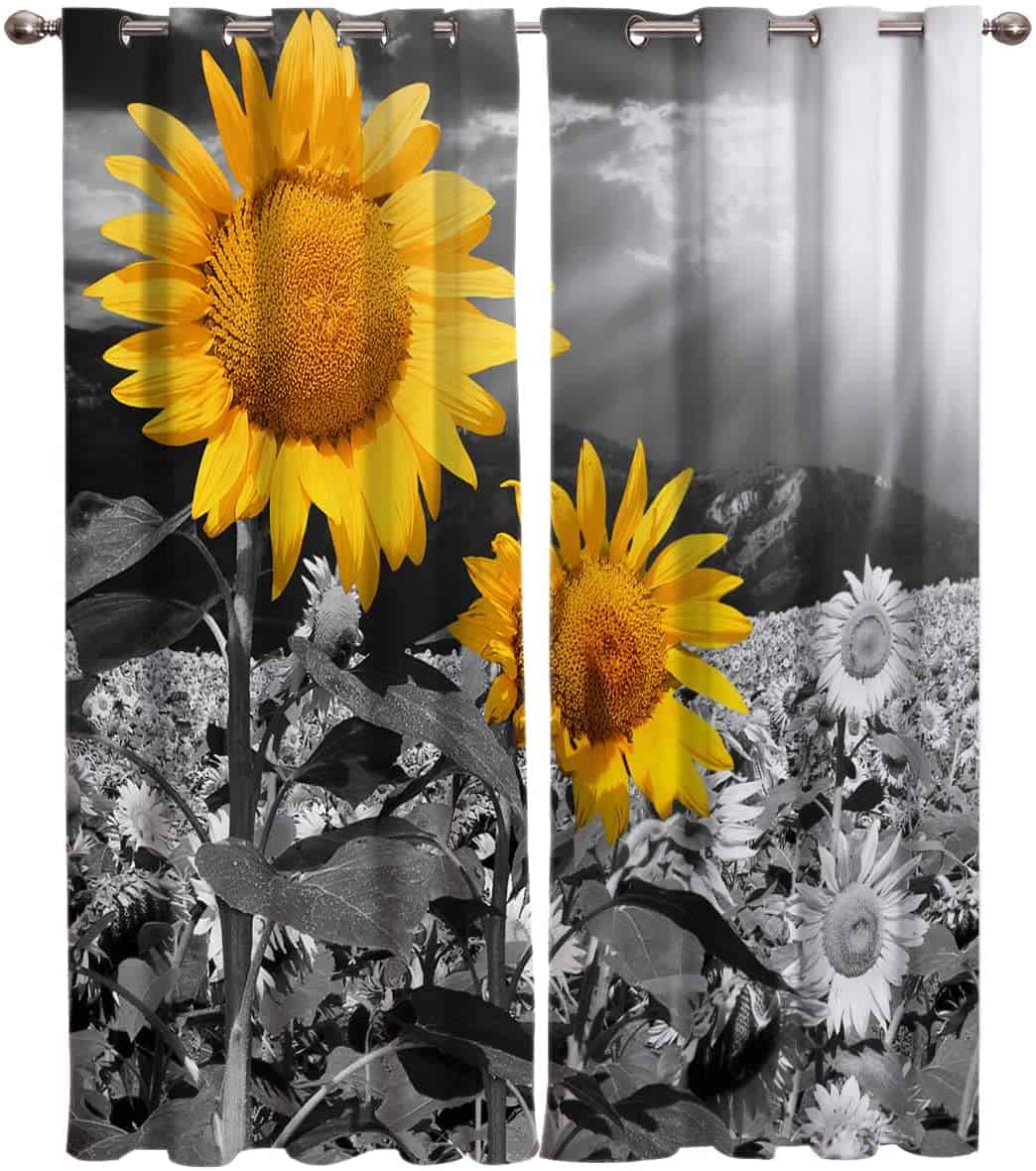 Giving sunflowers the attention they desire is one option in living spaces. These Simigree Panels place the sunflowers in the spotlight against a faded field. If you want people to notice your sunflower curtains, these are definitely for you. However, they offer a kind warmth as the sunlight beckons from the background.
It's like focusing on a single point of a beautiful scene. The gray-scale background also makes this an easy match for most colors in the room. You can use white, black, gray, and off-white tones while accenting bright colors to complement the attention-grabbing sunflowers.
Key Features:
Grommet header (anti-rust)
Blackout and thermal for warmth and privacy
Sound-reducing curtains to keep the laughter inside
Machine washable (in cold water)
Polyester fabric
No lining or backing
Available sizes: 27.5″ x 39″ / 40″ x 63″ / 40″ x 84″ / 52″ x 52″ / 52″ x 63″ / 52″ x 72″ / 52″ x 84″
Contemporary/country/rustic style
Layered Sunflower Sheer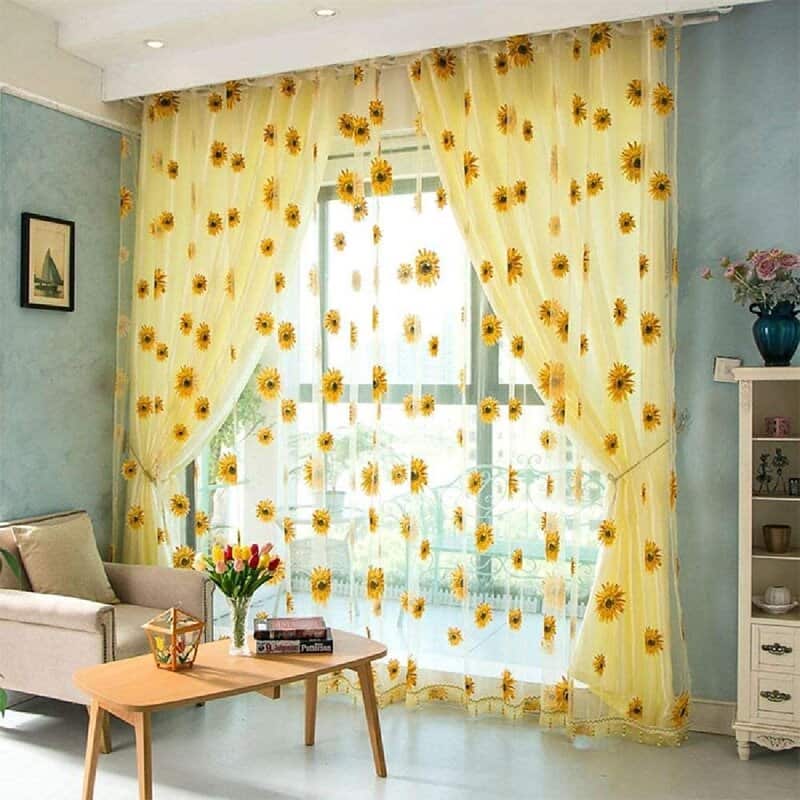 If you're the kind of person who wants your neighbors to hear the hearty laughter while you scoop up the sun in the living or dining room, these gorgeous Rosalind Wheeler Sunflower Sheer Panels will brighten up your home. You'll need a double rod to use the layered beauty, but the curtains liven up a small space.
The bright sunflowers are spread over a pale yellow sheer background, making this curtain a little trickier to complement other accents. It would look amazing with earthy tones and walls while adding small yellow and orange accents to the room. Don't go too bright with this one. Minimal accents are better.
Key Features:
Rod pocket header
Two layers
Sheer curtains
Not machine washable
Polyester fabric
No lining or backing
Available size: 37.4″ x 78.74″ (per panel)
Country/contemporary/minimalist style
Ideas for Kitchens
Kitchens are also game for sunflower curtains. Flowers always look amazing in a kitchen, especially with wooden accents under windows welcoming the sunlight. Sunflower curtains won't suit metallic kitchens, just a head's up. However, classical, white, contemporary, farmhouse, and rustic kitchens look great with sunflowers.
Cute Vintage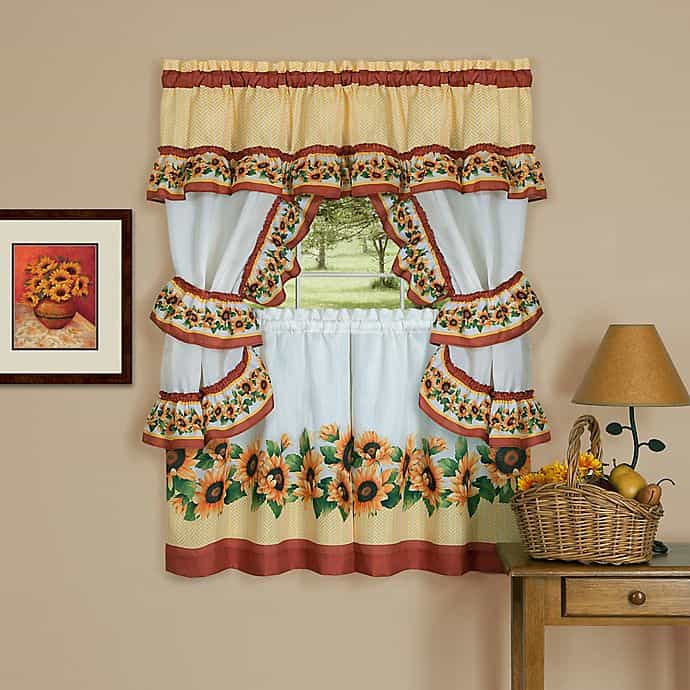 Cute country and vintage combine when you look at these Achim Black-Eyed Kitchen Curtains from Bed, Bath & Beyond. Quint never looked so good, and this set of curtains fits into natural wooden kitchens with earthy colors as they have various shades surrounding the decorative sunflowers.
From brown to beige and white, the valance kitchen set would stun visitors and family members in your kitchen if you're into those rooster pictures hanging over natural wooden tables. Using the set in a classic kitchen with plenty of white would go well with brown countertops.
Key Features:
Rod pocket header
Four-piece set (valance, tie-backs, and tier)
Machine washable
Polyester fabric
No lining or backing
Available size: 57″ (per tie-back tier) and 24″ (valance)
Country/classic/rustic style
Floral Touches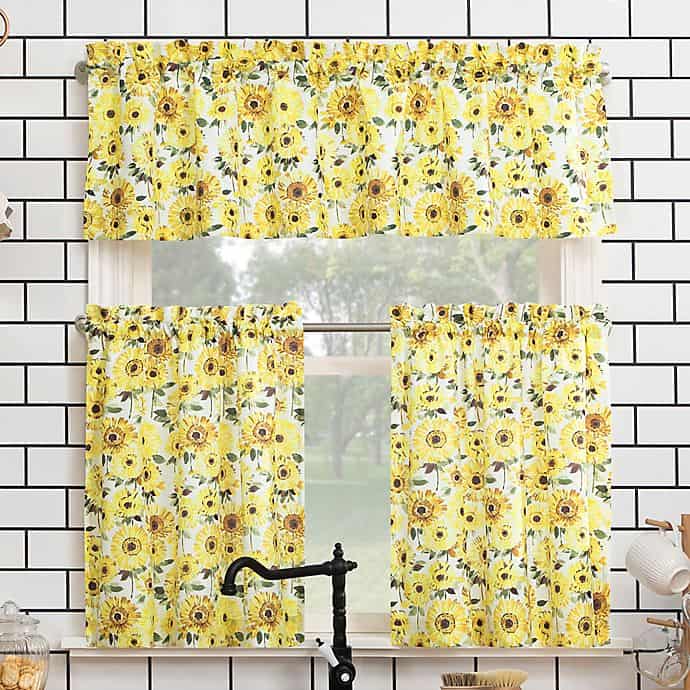 If you're looking for a more contemporary kitchen because you don't live in the countryside, these gorgeous Sunny Sunflower Kitchen Curtains will do the trick. The soft yellow sunflower patterns fade gently into a white background, allowing you to use this set in a contemporary or white kitchen.
The colors are also subtle enough to complement lighter yellow, orange, green, and pink shades. White counters with granite tops can also make this set pop in a modern kitchen as long as you remember not to use sunflowers around metallic finishes. The two just oppose each other too much.
Key Features:
Rod pocket header
Three-piece valance set
Machine washable
Polyester fabric
No lining or backing
Available size: 54″ x 14″ (valance) and 54″ (per tier)
Country/contemporary/classic style
Painted Beauty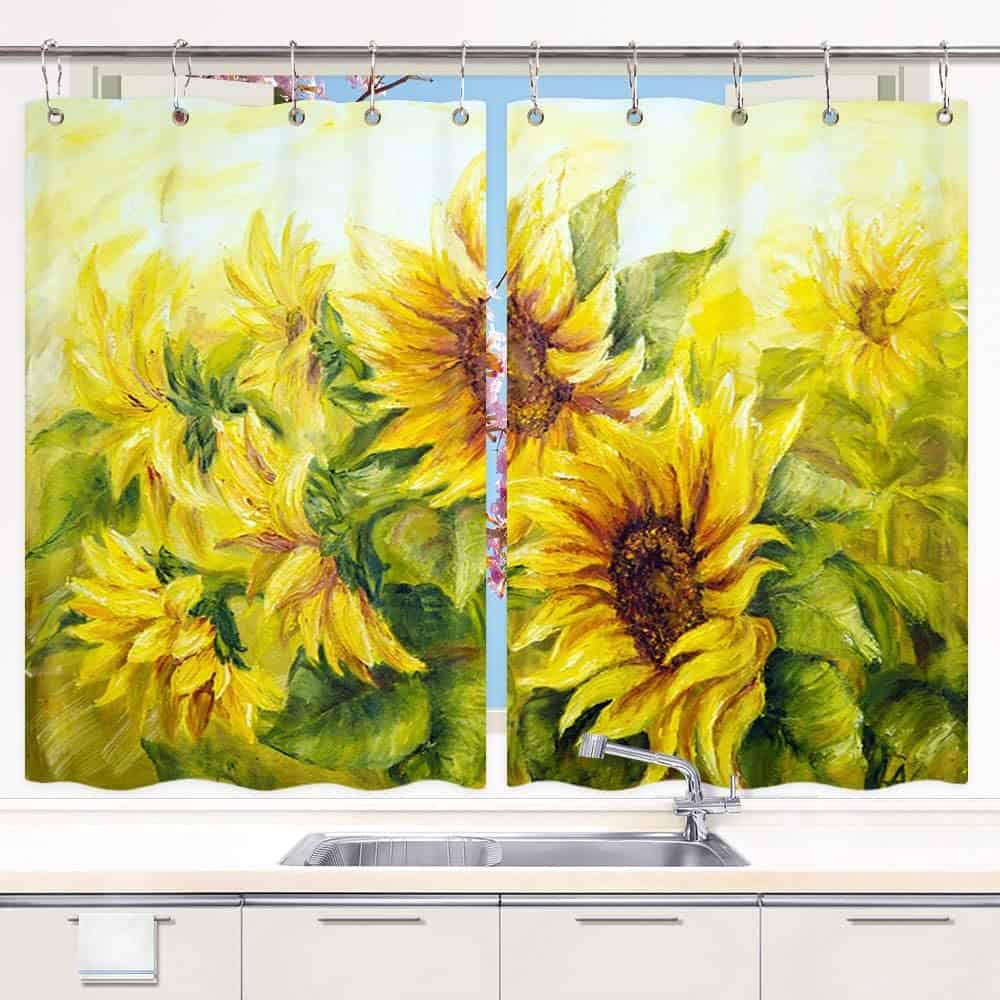 I have a deep artistic soul, always looking for beauty in the normal world, so it's no surprise I love paintings in my home. I've never considered having curtains that look like a beautiful watercolor painting over my windows. The JAWO Watercolor Sunflower Curtains bring my passion for art straight into my culinary canvas, the kitchen.
If you're an art lover like myself, I'd recommend you not use bright red paintings in the same area. Use bright blue, orange, green, and yellow paintings in the kitchen if you use these curtains. The set strikes my emotional cords due to its artistry, and the colors are easy to match, except with bright red.
Key Features:
Grommet header
Machine washable
Polyester fabric
No lining or backing
Available size: 55″ x 39″ / 42″ x 36″ / 52″ x 45″ (dimensions for both panels combined)
Artistic/contemporary/classical style
Ideas for Bathrooms
A bathroom isn't the place that comes to mind when you think of sunflowers, but that's only because you've never browsed the gorgeous options available. Sunflowers can surprisingly fit into any room. Although, I'll admit that an office is a weird place. It doesn't instill the right mindset for work.
Yes or No?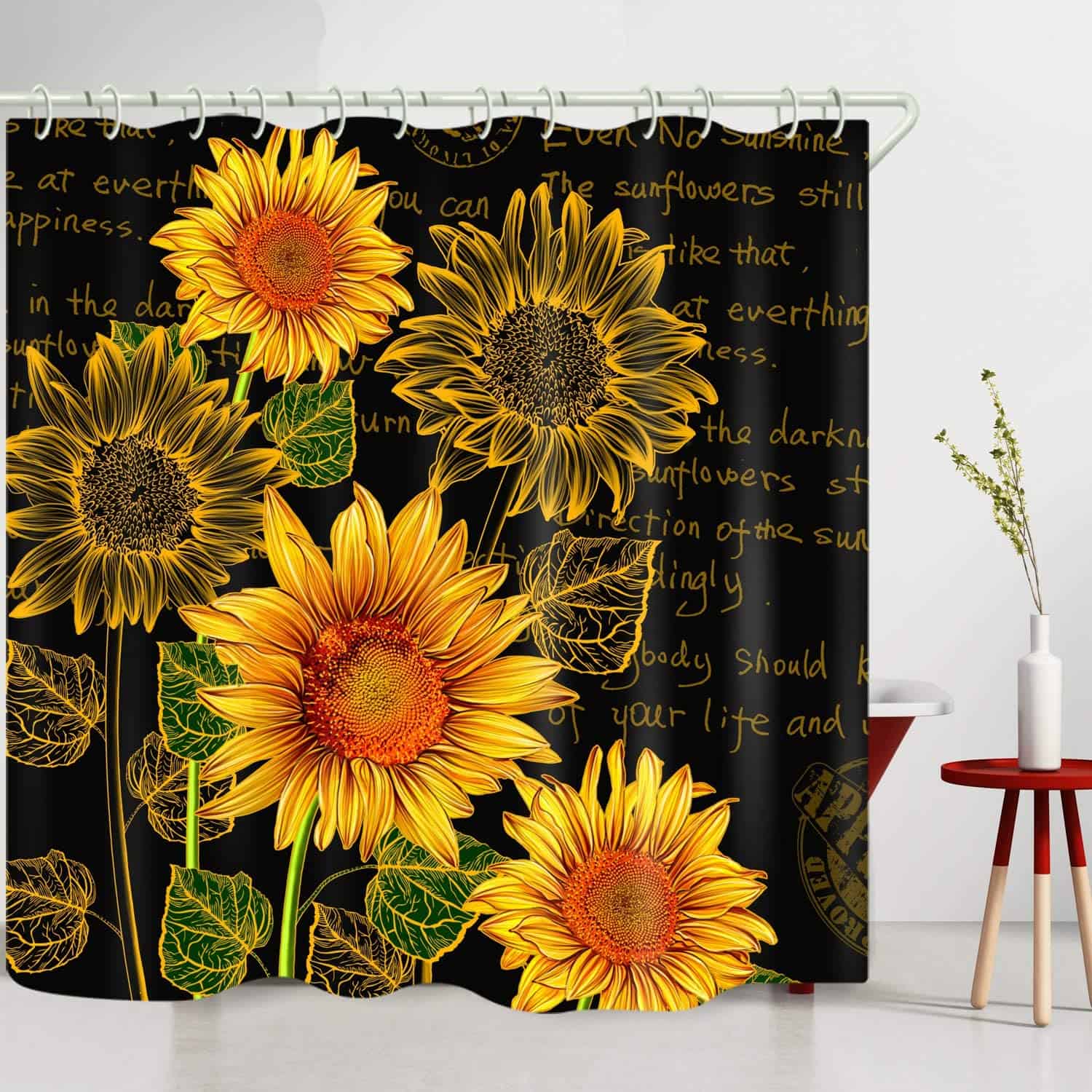 Do you want to add sunflowers to the bathroom? Yes, good, because these wonderful Wodejia Shower Curtains allow you to remain in the yes and no conundrum by giving you some and taking some away. I love the way some sunflowers are bold, and others are faded like an afterthought.
The colors also strike that wonderful balance of matching modern bathrooms with a black background and bright yellow and green floral work. Don't add too many black accents to the bathroom. You can add some touches of gold if you want to feel like a queen or king. Orange and red will also blend well if used sparingly.
Key Features:
Grommet header
Waterproof shower curtain
Polyester fabric (high density for great durability)
Anti-rust hooks and liners
Machine washable (in cold water)
Contains no vinyl or PEVA (environmentally friendly and odor-free)
Available size: 71″ x 72″
Wow/contemporary/sophisticated style
Pretty Feminine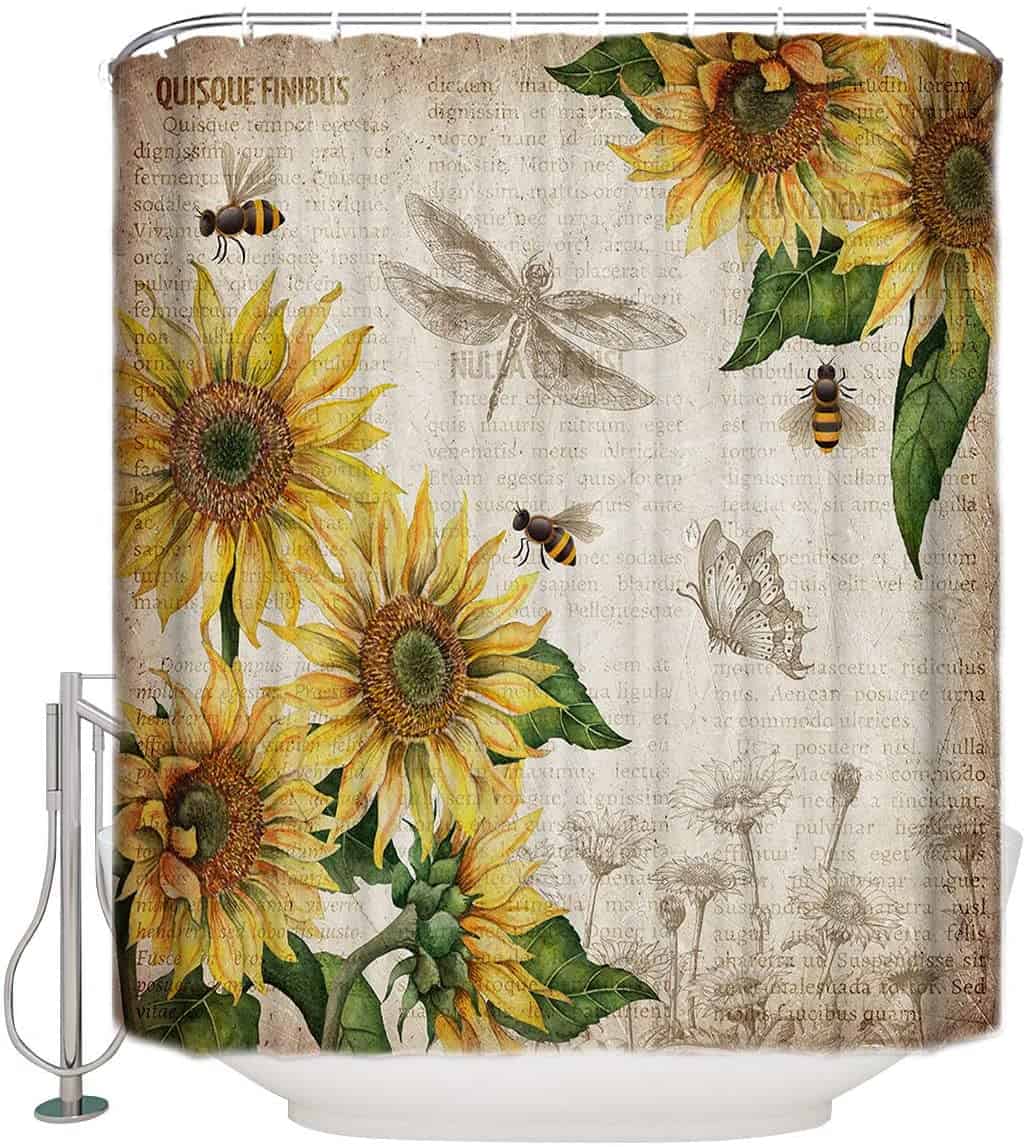 Ladies, you spend more time in a bathroom than the men in your home, so this one is for you. The lovely Retro Vintage Shower Curtain is all about exuding the feminine beauty of a space you use to unwind with a glass of wine and some bubbles. The shower curtain almost has a farmhouse feel, making it fit well with natural wood.
However, it can be complemented by earthy tones, bright yellow, orange, brown, white, and lighter shades of gray. Maybe combining it with gray (or the thought of Christian Gray for single ladies) can help you keep the imagination alive while you enjoy a soak. The vast possibilities also allow the curtains to work for men.
Key Features:
Grommet header
Waterproof shower curtain
Polyester and cotton fabric
Anti-rust hooks and liners
Machine washable (in cold water)
Not good in direct sunlight (ironically)
Available sizes: 36″ x 72″ / 36″ x 78″ / 48″ x 72″ / 54″ x 78″ / 60″ x 72″ / 66″ x 72″ / 72″ x 72″ / 72″ x 78″ / 72″ x 84″ / 72″ x 96″
Country/Shabby Chic/contemporary/farmhouse style
Wooden Inspiration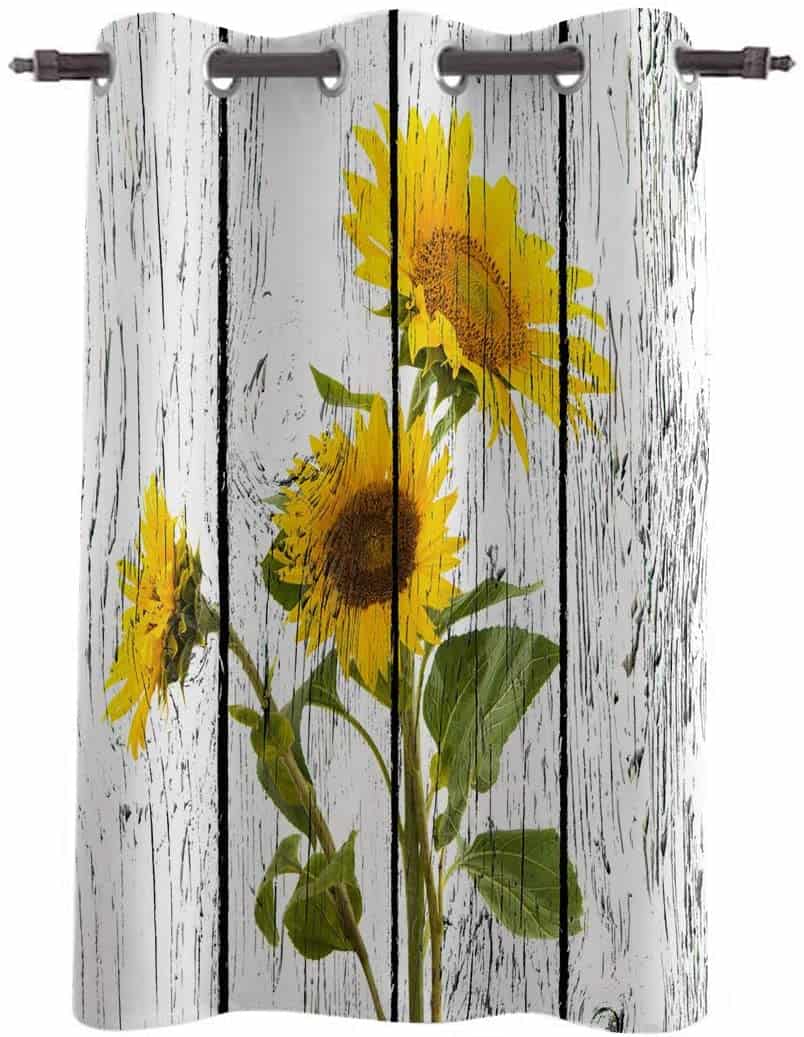 Unless you're a nudist who doesn't mind giving your neighbors a show, you probably want curtains on your bathroom windows. These amazing Rustic Sunflower Bathroom Curtains will get those peeping Toms away from the privacy belonging to you. The curtains bring floral and white-washed wooden finishes into your bathroom.
White-washed and cottage-style wood is all the rave right now, and the background of these curtains will suit your taste. White cabinets with marble counters will look fabulous against these curtains. The sunflowers are also subtle enough to blend right into a cottage-style bathroom.
Key Features:
Grommet header or rod pocket (anti-rust)
Polyester blend fabric (also treated to withstand humidity)
Machine washable (in cold water)
Enlarges the space by bouncing the light
Available sizes: 52″ x 24″ / 52″ x 36″ / 52″ x 45″ / 52″ x 52″ / 52″ x 63″ / 52″ x 72″ / 52″ x 84″ / 52″ x 90″ / 50″ x 96″ (the larger sizes can be used in bedrooms and living rooms)
Contemporary/cottage/lakehouse style
How to Make Sunflower Curtains Stand Out More Than They Already Do
If sunflowers don't get enough attention, you're not bold enough. If you feel bold enough, I have some secrets to share with you to make them stand out more. I've also added one secret for those who don't want to be too bold.
Shining Glory
The first tip is to choose a room that faces South. If radiance had a single definition, this would be it. North American designers often use this trick to make rooms absorb more light. Using the same trick with sunflower curtains will be like shining a spotlight on them when the sun hits that beautiful pattern.
The sun will amplify through the bright yellow colors, bringing attention directly to your sunflowers. Consider the position of the room's windows before choosing one to decorate with sunflower curtains.
Imaginative Creations
Sunflowers are gorgeous in any form, whether you use curtains, wall hangings, or silk flowers in a room. No rule says you can't place silk flowers in a corner near your sunflower curtains. These are my gorgeous sunflowers made from pure silk, and yes, I'm a little bit of a country fan. The boots are painted bronze to finish the pizazz.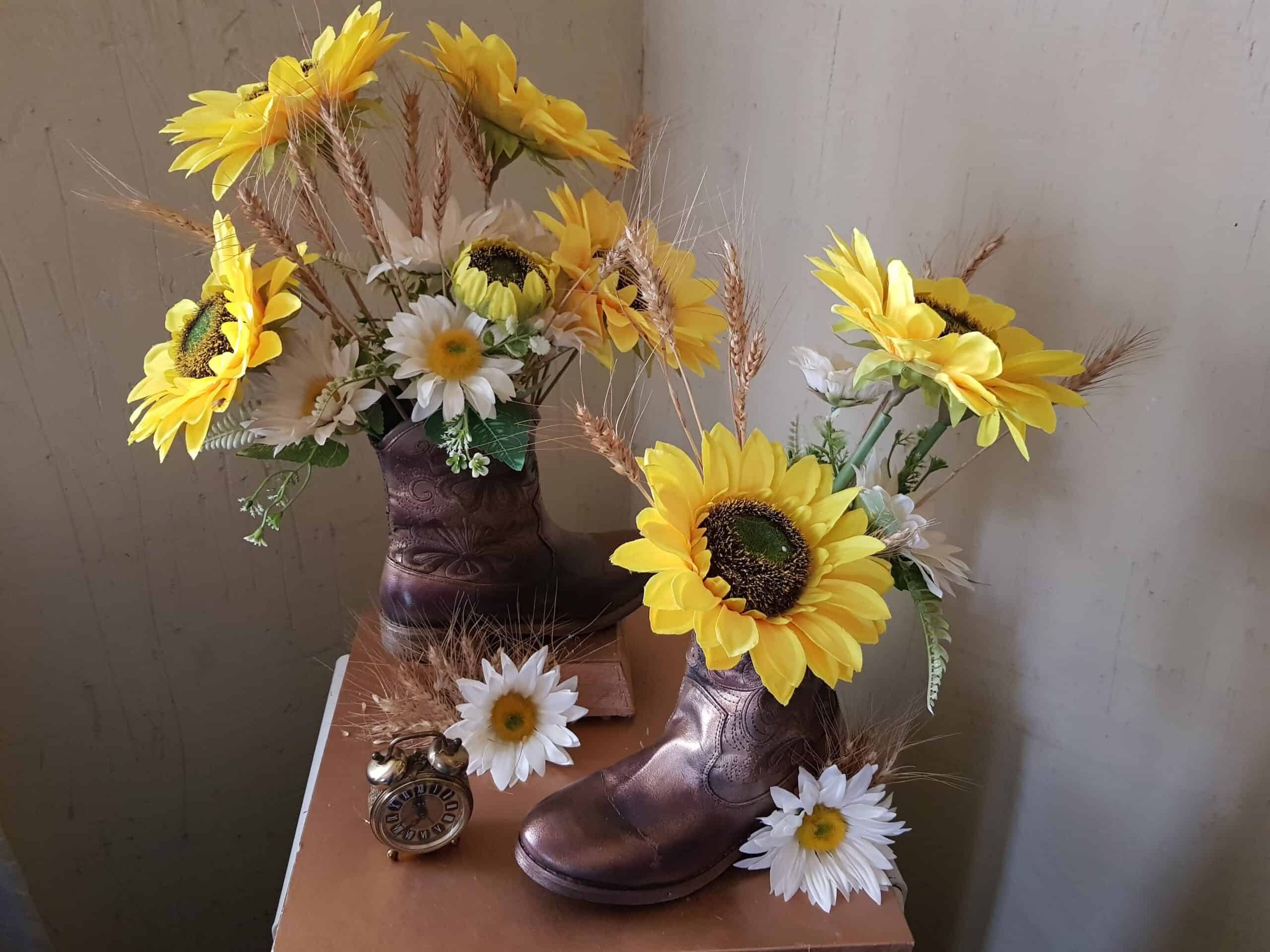 Use your imagination to add beautiful pieces to a room once you have your chosen curtains. Admittedly, my pride-and-joy sunflower display isn't in the same room as my sunflower curtains, but the color of the wall and the beige sheer curtains complement the centerpiece wonderfully. Okay, I'm done showing off now.
Beading Beauty
Beaded curtains aren't just for hippies and "awe dude" people. They're a wonderful addition to passages, entrances, and rooms where you don't want too much drapery hanging around. You could take these simple beaded door curtains and add these amazing hippie sunflower beads yourself to create a floral doorway.
The Bohemian style is another trending interior design in 2021, so you can opt for bamboo sunflowers, hanging them against walls or in doorways. This sunflower bamboo curtain on Pinterest is incredible, but I wouldn't use it in an office. I really don't believe sunflowers belong in offices unless it's my above creation.
Wood and Burlap
Sunflowers are a beautiful part of nature, so adding some wooden touches to the room can tone down the floral aspect if it's too bold for you. Sunflowers lose their oomph once you place them against natural wood, which can be seen on this door hanging from Michelle on Pinterest. Wood balances flowers like nothing else.
The same thing happens if you combine sunflowers with burlap designs. Burlap curtains are a rage right now, and you can always bring a soft touch of sunflowers into your home by having a custom design of flowers embroidered onto burlap fabric. Wood and burlap accents will only suit rustic and farmhouse designs, though.
Frequently Asked Questions
Question: Are Sunflower Curtains Really Versatile in a Home?
Answer:As you can see, I've covered five areas in my list of ideas. Again, the only place I wouldn't use sunflower curtains is in my office, but that's my choice. I like having a creative mindset at work and not a calm, relaxed, and Pollyanna attitude. I'd get no work done that way. However, sunflowers also work on a patio.
Question: What Interior Design Style Suits Sunflowers Best?
Answer: Sunflowers remain versatile due to the colors and accents, but the boldest statement you can make with this gorgeous and confident flower is to add it to the rustic, farmhouse, cottage, or vintage designs. It fits well into the modern home if the color choices are considered.
Question: Are Sunflower Curtains Widely Available?
Answer: I've browsed through Bed, Bath & Beyond, Wayfair, and Amazon to find the gorgeous options listed here, but there are many places you can buy sunflower curtains, including:
• Pottery Barn
• Etsy
• Walmart
• Kohl's
You could also request a beautiful addition to your home by having a designer create a pair for you. That way, you get to choose the colors, patterns, and fabric. Most of the fabrics mentioned above were polyester, so you might want to opt for linen or cotton instead. Just stay away from velvet and silk for sunflowers.
Sunflower Curtains Ideas Guide: Final Thoughts
I love comparing myself to a sunflower because I'm probably too confident, but I'm also bubbly, optimistic, and love attention. Who doesn't, though? At least I admit it. I love making my home stand out, and the glorious sunflower behavior promotes my own pursuit of wow compliments from friends and family.
I want people to remember their experiences as they walk through my home for years to come. I want friends to ask me how I came up with these elaborate yet beautiful ideas. I want to evoke emotions in everyone, and the sunflower is a powerful instigator. People never forget the impressions you leave when you stir emotions.
Using the sunshine through sunflower curtains in a nursery is life-changing if you have a listless baby. They absorb so much beauty during the day that they sleep better at night. I recommend you find a room in your home that needs the spotlight and design it with one of the prettiest flowers on earth.
I love the Bold Statement pair of curtains for a bedroom. Consider it, no think about it; no, just do it! You know the sunflowers have already grabbed your attention.
For more curtain inspirations:
Elegant Brown Curtain Ideas For Adding A Special Touch In Your Home – Just Blinds 'n Curtains (justblindsncurtains.com)
Blue and White Curtains Guide For De-Stressing At Home – Just Blinds 'n Curtains (justblindsncurtains.com)
Blush Curtains Ideas and Inspiration To Refresh Your Home – Just Blinds 'n Curtains (justblindsncurtains.com)